#215 – From "Words with Friends" to Helium 10 – Our VP of Product Tells Her Story
Curious about where Helium 10 is headed in the future? Want to know what we have planned? Our VP of Product is here with a sneak peek.
Updated on: January 3, 2022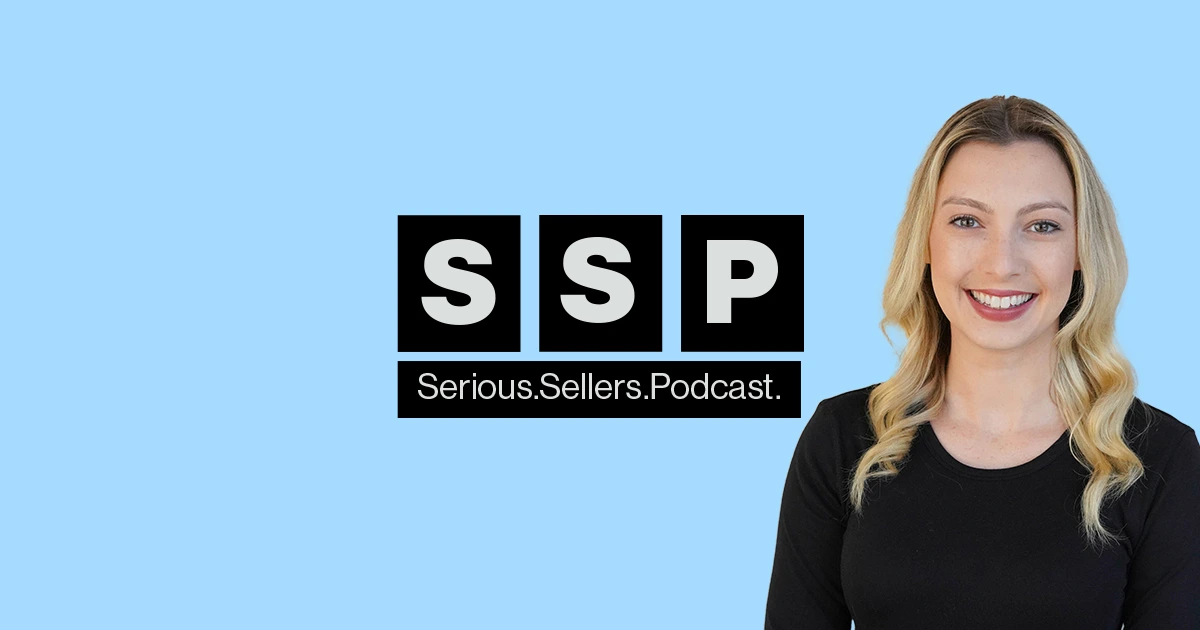 With e-commerce exploding, the last year has been a busy one for Helium 10. At the same time, we've been acclimating ourselves (like many of you out there) to a new way of working. That's why it's nice to stop, take a breath and consider how far we've come as a company in the last 365 days.
More importantly, we'd like to offer e-commerce sellers an idea of where we're headed. As you'll soon hear, we have some very exciting additions to our line-up of tools in the works.
Today on the Serious Sellers Podcast, Helium 10's Director of Training and Chief Evangelist, Bradley Sutton welcomes our Vice President of Product, Zoe Zappitell to give us a sneak peek behind the scenes.
Zoe will talk about the exciting things coming to the platform, as well as offer a review of recent updates.
You'll also hear what it was like for her to help develop the game, "Words with Friends," where she honed her ability to connect with a large audience.
In episode 215 of the Serious Sellers Podcast, Bradley and Zoe discuss:
03:00 – Zoology and Tech-Based Nonprofits Were Early Interests
05:00 – Working on "Words with Friends"
07:30 – Adding Gamelike Nuance to Helium 10's Tools
10:20 – Helium 10's Recent Additions to its Tools Lineup
11:10 – Big Helium 10 Milestones
13:00 – Where are All These Ideas for Tools Coming From?
15:00 – How to Submit Your Feedback (and Ideas) to Helium 10
18:00 – Now You Can Create Your Own Product Inserts
20:30 – Exciting Changes are Coming to Our PPC Tools
23:00 – Zoe – "E-Commerce Entrepreneurs Aren't Just on Amazon"
25:00 – Don't Overlook These Helium 10 Tools
26:30 – Incremental Growth Really Adds Up
Transcript
Bradley Sutton:
Today, we're talking to Helium 10's Vice President of Product who's going to talk about some exciting things coming to the platform, a review of recent updates, and we get to hear some of her backstory, which includes being on the team that brought the game words with friends to the world. How cool is that? Pretty cool, I think.
Bradley Sutton:
Hello everybody. And welcome to another episode of the Serious Sellers Podcast by Helium 10. I am your host Bradley Sutton, and this is the show that's a completely BS-free, unscripted and unrehearsed organic conversation about serious strategies for serious sellers of any level in the e-commerce world. We've got our vice president of product here on the show, Zoe. Zoe, welcome to the show.
Zoe:
Thank you so much, Bradley.
Bradley Sutton:
Thank you for coming on here. Now in the past, back in the day, a long-term listeners of the Serious Sellers Podcast probably remember, we used to have this ongoing series that with our then CTO Bojan, that was called Tech Talk with Bojan, but then he got up and got himself promoted to COO. And so then I was like, man, I don't have somebody to just like, talk about the cool things that Helium 10 is doing and just, things in the industry. So then you you've been with our company, just, you just hit a year now actually, right?
Zoe:
I did. I started in January of 2020.
Bradley Sutton:
Excellent. So you've been here a year and you pretty much know anything and everything about what's going on on the product side here at Helium 10. So you're going to be a great source to talk to you, but before we get that since this is our first exposure to you here on the show and we kind of got Bojan's backstory and got some really interesting stuff about how his relationship with Manny and Gui went back like 15 plus years. And it was pretty interesting stuff. Now, you, you were born and raised in California or where were you born and raised?
Zoe:
I was born and raised in Florida.
Bradley Sutton:
In Florida. Okay. So, you're pretty much used to decent weather, a little bit more humid over there, I guess in here?
Zoe:
Yup.
Bradley Sutton:
Now, where did you go to school? Like your entire, first 18 years of your life, you stayed there in Florida, or were you moving around it?
Zoe:
No, I moved around a little bit, so I was born in Boca Raton, Florida, and then we moved to Santa Fe, New Mexico, and then we went back to Florida when I graduated high school.
Bradley Sutton:
Okay. All right. So when you're bouncing around here in these different places as you're growing up, like, did you know that you had some kind of savviness for the technological side of things? Or did you envision yourself to be a computer programmer or an entrepreneur? Or what did you imagine yourself growing up?
Zoe:
No, I really wanted to be a zoologist, actually. I loved animals and I thought that was going to be my path. I also was interested in nonprofits. I started a few, but actually reflecting on my nonprofits, they were always tech based nonprofits. So they were websites that would show people what volunteer opportunities were around them. So funny enough, it was actually tech based.
Bradley Sutton:
Interesting. Zoologists, Zoe would have been a cool thing to introduce herself as. So, did you take zoology at all in college or what was your major?
Zoe:
No, I actually started in finance, very quickly realized finance was not for me. And I switched to this wonky major called professional writing, but that's not really what it was at all. It was really digital rhetorics. So that's everything from HTML and CSS, to how to design graphics, to how to write technical documentation.
Bradley Sutton:
Okay. Okay. Interesting stuff. Interesting stuff. Now you, upon graduation, what was your, like, let's just say your first full-time job. What were you doing?
Zoe:
Yeah, so I had a few odd jobs, but my first full-time job was actually my own startup out of college. So, I founded a company with one of my friends, Brittany, who I actually originally met on a study abroad program in college, around a app and a website that connected individuals in different communities. So this could be college campuses, this could be religious communities and we were white labeling the product to these different groups and doing this full time.
Bradley Sutton:
Okay. Pretty cool. Now, after that, you went from kind of like the entrepreneurial side there and doing your own thing to working for some pretty well-known companies out there.
Zoe:
That is true. So after my startup, I went to Zynga and I worked on the game Words with Friends.
Bradley Sutton:
That's crazy. So like, what was your role in the whole Words with Friends?
Zoe:
Yeah, so at that point, we were actually launching Words with Friends 2. So, we were redoing the app and adding really cool features like solo challenge, where you were able to play a bot and not just another individual different daily goals and daily challenges. But I helped with quite a few things. I started out with different monetization features. So what I mean by that is the packages of goods that you bought within Words of Friends. This could be badges, this could be power ups. I was building those packages and making them appealing to different to users. So that was my first stint there. I also dabbled in different growth features such as, developing streaks for Words with Friends like you would see on Snapchat. And my last big feature on words with friends was actually a Words with Friends lives. So, there was a game called HQ that was getting really big at the time, which was basically a live game show. And we saw that the space could be disrupted by words of friends that was more- or its focus. So we created a live game show where it was questions around words and sentences and grammar and interesting fun facts. And then we were giving away cash prizes at the end of the game. So that was a really neat experience, got to go down to Hollywood and cast different actors for the show. We turned the basement of Zynga into a studio. I got to direct and edit scripts every day. I really did get to live in a bunch of different roles during that role. And I was lucky enough to have over 50 people helping me out on that front.
Bradley Sutton:
Wow, that's crazy. I've just kind of had this always in the back of my mind and I've mentioned it a couple of times. I said, well, we've got multiple people at this company who have experience in the app market and especially games, like Bojan himself. That was how he got started with Manny. And then now you I'm like in the future iteration of the Helium 10 mobile app, like I want to see some kind of game where there's helium balloons or something we have to like poke them or something like that. Can you make a game happen in our app, Zoe?
Zoe:
It is possible, but I want you to start noticing the smaller games that we're going to be adding to the platform. There's different gamification tactics to get you to make more money or better optimize your listings. So just look out for the smaller nuances on the platform that are actually inspired by games out there.
Bradley Sutton:
Yes. Yes. And we're definitely going to talk about some of these additions that we've done. But just out of curiosity, like you come from obviously a non Amazon background, your previous jobs, I'm sure you obviously know what Amazon is, but when you came to this company, your eyes were probably open. You probably had no idea of the kind of money that people were making, just regular people were making on Amazon. What are some of the, just like now that you're exposed to the whole Amazon world, like some of the biggest shocks to you or the biggest, the most eye-opening things that you learned in the last year?
Zoe:
Yeah, so you're right. I didn't know how much money folks were making, especially just normal people. It was bizarre to me that the average person could learn about Amazon potentially even from your courses Bradley, and they could turn it into a million dollar a year business. That was really eye opening. I think something I've learned since being here is the art to Amazon is finding a niche product and it might be weird. And I think you do a great job of talking about that with coffin shelves, but there's a lot of opportunity in the space in taking something that is tried and true and augmenting it a little bit. And as a growth minded person, this is really exciting because I like to call this just an optimization. You're not reinventing the wheel. You're just adding something unique to something that folks already want.
Bradley Sutton:
Yes, absolutely. A hundred percent I agree. And I think anybody who just gets into this space from outside is just would think the same thing of how amazing the opportunity is. Now, talking about opportunity, to sell on Amazon. It's not just snapping your fingers. That's where Helium 10 comes in. Our whole kind of purpose is we're trying to develop tools that are going to help people achieve what is possible out there on Amazon. And that's kind of like, your job is like, Hey, you've got to kind of guide the ship as it were, since you're the VP of product, it's like, all right, what tools does the Amazon seller need? Or what about our existing tools? How can we tweak it to make it even more beneficial to the Amazon sellers out there? And we just actually had our, what we call our Meganar, our webinars that we do usually every quarter where we talked about the latest things that we added. But before we recap that let's just talk about last year, since we haven't had a tech talk on the show for at least a year, what were some of the big changes or big additions to Helium 10 on the tool side in 2020.
Zoe:
So last year was a big year for us. We launched Inventory Management, we launched Market Tracker. We launched the mobile app, the Seller Assistant Chrome Extension, Portals. We rolled out PPC and then we acquired Prestozon to continue down that path. And there's just so much more to come this year and we're very excited about it.
Bradley Sutton:
All right. Now, we just hit a couple cool milestones recently. Can you talk about that?
Zoe:
Sure. So we have had over 1 million users on Helium 10, 1 million. That is a amazing milestone. It is incredible that we've had so many people use our platform. And then on the Chrome Extension, we've had over 500,000 users, incredible milestones.
Bradley Sutton:
That is insane. I'm going to have to check with Mark to see what we did for that 1 million person. I'm sure. I'm sure they did something kind of cool for them, but the growth here is incredible. Now you mentioned some of those huge updates, Prestozon obviously was big and Portals and different things like that. But it wasn't last year. It wasn't always just about adding brand new tools, or acquisitions or things like that. But making tweaks on existing tools, do you remember any of the major ones or any ones that stick out in your mind?
Zoe:
Yeah. I think something that we thought a lot about last year was what do people love about Helium 10? And that is Black Box, Cerebro, Magnet. And we thought about these tools quite a bit. And we decided that we were going to add extra filters, extra ways to use them. And then we thought about how does someone experience Helium 10 when they first log in? And when they want to see the view of the landscape. So we also started augmenting the dashboard. Now that's continuing to evolve, but we brought profit stated to the dashboard. We are rolling out different widgets to help you do keyword research and product research. So the aggregation of tools as well has been a key focus for us.
Bradley Sutton:
Okay. Yes. And how does the product team know what is good for our sellers, obviously you haven't and don't sell on Amazon yourself. So, I know I give a couple insights here or there, but for the most part, where are these ideas coming from for our improvements on the tools?
Zoe:
Yeah, that's a great question. So a lot of our ideas are generated from users, whether it is you Bradley or user we talk to. The product team is talking to users each and every day at different stages of their development. And the other piece is the quantitative side. So PMs, and the product organization leans on data to drive decisions. So we marry the two, the qualitative feedback and the quantitative feedback to develop a roadmap. So for example, we can see if someone clicks on a button a lot, but the button isn't very accessible, that we should make the surfacing more obvious because now more people will click on it and we'll see higher engagement. So it depends on the feature, but sometimes it's driven by inspirational ideas from our customers and looking at their workflows, optimizations could be driven from data and seeing how people are interacting with our platform and finding easier ways for them to get the job done.
Bradley Sutton:
Okay. Yes. And I mean, we have, that's one thing I think that we really ramped up. I mean, I think since the beginning of Helium 10, we've always tried to be user-driven and listen to our customers what they want, but it seems like in the past year, since we were able to add so much staff, the touch points with our users seems to have increased greatly. Like I always see, you know, different product managers, having meetings with our users and they're active in Facebook groups. And it's really, really cool to see. So guys, if you have suggestions out there, don't think that it's going to fall on deaf ears. How can people communicate with us, Zoe? I mean, obviously they're not going to send you, we don't want a hundred thousand people sending you emails to your personal email address, but how can people get there? They're kind of like tool suggestions or feature suggestions, or let us know what their pain points are.
Zoe:
Great question. This is actually another feature we added last year. When you are within Helium 10, you will see in the top navigation, a spot to click and submit your feedback. So again, in the top navigation, there is a button that allows you to fill out a form and submit information on what you'd like to see in Helium 10, what optimizations would make your life easier, or just other general ideas for us. And the product team does look at each and every response. So to Bradley's point, you will be heard, and hopefully we can incorporate your feedback into the product.
Bradley Sutton:
I'm feeling pretty dumb right now, because I didn't even realize we had that. That's the thing that nowadays back in the day, I knew every little thing that was going on or added. But until you said that, as you were saying that I was like, are you sure? Is that like, I don't think it's always right here. So I actually was talking to guys, I went on my Helium 10 window. I'm like, Nope, I don't see it. You know, I clicked on this one. I clicked on the bell. I here, I see a Facebook logo, but it's if you click on the question mark right there at the very top where you would normally get your help right there, it is share your ideas. That's what you were talking about, right?
Zoe:
That is exactly what I was talking about.
Bradley Sutton:
Oh my goodness gracious. Yeah. I need to make sure I'm more up to date with what's going on in Helium 10. Good grief. Anyways. That's pretty cool. Like I see it here. You can report bugs here. You can provide feedback, feature requests. So guys make sure to do that. We listened and we read every single one of these, and it really drives what we do here at Helium 10.
Bradley Sutton:
All right, we're going to go ahead and take a quick break from this episode for my BTS. Bradley's 30-second. Here's my 30-second tip here. If you are using a plus content, if you've got brand registry, you know that your old description is now completely replaced. The new A-plus content takes that over. You hopefully have some graphics there. Keep in mind that nothing in your A-plus content is indexed on Amazon, only indexed on Google. So what you can do is make sure to keep your old product listing description there, and you can actually keyword stuff now because that is not shown anywhere. So get all those keywords that you want to make sure that your index for, stick it into your description, even if it's keyword stuffing, and you should be able to be indexed for it.
Bradley Sutton:
All right. Now, just a couple of weeks ago, we actually had our first quarterly Meganar where we talk about the new releases and new updates we've had. And we had a tons and tons of different little things that we added to the tool suite. But there was a couple of big ones that I want to talk about. Now, the first one you guys who are listening to the podcast, you're not, it's not your first time listening. You probably heard last week, we had the president of alibaba.com North America, John Caplan on here. And we talked about one of the big reveals in that Meganar which was our Chrome Extension that now works for looking for suppliers when you're in Amazon using our Chrome Extension and X-ray. But then also on the flip side, it was a new tool that we launched called the Demand Analyzer that you could actually use when you're on Alibaba. But that wasn't the only big reveal that we had during the Meganar, what was the other big ones, Zoe?
Zoe:
Yeah. Another big feature we launched was Product Inserts. So we know that our customers use product inserts to build a customer list after they get a sale on a product. So, we decided to make it even easier. Now, within Helium 10, you can create your own product insert from our templates. It's incredibly easy. We also give you the ability to create a QR code and a short link, and that can direct to one of our portals where you can capture customer information, alert them about a warranty, or use it as an upsell for another product.
Bradley Sutton:
Okay, cool. I mean, I was pretty excited about that because that's something that I've never really wanted to tackle on my own. When I'm working on selling on Amazon is just like, ah, man, I don't know how to design things. And it's pretty cool that the templates are all right there. So like, I actually just did a couple of them as a test recently. And what I had was on one side was kind of like an instruction guide, because there's one product for a Project 5k case study that I was doing. It requires a little bit of assembly. So, on one side of the product insert, I was able to put the instructions and there's a template, right for that. All I had to do is just put the pictures right on there and put the text, explaining what the instructions are. And then on the flip side, I'm allowed to do this double-sided, right there in Portals. It allowed me to put a QR code in some other texts. And so what I did was I was like, Hey, if you want a free lifetime warranty, just scan this QR code right here. And you'll be able to leave your email address. So guys, if you haven't had a chance to try that out, now, everybody has that in right? All Platinum, Diamond, and Elite, Zoe?
Zoe:
Including free. So free, we'll get a taste of what Product Inserts has to offer so you can test it out. And then if you like it, you can upgrade to make more product inserts in QR codes.
Bradley Sutton:
That's awesome. I didn't even realize we're just too generous here,, Zoe. Giving stuff away for free? My goodness.
Zoe:
I know. My job is to make your job easier. So we want to make sure to accommodate everyone and show them the true value of Helium 10.
Bradley Sutton:
I love it. All right. So that was our first quarterly workshop. Now I know, everybody hates spoilers, but at the same time we like to kind of have some kind of anticipation. Is there any little thing or little tease or something that you could give us about what you have in store for the rest of the year?
Zoe:
Well, I have to be careful here, but just for you Bradley, I'll give you a little bit of information. So this year, again, we're really thinking about how we can help sellers. And one of the big challenges that sellers or new sellers have is creating their first, or their second, third, fourth listing. So something we're really focused on this year is helping folks build and optimize their Amazon listings and making that as simple as possible. In addition, we are going to see a lot of changes to our Amazon PPC platform and especially with the acquisition of Prestozon, you can imagine the power of Prestozon within Helium 10, which will be very exciting for our customers. We are also thinking about, again, the aggregation of tools and thinking about the problems we are solving for users. So when you jump into Helium 10, you can look at the dashboard and go do what you need to do to basically create launch and scale your Amazon business. So there's quite a few new tools coming out. There are new optimizations and there is a lot to look forward to.
Bradley Sutton:
Excellent. Excellent. Now, one thing I forgot to mention last year, in my time here in Helium 10, we added like the most marketplaces that I can remember in one year. We had Netherlands all of a sudden, Mexico, and then of course we had all of our tools start working in Amazon India. Now I don't want to put you on the spot or make you give promises here, but I've been seeing in social media people asking for, Hey, when will you start working for Amazon Australia or United Arab Emirates or different things. So, without committing to anything, like, do you think that there's a possibility we're going to expand to other marketplaces this year that we aren't in yet?
Zoe:
Well, first off we hear everyone who's been saying that and we are working on it. So, I can not commit to a date, but we definitely want to roll out more marketplaces next year.
Bradley Sutton:
And might, I mean, again, I don't want to spoil anything because I'm not even sure myself, but, might it be anything off of Amazon? That's something that we haven't really gotten into in Helium 10. Like have you been hearing customers request that more maybe lately than before?
Zoe:
Wow. So jumping off of Amazon is big, right? That's not something we can do overnight, but it is something that we've heard from our customers that our customers are interested in. So I can not make any promises here, but it is absolutely something that we are investigating because we understand that e-commerce entrepreneurs, aren't just on Amazon. They want to diversify their business. They want to scale their business and that may require going to other platforms.
Bradley Sutton:
All right. So, guys, you heard it here. I mean, this is the– in my opinion would be another excellent thing that if you guys are selling on other platforms or maybe you have wanted to sell on another platform, but you're like, man, it'd be too difficult. Because there's no Helium 10 for this platform. So this would be one of those things then that people should be submitting on the feature requests. It's not just about Amazon things, but Hey, if you guys want to see something from another platform by all means, make sure to make your voice heard through the feature request as well. All right. So, Zoe, you know, like we've been talking about, you're interacting a lot, you and your team with our users. In all these interviews and things, is there some kind of common theme where you're realizing that maybe there's a tool that you know not enough of our users are currently taking advantage of that. You want to make sure that people, Hey, if you've got Helium 10, you've got to be using this.
Zoe:
Absolutely. So, there's some low hanging fruit for all Amazon sellers out there. Number one, Follow Up. If you are not sending request to review messages to your buyers, then you are missing out. The second is Keyword Tracker. You really need to monitor how you're ranking against your top keywords and how your competitors are ranking. So these are automated tools that will just give you insights or automatically send notices to your buyers. So you set it and forget it. You just check in to see how everything is performing.
Bradley Sutton:
Excellent. What about some of these new updates in Profits, namely the Inventory Management. How have you seen the adoption of that amongst our focus groups?
Zoe:
Adoption is good. I think with Inventory Management when folks see the value that it brings, it's that eye opening moment. It's like, wow, I didn't realize that I can become smarter about buying and storing inventory. So specifically our inventory recommendations is something anyone can take advantage of. You really do need to buy certain amounts of inventory and having a tool that does the math for you on when and how much to buy is wonderful.
Bradley Sutton:
All right. We've come to the part of the show we call the TST, or the T S T 30-second tip. Now, Zoe, you're not an Amazon seller, so I'm not sure if your 30-second tip is going to be about Amazon, but we've got a lot of people on here who give us tips, life hacks, or different hacks about organization or time management, but in your experience here at Helium 10, or maybe going back to your Words with Friends days like, what kind of 30-second tip can you give our audience?
Zoe:
Absolutely. So the tip I'm going to give is more so around growth is similar when you're selling on Amazon, as it is when you're growing a product. So think about incremental ways that you can better your listing, whether that is optimizing your keywords or setting up automated follow-up requests, the little things add up and it will ultimately make you a lot of money.
Bradley Sutton:
I love it. And you're actually one of the few who kept it to 30 seconds. Usually, when I do that, the guests always goes overtime, but you don't want to cut them off because it's good stuff, but thank you for respecting that TST. Appreciate that, Zoe, thank you so much for coming on to the show. And just in general, like it's such a breath of fresh air to see– once you came to this company and start really building out the tools, a lot of this stuff that we did last year were stuff that I've wanted, like since day one, but we never had the capacity, or kind of like, you know, the enough staffing to get these things done. And you got so much of that done and more, and I'm super, super excited to see what the rest of 2021, what you have in store for us.
Zoe:
Me too. And again, if anyone on this listening to this podcast wants to submit feedback. We are listening and Bradley, we are listening to you. Thank you everyone for helping us build a better product.
Bradley Sutton:
Thank you, Zoe. And we'll definitely be reaching out to you to get some more updates towards the middle or end of this year.
Zoe:
Awesome. Thank you, Bradley.
---
Enjoy this episode? Be sure to check out our previous episodes for even more content to propel you to Amazon FBA Seller success! And don't forget to "Like" our Facebook page and subscribe to the podcast on iTunes, Google Play or wherever you listen to our podcast.
Want to absolutely start crushing it on Amazon? Here are few carefully curated resources to get you started: