Episode 42 – Using Helium 10's Tools to Super-Charge Amazon Product Targeting and Amazon PPC Success
In this episode, get tips on using Helium 10's tools to help implement an Amazon sponsored products strategy and succeed with Amazon advertising.
Updated on: October 6, 2020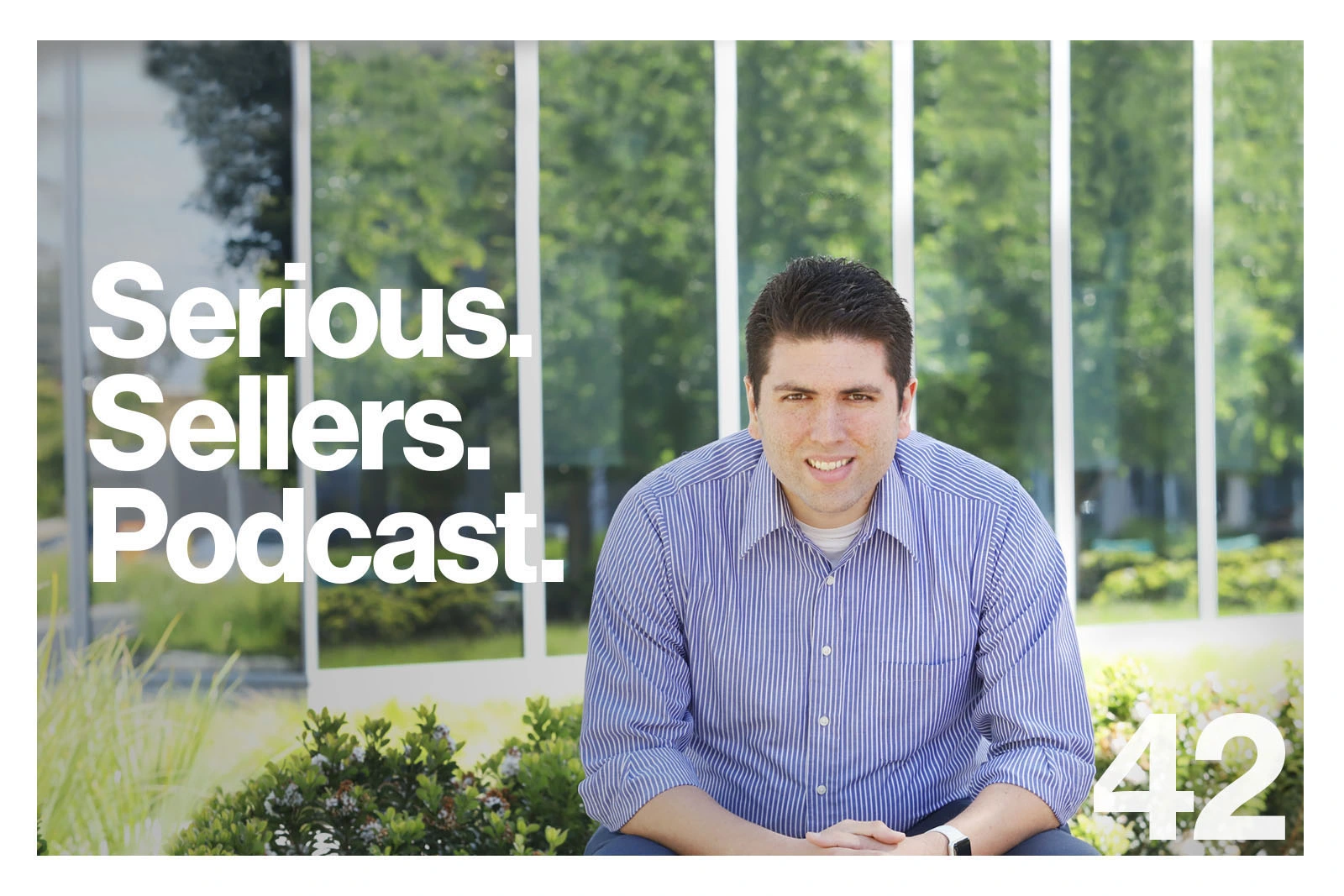 Do you have questions about Amazon advertising and implementing an Amazon sponsored product strategy? Today on the Serious Sellers Podcast, Helium 10's Director of Training and Customer Success, Bradley Sutton speaks about the variety of ways that Helium 10's tools can inform and ultimately super-charge your Amazon PPC and Amazon product targeting strategy.
In episode 42 of the Serious Sellers Podcast, Bradley discusses:
00:22 – Bradley Turns a Weak Point into a Strength
00:45 – Amazon Product Targeting Ads
02:42 – "Forcing" Yourself onto a Sponsored Page
03:28 – Using Helium 10's ASIN Grabber in the Chrome Extension
04:35 – Using Helium 10's Black Box
07:50 – Your Role in Amazon Product Targeting Success
09:50 – Putting the Black Box Product Targeting Tab to Use
10:35 – Frequently Bought Together – A Clearer Picture
13:40 – Customer Also Bought – More Rigorous Filtering Needed
16:20 – Ridiculous ASIN's Can Still Sell a Lot of Products
18:15 – Bradley says, "Rewind This and Extract Products You Can Target"
19:50 – Contact Bradley and Let Him Know How It's Working
Enjoy this episode? Be sure to check out our previous episodes for even more content to propel you to Amazon FBA Seller success! And don't forget to "Like" our Facebook page and subscribe to the podcast on iTunes, Google Play or wherever you listen to our podcast.
Want to absolutely start crushing it on Amazon? Here are few carefully curated resources to get you started:
Transcript
Bradley Sutton: On today's episode, I'm going to give you guys an in-depth tutorial on some great strategies on how you can use Helium 10 to help you with your product targeting PPC campaigns.
Bradley Sutton: All right guys, we're going to talk today about PPC. I've admittedly said actually that is not one of my strong points. Okay. When I launched all those products back in the day when I was a consultant, I was mainly working on the keyword research, some of the product research, listing optimization, and the actual launch for them at first. I did not have to do the PPC. There were usually other people who were handling that, so I don't have too much experience with PPC. But one thing I've been studying a lot of lately, especially since Helium 10 has come out with a lot of tools for it, is the product targeting ads. Okay, so that's a new part of PPC. Up until a few months ago, the only way that you could actually manually target ASINs for your ads was if you had a special vendor account. You were able to go ahead and do that.
Bradley Sutton: You could only really target keywords, but now it's available for you to target actual ASINs. Now, where do these ads come up? If you're on an Amazon page and you scroll halfway down, you'll see something that said sponsored results or something similar to that, depending on what marketplace you're in. And then there is a kind of a Pinwheel of tons of products, up to 10 pages or more of different products, that are showing up there that are coming up as a sponsored ad. These are sponsored positions. So if somebody actually clicks on one of those listings right there or one of those ads, then the same PPC rules apply where the person who is doing that ad will get charged for that click. Okay, so the questions are how do you get your product on those pages and what are some criteria and how can a Helium 10 help with choosing which ASINs to target?
Bradley Sutton: Now, even if you're doing a regular PPC campaign right now, whether it's a manual keyword campaign or it's an auto campaign, remember, at any time, Amazon also can go ahead and show your add on product pages, even on a keyword campaign. How does that happen? Let's say you're targeting neck pillows or Collagen peptides. Somebody searches for that. They click on a different listing, not a sponsored ad, but right there, once on that listing, they can put your ad down there or your link as in that sponsored products related to this item. But now you could actually force yourself to get on there for your products or for other products. All right, so what are some circumstances where you might want to do it? Well, you probably might want to do a manual campaign to one of those products if of course on one of your auto campaigns or if Amazon has been showing them your ASIN on its own to other products and you've gotten some conversions. Well obviously, you've got a history that you can convert for on a certain ASIN page.
Bradley Sutton: So obviously you'd want to do a manual campaign for there, but what if you have none of that history? You're just starting out. You want to start showing up on pages as well. There's a lot of different ways you can do this. Some of these, we've talked a little bit about a few episodes ago—one of the early episodes with Liran Hirschkorn where you could, number one, target, for example, all of the competitors or products that show up under a certain keyword. For example, if you searched for neck pillow, obviously there's hundreds and hundreds of listings that come up. Maybe you'll say, "Hey, I want to target the top 100 organic results of neck pillows with my neck pillow ad. Well, you could do it pretty easily. You don't have to type in one by one the ASIN of each one in copy and paste it. When you're on the search results page, use the Helium 10 Chrome extension and select the tool ASIN grabber.
Bradley Sutton: You just click it once. And what it does in about 30 seconds is it'll give you a list of all of the ASINs that are showing up there on the first two, three, four pages—total of about a hundred or so results. And then you would just download that into a CSV file, and it'll have all of the ASINs right there. You can just copy and paste it right into a campaign showing Amazon that you want your ads to come up or you're going to bid on all of these ASINs. So that's one way to do it. Another different way is in using Black Box. Use Black Box by Helium 10—the product part, the very first one. Let's say that you are again selling neck pillows or you're selling collagen peptides. You would want to do a search for other neck pillows, or collagen peptides that are making a certain amount of money knowing that they're getting a lot of eyes on those listings.
Bradley Sutton: So you could say, "hey, show me the keywords," you would enter in the filter that shows the title and put neck pillow or collagen peptides, and so you're saying, "hey, show me the products that have neck pillow or Collagen peptides in the title and that are making an estimated revenue of whatever you put $3,000 a month, $5,000 a month, $10,000 a month," and then you could just have a full list of up to 200 products that have neck pillow or Collagen peptides or whatever you put right there in the title and who have an estimated sales monthly volume of whatever you had put in it. So that's another way. Another methodology and one that's pretty good is if you are targeting a listing that you think you are better than—similar to you, but you're better than. How would you do that?
Bradley Sutton: Well instead of just saying, "Hey, show me something that has neck pillow in a title, making a certain amount." I would lower that amount. I would say, "Hey, show me something that selling at least like $500 a month or $1,000 a month and has neck pillow in the title, however, has one or more other features or characteristics that you think give you the competitive advantage." For example, right there in Black Box you can say, "hey, show me the products that have neck pillow in it, but has a 3.2 or less star rating." If you've got a five-star product, and somebody clicks for whatever reason on that three-star product, maybe they're scrolling down to the description, they're trying to read about this product, and they see yours in a sponsored ad. You've got five stars or four stars, and if your product is similar, hey, you have a little bit better than just random chance of getting that sale because if the customer sees that they've got three stars, you've got five, hey, yours might be more appealing to them.
Bradley Sutton: What about the customers who find the number of reviews important? You can use that filter in Black Box, say, "hey, show me everything that is one of my competitors, but that has 10 or less reviews or five or less reviews or zero reviews." And if you've got more views than them, if they've got zero, you've got five, they've got five, you've got 50 or something, again that could be an indication that you have a better chance at getting that sale or that conversion to switch them from that page to yours. If they see an ad, is this something that's going to be "Oh, 10% of the time that they see it, they're going to do it?" Probably not, but you don't need that. Remember, you do not pay for the impressions. They could show you a thousand times and if nobody clicks on your listing, guess what?
Bradley Sutton: You haven't paid a cent. You only get charged if somebody clicks on your listing from that advertisement. And if you can get somebody to click on your listing, they probably have a good reason to have clicked out of that listing that they were looking at. So, the chances are that you might get that sale, of course, as long as your listing does turn out to be better and really shows something that the buyer wants. Again, if they click on your listing and your images are terrible or it turns out that the product that you have, the features just doesn't meet what they want, well, yeah, you're probably not going to get the sales. So that should be a criteria of deciding which ASINs you're going to target. Even if it does qualify under those filters that you do, whether it's number of reviews or the star rating, there are plenty of other ways that you could do it.
Bradley Sutton: You could actually search in the filter of Fulfilled by Merchant. Maybe the last time Helium 10 checked, the listing was Fulfilled by Merchant. Well, somebody clicks on that fulfilled by merchant listing. They like it, but then they scroll down, and they see that in the ads there, you've got a similar product, but you've got that Prime Badge, you've got that FBA badge. Well, again, that could be another reason of why your listing as an ad could be attractive to somebody who was searching for that other product. There are plenty of other builders that you can use right there in Black Box. Make sure to check it out. Do what is an indication to you of what you think. Like if you were a buyer, right? What would make you switch from one product to another? Guys remember, don't just think like sellers. Think like buyers and play around with those filters and then get a great list of very relevant products that you could target with the ad.
Bradley Sutton: There's also the Competitors' tab—the Competitors tab on Black Box. If you just enter in your ASIN right there and you press enter, you're going to come up with a list of potentially 50 or a hundred or more products that share a lot of ranked keywords with you regardless of if it's a direct competitor or not. So that's another great way to get a list of ASINs that could be relevant in a product targeting campaign because if they have a lot of the similar ranked keywords as you, it could be a product that has equal appeal or a similar appeal as a customer of one of those products. All right? So there's another way. Now, the newer way that we have is under product targeting.
Bradley Sutton: We actually have a product targeting tab right there in Black Box where you can enter an ASIN—maybe it's your ASIN, maybe it's your competitors' ASIN. All right? Somebody similar to you. If you've got a brand new product and you don't have much history, and this is one of my favorite ways to find opportunity of where to target with ASINs because if you put it in a very, very similar competitor to your product, maybe you've got a brand new product so you don't have a whole bunch of buying history. Okay? So you find a competitor who's selling super, super well and has very similar features to you and enter it into product targeting in Black Box. What's going to come out? What's going to come out is three different sources of listings. The number one to me, which is the most important, is the Frequently Bought Together. Frequently Bought Together is right there on almost every Amazon listing that has sales history.
Bradley Sutton: Basically, Frequently Bought Together shows products that customers have bought in the same purchase transaction, the same shopping cart transaction. If they bought that product, they also have bought this other product. It's showing the ones that have gotten the most Frequently Bought Together action. Now how could this help? This is super valuable. Why? Because what happens is it's not just tied directly to a direct competitor. If it was that neck pillow. If you run this on a neck pillow in Black Box, you know one of the top selling neck pillows. Yeah. You'll get some Frequently Bought Together neck pillow. That's probably people who have bought for whatever reason, two neck pillows at the same time, but more often than not the Frequently Bought Together item that's going to come up there are other travel-related products that you might not have even thought about, like a compression sleeve that helps with circulation on the leg when somebody's on an airplane, and then you look at that and say, "wow, that makes sense."
Bradley Sutton: Somebody who bought a neck pillow, they're probably going on an airplane and they have these other needs like a compression sleeve or maybe the eye masks so that it looks dark when you're resting or maybe a special travel headphone. You're going to have all these other ideas of products that you had no idea people were buying in the same transaction, and those are perfect examples of what you can target with an ad because what happens is that most sellers, or even the Amazon Algorithm, a lot of times will just target direct competitors. If it's a neck pillow, they're going to send traffic or send PPC to another neck pillow. If you've got a neck pillow, I would send traffic to another product, or actually vice versa, I should say. If you see a neck pillow out there, it's not your neck pillow, but maybe your product is an eye mask for sleeping, right?
Bradley Sutton: Well, I would go and target the neck pillows because I guarantee if you do research on eye mask in Black Box, travel eye mask especially, there's going to be some neck pillows that come up so that is an excellent way to find ASINs to target—using the Frequently Bought Together because it's not a guess that "oh well maybe somebody interested in the neck pillow could be interested in this eye mask." No, it's not a guess. You've got the information from Amazon that buyers actually have a tendency to buy both of those products in the same transaction, and Helium 10 will not only show you at a certain given time what is Frequently Bought Together, but what has shown up at different times like in the last 30 days under Frequently Bought Together. Sometimes there can be up to 10 or 15 different products that have shown up as Frequently Bought Together throughout a month and Helium 10 is going to show that to you.
Bradley Sutton: How cool is that. Pretty cool I think. That is one of the ways in product targeting that you can find ASINs to target. The other source of ASINs is what's called Customer also Bought. This again is another module that is right there on an Amazon listing page, not all, but a lot of them, and you'll see it right there under sponsored ad. It'll say, "Customer also Bought." Now what's the difference between Customer also Bought and Frequently Bought Together? As I mentioned, Frequently Bought Together are products that were purchased in the same purchase transaction, the same shopping cart, but Customer also Bought could be maybe on Monday of a certain week in one transaction somebody buys a neck pillow, but then maybe on Thursday, they happen to buy an eye mask. Well, those will show up on Customer also Bought because it's the same customer and within a relatively short period of time, they have bought both of those products.
Bradley Sutton: Now this one is a lot wider. Sometimes Helium 10 might show you up to 150 or more ASINs that we had detected, and Customer also Bought. Now these could be completely unrelated, so this actually takes a little bit more filtering by yourself because maybe on Monday somebody about a neck pillow, but on Wednesday they ran out of diapers their little snot-nosed kid. No, I say that because I have kids, I love kids. They're not all snot-nosed. But anyways, you guys know what I'm talking about, right? Maybe they have a kid who, a baby, who they ran out of diapers for and they go on Amazon to buy diapers. Now does that mean that somebody searching for neck pillow has a tendency to necessarily buy diapers? No, not necessarily. Alright. Because again, Customer also Bought can be any day of the week, but you will find ones that are relevant that you might not have thought about.
Bradley Sutton: It definitely is something that you can review and definitely be able to get some other ideas for product targeting based on the Customer also Bought. The last metric that it's pulling ASINs from is I believe called Amazon suggested or Amazon recommended. And now if you were to go right there into your Amazon account and try and do your own manual campaign for product targeting and Amazon's actually going to give you a list of ASINs that they suggest that you advertise for. Now, just like with Amazon suggested or Amazon recommended keywords that we have in Cerebro and Magnet, this is not random. All right? Amazon has their own algorithm and they basically give a score to all of those ASINs about how much they really recommend that you advertise for. And we are showing you some of the top-rated ones are basically the ones that they mostly think that a seller who has that ASIN should advertise for.
Bradley Sutton: This again is not something that should be just used blindly and say, "oh yeah, Amazon recommends or suggests that I advertise for this ASIN, so of course this is a great decision." No, Amazon's algorithm sometimes makes the most ridiculous suggestions in the world. But at the same time, I would not completely disregard that, because how many times have you—in a PPC campaign—converted for keywords or ASINs that don't seem like they're relevant to you at all, yet somehow somebody clicked on it or they searched for it, and they ended up buying your product. Don't just blindly discard something that on face value might seem irrelevant, but at the same time don't blindly just accept everything that Amazon says as relevant and as something that you should definitely use. But again, we are just providing you the information, the visibility to look into what Amazon recommends for certain ASINs.
Bradley Sutton: Now, like I said, you can use your own ASIN and Amazon will give you those recommendations right there in your Seller Central accounts. So, for this part, I wouldn't recommend doing your own ASIN in Black Box. This is especially helpful though for getting the insight into your competitors. If you have four or five competitors, put those into Black Box, because unless you had those ASINs in your own Amazon account, you would have no idea what Amazon is recommending for those ASINs. But you've got that visibility with Black Box even for your competitors' listings on what Amazon would recommend for those exact products. Guys, there are other ways that you can come up with ideas on how to target certain products with your PPC ads. This is something new and not a lot of sellers are using this yet. So I want you guys to rewind this, play it back, play around as you're right there in Black Box, as you're using ASIN Grabber and take a look at different ways to extract products that you can target with the goal being – target the ASINs that is going to give you a better-than-just-random chance at converting.
Bradley Sutton: And the way you can do that is by using Black Box for the products first of all. Trying to find the products with certain tendencies or characteristics that you know your listing is better than—that gives you that competitive advantage. Use ASIN Grabber to find a whole list of ASIN that just go directly to a certain search so that you just want to blanket, target all of the top results, right? Or use product targeting tab on Black Box in order to look for Frequently Bought Together, Customer also Bought, and what Amazon recommends. Guys, this is not the end of things. This is just a very brief tutorial on how you can start. By all means play around with these and listen to other influencers out there. Go back and listen to Liran's episode. I believe that was like episode two or three.
Bradley Sutton: He's got some great parts on product targeting ideas as well. Make sure that you take all this information in, and most importantly though, don't just take this information and do nothing with it and just say, "how cool is that"? All right. What's cooler than just saying that is actually going and implementing this in an actual campaign. So I want you guys to do that. Those of you who are selling on Amazon right now, if you have not used product targeting ads, take a couple of the tips from here and start your first campaigns and get your feet wet. Look at the numbers, see what works, see what doesn't work, and get back to me. Cause I would love to hear from you to see if one of these suggestions you were able to use and actually start converting for. So make sure to let me know. You can email [email protected] and just say, "hey, attention Bradley. I just wanted to let you know I tried some of your strategies here, and I was able to get these results." I would love to hear from you and I'll even maybe talk about it on the air for a future episode. Guys, have a great time working on your first product targeting campaigns. Keep on crushing it.