Episode 34 – 8 Killer Hacks For Amazon Sellers To Ignite Your Business
Learn 8 Amazon tricks from Helium 10 Elite trainings, including a hack for Amazon listing optimization in this Serious Sellers Podcast episode.
Updated on: October 6, 2020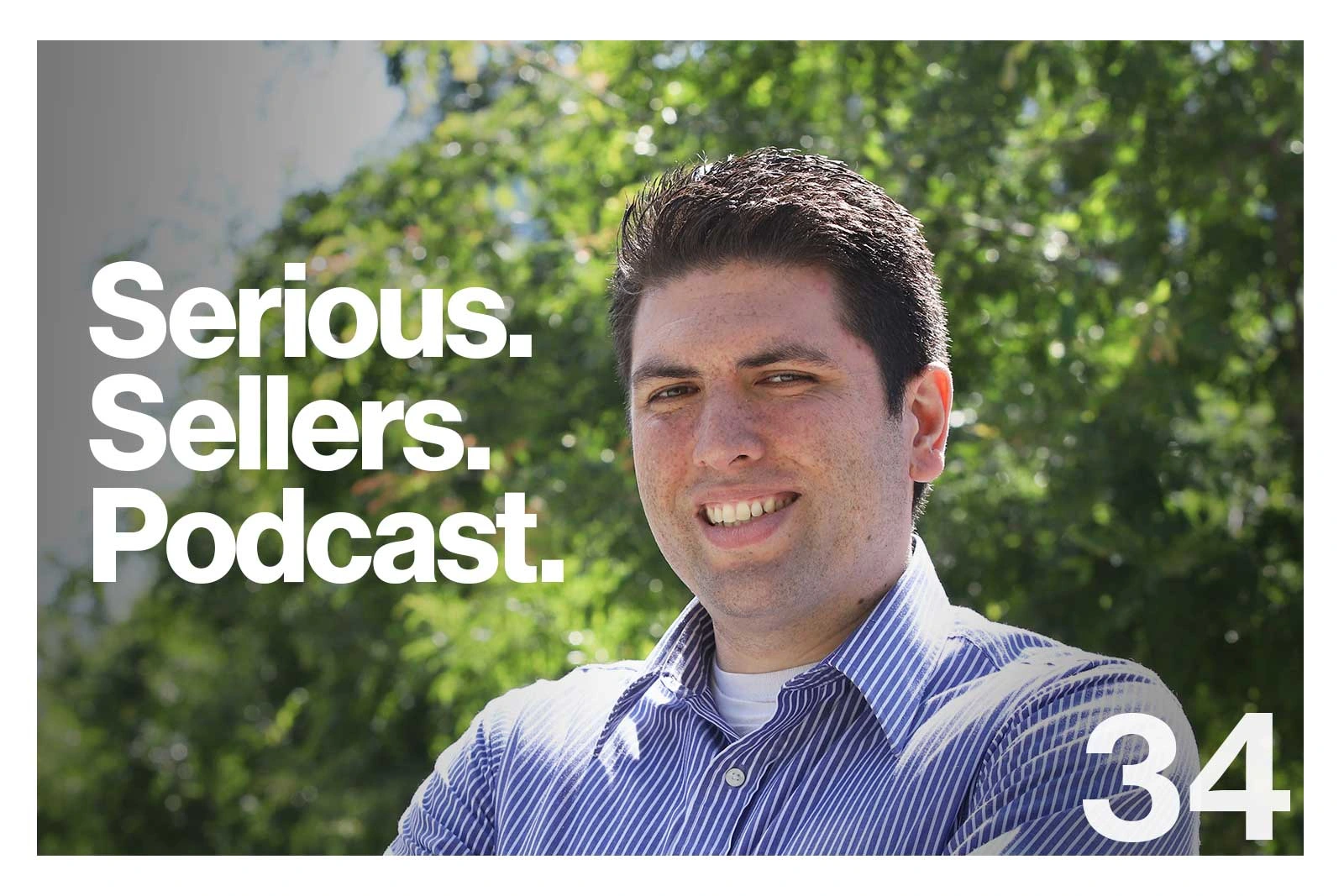 If you're like most Amazon sellers, you're dreaming of joining the ranks of the coveted 1% of sellers who are already crushing it AND are always generating innovative ways to go even higher. So if you've ever wanted to tap into these e-commerce high achievers' minds and discover what cutting-edge hacks for Amazon sellers they're using to better manage and level up their own businesses, you cannot miss this next podcast.
In episode 34 of the Serious Sellers Podcast, Helium 10's Director of Success, Bradley Sutton, shares 8 mind blowing hacks from the #1 Amazon mastermind – Helium 10 Elite:
01:30 – Hack 1: Find Out What Amazon Doesn't Like About Your Title
02:30 – Hack 2: How To Report Black Hat Sellers
03:20 – Hack 3: Bitly Link – Find Key Statistics
04:30 – Hack 4: Quickly Viewing Your Listing On Mobile
04:50 – Hack 5: Locking In Your Canonical URL's
07:40 – Hack 6: Capitalizing On Amazon Subscribe And Save
11:05 – Hack 7: Split Testing Your Images Before You Launch Your Product
12:20 – Hack 8: Dual Listings (FBA And FBM) – Reaching Non-Prime Members
15:15 – The First Helium 10 Elite In-Person Workshop – Friday May 31
Enjoy this episode? Be sure to check out our previous episodes for even more content to propel you to Amazon FBA Seller success! And don't forget to "Like" our Facebook page and subscribe to the podcast on iTunes, Google Play or wherever you listen to our podcast.
Want to absolutely start crushing it on Amazon? Here are few carefully curated resources to get you started:
Transcript
Bradley Sutton: Hey guys, I'm about to give you guys some amazing hacks that have been taken from our Elite workshops that you guys can implement in your Amazon business, and it's going to help you rise to the top.
How's it going, everybody? Welcome to another episode of The Serious Sellers Podcast by Helium 10. I'm your host, Bradley Sutton. In this episode, I'm going to give you guys the h-word—hacks, hacks, hacks. All right. These are completely legal things to do on Amazon that can help you, and these have all been taken from either our Elite workshops or our Elite Facebook mastermind group that we have.
And so, I just wanted to share a few of these with you guys to give you a little taste of what kind of nuggets you can get by being an Elite member with Helium 10, and if you guys want to just go ahead and skip to a whole two-hour workshop or a webinar that Manny Coats and Kevin King did with some amazing hacks that you could use, you can go to Helium10.com/replay, but right now, let's go ahead and get into some of these hacks that can help you.
Bradley Sutton: All right. Number one, this was taken from all the way back in October 2018 during our monthly workshop that Kevin King did with our Elite members. The question was, "How can you determine what Amazon doesn't like in your product title" or "What could be hurting you?" All right, here's what you do. Go to seller central, and go to contact us, products in inventory, product page issue, and then fix product page issue. Once you get there, you're going to enter your ASIN and you're going to click search and then you're going to choose the title. Just screw around a little bit with your title.
Just change anything in there and then click anywhere outside the text entry box right there in your fixed product page issue and then what happens is if Amazon, if there are some words that Amazon doesn't like or some punctuation, it's going to appear in a red error message on the right of that screen. So if nothing happens, you're good to go. But if you feel that Amazon and then maybe you have a forbidden word in there or some punctuation or something that Amazon doesn't like, there's going to be a message that is going to come up right there. All right. There's hack number one. Let's go to another hack.
Bradley Sutton: You guys with me so far? Let's keep going here. Here we go. I get this question a lot actually. People say, "Hey, how do I report bad apples on Amazon or sellers who are doing some Blackhat things like there's a seller who gets a hundred 5 star reviews in just a couple of days, you know, how do I report them?" Well, here's an email address that you can use from Amazon. This is taken from our Elite workshop a few months ago and you could report them to [email protected] So again, if you are suspecting that another Amazon seller is using some Blackhat tactics that are giving them an unfair advantage. This is not to say that Amazon's going to take action, but they do have an email address that can take care of this. Report them again to [email protected] Alright?
Bradley Sutton: Hack number three. Let's keep going right here. You guys see bit.ly links out there. Do you guys know what bit.ly links are? It's those link shorteners that people use, and it'll say bit dot ly and then there'll be a forward slash and then it'll give some random link. Right? Well, if you see a seller who is running some kind of ad on Facebook or on YouTube, you see it in the descriptions. It's a special link, and you're just curious what kind of traction they are getting. You can actually find the stats on what's going on by this. Whatever bit.ly link they have, copy that bit.ly link and paste it into your browser, and all you do at the very end of it is just add a plus sign. All right, add a plus sign and then press enter and it's going to go ahead and give you the stats on how many clicks they've had, et cetera. There's a little hack right there. Doesn't have to be about Amazon, but I'm sure a lot of maybe other Amazon sellers might be running bit.ly links or you might see them running some kind of promotion. You're curious what kind of traction they're getting. Well, that's one way that you can get that. All right.
Bradley Sutton: Here's another one from that same Mastermind that we had done for that month. If you're working on your listing on a desktop or laptop, and you want to see what it looks like on mobile, just go to amazon.com/mobile, and it will show how it looks on mobile without you having to actually go on your phone. Are you guys having fun yet? Let's keep it going with the hacks. All right.
Bradley Sutton: I've talked about this before. Canonical URL. Who knows what a canonical URL is? The canonical URL is the URL where Amazon takes five words from your title and puts that in the canonical URL. You're just browsing around Amazon. You click on a listing, all right? You look at the URL. That's what the canonical URL is. It's also what is indexed in Google, okay? Now there's a couple of ways that this might help you, right? It doesn't always help on Amazon. Some people say it helps on Amazon; some people don't. But basically, if somebody clicks on your canonical URL, you get a little bit of ranking juice on Google or another search engine for the words that are in the canonical URL. So one might ask, well how does this help me if Amazon just picks random words to be in my canonical URL. Well, there is a way to actually lock in your canonical URL. What you do is you take five words; it has to be five like complete words, not like a, and, or, the, or other words that Amazon doesn't like, and then right after that you put a dash. Okay, you put a dash, so five full words and then a dash and then you make that your listing, you wait 24 to 48 hours and your canonical URL should now be those first five words. That means anybody who clicks on your listing, they are clicking on a link that has those five words in it, and especially if that happens on Google, it's really going to help your index scene for those exact keywords that you want to try and get a five-word phrase or a couple of phrases right in there that you are going to get some love from Google just by having that in your canonical URL. If you don't have five words followed by the dash, what happens is Amazon just picks any random words from your title.
You can also make what we could call a fake canonical URL. Like if you are doing Google ads, you're doing an ad on Google, you can actually use Helium 10 Gems page. Just make a one-time canonical URL. It'll still go to your listing. You can put any five words you want. Now, this does not lock your canonical URL. This is not like making Amazon force your canonical to be this. You can do that by that trick I just told you about with the five words and then the dash. But you can make a temporary canonical URL by using Helium10.com/gems and go to where the canonical is. There are five text boxes and you're going to want to put five of the words that you're trying to rank for on Google in there, and it's going to generate a canonical URL that you can now use for targeting.
Bradley Sutton: You can put that in your ad on Google, and you will get indexed for that. All right, so there you go. Canonical URL guys, look it up. It's a great hack that can help you and it doesn't take much time. And again, this is taken from a Helium 10 Elite workshop that we have done.
How about more? Would you guys like some more? What about subscribe and save? Who here does not know what subscribe and save is? This is an option for a lot of consumables on Amazon where on the buy box it'll say, you know, save 15% and subscribe and save. All right, subscribe and save is big. A lot of people in the DR, the direct response market, all out of Amazon; they also call this continuity, right? The subscription e-commerce market is up more than 100% every year since 2011. A lot of subscription e-commerce is like the Sephora, right? Beauty box by Walmart; Gillette on demand. You know, in 2016, UNILEVER paid $1 billion for that dollar shave club. All right. So it works really well for 25 to 44-year-olds, 60% of the women who really work well with, and the US Northeast. For whatever reason in that area, a lot of people love the subscription model, right? So you know you guys have heard of the dollar shave club, all right, but you would think that that's the number one source of subscribing or continuity products? Nope, it's actually Amazon subscribe and save. It has even more overall subscriptions than the Dollar Shave Club, which I just said was bought for $1 billion just a few years ago. So this is something that is definitely an opportunity. All right. How can you take advantage of that? Now? This is not if you are selling, let's just say a hat on Amazon, unless you're me, I'm always wearing different hats, right? I might subscribe to somebody who gives me a different cap each month, but if you have like diet pills or you've got some kind of vitamin C supplement or maybe some seaweed snacks or shampoo or anything else that's consumable like that you know people are going to have to order. Make sure to turn on the subscribe and save in your seller central. You go to settings and your seller central on the top right all the way down. You click on Fulfillment By Amazon and then scroll down to where it says subscriptions settings, and there should be a feature there that says subscribe and save if you have it enabled or disabled. And then you click on the link that says add or remove, subscribe and save products. And then basically what you're going to do is you're going to add whatever ASIN and you want to get on subscribe and save. One of the previous companies I worked for, I think it was like something crazy, like 25% of their sales. Now, this is a $2 million business. 25% of their sales were coming from subscribing and save orders. This is one of the easiest ways that even myself personally as a buyer, I have five things on subscribe and save right now. I've got like some low-calorie carb-free chips, two different kinds. I've got toilet paper on subscribe and save and just Amazon charges me once a month and sometimes I don't even need it, but I'm like, "Ah I forgot to turn this off." You know, that's fine. And so you know, I probably wouldn't have bought it again if it didn't have that subscribe and save or I would have forgotten about it. I would've gotten a different brand or something. Right? But by having that subscribe and save on, you really lock a lot of your customers in and build yourself better brand awareness, some brand loyalty, and it's a great way to increase the bottom line.
Bradley Sutton: Another tool we've talked about in previous Elite workshops was pickfu.com. It allows you to split test your images. All right. This is something that's so important. A lot of sellers think that they know the best, that they know which the main image is going to perform the best because they know their product. But what happens is they're listing doesn't perform that well. The reason is that other sellers just don't think that it's as great an image as the seller thought it was. All right. So a great way before you launch your product and not having to split test with a live list. They do it beforehand. Do two different kinds of main images or other images and go to pickfu.com and pay to have these sent to actual Amazon buyers, and you're going to get the demographics and everything on what people think about which picture is the best. They'll say, "You know, 50% of women love this image, but you know, 85% of men love this one." And then if your target market is mostly men, you're probably going to want to follow what that pickfu.com split test showed you. So this is another example of something that came from one of our elite workshops that we give you as a hack.
Bradley Sutton: Another thing that I recently posted in the Elite Mastermind group that we have on Facebook is a tip that's so many sellers don't even realize. All right, and that's about fulfilled by the merchant. Later on, I am going to do a possible podcast episode all about this, but in a nutshell, basically what happens is so many sellers only have an FBA listing. They never even touched their inventory. It goes straight from the factory all the way to Amazon. It just sits there, and they're happy with their prime listing, right? I always suggest dual listing your products, both FBA and FBM—fulfilled by the merchant. Why is there a lot of sellers out there; sometimes they'll look at their reports, right? And then it says, "Buy box percentage, 93%, and they're like, "Wait a minute, I'm the only seller on this listing. How do I not have a hundred percent buy box?" Well, what happens sometimes is that there's a lot of customers out there that don't have Amazon Prime. I mean, percentage wise, maybe not a lot, but number wise, there's plenty of customers that do not have Amazon Prime. And for some of these listings where they don't have prime, it actually will not even show a buy box for the listing. All right? They would actually have to click on more sellers just to be able to add it to the cart for whatever reason. There are other customers, for example, who live in some countries that might not have international prime delivery, where you have something on Amazon Prime, they're not going to ship it to that country. Well, what happens when you have this? Well, another thing that happens if you have an under $35 product, let's say you have a $15 product, and there's a customer that doesn't have Prime. Well, what happens when they add it to the cart? When they add it to the cart, Amazon is actually adding shipping to that price. So like let's say the product is 15 bucks, they added to their cart. Now it's like 23 bucks or something like that, and then what happens at that point, they're like, "Ah, I don't really want this product anymore because that's way too expensive. My budget is 15 bucks," and they're going to go find somebody else. Right?
Bradley Sutton: Now, if you have a fulfilled by merchant listing in addition to your fulfilled by Amazon—something that you're going to fulfill yourself out of your garage or using a 3PL (third-party fulfillment), well you can afford to still offer it for that $15 with free shipping because usually you can fulfill that product for about the same price that Amazon would have charged you to fulfill it themselves. So then, for all those customers who don't have Amazon Prime and that you might have lost a sale to another customer because they would have to pay 23 bucks if they buy brought it from you, well now you don't lose those sales anymore. This is not a great big number, guys. The last company I worked for, it increased their bottom line about two to three percent but that company, we're talking about $3 million a year over all of the sales.
Bradley Sutton: Now, that's two to three percent of that? Right? It adds up. Even if you're only doing like five or six figures, think about what an extra two to three percent adds to your bottom line and also increases the amount of customers that you can reach. So that's a very simple little hack or trick. Try to offer if you have the ability; dual listings, FBM and FBA, and again, this was something that we talked about in Elite Mastermind group that we have. This week, we are actually having an Elite workshop. We have Elite workshops in-house right here in California where we invite some influencers out this month. We have Barcus from Six Leaf. We've got Michelle who is ChatBot Queen who knows all about Many Chat, and they're having an in-person intimate workshop with about 50 of our Elite members free of charge. If you're an Elite member, you get to come here free of charge and have an intensive workshop that goes throughout the whole day about some different things.
Bradley Sutton: Barcus is going to be talking about launches at Instagram ads and of course Michelle is talking about chatbots or going to have another one in July that's going to be all about PPC and some really great hacks. I give more hacks in these little workshops as well. Guys, there could be one thing you heard today or one thing that you hear in Elite workshop that can do wonders for your bottom line, and you never know when these things you know could come up. It could be in one of our monthly workshops that we do with Kevin King. It could be in these in person workshops that we do at our headquarters, but don't miss out. Also Elite members get the highest access to our tools right now, right this second. You know, by the time you guys are listening to this, other people might have access to it, but right now, our Elite members have had access into old new tool that we had.
Bradley Sutton: That is a game changer for product research. Our Elite members were just talking about, I think it was Giovanni who was just saying, oh my goodness, this new method of product research is insane with like seven As. That's literally a quote from the Elite Mastermind Facebook group that we have. He's got access to this, and nobody else even knows it exists, but now because our Elite members, they get special access to Helium 10 as well, and also expanded email. They get multi accounts. There's a lot of benefits guys, so again, two links that I want you guys to write down. If you're just ready to go ahead and upgrade to Helium 10 Elite; it's a $397 per month, and you can do so at helium10.com/elite. If you're not interested in signing up for Elite right now, but you want to have about 25 other hacks and tips, just like the ones I just gave you in this episode, well go to this link. It's a Webinar that Manny Coats and Kevin King did, giving you some of these hacks and a lot of great stuff completely free. There's no obligation here, but you guys can see that replay at helium10.com/replay. But guys, I highly recommend Elite membership. It is our most advanced level of membership and our most advanced training that we have available, and it literally can mean thousands and thousands, if not tens of thousands, of dollars to your bottom line by implementing some of these tips and strategies that we go over in the workshops in our private Facebook group. So guys, thank you for listening. I hope you had a great time and I will see you at the next Helium 10 Elite workshop.