#327 – Google Business Profile and Other Unique Strategies to Help Your Amazon Business – Norm Farrar
Norm Farrar is back on the show to share his knowledge about selling on Walmart, updates on his pre-launch strategies, and more!
Originally published on: March 5, 2022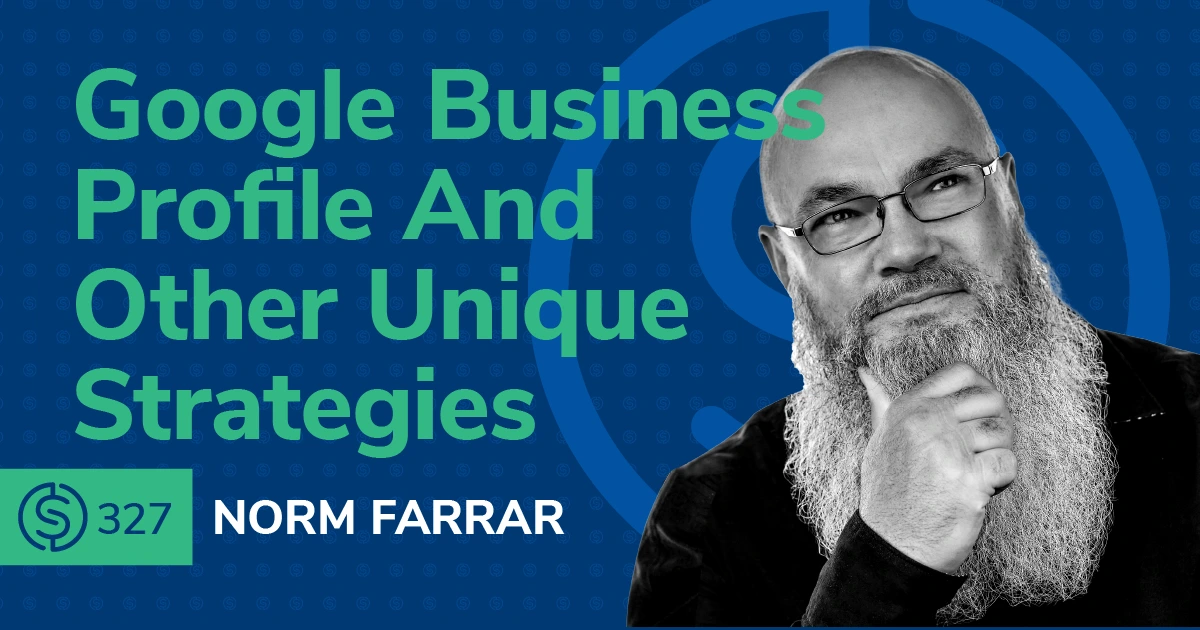 In this episode, Bradley welcomes back an 8 figure seller and consultant, Norm Farrar of the Lunch with Norm podcast, to talk about Walmart, press release, and Google business profile tips and strategies. He also explains why focusing on the pre-launch is the key launch strategy and how Amazon wants us to build a community of raving customers, so make sure to listen to the very end!
In episode 327 of the Serious Sellers Podcast, Bradley and Norm discuss:
02:45 – Norm Shares His Tips In Selling On Walmart
05:30 – Walmart Requirements For International Sellers
09:00 – Unique Listing Content Matters In Walmart
12:30 – When Is It A Good Time To Apply To Walmart?
15:00 – Updates On Norm's Press Release Strategy
20:00 – Does Press Releases Help In Keyword Ranking?
21:00 – Google Business Profile Is The Hottest Thing Right Now
24:30 – What The Process In Creating A Google Business Profile
29:00 – Google Indexes Your Gmail
33:00 – Prelaunch Is The Key Launch Strategy
37:00 – Amazon Wants You To Build A Community
39:00 – Norm's Thirty-Second Tips
43:00 – How To Get In Touch With Norm
Transcript
Bradley Sutton:
Today we bring back the beard guy himself, Norm Farrar. Who's gonna give us tons of unique strategies on press releases, Google Business Profiles, and much more. How cool is that? Pretty cool I think. Hello everybody, and welcome to another episode of the Serious Sellers Podcast by Helium 10. I am your host Bradley Sutton, and this is the show that's a completely BS-free unscripted, and unrehearsed, organic conversation about serious strategies for serious sellers of any level in the Amazon or Walmart world. We've got one of the most serious sellers out there Norm Farrar our come in to us from Canada norm. How's it going?
Norm:
Very cold.
Bradley Sutton:
Very cold. I imagine. What, what is the to tempera over there?
Norm:
Actually today it's not too bad, but it was ranging between this is Celsius minus 30 minus 16,
Bradley Sutton:
Minus 30. Oh my goodness.
Norm:
So today's around minus five. I think
Bradley Sutton:
Today is very cold here. You see, I have my Serious Sellers Podcast hoodie on. Very cold for us here in California is about 10 Celsius. It's about you know, 50 degrees. That's like hoodie weather out here, but that's t-shirt weather for you guys up there. Right?
Norm:
Take the knife outta my back.
Bradley Sutton:
Anyways, here. We're not here to debate. Where's the better weather. I think everybody knows Southern California is really great. But I wanna talk about a variety of topics today because this is now like I believe you're one of the few who have been on here three times. You know, we have people on here trying to have them once a year. And so this is Norm's third time. And if I recall correctly the first time we really went deep into Amazon post, which was amazing. So I definitely wanna follow up to see what's going on there. Another time we talked about things like Google My Business and press releases and things like that. Maybe follow up a little bit there, but then, first of all, I want to switch gears. You know, we just launched Project W on YouTube.
Bradley Sutton:
For those who don't know W stands for Walmart, you know, we had project X, which is how to get your product started on Amazon and what myself and Tim Jordan had the ideas let's do something for Walmart, but this one didn't involve me cuz I really don't sell on Walmart. So we had Carrie our other evangels here go with Tim Jordan and do a full series on like how to take your Amazon products and get them going on Walmart. So if you guys have not seen that yet, just make sure to go to the Helium 10 YouTube channel and then just start with episode one, start binge-watching those they'll be great information. But you know, I know in the last year Norm, you've been doing a lot of experiments. You've been doing a lot of testing a lot in your community have on Walmart. So I thought we'd take the first few minutes here talking about what's working. What's not working on Walmart, some insights, you can share some strategies.
Norm:
Sure. So one of the things and, you know, Carrie and Tim probably covered this, but the first thing is you really wanna make sure you set up your application properly. So many sellers try to get onto Walmart and we hear complaints. We hear, oh, I can't get on. It's taking forever. They are getting much better at it. And this is if you're going through walmart.com and trying to get on, but the way to do it is to do it through an app like Shopify or PayPal or deliver and walk through the process there. But when you do that Tim and I did a video about the application process. There's a few trick questions there. Do you have a warehouse outside of the US? We found that if some people say yes that's a trip up question so just say, no, it's a little white lie, but in this if you are selling in Canada or, you know, Mexico, but if you are just saying, no they're looking for us suppliers. The other thing is the US shop or the Amazon shop if you've got an Amazon storefront, they're looking for a very specific URL and it could trip you up. So just again, probably the best thing to do is just look for that application video that was put out and I'm sure is covered in detail with Project W.
Bradley Sutton:
Speaking of the international thing, I think one of the most common questions I see in like a Facebook group, and we have a Facebook group now for Walmart sellers, it's called Helium 10 Winning with Walmart, but are sellers based out of the country? What are the requirements like, do they need to have a US based LLC, or what do they need to have in order to sell on the Walmart America website?
Norm:
Okay. So, I've just gone through this with one of our clients. So this client is in Europe. One problem was that it was foreign based. He got rejected the first time around. So what he did is he came over here and he started an LLC. However, when he got his EIN he made a mistake, the EIN did not match his LLC address. So it got rejected again. Now the beautiful part about Walmart is if you get rejected, there is an appeal process. And usually, it's pretty simple, something that you just look through the video, and it'll probably clear it up in two seconds. It's probably a box that you checked wrong, but in this case, it was because Walmart checks, if they don't match up, you're not gonna get on. So they are still, and it's getting better, but they are still looking for proven brands that are on Amazon or on Shopify, within US not even Canada within the us. So if you have a W-9 form with an EIN great, if you have a W-8, then you might have some issues.
Bradley Sutton:
Okay, good to know. Good to know. Yeah. Very common question out there, because everybody's, you know, I wouldn't wanna call it a bandwagon, but figured jumping on the bandwagon, Walmart, and as well they should, because it's a great opportunity. And there's a lot of Amazon sellers who are not based in the USA. So they're curious how to sign up. Now, what project you is mainly about and this was by design. What was the first no brainer aspect of selling on Walmart, which is if you're already selling on Amazon, you've got your product here in the country, you might as well switch over to not switch but put your listings on Walmart? You've got your inventory domestically already and, you know, what's working, what's not working, you got the Helium 10 tools in order to look at what's the keywords, which is not always the same on Amazon versus Walmart, but it's a no brainer, you know, to not have to start from square one, to develop a product.
Bradley Sutton:
And then six months later, you get it on Walmart. Now, that being said, it's not just taking your products that are already successful on Amazon and moving its Walmart. So let's talk a little bit about what we don't have yet in season one, at least the Project W which is some other scenarios where perhaps you are an Amazon seller, but maybe you start a product that's only on Walmart or maybe you're from Shopify. And you start at Walmart, talk about some of the other personas on who, other than just existing successful Amazon sellers can be selling on Walmart.
Norm:
Well, Amazon, and there could be different options out there that, that Walmart's looking for. But first of all, you've gotta fit into what they're looking for. It's not like Amazon, where everybody can just flock into it, or you can open up a Shopify store. They are looking for more of a seasoned brand or a brand that can meet their standards or their requirements. Interesting fact that the typical Walmart buyer is a middle to upper income purchaser, which kind of surprised me. I was very surprised when I saw that it's, it's not low bottom discount. It's in that middle to upper income category. Now there is a major component here that a lot of Amazon people will get tripped up on and they won't know what hit them. And that's the same with Shopify.
Norm:
That's why I'm feeding it in here. If you are copying over your Shopify listing, if you're doing that with Walmart, if you're doing that with any other platform, you're not gonna get as ranked as well as if you have unique content on there, we're doing this like today, we're writing 10 listings that are on Amazon, that we're changing over to Walmart art. And that's because you have to look at what Walmart is looking for. It's a different platform, the title structure, it has to fall into the way that Walmart's looking for. They're not looking for long titles. They're looking for a very specific title. Their bullets are set up differently. Their attributes are different. So very similar to Amazon where you wanna fill in, especially with a flat file, all the fields, same thing over here. So if you are bringing something over from Shopify, make sure it's different. Now, who I would take a look. I just purchased some beard, beard oil there.
Bradley Sutton:
Why would you need that?
Norm:
I have no idea. It just arrived. It just came in. It doesn't sell on Amazon. So this product would probably be an–, and I've talked to this company saying, I love your beard oil. You gotta get on Amazon or Walmart and they wanna be a Shopify product, but this would probably be something that the Walmart team would go out, look at and probably say, be a good fit. Yeah. You know, because it's got the branding, they're looking for a brand, right. They're looking somebody that looks like they can service the Walmart consumer very similar to Amazon to give them a proper and great customer experience.
Bradley Sutton:
Yeah. Makes sense. And I've said this a million times, like, that's the, one of my biggest goals of if I were to start on Walmart and I have started selling at Walmart now, but I don't personally have this goal because I don't have the time to see it through. But if you've got a brand or a product that would make sense to be in a Brick-and-Mortar store, you know, like Walmart in the future, that's like, it's a great path, you know, crush on Amazon show that you're legit business Walmart.Com accepts you. Now start crushing it on walmart.com. Guess what? Now, all of a sudden you have an advantage over somebody coming off the street, trying to pitch Walmart, Brick-and-mortar, the Walmart sales team. They're Hey, bring, bring this product in.
Bradley Sutton:
You can say, Hey, look, I'm crushing it on walmart.com. The next step is like, maybe have it be a fulfilled by Walmart where they might actually purchase it from you. And then the next step after that is getting into Walmart stores. And I've gone through that process at other companies that I worked at years, you know, way before I was in Helium 10. And it's just mind-boggling the amount of business you can do with just one SKU. You know, this one company I worked that they were doing tens of billions of dollars because you get one SKU in each store, you know, we're talking hundreds and hundreds of stores are buying, you know, cases every couple weeks. I mean, you guys can do that math. It's actually way more than you probably would do on Amazon if you can get it into the stores.
Bradley Sutton:
And you're not having to pay for advertising a whole bunch of stuff. So that's like another great path. Now you talked about how Walmart does want to see some kind of they don't want just somebody new off the street, you know, like Amazon can, you know, I could just have never sold one thing online and then start a professional account and be approved in a couple of hours. But is there any kind of threshold that you've seen in your, in your experience? And like, when I should feel comfortable to show my website or to show my Amazon account to Walmart to apply, you know, like obviously if it's a website, they can't really tell if it's sell selling or not. She'll could I theoretically make a Shopify website and then just that looks professional and they would accept that? Or do they actually wanna see some proof of sales?
Norm:
I think they're gonna dig into it. I can tell you for sure, but my gut is, and from what I understand, they do more research. They're gonna go and check out your Shopify store. They might even check out your social media, they're looking at different microbrands. So, and again, a micro brand, you might be selling a hundred thousand dollars a month. You're not a brand, you're a micro brand. And so they're looking at these quality microbrands, how you look to the public. Again, it comes back to the customer experience. So I don't know, but if I had a two and a half star average rating on Amazon or on Shopify, or I wouldn't be pitching. If you've got good quality and they will check out, that's why they ask you on your application, what other marketplaces are you selling in?
Norm:
So they can go and investigate. So I would definitely make sure that my star ratings are great, or my ratings are great, that there's proper high quality copy images. That's what they're looking for. Even if you don't have a ton and they can easily find out, anybody can easily find out the traffic and the metrics for any Shopify store. But I don't know if you have to have a ton of sales. In my eyes, I think I could probably launch something. I could probably be out there for a few months, have a quality, have a phone number, have an email or contact, have a refund, policy, everything that you need for online sales. So you don't look like a schlump.
Bradley Sutton:
So Walmart guys, again, you know, if you're not selling on Walmart and you are selling Amazon, you know, I'm not saying that every single person should be, I'm sure there's some strange scenarios where you might not be, but if you're a set on Amazon, you've got a successful product, there's very few reasons that you shouldn't be selling on Walmart. So, be sure to check it out. And if you're not sure where to begin, like I said, go to Project W on YouTube, or if you're a Helium 10 member, it's gonna be in Freedom Ticket soon. You'll be able to get information on that now. You know, one thing that you've always talked about before is that's pretty unique that I would say 99% of people do not talk about it is press releases. And I'm just wondering, are you still involved in that? And if so, like what's working and not working, or some recent examples you can give us on why you think people still should use press releases for their Amazon products.
Norm:
Absolutely. So it's changed over the years. The type of press release that we were using in the past for the most part was called a social media press release. These are press releases that go out to all the media outlets, and they also go out to some bloggers and influencers, but also through social sharing. So it's a fairly inexpensive press release. They run from $50 to about $150, maybe $300 at the very max. What we've done now is we've created something that is a much higher level press release. So the press release is also linked to content. I'll give you an example. So let's go talk about bully sticks. So let's say that I write a blog article. The blog article has gotta be really great content, 1500 words or so the the blog article should have some images, paragraphs really short.
Norm:
You might wanna do this is kind of cool, a YouTube video that kind of explains that blog article, just a short one. So you get the juice from that as well. You be it into your blog article, and this might be five reasons why elderly dogs need bully sticks or the benefits of bully sticks, you know, something, some type of hook to get them to read it. And you also have the information that's all this information is gonna be on your blog, okay. Or on your website. Now, once that's published, then you go to a distribution syndication company, and you blast it out. So now that one blog article very similar to a press release goes out to all these media companies. Now, this is where the magic happens. You go to a higher end press release, and you don't have to buy 20.
Norm:
You could buy one or two or one a week over the launch period. You pay between $500 and $1,500. It's expensive, but you buy that and you link it. And you talk about the natural organic bully sticks have proven health benefit fits for elderly dogs. And now all of the information that you have about your website, your social media you make it a newsworthy article, but the actual link links back to your blog article, and then you blast it out. Now you've got the power of the press release. It's linked to your blog article and that YouTube video is in both. So it's just content and that's all I'm doing. The other thing that's unique is just content in general. We're going out there and we're becoming authorities. That's all I want to do.
Norm:
When I launch a product, I wanna become the authority in that niche. It might be a bit of an uphill battle, like if you're doing supplements, but if you're doing plastic shoe stretches and you've got the best one out there, you could be the authority. Well, how do you do that? Get the content out there. High quality, well written, not half a penny, a word quality. You don't have to do it every day. Once a week, once a month, just be consistent. Same thing with the press releases. Just keep them going, keep them going out there. Or you could do small video clips just repurpose the content. Repurpose the content on all your social media platforms. So if you've got a press release, why not share it on Facebook or on Pinterest or on whatever? The video on Pinterest, I wouldn't do so much the press release, but you could, we've done that in the past, but all of your social media should have access to those two blogs and the press release.
Norm:
It works. It works, especially if you're tying it into a niche, you're tying it back. Oh, I should have mentioned this by the way, I'm getting old. You have to have the link back to your Amazon product. Right. And don't be playing around with it, just a raw link, like second paragraph. But for more information, there's your link. Have it click back, go over to your store, go over to your Shopify store. If that's where you're selling, most people are gonna have it go back to their product listing.
Bradley Sutton:
Okay. Now, what have you been seeing as far as how does this helps around initial launch? Like, does it help at all with keyword ranking and things like that? You know, now that's on the minds of so many people because, the traditional things that people would do, you know, search, find, buy, and two step URLs and things like that are, are no longer allowed to be used on Amazon. So can this help with that?
Norm:
Absolutely. So you don't forget, you've got keywords that are within the press release, press release, goes out to authority sites. Now there's you're not gonna get a ton of traffic. That's not what it is, but guess what? There's gonna be links going back to your product listing. So that's, that's one thing. And then when you're doing the content marketing, okay this is gonna confuse people. I don't want it to confuse people, but it's probably gonna go to the next topic. Google Business Profile is the hottest thing right now. If you don't have Google Business Profile, which used to be Google My Business, now they've changed the name. If you are not doing it, you are missing out on a ton of free traffic a ton of click list searches. So have you ever heard of a click list search and most people haven't?
Norm:
So this is something that Google does. If I'm selling, chef knives. And I have a content piece about a eight inch chef knife. And I put images within that content piece. Okay. About eight inch chef knives. And in that piece, you're talking about how an eight inch Damascus steel chef knife is great for cutting sushi. It's a great carving knife. It's a great Google starts to pick up that there's other keywords in there. And when you publish it from Google my in this or Google Business Profile, they're going, oh, it's relevant for those keywords without trying to rank for those keywords. If it's relevant enough, all of a sudden you're gonna get some juice from that. And if you do it two or three times now, when people type on Google carving knife, well, all of a sudden you're appearing
Norm:
Damascus steel knife. Now you're appearing. You never ranked for it. The beauty is when you go and you have that content, not only is it found on your website or your Shopify site, you can put all your posts, 100% of your post through Google, my business and they'll index. So now you're starting to see under Damascus. I showed you this before Bradley, where I had two pages of search terms and they were all for bully sticks. And I owned 19 spots. I owned 19 spots of Google because I was just hitting it with bloggers and influencers were writing for it. I had images up there. I had old press releases from 2016, but this is all through Google My Business. And it's now for brands. You can create and Google My Business, an area that you have for category and products or services, you can add your products there.
Norm:
And you could say like, okay chef knives, and you can have different chef knives. Those can not only go to your Shopify store, your Walmart store, and or Amazon store when somebody types it in, it's automatically gonna be posted where you see the Google shopping. Well, guess what? They're there now. And it's free. It's absolutely free. Nobody is doing it. 3% of businesses we're using Google My Business. I don't know what percent of brands are. I've been telling people about this forever. And especially now since last year, when they allowed brands to go onto Google My Business, I'm gonna keep saying that, but it's Google Business Profile. They just changed the bloody name. And it's so powerful.
Bradley Sutton:
So, okay. Walk me through then, I'm here listening into this podcast and, and I've got, you know, Manny's Mysterious Oddities as my brand or my business, maybe I have a business entity, like what's the steps, you know, I have to have it connected to a Gmail account. And then what website do I go to apply for this? What's the process like, can you just talk us through a little bit of that?
Norm:
It's so simple. So all you have to do is you can just type it in a Google My Business or Google Business Profile, either way. You'll get you back to the page. It'll ask you to get started. You get started. So if you're working with workspace you can easily get to it by you know, those little icons on the top, right? Drop down and just click the little business icon. But if you don't have a Google workspace, just go into Google or Chrome or whatever you're using type in that. It'll take you over, it'll say start profile and it'll walk you through it. It's gonna ask you for your logo. It's gonna ask you for the name of your company. And then once you log in, it's a little bit intimidating, but it shouldn't be just go through one by one.
Norm:
So it's gonna ask you, well, first of all, it's gonna ask you. You have to verify, okay, most people get tripped up there and they want to phone Google to verify that used to be the easiest way. We found over COVID, it's easier to have the postcard sent to you. And so once it comes, it's gonna give you a code and you have to punch it in. And now you're good to go. So that could take 10 days, could take a little bit longer than that. It might be quicker, but do it that way. Do not worry. If you're working out of your house, I'm working outta my house. You put your house, don't try to trick them because you'll just be rejected. So I'm working outta my house, and this is why it's now for brands, I can click a button and say, don't show my address.
Norm:
Then you can get started. You put all your business information. It's gonna ask you for a short description, long description. It's gonna ask you to add your products and your services or products and categories. So you can take all of your photos of your different products and put it in there. So let's say that you have a multipurpose knife, Damascus knife, paring knife, whatever it is, you can add those four or five, but those are all going back to Amazon. Now, if you want, you can take those four or five and put 'em over to Shopify or over to Walmart. So it doesn't just say, go over to Amazon, which is very unique. And this all becomes part of Google images. So when somebody is searching Google images and they wanna buy something, guess what your product could show the. Next thing that you want to do with this.
Norm:
So you're, you're adding all of this. You wanna add any videos that you have, any photos so you can add photos of let's say you've gone to a restaurant and the chef is using your products, or it might be some sort of the chef tagged you. So you can take the information, take the photo of course, all legit, and then just write metadata on the back end and rename the file. So now you're renaming the file, your keyword, you know, a nine or eight inch Damascus steel knife with metadata in the back, posted up to Google, Google My Business it indexes 100% right away. Like it's 100% it gets indexed. Okay. So then you move on. What about all your Facebook posts? You can add Facebook posts. You can actually have it. You can go in create posts and have it go to Facebook or Twitter.
Norm:
I wouldn't recommend that I'd recommend going over to Facebook or Twitter or TikTok or whatever and use. You're gonna be asked to where would you like this to be pointed? So it might be over to your Amazon store. It might be to your Shopify store. Then that's called an anchor URL. That's the most complicated thing you have to know about Google My Business, that anchor URL is where people are gonna be pointed. You got a Shopify store, you have an Amazon store when you create Facebook post, all you want to do is let's say you have a really great, you throw it up there. You write the caption and you have to make sure that your anchor URL is there. Anytime Google sees your anchor URL, it's associating it with your Google My Business profile. So now Google sees and promotes your Facebook post.
Norm:
And Facebook is out there on your timeline. You know, like when you promote or when you post that post. So it is kind of like a double whammy, and that's the same for TikTok, Instagram, anything that you're doing. So it is so powerful and everything that you post, the more that you post, the better it is. And I'll tell you another, this is just that little gold nugget? I bet you don't know this, but Google indexes your Gmail, okay. Google's algorithm picks up your email. Now it's not gonna publish it but if you have a Google workspace and you're publishing, or you're sending out Google emails, Google sees it. Now your–,
Bradley Sutton:
Your email address or you're talking about the content of your emails.
Norm:
They see it, they see your email. And the trick that we have, that we've just found out is let's say that you have a unique event going on for your product or something's happening. You've got a 10% deal going on in Amazon. Put your anchor, when you go to Google my business and you talk about a post, it's gonna say, okay, what do you wanna post? You'll put in your caption. You'll put in a picture. And if you don't wanna send it to Facebook or Twitter, it'll give you a link. That link, put that into your Gmail, it's magic. Put that into your Gmail and you can make it into like a Bitly link or you know, any other type of URL shortener. But you just have something there. Click here to see what's new with, click here for a 10% promotion on, and Google's picking that up.
Norm:
You're using a Google tool. Every element that you're using with Google, they're giving you rewards for, okay. Even like we talked the last time about a car dealership. And so here's an update on that car dealership. They were spending $55,000 a month on SEO. Okay. So somebody was getting 55 grand for getting this company I believe it was in Seattle. That was the first one. So the Google by using Google Business Profile, their SEO came down over a period of a year to a thousand dollars a month. Same amount. One of the benefits that they had for getting index was they were using Google sheets and updating daily, all the prices and Google would come back, reindex, reindex, reindex. This has worked so effectively with all the tools that Google has, like Google Sheets, Google docs, all the tools. Now they have seven car dealerships and it's $7,000 a month. Each one of those dealers, we're paying $55,000 a month each
Bradley Sutton:
These are the kind of things I like talking to you about because these are the kind of things that we don't really hear about, you know people are using, I like these you know, under the radar strategies now, just in general what's been working for you guys as far as launch. I'm assuming you've been using, you know, what you've been talking about so far. You know, be it press releases, be it these Google strategies, but you know, for a lot of your students out there or people in your community, what are you seeing since that terms of service change that's been working for people on getting to page one for their main keywords? Like is it just PPC or you guys have some other unique strategies? Is it combination of all these things we've been talking about so far?
Norm:
Well, I think it's pre-launch. Pre-launch is the keyword, right? So we wanna make sure that we can at least look like an authority. If it's a one page website, if it's just building up and having 10 posts on some social media, doesn't have to be on all social media could be just on one or two, but just getting something out there, getting that first press release out there, steering up the buzz. Now, if you do have, it's different that if you have that list or if you don't have that list, if you've already got that community built, that's one thing, if you don't and it's brand new and it's fresh, it's a lot tougher. So yes, you're correct. We would get that buzz going initially for the pre-launch. We would then go to our PPC and get that set up. And then what we're doing is we're lowering the price.
Norm:
We're either putting up a very low digital coupon, lowering the price. Here's my trick there. I use this with Dead Sea Mud and there's really on every listing you've probably seen this is, there's really three pricing structures. You've got the low level product cannibalization to team that, you know, they just wanna move volume. And this is a true case study I looked at was Dead Sea Mud, $6.95 to $14.95. And it went from 8 ounces to 16 ounces. Ridiculous. You know, they were making pennies. So if you take a look at the second tier, it went from 30 to about almost 50 bucks, and all right, what's the difference? Slight difference in quality of packaging, the bottles or the amount was still the same. It's the third tier pricing is where I like to be at where it's.
Norm:
And this is with that dead sea mud. It's nothing different than dead sea mud. Okay. So 70 bucks to $95, the $95 version was three and a half ounces, not 16 ounces, but the packaging, the imagery, the perceived value was that much higher. What I'll do is I'll come out with a high end, high quality product. I wanna be at that tier. If I can get the traffic coming over, so you have to do some research here. Like, what is that top tier actually making? Let's say it's favorable. Then what I'll do is if I want to hit an $85 or $90 range, I'll discount it down to middle to high, second tier. So people are gonna come to that listing. They're gonna go, wow, this is why isn't this up here, or it'll see the slash through it.
Norm:
And wow, I'm getting, you know, a tier one, you know, the best tier I can do this middle tier. They'll buy that up, left right, and center. So, and I'll run that probably for weeks, if not a month, just to get traffic going. Also, we'll be driving traffic from either Facebook or TikTok or whatever we're trying to get influencers. Influencers is the secret right now, you know, getting a good group of influencers that love your product. And then, you know, Paul Barron talks about brand ambassadors, you know, building them up to be the brand ambassador. And he's the king of that. So that's what we try to end up doing. But during this whole time, our goal from day one is to build up a community. Amazon wants a community. There's no doubt. They're allowing us with posts and with your store and with live, they want you to build that community.
Norm:
They are you now, I don't know if you saw this. They posted that you have to have over a thousand followers to have the customer experience program. So right now the people who have it, have it, but they're making it a thousand people from what my understanding is, you have to have a thousand followers for the general Amazon seller to go out there and use that for, you have to be brand registered as well, but they want a community. How easy is it to go out there, hit that button and just say, Hey, I've got a new soap scent out there, you know, it's blueberry or whatever it is, you know, now you're targeting not on only your followers, but repeat customers all through Amazon? And this is a whole different strategy if I can get people over on my Shopify site, you know, and you can do a funnel, or you can just do a simple email over to people or SMS,
Bradley Sutton:
There's all kinds of new things. You know, not just Google, not just Shopify things, even on Amazon. Amazon seems to be putting the pedals in the metal with trying to launch new analytics that people can use and new ways to contact customers. And I know this there's, you know, now some things, if you're doing post and so, you know, maybe just the last, you know, few minutes of this episode, it's kinda like a rapid-fire TST 30-second tips session. Like, what are some things that you think are some quick strategies that people can use either with the Amazon post or just anything else that we haven't talked about today? Because that's the beauty about having you on every time I have you on here, you talk about stuff I had no idea it existed. So no pressure that you still have to come up with something new. This is your third time around. But I have faith in you. Norm. I know you can do it. So what are some new things, some strategies, some quick hitting ones that people should be used that you probably think that most people aren't doing right now?
Norm:
Okay. So you mean, I have to make it up again for the third time?
Bradley Sutton:
Something new for the third time.
Norm:
Okay. All right. So I still think that when you're doing–, if you've got a new launch or if you've got an existing launch and you wanna spritz it up a bit, don't count out Amazon posts. So you need to get those posts up to three to five but immediately get 10 posts out there while you're doing that. And I'll give you a great example. If I'm doing knives on my insert, going out to my knife, who is your audience? Who can your audience be that can tag you within your niche. So for example, with a knife, target chefs, give them a bloody knife, and ask them for their best recipe and an image of them holding up the knife. Now you can use that not only for a lifestyle image, but you've got something that's unique and you can use this on Facebook or anything.
Norm:
If you bring out a Monday recipe from chefs around the world or chefs across America, and you can call it that, you know, chefs across America. Now, if I start seeing chefs across America, I know where you got it from. But something that simple where you can get engagement, people want engagement. If you're just putting up crap you know, you're not gonna get that. Now, the other thing, so Sumner Hobart put this out. I watched his video on post and it got me really going because I've known this, but he put out 10 posts, a bunch of posts about a year ago. He went back and he checked out his engagement. And how many people actually clicked. He was shocked that over that period of the year, how many people, how many clicks he had over to his summary page?
Norm:
So that's probably one of the things that I would do during the launch. One of the things I'm not doing at all anymore. And I was doing, yeah, XNA, you know, Amazon, if you're listening XNA, but I was doing some rebates that was, you know, a go-to not doing anything like that right now at all. I'm doing deep discounts. If you wanna drive traffic, it's those deep discounts. You can either put it into your coupon stack. Coupon stack, most of the time. And I think it's the majority of the time I don't have the stats. People don't even use that coupon. If you're giving a 50% coupon off or 30% coupon off, they're not using it.
Bradley Sutton:
People don't even click it. They don't even see it. Their focus.
Norm:
They don't see it. Now, the digital coupon they certainly see, you know, and that's different. That's I believe the stat was 66% of people will click on that. And so you, it's still not costing you, you're saving 33%, you know, 33% of the people are giving you full pop. So that's that's another thing that I like. And one of the things at is a must is an absolute must. And if you're not doing it right now it's too bad, cuz you can save money and you can drive new traffic. And that is taking advantage of Amazon's referral program, which is gonna save you some money, take that money, invest it into your whatever ads that you're doing. It could even be in Google, which will come back and they'll love you because your Google Business Profile will be associated with your AdWords account. But you can use that, save some money and also build up.
Bradley Sutton:
Okay, cool. Well, you've been giving us lots of tips and strategies here, so it's always great to have you, Norm, I'm sure you're leaving people hungry for more. So how can they find you on the interwebs out there if they want to see your content and these nuggets that you give out all the time?
Norm:
Well probably two ways there is Lunch with Norm, the podcast and that is if you want to get a hold of me that way is just [email protected], but probably easier if they want to check out Private Label Legion, it's just [email protected] privatelabellegion.com.
Bradley Sutton:
Love it, love it. Now you're gonna be at the Prosper in a couple of weeks?
Norm:
100%.
Bradley Sutton:
Awesome. All right guys if you wanna meet Norm person, make sure to come to our Helium 10 Social, it's gonna be, I believe in like the 13th or 14th to get more information on how to get a ticket there. So you can see how that beard oil is working on norms famous beard go to h10.me/prosper2022. It'd be great to meet you in person there. And for Norm to meet you as well, and you can maybe also meet the SugarRay lead singer there, Mark McGrath will be performing live at that party. So Norm thanks so much for joining us, and let's see if you'll be the one of the first to ever make it to, to four appearances on the podcast, you know, sometime next year. So thanks a lot for joining us and we'll see you in a couple of weeks.
Norm:
All right. Thanks for having me.
---
Enjoy this episode? Be sure to check out our previous episodes for even more content to propel you to Amazon FBA Seller success! And don't forget to "Like" our Facebook page and subscribe to the podcast on iTunes, Spotify, or wherever you listen to our podcast.
Get snippets from all episodes by following Bradley on Instagram at @H10bradley
Want to absolutely start crushing it on Amazon? Here are few carefully curated resources to get you started: