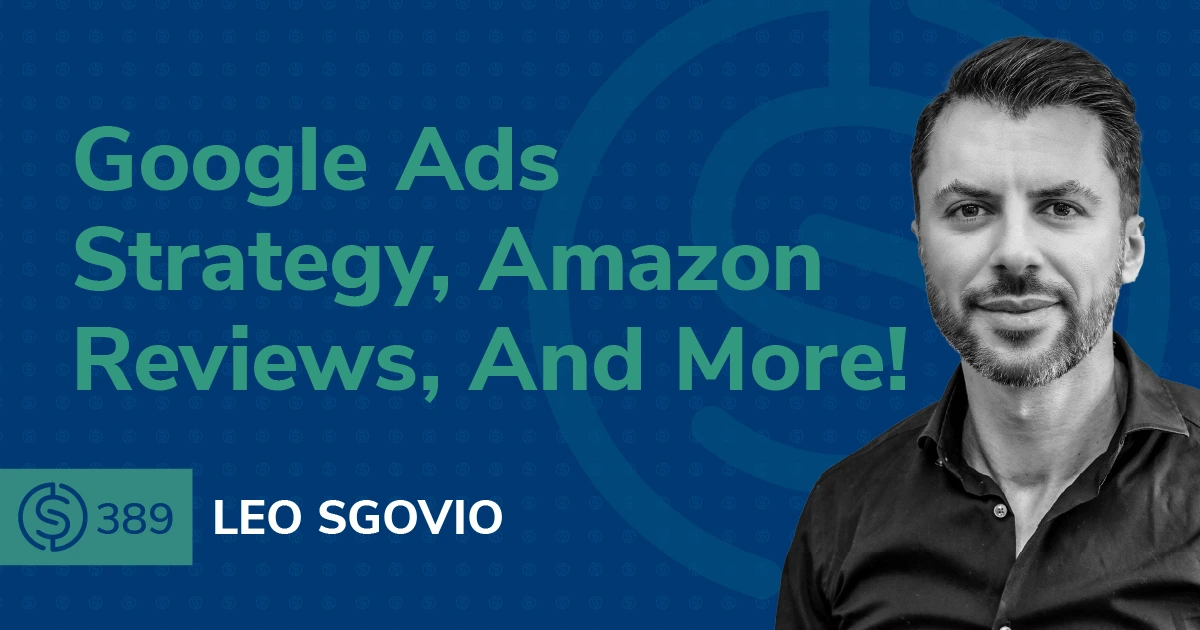 #389 – Google Ads Strategy, Amazon Reviews, And More!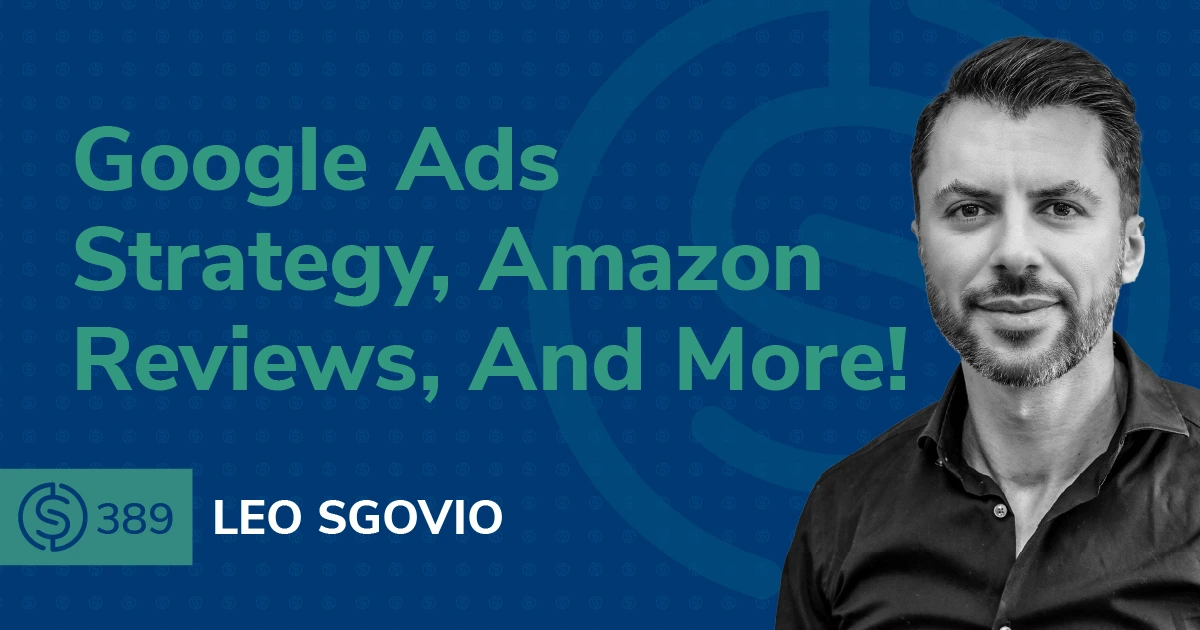 Today, we welcome Leo Sgovio, one of the favorite speakers at the Sell and Scale Summit. He also was voted the best speaker at the Billion Dollar Seller Summit. Bradley and Leo initially started talking about the current landscape and level of competition in the E-commerce software industry. Leo also shares his tips for new Amazon sellers in this conversation. The episode continues where they talk about the best advice regarding Google Ads, Attribution, and how it affects your Amazon keyword rank. Listen to the very end as they talk about Influencer marketing, the best social platforms to start promoting your Amazon products, and updates to his company, Convomat.
In episode 389 of the Serious Sellers Podcast, Bradley and Leo discuss:
02:30 –  Leo Was Voted As Best Speaker At BDSS
03:40 – Talking About His Experience At The Sell And Scale Summit
05:00 – Talking About The E-commerce Software Industry
13:50 – You Can Potentially Damage Your Business If You Look At The Wrong Data
14:50 – Leo's Tips For New Amazon Sellers
19:15 – How Sellers Today Ask For Reviews But Against Amazon TOS
23:30 – Google Ads, Attribution, And Amazon Keyword Rank
31:00 – Dynamic Keyword Insertion And How It Relates To Google Ads
32:00 – More Tips When Building Your Google Ads
36:00 – Google Ads May Play A Bigger Role For Amazon Sellers Soon
38:00 – Talking About The Latest Updates In Convomat
41:00 – Influencer Marketing And The Best Platforms To Promote Amazon Products
42:00 – Leo's 30-Second Tips
44:25 – How To Get In Touch With Leo Sgovio
Transcript
Bradley Sutton:
Today we've got a guest who is one of the favorite speakers at the Sell and Scale Summit, and he has actually voted the favorite speaker of the Billion Dollar Seller Summit. Make sure to state at the end, because he's got some amazing strategies for how to do Google ads, get reviews and much more. How cool is that? Pretty cool I think.
Bradley Sutton:
Tired of waiting two weeks to get your Amazon payouts? Wouldn't you rather get your payouts every day if it was possible? Or maybe your interest in a line of credit for thousands, tens of thousands, even up to a million dollars depending on what you qualify to help fund your next Amazon orders. You can do these things and more with Alta by Helium 10. For more information, go to h10.me/alta. Hello everybody, and welcome to another episode of the serious seller's podcast by Helium 10. I am your host Bradley Sutton, and this is the show that's a completely BS free unscripted, and unrehearsed organic conversation about serious strategies for serious sellers of any level in the e-commerce world. We've got a serious seller here on the line with us today. I believe this is his second or third time in the podcast. Leo, how's it going?
Leo:
Hey, Bradley. It's going well. How are you?
Bradley Sutton:
I'm doing just delightful, thanks. Where are you located right now?
Leo:
I'm actually in Toronto right now for two more months, maybe one and a half, actually, I'm moving to Florida on December 1st.
Bradley Sutton:
Everybody's moving to Florida. They don't care about hurricanes and stuff. It's like Florida's nice tax situation and other things there, huh?
Leo:
Hey, look, the weather compared to Canada is definitely much better. So, I mean, it would be probably the first time for me to deal with hurricanes, but I look forward to not spending the next winter year for sure.
Bradley Sutton:
Yes, yes. It depends on point of view, I guess. Personally, I prefer snow as opposed to hot and humid, you know, like sometimes Florida gets, but hey, to eat to each their own. Now, speaking of hot places, not humid, but you know, the last time we saw each other in person just a few weeks ago in, in Vegas, and, you know, you spoke at Sell on scale Summit. Now, unfortunately, I couldn't attend your speech and I heard it was really good, but, you know, we're gonna talk a little bit about that today. I actually, the last time I heard you speak was that Billion Dollar Seller Summit. I'm wearing the old school Billion Dollar Seller Summit t-shirt or polo shirt today from Kevin King. The next one's actually in Puerto Rico that's gonna be really cool to come to Do you get like voted for a favorite speaker of the Billion Dollar Seller Summit?
Leo:
Yeah, that's right. Actually won the best speaker which was pretty cool. I like this contest. Where are the attendees that are actually boating instead of the actual organizer? It feels fairer, I would say. So winning that Billion Dollar Seller Summit meant a lot to me for sure.
Bradley Sutton:
That's cool. That's cool. Now, you didn't pay to speak at Billion Dollar Seller Summit or Sell and Scale, right?
Leo:
No, absolutely not.
Bradley Sutton:
It's funny, I hear people talking about that, like, you know, sometimes on LinkedIn, "Oh, yeah, all speakers, they pay" just, I'm like, well, there's like sponsor, you know, like there's like some sponsored slots, but they only get to speak for like 10 minutes at Billion Dollar Seller Summit and then maybe at some events, but like for the most part, you know, people who speak like me I don't pay to speak at an event. I'm just invited, but just in general, you've been to, I don't know, probably 30 conferences in your time here in the e-commerce world how was this, our first selling scale for you?
Leo:
Look, Bradley, it was actually an amazing event in a few words, but I was surprised in pleased to see the level of organization and the details that went into the show. The organization overall from the beginning to the end of the show was impeccable. I know that there was a lot of work that, you know, has been put into it, but I was really amazed by especially the networking part of the event. I really enjoyed a few sessions as well. I will definitely go back if you invite me to speak again, it'll be my pleasure. But I think, you know, for everyone that missed the show definitely try to make it next year is by far one of the best ones. Look the industry has become a lot more mature and looking at the space now with this type of event, it makes you really feel like you're in the right place, for sure.
Bradley Sutton:
Cool. Cool. Appreciate that. And yes, hopefully, we can get you to speak even though you're not paying us to do that, to speak at the next one. Now, before we get into the topic that you went over, I think I saw some of the slides even though I didn't hear it, so I think was pretty cool. I just wanted to talk a little bit about it, you mentioned talking about the industry and you've been around for a while. You've had your own software company and you've worked you know, for, for some of the biggest ones like Viral Launch, you know, in the past. You have a unique viewpoint and there's no right or wrong answer here, but I'm just gonna present something to you because it's a question that I get sometimes and people ask like, "Hey, what do you, you know, what do you think of of the competitors, you know, out there for like Helium 10?"
Bradley Sutton:
Like, Jungle Scout kind of is pretty much the only competitor, at least in this space for the last few years. And I remember when I first joined Helium 10, we were just kind of like one of the new kids on the block. It was kind of like, you know, Jungle Scout and then Viral Launch, and then the last two years you know, Viral Launch doesn't, you know, it doesn't have much of a kind of like a impact these days. Jungle Scout kind of like really went down as far as the market penetration. I would say, say, you know, like for example, the active users of Chrome extension, Helium 10 hit 900,000 last week, I think Jungle Scout was like at 400,000. But there's almost like no other competitor, even like, in the conversation.
Bradley Sutton:
Like, it's Helium 10, and then there's Jungle Scout, and then that's pretty much it. But when you were at Viral Launch and stuff, like, how do you view competition? Like one, one aspect of it, like in this space is kind of like, and I remember this like when we were trying to catch up to Jungle Scout or when we caught up and then they were still like, innovating all the time, it was kind of like, kind of fun, like, "Hey, like we better get this out because, you know, Jungle Scott's gonna come out with something first or something like that. Or viral launches gonna, you know, have this new feature, look at viral launches did," like a competition I think Spurs innovation. Not to say, you know, like we haven't really had any competitors, you know, Helium 10, like in the last two years, not to, you know, but we've still been innovating, but in this space, like how do you view, you know, is it a good thing that there's a lot of people vying for the top space, or is it bad that it's pretty much only been Helium 10 at the top for a couple of years, or what's your viewpoint on this kind of thing?
Leo:
You know, Bradley, this is a very interesting and kind of sensitive topic. If you allow me to say so. For me, competition, in my opinion, is very important for the space, especially for sellers. And when you look at what happened in the past few years, right? Especially like when this, this ecosystem was born around 2014 15, where when everyone kind of got into the Amazon space you're right, we had three major players. You guys buyer launched Jungle Scouts, right? Back then the Chrome extension was one of the best, I guess, tools at the time, right? Allow you to quickly analyze the search results page and see how many sales the competitors were making. And over time things evolved, right? And then Amazon started giving us a little bit of data themselves, right? Data became a little bit more accurate on their end as well.
Leo:
And, you know, on our end, as software providers, we were always trying to, you know, provide the best stools to Amazon sellers, trying to identify those like hidden kind of secret endpoints to get the data from. And then over time when this data became kind of like harder to find, or when Amazon closed kind of the pipes, that's when you started seeing a shift in the space. You know, those people that were really good at innovating, they kept innovating. Yeah. And those that were just using data that was washed and kinds of like stolen by others, from other competitors or other software providers, they kind of like slowly disappeared. Now, I'm not saying that the story, with Viral Launch, is totally different. Our good friend Casey, unfortunately, he had to leave the company, but with regards to Jungle Scout, I've seen kind of like them stop innovating, stopped doing a lot of like the cool stuff they, they were kind of known for while you guys, I believe you release something new every week or so, right?
Bradley Sutton:
At least once every month we have that Bigger, Better Launch where we launch about 5 to 10 things. So yeah. Average maybe one thing a week, kind of. Yeah.
Leo:
Yeah, yeah, yeah. So, from an Amazon seller perspective, you guys offer a lot of value, right? You're loyal to your customers, The customers are loyal to you. There is a good relationship there, and that's what a software company should be doing. Now, when it comes to competition, though it's good to see what other players are doing. It gives you a little bit more motivation to like always build that new feature, build that something new. And you guys, I have seen you been launching like the Amazon Attribution you know, some other stuff like ways to filter better your data. Like with Cerebro, you always trying to innovate there. Like, you know, that's what competition helps with, right? It makes you always, you know, surprise your customers and obviously a good way when it comes to delivering good software.
Leo:
The thing is that I'm afraid in the space there isn't enough innovation from a competitive perspective or innovative minds if you will. And so you know, for you guys it's an advantage cuz you've been in a run for a long time, you know the Amazon space very, very well. And so you can keep innovating and then surprising us with a bunch of cool stuff and cool gadgets while for the competition is kind of harder to catch up. For a seller right now, you know, things have become a lot more complex, and the industry as matured. So you cannot just run a business or an Amazon become a success for Amazon seller with a Chrome extension. You need a lot of data, lot of analysis, like keyword research and listing optimization and keyword tracking, and PPC. You have to be good at so many different things. And so the suite of tools, I think that's what really helps sellers today. And replicating that is not that easy.
Bradley Sutton:
Well, let me ask you something, and this is why I struggle just internally kind of conceptualizing. It's like, for example, what's your favorite sports team in the world? You know, regardless of the sport, I don't know what your favorite sport is. Is it soccer or?
Leo:
Yeah, yeah, yeah. I like it, of course, I'm Italian, I have to go to Italy, right?
Bradley Sutton:
Inter Milan or what? What's it even though?
Leo:
Yeah, AC Milan is my favorite.
Bradley Sutton:
Yes. AC Milan. Okay. So, you know, you're a diehard AC Milan fan, You know, your rival is Inter Milan it's not one person's life is better by following one team as opposed to the other. And like, obviously, you know, AC Milan would be nothing if there was no, what's it called? Serie A league, right? If there was no league and there was no com like, it's kind of useless to even have like AC Milan. So its like in sports and things like that, competition is necessary. It's what makes things fun. But then when we talk about software companies or things where, like, for example, what I struggle with sometimes is I agree with you like the competition is important, but I'm just wondering like right now, or like in the beginning of Helium 10, like when we first started, Jungle Scout was way better than us.
Bradley Sutton:
Cause you know, like when Manny started, he started like Frankenstein and Scribbles and maybe Chrome an extension or something. So you could almost argue that if you stopped using Jungle Scout and start using Helium 10, you could potentially be doing damage to your business, cuz Jungle Scout just had, had more tools. The flip might be true right now, you know, like, like if you stop using Helium 10 and you go back to Jungle Scout or, or maybe another smaller tool out there, like, you literally would be doing damage to your business cuz you're not gonna have the data and all the tools and stuff. But at the same time, like you said, you know, competition is important. So like what, like what should–, there are affiliates out there, you know, maybe, maybe an affiliate who has an affiliate of Helium 10 who has a course, or they have a, you know, big Facebook community or YouTube audience, and it's like competition is important.
Bradley Sutton:
You know, we don't, we don't have like exclusive like, "Hey, if you're at an affiliate Helium 10, you could never mention any other tool." But if I think about it, if they're suggesting to their course people, you know, what, you, you maybe you should use, you know, Jungle Scout again, or, or maybe you should use this. Like, to me, that's almost like them doing damage to that customer if they're not using Helium 10. So, coming from me working for Helium 10, it might sound like being a homer, but I'm just trying to be a realist. So what are your thoughts on that?
Leo:
You know, that's an interesting point. Bradley, I think it comes down to the seller itself, right? The seller right now should be I guess careful first of all and smart enough to understand what's good for their business. Cuz like you said you can potentially damage your business if you look at the wrong dealer. And so when it comes to understanding what software works best for you, I think you should, first of all, like, and a lot of people ask me, Leo, what's the best course out there? What should they really follow? Like, there are so many gurus out there that perhaps they didn't really make it on Amazon or they didn't even sell anything, and they're not there selling their knowledge, cuz that's all they have. That's how they can make money and they respect that.
Leo:
But I wouldn't trust these people when it, when it comes to giving me advice on what software is best for me, right? The software is best for me. The software gives me enough data. I really need to understand, I always advise sellers to learn this business inside out. Like in order to be a good leader, a good boss, a good CEO in your company, and build a good team, you need to really understand how to sell on Amazon, and how this business works. That's how you can hire people. Yeah. I always say this, you know, like a lot of like sellers that have made some money, but they didn't really understand how, like they had a couple of home runs, right? We all know these people, they eventually like to find problems and they did throw people at problems, right?
Leo:
They got, they go to the Philippines, they are a bunch of people. The problem is that six months later they come back and say, "Oh, you know, I still have this issue." And the reason is that they didn't, didn't really find the source of that problem, right? Because they didn't know themselves to begin with. And so I think number one, sellers should really understand how this business works. They should understand what data looks good, what data is actually accurate, versus the data that is probably just packaged to look nice. A lot of people I know, still look at the search volume as the main metric, in my opinion, that's wrong. You're going to see the conversion rates, click share and the purchase share. Those are the metrics that matter today.
Leo:
And so when it comes to these communities that are coming up and, and people that say, "Oh, well you should use this software instead." The marketing message today is, you know, we want you to be successful. But the truth is that the seller itself should be reading through those lines and understanding, "is this good for me?" Because if three months from now, six months from now, you can even gimme software for $20 a month, that's fine. It's, I save a lot of money. But, what's the ROI on that? If you're able to see that the data is great and you know you're getting good results with it and it's comparable, then okay, go for it. Right? Why not? That's my opinion when it comes to death, and there are so much software out there for everyone, and today, the software that you see is much better than the software we saw in 2015. We have access to a lot more data. But you and I know very well that maintaining servers and the technologies is very, very, very expensive. And so if you don't have enough customers as you guys do, it becomes–, you start saving on the data accuracy kind of components, right? Instead of just, you know, choosing the platform that has a better UI.
Bradley Sutton:
All right. So guys, I guess this is kind of unique, You know, I'm talking about this a lot, but I think it's important, you know because people have been asking me more and more for a while. You know, Helium 10 has just been kind of like by itself, but then, you know, some people come outta the woodwork and still say they use Jungle Scout or, or another new up-and-coming tool. But at the end of the day, you know, there are different strokes for different folks, folks, but you gotta do what's best for your business. And with our team, like if there's something that somebody else has Helium 10 doesn't have, you know, come to us, we can probably get it done.
Bradley Sutton:
But, you know, at the end of the day you choose to go somewhere else. Well, that's your decision. Now going back to you know, what you were talking about sales and scale, you know, like back in the day there was all kinds of stuff that was legal and now it's not legal, you know, be it, Yeah. Incentivize reviews back in the day were legal. Search, find, buy, rebates, two-step URLs, all okay. Before now, you know, illegal compare to Amazon's terms of service. One thing I believe you mentioned in Billion Dollar Summit and Sell and Scale is that there are still, you know, big players out there still engaging in some of this gray or even black hat. And while it's not suggested that we do that, it's important sometimes to know what's going on just to, to kind of like know what, you know, competitors out there are doing. So what kind of Black Hattery and that, this is why I particularly today wore a white hat instead of my black hat, But what kind of Black Hattery do you still see out here at the end of 2022 on Amazon?
Leo:
Bradley in my presentation at Sell and Scale and the Billion Dollar Seller Summit, one of the slides that were, I guess you know, most, most more appealing, more successful was, was the one that you know, explain and showed how sellers are currently asking for reviews, even though it's against the TOS. So yes, to your point, like Amazon is saying, Hey, you know, like that's it. Here's the red light. But a lot of sellers, in order to be in business, you know, they have to do what they have to do. And what I see on my end is still a lot of inserts going to like more custom solutions before used to be just ManyChat, but now they're building their own landing pages, their own like type form kind of funnels and they drive traffic over there.
Leo:
And the more like the more sophisticated one that I've seen is actually like someone that had built a mobile app that you had to install if you wanted to use their product. And it was very interesting because I, I couldn't really understand how they were getting so many reviews. And so I purchased their product and then three weeks later I was using it. Like I didn't see any insert in the packaging. I was really surprised and shocked and I was really wondering how they were able to get so many reviews. And then three weeks later as I was using the app, I actually got a push notification on the phone that I asked to rate the product. And when I clicked on share feedback, I thought they were going to send me to the app store. Cause that's normally how apps are.
Bradley Sutton:
The App store, right? The app store for, Yeah. Okay. I get it. Uhhuh.
Leo:
Yes, that's right for Android is Google Play, and for Apple is the app store. And so when I clicked on it, I actually ended up going to the share like, rate your product page on Amazon. And I was like–
Bradley Sutton:
No, no, that by itself is not necessarily against the terms of service, Right? Or do you think that is
Leo:
They didn't ask me to give a five-star review. Okay. So, yeah. So to your point, no, technically it's not against the terms of service, but the way they did it was very, very shady.
Leo:
Well, yes, and, and, but interesting and, and sophisticated at the same time. Yeah. Because I couldn't really understand how they were getting reviews until three weeks later when I push notification came up on my phone. So I thought that was very, very good. But you can do that only if you're in the electronic space,, you have a reason for your customers to install a mobile app. Otherwise, the majority of sellers are still asking for reviews through inserts and a lot of them are collecting and actually building an audience instead of just asking for a review. They have a form where you give them their phone number and mail the address to everything that they need to remarket you. And Bradley, frankly speaking, there's also a lot going on in traditional marketing, like direct mail. A lot of sellers are still able to mail their customers asking customers for reviews that way. And that is interesting cuz it's kind of harder to detect unless you're buying the product, you receive a postcard in your mail asking for a review. And that's why that's where sellers kind of evolved with, and then that's what they're doing.
Bradley Sutton:
Okay. So, guys, that's stuff that you should stay away from. Amazon purposely tries to hide the addresses of, of buyers, but if you're finding a way around that, they find that out, that's not something they'll be happy about. Now, for launch, you know a lot of companies, you know, don't, don't, most companies that were in this space for, for search find buy or, or super URLs, or two-step URLs, don't have that business model anymore. Now, personally, I switched to a hundred percent to kind of like PPC launches. But your presentations talked about how, you know, you, your method of launching is actually mainly on, Google ads. So, so my first question is, you know, I think before everybody has always understood that if you're ranking organically on Google and somebody clicks on it after a Google search and then that's the keyword, that somebody lands on your listing on Amazon, that you're gonna get like rank juice or, or some, some bump a little bit.
Bradley Sutton:
But then in the past, at least some, not many, but I heard a couple of people say I'm not sure if it was Anthony or who or who said it, but that when they were examining URLs from Google ads that they thought that the keyword would not transfer over. But I remember a slide specifically, you gave a Billion Dollar Summit and you actually did a test and you showed a Helium 10 keyword tracker where you were running Google ads for a keyword, and then you did see a bump in Amazon keyword rank for that keyword. Did I understand that correctly?
Leo:
That is correct, Bradley. We wanted to test this cause we were always wondering if technically speaking this was actually doable because if you, if you're technical and you understand how attribution works you probably know that it's, it's impossible to track the search query on Google unless that search query is being passed over to the website or to the landing page. And you have some sort of, you know, analytics. Now you wanna know that with Amazon, you cannot install any analytics, right? It's not your website. Sure. If on a Shopify store, yes, of course, you can do that. And with the attribution, you cannot get the search query unless you're doing it through Google ads and you're passing in the campaign ID and everything dynamically using what they call the macro techs.
Leo:
But if you send just traffic from Google to your landing page without using any links or any attribution links technically speaking is impossible for Amazon to know what keyword the user searched on Google. While we did the test, we were just advertising on Google, and we created an accept match campaign, and we drove traffic. We didn't do anything else with the landing page. We didn't change the titles, we didn't change images, we just kept everything as it was just so that we could attribute changes to only this Google campaign.
Bradley Sutton:
So hold on, hold on. That the campaign, what link was in the campaign? A link to a landing page or to an Amazon storefront?
Leo:
To a landing page? To product page.
Bradley Sutton:
To the actual Amazon product page,
Leo:
Correct? Yes.
Bradley Sutton:
Okay. Was it an attribution link or just the product page link.
Leo:
The canonical URL? Yes,
Bradley Sutton:
The canonical URL. Okay. Okay. Got it. Continue.
Leo:
Yeah. And so when we started driving traffic, it took a while, but a few I think it was a couple of weeks later, we started seeing that that keyword that we were advertising on Google started ranking higher on Amazon. And we went, I think from position 47 to position 13 with the first keyword. And then the other one I think was position 28. We went position, position number seven, and we ended up at position number seven. And so we assumed after this test that Amazon is able to detect the keyword, the search query that was actually searched on Google. Now, don't ask me how they're doing this if they have some sort of collaboration at the back end or, but it seems that they're able to see this data.
Bradley Sutton:
Okay.
Leo:
And if we get some technical listeners here eventually, like, I'd like them to hit me up and follow up because it's an interesting conversation like to even learn more myself, this is possible. But yeah, I was really surprised in to see that this is actually how things are working today when it comes to sending traffic from Google to Amazon. And this is why is probably one of the best ways today. Like, I ranked a bunch of keywords lately just using Google Ads.
Bradley Sutton:
Now, one interesting thing that you showed and I have literally zero experience in Google ads. Now Helium 10 is doing Google ads just kind of like in beta like it's not even out, but I volunteered the coffin shelf to be a part of it. So I like actually paid $500 for it, but I haven't even looked at it like our team was handling everything. I still have never made my own Google ad once in my life. It's something I definitely have to do. But one thing I didn't know was possible, and then you had a slide on where you're giving that final URL. Let's just say it's the actual product, you know, the product listing or maybe an attribution link or whatever, but you can actually, the one that displays in the ad, the URL that displays in the ad, you can like put whatever you want there, but it's just like a vanity thing, cuz I didn't hear what you said, so I just saw this screenshot, I'm like, But that's what it seemed like you were showing.
Leo:
Yeah, yeah, yeah. So Google allows you to pretty much enter in the display URL anything after your domain name. So for example, if you're running a 30% off campaign on your product or you have a coupon that gives your customers a 30% off, you can actually display that in your Google ads. And so the destination URL will be domain.com, and then you have slash promos slash 30% off. And, and that's pretty cool because you can actually use that to increase your clickthrough rates, right? Google ads, it's all about, you know, increasing click-through rates, and so you got a better cost per click and eventually, like the quality score improves, right? And so if you do use all these features that Google offers, like the display URL, the call-outs, you can make your ads super, super contextually relevant to the, you know, query that the user is typing in on Google. And you can get some pretty good results with that.
Bradley Sutton:
Okay. All right. Another thing, I had a question that, since I didn't hear the presentation, I have no idea what this is, and may maybe you mention a Billion Dollar Seller Summit, but my memory is bad these days. Cuz I'm not doing some biohacking. Maybe we'll have some time to talk about some of your biohacking things too, but dynamic keyword insertion, What the heck is that? And how does that relate to Google Ads
Leo:
Dynamic keyword insertion is again, a feature that Google gives you, that allows you to pretty much replace the title in the ad copy with the search query that the customer or the user typed on Google. And so if you're selling silicon spatula, like red silicon spatula, for example, and your ad says, you know, buy red silicon spatula today on Amazon, if the user typed hard plastic, red silicon spatula instead, right? you can use that query and replace it dynamically in the title so that the title now becomes more relevant to the search query. So instead of saying by red silicon spatula, now your title will say, by heart plastic, you know, red silicon spatula. So now the contextually that are this way more relevant to the search query. And so the hope is that the user will click your ad first because it exactly contains exactly the keywords that they typed in on Google.
Bradley Sutton:
Got it. Got it. All right. So super interesting. What are some other tips for how we set up our Google ads so that it has the most bang for the buck, whether we're talking about on Amazon or maybe just helping our click-through rate or conversion rate from the actual Google ad itself?
Leo:
Yeah. Bradley has one feature that nobody seems to know, but it's available there. So when you're building an ad, if you type in like the curly bracket you can see that Google shows you some features that are available, like those dynamic features that are available. And so you see one of them is called countdown. The countdown feature is one of my favorite ones cuz you can actually put into your ads a real countdown. And countdowns, we know they're really cool. One, when we see them on the lighting pages, for example, because they give you urgency, right? It's kind of like, oh, you act now, you get 20%, it's only valid until like 6:00 PM today. Like, and then it's 5:59 and 5:58, right? And so when you see that actually on Google and the Google ads, that's super powerful.
Leo:
The user is searching for this keyword, they're looking for a product. And then in your ad now you're saying this offer is unavailable until, you know, 5:59 today. And then, you know, it starts the countdown is kind of live. You know, that's one of the best features that you can use and it's for free. You don't have to pay any more money to use that with your Google ads. And the other thing is they have call outs which are also free and they're just additional pieces of text that you can add to your ad copy. For example, you know, on Amazon we normally, the fifth bullet point or the sixth whatever menu you have normally says, money back guarantee, right? Like, get your money back if you don't like our product. So now you can use that and put it in your Google ads.
Leo:
You know, you can say a hundred money-back guarantee that's free. And you can say, ship in 24 hours, like, like all this kind of stuff that you think might get the customer to click on your ad they can be added to your ad for free. And they show the bottom of your ad. Again, it makes the overall amount of room that you take on the Google search results page much bigger. So you have a lot more real estate. And the last one is the image of your product. Recently Google added this feature that allows you to add your product image to a Google ad. And so that's super, super cool because instead of like getting that click and potentially get a bounce back to Google because your listing sucks and maybe your image is not good, you can actually put the same image that you have on your landing page there on Amazon into the Google ad. And so that instead of letting the customer guess after the click, if that's the product they're looking for, they can already make the decision right there if that's the product that they're looking for, like they're looking for, and then eventually click on the ad. Yeah. So you're saving a potential you know, click irrelevant click, right? Yeah. And improving your click-to rates if you have great images,
Bradley Sutton:
Super interesting. All right? I mean, Google ads, we're just scratching the surface here, guys. I hate doing predictions or whatever, you know, like none of us really know anything. What's gonna happen toward the end of the year? What are your 2023 predictions? But if, if you were to force me to make a prediction, I would say, you know, Google Ads will be used by 3x. The amount of Amazon sellers that are is using 2022. I just see next year that this is gonna play a much more important role, not just for humongous sellers, but even newer sellers. I think it's almost gonna be necessary to keep up with the competition, to use Google Ads. Now I wanna get back to some of your 30-second tips.
Bradley Sutton:
Some, some, some strategies you can give, but before there, you know, your current company or I mean your, a company you've had ever since the last time you've had on, on this podcast convo mat, you know a lot of it I know has to do with ManyChat and maybe some people think that "hey, automated messaging, all of that is now extinct" because, once you know, search, find, buy and getting people to do reviews in a certain way and manipulating things like those are what ManyChat and automated messages were used for. And now all of that is against the rules. So like, how in the world can Convomat, still survive? But your focus is not on those things, but, well, what kind of things are sellers in your network and, and other people using like these automated messages? Like, like ManyChat for, if not for these black hat things that other people used to use 'em for.
Leo:
Yeah, Bradley, I'm glad that you asked this question cuz a lot of you know, sellers have, have known Convomat as this automation marketing platform, which, you know, did allow up until November last year when the TOS changed sellers to automate a lot of the order verifications and checking, like automating the messages with their customers. You know, although chatbots are still being used a lot to automate the customer service conversations, which are completely fine and compliant with the TOS, cuz you know, Amazon doesn't want you to send your customers off of Amazon, but you'll run a business, you need to do customer service. The customer eventually reaches out to the company when they need support when they need help with anything. And so automating the conversations until when perhaps a manual intervention is required is very critical as well, cuz it just makes you a much better company from a customer service perspective.
Leo:
So we'll still see a lot of sellers using this automation to and if the customer comes in cuz they need they're trying to claim their warranty or they're trying to figure out how the product works. And so there's a lot that you can automate there, but when Amazon changed the TOS we have decided to pivot. And Convomat is actually being in beta released right now in beta, But the new version, which we're going to call it Convomat Connect, it's actually all about influencer marketing. And so we understood that influencers are by far the best way to push products to have more control over your brand and how you generate sales and this, you know, a hundred percent compliant when you see Amazon is even giving us the cash back, right?
Leo:
The Brand Referal Bonus. And I had a call with Amazon actually last week where they are pushing these even more. And so we want to help now sellers build these networks with more technology. So what we built in the past which had become kind of against the TOS we're kind of repurposing it more to communicate now with influencers instead and helping brands to build their own networks and their own audiences. This way, you know, if you have to launch more products in the future, you don't have to worry about you know, doing, again, a Facebook campaign to ManyChat, which is against TOS. You know, you can tap into your own network. You ask your influencers for product feedback if you are designing new packaging. So everything that comes with having your own network, that's truly what I think the opportunities and where sellers should definitely put a little bit of focus on.
Bradley Sutton:
Okay. All right. So influencer marketing you, you just mentioned do you have like favorite you know, social media or favorite places where you want influencers to be promoting Amazon Seller's products on?
Leo:
Bradley, we just launched the product about a month, and a half ago. And we were doing traditional promotions and then we started tapping into both Instagram and then TikTok and we were doing an average of 20, 25 units a day, and then all of a sudden we did 121 a day. And that was only with, you know, one influencer, which wasn't even that, that big promoting our product, and that was on TikTok. So right now I think TikTok is, is probably my favorite you know, my preferred channel. And simply because the way that the algorithm works on TikTok is much better than Instagram if you are a new creator, right? Tiktok, for example, doesn't care how many followers you have, they just care about your content. And so as long as your content is engaging, your video can go viral. And so it's about the instructions that you give to the TikTok creator and the creativity of that specific creator. But if that video is super cool and engaging in this fun, it potentially can go viral. You can run out of stock, you know, that's what we hope for. But yeah, so I would say TikTok TOS, my first choice, and then Instagram.
Bradley Sutton:
Okay. Now, we always just like last time closed our episodes with a TST 30-second tip, but I wanna do like two or three in total. Now it could be about influencer marketing, could be about automated messaging, could be about getting reviews, could be about the launch, could be about Google ads, could be about whatever you want, but let's do two or three, depending on how much time we have left here. What's, what's your first strategy for everybody out there?
Leo:
The first strategy, I will say it's about keywords. Don't go after just search volume dig really deep into your favorite, keyword tool. If you're using Cerebro try to understand what are the keywords that are actually converting best. You know, sometimes like what I do normally export on Excel. And then I find there are some keywords that are getting a lot of searches, higher search volume, but the conversion rate is very low. And then I find some other ones that are really, really low search volume, but they're getting like 24-25% conversion rate. And when I calculate the numbers, I see that I can get more sales from those low search volume keywords than the, actually, the ones that I'm you know, like I sorted by search volume first. And so tip number one is like try to focus on the keywords that make the most money in business conversion rate.
Leo:
I guess I can give another tip on reviews. Something that worked very well for us was using Vine. Vine needs to be used in a certain way to be successful. One thing that I learned is that vine reviewers actually pay taxes when they order their products over $600 or overall $600. So Amazon just gives them this tax notice. And so if you have products that you send to buy that are not worth their while or their taxes, they have to pay on that they probably won't redeem it. And so when you develop a product considering that now is very hard to get reviews and Vine is really the only option that we have. Think about that as well. Like cheap products are a brainer for them.
Leo:
Grocery is free. They can get as many grocery items without paying any taxes. So if you sell groceries, you can get a lot of buying reviews and they can redeem those for free. And if you decide to go regardless with the product you have in mind, what I'll suggest is, and this is kind of like maybe a gray if you will, Bradley, but we, we send, you know, the first 5,000 items in a nicer kind of packaging simply because we want to deliver a much better experience to these Vine reviewers. They care about the product, the packaging they're very critical. And so we want to make a really good impression. Now, it doesn't mean that you, after these products have been redeemed, we change the packaging.
Leo:
Now the packaging is the same, but we perhaps put it in another gift box or, you know, like you cannot ship to them using the gift wrapping, you know, the Amazon default option. But, you know, you get the point, the point is to give them packaging their lose a little bit more appealing, and it's nicer, and you most likely will get the five-star reviews compared to the three or four that they typically give you because of their level of criticism. So I would say these are my top tips at the moment.
Bradley Sutton:
Awesome. All right. Well, how can people find you on the interwebs out there if they want to, you know, pick your brain a little bit more or find out more about Convomat, et cetera?
Leo:
Yeah, they can reach out to me through LinkedIn. Linkedin, Leo Sgovio is my handle is the same in Facebook. I'm always on these two channels mainly. And My email is [email protected].
Bradley Sutton:
All right, awesome. Well, Leo, thank you so much for joining us today leaving us these insights. We'll save the biohacking for the next episode. But I remember you telling me at Billion Dollar Sellers some of some crazy things based on some, some crazy thing that you found out there. You were all of a sudden bench pressing more than you ever have in your whole life right after you got injured, like a whole bunch of crazy stuff. So we have enough material for a full episode. We'll have to talk about what we'll do is you'll have to get me on some of that stuff now, and then a year from now I'll come on 50 pounds less and twice as strong, and then can talk about how you helped me with that.
Leo:
I love that. Sounds good.
Bradley Sutton:
Alright, we'll talk to you later.
---
Enjoy this episode? Be sure to check out our previous episodes for even more content to propel you to Amazon FBA Seller success! And don't forget to "Like" our Facebook page and subscribe to the podcast on iTunes, Spotify, or wherever you listen to our podcast.
Get snippets from all episodes by following us on Instagram at @SeriousSellersPodcast
Want to absolutely start crushing it on Amazon? Here are few carefully curated resources to get you started:
Achieve More Results in Less Time
Accelerate the Growth of Your Business, Brand or Agency
Maximize your results and drive success faster with Helium 10's full suite of Amazon and Walmart solutions.