#374 – Get Amazon Listing Feedback Before You Even Have A Listing?
In this episode, we welcome back Justin Chen of PickFu to talk about how you can create epic listings with the help of crowd-sourced insights and data.
Updated on: October 12, 2022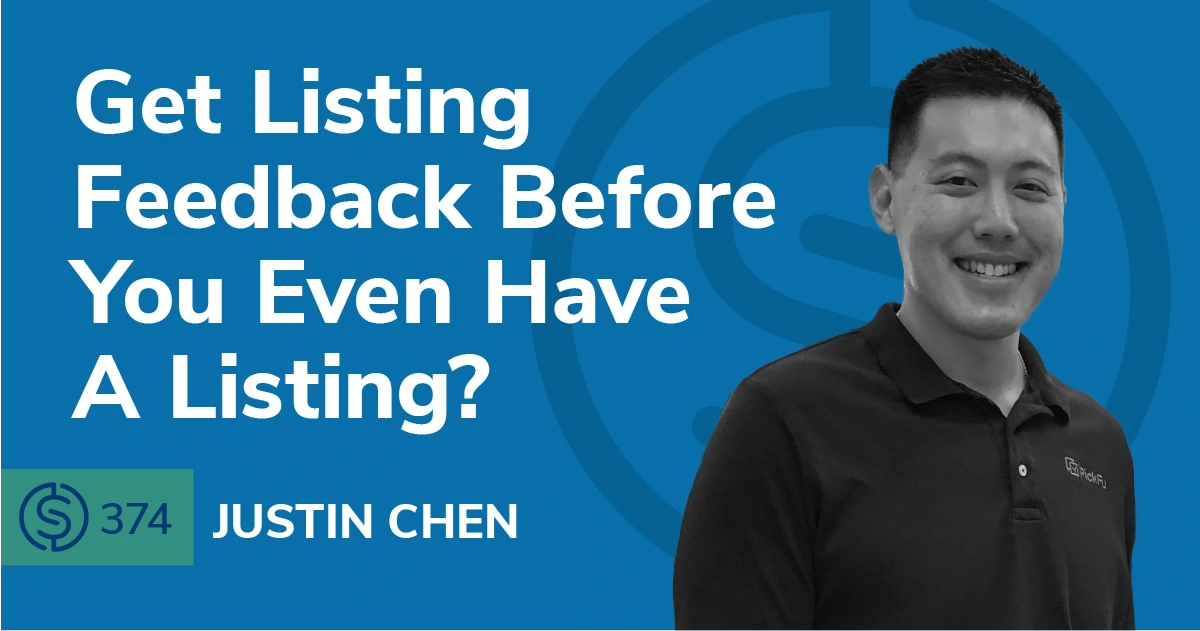 If you're an Amazon seller, you've probably heard about Pick Fu or Helium 10's Audience tool for getting market feedback directly from Amazon customers. Today, Bradley and Justin will walk us through the process of creating your polls, share strategies and tips on how to make the most out of it, some unique use cases you never thought of, and break down the results of a poll we did while recording the episode. We also cover some questions you might have in mind, like, is it good or bad to use split testing in live Amazon listings? What happens in the background after I create a PickFu or Audience poll? Will PickFu or Audience be available for testing in international markets? This and more in this very unique episode!
In episode 374 of the Serious Sellers Podcast, Bradley and Justin discuss:
01:15 – The History Of Helium 10 And PickFu
02:10 – What Is PickFu And Helium 10's Audience Tool?
05:00 – Some Use Cases With PickFu and Audience
06:45 – Can PickFu Be Used For Other Platforms Or D2C?
08:40 – Bradley's Crazy Idea – Testing PickFu On The Podcast
12:16 – How To Set Up A PickFu or Audience Poll?
13:24 – Reminder When You Set Up Your Poll Images
14:50 – Go A Little Bit Deeper With Your Custom Audiences
17:00 – What Happens In The Background After You Create The Poll?
17:35 – Bradley's Hypothesis For The Project X Coffin Shelf
18:18 – Checking The Initial Responses For The PickFu Poll
20:00 – Success Stories And Case Studies From PickFu
21:30 – Bradley Shares A Strategy That You Can Try Out
22:27 – Other Use Cases For PickFu Polls
23:50 – Good Or Bad: Doing Split Tests On A Live Listing
27:00 – Bradley's Project X Story And Why Unsold Inventory Can Kill You
28:20 – Justin's Suggestions On Unique Polls You Should Try
30:15 – Other Helium 10 Tools That You Can Pair With The Audience Tools
32:12 – PickFu Now Beta Testing For International Marketplaces
33:23 – Checking Our Final PickFu Poll Results
36:21 – Interesting Findings That We Saw After Looking At Results
37:43 – Justin's Thirty-Second Tip
38:45 – How To Connect With Justin Chen
39:00 – Justin Chen And PickFu Will Be At The Sell And Scale Summit
Transcript
Bradley Sutton:
Today, we've got Justin back on the podcast who has helped thousands of sellers get accessible insights into optimization or listings sometimes even before they have a listing. How cool is that? Pretty cool I think.
Bradley Sutton:
Sellers have lost thousands of dollars by not knowing that they were hijacked perhaps on their Amazon listing, or maybe somebody changed their main image or Amazon changed their shipping dimension so they had to pay extra money. Every order Helium 10 can actually send you a text message or email if any of these things or other critical events happened to your Amazon account. For more information, go to h10.me/alerts. Hello everybody, and welcome to another episode of the serious seller's podcast by Helium 10. I am your host Bradley Sutton, and this is the show that's a completely BS free unscripted, and unrehearsed organic conversation about serious strategies for serious sellers of any level in the Amazon and Walmart world. We've got somebody who's been helping serious sellers for years here now, Justin, from PickFu how's it going?
Justin:
Great. Yeah. Thanks for having me on the podcast.
Bradley Sutton:
Now, you've been around for years. Like when I first came to the company, it was actually interesting PickFu was the only company that Manny Coats, the founder of Helium 10 would talk about, like on webinars, like an outside company, and the only one that we actually were affiliates of you guys, before Helium 10 ever did that kind of thing, but we loved it so much. We wanted to do that and now of course, as most people know, we were able to integrate the PickFu platform into Helium 10 called Helium 10 Audience. But I haven't seen enough people using it because in my opinion, PickFu, Helium 10 Audience. This is something that every single private label seller should be using. So anything less than that is like, not enough people are using it but it's actually a very small percentage I've seen of people using it. So I just wanted to like, kind of like refresh everybody's realization and memories of why this is important. So first of all can you just briefly give an overview of what PickFU/Helium 10 Audience is about, histories, like how long you guys been around and what's the main purpose and things like that?
Justin:
Yeah, sure. So PickFu is a self-service crowdsource market research service. So at its core, it's a pretty generic tool. You could use it for anything. And we do have customers who have used it for all kinds of things from book titles, to game characters obviously e-commerce sellers use it to test all things about their product. So we've been around for quite a while kind of in different industries, but as you said, when Manny mentioned PickFu on the podcast, it kind of helped us out in getting traction in the e-commerce space. And we discovered that there are a lot of interesting opportunities for sellers to get data on really important decisions that they probably aren't gathering data on right now. So the obvious ones are things like main images and listing assets and stuff like that. But even more important is earlier in the process, testing out product concepts, product designs, all that kind of stuff. So just quickly at its core, like we have a panel of people that we reach out to and we pay to give answers and give feedback on which one they like, like which logo they like, and not only will they choose what they like, but they'll give a written explanation why some demographic information as well. And it's all very fast, 30 minutes to an hour, it'll be done.
Bradley Sutton:
Interesting. All right, now I've used it. I don't know, probably like 50 times, I've run PickFus and things. For me, I know different people have different ways to use it. And I'm gonna want you to talk on that, but, you know, just giving people my personal experience, the most beneficial for me is like the main image. Like I always thought, Hey, I know this is the best main image, but like, I would say 75% of the time I ask people what they think is the best main image out of like an option of 3 or 4 75% of the time. It's not the one that I thought, you know, was, was the best one. So, so that's not like my main thing, but I've also been experimenting with different ways to use it, like different price points.
Bradley Sutton:
Also now we have business reports in Helium 10. Business reports is taking that from Amazon where you can see kind of like the conversion rate of your products and like your page views. And so then if I see something, weird, like not enough page views or page views go really down, I'll actually like maybe take a screenshot of how our product looks in the search results and then compare it to some of the other products which are, have moved ahead of me. And then I'll just ask, Hey, if you just saw this in the search results, which one would you pick and why? And to me, I get some very insightful stuff like, oh, I like how the price point, sometimes is important sometimes it's, oh, well, the title on this really says what it is. Or some people say, well from the image this one looks like it's bigger. I'm like, mine's bigger? Like, what are you talking about? Like there's just stuff that you wouldn't know about, but what about you? Can you talk about maybe three, four, or five different use cases in the last year that you've seen? That was pretty not just the typical one that I talked about, that you think people are using PickFu and audience for.
Justin:
Yeah. I mean, I'm just gonna touch on the competitive test you did. Because I think that's a really important one. We're actually seeing a lot more people doing that. And not only are they taking the screenshots, but they're also getting clever and modifying them, right? Because you don't just want to know, obviously you do want to know why they're they're clicking, but you then want to know, well, what if I changed my main image? What if I changed my title? What if I changed my pricing? And what if we all had the same number of stars and reviews? Like what, what does it look like at that point? Right? Because then it's giving you a little bit of insight into like the possibilities of, okay, well, if we on a level playing field, at least I know my image is performing better, or my title's performing better and I just need to work on getting more ratings or reviews.
Justin:
So that is something we're seeing more of. And savvy people have been either using Photoshop or kind of just like modifying Chrome spectrum and taking screenshots. We actually built a tool to help this out and it's called the Amazon Mockup Tool Generator. You can go to our website on pickfu.com, and find it in the header. And what it'll actually do is take in ASINs and pull in that data. And then you can just modify it in on the spot. So you can like change the title and it'll generate screenshots to make this testing process even easier. But yeah, that's a really important one because not enough people understand why they're dropping in the rankings or maybe why they're losing out to a competitor.
Bradley Sutton:
Yeah, absolutely. Have you seen people use it more like for non-Amazon, like we have a lot more, we probably have five times as many Walmart sellers this year as we did last year or Shopify or other e-commerce platforms?
Justin:
Yeah. I mean, we obviously work for–, we're kind of platform agnostic. It doesn't really matter what you sell on. So we do see a lot of direct-to-consumer sellers testing out their Shopify landing pages or even their ads that they're using on Facebook and Instagram, those kinds of things. So we definitely see a lot of ad creatives, and it doesn't matter what, what platform you're on. But I guess going back to your initial question about like what other ways people are using it? One of the ways that we see a lot is open-ended feedback on their listings. So as you're trying to figure out why you may not be converting very well, what you can do is you can just, and a lot of people don't know about this, about PickFu is that, or Audience is you don't always have to compare two things. You can just get feedback on one thing. So you could actually just put it in your listing URL or screenshot of your listing page and say, like on a scale of one to five, how would you rate the efficacy of my listing? And like, what questions or concerns do you still have about this product?
Bradley Sutton:
I haven't done that one. That's interesting. I'm gonna have to write this down. I like that.
Justin:
It's really interesting because I think it surfaces a lot of things that maybe you think you've already addressed, or maybe it'll surface things that you totally even think about. Like, is it edible? Is it washable? Is it reusable? Like all these questions pop up in people's heads and maybe you're not highlighting it in the bullets or your secondary images just aren't highlighting it. And the other thing is you can do this on your competitors. Like maybe this is a product that you're going after, right? You're maybe you don't even have a product yet, but you want to say like, Hey, like what opportunities are there to improve on this? And maybe if everyone's talking about the price or like, they don't like the design of something, that's an opportunity for you to create a variation or come at a different price point. So it's a very interesting way to just to get people, to talk about opportunities to improve the listing.
Bradley Sutton:
Okay, cool. You know what? I just thought of something absolutely crazy. What if I do a screen share and, and we run something right now on PickFu, let's pick something to do for one of our Project X things. We've got coffin shelf and we've got. I think the coffin shelf is what most people know about. And so, you know, the one thing about it is that our sales share ha has gone down like there's another one that has Amazon's choice. And it's like, kind of like crushing the game here, but let, lemme just share my screen, and Justin, maybe you can have some ideas. So here are the search results for the coffin shelf.
Bradley Sutton:
And, and we've got the number one you know, sponsored ad here, and we've got the number three sponsored ad this is our, our coffin bookshelf. And for those of you listening to this on the podcast, instead of YouTube you're just gonna kind of have to visualize it, but here's the organic first line. It's actually interesting that our regular coffin shelf is not even the top four here. But we've got this one with Amazon's choice and this guy is the main seller. So by the way, guys, this is the process I want you guys to go over. Like, you don't just like, don't come in and say, oh, I'm just gonna run this PickFu, or this Audience you gotta like, think it out and, and talk it out loud and figure out what you wanna find out.
Bradley Sutton:
So there's that, this is just the sponsored section here. And then here's Amazon's choice section. My goodness. There's like so many non-organic results now. And then here's our coffin shelf here. Okay. Now let me check this I'm gonna run Xray here. That's another thing that we should be doing guys run Xray and see who's selling the most. So we've got 253 sales in the last 30 days. And then the top seller is 420 now, right off the bat. I know, you know, their price is $21 or $22 and we're $26.97. Okay. So, and then we got $67 here. That's our large-size coffin shelf. All right. Anything hopping off like that you think, like, should I do one for the images? Should I do one– I mean, I think the price is kind of a no-brainer. I don't need to run, PickFu to know that people like $21.99, as opposed to $26.97, but anything hopping off to you right now, Justin, that you think we should run something on?
Justin:
I mean, we could always just start with the image that's true, right?
Bradley Sutton:
Yeah. So maybe the image, like, what would it be like I would take, would it just be like, Hey, which image looks the best in search results? Or which–
Justin:
Yeah. Like if you–
Bradley Sutton:
What would the question be?
Justin:
Like if you were searching for the coffin bookshelf, then which one would you click on Amazon search results? Probably something I would.
Bradley Sutton:
Which one would you click on? So if you are alright, so right now, guys, I'm gonna pause this episode we'll edit this out, but I'm gonna like take these images and save them really quick. And then I'm gonna show you the process of setting it up. All right, guys. So I just downloaded the images of the top three, including hours, and the coffin shelf. And then I went into a PickFu and I hit ranked you would do the same thing in Helium 10 Audience, by the way. And I'm gonna go ahead and build from scratch here. And then I write, so what should my question be it's like if you saw these images in the search results for the word coffin shelf? Which one–
Justin:
Yeah. Which did you click on? Yeah. That works.
Bradley Sutton:
You saw these images in the search result of the coffin shelf. What's the best way to get a, like, which one would you pick or which one is the most attractive to you or which one makes you li most likely to click?
Justin:
Yeah. Which are you most likely to click to learn more about? I don't know. I'm getting wordy now.
Bradley Sutton:
Which are you most likely to click on to learn more about and why? That's important, right?
Justin:
Sure. Yeah. Cuz they have to give an explanation.
Bradley Sutton:
All right. Then we hit the next step. All right. Add your options. Alright. Then this part guys is where you would put the next step is options option A, B, and C. And then this is where I would put in the images. Remember, you know, if you're, if you're doing price, it would just be text, you know, where there's a lot of different things. So I'm gonna do image on this. All right. So guys, I actually just had to edit out a little bit here because, and this is something that's important for you guys to know is when I entered it into PickFu here, because my images sizes that I downloaded were so different like, one of them was the wrong size. And so like immediately people are gonna be biased that, oh, that small one is not good. So you might have to edit your guys if you're just taking images from three different sources, you might have to change the dimensions around just to make sure that it's kind of like an equal playing field. So now we go to the next step choose the type of poll you would like. So should I choose the ranked?
Justin:
Yeah, that's good for it.
Bradley Sutton:
Okay. When would I use head-to-head?
Justin:
So in a ranked though everyone is asked to rank in their preference. Like not only will they choose what they like, they'll actually say their first and second and third choice or however many you did, if you did eight, they would rank 'em all the way, one through eight, and a head to head what happens. They actually do every single pair-wise matchup. So like, it's kinda like around Robin tennis tournament and be like A versus B, A versus C, A versus D. And so it gathers a lot more data. So it is a lot more work for our respondents and it typically does cost a little bit more, but it is a little bit more thorough.
Bradley Sutton:
That makes sense. All right. Next step Audience. So I wanna go to Amazon prime. That's what usually I wanna do on this. So I would click custom audience.
Justin:
Yep.
Bradley Sutton:
Okay. So I'm gonna hit a custom audience and if I was really doing this for real as I would maybe go a little bit deeper guys. So I would look into my Brand Analytics in Seller Central. And I would try and pull some data like, Hey, what's the age group of people who buy this product? You know, what's the gender maybe what's a salary and things like that. You can do that. Some of that in Amazon, then I would take that data here, but then it would take a little bit longer to get the results. So I just wanna kind of like get some results fast here. So all I'm gonna do is Amazon prime subscribers. All right. And I selected that, but it is really cool. What are some of the common ones that other people choose here?
Justin:
Yeah. So I mean, aside from gender and income, I would say that there are things like pet ownership, so kind of the behavioral type thing. So like, do they own a dog or a cat? Do they take nutritional supplements? Like, are they cosmetics users? So those kinds of things are typically what we see the most often. And if there's like the audience that is not on there, definitely let us know and we will look into building it.
Bradley Sutton:
Awesome. All right. Now I hit the next step personality traits. So this is free. I can actually, I didn't want this to be edited out. I can choose to actually know what gender and age.
Justin:
This will gather more information. Yep.
Bradley Sutton:
All right. So next step, I'm gonna hit next step and here audience size 50, that that's usually pretty good, right? 50 different people to get some, yeah. Okay. Everything looks good. I'm gonna hit proceed to check out now all. So I'm gonna go ahead and pay and we should be good to go. Right. All right. So now it's actually in the process. So we are collecting data right now. If you saw these images in the search result of the coffin shelf, what are you most likely to click? So while we're gathering stuff here and now this is when are we? 12:33 PM when I started this, I'm, I'm gonna see how many responses we can get by the end of this episode, but what is happening on PickFu side, what just happened w when I went ahead and paid for this?
Justin:
Yeah. So we're reaching out to our panel of people for people that match the audience that you're looking for. So in this case, prime members, or if you had any other targeting, we would filter it down to that. And then we're asking them to fill this out. And so they're asked that question, they're asked to rank the three options and then give her an explanation why, and then they won't fill out like kind of a brief demographic survey afterward to give more information about their, their gender or their age, or maybe other things that we're collecting.
Bradley Sutton:
So for me, you know, my hypothesis and, and this is what guys you always need to start with when you're running any kind of AB split testing, you need to come in with a hypothesis of something. And now my hypothesis is that probably price is the main reason why our sales are down compared to others. And so what I wanted to do was all right, well, let's just make sure that there's nothing just blaring on these images. But I would like to think that they're gonna pick my image first, cuz you know, we actually have a pretty nice image there, but they're very well could be something like I noticed one of those coffin shelves that we picked, they had stickers in it. So does that move the needle like, oh this is cool because we get stickers in it? So, oh my goodness, like it's now 12:36 PM. And we already have some responses here. This is kind of crazy. So if I hit this load responses, I can actually see the 14 people who have replied already right? All right. I'm gonna hit load 14 responses and slow down.
Bradley Sutton:
Oh, option C is, oh goodness gracious. Only four people picked our coffin shelf. So far only one person has picked the top one. And this goes with my hypothesis, that the only reason people are picking this is that price is because their image doesn't look great at all. Let's see what people are saying down here. The person who choose ours, I choose a mostly because of the angle. All right. So that's good. That was why I did that angle one. But let's take a look here at what people are writing about option C, which is the coffin shelf that had like some stickers. Oh, they like the black with the red back. So they have a red background and looks more unique. Interesting. another person said the red color. Oh my goodness. A third person said I voted for option C cuz of the red color stands out, and draws attention.
Bradley Sutton:
The fourth person said the red color. So let me look back at these images. It looks like maybe the back of their coffin shelf actually is red. That's true. So who knows? I mean, this is almost down to the product research stage. Like maybe I should consider making a version that has this red background. Holy crap. You see sometimes something that you didn't even think, you know, what was gonna come up. You know, I thought it was gonna be the stickers maybe that, that people are, are picking that third one, but it's about that red color that is popping. All right. I know you don't have this number just like, or this stuff, like right in front of you, but can you think of you know, when customers have gone to you and say, OMG, you know, Justin, like I did this and I found this and then my sales or my conversion rate went from this to this. Or can you give some of the more extreme stories out there that we can kind inspire people to let them understand the possibility of what you can do by getting insight like this?
Justin:
Yeah. Yeah. I mean, we have a couple case studies on our website and I'll try to remember some stuff off the top of my head, but even making minor main image layout changes, I think we have one for Yes Bar, which is like a snack food bar company. And they just very slightly changed the main image. It wasn't even anything drastic, but just after one poll, they were able to improve their click-through rate or their sessions by like I wanna say it was like 12% off, just like, like one poll in a minor main image adjustment immediately, like, you know, giving a positive ROI on the PickFu poll itself. So if you were to keep doing those minor improvements on the title and maybe even taking the image a little bit further and like you said, testing out pricing, right?
Justin:
Because pricing could be a factor that could be leading to people, not even clicking on your listing and definitely not converting into sales. We have a thorough case study about Thrasio doing a rebrand about their dog deodorizer Angry Orange. So definitely check that out on our website as well, where they actually took one of their brands, which had kind of like a more old fashioned. Not sophisticated-looking brand did a whole rebrand on it and you know, massively drove up their sales. So that's always a really good one to check out.
Bradley Sutton:
Interesting. Okay. Yeah. I know I was just at the Billion Dollar Seller Summit this week. And somebody had talked about a strategy where it's you start with PickFu almost, and you ready to have a target niche that you wanna sell in, you pick the best selling or best-reviewed and best-selling product. And then you ask people to like, what's, what's attractive about this product. And then now you come up with your own ideation. Now, this is still before you make the product, but then now you come up with an option and then now you pit that best-selling and best-reviewed one versus your mockup version, be it the listing or be at the images. And then you keep tweaking until yours wins. That was something I hadn't thought about, I think was Izabella Ritz who had mentioned that strategy, but, but that's another great strategy. Any other, any other examples you can give us or use cases that we haven't talked about?
Justin:
Yeah. I've been seeing a lot of let's see, like sets of images being tested. So as you're working on your entire set of like secondary images and maybe you have different styles or layouts or themes that you're going with, I'll actually have, I'll see people kind of like stitch 'em all together into like six different images and just put the entire sets to compare them. Like, Hey, like as a whole, which one of these sets is more interesting and that's something we haven't seen a lot of until recently. So I thought that was a really interesting use case. We've seen some people doing mood boards and like, just like color theme. So like, as they're gathering inspiration for maybe like a video or maybe like lifestyle imagery, like, Hey, which one of these like maybe a combination of models and backgrounds and setting and all that kind of stuff, like resonates better with their brand or kind of like gives you the feeling of security or healthy lifestyle. So like there's all these emotions you're trying to evoke with imagery. And that's not just how you position your product. It's kind of the context that your product is in your photos. So, so testing that out even before laying your image into your product into it is pretty important.
Bradley Sutton:
Okay. Yeah, that's good, that's a good point. And now, have my own opinion on this and I'll share it after I get yours, but sure. You know, there there's an AB testing inside of Amazon, like where it's actually on a live listing I forgot what it's called, but if you have Brand Registry, you should do it. And there's actually some interesting insights you can get from it because they'll start showing you the breakdown of how many came from mobile and how many sales came from this and that. But my personal preference is I like to do my split testing, not on a live listing regardless of all those extra benefits I get from using the Amazon tool. Yeah. What about you? Why would you say, Hey, it's better or worse to do the off Amazon like a PickFu audience? Yeah. Instead of the on Amazon one.
Justin:
Yeah. Yeah. I mean, I think some of the concerns about doing live AB testing are well, one, it may take a long time, right? Depending on the amount of traffic that you're getting. Secondarily, you're negatively impacting your sales kind of by definition, right? So like, if you're always presenting more than one option, well, one of the options is not gonna be as good as the other one you're gonna result in lower sales. And if you're life testing something, you're not gonna want to test something that's like meaningfully different because you're gonna be much more conservative with what you test, right? Because like, it is your brand, it's gonna be live to your customers. You can't even really test a drastically different color theme or a layout or any of those things.
Justin:
So if you want to do it in a safer sandbox, that's when you would take it off the platform to PickFu. It actually gives you a lot more creative freedom. It gives you a designer, a lot more creative freedom to be like, Hey, I know, I know we always use you know, black here, but like, what if we jazzed it up? And we did like yellow and red. And maybe your target audience actually responds really well to that, but like, you're never gonna live test that. That's just–
Bradley Sutton:
Let me produce 500 units here and then, and then let me do a live testing.
Justin:
Exactly. Exactly. Yeah. So yeah, I think, there's a time and place for life testing and maybe it's when you're like, you know, you got a couple of options and you've iterated so much on PickFu. If you're confident that they're both good then sure. You can, you can throw it up on the life test and then just go with the final sales data, but as you're developing things like you want to do that off the platform.
Bradley Sutton:
Yeah. That makes sense. And I'm very similar in thought, you know, there are some maybe specific things that you can do your own testing on, like, you know, PPC campaigns, time of day, that's not something. You don't put something into a PickFu audience where, Hey you know, like what time of day is you most likely to click on this PPC? No, you should be looking at your data, for that. But you bring up a very good point if somebody's considering, you know, extensions to their variation line new colors or new sizes or something. Yeah. You know, you don't wanna live test that after thousands and thousands of dollars of investment. So I don't want to come up with a red background coffin shelf on my own order, 500 and then have a complete flop.
Bradley Sutton:
Because that's not very good. That's crazy. I actually did that once, you know just as a test, just for Project X, where we actually started the coffin shelves with I think like five or six images. We actually, at one time, we have a pink and purple one now. Okay. But what I did after the black one, I bought pink and purple, I was able to do like a hundred units. So I'm dumb. I knew about pink food back then. I don't know why I didn't think about that. But what I did was I, when I order the black coffin shelves from the manufacturer, I can just have them spray paint at another color. So I just had them do, like, it wasn't even like a hundred, it was like 50. I had them do 50 black or a pink purple. And then we had a green, red and brown so that it didn't cost me much money. And I figured this would be a fun experiment. And then sure enough, the green and the brown just completely flopped. But the purple and pink did really well. But that still cost me money because it took me a long time to sell out of the green and brown coffin shelves, where probably all I had to do was run a PickFu and I would have known.
Justin:
Unsold inventory will kill you. And that's the other use case that we see a lot of people is just color variations, right? Because your manufacturer can help you generate a bunch of different color variations for you. And you have all these, these products that you haven't ordered yet and just test it out. And then you'll at least have a better idea of the breakdown of how much of each to order. And, you know, maybe that yellow and green not one you would order. Right.
Bradley Sutton:
Yep. Yep. Any other unique, I think we've talked about the most common ones, but have you run across, you know, I know you don't look yourself at every single PickFu poll that people are doing, but have you ever just browsed and you're like, what in the world? Like, I never thought that anybody would use it in this way. And not one of the more common ones that we've been talking about today.
Justin:
One of the other ones that I think more people should do more of that I, that I've seen only a handful of times is ranking the features. So, you know, like if you're buying a coffin shelf, like what are the features that are important to you? Right. Because you're only gonna highlight like, you know, like five features in your bullet points or in your title, but maybe there's eight different features or a dozen features that you think are important. So you could actually put up all, you could start with just like the high level, like not even flushed out, but just like the points, like it's reusable, it's washable. Like it's, whatever, sturdy and just, and put 'em all out and tell 'em to rank it. And you're going to come back with like the top five features that maybe you should be focusing on.
Justin:
Because I think people just assume a lot of times I did this one, I was making a presentation. I brought some kitchen tongs and what was interesting was people really gravitated towards like BPA-free and non-stick, and in my mind, like if I were selling, I'm like, oh, well, of course, it's obviously gonna be BPA-free. Like, why do I even need to highlight that? But people want to feel reassured. And when they're clicking through the searchers, they'll say, " Well, I chose this one because it said nonstick and BPA free. And depending on who you are, like, you might just assume like, that's good enough. But I think actually testing it, say like, Hey, what are the factors that are important to you? Once you flush 'em out, you could also test them how do these bullets compare to like my competitors? Or maybe like two different versions of like your bullet text. But I think even before that, just like getting them to rank what's important.
Bradley Sutton:
All right. So, as we know, Helium 10 Audience is right there in a matter of fact, lemme just show people where it's at in your dashboard. Let me show my screen here. So guys, if you just go to the top right here and you hit tools in your Helium 10 account, it's right under the Listing Optimization, and then you hit Audience. And actually, there's probably a couple, here's one that I did a while back for the coffin egg tray. Yeah. That we did. And sure enough, the one that I thought would be picked was not the one that the majority picked that had a score of 60 right there. But anyways, like this is inside of Helium 10, actually. So obviously, people who have Helium 10 can use it, what are some tools that this, this audience can be kind of paired with or how can people use it in the context of other Helium 10 tools?
Justin:
Yeah. I mean, I think there's a lot of interesting, obviously, Helium 10 has a ton of different tools. Some of the more obvious things that you could test out are as you're generating other creative assets like you know, Portals or Product Inserts. Even as you're trying to decide on what template to use maybe for Portals, I think it's important to test out the templates against your target audience. Right. Because I actually ran a poll just playing around with the templates and I saw there was like a blue, thank you landing page. And then like a white one. Seems kind oi innocuous, but I tested it against men cuz maybe I'm selling against men and the blue one by a landslide. But if I was a woman and you know, maybe just, you know, just chose whatever I like, maybe I would've chosen the white one and wouldn't have resonated as well. And so not to say that one template is necessarily better than another, but for your target audience, one might appeal more so like maybe you're selling to women 65 and plus versus like, you know, men 18 and 24, it's worth testing out these kinds of things, cuz it, it may resonate differently.
Bradley Sutton:
Is there a time when this is gonna start to be available for like, Hey, I want this to be Amazon prime members in Europe or in Australia or different countries, Canada, Mexico, et cetera?
Justin:
Yeah. Yeah. We're actually private beta testing that right now actually. So we're testing out Germany right now. Also Canada and Australia with the UK coming right after that. So kind of in order of Amazon marketplace popularity, we definitely want to hit that German marketplace. And so–
Bradley Sutton:
Yeah, that's the number two for those who didn't know, that's number two in all of the worlds that's the USA.
Justin:
Yeah. And I suspect very different buying, buying habits and buying preferences. So I think it's really important for any seller. Who's trying to get into the German market that they actually do test a lot of, first of all, test that their product is interesting and people would actually buy their product, but then you may even need to test out your branding and your packaging and obviously your main image isn't and copy because all these different cultures, like they have different preferences for how they like to see, you know, even packaging, right? Some cultures like very simplistic, clean packaging, others, like all the detail and ingredients like listed on it. Right. And you kind of need to know that.
Bradley Sutton:
Yep. All right. I just got a notification that it finished. So let's go ahead and share my screen again. Here we go. 50 people answered in 21 minutes. It says here, and the winner was that red one with a score of 62. Now, how does this work where, you know, there's only 50 people who responded here, but how does this scoring work? Cause I see a score of 62, 14, and 38.
Justin:
Yeah. So for these rank ones, if you scroll down, there's actually an explanation click on that detailed vote counts on the right.
Bradley Sutton:
Oh, detailed vote counts.
Justin:
Yeah. So it does this process called the instant runoff where basically it takes the first place votes and it kind of starts consolidating the second place votes and the third place votes until you have like enough to declare a winner. And so a lot of political elections are starting to use this kind of counting mechanism just because it gives you the most preferred option if you were just to say like, just choose one option out of three to eight, like you would never get a majority, but when you asked their preference, you actually–, maybe it was the third, third place that, you know, it could end up winning because it was like the most preferred because maybe first place for some was like, so polarizing that people hated it on the flip side. So that's kind of how it works.
Bradley Sutton:
Interesting. All right. Let's see. I also have the demographic reports. Okay. So it looks like oh wow. So not only do I just get the demographics of everybody, but it actually breaks down, like if a certain demographic tended to vote for one of these options. That's right. Wow. I didn't even realize that 50%. Ah, very, very interesting. So really it's very similar. Like it doesn't matter male or female here. They all voted along party lines here, and they all like the red for A versus B as we're talking about polls and political stuff here. But what is this one here? 45 to 50, the age group of 45 to 50. See this is what this tells me, like the age group of 45 to 50 looks like they have had a tendency to vote for our coffin shelf. So I guess we're appealing to that older market there, but let's go ahead and see some of these responses now. And the winner by the way, guys was that red one with 31 votes. But ours was not far behind.
Justin:
Yeah, quite close.
Bradley Sutton:
And let me see if anybody I'm just gonna run a search on this page to see if anybody said not one person mentioned stickers. So they might not even realize that there were stickers. But yeah, a lot of people–, let me see how many people said the word red, 33 different people mentioned the word red in the responses. So that's obviously–
Justin:
Yeah, that was a factor.
Bradley Sutton:
Yeah. Yeah. Everybody's talking about the red. B, they said it's scary looking. I like the color contrast and the first choice is more eye-catching I picked the last as it appears blue, which I don't associate with it. Aha. What in the world does my picture look like, you know what? That's an interesting point. See, we actually did a 3d rendered image here. Some people might think, let me see if anybody else mentioned that they think it looks blue. Let me see how many people
Justin:
Kinda like a hue of blue. Yeah.
Bradley Sutton:
Seven people mention blue here. And I never would've thought that 'cause I know it's black and then I never even like, wow, it does look when you compare it to this black, this color black. That is something serious right there. Now that is yeah. I might need to go in and change this picture. Like I thought it looked great. Cause I was like, it's so much brighter. You can see some contrast a little bit more to manipulate the image, but now it's so much that people think it's seeing, look at that guys. We did this live and I found out a couple of things that I never would have, have thought about. So, guys, you need to be using this. You can do it at pickfu.com, or those of you who are Helium 10 members just do it right in your Helium 10 account, cuz you already got the billing already and everything tied. It's the same exact audience and the same process. We didn't make our own PickFu. That's tied to the PickFu website now. Justin, we usually do a 30-second tip of the day as you know our "TST", so you've been giving us a lot of tips and strategies, so it doesn't have to be about PickFu. It could be about anything you want. What is a 30-second tip or strategy you can give our listeners today?
Justin:
Yeah. So the tip I have is to try testing something that doesn't exist yet. I think a lot of people tend to come and think that they can only test their products that they already have or images that they've already generated. So come and test the concept, come and test new copies or 3d renders or products that you're not even purchased yet. Like maybe you grab the image off Alibaba or ask your manufacturer for some sample images and you wanna test it against competitors. I think that's a really important way to start out your process. And as we've seen with the coffin stuff it could have probably generated a lot more sales maybe if we had figured out the red thing earlier or even the fact that the black looks a little bit blue.
Bradley Sutton:
Yeah. Excellent. Excellent. All right. If people wanna reach out to you for more questions or something, how can they find you on the intro webs out there?
Justin:
Yeah, they could just email me at [email protected] They can find me on LinkedIn or just kind of pickfu.com and chat with anyone on the team.
Bradley Sutton:
Awesome. Awesome. Thank you so much for joining us and be seeing you hopefully at Sell and Scale.
Justin:
Yep. Yeah, we'll be there.
Bradley Sutton:
We'll see you later.
Justin:
All Right. Thanks.
---
Enjoy this episode? Be sure to check out our previous episodes for even more content to propel you to Amazon FBA Seller success! And don't forget to "Like" our Facebook page and subscribe to the podcast on iTunes, Spotify, or wherever you listen to our podcast.
Get snippets from all episodes by following us on Instagram at @SeriousSellersPodcast
Want to absolutely start crushing it on Amazon? Here are few carefully curated resources to get you started:
Everything for your business on Amazon.
Find out more about our products by signing up or speaking with one of our
Customer Success representatives today. With us in your corner, you can enjoy
more sales and increased engagement from your Amazon business.
Chat with a Support Specialist