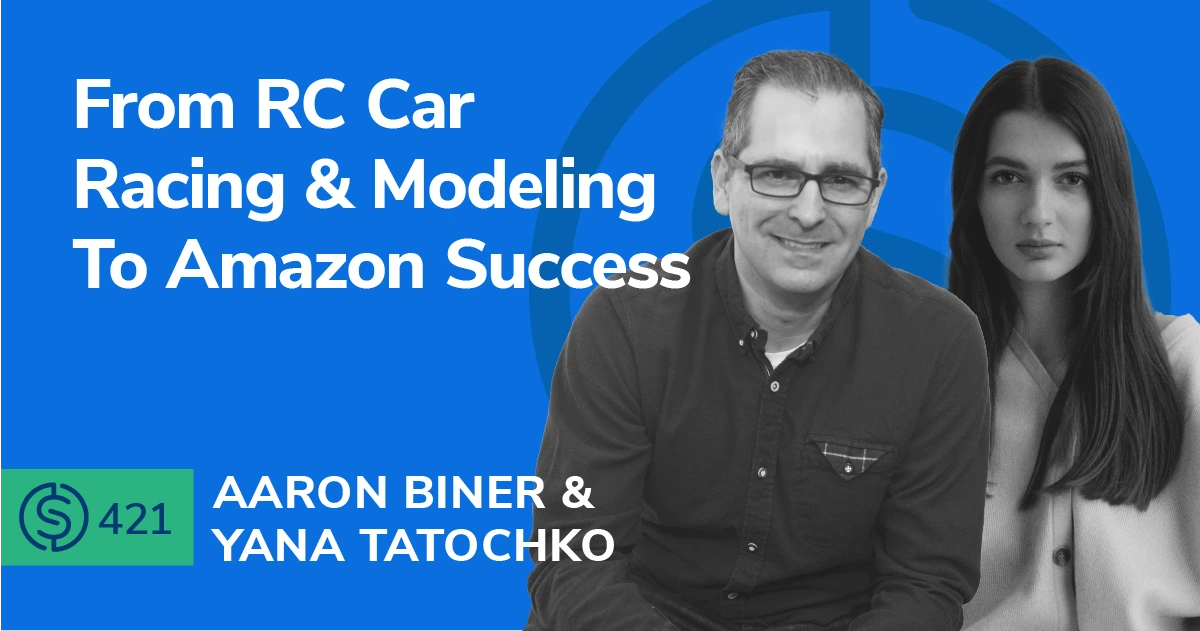 #421 – From RC Car Racing & Modeling To Amazon Success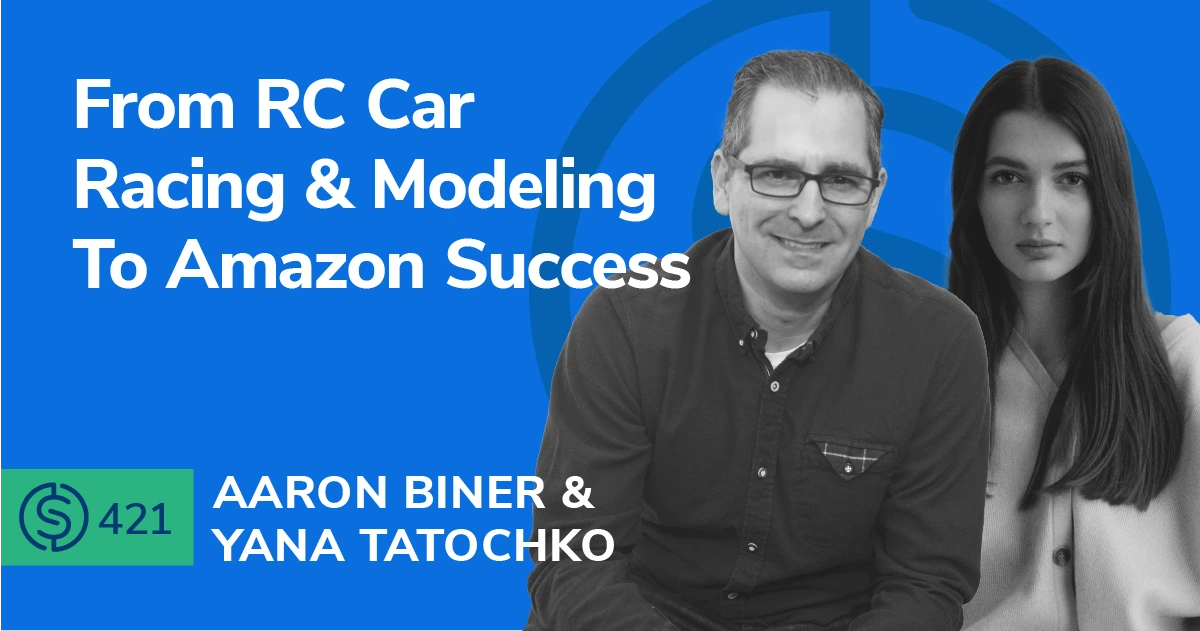 Video of the episode at the bottom
Join Aaron Biner and Yana Tatochko in today's episode of the Serious Sellers Podcast as they share their Amazon journey & tips on the show. From their crazy backgrounds, Aaron was a former RC car racer and Yana was a high-end professional model to their start on Amazon and their learning process. They also cover credit card spending hacks, the perks of being a Helium 10 Elite member, common seller mistakes, Amazon A+ content strategy, and more! Plus, their hard-hitting 60-sec tips may help you crush it on Amazon!
In episode 421 of the Serious Sellers Podcast, Bradley, Aaron, and Yana discuss:
02:00 – How Aaaron And Yana Got Invited On The Show
02:50 – Aaron's Backstory And How He Got Started On Amazon
06:45 – Yana's Backstory And Her Life Before Selling On Amazon
09:29 – Credit Card Spending Tips For Amazon Sellers
12:45 – Yana's Learning Process To Understand The Amazon Game
17:00 – Aaron's Favorite Helium 10 Feature Exclusive To Elite Members
19:45 – Common Mistakes That Amazon Sellers Do
24:00 – Amazon A+ Content Strategy
26:25 – Talking About Premium A+ Content And How Does It Look Like?
28:20 – Is Keyword Stuffing The Alt-Image Text Recommended?
31:45 – Yana's 60-Second Tips
34:16 – Aaron's 60-Second Tips
35:45 – How To Get In Touch With Aaron Bines
36:35 – How To Contact Yana Tatochko
Transcript
Bradley Sutton:
Today we've got a couple different guests who come from crazy backgrounds who are now in the Amazon world. One was a professional RC car racer, and the other a high-end professional model. But now they help Amazon sellers level up and they've got some great strategies that they're gonna share with us today. How cool is that? Pretty cool I think
Bradley Sutton:
You wanna know what keywords are driving the most sales for listings on Amazon. To do that, you need to know what highly searched for keywords the product is ranking for. Maybe at the top of page one, you can actually find that out in seconds by using helium ten's keyword research tool, Cerebro. Now, that's just one of the many, many functions that make this tool my favorite tool in the whole suite, and it's the most powerful keyword research tool ever created for e-commerce sellers. For more information, go to h10.me/cerebro, h10.me/cerebro. Don't forget to use the Sirius Sellers podcast, discount coupon SSP 10. Hello everybody and welcome to another episode of the Serious Sellers Podcast by Helium 10. I am your host, Bradley Sutton. And this is the show that's a completely BS free, unscripted and unrehearsed organic conversation about sir strategies for serious sellers of any level in the e-commerce world.
Bradley Sutton:
And today we've got a couple of sellers from different parts of the world. And this is actually the first time I'm trying this like every now and then I get like a crazy idea and let me just tell you guys, I do not just randomize who comes on the podcast and I give it some thought, but I was like, you know what? It was like the middle of the night a couple of weeks ago, and I'm like, Hey, I have a very kind of curated list on who I follow on LinkedIn. And, and like I used to be the kind who just like accept everybody. Cause I wanted to have like a lot of followers and a lot of connections. But then like, I started only kind of connecting to people who I know personally or who I know are posting or interacting on posts that have to do with Amazon.
Bradley Sutton:
And then, so like pretty much anybody who comes in my feed you know, is is Amazon related. So I was like, you know what, the, the first two people that are from my history or my, from my feed of in my activity, let me see if I can bring them on the podcast if I know who they are. You know, like, like personally. And then it was Aaron and Yana here. I was like, okay, this is great. Like, I know both of them and I know both of them are involved in the Amazon world, so let's see if they want to come on the podcast and here they are. So we're gonna get their backstory and, and you know, what they do in the Amazon world. Let's start with Aaron. So first of all, Aaron. So let's start off with that. You know I don't, I think you've told me the story before, but my memory's bad. Like, how is it that you speak Japanese and, and just let's talk about your backstory here.
Aaron:
Well I was just when I was younger, I would go to Japan. I started out, I was doing radio control, car racing. I was heavily involved in that in like my teenage years and stuff. And I went to Japan to race and I got I was into it. And so I started taking Japanese classes and eventually got a minor degree in Japanese language. So that's kind of how I got a little bit into that.
Bradley Sutton:
Never lived over there
Aaron:
Though? No. Never lived, no, never lived over there. I've been there quite a bit, so yeah.
Bradley Sutton:
I thought you got married in Japan for some reason.
Aaron:
Not in Japan, but in the US.
Bradley Sutton:
Okay. But to somebody who speaks Japanese.
Aaron:
Yeah, exactly.
Bradley Sutton:
Okay. So that allowed you to continue practicing Japanese. Now, what about like, like racing RC cars to Amazon is a little bit of a jump, so what have you, oh, like what was some of your, your gainful employments and your, your jobs before you actually ended up here in the Amazon world?
Aaron:
Oh, sure. I used to sell vinyl records. I was into DJing and I from that I started buying a lot of vinyl records and I got into collecting them and then got into selling them, started selling them overseas a lot to Japan, to Germany, the UK and then eventually vinyl records kind of fizzed out because of technology. People started using their computers and MP3s and downloadables and all that.
Bradley Sutton:
People who are listening to this on the podcast and not watching it. Like, must have like think that you're probably like 80 years old or something like that. You know, like doing vinyl records, but no, he's a younger guy.
Aaron:
Younger
Bradley Sutton:
Well, younger than me.
Aaron:
A little bit, for sure. So then eventually got into sneakers fashion and sneakers. Started a sneaker store ran that for 12 and a half years.
Bradley Sutton:
Like a brick-and-mortar store?
Aaron:
Yeah, brick and mortar and online. We had like a regular, like 3D cart site started selling eBay as well. And then eventually, like Amazon came calling asking us to sell shoes on Amazon. So we started selling like major brand shoes on Amazon.
Bradley Sutton:
When was this?
Aaron:
2008 was when this happened.
Bradley Sutton:
Happened. Okay. So quite a while. Quite a while.
Aaron:
Okay. So they were recruiting. Yeah. And then so started getting into it, but that was totally different, like a wholesale model. And then from then just started hearing about private label first. I started hearing about it a lot from people that were doing a thing called manufactured spending where they were just buying products and selling 'em on Amazon in order to get their money back to get like airline points and traveling with them. And I was like, well, what's this about? And started finding out a lot about private label to make actual profit, not really for this airline point, credit card point scam more, not scam, but scheme more or less. Yeah. And so started watching, got a course, course was kind of not so great. But I you learn a lot of things from making mistakes eventually started a product product line that actually did pretty good. They're still doing pretty good. And I did almost 2 million in sales last year, so that was pretty successful
Bradley Sutton:
From Private Label?
Aaron:
Yeah, from Private Label and then almost 2 million the year before that in 2021.
Bradley Sutton:
So I'm assuming that the shoe business is done.
Aaron:
Yeah. No longer. So
Bradley Sutton:
You're all about Amazon now?
Aaron:
Yeah, all. And then I also started my own small agency called Marketplace Nerd, where I help other people with PPC as well as solving all Amazon problems, coaching calls, consulting and whatnot. So that's a little bit other background of how I got into Amazon and what I'm doing now.
Bradley Sutton:
All right. Remote control cars to Amazon. That's, that's a first for, for the show. Yeah. I love, I love it. You know. All right, going back to Yana now. Yana, where in the world are, are you?
Yana:
I'm right now in Belarus.
Bradley Sutton:
Belarus. Is that where you were born and raised?
Yana:
Yeah. Right, right.
Bradley Sutton:
Okay. All right. So what, what about your backstory? I mean, I know fast forward now you're in the Amazon world, but what did you know, what were some of your, like did you go to university for something else or what, what, what was how did you get here to what was your life be like before Amazon?
Yana:
Actually, I've been working for a model for quite a long time. Like my first photoshooting was when I was 12 years old, so I was really a young girl. Yeah. And like my whole life, like, it seems to me that my whole life was connected to fashion, but you know, being a full-time model is kind of really hard especially physically, you have to travel for different contracts around the world and everything. Like it's all about your appearance. Like you cannot affect on a lots of factors. It's like some stylist or cast, directors who will choose you for some shows or catalogs, but it's actually not a lot about your personality. And after it was in 2019, I guess I come back to my country from China or Singapore. Yeah, it was Singapore.
Yana:
And I saw kind of, we had an agency here in Belarus that was kind of foreign people who can speak English to train them, to help them to develop business on Amazon. So it's kind of, it was really exciting journey for me. I started keyboard doing keyword research, and like at the beginning it was very basic, but then when you kind of dig deeper, I was kind of really excited about this journey. Yeah, I still work as a model, but definitely not like a full-time model. I cannot like travel to China for three months, make a contract since I have also family here in Belarus. But yes, now my whole life is connected to Amazon.
Bradley Sutton:
This is great. This is what I like about the Amazon world. We have somebody who raced cars and ran sneaker shops, ended up in the Amazon world. We have somebody who was I mean, if you must have been pretty big time, if you were like even going to other countries to do models, somebody who was in modeling. Now in the Amazon world, we've had dentists and doctors and, and we've had sumo wrestlers like myself. I mean, like you could be anything you want or come from anywhere in the world, any kind of background. And Amazon kind of like, is this place that we all kind of gravitate towards now? I wanted to ask Aaron a question about the, the credit card hacking. We're not really hacking, but, but you know, using it for spend, like, so obviously when you're in private label you know, the no-brainer thing to do, which everybody should be doing is, Hey, make sure your PPP C spend is not just coming out of your reimbursements, but, or your disbursements I should say.
Bradley Sutton:
But tying it to a credit card. But me, for example, for a while I haven't been doing much lately is I was doing you know, some wholesale and things like that just for the the cash flow because usually in that model I could actually pay with a credit card. Now sometimes I also do it with like using websites like plastic.com where I can actually pay my suppliers, my private label suppliers. But it, the fee is kind of high. So it almost like evens out as a private label seller, what opportunity do you have to outside of PPC to kind of get some more credit card points or cash back or things like that?
Aaron:
Let's see. So outside of PPC. Well, PPC is the big one and credit card churning, which is like signing up for cards and then getting hitting the bonus spin and then kind of like putting your sock drawer until the annual fee comes up and then not renewing it. That's one thing. But one big thing you can do is if you pay on Alibaba you can sign up for a credit card through Bank of America. If you have over a hundred thousand dollars in either Bank of America account or combined with Merrill Lynch, and you get to a thing called Platinum Honors and it gives you 2.625% either cash back or travel awards back. And so a lot of times the Alibaba fee is only like less than a percent above that. So it's not really bad to borrow money for like a month or up to 45-50 days if you count the, like a statement turnover period in order to borrow five, $10,000 for like a less than a percent, you're basically getting those points back or that cash back once you join that program. So that's one thing I've been using for a long time.
Bradley Sutton:
Okay. Now why you don't, you feel like you don't have time anymore to like, do the wholesale stuff or the stuff that's not really for profit? Like you're doing well enough on the private label or did it just it got too hard to do that side or how come you don't do that side of things anymore?
Aaron:
Oh, I don't run the store. I used to have a retail store and we were buying directly from these manufacturers and had like permission to sell it. That was fantastic in those days. Like they would let us charge our shoes or sneakers with a credit card with no fee. Like they would just take a credit card to charge. You could call up like Puma or Adidas or use a portal and charge your $20,000 shoe bill for that week with a credit card, it's all free points basically. And then you just turn it. Yeah. So that was fantastic. That's why I don't do it anymore. I don't own a store.
Bradley Sutton:
Yeah, a lot. I know a lot of these places that they'll only sell to you if you actually have a brick and mortar location. They don't do drop shipping and things like that. Okay, good to know. Now Yana, back to you, like coming from the fashion world, obviously that's completely different. Just like Aaron coming from a completely different world to Amazon. What was the learning process for you because you weren't an Amazon seller and now you're working for an agency that helps Amazon sellers. Like how long did it take you to, to kind of like learn the game as it were, so that you could help Amazon sellers even though you hadn't sold yourself?
Yana:
Actually it took me like maybe more even than a year, but it's all about how picky you are about the process and how deep you can understand the process. Actually like Amdu Esther part, but Amazon is about, like, we have a full service agency right now, so it's about designers, ppc, esto, and catalog management. And I started with the keyboard research. I also made some Amazon seller support and all the stuff, but then I realized like, so many sellers are missing this huge opportunity when they're not doing the SEO. You know what, I see a lot of sellers, I just kind of make the keyboard research, the search terms, the bullet points and all this stuff, and they forget about the seo. But what I see, like SEO and your PPC strategies, they kind of should go in the right direction.
Bradley Sutton:
How do you determine like what to you cuz some people might think, oh, like they, they think it's a, or they say it's the same thing, like keyword research and SEO is the same. So like obviously it's different to you. So, so define like how you are viewing, okay, keyword research in SEO
Yana:
For me being Amazon so specialist is kind of learning and you completely different language is how to speak to Amazon to index certain keywords, to rent for certain keywords. How not to be suspended by Amazon. You know, Amazon is all about right now you cannot do your two step URLs. You cannot do any more like search, fund buy and all this stuff. But to stand out among your competitors in 2023, it's really important to do your SEO like even some basic, your title, your bullet points, your search terms should be well optimized and it's a outgoing process so it's not just set and forget. And what I see, like, I'll give you a very kind of quick tip, just analyze your search term support and make sure you are kind of high performing keywords are included in the exact match in the title. It seems so obvious, but when you start kind of analyzing all this stuff, like no one is doing it, like keyword are changing over the times. There is there's some–
Bradley Sutton:
Hold on just a moment. I'm going to give Aaron a quick quiz on what you just said. So Aaron, what she said, Hey, seeing the people who have their main you know, the search keyword in exact match in their title, there is actually a metric in Cerebro and Magnet that and Black Box that like actually says that it's a two word phrase. Do you know what that is, Aaron? This is a Helium 10 pop quiz question. What she said is, is completely right, but there's actually a two word phrase that what we call it, where you can actually see how many people have the exact match
Aaron:
You have. Oh, title match or something like that.
Bradley Sutton:
Almost halfway Title Density. Very good, very good. We'll give you partial credit on that title, but yeah. Yeah.
Aaron:
Okay. Good point.
Bradley Sutton:
What Yana said is very important. Yeah, because for seo you know, title is obviously the most important and you would think that, oh yeah, I'm gonna have my, my main keyboard in the title, but, but like so many people in a lot of categories don't have that. So that's something that that all levels of Helium 10 you guys see that in cerebral and maybe you're wondering what is Title density referred to? That's what it is Now. That's all levels of Helium, Tim. But you know, you Aaron, I believe you've been a Helium 10 Elite member for a while, right?
Aaron:
Yeah, I've been an elite member for a while. We have access to a lot of great tools like historical data is great now. We're able to look back at the rank of a particular ASIN like using Cerebro. Normally we could just scrape it and find out where we are right now, but now we can go back up to 24 months as a system.
Bradley Sutton:
What's some use cases for you? Oh, that's a fantastic use on how that would be good.
Aaron:
I had one client come to me and they said this one product for migraine headaches, like we used to sell so many of them two years ago. You know, I'd just taken over them. And so they're like, well where's our weak points and we can look back two years and see where they were ranked like number one or two on a particular keyword. And then they ran outta stock for X number of days and so that when they ran outta stock, it's likely that Amazon just basically kicked them down to like, like the basically to the bottom of the ocean where they couldn't be found on that keyword. And as it turns out, that's what was driving a lot of sales for them. So kind of like a use case for that would be to figure out where you used to be relevant where you used to be at the top of the game and you know, set up some exact match campaigns on top of search and try to shove the ads as high up as you can.
Aaron:
Maybe lower the bid much lower than your suggested bid and put like a two, a three, a 400% multiplier on it. Try to get sales even unprofitably, but for the sole purpose of ranking back to where your historical mark was six months a year or whatever the case may be ago. Another great use case is if you have a product that has like one particular seasonal use, you may sell something that you know could be used for you know cleaning up after you've been to the gym or cleaning up after you've done camping or whatnot. And so you can see that camping may have been like a big use case, but now you're in the middle of like the winter where people don't camp. And so you could see that that that was a big place you were making sales and now maybe you dropped down cuz you may have cut off the PPC during the off season. So Okay. I think those are a couple of great use cases for that.
Bradley Sutton:
Excellent. All right guys. So I mean, right now I'm not trying to promote Elite because you can't join Elite even if you wanted to we have it closed most of the year, but you know, coming back in March we might open it up again so only elite members have access to that tool, but it's something I've been wanting for forever here at Helium 10 to have the historical Cerebro. Now, now something Aaron that Yana mentioned was like like 90% of people she sees are not doing something and, and this is why I like talking to people who work either as consultants or agencies because you know, you guys, like she said, you guys deal with so many accounts and you could see on a wider scale what's, what's going on. So what about you, what have you seen that when you like look at somebody's account where a common mistake or something that people are doing wrong, that's like one of your first fixes I guess, or one of your first things that you do for them, for Yana was SEO. What about you? What do you see is a failure on many people?
Aaron:
That's a lot of things, but the first thing is SEO. I mean, the first thing like she said is seo. You need to have your listings optimized and that doesn't just mean copy, it means copy, it means a plus, it means images. It means making sure that you're visible on mobile. Another great one is people love to like run low on stock and then not notify their PPC manager or whoever it is that they're running low on stock. And so what happens is the products are distributed through hundreds or a hundred plus FC centers throughout the United States. If you're selling in the US for example. And Amazon will show your products differently. It's called geo ranking to different people at different like organic levels or even ad levels depending on where they're at. They're pushing you, you to order products that are near Amazon because they know they can deliver them quickly.
Aaron:
So what happens a lot of the time is people don't tell their PPC manager or whatnot that they're running low on stock or that they've ran out and Amazon puts a long lead time, like instead of it being deliverable in two or three days, they'll say, oh, deliverable in 14 days. And what happens is a lot of people see an ad click on the ad and then go, oh, I need it quickly. Cuz Amazon's a platform based on people that basically have their wallet open, ready to buy something now that they have in mind. They know exactly what they want. And so when that happens, you get a lot of clicks without sales, it says negative signals to the Amazon algorithm and tells them that you're not relevant for that keyword, which causes you to drop back down. The right thing to do is to either pause your campaigns or put all your campaigns in a portfolio and try to stop it with a very low daily or monthly limit so that the ads don't run, you don't get these, these bad clicks that send a bad message to the algorithm.
Aaron:
Then when you're back in stock and you're deliverable in 2, 3, 4 days or something reasonable, take that limiter back off or increase your budgets or turn back on your campaigns to run. So I think a lot of sellers need to wake up and realize that they're actually kind of like putting one foot in the grave when they do that and actually kind of giving their ace in a poor history with the algorithm.
Bradley Sutton:
Yeah, very important. Especially, I mean, I think that the situation that most people think about that is mainly just a launch or coming back into stock. You know, like I'll say, Hey you don't start your ads or, or even have your listing close until, until if you're, if you're starting from scratch or if you were out of stock for a month or so and you're just trying to come back into stock like the first unit becomes available and then boom, everybody just starts going crazy. But then, yeah, 98% of the country see like a two week delivery date, which it's not two weeks because Amazon just like way overestimates it, but it doesn't matter the customer doesn't know that they just see two weeks, I'm not gonna wait for this. So,then I say, Hey guys, check your inventory heat maps in helium Ted, and then wait until you can see your product dis distributed. But that's interesting. Like even if you're not like necessarily going out or in of stock when it gets low Yeah. Amazon's gonna consolidate where it's at and you know, you, you might be wasting money on PPC. So that's a good, yeah. Good point.
Aaron:
I think a great way to do that is to check your, check your zip codes at the top of it. It says ship two zip code. You can put in like a zip code for California, a zip code for Dallas, a zip code for New York, and kind of look at where your product is positioned through the nation.
Bradley Sutton:
Absolutely. Absolutely. For West Coast, whenever I used to do that, I mean that, this was before Helium 10 had the inventory maps, but I would put 9020 and oh for the west coast. Yep. You know, because everybody knows Beverly Hills 9020 yeah. And then for the east coast, you, you guys see, like in my, my images up here watching YouTube, I used to live in Brooklyn and so like I had a couple images of where I used to live in Brooklyn and so I would use that 111201. So to get a a California and New York one. Now going back to Yana you mentioned you also in addition to kind of like just SEO, but you also work a lot with A+ Content. So I'm just wondering which do, do you have like one strategy you always do for A+ Content? Like some people they do the one where they make like a really big image and then they cut it up into different pieces and then just put, put it on the A+ Content. So it looks like a big image or there's other people who use the different widgets where it has a lot of text and image and comparison charts. What's like your main strategies you're using when you're doing A+ Content?
Yana:
When you optimize your list, you always have to be like, you have always keep in mind that you have your algorithm and you have your kind of target audience. And when you optimize your A+ Content, you always should keep in mind that Amazon cannot read your images. Like Amazon can only read probable text. So when optimized A+ Content, I kind of have these three strategies. First of all, every single page of A+ Content and even your brand store must have hundred characters of art image text. Like it's super crucial like it helps the algorithm, it gives you visibility not only on Amazon, but also kind of off Amazon. And do not forget about probable text. Probable text helps algorithm to understand what's like, it gives additional information about your product and copy is super important when you optimize your scl.
Yana:
So do not forget not when you create your A+ Content. It's not only about images, it's also about art image, text comparison charts, probable text. But right now lots of people are starting using premium A+ Content and premium A+ Content is not that beneficial when we talk about seo. So it's not allows you to use lots of art text or probable text but still it looks really nice. It has this big images. So when you optimize your A+ Content, never forget about Azure and include important keywords, maybe misspelling Spanish, but try to kind of use every single opportunity.
Bradley Sutton:
Yeah. Okay. Interesting. so, so is the premium I I've never used premium cuz I need to do, there's a lot of stuff I need to to get into more and I know you have to have like at least 15 or something like that. A+ regular. A+ Contents approved and the bra. Okay. But, so when I see an image, one large image that has no like breaks in it, that means that, that that's premium. Is that does that mean that's probably a premium A+ Content?
Yana:
Actually like you will see it's a big images, like they're super white and they're very interactive. You can add videos, you can you know, add Q&A section even at your premium a plus contact. So it'll, it's very different from kind of normal a plus, like it's very white images like super wide.
Bradley Sutton:
Okay. So it should be easier then to, to notice it's wider than that. Okay, that's good. Have you done premium A+ Content on your own listings? Aaron?
Aaron:
No I haven't, but I have some clients that have it, that have like videos in there. I think there's like an extra level of premium where they're able to put like this huge video. I have a client that is using that. I know I went into their A+ and just looked around at the modules that they had access to and they were totally different than the ones I have access to or most clients do. I think you have to have a, what they call it SAM, like a, it's SAM is like a, it stands for something that's like service Amazon something or other where you're able to, like, you pay $3,000 a month or percentage of sales or something like that. And then they give you access to reporting and meetings and that's one of the like perks is that the extra A+ I guess you
Bradley Sutton:
Get with that. Okay. Now let me ask your philosophy on this because cuz I heard a lot of people say kinda like what Yana was talking about, but like me personally, like I've never really wanted to just like use keyword stuffing on the alt image because that's supposed to be for like in my opinion, like, like, or not my opinion, it is like, like for like people who are blind when they have like a special reader in their Chrome extension. So like, yeah, like I think you should fill those out because it definitely helps like SEO especially on, on Google. But then instead my suggestion to people is like instead of just keyword stuffing, find a way to logically still describe the image so that's if you're a blind person watching this Amazon listing and all of a sudden you hear like shelf coffin, like a bunch of just keyword stuff like thing like that's not a great experience, but, but are you, are you filling out the alt image when you do A+ and yours and what's your you know, thoughts on that?
Aaron:
Yeah, more or less I am, but I'm just kind of like putting in like more like lower search volume terms that I didn't use. Honestly, I think most of the products I sell are optimize, like I'm able to like put the keywords in the title on the bullets and the description. I don't repeat phrases more than once. I pretty much, like I use it one time and then I don't use it again. I try not to repeat phrases twice cause I don't know where Amazon's giving me credit for relevancy. I would hate to have them give me credit in the title, not give me credit in the title, but gimme credit in the alt text because most people consider that to be a much lower like, relevancy zone for like relevancy
Bradley Sutton:
As far as like, so for your main keywords you definitely–, so it's like more supplementary keywords you might put in the alt text and things like that?
Aaron:
Yeah, yeah. If I was selling vitamin C gummies, I would put like brand name space vitamin C gummies, but I would never put vitamin C gummies. That may be like the huge keyword, right? I would never put it in that exact phrase format in the alt text or in the description. I would try to find another way to write it as best I could because I want to get credit in the title. I don't wanna get credit anywhere else. Cuz let's say I'm not ranking very well for vitamin C gummies. Like I don't want to have to like diagnose removing it from here and moving it from there. I only want it one place so I know where it's ranking at or if it's not ranking there, maybe then I would remove it from there and put it somewhere else. So that's kind of like a way to get to the bottom of what the ranking issue is without having to guess where you're getting credit for that particular phrase form keyword.
Bradley Sutton:
All right. Now, so for the last few minutes of this you guys have been talking strategies, we're gonna do our 60-second strategy, our section of the podcast where we give like just one like kind of hard hitting strategy that you can say in like 30 to 60 seconds. And then we'll go back and forth for a couple minutes here. So let's, let's start with Yana. Like you've talked about A+ Content. So what's a 60-second strategy? You can you can give us,
Yana:
Actually, I prepared two strategies like for newbies and for advanced sellers. If you can open use seller about how recommend to use AI cooperation in your strategy. Yes, it's not perfect, but still it helps you to write a great text for your maybe images or just to find some new ideas for your copies. So artificial intelligence is really great, so try to use it in your strategy, like you still will need a professional copywriter, but in just one tool to use when you are kind of dealing with Amazon. And another tip is your meta description of your brand store. Like, actually it's super powerful, but there's still so many sellers are this opportunity, if you're gonna, like every page of your brand store has this meta description that is indexable by Google. So it doesn't have any impact on Amazon, but it has really huge impact how your brand store will show up in the search result with sample who will type your brand name. So for example, like, I don't know what's is a brand name for Coffin Shelf?
Bradley Sutton:
Like Manny's Mysterious Oddities.
Yana:
Okay.
Bradley Sutton:
Hello, Aaron making fun of our brand. You know what that's named, named after our founder of Helium 10. Aaron? No. Making fun of us. Come on. That's hilarious. Go ahead.
Yana:
So just, it's only 160 characters. Do not keyword stuff make it readable and sometimes it'll, like your brand store will show up like in top one in a Google search result. So it really works and it also helps you not only for your brand, for your brand name, but also for keywords that you can include in this section. So it's really powerful. Well,
Bradley Sutton:
Where do you edit your meta description for your
Yana:
You just have to kind of every it's you have this meta description for every single page. So if you have five pages, you can fill in five pages of meta description. Okay. You just have to go to the settings of your store and when you will kind of click on the page, like you will see this meta description.
Bradley Sutton:
All right. Cool. That's it, that's a new one that nobody's given us before. I like it. Aaron, what give us two tips for your 60-second strategies.
Aaron:
I got three. Can I give you three?
Bradley Sutton:
Three for the price of two? I'll take it.
Aaron:
So on mobile view images are showing up in square a little bit differently than when you do 'em in rectangle. So I suggest with the thumb image to make it 1200 tall by a thousand wide, I've tested this and it seems to be showing up just slightly bigger in mobile view. So that's a big tip to get more visibility when somebody's searching through. The next one is if you are doing PPC keyword research and trying to figure out which keywords to run and you're in question, actually physically go to Amazon and look at those keywords and ask yourself, does my product fit in with this particular keyword? For example, if you're selling a cookie that may involve pumpkin and you have a keyword like pumpkin cookie, go to pumpkin cookie and ask yourself what do I fit on this page or not?
Aaron:
Because if you're running PPP C to it, you may just be throwing money down the toilet essentially. And the last tip that I have is honeymoon period. Okay. A lot of people don't know, they just go on Amazon, they're so excited they create a listing, but they fail to change the launch date and the release date to a date that's really, really far out. For example, you create a listing, you're going to get an fn skew to send to a supplier to put those labels on your product. Or if you're making a box design, you need that labeled FN skew label. So you create this listing and you're like, great, it's all done. But if you failed to put the launch date and release date, depending on the category you're in to a date that's further out before you hit save, you may have started the honeymoon period for your product.
Aaron:
So my tip is to set that really far out, like a year out. And then when you have all your optimized copy, your images and your a plus and everything loaded in and the product is at Amazon and ready to deliver in two to three days, then go in and change that release date to that date, today's date or whatever the date that you are launching on that will make the dog's thing go away, the dog screen go away and it will start, you'll start out with the right foot. You wanna come out of the block, the blocks strong like a runner in the Olympics, right? You don't wanna stumble out of the blocks. So if you don't set those release dates and a launch date to today's date or whatever the date you're starting the selling on, you're kind of stumbling out of the blocks.
Bradley Sutton:
Okay. All right. Thank you guys very much. Aaron, if people wanna find you on the interwebs out there or contact you they how can they find you?
Aaron:
Absolutely. You can reach me on Marketplace Nerd [email protected]. You can also find me on Facebook at Aaron Biner. I'm on LinkedIn, I'm on Instagram as well. So yeah, look out for me. I'll be at a lot of the trade shows like Prosper and Sell and Scale and I'm around. So if you see me definitely come up and say hi.
Bradley Sutton:
All right. And Yana, how can people find you and your company out there?
Yana:
Actually, I work at Profit Wales, so just Google Profit Wales and you'll definitely find the company, but on LinkedIn, I'm just Yana Mos.
Bradley Sutton:
Excellent. All right. Thank you guys for coming on and we'll be seeing you soon.
Yana:
Thank you.
Aaron:
All right. Thanks for having me.
---
Enjoy this episode? Be sure to check out our previous episodes for even more content to propel you to Amazon FBA Seller success! And don't forget to "Like" our Facebook page and subscribe to the podcast on iTunes, Spotify, or wherever you listen to our podcast.
Get snippets from all episodes by following us on Instagram at @SeriousSellersPodcast
Want to absolutely start crushing it on Amazon? Here are few carefully curated resources to get you started:
Achieve More Results in Less Time
Accelerate the Growth of Your Business, Brand or Agency
Maximize your results and drive success faster with Helium 10's full suite of Amazon and Walmart solutions.