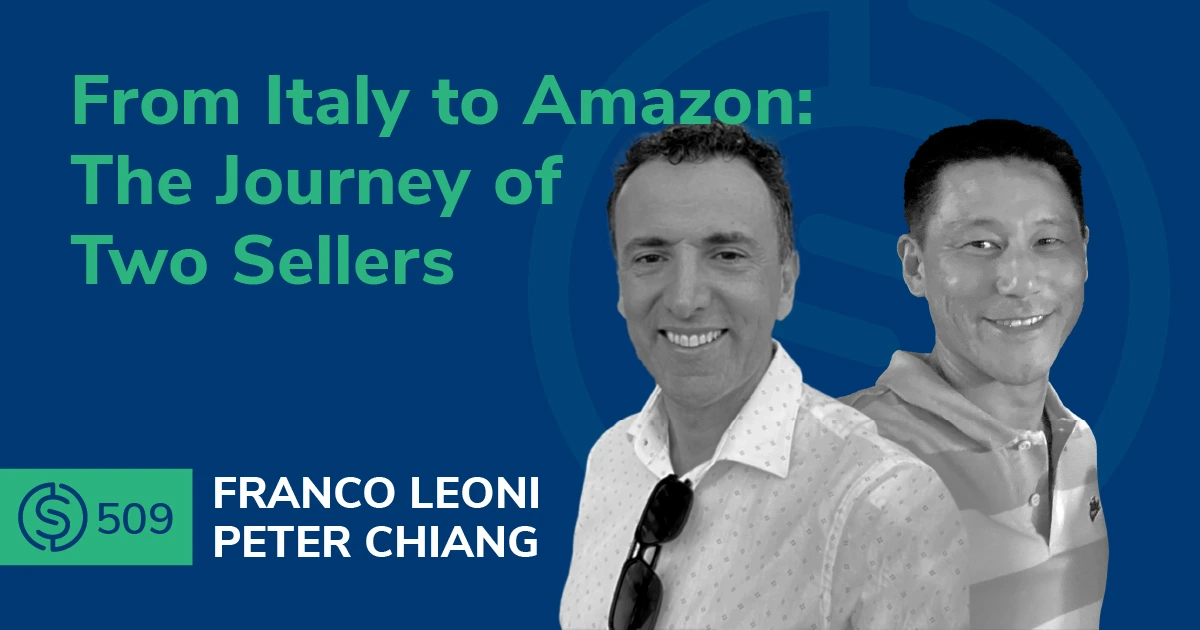 #509 – From Italy to Amazon: The Journey of Two Sellers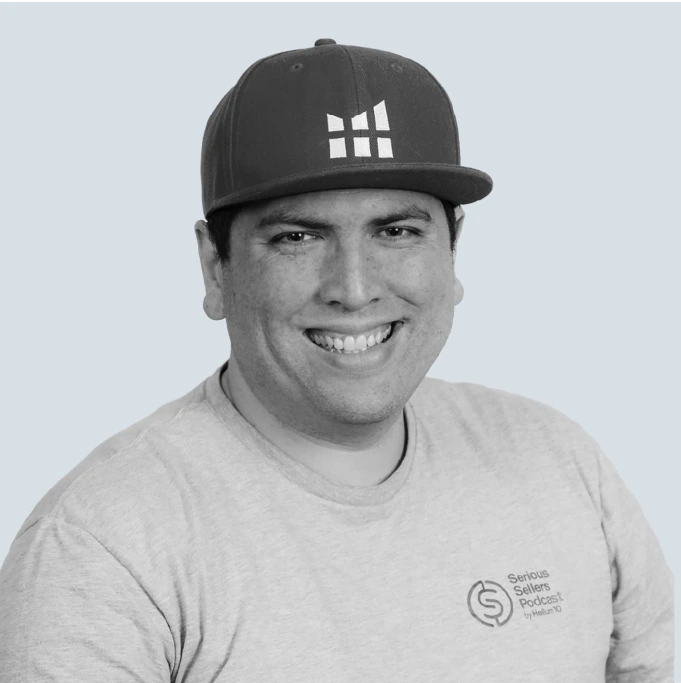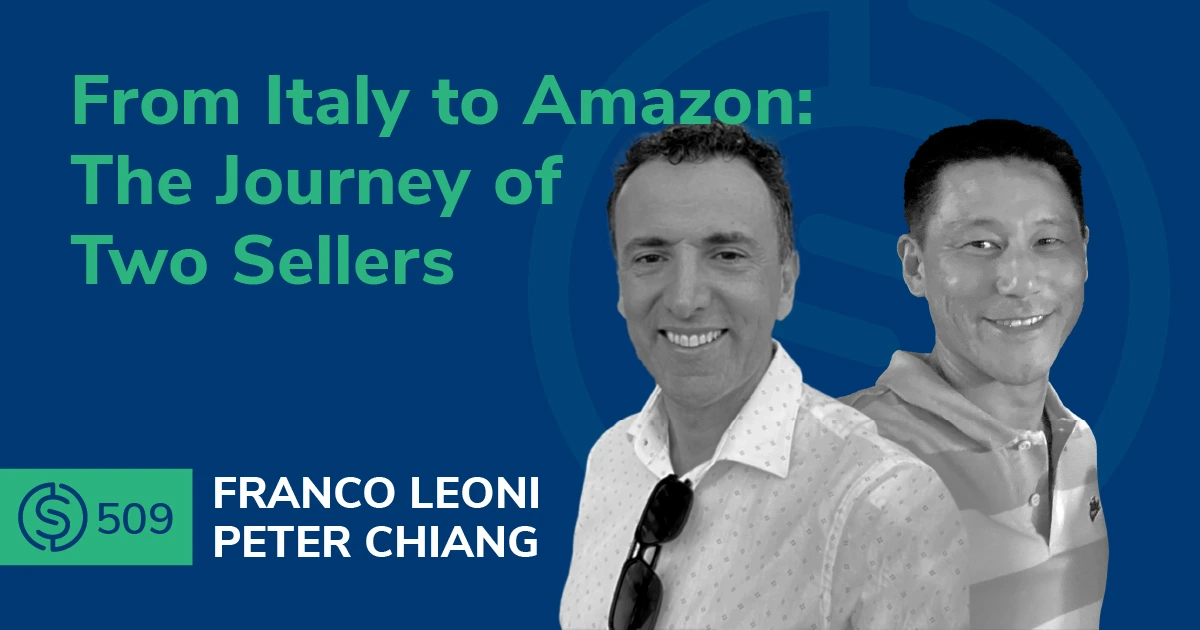 Video of the episode at the bottom
Picture this: Three successful Amazon sellers from each corner of the globe sat down in a quaint Italian café, their journeys colliding over a shared passion for selling on Amazon. In this episode, we're chatting with Peter and Franco, our guests who symbolize the true essence of a global Amazon seller. Born in the US, raised in Australia, and operating out of Asia, Peter's journey through the world of Amazon selling is a fascinating tale. Then we have Franco, an Italian native who transitioned from a traditional upbringing to become a leading e-commerce entrepreneur. We listen to their stories, not just the triumphs but also the trials, like the time Franco's competitor created fake test reports to tarnish his reputation.

Venture with us as Franco shares his extraordinary journey as an Amazon seller. From hitting his peak year of gross sales to navigating the fiercely competitive medical device field category, his story truly is a rollercoaster ride. Then we turn to Peter, who climbed to the number one spot in the health and personal care category within a mere three weeks. His dedication to producing reliable products and setting the right price point made him a standout entrepreneur. His unwavering commitment to his product and the pursuit of excellence are lessons for every budding e-commerce entrepreneur.
As we bid our Italian farewell, we delve into Franco and Peter's strategies for success, from image testing to understanding European selling regulations and leveraging social media. Get a peek into Franco's vision of reaching nine figures and perhaps even owning a football team in Italy. We draw the final curtain discussing the potential of the Italian Amazon community and the role Amazon plays in shaping the European market. Join us for this riveting conversation brimming with success stories, challenges, and unique experiences in the world of Amazon selling. We promise it's worth the listen!
In episode 509 of the Serious Sellers Podcast, Bradley, Franco, and Peter discuss:
00:00 – From Italy to Amazon
01:55 – Discovering Cultural Diversity in a Podcast
04:01 – From Australia to Italy
11:21 – Launching Products in Global Markets
14:58 – Challenges and Successes on Amazon
16:29 – Medical Device Field Competition and Tactics
24:32 – Strategies for Amazon Success
27:54 – Challenges With Listing Product on Amazon
32:35 – European Market Testing and Selling Strategies
36:21 – Discussion on Translations for International Marketplaces
39:25 – Italian Farewell and Appreciation for Italy
Transcript
Bradley Sutton:
Today we've got sellers in the show that I originally met in Italy and now they're selling millions of dollars on Amazon. We're going to hear their story, which includes a case where one of their competitors even sent fake reports to the media about their product safety in order to get them kicked off of Amazon. How crazy is that? Pretty crazy, I think. What was your gross sales yesterday, last week, last year? More importantly, what are your profits after all, your cost of selling on Amazon? Did you pay any storage charges to Amazon? How much did you spend on PPC? Find out these key metrics and more by using the Helium 10 tool Profits. For more information, go to h10.me forward slash profits. Hello everybody and welcome to another episode of the Serious Sellers podcast by Helium 10. I am your host, Bradley Sutton, and this is the show. That's a completely BS free, unscripted and unrehearsed, organic conversation about serious strategies for serious sellers of any level in the e-commerce world. And today we are doing what I think is a first we are having a three continent podcast at the same time. We're not recording this separately. I'm here in North America, we've got Peter, who, I believe, is in the Asian continent, and we've got Franco, who is in Europe. So welcome to the show. And the funny thing is, I met all of them in person, at least in Italy, which is why I'm wearing my Mona Lisa shirt, my Mona Lisa shirt, here. So anyways, welcome to the show, guys, and good afternoon and good morning to Franco, and it's good evening here.
Peter:
Thanks for having us.
Bradley Sutton:
Now I, as I said, I met these gentlemen at a conference in Milan, Italy, recently and you know, just talking to them a little bit and I was like man, all right, I don't want to know too much more because this sounds interesting and I just love to find out about the rest of you know your stories. You know, along with everybody else, the podcast. Now, that was like a couple months ago. So the cool thing is, you know, with my terrible memory, the little that they did tell me I've already forgotten. So, guys, I am going to be learning everything you know, right, right with you, with all the listeners today. So let's, first of all, you know the first thing that that that blew me away was, here's Peter, and you guys can't see him. You know he, he is, he's in Asia right now and he is of Asian descent. You know like he looks. I'm half Asian. I don't look Asian. Peter looks Asian and here he is sitting with me in this Italian restaurant and ordering in perfect Italian, like, what? Like? Do I really have jet lag? What is going on right here? Let's start with your backstory, were you? Uh, oh, yeah. And, by the way, the way he speaks English was also a little bit different, so were you. Were you born and raised in Australia, or were you born and raised?
Peter:
Yes, sir, I grew up in Australia, but actually I was, I was. I was born in the States. I don't know if I mentioned that in the state.
Bradley Sutton:
That makes it even more interesting I love it when we're about here in the States, in Minneapolis, minneapolis Okay, man, that's, that's. That's still the coldest I've ever been. Uh, not sure I want to go back there in winter, but all right. So you were in Minneapolis, and how? I mean? You know, the Minneapolis Australia connection is not very common, so how did that happen?
Peter:
Yeah, so if I take it back a step further, as you said, um, I'm, I'm Asian. My parents were born in China.
Bradley Sutton:
Okay.
Peter:
And they. They met in the US, so that's why I was born there, okay. And then, after um, they finished their studies, they decided they wanted to move to Australia. So when I was a baby, still be immigrated to Australia.
Bradley Sutton:
Okay, all right. And then now, growing up in Australia, what do you think you're going to be when you grow?
Peter:
Yeah, I didn't have any, you know, any special, different aspirations. I was like all the other kids.
Bradley Sutton:
Fine.
Franco:
Anything like that.
Peter:
Yeah.
Bradley Sutton:
Okay.
Peter:
I didn't think of being an entrepreneur or a commerce guy or anything like that.
Bradley Sutton:
Did you go to university in Australia?
Peter:
Yes, I did. I studied engineering Engineering. I had a very traditional upbringing?
Bradley Sutton:
Yeah, okay. And then, upon graduation, did you start working in that field?
Peter:
Yes, I did I um. So as I had no real exposure to my Asian roots, I wanted to do one year in Asia. So I ended up working in Hong Kong. So I worked in uh in Hong Kong for a little while with uh in the engineering field related to engineering.
Bradley Sutton:
Did you speak Chinese?
Peter:
I did not. That was one of the reasons why I wanted to go to Asia, because, growing up in Australia, yeah. At that time, I was the only Asian kid in school. Um, there was no real interaction with other families or anything, so, um, I just spoke English.
Bradley Sutton:
Okay, Now you know USA to Australia, to Hong Kong, how do you end up speaking Italian?
Peter:
So when I was in Hong Kong, um, I got headhunted for a job in Italy. So, yeah, I took the opportunity and went over there and um lived there for a few years and worked there for a few years.
Bradley Sutton:
Okay, that's cool that you learn the language. You know some people, uh, you know, go to other countries and you know years and they don't are not able to learn the language. That's a, that's a cool, uh cool skill there and and all right. So so that brings us to. I mean, obviously you're not in Italy anymore, so how long did you stay in Italy?
Peter:
Right, uh, I think it was about five years. About five years, about five years in a minute. Okay.
Bradley Sutton:
All right, and it was it during your your run in Italy there that you learned that you started on Amazon. Or how did you go from engineering to e-commerce?
Peter:
No. So, um, while I was in Italy, I also got headhunted for another job and I was moved to Shanghai. And while I was in Shanghai, I met a one of my friends who I did sport with, was very much into Amazon, and he always kept talking about it. And then, finally, uh, one day I said this sounds really interesting. Why don't you show me what you're doing? And I offered to invest in what he he was his business, because it sounded like it was really good. And he said no, why don't you just try yourself? So I did it as a um, as a hobby, for a while, and then eventually it became became a full time thing.
Bradley Sutton:
Okay, all right. All right. Now we're caught up to to kind of like the e-commerce list. Let's go ahead and take the journey with with Franco. Now for you it's a lot easier backstory Were you born and raised in Italy and lived there your whole life? Or or do you live in 17 million countries like, uh, peter?
Franco:
No, I was born and raised in Italy. I passed a couple of years in China, but it means that I was there like uh, every month of April and every month of October since 2003. So it's not was not like living permanently there. I was living in a hotel. So basically, I've been living my life in Italy.
Bradley Sutton:
Okay, all right. Now. What about you? Uh, what did you go to university for?
Franco:
I did pure maths and when I was starting at the university, I thought that I would be doing academia after that. Okay, and then it changed my mind.
Bradley Sutton:
Okay, what so? Upon graduation then, what did you enter into if you didn't want to go ahead and take that route that you thought you were going to take?
Franco:
Yeah, I did. When I graduated I didn't really know what to do because I changed my mind. I didn't want to be a university professor of math, so I was going into my other side of me, that was, being an entrepreneur. So I did an MBA and after that MBA I worked for a couple of years as a marketing assistant in a company and during that time I founded two companies, two different ones, with friends of mine. And then I resigned and from that point I always been an entrepreneur.
Bradley Sutton:
Okay, all right. So what year did you go full-on into e-commerce? Then what did you say?
Franco:
I went into e-commerce probably more than 10 years ago.
Bradley Sutton:
Dot com or other marketplaces, or what Now?
Franco:
in Europe, we're selling.
Bradley Sutton:
At that time, what I meant was yeah, the dot com is on Europe, but what I meant was like online sales or was it like a marketplace that you were on?
Franco:
No, it was our own e-commerce, our own website, and I was selling on with my company. I was selling rubber trucks that are the equivalent of tire for excavators and accessories for construction equipment, so something that probably even today you cannot sell on Amazon because like super huge and super heavy.
Bradley Sutton:
So you exited that company and then you said you became like a full-time entrepreneur. What was that endeavor like Full-time into? Like what was your? Was it just still online sales, or now you got into Amazon, or what happened there?
Franco:
Okay, so well, now most of my time is well, 100% of my time is on Amazon. But yeah, the other company, the one that's now, is doing Amazon as a long story, because it started in 1999. And we've been doing so many different stuff because we started from scratch with nothing. So we started doing multimedia content, then we went into doing CD and DVD duplication that means producing physical discs, then USB flash drives, accessories for smartphones, electronics in general, and then medical devices. When we went into medical devices, we went quite big on our e-commerce. That was not something that we were doing in this company. We're doing business to business mainly. And then from that, we went into Amazon. Not that we even had tried to do Amazon before, because we opened the Amazon account in 2014. But it was just a sort of let's see what's happening there, not really investing in that. So we were becoming big on Amazon since 2020.
Bradley Sutton:
All right, now we're kind of caught up in a similar timeline here. Let's go back to Peter then. Are you still selling your first product today, peter?
Peter:
Yes, I think I started with two or three, and all of those three products I'm still selling. How? Long has that been?
Bradley Sutton:
I started in 2017.
Peter:
Wow.
Bradley Sutton:
The same product. How many reviews do you have now approximately on that one?
Peter:
Maybe 3,000 or something like that. Reviews and ratings.
Bradley Sutton:
All right, so you're still selling the same stuff that you got into. How did you find that first product? Did you just take some course that a lot of people did and then just use the criteria to find the product and just struck gold in your first one? Or how in the world did you hit a home run with your very first product?
Peter:
So my friend had done the ASM course and so he suggested I did it as well. He told me the beginnings that I was doing the normal thing everyone was doing Just looking for a product that had an opportunity, that seemed like a good, not too competitive, good price, etc. Etc. And I was just lucky, I picked something that could last well.
Bradley Sutton:
Now, during this time you said you were back in China or were you in Italy?
Peter:
No, I was already in Shanghai at that point.
Bradley Sutton:
Ready in China? Okay, and then. So what marketplace did you launch this product on? Usa or Europe?
Peter:
Yeah, so I started in the USA. But I think within the first year I knew I wanted to be in Europe. So I immediately started in the European marketplace. I applied for VAT and everything. So yeah, pretty soon after the US Europe, I was into Europe.
Bradley Sutton:
Now? Was it any more easy than another person because you had lived in Italy before, or that meant nothing? Were you an American citizen, since you were born in America?
Peter:
Technically I have dual citizenship, but I always traveled on Australian passport. But, answering your question. So when I started Europe, I wanted to try the UK and Italy first before going into all the other countries. So, yes, there would have been a small advantage, starting with the Italian market, because I didn't have to worry too much about translations and more understanding what things were going. So small advantage, I would say, but not huge advantage.
Bradley Sutton:
Okay, All right Now. In the first couple of years of selling on Amazon, what was your peak of sales for like a year? Gross sales.
Peter:
I think it was about the second or the third year I reached seven figures. So I was going at seven figures for a while, but in the last two years I decided to focus more on profitability than revenue. So it's now in six figures, but making more profit overall. Now at what?
Bradley Sutton:
point did, like you said, it become your full-time job. At what level did you have to get to for it, to replace your engineering jobs that you've been doing for most of your adult?
Peter:
life. Yeah, I was able to replace it. I think it was maybe three or four years into the business, maybe four years.
Bradley Sutton:
You say you sell in multiple marketplaces. Do you aim for the same profit across the board, or is there a marketplace that's giving you better profit over another?
Peter:
For sure, Europe is way more profitable than the US, for products Is it? The shipping? Is it the?
Bradley Sutton:
PPC or what's you know, you're able to charge a higher price. What's the difference?
Peter:
It's the sellers in Europe. There's less of them, in my category at least, and the sellers are less sophisticated so they're not as good at branding PPC and just the basic stuff.
Bradley Sutton:
Okay, all right, let's go back to Franco then. So when you started on, amazon sounds like you started doing different things, but was there a point where you were only doing the medical devices, as you said, or did you start with only medical devices and that's all you've been doing this whole time?
Franco:
When I started in 2014,. We started with electronic, with accessories for smartphones, but I mean, we were making money with other stuff, so we were, we didn't really take it care of a lot about that and we were a little bit inexperienced. So we also did a couple of mistakes, like in the quality of the products. So we just like got a lot of bad reviews and we say, okay, we are making other stuff, we don't care about this, and we just kept the account open but we didn't use it. When, in 2020, we started doing medical devices, we went big almost immediately on Amazon. But before that, as I said, we were doing pretty well, like six or seven months before, on our e-commerce. That was the same e-commerce that was selling the electronics. That was like that website that we changed it and were you?
Bradley Sutton:
and were you only selling in Amazon Europe?
Franco:
Yes, because our products to do not have the certification for selling in the US. They are very highly restricted and certified, so the regulatory stuff in US is completely different.
Bradley Sutton:
Now, what's been your peak year of gross sales? Approximately how much? 10 million, 10 million only in Europe in one year in medical devices. Yes, wow, is it safe to say that now Amazon is the main, as opposed to your?
Franco:
website. Are you still even?
Bradley Sutton:
doing anything on the websites or just all Amazon.
Franco:
We still have it. But I think it's very important because one of the reasons why we were successful on Amazon is because we know so well our customer. We know so well what they want from the product and when we launch a product we can tell to our customer. There is also this new product. You can also find this in Amazon, so it gives a lot of help. But because of the growth that we had on Amazon, we have a little bit of neglected our website. So as soon as we have more banned, we should keep making the website better and grow the website as well.
Bradley Sutton:
Now, as Peter was saying, europe is very profitable for him, partly in fact due to low competition. I would imagine being in the medical device field makes it even less competition. Would that be a fair assessment that it's very few competitors you have, or has it gotten a little bit more tough to?
Franco:
So I would say there are not so many, but the ones that are there are very aggressive, okay.
Bradley Sutton:
Aggressive as in they might do some black hat strategies and things like that, or what do you mean by aggressive?
Franco:
Yes, also Because on medical, it's very like you can get suspended for any kind of claim. So yeah, it's quite an aggressive field.
Bradley Sutton:
What's the craziest thing that has happened to you. I would assume that you've maybe had your account shut down or at least products suspended or what's been some crazy experiences you've had.
Franco:
The craziest things that happened to me was a competitor that wanted to get rid of all the big seller of the same product, so it creates some fake test report. It passed those tests to the media and from media they went on national TV and that was insane At the same time. Hold on, hold on.
Bradley Sutton:
So he made some fake report about like that your product is like unsafe, or something gave it to like a TV station and it got in TV.
Franco:
The first thing to give it to the media, to a newspaper To a newspaper and it made the biggest newspaper. From the newspaper, bump it to the national TV.
Bradley Sutton:
Yeah, and then and then. So what was the result? Like, did Amazon see that and then shut you down, or did you start getting bad reviews, or what?
Franco:
happened At the same. We were waiting experience on all the way to do stuff properly on Amazon. I mean, we didn't even have the brand registry at that time, so they were also able to hijack. At the same time, they hijacked our product and they left all our picture, the branding of our product, but we could not access our listing anymore. It's insane. I know it's insane.
Bradley Sutton:
Wow.
Franco:
Up to now I haven't heard of anyone that has an attack like that.
Bradley Sutton:
Yeah, it's intense.
Franco:
Yeah, and after like so the listing was destroyed because one month to get back the ownership of the listing and when it happened it was not possible to. I mean, it was like flu. That was probably more than a thousand of bad reviews, one thousand of, like one star reviews.
Bradley Sutton:
Now did the newspapers and media and stuff? Did they ever submit like retraction or correction?
Franco:
Oh well, yes, the newspaper, they we submitted like a press release, the newspaper, the newspaper added our press release to our today news. But customers don't really care. I mean, amazon business is a quick business, it's very quick. So we went, we look into that with, probably I think that the best lawyer we could find we usually have very good lawyers and there was no other way to have it fixed as soon as we wanted or to have like an economical compensation because of the way it was structured. Okay, the attack.
Bradley Sutton:
All right Now, peter, you know like it's safe to say that you've never had that level of attack, or you know?
Peter:
I don't think anybody has had that level of attack. So but I'm sure you have had my things on national television.
Bradley Sutton:
Yeah, I'm sure you've had some crazy things happen. Anything like anything that's happened to you. That would you say. You would call it. You know, your, your, your your kind of like worse experience on Amazon or craziest experience.
Peter:
I haven't had anything really horrible. I've had a lot of the standard like minor attacks from competitors, but probably the scariest one I had was Just I think it was three weeks before Christmas a big competitor in our space did an IP complaint against me and had my products suspended, but luckily I was able to get it back within a week. That could have easily dragged on for months, but I was very lucky. I got it back in a week. That was obviously very scary. How did you get it back? Just submitted appeals I used. I have a lawyer which I use all the time and even they said that's way faster than we normally see. You were really lucky. So I was just super lucky.
Bradley Sutton:
Okay, now you know let's not just scare everybody with all these bad stories. Peter, you know, sticking with you what's the best thing that's happened You're the craziest in a good way or biggest surprise, or biggest win you've had over the years on Amazon.
Peter:
I think the first one, which was really a happy experience for me. I've heard other guests on your podcast. I think they're similar. I had a product, one of my standard products, and in the UK suddenly I was having 10 times sales that I normally have. So and this was quite early on, so I still didn't know about being attacked, so I wasn't worried like I would be now, and in those days you could still write to the customers quite easily. So I was writing to a few of them and I got a response back that a celebrity. I've seen the products used by a celebrity on their you know, on their social media. So yeah, that was fantastic and yeah, I knew that celebrity. So it was pretty cool.
Bradley Sutton:
Awesome, awesome. Now you know you've sold in multiple marketplaces, but you know you're probably an expert, I would say on the Italian one. Is what you do on Amazon Italy, 100% the same strategy across the board? Like, I mean, obviously the language is different, but is your PPC strategy the same? Is your branding strategy the same? Is your keyword research strategy the same, or is there something different that you're doing in Italy? You know due to your experience there.
Peter:
No, I would say everything's particularly the same. As I mentioned before, it was a small advantage, and even now it's practically no advantage with the translation software that's available. So I'm just doing the same thing in all the marketplaces.
Bradley Sutton:
That's good to know, because you know some sellers out there. You know they start in a marketplace, whether it's Italy, whether it's Germany, whether it's USA, and they're like kind of scared sometimes to branch out because they're like oh man, I'm gonna have to learn a whole bunch of new strategies to go to this new marketplace. But no, it's across the board. I mean sure. You know every now, and you know there's VAT, you know, and then in Japan you might have to do a little something different. You know, but for the most part the strategy is the same. Now, what's going on these days with you know? You mentioned you sell in UK and Italy. What changed after the Brexit? Like, now do you have to send inventory to UK and then send inventory to Italy separately, and it's completely separated and segregated, or what was the difference after Brexit?
Peter:
Yeah, so you've probably heard of Pan-European and probably you'll. Listeners who have some experience know about Pan-European. Maybe I can explain that really quickly. Go ahead, please. It's like the US when you send a shipment to, it goes to one location and then Amazon will spread it out all over the US, right?
Bradley Sutton:
Yeah, we call that. North American remote fulfillment is what it's called over here.
Peter:
Right, so they have the same thing in Europe. If you're VAT, you registered in their core countries, which was UK, Germany, France, Italy, Spain I think that's all of them. It was the same thing. You'd send it to one country and then they would spread it out amongst all the countries as if it was one country. So that was very convenient. When Brexit happened, the UK became its own separate country, so all the work that you do logistically, which you used to do for Europe, then you had to repeat it for the UK. So it's a bit of a hassle, time-wise.
Bradley Sutton:
Okay, all right. Now, switching back to Franco, you had the worst thing that somebody could possibly imagine happening. Now the same question that I gave Peter what was the best thing that's happening? I mean, other than the fact that you're not even selling the USA and you can still gross 10 million a year? I mean that by itself is pretty amazing, but what else other than that is a cool thing. That's happened to kind of like pump up people's spirits after feeling so sorry for you.
Franco:
Yeah, well, I think that if I put on my hand the bad thing and the other thing, the good things, the good thing outweigh the bad thing. And the best one was the velocity to which we could reach the number one in health and personal care category with our products like in three weeks.
Bradley Sutton:
So number one, as in BSR, one in the whole health category.
Franco:
Yes, yes, Wow, that's pretty impressive. Yeah, that was between 2020 and 2021,. We reached that position in like three weeks with our product.
Bradley Sutton:
that's why we got a time Three weeks from the time you launched yes, Wow, okay, well, okay, well, then tell me, I gotta pause you there. Then how in the world did that happen? Like, did you have some crazy campaign? Was it all organic?
Franco:
How would you go from zero to number one so fast? No, they were proud of the COVID.
Bradley Sutton:
Ah, okay, okay, that's the reason. Now, did you was this after COVID you started? Or did you just get lucky, like it was something you were starting and you had no idea COVID was happening and the timing was just right? Or how in the world did you manage that?
Franco:
Well, we have been manufacturing in China since, I told you, since 2003,. We have a very strong presence in China, and so when COVID hit in China in January 2020, I knew it was coming to Italy or to Europe. I was pretty sure. I also wrote article about that, and so when that happened, I was a sort of reference for many people to say, hey, can you help in something? Because you know, italy was the first country in the Western world to be hit very hard, and so we started doing those like masks, those kind of product for COVID, and at the beginning, we were just doing that for hospitals, like for what was really needed.
Franco:
And then after that, we went to doing this on our e-commerce and the reason was that we ran out of money because the request was so insane Because we look into that so deeply that we were 100% legit. Our problem was like, probably the safest you can buy at the right price. We didn't want to speculate. We really want to have the country, and so we had a good product at the right price and we have an insane amount of demand for all those state-owned stuff, like the police even the finance police was buying from us. And so when we ran out of money. We opened the e-commerce because we need some very short money cycles and you know, on e-commerce you get the money like right away. And so after that, six months later, and also we got a lot of. Our e-commerce was an instant success as well, because we were supplying all the hospitals and so our product with our brand was in every hand, everyone hands and so our e-commerce was an instant success.
Franco:
And then we asked it like in April 2020, to our product to be listed on Amazon, and Amazon didn't accept it. And you have to consider that at that time on Amazon, it was fluted with product that were not legit, like all the things you were finding on Amazon related to the kind of product was like not compliant. We submitted our product. We were rejected. We said, okay, I don't care, I have other stuff to do. And then in October, I tried to resubmit the product. It was rejected again, okay, but in November, for I don't know what I receive, like Without asking again to to be listed, the I so the listing the listing was there but was not like, not active. The list he became active.
Franco:
From that point, I think that because we have so much, I'd say, brand recognition, yeah. Trust from the customer. As soon as we told the customer we are on Amazon was like that. I mean, we could have been number one, probably in a week. The only problem was the, the velocity, and that we need to have the product on their warehouse. Yeah, and so it was like giving three days out of stock. One day, then three, because of the space that Amazon was giving us, because when you are number one, you have to send a truck every day, or even more and and so, yeah, that's the story, that's cool.
Bradley Sutton:
Now, you know, for the last part of this, you know let's just go back and forth with some, some strategies, you know, and I don't mean, oh, you know, keep your a cost down and and and have a nice logo, or you know it's just standard stuff. But you know each of you to be at the position you are, you know which is, you know Amazon is your full-time business and you've reached six, seven, even eight figures. You know you've got to have some, some unique strategies and some, some things that are that you feel are the difference of why you've been so successful. So we'll start, you know, franco, with you. What is something that you know? So you know, it could be a PPC strategy, it could be a launch strategy, could be branding strategy. Uh, what? What's your first strategy of the day?
Franco:
I think that's still uh, the obsession with the product is a key. So like, uh, having the best product you can have for your customers, and so listening to all the advice and Now you can use AI and do all your research. But, uh, do the extra, the extra mile. Don't only use AI, because AI is very good to finding, um, like patterns, like to put in together Something that is saying a different way, but it's not good to find out liars, and many times in the outliers there are some very good gold nuggets, so talk with as many as you can, even even call them and Understand what are they paying, what are they, what they really want.
Franco:
When you have the best possible product, then you need to apply all the techniques that amazon Required. Like I have the best possible page. Uh, add those pains and uh, emotion of the customer reflected in your stack image At the best possible main image ever. Like, do a lot of testing, an insane amount of testing, until you know you will be the number one choice and never Let the customer down. Whatever they have a problem, solve it, solve it. Solve it, because then you have To, you have to reach the position, then you have to stick to in the position. Yeah, it's an ever-ending story.
Bradley Sutton:
All right, switching back to peter. Uh, what's your um first strategy you'd like to share?
Peter:
Uh, I'd give a general one and then maybe an amazon specific one. Very general. Uh, I think there's a lot of listeners on your podcast that are maybe just starting out, so I would suggest just to keep things simple. I've seen some people they they try and go to advanced from the beginning and it's uh, they get in over their head. They don't understand what's happening. So I would just keep it simple, even though I've been doing it for a long time. I I also Follow the same principle. I don't have any, I don't have any full-time staff. I I just try and keep things as simple as possible. And then, specifically for amazon, as I mentioned before, I think if you're, especially if you're getting started, you really need to think about products or a product that you can brand. And if you, if you can't brand a product for example, if you're doing I don't know stationary or Cleaning accessories or something, it's very difficult to build a brand around that, to build User excitement. So that's something you probably need to consider as well.
Bradley Sutton:
Okay, Going back to Franco, you know like you can give us another strategy, but before you do that, I wanted to kind of like double down on what you were talking about. You know you were saying hey, you know, have the best listening, have the best images and and do a lot of testing. How are you doing this testing and how are you making sure that? You have you know the best.
Franco:
Well, I'm using all the Software as a service, as a this are available. So I like take my few four competitors and I test my main image against their, I mean against the main image of my competitors. Then I got all the advice from the pollers, like we choose this because of this, we don't like this because of that. We run AI on that. But we don't only run AI.
Franco:
I read all the response one by one and I try to see how can make it. I can make it better. And then I write like Something that, what, what need to be done. I pass this to my and I try to be very, very Pacific. Like many times, I take a piece of paper and make driving by myself, like this is how I want this to be, and then I pass to my designer and then the designer make a new Couple of variation and it test again and sometimes I go very deeply on that. Like I am not happy until, like I get that out of five possible choice of main image, my main image gets 60% of the clicks and the other four share the 40%.
Bradley Sutton:
So it's not just a matter of all right, hey, I won with 30%, another one has 28, another one has 26. That's even though you won. That's a failure to you until you can get to the 60%.
Franco:
Yeah, I won like 60% and 40% spread between the other four, then I know that I'll stand out, and this is the first step. Then I need to like the page has to be consistent. And then I need to maintain my promise to the customer.
Bradley Sutton:
Are you selling? You're still with Franco here. Are you selling in all European marketplaces, like including the newer ones like Poland, netherlands, or are you focused only on the bigger ones?
Franco:
So my sellers, I sell both on one P vendor center and three P seller central and I have all the accounts. I mean all the nine accounts in Europe, but the only one that really matters are the big five UK, Italy, Germany, Spain and France. And for the most of my product I cannot use the Pan European, as Pita does, because there are specific regulations for each. So there is on top there is the EU regulation, but then there are specific regulation on a country level. So, amazon, do not allow us to do the Pan AU. We need to stop the product on each country.
Peter:
Okay, that's a lot of work and increases your workload to manage your logistics in each country like that.
Franco:
Yeah.
Bradley Sutton:
All right, going back to Peter, you have any more strategies for us. But before you get to that, what about you? You mentioned UK and Italy. Are you also selling in all nine marketplaces, or are you only keeping your listings active in the big ones?
Peter:
Yeah, it was only UK and Italy when I first started in Europe to get an idea of how it worked.
Bradley Sutton:
And almost immediately.
Peter:
I think I only did UK and Italy for three months and then straight away I went into the Pan European.
Bradley Sutton:
So for the last few years.
Peter:
I've been, yeah, outside of the big five.
Bradley Sutton:
If you have to pick one of the newer ones, are they all doing equal or is there one that you feel? Hey, down the road, this could become the sixth one, that's a good question.
Peter:
Now I haven't really focused on any of the new ones. I think whether you're Belgium, sweden, I can't remember, but Poland's Check for public. But from what I've seen they're all very minimal. I haven't really put an effort into them. I wouldn't say there's one that particularly stands out.
Bradley Sutton:
And then for all of those, are you just using what Amazon does for the auto translation, or did you, did you commission official translation with a service or something? Obviously, you did the Italian one yourself, but what about for these other languages?
Peter:
Actually, I didn't do the Italian one myself. I used Yana's service, ylt shout out to Yana. But for the other marketplaces, no, I haven't specifically worked on those. I've just left it with Amazon doing their own translations, and then they have a similar system to NAF. So, for like for Canada and Mexico, then for the other countries that we just mentioned, they'll take the product from Germany or France or wherever, and then send it over. It's a similar system.
Bradley Sutton:
Okay, all right. Any more specific strategies for us that you'd like to?
Peter:
share. I do a lot on social media. I don't know if you've seen that's been a huge part of improving profitability in the last two years. So the PPC costs were going up incredibly Like for us. It was getting. Tacos was getting up to 30%, maybe even 40% for some products and now, with some strong, a lot of work on the social media side and managed to bring that down to less than 5%, which I think is quite rare in the industry for the TACOS Less than 5% TACOS. Wow, that's very impressive and most of the TACOS is brand defense on the product page. So, yeah, that's been huge for us to make that change.
Bradley Sutton:
All right. What does the future hold for you, Franco? Like you, just hey, let's just keep going. Or are you looking to exit your business and retire? You looking to start any more brands, or what's your you looking one year down the road, five years down the road? Buying a lower division Italians football team, or like what's gonna, what's gonna.
Franco:
Yeah, yeah, maybe, maybe Now. Well, my dream would be to. I have my figure. My company reached nine figures. That's a very, very difficult endeavor, and at that level.
Bradley Sutton:
I think you might be ready for Inter Milan or AC Milan.
Franco:
Forget the lower division, you'll be ready.
Bradley Sutton:
Let's buy one of those.
Franco:
What else. And that could be through acquisitions of other brands or through expanding our product range. We have been looking to many, many things, okay what about you, Peter?
Bradley Sutton:
What's the future hold for you?
Peter:
Yeah, I'm just happy doing what I'm doing. I don't have any new term plans to sell the business. Enjoy what I do and just gonna keep going.
Bradley Sutton:
All right, excellent. Now why don't we just go ahead and close this out with a one or two sentence words of farewell in Italiano here. Start with Franco. Say something for the Italian community out there.
Franco:
The Italian community of the Amazon vendors has to grow to a great potential. Amazon has become one of the most important markets in Europe. So, guys, we're gonna win Amazon.
Bradley Sutton:
All right, and, peter, where were your Italian words of wisdom?
Peter:
Italian. If someone in Italy hears this, I'll pass their Shanghai. So they're content with the Vedetti.
Bradley Sutton:
All right.
Peter:
I have no idea.
Bradley Sutton:
This host of the podcast is a crazy guy.
Peter:
Shoot a sexy host of this podcast is what I said.
Bradley Sutton:
All right, there we go. That's good, I'll believe that. All right. Well, guys, thank you so much. It was great to have you on. It was great to meet you and hang out in Italy. We found that little nice restaurant that I was not expecting much, but I was really, really delicious food. My whole time in Italy was good food, but I look forward to seeing you at a future conference, whether it be in Asia, north America or Europe. So thanks for coming on.
Peter:
Thank you.
Franco:
Thank you.
---
Enjoy this episode? Be sure to check out our previous episodes for even more content to propel you to Amazon FBA Seller success! And don't forget to "Like" our Facebook page and subscribe to the podcast on iTunes, Spotify, or wherever you listen to our podcast.
Get snippets from all episodes by following us on Instagram at @SeriousSellersPodcast
Want to absolutely start crushing it on Amazon? Here are few carefully curated resources to get you started:
Achieve More Results in Less Time
Accelerate the Growth of Your Business, Brand or Agency
Maximize your results and drive success faster with Helium 10's full suite of Amazon and Walmart solutions.