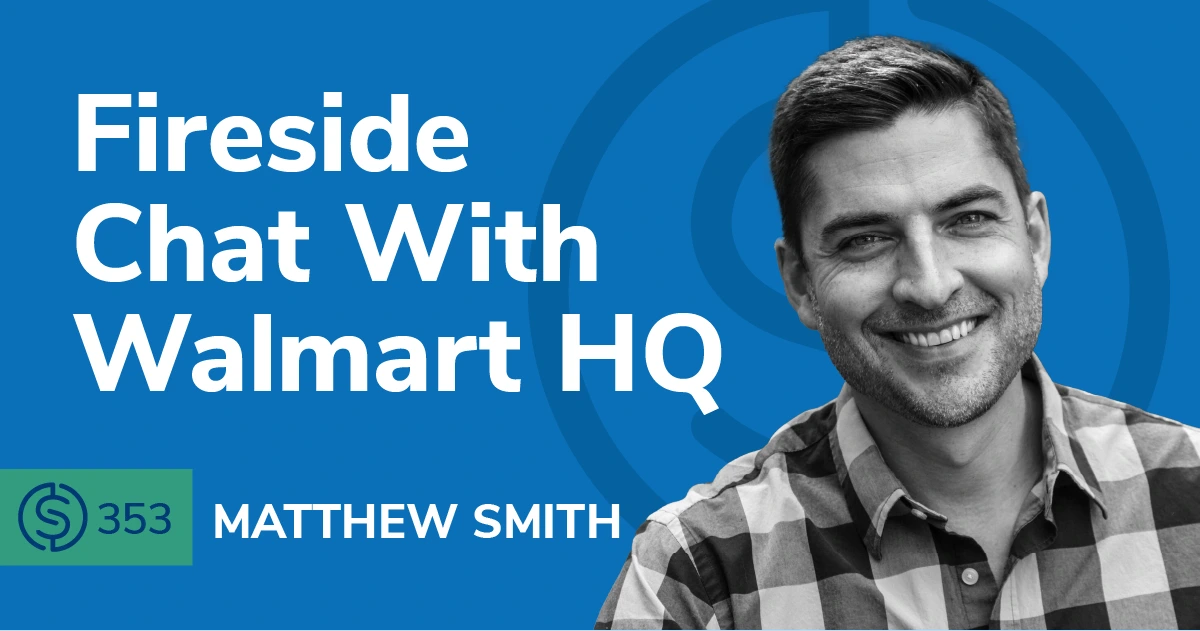 #353 – Fireside Chat With Walmart HQ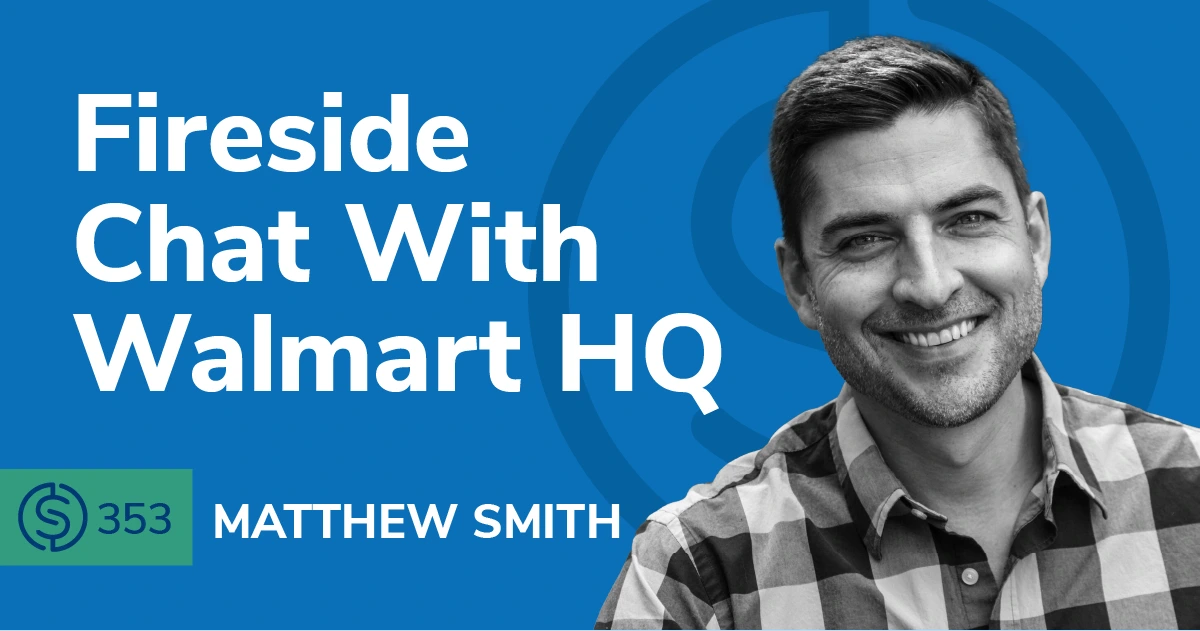 In this episode, for the first time, the big W – Walmart joins us in the show! Listen as Matthew Smith from Walmart answers all your questions on how to start selling on their marketplace, what the qualifications are, is Walmart open to international sellers, and why it's a good time to expand your business on the platform. We also talk about all the frequently asked questions of this community, like what WFS is all about, the common causes of declined applications, the best practice in making appeals, how to get organic ranking, how to get the pro seller badge, and more!
Listen to the very end as they make a big announcement that will definitely get you excited for the Sell and Scale Summit this September.
In episode 353 of the Serious Sellers Podcast, Bradley and Matthew discuss:
02:00 – For The First Time, Walmart Joins Us In The Show!
03:50 – Matthew's Backstory
05:20 – The Walmart Third-Party Marketplace And Walmart.com
07:40 – Which Group Do They Want Inside The Platform?
11:00 – Minimum Qualifications For Potential Sellers
13:20 – Is The US Walmart Marketplace Open To International Sellers?
15:50 – Why Is It A Good Time To Sell In Walmart?
19:00 – How To Start Selling On Walmart?
23:00 – What To Do If My Application Is Rejected?
23:45 – Common Causes Of Declined Applications
25:30 – The Best Practice For Making Appeals
26:00 – WFS (Walmart Fulfillment Services) What's It All About?
27:30 – Getting Reviews In Walmart And The Review Syndication
30:00 – Launching And Ranking Tips For Walmart Listings
33:30 – The Pro Seller Badge And How Can You Get One?
36:40 – What Is Coming For Walmart Marketplace Sellers In The Future?
39:15 – Listening To The Voice Of The Seller
40:00 – A Big Announcement For The Sell And Scale Summit
40:50 – Catch The Walmart Team At S3 And Get $100 Off Using Code: S3BS100
43:00 – Matthew's Thirty-Second Tip 
Transcript
Bradley Sutton:
Today, we've got a first for the show. We've got a guest from Walmart itself. Who's gonna talk about how to get set up on the platform, how to get organic ranking, how to take advantage of the delivery network, and a special announcement you don't wanna miss about our Sell and Scale Summit. How cool is that? Pretty cool I think.
Bradley Sutton:
If you guys would like to network with other Walmart sellers, make sure to join our brand new Facebook group called Helium 10 Winning with Walmart. You can actually just search for that on Facebook. Or you can actually go to h10.me/walmartgroup, and you can go directly to that page. So make sure to join. You can tag me and carry with questions and ask questions of other Walmart sellers, or even share your own experiences in that Facebook group. Hello everybody, and welcome to another episode of the Serious Sellers Podcast by Helium 10. I am your host Bradley Sutton, and this is the show that's a completely BS-free unscripted, and unrehearsed, organic conversation about serious strategies for serious sellers of anybody in the e-commerce world. And we've got a special guest today for the first time ever on this show, somebody from Walmart is here with us and gonna talk all things Walmart, Matt, how's it going?
Matthew:
It's going well, man. Thanks for having us on, us meaning, you know, big W and the persons.
Bradley Sutton:
Oh, the big W, like if I was like west side over here, like I'm a '90s kid, I'm remembering those things. The big W means a little something different in this case. But anyway I know like literally nothing about you other than your name here. And that's only because it actually says so on this little screen that I have here I hope it's okay to call you Matt or Matthew,do you go by?
Matthew:
You can call me whatever you want, as long as you call me. That's what I tell people.
Bradley Sutton:
There we go. I love it. I love it. All right. So Matt I mean, I in another life, you know, used to go to Bentonville to Walmart headquarters, cause I worked for like a food production company and we like presented things. Is that where you're based or were you based?
Matthew:
That's super cool. We should talk about that. It's changed a lot in recent years. No, I'm actually on the coast I'm, I'm on the east coast just outside of Manhattan. One of our e-commerce offices is in Hoboken. Our other one is in San Bruno in the SFO area. So yeah, but definitely get to Arkansas quite a bit. E-com, you know, structures a bit of a vest from, you know, the jet acquisition. So if you visit us in Hoboken, you might see the odd purple reference or, lowercase purple J.
Bradley Sutton:
Yeah, yeah the old jet.com for the old timers out there.
Matthew:
Remember the origins. Yeah. So yeah, that's where you can find me.
Bradley Sutton:
Okay. And like how did you get to Walmart? Like what's your background? Did you study e-commerce or what did you study in school?
Matthew:
Did anybody? I said, "did anybody?" I often wonder that.
Bradley Sutton:
Pretty much, no.
Matthew:
I'm old enough that I came in through a different door. Let's say you know, my studies are not related, they're in environmental management, and more minors than we have time to talk about actually moved to New York you know, with aims of being a musician, songwriter, composer, et cetera. And you can tell how successful that was by just trying to find me on Spotify or SoundCloud. But no, I just kind of tripped into advertising on the agency side many years ago and was lucky enough to work for a boutique shop, which at the time was, you know, focusing on what we call at that time, the emerged markets or the emerging markets of African American, Latin X, which we called Hispanic back then, and, LGBTQ+, which we called GNL back then.
Matthew:
So that might give you a little bit of a barometer of how long you've been in the game, but it was cool cuz we were working directly with large companies like Target stores, HBO, Mercedes-Benz on, you know, full service coms and marketing strategies to reach niche communities. And so I got into the sales door through business development, you know, pitching agency services, and then kind of parlayed that into actual advertising sales jobs and got started in magazines and worked my way up there. And you know, companies like some of which are no longer around Rodale, for example, worked at men's health and best life. And then eventually really got focused on digital in publisher.com, extensions places like wire.com and best company, et cetera. And then into pure plays then apps. And then my door into Walmart came through the media group and was really privileged to be on that launch team that was building the in-house media services, which we now know as Walmart connect.
Matthew:
So got to get my crash course in Walmart company and WMC, as we now call it there. And then about a year ago had the opportunity to parlay that into business development for the Walmart marketplace. And so we've all seen from recent earnings reports what, you know, a huge part of the growth engine for Walmart e-commerce is and where marketplace sits in that we'll talk a lot about it, I assume. But to me, that was just like gotta be a part of that. And so it's still sales in a way, but a little more consultative I'll say. And we still get to work pretty closely with connect as well. So that's where I came from. That's what I'm doing. I hope I still qualify to finish the podcast with you.
Bradley Sutton:
Let's do it. Yeah, no, this is interesting stuff. Like maybe you're not a musician anymore, but you're singing the tunes of Walmart these days in your own, in your own way. Now you mentioned something there, Walmart marketplace. Now a lot of people now know about Walmart and things, but correct me if I'm wrong, I'm kind of new to this. But before, wasn't like the third party marketplace kind of like separate from like the regular walmart.com. You know, and now they're together or am I making sense here is something like that happened in the last year, so?
Matthew:
Yeah. A lot happened in a very short time. When I joined three years ago our Omni Org was sort of distinct and we had an e-commerce department and we had the stores department and they were on sort of separate PNLs and they were pretty, pretty separate entities. And I think what's cool is many, many months ago, I think maybe this was pre-COVID our fact checkers will not like that I dunno the exact date, but we merged the Org and I think the rationale there which was very publicized was we can just do so much more for the customer if we bring these two worlds together. That happened, let's say a couple of years ago, and then within that marketplace being third party, there's just became an opportunity for us to work really closely with the Omni team, and just, how do you do better for the customer?
Matthew:
How do you get more and of the right and better products to help customers live better lives and kind of remove channel planning, right? And like 1P owned inventory versus 3P relationship. You know, if you can take that off the table as an objection, you can just move so much more quickly. So I'd say, you know, we're still building out that model of how, and I think I'll quote one of our VP merchants who said this was also a couple years ago, you know, there's no playbook for the world's largest retailer going Omni, right? Bringing this world together, and so, it's thrilling. And yeah, to your question directly we are working more and more in just terms of an agnostic kind of channel planning, discussion, you know, channel planning approach as to what makes the most sense for the seller and for the customer. Right. And yeah, whether that's 3P or 1P and we can talk about the mechanics of that, but ultimately it's just about fulfilling on the customer promise with speed and just raising the bar on that over and over and over.
Bradley Sutton:
Well, as far as sellers go, you mentioned 1P, you mentioned 3P you know, Hey, there are people who are established brands be it on Shopify, be it on Amazon, be it in Brick-and-Mortar, there are emerging sellers, there's brand new sellers who have never sold anything. From Walmart's standpoint, do you have a preference as far as, Hey, which group you're looking to really get on the platform? Does one group have an advantage over another? How does that work?
Matthew:
Yeah, that's super interesting. I mean, I think it helps to start from just our overall philosophy on the marketplace, which is, this has to be a way to greatly accelerate our delivery of that keeps referring to the customer promise. But if you think about it, you know, customer promise started in Brick-and-Mortar retailers, and then with the advent of e-commerce, you were able to get more right and faster into more customers. And now with the marketplace, what that has to be is just a way to really drive the e-commerce flywheel and get even more right to the customer, more of what they want faster and faster and faster, and in a way that just gets them access to things they need. So, we approach the marketplace maybe differently than some other retailers and some other platforms in that it's an open marketplace, right?
Matthew:
And with the scale of Walmart, you know, what that will ensure is that we can be broadly available to the largest quantity of sellers who essentially have a right to be selling to our customers. And so that's where we sort of, when you remove that wall of Walmart needing to dictate offer and product and selection and everything, that's gonna show up to the customer, like, get that out of like the Walmart conference room, and actually allow sellers to come to us and bring that to the customer. It's just that sort of democratic and agnostic approach is what is gonna help us scale and scale is what we need to drive density, right. And actually really, really power the flywheel. And so I'll say within that, we take the customer promise extremely seriously, and we have to make sure that we deliver on customer promise, whether it's a 1P supplier that's doing billions of dollars of sales with Walmart as a legacy partner, you know, or a new, maybe five or six-item entrepreneur operating outta their home on the marketplace.
Matthew:
There's effectively no difference in terms of what we expect from sellers. Yeah, and so questions of compliance, legal, compliance, trust, and safety, minimum guarantees of sort of shipping quality, offer quality, et cetera. I mean, these are all things that help us make sure that the best actors are getting the best offers, you know, to the customer, but we're not tilting the table in favor of one supplier or another. We're not an invite only marketplace. I think to move with speed you gotta basically assume that customers gonna probably get there before you do in terms of signaling what they want and they're gonna be looking for it. And so how can we operationalize ourselves to be responsive to that demand, but in a responsible way that makes sure we make it an open, safe, and fair marketplace. Does that make sense?
Bradley Sutton:
Okay. Yeah, but a follow up question on that, it's definitely understandable that, Hey, you know, if you get on the platform, you gotta play by the rules and you wanna focus on giving everybody kind of a uniform experience that being said, you know, I remember like, I haven't applied to selling Walmart in a while, but when I applied, I remember there was kind of like a field that had said something like, "Hey, you know, show us your current presence, be it in Brick-and-Mortar, or be it on another website." So like, are you guys maybe taking a look at that, whatever they put in, and do you have like some kind of like maybe minimum qualifications, like, "Hey, they have zero presence in Brick-and-Mortar nor, online marketplaces. I'm not sure we want them on Walmart yet until they have it established." Or do you have like some kind of minimums that you guys put into place?
Matthew:
No minimums per se. I mean, you know, the basic requirements would be basic stuff like name, address, US tax ID, W-9, W-8, EIN, et cetera. You know, we've got payment requirements currently Payoneer and Hyperwallet our requirements, one of those two there's basic requirements for your shipping information, your pricing model, just confirming, you're able to ship. If you're not, we have a solution in place for that called Walmart Fulfillment Services, which I think we may talk about a bit later. You have to stipulate to your product guidelines and things like that, but in terms of like size of business, no, there's no requirement. I mean we do in the application process currently ask for and some of these are required fields.
Matthew:
Some of them are elective fields, but the more we know about your assortment, the better we can kind of route you to the proper teams who would support your onboarding right on the platform. And so if you are a seller bringing thousands of items in a certain that's dominant in let's say consumables, or maybe even beauty, you know, we wanna know that because we wanna get in touch and put you in touch with those support teams that can help ramp you pretty quickly. But on the other side of that, you know, if you are an upstart selling three or four SKUs maybe you're not able to direct ship, but you think WFS would be right for you. We also have tools available, you know, to you there in terms of self-help and automated best practices, things like that. So essentially, like I would not discourage anybody from signing up because no business starts at billions. And so in the same way we wanna be democratic on who can get to the platform, the business size, and the type of business you're doing, as long as you're a good actor. We have a solution for you. I think we just ask questions to kind of help you, help us, help you if that makes sense. Yeah.
Bradley Sutton:
Okay. Now, one of the most common questions I get, and this is because, at Helium 10, we have tens of thousands, if not more of customers and partners who are based overseas but like for example, selling on US-based marketplaces. Sure. So, the most common question I would get from that cohort would be, Hey, you know, "I'm based in Australia," "I'm based in Germany," "what is needed or can I even apply to sell on a Walmart USA?"
Matthew:
Yeah, for sure. International's a huge area of our expansion. Currently the Walmart marketplace, Walmart US marketplace is open to sellers domestically, obviously. We also have China as an open market and we've opened up India this year. So that's been true. China was a large cohort last year. We have also opened up a couple of new ones this year, including Canada, the UK, and Mexico. And we're greatly expanding the number of markets this year as well and I can't specify, but we have literally dozens of them. We expect to add this year. And I think what's interesting is that works both ways in terms of like sellers based in those markets, being able to access our US customer base, but also US-based sellers who want to reach the Walmart customer base in country. So for Mexico-based sellers, right now, they can take advantage of both sides of that coin. And so it's really cool to see that we're working both sides of that. I mean, obviously, our presence in international markets outside of the US varies, but I think that's two-part to the international expansion question. Makes sense?
Bradley Sutton:
Yeah. So, what about like, let's just say, I'm not, I'm not Mexico, I'm in Germany and I wanna sell in Walmart USA, like, do I need a business entity in the USA in order to apply or I'm just I'm gonna use we have an actually Evangelist who's named Marcus Mokros, he's from Germany. So can I apply to sell Walmart USA I'm based in Germany and my name is Marcus Mokros or do I need to actually set up a company first?
Matthew:
Yeah. If you have a US entity like a US HQ that meets those same guidelines in terms of tax ID, W-9, W-8, et cetera, then absolutely. I mean, it just becomes a question of, you know, essentially the logistics and legal and billing in terms of where the entity's based, but that shouldn't be a problem.
Bradley Sutton:
Okay. and then, we've talked about, you know, Americans wanna sell here, foreigners, foreign companies, regardless of where I'm at, what's your elevator pitch on why, Hey, this is a good time to start selling on the Walmart platform.
Matthew:
Yeah. I think again, zooming out is what helps there. We all know some of the largest players in the space in terms of who's been doing it really well for a long time are 3P platforms, and who's doing it at scale. One of the things we're discovering from conversations with our sellers in the marketplace, the market generally, is that look, businesses, plateauing and sellers of all sizes are increasingly looking for different and additional and larger opportunities to basically expand. I mean, I had an old boss that said "trees don't grow to the sky." And so I think in terms of like the moment in time, we're at a great, a great place for sellers to be finding a large scale opportunity to sort of manage those growth goals. I think the flip side of that is while we actually have a large fraction of the web traffic and sort of digital customer base that you might find on "certain other digital retailers", the number of sellers we have competing for that mind share is a much smaller fraction.
Matthew:
And so what that means is there's a window here where you can essentially get scale and compete less for the scale of that mind share so essentially share a voice among our sellers right now is comparatively much higher. I think also just in terms of Walmart, and I think we've seen this, I think you might have even Bradley participated in some press last week on this that mentioned how the Walmart Brick-and-Mortar footprint is increasingly an asset.
Bradley Sutton:
Oh, you saw that on CNBC.
Matthew:
I wasn't, sure if I'm allowed to talk about that.
Bradley Sutton:
Look at that. You're doing homework on me. I like it. Yeah. I saw I was "oh my goodness, it has 200,000 views."
Matthew:
No, no, no, no, no, no,
Bradley Sutton:
I'm gonna retire from the podcast, now I'm famous.
Matthew:
Let me be generous and say, I didn't have to do any homework. It was in my face.
Bradley Sutton:
Okay
Matthew:
You were everywhere, man. No, it's so cool to think that we're so close to the customer already. You know, 90% of the customers in the US live within 10 miles of a Walmart Brick-and-Mortar store right? Smarter people than me at that other division of Walmart have been thinking for quite a while, by how to best leverage that. And so, you know, getting into the Walmart marketplace now is not just about how to leverage our current .com business. Right. It's also about how do I just start to form a relationship with the Walmart Omni customer, right. Because we do comparatively to any other retailer in the world have a greater scale from an Omni capacity, right? Not yet number one in e-commerce penetration but certainly number one in total Omni. So there's an immediate opportunity for a greater share of voice on the .com. And there is a, well, I'll say mid and long term opportunity for a huge sort of closeness to an increasingly large customer who might be a Brick-and-Mortar shopper now, but is increasingly going to be a digital or an Omni shopper or really thinking less and less about those distinctions. Does that make sense?
Bradley Sutton:
Yeah, absolutely. All right. So, you know, you've talked about who you've talked about, why let's talk about the, how so I'm not selling on walmart.com currently. What are the steps I need to take to rectify that situation?
Matthew:
Sure. You're not personally, are you speaking for the listeners?
Bradley Sutton:
It's hypothetical. I actually am I have two different Walmart accounts, one for the company and one for my other side case study so I'm already there. A lot of our listeners are as well, but we have over a hundred thousand downloads a month. There's a big portion, I think, who have not yet applied. And so I'm just wondering what's the steps now because the last time I applied was probably like couple of years ago. So I'm probably out of the loop here.
Matthew:
Yeah. And I'll say, first of all, we want you all to apply so please come, come one, come all. And I think that when you do if you're someone who might have approached the platform even six months ago you'll definitely see some improvements and as we continue to evolve that and get faster, and I can't talk about the roadmap just yet, but I'll say we're looking into simplifying and reducing friction on that as well. And I think we're in that balancing act of where we have to continue to deliver on customer promise and protect the customer. Also, have to make it easier for sellers to work with us. And so it's a good time to sort of be part of that, I'll say but it's really super simple.
Matthew:
I mean, if you're working with a solution provider, I mean, here we are talking to Helium 10, but you know, there are dozens and dozens, if not hundreds out there. And we have an increasingly stable of those that are sort of authorized on our platform. It's really quick and simple to work with your solution provider to just activate and arm Walmart marketplace among the other, you know, e-commerce outlets you're already using. And so that is super fast because, you know, they've got the pipes and the API connections and the works already, and it's just logistically pretty simple for you to get loaded, get onboarding, get the items set up, and just start firing. But if you're not working with a solution provider or an agency super simple, I mean, it's marketplace.walmart.com, marketplace.walmart.com go there.
Matthew:
And you're gonna go through a guided setup process. That's gonna, you know, try to approve you and then talk about a contract and then register and get your items set up. And then go through an onboarding process and get to launch. So in most cases, we can make that process turn around in a week or so sometimes faster. And so that's the basic idea is anybody can go to Walmart marketplace.walmart.com and go through the automated process.
Bradley Sutton:
Yep. All right, guys, I remember, you know, the first company I worked at way before my Helium 10 days, and this was just around the time that Walmart marketplace was opening up, it took, I wanna say like a good five months to get set up, you know?
Matthew:
Oh my goodness.
Bradley Sutton:
And then we have to do API stuff and all this stuff way back in the day like we must have been one of the first ones. So some, you know, some people I hear, they're like, "oh yeah, that's how it is, that's why I don't wanna do it." Guys, no, this is not the case anymore. I've heard of people getting approved and in as fast as less than a day.
Bradley Sutton:
So it can be a day, it could be up to a week like Matt said. So we actually have a special link we're using Helium 10 URL. So, so guys, you can go to helium10.com/apply-walmart, or you could use the link that Matt gave, it is pretty much the same thing. The only difference is if you use the helium10.com/apply-walmart, and then if you're watching this on YouTube later we'll try and throw that link up on the screen, but then like our customer service might be able to link you with Walmart a little bit better if you run into issues. So now speaking of issues that could come up, let's say, Hey I've applied whether it was yesterday, whether it was a couple of months ago and was not approved at the time. So do I just go back to the link and reapply, or what's the process there?
Matthew:
I would say, no, don't do that because we do have an appeals process in place, and we wanna make sure that we're focusing that effort on just a single seller application that we don't sort of get distracted there. So you will receive notification if there are any concerns or questions about your application. I will say in some cases you'll receive what's called a hard decline, which is where we just know from a trust and safety or a legal compliance standpoint, that the assortment that you're bringing–
Bradley Sutton:
They suck. That's not legal terminology.
Matthew:
It does not say you suck in the room for sure.
Bradley Sutton:
Okay.
Matthew:
But again, on the customer promise, there are some spaces we think of. So for example, I'll just rattle a couple off, you know sure, sure. You know, right now CBD is a category that is not currently green led at the moment on the marketplace. And we're not unique in that a number of, of e-commerce platforms, are not have not yet unlocked that, or have not unlocked that. But we're also increasingly opening up new categories as we're able to properly vet them with trust and safety and compliance. And so, a couple of examples with that is and depending on who we're talking to live animals, right? So live fish, live insects, things like that. We were not able to take a few months ago, and now we are the adult novelty–
Bradley Sutton:
You can buy live fish on walmart.com?
Matthew:
You can buy live fish on walmart.com, my friend, dang. Yeah the adult novelty might seem obvious as a category for a maybe somewhat, you know, conservative company historically to sort of steer clear from. But you know, our customer has great demand for that category and we were able to safely, you know, vet and unlock that with a number of guidelines about what products we can accept, but it's no longer sort of a wall or a hard, no. And so I'd say some of those, you know appeals process will be non-starters because you might find yourself in a hard decline area, but, you know, increasingly, and by and large if you get a decline it could be, what's called one that's appealable or a soft decline, and there's a process in place for that.
Matthew:
And you will have access to that in Seller Center. Also on marketplace.walmart.com. There will be resources guiding you as to how to appeal it. I would just say as the best practice make sure that you sort of give all the context you can because yeah, in an appeal, you're essentially going to a live human, it's probably not a bot, or an AI algorithm that's reading it's a real person. And so just to minimize back and forth and to provide proper consideration for your appeal, be sure to give the whole story, give as much context as you can. If you're active on other marketplaces or other websites, show us that. Show us PDFs or links and really just any relevant documentation that you think we would need really overkill on that. And just err on the side of too much and that'll allow us to properly evaluate your candidacy.
Bradley Sutton:
Okay. Now earlier on in the show, you mentioned WFS so like one minute pitch on WFS, what does it stand for? What's the benefits of it? And would you suggest it for everybody or only if they're doing a certain number of units per month, et cetera?
Matthew:
Dude, I don't know what your air time is worth. I'll do this in 30 seconds, man. WFS Walmart Fulfillment Services essentially helps us to help you by taking the heavy lifting of fulfillment off of your plate. Making sure that you can stay in stock because you're gonna ship your product to us, we're gonna house it in our FCs, right? And we're gonna be able to say, manage the inventory that way, stay in stock. You're gonna show up right, as fulfilled and shipped by Walmart, which is going to increase your search rankings and your organic relevancy and your performance in the ranking. So essentially you're gonna pay a fee for that, but it's gonna allow you to stay in stock all the time, make sure that you're never not able to sort of be in that Buy Box and it more than pays for itself in terms of the productivity, because we see an average of 50% or greater GMV lift on sellers who use WFS. So I cannot espouse that service. Enough is that 30 seconds?
Bradley Sutton:
Hey, you hit it. We actually do something on this show called the 30-second tip that's "TST" we call it the TST. So you might have just given one there, we're gonna ask you for another one, maybe at the end here. But again we have a lot of our listeners where maybe they don't sell in Walmart, but they sell in other marketplaces, and one of the things they obsess over as should any e-commerce you know, Private Label brand seller is reviews like, "Hey man, I gotta get reviews, I gotta get that social proof." What's it like on Walmart for sellers, is it easy to get reviews? What have you seen?
Matthew:
Yeah, I think it's really crucial that we start right with what generates a positive review and that is an exceptional product with an exceptional offer with exceptional customer service, and I think you can't really game yourself out of that. So, building block number one is you gotta bring it to the customer right? And so we find that the folks that are gonna do best with reviews and review syndication, which I'll talk about in a moment is folks who have earned and organically, you know, sort of built great reviews, right? Based on a great product, a great offer on that product and great customer service, which includes so many things like shipping and returns and everything we all know that that includes. So once you've sort of checked that box we have a program called Review Syndication, which means, and again, I think, we understand definitely we're getting sellers from all over the e-commerce ecosystem, right.
Matthew:
Folks that are really successful DTC sellers or folks who are really successful in core retailers, or, or, or, or, or, and so those reviews likely live in a lot of different places and, you know, we wanna remove as a barrier, your need to basically recreate and rebuild your review base from scratch. So what Review Syndication does and it currently is available it's, I won't say it's in pilot, but we are increasingly offering it to a larger staple of sellers free, you know, at no cost, which essentially will pull in those reviews from a variety of sources. So just allows us to deliver on customer promises by making them feel good and have high confidence in the value of your product of your offer and your customer service. And it allows you to leverage the hard work that you've done as a seller to produce that and earn those bragging rights all over the e-com ecosystem. And so really great program it's growing like gangbusters, and so an increasingly large stable of sellers are gonna have access to that.
Bradley Sutton:
Okay, cool. You mentioned earlier when you were talking about WFS about how helps with like organic ranking and things like that. So, Hey, that was one of my specialties. That's how I actually got into the whole e-commerce space is my specialty was like launches and getting people on page one of search results and PPC results and things. So, other than, utilizing WFS, what are some strategies like, how do I get notice? How do I get to page the top of page one for organic results for one of my main keywords? What are some of these things that you can help us out with?
Matthew:
Yeah, for sure. I mean, I would say the best place to start there is the word organic, right? And again, keep coming back to the customer, but you wanna be where the customer is and you wanna be working to head towards where the puck is going as well. And so–
Bradley Sutton:
Did you say the puck because I'm wearing my Helium 10 hockey jersey here?
Matthew:
That is the only hockey reference I am qualified to make, sir. Please do not take us down that rabbit hole. But yes, I did notice your jersey. And feel out-dressed definitely.
Bradley Sutton:
I'll send you one in the mail.
Matthew:
Thank you, my friend. Good. There you go. So yeah, organic means you are where the customer is. So that basically means if you have a large assortment you're gonna plus up and really lean into the part of that assortment. That is where the customer is in terms of trending, who saw COVID tests, for example, being a hot item. Well, you know, suddenly companies with one or two SKUs ratcheted way up to the sort of top sales rankings. And so really paying attention to where customer is and where they're going and using that as a lens on the assortment that you bring and that you plus up and really work with our account management team on is gonna be critical. I think there is a certain sort of cold start issue in all of these ecosystems that we are working to close, which is, how do you make sure that even assortment that is on trend the customer searching for gets noticed in the rankings.
Matthew:
And so, you know, we're definitely working on some product solutions for that, but in the meantime, WFS, again, is going to help that immediately, the other tool we have is WMC or Walmart Connect and this your audience might not know, and certainly, when you were first launching on the platform Bradley, I don't think it was available, cuz I was at Connect at the time and I know we weren't working with marketplace sellers, but any marketplace seller today can be purchasing sponsored products from Walmart Connect, right. And you could immediately be running search campaigns and working with our automated and API connections right on the bitted auction to basically win those higher search rankings. And so as I mentioned, we get to work with that team a lot now, and you're gonna see more tools from Walmart Connect become available to marketplace sellers. So that's what I'd say are the three, right? One make sure that you're bringing the most relevant and on trend items to the platform. So it will naturally be the most organic, two use WFS right. Which will increase the customer promise and the shipping commitment and delivery promise which will spike the rankings as well. And then three definitely consider using Walmart Connect to essentially help to make up some of that difference while you gain that organic search relevancy based on customer behavior. Makes sense?
Bradley Sutton:
Yep. Absolutely. Absolutely. Now I gotta admit, I have a little FOMO here. Like I said, I run a couple of Walmart accounts and case study accounts and I don't have this on my listing, but I see other Walmart listings, they have this little badge called "Pro Seller", so what exactly is that? And how can I get my FOMO away by one day, hopefully qualifying to get that badge,
Matthew:
You know, I've been thinking about it as it comes up in discussions. And I've sort of started thinking about it as the gold star in third grade Which is–
Bradley Sutton:
Yep.
Matthew:
I was, I was sitting next to Tara. Right. And she got the gold star and I felt like "Ugh, why is Tara so special?" You know, but what it did is it made me sort of up my game. And I studied Tara and sort of what she needed to get the gold star. And then, you know, once in a while I would get the gold star. So I think, look what it is, is Walmart saying to really everyone, the seller community and particularly the customer community is like, this is a top seller, right. They've met certain criteria and so they are the gold star sellers that we think customers should pay even more attention to. And so we're actually going to give them performance boost because they've proven to us that they're just exceptional sellers. And then for the customer it's, it's basically a mark of high confidence because Walmart has essentially vetted these sellers. Yeah. And so it makes everybody feel good. And how do you get there? You know, is pretty simple, pretty quantitative. You wanna minimize your delivery defect rates to less than 10%. You wanna minimize your cancellations to less than 2%. If you think I'm reading a list, I am.
Bradley Sutton:
This is supposed to be the unscripted show that's in my tag. That's alright. That's okay. Go ahead.
Matthew:
You should see the tabs on my Chrome here right now. But yeah the listing quality score is gonna be crucial. We call that OLQ or Offer Listing Quality, OLQ. So you wanna keep that at 70%, that's also a unique sales pitch, honestly, and a unique benefit of Walmart marketplaces, we let you know how well you're doing. We let you know how you're showing up with a customer. And so you know, there is no sort of like mystery about why am I not getting clicks? Why am I getting sales? You know, my listing looks great to me, you'll know how well your listing books. And so for a Pro Seller badge, you're gonna want that above 70%, and you're gonna want 60% of your catalog to be on trending items.
Matthew:
So again, back to that question of organic, you're gonna want Trending Catalog to be above 60%. You're gonna want your orders to be over 100 in order count, in the last 90 days. You're gonna wanna make sure that you're protecting customer and that you don't have any trust and safety violations or performance standards violations. And then finally you just have to have been active on the platform for 60 days, which again is unique for us because then a lot of other platforms they make you wait 90 days. So essentially as long as you're on the platform 60 days, and you're meeting all these criteria, we wanna give you the gold star, and that will immediately boost your position in the rankings and boost your sales.
Bradley Sutton:
Okay, cool. Now, one more question here, before we get into a cool announcement about our Sell and Scale Summit. But you've mentioned a couple of things in the pipeline here, but anything else? I know you can't give away everything, but anything else that you are able to say is coming for marketplace sellers in the near future.
Matthew:
Oh, you know who you're talking to Bradley. You know, how much trouble I get in. Here's what I'll say. We all know where customer is. Cuz look, we, we love to talk about customers and consumers as if it's this other thing, it's all us, right. We all know what boat we're all in now. You know, the challenging times that we're in, Walmart's been very vocal about where we're focusing to try to help customers more given where we are in the world. So I would say, the best way to focus on this is just to know that what we're focusing on is sellers and assortments that can help us deliver on that customer promise. And so what that really means is you're gonna see us coming out with product advances to make the onboarding right, and items set up.
Matthew:
And basically the whole process it takes to get active as a seller is going to get shorter and it's going to get simpler and we're gonna remove a lot of friction, right? Because you can't help us meet our customer promise if you can't get on the platform. Again, if you meet the Compliance and Trust and Safety Guidelines and you have shown us that you are a legitimate actor, one thing you're gonna see this year is a lot of our, you know, internal systems and the process it takes to be a lighter lift. Right. I think you're also going to start to see increasingly less of a disparity in a more agnostic approach to what we show customers. And as I said, we're not tilting the table one way or the other, we're not generally prioritizing like 1P over 3P in terms of what the customer sees.
Matthew:
We're not prioritizing or tilting the table in favor of one marketplace seller versus another. Again, it's on the marketplace seller to really bring the best offer and made the best offer, win the day. And what you're gonna see is a lot more tools from us to help sellers do exactly that. So I think we're coming from a great place where the visibility, the transparency that we provide sellers in terms of the listing quality, how it's going is already at a comparatively strong, you know, point versus the market. We are offering greater share of voice in this window where, you know, digital scale is high, but competition with their sellers is relatively low. And I think what you're gonna find is honestly, we're very receptive and sourcing a lot of feedback from sellers.
Matthew:
I mean, we all have our, you know, AES surveys and our various companies, you know, engagement scores, but we have entire teams dedicated to listening to the voice of the seller and the seller community. And so you're just gonna see acceleration on all fronts this year, and it's not because we're greedy gues, you know, it's because we just have to, I mean, we owe that to the customer and I think you're gonna find a very receptive partner in Walmart and you're gonna see a lot of things come out and that's all I can say.
Bradley Sutton:
All right. Hey, you gave us a little bit there. So we'll be possibly hitting you up for more at this next announcement. So I've been talking about the Sell and Scale Summit for a couple months here on the show. So I think most of my audience knows what that is. However, what they don't know, what nobody knows, because we've never announced this before. Would you like to perhaps make this announcement about what in the world is Walmart's participation in the Sell and Scale Summit? This is breaking news here. You heard it first here on the Serious Sellers Podcast. Go ahead.
Matthew:
Super excited to announce that Walmart's going to be the title and registration sponsor at Helium 10's Sell and Scale event. Super exciting. You know, sellers are gonna have a one of kind opportunity to engage. They're gonna receive in person support from the Walmart marketplace, from Walmart Connect, and from Walmart Fulfillment team, WFS. And so, yeah, super excited to break that news here.
Bradley Sutton:
That was one of the big reveals here guys. So that's huge, you know, so many people, like I said, have all these questions about Walmart. I'm sure we were able to answer most of them, but maybe you have a more localized question that we didn't cover today. Well, you will literally have representatives from those departments that will be on hand at least hopefully try to answer some of those questions, and that's pretty unique guys. And so we really appreciate that, that Walmart can see the value in our community enough to sponsor this event. That's so awesome. And guys, you need to take advantage of this because you can't walk into the Bentonville. Like we mentioned office and say, "Hey guys I need some help with my setting up my WFS, I'm not sure how to do this, or how do I do this? Walmart?"
Bradley Sutton:
You can't really knock on the door and do that, but you're gonna have that kind of experience here at Sell and Scale. So if you're first time listener, you don't know what Sell and Scale is. Make sure to go to our website. I have a short link to it. h10.me/s3, h10.me/s3. Make sure to register now. We've got amazing keynote speakers there, like Gary Vee, and Rachel Peterson, I'll be speaking there, you know, some of your favorites like Kevin King and more so make sure to come out. We've got Nelly performing. I mean–
Matthew:
I didn't know that.
Bradley Sutton:
Yeah, Nelly's performing. I want you front row for that, hopefully, Matt, you and I will be reminiscent about our high school or college days there, but guys come out h10.me/s3. If you wanna save a hundred dollars off the registration, you can use my code. I think it's S3BS100, I love my initials, by the way. I love saying BS is just like BS sticks in people's minds, more so S3BS100 use that code to save a hundred dollars off. All right. Now I tease this in the beginning, but something we always ask our guests is like a 30-second tip our "TST", so like somebody wants to have success on Walmart. You've been talking about a lot of strategies that can help them, but is there anything we haven't talked about that you can say in 30 seconds or a minute or less for somebody to really start off on the right foot with walmart.com.
Matthew:
Yeah. What we haven't said that I think is really critical to land the plane on is definitely come outta the platform, but don't be bashful. Okay. And what I mean by that is you'll only gain as much learnings as you put skin in the game. And so, you know, regardless of how big your assortment is or what space you're in, really bring it, take this unique window of opportunity where share a voice is high and momentum is strong to learn as much as you can about our platform. And I think that literally means like, bring your full assortment, bring your best offers. Understand it's gonna be a little clunky as we build this sculpture, but don't be bashful, like, let us help you scale and bring everything you can.
Bradley Sutton:
Awesome. Now, are you personally gonna be at Sell and Scale?
Matthew:
I believe so. I mean, Bradley well–
Bradley Sutton:
I need you before I say something. I need you to pre-agree to it before I say what it is, and you gotta trust me on this, but you gotta agree to it. You can't go back on it. Can I have your word that you're gonna participate in something that's happening at the show? It's nothing too crazy.
Matthew:
Okay.
Bradley Sutton:
Alright, you guys heard it here. He said, okay. Alright. I am personally leading a Zumba fitness dance class on day one.
Matthew:
Oh my God.
Bradley Sutton:
Love it. All right. So you just agreed. All right. Matt, you are gonna be doing some Zumba fitness with us, so, you know, it's gonna be Vegas. So people might not wanna wake up in the morning.
Matthew:
I'm so sorry for anybody who has to witness that.
Bradley Sutton:
You guys heard it. You're gonna see Matt from Walmart leading the Zumba fitness class, at least one routine with me. Don't worry. It's nothing too hard. If I can do it. I used to be a Sumo wrestler. If I can do it then anybody can, but anyway, there we go. Another reason for you guys.
Matthew:
My friend, you're just, oh, wow.
Bradley Sutton:
Another reason for you guys to come to S3. Hopefully, we don't get that edited out here. You can't go back on your word now Matt.
Matthew:
Well, If you're gonna that out, I've got one more story about an old man in an old truck who tried to return his Siemen's furniture branded sofa to Siemen's Corporation in New Jersey, which makes train engines. So to your earlier question about not being able to show up in Bentonville and like knock on the door.
Bradley Sutton:
Yeah. Little bit different company there. All right. Well, Matt, thank you so much for coming on to. Real pleasure and privilege to have somebody from Walmart come here. And then of course, again, thanks again for participating in our Sell and Scale event. And I'll be seeing you in September on the Zumba stage there.
Matthew:
Thanks for having me great to be here, guys. Thank you so much.
---
Enjoy this episode? Be sure to check out our previous episodes for even more content to propel you to Amazon FBA Seller success! And don't forget to "Like" our Facebook page and subscribe to the podcast on iTunes, Spotify, or wherever you listen to our podcast.
Get snippets from all episodes by following us on Instagram at @SeriousSellersPodcast
Want to absolutely start crushing it on Amazon? Here are few carefully curated resources to get you started:
Achieve More Results in Less Time
Accelerate the Growth of Your Business, Brand or Agency
Maximize your results and drive success faster with Helium 10's full suite of Amazon and Walmart solutions.