#218 – The Science Behind "Going Viral" with Rachel Miller
Finding the best product to sell on Amazon may be a lot less complicated than you think. Our guest walks us through her social media success
Updated on: January 3, 2022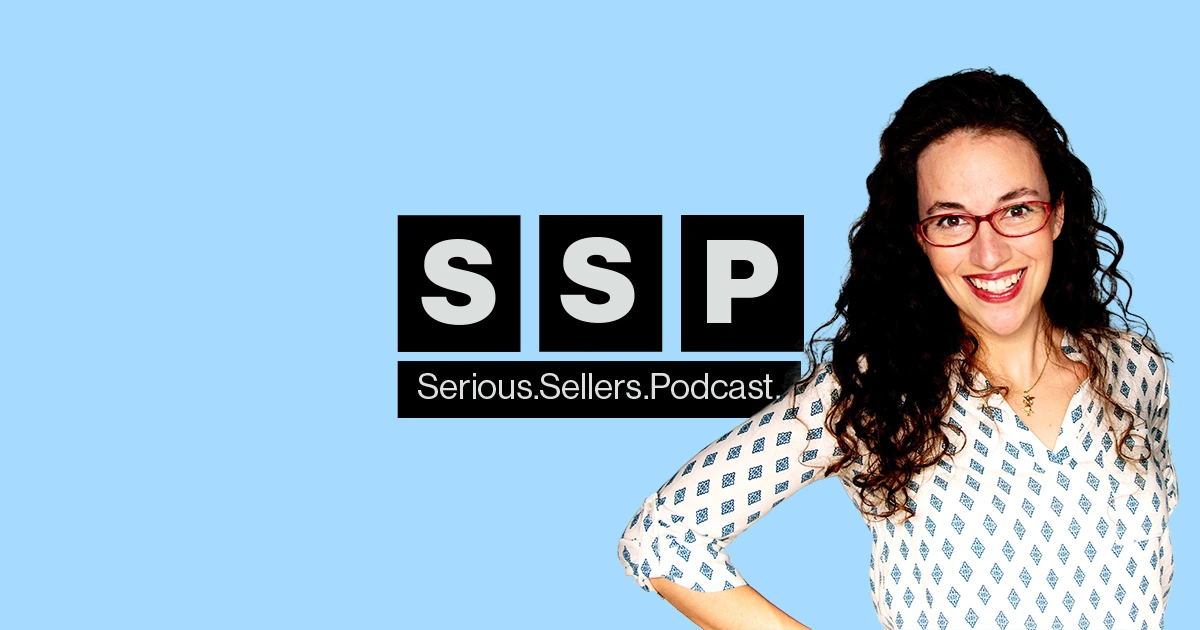 Not sure where to start with your first Amazon product? You may want to turn your attention towards social media.
Today on the Serious Sellers Podcast, Helium 10's Director of Training and Chief Evangelist, Bradley Sutton welcomes Rachel Miller. Born in New Jersey, raised in the Menanite area of Pennsylvania, and currently living in Texas, Rachel is no stranger to variety! Especially when it comes to different communities.
Like so many of us, Rachel had one idea of what she wanted for a career but life and a big family (as it always does) had other plans. She created her own blog, which she promptly nurtured and grew to 10 million page views per month. Having successfully fostered a bustling online community, she set her sights on something bigger: e-commerce. More specifically, finding a product to sell on Amazon leveraging social media communities.
In episode 218 of the Serious Sellers Podcast, Bradley and Rachel discuss:
03:56 – Family Life in Rural Pennsylvania
07:30 – Pivoting from Successful Blog to Amazon Seller
11:48 – "Finding Your Gift" (and monetizing it!)
13:37 – The Science of "Going Viral"
17:02 – How to Build an Audience Based on Buying Potential
18:57 – "Niche Neighborhooding" – How to Start
20:57 – Facebook Pages vs. Facebook Groups vs. Facebook Profiles
23:20 – The Trap of Inauthenticity
27:43 – 750,000 Orders in a Single Month – A Success Story
28:50 – Where to Send People to Purchase
30:10 – What is the Right Cadence for Post Activity?
33:53 – Juggling Family & Business
36:18 – Leveraging Facebook on a Tight Budget
39:48 – Find Your 10-Minute Work Anthem – A Tip for Working Parents
41:21 – How to Get in Touch With Rachel
Transcript
Bradley Sutton:
Today, we've got someone who's one of the most well-known Facebook strategy experts in the world. And she's going to talk about some of the things that she does in order to generate tens of millions of impressions for free on Facebook that can lead to thousands of potential sales on Amazon. How cool is that? Pretty cool, I think.
Bradley Sutton:
Hello everybody. And welcome to another episode of the Serious Sellers Podcast by Helium 10. I am your host Bradley Sutton, and this is the show that's a completely BS free, unscripted, and unrehearsed organic conversation about serious strategies for serious sellers of any level in the e-commerce or Amazon world. I've got somebody highly respected in many industries out here, especially in social media, Rachel Miller. Rachel, welcome to the show.
Rachel Miller:
Oh, Bradley. Thank you so much for having me. I'm thrilled to be here.
Bradley Sutton:
Thank you. Thank you. Thank you. Now what I like to do always before we start talking strategy and things like that, as I always love sharing our differences and how we all come from different backgrounds and different upbringings, different education, and somehow we all kind of still end up in this e-commerce ecosystem in one way or another. So real quick, where are you? I don't even know where you're at right now, but where were you born and raised?
Rachel Miller:
I'm in Texas and I was born in New Jersey and I was raised in like Amissville, not Amish, but I was raised in the Mennonite area of Pennsylvania. So very far and lots of conservative life. It was fun. It was a really great upbringing.
Bradley Sutton:
Okay. So now that this is perfect here, the first one we've had like that. So like, you're growing up in that upbringing. I don't know, eight, nine, 10, 11 years old. What does eight, nine, 10 year old Rachel, imagine her professional career be like? What were your aspirations?
Rachel Miller:
I'd have eight kids and I'd be baking bread all the time. I'm not living the life I had ever anticipated for myself. When I was like eight, I literally just thought I was going to be a mom with a lot of kids. Because that's what you do is you are a mom with a lot of kids. And then, when I was in high school, I realized that I liked learning and I loved learning. And so then I wanted to become like a school teacher and then become a college professor. I was fast tracked into college, but then from there I went to teaching and I was like, wait a second. Basically, I have six children, so I'm close to that eight.
Bradley Sutton:
Yeah. You kind of fulfill that partially. A couple more to go.
Rachel Miller:
That was a bit of a surprise. But anyway, when I had my children back to back, I realized I couldn't be employable as a school teacher. So my plan of becoming a school teacher for so many years, and then going into being a professor for so many years, that plan was pretty much shot. And I am so grateful to e-commerce because literally I built one business and I built an audience, but it was e-commerce that kind of like helped pick me up out of a dump, not a dump, but like–
Bradley Sutton:
Yeah. So, how did that happen? That's obviously not the typical thing. What you went through is what a lot of teachers might go through. It's like, all right, Hey, teaching might not be for you, but it's not the no-brainer switches. Oh, I'm going to into e-commerce or I'm going into social media. So, how did that segue happen there?
Rachel Miller:
Yeah, I went into building a blog, basically, my husband came home one day and he realized that I was like drying up on the inside. And he's like, you need to be doing something with your time besides just hanging out with the toddlers all day. And my car was broken, so I couldn't leave my house and like get a job. And I was desperate to talk to people and we didn't have money even to fix the car, let alone do like leave the house to go to like play dates and stuff. So my point is I went online and I built a blog. And then I grew that blog to getting 10 million page views a month. And I grew it to getting traffic. I mean, we've got insane amount of traffic.
Bradley Sutton:
Good grief. What year are we talking about here?
Rachel Miller:
This was 2008 is the year. We went from one from 10,000 fans to a million Facebook fans in a year with no ads.
Bradley Sutton:
What was a blog about?
Rachel Miller:
Kids' activities.
Bradley Sutton:
Interesting. So, it was like something close to home, literally and figuratively.
Rachel Miller:
Totally. I started like playing with my kids, but the cool thing is there's so many products you can do with kids. And at the time Amazon had a really generous, affiliate program compared to now, for sure, I feel like program's pretty, pretty crappy right now, but at the time it was really, really good. So I was one of those people who's making brands become viral because I loved driving traffic to a cheap $4 product, $10, $20 product, because I knew if they came over there for that, I could also sell the kitchen sink. And I literally sold someone a kitchen sink once because they bought like a banana phone or something.
Bradley Sutton:
So, that was kind of how you monetized it. I mean, because just writing a blog that has fans doesn't mean money in your pocket.
Rachel Miller:
Yeah, I monetize it because fans do not mean money, but the reality is if you have products on the backend, it does mean money, right? So you have to have people there to drive to your products. You can make the world's best product in the whole wide world. And if no one knows it exists, it doesn't exist. So yeah, so I grew the blog and then I walked away from the blog for whatever reasons. I mean, I had few, but what came to my rescue then with e-commerce because I walked away from the blog and the amount of money I was making each month from the blog. I pivoted that into a product line on Amazon and within three weeks had sold out of two different product lines that I had purchased. One of them, I couldn't figure out the supply line, that one just fizzled the other one. I was able to get the supply line up and running. But it paid back like my salary of what I was making from the blog, like instantly.
Bradley Sutton:
So what year is this are we talking about now?
Rachel Miller:
That was 2016.
Bradley Sutton:
Okay. So, is this like a private label product you started from scratch or?
Rachel Miller:
Yes. One was where you buy it off the shelf. Retail arbitrage. When I was retail arbitrage, it was Star Wars toothbrushes. And I bought like 700 of them or something. And I bought the entire quantity that the Walmart in our area had. And actually, Walmart then put up a notice the next week that you're not allowed to buy more than five of anything.
Bradley Sutton:
Your picture is up on all the cashiers, like lookout for this person, do not sell to this person.
Rachel Miller:
They were not even remotely happy with me. Anyways, I bought all their too. But at the time they didn't have like a thing that you couldn't buy that many. So like I went, bought them all and then I sold them on Amazon for four or $5 more than I purchased them. And then four and $5 more than I purchased them. Plus the Amazon like dollar 50 or whatever it was, to ship. And I sold out of them in one night. So I posted it at night and I came back the next morning and we were already out of stock.
Bradley Sutton:
You have to ship all those out individually or did you send all those to FBA?
Rachel Miller:
FBM. I did all of it FBM because I didn't know how to, I just didn't want to mess with it. So yeah, I sent it all to Amazon and I made like– I sold these toothbrushes. I got for a dollar from Walmart for like 9.99 and it was beautiful. It was wonderful, but I had a hard time getting those back again because Star Wars is kind of a hard brand to sell when it's not your brand. Anyways, so that one, but that taught me of what's possible when you have an audience and you can put organic content in front of your audience in a way that connects with a product and in a way that makes your audience look good, that makes them feel good. That makes them love themselves and be excited. And so this was a toothbrush that like acted like a lightsaber and it was basically me and my kids dancing as they were brushing their teeth. I had toddlers, I had triplet toddlers at the time. And so I find my toddlers triplets brushing their teeth with the light sabers and fighting with them and yelling at them because the toothbrush was getting on the toothpaste and getting on the mirror. Literally, it was an organic video and I sold with that. And so that opened my eyes to what's possible. And then we went on from there and I did make a white, not white label. Like I actually had it designed and it was jewelry. Because one of my audiences at the time essential oils were trending massively. And I knew that my audience bought because I had affiliate history of what they purchased. I knew that they bought essential oil jewelry. And so I created my own line of essential oil jewelry. And my supplier, I think it was about nine months after I was selling it. I was making between three and $10,000 a month in profit from selling those. And then my supplier, I don't know if you guys have had this happen where your supplier starts selling it too.
Bradley Sutton:
Oh yeah. Many times people have had that unfortunate story.
Rachel Miller:
That's happened. So at that time, and then I just let it go because I had moved on to other businesses. But that was for me, that influx of cash was not just money in my pocket, which was super important, but it was confidence for my heart that I can sell anything and I can do it. And girl, it's okay. Get up off your feet. Let's go with love. Let's serve, let's create content with products, and to make people smile and make them have a good day.
Bradley Sutton:
So, then from there you kind of like pivoted it, I just made up a word pivoted it. I don't mean to say that you pivoted it. See, I can't even say it right. You made a pivot. How about that? There we go. You made a pivot to social media, namely, Facebook is I think what you're most known for it. How did you become like one of the most foremost experts in Facebook out there?
Rachel Miller:
Well, I think what it was was that I realized that it wasn't the toothbrushes. It wasn't the essential oil jewelry line. That was my gift for the world. I think every single person in the world, every single person on the planet has a gift inside of them. That they're if they've got a duty to give to others and to make a difference in other people's lives. And for me, essential oil jewelry was not my gift. But what was my gift was how did I actually sell out of that jewelry? How did I, like, how did I drive so much traffic to get people to buy it? And how did I do that with essential oil or not– the toothbrushes. And how did I do that with the rainbow loom bracelets? And how did I do that with these like stuffed animal pillowcase things that sold out like gobs of them? And I realized that my gift was helping people understand traffic, and if I could help all the Amazon stores drive more traffic to their leads and they're going to spend less on ads and they're going to have a better life and they're going to be able to better serve their customers. If I can teach other people to create better software products or whatever, not teach them how to make those products, but teach them how to tell others that, that thing that they're really good at exist in the world, then I'll have made an impact. And that's kind of where my business began, what I'm doing now. Mostly.
Bradley Sutton:
Yeah. That's awesome. Now, Paul Baron, he's been on this podcast a couple of times and he actually was able to connect me with you. He told me in a Facebook message, he's like, make sure to ask her how she regularly gets impressions in the millions organically. So first of all, I was just like, okay, wow. So, I definitely want to talk about how you do that, but can you, before you even get into the, how can you just talk about some of these things that have gotten you impressions in the millions? Like what were these, were these like videos or just ads or posts? What are we talking about here?
Rachel Miller:
Yeah. One of them actually was an Amazon product. We got it to 1.9 million clicks over to our website, and it was featuring rainbow loom bracelets. And how to, it's like a kid's craft box thing. And we got 1.9 million people not to engage on social. I mean, I don't even remember how many people engage on social because at the time, and now too, I care more about what does that social media presence actually do for me. Right. So when I have that traffic and they click over to my post, which is basically an ad, and then they go to Amazon and they buy it and it sells out. And what we're doing that day is basically just switching out that link to the next, like, closest product to that. So all day long, we're switching out that link. If that's awesome, that's amazing that we're able to drive that and then cause them to like run out of stock over and over again.
Bradley Sutton:
Amazing. So, like what's an example, I mean, you don't have to give the a product if you don't want to, but just like, what's an example. Like what's a scenario in how this even starts like step one there.
Rachel Miller:
So, there was, that was the rainbow loom. I'll tell you the one that we did for a cat. It was a rolling pin for you'd make cookies, but it's got like a cat on it. And for the rolling pin, all we did was make a single Facebook post. And we said, and we can make this one go viral semi often. We said I bet you know a crazy cat lady out there who needs this. So that's what we post the majority of the year. And then in, from October to December, we post this is on someone's Christmas list, you know it. And it's basically just a cat on a rolling pin. And my crazy cat people, they like it. So my cat segment, they all click on it. Next thing you know, that post has 4 million views on Facebook because cat people are just interacting on it. And we sell out of the rolling pin as an affiliate. That's not even my product.
Bradley Sutton:
So is this like on a product page or somebody's personal profile, or how does that work? Like on the brands page who makes the rolling pin?
Rachel Miller:
No, I put it, I collect an audience of people who like a certain topic. So I'll create an audience of people who love cats or I'll create, or I did. Actually, make fun of my neighbor's cat because it was peeing on my lawn furniture. I actually don't like cats. I just went, what do you do when the neighbor's cat does that over and over again, you make a Facebook page about it, right? That's what you do. Right? That's like normal behavior, right? I was coping. The cat was just being rude. And I decided to kind of like one up him. And the only way I knew how, and next thing you know, I have a cat audience. And then when I have that cat audience, well, how can I love and serve them? Because you have the people in your life to make a difference in their lives. So I collected a couple hundred thousand cat people and then started selling cat products to them. And of course, taking pictures of my neighbor's cat in the process. So that was one audience. We did essential oil audience, done an audience for preschool kids. I told you about that. We have actually sold like 200,000 copies of our book through Amazon, with kids' activities in the kids' activity space. We've got– so what do I do you want the steps? Okay. So the steps are first collect an audience of your perfect people and don't think one product. Don't think, okay. I have this gizmo that goes on the back of pictures and it hangs a picture. And so I'm just going to talk about my picture hangers. That's not going to fly. What is going to fly is thinking, who is the person who's going to use this product and collecting those people and saying, Oh, what do you buy and say, well, would you buy this? Would you buy that? See what they're already buying and then make that product better to serve them. So if you start with the product, sometimes you're– sometimes going to flop because it comes across as transactional as in, I'm trying to sell you this thing that you don't know you need right now. And so instead, I love to collect that audience and I collect an audience. I see what's trending with that audience. I see, okay. Star Wars is trending with this audience. And actually three and four year olds. They're watching Star Wars with their parents and their parents are the geeks. Their parents love Star Wars. So, now the kid is going to love Star Wars too. So knowing that that mom and dad want to give their kids nostalgia with Star Wars, we would make products. We would sell products to them. And that's where, okay, I saw this product that I knew was underpriced at Walmart and that I could unload. I didn't think I would unload it overnight, but it would take a little longer than that. But the kids brushing their teeth went crazy. You have the people which in that case was parents of preschoolers. Then you think of what products they want. Test it. Like, are they buying other things like lights that are Star Wars? Well, great. Then you'd have star Wars as a trend. You can sell them other things that are Star Wars to them or whatever that other trend is.
Bradley Sutton:
Okay. So I definitely get the about trying to find the relevant audience. And you had that. That's why they were able to interact so much and really resonated with them. But what about the step before that? Like how do you build this audience to even be able to be in that situation where something like that could happen?
Rachel Miller:
I love to build an audience with basically memes. Memes and content that's not about me, but about my audience. So yes, not just memes you still have to have videos. You still have to, you have to have photos, videos, conversation starters, essentially. Conversation starters, get people to talk to you. So now they're going to be willing to listen to you talk. It's kind of like when you, when you have an interaction with someone at like a grocery store, if you ask a question that the stranger is going to turn around and respond in a way, that's not like, hi, I'm trying to sell you this. They're going to be like, Whoa, get away from it. Right? So you want to have a conversation with your audience and you want to have photos and photos tend to be like quotes and memes and maybe behind the scenes stuff and something that has curiosity and entertains. And you also want to have videos. So I want to have each of those because they're going to interact with the algorithm in different ways. And then when I'm creating those pieces of content, I want to create them in a way that connects to an already existing audience. So I'm willing to, I call it niche neighborhooding. When I make posts, let's say I'm going to make, um, posts for women who have college aged kids. And so I'm going to create these posts. I'm probably going to put something about menopause in there. I'm probably going to put something about loving your kids, even when they don't hug you anymore. We're probably going to put something in there about–
Bradley Sutton:
I need that. I would fall into that demographic. My daughter's 19 and my son's 16.
Rachel Miller:
You know that I don't need you right now. I'm on that stage. So you're going to make those memes and you're going to post them. And then you're going to share them into other people's groups where your people are.
Bradley Sutton:
Real quick. Before you– the original post, then, the one that you share into others, like, are we saying, is this on a Facebook page, a Facebook group, or where is the original hosted that you're going to go and share?
Rachel Miller:
You want to start with a Facebook page. The reason why I really love pages and then using other people's groups and my own groups, even, but I always want to start with the page is there's no limit to how many people you can reach. Any Facebook group, you're limited by the number of people that are in that group. So you can't have your content seen by everyone. You can't get it to a million people because there's groups, no real groups are up. I mean, there are some that are over a million, but it's rare. And with a profile, you're maxed out at 5,000 friends. And my guess is a lot of the people listening right now. They don't want to get rid of their uncle Hubert from their friend list. But at the same time, he's never going to buy their gizmo, right? So like, you're capped on how many people you can reach with that. You're not capped on a page. You can literally reach everyone. Even now, like people say, well, Rachel, don't you know, Facebook is dead. You have to pay to get in front of an audience on Facebook. I literally have two people last week who told me they're reaching over 6 million people on Facebook without any ads. So if you think it's dead, well, it's going to be dead for you. It's not dead for us. It's doing just fine. Yeah. So it's almost how you see it. If you act like the algorithm, isn't going to work for you, the algorithm is not gonna work for you. Because you're not going to look for those ways to make it work in your favor.
Bradley Sutton:
Okay. You know what? I'm already having some ideas, I'm going to implement some of these things. We did this case study a free case study on YouTube, where we tried to show people how not complicated it is to get started selling on Amazon. So we showed somebody from A to Z, it was called Project X. And we showed them A to Z how to find and launch and scale a product. And it was the most random of products. It was a coffin shelf, like a mini shelf that's shaped like a coffin. We've sold thousands of them. When I'm hearing you talk like this. It's like, wait, first of all, I know exactly the kind of avatar this is going to hit. This is like somebody into like Gothic decor and spooky decor and things like that. But I could totally see that formula that you're talking about working for this kind of niche, because it's not like a, Oh, this is what did you say? A hanger for a shelf or something like that. It's something that has personality.
Rachel Miller:
Now imagine though taking that coffin and sticking it on a shelf, but putting a kitten in it and saying, Oh my word, he won't get out of there. It's his new favorite perch. Now you can take that and make a meme out of it and give it to cat people and say, Hey, I'll give you $25. If you post this, those cat pages that are just for cat stuff, they might take you up on that. They don't have anything else going out. They need content regularly. As long as it doesn't look or feel or smell like an ad, that's where a lot of Amazon people get it off and they love to sell us there. Give us a Tucky Beat me if I was a content producer, which I have. I actually am. My website right now is crossing over 90 million. I know, but my point is, you'll give me these like pictures. I'm like, that's a stock photo. I can't use that. That's white background. Nobody's going to see that as real. It needs to look like it's at your house with the tissue box next to it. Like it's got to look like it's on a real shelf. But if it looks real, now you can make a cat meme at it and give it to the cat audience. Then you can put candles on it and give it to the whatever audience you can make it into something that's industrial looking and put it in front of like the whole minute. And you can do something spooky with it and have blood coming off of it or whatever, and have that with silly string, put that on Halloween audiences. So you could find five different memes with one product. And now those five different means can each go to different audiences? So, that's one way to think outside the box and how you can collaborate with content creators without having to build an audience. You can even do that to build your own audience as you're beginning, but with a product like a goth shelf. Yes, it does well with goths, but it probably also does well with a lot of other people. You could just have to find where they are and you find them using these collaborations and authentic content.
Bradley Sutton:
Okay. So, then the point of what we've been talking about right here so far is like building the audience, like, Hey, you're not putting some affiliate link inside your meme picture. You're just like, Hey, let's, let's get this content out there. Let's get followers and things like that. So once you, now you do build the audience, like how do you draw the line? Because just like you said, you don't want to come across as, Hey, I'm Joe or Sally salesman here, buy my product, hit my affiliate link. Like, how do you monetize this without coming across as cheesy or just as a salesman?
Rachel Miller:
I like to ask my audience what they want to buy and then provide those things for them. So even when I was selling my own products, I would make sure to sell other people's Amazon affiliate links too, because I always wanted to see what are they buying and if they're buying them well, great, can I make this better? Is there something I can do to get this out there? Can I sell this myself or is it going to be a lot of effort for me to sell it? For example, like the rolling pins for making cookies? Well, actually, because of the testing, because it's touches food and all that other stuff, I decided it wasn't going to be as good of a use of my time as just driving traffic to the affiliate link, because I didn't want to like deal with the production of it. But if it is something where you can say, Oh, I'm going to look at the choices because I know this sells, I can now choose, am I going to scale this product? Or am I going to and make it my own, make it better? Or am I going to keep selling it as an affiliate?
Bradley Sutton:
Okay, interesting.
Rachel Miller:
So always, I love to collect the audience and then ask the audience what I can do to love and serve them. And then I love to sell them those products and it could be my own, but if I limited it to just my own, then I'm kind of putting myself in a box. And at one I don't have as many products to develop. I don't have as many ideas, but I also seem more spammy because I seem like I'm just pushing my own thing all the time.
Bradley Sutton:
Yeah. So I mean, what you just mentioned is another interesting thing that I think some people don't don't think about for Facebook is the product research face. So it's like, Hey, they think of Facebook at the end. Like, all right, Hey, I've launched a product on Amazon. I've maxed out my potential on Amazon, just staying within the ecosystem. Now my next stage is I'm going to go to Facebook and see if I can get some new audience, but you can almost just flip the script. And once you have this very relevant group of people, you can like kind of crowdsource your next product idea and do it almost the opposite way. That's an interesting way to think about.
Rachel Miller:
One of my students wrote me yesterday. Actually, it was yesterday. It wasn't two days ago. It was yesterday. He wrote me and told me that they crossed over 750,000 orders in a single month. And if they had focused just on one product, they would have never made those, that level of orders. And the reason why they were able to sell literally 750,000 orders in a single month was because they asked, they built the audience, and then ask the audience what they want. Yes. They started with one product, he's a wreath maker. So he makes wreaths. So he started with one wreath that they were selling and then he found, okay, well actually we'll make 50 of these wreaths. So he did start with one product, but as he started with that one product, he collected that audience. And then, wait a second, what else do you want that's not wreaths. Because by the way, guys, wreaths take a lot of time to make. And I'm not that much money from all the hours I'm spending, making this wreath. So then he was able to scale out and say, okay, well, what else can I make? And what else can I sell to these people? And now he does sell on Amazon, but he also sells in his own Shopify store and he did 750,000 orders last month.
Bradley Sutton:
Wow. That's crazy. Now just, when we're talking about the actual getting people to purchase, do you suggest that people utilize like Facebook shops at all or send people a Shopify or Amazon only, or just all three or what do you suggest there?
Rachel Miller:
I love people to start with Amazon because it's so easy to gain Amazon's traffic with a tiny audience. You don't need to send very many sales to Amazon and then Amazon will match those sales for you. So if you send 10 people in an hour to buy the product from Amazon and they all click over and they buy what Amazon's going to look at them while you're like, Holy moly, this is hot. They just drove 10 people. And if you do that for a couple of days in a row, well, Amazon's going to let you stay at the top. And then here's the thing. You'll actually get the top of that search. Especially if you use search phrases in your Facebook page, because Amazon is looking at that traffic coming in, and what words are coming into you. If you're able to do that, then Amazon says this is highly ranking for this phrase. And now Amazon is going to match that search traffic. And you don't actually have to continue to promote it because Amazon will promote that link for you.
Bradley Sutton:
All right, guys, quick break from this episode for my BTS of the week, Bradley's 30 seconds. Here is my 30-second tip. This is about product targeting campaigns on PPC for Amazon. So, one of the great ways to get different products that you can target with a manual product targeting campaign is to look at the frequently bought together. And the customer also bought. Now, of course, without Helium 10, you can just go ahead and do this, you know, just by looking at your competitors listings or even your own listings and see what is showing up day to day and the frequently bought together. But for those of you Helium 10 members out there, make sure to go to Black Box and the product targeting tool enter in your ASIN or the ASIN of your competitors, and then filter out for the frequently bought together. And you'll have the list of all the different ones that we've detected in the last 30 days showing up there.
Bradley Sutton:
Excellent. Excellent. Now about the Facebook audience and your page, what is a general rule of thumb for like cadence? All right. So now I built up my audience, but you don't want to just like say four weeks in and you don't make one new post. Do you have a certain cadence, like, Hey, do one meme a week or a meme every other day or a video once every other week, or do one advertising post do one crowdsourcing? I mean, do you have like a general cadence you suggest?
Rachel Miller:
Yes. I think I mentioned a little bit earlier, but it's basically, I like to post a photo, a video, a conversation starter. A photo video, a conversation starter. And now those are not necessarily about your products. Those are about your audience. So a conversation starter is raise your hand if you've got teens, cause I'm rolling my eyes right now. And then they respond, say hi, yes, I have a teen yada yada. That's a conversation starter. A photo could be like a meme of pulling your hair out over your teenager. Video could be a tour of a college or even a program you have for people that are sending their kids off to college. Now, when you're doing an ad, now you can sell your dorm furniture set or your organize, your packing list, whatever for people to go off to college, that's going to be your fourth one. That would be your ad. So I don't want people to promote generally outside of one out of every four times that they post. It's not about me getting a transaction for my audience. It's about me building an audience so I can love and serve them. And I happen to sell to them a lot, quite a lot, but I do that after I've collected those people.
Bradley Sutton:
Okay. Now, what about the timeframe are we talking about? Are we talking about one of those per day or all three slash four of those, you're repeating that daily or is there any suggestions you have as far as that goes?
Rachel Miller:
It really depends on how big your audience is. If you have a small audience, then you're going to need to post, like once a day, twice a day, if you have a large audience, you can post up to every single hour. So I have Facebook pages that are over a million Facebook fans. I can post on those up to every hour if I want to.
Bradley Sutton:
Okay. Wow. Okay.
Rachel Miller:
So it depends on how many people you have that are engaged on your page. So if you have 50,000 people on your Facebook page, but none of them are interacting with you. You might only get to post once or twice a day because you don't have enough people interacting to be able to cause your content to snowball. If you have 20,000 people on your Facebook page, but 10,000, but they're highly engaged, you can post four times a day, even because when Facebook is going to see your content and they're going to send it out to 3%, 1.5 to 3% of your audience. If that audience, this is why you don't want to run like ads and you don't want to have social proof from other countries have like fake fans following you. And Facebook drives that traffic to that 1.5 to 3%, depending on their mood of people that you want every single one of those people to interact with that content because when they interact, Facebook's now they say, Oh, this content is doing well. So now we're going to send it to another 3%. And if those people see it, well now not only are they going to send it to another five, 10% of your audience, but they're also going to push it out to people that are similar to the people who've engaged on your content. And that's how we have people who've got pages of 30,000 people, fans that are reaching 6 million because they have this high, those 30,000 fans are so in tune with that page. They're following, they're liking, they're sharing like every single post they see and they're hyper fans. So now reach 6 million with that.
Bradley Sutton:
Wow, that's really, really cool. Now I'm just going to take a quick break from our strategy here. And let me just go way back to– you mentioned you have six kids, obviously, you've got multiple successful businesses that you're doing. How do you juggle that? How do you– not everybody has six days, but whether you have two kids, five kids, six kids, eight kids, like you were your original thought in life. Like how do you juggle running businesses and familial responsibilities?
Rachel Miller:
Oh, okay. I'll be honest kind of badly. We were doing, we've been doing the launch model and what that means is, and I actually run blogs and those are like autopilot. So I'm super grateful for that business. It's autopilot, my product stores, those are autopilot. But what we were with Moola, we were doing it as a launch model and I'm trying to move away from a launch into something more stable, because a launch model with a family, with kids, it's not matching with my lifestyle that I want. So honestly, it's always a learning process. I have an amazing team and they helped me get a lot of stuff done. But I didn't always have that amazing team. So I think part of what I would love to tell your audience because if they're starting out like I was, they didn't have an amazing team. And they're overwhelmed is to take one action every single day in the right direction of where you're wanting to head. So every day say I'm going to take one action that's going to make my business better. I'm going to take one step. That's going to do X, Y, Z. I'm going to start my research for my product in one direction for today. And the next day I'm going to do this next step, and as long as you're taking one step after the other. And as long as you have a guide, kind of like what they have here with Helium 10, they have a guide. They have you telling them what that next step is. Just do one step a day. And little by little, you're going to look back and realize how far you've come. And, I'm super, super grateful. I don't have it all figured out. Like I said, I don't have it all figured out. I don't have a perfect life or a perfect home or perfect businesses, but I do have success. And I think that's come because I've taken steps every single day and the direction I want to head.
Bradley Sutton:
I love it. I love it. Now there's a lot of people out there who, maybe they've held back from starting a private label business because maybe they didn't have some of those things that you did where you were able to just flip something really quick to get some capital, because as anybody knows when you started that essential oil thing, that took some investment, you got to order it. You've got to ship it over. Before you make your first dollar, you've got to invest a couple thousand dollars, if not more. So what do you suggest? How can people leverage, maybe Facebook now their ultimate goal is, Hey, I want to get about four or $5,000 together? So I can invest in my own private label product. Are there things that they can do if they only have a few hundred dollars, maybe to get, how can they leverage Facebook and this organic traffic in order to build up some capital?
Rachel Miller:
Well, first off, I'd like to tell them that they, I don't think they need $4,000 to launch. My first Amazon product, which we sold was actually a magnet set. And it costs me about under a dollar to put those two magnets together into an envelope. And it costs like, I don't know how much it was for Amazon to ship, but less storage fees on Amazon were very low. So, was it the profitable product I could ever have? No, but it was a great one to start with. So the product that you're going to save the world with, probably not the first one you're going to sell. So I would tell them to look for a lower barrier of entry because they don't need to spend $4,000 to launch a new product on Amazon. You know that and I know that they do need is an idea of people that they are there, that they can solve a problem for. So for me, I told you I had a kid audience. And so it was like, well, what can I do to help kids? Well, one thing I can do is help kids be more independent while they're washing their laundry. So I made a laundry cheat sheet magnet. It costs me 49 cents to make the magnet. And I had it in a bundle so that the magnet was also included this cheat sheet and that cheat sheet. So basically guys, it was paper that I was selling on Amazon paper and people purchased it for $9 and 99 cents. So you don't overthink it. If you have people in an audience say, okay, I want to eventually sell essential oil to them, but right now I can't. Right now, what could I sell to them that I don't need to get a special thing that I don't, that's in a easy ungated option to sell. Let's start with affiliate products. If you can't come up with any idea, start there and then look at your audience and say, well, what can I sell? I promise you every single audience has something that you can begin selling to them with less than a thousand dollars investment. Because I don't think there's a single one out there and then use the money that you earn from that thousand dollar product that you have, that magnet sales to launch that thing that you're actually going to like grow your business with.
Bradley Sutton:
Okay. I love it. I love it. I mean, I did a case study, right? Show people, I call it a Project 5k with $5,000. I actually launched 12 different products just to show it can be done for all the people. You need 10, $15,000 just for one night. You can. I mean, maybe you don't, you're not able to scale as fast, because you're having to deal with some cheaper products and low turnover. But, Hey, it can be done with fewer dollars.
Rachel Miller:
Make a listing. I learned how to sell. I learned so many things, those magnets things like they were amazing for me and like the gift that they were. And yes, I did pay back what I put into them. Does that make sense? I wasn't a loss leader. I didn't lose money in the deal, but it wasn't something that I would say was like a smashing success.
Bradley Sutton:
Okay. Okay. Now we have, as part of the show we call the, or the T S T 30-second tips. So you've been giving us a lot of great tips and strategies throughout this episode, but what is something you haven't said maybe that you could hopefully say, you don't have to, I'm not going to like cut you off or anything, but you can say maybe 30 seconds or less, highly actionable, very valuable for our listeners when it comes to Facebook, organically or advertising, whatever you want.
Rachel Miller:
I bet there's a lot of people out there that are just like me and are a mom. And they're trying to like juggle all of the things. I suggest that they've come up with a song that while they play that song, the kids know mom's working, she's going to do something. And it's a 10 look for like that song by Queens. That's like 10 minutes long. Look for a long song that you train your brain and you train your kids. When this is on, I'm going to do my work task. And you almost tell yourself, I've got to rush to get this done as fast as I can. So how many things can I research in this minute? How many things posts can I create and schedule on Facebook in this minute? How many groups, where my future customers are? Can I go in there and look for the problems and their solutions and jot down as many as I can, while that song plays. If you can find a way to be productive in bursts, it's going to help you focus, but it tells the kids hate that song's on leave mommy. As soon as the song is done, you can bother mommy again. It's going to help you. Focus is going to help you be more productive and it's going to help you build that audience. If you do that every single day, building our audience, building your product, you will find success. And I'm super grateful and excited to hear back from you guys that you've made it work.
Bradley Sutton:
I love that. I love that. Now, I'm sure people are highly intrigued by this conversation we've had. So how can they find you on the inter webs out there either to learn more about Facebook or some of your other strategy?
Rachel Miller:
Yeah. I have a free Facebook group called grow your audience, and I love to give tips and advice there and just come alongside you and encourage you. Let you know that you can build an audience. You don't have to spend money to build that audience. You don't have to like be on a constant hamster wheel to make it happen. It's possible. And it's possible even today, even without ads.
Bradley Sutton:
Awesome. Rachel, thank you so much for joining. We'd love to have you back maybe in 2022, and let's see, I know you got, you talked just talking about, you got some things going on and some changes and I love to reach out to you then to see what's new in your life. And maybe, you'll be up to eight kids by then. I'm not sure.
Rachel Miller:
No, no. We're done.
Bradley Sutton:
We're done. All right. Cool. Yeah, I stopped way before you. I was like, two, I'm good for there, but anyways, thank you Rachel so much for joining us and I'm sure a lot of the audience will be reaching out to you and I too, am going to be interested to see what kind of your strategies they implement. So guys, please make sure to reach out to me and let me know what you were able to implement your business based on this conversation. So thanks a lot, Rachel again.
Rachel Miller:
Thank you. Thank you, Bradley. Have a great day.
---
Enjoy this episode? Be sure to check out our previous episodes for even more content to propel you to Amazon FBA Seller success! And don't forget to "Like" our Facebook page and subscribe to the podcast on iTunes, Google Play or wherever you listen to our podcast.
Want to absolutely start crushing it on Amazon? Here are few carefully curated resources to get you started: