Episode 94 – A Top Amazon Seller Reveals His Facebook Marketing Strategies
Episode 94 of the Serious Sellers Podcast hosts Ryan Rigney, an expert on Facebook marketing, selling on Amazon and chat bot strategies.
Updated on: October 6, 2020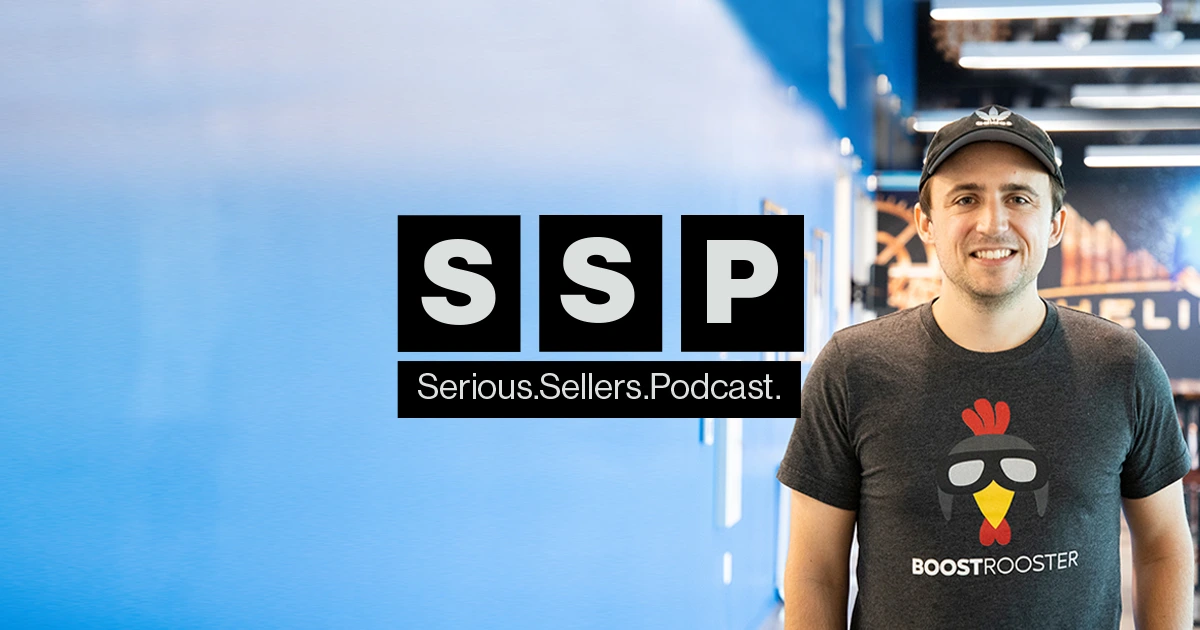 Life moves very quickly.
Life in Amazon's eCommerce ecosystem is another thing all together.
When I think about the pace of change on Amazon, it feels like someone has increased the speed of the treadmill and we're sprinting to keep up.
What's funny is that it really hasn't been that long ago that this whole wild, exciting and profitable adventure began.
Things have moved so quickly that remembering experiences from only a few years ago can hold the nostalgic quality of a college reunion.
That's what I'm thinking as I type this because this episode's guest was also a guest of Helium 10's founder, Manny Coats on his AMPM podcast about the same time that Helium 10 was starting to explode onto the eCommerce landscape.
Well, he's back.
Today on the Serious Sellers Podcast, Helium 10's Director of Training and Customer Success, Bradley Sutton welcomes Ryan Rigney, a 7 figure Amazon seller and one of the first in the eCommerce world to see the value of establishing chat flows.
Ryan went to law school and ended up with a lot of student debt.
As he started working off the large sum, he found it hard to see the light at the end of this particular tunnel. The jobs he was working at were unsatisfying and it felt like it would take him forever to pay off his debts.
So, like many of us, he started looking for a short cut.
He wasn't afraid of the hard work, just wanted to use his brain to condense the amount of time required to pay back the money.
Enter Amazon FBA.
He found that Manny's AMPM podcast was a great source of valuable information and dove in the Amazon pool.
He started selling slowly, often looking closely at the top products in order to reverse engineer their sourcing and launch processes, then using what he'd learned to recreate that success with his own products.
Ryan says that a large part of his initial success on Amazon was understanding that he needed to spend valuable time constructing an audience by diligently reinvesting his profits into chat flows, advertising, building Facebook groups and email lists.
At the same time, that checked the "diversify" box and allowed him to create an "off Amazon" audience for himself.
Now he estimates that his own website brings in roughly 25 percent of the traffic to Amazon's 75 percent.
He doesn't go for the 100 percent off discounting strategies nor is he a fan of "Flash Sales" on Amazon.
Instead, he tries to use his hard-won market experience to help create "evergreen" advertising techniques that in his opinion, "brings in a more authentic, high value customer." Listen to today's podcast for more wisdom from an Amazon chatbot pioneer who helped refine the steps that a lot of us are using so successfully today.
In episode 94 of the Serious Sellers Podcast, Bradley and Ryan discuss:
01:27 – Ryan's Origin Story
02:55 – Selling Without a Plan Doesn't Work
04:00 – What was the Key to His First Successful Amazon Product?
06:15 – Diversifying Off of Amazon
08:10 – Building an Audience First
11:00 – Over 4 Million in Sales at 25 Percent Margin
14:00 – He's Not a Flash Seller
15:18 – The Leading Edge of Chat Bots
18:45 – His ManyChat Flow Techniques
21:00 – 100 Percent Off Deals are Not the Way to Succeed
24:00 – Get 4 -5 High Starred Reviews Before Starting the Process
27:00 – What are the Changes that Ryan Sees on the Amazon Horizon
25:40 – Taking a Defensive Approach to PPC
31:47 – Ryan's 30 – Second Tip
35:45 – How to Find Out More from Ryan
Enjoy this episode? Be sure to check out our previous episodes for even more content to propel you to Amazon FBA Seller success! And don't forget to "Like" our Facebook page and subscribe to the podcast on iTunes, Google Play or wherever you listen to our podcast.
Want to absolutely start crushing it on Amazon? Here are few carefully curated resources to get you started: