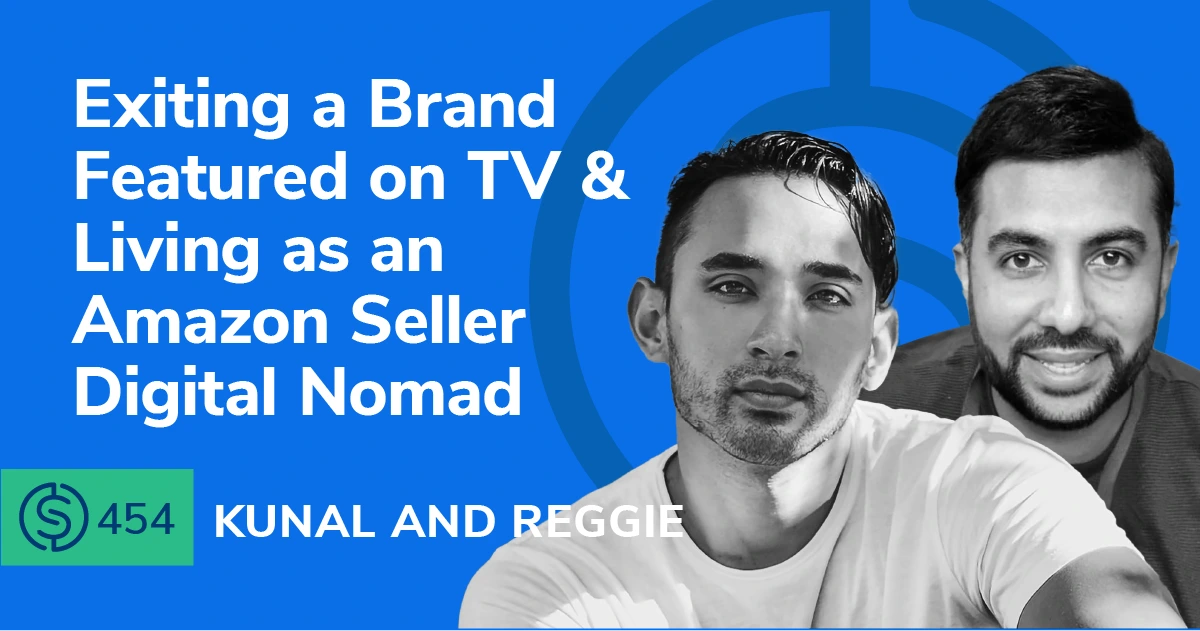 #454 – Exiting a Brand Featured on TV & Living as an Amazon Seller Digital Nomad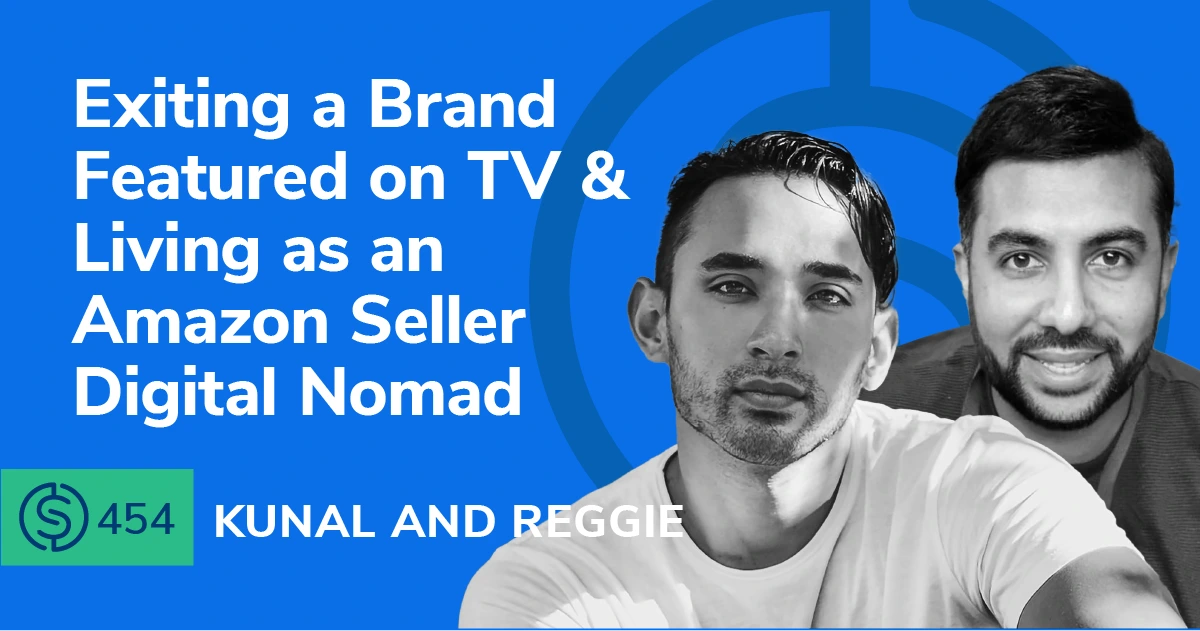 Video of the episode at the bottom
Episode 454 of the SSP features Kunal Dattani and Reggie Young, members of the Serious Sellers Club, sharing their incredible stories. Reggie started his e-commerce business while in active military duty, turning a $3,000 investment into almost a $1 million exit. Kunal began by selling diet plans on eBay, eventually establishing a successful men's cosmetic brand in the UK and making $2 million annually on eBay. They discuss living as a digital nomad, sourcing strategies, launching in the UK and other EU markets, and off-Amazon marketing tactics.
 
Tune in to this inspiring episode for invaluable insights into the world of selling in Amazon and E-commerce!
 
If you're eager to connect with Kunal and Reggie, we encourage listeners to join the Serious Sellers Club Group, where 6/7/8-figure Amazon sellers and like-minded individuals gather to share knowledge and insights.
In episode 454 of the Serious Sellers Podcast, Bradley, Kunal and Reggie discuss:
02:00 – Meet Our Guests, Members Of The Serious Sellers Club
02:30 – Reggie's Backstory
03:50 – Starting An E-commerce Business While In Active Military Duty
04:50 – From $3K Capital To An $830K Exit
08:30 – Kunal's Backstory
10:30 – Started In Ecomm Selling Diet Plans On eBay
12:00 – Starting A Men's Cosmetic Brand In UK And Was Featured In Dragon's Den
13:00 – Making A $2 Million A Year On eBay
13:30 – Why Did Reggie Decide To Be A Digital Nomad?
15:30 – The Cost Of Living For A Digital Nomad
16:45 – Talking About Kunal's Deals Inside The Dragon's Den
18:40 – "I Realized That Amazon Is The Best Platform"
19:15 – Strategy Session From Kunal And Reggie
22:18 – Sourcing Things Under $2 Per Unit Landed Into Amazon
27:50 – Launching In The UK Market And Into Other EU Countries
29:30 – Off-Amazon Marketing Tactics
31:25 – Kunal And Reggie's Hobbies And Healthy Habits Outside The Amazon Grind
33:22 – How To Reach Kunal And Reggie Online
33:50 – Join The Serious Sellers Club Facebook Group
Transcript
Bradley Sutton:
Today we've got a couple serious sellers in the show with really cool backstories. One seller started with a $3,000 investment, and he turned that into a nearly $1 million exit and now lives as a digital nomad. The other seller was a seven figure seller on eBay and even got into Britain's version of the show Shark Tank. How cool is that? Pretty cool I think.
Bradley Sutton:
Want to enter in an Amazon keyword and then within seconds get up to thousands of potentially related keywords that you could research. Then you need Magnet by Helium 10. For more information, go to h10.me/magnet. Magnet works in most Amazon marketplaces, including USA, Mexico, Australia, Germany, UK, India, and much more. Hello everybody and welcome to another episode of the Serious Sellers Podcast by Helium 10. I am your host, Bradley Sutton, and this is the show that's a completely BS free, unscripted, and unrehearsed organic conversation about serious strategies for serious sellers of any level in the e-commerce world. And we've got a couple sellers from different parts of the world, actually, today, for the first time on the show Reggie and Kunal, am I pronouncing your name right? Reggie, where are you at right now?
Reggie:
I'm currently traveling through the States. Just got done with Seattle and then heading to Lisbon soon.
Bradley Sutton:
Okay. Do you have a home base or are you full digital nomad life? Just on the road? Yeah. Yeah.
Reggie:
Digital nomad professional, homeless person. I call myself.
Bradley Sutton:
I love it. I love it. And Kunal, where are you at in the world?
Kunal:
I'm in the United Kingdom in a place called Leicester near Birmingham. Not too far.
Bradley Sutton:
Okay. So what's the local football team there then?
Kunal:
Leicester City.
Bradley Sutton:
Okay, I was like, wait a minute. That sounds that sounds familiar. Weren't they the ones who had like Cinderella season? A little while back.
Kunal:
2016 it was.
Bradley Sutton:
I remember that. Yeah. Remember exactly. Okay, cool, cool. Excellent. Now I got turned onto the part of our new Serious Sellers Club. We have this club private community within Helium 10, where it's sellers who are doing 6, 7, 8 figures. And so I had just thrown something out there. I'm like, Hey, I'm looking for new people to come on the podcast, and these gentlemen volunteered themselves. And so like, it's, it's great to have you guys on here. And I know literally nothing about either of you. So what I want to start off with is just getting your superhero origin backstories here. Let's start with Reggie. Where were you born and raised?
Reggie:
Oh, sure. Yeah. hello everyone. Reggie Young, born and raised in Hawaii. Joined the military when I was 18. My commanders sent me to the Air Force Academy to become an officer, but I wasn't smart enough, so I had to go to a prep school for like a year. Kept having to start over and over. Really, really was passionate about business after our graduation. I wanted to do like the most business related job in the military. Wasn't able to do that.
Bradley Sutton:
So you went to the Air Force Academy?
Reggie:
Yeah, yeah. Went to the Air Force academy for five years.
Bradley Sutton:
Is that like Colorado or something?
Reggie:
Yeah, it's in Colorado Springs, Colorado. Nice place there. I was basically, I never really left campus much. I was always head in the books type of thing. But yeah, I did five years there, became an officer, was a nuclear missiles officer. Was spent like half the time underground, a day and a half above ground, a day and a half below ground. And at that point I was like, Hey, this is not really giving me much fulfillment, so really just eat, sleepp, breathe, e-commerce, drop shipped high ticket, then eventually moved to private label, and then sold my first business about a year and a half ago, and then just scaling sense.
Bradley Sutton:
Okay. So you exited the military and then immediately went into like being in like online entrepreneur or, or was there, you know, different jobs you held in the meantime, or?
Reggie:
I thankfully had replaced my income about six months before my military contract ended, but I knew–
Bradley Sutton:
So while you were still in the military, you had started selling online, doing different things. Oh, okay, cool.
Reggie:
Yeah, totally. It was like years of just burning all the ships, you know, some success, some failure, the entrepreneurship journey. And then I was consulting for some other brands that ended up exiting. So I had some experience consulting, had some online consulting income options.
Bradley Sutton:
What year about are we we talking about here in the timeline?
Reggie:
So I started Amazon 2015, 2016. I left the military 2020 and exited my business 2021.
Bradley Sutton:
Okay. All right. So the business you exited, was it an Amazon business or was it just online?
Reggie:
Yeah, it was an Amazon business. It was a $3,000 investment.
Bradley Sutton:
So you started an Amazon business with $3,000 and then built it up to exit?
Reggie:
Yes. Yeah, it was like, I think my fifth or sixth launch product launch. And then that, that specific product launch was $3,000 invested. And then with the cash flow and the exit, I netted a little over $830,000, which was I believe, a 27,500% ROI. It was like the, the craziest investment return I've ever done in my life. And since then I've kind of just tried to scale out and
Bradley Sutton:
Are you able to say what kind of product it was or category at all? I mean, if not, it's fine.
Reggie:
I can say it was like a kitchen appliance accessory okay. Less than, yeah, less than $10.
Bradley Sutton:
So $3,000 for like, what was that, 500 units, a thousand units or what?
Reggie:
Yeah, my landed cost was 45 cents into Amazon.
Bradley Sutton:
Whoa, whoa, whoa, whoa. Landed cost was 45 cents a unit. What were you selling air? What was this?
Reggie:
Yeah. It was a really, really small kitchen appliance. But I ended up selling the product. We had over 16,000 reviews when I sold it.
Bradley Sutton:
So what was the retail price for the product?
Reggie:
The retail price, I started at $9. So I had crazy high margins. And then of course, like competition came in, product costs got higher, I increased my product quality costs, my landed costs jumped to like a, like a dollar 50 landed eventually. But yeah, it was just an amazing ride and it made up for all the losses, obviously. It was great.
Bradley Sutton:
Did FBA small and light was that a thing back then?
Reggie:
No, it wasn't. It was not a thing.
Bradley Sutton:
You were paying just regular regular FBA fees.
Reggie:
Yeah, yeah, it was, and I think, right before I sold it, small and light came out and then gave that opportunity to the buyer as, Hey, this is a way for you to increase margin.
Bradley Sutton:
Interesting, interesting. That's like living the dream right there. So when you sold the brand, was it your whole seller central account that you sold and all the products in it? Was it just that product or, or how did that work?
Reggie:
Yeah, for sure. Yeah. When you exit, most people want to acquire the entire account instead of doing like, you know, yeah. A listing transfer. So they say, so I actually sold the entire account including my KDP account with it, which I had made a book during covid that was doing, doing okay. But yeah, you end up selling the entire account which is fine cuz you net a good amount of money and it's okay to start up another account just under a brand new LLC, new account.
Bradley Sutton:
They took over all the products you had in under the account? But that was kinda like the hero product that, that was doing most of that. What did your annual revenue get up to before you exited?
Reggie:
Yeah, so my, my pricing period was I was averaging about $16,000 a month in profit after everything. And then with that I was able to exit, I think it was like great timing, you know, it was post covid this aggregators were starting to come into this space and it just made sense to take chips
Bradley Sutton:
Off. Was it an aggregate or just a private party that you sold to?
Reggie:
This was a a private party. I had the, thankfully been educating myself for years on how to sell my business. So when the time came I knew exactly like what avenues would make sense versus not. And I was able to exit all cash no earn out. So super, super blessed and thankful.
Bradley Sutton:
Is that when you became a digital nomad or were you, had you already started doing that before? Yeah,
Reggie:
I'd already started. I knew like I knew in 2015 when I was underground that this life wasn't for me at the time, so I was like, let me burn all the ships when 2020 comes, no matter what, I will be a digital nomad traveling. So it just ended up working out really, really well. And then since then, I've consulted for some of the top aggregators continue to do so in helping other people sell their online business.
Bradley Sutton:
Alright, let, let's switch over to Kunal now. Where were you born and raised?
Kunal:
Born in Leicester in the uk.
Bradley Sutton:
So stayed local your whole life, huh?
Kunal:
Yeah, I actually moved to Spain a few years ago. But yeah, ba back here for now, and the plan is to get a Dubai hopefully next year,
Bradley Sutton:
Okay. And then, and then what about you? What was your educational journey like upon graduating? I dunno know what you guys call over there? High school, I would say.
Kunal:
Yeah. Yeah. So we, I graduated in accounting. But yeah, there's a funny story because after graduation I applied for about 20, I think it was 22 or 23 jobs, and got rejected from all of them. And the recruitment consultant said to me you're too entrepreneurial. Because I was actually challenging the people that are interviewing me couldn't get work. And it was, it was absolutely nuts because I was trying my best to get work. But yeah, then kind of fell into E-com and never looked back ever since.
Bradley Sutton:
Okay. So you never did end up working in the accounting?
Kunal:
Never, never. I've never been employed.
Bradley Sutton:
I love it. I love it. What was all this happening where you were getting rejected at these jobs?
Kunal:
That was 2011. Okay. Yeah. So I went nearly 12 months without anyone.
Bradley Sutton:
Still living with your, like, family at home, like parents or how were you supporting yourself? That's the way to do it.
Kunal:
Come from Indian family, right?
Bradley Sutton:
Well, yeah, like, well, you know, the, the stereotype is, you know, for, you know, I'm half Filipino myself, you know, like Asian families are like, Hey, you need to become a doctor or lawyer or something like that, or Filipinos, like nurses or something. But what, what, what was their mindset when you would get rejected job after job? They weren't giving you a hard time
Kunal:
To be found third in line in the family? So they weren't really by the time they got one.
Bradley Sutton:
Oh, okay. There you go. If you were the first ward, it would've been a different story. Yeah. Yeah. And then, so what was your first entrepreneurial endeavor then when you finally settled into that?
Kunal:
So I actually started playing around with E-com at age 16. So I was selling diet plans on eBay.
Bradley Sutton:
Selling diet plans on eBay? IHow do you sell a diet plan on eBay?
Kunal:
I was the fat kid selling diet plans on eBay because there was an opportunity there, right? Yeah. And yeah, and I was making money. Wel I funded my whole college and university through.
Bradley Sutton:
Selling diet plans?
Kunal:
Yeah. It's ebook and it was automatically sent to the customer. And yet it is funny, in hindsight, when I look back, you know, these women that were buying this diet plan, they were actually starving because they're only on like 600 calories.
Bradley Sutton:
So there's a whole bunch of women in the UK buying a diet plan from a 16 year old guy/kid.
Kunal:
But you have to remember, this was like, you know, 25, 20 years ago, right?
Bradley Sutton:
Oh, 20 years. What are you talking about? Oh, when you were 16. Okay. I was about to say. That's interesting. All right. Like, you know I, I'm not sure we we're gonna suggest everybody to start when you're 16 and selling diet plants where you should only eat 600 calories. I'm not sure if that's the most healthy thing. At least here in the States, you can get in trouble for doing doing that, perhaps. So then you're making money throughout, you know, high school, throughout university, and then now come, you know, 2012, 2013, you're, you're a full-time entrepreneur. What kind of, I'm assuming you weren't continuing to sell diet plans at that time? Yeah,
Kunal:
We actually with my brothers, we set up one of the biggest UK cosmetic brands for men. So in beard care which became fairly big. So we did like the Shark Tank equivalent in the UK called Dragons Den.
Bradley Sutton:
Is that like a TV show over there as well? Yeah. And then so you were on the show, like with your brothers?
Kunal:
Yeah, so we did the show in 2018 and then I sold the company in 2020, literally like a week before the pandemic.
Bradley Sutton:
Interesting. So, yeah, so, like beard oils and things like that.
Kunal:
Yeah, that's like, there was Beard brand in the US you know, dollar Beard Club. We were, we were kind of the number one in the UK and Europe. Were
Bradley Sutton:
You selling on Amazon as well? Or or was this all just like on a .com website or,
Kunal:
Ebay was actually at one point, like a hundred percent of our business. Then we kind of went on.
Bradley Sutton:
What kind of revenue were you doing on this brand on eBay per year?
Kunal:
Couple of million.
Bradley Sutton:
Couple of million on eBay. That's crazy. Let's switch back to Reggie. I picked two good guy. Like, I, I had, I had no idea about anybody's backstory here. I just knew that they were serious sellers club members, so I knew they were doing, you know substantial revenue. And I was like, say no more. Just bring it on and I'm gonna find out about you guys. On here. So, so let's go back to Reggie. I'm just curious, what was the inspiration behind deciding to, to be homeless? In other words, like, you know, like, you know, like, you know, I couldn't do it cuz you know, I've got family and things like that, or, you know, I, I suppose I still could, but they hate traveling and stuff. But was this something that you've always wanted to do? You like traveling or you just don't like staying in one place, you get restless? Or what was the thought process there?
Reggie:
Yeah, I think at the end of the day, it was, I remember when I got to the point where I had product launch failure after product launch failure, and I was like, considering giving up. I was, you know, I was asking like, what's my why? And once I internalized my why, I had like, like complete mind shift change, and it was to do what I love wherever I want, whenever I want, surrounded by the people I love. And in 2015, 2016, 2017, around that time, I looked around and like nobody was working remotely. There weren't that many, like, opportunities to make significant amounts of money online that were like, just "easy to do". So once I internalize I guess that, that that thought process, that, that became my strong why to, to move forward and become a nomad. And, and I just really, really love it now, being able to pick up and go wherever, whenever I absolutely love it. Work on my own time.
Bradley Sutton:
So how does it work? Do you like set up Airbnbs for like, months at a time? Or do you have a trailer or what do you do?
Reggie:
Yeah, so I've done e everything from traveling with two checked luggage all the way from like a small carry on bag and a small roll on. I never really do the whole, like, backpacking. Nobody really does that. I feel like it's like, where are you going, where you're not gonna be able to roll a luggage? Like, there's always gonna be someone that you can either fire, you know, someone to take your luggage for you. So I normally just pack everything up and I'm pretty, pretty passionate about different types of travel gear, so I'm always like looking at what works. But yeah, absolutely love it.
Bradley Sutton:
And how long do you stay in like one place?
Reggie:
One place? I try and stay at least three months. Anything less than that is way too much turnover. So I'm like very big on systems, I feel.
Bradley Sutton:
What is your average per month then? Does it end up like with not counting food, but, but you know, like I mean, I guess, you know, utilities, so all your pain is far as the Airbnb. So like, you're lodging. What does it come out to a month?
Reggie:
Yeah. I think really it's just choose your own adventure. I've done like the super cheap studio, like kind of rinky-dink all the way to like, Hey, I wanna like, live really nice with the view. So I travel right now with my partner. And I think I would say for most people, unfortunately right now with like the state of the economy, you really can't find anything for anything that isn't like, really, really low quality for under like $1,200 a month. I would say it's like the standard in most, most places for like a one bedroom. So I would say all in, you're probably at like three grand at least a month to live, like, okay, really, really comfortably. I haven't cooked in like two years. I literally order everything on, on like Uber and things like that.
Bradley Sutton:
DoorDash and stuff like that.
Reggie:
Yeah, Doordash. So you get, you really get to like Uber everywhere. Uber Eats everything travel, and it makes it really, really nice.
Bradley Sutton:
I just Googled it right now, I'm like, Hey, wait this is a show that's that's like pretty legit here. So what were you trying to get on that show, and then what happened when you were on there?
Kunal:
Yeah, so we went in for 150 grand, which is in, in hindsight, again, doesn't seem like a lot of money now that everything I know now, it doesn't seem like a lot. But yeah, we got four offers and we took two. So two people call Peter Jones and Te Lavanne. So yeah, big players, they're worth like half a billion each.
Bradley Sutton:
Interesting. All right. And then, so this was before the exit, I mean, that wasn't the exit, like you weren't exiting and they were buying your brand, like you got the investment and then, and then built it up even more, the brand and then, and then you exited later.
Kunal:
Exactly. Yeah, that's it.
Bradley Sutton:
Okay. And then, so after that, what do, what did you do? You know, you didn't become a digital nomad, like, like, like Reggie here. So what did you do upon exit any, any lifestyle changes, buy a house or anything like that?
Kunal:
Yeah, no, I mean, we had, we had a stability already, but for me it was just moving away from the UK where it's like raining half the year. So we went to moved to Spain for a bit. So love the lifestyle there, but then it was a pandemic, so we couldn't really do much. So the plan is to still so I came back to the UK for family. The plan is to get out of the UK again next year at some point.
Bradley Sutton:
After that, the entrepreneurial wise, you started another brand or what happened after?
Kunal:
Yes, within, so after I sold the the Beard Care brand, yeah, within a few days, I started.
Bradley Sutton:
Within a few days. You didn't even take any time off.
Kunal:
I enjoy what I do, so it doesn't feel like work. So, and then the first challenge was how do I get to a 110K in, you know, in a month or, and it took me three months, and then it was like, how do I get to seven figures? And I did that within just over a year.
Bradley Sutton:
Now this was mainly on Amazon, or were you still doing the eBay things?
Kunal:
Purely Amazon. Like I realized that Amazon is the best platform. If you wanna do it fast, do it on Amazon.
Bradley Sutton:
Okay, interesting. Interesting. What was the biggest differences for you learning Amazon? Coming from 10 years, on eBay?
Kunal:
Am Amazon is the, the algorithm? You know, I think if you follow Amazon's advice and the main thing probably really that's is Helium 10. It's the tools. Like without the tools, I won't be in the position I'm in right now. But yeah, Amazon it is got more competitive over the years. So I think definitely understanding how the algorithm works using the right tools, having the right communities around you as well.
Bradley Sutton:
Okay. Excellent. Excellent. Now what are some strategies, let's talk strategies for the rest of this episode here. What's some strategies that you feel are a little bit unique that, that help you scale to 1 million so fast and help you build up these other brands? You know, like, I'm not talking about stuff like, oh, I tried to e keep my PPC a cost low, you know, like, everybody knows that. But like, are you doing anything unique? Whe whether it's inventory, whether it's PPC, whether it's your listing optimization off Amazon traffic, what are some of the things that you're doing that have given you the success that you've had?
Kunal:
For me it's finding markets where, or areas where there's regulation where a lot, basically you have to jump through more barriers because if you look at how many people are you know, selling on Amazon now it's really difficult for new brands to come along, but if you jump more hoops, you know, then you can get to market that you can really scale up.
Bradley Sutton:
So like looking for where there's like a lot of like government regulation or Amazon regulation where not just anybody can just launch a product, but they have to go through a process of like certificates and things like that.
Kunal:
Exactly, yeah, a combination. Because obviously Amazon have become a lot more strict, so go Amazon.
Bradley Sutton:
How do you find something, or like what's your process of finding something like that? Like how do you know if, if it's something that's regulated or not?
Kunal:
It's just time on Helium 10 is just, you know, research and then clicking stuff and then yeah, studying really. Okay.
Bradley Sutton:
And then, so that's how you get into a niche, like I guess the pet brand. And then are try and focus on like a really big hero product? Or are you trying to build, build these brands and have multiple products that are accessory of each accessories of each other, or that one person would buy multiple of?
Kunal:
The, the key at the start was trying to find a couple of hero products to just smash it. But now it's all about adding accessories other products, you know, that people will buy in the, in the niche and expanding it that way. Okay.
Bradley Sutton:
We'll get, get back to you with some more strategies soon, but Reggie, what about you after your exit? You start going digital nomad and started consulting for different brands. I'm assuming you didn't start back something within three days, like Canal here, but did you end up starting your own brand again, or is everything you do now for other people?
Reggie:
Yeah, I think it's important to always have at least one hand as an operator. So I, I have been selling since. Scaling on and off Amazon. And it's definitely, the marketplace has definitely changed a lot over the, just over the last few years. But the principles are always the same. So I think as long as you're kind of always learning the principles, learning those fundamentals and applying them, you know, the principles over tactics type of thing end up working out really, really well.
Bradley Sutton:
Okay. And so what are some strategies that you're utilizing either for, for stuff that you've done in your own brand or, or that you've seen work for companies that you've been working with? What are some unique strategies you can, you can share with the audience? Yeah,
Reggie:
I would say like and they sound very basic, but I've helped a lot of sellers at different levels from some of the biggest aggregators to, you know, some of the smallest people just getting started. And I would say at the smallest level, for people who aren't profitable yet, I love right now the strategy of still sourcing things under their $2 per unit landed into Amazon. And there's a lot of products you can find like that. It allows you to always be launching. It allows you to limit your downside risk. So I generally look for products that, that's like my primary requirement. Can I get it landed into Amazon for less than $2? And then I'm hyper-focused on differentiation. So I have a course that's literally like four and a half hours long, and all I do is talk product research, and half of it is differentiation.
Reggie:
And without having to take the course, one of the easiest ways to become a differentiation like master in my opinion, is suspend the weekend, going to Walmart, Target all your big box stores with like a notepad or your, your phone, look at every single product and ask yourself, what is this product doing better than the product next to it, above it from packaging, from whatever. And you'll end up with a list, a really exhaustive list. So I generally look at a list like that. When I enter a niche, I really try to understand the niche. And it's those, again, those principles, if you get into a niche like pet and you don't, and you realize like, Hey, the pet category right now likes you know, more natural, organic, more single ingredient human grade you know, they, they refer to their dogs as fur babies.
Reggie:
You know, they, they generally like glucosamine, salmon, you know, these different types of things. If you really, really understand and know that, you know the buyer profile, you can create that differentiation that's needed. You can pull that all the way through from your listing, your photos, your video, and have one cohesive, strong, differentiated product that really stands out. So on the lower end, it's that low price point. And I'm always watching out for regardless of size variations. So if I'm looking at a, to get into a new category, I don't want to go and be like, oh, I found the best differentiation, but the top seller can within a month launch that variation and, and, and kind of close me out. So I, I would make sure that it's not a variation heavy niche or I'm one of the first ones to be able to kind of rank in that area and then defend myself by launching variations.
Reggie:
And then really quickly on the larger scale, very, very basic as well. But on the larger scale, some of the biggest brands their knowledge of Amazon is not that in depth as a seller that's launched six or seven brands by himself and had to make, make, you know, make the rent work type of thing. So they're not as in depth on the keywords. One of the things I love doing, and I use Helium 10 as well, is I reverse ASIN of course, easy when I reverse ASIN my competitors. But what I do differently than I fail most people do is I sync, I only reverse a in the top competitors one by one, so I don't dump 'em in and get a quote unquote skewed average. I dump them in individually, and then I sort by organic position 1 through 30.
Reggie:
And what that does is for some of the top competitors, if I feel like I find, let's say somebody not even the top competitor, let's say page two, right? They're, they're not ranking they're not taking up the majority of the sales, but they're on page two and they're getting sales, so they're doing something right. But they probably aren't, they probably weren't first to market. Well, if I reverse ace in them and I see that they're ranked position five for a keyword that all of their people aren't, I actually can find these keywords early. And what ends up happening for big brands is they're ranked for these unique keywords like skincare products for women that they didn't even know about, but they actually can compete on because they have the reviews or or it's a decor type of keyword, right? There's all these different things. So finding those keywords on an individual reverse a basis has been extremely powerful, and it keeps me very focused when I'm providing consultations.
Bradley Sutton:
Okay. So now going back to this strategy about, you know, like looking at Walmart aisles and stuff now, do you pick up product first and then trying and find it in the stores to see what, what they're doing to set themselves apart? Or are you just like, is that the origin of it? You just start walking down aisles and look for unique things? Chicken and egg here, which comes first? Yeah,
Reggie:
A little bit of both. Like when you're, when you're learning high ticket drop shipping, you're doing the opposite end, which is normally like just seeing what, you know, like what's your touch list type of thing. I think on Amazon it's better, generally speaking, to go off of keywords, cuz it, you know, Amazon's a search platform. So I go off of keyword keyword research and I let my keyword research identify like, okay, you know, it's, it's a, it's a pet supplement for small dogs with hip problems. Well then maybe that's, I'm gonna let that secret opportunity there. I'm gonna let that drive my product selection, my product sourcing my differentiation. And then from there I'll let my differentiation map to the market. Like, I'm not gonna go and make a collapsible supplement bottle that makes no sense. I'm gonna go and source higher quality ingredients or, you know, look at that list that makes sense and apply that to that market.
Bradley Sutton:
Okay. Awesome. Awesome. All right. Going back to Kunal, what are some other strategies you think that has helped you and also that other sellers you think should be utilizing perhaps more?
Kunal:
Yeah. A key, a key thing I do is actually, because I know the USA market is much bigger than the UK I'll actually look at reviews and products that are doing really well there and bring them into the British market because nobody else is doing this. I found that, you know so you can look at alternative markets and bring in products. Cause one you already know if they've got good reviews. Cause we only launched products that are four star and above. We can already, without even launching the product in the market, we can see somebody else has done it, another international market and bring that in. So we eliminating all the risk.
Bradley Sutton:
Excellent. Excellent. What else? What was the thought process behind only launching in the beginning in the UK as opposed to, like, from day one, going ahead and doing Germany and Italy and Spain and things like that?
Kunal:
I think the key is, is the language barrier. Now Germany's a huge market, probably bigger than the uk but again, it's language doing all your packaging in German, but it's probably just a bit of an excuse. But now that I've dominated in the uk, it's, it feels more comfortable to do the UK first. But yeah. But now it's, it's so easy to launch in Germany because use platforms like Fiverr people per hour at work and get German translators in.
Bradley Sutton:
Okay. I mean, what's involved in it now that you're getting into Germany and stuff? Like, what's, are you having to open up a, from day one, like a VAT specifically for Germany, are you going to have to send all of your inventory over or will Amazon, you know, transfers your UK inventory? How does it work in 2023? Because I know, you know, Brexit, you know, years ago had an effect on things and, and I've never sold an either marketplace, so I'm just curious what the process is like.
Kunal:
Yeah, so it took Amazon years to catch up. So only about six months ago, they introduced a program where you could ship your stock back into Germany. But Amazon invited us guys to send the stock to the UK and they all do all the transfers for us. But yeah, we needed VAT registration. So we've, we've got that now. But yeah, we, all we need to do is send the stock to Amazon in the UK in London, and they all trans do all the transfers for us. Okay. But again, it took them two years, right? Two and a half years.
Bradley Sutton:
All right. Reggie, going back to any other strategies you'd like to share with the audience?
Reggie:
Yeah actually, I think the state of e-commerce and online now I actually, one of the things I do is I have been doing a lot of off Amazon marketing. So when I, when I start up a brand, one of the things that I'll immediately do is type my main keyword into Google with the word best. So best, you know, chef knife. And you literally just start going down Google, contacting those people, doing whatever you can to get either a back link you know, or traffic, an affiliate referral. And there's different ways you can offer offer them to put that in there. It's like, Hey, you know, are you a part of the affiliate program? If so, I'll double, triple any commission you have. I will send all post-purchase traffic back to you, and if you make a video, all different things you can do to start building an offline presence which can only help your Amazon, especially now with PPC, it's just pretty expensive.
Reggie:
So it's a lot, it's much more expensive to kind of like mess around and find out the hard way. Learning PPC in in a very, like PPC is just really hard to master. I feel like the way I'd like to explain it is like PPC is, you're playing chess, like a hundred different chess board games all at once. That's always changing all the time. So if it's just your first product and you're coming in and you only have $5,000, $3,000 or $10,000 and you need to do a $2,000 PPC launch and you don't understand what's going on, it becomes very expensive. I'm finding now taking a portion of that budget and allocating that early on to things that directly transfer to an Amazon listing, whether it's a direct URL with existing foothold traffic. Very, very powerful. And I know Pinterest is something that is definitely on. More people's minds now have a lot of traffic from Pinterest in the past pinning boards and repinning them. I have a website that does 30,000 page visits a month, and I get a lot of that from Pinterest repinning over and over again.
Bradley Sutton:
Okay. Now something I asked guests, you know, around this year is like, Hey, what are you doing to stay mentally, physically healthy? You know, I say that, and these guys saw me eating a piece of pizza right before I started recording. I'll call myself out. It wasn't my choice, but that was what the lunch I was handed. But like, you know, hobbies and, and just physical, physical you know, fitness routine and adult mental health routine. You do anything that you can share? Reggie
Reggie:
I feel like I've been through a little bit of the gamut. For me, I realized like after like the third or fourth product failure and like I really hit a really low point, and I realized it's actually not my Amazon knowledge that's getting in the way. It's myself. It's how I structure my routines, everything. So I started with just like motivational playlists. So I have some motivational playlists that I started with all the way to like, meditation. And then I actually created a journal. It's just a KDP journal. And journaling, finding some, some kind of iterative process where you're reflecting some kind of gratitude process. Some kind of like, Hey, let me prioritize my actions for the day. And then let me reflect on those actions, whether it's people I've came across emotions I've felt. So journaling's really, really helped me. What
Bradley Sutton:
What about you Kunal? Hobbies or fitness fitness routines? I think,
Kunal:
Yeah, one, one of the fundamental shifts I've had is changing my training in the morning to now afternoon, because I spend all my days just launching products, and it's quite intense, right? So now, now what I do at one o'clock, I switch off and I go to the gym for a couple of hours and then I get back to work again. But it's just changing from the morning to the afternoon. And like Reggie said, it's just the reflection piece for me. It's like every time I, I always get caught up in the chase of wanting more and more and more and then I have to take a step back and say, actually, what am I doing this for? And it's for freedom for my family, for me. So it's always, it is just taking 10-15 minutes a day just sitting down and reflecting on life.
Bradley Sutton:
Awesome. Awesome. All right, Reggie, if people wanna find you on the interwebs how can they find you out there?
Reggie:
Sure, yeah. Just type in my name, reggieyoung.com. You can find everything there. Course material and exit advice if you're looking for it.
Bradley Sutton:
And Kunal like, you don't have to give information if you don't want to, but like, if people wanted to reach out to you, LinkedIn?
Kunal:
Linkedin's best one Kunal Dattani also known as the Lifestyle Entrepreneur.
Bradley Sutton:
Well, Reggie and and Canal thank you for being part of the Sirius Sellers Club. If there's any Helium 10 members out there who have not even have no idea what I'm talking about, like if you've been selling for a year or more and are doing $500,000 of revenue per year, that means you're eligible to join this exclusive club. So make sure to reach out to customer support to get the link to join. And, you know, it's completely free to be part of there, but we have a community. We have weekly trainings that we do and sometimes networking. And it's a cool small group to be in where, you know, you don't have to worry about there being a bunch of service providers trying to sell you things. It's just other sellers just like you. So if you're a Helium 10 member, make sure to join our Serious Sellers Club Facebook group. Reggie, Kunal, thank you so much for joining, and I'd love to reach out to you guys sometime next year and, and see see where you guys are at.
Reggie:
Thank you for having us. Appreciate it.
Kunal:
Thanks for having us.
---
Enjoy this episode? Be sure to check out our previous episodes for even more content to propel you to Amazon FBA Seller success! And don't forget to "Like" our Facebook page and subscribe to the podcast on iTunes, Spotify, or wherever you listen to our podcast.
Get snippets from all episodes by following us on Instagram at @SeriousSellersPodcast
Want to absolutely start crushing it on Amazon? Here are few carefully curated resources to get you started:
Achieve More Results in Less Time
Accelerate the Growth of Your Business, Brand or Agency
Maximize your results and drive success faster with Helium 10's full suite of Amazon and Walmart solutions.