#344 – Etsy Product Validation, Facebook Ads Strategies, And More!
Podcast favorites Schrone Hardeman and Shan Shan Fu are back for updates on their business and new strategies if you're selling in multiple eCommerce platforms.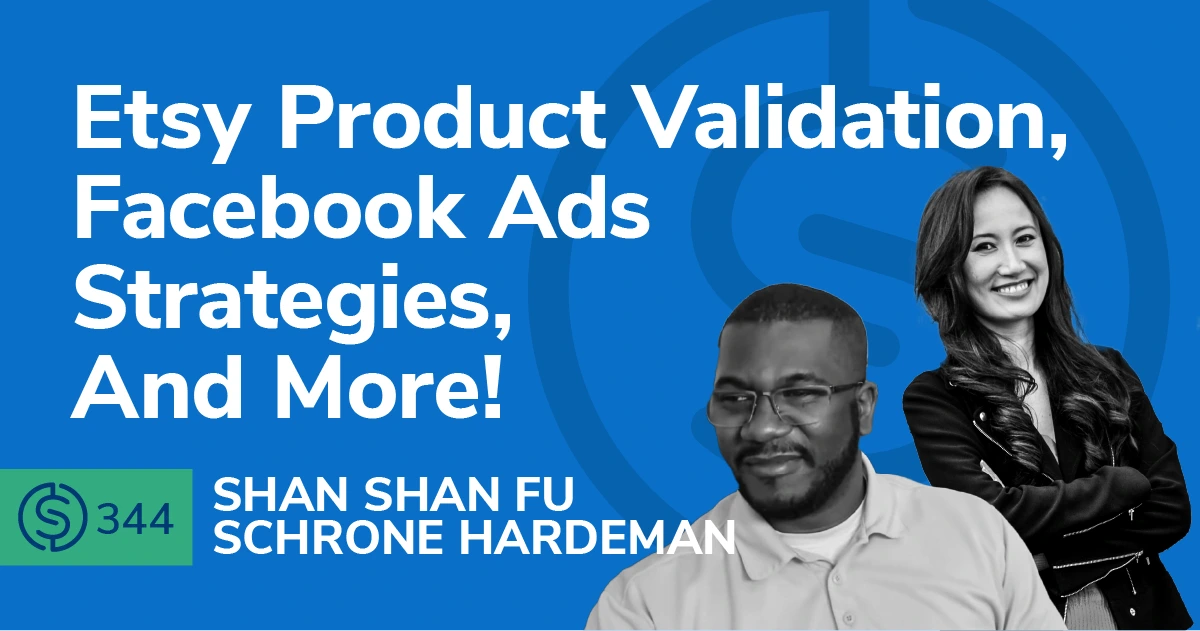 In this episode, Bradley welcomes back favorite SSP guests, Schrone Hardeman and Shan Shan Fu to talk about updates on their Amazon businesses. The challenges and lessons from the past year. Insights and strategies for sellers who are currently selling or plan to sell on multiple E-commerce platforms or marketplaces like Amazon, Etsy, Shopify, and Walmart. Plus some cool strategies on how you can use Etsy for product validation, leveraging Facebook ads to increase sales and brand recognition, and more!
In episode 344 of the Serious Sellers Podcast, Bradley, Schrone, and Shan Shan discuss:
02:00 – Real-Life People With Real Life Stories
03:00 – Finding New Products To Sell After Selling Masks In 2020
04:00 – Challenges And Lessons From Shan Shan's New Products
07:00 – Revisiting Her Goals From The Previous Years
10:00 – Business Updates From Schrone
11:30 – What Is The Defensive Advertising Strategy
13:30 – Research The Platforms You Want To Sell On Too
15:30 – Testing Products On Etsy Before Bringing It To Amazon
21:00 – Using Logistic Services, Is It Worth It?
24:00 – It's All About Profit Versus Time Balance
25:10 – Etsy Selling, Product Research, And Listing Optimization Tips
29:45 – Outside Traffic Decreases Organic Traffic In Etsy
31:15 – Using The Amazon Attribution Link
33:00 – Market Tracker Changes In Schrone's Niche
37:20 – Leveraging Facebook Ads For Better Marketing
38:45 – Shan Shan And Schrone's 30-Second Tips
42:30 – What Are Their Goals For The Next Twelve Months
43:50 – How To Reach Out To Schrone
44:15 – How To Get In Touch With Shan Shan 
Transcript
Bradley Sutton:
Today, we're bringing back a couple of sellers for our podcast listener favorites, and they're gonna catch us up on all the strategies they've been using on things like Etsy Product Validation, Facebook advertising, and more. How cool is that? Pretty cool I think.
Bradley Sutton:
If you guys would like to network with other Walmart sellers, make sure join our brand new Facebook group called Helium 10 Winning with Walmart, you can actually just search for that on Facebook, or you can actually go to h10.me/walmartgroup, and you can go directly to that page. So make sure to join. You can tag me and carry with questions and ask questions of other Walmart sellers, or even share your own experiences in that Facebook group. Hello everybody, and welcome to another episode of the Serious Sellers Podcast by Helium 10. I am your host Bradley Sutton, and this is the show that's a completely BS-free unscripted, and unrehearsed, organic conversation about serious strategies for serious sellers of any level in the Amazon, Walmart or e-commerce world. And we've got a couple of my personal favorites here who have been on the podcast before the double S crew actually kind of like triples. Like my Balenciaga shoes is called triple S, but we've got Schrone and then the other double S here is Shan Shan how's it going, guys? It's
Schrone:
Going great. How are you?
Shan Shan:
Doing great.
Bradley Sutton:
I'm doing just delightful. All right, now guys we're not gonna go too much into their backstory because we've had them on the podcast before. So if you wanna see their original episodes Shan Shan was episode 234 and then Schrone has actually been on here twice in room 112, where the players dwell episode 112, and then 231. So we guys gonna like use this episode to kind of catch up with, with what you guys have been ha have been doing in the world of e-commerce and things you've started doing things. You've stopped doing things you're maintaining. It's all good information because like I've always said on this show, I like capturing people real life stories who are not major influencers who are going on the speaker circuit, like Kevin King and stuff.
Bradley Sutton:
It's great to hear from them, but, you know, I learn from people like that, but I get inspired by people like you because that's who we can relate to. So let's start with Shan Shan, now you know, this is kind of a timely story because I remember how originally you started in masks. And so now all of a sudden now mask mandates are going away left and right. They kind of did a while back too, like a year ago or something. And then they, they came back, but like you probably saw the writing on the wall a long time ago, and that's why even more than a year ago used to are to kind of like diversify the product categories you're in. Right?
Shan Shan:
Yeah. So a Mask really well the first year of 2020, but then I knew it couldn't last forever. And I knew I had to, you know, quickly get some new products to maintain the sales. So the first year I did Mask the second year, I basically maintained, maybe did a couple of launches here and there, but weren't a huge success. And this is my third year. And this third year I'm like, you know, Maks are really going down. So I need to launch 50 to a hundred products this year. That's my goal.
Bradley Sutton:
That is ambitious. I like that. Now, right at that time, when we had you on the last one, you were just getting into kind of like new categories for you, it was like the socks and, and kind of like clothing. How did that end up? Me personally, I'm not trying to say this, like, Hey, nobody should sell apparel and things like that. I was always scared of like the apparel because of like return, you know, like nobody's gonna return a mask. Right? Yeah. But I would think, you know, but, but like, I'm like, man, what if returns are too high or people complain about fit? Like, what were your ups and downs in this new category in the last year and a half?
Shan Shan:
You, yes. So I did three categories and I'll tell you exactly how they went first were like socks, like accessories. Right? they actually did pretty well because it's one size fits all. There's not a lot of returns. And they were small and they were light and they were simple. The second category was dressed, which did not make money. I actually would've had more money if I didn't launch it because I lost money on that. Because of returns. Yeah. And women's fashion is just very fickle. And then the third category was lingerie, which was even worse than dresses because now not only do you have the returns that you have to deal with? One thing I didn't realize, and I should have realized this earlier is you can't do Amazon pay-per-click with lingerie.
Bradley Sutton:
Now that I think about it, that kind of I guess that kind of makes sense because you know, probably the images are a little bit by definition, a little bit risky or something. They don't want it just showing up on random, you know, you got some like 10 year old shopping for something on Amazon and then lingerie picture comes. So I guess it kind of makes this, but wow. I didn't know that. So like, it's not, you know, like there are some categories, like, for example, I'm doing this case study that I've talked about on this show, like for hemp cream, it's like a hemp pain cream. Now, you can't get brand registered for that. And so you can't do sponsored brand ads, headline ads, sponsored, display, things like that, but I can do product targeting and ASIN targeting. But are you saying like in lingerie you can't even do that?
Shan Shan:
I don't think you can. Yeah. I try to launch it immediately within a day, but Amazon prohibited the ASIN. So no matter how many campaigns you start with that ASIN, it would just keep getting banned.
Bradley Sutton:
Okay. So then, so then the dresses and the linger, like, did you just like try and sell out and just retire hose lines or you still just trying to do it on another platforms, or what's your strategy there?
Shan Shan:
So the linger was a total bus. That's just money lost. And a lesson learned the dresses. Last time we talked about the 80-20 rule, even though 80% of the dresses failed, one kinda succeeded. So out the six dresses I launched, that's one that kinda succeeded. So I actually did keep ordering more of that one. And I'm hoping one day it's gonna be profitable. It's almost there. The return are just a little bit lower and the reviews are good. Good. It has some promise. And then socks and accessories are going well.
Bradley Sutton:
Okay. Okay, excellent. Now, when we had you on the last show, I'm looking at my notes here, we always talk about goals and it's great if we can reach the goals, but if, if you don't reach your goals, it's the important thing guys is don't give up. So your goal that you had said was, Hey, I, I wanna double my business overall because you know, you were dip, I remember you know, for those who hadn't heard it yet you know, she gave up a six figure, like corporate job in order to really go all in on this e-commerce thing. And so you were having to dip a little bit into your savings, you know, back in those days, you know, and how it is when you start a business online, it's not like you're a six figure seller from day one. Right. So how do you do with that goal? Like, were you able to increase your sales? And if so, like, was it to the point of not having to go into your savings anymore?
Shan Shan:
You know what the good news is right now, my sales is more than 80% not masks. So the mix is now most majority not masks. The downside though is, remember I said, the second year, I didn't do much. I just maintained see, that's what I should have done those 50 to a hundred launches because now I'm late. And therefore my sales just overall went down. Okay. Yeah. So now this is, this is my year to ramp back up and get aggressive again.
Bradley Sutton:
Okay. Well, we're gonna talk about, you know, the strategies you have planned out and that your views, I know you, you're actually pretty cool for some non Amazon strategies and we'll definitely get into that. Let's switch to Schrone now, Schrone it was actually great meeting you in person, you know, since the last episode we had, I always wondered if that was gonna happen, cuz cuz you told me that you don't like to fly very, very much. I hats off to you for overcoming your fear of flying. I don't know if you heard my episode. I did like my own personal life story kind of thing, and I talk about that. How sometimes there's some stuff that you just have like as a complete phobia and you can't do, like, it's not a mind over matter, like me and eggs, like I'll eat you know, like cake and stuff that has eggs because I don't taste it, but I have a mental thing where I cannot even sniff eggs or I'll probably like throw up there's no mind over matter or you can't pay me a hundred thousand dollars and I'm just gonna be okay with eating eggs.
Bradley Sutton:
But then on the thing where it's like, Hey, it's like not complete phobia, but can you overcome it in order to, to reach your goals? You know, like me, I actually am not, you know, people always get surprised about this. I'm not very sociable of a person, but in my job, I cannot really afford to not be social. So if I to go to an event, I gotta like force myself to be friendly and talk to everybody and stuff and I can handle it. And I'm glad that the fear of flying was not on full phobia level for you, but you overcame that and we met, was it at Prosper that we met?
Schrone:
Yeah, it was Prosper.
Bradley Sutton:
Okay, cool. So anyways that was great to meet you in person. And we actually shared the stage there at Prosper. I was on a panel with you. So that was really great to see your journey from nowhere in the Amazon industry. Now you're speaking in front of hundreds and hundreds of Amazon sellers. That's really awesome. But what's been going on with you with your business? Like I remember you had that one brand, have you stuck with that same brand or, or have you tried to like, like Shan Shan go into, you know, other new categories at all or anything?
Schrone:
So I'm still building the catalog for my first brand. The long term goal is to get enough products underneath that catalog to potentially exit out with a sale of the business. A long time goal, but I currently have two products 30 SKUs. But I recently, I might say launched but started a third product that has 15 more SKUs on top of that.
Bradley Sutton:
In that same kind of niche that you were already. Okay, cool.
Schrone:
Actually, the third product is competing against the first product.
Bradley Sutton:
Okay. So then what was the thought process there? You know, like some people just might hear that. I know you have a reason, but you know, some people just might hear that at face value and like, wait, why are you trying to cannibalize your own sales? So walk us through that.
Schrone:
Yeah. The thing is with my first product it is somewhat an apparel like Shan Shan is what I feel like I've researched good enough is that it, everybody, all the audience that I'm targeting always want the, the latest model, the newest version. And what I've come to come conclude is that I have to come out with a newer model as a marketing strategy. And a part of that marketing strategy is to product target on both products, each other's product. So I'm gonna leverage my brand name and the 4,000, 5,000 reviews I have on my first product to help launch third product, which is in the same category, pretty much the same product, just the 2022 model.
Bradley Sutton:
Okay. Okay. That totally makes sense. You know, some people call it like, you know, defensive advertising you know, strategy where, you know, Amazon gives so much real estate now on product listings from sponsor display to the whole four stars and above sometimes you'll see the, or the other sponsored products. And so, you know, the more you can put your own products there then than theoretically speaking, the less sales you might lose to competitors as opposed to non-branded. Now I remember you also talked about, Hey, you wanted to kind of expand a little bit off Amazon, you know, like you been talking about QVC and, and potentially other things. Were you able to get off of Amazon, be it Walmart, you know, Shopify, or things like that?
Schrone:
Yeah, I actually, that was pretty much the majority of last year of the last 12 months. Since then I've went into Shopify Walmart, and I just opened up an Etsy shop as well. Didn't do QVC.
Bradley Sutton:
Okay. Now, what's been some of the biggest struggles in these other marketplaces. You know, sometimes I like to say as Amazon sellers, we get spoiled of, you know, I don't wanna say it's easy, but, but when, once you, you start, you know, getting on these other marketplaces, you kind of see that some things on Amazon are pretty easy as far as traffic and how intuitive their PPC platform you is. But what are some of the kind of like culture shocks you got in these other marketplaces?
Schrone:
Two of the biggest things I've realized since expanding beyond Amazon is one there's no other marketplace out there that's gonna provide that type of traffic for that type of price. Right? And two product sales are in my opinion platform specific because the product that I have on Amazon sell really well on Amazon. And it sells okay on Walmart. So, when I coach people, I tell people like, Hey, if you are, think if your research the platforms you wanna sell it on too, because you, you're not gonna sell a $600 product on Amazon as easy as you could sell it on Shopify or vice versa.
Bradley Sutton:
What have you how has it been for you as far as Amazon to Walmart sales? You know, for some people it's like 10 to one other, people's like 20 to one other people it's like three to one only how's it been for you?
Schrone:
Yeah, I would say somewhere between 10 and 20 to one.
Bradley Sutton:
Okay. Okay. Now, is that because of the size of the niche? Like, do you have do you see your competitors on Amazon also on Walmart or is it just like, not many people are searching for it on Walmart? Like, have you checked, you know, now that Helium 10 has this Search Volume for Walmart, you know, before we used to just say high, low in medium, but now we actually have the numbers. Have you done any comparisons?
Schrone:
I have, but one of the biggest complications for me is that the category on Walmart is half the price collectively as it is on Amazon. And cause I've gotten my ROI at a certain percentage a certain percentage to be great on Amazon. If I were to lower my price on Walmart, I'd be losing money. You know, and I haven't tried their fulfillment services yet, but I pass.
Bradley Sutton:
You can't really lower your price on Walmart because if Amazon detects that, then they'll probably take away your buy box on Amazon. Right.
Schrone:
That's what I hear.
Bradley Sutton:
Okay.
Schrone:
And currently, I'm like one of the higher priced product on Walmart in that category and I still get sales and that's because I believe the audience, they do price check with Amazon and Walmart back and forth.
Bradley Sutton:
All right. Let's go back to Shan Shan a little bit, you know, we're talking, we're on the topic of other marketplaces now actually you started your journey on Etsy and you've got some from what I hear some, some like unique strategies of now it's not like you're just using Etsy as another source of income, whereas another marketplace. But if I'm not mistaken, you kind of almost use Etsy as like atesting ground for your new Amazon endeavors, right?
Shan Shan:
Yes. Actually, you have great memory, Bradley. Yeah.
Bradley Sutton:
I remember you told me that and I was like, Nope, I don't wanna know anymore. Like, let's save it for the episode. So like that part I knew, but the rest of this I have no idea what you're about to say. So please inform us all.
Shan Shan:
Yes, exactly. So I notice that with Etsy and Amazon there is a correlation between how successful they are. So if something succeeds on Etsy, there's a 90% chance it'll succeed on Amazon. And that's not for all categories. Like some categories, people just don't go on Etsy, like sports categories, right. But for fashion they do. And so what I would do is on Etsy, launching products is super fast. There's not even a, 24-hour wait, you know, you just literally can launch within five minutes and on top of that, you don't need a barcode. And you can launch their Etsy ads very quickly as well. So what I would do is I would take a product that was launching launch a on Etsy first and launch it just for like three days and give it a small amount of Etsy ads budget, like $10 a day and see how it does.
Shan Shan:
And if there is a certain click through rate, a certain conversion rate, and a certain add-to-cart rate, I know that it's a successful product, I know in the 80-20 rule, it's gonna be that 20%, not that 80%. Then I take the ones that are the 20% that hit those benchmarks. And I launch it on Amazon and it almost perfectly matches if it succeeds on Etsy, it succeeds on Amazon. If it fails on Etsy, it fails on Amazon. So this way instead of sending expensive pay per click on that 80%, that would fail. I'm only spending pay-per-click funds on the 20% I know will succeed.
Bradley Sutton:
Okay. Now, how are you, how are you getting stuff to sell? You know, cause like, obviously if you're gonna launch on Amazon, you're probably doing like a big production run or something and ordering a lot of units, but then how do you get the inventory to even see if you can sell on Etsy or are you not even selling on Etsy? You're just looking at only the clickthrough rate.
Shan Shan:
I am selling on Etsy, so I would just launch Etsy first and use their Etsy ads to get traffic.
Bradley Sutton:
But where are you getting the, I guess I phrased it wrong, like the inventory in order to, you know, if somebody does buy it on Etsy in this like test listing, like or are you actually like, Hey, I'm gonna go ahead and order 500 units and, and put it and hope it sells on ETS.
Shan Shan:
So I do something very low risk. I order less than a hundred units on my first run. Okay. And that's my test unit. So when I do launch it on Etsy, I'm selling it.
Bradley Sutton:
Yep. Okay
Shan Shan:
And so I'm just using that to gather data. Once I have that data and it's a success, a 20% winner, then I told that product and launch it on Amazon with the same, less than a hundred units to also test it on Amazon. And then once it's yes on Etsy, yes on Amazon, then I order a couple of hundred units.
Bradley Sutton:
Okay. And then probably you get some, you know, volume discounts and things. So maybe you're paying a little bit more for those initial runs, cuz they're small, less than a hundred, but you know, you can't really put a price on this risk management. I guess it is to kind of test it. I like that. All right. Now overall, what is your ratio? You know, I'm pretty sure your ratio is not 20 to one Amazon over Etsy, you know, like Schrone is for Walmart, Etsy's a different beast. Like, do you actually sell more on Etsy than Amazon, or is Amazon bigger, and what's the difference?
Shan Shan:
You know funny, you said 10 to one that is the right amount for my Amazon to Walmart. And then Etsy is more like six to one.
Bradley Sutton:
So six is Amazon and one is Etsy, or six is Esty?
Shan Shan:
Six is Amazon.
Bradley Sutton:
Okay. Interesting.
Shan Shan:
Yeah. And then Walmart's 10 to one.
Bradley Sutton:
All right. Now for Walmart and Etsy, how are you fulfilling these orders? Are you using like WFS for Walmart or are you doing it all yourself or do you have a third party place who does it for you?
Shan Shan:
Right now? Because it is 10 to one and six to one. I just do it myself. But eventually
Bradley Sutton:
I do too for me. Yeah.
Shan Shan:
Yeah. But eventually, when it grows, I'm hoping to, you know, get Amazon fulfillment to do it or get some sort of fulfillment program.
Bradley Sutton:
Okay. Excellent. Excellent. All right. Schrone what about you know, like I remember you were looking into WFS, if I'm not mistaken, did you ever sign up for WFS, or are you also just using like third party warehouses to fulfill your Walmart orders and shop tie orders?
Schrone:
I'm using deliverers since I have like three platforms outside. Well, I actually have Amazon FBM as well, so I use deliverer with two hours to fulfill my merchant purchases.
Bradley Sutton:
Okay. And then, like, have you, have you calculated the difference, like for an FBA order? What you know, how much more deliver is costing you at the end of the day
Schrone:
You talking about for Amazon FBM order?
Bradley Sutton:
No, like for example, like me, you know, I'm kinda like Shan Shan in that I, I, I handle my own shipments, like, so for example, I actually, for my FBA and FBM or for Walmart, for whatever it is, I put it at the same price. So like, let's say, you know, Project X coffin shelf is 30 bucks, right. Free shipping, I'll charge FBM 30 bucks. Now Amazon's just shipping rate. You know, it's a lot cheaper than what I can get. I just pay stamps.com you know, for shipping, but with the money that I do not have mean to pay Amazon for like their pick and pack plus shipping FBA inventory to Amazon, it almost comes out to like where I'm kind of like making the same amount of money regardless of its FBA or FBM. Now obviously 98% of my sales come from FBA, but I'm just curious, like for what you pay, you know, what, you know, you pay Amazon for just a regular FBA order, as opposed to you just have this inventory and deliver and storing it, like, would you to make the same amount of money on FBA orders? Would you have to sell it for more to make that same profit with deliver or does it come out almost even?
Schrone:
So, I, technically I do sell it for more, but how structured is that? I found that the 4.99 flat rate shipping price, a lot of customers don't mind paying that even after they find out that it's an added surcharge at the end. 4.99 is just a great number. And, and for my Walmart and my Shopify, they're selling pretty decent to have deliver fulfilled for me. I just pass a part of my FBM fees for deliver as a shipping cost. Cause, for instance, my Walmart fee using deliver is 6.42. Right. And I charge 4.99 extra on top of that. So actually I'm paying 2.99 or something like that for fulfillment and I would do that all day.
Bradley Sutton:
Okay. Okay. Now what, what, you know, what kind of person do you suggest to follow that, you know, like for example, you know, Shan Shan I think she's doing the right thing, especially, you know, her products are small, I'm assuming she'd probably use the postal system, which is pretty cheap, you for small items that fit in envelopes, cuz they're just, you know, either masks or socks or things like that. And it's not that many, you know, me, the reason why I do, even though they're bigger coffin shelves and sometimes, you know, higher shipping is cause I got a warehouse in the back of my house. So it just makes sense. I'm not gonna use a third party, but for you, why did you choose a site like deliver and then what are some other scenarios where it would, or wouldn't make sense, you know, for somebody to go that same route that you're doing.
Schrone:
So of course everybody is different and everybody has their own reasons. I value my time. I value my freedom of time. Having a demeanor of being retired from the military, I don't wanna be bogged down to anything hourly or at, you know, to vote a certain time at a specific time every day. So the $3 in fees I pay per sale or whatever it may be, I feel like that is a great amount of money to pay for the ability to not have to worry about sending it out and buying stamps and doing everything that a merchant would normally do if they were doing it themselves.
Bradley Sutton:
Okay.
Schrone:
Yeah. My recommendation is for, you know, it's a profit versus time balance that the individual have to figure out for themselves.
Bradley Sutton:
Okay. And, but the point here, guys, as you can see with all three of us, we're all doing kind of like a little bit different things so that it's not like a one size fits all. It's not like sh stocks one size fits all for everybody. As far as what you should do for– you see how I tied that in there guys. Okay. And for fulfillment, but anyways to you what are some et Etsy tips and tricks, you know, like, like of course, yeah. I understand, I think we all understand how easy it is to get products on Etsy, but at the same time, I know you're not saying, Hey, just, just throw anything random up on Etsy. And like in three minutes you're gonna have a listing and it's gonna sell like, what are some like listing optimization techniques? Like how do you find the keywords for Etsy listening? You know, like what do you do differently on images on Etsy as opposed to Amazon? How do you manage your PPC? Like, can you talk about like, pretend that I don't know about selling it on Etsy and talk about the differences between Etsy and Amazon?
Shan Shan:
Yeah, sure. So on Etsy, what's really cool is that they tell you, they tell anybody, literally anybody, how many products are in someone's card for an item. So if you go to a competitor, right, and you look at their socks, you can look through their catalog and et will be like, this sock has 20 people have it in their card. This sock has zero, this sock has seven. So you can look at your competitor and know exactly which products are selling. So that is great product research, right? And likewise, people can then go to your website and store and see which products you are selling. So that's good for research, but it's also good are when you're doing the tests, right? Because sometimes you're getting conversions, but you don't know if you're getting add to carts, and add to carts, do improve your ranking and algorithm. And that is also an indicator that your products, a successor that it could be. I call these tier B products. Tier B products are the ones that aren't converting as high, but you're getting lots of add-to-carts. So if you don't give up and you keep at it, maybe one day, it can grow to a point where it's the tier A product on Amazon
Shan Shan:
So that's a good thing for Etsy that you can look at. And the other great thing about Etsy is that Etsy tells you which keywords people use to find you on Etsy search Amazon. Doesn't tell you that Amazon only gives you the pay-per-click data that you have to buy. So that's another reason why I use Etsy for tests. You launch a product for free, and then after a week or so you can see, oh, so these are the keywords people are finding this product on. And that's very helpful for your Amazon keyword targeting.
Bradley Sutton:
Yeah. Yeah. I like that. Especially, you know, cause for people who are using Etsy and things like we did on Project X to find the coffin shelf, you know, the whole reason we find product ideas on Etsy is because it maybe doesn't exist on Amazon yet. And so it's not like you can just go into Helium 10 and run Cerebro on the top five ASINs, cuz there are no top five coffin shelves or there weren't like, you know, two and a half years ago. So a lot of your keyword research and things has to come from these other platforms like Etsy. So that's a good tip right there. On images, me personally, I notice that main image, not a lot of white background, first of all, that's not a requirement on Etsy, like it is on Amazon. But it almost seemed like I would say that you– not only it's not a requirement, but like you literally should not use a white background for your main image. It just, it loses the kind of like organic or, or homemade feel. Do you agree with me there, or what's your strategy?
Shan Shan:
I love that Etsy, you don't have to use a white background, but I think it's equal, and the I think that it's equal, I have products with white backgrounds, I have products with no white background. So I don't see a huge difference, but the flexibility is huge. Like on Amazon they're so restrictive like the sock has to have a white background and it has to be standing in this specific position, whereas on Etsy, I can have the sock, like lie in a bed. Right. And have, you know, and the bed can be part of the image and that has really helped with clicks. Because some people like to see that lifestyle image as the first image. So yeah, Etsy does have a lot more flexibility with pictures and I love that.
Bradley Sutton:
Okay. For Amazon Etsy, Walmart, are you pretty much forgetting eyeballs on your listing? You know, do just relying on the in-app advertising like PPC and Amazon and, and then like you said, the Etsy ads, or are you doing any kind of influencer marketing or paid ads on Google or Facebook or anything like that?
Shan Shan:
So I have a controversial opinion about Etsy and I hate this opinion. I've tried to do influencer and I also have press about the company and they have links to my Etsy shop and it would drive outside traffic to Etsy shop, which kills the Etsy shop. And I hate that. I, for some weird reason, every time there's outside traffic, the organic traffic that Etsy brings to you that the organic ready-to-buy traffic, where people are gonna convert drops significantly, like in proportion almost how much outside traffic comes in. My theory and why think that's happening is cuz the conversion rates go down. So when after traffic comes in, they're not coming at the ready-to-buy, you know, conversion rate. They're just like seeing what's going on. So they're not really converting and oh my God, all this traffic coming and not converting, we're just gonna drop their organic traffic. And that, it sucks. So I really don't–
Bradley Sutton:
So then, would you say then if you had to do it over some of those influencer or presses press releases and things like that, would you have sent them only to your Amazon instead of Etsy?
Shan Shan:
I think now if I had to do it over, I would send it to my Shopify. Okay. Right. Or there'd be no fees and there's no algorithm. I haven't tried with Amazon. I'm curious your guys' opinion, sending influence from traffic to Amazon. I'm scared.
Bradley Sutton:
Especially now I would do that attribution look into at the Amazon attribution. Now they have some links, you know, I'm not sure if it's just across all platforms. I'm just barely getting into that. I'm always late to the game with things come so busy here. But, but you know, certain things like, you know, TikTok links and things like that, where if you use the Amazon attribution link and it goes to your Amazon store, you're actually getting like a 10% kickback from Amazon. So like, let's just calculate. If you have a hundred dollars product and you're paying Amazon $15 for their 15% commission, if the sale came through one of these attribution links, as I understand it, you're getting $10 back. So you're not paying $15. You're only paying $5. So then what happens is like, let's say it's from an influencer you know, and this Paul Barron talked about this a few episodes ago where it's almost like you can offer to this influencer, Hey, I'll give you 10% commission on any sale you drive to my store.
Bradley Sutton:
And look, I got this attribution link, so you can, we can all attract, you know, how much you're doing. And so they're all stoked that they're getting 10%, $10 on this a hundred dollars product. But actually you are out zero on your pocket because you're getting that $10 back from Amazon. So yeah. Sh I want you to, you obviously have some, some techniques because you are able to drive traffic to your Etsy and, and you know, Shopify. So try that attribution thing. I'm curious how, how that works out for you.
Shan Shan:
That's huge. I did not know about this Bradley. That's something I would definitely work on. Cause I was too scared to drive traffic to Amazon. I was scared I was gonna do what happened to Etsy. Right. So thank you. Lemme try that and see how it goes.
Bradley Sutton:
Sweet. Schrone back to you. Do you use Market Tracker from Helium 10?
Schrone:
I don't use Market Tracker because of the variations, but I am using–
Bradley Sutton:
You should, but just don't you just gotta know, Hey, don't put all the child items. You just gotta put one in there, but anyway, my reason regardless if you use market tracker or not, I'm just curious, what have you noticed over the last, if you're not using Market Tracker, I'm sure you're, you're still tracking your market somehow, you know, how has your niche changed? Like, like, are, has it gotten saturated, like have you lost market share where maybe you were number one or number two or number five, but now you notice that you're kind of falling down, have you improved, you know, like talk to me about what's been going on there.
Schrone:
So I would consider myself the top 10 style of my first product. Yet I am not in the top 10 spots of rank because of all the different styles. What has happened with my category is there has been a lot of foreign sellers, particularly from China, that came into the market and has undercut the market significantly. But those who are not from foreign or Chinese sellers have stayed firm. And I'm so thankful for that. They stayed firm at the price that we have been at for the last four years. So there's clearly a bar of $25 to $35 products and $15.99 products. Right. And I think that's good because when the customer comes and see that they can determine a set of quality, they, I would think that they would associate a quality to price type deal. And the reviews have reflected as such too.
Bradley Sutton:
That's an important point. You know, sometimes people think, oh, you know, I'm making my product in China. I'm making it in India and Pakistan. Once, you know, some of these local distributors and local factories just start selling directly on Amazon and they can sell it for a price cheaper than me. Like I'm gonna be dead in the water. I'm not gonna make any sales cuz, why would they buy a $30 product when they can now get it from this Chinese or Indian or Pakistani company for only $20. But what they don't realize is okay, maybe, you know, for those cheap skates out there who are just looking for the cheapest price. Sure. Maybe you'll lose those sales, but it's not like your sales go to zero because people still do understand that, you know it's about quality to, and they're not just looking for the cheapest price they're looking for, you know, the nice looking listings, the ones that have great reviews, which you have, I think you said you've got like, you know, three, four, 5,000 reviews already. So even though you've had this influx of cheaper products, you're still staying fairly steady on sales.
Schrone:
Yeah.
Bradley Sutton:
Cool. Cool.
Schrone:
And as far as the other platforms go my way of driving traffic to them is using Helium 10's Portals. I have a landing page and what I've done against everybody's, I guess you could say direction was, I've created a, a, a lending site that has options for my customers on my lending site. I have four links, one of Amazon, one of Etsy, one on Walmart, and one on Shopify. And I express it as such, I say, Hey I know you like options. I know because you have told me, you like options. That's why I have so many colors and sizes. Here's another set of options for you for those who normally shop on Walmart, those who normally shop on Amazon for those who normally support local businesses, Shopify, for those who normally support, you know, Etsy, here you go. And what I've found out in that link is that the clicks, you know when you look at the data, the biggest landing page you have is two trackable links. And I put those as Walmart and Shopify, and those are almost equal.
Bradley Sutton:
Okay. So, you're using trackable links. So you can kind of see what people are clicking to the most. And you're saying the Walmart and Shopify are equal to each other or equal to the Amazon
Schrone:
Equal to each other.
Bradley Sutton:
Interesting.
Schrone:
Yeah. And Amazon, I need to change that link out to an Amazon attribution link. But right now, as of right now, I just have a canonical link in there for ranking purposes and I have my se store link in there as well.
Bradley Sutton:
How are you even getting people into the Helium 10 Portal? Is this something, are you running ads to this landing page or are you talking insert card that you're doing after the purchase? Or how is this happening?
Schrone:
I have social media ads where the shop now button is the link to the Portal.
Bradley Sutton:
Okay. Talk to me about that real quick. You know, I wanna get into the strategies here, but I didn't even know you were doing something like that. That's interesting. So, how do you decide who to target your budget and, and do you feel you're getting, you know, bang for your buck your advertising buck,
Schrone:
Right. So of course, you know, with Amazon being 80% of my revenue, all the focus is on Amazon and PPC ads. But the other 20 that I have right now, I'm putting in towards a Facebook advertisement where I feel like my target audience of pregnant women from, you know, 20 and older 12. And I how I decided to target them is to leverage who is in my Facebook business page. I have 18,000 pregnant women there, or mothers there now. Right. And all they're doing–
Bradley Sutton:
One thing is they pregnant it for longer than a certain period of time.
Schrone:
But yeah, their demographics are available to me because they're part of my business page and I target them.
Bradley Sutton:
I like it. I like, and you're able to stay profitable, whatever your budget is, when you look at the numbers, it, it's still making sense where like, Hey, it's, this is generating enough sales to cover this advertising
Schrone:
Enough sales from Shopify and Walmart covers the daily budget.
Bradley Sutton:
Awesome. Love it, love it. All right. Shan Shan and back to you, you know, you guys are podcast veterans. You know how we have our "TST", our 30-second tips. I'm thinking maybe we can do one or if there's time to each. So what's, what's a 32nd tip that you have for people could be about Etsy, could be about you know, Walmart could be about Amazon, whatever you want.
Shan Shan:
A 30-second tip would be to launch on Etsy and then find out what is the stats that you need for it to be a top 20% seller. And you do that with just the products that you currently have. I found that the stat I need is I need the click through rate to be above 0.8. And I need the conversion rate to be above 2%. And I need to add-to-cart rate to be above 4%. And if that hits all three, then I know it's a top 20% seller that I can then sell on Amazon.
Bradley Sutton:
I like it. I like it. She's opening up her secrets to us. All right. Schrone your turn for a 30-second tip from something you've been doing, or maybe somebody in your community you've seen, done hit us with one.
Schrone:
So I've had a lot of people come to me saying that the product that they chose, wasn't no one that started the business and they wanna liquidate. But as you all know, finding a liquidator on certain can be hard or troublesome. And if you decide to sell to Amazon it's pennies on a dollar, right? So my tip for those who are in the process of liquidating, or want to liquidate a product from their catalog is to advertise. Now, lemme explain if you run PPC on Amazon and you discount it 50% of higher, right. What we know from that is that if you do that, hijackers are gonna come buy you out and then hijack your listing. And that's the fear that everybody does. Right. But if you plan on selling out, you don't plan on using that listing again, right. So I tell my guys to cover your costs cost of good, your FBA fee, right. And maybe two or $3 on top of that to break even, or whatever, cover the 60 cent for the coupon that you're gonna put on there and see how much of a percentage you can discount your price to. And so far, I've had six or seven people that have done that and have liquidated their process in less than two, three weeks
Bradley Sutton:
And not having to do it just for pennies on the dollar. Like if you do the Amazon liquidations.
Schrone:
Right. And most, most of them are broken even.
Bradley Sutton:
Yeah. Which is pretty much all you wanna do. You know, that's a best case scenario right there, if you're trying to liquidate. Right. Yeah. You have anything else for us, Shan Shan?
Shan Shan:
No, it's just, try all the platform guys, like try Walmart, try Amazon, try Etsy, have them work together. And I love that helium now has Walmart. I use it all the time.
Bradley Sutton:
Awesome. Okay. That I didn't even think about that, but here, we've got an episode of two people who are both selling on at least three different platforms each if not four. And so, I think a lot, you know, three, three years ago, you wouldn't have heard of that, you know, much, you know, unless you're like, oh, I'm an eight figure seller. So of course, you know, I'm on all these platforms, but guys, you know, you're a six figure seller. Even before you hit six figures, you should probably start considering selling on Walmart and these other websites. You know, like not everything can go on Etsy. Like if you've got a, you know, a remote control car, that's like not allowed to be on Etsy, but if you've got something that qualifies to be on Etsy, it's a great platform as Shan Shan has said to sell on it, you know, Sheron said, you know, Shopify guys, you know, you don't have to worry about that 15% you know, commission to Amazon. There's a lot of benefits on Shopify as well. So, be thinking of these other platforms now, you know, at the end of the last episodes I had you guys on, you know, I'd ask about what the, your rest of your 2022, maybe beginning of 2023 goals are. So, Shan Shan let's stay with you for a little bit, you know, maybe we'll have you on 2023, the summertime, what would you like to be able to say you've accomplished on that episode, you know, starting now.
Shan Shan:
So, my goal is this year to launch 50 to hundred products. So far I've launched 30. So I have more products to go. And so next year, this time, you know, I'll let you know how those products launch went. And right now it's consistent with the 80-20 rule. 20% of those 30 are selling well. And I also wanna delve into other venues of getting traffic in sales. I haven't been doing influencer as much, and I would like to do that. So I just started, I had a couple influencers just launch my products with me and we'll see how that goes. So next year I'll have a full debrief of how the influencer strategies went.
Bradley Sutton:
I love it. Schrone, what about you what's what would you like to be able to tell us all that you've been able to accomplish in the next year to year and a half?
Schrone:
So my supplier is telling me within the week that my third product is gonna ship. So I'm hoping by the end of the year that my third product is selling just as much as my first product. These are the two that are gonna be competing against each other. And if that does really well, I may become the maternity guru.
Bradley Sutton:
Maternity, not the OG, the MG maternity guru. Okay. I like it. Schrone if people wanna find you on the interwebs out there and follow what you're doing and, and maybe reach out to you, how, how can they do that?
Schrone:
[email protected], or Facebook Messenger your is best. If you reach out to me, I can show you what I have to offer as average Joe, trying to coach other people to make a living on Amazon.
Bradley Sutton:
Love it. Shan Shan how can people see you out there?
Shan Shan:
You can check out my website at millennialshops.com or my Instagram @millennialsinmotion. Or you can just email me at [email protected]
Bradley Sutton:
All right, guys, but don't go to her Etsy store and just browse, and then not buy anything. You're gonna kill her conversion rate, which as she said hurts on, on Etsy. So anyway, guys, it's always a pleasure to have both of you on this show, really appreciate the insights you gave and, you know, like Schrone said, kinda like just the, your average Joe's average Sallys, but just from the sense that you could be, you know, my next door neighbor, you could be a random person that we see in the Helium 10 members Facebook group. These are people guys who they gave up completely different careers and completely changed their path and are now in kind of like the same boat of being in e-commerce. So any of you out there who, regardless if you come from, you know, a six figure corporate job, like Shan Shan did, or you're getting out of the military like Schrone did it doesn't matter where you guys are in life. Anybody can come and, and see success in e-commerce without some like crazy prerequisite or some special education that you have. So I hope they serve as inspiration to you guys. Like, they inspire me and it's, it's gonna be great to see what they were able to accomplish from these goals in 2023. So thank you guys for coming on again. We'll see you later.
---
Enjoy this episode? Be sure to check out our previous episodes for even more content to propel you to Amazon FBA Seller success! And don't forget to "Like" our Facebook page and subscribe to the podcast on iTunes, Spotify, or wherever you listen to our podcast.
Get snippets from all episodes by following us on Instagram at @SeriousSellersPodcast
Want to absolutely start crushing it on Amazon? Here are few carefully curated resources to get you started: