#246 – Outsourcing, Influencers, Using Smaller Shipments, and Other New Amazon Strategies
Want to keep up to date with the latest e-commerce tactics? Here's an Amazon pro with clever tips you need to continue growing your business!
Updated on: January 3, 2022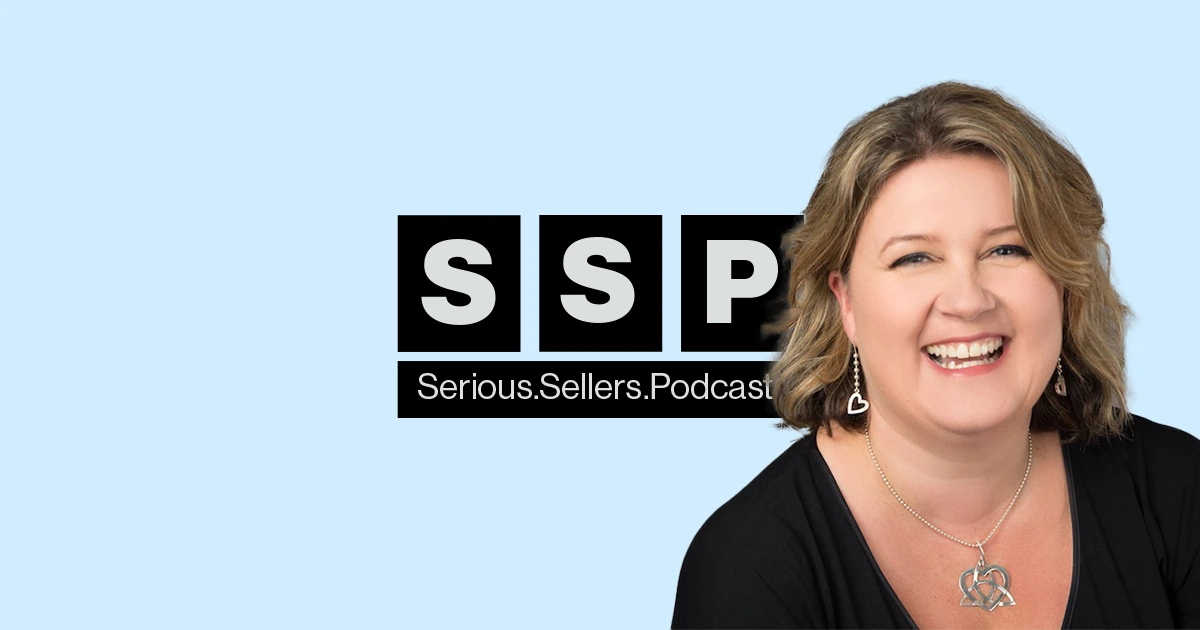 Every year there's bound to be changes on Amazon and this last year only exaggerated that trend. Between the pandemic, the effects of the UK leaving the European Union, and the various shipping challenges that Amazon sellers have had to face, e-commerce in 2021 has undergone a number of significant adjustments.
That's why it's a good thing that today on the Serious Sellers Podcast, Helium 10's Director of Training and Chief Evangelist, Bradley Sutton is welcoming back a favorite guest to make sure we get the latest information from both sides of the Atlantic Ocean. Cara Sayer is not only a very successful Amazon seller, she's also an experienced marketer and has a number of unique strategies that have allowed her to weather the last year better than most.
Listen in to hear Cara talk about how she employs armies of influencers to promote her brand, uses smaller shipments to safeguard against supply chain problems, and takes advantage of blogs and SEO strategy to keep her product in the front of her customers' minds.
In episode 246 of the Serious Sellers Podcast, Bradley and Cara discuss:
03:52 – How Did the Pandemic Affect UK Sellers?
06:12 – Getting Placed on the Non-Essential List
08:50 – Shipping Delays Create Additional Challenges
11:08 – 3PLs and Managing Amazon's Shipping Limitations
14:11 – Smaller Shipments are Reducing Her Damages
18:02 – How Cara Navigates a Difficult Shipping Formula
19:04 – How the Struggle Between the UK and the EU is Affecting E-Commerce
25:21 – The Pandemic Started Cara's Cost Cutting Initiative
27:22 – Building in Enough Profit to Weather Storms
29:59 – How Cara is Capitalizing on the Power of Influencers
33:08 – Managing Content and SEO
37:16 – Outsourcing Can Be the Key to Profitability
40:54 – How to Contact Cara
Transcript
Bradley Sutton:
Today, we've got back a guest who's going to talk about how she managed to keep going despite having her sales really take a nose dive during the coronavirus, plus her unique strategies of having an army of hundreds of influencers and how blogs on our website help her business. How cool is that? Pretty cool, I think.
Bradley Sutton:
Hello everybody. And welcome to another episode of the Serious Sellers Podcast by Helium 10. I am your host Bradley Sutton, and this is the show that's a completely BS-free, unscripted and unrehearsed organic conversation about serious strategies for serious sellers of any level in the Amazon world. And we've got my sister from another mister here, Cara from the UK. Cara, how's it going?
Cara:
I'm very good, but he didn't tell me I had to be serious. I don't do serious. You should know that.
Bradley Sutton:
I know. Well, when we talk about your seriousness, it's like, you're doing some serious stuff on Amazon, but we all know your personality is anything, but, right?
Cara:
Very true.
Bradley Sutton:
Which is not a bad thing. It's a good thing.
Cara:
Well, I mean, there are enough serious people out there in the world. I think, you know, we need more silly people and I'm happy there and I think you're quite Bradley, aren't you?
Bradley Sutton:
Yeah, we're cut from the same cloth, if that's the, I don't even know if I'm saying that– saying right, but anyways guys, if you want to find out more about Cara's background, and how she got started on Amazon and where she grew up and all that stuff, make sure to go back to episode 117. All right. She was on here about a year and a half or so ago, and it was a really great, interesting talk. We talked about everything about how she was started on Amazon UK way in the early days there and how she had celebrities and royalty using her product. A lot of cool stuff, but I haven't even seen you in person since then and barely have talked since then, just because, obviously we've all been a quarantine. I've missed you and everybody else. I'm fine. Like in the next couple of weeks, I'm finally getting back out there on the road again. I know you guys in the UK don't really have much ability yet to come here or like, you can come here, but then you can't, you probably can't go back or something like that. Right.
Cara:
Well, yeah, they'll just trap us. No, I don't think we can actually get in. Unless we've got some kind of special Visa or something. I know a lot of people are having trouble actually getting into the US. Like business and all the rest of it. So it is quite tricky at the moment. And we've been given really exciting places. Like, have you ever heard of the Falkland Islands where we had a war about it quite a few years ago. And apparently, we're allowed to go to the Falkland Islands on holiday or Ascension island, which is also lesser known holiday spot destination. Otherwise known as like, I don't think anyone's ever been on holiday there, but we've been given a total of 12 countries. I think that we're allowed to go to the, to green lighted without us having to quarantine, but about eight of them won't actually let anyone in. So we can go, but no one– we can sit at their airport possibly, and then just get on a plane and come back home again.
Bradley Sutton:
For some people that might be the most activity, they've had in a while. So you never know. Let's switch speaking of this, speaking of the world we live in. I've talked to plenty of, of Amazon sellers and then talked about the positives and negatives of the whole pandemic and how it's affected their Amazon businesses, but mostly USA. You might be the first person who's sold any, or who's selling in the UK where I've talked to you about that. So let me ask you that question. Like, so what was the situation like over the last year in UK? Was it similar to the USA? How in most categories sales went away up, unless you were like in the travel industry or something, or did you get blocked out of selling your product for a while due to it not being essential? What's the pulse over there the last year for you?
Cara:
I'm not sure what's going on in the US but what's, sorry, what pandemic?
Bradley Sutton:
Oh, yeah. Well, what's this pandemic? What's going on?
Cara:
Obviously, I sell sort of globally on Amazon. So I sell UK, US, Europe, although actually, a problem is selling in Europe, then yes, I was because we, it was before Brexit and now I'm back in Europe again, but post-Brexit, which is another living health, and Australia, Canada, US, and UK. And so my US sales plunged about 90%, my UK sales plunged about 80%. And I did sit there with a pencil and a piece of paper actually wondering how much it would cost me to just keep the business afloat for say a year.
Bradley Sutton:
Why was that? I mean, like, is it because people are not taking their kids for walks? I mean, I would think that that was something that would still not go away.
Cara:
So, a lot of my products are used for travel. And so when people are traveling too, especially in the UK, so in the UK, I mean, and I think also it was just a shop and one stopped buying because no one knew what was going on. And I think other than the people who were selling face masks and hand sanitizer, a lot of people were not sort of initially not buying stuff, but in the UK our government has been basically holding the country together with something called furlough, whereby they were paying everybody's wages, sort of anything well, full a hundred percent wages. Now, I think it's down to 80% or something. So, there was actually an awful lot of people sitting at home, filing their nails with a lot of money kind of coming in, not having to like spend thousands on train, travel, going into the office, that sort of thing. So there's actually, I think been a lot more kind of disposable income, a lot of apparently savings are massively up. I don't know in the US but in the UK, the amount of money that people have been able to save has been amazing. People have been paying off credit cards because those sort of day-to-day quite extortionate bills are just not there. With regards to my products, what happened was obviously Amazon decided they were not essential, hello. Have you ever tried to get your baby to go to sleep? I think most parents would disagree. But Amazon decided it wasn't as valuable as a face mask. Hello. So all of my products basically went onto a massive backfoot and so I asked–
Bradley Sutton:
You mean you couldn't– I mean, once you sold out of your inventory, you couldn't replenish?
Cara:
Replenishment was okay. But Amazon was basically spent taking like a month to dispatch. For the first time ever, like normally when I help people on Amazon, I always say FBA all the way, but I actually had to learn how to do FBM and became quite efficient at it. I have to say.
Bradley Sutton:
How did you do that? 3PL or you have your warehouse, or what?
Cara:
I used Amazon, so, basically–
Bradley Sutton:
Oh God, I see what you're saying. Yeah. So, do you use the merchant– what do you call it?
Cara:
The fulfilled by merchant, FBM, that worked. So what was ironic was that a customer buying my product on Amazon who had prime delivery, was being told that they wouldn't necessarily get my product for three weeks. If I placed that order myself using Amazon, like turn it around, it'd be with them in a matter of days.
Bradley Sutton:
Did you turn off your FBA listing just to make sure that FBM one that shows that earlier estimated date?
Cara:
Both running, because like customers, some customers were happy to wait, maybe they did. Maybe they got a trip booked for a couple of months or in three or four weeks time, I mean, I get that even now at the moment where now what we're having is we're having issues getting stock into Amazon in terms of, and this is in the US particularly, now I've got 600 units that are sitting, that have been shipped and we're waiting for Amazon to process them. And what's happening is we're sending the shipments in. And because the product is so popular, it sells out before actually goes in stock. So it's constantly saying that it's out of stock or that it's going to be available, but the earliest they can get it is May the 31st.
Bradley Sutton:
We're talking about right now?
Cara:
Yeah, this is right now. Because they recently changed the inventory levels from being ASIN-related to overview perspective, which was great because to be honest, that works really well for me.
Bradley Sutton:
How many units did you send in? Like, were you only able to send a few units in, or why is it selling out? Is it just that popular or is it just you have very few units?
Cara:
No. What we're doing is that we're sending them in. So as I said, I've got 600 units in bounds and they're going in with shipping every single day, smaller shipments, just to sort of hopefully get some of them in because Amazon's taking 21 days to process the shipment. So by the time, it's processing one shipment, then that's selling out. So the next shipment is going, and it's just this constant, not really being properly available for sale, which is fine, but that's my website and slack. And that's the advantage of having a brand, like a real brand that people are looking for because obviously, they find the website and then they buy from us instead, which is also good because we get that data.
Bradley Sutton:
Yeah. So, are you feeding– how are you dripping this inventory in as your inventory limits open up from a 3PL?
Cara:
Yeah. And also shipping from the UK as well. So, I don't ship, well, I ship my biggest sellers. I ship, I have a 3PL in the US, and then everything else I fly in by DHL. And that works really well because actually, it works out cheaper that like, that just goes straight into Seller Central. And that works out. I've been doing that for years. So it's some of the biggest sellers, like when I'm shipping in like thousands, I ship those in by sea, but everything else goes in by cartons.
Bradley Sutton:
Okay. Let's talk about– I was talking about pandemic and all this stuff, but this is interesting because this is something that happened about two, three weeks ago. And I haven't had a chance to talk to any sellers out there. I did a big blog on a guy. So if you guys are wondering, what is this inventory limitations thing? And you're not sure.
Cara:
I read your blogs, Bradley. I'm an avid Bradley blog reader.
Bradley Sutton:
Yay. Somebody. I got one reader out there. So guys go to helium10.com/blog, type in like inventory limitations or something like that. And this article come up and I have like the graphs there that show you how to find your inventory limitations and what these new restrictions means. But this is a great example. Now we can talk to an actual seller who's having to transition. So when I wrote that blog, it was like the same day that it came out and I had said, I was like, Hm, I can really kind of foresee some people being happy about this because now there's 200 limitation is gone. And then, so now, when they launch new products, they can go ahead and send all 500 or 1000 or whatever, like the old days. But then I was like other people, depending on what their inventory situation is, they actually might be screwed because they might be maxed out on inventory. So it looks like you're almost a little bit on that latter category.
Cara:
It's an interesting one because actually one of the things I did last year, as well as I assessed all my storage fee costs with Amazon, and that's why I now actually mainly operate out of a 3PL and we send in small shipments more regularly than, rather than leaving it sitting in Amazon. Because I mean, especially in Q4 when their storage costs like quadruple or whatever it is, my 3PL pricing does go up very slightly for Q4, but like minimally, and I've actually saved thousands of dollars by using a 3PL where the big barrier is that we were just having to constantly experiments. So I will probably get them to send in like a couple of hundred units, um, and then send some smaller shipments and then send a couple of hundred and then smaller. And then, basically just what we just need to do is stay in stock long enough to sort of then when they're processing the shipments we sent in three weeks ago.
Bradley Sutton:
So, you're saying, when you said about three minutes ago, sending smaller shipments in, obviously you're talking a little bit about sending from your 3PL Amazon, but were you also talking about shipments coming from your factory to your 3PL, or are those still your kind of business as usual?
Cara:
Yeah, that will be business as usual. I mean, to be honest, my manufacturer is absolutely incredible. And I haven't really been impacted at all. I mean, whenever I click my fingers and I want to ship it, it happens and it happens within a good timeframe and the whole evergreen thing was a bit of fun potentially because that could have really screwed up because I had quite a lot of shipments coming out of that time. But it hasn't impacted so far and things have actually been coming in earlier than we planned.
Bradley Sutton:
That whole inventory situation thing, obviously I know that's the case in the USA, is it identical in the UK?
Cara:
It's definitely got longer the processing time. But it's not as bad as it is in the US, so it's sort of noticeable in the US.
Bradley Sutton:
And what's your limitation in the US?
Cara:
Well, in terms of how much stock I can send in, I think I've got like 5,000 units, 7,000, I don't know, five, 7,000 units.
Bradley Sutton:
But the reason why you're having to drip it is because you're pretty much like 90 plus percent of that.
Cara:
No, no, no. The reason I'm having to drip it is because when we send in a really big shipment of like 500 units, it takes them three or four weeks for them to get it going. So I've then got 500 units stuck in nowhere land. Yeah. Whereas what I'm doing at the moment is I'm shipping them in smaller shipments.
Bradley Sutton:
What? And that changes the time? Are you serious? Are you doing UPS or partner carrier for both? Or one of them are like PAL or LTL shipments. And one is the partner carrier?
Cara:
Well, the shipping time, it's the Amazon processing time. That's the issue, right?
Bradley Sutton:
No. If you're both using the partner carrier, like, how is it different unless you're, it's a different type of shipping?
Cara:
No, it's not that. It's the intake from Amazon. It's got nothing to do with the delivery time. It's got to do with the fact that the moment it hits an Amazon receive it, then they are taking up to three weeks to put the stock. Yeah. So if I spend 500 units in, then that whole 500 units just sits there waiting until they start processing it. Whereas if I'm sending 60 units, 70 units, another 70 units, one of those shipments is going to hit and get processed and then go in, start going into stock. And then hopefully within like a few days, the next one, and then if any of them gets that stock, then it means that you haven't just tied up 500 units in a situation where you can't sell or you can't do anything. So, it's just ridiculous. It's literally, normally what used to happen was you sent it in and it took like three or four days for it to go, but now it's taking three weeks.
Bradley Sutton:
Interesting. Okay. So that's why I wanted to see it wasn't about the shipping time, but I was just wondering if, even when you were doing the 500 units at a time, if that was still just using the UPS partner carrier.
Cara:
It's not about it, I don't know. I mean, I just, my 3PL does it all for me, but I think, yeah, we do it via Amazon's like shipping thing.
Bradley Sutton:
Yeah, that's crazy because it's the reason why I'm not necessarily familiar with that is because me, I've always done it the way you're talking. Like, just because I have my own warehouse at my house. And so, like, I just ship everything here. And I never liked paying Amazon storage. I like keeping nice levels of my inventory. So I've always just by default dripped it, 50 units at a time, 80, a hundred, depending on the sales. And so like, I've always experienced those kinds of fast turnaround times. I didn't realize that sometimes if you do these long or bigger shipments, that it gets stuck. Now that the essential thing is long done. Do you still dual list everything or did you, have you transitioned back to a hundred percent FBA?
Cara:
No, I haven't touched it. I've left the FBM listings there because actually the other side, the other side of that is not everyone has prime. Like yeah, most people do. Like as in, who doesn't have prime no, seriously, but like a lot of prime and I offer free shipping. So they're not getting a different deal. They may not get it as fast as prime, but they're not having to pay for shipping standard shipping. And then we have expedited shipping, which we charge for, which is the same as on my US website. So I don't charge for US shipping. I don't do. I mean, I know a lot of people do like this free shipping over a hundred dollars and all the rest of it. I just don't bother with that because actually, I don't want to be incentivized somebody from buying the product. And that's worked really well in the UK, when I switched on free UK PMP, that was about four or five years ago. And then I did the same in the US and that's, I think that's definitely helped with sales and I charge a very small amount for expedited, which just adds to the kitty rather than totally covering the cost.
Bradley Sutton:
It does what? I remember, guys, if you listen back to one 117, I learned about seven new phrases because of the way Cara talks. Can you say that again?
Cara:
I can't remember what I said now.
Bradley Sutton:
Something about the kitty.
Cara:
Oh, yeah. Adds to the kitty. So, a kitty is like a Moneybox, like when you go–
Bradley Sutton:
Oh, like a piggy bank?
Cara:
Yeah. Kind of like a piggy bank sort of concept yet. So, what happens is when you go out, when you go on holiday, for example, and you're all sharing, like, you're like, we're all on holiday. Let's all buy drinks and you have a kitty where everyone puts in like $20. And then when the kitty is gone, then you put one of the $20 in the kitty. So it's kind of like a little savings account, like that you use. And so it's just an expression of like putting money in a kitty, which kind of helps contribute towards costs. If that makes sense.
Bradley Sutton:
Yes. I got it. So, guys, every time you hear Cara, you get Amazon knowledge and then you get some British slang knowledge as well. Anyways, continue.
Cara:
So, now I've completely forgot.
Bradley Sutton:
I did too. I was just thinking about the kitty there.
Cara:
So basically what I mean by that is say, it costs me $10 to ship standard, which will probably take like anything between five and seven days. Then I charged $4 for expedited shipping. Now the expedited shipping might cost me $12, but actually that $4 contributes more to my costs than obviously not charging anything for shipping. And so actually, and also what happens is because it's only $4 customers very often because I say on my website that my shipping time is seven to 10 days. Whereas the expedited is four. So, I always like basically under promise over deliver. So I always say that it's going to take longer. And then they, I mean, number of orders that come in with faster shipping for just $4, but then that helps massively like towards the cost of the shipping for me. So it just makes it look yeah, just a bit of extra way of making money.
Bradley Sutton:
Okay. All right. Really interesting stuff here. Really interesting stuff. So, what about in the UK? Like how are you seeing the same kind of thing? Like, are you wanting to drip your inventory or not just the UK, but Europe, or anywhere else? Or is this pretty much only USA you're having to do this?
Cara:
Yeah. Europe's a whole separate podcast, honey. In Europe that, yes, the challenge. Oh my goodness gracious me. I mean, boy, oh boy. Did our prime minister piss off the Europeans? So, basically they have pretty much sat there. Every time I think they see an English shipment, they just spit on it, jump up and down on it, and then see if they can send it back. It is also because everyone was getting VAT registered. I mean, I went and got VAT registered in Germany, because that's the biggest marketplace in Europe. And then that means I can store stock in Germany. And then I fulfill all my European orders because I have European website orders as well as obviously then fulfilling we've now got Amazon, Italy, France, Germany, Spain, Sweden, Netherlands, and Poland.
Bradley Sutton:
Your listing is active across the board in all of those?
Cara:
Sorry?
Bradley Sutton:
Are all your listings active across the board in all of those?
Cara:
Yeah, you basically just press a button and say, I'm the only country I don't sell to is Austria because in Austria, if you sell a product to an Austrian, then you have to VAT register like that. Literally, just the mere fact you've sold to them means that you are liable to that register. So, a top tip for anyone who's selling in EU, if you're not doing penny, you're registered everywhere. If you're only registered in one European country, switch off Austria because until July, when it's all changing again, when we have this new thing called IOSS, which is a new kind of like online streamlined service, which is where the idea is that basically Amazon, if you're only selling, and this is if you're only selling on Amazon, Amazon will be collecting all the money, but if you've got your own websites whereby you might be selling to European customers, you need to be still registered in a country somewhere in Europe, in order to process your IOSS shipments, and orders and things, and pay the VAT to Germany or wherever you're VAT registered. And they then pass it on to the countries that you sell to.
Bradley Sutton:
Okay. Interesting. Interesting.
Cara:
I'm getting shipments into America is actually a whole load easier, even then. I mean, as in getting into Seller Central, US is still less of a headache than getting anything into Europe at the moment. It's just a mess.
Bradley Sutton:
All right, guys, quick break. In this episode for the BTS, Bradley's 30 seconds, here is my 30-second tip. This is going to be about product research. We've got tens of thousands of Helium 10 users who use Black Box to find a product from advanced users to beginner users. But most of them are looking for products and in some of the more advanced ones are like, Hey, I'm looking for keywords. But what very very few people are taking advantage of, is the advanced filters that we added a few months ago, right there at the bottom of the Black box for keywords. So go to Black box for keywords, pick your categories, but don't fill out the top categories, right. Or the top filters go to the very bottom because what those do the advanced filters it's taking sample sizes of just the top 10 organic results from the keyword. So for example, I can enter in, Hey, show me a product in the home and kitchen category that's priced between $15 and $35 that I can do from the very top. And then I can skip to the bottom and then say, Hey, out of the top 10 products, all right, I want between five and eight or something like that to have at least X amount of estimated sales. That's one of the options, or I want to see at least four items or four products out of the top 10 have less than X number of reviews. Or maybe I can say, Hey, I want to have at least five products out of the top 10 have less than a 4.0 star rate. I mean, you could do any one of those. You can combine them, but it's a really great advanced way to do product research, to find keywords that you might not have found otherwise.
Bradley Sutton:
Going back to what happened to you across the board? 80% down here, 90% down there. I mean, for a while, Amazon has been your main source of income. So how did you manage life, like when you're in a groove like you have certain expenses and you got your income, that's fairly steady, like, so what happened?
Cara:
Right. So, any really plunged up, well, I was there about, and it wasn't 30% down. I was about, I think, 20% down year on year in total. In 2019 I had an actually stonking year. Now, do you know what that means?
Bradley Sutton:
I'm assuming very similar to–
Cara:
Stonking means amazing.
Bradley Sutton:
Yeah. Absolutely. Smashing, that's what I normally think right there.
Cara:
Absolutely stonking is even better. So I had an absolutely stonking year in 2019, did the biggest turnover profit, everything for that year. And then everything was kind of really on an up and in January, February to sort of early March. I was actually on holiday in the Dominican Republic around March, I think I came back around March the 13th and then the March the 14th, they stopped all flights out of the Dom Republic and also any flights in. So I literally got back in what happened then was when we went into lockdown. That's when we kind of plummeted off a cliff. And then actually also for me, my products are quite seasonal. So, in terms of people are using them when it's sunny and what have you. So in the UK, it kind of all bumbled back to kind of normal levels. And then actually the US as well. I think people weren't traveling like internationally, but they were still traveling a lot in their own state. And so you have to remember that like one state in the US is the same size as the whole of the UK. I think people, from what I understand, we're still traveling around. They just weren't traveling maybe either interstate or they weren't traveling after the country. People were still staying in places where they needed their baby to sleep. And also obviously we had a lot of people who are now working at home with the baby who needed an app and all the rest of it. So, actually my sales kind of went back again then. I mean, obviously my, I mean, I had to do stuff I'd canceled. This is a really good tip pay attention. Right. I can guarantee you that you will have subscriptions, and costs, and other things going on in your business world that you don't need. Like, for example, I found that I was still paying about 50 pounds a month for hosting for a website I no longer had. And I'd been doing that for about the last like eight months. I was paying for some SEO package that I'd signed up for like a free trial.
Cara:
And then I found that I was actually paying 99 pounds a month for it, and I just went through it and I was lethal like in cutting out every single cost that I could, I kept all my team on, bar one. But the one person who went actually needed to go anyway, so it was actually quite a good excuse. So thank you, pandemic. And in fact, I ended up taking on some more people, and then just really keeping really close now with regard to income, et cetera, that doesn't really impact on me because I always make sure I've got plenty of profit because I don't pay myself a salary. Not a very big one. I pay my, I don't know how it works in the US but in the UK, we pay ourselves more sensibly through dividends. So, I pay yourself out of the profit from the business. So, I had plenty of profit in the business to pay myself. And I did pay myself slightly less because I was just being a bit cautious, but I didn't exactly have to start like eating bread crumbs or begging on the streets or anything like that. So that was good. I was quite relieved. And so, it's always important. And the other thing I had was last year was less profitable because I had to do things like fly stock that I'd canceled because when it first happened, I did panic. To be honest, I didn't know what was going on. So I just thought a whole load of orders that didn't, I didn't think necessarily were going to like that needed to be done ASAP. So I just went right, hold those orders. So, we paused them and then sales started to pick up, I ended up having to fly like a thousand units over from China, which costs me just in like the DHL shipping cost cost me about 12,000 pounds. So it's like, what? $15,000 or something.
Bradley Sutton:
Yeah. You were still able to stay profitable?
Cara:
Oh, darling. I don't do anything unless it's profitable, but, well, so it was less profitable, yes.
Bradley Sutton:
Sometimes, that's not always, like sometimes like, Hey, you got to pick a sacrifice first for the long game.
Cara:
Not really, because I actually think that if you haven't got a product that can– and I'm talking as a business perspective generally, but on a pure product level, that product was going to make me like maybe $10 less profit than it normally did, but it's making me a load of like more dollars anyway. So all it meant was I made less dollars, but I was still selling. Whereas my– so I do go out of stock. So for example, I'm out of stock with some products, but you see, because I've got a range of products, I've always got one that usually picks up the slack. If one of the others goes out of stock, usually in 11 years of doing business, I've only gone out of stock a couple of times. But last year I went out stock in a couple of things and then picked it back up, and now I've actually gone out of stock again. So because it's now everything's picking up again and everything's selling.
Bradley Sutton:
Okay. All right. Well, let's talk, you've been giving us some tips and strategy already. So let's just like double down on that. Now, what– I remember last time we talked about how celebrity marketing influencer marketing played a role in the beginning. Have you done any of that? Have you expanded on that anymore? Like in the last year, get some endorsements or anything?
Cara:
That's one of the things we really liked double down because actually we had more time in many ways because we had more sort of thinking time. So actually all of last year was spent really building more of an army of influencers and brand ambassadors. And my products are very popular with baby sleep consultants because they obviously help babies sleep. And so my team, I took on another member of the team whose sole job is to liaise with and manage all of the baby seat consultants. So I reckon we now have probably maybe 300 worldwide because we have quite, we have them in Australia, Canada, US, UK, Japan. I mean, we literally have sleep people, sleep consultants everywhere. And because the product does what it says on the tin, I mean, you can't– one thing I should also say is you can't do this unless your product doesn't unless your product delivers. So, if you're selling something and your product doesn't deliver, then no influencer is really going to want to work with you unless you're paying them. And I don't pay people. So not all of this is unpaid as well. Having said that, one of the things we've also worked on over the last year, which is fabulous, is if you have a Shopify website, there's a brilliant little app that you can plugin and there's a free element to it, which is more, does more than you need, like to be happy on a basic level, although I've now upgraded in the UK because we needed a little bit more from it, but it's still only $15 a month or something, is GoAfpro. And that's brilliant because what you do and what we did is we set up an affiliate network. So every single baby sleep consultant we work with creates their own code. They can share that with their followers, their clients, and then they earn a commission on the back of it.
Bradley Sutton:
Is that how you're managing those 300 plus people in your network?
Cara:
So we don't have to, like, what we were having to do before is we would set them up with a manually, with a discount code on Shopify, and then we'd have to download an Excel spreadsheet and work out how many sales they made and take the VAT off the sales tax, take off any discount, take off the shipping and then work out what their commission would be does that all automatically. So we've got like a little dashboard, so I can see at any given moment in time exactly how much money I owe to influencers. But it also makes the influencers feel like part of your business as well, which is really nice. Because they like to feel that they're helping a small business, but also they like to feel like they're involved.
Bradley Sutton:
Yeah. So, what's that website you're using for that?
Cara:
It's not a website, it's an app that plugs into Shopify. So, it's called, Go, Af, as in affiliate, pro. And it's all one word. So if you go to the Shopify app store, you can download it for free and there are all sorts of things. So you get like little– it sends a little email to the person when they sign up and you can have a little landing page. It says, sign off if you want to. And I actually have that as well as on the website so that people can sign up as an affiliate, even if we don't know them at the end of the day. If it's extra sales and extra traffic being driven to the website, that's all good. I've also signed up with another affiliate network, which is an– that is their reason. D'etre their reason for being is that they have like thousands and thousands of affiliates. And so, what Goaffpro enables you to do is to talk to the people that you already know. So the people who know you already, you can incentivize them, et cetera, but what paid on results does, is it exposes your brand to people who maybe don't know about you already. And then they can make money off you as well. So, we've sort of done a lot more on that and partnerships and that sort of thing.
Bradley Sutton:
Okay. Well, guys out there, take a look at those websites and or those apps that she mentioned. And also, a lot of people don't even know this, but Helium 10 is bigger. Now we've got other companies that are part of our umbrella. So, another company that sounds like it's very similar to there that actually would be along those lines is Refersion. So that's a Helium 10 company. All right. More strategy stuff. What else have you been doing lately that maybe we didn't talk about last time that you were doing already before or something new in the last year.
Cara:
Search engine optimization. Very important part of the business. If you've got a website and we've been working on that for the last year and a bit, which has been really like showing results, increasing visits, visitors, and utilizing more keywords and that sort of thing. So, working hard on that, one of the top tips there is that if you have got your own website, the way that Google is moving in terms of how it is assessing websites and whether or not they add value, et cetera. And if they add value, then they're going to show the website more to their, people who are searching. It's all about your blog because your blog is where you can talk about things that make you relevant, make you an expert, make you sort of forced to be reckoned with on a particular subject matter. So, that's one of the things I'm investing in at the moment is I've well, I always have done, so I've got a 10 year old blog. So I've got like hundreds and hundreds of blog articles, all about baby sleep and babies and all that sort of stuff. And then what we're doing is we're also working on growing it, and sort of fine tuning so that each website gets its own domain authority in its own country. So, I have four websites. I have UK, which also services anywhere in the rest of the world. I don't have a website. And then I have snoozeshadeusa, snoozeshade.ca in Canada, and snoozeshade.com.au, for Australia. And all of those are fulfilled by Amazon. But in terms of making sure you have to treat each website in each country as an individual, don't just treat your website if you've got because you've got to think about who's coming to buy. So one of the things I think a lot of people do is they try and attract everybody to know website. So you've got a.com and you're like, no one in the UK is going to buy from you, right. If you've got a.com website and everything's in dollars and you've got to wait like three weeks for it to be shipped. Whereas I mean, some people will don't get me wrong. But the majority won't, so if you are selling in Europe or in the UK, particularly, you should have a .co.uk domain and you sell locally and make sure that what you're doing is localized, and the same for Australia, the same for Canada, wherever you're selling.
Bradley Sutton:
Okay. Yeah. I'm looking at your website now. So like, just on your Shopify website, you've got in your menu bar there, you've got right front and center blog, and then I see you guys have a pretty good cadence. Like, it seems like almost every week, at least there's one piece of content coming out.
Cara:
At least, I mean, we do four a month usually. So, and what we also do a lot of the time is we update older, we repurpose content. So it's not about actually necessarily reinventing the wheel. It's often about taking like, as I said, I've got 250 articles. We don't need to write 200 more, 250 more articles. What we probably need to do is we need to work on repurposing that content with a slightly different titles, slightly different information. And that's one of the things we do where I use my baby sleep consultants and all the experts because what we're starting to do now is we're starting to utilize their content. We get them to write at the moment I'm creating like baby sleep guides for different age ranges. And we basically provide kind of one standardized article. And then I get the individual sleep experts to comment. So, it makes the article different for every single country. So, I have the same article potentially, but it will be Canadian sleep consultants, US sleep consultants, UK sleep consultants, Australian sleep consultants, which then as far as Google's concerned, makes it significantly different enough to still be relevant, but localized.
Bradley Sutton:
Yeah. And so then you start ranking for things like tips on how to get a good night's sleep. And then, people are going there for the value of the what's there, but then, they're going to see some links to your product there, and yeah, I can totally see the benefits here. I like it. All right. One last one. We did this on the show last year, our TST, 30-second tips. So, you've been giving us a lot of different tips about, what's one more thing that you can say?
Cara:
I know that everyone talks about outsourcing as if it's like the be-all and end-all, and I absolutely believe in outsourcing, but my biggest tip is, first of all, make sure you understand what it is that you're outsourcing. And second of all, break it down, right? Because for example, I now have a team of about six people who all do different things. So, one person works on baby sleep consultants. One person works working with influencers. One person works with the affiliates, one person does the copy for the website. Somebody else does the copy, which is more sales copy, like product descriptions and things like that, because what is very, very difficult to find is one person who fits that whole bill. Now, I'll be totally honest and say that I can do all of the things that I'm asking other people to do, but I'm a rarity and I'm also the owner of the business. And I do think entrepreneurs are slightly different breed. We do tend to be a sort of master of all trades, but I do think otherwise it's very tempting to kind of carry on doing that. And one of the things I've been focusing on specifically for the last few months is actually outsourcing every little job that I don't want to do. Because I'm sort of fed up of writing product descriptions. I'm fed up of writing of like naming files and uploading images on websites and making sure the SEO works, et cetera. And I've got someone who does the SEO, I've got someone who does this, and got someone who does that. So, that would be my top tip, really, which is make sure you understand why you're doing something and then find the right person. And it might be that they're only doing a few hours a month for you, but it's very focused. And they know what they're doing rather than waste your time. I do find, I see a lot of people going, oh yeah, go to Fiverr or go. I mean, don't get me wrong. I use Fiverr and all those sorts of places, but like the odd job here and there. But if this is something that like is representing your brand, you really want someone who knows what they're doing and actually speaks the language fully, properly. It's true because I do find often, in Fiverr, you're getting people who don't necessarily speak English as their first language and that will show, so that would be my tip. And then, oh, can I just, I'll give you an extra one. I'm going to give you 60 seconds. Okay. Which is the other one is, and I always bang on about this.
Cara:
I probably banged on about it in my last podcast, but customer service cannot be understated on how important it is. And it's really interesting because I don't, I'm really passionate about delivering a great customer experience to my customers. Without them, I would not have a business and we bend over backwards. And I think the problem is sometimes is again, people look at the pennies or the cents rather than the dollars and actually refunding a customer for that product in actually in the bigger picture of life. If, as long as your product generally, really good, just bloody refund it, make the customer happy. Or if there's a fault, apologize, say, sorry, because the number of times that people don't actually apologize for the fact that they've got, I mean, I always, we have a standard spiel. It's like, I'm really sorry about the fact that you've had a faulty product. That must be really inconvenient for you. Let me reassure you that my fault rate is really low normally, but obviously, mistakes happen and things, right. Please just send me a photo of it and then bother sending it back. I will send you a replacement. And we have literally had it, especially in, I don't know whether there's something going on in the US at the moment, particularly with bad customer service, but we've literally had like customers where we've been dealing with them where they've had issues about something. And they're like, oh my God, we are blown away by your customer service. And it shouldn't be that hard like to blow people away. Like it really isn't that hard. So, if you invest in one thing, it's be nice to your customers.
Bradley Sutton:
I love it. All right. Cara, if people want to reach out to you, how can they find you on the inter webs?
Cara:
Basically carasayer.com is the easiest place.
Bradley Sutton:
Awesome. Well, Cara, it's been great catching up. Sorry to hear that the rest of 2020 didn't work out, but here's to a successful rest of 2021, sales wise.
Cara:
No, it was fine. I was only down about 400,000. It was fine.
Bradley Sutton:
Oh yeah. 400,000. It's a drop in the bucket there. I love the positive attitude there. There we go. That's another, that's a tip in itself.
Cara:
Let's get a grip here. I didn't like go from like turning over nearly 2 million down to like a hundred thousand or something. I mean, I dropped 400K it wasn't great, but it still was a bloody amazing year. And considering everything else that was going on in the world, I'm really grateful for the fact that I'm still here and this is still here and thriving. So I don't see 2020 is a bad year. I see it as learning year. We learned a lot or we should have done.
Bradley Sutton:
I love it. Love it. All right. Well, Cara, I hope to see you in person soon. You're always if you guys think that she's hilarious on a podcast, she's even crazier in person. So, make sure to watch out what conference she's going to go to. So you can meet her in person.
Cara:
I know you're ready for that hug, aren't you?
Bradley Sutton:
I'm waiting for that what?
Cara:
Hug.
Bradley Sutton:
Oh, hug. I think he said hark. I'm like, is this another word? Yes. I don't even know if that's going to be okay. Like, that's going to be an awkward thing. Like once we start meeting to like, because everybody, we all like to hug, but then it's like, is that like, okay, like, do we need to ask permission to hug? And it was like, oh, I don't even know what this world is anymore. But anyways, Cara, I hope to see you at the billion dollar seller summit this year, or one of the prosper show or something.
Cara:
That will be somewhere somehow, Bradley. Nothing can keep us apart.
Bradley Sutton:
All right I'll go to the UK then if that's what it takes.
Cara:
Great.
Bradley Sutton:
Alright. Well, see you later, Cara.
---
Enjoy this episode? Be sure to check out our previous episodes for even more content to propel you to Amazon FBA Seller success! And don't forget to "Like" our Facebook page and subscribe to the podcast on iTunes, Google Podcast or wherever you listen to our podcast.
Want to absolutely start crushing it on Amazon? Here are few carefully curated resources to get you started: