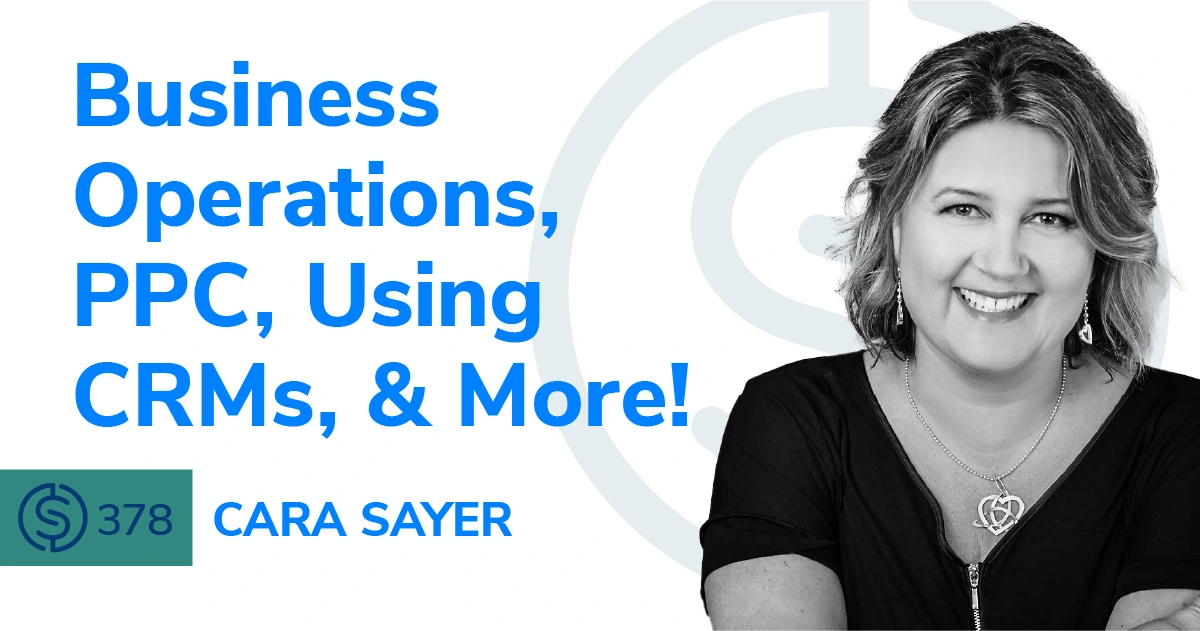 #378 – Amazon Business Operations, PPC, Using CRMs, And More!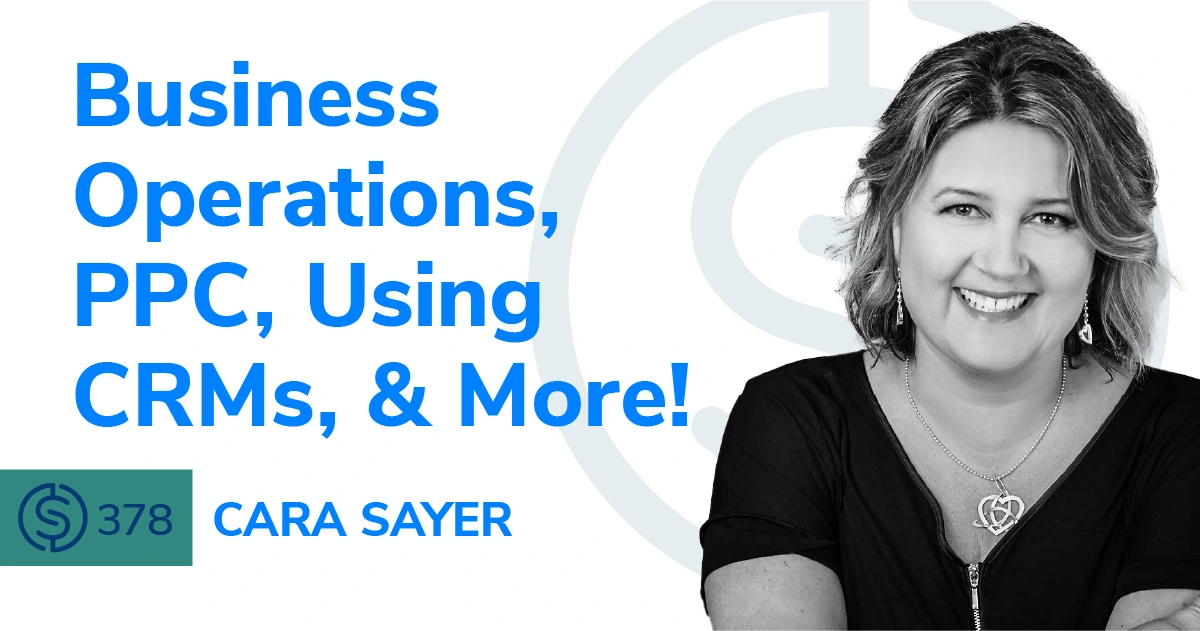 During the pandemic, Cara's sales dropped by 80%. Today, her sales bounced back to 5x that amount. In this episode, we talk about all the factors that helped with that increase in sales, like her brand's story, how she built and is building her team, and the challenges faced by 7-figure Amazon sellers. We will also learn incredible strategies from Cara and Bradley about PPC, frequently bought together, and a unique CRM software to connect better with your customers!
In episode 378 of the Serious Sellers Podcast, Bradley and Cara discuss:
01:30 – Talking About The Weather And Learning New Words
04:00 – Sales Bouncing Back And Beyond After The Pandemic
07:45 – Factors That Helped Increase Her Sales
11:20 – Consumers Buy Your Brand's Story
14:30 – Cara's Team Composition
17:10 – Challenges Faced By 7-Figure Sellers Like Cara
22:00 – Advertising And PPC Strategies
25:00 – Frequently Bought Together Helium 10 Hack
27:30 – Cara's Tip For New And Old Amazon Sellers
31:00 – A Unique CRM Software To Connect With Your Customers
37:30 – See Cara In Person At The Sell And Scale Summit
38:50 – How To Reach Out To Cara Sayer
Transcript
Bradley Sutton:
Today, we've got Cara back on the show. She's gonna talk about how her business first tanked by 80% during the pandemic, but now is 5x what it was and she's also gonna give us a cool strategy on how to communicate with customers that no one else is using. How cool is that? Pretty cool I think.
Bradley Sutton:
Did you know that Amazon sometimes loses or damages some of your inventory? Usually, they reimburse you for this, but sometimes they might miss things. That's where Refund Genie comes in. What Helium 10's Refund Genie does is we go check out your reports and see if Amazon owes you any money. And then we give you the reports that you need to submit to Amazon so that you can get your money back. If you haven't run this, you can have hundreds, if not thousands of dollars that Amazon might owe you, especially if you've never used this before and you sell a lot on Amazon. So to find out more information, go to h10.me/refundgenie. Hello everybody, and welcome to another episode of the serious seller's podcast by Helium 10. I am your host Bradley Sutton, and this is the show that's a completely BS free unscripted, and unrehearsed organic conversation about serious strategies for serious sellers of any level in the Amazon, Walmart, and e-commerce world. And we have got my sister from another mister again for the third time, I believe on the show. The third time's a charm Cara from across the pond. How's it going today?
Cara:
Very well. Thank you. All day rather wet than windy in the UK today.
Bradley Sutton:
It is ridiculously hot here. I live in Southern California and we've had one of the ridiculous heat waves we've ever had ia September it's been, I don't know what it is in centigrade for all the people out there in centigrade. But in Fahrenheit, it's been over a hundred where I live like 3, 4, 5 days in a row. This is September. I don't know what is going on here.
Cara:
We actually had the first time ever that in the UK, we hit over a hundred degrees or over 104 possibly in the UK, which has never happened in the history of weather reports. And that happened, I think in July or August. And then we've actually had an absolutely stonking summer. It's been–
Bradley Sutton:
Stonking. We start off right off the bat with new words every time Cara comes on here. We learn new words here.
Cara:
So we have had a stomping now stonking means like really good, amazing.
Bradley Sutton:
Okay.
Cara:
The home run kind of thing. And it has been absolutely incredible. Most of it's been too hot to be honest for because the thing is what Americans forget and Canadians to prefer and Australians when we complain about the heat is because we don't have air conditioning. So our houses are built to keep the heat in, not out. So like for me, I'm in the loft. Is that the same in America? Like loft? Is that word?
Bradley Sutton:
I mean, when I think of loft, that's like an apartment, but it's just one big open area is what we consider kind of like
Cara:
Loft. So lofts in the UK is like basically a room that is on the roof of the house. But you have like the rest of the house as well. So it's not just–
Bradley Sutton:
Okay. We call that attic.
Cara:
Ah, an attic. Okay. I suppose we call it an attic, but we call it more loft. I think. So anyway, I'm in the attic and basically, my fan just sits blowing hot air around the attic. That's pretty much it. So that's pretty much the state of the UK, but now we've literally had two or three days where it has just been thunder, and lightning. I mean, I literally ran outside my office for about one nanosecond to shut one of the doors and might as well have just had a shower.
Bradley Sutton:
All right. Well, we've got, you know, we're not here to debate whether in UK versus California, we can go all day on that. But one thing that I heard you know, I saw you a few weeks ago in the Billion Dollar Seller Summit, and it sounds like compared to what was happening in with your sales in the pandemic, your sales lately have been stunting I guess.
Cara:
They have.
Bradley Sutton:
So let's talk about that, cuz I remember the last time you were on the show, something down, something crazy, like more than 70%-80%, you know, in some marketplaces, but you have since recovered now. Did you start doing things differently or did everything is what the dip and the peak has been 100% just because of what's been going on with the pandemic?
Cara:
No, I mean, to be fair. When I spoke to you in my, pits of despair last time any really lasted about a month and a half.
Bradley Sutton:
Okay.
Cara:
So I had to–
Bradley Sutton:
Well, Hey guys there, you have it. If you want to boost your sales, come as a guest on the Serious Sellers Podcast, and boom we'll revitalize that right away.
Cara:
Everyone heard me on here and then basically that was it worldwide. Now I think I think what might have happened is that I think once it all kind of kicked off I had to actually start doing things differently. So I think, I dunno if I remember saying at the time, but I'd moved over to doing FBM because we were actually unable to like FBA was useless. Actually, that is one of the things I've kept up in, in the UK anyways, we still do FBM a lot more than we used to and keep it there as an offer, which is something I would've probably been a little bit dismissive of in the past. But actually, now I think it's always useful, particularly because we keep running out of stock cause the sales are so stonking, we keep running out of stock. So and Amazon can be so slow on taking products in that. We then make sure we've got an FBM listing because we've got stock at the warehouse, but we don't necessarily have stock active in Amazon and we're doing that actually at the moment. We've got a product going into the UK at the moment and we've already sold a couple on FBM today because it is going through slowly through the slow wheels of Amazon's system.
Bradley Sutton:
Now your products, are they a little bit bigger? Like the actual package? Or they're just regular size?
Cara:
They're just regular size. There's nothing oversize about them, if anything they're small. Okay.
Bradley Sutton:
So, the reason for asking is now that you have done a lot of FBM, how's the profit difference?
Cara:
Slightly better. Cause obviously you're not paying the referral fee. So yes, we have to pay the shipping.
Bradley Sutton:
You mean the referrals have–
Cara:
We don't have to pay the whole amount.
Bradley Sutton:
All the shipping and handling and, and sending it to the storage. Okay.
Cara:
Exactly. And everything else. So and that actually does reduce it very slightly. So it's certainly comparable, if not, I think very slightly cheaper having said that I still would say FBA unfortunately is still a little bit better.
Bradley Sutton:
Yeah. I found the same now for me, the breakdown is probably, more than 90% FBA to FBM and knock on wood. Hopefully, you don't have many inventory issues, actually, if you have an inventory issue, that's not necessarily your fault. That must mean your sales are stonking, right? Then that's kind of a good problem to have, but at the same time, there's always gonna be people like that. Maybe don't even have Amazon prime that sometimes will order the FBM listing if it's there, and so okay.
Cara:
But we also always offer free shipping. So we make it like appetizing, so it's less of a decision. If they wanna go FBM, then it's still free, so.
Bradley Sutton:
Okay. All right. So, you know, other than being on the podcast, what were some things that we're going on that helped increase your sales? Do you think just a factor of people getting out more or what was going on?
Cara:
Unfortunately, I think there's an element of it, which is it's the result of having a very long end game in terms of obviously my business has been going out 12 years but in the last sort of two or three years I've done some seriously hardcore work on my websites. So I'm a big Shopify fan. I've got four websites around the world, the UK, the US, Canada, and Australia. And then I've had somebody working on SEO on my, on my websites. So making sure that we are actually working hard off Amazon as well as I've also taken somebody on who's doing Facebook ads and actually doing very well. Whereas I've had an awful lot of offers from millions of people who always say, oh, I'm going to, you know, turn your ROI 50 times over.
Cara:
And I'm like, "Me? May not." But cuz you really need somebody who understands the product because with it being a baby product and a slightly challenging baby product, sometimes in some ways, therefore, it's not just as easy as selling a handbag for example, or what have you. And I think also because I've always believed that there'll always be a customer who wants to buy direct from the brand and there's always gonna be a customer who just wants it as quickly as physically possible and who also can't be bothered to like fill out all their details. So I've always made it very easy for people to move from the website to Amazon because I don't care where they buy it from, I just want 'em buy it. And I think that's sometimes things, some people get a little bit precious about is oh, well I want 'em to buy from my website.
Cara:
Well, are you thinking about yourself or are you thinking about your customer? And so I'm always about what's best for the customer. One of the other things we've spent a lot of time on is building relationships with experts in the area. So for example, we have a lot of baby sleep consultants that recommend the products and that becomes then a sort of a self-fulfilling sales machine because they're constantly recommending the products to their clients and talking about them because it's very integrated with what they're doing. And that's something that can apply, I think to any product really is that you just need to look at where are the people who are talking about this subject. So if you've got a cycling brand, who are the people and not necessarily, I think a lot of people get distracted by approaching the big, like Kim Kardashians of the world.
Cara:
Whereas actually, you know, I mentioned when Kim Kardashian might be nice, but it's probably not gonna do that much good in the long run. Whereas if you can build relationships with smaller influences and people who actually genuinely love your product and can see why it's useful and helpful and love your brand and what you sound for. Then I just think that that also adds a huge lot of value. And we've spent a lot of time over the last couple of years, it's definitely been a real focus working with sort of the micro and nano influencers and also the sort of baby sleep consultants and baby experts and, you know, pediatricians and all midwives, et cetera, et cetera. And it's just sort of building that credibility and building that buzz, you know, it's about basically, I'm sure there are lots of other products that could be seen to be being similar to mine out there, but mine's the one that's been out there talking loudest. You've got to kind of build a story around your business.
Bradley Sutton:
Okay. Now I had somebody on here whose main marketplace also was Amazon UK and something he did in like all of his listings and advertising was make sure everybody, at least locally understood he was a locally owned business. Is that anything that do you care about that? Do you think your customers care about that? Do you advertise that anywhere or do you keep it kind of neutral since you sell all over the world?
Cara:
Right. So I think the thing is at the end of the day, people buy from people. They also like stories. So if you are not prepared to be the face of your brand, that's fine, but you do need to find some kind of story, whether that's, you know, like oh, what's the shoe company, not Harry's that's the razor, is it TOMS? I knew it was a short name TOMS shoes where they donate X amount, blah, blah, blah. So it isn't necessarily always a story about a person. It can be a story about a mission that the company has, wanting to reduce waste or wanting to, you know, do good in the world. But I mean, I've chosen to go down the road of it very much being a mom-invented product.
Cara:
It's a product invented by a mother and I'm very much the face of the brand. And I mean, we get people who literally message in on Instagram they're like, oh, hi, Cara, you know, I'm wondering if you can help me with like, whether or not it's gonna fit my stroller or not. And you're like, you're thinking sort of like, wow, and often they may well get me to cause if I'm not, then I'll answer the question. But I have a team of people who are sort of sitting there who are all mainly moms who will be answering the questions on my behalf, so to speak, but it is very much something that we value is the fact that pretty much nearly everyone on the team is a mom. I think pretty much. Yeah. And I think actually everyone on the team directly is a mom and we, therefore, understand parents and how parents worry about things, we understand, we don't ever judge, you know, we don't ever try and be clever if you know what I mean. And we talk to people in a tone of voice that we think is appropriate and normal. I do think sometimes and this is the same in any business, not just Amazon businesses, but I do think sometimes people, when they get into a business environment suddenly start talking like a Dalek, you know, like they start talking like a robot because they sort of, it's almost like they do.
Bradley Sutton:
Now a then now there is something that I understood, that probably 98% of our audience didn't. All right. And you are cool if you're a part of the 2%, but a Dalek is from Dr. Who, "exterminate, exterminate." I love it. All right. Finally, something that I actually knew that you said. Continue before we go too off the rail.
Cara:
The sad thing is I remember seeing the original dialects, cuz I'm a bit older.
Bradley Sutton:
No, I remember the original ones too. Yes, yes.
Cara:
Probably got the slightly more modern ones. They were less–
Bradley Sutton:
Actually one of my pictures, I rotate these pictures that are above me, these little, little artistic things here. And one of them is I don't have it right now. It's not in the rotation, but one of them is a Dr. Who artwork.
Cara:
I want to see that next time. In my fourth interview, we can go into even more detail.
Bradley Sutton:
There we go. Now, something you mentioned though, right there you reference like your team and their mothers and things like that. What is the composition of your team now? I guess we would call it seven figure seller. And how has your team grown or shrunk? Like what's happened since before the pandemic you were kind of high, you went down low. Like did you have to let people go? Did you have you hired more since sales are booming? How has the evolution of your team go?
Cara:
Yeah, so interesting. I was having this discussion today, cuz we're actually recruiting a couple of extra people at the moment and it has rather than necessarily hugely expanding or hugely shrinking. What I'm doing now is actually outsourcing individual jobs rather than roles, if that makes sense. So what's happening is for example rather than having one person who does the marketing, right? Who does like newsletters and websites and this and that and the other blah, blah, blah. I have one person who does website coffee. I have one person who's doing a newsletter. I have one person who's like, we're gonna get someone in who specializes in TikTok. Then I've still got a team of people who like, I've got a team of three at the moment and it'll probably stay a team of three who will basically be running the kind of day-to-day social media, which is us approaching people, dealing with people, approaching us the brand collaborations, which is where you work with other brands to kind of reach their audience and they reach yours all those sorts of things.
Cara:
As I said, I've got someone doing SEO, I've got someone who does Facebook ads. I've got someone who's been doing landing pages, someone who does email marketing and by doing it that way, it means actually it's a lot. And I've got somebody who writes blog posts, I'm taking someone else who writes a different style of a blog post on what it means is that it makes you a lot more flexible, you know, because actually, and also very much more, I think you get more work done because what happens is the people who are good at what they do what they're good at. Whereas if you try and have like a jack of all trades master of none. Do you know that phrase?
Bradley Sutton:
Absolutely. I don't think that's just a British thing. I think that's a universal one there.
Cara:
I was just checking. I think that's the thing, I think that in the early days, I think you have to have jacks of all trades because that's all you can afford. But I think as you start to get a bit bigger, you can actually afford to pay someone maybe a bit more, but to do a bit less, because you're less worried about how much output they're gonna have. So I think, I've got one person who kind of does all my logistics in stock and shipping, et cetera, et cetera, I've got one person who's on customer service and they do that five days a week, five hours a day. I have a VA in the Philippines who does a lot of our sort of admin and reports and a lot of the sort of Excel spreadsheet crunching and things like that and a lot of order fulfillment, et cetera. As I say, I think it's really a case of sort of picking and choosing more and actually making sure that you've got maybe more people, but doing less work. So overall you're getting things done a little bit quicker.
Bradley Sutton:
Okay. What would you say are some of the bigger challenges you have now? Would it be inventory management across your platforms or rising PPC costs or what keeps you up at night about your business?
Cara:
Not a lot.
Bradley Sutton:
I like that. I like that.
Cara:
And not a lot does, to be honest, PPC costs, we try and keep it a 10% takeoff. So, as long as it stays around there, I'm pretty happy. I don't, we try not to move it much. So I've got some campaigns, would you like doing 200% a cost or something, but actually for me, they're good at like the brand they're part of building the brand, not necessarily purely about clicks to sell, if that makes sense, and they're not spending obscene amounts of money, and then we've got other keywords which are ridiculously cheap. So therefore that counteracts, the more expensive ones. So TACoS advertising PPC generally doesn't really worry me because I have somebody who looks after that for me. And I just sit there and every now and then I'll just look and check what the average is.
Cara:
And the long as the average is under 10% of my total cost of sales, then I'm pretty happy. Inventory again, I mean, like this year's been pretty stressful cuz we are literally selling like five times the amount that we've ever sold before in the UK. Wow. and we've also sold, I think 158% more in Australia and we're up about 128% in Canada. Now we have gone down slightly in the US because I've got quite a lot of very cheap, quite frankly, nasty Chinese copies. Badly written clearly, but the thing is if they're so much cheaper, I can totally understand why, why people wanna buy it or try it at least. And so I think for me, one of the, I mean inventory is just one of those things.
Cara:
I mean, I'm very lucky. I've been working with mine and the manufacturer for 12 years, we have a great relationship. And I literally just kind of go, we've run out of product is how quickly can we get some stuff it's increased my costs in terms of having to fly products around, which I never like doing, but you know what, like, excuse my French, but happens. So you just have to deal with it. And as long I'm always of the mindset, which is as long as it's financially viable and I'm making a profit, I'll sell it. If I'm not making a profit, I won't. So as simple as that, rather be out of stock of something than sell it at a loss. And also I've put my prices up again this year as well. Like you know, quite recently it's really worth looking at your pricing structure because sometimes I think we get so paranoid about it.
Cara:
Like, I mean, I'm never the cheapest ever, but even at never being the cheapest actually, my costs have gone up quite significantly. Sure. And so sometimes you have to actually look at the reality versus the dream and like, yes, I'd love to keep my prices at exactly the same price they've been at for the last 10 years. But actually, my costs have gone up a lot. So I've just added on like a couple of pounds here and a couple of pounds there and it hasn't really slowed down the sales. So I'm like, okay, good. And then that just gives you that little bit of flexibility to be able to, you know, fly products in when customers want it like ASAP. And it's like, well, okay. But I'm flying them in, you know, there there's a cost associated with that and it's not a cheap one.
Cara:
So you know, all of those things come into play. But I mean, as you say, what I've generally tried to do is I very rarely, I think, I think maybe this year we did sell out completely of like one age range of product, which we've not done before, but like actually it was only for about four or five weeks, but it did, it hurt like the fact that I didn't have, normally I've got, if I've got one in that age range and one runs out, I've got the other one to fill the gap and there was nothing. So that was a bit weird. But again, that was, you can't really complain cuz it's too many sales, it's just one of those things. And what else is there? That's oh, I mean, I think the biggest thing is I actually do want to redo like a couple of my listings and I just don't know who to go to, who I would trust to actually do it properly if you know what I mean. I think there are an awful lot of people out there who would do it and it would make you look like any other Amazon listing, but I don't like things to look like any other Amazon listing. So it's sort of, it's quite difficult sometimes I think to find somebody who's skilled in that way if you know what I mean.
Bradley Sutton:
Yeah. Okay. Now you mentioned advertising, what kind of ads are you doing? Obviously, everybody does Sponsored Product Ads, but are you doing Sponsored Brand? Are you doing Sponsored Brand Videos? Are you doing Sponsored Display? Are you doing Product Targeting? All of the above?
Cara:
So I think we've tried Product Targeting and it was a little bit broad I think. I think maybe we got one campaign that kind of work. So we're still running that I do quite a lot of Sponsored Brands and I do quite a lot of videos because I find that those work really well in terms of sort of selling the concepts of the product and catching attention. So I generally do try and do those. I also upload videos like onto my listings as well, like demo videos and all that sort of stuff on like how to use the product, et cetera. And so I've had a bit of a revisit on some of those, making sure that they're actually relevant to that product. So, yeah, so I do Sponsored Brands, very big fan of sponsored brands. I think my agency would probably do less of Sponsored Brands, but I love them. And although they are probably a little bit more expensive, I, I love the fact that I can often dominate the page, you know, because I'm doing the Sponsored Brands and we're doing like the, you know, the sponsored keywords we're doing like anything and everything we can basically. So when someone hits and looks for certain keywords, hopefully, they get inundated.
Bradley Sutton:
Yeah. Now, it doesn't sound like you do too much Sponsor Display or Product Targeting, but this kind of is a Helium 10 strategy here, but–
Cara:
I don't think I do any Sponsored Displays. Cause I don't think I'm I've got an account to do it. I think you don't have to have a special account.
Bradley Sutton:
No. I mean before, you used to, but you know, nowadays as long as you have Brand Registry, ou're good to go. You can do Sponsored Brand. You can do sponsored display
Cara:
I should be looking into that.
Bradley Sutton:
All right. Now, wouldn't you say that obviously if you're doing any kind of product targeting ASIN targeting, you know, whether it's regular sponsored products or whether it's sponsored display that of course, you'd probably do similar products like your competitors, maybe who are a little worse than you, but also what did you say another good target to do are some of the products that are bought together with yours because obviously there's a history, right? Now, do you know, like, I'm just looking on your, on your storefront right now, it looks like your $89 canopy cover intent is like one of your top sellers, right? Like, do you happen to know what are all the history of the Frequently Bought Together in the last 30 days that Amazon has been showing for that?
Cara:
I don't.
Bradley Sutton:
All right. Well, I just found that in 30 seconds here on Helium 10. So like for example, one of the top ones that is bought with your product is a white noise sound machine.
Cara:
Oh yeah. Actually, people love white noise sound machines. Yeah.
Bradley Sutton:
For babies, another one is an inflatable bathtub froggy collection. Here is a munchkin any angle weighted straw trainer cup. NumNum Pre-Spoon GOOtensils, what in the world? Oh, baby spoon set. Okay. All of these are baby products like yours. Now, this to me is insightful and this is why I always like using this thing is I can see what's on there right now. Like right now, if I go to your, if I go to your page, the most Frequently Bought Together actually is that spoon set. And then what is this a privacy pod, but sometimes people when they're doing their ASIN targeting, they only–
Cara:
Actually. Well, that's my competitor you see. So that privacy pod. So that's quite interesting. I'm not sure that that says buy it with, I don't think anyone would buy both really unless they were just trying to–
Bradley Sutton:
Well, that's actually something that I recently reached out to Amazon because that's something newer where it says both frequently bought together sometimes and buy with it, it used to be something that said customer also bought, but that's gone.
Cara:
And then you get more like what I'd call compatible products rather than buy with it.
Bradley Sutton:
But Amazon told me it's the same as Frequently Bought Together. I was like, well, really. So I gotta do more digging into that, but I was like, what's up with this? Buy it with, instead of frequently bought together, like I see both like, we use that interchangeably. Sorry for the confusion are bad. So people are buying these things, you know? And, and so, Hey, so here I know you and I are gonna go over some helium 10 things later, but there's your first Helium 10 lesson today you go into Black Box. Yes. And there's a tab, the fourth tab in there, which almost nobody uses, right? Go on is called product targeting. And then you just enter in your ASIN, your competitor's ASIN, whatever. And then a whole bunch of products comes out, but filter it out for the there's a, there's a source there. So hit that filter and then do Frequently Bought Together. And there are 23 different products that we have a history of your product being bought with per what Amazon is showing. And there's some of them, like, I'm sure you're very familiar with, but there are others that maybe you didn't know about.
Cara:
Absolutely. Well, and also, to be honest, it is something, I mean, this is the other thing I would say to anyone listening who's early days, or even later days, like me, the thing is you can't do everything. Do you know what I mean? It's like don't feel–, whenever I learn something new, I'm always excited, not disappointed. I don't sit there going, oh my God, how could I have not known that? I'm like, brilliant. I've done really well without knowing it. So imagine if you add that into your arsenal and then actually you're gonna do even better.
Bradley Sutton:
And you know, there's one side of the coin where it's like you, like, maybe, you're not doing some things that maybe you wish you had more time for whether it's sponsor display or whether it's using Helium 10. But on the flip side, you could try and learn every new thing out there, but then you have this information overload and you like have no idea what to do. And then you start missing out on things that way so that you gotta find the right balance now.
Cara:
Balance. Exactly. And you've actually got to find the time as well to actually do stuff. It's all very well knowing about stuff. I don't read business books. Okay. So I know everyone out there, like so many people read business books. I don't think I've ever read, I've maybe read like a few chapters of the odd book here and there cuz you know, I list, I tend to pick stuff up from other people. So they'll say, oh, I've read this book about like the four hour week or whatever it is for, you know? And I'm like, OK, that's concept find out a bit about it, but I don't necessarily need to read the whole book. And so that's the same thing as well. I think just being curious and listening to things and keeping your eyes peeled. Like I find, I mean, Helium 10 Facebook group is I'm up quite often in there and I quite often pop in and often my five pennies worth of advice. And you know, and I think that's the thing is just sort of picking stuff up and just being interested in what's going on. And then I think that helps you grow.
Bradley Sutton:
Sure. Absolutely. Absolutely. Now we were at the Billion Dollar Seller Summit, I remember we were eating lunch at a table and you were like Hey, I've got this really cool strategy that I've been using that has helped me. Are you willing to share that here or, or do we keep that at the Billion Dollar Seller Summit?
Cara:
Do you mean the amazing piece of software that I found?
Bradley Sutton:
Yes, yes.
Cara:
Yeah. Yeah. I mean I'm happy to share. It's not my business.
Bradley Sutton:
All right. Let's do it. Instead of a 30-second tip, let's just make that our episode-ending tip, because I already forgot what it was. It was so amazing, but that's just my lousy memory here, but it was actually pretty cool. I had never heard of anybody using it in this way that you're doing it, but what is that software? What's it supposed to be for? But then how did you end up using it so much that you almost broke it because they're like, why is she using it this way? So
Cara:
Yeah, kind of nearly broken a few things. I think that's the thing with maybe having an inventor's brain is that I tend to sort of just push things to my own limits, but yeah, this piece of software, I think, I don't know what it's really called, cause I mean, it's PipelinePRO. But I think it's like under GoPipelinePRO and basically, it's fundamentally, it's a customer relationship management tool. So that basically means that you can do your email marketing with it. You can do your funnels, you can create little websites. You can manage your social media channels. It's like a combination of like all the different things, like Mailchimp, the Clavio's, the Zoho, et cetera, et cetera. And it's been created by two guys again, who I have no affiliation with whatsoever.
Cara:
And I think that the story is whether or not it's true or not, I don't know. But the story is that they run their own marketing agency and then they've probably done what a lot of Amazon sellers and hence why things like Helium 10 are in existence is they see problems coming up all the time and they want something to solve that problem. So I think they wanted something the main issue you have with CRM systems is that you have to pay per user. And so it ends up getting quite expensive. And then also on top of paying by user you also often have to pay by the number of contacts you have. So again, that can really increase the cost. So, I have a team of about eight or nine people. And so for me to be paying, say a hundred dollars a month for eight or nine people using multiple pieces of software, it starts really adding up.
Cara:
So I was sitting there and it was a May Bank Holiday. So I don't think you have bank holidays, do you, but you have public holidays. So it's kind of like a July-the-fourth type thing. And we have two holidays in May, although this year it was particularly long for Queen's birthday. And I was sitting there and I didn't have my daughter that weekend and I was a bit bored and I was scrolling through on Instagram and I saw an ad for this piece of software. And I thought, oh, that sounds quite interesting because I really liked the idea of unlimited users and unlimited contacts, but I wonder what it can do. So, as I said, it's really probably designed to be more like the sort of thing. You can integrate it with Shopify, you can integrate it with WordPress, so you can basically push all your customers through it.
Cara:
And then you'd be able to set up email-like communications with them and like funnels and send newsletters and you can also do a chat box, a live chat, although I don't think he's very good at life, it's certainly good at getting messages across. I also use it for things like faults and returns and things like that. So we, you can do forms different forms. So we get, if a customer has a fault or they have a return, we send 'em a form and they have to fill in all the information, which then creates a contract, which means we can manage them rather than what was happening before is we were getting loads of emails, right? And the problem with loads of emails coming to loads of different email inboxes is you can lose them really easily.
Cara:
And it's difficult to find them. So if we have a customer and they come in and they've got a fault and they bought it on Amazon, we tag them to fault. We tag them, Amazon, and we tag them the name of the product. And then we tag them, the person who's going to be looking after them. And then once they've done their next bit, then we move them on to the next person. So you take one tag off and put another tag on, you basically move them through the process. So the same with like social media. So for example, Facebook and Instagram are a fricking nightmare to manage if you've got lots of customers coming in that way. And we have probably the majority of our customers coming to us via social media, whether that is faults or orders or product requests or shipping requests, et cetera, et cetera.
Cara:
And the problem is there's no real way of like organizing them because you know, again, Facebook has got minimal tagging abilities and Instagram's got none. I mean, you've literally got like, I think primary in general as your two streams. And there's no real way of finding people. How the hell do you find them after the event? How do you find out when someone's done? Like a really amazing quote, how do you find that person? Well, we tag them amazing quotes so we can look through all the people who've done an amazing quote, and we can find them we can tag them, like ask for a review and then ask them to go and put a review, whether that's on Amazon, on our website, Google reviews, whatever it might be. So this system has really helped because it means anybody can go in, and you can create smart lists from tags.
Cara:
So anything that's tagged with fault, anything that's tagged with Instagram, like, or, you know, we have influencers and we tag them as different numbers. So it's like a small influencer, medium, large, extra large celebrity. So we can find all of them an easy one go, which one, which products have they got. So we know that we, well, that they've got that product. So we need to tell 'em about that product next in maybe a couple of months' time. So you can, it's got a diary, you can do dates, you can do like, you know alarms and all that sort of stuff. So it's just really, I have to be honest and say again a bit like Helium 10 I'm probably not even scratching the surface of what it can do. But certainly, the way I use it, I mean, the company will a bit like in shock, cause I'm like, well, can you do this and this and this and this and this.
Cara:
And they were just like, oh, it can do that, but no, it can't do that. Well, it can do, we don't know if it can do that. You can use it for SMS, or text messaging. You can call customers on it, which is great. So like for example I had to get hold of Australian Seller Central and there was actually a phone number, right. Cause in Australia, there's still a few years behind. So I just rang using the Australian mobile number that I have on pipeline and spoke to them and sort it all out using it rather than, and it was great line. I ended up doing it when I'm in the car, you know, off my mobile. Cause you can call from the app. I mean, it was just, you know, brilliant, but as a general rule, it just speeds everything up like and means that we can actually deliver really good customer service. And since we've been using it, actually we've been getting a lot more comments from customers on like, oh my God, your customer service is amazing.
Bradley Sutton:
Interesting. And so what's it called again?
Cara:
It's called PipelinePro. So if you look for it I think it's like GoPipeline or something like that, but it's PipelinePro it's like the website is gopipelinepro.com, but actually, in terms of just managing customers and all of my for example, all my customers, like on my websites, like contact us and they basically have a form that basically comes get in touch and we will reply or we have a chat option and then they get an automated reply everything's automated as well. So as soon as someone's messaged us, they get a message that says, hi there, we've got your message. But if you wanna get hold of us, the quickest way is actually on Instagram or Facebook. So often then people come through and come into Facebook and Instagram, which is much faster for us anyway. Cause then once we got them, you know, we, we have them.
Bradley Sutton:
Okay, cool. All right. That's a great tip. Now, speaking of great tips, you'll be speaking at Sell and Scale Summit. This is probably one of the, the last episodes before the actual live one. So what are you enlightening us on at the Sell and Scale Summit?
Cara:
Well, my plan is to tell a bit about my story, cause I think it's always quite interesting about it I'm not your normal Amazon seller, as we know, I'm not normal in many ways, as you also know.
Bradley Sutton:
You said it, not me.
Cara:
But now I'm gonna mainly be talking about like how to brand build and how to like grow celebrity fans, grow affiliate networks that really kind of making sales for you without you kind of really having to sell yourself.
Bradley Sutton:
Okay. I love it. I love it. So guys, if for whatever strange reason you have not gotten your ticket first of all, VIP tickets are sold out right now for Sell and Scale, but you can still get in with the regular tickets you want to come to see Cara in person, learn some British slang and learn about her story. You go to h10.me/s3. You could use the code S3BS100 to save a hundred dollars off. Guys, I tell the story a lot. You know, my whole Amazon journey started when last second a week before it happened, I was listening to a podcast and I heard about an Amazon conference. And I guess on a whim went and changed the course of my life forever. So it could happen to you too. So make sure to come and Cara will be dancing in my Zumba fitness class at 7:30 AM on Tuesday morning. She's already committed to that. But anyways, there's, there's plenty of other reasons to go other than Zumba. So, Cara, thank you so much for joining us. If people want to reach out to you in the meantime or take a look at your story a little bit, how can they find you on the interwebs out there?
Cara:
Well, on the interwebs there's Facebook, I've got a Facebook page which is called, Make It – Brand It – Sell It. I don't actually do anything about it. I mainly post pictures of me like in Austin and things like that. But I'm also on Facebook. I'm the only one, I'm the only me on Facebook I'm and if you would be interested in the business brand name is SnoozeShade. And I've got, as I say, I've got different websites in different countries, but we are all on social media, et cetera. So come and say hello.
Bradley Sutton:
Awesome. All right. Cara thank you so much. And I'll be seeing you in a week or so.
Cara:
I know. So exciting.
Bradley Sutton:
Bye-bye.
---
Enjoy this episode? Be sure to check out our previous episodes for even more content to propel you to Amazon FBA Seller success! And don't forget to "Like" our Facebook page and subscribe to the podcast on iTunes, Spotify, or wherever you listen to our podcast.
Get snippets from all episodes by following us on Instagram at @SeriousSellersPodcast
Want to absolutely start crushing it on Amazon? Here are few carefully curated resources to get you started:
Achieve More Results in Less Time
Accelerate the Growth of Your Business, Brand or Agency
Maximize your results and drive success faster with Helium 10's full suite of Amazon and Walmart solutions.