#356 – Building Teams And International Marketplaces
Today, we welcome the Amazon influencer dynamic duo, Jana Krekic and Lazar Zepinic, to give us a preview of their Sell and Scale Summit topics.
Originally published on: June 28, 2022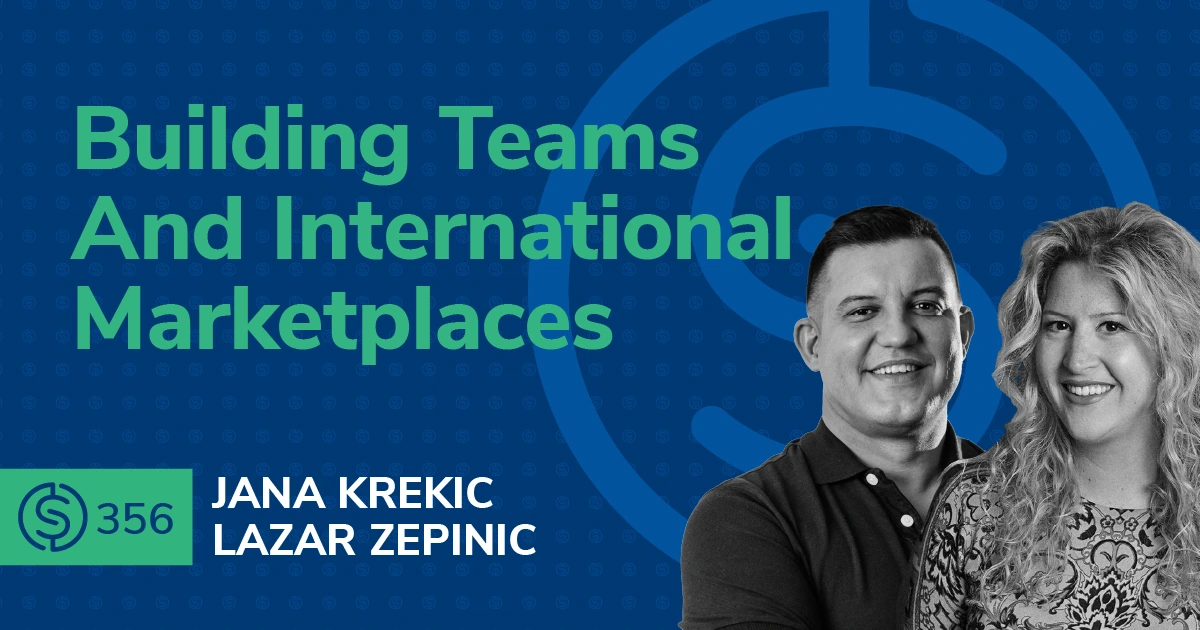 In this episode, we welcome back Jana Krekic and Lazar Zepinic. We start the show with a quick story about their wedding and then proceed to share a preview of their Sell And Scale Summit topics like, how good procedures and building a good team can benefit your business and how we can unlock new opportunities for our Amazon FBA business in other international marketplaces. We also cover how the Helium 10 tools can now help Amazon UAE sellers. This will be a jampacked strategy-filled episode! Lastly, make sure you're signed up for the Sell And Scale Summit this September and use code S3BS100 to get $100 Off your ticket.
In episode 356 of the Serious Sellers Podcast, Bradley, Jana, and Lazar discuss:
01:56 – Lazar and Jana's Wedding Story
04:45 – How Good Procedures Can Help A Business Owner
07:10 – How Building Teams And SOPs Benefit Your Business
15:00 – Working From Office Vs Remote Teams: Which One Works Best?
19:00 – Unlocking New Opportunities In International Marketplaces
21:50 – Which Marketplace Country Is The Easiest To Launch In?
23:30 – Which Marketplace Should Helium 10 Focus On Next?
25:30 – Lazar's 30-Second Tip
26:15 – Jana's 30-Second Tip
26:50 – What's Next For Lazar And Jana?
29:00 – Catch Lazar And Jana At The Sell And Scale Summit
30:30 – How To Get In Touch With Jana And Lazar's Businesses
Transcript
Bradley Sutton:
Today, we're gonna talk to the Amazon influencer dynamic duo Jana, and Lazar, who's gonna give us a sneak peek of their Sell and Scale presentations on building teams and expanding to international marketplaces. How cool is that? Pretty cool I think.
Bradley Sutton:
Are you afraid of running out of inventory before your next shipment comes in or maybe you're on the other side and you worry about having too much inventory, which could cap you out at the Amazon warehouses or even cost you storage fees? Stay on top of your inventory by using our robust Inventory Management tool, you can take advantage of our advanced forecasting algorithms, manage your 3PL inventory, create POs for your suppliers, create replenishment, shipments, and more all from inside Inventory Management by Helium 10, for more information, go to h10.me/inventorymanagement. And don't forget, you can sign up for a free Helium 10 account from there, or you can get 10% off for life by using our special podcast code SSP10. Hello everybody, and welcome to another episode of the Serious Sellers Podcast by Helium 10. I am your host Bradley Sutton, and this is the show that's a completely BS-free unscripted, and unrehearsed, organic conversation about serious strategies for serious sellers of any level in the Amazon or Walmart world. And from the other side of the world for the first time together, I think as a married couple, we've got a Jana and Lazar now, hold on. Let me see if I got this right. (Speaking in Serbian)
Lazar:
Oh, you're good. Thank you.
Bradley Sutton:
There we go. So, yes. All right. I'm trying out for Jana's translation company there so I can join as an employee, just in case, this Helium 10 thing doesn't work out, but anyway, congratulations on your wedding, and you guys are like the first couple of Amazon, you know, the celebrity married couple now, paparazzi following you everywhere. But anyway, we're not here to talk too much about that, but let's talk a little bit about it. You guys are like the power couple, you know, the power, couple influencer couple here in the Amazon world. Guys that both of them have been on the podcast before. So please go back and check out their origin stories. But where in the world are you guys? These days?
Lazar:
Yeah.
Jana:
We're in Belgrade, believe it or not. We are back home and we are staying here until the end of June. So if anyone wants to come and visit.
Bradley Sutton:
Which I have done, and you took me to amazing restaurant there in the midst of those trees there. I remember what was that restaurant called? It was great.
Jana:
Yeah, it's called <inaudible>, basically. Hazelnut. That's what it's called.
Bradley Sutton:
Oh, that was an amazing restaurant. Lazar, couldn't make it that day. He had a bachelor's party. I think if I'm not mistaken, right?
Lazar:
Yeah. I went to the mountains with a bunch of friends. One of my friends was getting married.
Bradley Sutton:
Now, did you guys get married there in Belgrade?
Jana:
Yeah, it was actually a little bit outside of Belgrade. It was at this huge, amazing property and we had an outdoor wedding, so it was really nice. And it was basically outside of Belgrade. It was like maybe 35 minutes by car, which a lot of people disapproved of, but once they saw the property, they thought it was amazing. So I was really happy that everyone had a great time.
Bradley Sutton:
Now, between like wedding prep, the actual wedding, you know, extended honeymoon, like kind of, how long were you both away from, your day to day operations of your companies.
Jana:
You go ahead, Lazar. I wanna see what you're gonna say.
Lazar:
Yeah, well, to be honest, like Jana was the mastermind behind the wedding. So I was like working all the time and like, I didn't make a lot of decisions to be honest, but Jana did such a great job. Like my wedding would suck if I would organize it, but Jana was like on top of her game and like, it was amazing. I loved every moment of it and she was really good.
Jana:
Thank you so much. And to answer the question, Bradley, I was away from, let's say the beginning of June, til I would say mid-October
Lazar:
Jana, how much did you pay Bradley to ask this question?
Bradley Sutton:
But my point is like both of you guys were able to dedicate time and, and be away a little bit. And it's not like your company's, you know, crumbled to pieces. So why, why is that? Because, you know, not everybody has agencies or, or things like that in Amazon world, but it's the same thing. If somebody's an Amazon seller, I think there's a lot of Amazon sellers. It doesn't matter the size, you know, I don't care if you're an eight figure seller or a brand new seller, they think, "oh my goodness, I take one day off, my business is gonna be crumbling down". So why didn't that happen with you guys?
Lazar:
Jana do you want to go first because you spend more time on wedding preparations than I did?
Jana:
Yeah, well, basically it all comes down to your procedures within the company and the layers of those procedures, the SOPs and KPIs, and all of that. You teach your team. And then I have a team about 80 people. And then we couldn't grown that gradually fast, but gradually was not like an overnight, you know, like success or things did not get out of hand because of those procedures. And this is something which is absolutely necessary to have it all figured out within your company because then you can leave, you can leave the company and you can come back and you still will have the company then not crumble to pieces, as you said. So that's very important to learn how to delegate number one and to build very, very good procedures.
Jana:
I think that those two are the ones that make the most importance in my case, but Lazar is an expert on building procedures and teams and all of that. So he helped me a lot with like the things I've been struggling with as he has like a really big team. And he's actually speaking about building teams on Sell and Scale because that's one of the bottlenecks that I've seen that a lot of sellers and smaller agencies have, everyone can build a team up to like 10, 15 people, but then they cannot scale above that number. And then they just go and build another company instead of like focusing on scaling that one company that you have in growing their revenue. So this is where I see that the major problems are, and I love Lazar to talk more about that, cuz I think it's very important
Lazar:
Yeah, like basically every company's problem is if the owner is the smartest one in the company, you know, like my, my company would have like huge issue. If I was the smartest one like it's really important to hire right. Group of people that are like know what they're doing in like their field of work. And also it's all about abbreviations, you know, like OKRs, KPIs, SOPs, and that kind of stuff. So it's really important to make sure that you have like the really nice structure of the company that everybody knows how to do their stuff. It's really important to like, learn how to delegate as well, because it's not just like to tell somebody does this or do that. You need to explain like the reason why you need something to be done and like, what's gonna be the goal?
Lazar:
And like, what's the best goal that can happen if they do the task. And like what's the worst case scenario if they don't manage to do the task and that kind of stuff. So basically we managed to like granulate the company, like car team is pretty big, it's 150 ish people at this point. And like, we're all basing Belgrade, Serbia. We're expanding now to countries around Serbia at this point. Like we're in the process of doing that. So for that kinda stuff, like you have combination of people that are working remotely that are working from the office, you're talking like best parts of like both sides, you know? So it's really important to have people that you can rely on that you're gonna be absolutely sure that they're gonna understand the task first all and then to do everything correctly.
Bradley Sutton:
Okay so like Jana said, that's the topic you'll be speaking on at Sell and Scale. I'm gonna ask you a little bit about that, but just to kind of show that, Hey, Lazar definitely knows what he's talking about. You know, he, you know, while he was busy with things last year I was like, "ah, you know, I wanted to come somebody to come on him to come on the podcast to talk about TikTok, like you know, marketing and things". But I was like, you know what, I'm just gonna reach out to somebody on his team. And so I reached out to Tamara and she came on the podcast and, you know, like, Lazar, didn't even know, but like, he trained his team so well that, that he has now people who can come on and go on different podcasts and things. And actually, just, you know, just to give her a shout out, it was her, I reached out to this morning to ask how to say that in Serbian. So she's the one who taught me that but–
Jana:
I was expecting you were gonna pronounce her last name, but you always go–
Bradley Sutton:
Yeah. There's no way I could. Thank goodness she has an easy first name there, not as easy as Jana though. That's very easy to remember. There's like only there's like a few Serbian woman names. So there's Jana and there's Militza. I know, like for some reason I know multiple Militza around
Bradley Sutton:
There's also like a famous Serbian basketball player. His wife is named Militza. Like, I don't know if that's Jokic or one of those guys, their wife is named that too. So I don't know why Militza comes up, but anyway, we're not here to talk about Serbian Serbian names. Let's go back to Lazar still. So, you know, you're talking about that at, at Salem scale. So, you know, I don't want you giving away your whole entire, you know, presentation, but, you know, building teams and SOPs and things like that is not exactly something that, you know, we always talk about in podcast or in Amazon conference. So maybe if you can just give like a sneak peek of the value of what you're gonna be talking about at Sell and Scale on this subject here on the podcast today.
Lazar:
Yeah. So basically that kinda stuff is usually really boring to listen to, to be honest, but like, it's so valuable for the company to like, understand the goals, to understand procedures, how to do stuff, how to do right hiring, like how to create like good hiring process. Like, is it better to have somebody that is really good at what they're doing and like not to be the right mentality for your team? Or is it better to have somebody that is right mentality and like eager to learn on the other end and that kind of stuff like to see the importance of like sellers and like business owners usually think of their business as like their child, you know? And like, they are not really willing to give that opportunity to manage it on their own to somebody else. But it's such an important thing to do because that's the only way to grow.
Lazar:
Like if you micromanage everybody, you're gonna end up messing up with morale of the team and like the opportunities and everything. And like when somebody messes up like it's normal to make mistakes and that kinda stuff like we have like, do you want your team members to be able to come up with cool new ideas or not, like, not all of the ideas are gonna be really good, you know? And like, especially at the beginning, when you hire them, like situations like how to manage those situations when somebody comes to you with like a really bad idea, but you don't want to kill the energy of that person. You want them to continue, but like go into a direction that you would prefer. And that kind of stuff. Also the importance of OKRs, importance of KPIs, SOPs, and like how to make them not too complicated.
Lazar:
So everybody would understand their part, and like the living organism that is your company and like how you can, can get the best out of it. Because like all the business owners usually want to go deep and deep dive and micromanage all the stuff. I know that they know the best, you know, but like that way, they're not gonna be able to scale because they're gonna be occupied too much about like some basic stuff. Like, did you buy like 10 pencils that are $1 or like 10 pencils that are like $10 each? And that kinda stuff, rather than like focusing on the important stuff on the business, like only when you're super small, you want to focus on like really small stuff. Like it's important to make sure that your finances are okay when you're small, but as you grow, you want to make sure that the marketing is good.
Lazar:
And like, what was like the living cycle of, of business owner inside of the company and like how not to get into business owner trap, that is like, what would happen if you don't show up at work for like three months? Like, would that business work, would it be sustainable or not? And like, I know that a lot of people are interested in selling their businesses. And one of the things that big aggregators and big companies ask usually do you go with the company, you know, to the business owner. And that's basically because of that trap. And like, I know that a lot of sellers want to sell their business and business at some point, and it's really important to make sure that that business is sustainable without them. So that's something that is really important to know, and how to structure and build everything in a manner that is gonna be self sustainable and not only sustainable but to grow over time.
Bradley Sutton:
Yeah. I think this is super important that you know, sellers are gonna get a lot of out of your session because it's so important, but like you said, but since it's not that sexy of a subject, you know, a lot of people try to avoid it, but then, they pay in the long run because they're not prepared for this kind of thing. So just one last question for you on this subject is, you know, like you just said, most of your employees or all of your employees are there based locally in Belgrade. And I know you have like a couple of offices there. Now, I know you've helped, you know, O other companies hire you to help with their building the team. And there are some companies who have hired you to build like a remote team.
Bradley Sutton:
When do you know, Hey I need to hire, whether it's one person I'm hiring my first hire, or I'm trying to build a team of 10 people, how do I know if it's better? I need them to be local. So like, I can see them face to face in an office I'm gonna rent or, you know, it's okay that, you know, one is in Pakistan, one is in Niš by the way, that's my favorite city in Serbia, sorry Belgrade. But, in Niš and you know, somebody in the Philippines and somebody in Florida, whatever, how do I know which route is for me?
Lazar:
Well, definitely, I would suggest to like, see all of both sides, like have like pros and con cons, you know, and like definitely having team inside of the office is way better than to have just like bunch of people working remotely for like different places, because the speed of exchanging information speed of like learning new stuff, and that kinda stuff is important to happen in the office because that way is gonna happen faster, you know? And like, they're gonna see the example of fathers. And also when you have a team of 10 people, let's say, and if they cannot see each other, you gonna end up like with somebody that is gonna be like frustrated because of the problem that they're having. And none of the other team members are gonna understand the amount of stress that that person is having.
Lazar:
And instead of like having all 10 of them working from the same office, when all of them are gonna see like the one person is having a problem like they would jump and like try to solve the problem together. And like building a company culture is way easier that way. But there are also benefits of working remotely as well, because you have options to hire better talent across the world because that way you're not gonna hire somebody just because they're available at that certain place in the world. So like, there are both sides of the coin, like on of the metal, like, so, so it's, it really depends on like the size of the company, current struggles and so on. Like we work with a lot of aggregators with like three or four of them, and we're building teams for them also for some pretty big nine figure sellers.
Lazar:
And we are currently expanding into working with VC funds as well. And we're like expanding in that direction. Also, the company got some new names in it. I'm not gonna share them yet. I know that a lot of people know them from some other businesses that they build in. Like, some of them are like even like billion dollar businesses. So like, it's pretty interesting adventure for us. And like as I said, like for them, it's working pretty well to work from the office just because like, it is growing that way faster. And like you would learn more as an employee that is working from the office rather than working remotely. So it really depends from one case to another. Definitely, there are massive benefits on both ends.
Bradley Sutton:
Awesome. Awesome. Well, I'm definitely looking forward to that presentation. I know you're not gonna be any strange, it's not gonna be your first time speaking in front of thousands of people you've been on some of the biggest stages lately, like an affiliated world, or, you know, I saw you there, you know, I was like, well, isn't that Gary Vee when I saw you, I was like, we have Gary Vee in Sell and Scale, but you've been doing, you've been crushing it lately. Now, now Yana. What about you? What subject are you talking about at Sell and Scale?
Jana:
So my topic is unlocking new opportunities in international markets. So basically, but I also know that I'm gonna speak two days. So I suppose that one day is gonna be more of like hands on how to beat your competitors. We've been recently testing out some new strategies and new things and we've got some great results. So I would definitely love to show sellers how they could beat their competitors in every single niche. Okay. What we found out is that basically
Bradley Sutton:
Every single Niš
Jana:
Yeah. Niche.
Bradley Sutton:
No, no, I say niche, but then I never realized that it's almost the same word as my favorite city in Serbian references here. People are having no idea what we're talking about today.
Jana:
Look for a link to the Serbian vocab so you can understand
Bradley Sutton:
There we go. Now about the topic of international. So, Lazar gave us something that he's gonna talk about like what's one tip that you're gonna talk about that you could, you know share without giving away too much information.
Jana:
So, yeah, I'm gonna talk about like how to revive a product maybe that's not doing great on one marketplace and to how to potentially make it a best seller or another marketplace and how to find hidden products that are doing amazingly well on other marketplaces outside of the us that you don't know about. That's going to be the first topic. It's gonna be a lot of like, very interesting information. I have never shared this before. And the second talk is gonna be more of like a workshop type type of thing where I'm gonna be sharing like how to basically optimize and and scale your content so you beat the competitors no matter how big they are. Because from what I've learned working with like thousands of sellers the last three years is that a lot of big sellers in the US, they don't know what they're doing on international marketplaces, and they don't treat content the same way as they do if it was written in English. And that's why there's 100%, I can 100% be sure that you can find a hole where you can fit some of the keywords in and you can beat them like the title, bullets, description, images, whatever. So we've kind of realized that in the last year, that that is possible. So I'm like really happy to share some of that information. And what's most important is that it could be implemented immediately to somebody's business and people would be able to see results.
Bradley Sutton:
Cool. Cool. Now your team has so much experience launching in so many different marketplaces. In your experience, which marketplace is like the easiest to launch in, as in it doesn't cost that much money and boom, you guys are on page one on the keywords that you want to and crushing it.
Jana:
I would say basically all non-English marketplaces because you can beat the content so easily because a lot of sellers, they don't put a lot of effort. I mean, they're like people that use DeepL that's like a fancier version of Google translate and it's still a tool, but it doesn't work that well. And still all of the like AI tools and we've been testing, some of them, it's fine. But like, you know, what these tools do is like they don't stick to the original text. So it does make sense to build like copywriting, you know copy that doesn't base itself on anything. But if you have a seller and he's like, I want this information in it. I want you to focus on this. This is the brand's message. You don't get that when you build it in any of the tools, no matter how better they've become, because now you have tools that like deliver 50% to 70% better results than what we had a couple of years ago, but it's still not that great, but sellers still seem to go that way. And that costs them a lot. And that's why they don't pay attention to their non-English content because they're like, I don't understand this, so why should I care? And six months later after you launch your product, you get bad reviews, your sales stop, and it's most likely because of your content and that's what happens in a lot of cases.
Bradley Sutton:
All right, now I'm gonna read you– I mean, you probably know this list, but I'm gonna read you the languages that or the, not the languages, the marketplaces that Helium 10 now has the main functionality in, and then you tell me of the remaining ones, like, which you think we should focus on, you know, most, so obviously we've got US, Canada, Mexico, Germany, Spain, Italy, France, UK, India, Netherlands, Australia, Japan, and then the most recently added one, which, you know, I'm not even sure if you knew about this, because at the time we're recording this, it hasn't even been announced yet, but it's Amazon UAE is our next marketplace that, you know, we have Magnet and Cerebro and Black Box and things working. So of the remaining ones that I didn't mention you know, Singapore, Egypt.
Jana:
You have also Sweden and Poland, which are kind of interesting for sellers that expand. We've had a lot of inquiries for Poland. We haven't seen like a lot of sales there, but I'm expecting a lot from that marketplace. So, Polish would be great as a language.
Bradley Sutton:
So you think that would be the number one that we don't have yet, but that you see the most potential in?
Jana:
Yeah. UAE is great because yesterday I was just like going, just like checking out the Helium 10s tool, see what's new and, you know, what's cool. And I didn't see UAE, so it's really, really good, cuz it's a good marketplace because for a lot of products you just don't need translations. You target ex-pats, you don't need a lot of redoing. They have like FBA as well. And also it's good to see the volume of keywords that they're using on that marketplace, even though it's English. So basically worst case scenario, you can just optimize keywords. You don't have to invest in a rabbit if you don't want to. I mean, really depends on what your target audience is.
Bradley Sutton:
Okay, cool. Now let's do a couple of our 30-second tips. So going back to the Lazar, it could be on TikTok. It could be on, on, you know, building a team SOPs what, what's a tip that you can give our sellers out there.
Lazar:
So one of the most recent things that I see that people are having problems with is when they want to expand to TikTok, they have problems with the amount of videos, use UGC. There is creator marketplace, some TikTok and that's the cheapest and the fastest way, how to get hundreds of videos for like, literally for free platform is absolutely free to use. You can giveaway just like couple of units to creators and you can use those videos for the spark ads and you can use them for your websites or what you want.
Bradley Sutton:
Love it, love it. Jana. What about you?
Jana:
I would say that smartwatch products are doing amazingly well in Germany and in the UK are not doing that great in the US. So if you did not know this and maybe that's your product or you're in that niche, I'm gonna suggest you go to Brand Analytics and do the Black Box and do a deep dive and choose those marketplaces over the US cuz that's, that's gonna make you more money.
Bradley Sutton:
Love it, love it. All right. So what's you know, for, from now, until Vegas in September any travel for you guys? I mean, usually, I live vicariously through both of your Instagram, but you guys are slacking lately because I haven't seen much exciting skydiving adventures, you know, that I'm used to from you guys
Lazar:
Imagine that we decided to stay at home for two months for a change. You know, like first water of this year was pretty intense. We had like 17 trips in three months and we're like, we need to slow down. So yeah, we're going to Barcelona
Jana:
For the affiliate world. Lazar is a keynote speaker on TikTok, again, and then after that I'm gonna speak in Poland. And then we're doing Sell and Scale. And then after that, who knows, I mean, you know, it's such an exciting time that you wake up and then you are like, yeah, we don't have anything, both. And then about 6:00 PM, you're like, oh, I'm doing like two conferences week trips and masterminds and stuff like that. But for now, like we're actually happy that we are at home and that we're like, you know, you're sleeping in your own bed. You know, like we haven't seen our friends in such a long time and family. And so we are like really happy to kinda stay at one place for two months and maybe even get some sort of like routine. I don't know what that is, but people say it's good. You know so yeah, but I'm excited to, to be back on the road again. I always say like, oh, I can wait to be home. And then five days later I'm like, where are we going? So yeah, that's about to hit, you know, and a couple of days I'm gonna be in that mode again, but it's good to be home sometime.
Bradley Sutton:
Cool. So I had just told you know, Jana was like, Hey, I hope, you know, your team starts using the Helium 10 new features for UAE. Yeah. Now Lazar for your team, you know you just reminded me, like, you know, since you're doing TikTok and off Amazon advertising, make sure to use the new Helium 10 Amazon Attribution Links. So I know your team uses Helium 10 a lot, but and then any, anything you guys want us to develop, you know, at Helium 10, let us know same thing. I'm talking to everybody else out there as well. All right. So we've been talking about selling scale here, so guys, if you're listening, you, you still don't have your ticket make sure to go to h10.me/s3, get your ticket to be able to listen to this dynamic duo here. And you could U get a hundred dollars off of your ticket by using the code S3BS100, S3BS100 will save $100 off and see Jana and Lazar in person. See them rocking out to Nelly, see them hanging out with Gary Vee. It's gonna be an amazing time. So before then how can people find both of you guys on the interwebs out there if they wanna reach out to you for more help?
Jana:
I just want to personally thank Helium 10 for throwing Nelly's concert for my birthday, which is on September 19th.
Bradley Sutton:
Oh, that was totally planned.
Jana:
Guys, you also have to be there for my birthday as well, so it's gonna be a fantastic time. I mean, content is great, but I mean, come on.
Bradley Sutton:
Well, wait a minute. Didn't we have another event and it was, it was your birthday too, or something like that. I remember you were like wearing a special dress that you had brought just for that. I was like, somehow–
Jana:
It was my birthday at a Billion Dollar Summit in September
Bradley Sutton:
Oh, Billion Dollar Seller Summit. Okay. That's what it was. I was like, I don't know Cassandra is showing too much favoritism here to her BFFs, I was about to say, okay. It wasn't a Helium 10 event then. Okay. Okay. I got it.
Jana:
No. yeah. So you guys, if you wanna get any advice or if you wanna just talk to us or get a feedback-free audit of any of the listings that are maybe not performing that well, or you're wondering if they could do better you can reach out at [email protected] You can also me at LinkedIn. I have tons of really good videos and content I always share where I always point out the low-hanging fruit of your listings of brands and stuff like that. So I really try to educate people on the topic, which has always been very challenging for me as people don't speak other languages but that's it I'm always happy to help and talk about my favorite topic, the international marketplaces.
Bradley Sutton:
Awesome. And Lazar?
Lazar:
Yeah, for us, you can visit our recently redesigned website, sellersalley.com. If you need any kind of help regarding Amazon advertising, TikTok advertising, or any kind of like external traffic towards Amazon.
Bradley Sutton:
Awesome. All right. Well, I look forward to seeing you guys seems like it's been forever. I mean, there was a time where I was seeing you guys every few weeks out there, but obviously, things are different you know, these days with travel and stuff, but finally, things are getting back to normal. And as I say that, of course, I got COVID as I went to one Amazon trip for two years, and I was able to stay away from it. And then now, finally it gets me.
Jana:
I think COVID does not exist anymore?
Bradley Sutton:
Right, right. No. But I look forward to seeing you guys in person again, it's in September and we'll see all of you guys out there too. Bye. Bye. Now,
Jana:
Take care guys.
Lazar:
Bye.
---
Enjoy this episode? Be sure to check out our previous episodes for even more content to propel you to Amazon FBA Seller success! And don't forget to "Like" our Facebook page and subscribe to the podcast on iTunes, Spotify, or wherever you listen to our podcast.
Get snippets from all episodes by following us on Instagram at @SeriousSellersPodcast
Want to absolutely start crushing it on Amazon? Here are few carefully curated resources to get you started:
Everything for your business on Amazon.
Find out more about our products by signing up or speaking with one of our
Customer Success representatives today. With us in your corner, you can enjoy
more sales and increased engagement from your Amazon business.
Chat with a Support Specialist