#347 – Brand New Tools and Strategies to Help Amazon & Walmart Sellers
Today, we're gonna talk about all the latest updates to Helium 10 like new ways to find your top keywords, how to analyze your competitor's listings, and more!
Originally published on: May 24, 2022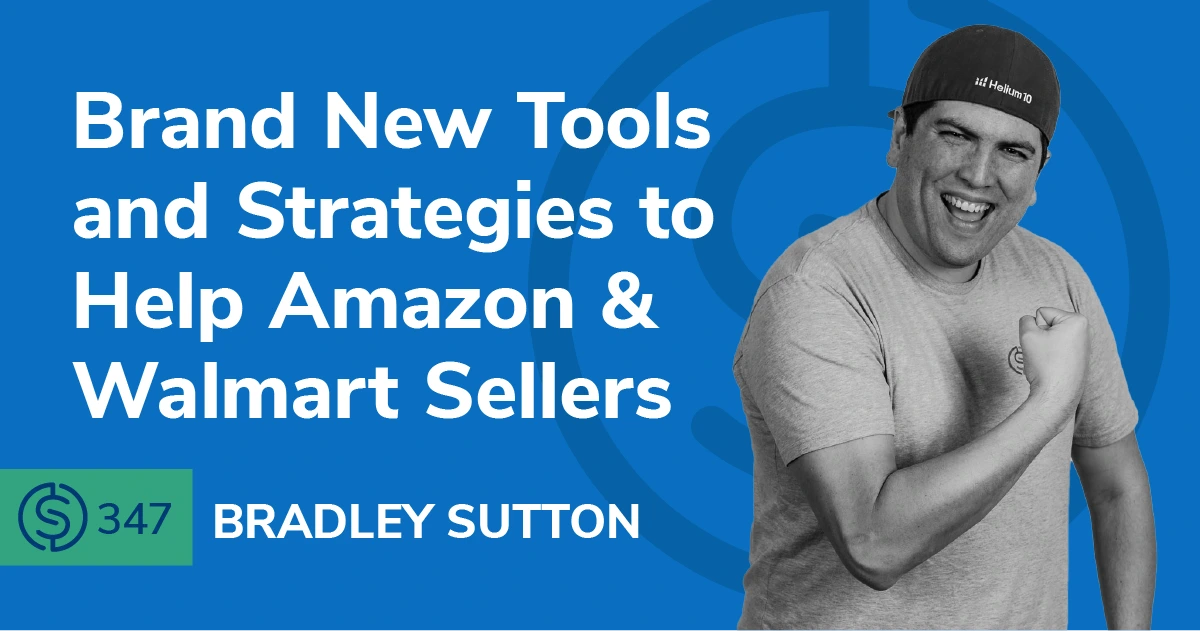 Last week, Helium 10 celebrated its 6th birthday! With that, we also did the Bigger, Better Launch webinar. In this episode, Bradley goes over all the latest tools, features, and updates inside Helium 10 now available to all our users. He talked about all the cool stuff like a more efficient way to find your top keywords, a new tool that will analyze your competitor's listings, how to use Adtomic for PPC in a better way, and new content inside Freedom Ticket 3.0 for Walmart sellers, and so much more!
We would like to thank our Serious Sellers Podcast listeners and the Helium 10 users community for sharing their ideas and insights to make all of this happen. We're looking forward to seeing you on another Bigger, Better Launch webinar next month!
In episode 347 of the Serious Sellers Podcast, Bradley talks about:
01:20 – Helium Is Getting Bigger And Getting Better
02:00 – How Do You Find The Top 20 Keywords For A Niche?
04:25 – Introducing The Cerebro One-Click Filters
05:00 – The Second Step Of Keyword Research
08:00 – The Latest Updates In Our Chrome Extension
10:00 – Start Using Keyword Tracker For Walmart
11:00 – All New Episodes On Freedom Ticket 3.0 For Walmart
12:00 – Join The Winning With Walmart Group
12:45 – Helium 10 Is Now Available In 4 Other Languages
14:00 – The Partner Directory Is Now The Seller Solutions Hub
15:00 – See You In September For The Sell And Scale Summit!
16:00 – Get $100 OFF with COUPON: S3BS100
16:40 – Introducing A New Tool: Estimated Brand Value
17:20 – You Should Be Using The Listing Analyzer Tool
22:00 – Helium 10 Academy Updated
23:40 – Adtomic + Keyword Tracker Integration
24:50 – The Adtomic Blast Off Training Course
25:15 – Business Reports Now Inside Helium 10
28:00 – Diamond And Elite Members Get A Little Extra!
28:50 – Helium 10 Just Turned Six
30:40 – Stay Tuned For Monthly Bigger, Better Launches!
31:00 – Make Sure To Submit Your Ideas To Us  
Transcript
Bradley Sutton:
Today, we're gonna talk about new ways to find your top keywords, how to analyze your competitor's listings, how you can use Adtomic for PPC in a better way, and much more. How cool is that? Pretty cool I think.
Bradley Sutton:
We know that getting to page one on keyword search results is one of the most important goals that an Amazon seller might have. So track your progress on the way to page one and even get historical keyword ranking information, and even see sponsored ad rank placement with Keyword Tracker by Helium 10, for more information, go to h10.me/keywordtracker. Hello everybody, and welcome to another episode of the Serious Sellers Podcast by Helium 10. I am your host Bradley Sutton, and this is the show that's a completely BS-free unscripted, and unrehearsed, organic conversation about serious strategies for serious sellers of any level in the Amazon or Walmart world. And today we're gonna talk about all kinds of new tools and new features that you have available to you to help you become more serious sellers on both Amazon and Walmart. So this is gonna be based of this webinar that we did, that you might have missed last week and we call it the Bigger, Better Launch, right?
Bradley Sutton:
And why do we call it that? Well, Helium 10 is getting bigger, we're getting better. And the way that we're doing that is through launching new features and tools. And this isn't just us coming up with these things. This is from you guys, you Serious Sellers Podcast listeners, you Helium 10 users out there who have been giving us a lot of input on the kind of things that you need help on in order to become better Amazon or Walmart sellers. And so we're gonna go over all those different ways and maybe take a little trip down memory lane since it's now also the sixth anniversary of Helium 10 as well. So let's go ahead and hop right into the new features that we are going to start. Now, the way I had started this off, when I did that webinar was I did a little pop quiz, and let's just see if you podcast listeners can answer this, especially those of you who are Helium 10 users.
Bradley Sutton:
So if I were to give you a task on trying to find like the top 20 to 50 keywords for a niche, what would you answer? What is the way to do that in Cerebro? Well, probably if you've been using Cerebro for a couple of years, you would say what we've been teaching for three years now is you first get your top seven or eight competitors who most look and feel like your product, like the form, the function, the price, everything is very close to your product. In other words, if your potential customer had the choice between your product that you're trying to develop, and this competitor's product, would it kind of have an equal chance to get the sale where a situation where that would not be the case, like let's say the product had the exact same form and function, but one was $12 and the other one was $60 cuz it was like a super high end kind of thing.
Bradley Sutton:
Well, they're probably not competitors to each other because somebody who is looking for a $12 kind of product, it, it never went a million years would spend $60 on something, right? So again, you gotta have the form function and price similar. So anyway, you would take the top five to eight of those and then throw them into Cerebro. You know using a base ASIN as a seed ASIN. And then you're probably gonna get an output of what, you know, 10,000, 20,000, 30,000 keywords. You're trying to find the top 20 to 30 keywords, right? So what filters do you use? You'd probably put in a Minimum Search Volume, maybe put that at 400, 500, 600. What you're gonna do is say the Minimum Competitors Ranked, you're gonna use that filter. And you're gonna be able to probably put like, you know, six out of eight or five outta seven or eight out of 10 or something like that as the minimum number of competitors that you want all ranking for this one keyword because you want something that not just is relevant to one product, but is, is kind of like performing well for all of these competitors across the board.
Bradley Sutton:
So you'll probably use that minimum competitor's field. You'll probably also use the Competitor Rank Average. In other words, those eight competitors, where are they ranked? And if you were to average that number, would they all be on page one? So maybe you would say, Hey, show me the ones where on average is like one to 50 and you prob might use one or two other filters. Well, the thing that we are launching now is something that does that with one click. This is called the Cerebro One Click Filter, and you guys all have access to this, regardless of what level of Helium 10 you have, but you're gonna want to go into there and you're gonna enter in all your competitors, just like you normally would, but now right underneath, there's gonna be a button called top keywords. All right. So with this one click filter now what we're doing is I'm gonna find all of these keywords that I just mentioned with just one click.
Bradley Sutton:
And so that's exactly what we're gonna have, you're gonna be able to see all of those top keywords for this niche with only one click because we are pre redoing all of those filters for you. So that's the first edition. Now the second question that, you know, I was giving people was, okay, so you've got your top keywords now, what is the second step of keyword research? And again, those of you who've been using Helium 10 for a while. You might know the answer to this because it's right there in our learn videos and our training videos is you want to go in and find the keywords where not everybody's ranking on page one for it, but maybe only one or two competitors are ranking on the top. Now, what's the logic behind this. And again, this logic is not necessarily Helium 10 centric.
Bradley Sutton:
Now Helium 10 just happens to be the only tool you can use to find this information. But this is just a logical way of doing keyword research. There is going to be keywords that maybe only one or two of the top competitors are really crushing it for, but the other competitors might not even know about this keyword, or they might not be optimized with their listing for it, or they're not advertising for this keyword. So they're not performing well. And again, in Helium 10, we have these advanced filters that you can use where you would say, Hey, show me keywords where only one or two of these products are both ranking for it. Right? And then you would put there, you know, it needs to have at least a thousand search volume, but only one or two are ranking exactly within the first 10 spots.
Bradley Sutton:
All right. So you're gonna get tons of keywords that did not show up in the step one of your keyword research. And so again, what do we have? We've got the one click filters that you're now going to be able to use and you just click opportunity keywords, just one click after you have everything and then boom, you are now going to see all of those keywords that maybe only one or two competitors are ranking for. So one of the examples I gave was of this collagen gummy bears and a keyword, they came up with this one, click filter was hair pills, and the reason why it came up and it didn't come up in my first search was that there's only one competitor who was on page one for it. They're at page one, position eight, all of the other top competitors were like at 95, 249, 264, et cetera.
Bradley Sutton:
So that means they're probably on like pages 5, 6, 7, right? And this could be valuable because let's say somebody types in the keyword hair pills. Right. And what they're really looking for is, is collagen gummies. Okay. So if they're doing that right now, they are only seen one collagen gummy on page one, that one competitor who's there and none of the other top competitors are there. So that competitor is gobbling up all the sales of the people who are really liking gummy bears for their hair pills. Right. But now if you try and use that keyword and get on page one, now you can take a lot of those sales without having to compete with the other seven competitors. So it's a very valuable way of doing keyword research. You've always been able to do it in Helium 10. Now you can do it with just one click.
Bradley Sutton:
Another thing that we launched recently was our Chrome Extension update. So a lot of sellers were like saying, Hey, I wanna know where these sellers are from on page one or just any page that I'm on. You know, if everybody is from China or India, that might give me the indication that there's a lot of factory selling direct, and that might be tough for me or conversely, they, they, you might think, well, there's a lot of foreign sellers here. Maybe English is not their first language. I might be able to optimize the listing better that there's no one good way or one bad way to extrapolate this data. It's up to you. What's due with that. But now on any search result page, we are showing the country of origin of the seller. The last time that we checked who had the Buy Box, like for example, on a coffin shelf, you can see actually most sellers are from the US, but there's one from China and one from Great Britain.
Bradley Sutton:
The other update we have on the Chrome Extension is on the bottom right of the page. Guys, just go to any search result page, you are gonna see a button for Xray. And the reason why, you know, customers were wanting this was because we have so many tools on our Chrome Extension. You gotta like click the Chrome Extension and then scroll down in the menu to find which tool you want. But most of you guys are just trying to use Xray. So now, instead of having to click the Chrome Extension, you just hit one time, this Chrome Extension or the Xray button, and now you can get right to Xray. Speaking of Xray, within Xray. We also have that seller country so that you can see everything on page one, where the sellers are coming from, and then also on the product pages, you now have the estimated sales right there on the product page without even having to click Xray.
Bradley Sutton:
So a lot of sellers were asking about that. It's like, Hey, I just found this product on Amazon. I don't have to go through and run Xray to see what's happening on all the products on that page. Can I just see what the estimated sales are for that product without having to click anything? Now you can go ahead and do that next up Carrie, who was actually on the webinar with me start talking about some of our Walmart updates. So the first update is in our tool, Keyword Tracker. First of all, guys, again, start selling on Walmart. You know if you're an Amazon seller, you guys should be selling on Walmart. If you are selling on Walmart, start using Keyword Tracker. Now we added Search Volume within Keyword Tracker so that you can properly see what's going on. Like for example, we added our Helium 10 egg tray.
Bradley Sutton:
Now on Amazon, one of the main keywords is wooden egg tray, and another one is egg tray for countertop. However, thanks to Helium 10, having accurate Walmart search volume data. We actually show that on Walmart, a wooden egg tray only gets nine searches a month. All right. And egg tray for the countertop is so low. We don't even show it getting any searches a month. So if you were basing your keyword strategy on what's going on in Amazon, I would've been screwed here on Walmart because I would be going after the wrong keyword. So make sure to use Keyword Tracker for Walmart and check out the search volume of the keywords on Walmart, because it is very different than on Amazon. The other thing we have for those of you who maybe aren't selling on Walmart yet, and you're interested to learn more about what it is.
Bradley Sutton:
We have Freedom Ticket 3.0 Walmart edition, all right. We added a bonus module week to Freedom Ticket. So all you helium temp members out there go into Freedom Ticket. You've got full access to this and we added 25 new modules, and hours of training on how to sell on walmart.com A to Z, especially geared to those of you who are currently Amazon sellers. Only we teach you how to set up the Walmart account. Carrie talks about how to optimize your listing, how to do the keyword research, how to do advertising, et cetera, et cetera. So all of those modules make sure go into Freedom Ticket, get now, and start learning. Maybe you're not ready to sell on Walmart yet, but start getting ready with your knowledge on how to sell on Walmart. We also talked about the Winning with Walmart Facebook group. If you wanna start, you know, networking with other Walmart sellers, add that group Winning with Walmart, Helium 10, you can find it and add yourself to that group.
Bradley Sutton:
Carrie goes live there once every week. We call it Winning with Walmart Wednesdays, I believe where she does ask me anything about selling on Walmart. So make sure to join that group and sign up for her live training. All right. The other thing I did was I kind of gave this little like questionnaire in other languages. I was like guys, (Speaks in different languages). All right. So basically, if you understood one of those questions, you speak one of the four languages that we just added for Helium 10. So now Helium 10 is in these other languages. Now, why did we add this? Well, a lot of our customers, you know, English is not their first language. And so we were like, Hey, we need to go ahead and start translating Helium 10 to these other languages so that you could get the most out of the tool more.
Bradley Sutton:
So we started with those languages Italian, German, Spanish, and Chinese. And so a lot of our main tools like Cerebro, Xray, the Chrome Extension, Magnet, et cetera, are now in these languages. So make sure to take advantage of this guys, if you speak those languages and if you speak a different language, make sure to submit to Helium 10, which language you speak so that we can maybe prioritize what's the next kind of language groups that we're gonna go ahead and get started on. Now, we invited at that point Adam from our he's one of our vice presidents here at Helium 10, and we were talking about the new seller solutions hub. You guys probably remember that as the Helium 10 directory, the trusted partner directory is what we used to call it. This is a directory or a hub of all of our bunch of different service providers out there.
Bradley Sutton:
People who have agencies, people who have shipping companies people who do listing optimization, you know, inspection companies sourcing agents. We have so many different service providers on things that Helium 10 doesn't provide, but you need as an Amazon seller. So we compiled them all into our Seller Solutions Hub. That's the brand new name for this, and we've got a lot of new functions on there too. So like, you know, you might be wonderful. Well, how can I trust this, this service writer? Well, we have the opportunity where if you have experience or any of our users have experience with any of the companies here, you can leave reviews. All right. And if there's a company that gets getting great reviews from verified, Helium 10 members, maybe that will give you a little bit more comfortability of using them or, you know, the opposite, you know, might be true.
Bradley Sutton:
And if we find somebody maybe who is giving really bad experiences out there, we'll probably remove them from the Seller Solutions Hub. So, so guys make sure to take advantage of this. You can go to hub.helium10.com in order to go ahead and check out the different companies that are there because you know, how many times have you seen that Facebook would pay anybody, have a recommendation for an accountant or anybody have a recommendation for a shipping company. Well now go to hub.helium10.com to get that information. The next thing we talked about was the Sell and Scale Summit, you know, that you guys all know about that is coming up on September 19th to 22nd. We've got great speakers. We had mentioned some of those on the show that we're bringing like Gary Vee and Lazar and Trevin, Melanie, Destaney, Kevin King, and Melissa from Pacvue.
Bradley Sutton:
What does everybody except Gary Vee to have in common, they've all been on the Serious Sellers Podcast. So guys make sure to come out, go to sellandscalesummit.com or h10.me/s3. Don't forget, you can get $100 off your admission to sell and scale summit by again, going to h10.me/s3 and enter the code. S3 BS100 that's S3BS as in Bradley Sutton 100, S3BS100 gets you $100 off of S3. The next tool that we announce that we just launched is called the Estimated Brand Value. All right, you're gonna see this at the top, right of your screen in your Helium 10 dashboard. And if you're a Private Label seller, you know, this is not meant for wholesaler arbitrage sellers. So for those of you who are strictly Private Label, if you have at least 12 months' worth of selling history on Amazon, we're gonna use an algorithm that we developed that, you know, came from input from companies who buy other Amazon companies on what just a rough estimate would be on how much your business could be worth, right?
Bradley Sutton:
And it's called Estimated Brand Value. And you'll see it at the top, right of your Helium 10 dashboard. So that's a brand new tool that we just launched. Now, another thing that I was super excited to announce was about Listing Builder, Listing Builder is something that you guys should hopefully all be using or not Listing Builder. I said Listing Builder, I meant Listing Analyzer. Listing Analyzer is something that you guys all should be using in order to kind of like analyze your niche at a more kind of top level view, as opposed to just the keywords. So like right now, if you're a Platinum member, and it's always been like this. When you enter in a group of ASINs and listing analyzer, you'll get a summary of kinda like what their listing quality score is and what the ASIN is, and the title.
Bradley Sutton:
But now if you've got Diamond or Elite, what you're gonna see if you enter in these listing these listings here is a whole bunch of information. You're gonna see their listing quality score one by one, their star rating, the number of reviews they have, how many months, or how old, how long they've been on Amazon, their price, each one, their estimated monthly sales, their estimated monthly revenue, the fulfillment, the country of origin of, of the main seller. How many, top 10 keywords, how many keywords do they have in the top 10 of search results, and of those top 10 keywords? What is the total search volume? All right. Tons and tons of information you're gonna get. Now, if you have a Diamond or Elite membership in order to get this information. So this is great guys to use in order to get a more holistic view of what is happening with your main competitors.
Bradley Sutton:
Another thing at Listing Analyzer has always done at the very bottom you guys probably know is we show kind of a summary of the top keywords in a certain niche. So if you entered in seven or eight products, we'll show you the keywords that mostly are in the top 10 for those products. But now you have a little bit more information. You're gonna see an entire chart of all of those competitors and where each one of them is ranking for those top keywords that most of them are in the top 10. So you can kind of see where the holes in the market are, or which competitors are really just crushing it. Like not only are they in the top 10, but they're like in the top three, you can see it all in a nice little graphical interface here.
Bradley Sutton:
One thing that we've always been talking about at Helium 10 in our Listing Optimization Webinars, you know, going back to even 2018 and 2019, is that you need to be analyzing what we call niche themes. And this is looking at groups of images of your competitors to see, are they doing something similar with the main image? Like I had shown an example of phone cases where everybody had in their phone case a picture of the front end back as their main image. So, you know, you should probably do that too, if you're selling in that niche and then looking at their secondary images in order to see if there are any themes going on. Like in that phone case niche that I had shown a picture of in 2019, I showed how everybody had, like their second or third image was a picture of a phone dropping and showing that the phone case is protecting the corner.
Bradley Sutton:
So guess what, if that's working for everybody, you need to probably have that in your listing as well. And then, so to make things easier now, here in 2022, you know this technique is still valid now as it was in 2012 is in listing analyzer. If you have a Diamond or Elite plan, you are now with the click of a button called Media Comparison, gonna see the full thumbnails of all of the images of all of these listings that you are putting into listing analyzers. So in an instant, you can now pick up on the themes. Like if I ran all these gummy bears, I could see that every single one has a main image that has 3D photography as opposed it's traditional photography. I can see at an instant that every single one has the supplement facts as one of the main images.
Bradley Sutton:
Another thing that was a surprise to me, I think we all know that if you have a supplement, you need to put the supplement facts, but every single one had a picture that shows a human hand holding one of the gummy bears to show the size. Like, I wouldn't have thought about that, but it must be super important to this niche because every single one of these top competitors, all had that there. So this is just great. It's something that you can now print off and give to your graphic designers or your photography team to like, kind of tell them, Hey, look at this theme of what's working for the competitors. How can we stick with this general theme, but maybe do it a little bit better, you know, in the past you would have to go to every single listing and then copy one by one all of their images and, and put it into like a Google sheet or something like that and then give it to your designers. No more. You just one click. You can, you can do that now.
Bradley Sutton:
The next thing we talked about was Helium 10 Academy guys was now completely updated. All right. So academy.helium10.com is where you guys can, can go to what academy is, it's a complete course on all of Helium 10. All right. So for those of you who just wanna learn Helium 10 in a more structured way, as opposed to just going to different tools and hitting the learn button, we have a full curriculum, that's got college style where you can take each section of Helium 10 and learn it one by one. This is 100% free to study these videos in the course. And we have over a hundred videos in this course. So again, academy.helium10.com. You would register for your own account there, it's separate from Helium 10, and it's completely free to take this whole course.
Bradley Sutton:
Now at the end of it, yeah, you can go ahead and get certified. And just like with Microsoft or Adobe there's a cost that's involved with that you don't have to take this certification is only like maybe 200 people who have actually gotten fully certified, but if you choose to do so, it's $77 in order to get that certification. And then that's something that you can tie into your you know, LinkedIn account and you can put on your resume and that people can verify, do you have a valid academy certification? They can definitely check on that. The next thing I had, we had a question for people and we pose as like, Hey, let's say you're doing your PPC and you're wondering, Hmm, I really want to be on the top of this page and my sponsor results. How can I know if I need to raise my bid or how can I know if it's okay to lower it or not.
Bradley Sutton:
All right. And so what's the answer on how you would know? Well, you would probably use, you know, you would go into your PPC or you would go into atomic and then you'd open up Helium 10 Keyword Tracker because we're actually tracking the Sponsored Ad placement, right? So let's say you were coming up on page two because you're maybe the 12th Sponsored Ad that shows up well, you would see the number 12 there in Keyboard Tracker in either hour by hour or day by day. You can track where you're showing up. Well, the same thing, guys. How do we make that easier for you? Well, the team really knocked this one out of the park in Adtomic, which is Helium 10's PPC tool. Now we have your Keyword Tracker information for both Organic and Sponsored right there next to your bids, and right there next to your information in the Helium 10 Adtomic.
Bradley Sutton:
So now you can be like, you know what? I am page two on my sponsored ads and my bid is $1. Let me raise my bid to like a $1.25 or a $1.50 so that I can see if I can move that sponsored position up. So this is probably one of the number one things that people for months and months and months have been asking Helium 10 to add to Adtomic so that they don't have to open up multiple windows and try and go back and forth and figure out where is this keyword and where is this keyword in Keyword Tracker? And, and what was my bid on this day? And where was I showing up on Keyword Tracker on this day? You can do that right now, right within atomic. So that was a huge increase or huge benefit I should say.
Bradley Sutton:
Another thing we are launching is what we call it the Adtomic blast off training course. And that's actually the next one is starting on June the 28th at 8:00 AM. This is an eight week training course. That's a hundred percent free given by our staff of experts who are gonna help you understand how best to utilize Adtomic to help your business. So if you guys are interested in taking that make sure to just reach out to customer service, I could give you the link to it, but it would take it's probably too hard for you guys to write down if you're listening to this podcast. So just go to customer support and say, Hey, how can I enter the Adtomic boot camp or atomic blast off boot camp? That's a mouthful right there. And the customer support will go ahead and add you that the next one is starting on June 28th of this year.
Bradley Sutton:
So make sure to join that completely free. You don't even have to be a Diamond member to take advantage of that. If you're a Platinum member, you can take advantage of that as well. Next quiz we gave out, all right, we've talked about before, how important analytics are to a business? Well, how do you view the page sessions conversion rate Unit Session Percentage? How do you view all these things? Right? Well, the answer is you have to view it inside of Seller Central in what's called your Business Reports, and you'd have to go into Seller Central every day. And then maybe you want to tie some of that information back to Helium 10. You gotta go back to Helium 10 and take a look at that those days are over guys, you now have your business reports inside of Helium 10.
Bradley Sutton:
So everybody Platinum and above go to your Profits page and then hit Product Performance. Product Performance, you've always been able to see things like your gross revenue and your margins and your units that you've sold and how many refunds. Well, now you're gonna see three new columns, Page Views, Sessions, and Unit Session Percentage. So like I'm looking at my Project X and I'm like, wow, look at this egg tray. I'm getting 12% Unit Session Percentage. I'm doing pretty good on there. All right. 12% of the people who end up on my page, they end up buying my product, but then I'm looking at the purple coffin shelf. And my Unit Session Percentage is only 4%. Well, that's gonna make me dive into why, like, what is going on? Like, what's so bad about me compared to my competitors that 96% of the people who visit my page are not ending up buying the product.
Bradley Sutton:
Right. So how do you have this information? It's now inside of Helium 10? The same information that used to have to go digging for inside of Seller Central. Now, if you guys are a Diamond or Elite member, you have a little something extra on your dashboard. You guys have had access to our Profit Summary Comparison tool where you can compare things like your sales for a certain day to a Keyword Tracker rank, or your BSR, or to a number of other data points. Well, now you can compare your sales directly with things like your Sessions or your Unit Session Percentage. So you can see what the correlation is. Just say like, Hmm. My sales really went down for last week. Was it because my unit sessions went down or did my conversion rate go down? Well now, instead of trying to guess, you're gonna have all that information right there on the dashboard of Helium 10.
Bradley Sutton:
So how cool is that guys? That's pretty cool I think. Another thing we talk about was how it's Helium 10 sixth anniversary this month here. It's kind of crazy that Helium 10 turned six. All right. So there's so many things in, in the history of Helium 10, you know, we, the first episode of the AM/PM Podcast, which is what started, it all was launched in March of 2016, believe it or not, the first free tool that was made available was Scribbles in Helium 10. And that was available in April of 2016. And then the first customer signed up for Helium 10 in may of 2016. And so through the years, we've hit so many milestones. Like we hit 1 million members total since that date in 2016, in 2021 here in 2022, we hit 2 million members in February of 2022, and we hit 700,000 Chrome Extension users.
Bradley Sutton:
And we hit the 300 team members milestone as well, which is kind of crazy. When I joined the company four years ago, there were only go, there is only 20 of us in a WeWork office. And now to think that there's now over 300 employees, it's kind of crazy. So it's been really great to see the growth of Helium 10. And that's all thanks to you guys. So if you guys are interested to get started with Helium 10 make sure to use the code SSP 10, you can get 10% off for life for Helium 10 SSP10 will give you that Platinum or Diamond account level as you saw from today, there's a lot of tools that are only available to a Diamond member. So if you guys want to give that a test drive, try it out for a month.
Bradley Sutton:
And if you don't like it, you can always go back to Platinum, you can get your full money back. So anyways guys every month we're gonna be doing something like this. I might not always put it in a podcast like this. I haven't decided yet, but every month around the 19th, 16th, 17th, 18 19th, around there of every month, we are gonna be launching new things. Again, this is a Bigger, Better Launch that we're gonna do every month. And the next one you can mark your calendar is on June 16th, 2022 at 11:00 AM. We're going to be doing another Bigger, Better Launch Webinar, where we're going to show you all of the other new tools that we have available. And remember this all comes from you guys. So those of you who are Helium 10 members, even if you're on a free account if there's something you want to see Helium 10 in incorporate or something, you're still having to use another tool and you have another subscription.
Bradley Sutton:
You wanna cancel it because everything else you use in Helium 10 will make sure to hit the question mark on the top, right of your Helium 10 screen, and then hit share your ideas or submit your ideas and let us know, because that is what we use to drive our product roadmap because we're trying to help you guys get also bigger and better on Amazon by launching more products, just like we're doing here at Helium 10. So again, thank you guys for tuning into this episode. I hope you're gonna enjoy some of these new features that Helium 10 has, and we'll see you in the next episode.
---
Enjoy this episode? Be sure to check out our previous episodes for even more content to propel you to Amazon FBA Seller success! And don't forget to "Like" our Facebook page and subscribe to the podcast on iTunes, Spotify, or wherever you listen to our podcast.
Get snippets from all episodes by following us on Instagram at @SeriousSellersPodcast
Want to absolutely start crushing it on Amazon? Here are few carefully curated resources to get you started: