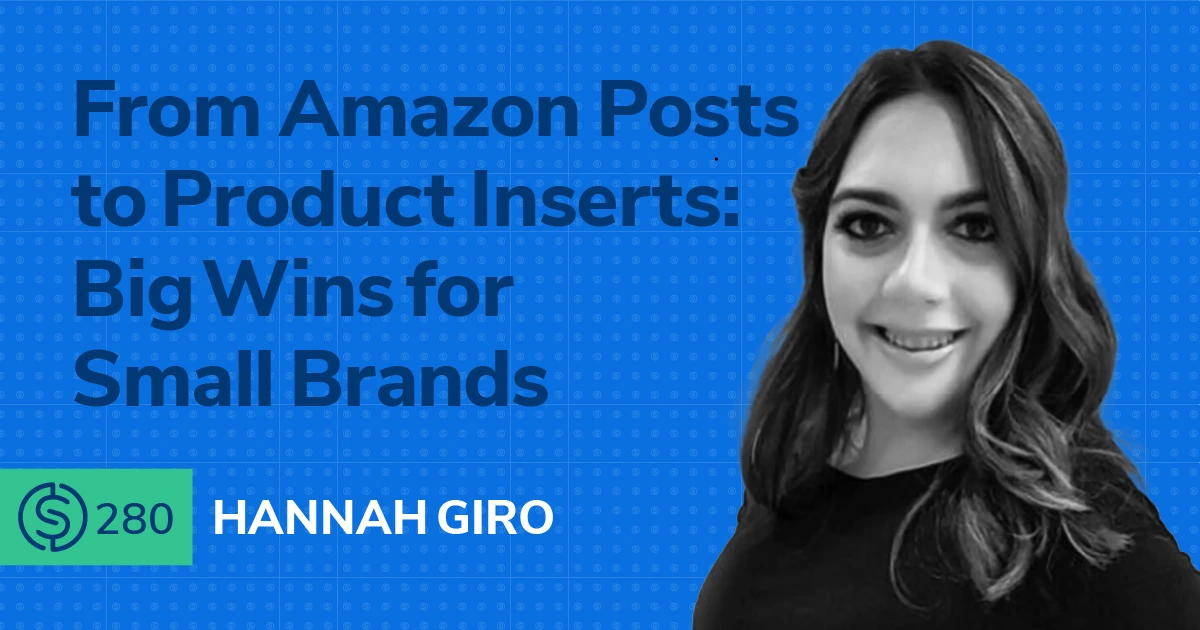 Posted on: September 14, 2021, By: Helium 10
#280 – From Amazon Posts to Product Inserts: Big Wins for Small Brands
Building your brand on Amazon requires a deep understanding of the tools at your disposal. We've assembled the easiest wins for small brands to win big!
Becoming the best Amazon seller possible means knowing what you are doing right, but also what you may be missing out on. Nowhere is this more important than with your branding. Storefronts, product inserts, A+ Content, and listing images are all features you should be squeezing the most out of to effectively tell your brand story.

Bradley sits down with Amazon marketing specialist Hannah Giro to discuss some of the easiest brand-building wins available along with a new Amazon-based social media tool to level up your marketing efforts! 
In episode 280 of the Serious Sellers Podcast, Bradley and Hannah discuss:
02:00 – Paying Her Way Through College (While Working for an Amazon Seller!)
06:00 – Is Re-Selling Still a Successful Model on Amazon?
08:30 – The Amazon of Yesterday vs. The Amazon of Today
10:00 – Branding Basics: The Need-to-Knows
12:50 – Honing in on Your "Brand Story"
15:20 – What Should Your Amazon Storefront Look Like?
16:40 – Amazon Posts: "Instagram for Amazon"
19:40 – Is Email Marketing Something You Should Care About in 2021?
21:00 – Easy Wins for ToS-Compliant Product Inserts
22:50 – Instant Factors That Can Boost Your Impressions & Conversions
25:00 – Perfecting Your Email Follow-Up Template (With One Huge Tip!)
27:10 – What Should Your Listing Images Look Like?
28:20 – Hannah's Quick Tips
30:50 – What Are Sellers Getting in the Most Trouble for in 2021? 
32:30 – How to Get in Touch With Hannah
Enjoy this episode? Be sure to check out our previous episodes for even more content to propel you to Amazon FBA Seller success! And don't forget to "Like" our Facebook page and subscribe to the podcast on iTunes, Google Play, or wherever you listen to our podcast.
Want to absolutely start crushing it on Amazon? Here are few carefully curated resources to get you started:

Latest posts by Helium 10
(see all)