#306 – 8 Figures On Amazon & 7 Figures On Walmart: A Seller Success Story
Today, we speak with a multi-figure seller on two of the largest marketplaces. Listen to his story of success and strategies to help you on your journey.
Originally published on: December 14, 2021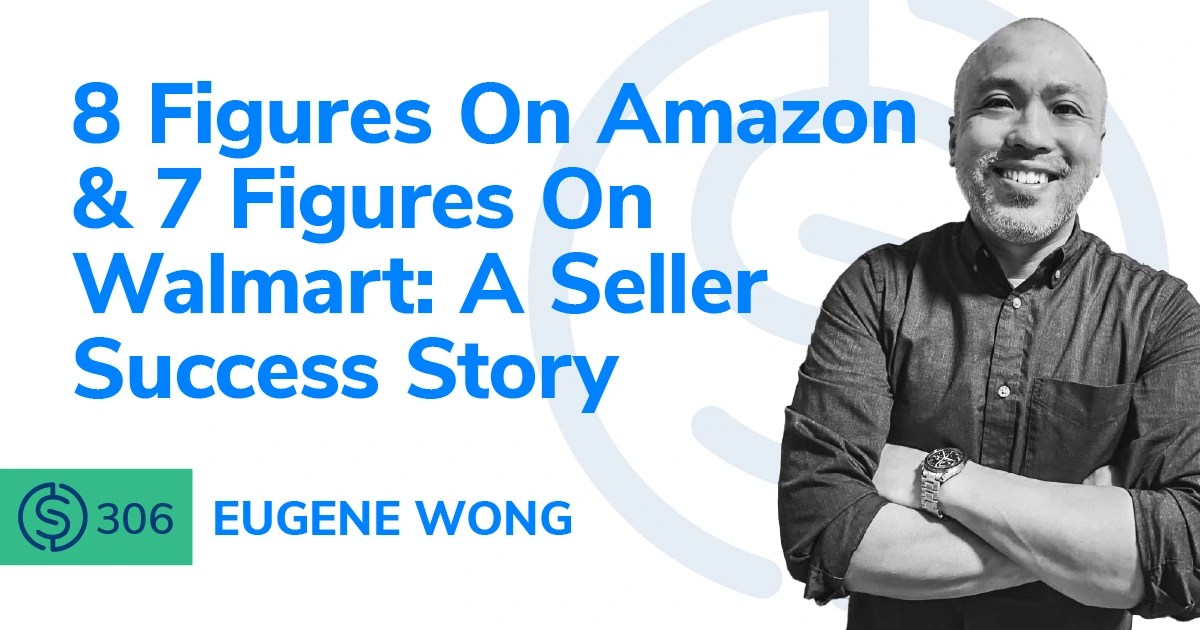 In this episode, we speak with Eugene Wong about his early start building an e-commerce career, how he built his businesses on two of the largest e-commerce platforms out there, how his brand is thriving in the Fashion category, and more!

Listen to the very end as he shares his timeless tips for success in e-commerce!
In episode 306 of the Serious Sellers Podcast, Bradley and Eugene discuss:
01:00 – Eugene's Backstory And How He Got Started In E-commerce
05:00 – How Was Amazon Like Back In 2008?
07:30 – How Did Eugene Grow His E-commerce Business?
10:00 – What Are The Biggest Changes On Amazon?
16:30 – Selling Experience On Walmart.com
20:30 – PPC And Other Launch Tactics For Walmart.com
24:00 – The Lessons Learned While Selling On Amazon
28:00 – Getting Started In The Fashion Category
36:00 – Eugene's Tips For Success In E-commerce
Transcript
Bradley Sutton:
Today, we're gonna talk to somebody who really didn't wanna have to take over his parents' restaurant when he grew up. Fast forward a few years, and now he's an eight-figure seller on Amazon and a seven-figure seller on Walmart. How cool is that? Pretty cool I think.
Bradley Sutton:
Hello everybody, and welcome to another episode of the Serious Sellers Podcast by Helium 10. I am your host Bradley Sutton, and this is the show that's a completely BS-free unscripted, and unrehearsed organic conversation about serious strategies for serious sellers of any level in the Amazon, Walmart, or e-com world. And we've got a serious seller on right now. Eugene, Eugene, how's it going?
Eugene:
Hi, Bradley. Honored to be here.
Bradley Sutton:
Honored to have you on here now. Where are you located?
Eugene:
We are close to Philadelphia, Pennsylvania.
Bradley Sutton:
Okay. East coast. Is that where you were born and raised?
Eugene:
Yeah, I lived there my whole life in this area. Yep.
Bradley Sutton:
All right. Excellent. Now you know, growing up in the east coast as you know as a, I dunno what you call them Floridians, what do you call somebody from Pennsylvania? I don't know what the word is.
Eugene:
Pennsylvanian.
Bradley Sutton:
Pennsylvanian, you know, we're okay? Pennsylvanian growing up as a small Pennsylvania over there, like what did you think you were gonna be when you grew up? Or what did your parents kind of like, you know, try and push you to, or encourage you to do?
Eugene:
Well, I mean, I was, I'm an ABC, so I'm a first-generation Chinese born in New York and my parents had a Chinese restaurant. So I grew up in that environment very entrepreneurial mindset and just kind of grew up in that environment building, they built businesses, and didn't expect myself to be in this space. Right. I definitely didn't wanna take over the restaurant that's for sure. So I shot down that dream very early on. I think I wanted to be more something like on wall street and financial, like a financial analyst aspect. That was my dream job growing up.
Bradley Sutton:
Okay. And then graduating high school. Did you go to college?
Eugene:
Yeah, I went to Penn state and a local college.
Bradley Sutton:
Nittany lions.
Eugene:
Nittany lions. Heck yeah. They didn't do great this year.
Bradley Sutton:
You know, I just went to I mean, I didn't go to the college. My dad did, but like I've always had season tickets to San Diego State Aztec and went to the Mountain West Championship game couple weeks ago, and then they just got their butts kicked because 30 players were out with COVID. But anyway, let's forget about college sports, cuz that's just gonna get me depressed. What was your major there At Penn state?
Eugene:
I was Finance and Economics.
Bradley Sutton:
Okay. And then did you get into that field upon graduation?
Eugene:
Not really. I mean, it was related into financial. I was more in, got into like risk management underwriting for insurance.
Bradley Sutton:
That just sounds like a minute right there. Oh my goodness gracious.
Eugene:
Yeah, my first corporate job. Yep.
Bradley Sutton:
Okay. And then, so around what year and how did you get introduced to e-commerce, and was it Amazon or was something else was your first entry into e-commerce?
Eugene:
It was really while I was working my job pretty much my cousin hit me up like, "Hey, we're getting ready to, to do something here". And they were just kind of selling on eBay, right. They were messing with products import from China and selling on eBay. And I just would go over after work a few hours and help out and pack some orders. And then, I mean, fast forward to probably about like six more that like, okay. I think it's time to quit my main job and then just jump in and go all in.
Bradley Sutton:
On eBay only?
Eugene:
It was eBay only at that point in time. Yep.
Bradley Sutton:
So you had made enough to quit your day finance job, just selling on eBay. What year was this again?
Eugene:
This was late 2007 and, and 2008 is when we entered Amazon. And, but that was, yeah, I did it with the premise of no Amazon yet.
Bradley Sutton:
So what were you doing on eBay in2008? Like I mean, I think I was selling on eBay in 2008, but it was mainly like, you know, some used stuff I had, I was trying to get rid of and stuff like that.
Eugene:
It was just, I mean, disco and date me, but we did a lot of those. I remember those digital photo key chains, like had like four gig eight gig. That was the hot cakes. That was the hot product back then. And I think I forget what it was like hundreds of those a day that we pack and went crazy. And I so was it like a-
Bradley Sutton:
Private label, like your own product that you like source from, from China or something, or it was just like brand name stuff that you were just reselling?
Eugene:
No, it was just generic stuff. It was generic stuff. I mean, we didn't have brand play back in the day and just, yeah, it just took off and,that kind of opened our eyes like, oh, wow, this is actually real. We can do something with this.
Bradley Sutton:
All right. So that, then you took that business over to, to Amazon and just started it's, you know, splitting your, your time between Amazon and eBay, or did you completely switch to Amazon or how did that work?
Eugene:
No eBay was in the picture for a long time. Cause that was still the biggest, biggest chunk of the business. I mean, back in 2008, Amazon was I know it was already was going on for a few years, but it definitely didn't have the volume yet. But I think cuz FBA wasn't even available back then yet and in 2008 but we applied the same philosophies that we did on the eBay and pushed our same generic products out. And eventually, I think later that year we had an explosive Christmas. And yeah, sky's limit from there.
Bradley Sutton:
What was Amazon like back then? You know, because I don't think we've talked to many people who started Amazon before maybe 2014, you know, around.
Eugene:
It was very easy. Pretty much I think we didn't get too sophisticated with listing with like flat files yet or anything like that. We, we just kind of did like the manual approach. We listed one at a time there weren't many variations or colors or things like that. It was just like one product per listing. And it was really, I think anything we could get, get our hands-on. Cause I mean, at that time, eBay proved that model for us where, Hey, we, we had a connection in China and we could pretty much bring in almost any product we wanted to and we just put it up there and it sold. And then we applied that same strategy to, to Amazon and it was really easy. It was shooting fish in a barrel. But of course, fast forward to now that that does not work.
Bradley Sutton:
Yeah. That's pretty incredible that, you know, started off on eBay and doing the same thing on Amazon. Like that was like even before what some considered the glory days of Amazon, youhad got a head start in everybody. So you had your, your feet wet. Now be before I go on, I just gotta call it out again. Guys, if you haven't, if you didn't hear the announcements, starting with episode 300, we actually started doing video now for this podcast for 300 episodes. We only did audio. And it's kind of cool cuz you know, even though we did audio, like I still only recorded the audio. Like I could not see the person I was talking to whenever I would record these episodes in, and now I'm looking at Eugene's background there. So if you guys are watching this on YouTube, you know what I'm saying? But if you're just listening to this checkout YouTube, because he's got one of the cooler backdrops he's got some arcade games. I see NBA Jam over there in the corner. He's got the Teenage Mutant standup arcade. What is that in your little glass container or glass display case there is that, are those Legos or Lego I should say? Or?
Eugene:
I'm a big Lego fan. Yeah. Yeah. Big, big. I call it AFOL adult fan of Lego.
Bradley Sutton:
I love It. I love it. Well, I was really, you know, speaking you mentioned that your're parents into restaurant, like, do you watch Lego Masters?
Eugene:
Yes, we did with my kids. Yep.
Bradley Sutton:
So the Guy we were trying to root for, they were also, I think their parents had a Chinese restaurant. And I think they were runner runners up so they didn't get to win it. And, you know, helium or Helium 10, you know, Lego uses Helium 10 a lot for their Amazon business, right?
Eugene:
Yes. I caught that. Yep. Caught that up, sir. That's cool. Cool.
Bradley Sutton:
Anyways guys we're gonna find out how Eugene can just have such a cool, you know, like game room, like this and stuff. It's definitely from being in the e-commerce space here. So let's talk up a little bit of more about how your Amazon business grew, you know, so, I mean, obviously, you haven't been for 15, you're selling digital key chains and things like that. So like when do you discover the need where like, or for like a, your first true private label product, like, are you selling that private label product today? The, the one that was like maybe your first real private label product?
Bradley Sutton:
I think we might have some that, that are still in, in yeah. In our inventory from yeah, way back when 2008, not many. So we're bringing in all these different products and literally, we like, again, this is not, this is where, like, we didn't have a strategy. There was no brand, there was no like that type of strategy, it was just, Hey, get wherever hands that we can get on that we think works and, and just sell it. It doesn't matter what category could be across 10 different categories. Right. so we were selling this I guess this, this massager thing. And we started getting a lot more emails about like, Hey, can you send it into street packaging? Can you send it in an unmarked box? Can you send it in this? And we're like, what's going on? And why are they asking these questions? And yeah, it took us probably about a month to figure it out. And in the meantime, we're also getting some returns and handling as well, too. So afterwards we're like, oh my gosh, like that.
Bradley Sutton:
Oh, OK. OK. Yeah. Yeah. You don't need to go into too much details there.
Eugene:
Yeah, Exactly. Yeah. Was a mistake.
Bradley Sutton:
Did you ever get classified as adult on there because of what was like may be coming, like when you start getting reviews about it and stuff, or did you always just stay in the therapeutic side, I guess of themselves?
Eugene:
No. I mean, That was a one-off product. We exited that very, very quick. Cause we didn't, that was in our intention.
Bradley Sutton:
Yeah. I'd be probably paranoid if I got took one of those returns. I'm like, okay yeah, this is a, I love of stories like that anyways. Okay, cool. So, you know, you been selling on Amazon probably, you know, longer than 99% of Amazon sellers out there, top two biggest changes that kind of affected the way you do business on Amazon. What would you say? Like, you know, there's been a billion changes on Amazon, but was it, you know, no more incentivized reviews was you know, PPC or like, what would you say from the early days to now that really, you know, some, a couple changes that really made you have to pivot the way you manage your business?
Eugene:
Well, I mean, we never relied on, on any actually Blackhat tactics. We, we were one of the good old boy. We, we didn't really do anything. We just kind of did, did what Amazon gave us and we try to have good copy, good pictures, and everything like that. I mean, I guess I would say the, the branding aspect, we were very, very late to that and, and we're still playing catch up. And obviously, like back then, we were living in those glory days where like, literally you can put anything up and sell with no strategy. But fast forward to now, we're, we're cleaning up our mess that we did in the past. Cause we just grew way, way, way too quick. And, and yeah, I mean that's probably one of the biggest things. Obviously, PPC is another one where we did not need to allocate that those amount of funds for PPC. Now it's another one of those things you have to pay to play if you don't. Yeah. We see the results of that.
Bradley Sutton:
Okay. Now, you know, like you mentioned, start on eBay, went to Amazon now we're in, you know, the end of 2021. What are the other platforms that you've been selling on?
Eugene:
Right now it's currently just Amazon and Walmart mainly. We, we stopped eBay recently. We have own Shopify, but that's, those are really the two main channels we push.
Bradley Sutton:
How many marketplaces on Amazon only USA or are you selling in any international?
Eugene:
We do Canada and Mexico.
Bradley Sutton:
Okay. So like just projected sales between, you know, Amazon and Walmart everything together. What do you think? You know, I mean, we're coming up on the end of the year, is this busy season, so I know you, might not be an exact, that's totally fine around how much, well, your gross sales have been when you look back at 2021.
Eugene:
2021 I think we're probably gonna be in the, probably we're from the 18 to 20 million mark for revenue.
Bradley Sutton:
18 to 20 million. I love it. Yeah. making a little bit more than you would have if you know, you, you took over your parents' restaurant there, so did you, speaking of that, like the way that you do products, were you always just looking at, at where the opportunity is or did you do any kind of like products that, for example, came from your knowledge about the restaurant industry from your parents? "Oh man, this is something my parents probably, you know, could use, or this is something that I personally, you know, like to do". Did everything, did anything come from like personal pet projects or knowledge or was it all just like, all right, let me research where there's high demand and low competition.
Eugene:
I would say in the beginning it was, I mean, there was a very electronics-tech focus and my cousin, myself we're very heavy into that, into that area. So that was really the kinda like the driving force. So we started out as more. How do you say the cables, adapters webcams, electronic gadgets like that digital key chain, those types of things? And that has mostly been abandoned now. We've pivoted to more of fashion apparel which works for us. But obviously, it's a, it's very hard to navigate with, with so many colors prints and sizing it's gets crazy
Bradley Sutton:
Different, different brand than the electronics I'm assuming?
Eugene:
No, this is everything was under one roof. And this was a mistake we made, because again, we, we started off like just grabbing anything that we could, so we were kinda like the Walmart of Amazon could sell like anything from health and beauty, all the way to tech, to fashion, to pet to everything. And we know that that's not the right way to go about it from a brand new stand for, so right now we're process cleaning that up.
Bradley Sutton:
Okay. All right. Cool. So what would you say is, do you have any, like, obviously you're an eight-figure seller. Do you have any products or any SKUs by itself they make seven figures or gross seven figures, or is it kinda like spread pretty evenly on your portfolio?
Eugene:
No, there's always, I mean, there's always gonna be a few heavy hitters. Yeah. There's a couple products that would, would command that seven-figure mark. Yep.
Bradley Sutton:
Oh, wow. Let's talk about how you built those up. Like when, around, when did you start those products?
Eugene:
I mean, some have been since 2016 and 2016, 2017 was probably where most of them came about.
Bradley Sutton:
And was it like just random, you know, maybe over a few months, you launched 10 products and you just, one of them just took off or like from day one, you're like, oh my goodness, this is gonna be a huge product. I know this is gonna be like a seven-figure product or, or how did that happen?
Eugene:
More, oh, I mean, there were a couple where it happened, where that were like, oh yeah, we knew this is gonna be successful, but that's more often than not most of the ones are sometimes the first year, first two years we don't really make much money off of it or, just kind of, it just very, very conservative play. But then it pops off one year and then that's when we start obviously adding expansions, adding all these different things, or possibly even improving the product. And that's the key. You gotta, you can't just put out any product nowadays. Right? You gotta have a unique selling proposition, some type of unique print or style, or something that sets you apart. And that's kinda just our, our main philosophy.
Bradley Sutton:
I like it. I like it now. Walmart, when did you, when did you hop on the Walmart? I don't wanna call it a bandwagon, but, when did you, when did you hop on that train? I guess
Eugene:
Walmart was, I would wanna say 2018. That was very early on.
Bradley Sutton:
Oh, so pretty early, pretty early. Yeah. In the days where their seller center was like almost, it was a nightmare to navigate and, and you have to do all this API stuff and it would take forever to get anything done. Right.
Eugene:
Yeah. It still is kind of. Yeah.
Bradley Sutton:
Now, were you just taking your best sellers on Amazon and, and then you put it on Walmart or did you develop products that were only for Walmart? Or what was your strategy there?
Eugene:
No, we try to keep it simple. Just, I mean, pretty much put our ] entire catalog onto Walmart. We haven't explored the exclusive aspect yet, but we're, I mean, that's something that we always consider and talking to the team about and seeing, okay. Is there a way, to make that work if we offer yeah? Something that's exclusive, can you give us better? You know what I mean? Better views.
Bradley Sutton:
Okay. And then what, what would you say, you know, of that $20 million pie? How much does Walmart take of that?
Eugene:
I think the industry average was like, I think 10% it's right, right around that mark it's pretty close.
Bradley Sutton:
Okay. So you are a seven-figure seller then on Walmart too. Yeah. Do you have any products at all that actually do better on Walmart than Amazon for some strange reason? Or is that percentage where it's, you know, Amazon usually is, you know five to 10 times as much as Walmart does that kind of go for you across the board there?
Eugene:
Surprisingly it doesn't correlate much with Amazon. There there's stuff that doesn't sell on Amazon and it does well on Walmart. We're we can't make a lot of sense out of it, but yeah, we push, we push what we can, but yeah, it's not, it's not one from for sure. It's very strange.
Bradley Sutton:
Now let's talk about fulfillments on Walmart. Are you mainly fulfilling yourself? Are you using that WFS are you shipping this stuff out of a third-party warehouse? How do you fulfill orders on Walmart?
Eugene:
We do. We do WFS but we also have our own warehouse, so we do our, we have our own fulfillment team, so we do it all from do both sides of it. So whenever, obviously whenever WFS stocks out, our, our warehouse team would pick up the slack.
Bradley Sutton:
Okay. All right. PPC, I don't know if you, you consider this metric, but do you consider your, your TACoS on Amazon and your TACoS on Walmart? Like what's your total ACoS or your budget, you know, like is it very similar? Like, Hey, if I'm selling $10 million on Amazon, you know I'm spending 1 million on PPC or, you know what, I'm just throwing out random numbers here. Do you guys have a similar strategy or, or you have a kind of different strategy on Walmart if you are even using PPC on Walmart?
Eugene:
Yeah, so I mean, PPC, my team doesn't really, we don't really have a budget. I mean, cuz obviously every, every SKUs different case by case, right. If the numbers are healthy, I mean, we're gonna keep spending, we're not gonna stop spending. On the Walmart side, it is in it's very infant stages cuz we were part of the beta team that tested the PPC. And I think in one month I blew through like three or five grand in a blink of an eye and it, it counted for nothing. And we were one of the first testers. So we kinda dropped that for a while, but recently we just got hooked up with the Packvue program with them. And we were able to now one of my-
Bradley Sutton:
At Helium 10 that's one of our sister companies now, right?
Eugene:
Yes, that's right. We saw that announcement. Yep. Yeah. So we're partner.
Bradley Sutton:
And I didn't even realize you use Pacvue. That's pretty cool.
Eugene:
Yeah. So that's something that one of my guys is utilizing and it's a lot smoother interface than the Walmart side of the things it's a lot easy to work with and that's their feedback. But we're yeah, we're in the process of seeing some group results, but we were in the process of scaling it further to yeah. To really get more visibility on the listings.
Bradley Sutton:
Speaking of visibility, when you launch on Walmart, what's the general strategy, how do you get to quote-unquote page one on Walmart?
Eugene:
It's still very new to us. And I'm not saying that we do, we definitely don't do everything that a successful Walmart seller does for sure.
Bradley Sutton:
And well, you're doing something that works, Obviously your seven-figure seller on Walmart. Yeah.
Eugene:
I'm good friends with Michael Lebhar. Right. But so we learn from him a lot and, and I try to pick his brain I mean really it's pointing out the good copy and great pictures. Right. And but we steal that from Amazon. But the real thing is, is maybe it's unfair advantage, but we work directly with account managers from, from the different categories and, and try to best position our products. But of course, we have to have good products in order to, to be able be even in the conversation with them and they wanna feature us. So, they have a right to reject everything on the catalog. Right. But but we just throw 'em, Hey, these are our new listings. And they're geared for spring and launch and they automatically help us to promote them. And that's, that was kinda like the secret recipe for us.
Bradley Sutton:
You mentioned like, you know, category managers and things has a category manager or a buyer from Walmart ever contacted you about you know, actually purchasing you know, any of your products that are doing well in Walmart. And they're like, Hey, we wanna make it you know, kind of a fulfilled by Walmart or, and sold by Walmart product or has that anything like that ever come down the pipeline?
Eugene:
No, not I've heard of that happening, but no, not us at this point.
Bradley Sutton:
Okay. Yeah, because that, for those of you out there listening, you know, like to me, what I always preach is like the holy grail and e-com is yeah. You know, start crushing on Amazon, you know, take, do exactly what Eugene has done. Take your Amazon catalog, put it on a Walmart and then, you know, try and get a relationship with some of these, you know, category managers or a buyer. And then the next step is, Hey, get them to actually buy your product. And then that helps. And then if that takes off and the reason I say this guys is cuz this is what one of my old companies I used to work for did then have them, hopefully, you can get it in brick and mortar. And then if you get a SKU into Brick-and-Mortar and Walmart guys just game over, I mean, that's just like, you know, the kind of POs that you'll be seeing, you know, are in the millions of dollars for one PO because you, you think of how many thousand Walmart stores there are, and you gotta get, you know, X number into every single store.
Bradley Sutton:
I mean, it's just crazy the potential. So yeah. You know, maybe we'll have you Eugene on this on this show next year in a year. And then by then, like maybe one of these things has happened and it would be, it'd be interesting to see how much, how much sales go up. Cause you can probably a hundred X, whatever you're doing on Walmart now on a SKU, like if you get it into an actual store what are some other differences? You know, you talk about PPC, you, how, you know, listings is not too different. But what, is there anything that you would call out where it's like, you know, I don't know the refund policy or the shipping policy or anything where it's just like, wow, it's like night and day different than Amazon that sellers need to be aware of?
Eugene:
For us, it's really just the, it's technical aspects of it. I mean, I know things happen on Amazon where listings break and stuff like that, or variations break apart. But at least we know how to put it back together on Walmart. That's the part that, where it becomes like a black hole, you sometimes stuff breaks apart, your top listing breaks and you can't fix it. The team doesn't know how to fix it. So those are some of the frustrating things my team had to experience probably more ever since we've been onboarded up until this day. Obviously, it's gotten better. I, I know their, their platform has gotten better, but it's just yeah. When it happens to one of your top listings, especially during peak period and no one can help you even account manager sometimes can't help you. That's just the scariest, probably, scary situation that we have.
Bradley Sutton:
Let's go back to Amazon, you know, obviously, you've got tons of wins, you know, to be able to scale up to that. Let's talk about some of your else that you've taken over the years. Like, you know, you ever gotten your account suspended, you ever gotten a product suspended you know for whatever reason, like what are some like big things that you've learned that maybe, you know, who knows maybe you can save somebody else from, from the trouble by learning from a mistake that happens to you.
Eugene:
Yeah, absolutely. I mean like I told you, like, yeah, I mean, we have a, we're kinda like a fairy tail story. We started my cousin's basement and went crazy doubling year after year after year. But of course there's all these hard things that happen behind the scenes. And like I said, in the beginning, we didn't really have a strategy. We're just kind of selling whatever, Hey, we can sell this. This is cool. Let's do it. Boom, boom, boom. But then there's things called patents. So patents and, and we've gotten ourselves in trouble with some of those in the past, but of course now we understand that game a lot more. And so that's one of the stumbling blocks that we had early on. We were just kind of trying to sell everything under the sun and we realized the hard way that, Hey, you can't just do that. Right. And now that's probably one of the biggest learning lessons.
Bradley Sutton:
Did you get your whole account suspended or just like the product suspended or what happened when you had that issue?
Eugene:
That one was, well, that was just a couple products that were suspended. But of course, also there were fines as well, too, right. That we pay out pocket that save the settle and stuff like that.
Bradley Sutton:
Okay.
Eugene:
And yes, we have been suspended before in Amazon. We've done that before.
Bradley Sutton:
Did you have to like hire an outside agency to like write the POAs and or you know, the plan of actions and, and stuff, or were you guys able to get unsuspended on your own?
Eugene:
We able to do that internally and yeah. Get unsuspended ourselves.
Bradley Sutton:
Wow. Okay. Speaking of internally, well, you know, some people who might be scaling up with like, you know, Hey Eugene is hashtag goals. I wanna be $20 million-seller in the future. What does that look like? As far as your team, you know, like, obviously you're not running this a hundred percent by yourself. As you said, you got your cousin, but like, you know, do you have VAs? Do you have full-time staff? Do you actually have a warehouse? What's your team construction like?
Eugene:
Yeah, no, I'm glad you asked that. Cuz I mean, my team gets a lot of the credit. I mean, so we have some couple VAs in the Philippines. We also have a small team in China. But the bulk of the team is in our Pennsylvania warehouse or warehouse and office. I mean this team has been together for a long, long time. I mean, I would, some of us were there over 10 years. Right. So this is a very, very strong team that's been very knowledgeable. We each have our core competencies and that's how we run it. And that's one of the main recipes for success because no one can, I mean, there are definitely smarter people out there that can run this whole thing by themselves. And I've seen that, but also there's a lot of stress and it just, for me, it, wasn't very healthy to have it all on one or two people's shoulders that's way too much that that's high burnout, especially in, in this industry. So we have probably about, I'll say us about 20, 23 employees as of right now. And that's where most of the brain work happens and a lot of the logistics warehousing or fulfillment, all that stuff happens.
Bradley Sutton:
All right. Now, something earlier in our conversation, Eugene and, and I've been thinking about, this is like you mentioned that you start on electronics and you still do electronics, and then somehow you went to fashion. How does that transition, you know, happen? You're like, okay, I'm doing kitchen and now I'm going to home decor, you know, like, you know, I'm doing electronics now I'm doing cell phone accessories or something, but where does that pivot happen from electronics to fashion?
Eugene:
Well yeah, that's a funny question. It, so pretty much we, I told you already that we saw a lot in the electronic space tech and gadget and stuff like that. And at that point, we were predominantly just male staff, right. And, and someone introduced some ready stock generic products that weren't fashion. I think it was leggings and suspenders. And that was really kinda like the first start of it. But it was a bunch of guys in the office trying to figure out what patterns were, print, what sizes, and all that stuff to pick. So it was, we didn't really have the expertise per se but we were able, to make it work surprisingly obviously some of the sizing, what was really, really strange, we didn't realize China sizing was different than American sizing. So like an extra small in China would actually no extra small here would be like a triple XL in China. Right. So we didn't understand that. And we were starting-
Bradley Sutton:
Being a big guy myself and living in Asia a few years too. Like, I understand that struggle. I could never find shoes in my size. I could never find shirts. They're like, what do you like? We don't have anybody your size here. Come on. So then what happened with that?
Eugene:
Yeah. So, I mean, we, obviously, we were got a lot of yeah, bad reviews for certain things for sizing and I charge were wrong on a lot of different things that were in the very, very early days. But of course, as we got more serious with fashion, we're like, oh, wow. There's, there is a lot of demand here and, and a lot of success here, but of course, we needed to fix the expertise part of it. And really that was, we just kind of, it fell into our lap where we had some good hires and, and now fast forward, we have people that are, you know, experts who in the fashion field trends and everything like that. And sizing is very, very very, very important for us. And we were able to scale that. But yeah, the first year, it was just a bunch of guys throwing stuff at a wall trying to sell women's fashion. And it was very, very hard. I'm surprised we broke past it, but yeah, it was very, very failure rate supposed to be high failure rate, but we got past it.
Bradley Sutton:
Okay. That's good. Hey, it's helped to have a diverse workforce too. Especially when you're trying to you know, market to a certain demographic, if you don't have that demographic on staff, it makes a little bit difficult now that the other question I wanted to ask is, is fashion is something that me personally, on Amazon, I've always been scared of because as of what you kind of mentioned about the returns and things like that, like, you know, cuz Amazon has such a generous policy, in my opinion you know, for fashion, like, you know, it kind of like, to me almost incentivizes somebody to order like three or four different sizes at once and stuff, knowing that they can just return it at no cost. Like how do you budget for that? And what, what is like your return rate, you know, for you guys, obviously you're all in you're not quitting on this, so you figured out a way to make it profitable. How have you done that?
Eugene:
Well, I mean, so yeah, return rate, on fashion is definitely a lot higher than, well, for us, for the categories that we sold in that's definitely the worst category. I believe it's above 10% for sure. Yeah, and there are a lot of situations where people buy multiple sizes and the return of sizes that they don't want. We actually factored that in recently and, and it something that we have to pad our margins with, right. I mean, if you don't I think a lot of our product lines would end up losing. But it's something with right now with everything. It's like the perfect storm where, where the supply chain and, and every cost is going up in every single area. And of course, our return rates were actually even higher this year for some reason, compared to last year.
Eugene:
So then we had to factor that in as well, too. So our average went up. There's really, I mean, there's no real way to, combat it a hundred percent because I mean, everybody is different, right. It doesn't matter if I usually fit in a size large. Sometimes I won't fit in a size large for different companies or for a different type of outfit. Right. so we understand people are gonna try different things. Size charge is something that we try to perfect as best we can. And we try to do that through a lot of testing, a lot of samples it takes a lot of time back and forth with the factories. But that's kinda like the main eliminator of it. Cause with how lax, both Walmart and Amazon's return policies are, I mean, we can say, Hey, you can't return it right. That's not an option for us. So we have to eat it. So we just have to build that in, build that into the margins.
Bradley Sutton:
Does the things work on Walmart the same as Amazon across from either electronics or fashion, like, or does one do better actually, relatively speaking to like your sales on Amazon on Walmart as opposed to the other, like, you know, does your electronics do better? Do you get better you know action on there or does the fashion actually do better on Walmart?
Eugene:
It seems like the more of obscure products do better on Walmart for us. The fashion being a private label seller, I think is harder on Walmart. Like retail arbitrage a I think is probably more lucrative, I think at this stage. I'm hoping that tide will turn, but that's, I've heard that more than a few times already. And our data tells us that as well, too. So if there must be something there why private-label fashion is harder on Walmart for some reason, I don't know why I'm trying to crack that code.
Bradley Sutton:
Interesting. Supply chain issues. I think regardless whether somebody's in electronics, fashion, whatever, if we're importing from Asia, we've been experiencing like, you know, double shipping costs, we've been experiencing shipping times of three, four months. How has that affected you and how have you guys been navigating that?
Eugene:
Yeah, I mean that's been killer for everybody. I mean, luckily we have a team over there on foot, right? So they help us negotiate. They watch our back, they protect us. And they negotiate the best deals that they can. But it's no matter what we have to pay the Piper, right. We have to pay those inflated costs no matter what changed for us the most is that we had to definitely forecast a lot further out which means definitely spending more money and more capital upfront. So our predictions were not gambling, but, but just a lot more analysis on the forecast amount. And I guess that that is a bigger risk than we've taken in previous years, because what, we don't know what's gonna happen after new year, right.
Eugene:
We have Chinese new year coming up. So pretty much we're ordering pretty much, almost six months' worth of inventory at once, which is crazy for the books, but it's something that you have to do if you wanna have stuff to sell. We don't wanna take the chance it's of stuff falling apart before and after trying near, definitely when everything is slowed to open back up again, and we don't know what COVID is gonna look like. So that's kinda like the approach that we're taking. Luckily we're, we're bootstrapped enough where we can afford that. I know not everyone can do that, but that's kinda like the aggressive approach that we've been taking is we're very confident on certain product lines that we have and whether new or existing, and just double down on it. And that's what we're currently doing.
Bradley Sutton:
Have you raised prices to stay profitable? Because, I mean if all the things if the price stays the same, now you're paying double for shipping, obviously that eats directly in your profit margins and things like that. Or do you decrease PPC spend or how have you tried to stay profitable?
Eugene:
I mean, price races have definitely come. We try to minimize the big jumps from it. Luckily we with obviously with ocean freight is something that we rely on heavily that allows us to keep our prices down. But it's something where, like, we don't, again, like PPC is something we learned a hard way where we tried to be very cheap with it one year and was our wisher ever there's a reason for that. Right. and that kind of goes into one of my tips later, but like, it's one of those things where you have to pretty much feed the beast. I mean, feed, Amazon that's, you, you have to keep pushing that and yeah, increasing price is gonna hurt you for sure. Mean like your rankings and stuff like that. But then you have to put more money into the different Amazon ecosystem with the coupons, promos, PBCS, things like that.
Bradley Sutton:
You mentioned the tips, you know, you know, about the podcast, you do that, the TST 30-second tips. So maybe I thought you could give us one or two, it could be Walmart. It could be about Amazon. It could be about, about, you know, what you've learned about branding. Since you say you guys are late. I mean, it could be about anything you want. What are a couple of 30-second tips that you can give our listeners out there that have helped you, you know, reach a success that you have?
Eugene:
Well, something very near and dear to me is and we just experienced this just recently, I mean, I think in 2019 we went to the Prosper Show. You were part of that. And attending conferences is something that we, we haven't done a lot. We were very, as a company closed we kind of, didn't talk to people. We kind of did our own thing and, and kind of kept their head down. And of course, I realize now that that was not smart, that was just we were just kind of, so confident in our ability to make things happen, meaning like we're doubling year over year, over year and the greater train wouldn't stop. But then, like we had a hard time adjusting once the Amazon landscape changed.
Eugene:
We're like, Hey, you gotta have a brand. You gotta have a brand story. And you can't just slap things up there and sell. And the biggest thing was attending these conferences and, and attending a mastermind that kind of opened up a live doors where establish new partnerships with different businesses. And that's how I met Michael as well, too. And just allow us to meet with other like-minded folks and be able to talk about strategies and things like that. And so it's one of those things where I know it's been debated before about like, Hey, what are good things to go to what conferences? And it just, that networking aspect is so invaluable. And, and me, myself, I'm a super closet introvert.
Eugene:
So it's one of those things were, where I have to force myself to do that. And, and, and also it just, once you establish that relationship, it opens up so many new doors and we were doing so many strategies since 2019, that wasn't that far, that long ago that kind of made us not only survive this pandemic aspect but has also leveled us up in ways where we're running so much more efficiently and just, yeah, tighter and more profitable, just, just healthier overall and healthier from everyone's mindset as well, too, by doing different things from a strategic standpoint.
Bradley Sutton:
Absolutely guys, you know, I cannot stress enough. Oh, I've said this many times on the show that, you know con going to conferences is amazing. Not just from what you learn, you know, from the seminars or something, but just, you know, you network that you build there is almost more valuable than the seminars itself, you know, like being able to connect with people and who you could like hit up and, and who have been through some of the problems that you might, maybe you haven't faced yet. Now it comes upon you and you can just have some people to ask like, Hey man, this just happened to me. What do I do? You know, guys go to conferences, you know, knock on wood. The world is getting back to normal and, and conferences are back on. Remember we have a huge one in September in 2022 guys in Las Vegas, Sell and Scale. So make sure to, you know, look that up with Helium 10, but any conference that you guys can go to get to, any other tips for us Eugene
Eugene:
I've another one, but it's pretty vanilla, but it's something that has worked for us consistently is I kind of mentioned is like feed dams on ecosystem, right? So pretty like obviously PPC we learned the hard way, we were like, Hey, let's be more efficient on PPC. And that ended up being our worst year ever. And, and everything went down and now we realized that, Hey, you gotta feed that beast. And PPC being one of it coupons taking advantage of their exclusive discounts taking advantage of their pilot programs. And especially the SAS team. I know SAS is if you know what I'm talking about, like the account manager program, I know you have to pay for it. And I've heard a lot of mixed reviews on it. For us, we get that from an insurance standpoint, but also being able to get invited to different pilots and also be able to have a direct line of contact when very serious things happen. And it has happened where we have at least a lifeline where they're gonna go above and beyond what seller support does. Right. And they'll get back to us pretty much within our type of thing. And I think that paying for that for peace of mind is very valuable to us.
Bradley Sutton:
How much is that per year?
Eugene:
I think they, now they make, it was it, I don't know, it's a certain percentage of your sales, but it won't go above a certain amount. But I know we pay a couple thousand a year just for that, for sure.
Bradley Sutton:
Okay. Yeah. Okay. All right. Well you know, like I said, we're here at the end of 2021. If you come back at the beginning of, let's say 2023 or something back on this podcast, what would you like to be able to tell me about your 2022? Like, what's your goals for next year?
Eugene:
Well, pretty much have, have a lot. We have a lot of product launches coming in. So hopefully, we hit 90% of the was to be very successful. Like I said, we were more aggressive than ever for coming into the following year with new product lines, cuz just the new system that we put in place really works. I mean I think it's really just more, I mean, I would say higher profit being able to absorb all the, I'm sure there's gonna be more increased cost probably. But, but being able to, to keep playing in this field, I mean, keepdodging. The bullets is I guess the best way to say it cuz cause they're gonna keep coming and I know it just how to adjust and adapt as best we can, which is how we're we're so alive today.
Bradley Sutton:
All right. Will you Eugene, thank you so much for, for coming on and you know, really inspiring story. You know, one of those, you know, start are from the bottom, now we're here, you know, stories you know, in another world you didn't make the decision. You did. I mean, you could be, you know, working at your parents' restaurant, which is not a bad thing at all. You know, a lot of people do that, but you know, if you were doing that, I probably wouldn't be looking at your, your game room in the back and having a full arcade in your house and stuff like that. So I'm assuming that being a entrepreneur, you know, entrepreneur on Amazon has really helped you open some doors. And so it's great to see your success and we'll definitely be reaching out in the future to get a follow up with you.
Eugene:
Thank you. Thank you, Bradley.
---
Enjoy this episode? Be sure to check out our previous episodes for even more content to propel you to Amazon FBA Seller success! And don't forget to "Like" our Facebook page and subscribe to the podcast on iTunes, Spotify, or wherever you listen to our podcast.
Get snippets from all episodes by following Bradley on Instagram at @H10bradley
Want to absolutely start crushing it on Amazon? Here are few carefully curated resources to get you started: