#314 – Amazon, Walmart, and Helium 10 Updates To Help Your Business
Lem Turner joins us today to talk about the latest updates on Amazon, Walmart, and Helium that can help you crush it this 2022.
Originally published on: January 18, 2022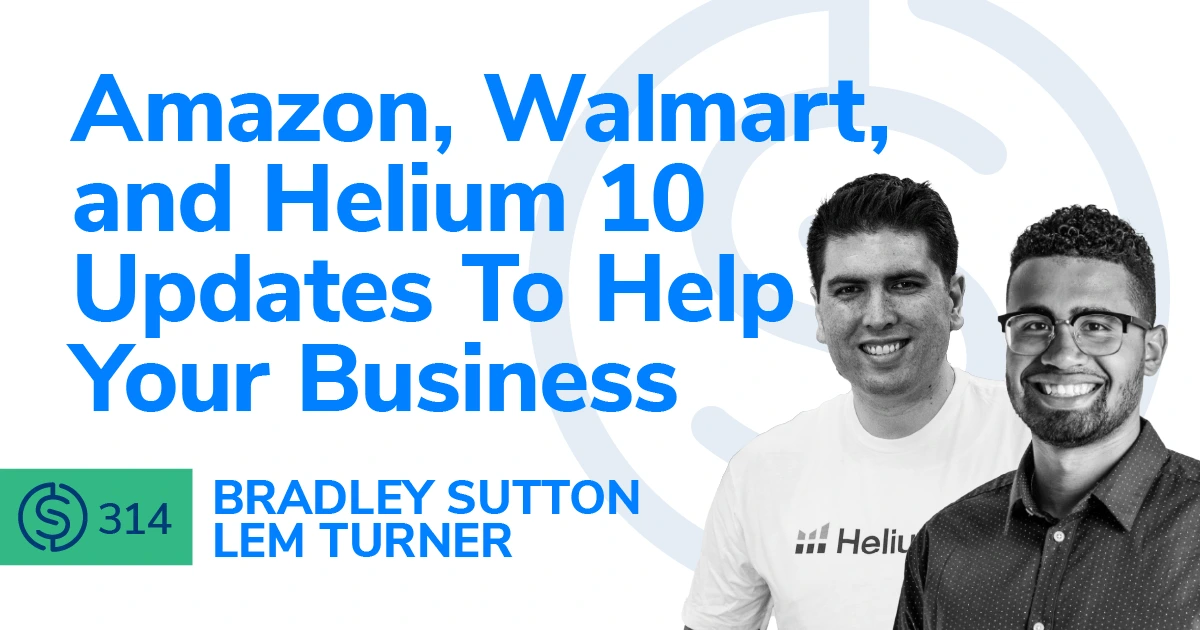 In this episode, Bradley is joined by Lem Turner to talk about his story as well as all the latest new features inside the Amazon and Walmart seller central, and also with Helium 10. Get your papers and pens ready as they tackle all the new updates and features and also share some tips and strategies on how to utilize these new stuff to make an impact on your business.

As a bonus, Lem shares his story on how he grew his retail arbitrage business to six figures during the pandemic and his best tips and practices for retail arbitrage so make sure to listen to the very end!
In episode 314 of the Serious Sellers Podcast, Bradley and Lem discuss:
01:30 – Lem's Story, Background, And Collegiate Sports
03:30 – The Catalyst For His Amazon Selling Journey
05:10 – Scaling His Business To Six-Figures In One Month
07:30 – An Example Of A Retail Arbitrage Product That He Sold
10:30 – Signing Up To Sell On Walmart And WFS Is Easier
13:25 – New Helium 10 Tools For Walmart
14:42 – The New Product Opportunity Explorer From Amazon
17:10 – New Updates On Helium 10's Portals Tool
23:10 – Core Helium 10 Tools Are Now Available For Amazon Japan
26:30 – The New Title Density Filter And How It Helps You
31:45 – Helium 10's Anomaly Tracker For Abnormal Indexing Or Keyword Tracking
32:30 – New Updates On Helium 10's Follow-Up Tool
34:30 – More New Updates From Amazon And Helium 10
40:30 – Helium 10's Chrome Extension In Foreign Languages
41:30 – A-Z On How To Sell On Amazon With Freedom Ticket 3.0
42:30 – The New Pinterest Trends Finder And How To Use It
46:30 – Updating Your Listing In One Click With Listing Builder
47:30 – Keyword Research Using The Helium 10 Mobile App
48:00 – Lem's Retail Arbitrage Tip
Transcript
Bradley Sutton:
Today, we're gonna talk about all of the latest updates to Amazon Walmart and Helium 10 that can help you crush it online. How cool is that? Pretty cool I think.
Bradley Sutton:
Tired of waiting two weeks to get your Amazon payouts, wouldn't you rather get your payouts every day, if it was possible, or maybe your interest in a line of credit for thousands, tens of thousands, even up to a million dollars, depending on what you qualify to help fund your next Amazon orders, you can do these things and more with Alta by Helium 10, for more information, go to h10.me/alta. Hello everybody, and welcome to another episode of the Serious Sellers Podcast by Helium 10. I am your host Bradley Sutton, and this is the show that's a completely BS-free unscripted, and unrehearsed organic conversation about serious strategies for serious sellers of any level in the Amazon, Walmart, or e-commerce world. And today we're gonna be talking about tons of different strategies, actually, strategies that are based on new features that maybe you can now use in Amazon Seller Central or Walmart Seller Center or even Helium 10. We've actually released a lot of things over the last six to eight months. You might not have known about it. So the person I invited to help me talk about these things is Lem here, Lem how's it going?
Lem:
Good. How are you doing?
Bradley Sutton:
I'm doing just delightful now. Lem where are you located?
Lem:
I'm located in Indianapolis right now.
Bradley Sutton:
Indianapolis. Is that where you're? Born and raised?
Lem:
Nope, born and in Chicago suburbs.
Bradley Sutton:
Okay. So not too far, but you, you kind of stayed somewhat local now. Yeah. What brought you to Indianapolis? Was it college?
Lem:
Yes. Or it brought me to Indiana was college and then I got a job in Indianapolis coming outta college.
Bradley Sutton:
Okay. So you were a big time volleyball player back in the day. Did you get a, was it a scholarship that you did it pay for your whole college, your sports career there?
Lem:
Yeah. Yeah. Like scholarship to Ball State. Yeah.
Bradley Sutton:
Awesome. Awesome. Now, what was your academic kind of goal? You know, obviously, you were at ball state and playing volleyball, but you have to have a major, what were you getting a major? What were you trying to get a degree in?
Lem:
I got a major in Sports Administration with a minor in Marketing. So looking to get involved with like athletic departments things of that nature, at least that was the goal going through college.
Bradley Sutton:
Okay. But once you graduated, what was like your first full-time job then, or did, did you like get into that field that you were trying to get into?
Lem:
No, It was just funny. My first full-time job was working for as customer service for a wholesale e-commerce brand and then later transitioned into an Amazon advertising role.
Bradley Sutton:
Okay. So how did you land that job?
Lem:
I land that job through a local organization that connects talent to small and medium size businesses in, in Indianapolis area. And I just got involved through that process that got me involved with that company at the time.
Bradley Sutton:
So is that how you were kind, was that your intro to kind of like e-commerce and, and kind of open your eyes to what was out there you didn't know about like selling on online and things like that before?
Lem:
No. I was selling on Amazon, like very little before that like maybe like a couple hundred bucks a month, but it definitely accelerated and acted as a catalyst for my Amazon selling journey.
Bradley Sutton:
Okay. So then you said a catalyst. So then what was your next step then? What did that lead to?
Lem:
It just led to me understanding that converting from FBM to FBA can have a huge impact. And that led to a couple hundred bucks a month to a couple thousand bucks a month just by moving it to FBA and understanding how to work through that whole process.
Bradley Sutton:
And was this like arbitrage or drop shipping or wholesale private label?
Lem:
This was primarily retail arbitrage at the time. Yeah.
Bradley Sutton:
So how would you go, like, would you just go to different stores and have the Amazon app scanner and, and just see if could sell it for you know, for more or what was your strategy?
Lem:
Yeah, the strategy was kind of working at stores yeah. Where like Walmart's targets things of that nature, like big box stores going through clearance aisles and flipping stuff like that. And then also going into thrift stores to see if there was any things that was like in barely or gently used, or looked brand new that I could sell on Amazon. And that's what really like got me into that whole process of flipping stuff on Amazon.
Bradley Sutton:
Now, what was your next step in e-commerce? You scaled up your own business to one to $2,000 a month, and then where'd you go from there?
Lem:
From there? That's really when at the time of when COVID hit was I had a ton more time of diving into Helium 10. We use Helium 10 at the former company, and that's when I got really trained on that and just had extra time. And then at that same time was when I was transitioning to my Amazon advertising role. So I learned how to do keyword research, product research, how to validate those things. And then that the combination in learning how to advertise and Helium 10 allowed me to go from a couple thousand to a couple to like 20, 30, 40,000 to inevitably six figures hitting that in a month,
Bradley Sutton:
Six figures in a month on your own business, or this was also other people's you were helping out as a consultant?
Lem:
No, I was completely just reached our arbitrage on my own. Not like new though. I couldn't do like new on six figures, but just flipping stuff online.
Bradley Sutton:
How in the world did you scale up by yourself to that kind of those kind of numbers?
Lem:
Bundling was the biggest thing I was doing like two packs, four packs, eight packs, and doing that and working with local big box stores of understanding that at the peak of COVID they had limited inventory space, limited shelves, but Amazon is unlimited. So then making deals with them and buying things at a lower cost and even lower than the clearance price, but guaranteeing them that I'll clear like a certain number of shelves a month. So that way that gives them room for other inventory to get processed. So it was kind of a win-win situation and that's how I was able to achieve six figures with such good volume.
Bradley Sutton:
And then, so you'd have to buy these things and then like yourself polybag them or box them into bundles and then send it to FBA.
Lem:
Yeah, that was my back. Got very strong during that time of poly bagging labeling them. Yeah. And my girlfriend now fiance at the time was helping me. And that was a big step I don't do those anymore, but that was a lot,
Bradley Sutton:
Give me a specific example, you know, like in the private label world, nobody ever likes to say their product because, you know, they swear somebody might steal 'em, but in arbitrage, just like you do stuff once, and you're never gonna go back to it again. So I'm assuming that you'd be okay with sharing one of your examples.
Lem:
Yeah, yeah, no, no, it's totally fine. There's a product I don't sell anymore, but it was like, definitely counted for like half of that six figures was ball jars. It was, I would buy a 12 pack and they are bought at like $11.99, but then you could sell a two pack for $11.99. And for some reason, ball jars weren't available in other, in the east or west coast, and ball jar they're based in Indiana. So like the first step of the supply chain process and dropping off inventory is here in Indianapolis area. So I was able to get most inventory and then it was just breaking down a 12 pack of ball jars I bought for $11.99, then putting them, making them, poly bagging them into two packs, which so I would have six, two packs and then selling each of those two packs for $1.199 and then selling them on Amazon.
Bradley Sutton:
So how did you even find that in the first place? I mean, was this just random scanning or you just had an idea or you found it online or what?
Lem:
I found it through Black Box actually doing the niche tab I typed in like Ball Archive was originally selling other types of ball jars, but I just, as 12 packs, I didn't realize I could like poly bag 'em and break 'em down and have much more profit doing that. And that's how I found it. Cause I realized it was one of the top selling products for that ball jar category. So that was really cool using Black Box to discover that opportunity.
Bradley Sutton:
Okay, cool. Now, today we're gonna be talking a lot about the new– you know, speaking of Black Box and things like that, you know, new things that Helium 10 has come out with new features on Amazon you know, a couple new things on Walmart. So let's hop into that because there's a lot of our listeners areHelium 10 users, our sellers on Amazon or Walmart, but what happens is we get into our own like kind of like routine and you'd be surprised I'm not talking to you Lem, I'm talking to everybody else out there, but you guys would be surprised about, you know when I go to conferences and even like Elite workshops where we have like the top users and top sellers on Amazon and, and they're like, oh yeah, you know, have you used this in Amazon?
Bradley Sutton:
They're like, what? I didn't know that existed. And I was like, Hey, have you used this new feature in Helium 10? They're like what I use Helium 10. My team uses Helium 10 every day. I didn't even know you guys had that. So I know a lot of you guys who are listening on this podcast are watching on YouTube probably are on the same boat. So, so get your paper and pen out unless you're driving it and write down some of these things that we're gonna talk about today so that you can go back and share it with your teams or maybe dive a little bit into it now. Just in general I mentioned, you know Lem was talking about, you know, buying these things in Walmart. So I wanted to talk about, you know, selling on Walmart.
Bradley Sutton:
So selling on Walmart guys I, I worked for a company, you know, six years ago got into it. It was like a pain in the neck, like the seller I think it's called Seller Center in Walmart was so wonky and it took like months and months to even apply for it. And then you had to have a verified person who can work on your API, who could even do it. It was just a nightmare. Like I wouldn't have recommended, you know, selling on Walmart, but they, in the last year or two or two have made it so much easier to apply for a Walmart account. So we're gonna have a lot more detail on how you can do that. We're gonna be adding new modules to Freedom Ticket and things like that. But just in general guys, if you haven't signed up yet for an account on Walmart, that is kind of a new feature, they have made it a easier in the last year.
Bradley Sutton:
All right. So guys, if you have not yet signed up to be a seller on Walmart and you are interested to doing so we have kind of a link that can help you do that. I think it actually kind of expedites the process. It's for anybody out there, but it's, it was mainly designed for Helium 10 users. So go to helium10.com/apply-walmart. helium10.com/apply-walmart it'll take you right to Walmart application. Another update, you know, that Walmart has the actual seller center has done is, is they've made it easier to be a part of WFS. So what is WFS? WFS is kind like the Walmart equivalent of Amazon FBA, right back in the day, it was like kind of invite only. And very, very few sellers were part of that program, but they've expanded it a lot.
Bradley Sutton:
And it's a lot easier even Project X where we had maybe, I don't know, we had maybe only 10 sales in two months cuz we were just playing around with it. We were able to join WFS and send some Project X egg trays into Walmart's warehouses. So, guys, if you are already selling on Walmart and you have not applied for WFS make sure to apply for WFS, it just is a lot better because you can get the one in two day shipping badge on Walmart and your listing looks a lot more attractive now. Speaking of Walmart again, on the Helium 10 side, we have, you know, added tons of tools that work for Walmart. So, Lem do you know the different tools? What are the different tools that you can think of that are, you know, people already have been using and knowing and loving for Amazon on Helium 10, but now actually work for Walmart as well?
Lem:
I think Xray is one of them. Am I right on that?
Bradley Sutton:
Yep, absolutely.
Lem:
There's what are other ones it's or Magnet.
Bradley Sutton:
Magnet. Yep.
Lem:
And we have Cerebro
Bradley Sutton:
Cerebro. Absolutely. So, guys, those are the three main ones that we added and we've got a few more here or there, like one of the latest ones we added was Keyword Tracker which our users were really asking for because, you know there's a lot, there's actually a lot more search results on Walmart. So it's important to know how you're ranking it. It's kind of easier to rank on Walmart. Right now it's kinda like the Amazon was like five years ago kind of like the wild wild west. So keyword tracking is definitely important. So if you guys have a Diamond membership to Helium 10, make sure you're using those tools, you know, Xray is great for doing some of the things that Lem was talking about, like, you know, arbitrage and looking for drop shipping.
Bradley Sutton:
Well, Amazon has made it a lot more difficult now to do, you know, Walmart to Amazon drop shipping. It's not really recommended, but it can give you ideas on other product opportunities out there, something that is on Walmart and isn't on Amazon or vice versa. You're gonna be able to see that with the Chrome extension. And then of course, if you're going to go ahead and list your products on Walmart, you know, you gotta do the keyword research for it and Cerebro and Magnet can, can help with that. All right. Other things that have been added lately on Amazon, something new called the Product Opportunity Explorer, really cool. They're opening up a lot more data points that you haven't potentially seen. A lot of it is very similar to what you already have already kind of used to in Helium 10, but you know, it just presents it in a little bit different way.
Bradley Sutton:
Like they've got different kinds of search volume on there. The one thing I like about the product opportunity Explorer is I can see I mean if it's doing what it says it's doing is you can see how many products it takes in a certain niche to make up. I believe it's 80% of the sales, right? So like for example you look into the, you know, the collagen peptides, which you would think are hundreds and hundreds of products. And at first, I was looking at, I was like, what is this? Like it says, there's only like, you know, 30 products or something and collagen peptides niche. I'm like, what does this mean? And I dove into to where it says how they decide what products are in the niche and it's actually, Hey, well, we're just showing you the top products until we get to 80% of these total sales for this niche.
Bradley Sutton:
Right. And so that's interesting that shows that like a huge market, like collagen peptides that does have, you know, hundreds and hundreds of products in there, there's only like 20 or 30 or whatever it is that are dominating like 80% of those sales. So that's a way that you can kind of see, is there room in a market like maybe you want to go into a market where it's kind of like wide open, where to get 80% of sales for this niche. It takes 200 different products, which means that no one product is probably really dominating that much. Or on the flip side, maybe you want to go find a niche where 80% of the sales in this niche is dominated by like three or four products. That's another you know, thing that you can do with this product opportunity Explorer as you dive into it.
Bradley Sutton:
So if you don't have access to it in seller central, you can actually request access from Amazon seller support and I have a full blog on it. So just go to helium10.com/blog and look up Product Opportunity Explore, and you'll be able to see a bunch of details on all the cool feature that it has now coming back to Helium 10, you know, Lem here as a brand evangelist, he, he focuses on all the tools, but there's a couple different ones that he especially focuses on. And one of them is Portals. So Lem can you talk about, what's been new in the last few months in Portals that maybe some of our users have not taken advantage of yet
Lem:
In Portals, we definitely have some new things, including barcode labels, which is one of my favorite things, barcode labels. It allows you to create just like a much more clean, more pristine, custom branded barcode label that you can actually attach your FNSKU. That's where you're using to that label and send to your manufacturer. If they're gonna put that on your packaging. And it just makes it look a lot more clean and professional in that way, we even have templates available for you to utilize with barcode label generator.
Bradley Sutton:
Yeah, this is good guys because there was two reasons, this was actually one of these things that very few tools at Helium 10. I was the original ideator. Sometimes I come up with a good idea. Sometimes I just kind of like help flesh it out, but this is one of those ones where it came from an actual need that I was having. So I do wholesale. And then I also obviously do private label, like, you know, with Project X and Project 5k. And what was happening was on both of those things, I was needing something to create barcode label. So, you know, if you like for example, Lem when, when you were doing all of these bundling and arbitrage and things, what were you doing for the FNSKU like, did you print it off or did you have, did you pay Amazon to put a sticker on it for you?
Lem:
I had to print it off and then label it myself.
Bradley Sutton:
So did you have like a thermal printer? Did you get that? That had the label? Yeah. So, and then you just downloaded the ones that Amazon gives you yeah, I did. Yeah. So a lot, and a lot of you guys who are doing arbitrage and wholesale or even your own products, you know, maybe that's what you're doing. You're just downloading that, that one from Amazon. But the problem with that one is it doesn't look very professional. It doesn't look very good. It's like this, and it's like completely truncated the title, like you you're locked into what Amazon puts in that label. And if you keep stock at your own warehouse, sometimes you can't look at it and know what it is, because it truncates so much of the title. You don't even know what the product is unless you memorize your FNSKU number, which, you know, nobody does that.
Bradley Sutton:
And so that was kind of a hassle for me. So like, what I was doing is like, I never used those Amazon ones after a while. I started just like, I opened up this like little word document and I made like a little template for myself. And then I went to a barcode generator. I put the FNSKU so I could get the barcode out of it. And then I wrote in my title and things for each product, so that I could like accurately label them. And I could just look at the product and know which one it is. And then plus to me, it looked a little bit more professional, even though it was still a little tiny, ugly white label. Right. So that was what I did now. That was kind of a hassle.
Bradley Sutton:
Every single time I had to print new labels and I had to open up this template and I was like, man, it's gotta be a better way. On the other side. When I was doing private label, I didn't wanna just have some white random label on my product. I wanted to have something that looked kind of good, maybe start, you know, help with some branding. You know, that was how we started with Manny's Mysterious Oddities we had kind of an ugly looking label. But I was like, we need to take a step up. So what I did internally was, you know, I had our design team at Helium 10. I was like, Hey, can you guys make a nice label? Here's the barcode, you know, we always have to have the FNSKU on there. Here's the barcode, but I wanted to say made in China down here so I don't have to have a separate sticker for that.
Bradley Sutton:
I wanna put the title of the product right here, and I wanna have a nice Manny's Mysterious Oddietes logo. And so they fully came up with all of that. But you know, I was like, I couldn't do that on my own. You know, I'm not a graphic designer. I don't know how to use Photoshop that well. So I was like, man, there's gotta be people out there who want to do something like this, but maybe they have to like pay a professional, you know, to do it. And I was like, there's gotta be a better way. So I got together with Alex. I was like, Hey, Alex, let's develop something. When I say let's, that means you Alex, you know, because I don't know how to develop anything, but I was like, Hey, can we make something that can make this process easier for arbitrage sellers, for private label sellers. And that's what the tool that, that Lem just mentioned where you can just put in any FNSKU I think you know if you can do UPC now as well? Or is that not yet?
Lem:
I believe you could do UPC. Yeah.
Bradley Sutton:
Yeah. So you just drop it in and it generates the barcode there. You don't have to download anything from Amazon. You don't have to download that PDF. And then we actually, for those of you who are like myself and not graphically or who are graphically challenged, you just, you know, can use a template. You can just upload your own logo and then you can show how you want the label. It is absolutely a great feature that literally any who is using Amazon FBA probably can and should be using regardless of what kind of selling you are doing. What are some of the other features in Portals? Maybe not completely new, but Portals has a number of kind of like, it's not just landing page, you know, tools, that was the original purpose of Portals, but what are some of the other sub features in Portals that maybe some of users might not know about?
Lem:
I like using a QR code generator. That's always really helpful, cuz then I don't have to go to like, kind of like you had to do go to a random barcode website or get barcode out of it. I can just do it all in Helium 10. And I like the fact that I can incorporate my logo in the QR code and I thought that was pretty clever too.
Bradley Sutton:
Yeah, that's super, super cool. You know, helps with using your insert cards, which is another thing that that Portals works for is, you put QR code on your insert cards and you know, three years ago I don't know I would say, you know, maybe 25% of the population are very familiar with QR codes, but now I would say it's 90% because you know, for how long could we not go to restaurants or something and you have to be able to use QR codes. So people are, are very familiar with QR codes now. And so it, it's kind of cool to use. Also we have, I don't know if it's what it's called, but you know, we basically have a Helium 10 domain registry. So that means that it's kinda like, GoDaddy like, I always say you go into Portals and you wanna register a website, you know, just like you would at GoDaddy, you can do that through Helium 10 now.
Bradley Sutton:
And that actually helps with some of your Portals. So you can get like your own co custom domains instead of using a Helium 10 domain for Portals. All right. So I've got a pop quiz for Lem our core tools. And I want you to say all of the countries that, you know, except this last one, that's the newest one, but as far as like some of our core tools, like Xray, Cerebro, et cetera for Amazon. I'm gonna give you a test here. What are the countries that or the marketplaces that you can run, like, you know, our core tools like Cerebro Black Box Magnet, et cetera, counter
Lem:
We got Canada. We got UK. We got Mexico. We got Germany. Got India, I believe. Ooh. That's where it gets tough.
Bradley Sutton:
You're forgetting the biggest one.
Lem:
Us of course. Yeah.
Bradley Sutton:
Us. Okay. Got six.
Bradley Sutton:
You hit North America, I think. Yeah. You hit North America. You got a couple in Europe, but there's some more in Europe.
Lem:
Do we have Sweden?
Bradley Sutton:
That's a good question. Not yet. Not yet. Sweden. Not yet. That might be our next one that we have to do, but the core ones in Europe let me see. It goes UK, Germany, France, Spain, Italy. And then there's a new one. Oh, Netherlands, Netherlands. That was the one that we were forgetting Netherlands. But now, oh, and then Australia we've had that for a while. So anybody wanting to sell, but what is this is the marketplace that's tied for like the third or fourth biggest in the world. As far as Amazon marketplaces go, what is the newest country that we are now, you know, providing service for in like Keyword Tracker, Cerebro, Xray, Magnet, Black Box, et cetera,
Lem:
Japan.
Bradley Sutton:
Japan. So guys you know, Japan is one of those places that it's a big marketplace, but there's, it's kind of a wide open still because it's not that easy to sell in Japan as it is to like, oh, I'm just selling in US. I'm just gonna open up my Canada account. Let me open up a, even this, you know, opening up a UK account is easier. It's a little bit harder in Japan, so there's a less competition there, but it is a huge marketplace. So guys, we, we highly recommend expanding to Amazon Japan and seeing, you know, as long as you can have somebody local we had a podcast before where we talked about some of those requirements on what you need to do. And one of them is having somebody local who can be kind of like your representative live there. But if you've got all that in place, absolutely start using Helium 10 to do some research in Japan on your own niche.
Bradley Sutton:
Like I'm assuming maybe you guys are selling on Amazon USA. Well, take a look use our tools to see if there's demand for those kind of keywords in Japan, you know? So, make sure to check that out. Now talk about what are my favorite ones. And again, this is one of those, one of those few that I came up with because it was part of the Maldives Honeymoon, but talk about Lem what is Title Density? It's kinda word we made up here. But what is that? So everybody knows. And then in what tools can you take advantage of that new data point?
Lem:
So Title Density is it calculates essentially the number of products on the first page that have the specific keyword that you're looking at in their title in full phrase form, and the tools that we can take advantage of it in, I believe are we now have Black Box, which is really cool to see that in there and Magnet, I believe and Cerebro.
Bradley Sutton:
Yep. Now, why would I care? I'm an Amazon seller. Why would I care about this data point?
Lem:
Yeah, it's super crucial, especially for a product launch, because if there is a keyword that has maybe like, let's say collagen peptides has tons of search volume, but every collagen peptide product has the word phrase, collagen peptides in the title. So it may be really difficult to rank for, but maybe, and a certified collagen peptides only has one product that has it in the title on page one, it's gonna be so much easier to rank for that product and to just drive PPC, to convert for that product in order to get on page one of Amazon, which is ultimately the name of the game when selling on Amazon
Bradley Sutton:
Yep. Yep. And, and this is, this has become even more important of a strategy as part of that Maldives Honeymoon Strategy. You know, since now we're not allowed to do things like, you know, rebates and the giveaways in the old way that we all used to do giveaways, you know, these other strategies that can help you rank, you know, within Amazon terms of service are becoming that much more important. One thing that was a hot topic when I first came to, to, to helium tennis was like, you know, over three years ago almost, oh my goodness. Almost four years ago now, where there was all these what we call the Amazon search shuffle, where all of a sudden, you know, Amazon would be seemingly doing some kind of experiments where you could be ranked, you know, page one, position five and one play, and then page one, position 50 at another place.
Bradley Sutton:
And Manny Coates, the founder of Helium 10 came up with the acronym ASS for that Amazon Search Shuffle last year though, or it's been about a year or so in early, you know, 2021, some new thing got trending. And we didn't make up this name. This is kinda like Amazon sellers in the Facebook groups came up with something, they were calling at the Amazon Search Glitch and this is a little bit different than the search shuffle, but tons of sellers were affected by this where just all of a sudden they were de-indexed for just most, if not all of their keywords. Now, usually, that happens like if you all of a sudden get you know, get marked as an adult product, or your category might get switched or something like one off kind of things that just happen randomly just to you and your listing, or you get suppressed or, or things like that.
Bradley Sutton:
Right. But then what was happening was all of a sudden, you'd go into the Facebook groups and you'd see like 10 different threads on people. Like, oh my goodness, I am not ranked for any of my keywords. And Helium 10 Index Checker says I'm not index for know what is going on. And we found that it was just some kind of glitch that happened. And it happens every now and then not to everybody at the same time, but a, a big percentage. So what we did is we just took a look at all the data from last year. When I say we, I mean, Helium 10 and our data science team, and they were able to kind of come up with an algorithm that could show what is normal behavior. Cause like I said, no matter what, you know, a lot of products will get, you know, on a daily basis will get marked as adult or get suppressed or something.
Bradley Sutton:
So that's, there's like this normal behavior of when a bunch of keywords or products get de-index, but then we could see spikes where like, Hey, this is not normal. And then what we did is we took a look at it and said, wow, look at this week, or look at this day where there was like a huge spike in the number of keywords that were just getting de-indexed randomly for seemingly no reason. And then it, we looked back at the Facebook groups and we looked back at our own products where we got de-indexed or hit by this Amazon Search Glitch before. And sure enough, it lined up with like, wow, this works. So what we did is our team here developed the Amazon Anomaly Tracker. And so stage one of this is we are detecting Amazon Search Glitch or ASG for short later on, we're gonna try and, you know, detect if the ASS is happening more, the Amazon Search Shuffle.
Bradley Sutton:
But this first one will help you sellers out there because if you get de-indexed or all of a sudden your sales go to zero, or you're looking at Keyword Tracker and they drop off the charts, you wanna know, Hey, this is this happening to me. And if it's only you, then it is something you can fix. Like if you got that adult classification or something else happened to your listing where you got suppressed, you know, that's something that you gotta take up with seller central, but if it's happening to a bunch of people, that probably means just a glitch on Amazon side. There's nothing you can really do about it, but it's actually just good to know. You know, instead of freaking out and not knowing why something is happening to you.
Bradley Sutton:
So what we did is we have this page now where you can sign up and then get notified if we detect any glitches, or if you ever notice any abnormal behavior with your keyword tracking or your indexing, this should be the first stop that you guys go to to see if it's just you, or if everybody is having and things. So for guys, I want you to bookmark this and just, and also spread the word. This is free. You don't have to be a Helium 10 user at all, to use this. This is kinda like the Helium 10 Gems page. We're just open to the world, just bookmark helium10.com/asa for Amazon Search Anomaly, helium10.com/asa, and make that your first go to page. If you ever see some abnormal behavior on indexing or keyword tracking, that'll let you know if it's something that's isolated, like maybe just you, or if it's happening to a lot of people. So make sure to check that out guys let's talk about Follow-Up Lem that's another one of the tools that is one of your major, what are some new updates to Follow-Up that you can report to us?
Lem:
So one of our latest updates to Follow-Up is incorporating product reviews and ratings into the dashboard. And so that way we can get an idea of our review rate velocity, or I'm sorry, our review conversion rate and how that's been impacting across specific products or all products depending on how we determine it on our dashboard. But I think that's a super helpful tool.
Bradley Sutton:
So how would you use that? Like, let's say you're a private label seller Lem or put yourself in the shoes of somebody else out there. I've got 10 products, you know, I'm running a Follow-Up or review request. How should I be using this new feature?
Lem:
I would use that new feature to sort of AB test what type of custom messaging works best for your product, what maybe it's custom messaging that kind of speaks a little bit more towards your story and your brand, or maybe it's custom messaging that more so speaks to what you can help the consumer with, you know, and so AB testing with that AB testing with maybe even subject lines, that way you can get at idea while we can't detect open rate review rate can kind of give you a more of a subtle indication of how many times customers are opening and receiving and interacting with their emails. And even if, and even maybe even doing your own AB testing with the request to review template that Amazon has drafted versus your own custom message template.
Bradley Sutton:
Okay. Excellent. Excellent. So guys, make sure again, that's something that all Helium 10 users have access to make sure you're taking advantage of that. Speaking about AB split testing, you know, we've had this for a while now, but I still know a lot of you guys aren't using it. It is Helium 10 audience, you know, this is, this is powered by PickFu. And in my opinion, the best way of split testing that you can do because it doesn't do it on a live listing. So you're not losing sales. So you can do it even before you have a listing, you don't even have to have a live listing to do it. So when you're making your new listing guys use Helium 10 audience to kind of like, see, Hey, which main image does customers in my demographic, like better, you know, maybe even your brand like, Hey, which brand resonates more with you, which price point, you know, would you buy this product at, or which keyword would you use to describe this product?
Bradley Sutton:
And then also speaking of split testing, even on Amazon, this is not completely new, but I know a lot of you guys haven't used it yet, and that is the Manage Experiments function in Amazon seller central. So in Manage Your Experiments, it, you can actually do split testing on your live listening. Now, me personally, I don't always like to do that because to me, by definition, I'm shorting myself say, you know, 50% of the time if one is definitely better than the other, which is the whole premise of doing this like I'm losing sales. I much rather have it set up before, but there are some things that are different. Like, you know, maybe even, maybe it's the price or something else that, you know, you don't want to go into Helium 10 Audience to use, use the Manage Your Experiments, and it actually can control and change out your title, or it'll change out an image or things like that on your listing.
Bradley Sutton:
And then you can get detailed information, but the thing that I've been using manage your experience for, it's actually very interesting to see the breakdown of your sales that come from search. You know, I think the traditional thing is that we think 90% of sales come from search find and buy like the traditional, you know, kind of, Hey, I search something in Amazon, I find this product and I buy it, or I find it in PPC or whatever, but it's actually interesting to see that on some products, it's only about like 50% of the sales are coming from search. That means others are coming from like, you know, frequently bought together or maybe from outside traffic or from Google or things. So the cool thing about manager experiments is that after you run any split tests there, you can actually see how many of your sales came from your, from your search. So there's another update that will be good for you. You know, Lem one of the reasons why we hired you was we were very impressed, you know, on your own, you went and paid to get certified for the Helium 10 Academy. So this is not something completely new, but a lot of people it's might be new to a lot of people really quick. What is the Helium 10 Academy and what is that certification process like?
Lem:
So it's essentially the Helium 10 Academy is like a training course that goes into every single one of our tools. And I like that it's like, kind of quizzes you throughout the Helium 10 Academy course, because then it helps you make, keep, stay in your toes, make sure you know, all the product. And I like that it's always frequently updated too, because it's always keeping up with our latest tools, but essentially allows you to get kind of verify your knowledge in terms of making sure that you truly do know fours and backwards inside and out almost all the tools that Helium 10 has to offer. And then towards the end like I said, there's many quizzes for each tool, but then towards the end is one massive test that it's intentionally difficult, intentionally hard, because you have to be an expert to know these questions, which is why the certification does provide you with a Helium 10 Certified Expert Certification, because that's the whole point of Helium 10 Academy, which I've always really liked and was fortunate enough to get.
Bradley Sutton:
Yeah, yeah. And not many people have that. I think only might maybe a couple hundred people in the world have actually gone through that process. Now the Helium 10 Academy by itself is free to actually go through that whole course that Lem was mentioning is free for anybody when you have to be a Helium 10 member. So academy.helium10.com definitely sign up if you haven't done. So but that certification I think it's like $77 just like you have to pay to get certified by Adobe. And then we give you free re-certifications on that for life. So it goes in your LinkedIn. It's really, really great. And I can't guarantee that you'll get a job because of it like Lem did here, but it's a good thing. It's a good thing to have.
Bradley Sutton:
Couple other updates lately for Elite members, Helium 10 Elite, which is closed. We only open it up every now and then we have a couple of exclusive tools. One of them won't be going to everybody else, but one of them might eventually go to Platinum and Diamond members and on the dashboard for Elite members, what they've had access to is this kind of cool tool where it takes your actual Amazon data. And then you could like compare it to different data points. Like for example, you can compare your sales to, you know, over time to a Keyword Tracker for a certain keyword. Like maybe you saw a spike in sales. You want to see if it correlates to a spike in keyword ranking or you on the flip side, you see a dip in sales.
Bradley Sutton:
Now you want to kind of like, did I drop in, in my keyword ranking? So it's a really great thing that we're expanding out. It's eventually gonna be able to show tons of different metrics, but you, it's for the first time, you know, in an Amazon tool that I know of, you can actually compare, you know, some of your data points that are from Amazon with some of your Helium 10 data points, you know, like keyword tracking and things like that. So very, very helpful tool that is. And then we have an exclusive tool that's actually being released this month to Elite users where you can download some keywords from brand analytics and then upload them to Helium 10. And then used one of Kevin King's techniques to get a super, super great insight into what could be a potential sale that like no tool or not even Amazon, this kind of data is not available anywhere you can even see, Hey, what on page one?
Bradley Sutton:
What are the country of origin of most of the sellers? You know, they mostly based in us, are they based in China? Are they based in Europe? A lot of cool things. You guys are going to be able to use with this tool, those of you who are Elite. If you wanna get more information on like I said, you couldn't sign up right now, even if you wanted to just join the waiting list helium ten.com/Elite, and there should be like a waiting list for you to join the next time of, you know, different countries. I just mentioned, you know, China, USA, Europe, but in the Chrome extension now let's say English is not my first language. What am I now able to do Lem?
Lem:
You can change the language to now. We support German, Italian, Spanish, and now moving into Mandarin.
Bradley Sutton:
Wow. So guys, when he says, you know, these are the languages, he doesn't mean, oh, I'm going to use the Chrome extension in Germany that that's, you've been able to do that forever, but you can actually see the Chrome extension, all the, all the columns and all the labels and everything in the, those languages. So German, Italian, Spanish now Mandarin Chinese. So if you are based in, a country where, where that's your first language by all means going to the settings of your Chrome extension in Helium 10, you, you click on the Chrome extension. And then at the very bottom, you hit the little settings button, the little gear knob, and then you can choose which language to see it in back to the education, we talked about academy, what big update did we have last year, late last year for our main educational tool here at heating 10,
Lem:
We had our Freedom Ticket 3.0, get released, which I just truly love. And I think it's super awesome that we have Freedom Ticket 3.0, which is a massive overhaul to pretty much every facet of the Freedom Ticket 2.0. And including even more guest speakers and more different perspectives of how to A to Z succeed on Amazon as a business, which I thought was really awesome.
Bradley Sutton:
Yep. So guys, make sure to take advantage of that. If you're brand new, you're like, Hey, I'm not ready for the full, not $99 Helium 10 package. We have the starter plan that just has the Freedom Ticket, and then also has, you know, some access to some of our other core tools like the Chrome extension. And it's only, I believe $39 a month. So just go to helium ten.com, you know, sign up and look for that starter plan. And that gives you full access to that course. I mean, you could still buy the Freedom Ticket course for a thousand bucks, you know, on freeticket.com, but why, why pay a thousand dollars or you can just pay $39 a month for that amazing education. Another tool that we just released a couple of weeks ago is the Pinterest Trends Finder.
Bradley Sutton:
So, you know, trends.pinterest.com. Most people don't even know exists, but it's a place where you can see our searches on Pinterest trending up or down. And then we were able to kind of extract search volume on all of these keywords on Pinterest. And as you guys know in Project X, we've always been talking about how you know, you can sometimes get ahead of the game on Amazon by looking on websites like Pinterest and Etsy in order to see what is trending on there. And then you can kind of like be first to the game on Amazon. Like we were with the coffin shelf, we were kind of second to the game, but that first seller really wasn't doing anything, but we've discovered that you know, from Pinterest and Etsy, so make sure to check out trends, not pinterest.com, but now we've got the Pinterest Trends Finder on your Helium 10 dashboard.
Bradley Sutton:
So when you log in to he 10 scroll down to where it says, research a keyword, and then right under, under there, there's kind of like this slot machine where you kind of the spin the wheel or whatever it's called. And then you'll, you'll see you'll be able to get random keywords from our database on all of the things that are most trending on Pinterest over the last one, two, or three weeks. And so you know, sometimes it takes like, you know, good eight to 10 spins to get something interesting. But the point of this is not just to take that exact thing and then, Hey, I'm gonna sell this. All right. The example I use in the video, I found something that I had no idea what the heck it will was dark academia. It was called, I don't even know what the heck I still don't know what that really means, but what happened was it got me to go check out what it was on Pinterest.
Bradley Sutton:
And then I checked it out on Amazon, you know, using the Demand Analyzer, you, by the way, guys, you can run Demand Analyzer on any Pinterest search and Pinterest Trends, search page, and actually get Amazon search volume from there. And then all of a sudden I saw these other keywords and other products, and it got me going down this rabbit trail hereof, and I forgot what I ended upon. It was some kind of weird calendar or something, but that's the, it's a great way to start product research. I mean, we have so many ways to look for product research got, we actually just did a one and a half hour workshop on it. You could view that productresearchnow.com. If you haven't done that product research now.com see the replay. But if you don't ever get, think you should never get bored.
Bradley Sutton:
In other words, with product research, there's so many different ways. Here's just another way. Or you can start to get the creative juices flowing on different product research ideas is by using this Pinterest trends finder on the Helium 10 dashboard, all right. Now a big new tool update now. And this is eventually actually gonna be, I'm not sure if we're doing away with it, but it would be pretty momentous if we did, because the first tool, I think that Helium 10 made, or it was one of the first, it was either first tool back in 2016 or the first one of the first three tools was Scribbles. But now we're kind of phasing out Scribbles. And why is that Lem? What's the new tool that we have?
Lem:
Listing Builder
Bradley Sutton:
Listing builder. And what does it do that's different than Scribbles.
Lem:
It can allow you to not only like bring in your keywords like you would be able to with Scribbles, but you can actually upload it onto Amazon instead of having to copy and paste it right from your listing and be able to update it from there, which is, I think is a huge move.
Bradley Sutton:
Yeah, absolutely. So, you know, Scribbles is a great tool. It allowed you to create your listing and make sure you're using all your keywords and, and all of the functionality of Scribbles, Listing Builder has. So it's just kind of an upgrade though, because what would you have, you would make your listing Lem in Scribbles, but then what would you have to do after that?
Lem:
You'd have to copy and paste each like title, bullet point product description, backend search terms, and then one by one past it into your Amazon account.
Bradley Sutton:
Yeah. And that's kind of a pain in the neck to do so we have it now where it's just one click and then you can do that. And then the one cool thing though, is what's one of those important fields in the backend of a listing that all that we all took advantage of for years, but now not many products you can even have that, that field anymore. Do you know what that is? Subject matter. So guys subject matter is like one of the probably a third most important field based on some data that came out Amazon years ago. But if you go to edit your listing in seller central, you can't even see subject matter anymore. So, but with Helium 10's Listing Builder, we have the subject matter there. And then you could actually force, print your subject matter to your listing, even though there's no visible way to even do that.
Bradley Sutton:
And I've tested this where I was not indexed for a word, so I know cause it wasn't my listing. And then there's no subject matter in my listing in seller central. But then I make it in listing builder. I upload it. Boom, all of a sudden I'm now indexed for that keyword. So that's alike really super valuable reason to use listing builder as well. All right. For the last thing, Lem you know, thinking back to you and how you would go and you use you know, the Amazon, you know, mobile seller central app when you were doing your arbitrage, what do you have now that you could use that, that some in some ways it's even better than the seller central app
Lem:
Now I've even used this recently where I was able to do a little bit of keyword research from the app. Like I was able to type in a keyword, look it up. And then it shows me data from Cerebro and Magnet of just a little bit of the data points of like the revenue for the product, average price point products that are selling really well for that keyword all within the mobile app, which I couldn't do before. And it's difficult to do on a large scale in the seller central app.
Bradley Sutton:
Yeah. So guys again, this is not something you have to pay extra for. If you've got a Helium10 account, you also have access to our mobile app. So make sure to take advantage of it. And then you could you know, scan barcodes with it as you're shopping in the stores. And then you could see the sales history, you could see what are the keywords that are driving the sales. You could just be you know, sitting on the bus and you see something on the road and you're like, what, what is this, you know product. I never seen this before. Let me type it in, is it this keyword? Oh, no, no, it's this keyword. I mean, you can do all the things that you can do in, Helium 10 now for, for keyword research, a lot of the things right there now in your Helium 10 Mobile App.
Bradley Sutton:
So make sure to take it advantage of that too. On the advertising side, guys, Amazon advertising have come up with so many cool new things, like so many new data points that they're showing you now in Amazon advertising and different types of campaigns that they didn't have before, different kinds of bidding strategies, make sure guys keep up to date with all these changes in Amazon advertising, as well as Amazon's really been stepping up its game in allowing sellers to have a lot of flexibility with the way they look at different data points. So, guys, this is you know, it's 2022, you know, new year, new you. This doesn't mean that the old strategies on Amazon and Helium 10, that you've been using for years are out of date. Nope, they're very much you know, good to do, but make sure that with this new year, you are going back and checking all of these new features that maybe you were not using in Amazon or in Helium 10. And you know, the whole point of this game is to crush on Amazon and, and hopefully these strategies have helped you now let's close it out like we do with our 30-second tip our "TST" TST you know, something about, you know, maybe arbitrage or something about Portals or Follow-Up anything that you want to give us. That can be like our 30-second tip for our users out there
Lem:
Really quick tip for retail arbitrage is knowing the difference as when you're doing retail arbitrage, looking at a product and you're considering selling it is you may be initially intimidated by the 30 or 40 sellers on the listing, but the heavy majority of sellers on a listing only have between like maybe like one to two items in stock. And that's definitely something is looking at their inventory levels and keeping up with that to see, okay, maybe there's 30 sellers, but 20 of to 30 sellers only have less than five units in stock. And I'm planning on bringing in 50, that's a big tip that not to be intimidated just by the number of sellers, but to also double check with the inventory, as well as the method of how they're selling it, whether it's FBM, FBA, because then you can really whittle down your competition and realize that truly on this listing, you only have three competitors that you'd have to worry about that have decent inventory and are selling FBA. So that's a quick 30-second tip of how to capitalize on retail, arbitrage listings.
Bradley Sutton:
I like it. I like it. All right, guys. We hope you've enjoyed this and let me know. If you're watching this on YouTube, you know, let us know in the description, what was new to you? What you're a Helium 10 user, and you didn't even know we had something that we mentioned today or, you know, go to my Instagram leave a comment @H10Bradley on which one, which thing that you liked, or put it in the Helium 10 Facebook group, let us know which, or which thing did we mention today? That's new. Don't forget the last thing. Let me just leave you. We've been talking about this last couple of weeks. We have new Serious Sellers Podcast now in Deutch and in Espanol. So make sure to check out Serious Sellers Podcasts on any app that you're you're in, and then you can see Serious Sellers Podcast auf Deutsch for the German with Marcus or Serious Sellers Podcast en Espanol is listed in, you know, Spotify and in Stitcher and other websites also for our Spanish episode, hosted by Adriana. So anyways, Le thank you so much for joining me and helping me out on this episode. And, and I have a full Helium 10 basketball court here at my house. I'm gonna have to I have right next to it, a big grass. Gonna have to get a volleyball net and then you'll have to teach me and my family. Some volleyball moves when you come out here next to California.
Lem:
Yeah, absolutely. We'll do.
Bradley Sutton:
All right. Thanks a lot.
---
Enjoy this episode? Be sure to check out our previous episodes for even more content to propel you to Amazon FBA Seller success! And don't forget to "Like" our Facebook page and subscribe to the podcast on iTunes, Spotify, or wherever you listen to our podcast.
Get snippets from all episodes by following Bradley on Instagram at @H10bradley
Want to absolutely start crushing it on Amazon? Here are few carefully curated resources to get you started: