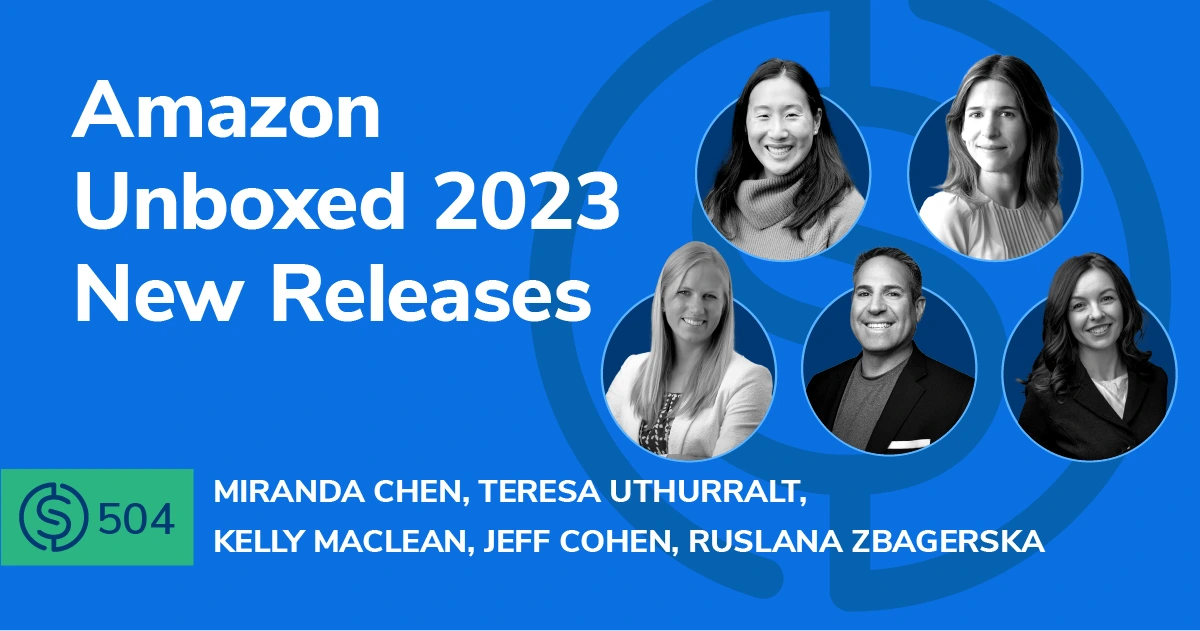 #504 – Amazon Unboxed 2023 New Releases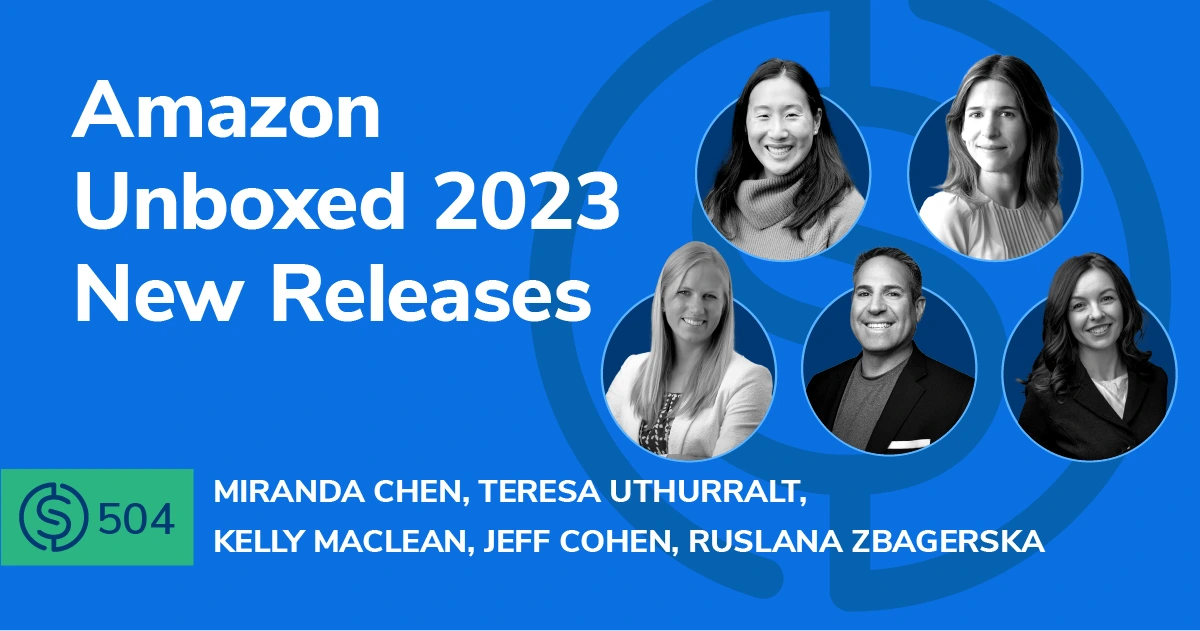 Video of the episode at the bottom
Join us for a fascinating discussion as we unpack Amazon unBoxed 2023, exploring the most exciting releases such as generative AI and more that can level up your advertising game. Our co-host from Pacvue, Anne Harrell provides us with a unique perspective on the advertising industry. Let's start with our chat with Jeff Cohen, Principal Evangelist, Advertising API at Amazon, as he shares his transition journey and the biggest differences he's noticed.

Listen in as we dive into the role of ad tech in digital transformation and its implications for brands. We examine Amazon Ads' new offerings like generative AI and sponsored TV, which promise to revolutionize brand imagery and audience engagement. Get the inside scoop on Amazon PPC and new-to-brand metrics that could redefine your brand's success measurement. We also explore Amazon Publisher Cloud, a game-changing technology for publishers that promises unique and differentiated opportunities for advertisers.
Get to know Miranda Chen, the director of growth and modernization for Amazon Marketing Cloud, as she walks us through its potential. Learn how lookalike audiences can help your brand reach new customers and how templatized analytics can make AMC more accessible. We also examine Amazon Marketing Stream and Rapid Retail Analytics, which provide valuable data on retail signals. Discover how sponsored products can appear on platforms like Pinterest and the features that make Amazon's new Sponsored TV offering a game-changer. All this and more, right here on our podcast!
In episode 504 of the Serious Sellers Podcast, Bradley, Anne, and our special guests discuss:
00:00 – Amazon unBoxed 2023
04:31 – Insights on Amazon and Advertising Growth
08:29 – Sponsored TV and Ad Tech Announcements
12:29 – Embracing Change in Amazon Advertising
20:40 – Amazon Advertising Full Funnel Solutions
23:39 – Benefits and Capabilities of Demandside Platforms
28:25 – Lookalike Audiences for Reaching New Customers
34:59 – Amazon Marketing and Rapid Retail Analytics
41:15 – Amazon's Sponsored TV Announcement
Transcript
Bradley Sutton:
Today we've got a special episode here at Amazon Unbox 2023 where we're going to talk about all of their releases, like generative AI and sponsored brand hats, and also a lot of cool things like sponsored TV. How cool is that? Pretty cool, I think. If you're like me, maybe you were intimidated about learning how to do Amazon PPC, or maybe you think you just don't have the hours and hours that it takes to download and sort through all of those sponsored ads reports that Amazon produces for you. Adtomic for me allowed me to learn PPC for the first time, and now I'm managing over 150 PPC campaigns across all of my accounts in only two hours a week. Find out how Adtomic can help you level up your PPC game. Visit h10/adtomic for more information. That's h10.me forward slash Adtomic. Hello everybody and welcome to another episode of the Serious Sellers Podcast by Helium 10. I'm your host, Bradley Sutton, and this is the show that's completely BS free, unscripted and unrehearsed organic conversation about serious strategies for serious sellers of any level in the e-commerce world. We're here at Amazon Unboxed in New York. I've been on the road for like three weeks and there's a second there where I wasn't quite sure where. I was. I've been in so many countries lately, but we've got a co-host today and from Pacvue, and how's it going?
Anne:
Great. How are you doing?
Bradley Sutton:
I'm just delightful. Now, what is your background? What do you do at Pacvue?
Anne:
Yeah, so I'm a product solutions director for DSP at Pacvue, so I do basically anything related to DSP and AMC help with our product road mapping, help with strategy for some of our enterprise level clients doing customer within AMC marketing you name it, I probably do it.
Bradley Sutton:
How long have you been at Pacvue?
Anne:
I've been at Pacvue for coming up on four years now, so about three and a half years total. A lot has changed since I joined. I started at Pacvue focusing on our managed services team, so I was primarily working with some of our strategic accounts, helping to build out their capabilities, doing strategy not just for DSP but across kind of omni-channel focuses, so for search as well. Prior to working at Pacvue, I actually worked in an agency in Austin, Texas, where I'm normally based, where I again did omni-channel strategy for enterprise level accounts. So my background is not just with programmatic and DSP, but I really gravitated to it. It's just one of those types of advertising channels that really allows you to have a lot of flexibility and creativity and really is conducive to innovation. So I really enjoy working on the DSP side of things.
Bradley Sutton:
Cool. Now what did you go to school for?
Anne:
I went to school for advertising, so I think I'm in the right place.
Bradley Sutton:
Okay, so you're right. Where did you go to school at?
Anne:
It's called St Edward's University. It's in Austin, Texas. So I've been in Austin since I went to school and I just never left about a decade.
Bradley Sutton:
Okay, I was about to say, because you don't sound like you were born and raised in Austin.
Anne:
I was not Okay.
Bradley Sutton:
What were you born and raised?
Anne:
Well, where I was born was Hattiesburg, Mississippi, but raised is a harder question. I moved about 10 times before I graduated high school. So you pick a state, I probably was raised there.
Bradley Sutton:
Okay, cool, yeah, because I was like wait a minute, she doesn't sound like a native Texan here.
Anne:
I know no accent yet.
Bradley Sutton:
All right, maybe 15, 20 years from now you might have a little twang in here.
Anne:
Right, right, I actually have a little bit of a Southern accent, I think I kind of got rid of it as I moved around.
Bradley Sutton:
Okay, cool. Now what are you? We're going to be talking to some people that probably people have never heard of podcasts, right? You know there are exactly executives here at Amazon who are you most excited to talk to today.
Anne:
If I were to have to say, my favorite subject matter is definitely the DSP AMC side of things, and I know that we're speaking to Kelly, who's the VP of DSP, so that's obviously a great place to start. We're also going to speak to Miranda, who is a director for AMC at Amazon, so I think there's going to be a lot of really great content around that. But in general, we're also talking to a lot of people who are very broadly focused across all of ads, and so I think we'll have something for everyone in this one.
Bradley Sutton:
Yeah, so you guys might be. There might be some newbies out there, don't tune out. This is stuff that you're going to need to know If you're an advanced seller. We're going to talk about some stuff that you guys might be able to use right away. That was just announced this week at Amazon Unbox, so let's go ahead and hop right into the interviews, all right. First up, we've got my brother from another mother here, jeff Cohen. Jeff, how's it going?
Jeff:
Everything is great. So great to see you, so great to see the whole Helium 10 Pack View team at this conference. It's great to catch up with everybody.
Bradley Sutton:
Yeah, Now you've been in the game longer than me. I remember the very first conference I spoke at. You were a speaker and you were already a veteran speaker at that time. You know side note that that conference there probably had the best food I've ever had at the conference. This is probably the second best Like.
Jeff:
I'm really impressed with the offerings here. Yeah, I'm curious what conference that is, but we don't have to go into that now.
Bradley Sutton:
But it was right here in New York. But you were on the SaaS side. You know, like I am now. Now you're at Amazon, like what's been the biggest you know kind of eye-opening thing or difference, now that you're on the other side of the aisle.
Jeff:
Yeah, interesting because I always like to joke that you know I drink the Amazon Kool-Aid before I ever like came here. I've been an Amazon like fanboy since like 2005 when I started textbookscom and it's been interesting because I'm in a unique position where I can bring the outside in and the inside out, and I think that you know, one of the many things that I've learned is maybe like the patience that you have to have with Amazon Maybe I didn't have as much patience when I was on the outside and the amount of time that it takes for some of the things to develop at Amazon. But when they like grow and they go to scale, it then moves at like this rocket ship pace. And so I think you're starting to see that with some of the tools, like AMC or even like you know what's happening with, like Amazon Studios and some of the new, you know productions that are coming out, you have this like rocket ship pace of what's happening in terms of the development and the new opportunities and how advertisers are using the technology, and so you have to kind of be patient when new things come out. So when you have a totally new product like Sponsored TV, you got to realize that it takes a little bit of time to kind of figure out how does it work into the individual advertisers media mix, and so that's the measurement work for each brand along the way. But then once it kind of gets up to full speed, you get to see like how it all works and you know and how it's really excelling brand growth.
Bradley Sutton:
Yeah, now we're going to be interviewing a lot of your colleagues here about some very specific announcements that happened here at Unboxed and before I ask you to give a rundown, you know, one of the things that was announced today it's on the website too is about the new generative AI that can help people doing Sponsored Brand Ads to generate some new creatives. Can you talk about that just a little bit?
Jeff:
Yeah, I think there were like three themes to the keynote today that I kind of jotted down. One was this idea of, like digital transformation and one was this idea of like how ad tech plays in in a responsible way. And then the third one was like how we reinvent, right, how we have reinvent what's possible. That was said numerous times, and I think Gen AI kind of fits into almost all three of those categories. And you know, we saw a lot of opportunity, a lot of new changes with Gen AI that have come out of AWS. We saw a lot of changes with Gen AI that came out of Amazon Accelerate, and now we're starting to see some come out of Amazon ads and I'll you know it's cool, right, we can take a product and we can turn that product into a full lifestyle image. And I think it's if you can just start to kind of think about where the possibilities go from there and what else brands can do and how we can enable that, either with what Amazon ads is doing or with what our partners are doing right, because it doesn't always have to be invented by us at Amazon it's really making it easier for brands to be able to take advantage of this technology that maybe was a little expensive or time consuming or difficult to use, and now it's all done with prompts and it's really simple and easy and that's really cool yeah.
Bradley Sutton:
Now, what about some of the other announcements? Say you have any. You know things that stick out that you're especially excited for.
Jeff:
Yeah, I think that what we're doing I mentioned it during our opening segment but Sponsored TV, I think is a really cool one and you know, in short, it's democratizing the ability for brands to be able to place ads into our streaming portfolio right so across Prime Video, free V and all the other channels that we have that I can't even remember them all because I'm supposed to think so quickly and I think that's really cool. And again, like there's no budget for that, you do have to have the creative, but Amazon has services that can help you make that creative or there's third parties that can help you make that creative. And I thought that was a really exciting announcement that was made, you know, on the heels of the announcement that was made a month ago. It was kind of reinforced about like what's happening with Prime Video and it moving to an ad supported network, creating a ton of, you know, new inventory for brands to begin to explore, and that's really super exciting as we start to go into it. And then there was like a bunch around ad tech and like what's happening around measurement and I know, like from you know, we're all near and dear to this idea that measurement is critical to our overall success and new metrics that are being released, making it available to understand how new to brand customers are impacting the business, and I think those are all really important for us to be thinking about because we have to close the loop. As advertisers and as we move to this cookie-less world right, it's signs point to it happening in 2024, we have to find ways to be able to close the funnel and understand how our ads are working, and Amazon's working really hard to help brands be able to do that, both within our suite and also when you're outside of our suite.
Anne:
Yeah, you mentioned the new. New to brand metrics, new to brand consideration metrics, I think is what we're calling them. Can you walk our listeners through what those really are?
Jeff:
Well, when you're looking at new to brand, right from like a super high level, new to brand is starting to give you this metric that's beyond ROAS, and it's starting to allow brands to look at who was not buying their brand within the last 12 months. Who's now buying their brand, and there's a suite of metrics now that are available for you to be looking at so that, as you're looking at different inflection points of your advertising, you can start to actually dial down into what action you're looking for people to take. And I think that's what's really cool. And it's like this evolution and brands have to think through this evolution like one of the simplest ways to think of this, right for people who maybe, like this concept's a little far for them. One of the simplest ways to think of this is around this idea that, like, if you're trying to get more awareness of your product, when you're looking at a video, you don't want to just see video views, you want to see how long they've been watching the video, and so you might start optimizing your campaign based on video length, how many people get to a half the video or three quarters of the video. And so, when you start to get into the new to brand type of metrics, you're actually saying, okay, I want incremental growth and by definition is, you know, sales you wouldn't have had before. One of the best ways to measure that is by people who are new to your brand, and so by having multiple metrics now to be able to understand how those are being impacted, you can now go back into tools like AMC and see how that funnel is working and which ones are driving the actual you know points that you want to drive and that that's really cool, right, it's, it's very excited about.
Anne:
I'm very excited too, yeah.
Bradley Sutton:
Awesome, all right. Last question for you know maybe not something that was released here at Unbox, but you know you're very active on LinkedIn. You see what people are posting about. You know I'm sure you look at metrics about what advertisers are using. Is there something in Amazon advertising that you feel is is kind of being slept on or not enough people are talking about it, that you think more people should be using it?
Jeff:
I mean more people should be using Helium 10 and Pacvue.
Bradley Sutton:
That goes without saying.
Jeff:
Okay, besides that, I think that you know, bradley, you and I get asked this question a lot, right? And? And our answer is always it depends. And I think that, instead of like saying, like this is a tool that you should be using or this is a a, an advertising function, you should be trying, I think that advertisers need to be open to the idea of test and learn, and I think the more you can train your mental model to work in a test and learn type of environment, the more open you are to change, because the only thing that's constant is going to be change. Right, and you started by saying like, where this industry was years ago when we both started, think about all the change that's happened and all the change that's occurred, and the brands that have not just survived but thrived through that are brands that have taken advantage of new opportunities, have invested by testing and learning and have then double down on the things that we're working. And I don't mean to oversimplify it, right, but it's not a very specific answer of like, use helium tens tool for keyword, blah, blah, blah, but it's like that's just one piece that you then use to implement the strategy. So work backwards. What's your goal. How are you gonna get there? And then figure out what tools you need to help you scale.
Bradley Sutton:
Awesome. All right, well, jeff. Thank you so much for joining us. We've been trying to get you on the podcast for like two years. I'm happy it finally happened and we'll definitely be keeping in touch. Appreciate it. Thanks, guys. All right, next up, we've got Kelly here. Now, Kelly, can you go ahead and introduce yourself? Tell us what you do at Amazon.
Kelly:
Absolutely so, Kelly McClain. I lead our demand side platform at Amazon, so we call it ADSP, and excited to be here.
Bradley Sutton:
Thank you for the time. Awesome, Awesome. Now you were, you know. Just saw you on stage a few minutes ago. What were your big reveals of the day?
Kelly:
Yeah, really good question. So I think if, if you think about Amazon ads and kind of where we've, where we've been and where we're going, we've really continued to make a lot of progress on on how, what we've been building a lot of our goals. We're focused a lot on interoperability with our ad tech solutions, so making it easier to use. We're focused a lot on performance improvements and then again, all of this is underpinned by making sure that we're putting privacy at the core of everything that we're doing, and so, with that in mind, we've been kind of launching this week in particular, a lot of different updates around, as you think about planning, activating and measuring, right. So within planning, we were launching Cross Channel Planner, which is a new way for you to really think about full, full funnel planning. We announced Amazon Publisher Cloud, which is the new clean room technology for publishers, which we're really excited about. We've been making a lot of performance improvements to the demand side platform, both with the user interface as well as the backend performance, and then we've also been been launching a lot more on our measurement capabilities, right, so making sure that marketers are getting the insights real time, making it a lot easier for them to kind of understand. You know how they should be looking at performance and where they should be making future investments. So we're excited about it. It's going to be a really fun week.
Bradley Sutton:
Awesome, awesome. We have our resident DSP nerd here, Ann, so she's going to go ahead and ask have some follow up.
Anne:
Definitely. Amazon Publisher Cloud was announced today, which is a big step for your publishing partners, obviously. Do you see any benefit for advertisers with this release?
Kelly:
Yes, definitely, and you know, I think to your point. I mean we've had, if you think about kind of clean room technology, right, really starting with cloud solutions. Then Amazon marketers cloud right thinking for marketers on how we can help support them. And Amazon publisher cloud it's going to be a mouthful after I'm speaking all morning. So excuse me, but you know that's really about a solution for publishers, right, giving them much more of the ability to pair any unique insights that they have right Demographics that they might know, of course, with folks who are coming to their site and then pairing that with Amazon Ads data. But the real core of that is, of course, providing opportunities for publishers but making it easier for them to connect with advertisers, right, advertisers. Often that you know there's so many different deal opportunities out there. A lot of the kind of deal process is very manual today and it's hard to discover the right deal and knowing which deal is right for you to reach your audience and so you know. A simple example, right is, if you're, let's say, you're a common website and you know the different demographics that are coming to your site every day, but by layering on Amazon audiences, you might realize, oh, I actually have pet food lovers who or sorry, pet food lovers- I have pet lovers who are coming to my site that I didn't realize, and so then that offers publishers the ability to maybe customize some unique deal opportunities to advertisers who might be trying to target pet lovers right, or specific brands who might be selling pet food, and it provides much more unique, differentiated opportunities, and we actually had a recent test with NBC Universal and they were able to offer three and a half times more reach than what they'd seen in the past, which is really exciting. So we see this as beneficial to both marketers and to publishers by really making it a lot more simple to connect with audiences.
Bradley Sutton:
At the end of the day, you know, pet food lovers are pets in about 10 years at Unbox. I predict like there's going to be some DSP where pets can actually base, you know, based on what they see on TV.
Anne:
They've already made more of the food, Exactly exactly, so we just launched something.
Kelly:
And if that's possible, maybe pets will be transformed into some sort of language that they can then activate.
Anne:
I think so, I think so. I don't even want to think about that.
Kelly:
I know, I never really thought about that?
Anne:
Yeah, that's very exciting. So, essentially for the advertisers listening, it's going to make your reach potentially broader but also more relevant, right? So the publishers have the ability to make targeting more relevant Absolutely Great. Another big announcement was the cross-channel planner. Yes, so can you walk us through how you think the ability to forecast reach will change how advertisers perform through their DSP program? Yeah, absolutely.
Kelly:
I mean, I think one of the biggest challenges today, as you all know right, is the fragmentation of channels and information and the overload of signals, right, and so that's where we're excited with Cross Channel Planner providing more of the ability to help marketers understand who they should be reaching right across the funnel and get much more information on how to kind of more efficiently drive their spend. In the past, we've launched Channel Planner, so that was our first product for mostly catered towards streaming TV, right, and how do you think about reach curves and how do you make sure that you're delivering against that for upfront pitches and so forth, and this is really kind of the next iteration to driving more efficient spend. So, ultimately, we think this is going to be kind of the next step of just providing much more granularity across all of the Amazon ads products on Amazon beyond Amazon, to make it easier to figure out. Okay, where should I be allocating my budget in the best way possible? We had a baby brand who actually was reaching audiences and they activated. So they leveraged Cross Channel Planner, activated via the DSP, and then they used custom advertising to direct customers to their online store and actually had four and a half times click through rate and 11% increase in impurchase rate, which was pretty cool to see. So again, I think the ability to plan and then easily activate is something that we're really committed to and excited about.
Anne:
Do you think this will be applicable for advertisers who are advertising both on Amazon and off, so more so that third party placement this will help plan for that as well. Absolutely.
Kelly:
So Amazon is known for retail media and driving conversions in the Amazon store, and we've been making so many investments over the past several years to really drive much more full funnel solutions and making all of our solutions work for all types of advertisers whether you're an advertiser that sells on Amazon or not because we're really excited about the power of again combining Amazon signals with marketers, third party and third party signals in a way that you can actually drive conversions, drive reach and have more of a full funnel experience and conversation. And that's where our Amazon publisher direct team comes into play, where we have a lot of these relationships and can reach anyone across the internet. But we've also been investing in modeled audiences and the performance through the DSP, and so a lot of people are kind of thinking about the loss of cookies in a negative way. We actually see this as an opportunity. We see this as a way to really innovate and rethink how marketers can potentially reach people in a privacy, safe way. That also drives performance, and so this is why we've also been investing in our modeled audience solutions right so, especially as we think about driving sales or reach off of Amazon, and we've been seeing over 25% increase delivery with a lot of the solutions, as well as 12% less cost per click per impression, which I'm barely able to talk. I'm going to lose my voice by the end of this day. But so, yeah, I think all of these from again, the planning, how you can activate all of the performance improvements we've been doing within our DSP we're excited. We'll continue to help accelerate marketers across full funnel wherever they want to reach people, which we're thrilled about.
Anne:
Definitely the ever looming third party cookie deprecation. Yes, exactly.
Kelly:
Yeah, a lot of energy, but understandably, and I think it's the right thing for us to rethink how we can really connect marketers and people in the right way, moving forward.
Anne:
Agreed, agreed. Another thing that was mentioned was the bidding enhancements that are now going to be available through the DSP program. So, essentially, you pick a KPI and you let Amazon do all the bid optimization in order to get to that KPI. Do you think this is going to change costs for advertisers, like, will CPMs go down in highly competitive categories or go up because of this automation?
Kelly:
Good question and, being a DSP enthusiast, I'm sure you know that our system has been really hard to use in the past. We've heard feedback from customers and partners that it was very complex, and so we've really been. So this goal seeking bidder, as well as re-augmenting our interface so that it's much more anchored on goals, has been paramount. We want to make it easier to use the DSP. We want to understand what is your goal, what are you trying to do? What outcome are you trying to drive for your business? And we've been making a lot of user interface improvements. And then the goal seeking bidder, on the back end to your point, I'm not sure what it will do in terms of you know, I can't talk to overall pricing in the system, right, but what I can say is that we're already seeing, you know, up to 40% reduction in CPAs, where we're able to better optimize against a goal, and we're seeing marketers just really gravitate towards the ability to kind of have much more of a simple experience. But we also believe in control, and so I think that's one of the powers that we think the Demand side platform has is, if you want all of the customization, if you want the complexity, we have that right. You can really adjust whatever types of bids that you want. You can layer on various different types of audiences. You can play around with different creatives. You can, you know, make a ton of different ads to try and test and at the same time, if you want a more simple, easy experience, you know what your goal is. We're able to help optimize and provide recommendations on the best way to do that. So we see it as kind of a nice balance in providing marketers kind of that wide range of capabilities, because we think there's a lot of different discussions in the industry right now on what way folks are going to be going.
Bradley Sutton:
Awesome. Well, thank you so much for your time and thank you for all you do at Amazon. We appreciate it.
Kelly:
Thank you for the partnership. Appreciate it, of course.
Bradley Sutton:
Thanks, thank you All right Now we've got Miranda. Miranda, this is our first time meeting you, so can you introduce yourself and tell us what your position is at Amazon?
Miranda:
Absolutely. I'm Miranda Chen. I'm the director of growth and modernization for Amazon Marketing Cloud, or AMC for short. I've been at Amazon for 11 and a half years now, live in the Bay Area and at AMC I lead several teams responsible for product and engineering, developing our audience activation capabilities, making AMC easier to use for more and more customers, as well as our go to market and customer enablement activities.
Bradley Sutton:
All right Now. We have a wide variety of listeners, anywhere from brand new people selling on Amazon to humongous billion dollar brands. Now, the billion dollar brands probably know all about AMC, but some of our newer ones might not understand that. Maybe there can feel like wait, marketing, stream, marketing, AMC, there's all these acronyms. So can you just give a quick, maybe 30 second, one minute introduction about what is AMC?
Miranda:
Yeah for sure. So Amazon Marketing Cloud, or AMC, is Amazon ads as clean room, so it's private and secure by design. Each advertiser has their own campaign signals of all their various Amazon ad spend within their particular instance. So we have signals from sponsored products, sponsored brands, streaming TV effectively like all of the actual campaign events and enables custom flexible analytics on those signals. And then it also enables advertisers to be able to upload their own first party signals or third party signals so you can think of, like product catalog, retail conversions, things like that, and so then you can generate really really flexible insights, typically using SQL, such as path to conversion, reach and frequency, overlap analysis and then actually take actions on them.
Bradley Sutton:
Cool, so most of our listeners probably weren't able to attend here at Unbox. What's the big release for your department here at Unbox?
Miranda:
Yeah, so we had a couple different releases specifically related to AMC that I can touch on. The first was AMC template analytics. So it takes some of our most popular queries, such as path to conversion, reach and frequency, and then allows users to be able to generate those insights without needing to touch any codes. So that's a pretty exciting development, particularly since we know that not everybody no SQL has taught themselves SQL overnight. And then the second one was AMC lookalike audiences. So we already have the capability where one can generate a custom audience based on specific parameters. So let's just say, an advertiser saw, wanted to create an audience of folks that had seen their detail page view or even added to cart but didn't actually activate and then wanted to drive better performance. They could create a particular, they could run a query, generate that insight and push that directly to the DSP. So that's one way. That's AMC rule based audiences. And then now we launched this enhanced capability for lookalike audiences. So it enables effectively exactly what it sounds like. So finding alike audiences based on that same seed, leveraging machine learning in a clean room capacity trained on Amazon, shopper and customer signals, but all still in a private and secure place.
Bradley Sutton:
All right, you're already starting talking technical terms that are over my head, so let me bring in the smart one of us. And to clean rooms. My room's not clean, I don't know. That's not what we're talking about here, but go ahead and please follow up and make me sound smart here.
Anne:
Yeah, of course. So I'd like to talk about lookalike audiences more specifically, because this is a way for brands to reach highly relevant, essentially new customers. So do you think this will change the way people are targeting that new to brand customer targeting incrementality?
Miranda:
Yeah, I mean we think it's going to be a great way for brands to be able to reach more and more shoppers. So, as I mentioned, the lookalike audiences are trained on based on deep, deep ML, based on lots of very, very, very good signals, and then the advertiser can actually leverage, can get to choose what's their specific seed for the audience, like what's the general size of the audience, based on their objective and then also the relevance. So I think it'll be a really key tool as a part of the marketer toolkit.
Anne:
Yeah, definitely. Do you think lookalike audiences are scalable for brands that maybe have lower purchase data or lower engagement data that are using AMC?
Miranda:
I think so. I think they're precisely like the brands that actually could benefit from it, right Because they have a small bit of deterministic signals that they actually want to be able to enhance. And then also because AMC is private and secure by design, as I mentioned, they can also choose to upload their own first party or third party signals and then create a seed based on that and then continue to go find additional customers that seem similar to that seed.
Anne:
Right, I love that you call it a seed, because it sounds like it will grow over time if you're utilizing these tactics, so that's a great way to phrase it.
Miranda:
Thanks, it didn't come up with it.
Anne:
Well, we'll give you credit anyways. So you talked about the AMC templatized analytics, right? Is this a way to make AMC more accessible and, if so, are the queries that are available through those templatized analytics? Will it grow over time? What's available through that?
Miranda:
Yeah, so we think it's a first step towards making AMC easier for more and more customers. So we don't have a specific timeline yet on additional templates, but it is something we'll be continuing to evaluate. We have been talking to different customers and internal teams about how we can also make AMC easier to use through point and click applications as well. We also work with dozens of partners that are making AMC easier to use, either through visualizations or through their own innovative dashboard. So I think through the combination of either homegrown or partner built capabilities, we'll be able to continue to bring AMC insights to more and more customers.
Anne:
Yeah, pacview is one of those partners. We do have an AMC dashboard Great, I think. Another question that's kind of just in general about AMC do you think there are any verticals or categories that benefit the most from this data, or that you've seen a lot of growth and success with using AMC?
Miranda:
Yeah, we think of AMC as equal opportunities. So we look at the data a lot. We're very, very data driven surprise, surprise at Amazon and what we've seen is that there's penetration for AMC across brands and partners and agencies as well as across all verticals. So we've seen, certainly, strength from brands that sell on the Amazon store, but also pretty strong results with entertainment, with automotive, financial services. So you can think of someone who's like automotive who might have a bunch of local dealerships. They want to be able to do more fine event grained analyses based on specific geos, and so something like AMC is perfect for that be able to do more precise measurements. So, yeah, certainly we think it's a great product for all, but it really depends on that particular advertiser's objective and then what are the types of signals that they want to bring in and what kind of insights they can generate.
Anne:
Definitely, it is flexible.
Miranda:
Exactly Infinite and flexible. Yes, Great.
Anne:
My last question is just a kind of a fun one. Do you have any specific query or an example of a query that you think was really innovative that's been pulled through AMC that you can recall?
Miranda:
I think it's probably a generic answer, but I think the Path to Conversion one is probably one of my favorites, just because it's the simplest. I think AMC was actually the first place where an advertiser could see all of their signals across all of the Amazon ad products, and so someone who was buying sponsored products and DSP might not have realized before that they actually were driving better results together, and so Path to Conversion, and actually be able to understand how those two products were interacting, for example, really brought a lot more power and insight, I think, to advertisers.
Anne:
So I don't think that's generic at all. I love that one too.
Miranda:
There's a reason. That's core kind of at the top of the instructional query library.
Anne:
Right.
Miranda:
Agreed, all right.
Bradley Sutton:
I have another question for you. I like asking stuff that maybe nobody else is going to ask. When you want to take off your Amazon hat and kick back with a hobby to kind of like balance work life, what's your go-to hobby?
Miranda:
Well, I have an almost four-year-old so she is probably my hobby in most of the time. I'm going to try and go do fun things on the weekend, whether it's exploring new coffee shops or going to find music.
Bradley Sutton:
The four-year-old is a coffee drinker, is she?
Miranda:
No, she's not, but she's an avid consumer of chocolate croissants, and so we sample baked goods in lots of different places. Then mom gets her coffee. I think that's probably it, but in my prior pre-kid years I did a lot more yoga and hiking and things like that.
Bradley Sutton:
So enjoy those years. You know, my kids are over 20 already, so I wish I had a four-year-old. I remember those days All right. Thank you so much for joining us and you educated me a lot. It sounds like Ann knows all about what you're talking about. It was like a different language to me, so I appreciate you educating us on IMC. Yes, absolutely. Thank you so much.
Miranda:
Thank you so much.
Bradley Sutton:
Alright, we've got Teresa here. Teresa, could you go ahead and introduce yourself?
Teresa:
Sure, I'm Teresa Uthralton. I'm the Director of Partner Development here at Amazon Ads.
Bradley Sutton:
Awesome, awesome. How long have you been here at Amazon?
Teresa:
I've been at Amazon for almost 10 years, so I'm approaching that red badge. For those of you that know our badging conventions, Nice, nice.
Bradley Sutton:
Now you're from here in New York. I've always been in New York, yep. So I'm going to start off with maybe the most important question of the day Julianne's Pizza in Brooklyn. Is that the best representation of New York pizza, or not?
Teresa:
Oh, that's tough. There's so many really good pizza places now I can't even keep up with them. There's so many.
Bradley Sutton:
Alright. Well, we're going to have to connect right after this, because I have two days left and I need to maximize my time here.
Teresa:
Yes, Alright now.
Bradley Sutton:
We're not here to talk about food here.
Teresa:
I recommend checking out Roberta's in Bushwick though.
Bradley Sutton:
Roberta's in Bushwick. I have not been there.
Anne:
Yes, I think you'll really enjoy that.
Bradley Sutton:
We're going to that one.
Anne:
Right now. Yeah, actually, cancel the interview. Let's go there, we go. Yes, of course.
Bradley Sutton:
Now Anne here is going to ask a lot of the more technical questions, especially those that have to do with enterprise. Now I'm here to represent, kind of like, the voice of the average Amazon seller, and you know, there's some people out there who might not fully know what Amazon marketing stream is first of all. So could you just go ahead and just kind of give a quick elevator pitch for what that is?
Teresa:
Sure. So Amazon marketing stream is a partner-facing product, and what it does is it provides really granular hourly signals on all our advertising metrics through the Amazon API, and what that means to a seller is that they will be able to get all sorts of insights about their business that normally they would not have known.
Bradley Sutton:
Okay, all right, I love that. Did you practice this? I didn't even tell you I was going to ask that. All right, cool, cool. How about rapid retail analytics, your other specialty?
Teresa:
I know I love rapid retail analytics, so Amazon marketing stream obviously totally focused on advertising signals. As we know, so much of what's exciting about Amazon ads is that you got online retail and digital advertising Right, and so rapid retail analytics provides that level of granularity on retail signals, and one of the reasons that's so exciting is that that data used to be available at a daily cadence with a 72-hour lag, so we literally it's almost near real time now, which is a really, really exciting development.
Bradley Sutton:
Okay, all right. Well, now that I got that out of the way, let me turn it over to the smart one of us too, and for some follow up questions.
Anne:
Yeah, so I kind of want to double click into Amazon marketing stream, specifically the fact that it was recently released for DSP or it's being extended to DSP. How do you think this will change the way advertisers manage their DSP campaigns now that they have that real time data that we were talking about?
Teresa:
Well, it's interesting. I think one of the things that I've learned is I've been humbled by our partner's creativity. Right, you know, I was just. I was just telling someone. I joined this team three weeks before Can last year and so I showed up at Can meeting all my partners for the first time, and we had just launched the first version of Amazon marketing stream and I was like this is the coolest product. But what really got me excited was it's a product that we developed based on the feedback we got from partners Like they, they have a seat at the table, they participate in all our betas and our product teams love them, right, because they get like this incredible, you know, they get their hands dirty and they come back and they're like these are the 27 things that are wrong and you need to fix right, which is if you're a product team, that's actually like really helpful, right, so, and what? The thing that's so interesting is like it launched and everyone loved it, but then people are like well, but it only has sponsored products. Right, like, I want more, I want more, I might want more. So I think what's exciting about having ADSP signals in there is that's going to unlock a whole bunch of opportunity around partners that are deep on ADSP Right. Definitely and I think you know, probably a few months from now, we'll have some really interesting case studies, success stories. There's really like almost no end to the creativity of our partners, which is really great because they're such awesome builders.
Anne:
I agree. I'm curious AMC they not AMS? AMC? I know they get our accurate, our Amazon accurate. I know, there's so many of them Also provides hour by hour data for both DSP and for sponsored ads. Prior to this, especially prior to AMC, but also prior to AMS, this wasn't available for advertisers, so you kind of had to guess when you were running, like day parting or anything along those lines. Do you think the release of the stream data for DSP will eliminate the need for the AMC hourly data?
Teresa:
Well, I think you got to go back to like what are the use cases that people use other product, right? I think, like what is great about Amazon marketing stream? Right, it's an aggregate, aggregate data pipe, if you think about it, right, and so ultimately that's going to help people build solutions that are evergreen. It's going to help people train AI models right, because how do you train AI models? You need, like, lots of granular signals, right? And whereas the Amazon marketing stream is really about very specific use cases around, like understanding the customer purchase path, understanding incrementality, understanding attribution, so I don't think it's like one or the other, I think it's very like use case specific.
Anne:
Right. That actually leads perfectly into my next question, which is how you see these two datasets working together with advertisers currently, or how you see in the future that they can work together.
Teresa:
Yeah.
So I think, like what I think is really exciting about partner innovation is, ultimately, I don't think there's ever been a better time to be a marketer, right, like there's that whole age old question about, like I know half my advertising is working, but I don't know which half, and I think we're getting about as close as we're going to get probably in our lifetime, but we're on the cusp of that with a lot of these tools, and so I think the the part about Amazon marketing stream that I think is so exciting is that it will allow the kind of automation that makes brands so much smarter and helps them do more with less. Right, and we're seeing like especially like this year has been an uncertain economic climate for a lot of folks, right, and a lot of a lot of folks are trying to figure out like my budget has been cut or my budget is capped, but I'm being asked to drive more growth Right, and I think, like partners have been able to deliver solutions based on Amazon marketing stream and rapid retail analytics that have really enabled that Awesome.
Bradley Sutton:
And you had a last question.
Anne:
I did. It's a fun one. What's your favorite thing about being at conferences like unboxed?
Teresa:
Oh, it's meeting my partners. You know, I learn so much from from meeting with partners, right, like I said, it's very humbling. The innovation, the creativity, what they teach us about our customers, what they teach us about our products and it's such an incredible learning experience is so energizing. Were you at our our cocktail party last night?
Anne:
No.
Bradley Sutton:
I was not.
Anne:
We had a lot of cocktail parties. I'm sure it was very.
Teresa:
That was like such a fun buzzing party and I got to meet partners from all over the world. At our award ceremony on Monday we met partners that came from Delhi and it was just really, really exciting.
Bradley Sutton:
Awesome, all right, well, thank you so much for coming on the show and we appreciate all that you do at Amazon.
Teresa:
Thank you, thanks guys.
Bradley Sutton:
All right, we've got Ruslana here. Ruslana, welcome to the show.
Ruslana:
Thank you, Bradley and Anne, for having me.
Bradley Sutton:
Are you based here in?
Ruslana:
New York no, I'm based in Seattle.
Bradley Sutton:
Seattle. Okay, Seattle was just there for accelerate, lots of rain, but I like. I like Seattle weather a lot. Quick question for you, first of all just how long have you been at Amazon and what is your title there?
Ruslana:
I'm a vice president of sponsored brands display in TV advertising and I just celebrated my 10 year anniversary Last week awesome, congrats, congrats.
Bradley Sutton:
now we're gonna go into like what you announced today, but you know something while you were on stage, you also referred to something that was, you know, launched a little bit ago. We're how, now you know, sponsored products can show up on websites like Pinterest and things like that, and one thing that was I have a bad memory, but it was new to me, maybe I knew about it, I guess, didn't know was like it's not just a product that's gonna display, but it'll also show, I believe, like the reviews count and even the shipping time did I, did I hear that right.
Ruslana:
Well, with sponsor products, our goal is to deliver the same value that Advertisers are getting today by having sponsored products was an Amazon store and some of the critical sort of trusted Amazon attributes, such as reviews, pricing information, as well as Prime delivery promise, are essential elements To helping customers make decisions and actually purchase. So yes you are, you got it right at that. Sponsor products will be containing Kind of product level or Amazon key, amazon trusted information Within these new and exclusive placements across some of these sides to help our advertisers to really go quickly and with ease from discovering something or exploring something to actually purchasing awesome, awesome.
Bradley Sutton:
That's been. That's been out for a while, but today, when you're on stage, you announce something brand new, and that was sponsored TV. So just give us maybe a quick 30 second, one minute overview of what that is, and Anne has some follow-up questions on that.
Ruslana:
Well, we see a sponsored TV, tv advertising as a whole, as a critical element of brand-building strategy. That should not be something that Brand cannot do. Any brand of any science should be able to tap into this opportunity and reach these engaged audiences on a big screen In the living room, and so sponsored TV is aiming to accomplish just that. We have worked very closely with our brands and our customers and Backwards from them, to understand what their key pain points have been and why they have not potentially used TV more actively Was in their overall brand-building strategy and, as a result, launch sponsored TV. I'm trying to eliminate three main pain points no guarantee commitments, no spend, minimum creative support and, lastly, access to first-party Amazon, first-party signals. Even when you advertise in TV, powered my machine learning and Right measurement so that advertise and send value, because what we've learned is spend is intimidating, a Lack of the right creative or ability to create the right credit. Just knowing what resonates on such a screen is Hard and intimidating and, lastly, just understanding the value that TV delivers for these brands was difficult. And so, given those three main pain points, that's there. That's why we're sponsored TV. I think to wrap like there is another element right. We at Amazon, we very custom obsessed and in this instance, we have two customers right. We have brands, and we just talked about the value we deliver for the brands, but there's also another key customer, which is the viewers, and for viewers, this is an opportunity to discover diverse collection of brands and products in places where they choose to spend their time.
Bradley Sutton:
Okay, now I'm just wondering where, like? What kind of placements are these? Are these like, like, like trailers that come up, or are there just actual, you know, banner ads that might pop up while you're watching a TV show?
Ruslana:
Oh, this is a TV advertising we're talking about, so they are video, so this is not this not sponsored display.
Jeff:
Yeah.
Ruslana:
This is video ads and they sponsor TV. Today service was in freebie content. Like I don't know if any of you watch freebie, I do. I love certain shows there, so big fan. So there is freebie content. There is streaming. Do you stream? Do you twitch?
Bradley Sutton:
Yes.
Ruslana:
Okay. Well, when you twitch during live streams, that could be. Another opportunity was in.
Bradley Sutton:
There might be people watch watching this right now on our rebroadcasts of this.
Ruslana:
People that twitch. This is where the ads would show. And then, lastly, was in a fire TV apps.
Bradley Sutton:
Okay, excellent yeah.
Anne:
So it was mentioned that the goal of this campaign, or at least one of the goals, is to make it more accessible to Advertisers who have lower budgets, don't necessarily want to deal with spend minimums etc. Do you feel like there's a lower level of budget sufficiency for running these campaigns, or can it be tested with a small amount of money?
Ruslana:
Well, we, as I said earlier, right customer obsessed, working back, working backwards from our brands and working backwards for them. I'm really observed that they do want to be able to engage with this audience. Why wouldn't you like if you launched a product that is net new, delightful, on the market? Why wouldn't you want to tell? Like you know, I talked on my keynote about hex glad. I don't know if you don't know, if you have it in your kitchen, but if you don't, I highly recommend. I discovered through our sponsor TV offering the brand and I love the non-stick and also non scratch.
Bradley Sutton:
Oh no, you had me out when you showed part of the video where it flipped over and nothing Was coming on.
Anne:
I like that.
Ruslana:
Very impressive and so at the end of the day, like that is the brand that I'm delighted to cook with every day, and I like my eggs for breakfast. Doesn't matter if it's Monday or Tuesday, Wednesday or Sunday, so in at the end of the day, I think these are the type of brands. They want to engage with the right audience at the right time, and I think this is the right time.
Anne:
Great. Can you walk us through some of the targeting that will be available with this type of advertising? Most of sponsored ads is keyword basis. That going to be the truth for Sponsored TV, or is it going to be more signal-based behavioral audiences?
Ruslana:
Well, we always try to help our brands reach the right audiences. So let me Maybe adjust one statement here Most of sponsor brands is not keyword based sponsored products. Keyword based sponsored Products is keywords based. Sponsor brands has keywords Elements in their way and how you express intent. Sponsored display doesn't have that way to express intent. But our aim is to always work with our brands and help them, give them the right tools to express the intent in the best possible way so we can deliver their message and their story in the right place at the right time. So in the case of sponsored TV, the advertisers could use both sort of category based interests and as well as Genre based interest.
Bradley Sutton:
I've got a spooky brand on Amazon, so like come Halloween season gonna be Maybe throwing some ads on some spooky Halloween shows or horror show.
Anne:
Perfect, I think we have time for one more question. So I'm curious how do you recommend brands measure success with these campaigns? Do you have specific KPIs that you think you know appropriately measure the success for sponsored TV or anything along those lines?
Ruslana:
So they reach. Traditional metrics are available similarly how they would be available for any other TV offerings, but in addition, we are sharing branded searches as well as detail page and store page Traffic, and so that is a starting point for the offering. We will continue evolving our metrics and help brands understand the value they're getting out of their sponsored TV offering Wonderful.
Bradley Sutton:
Thank you so much for joining us today.
Ruslana:
Thank you for having me and in Bradley.
---
Enjoy this episode? Be sure to check out our previous episodes for even more content to propel you to Amazon FBA Seller success! And don't forget to "Like" our Facebook page and subscribe to the podcast on iTunes, Spotify, or wherever you listen to our podcast.
Get snippets from all episodes by following us on Instagram at @SeriousSellersPodcast
Want to absolutely start crushing it on Amazon? Here are few carefully curated resources to get you started:
Achieve More Results in Less Time
Accelerate the Growth of Your Business, Brand or Agency
Maximize your results and drive success faster with Helium 10's full suite of Amazon and Walmart solutions.