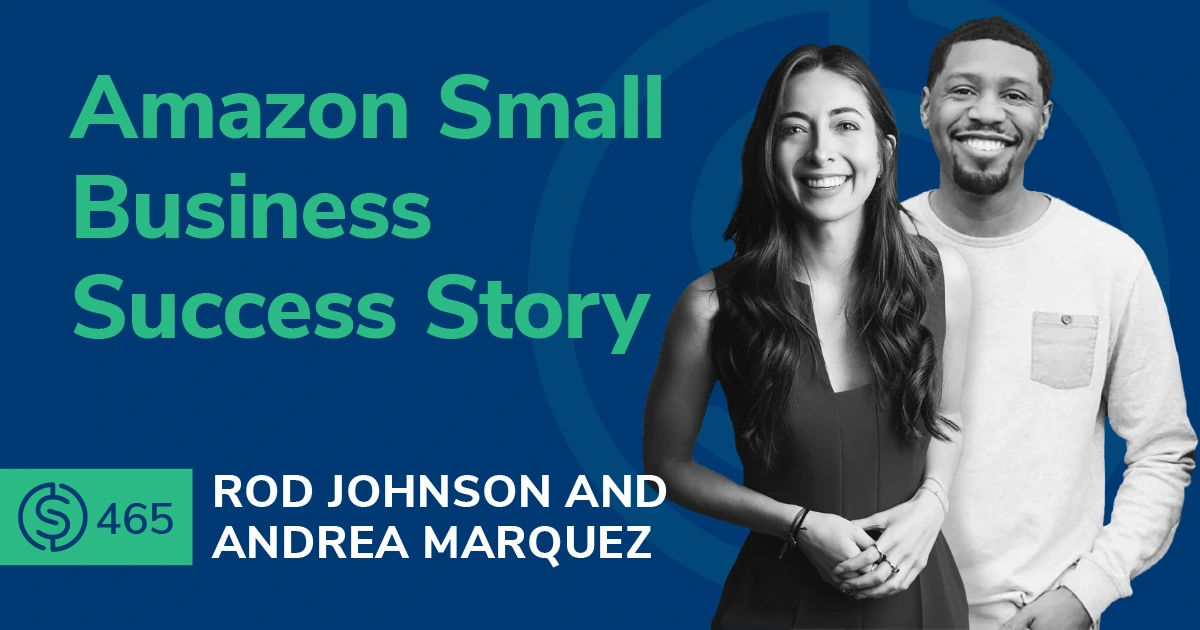 #465 – Amazon Small Business Success Story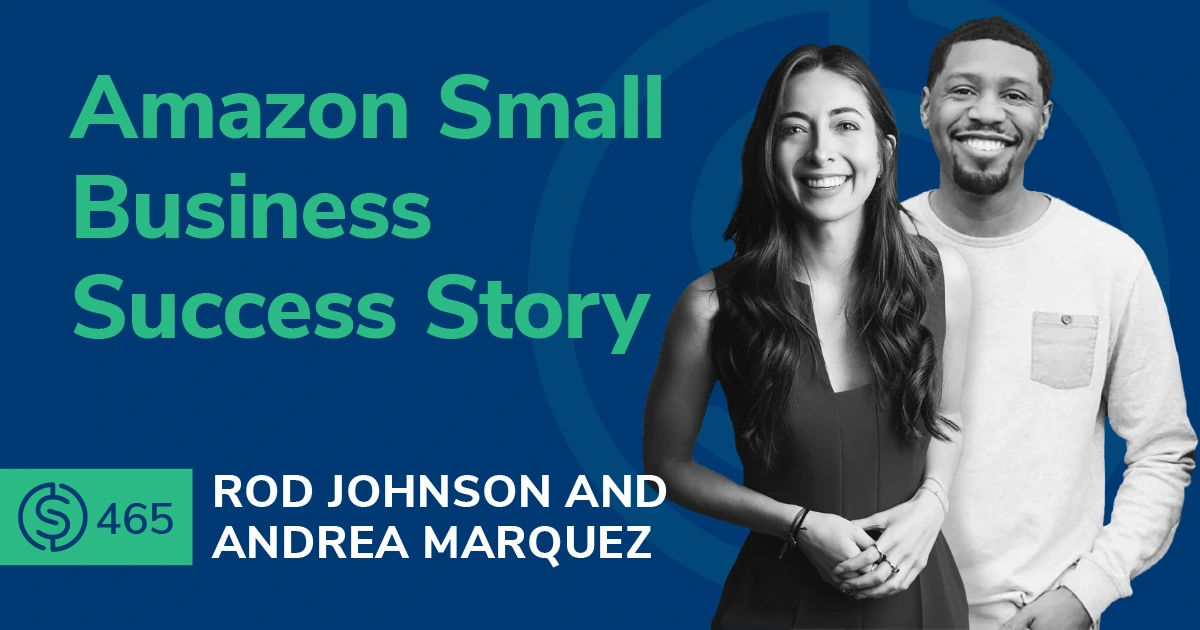 Video of the episode at the bottom
In this episode of SSP, we speak with two guests. Rod Johnson, Co-Founder of BLK & Bold specialty beverages and Andrea Marquez, Host of Amazon's This is Small Business podcast. We explore the journey and story of Rod's Amazon brand, from small business to a big brand that's thriving inside the Amazon platform. Andrea also shares resources and programs inside Amazon like the Small Business Academy, Black Business Accelerator, and more! Don't miss out on this episode where our guests share all their tips, strategies, and common factors that will lead your Amazon brand to success.
In episode 465 of the Serious Sellers Podcast, Bradley, Andrea, and Rod discuss:
03:43 – Rod's Backstory
05:01 – Andrea's Backstory
06:10 – How Did Rod Get His Start In Amazon?
08:00 – Hosting Amazon's Podcast: This is Small Business
11:31 – Checking Out Rod's Amazon Brand & Story
13:56 – Developing The Brand Story & Mission Before The Product
17:38 – Amazon Services & Programs You Should Know
19:30 – Free Resources From Small Business Academy
20:39 – Listen To The This is Small Business Podcast!
21:16 – How The Black Business Accelerator Helped Rod's Business
23:57 – Rod Johnson's Tips For New Amazon Sellers
25:00 – Common Factors Andrea Sees Successful Sellers Have
27:19 – Promoting Their Brand Through External Traffic
28:31 – Let's Talk About Their Brand's Logistics
29:10 – Bradley Doesn't Like Coffee?!
30:38 – "Support Small Businesses"
31:20 – Bradley Walks Rod Inside The Helium 10 Suite Of Tools
Transcript
Bradley Sutton:
Today we've got our first seller on their show who's never even used Helium 10 plus the host of a podcast that is fully run by Amazon itself. How cool is that? Pretty cool I think.
Bradley Sutton:
Are you looking to learn how to sell on Amazon? The Freedom Ticket Course made by Kevin King is one of the most popular courses ever created for Amazon sellers. It's got over 90 modules and 40 hours of detailed step-by-step training to help get you started on your entrepreneurial journey. Now, this course costs $997, but Helium 10 actually covers that cost of the course for any Helium 10 member. Find out why tens of thousands of students love this program by going to h10.me/freedomticket. Don't forget that if you do, sign up for a Helium 10 account. Don't pay full price. Use our podcast discount code SSP10 to save 10% off for life. Hello everybody and welcome to another episode of the Series Sellers podcast by Helium 10. I'm your host, Bradley Sut. In this is the show that is actually a special show here cuz we've got Amazon themselves, another podcast, but literally from Amazon here on the podcast and we've got another Amazon seller.
Bradley Sutton:
So I'm so happy that we are, are here's only the second time we've ever had somebody from Amazon on the podcast. And we've got thousands and thousands of listeners, and so you can kind of like flip the script a little bit. Now we're gonna put Amazon in the spotlight, but we've got an Amazon Stellar who doesn't use Helium 10 for the first time ever potentially on the show. This is great, to talk to somebody who, who's had to scale up on their own. And we've got somebody who talks a lot to other Amazon sellers due to her podcast. So Andrea and Rod, welcome to the show.
Andrea:
Thank you for having us. No pressure on the Amazon side.
Bradley Sutton:
None. None at all.
Rod:
Thanks for having me.
Bradley Sutton:
Now Rod, you just said, while we are off air here, you're from you're in Des Moines right now?
Rod:
Yes, yes. The company's based in Des Moines. And I have my business partner to blame for that his life choices.
Bradley Sutton:
Okay. So that was my second question. Is that where you were born and raised, or I'm assuming not then?
Rod:
No. Born and raised about 30 minutes outside of Chicago in a small city called Gary, Indiana.
Bradley Sutton:
And then is that where you went to like high school?
Rod:
Yeah, yeah, born and raised there and then eventually traveled south to Bloomington, Indiana, where I earned my bachelor's from Indiana University.
Bradley Sutton:
So you're a Hoosier?
Rod:
Yes. Hoosier. Hoosier through and through.
Bradley Sutton:
Okay. Through and through. All right. Andrea, what about you? Like, where are you right now, and then where did you grow up?
Andrea:
I am right now I'm living in Houston, Texas, and I am a Texas girly. I was born at the border of Brownsville, Texas. Lived on the Mexican side of it till I left to college at 17. So I'm Mexican American at heart, very daughter of a two immigrants. And, but at the same time, I'm a Texas girly, so I'm a little bit of both.
Bradley Sutton:
Tex-Mex. You said you went to college at 17. Where did you end up going?
Andrea:
I went to New York at Columbia University for my undergrad, which was like a huge culture shock for me coming from a relatively small city/town. And then going to this like the epicenter of like, everyone lives there almost.
Bradley Sutton:
Let's switch back to Rod here. What was your main, like, like first career? Like what did you study there in college and then did you actually use that, as soon as you got out?
Rod:
Yeah. so I studied criminal justice or at least that's what the paper says. But I started my career out actually in fundraising. I got a job on campus working for our call center, aka interrupting people's dinners, asking them for–
Bradley Sutton:
You're one of those huh?
Rod:
Absolutely. And it was better than working in fast food or working as a server, like, I can sit down and I can run my mouth. This sounds like the perfect job. And ultimately–
Bradley Sutton:
And nobody can throw the food right in your face or anything like that.
Rod:
There we go. And then just continue to use those skills that, that I acquired in undergrad to build a professional career as a fundraiser for different academic institutions as well as hospital organizations. So, I had an opportunity to or a ton of opportunities to speak with people from all walks of life and talk about how these different institutions really propelled their personal and professional lives. And you know, presenting them with the opportunity to invest in people to have that same experience was, was pretty rewarding.
Bradley Sutton:
Okay. All right. Excellent. Excellent. And Andrea, what about you? Did you enter right into your field of study right away?
Andrea:
Not really similar to Rod here. The paper says I studied a double major in political science/international law, but I also double majored in theater directing. So I feel like at the end of the day, it's all theater, isn't it? I feel. So, but that took me to journalism. I think that right now what I'm doing is much more tied to my master's degree than my undergrad, but it's, it's all the same. You learn how to tell stories.
Bradley Sutton:
Okay. All right. So is this kind of like working for Amazon, your first entry into like the e-commerce side of things?
Andrea:
Absolutely. My background was much more into nonprofits, so this was very new to me. Yeah.
Bradley Sutton:
Okay. All right. All right. So interesting, interesting. I love hearing that because the perspective of somebody who doesn't hasn't been 10 years and in e-commerce and might be already biased and jaded of certain things is always a fresh perspective to have. Now, Rod going back to you, how did you get any, it's one jump from your major to what you ended up doing. It's another jump to go into selling products online from fundraising. So where did that segue happen?
Rod:
Yeah as rewarding as that fundraising career was I just really reached a point where I had to take some self-inventory and ask myself, am I being fulfilled on all fronts and really at the most important fronts to me. So while I'm connecting these people back to their passions, my passions weren't necessarily being addressed. And that was helping people who had similar circumstances to overcome that I did. So to that point my friend that I grew up with in Gary, Indiana was having those same conversations, right? Where it's like, is this the end all be all for me? Do I want to continue to use my skills to grow someone else's dream? Or can I use that to leverage something that's really important to me?
Rod:
And you know, we were throwing a few things back and forth to each other, and what we realized is that we could use something that fueled us to fuel those passions, and that thing was coffee. So as you know, that idea became more and more of a reality the easiest, or rather I say the path that had the fewest barriers of entry was going to e-comm, right? So you can have your brick-and-mortar space and you can have a profound impact in your community or you can make your product and rather our social impact mission more accessible to millions of people by way of e-comm. So it was intentional and really it was the path of least resistance that led us there.
Bradley Sutton:
Okay. Interesting. Now, Andrea, were you hired at Amazon for the podcast or have you been doing other things there?
Andrea:
I was hired specifically for the podcast, and it's very nice to hear Rod again, cuz he was in one of our first episodes of season one. He believed in us before we had even launched of this is small business, and I solely dedicate my time here at Amazon to telling small business owner stories.
Bradley Sutton:
Let's talk about how this got started. When did it start? What was the kind of like the thoughts there at Amazon of why they needed something like this? And if you can just talk a little bit about the history and then you just mentioned it, but if you can mention again, the name of the podcast so everybody can take out their phones and make sure to subscribe to it right now while they're listening to this one.
Andrea:
Yes, of course. So the podcast is, This is Small Business and it's hosted by me. And we produced, this is Small Business because we understood that as an aspiring entrepreneur. And Rod, maybe you can also talk to this later, but like, there's a lot you're learning along the way. And the more I talk to small business owners, the more I realize how it's a lot of things are new and you have to learn a little bit about everything. And especially if you're someone who's starting their first business, you, you don't really know what you don't know, right? So we wanted to make sure that we had something inspirational, but also easy to listen to and on the go. And that's why podcasting was the best way to go for us right now. And I think that this is small business serves us two things. So it's an accessible educational resource for aspiring entrepreneurs and small business owners, right?
Andrea:
But I think it's also a great way to celebrate and highlight small business stories, which before I started working on this, I feel like we didn't hear about a lot of these stories. We hear more about like, these bigger brands that have made it and like, have become household names, but a lot of the small business owners who are in this journey, they wanna hear from people who are either going through what they're going with through right now or are have just passed that. Right. And they're barely starting to learn what it is to build a small business. And so on the podcast, we of course cover hot topics and challenges that small business owners face every day. And then we end every episode with key lessons that I think all small business owners can use on their journey.
Bradley Sutton:
I like it. I like it. All right now. Yeah. Rod, what would you think, this is obviously not your first podcast because you were on This is Small Business first. Like, some people are reluctant, I think to kind of like tell their story and then it's really funny. Like, I'm not sure how involved you are with the Amazon community, but it's really weird that I mean, in the outsider's opinion I'm not an outsider, but like when I tell this to other people, they just don't understand it. Like, a lot of people at Helium 10 here work or don't come from an Amazon background. And what's really weird to them is that Amazon sellers, they're so private, a lot of them are private. Like you have you know, a party of 300 Amazon sellers, 290 of them don't even want you to know what category they're selling because they think that maybe they're gonna get attacked by listing hijackers or something so that's, that's kinda like a, a little culture shock in the Amazon world.
Bradley Sutton:
But you, you're pretty much open with your brand. Like did you talk about it with today on her, on her show?
Rod:
Yeah, absolutely right. I mean we are in the for-profit business, while I have a nonprofit background you know, black and Bold exists to make a profit and participate in community economics, and the only way that we are going to welcome more people into that ecosystem is to drive our passion to of helping kids in need is to talk about it. The thing that's most authentic to us is our story. You know, we know that there are others that can relate, whether it be our background, whether it be our entrepreneurial journey and dealing with the turbulent times that are inevitable. And the successes that come along with it, we, we felt as though that was it needed to be heard. That's what inspired us to even jump into entrepreneurship where other people's stories, right. You know, generically you can point to something like a Shark Tank and you hear all of these entrepreneurs that have amassed some success in their relative, their communities and they're looking for that boost. That's inspiring, right? That's the American dream. And we wanted to participate in inspiring the next generation of business owners and just career professionals.
Bradley Sutton:
Yeah. Now speaking since you are open to it, lemme just share my screen really quick for everybody to see. I'm looking at one of your listing pages right here, and you talked about your story and like you're literally using the brand story section on an Amazon listing and a lot of people don't. You have got here meet the founders and you talk a little bit about your goals here. You know, like you know it says you create this company with a desire to unite coffee and tea lovers worldwide. I've got my tea here, by the way. I'm not drinking coffee, but I go coffee sometimes. And then it says, the common interest of investing communities specifically for youth.
Bradley Sutton:
Now, sometimes I think Amazon sellers out there who do have a brand story or decide to kind of like weave in a story here. They start with the product first and then after a while they're successful. Alright. Alright. Let me go ahead and start talking about the founders and let's talk about our mission, but I could be wrong here. It seems to me that with what you're saying here, like you, you almost had the mission first and the story first, and then you kind of like develop your brand around that. Would I be kind of on the right path there?
Rod:
That is 100% accurate. You must have our place bug essentially. But yeah, that's what we did. It was certainly mission first and the product is more of a vehicle to help elevate and, and propel that mission. And like I mentioned we just look at our own daily habits. We drink coffee and tea. I traveled a lot for work meeting with different donors where do you set up shop when you're on the road? In a coffee shop. You go to a Starbucks, you go to someplace that has cheap wifi and you get your work done. And I had a, a real affinity for the, the, the community the coffee community and how welcoming it was.
Rod:
And we're like, that's gonna be the, the vehicle that, that drives this social impact mission. That's, that's really core and keen to our DNA. So yeah, you couldn't be more spot on by saying it was mission first and then coffee. So as our company continues to grow, we don't talk as much about our story, that that's our foundation and it is more about the product experience and how there are differentiators between us and other indie brands and other more household names and we're getting great response, right? We're getting even deeper affinity from those that are already in our community and they're telling other people and is just continuing to grow in a real organic and rapid fashion. So I think that we're looking in hindsight to choose the right path to get those people that are lifelong fans.
Bradley Sutton:
Yeah. Now, how much do you think that's helped you? I see that you have, you've got your own website too. I'm assuming you might have social media out there, or ways to communicate with your customer or even on Amazon, like, like do you get messages from people where it's like, Hey man I love your story, or really resonated with me, where you kind of get the vibe. Like, I bet you that at the beginning they probably had three or four different coffees they had to choose from. They had no idea what your brand was, but when they, they started learning about you, they're like, you know what? I'm gonna go with this one. You think you could say that there's a certain percentage of your customers that's definitely resonated. Maybe that's the reason they're even your customer?
Rod:
Absolutely. Right. So there, there are many reasons why people rock with our brand, right? Whether it be because we have a great product, it could be the fact that we give back to the community. But one thing that certainly is also true is the fact that there's a relatability between us and our consumers, right? We didn't come from coffee. Pernell and I, my business partner just had an affinity for coffee and tea. In fact, I didn't even drink coffee before starting the business. So similar to you, I would have it every now and again, right? I was more of a tea guy and being vulnerable, if you will, even if that's vulnerable. But being vulnerable and sharing that and, and letting people see how we were able to learn as we built this business that is something that people you know, stop us and tell us about all the time. Whether it be when we go to a farmer's market or if we're at a conference or wherever we are and people are familiar with our brand. You can guarantee that someone says, Hey, this, this inspired me. Thank you. Because I too didn't know a lot about coffee. I'm intimidated by walking into a coffee shop because I don't know what's the difference between a light, medium, and dark roast. And because you were–
Bradley Sutton:
I don't know what's the difference. I'll tell you that right now.
Rod:
I can nerd out if you want me to, cuz I've learned so much in the five years that we've had our business. But you know, that just being more human and not performative. I think that's always gonna resonate and cut through the noise.
Bradley Sutton:
Okay. Now switching back to Andrea, like I was just looking at Rod's listening here, I saw that he's part of the black-owned business program, and I actually had somebody from Amazon. See, I can't say that you're the first person from Amazon here on the podcast because she came on here before, and I've actually had some of my listeners in my network who are part of this and talked about the benefits. Now everybody knows about FBA and everybody knows about PPC and stuff like that. But what are some other things that Amazon provides that you think maybe have flown under their radar, some of your favorites?
Andrea:
Yeah, so there's a lot, and through my conversations with Amazon sellers, I've come to learn about a lot of new ones. So shameless plug, I will say this is small business. Listen to us, we are a great tool and resource and we're not just educational, but we are inspirational. As Rod has mentioned, we tell great stories like Black and Bolds. And I think, for me, it's pretty cool to be able to help small businesses tell their brand story because it really changes the game in terms of being memorable and having loyal customers. And then going back to what you mentioned with the Black Business Accelerator, that's also a very exciting one that I've learned about a lot because a lot of our guests on the show are part of the Black Business Accelerator, and they have very tailored programs and an experience for each black-owned business that's part of it.
Andrea:
So they have financial assistance through credits and cash investment opportunities, which is great. They have business education and coaching, and then marketing and advertising support. So I highly recommend it if you're a black-owned business. And then the last one I will say, which is fairly new, and that's also why it hasn't been heard of that much yet, but it's the Amazon Small Business Academy. And the reason I'm super excited about this one is because it's a one-stop shop and you can get a bunch of resources from it regardless if you are selling in the Amazon store or not, and everything is free. And I mentioned that because a lot of people can't believe that the Amazon Small Business Academy has all of those resources for free. And what you do is you get on the site, which is www.smallbusiness.amazon, and you take a free self-assessment. And then based on that self-assessment, they figure out where you are in your business journey. And then they choose a learning track specifically for you. There's live and on-demand training, there's Q&As, there's events, and podcasts as well, including that this is small business podcasts and there's more coming soon as well. So highly recommend for anyone wherever they are in their small business journey.
Bradley Sutton:
Okay. Now, I think everybody, I'm sure your podcast is searchable on any podcast player like Spotify and Apple Podcasts, or on a computer and you want to take, gets a visual look at some of her episodes, I found it at smallbusiness.amazon.com and then you click on that podcast. Now I would probably recommend, even though I haven't yet, that's the first one I'm gonna do. The very first episode that I'm gonna listen to of yours is episode seven here. Cuz there's this good-looking gentleman and his partner here, we're on this podcast.
Andrea:
Yes. One of our favorite.
Bradley Sutton:
I heard they have a good story, Rod and Purnell here. Now switching back to Rod, like one thing I've learned about the black-owned business program is, it's like you start getting an Amazon rep that you can't call, like you've got some issues and something stuck with a listing or they might call you and say, Hey, like, I noticed you're not using the brand story. What are some of the benefits that you have experienced by being part of this program on the Amazon side? Like how have you been helped that maybe if you weren't part of this program, you might have been stuck or might have been harder at least to fix or figure something out.
Rod:
Yeah. So I'll double-click on what Andrea has said. That's just having a program that's tailored to where you are in your journey and having someone that is invested in your success, right? So we meet with our person rather frequently whether we're initiating those calls or he's reaching out to say, Hey, have you thought about this? Here's a new program. Here's an opportunity to be among other sellers. It's a plethora of resources that we otherwise would have no knowledge of, right? So again an earlier statement was, you don't know what you don't know. And we've been able to peel back a lot of the layers of Amazon by way of participating and the Black Business Accelerator. So much so it's been so helpful that Purnell, my business partner actually now sits on the advisory team for the Black Business Accelerator. So just by way of staying connected and trying to find additional ways for us now to be helpful for earlier stage small businesses you know, that, that, that opportunity presented itself. So again, we love it and we want to continue to be a part of both ends being resourceful a as well as using the resources that are within it.
Bradley Sutton:
Okay. Cool. Cool. Now, I don't have access to your numbers, but using Helium 10, I can kind of see the estimated number of sales you're doing and you can see how many reviews you've got. You're definitely doing, you're definitely, I would call you successful on Amazon. So there might be listeners out there who just starting out and are wondering what are, if you had to think of maybe two or three things that, either a specific thing, like a specific strategy you're using or just a mindset kind of aspect of things that has been a contributor to your success. What, what kind of advice would you give to newer sellers out there?
Rod:
Gosh, that's such a loaded question.
Bradley Sutton:
Putting you on the spot here.
Rod:
Yeah. I mean, there's a lot of different ways whether you know, you think about the storefront itself and the image and the message that you want to be conveyed as soon as someone is introduced to your store. And that's something that I don't think you should go by the wayside. Think you should play a lot of time and intentionality to make sure that your images and your descriptors again, tell the story that you want for your brand. In addition to that we were not afraid and are not afraid to advertise on Amazon. There are a lot of different ways that we've been able to use that strategy or use strategies within the paid ad function to welcome more people into our ecosystem. And that's also something that people, I think, shy away from. But there are resources out there that can help guide those that may be a little bit more novice and throwing up hate at it.
Bradley Sutton:
Okay. What about you, Andrea? You know, you've talked to a number of sellers yourself due to the podcast. Any traits that they have or, or common themes or like this is what helped them get to where they are apart from what Rod mentioned, I
Andrea:
Think one of the things that we cover across episodes that I would tell small business owners or aspiring entrepreneurs who are barely starting out. If you don't have a strong why, you're only gonna get so far when you try to communicate what your brand stands for and what your vision is to your customers. So I think that in order to be memorable, to connect and to inspire, have a strong brand story, understand why you're doing what you're doing, and I think through that, you will inevitably be able to bring along the right type of customer for you for a lifelong journey. And it doesn't matter if you change or not. And as an example, one of the small business owners I speak to actually talks about how they had to completely rebrand, change the name of their business, and a lot of customers had a couple of issues with that because they were so tied, it was part of their identity almost, that it's like taking part of their identity away. And that's because they had such a strong brand story. It was more than just a name. It was more than just a product. It's who you are. So if I could tell that to any small business owner, it would be that have a strong brand story. And then the second thing tied to that is to choose carefully who you surround yourself with. Who is part of your team, because that will have a lot to do with how successful your business ends up being.
Bradley Sutton:
Okay, cool. Now going back to Rod, are you sending outside traffic at all to bring them to Amazon? Like I just assumed that you had social media or do you send most people to your website or what's your outside, obviously, the biggest advantage of Amazon is you've got this existing traffic, a bunch of people who are already searching for these keywords related to your product and you can take advantage of it. But we know Amazon loves outside traffic too. So how are you getting new eyes to your listings?
Rod:
So we've been fortunate enough to build a couple of subscriber lists, whether it be email or SMS. And at given points, whether it be around Prime Day or other promo times, we'll send or send out communication letting people know about those opportunities that exist on Amazon. I don't have a direct breakdown as to how often that happens, but it's again, in alignment with our promo strategy. That was something that we didn't do at first. In full transparency, well, we would only drive to our website or to our brick-and-mortar retail partners, but we recognized that we wanted to make sure that we give our consumer base as many opportunities as possible to shop our brand. You know, we have a lot of prime customers that exist within those two subscriber lists. And we wanted to, again, present to them and give them, an option that otherwise they probably didn't know about.
Bradley Sutton:
Okay. Nice. Now, do you have your own warehouse too, like where you fulfill, like off Amazon or everything you use like the FBA inventory even to fulfill your website sales, or?
Rod:
So we use FBA we do have a manufacturing facility here in Des Moines, Iowa. It's grown from my friend's garage to about 33,000 square feet where we will produce a manufacturer and package all of our, all of our goods, and then we send them to Amazon for them to fulfill those orders there.
Bradley Sutton:
Nice, nice. Everything made in the USA?
Rod:
Well, coffee there are only two states that actually grow coffee. Fun fact California and Hawaii. Coffee otherwise is grown in places that are close to the equator, right? So think about Brazil, and Columbia.
Bradley Sutton:
I don't know anything about coffee. So like, that might be an ignorant question here, but like you, like you, I'm a tea drinker mainly. But I do drink coffee, but it's only for the caffeine. So like, like, I actually don't even like the taste of coffee, but sometimes I'll drink coffee, so.
Andrea:
No, no. That's unacceptable.
Bradley Sutton:
Oh, no. You see, that always offends the die-hard coffee fans, is it?
Andrea:
Weren't you a coffee drinker Rod, or, yeah,
Rod:
I wasn't. And I certainly, that pendulum has swung dramatically, right? So instead of my chai or my green jasmine, I have traded it in for a nice fruity aromatic light roast from Ethiopia.
Andrea:
Good job. Good job.
Bradley Sutton:
Side note, Ethiopian food is my favorite food, even one step above Mexican food. But so Ethiopian coffee, I'm sure I like it too. But anyways, one more thing to offend on here. When I drink coffee, because I don't like the taste, I dump two scoops of protein powder into each coffee just so I can have a completely changed taste, but I don't think that's like diehard coffee. People would probably get upset at you.
Rod:
Oh yeah. You, you're giving them heart palpitations right now, my friend.
Andrea:
That sounds awful.
Bradley Sutton:
Alright, Andrea, we better go back to you. Parting words for you for our audience. Words of advice, strategies, anything that you could share with everybody.
Andrea:
Support small businesses just in general. They not only are so incredibly passionate and I have the honor of being able to tell their stories every day, but they have great products just all around and they're very personalized and they really think about the customer journey and how they can help you. And when you buy the product you're getting a good quality, well-thought-out product. So do that. And then obviously just do some research on all of the Amazon resources offered if you are an aspiring entrepreneur or an early-stage business owner, because anything you need there is something out there to help you, including, obviously this is small business.
Bradley Sutton:
Awesome. Awesome. Now, normally at the end of the podcast, I do like, like I just, like, I just did and I was asking about y'all's strategies, but I'm gonna do something completely different since, since Rod says he's not using Helium 10. Let me just show you just some of the power here of what we do. While you were talking, I just ran one of your, like, I'm assuming this is one of your top sellers right here. Cause it comes at the top of your, your storefront here, and then I can instantly see where all of the keywords you are ranking for organically. And so I could see right off the bat that, hey, you're doing excellent like, on your branded terms here, like people are, are searching black and bold coffee black and bold just by itself is has some search volume and you're ranking high.
Bradley Sutton:
You're actually ranking for even competitor brands here. But what's interesting is you know, like there's not a lot of like, generic keywords that you might be. So what would be cool is that like, I don't know too much about the space. I know there's like death wish coffee and other ones like that. But imagine being able to look at this now, like, hey, go to your competitors' listing and kind of reverse engineer where are their sales coming from. And so you'll be able to do that by seeing where they're showing up for in the organic ranks. I could see where you're, where you're doing some sponsored ranks like you're, you're definitely targeting your own brand. I could see your position three on that one. But bold coffee you were showing up there.
Bradley Sutton:
Not very highly, but you could just instantly look at any of your competitor listings and see and kind of like reverse engineer their keyword strategy. Cuz like I said for me, one of the biggest benefits of Amazon is you just got so much traffic that like 15 years ago, you had to pay for all these eyeballs to come onto your product. You gotta pay cold traffic to come to your listing. With Amazon, you don't have to worry about that because there are just millions of people already shopping. So it's like finding out what are the keywords that are relevant to my product, are people searching for? And then what's driving the sales of my comparison? So I'm gonna hook you up with like three months free of Helium 10 and get you started so that you can start doing some research, maybe optimizing your listing a little bit more, maybe targeting some new keywords you haven't before. And let's see if we can increase those already good sales that I can see from here. How's that sound?
Rod:
That sounds amazing. And it's just in time for as we are celebrating or just celebrating our fifth year anniversary yesterday, right? So I'm gonna receive that gift.
Bradley Sutton:
Fifth-year anniversary, gift anniversary for Black and Bold Coffee. And then in exchange, all I ask for is, I noticed that you've got some kind of Matcha, something, I saw it on your website and some of your keywords here. That's my weakness right there. I don't care about Matcha any, I will eat Matcha. I just spent three weeks in Japan. I had Matcha things that I didn't even know existed. I don't think it was a Matcha coffee yet, but there's definitely Matcha tea. I know. So you're gonna have to hook me up with some of that. How's that sound?
Rod:
Bartering is my middle name. So sounds like a plan.
Bradley Sutton:
There you go. All right. Well, I appreciate both of y'all coming on the podcast today. And I'm about to go binge-listen. Is that a word? Binge Listen?
Andrea:
It is now.
Bradley Sutton:
I'm about to binge. All right. We're gonna make that trendy right now. I'm gonna go binge-listen to This is Small Business Podcast with Andrea here, and I'm about to partake in the black and bold. Just to make Andrea happy. I'll you're gonna have to send me some coffee too. Some black and bold coffee too. And I'll try and have it unadulterated with protein powder. 871584518
Andrea:
Try it just alone Alone. Okay. And then you can add maybe a little coffee if you don't want it that strong. I mean, sorry, little milk if you don't want it that strong, but keep away. Let's separate the protein powder and the coffee.
Bradley Sutton:
Okay. All right. I'll try my best. But thanks guys for coming to the podcast. It'll be lovely to like, maybe reach out to y'all in 2024 to see what's new.
Rod:
Absolutely. Thank you for having me.
Andrea:
Thanks for having us.
---
Enjoy this episode? Be sure to check out our previous episodes for even more content to propel you to Amazon FBA Seller success! And don't forget to "Like" our Facebook page and subscribe to the podcast on iTunes, Spotify, or wherever you listen to our podcast.
Get snippets from all episodes by following us on Instagram at @SeriousSellersPodcast
Want to absolutely start crushing it on Amazon? Here are few carefully curated resources to get you started:
Achieve More Results in Less Time
Accelerate the Growth of Your Business, Brand or Agency
Maximize your results and drive success faster with Helium 10's full suite of Amazon and Walmart solutions.