Episode 100 – Meet the Founders – Here's a Behind the Scenes Peek at the Beginnings of Helium 10
Episode 100 of the Serious Sellers Podcast hosts Helium 10's Manny Coats and Guillermo Puyol, who tell their eCommerce and Amazon origin stories.
Updated on: October 6, 2020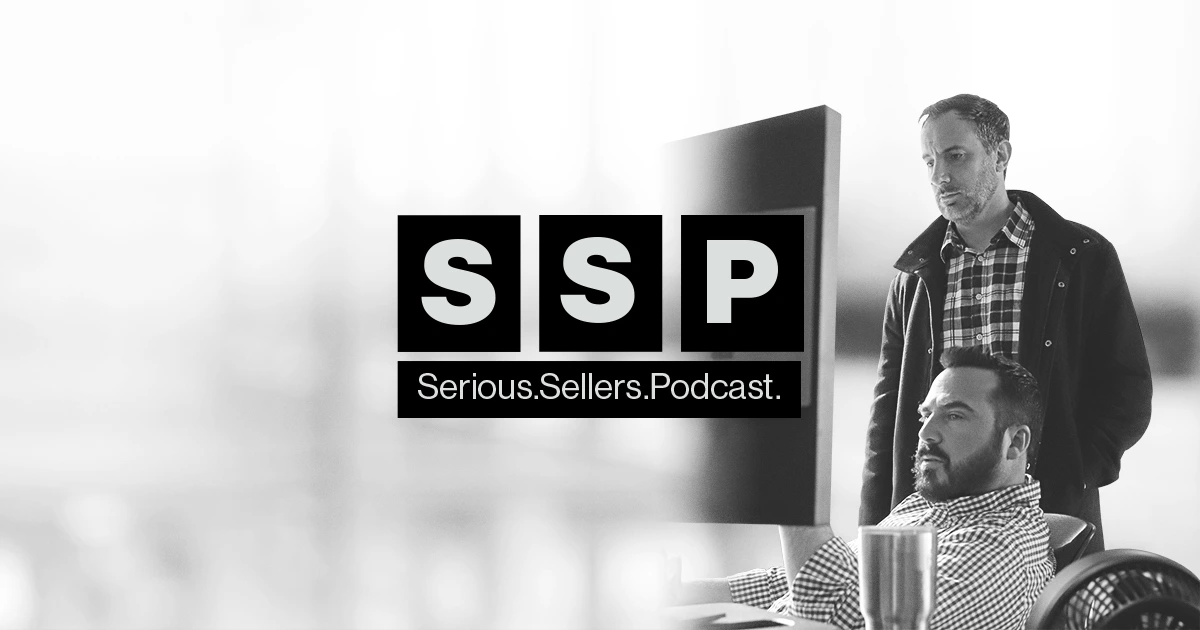 Here's a great Amazon hack!
If I say that loud enough, you can be sure that even without wanting to, a true Amazon seller is going to look up from whatever they are doing.
Well, I've got three great hacks for you.
Have you heard the hack about using upper-case sevens to immediately boost your rankings?
No?
How about making sure that you encase your principal image in a three-pointed star?
Or, maybe this one . . .
Everyone knows that the goal is stopping the scroll. Nothing does it quicker than the cutting-edge hack that simply involves inverting your main image.
If everyone reading this is collectively shaking their heads right now, you won't have been the only ones.
Because this episode's guests started their podcasting career (and annoyed a few listeners) with these "hacks" on an April Fools edition of one of their early podcasts.

Today on the Serious Sellers Podcast, Helium 10's Director of Training and Customer Success, Bradley Sutton welcomes Helium 10's founders, Manny Coats and Guillermo Puyol.
Helium 10 is only a little over three years old.
But, the sum of experiences that make up Manny and Guillermo's collective business knowledge base could easily span several busy lifetimes.
It helps when you start thinking about business opportunities at a very young age.
With Manny making lollipops to sell at school and Gui selling his handcrafted macaroni necklaces, they both came out of the gate with a mind towards commerce.
Manny had started in finance and did well enough to transition into animation, a long-time interest of his.
At the same time Guillermo was putting in the hours at a Pizza Hut franchise and later (painfully) at Verizon Wireless.
As Gui says now, "Nobody ever calls customer service because they're happy." He says that, "sitting in the car in the Verizon Wireless parking lot, trying to conjure up the energy to face 8 hours of frustrated customers" was the moment when he knew he'd have to make a life change.
Still, bills needed to be paid, so he worked at his day job and tinkered with animated mobile game app ideas before and afterwards.
It was after putting up an admittedly sparse Upwork profile that the connection between Manny and Guillermo was made.
Gui's proactive mock-up of an idea for a client so impressed him that after hiring Gui, he thought that his combination of skills and work ethic might mesh well with his cousin in California.
Enter Manny Coats.
They immediately started working together on animated mobile game ideas. By that time Gui was also dabbling in retail arbitrage and just starting to explore the full range of selling opportunities available on Amazon.
When Manny heard about this new eCommerce opportunity, he quickly asked Gui something that essentially boiled down to, "What's the best selling model on the Amazon platform?"
Gui's answer was Amazon private label, and it wasn't two weeks later that Manny had already ordered a container of products to sell.
I invite you to listen in to learn about Helium 10 from the guys who made it happen and work very hard every single day to make sure that it's not only a great place to work (It is!), but also continues to be the first choice for eCommerce sellers around the globe.
In episode 100 of the Serious Sellers Podcast, Bradley, Manny and Guillermo discuss:
01:15 – Manny – From Spain to California's High Desert
02:00 – Guillermo's Origin Story
04:49 – Homemade Lollipops as a Gateway to Entrepreneurship
08:51 – Pizza Hut but Surrounded by Books on Tape
11:52 – A Credit Card Cash-Advance Helps Start an Animation Company
13:45 – A Relatively Barren Upwork Profile Leads to an Opportunity
14:58 – A Chance Connection and Soon, a Partnership
17:16 – Private Label was a Better Way
19:30 – A Failed Amazon Passion Project and an "Honest" podcast
21:55 – An Attempt to Automate Keyword Lists Inspires the First Tool
24:17 – After Months of the Tools Fueling the Podcast, a 180
27:30 – A Gangnam Style Themed Game Rides the Wave
29:30 – Wearing a Lot of Hats, and Ultimately Unsustainable
32:30 – Three Sick Guys Soldiering Through a Webinar
34:36 – One Very Underappreciated April-Fools Podcast
37:37 – Virtual Reality, Starcraft and Race Cars
40:35 – Making Sure the Employees Really Want to Be Here
44:30 – Pushing Each Other Towards Excellence
46:23 – Manny Coats – "Never Stop Learning"
46:43 – Guillermo Puyol – "Live Your Life with Intention"
Enjoy this episode? Be sure to check out our previous episodes for even more content to propel you to Amazon FBA Seller success! And don't forget to "Like" our Facebook page and subscribe to the podcast on iTunes, Google Play or wherever you listen to our podcast.
Want to absolutely start crushing it on Amazon? Here are few carefully curated resources to get you started: