#297 – Amazon Seller Trends And The Biggest Seller Event Ever?
Today, we speak with Helium 10's VP of strategy Adam Shahbaz about Amazon trends, the trusted partner directory, and a big event for sellers next year.
Originally published on: November 13, 2021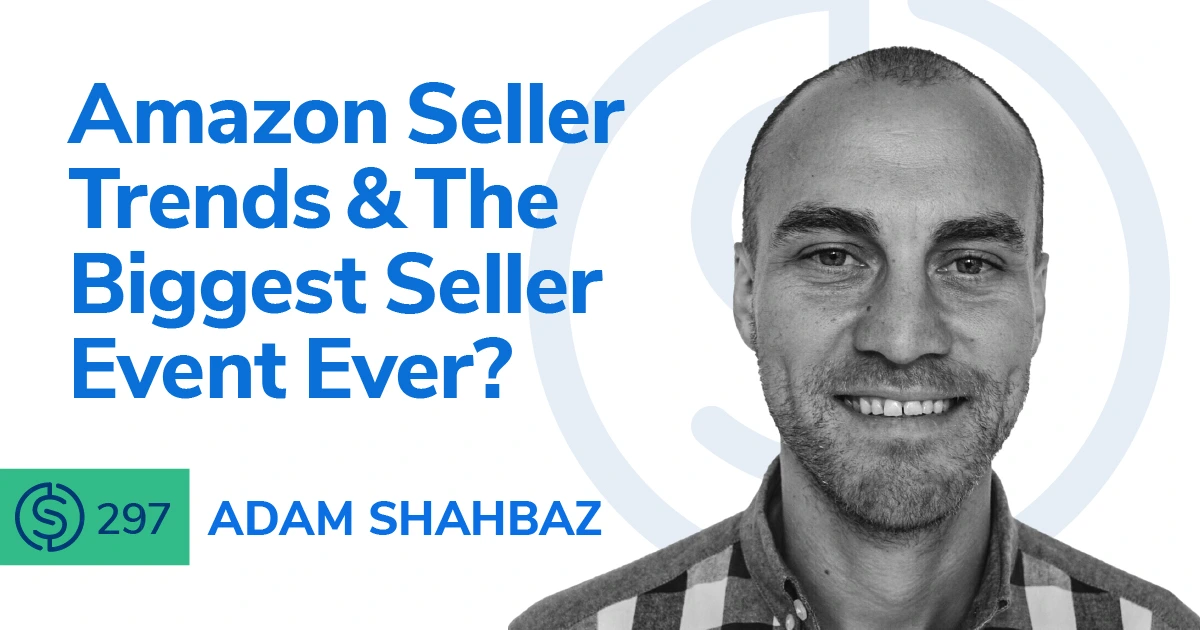 In this episode, Adam shares some very cool data and insights on where the business opportunities are currently going in the Amazon FBA space. You'll also learn more about the trusted partner directory of Helium 10.
Adam also talked about a HUGE event for e-commerce sellers in Vegas hosted by Helium 10 next year!
In episode 297 of the Serious Sellers Podcast, Bradley and Adam discuss:
01:54 – Starting His E-commerce Journey Selling Classic Cars On eBay
04:07 – Bradley And Adam's Quick Trip Down Memory Lane
05:26 – Building A Career In Digital Ads Inside Marketplaces
09:04 – Adam Shares His Data On Where Business Opportunities Are Going
12:07 – Other Trends Inside The Amazon Space
14:59 – Managing Helium 10's Trusted Partner Directory
23:59 – How To Apply To Helium 10's Trusted Partner Directory?
27:47 – What Is The Mission Of The Partnerships At Helium 10?
29:53 – Announcement: Helium 10 Will Be Hosting A Big Event Next Year
34:43 – How To Reach Out To Adam
Transcript
Bradley Sutton:
Today, we're going to talk to somebody who's got a lot of experience in the logistics and e-commerce world such as having worked for Alibaba. And he's actually going to also talk about some trends that he sees on Amazon. And we're announcing a huge event in Vegas next year for Helium 10. How cool is that? Pretty cool I think.
Bradley Sutton:
Hello everybody, and welcome to another episode of the Serious Sellers Podcast by Helium 10. I am your host Bradley Sutton, and this is the show that's a completely BS-free, unscripted, and unrehearsed organic conversation about serious strategies for serious sellers of any level in the Amazon, Walmart, or e-commerce world. And we've got somebody here who I don't think is an Amazon seller, but you know, I've known him for a little bit. I don't know too much about him and that's what we're gonna find out today. Adam Shahbaz. Adam, how's it going?
Adam:
Hey, Bradley how is it going?
Bradley Sutton:
I'm doing awesome. Now, have you ever sold on Amazon?
Adam:
I have not sold on Amazon. I have sold on eBay. That's a long time ago.
Bradley Sutton:
Let's go back to your history. And because you know, this is obviously not your first venture into the e-commerce world or online businesses. What was your first venture into e-commerce?
Adam:
Yeah, well, that was a long time ago, but I was 16 years old and I used to sell classic cars on eBay motors.
Bradley Sutton:
Wow. So, like you would buy them and restore them or something or what you'd do?
Adam:
Yeah, I buy them with my dad and my dad was like into that sort of thing. And he came to me and he said, Hey, I don't know what this internet thing is all about. You want to you know, help me out. And so he asked me to do it with him. I was a young man. I was about 16 years old. My dad was into that sort of thing. He came up to me and he said, Hey, I heard about this eBay thing. You want to give it a shot? And so we actually started small and it was really fun to be 16 and do this because basically what we did is get a car. You know, some of them we'd restore some of them not. We did a big restoration project on what was it? 68 Mustang GT convertible.
Adam:
And we actually didn't finish that. We still sold it sort of like an haphazard shape to another father, son combo. But made like a really good profit on that. We, you know, but basically I would drive it if it's in drivable shape, I would drive the car until I'd sell it. And I would sort of do it one by one until it started getting a little bit bigger. And I, you know, I was 16, so I wasn't that responsible. My dad would always be like, Hey, write everything down and you know, I was sort of figuring it out as I went, but that was my first foray into e-commerce and it was you know. I mean, I was making like, I wasn't making a ton of money, but I was making like a thousand dollars maybe a week when I was 16. I was like "I'm rich!."
Bradley Sutton:
No, that's a lot of money actually. You know, the rest of us, we're not making a thousand dollars a week when we were 16 years old, speaking of which guys, this is a crazy story like, I did not know Adam at all. I never even heard of him before he worked at this company and he actually lives in, is it LA Beverly Hills? Where do you live now?
Adam:
I'm in Santa Monica
Bradley Sutton:
Santa Monica. Okay. And just say, I don't know, like six months after he joined the company, I dunno how it came up. But he found out that I came from Oceanside California region. He's like, oh, what high school did you go to? I'm like, oh, El Camino. And he's like, oh my goodness. I went to El Camino and I was like, wait a minute. What junior high school did you go to? I went to Lincoln. I was like, holy crap. I went to Lincoln. I was like, wait a minute. What elementary school did you go to? I went to Paul Quinn. I'm like, oh my goodness gracious. Here's somebody who I've known for months and out of the entire world, he doesn't even live around this area anymore. We went to the same elementary, middle school, and high school. So that's just like crazy, crazy coincidence there, but we are a Roadrunners Panthers and Wild Cats for life, I guess. Right?
Adam:
Alright. Yeah.
Bradley Sutton:
Did you say UCLA you went to afterwards?
Adam:
No. I'm with USC, somebody post like I don't know if you remember the fight song from El Camino, but I saw somebody post that, and it like brought tears to my eyes.
Bradley Sutton:
So if I say it's easy time, it's easy time.
Adam:
What? What?
Bradley Sutton:
Yeah. He remembers. All right guys. Well, you know, for this trip down memory lane, but anyway, so high school ended, you know, you were doing that car stuff. You said you went to USC. What was your major then?
Adam:
I majored in English and economics.
Bradley Sutton:
Okay. What was your goal at the time, like your career goal?
Adam:
Well, I mean, I really just wanted to be a writer and I was like, I was really into music and writing and stuff. So I was really, I was kind of like really focused on that path and I did a bunch of economics classes as a sort of like, I just to be responsible, I guess.
Bradley Sutton:
Yeah. And then, so what, what was like your first maybe paying job then? After college.
Adam:
Oh, I became an editor for a digital like a digital media trade publication called iMedia. And I was getting paid very little less than I was making it actually selling cars on eBay. And then I realized that I really didn't like being broke all the time. And so I went to New York and I sort of found my way into the ad scene there. Like digital ads.
Bradley Sutton:
Okay. I mean, first of all, that's just cool. Like you actually kind of got a job in the field that you studied. I mean, how many people nowadays can not say that, you know, like, you know, what did you major in? I majored in humanities, you know, what do you do now? You know, I work in accounting or something like that now, so that was kind of cool. So then in your adult life, then, how did you get into e-commerce because didn't you work at, like, or for a company that was connected with Alibaba or something like that?
Adam:
Yeah, so like, fast forward, all of that I basically got into ads and I got from there, I got into startups and I was sort of in the startup space for a long time. And we did a startup that was connecting. It was advertised like Facebook advertising for marketplace sellers. And the whole idea was at the time Facebook advertising was really only for the sort of like, you know, premium, like, it really just, wasn't what it is today. Like not anybody could do it. Right. And so we wanted to sort of democratize it. We did partnerships with BigCommerce was our sort of our first big one. And that was quite a ride. But fast forward that company got acquired. And I found myself at, a marketplace called OpenSky which was sort of a social shopping marketplace.
Adam:
And there, I was doing a bunch of different stuff. We sort of would acquire other marketplaces. So I ran Dot & Bo for a little bit, which was a furniture marketplace. And I did a whole bunch of stuff there, but basically, I started moving sort of into this logistics space because if you work in furniture you know that logistics is a major, major well, it's logistics is a major element of anything you're doing if you're in e-commerce, but if you're in furniture, it's like, it could make or break the business, right? Cause if somebody returns something to you and it's a couch like that, it could cost you hundreds of dollars. Right. So doing furniture sort of right, is really, really challenging. Wayfair has their way to do it. And they've obviously been really successful with that.
Adam:
And so we started kind of getting deeper into logistics and then that sort of opened up pathways with Alibaba. And there's a bunch of stuff we did with Alibaba. I'm not like responsible for it at all. I was just sort of, I was there, but Alibaba ended up acquiring the company. And so I was at Alibaba for a while, and that was super, super interesting. I got to travel to China a bunch of times you know, saw how quite different, the way people work there versus the way people work here. But yeah, it was a really interesting time, and that just kind of like, it was just kind of a master's degree and in like sort of deep e-commerce in global trade and all this stuff. So it was really fun. Really interesting.
Bradley Sutton:
Okay. So you actually just spoke at a conference or an online or in-person conference recently. What was your, a topic that you were talking about there?
Adam:
Yeah. so I just spoke at discover, which is delivers conference and we'll set that backwards. And my topic, the whole thing was just trends for 2022. So what I wanted to focus on was, you know, where are the business opportunities going? Because I think that the business opportunities are going to draw strategic decisions and got this really interesting graph from global wired advisors that showed that if you are an FBA Amazon seller, right, at a certain level of EBITDA, like, what is your exit multiple? Right. So if I sell, you know, so let's say I make, you know, $500,000 a year in earnings for my Amazon business. What can I actually sell my business for? And like, let's say that you could sell it for 2x of earnings.
Adam:
So for $500,000, you make a million bucks, right? This graph actually showed that as you sort of have more and more earnings, you actually get an increased multiple. And then, but something interesting happens at $2.5 million. So the graph also had multichannel sellers and they're kind of tracking along the same line, multichannel sellers getting a slightly higher exit multiple than FBA sellers, but then something interesting happens at $2.5 million. FBA sellers sort of keep going up the FBA businesses can sort of keep going up in terms of their exit multiples. So they sort of get, I think if I recall correctly, they get to maybe a 5x. 5x multiple at something like you know, maybe $5 million of earnings, not super, you just started getting pretty big business there. But at $2.5 million of earnings, the multichannel businesses have this huge jump in exit multiple, and they start like double. They start basically getting double the exit price for the same amount of money.
Adam:
Right. So, you know, if you, if you're making $5 million in earnings for a multi-channel brand versus an Amazon brand you can actually, if you sell the company, you know, instead of getting 5x, you might get 10x for example. And so that was sort of the graph and it's, and I think it's really important because it's going to, first of all, I think Amazon's a great place to build a brand. I think a lot of people think when they think brand, they think Shopify immediately, but I don't think that's necessarily true. And I think there's really great examples of brands that were built on Amazon that are, you know, have since gone multichannel. And so it's sort of, I spent the rest of the time talking about, you know, how you might consider building a brand on Amazon and some strategies for that. And that was based on interviews I did with some people. But it was, yeah, it was a lot of fun and I got some good feedback from it. And I think it's a direction that you know, people should be really cognizant of. Because if you think about Walmart, you think about Shopify, you know, these are serious players and they are going to make major investments to their platforms to compete with Amazon. And that I think that's going to benefit the ecosystem.
Bradley Sutton:
Yeah, absolutely. Now, what are some other trends? You know, you talk about some trends there, but what are some other trends that you're seeing at least just in the Amazon space? Like, I'm not sure if you look at any numbers, like on, you know, like how many new sellers there are on Amazon, or how many people reach that seven-figure gross sales mark. Amazon puts out a lot of this information as some of their quarterly reports at, have you had a chance to like, compile any of this and maybe share some trends or some ideas on where you see the marketplace moving?
Adam:
So I mean, I think if you look at it at a macro level, a lot of the growth in new sellers is coming from, you know, international, like that's where Amazon's expanding. So, you know, there's some trends like that that are sort of, not that really not that surprising. I think we've seen some pretty surprising trends in that, you know, the total number of sellers on Amazon is not really slowing down. It's just becoming a little bit more international. And we're definitely seeing us sellers sort of maturing. But I think you could misinterpret that. I think a lot of people see that and think, you know, you shouldn't start a business on Amazon now in the US for example, or in Europe. And I think that that's like actually pretty misguided.
Adam:
I think that because it's a more mature marketplace you know, I think there's probably a feeling that there's more fierce competition and it's harder to get started, but you also have a much more mature logistics you know ecosystem freight forwarding is really sort of advanced like in not just advanced, but also, you know, there's companies like Flexport, which sort of automate the entire thing. There's a lot that you can do in the space now with the right investment that'll really fast-forward your growth because the ecosystem has matured. So I think you're really just seeing more growth internationally because Amazon is growing really fast, internationally, right? Like they're just opening up more marketplaces and they just want, and the local people are just providing, you know, a business opportunity for the locals there. I do think we're seeing potentially less sellers getting started on Amazon than in the past, but that's really if you just compare it to 2020, I think historically it's not really a decrease and you can't really compare it to 2020, because that was COVID and that was sort of everybody was jumping into the space at that time.
Adam:
So that's sort of, yeah, that's kind of what I'm seeing sort of at a really, really high level. I also think that the ecosystem, the educational ecosystem around getting started, Amazon is much more developed. That's a place I'm really interested in investing more. So I think there's still a lot happening and I still think it's the, you know, the greatest business opportunity for sort of, you know, small business. I think it's one of the greatest business opportunities we've ever seen.
Bradley Sutton:
Yeah, absolutely. Absolutely. Now you know, your job here at Helium 10 is your one of them, is you're kind of in charge of our new trusted partner directory. And along with that, you've been, you know, talking to lots of our users, you know, Hey, what are you, what are some of your needs? And then you've been talking to a lot of companies who want to get into the partner directory. What's just some high-level information from all these interviews you've done. Like, what do you see a hunger for out there as far as, you know, something that, you know, Helium 10 is not, it has A to Z on the, on the software side, but you know, we're not doing product photography for people, or we're not managing their inspections or something like that? What are some of these big things that people are looking for out there?
Adam:
Well, so you mean by, in terms of solutions or you mean sort of?
Bradley Sutton:
Well, what are people looking for solutions for, you know, Amazon sellers outside of what Helium 10 directly offers?
Adam:
Yeah. logistics big one right now. And I think that's sort of, you know, a little bit people hedging their bets a little bit of, you know, like, okay, I should think about doing something that's not FBA. Maybe it's FBM. Maybe it's somewhere to store my goods before I send it to FBM. Maybe it's somewhere that is gonna help me with shipping last mile, shipping to the customer. So lots and lots of requests coming in around logistics, which is obviously a complex space. Yeah. I actually see lots of inbounds around influencer marketing and that's something that we've been really interested in for a long time. You know, I think it's hard to make influencer marketing work, right. And so like what's influencer marketing. It means you're getting someone else to say, Hey, I use this product. It's really awesome.
Adam:
Go check it out over here. Right. And it's probably one of the key drivers of growth in the D to C ecosystem. I think that it could be doing more in the Amazon ecosystem. And I think, you know, finding the right influencers finding the attribution systems to make that work, that's something that's more challenging on Amazon and there are solutions coming out now that are great for that. There's definitely plenty of businesses that provide influencer sort of databases to help you find influencers. And a lot of people, you know, are trying to also find the shortcut, right. And like, how can I not pay a ton of money to some service? And like, I want to test it first. How do I go about that? And so, again, that kind of comes back to education because there are like in anything there's sort of tips and tricks and hacks and ways to do it, you know, sort of more effectively for cheaper, at least to pilot it when you get started.
Adam:
So I see a lot in sort of those two areas from the customer side. And then things that are sort of requirements right in insurance you know, anything that people sort of Amazon says, you have to do this, but they don't really necessarily offer it. Or they don't offer it at a great price, maybe. So, you know, there's sort of brand registry things, trademarks, like all that sort of, that sort of fun stuff. And so we've kind of prioritized those types of solutions. Lots of people want help with PPC and, you know, matching effective PPC agencies to customers is definitely something that we want to be really, really good at. And, and also VA's like a lot of people want VA's, but they also don't want to go on our Facebook group for example, and say, Hey, can I get a VA and then have their inbox blown up?
Adam:
So what's the sort of best way to find a VA, you know, is it just, I go to Fiverr or whatever, or is there a better way? And I think a lot of these things come down to trust. And so thematically what I see a lot of is people looking for trusted solutions and, you know, we're taking a stab at that with the trusted partner directory. I think there's so much stuff that we can do around building trust and credibility in the space for sort of outside partners who want to work with Helium 10 and provide that trusted service. And you know, we're at the starting line still with that. We've accomplished a lot, but I still think there's like, there's so much that we can do.
Bradley Sutton:
Yeah, absolutely. Now there's some companies that are in the director, by the way, guys, again, if you're wondering what the heck we were talking about, just go to directory.helium10.com. And there's definitely some companies here that we all kind of know, like they've probably been on the podcast before like we've got Sellers Alley, you know, Lazar has been on the podcast. We've got AMZ One Step you know, which does a lot of product photography. I just found out that they even have a full studio in China for product photography. And they do 3d renders, which I didn't know about. We've got YLT Translations up in here, which translates listings to other marketplaces. Yana, she's been on the podcast before here. Who else do I see just looking here Kreassive, you know, they've been on the podcast twice, they got a 3PL warehouse. And, but there's some here that maybe are not that mainstream. And so I thought, you know, maybe we just briefly say what they're about, because not even I know no, some of these, but here's one that I know about. But maybe you could enlighten people about Foap like soap, but with a F like, what do they do?
Adam:
So Foap basically helps you, it connects you with sort of photographers. And a lot of these photographers are our social media influencer-type folks. So they're kind of, you know, they're good, they have a good eye for that type of photography. I don't think that's all they have, but that's, you know, so you can consider, like, this is where I want to go to get my product photography done and not just sort of, you know, white background, but I want to get like, you know, some really great shot that's going to highlight the features. And they have a really great service for, you know, allowing you to try a bunch of different Foaps. It's really cost-effective and they've been really great. They've been really effective for us. We did a little promotion around the Walmart launch and they were really effective for us there because Walmart, you know, they really don't want you to have the same type of content that's on your Amazon listings. And this can be really challenging for people. It can be especially challenging if you have a high SKU count or UPC count on Walmart and ASIN count on Amazon. And so Foap can kind of help you really quickly whip up a lot of different content. And of course, then you can use that for other things, right? Like it's not just about listings, but using it in social media, using it in your launch, using it in any content marketing that you're doing, or any Facebook advertising that you're doing or really anywhere. Right. So it's just sort of a really great way to, to kind of answer the question of how do I get really great product images, really fast really cost-effectively? And they've been really great partner to heal him dead.
Bradley Sutton:
Okay. Cool. And a newer one that just got launched on here a little while ago. This is actually somebody who has been on the podcast before, but most people have never heard this name, SellCord, what do they do?
Adam:
Yeah. So, SellCord is another one that we partnered with for the Walmart lunch. One aspect of the partnerships that we try to put together for Walmart was just obviously, you know, something that was going to add value to the launch and help people be more successful on Walmart without sort of muddying the message without, you know, we're obviously providing tools for Walmart. And so we wanted things that we're gonna be specifically value add. And so we, you know, we talked to Walmart and there, you know, they kind of have things that they like to see, right? So they have sort of different types of listing requirements. They have different logistics requirements and they have different and they want different content from Amazon. And so Michael of SellCord he's, you know, you've had him on the podcast. He obviously is a very seasoned Walmart seller. And he also has this agency. And so they were, they were sort of really helpful in helping people understand, okay. Like how would I, might I do my listings for Walmart and optimize for keywords. And obviously also maybe use the Helium 10 tools to sort of be more effective there.
Adam:
So but the other thing that we were doing with Michael that's really interesting, is we're looking to structure packages that service the Helium 10 customer. And one of the things that we want to be cognizant about when we're working with other partners is that you know, the Helium 10 user bases is quite large at this point. And a lot of people are new and a lot of people are sort of smaller sellers. Now we have tons and tons of bigger sellers as well, but everybody kind of wants the bigger sellers. And that would be really annoying. I mean, imagine you're, you know, seven-figure seller, are you blogging helium 10? And like, you don't want to see a bunch of ads. Right? So you know, we're trying to find solutions that can help smaller sellers pricing schemes that can help smaller sellers. And Michael has been a really great partner in helping us sort of think through that. So those are the types of like actually deeper partnerships that we're trying to do when we launched something, right. So that's just one example. But yeah, so SellCord will just help you create really great Walmart listings.
Bradley Sutton:
Okay, cool. Now, how do people apply to be part of this? Because it's not the, well, first of all, you don't talk about how people apply and then how the approval process is like because I know, I don't know, I have no idea what the number is, but I would imagine that we only approve like one out of every five or 10 applications. So?
Adam:
We have been very, very selective, I would say it's maybe one out of 50. Yeah, it's real. I mean, there's, it's not that we don't want more folks on the directory. It's sort of a matter of prioritization and you know, how can we verify people? And so one of the things that we look for like vetting process is a big piece of this, right? So one of the things that we look for is we want to talk to existing Helium, 10 customers, and we kind of get their review. Now we're doing this manually right now, right? So, you know, me, my team get on the phone with Helium 10 sellers, and we ask them about a prospective partner and they give us their feedback. Right now, we'll let the partner select those people. But we verify that there are sellers who might say, Hey, like, we just want anybody you got. And so they'll sort of provide us the folks and we just make sure everything matches up. And we let the customers who are sort of joint customers, you know, essentially vet the partner. And then after a few of those that we can say, okay, cool, we'll get you on. So it's sort of a time-consuming process. I'm sure there are folks who are going to be listening to this who will be frustrated because maybe they applied and they got rejected. I promise you that we are going to be improving the process. It is definitely a manual process today. But we're going to be improving it in the next few months here.
Bradley Sutton:
Okay. Now, I mean, I just thought of this right now. You and I have never talked about this, so you can clearly shut me down here, but obviously there's a lot of, you know, service providers and things who want to get in there. And those who know about this program that they're going to reach out, but a lot of Amazon sellers out there like use maybe some, some off the wall companies that maybe aren't mainstream, but they're like, you know what? These people really helped me a lot. And I think they can help other Amazon sellers, like, would you be open to like some of our users, like submitting some, some suggestions for the partner directory and like really great a service providers?
Adam:
Absolutely. I actually use the Facebook group for that today. So like if I see people, I'm sort of, you know, I try to participate, but I read it a lot and I, you know, if people are saying, Hey, I use this service then we definitely want to, you know, we will often follow that up with outreach. Now, the problem is that, you know, we want to be careful about people gaming the system and trying to get in. So we're pretty careful about you know, about the way that we go about it. But you know, we, we do try to look for authentic sellers providing feedback on partners one way or another. And we also look at other groups too. I mean, there's tons of Amazon groups out there. There's ones that I'm in that I just look around and I, you know, I try to see who people are talking about sort of really good partners.
Adam:
So you know, the more buzz, the more authentic buzz about a partner, a potential partner, or service provider the more we'll want to work with them. The other piece of this is that not every agency is sort of infinitely scalable, meaning they can't just take on, you know, 300 new customers. They may be, you know, you can have agency, you can have 50 customers, and that would be, you know, that, and you could be making millions of dollars, right? If you, if you suddenly like drove you, 200 customers, those 200 customers are not necessarily going to get a good experience and that's not necessarily good for anybody involved. So part of this also is having a good understanding of the partner's capacity. And so we're, you know, that's why we're being a little bit conservative about the way that we're rolling it out because we want it to be a good experience for the end seller.
Adam:
And that is the mission of partnerships at helium 10. It has to be valued, add for the sellers were seller first, and we're always going to be seller first when we pilot the partnership, we don't take any rev share or anything like that. It's all about understanding what the sellers, how we're adding value to those sellers, and what the seller responses. And so if we do something and we test them that we always sort of test it first, we usually kind of promote it to a small group of people. If we do that, and we don't get great responses from the folks that we that we sort of exposed the partnership to, then we don't really continue to pursue it. So we try to be, you know, methodical about about providing value, add for the sellers, and then the ones that, you know, the folks who are able to illustrate that they can scale with us that they can be, be sort of reflexive to, to sell our needs and to our needs and participate a lot in whatever opportunities we have.
Adam:
Like, it's not just about TBD, but there's, we always use sort of more like, you know, we worked together Bradley. We did the Elite workshop recently. We got a bunch of partnerships together for that. We offered a ton of like real discounts. Those discounts we gave to Elite were basically like in lieu of us getting paid for those, we pass them off to Elite, right. And then we got a bunch of people to sign up for Elite, and that's better for everybody. So there's sort of cases where we try to make this really authentic and really value add. And again, so if you're a partner and you feel like you're being neglected, we are aware of you, if you've applied and you're going to get sort of communication from us. But if you get a rejection, just hang in there and, you know, we'll get to you and we'll give you your sort of your opportunity. So that's kind of why that's the, why we've structured it the way we structured it so far. And if you do want to apply, you can go to directory.helium10.com/apply. I think that's the correct URL. There's a button on the top, right. Of the page. You can click that and, you know, just be nice and work with us and we'll get it done together.
Bradley Sutton:
All right. Now, next year we've got something really excited. A really exciting planned from September 19th to 22nd, 2022. Can you talk about what in the world is going on on those days and where?
Adam:
Yeah. So if you're listening to this, you might as well just book your ticket to Vegas. We will be at the Virgin Hotel on September 19th, and we'll be hosting the first inaugural Sell &Scale Summit, hosted by Helium 10. And that's going to be, I hope will be the biggest Amazon e-commerce seller event of the year.
Bradley Sutton:
Cool. Ever,
Adam:
Right. I guess it should be ever certainly in the last two years. Like it would be the biggest event ever. And, you know.
Bradley Sutton:
We are hopping well over 2000 people, right?
Adam:
It's going to be well over 2000 people. You know, so we have a three-year plan. I wanted to get over 2000 this year, but I want it to be sort of doubling and tripling year over year. We like to think big here. So it's gonna be, it's gonna be a massive event and we're going to have well, we're going to have all sorts of amazing speakers, or we're going to have amazing tracks. I really want it to be something that's, that's like, I will think this will be a big success if we can have sort of the type of event where you can get the type of knowledge that you would not only be able to get in like a much, much more expensive event. Right. Like, so I really, I'm trying to find ways that we can make that happen. But so we're going to have like really cutting edge stuff. Certainly, there'll be VIP tracks are going to access to really cutting edge hacks and, and that type of thing. Oh, white-hat, of course. And the thing that I'm most excited about of the entire event is Bradley Sutton will be hosting a Zumba dance class one morning. I'm not sure what day.
Bradley Sutton:
All right, I'm down, I'm down, let's do it. If you're in Vegas and, you know, after the show, you know, there's, we're probably going to have our own social event and other people go out partying and stuff, and it's hard to like, get inspired to, to get the blood going in the morning for the morning sessions. So yeah. You know, I think that would be good. We'll get people like, all right, come to the Zumba class and, and you'll be, be wide awake after that.
Adam:
I think it will be VIP party Monday night, and then the whole sort of event will kick off Tuesday and run to Thursday. So we'll have to decide what your day if it's Tuesday or Wednesday is going to be a Zumba class, but I will be there.
Bradley Sutton:
Alright. Awesome. Awesome. All right. So, guys, you have double reason now that you could come for the Amazon knowledge, stay for the Zumba is what we're going to be doing there. Alright. Now you know, you have a very varied background with, with e-commerce, you know, seeing you know, being with the Alibaba and then working on the logistics side. And now you're working with a lot of partners here. So we usually ask if it's an Amazon seller, like, Hey, give us your Amazon strategy, your Amazon hack. You know, when it's a kind of a mindset person like, Hey, we'll give me your, your mindset hack for, for entrepreneurs out there. But you, what is your 30-second tip, your TST 30-second tip? It could be related to anything that's up your alley.
Adam:
You know, I mean, the way I usually think about things is when I have so this is sort of comes from being an entrepreneur. I don't know if this is a great tip, but when it comes to sort of being an entrepreneur or doing early-stage things, you're always sort of thinking about how I can 10x, what I'm doing, right. So that's one thing like, don't, you know, don't just think about how can I 2x this, or how can I improve it by 20%? Like what would need to happen for you to 10x that, and for that to happen often, what it means is that the problem that you're dealing with right now would have to, you have to be working on something that makes that problem just completely inconsequential. And so what's a good example of this.
Adam:
Like like Facebook groups, actually, Facebook groups is a great example of a way you can 10x your business, right? Because Facebook groups or Discord groups, Discord is pretty popular right now. So if you, if you have a business where you're sort of selling to customers, one of the best things you can do is you can get them engaged in a group because that group is going to be a place where people come and congregate and share their thoughts and ideas. And that's going to let you know exactly the kinds of things that you should be selling. So all of a sudden you've developed a tribe. Now, if you have a Facebook group and it's scaling, then like, you thinking about how am I going to get those next five sales? Like, now it doesn't even matter because your sales are operating on it. Your, your growth is operating on sort of like the next order of magnitude, right? Because the group is going to grow exponentially. So that's sort of like one example off the top of your head, but I'm, I'm always trying to think of ways that we can 10 X something as opposed to increase it by a small percentage. So, and you can, you can really get some creative ideas when you start thinking about that
Bradley Sutton:
Helium 10x your mentality. I like that. There we go, right. Now just, you know, if people, you know, you talked about, Hey, you're open to getting you know, suggestions for trusted partner directory and, or maybe there's a company out there who wants to like, Hey, how can I get on the early bird list to make sure that I can have my own booth at this sell scale, Sale & Scale, I should say or just, you know, anybody wants to reach out to you. Are you cool with putting out your contact information?
Adam:
Yes. So let me say this. I really, really want to meet all the partners and, but I really want you guys to come like very authentically. So don't hire someone to recommend you or do that sort of thing. Like, please don't do that. Cause we, we just, we, we see it happen and it's going to make it a lot harder for you. We really want authentic folks to come to talk to who are real solutions for sellers. So if that's you and I hope it is, then you should reach out to us. And the best place to reach out to us is at [email protected] It sounds like a super corporate email. There's, it's like me and one other person on the list. So it goes right to me, but I think that's the best place so that we can sort of organize the emails.
Adam:
So [email protected] If you have a partner suggestion [email protected] is a great place to do it. We will be probably coming out with other ways to contact us around Sell & Scale. It's pretty early right now. Like I'm going to go to Vegas tomorrow to go walk the grounds. So very sort of early stage. But if you, if you have sort of thoughts or you're interested in, in becoming a sponsor or an exhibitor, we're going to have lots of opportunities to do that once again, reach out to us [email protected]
Bradley Sutton:
Awesome. All right. Well, Adam, thank you for bringing your knowledge and experience with us and not just here on this podcast, but here to the company. It's really great that we're developing this partner directory out and, and doing this cool event next year. So thank you for all your help you've been giving, and we'll definitely reach out to you in the future to come back, and maybe who knows, maybe I'll see you at one of these high school reunions.
Adam:
Sounds good. Bradley. Thanks for having me. That was a lot of fun.
---
Enjoy this episode? Be sure to check out our previous episodes for even more content to propel you to Amazon FBA Seller success! And don't forget to "Like" our Facebook page and subscribe to the podcast on iTunes, Spotify, or wherever you listen to our podcast.
Get snippets from all episodes by following Bradley on Instagram at @H10bradley
Want to absolutely start crushing it on Amazon? Here are few carefully curated resources to get you started: