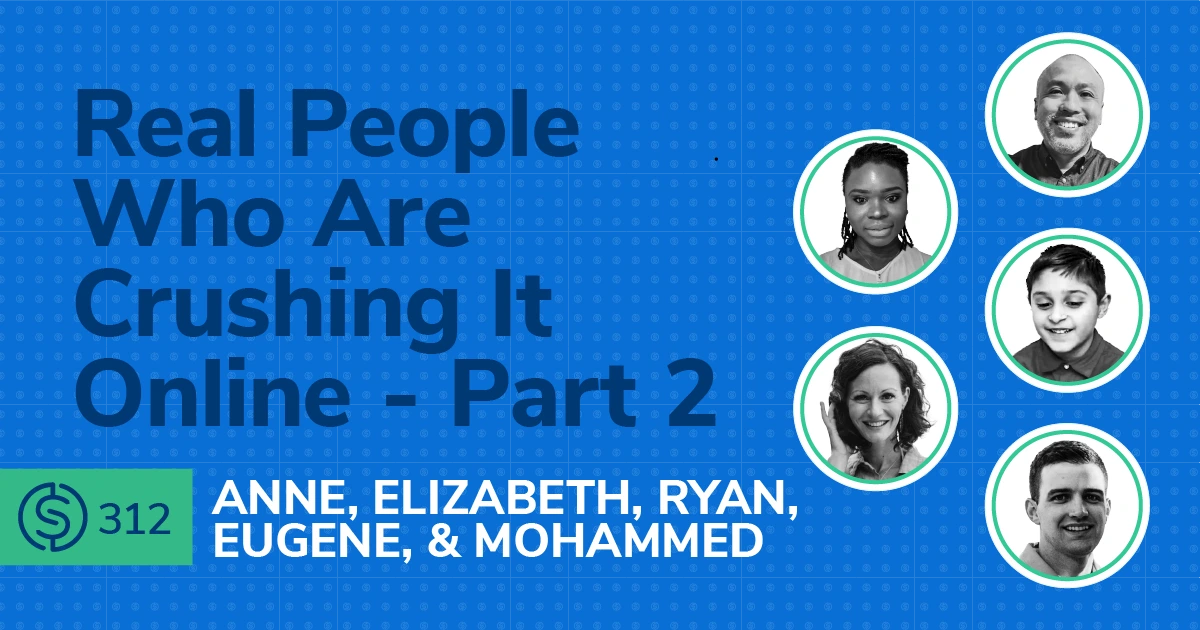 #312 – Real People Who Are Crushing It Online – Part 2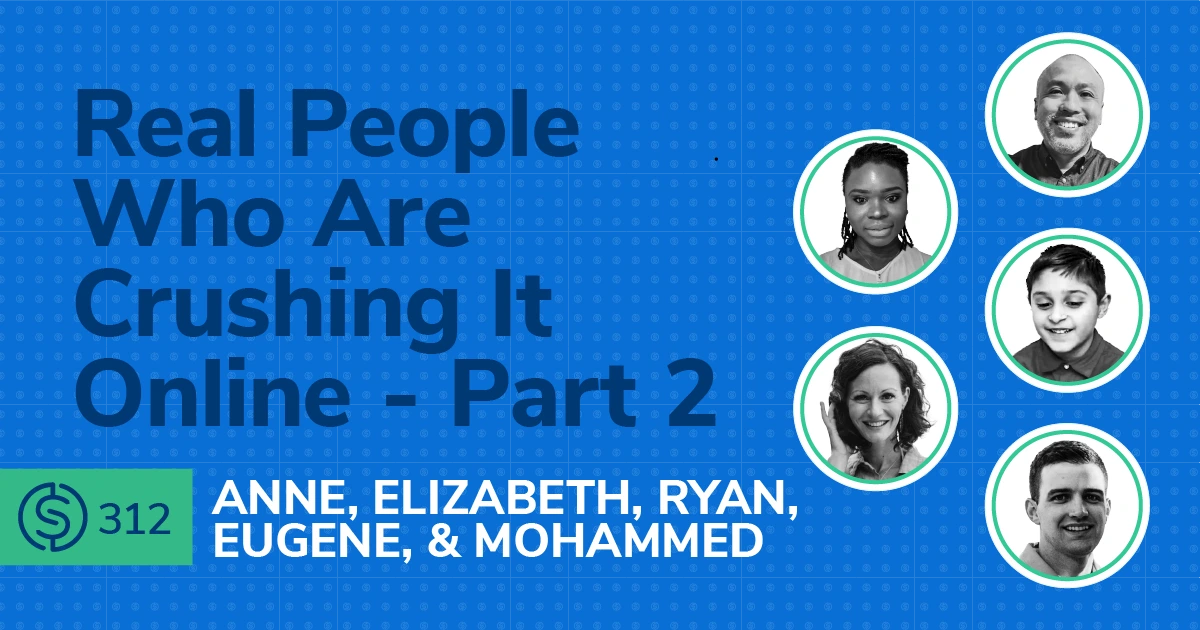 In part two of this two-part episode, Bradley shares some clips of his interviews in one of the recent webinars that Helium 10 had. Real people with real profits that he calls the "Average Joe's and Sally's." However, these people are not ordinary. They are actually crushing it in their own ways, but they're like your next-door neighbor, a relative, or they could be you! Normal people that you can relate to at any stage of your Amazon journey.
In episode 312 of the Serious Sellers Podcast, Bradley, Anne, Elizabeth, Ryan, Eugene, and Mohammed discuss:
03:30 – Leaving A Well-Paying Career To Start A Business
06:30 – Her Family's Reaction When She Did That
08:00 – Elizabeth's Journey To E-commerce From Nigeria To The US
11:00 – The Blessings Of Being A Full-Time Entrepreneur
15:30 – Their Advice For Aspiring And Current Entrepreneurs
19:30 – Ryan's Story And What Possible If You Take The Leap
22:30 – Eugene's Story And Making $18-20 Million In Annual Gross Sales
26:00 – Sharing Tips And Factors For Success
30:30 – A Quick Interview With Bradley's "Half" Guest
33:00 – An 8-Year-Old Making Money On Amazon KDP
Transcript
Bradley Sutton:
Today, we're gonna have an interview with four and a half people who are absolutely inspiring the way they have overcome obstacles in their life to crush it on Amazon. How cool is that? Pretty cool I think.
Bradley Sutton:
Hello everybody, and welcome to another episode of the Serious Sellers Podcast by Helium 10. I am your host Bradley Sutton, and this is the show that's a completely BS-free unscripted, and unrehearsed organic conversation about serious strategies for serious sellers of any level in the Amazon and e-commerce world. Now, today on this episode, we have part two of a recap of a series of a webinar that wReal People, Real Profits. I like to call them the average Joes and average Sallys that we're interviewing. And why is because these are people who could be our next door neighbors. They could be you, they could be me. These people I have interviewed they don't have courses to sell you. They don't have software to sell you. They are to just real people who are making real money on Amazon and e-commerce, and they come from different educational backgrounds, different cultural backgrounds, different age groups et cetera.
Bradley Sutton:
So I want to inspire you hopefully with this, maybe you're already selling on Amazon, or maybe you're not yet. You're are feeling down on the possibilities. You're not sure if you're ready to take that leap. Well, perhaps one of these stories are gonna resonate with you these first couple ones that I am going to interview they've been on the podcast before. Their fan favorites out there come from completely opposite ends of the spectrum. One was a kind of like had her dream job, making a hefty six figure salary there at one of the top law firms in London, gave it all up to move to Costa Rica, and then start selling on Amazon. Why did she do that? We're gonna find out the other one was making minimum, minimum, minimum dollars before from where she was from in Nigeria came to the United States, was starting a family. Didn't know what to do got into Amazon. And now they're both making millions of dollars on the platform. Let's hear their stories.
Bradley Sutton:
Now, our first guest here and has a little bit different journey than what you would typically think of somebody getting into eCommerce. You know, maybe the stereotypical mindset is, Hey, there's somebody who is, you know, needs a huge career change, cuz they're getting out of the military or you know, maybe they're, they're kind of short on money. They wanna make some extra money, but Anne kind of like "made it" in the corporate world. She had a, a, a big, you know, well paying job reached the pinnacle of her profession if I'm not mistaken. So, so Anne, can you take us back again and, and give us your origin story and let us know, you know, why you wanted to kind of leave something behind that maybe other people are trying to achieve.
Anne:
Hi, Bradley. Yes, I was a corporate lawyer working in London. I worked for the largest law firm in the world, actually, California law firm started over where you guys are. And I worked in oil and gas project finance. And I kind of spent my whole life on that achievement track, you know, go to the best school, get the best grades, get the best job. And then I did that and I was like, oh, this is awful. And I was just working literally 22 hours a day, not sleeping, was getting tight, the chest from stress. And I saw my friends having families and just having so much stress. And I said this is really not what I want for my life. And I just made a decision that life was more important to me than achievement than money. And so I quit it all and moved down to Costa Rica. And long story short started my Amazon business here a few years after that. And now I get to live a beautiful life, make more than I did at the law firm and be home every day with my gorgeous little kiddos.
Bradley Sutton:
Yeah. That's just great. And you know, like I, I used to live in Japan and they used to have this word called salary man, where you were just like married to the company, you would get there at 7:00 AM, leave at 7:00 PM and you strived for that kind of lifestyle. But you know, me too, I've been in corporate life. I know how stressful can be. There's a lot of people who don't want that salary man kind of lifestyle. It's too stressful. They realize that you know, they have no family life and things like that. You know, anybody out there, you know, watching this do you have some kind of stressful job right now that maybe be considered the pinnacle of success, but you're just not happy. You know, maybe you're in the same shoes that Anne was you know, a few years ago. Now Anne, you know, when you made that decision to leave you know, your, your firm and, and move to Costa Rica, you know, you, weren't some like, you know, college kid rebellion or dropping out of college or something, you were an adult of course at, at, by that time. But still, I've gotta think that it was still there was maybe some drama or something, you know, letting your family know. Yeah. I'm giving up this "dream job" and I'm gonna just y'all up and move to Costa Rica. Was there any issue letting the family know about that?
Anne:
Oh yeah, totally everyone thought I was bananas. Everyone still kind of thinks I'm bananas. I'm like the hippy-dippy chick of the Amazon world, you know, posting Instagram videos of me doing crazy dances and stuff, but yeah, you know especially lawyers, right? We're very risk averse and, you know, love stability and certainty and the salary and my friends were all like, you know, I mean, they just assumed that I was gonna be back. And the people that didn't assume that I was gonna be back, it was like, but what if this, what if that? And I said, you know, I'm not jumping off of a cliff. I'm just, you know, I'm gonna go see how this is. And when people ask me how I did it, I always say the most difficult part of the whole process is making the decision. Like once the decision is made, you figure it out, it's something that Tony Robbins also says is don't get stuck in the tyranny of how, if you're thinking how to do something first, you're gonna talk yourself out of it, have your, why, you know, your purpose, the why, and the what, and then you figure out the, how so, yeah, that was kind of what just happened. I was flying by the seat of my pants and, you know, just really with the constant belief that there had to be more to life. And for me, there definitely was, yes.
Bradley Sutton:
Yep. Now let's go ahead and switch gears for a second here. We're gonna invite another guest on here, Elizabeth. And she also has been on the podcast and I love doing these interviews in pairs because I usually have people who have never even met each other virtually nor in person. And they come from completely different educational backgrounds and work backgrounds and even cultural backgrounds. So Elizabeth can you let us know where were you born and raised and, and what was your journey to e-commerce like?
Elizabeth:
So I was born in Nigeria. It's a country in West Africa and I moved into to the US six years ago. And then when I moved to the US I stayed in Chicago for a year and it was too cold for me. I told my husband, I'm like, if you wanna happy wife, then we gotta leave this city. Cause we were just too cold for me. So when I moved over to Vegas, the job opportunity I was getting, wasn't something that I really wanted to go into. And the money they were offering me to was like a fraction of what I'm already earning in Chicago. And two months down looking for a job, I realized that I was pregnant. I was like, you know what does even make sense for me to look for a job.
Elizabeth:
And then in the next three, four months I taking maternity leave and one day my husband is a nurse. He came back and he was like, you know what, why don't you go watch? So, so, and so video on YouTube about how to sell on Amazon. I was like, okay. Yeah, why not? I don't have anything to do. And then it basically took me like a month watching free Amazon videos. I joined the Helium 10 Facebook group. That's where I met Sharon. I saw she was in a Nigerian. And I saw like, I think three other Nigerian individuals on that platform. So we found like this little Facebook group, and then we started teaching each other, the little that we, you know, we learned. So my first product was actually a $500 phone case.
Elizabeth:
I know the worst product to sell ever. Yeah. But I was just so lucky that everything just fell in place for me, cuz at the point where other, those phone cases was when the phone cases just got launched. So there wasn't too much competition per se in that niche. So I was able to still sell and make a little bit of money. But in the later on, I realized, oh, this is not the niche for me. So I moved into two, three different niches before I found, you know, my passion and after that point, it's been like smooth sailing. Yeah. Not, yeah. Well, I wouldn't call it smooth sailing all the way, but at least I've seen a lot of success that, you know, kept validating that, okay. You know, me going down this path is something that I actually think I was born to do kind of if that makes sense.
Bradley Sutton:
All right. Now, now switching back to Anne, you know, I know you're a, a mother of two, it's very important to you. And, and you're very good at always, you know, recognizing your, your blessings. So just outta curiosity, what are your main, like hashtag blessed moments that you can say has come from that decision you made a while back to go ahead and, you know, move to Costa Rica and then become an online entrepreneur. Like, you know, is it the work life balance? Is it about your family life? What are the biggest blessings that you've received from this career path that you've chosen?
Anne:
Well, I mean, really, I would say the biggest blessing is my family life. I mean, my kids think I'm a stay at home mom because I do the work when, when they're not around. So I make them breakfast every morning. I take them to school, I pick them up, you know, I make them dinner every night and I'm so, so grateful for that because I know it's a privilege, you know? And I miss being with my mom, she was a working mom growing up. So really just being able to be with them and then having the freedom to travel both by myself and with my kids, you know, it's awesome. Just bring your laptop and you can do anything. And in contrast to being in the corporate world, like I would go to lawyers. I mean, usually within my own firm. And man they're really boring and also everyone is miserable.
Anne:
I mean, it's mostly a bunch of old white dudes, but, but everyone who's, there is kind of miserable and the talk is around like, you know, who's built the most hours, like who's has the worst clients like basically competition of whose life sucks the most. And it's so different in e-commerce. You know, I was just at an event and, you know, Bradley and I met at an event. We were just talking about this when Bradley and I met it was an after party of an Amazon event. And Bradley was like busting some dance moves. And I was like, hang on, who's this guy, we need to be friends. And you know, when you're successful in e-commerce, I think you're really successful in life. You know, and everybody it's such a different environment.
Anne:
Everybody wants to help each other. Everybody wants to give tips because you know, you don't wanna be lonely at the top. You want all your friends to be doing as well as you are. So you can all do fun at epic things. And, you know, like I was just saying to Bradley, my 40th birthday is next month and we're going to Mexico. And I just decided randomly, like two months ago, we should do something. I message a few of my friends saying, Hey, what do you guys think about going to Mexico for a week in January? Literally the whole thing was planned in two days. Every single of the 13 people that I ask said yes. And these are, everybody has kids too, you know? And that's just because they can be like, okay, let's go do it. And Elizabeth girl, I'm from Chicago. So I know how you feel about the cold. I turned 18 and left and never looked back. I only applied to university in California, and in the South. I was like, no more snow for me.
Bradley Sutton:
All right. What about you, Elizabeth? You know, what do you think are some of your biggest blessings that have come from, you know, you choosing to become an online entrepreneur as opposed to make, be the path that you were going down?
Elizabeth:
Yeah, definitely. It's also the work life balance. Having to be home with my daughters watch them grow, never miss any kind of milestones, you know what I mean? So that has been awesome. This year, myself and my family, we've been traveling a lot, giving us the opportunities to bond and grow as a family. And just to have that kind of, you know, passive income lifestyle that I've always thought was never possible because, you know, just looking around the people that I was used to seeing always stressing about work and not being able to balance those two aspect of their lives. And just realizing that this is possible for me. And it's just been mind blowing and I'm so grateful for that.
Bradley Sutton:
That's awesome. Now, Anne, last couple of questions for you. First of all, we're right here at the end of 2021. You, you probably don't have your numbers necessarily right there, your exact numbers right there in front of you. But if you were to estimate what was your gross rev, a new here in 2021? How much was it? And then the second question would be, Hey let's say there's somebody out there that's watching this program right now. And, and they are Anne Ferris from six years ago when you were stressing out over a corporate job, even though you're making a lot of money. Like what would be your advice to somebody you who might not be feeling completely satisfied even though they kind of "made it out there?"
Anne:
My sales will be like 1.8 to 2 million for the year on Amazon. I also sell off Amazon and that's growing this year too. And my biggest piece of advice, if you're thinking about doing this is, you know, tell yourself and really know deep down that you can, you know, make vision board, put up your dreams, and really understand why you're doing this because when you start there will be hurdles. You know, it's not super easy, but if you know why you're doing it, if you believe in the future that you've dreamed up in your head, you will overcome all of those hurdles and, you know, just really dream big and anything is possible.
Bradley Sutton:
I love it. Love it. And let's go back to Elizabeth now, same questions for you. End of 2021, about how much is your gross revenue gonna end up being, and then what words of advice would you give to somebody who is in your shoes? You know, maybe not sure what direction to go in life and maybe just starting a family.
Elizabeth
Okay. So my estimated revenue for this year is about 5 million. Anything that has to do with fear, business opportunity, just have, it doesn't go together. You know what I mean? Risk. Yes. But that fear doubting yourself self doubt is something that you have to take out of the equation. Totally. Just because you can. Right. And that was biggest hurdle for me. And I would have never taught five years ago that I would be out here designing products, like really designing products? You know, having something in my mind putting it out there, people loving and buying something that was just, you know, in my head, like to me, it's like, yeah, to me, that's like the magic of it all, cuz I'm always never putting out something. And I always tell my, when I'm like do you think someone will pay for something like this, you'll be like, when have you ever doubted yourself? Why do you wanna start now? So just always put that good vibe, good energy out there. Don't doubt yourself. If you fail you get up, you know, and just keep moving and definitely this it's, it's worth it. I've been doing this for only three years and I can't even still believe that I, you know, this year I gross 5 million. Like it's crazy.
Bradley Sutton:
This is so great. You know, to the both of you I thank you so much. I do think that there are a lot of people out there who are watching this, who might hopefully be inspired by what you're saying because as you two were the situations that you were in before, even though they're completely different, I'm sure there are people out there watching this right now, who right now might be in the same shoes that, that y'all were in a few years ago. So hopefully they're inspired by this and wanna at least you know, look into taking action about maybe going down the paths that you guys have done and had so much success. So thank you again for coming on here. If we do this again in 2022, I'd love to reach out to you and see where you guys are at then. So thanks a lot again.
Anne:
Bye, thanks, Bradley. Thanks, Elizabeth.
Elizabeth:
Bye.
Bradley Sutton:
All right. Now, which one did you identify with? Did you identify with Anne? You know, maybe you're stressed out in this crazy job that you're working 80 hours a week. And even though you're making big salaries like you're wondering, is, is there a better way to live than this, or maybe you're on the side of Elizabeth and you know, you're starring a family just jumping from different job to different job and you want to just try something new for income, right? Regardless, what do they both have in common? They took action. They jumped in and they learned the tricks of the trade and then got in this headfirst. All right. You know, they didn't, they just were like, Hey, I'm all in. And now we can see that they have definitely benefited from that kind of attitude.
Bradley Sutton:
Now these next two that we are going to interview again have been on the podcast before. And again, very inspiring stories. They're grossing the most out of all of our guests that we've had on here today, but they come from completely different backgrounds. Again, let's hear their story. What you're about to hear now from these two gentlemen is not the norm, but I wanna show you what exactly is possible for an average Joe or average Sally out there on Amazon. So we've got Ryan here, first of all, Ryan, how's it going?
Ryan:
I'm doing great. How are you?
Bradley Sutton:
I'm doing awesome. Now, Ryan, you know, has been on our podcast a couple times before, but you know, why is he an average Joe? Well, he doesn't have a course to sell you or he doesn't have a big training program or software or anything. He's just a regular guy as a matter of fact. But he's anything but a regular guy now, Amazon, and you're gonna find out why now, Ryan, what's your real quick there. What's your background as far as like your education and what your first job was and then how you got into Amazon?
Ryan:
Sure. Yeah. I went to Pepperdine graduated in 2012 with a degree in International Business. Right after graduation, I went to work for my stepdad's company. He had a vacancy, his managers in Juneau Alaska Quilt. So I decided, Hey, that sounds like a crazy experience, but I could learn something about management. So I committed to one year and I went up there to Juneau for that one year, exactly 365 days. And I came back home. And during that time when I was up there, I kind of–
Bradley Sutton:
You lasted a full year in Alaska. I'll Alaska.
Ryan:
Yeah, it was–
Bradley Sutton:
That's more than I would've lasted. A little crazy.
Ryan:
We had some crazy experiences, just employee issues, and like people I had to start from scratch, hiring everyone from scratch a couple times. So it was, it was nuts, but I can go into that another, another day. But when I was up there you know, had a lot of downtime in the night. So I kind of learned about Alibaba and buying products and importing them. And then it was actually like white label, which I ended up getting in trouble the next year. So don't recommend that. And then after that eventually I got through the three letter course, I forgot I'm blanking on the name of it, but a lot of people, tens of thousands of people had gone through this course. And that's where I kind of became started the private label journey. And I guess that would be 2016. And when I started really with private label, so.
Bradley Sutton:
All right, now fast forward to, you know, we're here at the right at the end of 2021. You know, I know you have different partnerships and everything. You have some that are all your own products throughout all your different marketplaces. What's your overall gross sales gonna end up being you think this year in 2021?
Ryan:
I'd say 10 million.
Bradley Sutton:
10 million guys from somebody who just a few years ago was freezing his butt off in Alaska wonder cause this life, all that life wanted to give me sure he had a business degree, but you know, it's not like in, in the Pepperdine Business Program, they teach you about how to sell on Amazon. So it's not like he came in with this, you know, special knowledge. And he was able to scale up like that. Now, now we've also got a Eugene here Eugene his, depending on when you're listening to this, his podcast episode is very first podcast episode with us might be, might be live right now. So make sure to go check out the Serious Sellers Podcast to see if it's there. You can get his full backstory, but Eugene same questions to you. Like what did you what did you study in, in college if you went to college and what was like your main jobs originally and then how did you transition to e-commerce?
Eugene:
Sure. I graduated from both Penn State and Millbrook college finance and econ background. Right after college kinda went to an insurance role more in the risk management underwriter side very exciting. And then during that time
Bradley Sutton:
But as exciting as being in Alaska, I would say
Eugene:
That's been exciting for sure. At that time then my cousin was also started something just a small eBay business and, and that, at that time that's when I kind of joined up and just like helped him out a little bit. And, and we started in the basement and that was no Amazon yet. That was just strictly eBay. And then the minute in 2008 is when we started Amazon. And in the beginning of the year we signed up and pretty much it took off from there. I mean, we saw the potential from eBay kind of carried us that allowed us to bootstrap and just start Amazon and it just took off from there.
Bradley Sutton:
Okay. And then now fast forward, you know, a few years 2021, what's your estimated gross sales across all platforms gonna be?
Eugene:
Projected right now, obviously, there's still a whole month left ahead of us. So I have a pretty great big window probably 18 to 20 million in that range.
Bradley Sutton:
Wow. So another eight figure seller here. Now, both of you sell on Walmart Ryan, what's your estimated Walmart sales, you know, I know you told us your whole pie right there, but what's the, what's the piece of the pie that that's Walmart this year gonna be for you?
Ryan:
It's between 600 and 700,000.
Bradley Sutton:
Okay. So almost on the cusp of a seven figure Walmart seller as well. How about, how about you Eugene? I know you're, you're pretty big on Walmart as well.
Eugene:
Walmart should be two and a half to 3 million this year.
Bradley Sutton:
Oh, so you are a seven figure seller on Walmart. So, guys, it's not all about Amazon. You know, commerce is a variety of marketplaces. Amazon definitely is the beast, and that's where you're gonna get most of your sales from. But here is two individuals you saw, you know, they don't have necessarily some educational background or some work background that is like, okay, this is a prerequisite to, to be an Amazon seller, but they were able to transition and go to e-commerce. And, and I'm assuming this is your full-time gigs, obviously at those numbers, right. You guys don't still have, you're not still making trips up to Alaska, or you're not still freelancing as a bookkeeper for somebody or anything right? Now what, you know, again, we don't wanna be like those, those ads you see out there where people have Lamborghini and they say, this is, you know, take my course, and this is exactly how you're gonna make 20 million, you're gonna make 10 million or something like that.
Bradley Sutton:
We would like to keep it real, but it is possible. And now, Ryan, if you had to like, you know, tie your success down to one thing, or if you had one advice to people about why, you know, how come you have been so successful out there, what do you think has helped you along the way? I don't know if it's a mindset thing or, or it's just a some mantra you live by or just like, Hey, I use all the data. I mean, what, whatever it is, what has helped you, Ryan, to get to this level where, or maybe other people haven't.
Ryan:
You know, I think it's just keeping with it, consistency, staying with it every single day. And also joining masterminds, cuz I've been in a number of several different masterminds. Most of 'em are paid and that, you know, I notice a big difference between the free ones and the paid ones. And you can gain a lot of really good knowledge from the collective of people in the group. So that was definitely a huge advantage.
Bradley Sutton:
Okay. Excellent. And what about you Eugene? What one or two things you think have really, you know, set, set it apart for you?
Eugene:
I think the biggest thing is, having a really robust team. I mean that's what kept us in business since 2008 is, is that team took a while to develop, but we have experts in almost every different area. Of course that you're giving up some profits that have a very robust team, but that allows you to manage the stress that Amazon sellers have. It gets, it gets pretty intense at times, especially when like suspensions or violations and all these take down things happen. But yeah, really, that's my, I think that's a secret recipe for us is just having a very, really awesome team that I love and they take care of us.
Bradley Sutton:
Okay. Now, one, one other question I wanted to have for each of you is sometimes our parents have different ideas for us when we're growing up or sometimes it's hard to tell family like, yeah, I'm about to sell on Amazon. You know, like for us, it's all like normal, like, ah, of course that's a normal thing, but like, you know, we, we gotta remember that you know, people out there, like what selling Amazon you know, you were supposed to be a doctor or something like that. Ryan, what did your parents want you to like, did your parents want you to do that Alaska business when you grew up, and then was it hard to tell them, Hey, I'm gonna do my own thing on Amazon.
Ryan:
Yeah. so that's my stepdad's business. You know, my stepdad and my mom allowed me to really chase whatever dreams I wanted to. So they were happy that I decided to join the family company. And after Alaska, I did stay on with the family company here in Las Vegas at their other location for another two and a half years. But yeah, January 1st 2016 is when I stopped working for them. And I went full time, you know, stay at home entrepreneur. And that was a little difficult, but they actually, they were on board from the beginning. You know, I didn't find out until a couple years later, like maybe 2019 that my dad actually was really upset that I quit the family business. And cuz you know, he's more the old school model where you go to school, get good grades so you can get a good job.
Ryan:
So you can work that job for 30, 40 years, save up, live within your means. So you can retire and you know, enjoy life once you're retired kind of thing. So he didn't really understand the whole entrepreneur thing, but I did overcome that cuz sold one of my businesses in 2020, just a small six figure exit, but it was enough to like, you know, pay off the mortgage, pay off the student loans and become completely debt-free. So ever since then, my dad's been completely supportive and kind of changed his tune on what entrepreneurialism is. Yeah.
Bradley Sutton:
What about you you Eugene, what, what did your parents want from you when you come "grew up" and was it a difficult thing to say, oh yeah, you know, I'm giving everything up and I'm gonna sell on eBay or whatever you started.
Eugene:
I grew up with my parents had owned a couple Chinese restaurants growing up all through my childhood up until I think my early college days. So of course there was pressure on there to take over the business. Wasn't, it definitely wasn't something I wanted to do. And I guess as soon as I broke that news yeah, of course, they were disappointed, but they quickly sold. So at that point I had really no choice to like, okay, well I have to pursue and, and, and work the degree and find a real job. But like I said when I was in a corporate risk management job, but when that eBay opportunity came up long, I was so young and like no kids, no family, I had nothing to lose. So it was a very easy jump and, and transition.
Bradley Sutton:
All right. Awesome. So guys, again, I hope this is inspiring to you out there. You know, you saw here, you know, these are typical people, average Joes, as we like to say, you know, their parents might have had some plan for them. They might have had a plan. They went to school for something else, but they saw the opportunity that selling online had they took it, they took the steps needed, you know, join masterminds, taking courses to be successful on Amazon. And then they made themselves into a success. And you know, you don't hear their, their parents complaining now that they're making 10, 20 million on Amazon. So I, how much of their journey can you guys follow? That's gonna be up to you, but Ryan and Eugene I think you're inspiring a lot of people out there. It's really amazing to see what you've accomplished. And if we do this again, end of next year, it'd be great to see where you guys ended up in 2022.
Bradley Sutton:
If you guys were watching this on YouTube, you see those cool Legos that Eugene had in the background there. Anyways Eugene's story, Ryan's story, very inspiring to see how far they've come to now. Eight figures worth of sales on Amazon and Walmart. And did they come from some super you know, tech background with an advanced degree in entrepreneurship or online marketing? No, no. They did not, as you can see and but you know, that didn't stop them from getting into Amazon and, and teaching them how to make money on this platform. And you know, you guys absolutely can do the same now. We're not gonna say again, Hey, you know, just follow their footstep and you're gonna be guaranteed to make 8 million dollars or something or 20 million dollars.
Bradley Sutton:
No, no, that's not the way this works, but this just shows you what is possible. Even if you do not have some, you know, big background that may necessarily prepare you for online entrepreneurship. Alright, we've got one other quick interview here. I wish you guys could actually see this. So if you're watching this, or if you're listening to this in your podcast, you know, when you go home in about a week, this will probably be on YouTube. So make sure to watch this because you'll just like melt of the cute factor in this next interview. I have. So again, we had in last episode, some, someone who was a teenager, you know, was became a service provider on Amazon. Well, this person is not even yet a teenager. And so anyways, before I say more, go ahead and listen to this quick interview. All right, guys. So we've got a treat for you. You know, we've talked about how, you know, at any age is never too early to start, you know, getting into the Amazon world where we've got them, probably the biggest I don't know what I would, I would call this like the biggest proof of this ever. I've got here Mohammed from you're in the UK, right? Mohammed.
Mohammed:
Yeah.
Bradley Sutton:
And how old are you?
Mohammed:
Eight.
Bradley Sutton:
Now, this is really interesting story. So like, what grade are you in school?
Mohammed:
Year three.
Bradley Sutton:
Year three. So third grade. Okay. Now you are doing KDP on Amazon or what, what's your experience with Amazon?
Mohammed:
Like KDP and Helium 10 and stuff.
Bradley Sutton:
So you use Helium 10 for KDP. That's awesome. We're definitely gonna find out how you use heli, but like, how did you first, like, does you know, one of your parents make books on KDP or how did you even find out about KDP?
Mohammed:
Yeah. my mom kind of helps me with it a bit.
Bradley Sutton:
So does your mom also make books and things like that for KDP?
Mohammed:
Yeah.
Bradley Sutton:
Okay. So what kind of books have you made on KDP or have you already made books on KDP?
Mohammed:
Yeah, I've made quite a few and I've just been interested in the way of making books and it's been like a good experience, like having to getting to try it.
Bradley Sutton:
Now, I'm assuming that your friends from school in year three, you're probably the only one doing KDP on Amazon, huh?
Mohammed:
Yeah.
Bradley Sutton:
All right. Have you ever do, do you make any children's books or they just books for anybody?
Mohammed:
They're books for anybody, but mostly I like to make children's books and some things.
Bradley Sutton:
Okay. Now, how did you start using Helium 10? Like, how long have you been using helium? 10,
Mohammed:
Maybe for a couple of months now.
Bradley Sutton:
Okay. What's your favorite tool?
Mohammed:
The Cerebro search.
Bradley Sutton:
Ah, okay. So Cerebro, you like getting the keywords from there?
Mohammed:
Yeah.
Bradley Sutton:
And now for your books that you and your parents make, are these that only go on the Amazon UK website or does it go on Amazon in America too?
Mohammed:
They go on a couple other websites, like in different countries and stuff, cuz they're available to different countries, but just in different prices.
Bradley Sutton:
Do you use any other tools in Helium 10 other than Cerebro?
Mohammed:
Sometimes, but I like to use Cerebro because it like gives me good keywords and also it gives me extra things to use and I can export it to Excel easily and use and like sort it.
Bradley Sutton:
Okay. Wow. You even know how to use Excel? Like when I was seven and eight years old? Well actually I don't even think Microsoft Excel existed back then, but yeah, I did definitely was not making books and not using spreadsheets and things like that. So do you look for like high search volume or what makes a good keyword for you? Like what do you really look for when you're, when you're in Cerebro?
Mohammed:
I look for like which book has the most sales or search volume so that I can get like good keywords from that is that book.
Bradley Sutton:
Okay. So do you use the Chrome extension? Like Xray and things like that too?
Mohammed:
Yeah.
Bradley Sutton:
Is there any books that are on Amazon that you helped your parents make or that you made on your own? That, we could search for? And maybe we can, we can buy it so we can take a look at your work.
Mohammed:
Maybe I think there's one that's called My Journal of Thoughts and itt just has space to journal your thoughts and it's just lines and I've done like a nice like book cover.
Bradley Sutton:
How do you make like a, like a book cover? Do you like draw it yourself or do you use like another service? In order to, get artwork for it?
Mohammed:
I use like different softwares to do it like Photoshop and Canva.
Bradley Sutton:
So you know how to use Photoshop and Canva too?
Mohammed:
Yeah.
Bradley Sutton:
That's incredible. So you use Helium 10, Photoshop, Canva. This is great. Now, how much time a week are you spending on it? It's just like something you do for fun sometimes or like every day you do a little bit?
Mohammed:
Just for fun. A couple of times in the day,
Bradley Sutton:
Your books, are they like for free or do they, or do they cost money to buy?
Mohammed:
They cost money.
Bradley Sutton:
So then, you know, I'm assuming it's your parents' account you're using. Do they give you some allowance or do they give you some money from the books that you do or do they keep it all for themselves?
Mohammed:
Yeah, they give me some, they give me the money that I earned.
Bradley Sutton:
Now with the money you've earned. What kind of things do you buy?
Mohammed:
I buy different, like sweets and I also like to buy different stationery supplies.
Bradley Sutton:
Do you, do you ever wanna do other things on Amazon? Like, have you heard about like, you know, you can, how you can like make products and sell on Amazon, or are you just happy? Like making the books for KDP?
Mohammed:
Yeah. My dad does like different products as well.
Bradley Sutton:
Okay. So like maybe one day you wanna learn how to do that part of it too?
Mohammed:
Yeah.
Bradley Sutton:
Okay. What do you have to say? Like maybe there's somebody else who's like 7, 8, 9 years old out there is KDP something you would suggest doing? Like, like, Hey, like, Hey, you should, you should give it a try. Or what would you say?
Mohammed:
I would say, like, to just take it easy and do a couple of, like, I do a couple of like books a day, so I like I do, I make one whole book and then maybe publish it the next day or so. So I would definitely give them that advice to like do one book a day and then put, and then publish it the next
Bradley Sutton:
One book a day. My goodness. That's a lot. That's a lot of work. How, how many books total do you think you've, you've made then
Mohammed:
10 to 50. A lot. 10 to 50.
Bradley Sutton:
That is a lot. That is a lot. All right, well it's great to meet you? And I hope to meet you in person one day. I think you might be the youngest user of Helium 10 that I know. And possibly the youngest, you know, we can consider Amazon seller, but, but you are definitely proof that you know, you don't have to be any certain age to get started on Amazon. So Mohammed thank you so much for joining us and I wish you the most of success in your Amazon journey.
Mohammed:
Thanks.
Bradley Sutton:
All right there, you have it guys. So again, if you think you're too young to get started on Amazon here, we've got a seven, eight year old who likes using Cerebro. I wish I could use his accent, but that is so cute. So we really it's for anybody and, and you know I'm saying this is a joke and stuff like anybody can do it, but it's true, right? I mean, look at him. He is seven years old. Maybe he cannot create his own private label product to sell on Amazon. Like the rest of our guests did. That's fine. You know, like that's not what he tried to do. What did he do? He's making books for other children using KDP maybe you're 30 or 40 years old. You don't have enough money to start selling on Amazon yet.
Bradley Sutton:
Well, there's no, there's no shame in going through KDP or merch by Amazon or other forms of selling on Amazon that do not require any initial investment. The point is what he did at his age is he did what was available to him within his means. All right. You know, he didn't go try and do a private label product, you know, that eight year old can't do that. You, you know, if you don't have too much money, don't go try and invest your entire savings of your whole life in trying to do a private label product, you should probably do another form of selling first. We actually have just did a workshop recently on many forms of selling on Amazon. You can check out that product research workshop at productresearchnow.com. And you'll be able to see 28 different ways in order to find opportunity you to sell on Amazon and all of our guests today.
Bradley Sutton:
That's how they started. They started with a way of finding a product to sell on Amazon or finding a way to make money like Salman did. Salman couldn't. That we had in the last episode, Salman couldn't, you know, come up with the money in order to start a private level product right away. So he went a different route, but every single one of these people, they all came from different backgrounds. As we said, they analyze their situation. What can they do? What can't they do? What are their goals? All right, what's stopping them. How can they overcome those obstacles and how can they crush their goals? And now each and every one of them has. All right. So I hope, hope you found these last two episodes inspiring. These are all great, great stories. Of people average Joes, just like you, just like me, average Joes, average Sallys they did not let obstacles hold them back from reaching their financial dreams by means of Amazon. So I hope you guys can, you know, find yourself in one of these guests that we've been having and use them as inspiration in order to start your own career online. So hope you guys enjoyed these episodes, if you did make sure to go ahead and like, and subscribe this. If you're watching on YouTube, or if you're watching this on Spotify or Apple Podcast, don't forget to follow, subscribe, and leave us a review. If you get a chance we absolutely love those as well. So I'll see you guys in the next episode.
---
Enjoy this episode? Be sure to check out our previous episodes for even more content to propel you to Amazon FBA Seller success! And don't forget to "Like" our Facebook page and subscribe to the podcast on iTunes, Spotify, or wherever you listen to our podcast.
Get snippets from all episodes by following Bradley on Instagram at @H10bradley
Want to absolutely start crushing it on Amazon? Here are few carefully curated resources to get you started:
Achieve More Results in Less Time
Accelerate the Growth of Your Business, Brand or Agency
Maximize your results and drive success faster with Helium 10's full suite of Amazon and Walmart solutions.