#415 – Amazon Seller Strategies, Travel Hacks, Investments, & More
In this episode, we speak with two veteran Amazon sellers, Chris Thomas and Regina Peterburgsky, on how to stay competitive this 2023. Plus, travel tips, investments, and more!
Originally published on: January 17, 2023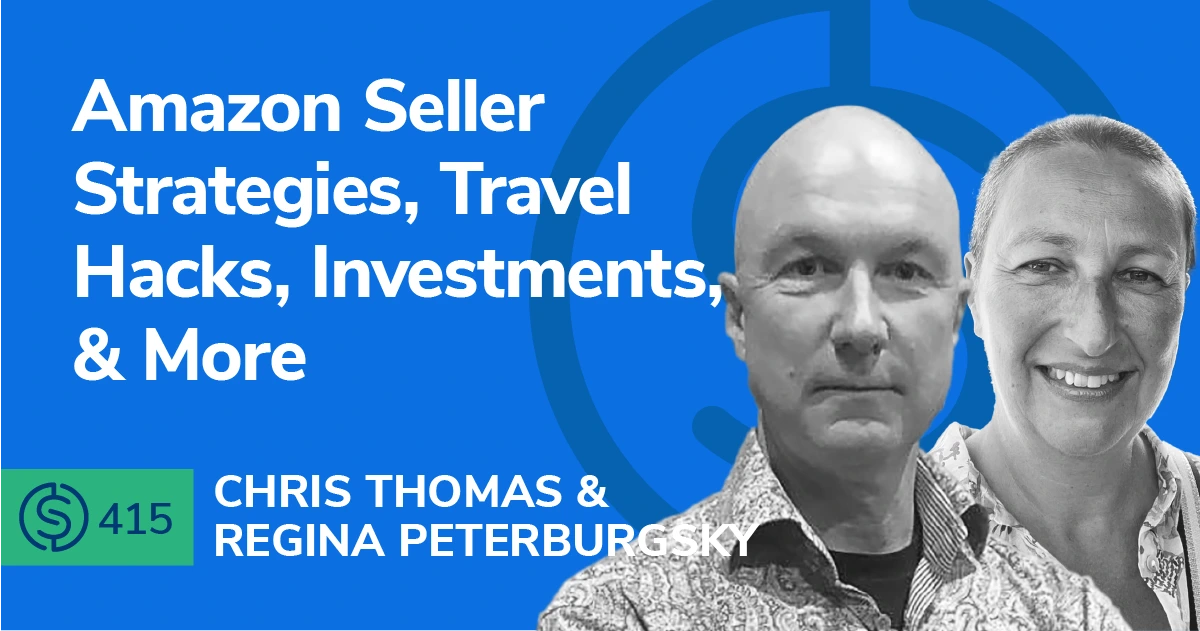 Today, Bradley speaks with a couple of people from the opposite side of the world, Australia. Both of our guests have been successful in their Amazon businesses. In this episode, we talk about Amazon-selling strategies, how to stay competitive this 2023, travel hacks, and their investments outside of Amazon. They also talk about the mastermind retreat they're hosting in Bali, Indonesia, this coming June, with Helium 10's Bradley Sutton as one of the international expert guests. Make sure to catch Bradley in Bali here: h10.me/bali
In episode 415 of the Serious Sellers Podcast, Bradley, Chris, and Regina discuss:
02:00 – Chris And Regina's Backstories
08:00 – The Current State Of Selling In Amazon Australia
12:00 – Updates On The Aggregator Space And Amazon Exits
14:00 – Chris' Favorite Helium 10 Tool And Feature
18:30 – Motivation On Hosting Events And Masterminds
21:40 – Catch Bradley In Bali, Indonesia, This Year
24:40 – Chris And Regina's Hobbies Outside The Amazon Space
25:10 – What Strategies Are Working In The Amazon Space?
28:55 – Travel And Internet Detox Hacks From Regina
32:40 – Using Google Sites To Build SOPs For Your Team
33:40 – Investing In NFTs And Cryptocurrency
37:20  – Talking About The Bulls And Apes Project
38:10 – How Can Amazon Sellers Stay Competitive This 2023
39:45 – How To Get In Touch With Chris And Regina
Transcript
Bradley Sutton:
Today we've got a couple veteran sellers. We're gonna talk about a super wide range of topics going from Amazon strategies to travel hacks to life hacks, NFTs investing, and much more. How cool is that? Pretty cool I think.
Bradley Sutton:
Want to enter in an Amazon keyword and then within seconds get up to thousands of potentially related keywords that you could research. Then you need Magnet by Helium 10. For more information, go to h10.me/magnet. Magnet works in most Amazon marketplaces, including USA, Mexico, Australia, Germany, uk, India, and much more. Hello everybody, and welcome to another episode of the Serious Seller's Podcast by Helium 10. I am your host Bradley Sutton, and this is the show that's a completely BS-free unscripted, and unrehearsed organic conversation about serious strategies for serious sellers of any level in the e-commerce world. And we've got a couple people from the opposite side of the world in Australia here. Both of your first time on this podcast and so what I'd like to do first is just to kind of get to know you guys a little bit more. First of all, have we ever met in person at like an event or do we only know each other online?
Regina:
I'm not sure. Seller Fest, were you there? I don't know if I saw you at Seller Fest. I think that was the last time I was in Vegas in 2019.
Bradley Sutton:
Seller Con or Seller Fest.
Regina:
Oh, sorry. Seller Con. Sorry.
Bradley Sutton:
Okay. Could, could be, could be. I mean, I mean, if I met you three days ago, I'd for forgot my memory is so bad. I wouldn't have to remembered you. You could have said, oh, yeah, well we hung out. I've been like, yeah, there we go. Yeah, sure. Okay.
Regina:
Oh, yeah. Oh, remember that night club? We went to remember that party?
Bradley Sutton:
Oh my goodness. Yeah. You promised me a thousand dollars. Oh, whoa. Yeah. Whoops. Anyways, all right, so let's just I like doing these as if we met ran into each other at one of these socials, at one of the events. But, which by the way, I suggest to everybody to do is it's really great to network when you go to these events. Don't just stay in your shell. So Chris, let's start with you. What's your background? Are you born and raised in Melbourne over there, or where are you from?
Chris:
I spent a bit of time in the UK, but that's not important. So I started the e-commerce journey, actually back in 2001. So I launched my first brand on Google at the time for a product that I'd invented because I'd gone traveling and I couldn't sleep during the day. So I invented a sleep master block sound as well as light. And I used to work night shift as well. So I commercialized that product in 2001. And then ran a successful Kickstarter campaign back in 2013, just to sort of upgrade the product. Raised just over a hundred grand, 110,000 bucks, and then jumped in.
Bradley Sutton:
Hold. From those two times. Was this like a side hustle? I mean, that's 12 years gap right there, or, or was this like your main income or what?
Chris:
No, no, it was a side hustle. So it was generating probably about 50,000 or $60,000 a year. And I had a full-time job as well, working as a, as a search marketing expert. I ran an agency for a few years, but yeah, so then jumped on Amazon in 2015. I managed to lose $45,000 in 45 minutes with a coupon code that went onto the coupon to the product patient. So that was pretty bad. That almost finished me, but crawled back and then ultimately sold that business in 2020. And had a nice little exit from that. And since then I've started an agency here in Australia, and I'm helping probably about a dozen brands, most of which are Australian to sell internationally on Amazon all around the world, wherever there's a marketplace
Bradley Sutton:
Now, is that enough to scratch that itch? Once you get in the game and I think it's hard to pull away even if you exit your company, I've never exited Amazon brand, but I mean, I just know when I go on vacation, I gotta like still be checking, even though I know I have people back. Checking on stuff. I still gotta like check what's going on and check the market and stuff. But like, what about you? Like, you don't have that itch anymore, or is it enough to get it out of your system by helping other brands?
Chris:
It's a bit of both. I still sell on Amazon as well. I have a partnership with my brother. We do a bit of stuff in the UK. We do a bit of stuff in the US. We do a little bit of stuff here in Australia. So I've still got my hand in personally, but I'm also really enjoying helping other brands to succeed. It's really fun.
Bradley Sutton:
Now, the brand you exited, where was the primary marketplace for that?
Chris:
It was the US but it was also all around Europe as well. So I didn't really sell in Australia at that time because it was kind of, Australia's really just sort of getting going. I dunno if we wanna talk about Australia today, but yeah, it was, it was the US where most of the sales were, a couple of German boys bought to be business in the end, and they've actually taken it to the next level. They're doing really well. So I'm really proud of them.
Bradley Sutton:
That's another thing I was gonna say, like, the people I talk to, especially when you grow your own brand, like even when you exit, the ones I've talked to, like, they don't want it to be run into the ground they want to check into it to make sure it's still going. That's my legacy. Okay, cool. Now, what about you Regina, where does your journey start?
Regina:
Oh, look I was born at a very early age.
Bradley Sutton:
Okay, I see where we're going today.
Regina:
I was actually born in Kyiv, in the Ukraine refugees typical refugee story. Traveled a bit. And then I got into Amazon in 2015. I was at that stage full-time running a retail fashion business and a solo mom. And so I jumped onto Amazon as a side hustle. Cause I knew I wanted to be online cuz retail sucks.
Bradley Sutton:
Also USA I'm assuming
Regina:
I started in USA. This was 2015, there was no Amazon Australia back then. It took me 14 months for my brand, which was a side hustle to hit its first million dollars. So I was like, oh, yeah, impress this is good stuff. So I got out of retail and pretty much been online ever since. I've been helping sellers as a coach. And then more recently, I'm actually Australia's representative for fortunate. So the last 12 months I've been helping brands exit which has been awesome. As well as putting together the Amazon Collective mastermind retreats that we ran to of last year. So these days, even though I still have my brand, I'm spending more time with other sellers at a higher level.
Bradley Sutton:
Are, you planning to one day exit the brand or?
Regina:
Possibly.
Bradley Sutton:
So some people are different. Some people say what I know how much money is on could be potentially, but it's just like, this is my thing and I just wanna stick to it to the end. So, no, wrong answer there.
Regina:
Yeah. Absolutely. Yeah.
Bradley Sutton:
Now neither of you started your brands in Australia but being in Australia and I know your big parts of the community down under. Right. so I'm just I wanna get an update. I've been doing this podcast about four years now almost. And I remember in the beginning days when Amazon Australia just launched, people were really excited about it. And then it was like–
Regina:
In fact, I've got a claim to fame. I was Australia's first third party seller.
Bradley Sutton:
Wow.
Regina:
I helped the Australian platform test their systems way back before they even launched. So, so I was very bullish and brought a lot of stock in and ding ding.
Bradley Sutton:
Right. It didn't kick off as you thought.
Regina:
It did not kick off. I finally sold out almost of my product during Covid actually. Covid was really good for me from that standpoint.
Bradley Sutton:
Well, that was what I was gonna ask, because it seemed like to go on a cycle, like, like in the beginning people were super excited because it was like especially the people from UK and America's like, here, here's another English speaking country Amazon opening up will be easy to make our listings. And then it was like, oh man, this is, there's like zero traffic here. And then it's, I don't remember when, but I think it was during the pandemic, or maybe it was last year it was during the pandemic, but I would hear reports that all of a sudden, Hey, Australia is real, finally kind of growing not just Amazon, but just e-commerce in general over there. So, so we're in 2023 now either of you can answer this, but what's the state of affairs for selling on Amazon in Australia in 2023?
Regina:
I'll have it back to you because I've sold out, so, and I haven't replenished here, so I can't speak to that.
Chris:
Well, I've got a couple of clients that sell on Amazon Australia. I think the most successful ones have a fairly big catalog. The ones that are not doing as well generally just have a sort of a single niche. I've got one client in the weight loss space, sort of doing shakes and things like that. They're doing very well. They've only just started so on Amazon Australia, the riches are not in the niches like they are in the US. The riches are in the sort of the top categories and really trying to get that top 10 position for a dehumidifier or something that generally in America, you just wouldn't even look at as a market or a category.
Bradley Sutton:
Collagen peptides, man. It's not a great place for my coffin shelves, in other words. Okay.
Chris:
That's exactly right. So but the real advantage is that there's a lot less competition here. And the other thing is that a lot of the methods that you've spoken about Bradley over the years the Maldives methods and exact match PPC and, and brand new listings and things like that, ranking products on Amazon Australia is really, really easy. You don't need to sell many through keywords to get the rankings that you need for your main keywords. And so tools like Helium 10, for example, really help understand what the keyword volumes are, of course. And then of course, there's some of the revenues as well that's perhaps some of the competitors are generating. So it doesn't take long and you can do really well. So yeah, it's a bit of a mix. There's some people are doing really well and other people Yeah. Not so good.
Bradley Sutton:
I would imagine a couple of the benefits would be low PPC costs usually wins low competition, that's how it is. And then also wouldn't shipping be, I mean, if I'm manufacturing in India or China, wouldn't shipping be a lot cheaper than sending to US? Or maybe it's doesn't work that way since there's not as much traffic.
Chris:
There's less traffic. But the advantage of Australia, I think when you're shipping outta China, for example, is that we don't have the crazy tariffs that that Trump introduced. That's number one. Number two, and I'm just gonna do a little drop here for Jamie Paris over at SKU drop, I dunno if I can do this, but he is about to launch SKU drop into for the Australian market, which means that you can keep all of your inventory over in China. And I use SKU drop from my US inventory and do just in time shipments on a kind of a shared container that they have to do sea freight, and they're introducing air freight pretty soon as well. So we're really excited for that. We can kind of do smaller inventory drops into Australia using their system and keep a lot of our inventory in the US and then we can kind of send some to the US or, oh, sorry we can send some from China to the US and then they're also going into Europe pretty soon too. So yeah, it's a really exciting service
Bradley Sutton:
Also. So then that would be like, hey like maybe it might make it not really economical to try and make the minimum shipment to come to Australia. So now you can just kind of drip it out. Absolutely makes sense.
Chris:
One of my clients, for example, his sells office chairs in the US and we've really been hit with huge storage fees over Q4. So I'm introducing them to SKU drop next week because we can now do just in, we can send like 20 chairs every day or 10 chairs a day or whatever we need to, to send in to replace what's been sold the day before. So that's, it's just a much more flexible arrangement and a lot cheaper storage in China versus pretty much anywhere.
Bradley Sutton:
Now Regina, talking to you like your, the people that you see nowadays who are looking to exit companies or exit their businesses, or just, I'm just curious about in general, because again, this is kind of similar to things go in waves just like selling in Australia selling your Amazon business was like three years ago, nobody had ever heard of it. Then a couple years ago. It's like, you can become a billionaires. If you do it, everybody's doing it. And now, and then all of a sudden it's like, oh my goodness, this is the worst thing in the world. Like these companies are imploding and stuff. So it's like, what's going on for 2023 as far as the Amazon aggregator business,
Regina:
Look, in the buying of businesses good solid businesses are still in demand. the multiples may be a little bit down from two years ago, however they're still in demand. If you've got a good solid seven, eight figure business that has strong fundamentals, that's not a fad product that's got good fundamentals, that's still growing so it's gotta be on that up curve. We encourage unfortunate people to maybe to sell possibly a little bit earlier than they would in order to take advantage of that growth curve. And obviously you wanna have your numbers right and, and solid margins. And also make sure that you don't have any skeletons in your closet in terms of what you've done to rank your products. you wanna be stay in the white hat territory don't be tempted. So again, like every business if it's a good business built on good fundamentals, you've got a strong SKU offering. Not too broad the buyers don't want too many, they don't want 150, 200 SKUs. But if you've got half a dozen, dozen, 20 SKUs with strong fundamentals, good margins, then those businesses are very much still in demand.
Bradley Sutton:
Okay. Good to know. Good to know. Now let's go back to Chris. I know you've been using Heli 10 for a while. I'm not gonna say what's your favorite tool, but I haven't asked this. What's your favorite, here's a question, new kind of question. What's your favorite function? Like, what's your favorite operation that you do inside of Helium 10 for your clients' businesses or, or back when you were doing it that you'd like to share?
Chris:
Sure. well, probably the biggest tool that I use the most would be Xray course, and we'll answer your question in a second. When I'm doing product research, I actually really like to use Magnet. I like to look at the imbalance between supply and demand around keywords. So if there's a lot of people looking for something and not very many sellers who are selling it, and using the Magnet IQ score, which is similar to their Cerebro IQ score, but also how many people are optimizing for that keyword in their titles. So I use a few of those filters to try and work out where is the imbalance. And then, but the other tool that I use probably the most would be Cerebro. And so I use a Competitor Performance Score to do the filter to come up with a master keyword list. I really love that, that new, well, it's not that new, but it is a great feature of Helium 10 , certainly for Cerebro. And yeah, I use that basically to bring the list into something that's a lot more manageable so that I can then just out some stuff and then come up with a master list. So I use both for listing optimization, I'll hand over to the team and indeed for exact match PPC on launch.
Bradley Sutton:
Excellent. Excellent. I like that point. You talk about Title Density, that's a metric that slept on by a lot of people. But I tell them before, even it could be a 2000 search volume and, and the title of density is one only one person has a title. There are sometimes you can launch a product and have that in your title, and you might be on page one with nothing. Like right when you start. So that's, that's good. And then a competitive performance score, since it's the very, very last column, at least sometimes depending on how people arrange it, people, a lot of people don't even realize it's there, but that's like, literally some people call that relevancy or things like that. But that's literally what almost ranking the best keywords if you've done a multi ASIN search. What about you, Regina, you've been selling on Amazon now seven years. Now, at what point was it a certain like sales figure you hit? Or at what point were you like, I can't do this on my own anymore, I need to like, make my first hire or get my first virtual assistant or something?
Regina:
No, it's gotta do with my, what I call it, my business ADHD, I get bored. So it was when it was like TikToking along and I didn't have to be creative with it so much anymore. I sort of stepped away to create other things.
Bradley Sutton:
Okay. I mean, you didn't just oh, I'm not gonna monitor anything. Like I'm assuming, did you, did you hire somebody or?
Regina:
I've got VA. Yeah,
Bradley Sutton:
Okay. So not locally. You hired somebody remote? How did you train them?
Regina:
You know, just, just the usual, have them, have them live on, on Zoom calls. I did some loom videos of how I do stuff, just usual.
Bradley Sutton:
Well, I mean, usual to you, there's a lot of people out there who are like, they're like, I don't know, like how do I trust somebody that I don't that's not my office with me. It's kind, I think nowadays we're all more used to remote workers and I have co I have co-workers here at Heli 10. I've never met in person. But in those days, that's not something normal that you would do.
Regina:
I use Loom videos a lot. I use Loom video a lot to show process and then send them across.
Bradley Sutton:
I like that. so, so guys, there's no right or wrong answer. What whatever she said some people from day one, they want help. Maybe she could have handled it all time-wise, but just like she said that there's some of us who get bored really easily. And then if you get bored really easily, you're gonna neglect your business because you're like, ah, I don't have time. I'm not motivated to do that today. But that's another great case of when it's important to have help. So I hope you guys are, are doing that out there now. We'll talk some more strategies in a little bit. But you talked about events that you guys have done and we talked about this at the outset, I think it's so important to go to events, not just to learn strategies and things which you always do, from presentations and things, but just the networking.
Bradley Sutton:
You know, I've said this story about 15 times, but I owe my entire Amazon career to just on a whim before I was really even in the industry going to paying to go to a conference and sleeping in my car cuz they didn't have enough money to get a hotel. And it changed my changed my whole trajectory cuz it opened my eyes up to what Amazon was. People I network with at that event to this day are still in my network? And so I think it's really important. So talk to me about what motivated you to start doing this, and then what you guys have in store this year?
Regina:
Look, I started going to events. I started in 2015. In 2016, I joined a high level mastermind that was based in America. And I was traveling to Vegas from Melbourne every six weeks
Bradley Sutton:
Every six weeks. Wow.
Regina:
Yep. Pretty much for a year. It was full. And when that mastermind finished, I sort of continued at, I was at the very first Helium 10 Illuminati event in Mexico.
Bradley Sutton:
That was even before my time. Wow.
Regina:
That was before you. Yeah, with Manny and Kevin, and that's where I met Norm. Met Gui and a lot of people there. So, so I've spent a lot of time, money, and energy going to events fought for that reason. As you said, it's not just information, but the people you meet. And the people I met at those events I'm able to pick up phone now five, six years later and say, Hey, come to my event. And Yeah. And they are that there's, there's the speaker that we haven't announced yet who's coming who I actually met at that Illuminati event.
Bradley Sutton:
Now you see why we change the name to a Helium 10 Elite, so much easier.
Regina:
Exactly. That's right at that event. And he's coming, but purely because we have that relationship that we met in Mexico. So I really love that. And that's what I wanted to bring to Australia last, last year because we haven't really had anything here at that high level. there's a lot of beginners type events and conferences and catchups and meetups, but I think once people get over a certain level they don't need to know the basics training over and over again. the conversations you have when you're doing six figures and seven figures and eight figures are different to the conversations you have when you're just starting out and trying to watch. And so, so that was really the idea behind the events that we ran. And then of course, our very first one was scheduled that had to be shut down because of Covid. So it turned out in, in 2022, we ran our first one in March. And that was huge. Fantastic. And we got so excited that we ran a second one in July, which also sold out.
Chris:
So who did we have in July?
Regina:
Oh, in July we were because the Borders opened, we had Amy, Norm Farra rand Paul Barron. Came and joined us. So that was like
Chris:
That's fantastic.
Regina:
Awesome, awesome event . But as I said, it's not just the guest speakers who come, it's the sellers that are in the room. So it's really becomes a group think rather than relying purely on our international VIPs like yourself. Yeah. We, we are so excited to have you join us in Bali this coming June.
Bradley Sutton:
Very excited. My first time ever in Bali there. So what can people expect from this event? Either of you?
Regina:
Well, for those for those who came before is just gonna be bigger and better. And for those that haven't been, it's going to be really unique because Australians were a little bit different to Americans, although I think we've had a couple of American supplies, so we it's not gonna be purely Australian sellers coming , it's gonna be a lot more global this time, probably with a bias towards Australian sellers. Cause it's easier for us to go to Bali. So what can you expect? You can expect four days of in room and out of room learning and networking and activities. I'm actually heading off to Bali on Sunday to do a bit of a reiki and preview some offsite activities that we're going to throw at you to get you a little bit out of your comfort zone and do some bonding. So that'll be fun. But, but also mixing with the likes of yourself. And we have Kirsti Verity who's one of the the OG Amazon sellers coming from Canada with her husband, who's also a seven figure brand owner.
Bradley Sutton:
So it's gonna be like, Hey, this is something, Hey, I'm gonna learn some something. I get to go to an exotic location. There'll be activities and fun and, I'm assuming great cuisine.
Regina:
Yeah, we're staying in a beautiful, beautiful resort that's got three swimming pools. So some R'n'R.
Chris:
But it's not gonna be a holiday like we are holiday, actually gonna do full day workshops at
Bradley Sutton:
No, just drink drinking all day.
Chris:
We're gonna put people to work. We're gonna have a combination as we normally do of presentations, but also workshops and hot seats where we take some of the most successful sellers certainly in Australia last time, hopefully in the world. This time, we can really drill down into what has made them so successful and how they've been able to scale to such a level. Cuz most of the people that come are in that sort of band where they're trying to break through to from a six to a seven. And so we have a lot of seven and eight figure sellers that come. And so they're the ones that really show people give, provide like the roadmap of what steps they took in order to get to the level that they're at.
Bradley Sutton:
All right. Excellent. So guys, I, I'm creating a short link that should be active when, when you guys are listening to this. If you want more information again, I'll definitely be there. It's gonna be in June. Let me just check the dates here. 18th to the 22nd in Bali. Go to h10.me/bali. And that'll, that'll forward right to the the page where you can get more information. And, and on this same topic this is something that was big for me for 2023, is recreation, health, mental health, physical health, things like that is something that's on my mind a lot this year. And so, like I ask a lot of the guests for me, traveling doing stuff like this is just like fun for me. It's work, of course, but it's also fun. And that's, that's like my hobby. And then I've been doing some, I'm not doing it on this time, but I, I've been even recording podcasts when I'm on my treadmill right here, trying to stay physically fit for both of you guys, what do you guys do to escape the Amazon world when you need to? What's your hobbies and what kind of routines or unique things are you guys doing to mind your mental and physical health?
Chris:
Do I'll start. Go. So, I'm love playing a guitar. So I've got my guitar sitting over here. I'll often pull that out and play a bit of new young and whatever else I think of. But and then in terms of physical exercise bike riding, just love going up for a ride. might just take an hour or half an hour out and go for a bit of a ride around the neighborhood and wander back and refreshed and ready to have some lunch and then get back into work.
Bradley Sutton:
Love it.
Regina:
Look, I read across all sorts of different topics some of it is business development, some of it is more personal health. I've been going down the carnival root. What's that mean? Carnival means, so I only eat meat. Oh, I don't eat. I'm zero carb. And so that, that's been in terms of health and I've noticed that that's made a huge difference to me personally. And travel, travel is my thing. And now that our borders are open 2022, I dragged the teenager around the world a couple of times to different places and we'll be doing, so again, much to her chagrin. But that's, that's very much something that's in my blood and has been for a long time. And it's great to be able to get back into the travel. And that's the beauty of, of the way that we have set up our businesses That have laptop can travel.
Bradley Sutton:
Yes. Yes. And again, this is important. We've only been doing, I've only been asking this question for a few episodes now here in 2023, but everybody, guys, if you've been listening to every episode, it has an answer and it's important. The, the problem is, I know not all of you guys, if I ask every single one of you listeners would not have an answer. You're like, no, I just stay in my, my house all day long and work. And that was me for a while. And it got me in a bad place. And now I'm like, okay, I can't keep doing this. I gotta make sure I have hobbies and things to de-stress. And so as important as entrepreneurs, we, we have this in mind. Now back to just strategies and things like that.
Bradley Sutton:
Chris, what, maybe you can talk about two things that have been working great for your clients and two things that are not working either like maybe when you took over an account and you're like, what you were doing what, like No, no. And then a couple things that maybe you did to kind of write the ship or something that were, or something that you think is unique, not just, oh, I optimized my listings and made sure I had low ACoS. give us a little, something a little bit more insightful than that.
Chris:
Okay. So probably one of the things that I've been testing lately to turn things around for some brands, so we, I do inherit brands where the listings have been a little bit dormant. They're pretty old, they're very stale. Trying to turn those guys around can be really difficult. not so hard in Australia, but certainly in the US it's been a real challenge on some accounts. But what I'm doing at the moment is I've got a VA who's doing posts on behalf of several of our clients. So Amazon posts.
Bradley Sutton:
Amazon posts.
Chris:
That's right. So we're building up the follower lists of of the brand. And then we are utilizing Amazon's new brand what's it, I forgotten the name. It's where you can contact the followers using an email, a templated email that Amazon sends.
Bradley Sutton:
Oh, I know what you're talking about. Yes, I forgot what it's called too, but I know, I know exactly what you're talking about.
Chris:
Brand engagement, I think it is. Or customer engagement. I think it's in there.
Bradley Sutton:
Yeah. Customer engagement, I think.
Chris:
That's what it's, yep. And so what we've been doing is starting to send those templated emails out to existing customers that are following the brand, to notify them of new launches, of discounts on products, stuff like that. So that's, we're starting to see quite a bit of traction with that as both of launch mechanism, but also a way to try and revive existing products that are perhaps a little stale.
Bradley Sutton:
Regina, what about you?
Regina:
Look, I can't answer that question cuz I'm, so–
Bradley Sutton:
Doesn't have to be about the Amazon ins and outs. We talk about all kinds of strategies here, like talk, talk about travel, like, like how, how did you travel with a teenager around the world and not have them go crazy? That's a strategy in itself.
Regina:
I tell you what I found the, the first trip I we went last year in June. I took her for a month in Indonesia and we went to Indonesian, Borneo, Caliman town. And for any of you whose listener, who's got a teenager, try this exercise. So what I did was I purposefully booked areas and trips, so there was no wifi for, for days at a time. And I booked resorts.
Bradley Sutton:
I dunno if I would survive doing that too.
Regina:
Well I gotta say, like, it was great for both of us. I got to read more, huh. But what I found was after three days with no wifi, the teenager was a completely different person detox.
Chris:
Wow.
Regina:
Like the detox. And it was something that we know in our gut to be true, but I was able to actually test it and prove that it was the case three times, three times in a month. We were off wifi for between two and three days and as a completely different person all of a sudden became more engaged with the world, with the environment, more interested. And then we'd get to a hotel back on the wifi within an hour back to surely teenage. Yeah. Yeah. So I'm really encouraged that, and then we, we went to the UK and we did a lot of driving.
Bradley Sutton:
Wait. Hold on. I'm like so enthralled by that. I'm, I'm just like, think my, my head is spinning. How do you even find a place these days that don't have–
Regina:
Well, that's, that's why when I decided I wanted to go to Borneo, I went to Indonesian Borneo. Not, not Malaysian, Borneo, because it's so right. Not so in the places we went, we went on boats up rivers where there's just no wifi connection. There was just not. And then we went to an island of Bali where again, the resort that we were at just didn't have wifi connections.
Bradley Sutton:
Did it just happen or you were like looking for place on purpose.
Regina:
Planned on
Bradley Sutton:
Oh, okay. Okay.
Regina:
I was looking for places.
Bradley Sutton:
So you would call them and say, Hey, I'm just making sure you guys don't have wifi here.
Regina:
Pretty much.
Bradley Sutton:
Now that you're saying this, I'm just like, I cannot remember the, like I've gone times where I've been on the 16 hour flight, or actually nevermind 16 hour flights. I still bought wifi at the flight. Well, yeah, I'm trying to think, have I gone 24 hours without internet? Like, I'm not sure I have like in the last four years
Regina:
Or something. Oh, your brain, like, there's, there's something that happens. Your brain all of a sudden it just sort of slows. And it's, and it was the first time in probably two or three years that I was actually able to read a book cover to cover. I hadn't read a book from start to finish in a couple of day period. I haven't done that. I've read a lot, but I've got like dozens of books where I've read the first couple of chapters and then I put it down and then I fi find another one. Cuz we, we are just so all over the place. Our, our focus. And in fact what was the name of the book that I read? It was, oh, the book that I read was called Stolen Focus, and I highly, highly recommend it. So yeah, give yourself a detox and if you've got teenagers, give yourself a detox. And so when we came back, one of the things that I've implemented in our house is now every Sunday is now wifi free day in our house. It's wifi screen free day. And so we've been going out and doing stuff and it's it's great for both of us. So there you go. Run as an experiment.
Bradley Sutton:
See life hacks there. The show's not just about Amazon Stretch. I mean, obviously that's the main focus of this show, but, but life hack are important.
Regina:
When you're able to decompress, then you're able to be more present in your business. Right?
Bradley Sutton:
Exactly. Yeah.
Chris:
Very true.
Bradley Sutton:
What about you Chris? I mean, life hacks, Amazon hacks anything.
Chris:
Well, look earlier, and we were talking about SOPs effectively with Loom videos and things like that. When I saw my business in 2020, and I'm doing it currently with my current business. I use Google sites. So if you go to sites.google.com you can build a free website in there and and you can make it private as well. You can kind of stop people looking at it. Or you can share it with people, but it enables you to create all the SAPs that you need for your business. So every time I do something new in my business, I'll shoot you a Loom video demonstrating what I'm doing, and then upload that Loom video into the Google sites sort of website for the business. And then you can transcribe, there's a lot of AI stuff out there that'll like OTA or AI, et cetera, that will transcribe what you've said in the video. And so you'll have both a video of an SOP, but also an actual sheet. A document. So that's really useful. And that actually added a lot of, tens of thousands of dollars of value to the business that I sold in 2020 because the new owners are two German guys I spoke about earlier. Just had a turnkey, how do I do this? How do I do that? And everything was there.
Bradley Sutton:
Beautiful. Interesting. Okay. That's a great tip. I haven't, that nobody's ever given. Now I I also like talking, investing in before, and I go through phases a couple years ago my, big thing was like baseball cards and, and it still is. I'm just here on my desk. I'm going through stuff. I'm putting onto eBay, some cards and things. But since Manny and Gui started this NFT project, Manny and Gee are the you guys referenced founders of Helium 10. And I totally got immersed into it. Oh, last year, like, like I'd never done it before. Now are one or both of you also in that project?
Regina:
I'm big into, I used to use the term into the original Mint and got a lot of the bulls and as part of the benefits of being a bull owner is doing is the investing. Yes. and so the last couple of investments I've actually sold, I sold one of my god bulls for three and a half ETH .
Bradley Sutton:
For you guys out there, that's about like five, $6,000 almost.
Regina:
Yeah. Depending on the price of ETH.
Bradley Sutton:
And that's something you made for free, right?
Regina:
And the god bulls, I made for free.
Bradley Sutton:
For free the God Ball, you made it for free and sold it for $6,000.
Regina:
Correct. And so what I did was I then parlayed that investment into, I think one of them went into SpaceX when we had some, some of those investor opportunities. So I've actually invested them into seed funding which is one of the side benefits of that project. And at the moment, I think how many teens are left? There's less than a thousand.
Bradley Sutton:
There's like 800.
Regina:
So I'm busily minting as many of those things as I can before they before they stop. And I also bought a whole heap of those apes the opportunity to buy the Apes. When was that? Last week? Yes.
Bradley Sutton:
So guys, this is this is something that's I I'm gonna try and bring somebody else on and we'll just have a podcast just about this, because I do think NFT world now that I'm into it has some tie-ins to the Amazon world potential. Maybe not completely now, but absolutely could.
Regina:
The NFTs before I've been playing in the crypto.
Bradley Sutton:
Oh, okay. Yeah. This is my first for
Regina:
Me. Oh, okay. Well, well, no, this definitely wasn't my first. But when I saw what what Manny was doing, I could recognize it for what it was as an amazing opportunity. And that's why I I really put a lot of funds behind it because I'd already been playing in the NFTs for about six months and I'd made some money, lost some money, but I knew what I was looking at. Yeah. so it wasn't just a because, because brand new, because I knew Manny and Gui, that it wasn't Sure, just based on that, it was based on, for
Bradley Sutton:
Me, it was, God, I was like, Hey, these guys have the Mightest touch. So like, if they say, this is good, I'm just gonna go for it.
Regina:
And Yeah. Well, well no was, well, for me it was both was Yeah. Because I knew them, but also because I'd already been in the N F T space and I could see what they were doing and what they were offering was so different to everything else that was around. You
Bradley Sutton:
Know, guys, if you wanna have more information on their project go to bullsandapesproject.com and get all the alpha there. I'm like using their lingo. Like there's lingo that you learned you never knew did you, anyways,
Regina:
Did you get some of the apes?
Bradley Sutton:
Yeah, I only got 13 of the Apes. Okay. Unfortunately I didn't have enough funds. I, I'm I'm too heavily invested in the Bulls. Oh, okay. But I, I made some good, like, I sold a regular OG bull that I, yeah. People thought I was crazy. Like four months, no, three months ago when, when the Bulls were only like about 0.3, 0.4 eth, like four or $500. Yeah. I paid two ETH for one. Okay. Over hand
Regina:
You know, one of the higher rankings.
Bradley Sutton:
Yep. And I just sold it for six eths
Regina:
Amazing that,
Bradley Sutton:
What was the race? Very rare bull.
Regina:
What was the rank on it? Do you remember?
Bradley Sutton:
It wasn't a, that high rank, it was like top 100. Okay. But it had a gold cowboy hat, which is only two out of the 10,000. And there was a collector of that. And Surena paid me six ETH that that's like amazing over six, seven, $8,000. So, so guys, this can be a, for me, it, it's twofold. Going back to again, the recreation thing. It's fun. It's like a game almost. And it is a game and, and it's, it's exciting and gets my mind off of things. And also it's, it's for investment? Now Chris, just to bring it back to bring it back to home for, for you here what, what do you think is gonna be important for Amazon sellers in 2023? every year, something big changes. like last year I think people had to really pivot because of inventory. a few years ago as reviews. What are you focusing on with your clients for 2023 to like, make sure they stay competitive? Cause sometimes you see, you hear out there, some people say, say, oh my goodness it's gonna be impossible to sell on Amazon anymore because all the Chinese factories are just going direct and , it's impossible to compete with them, blah, blah. They just don't understand that. No, there, there's definitely ways to stay competitive. So how are you keeping your clients competitive?
Chris:
It's such a good question. It's just my own personal experience is really just planning, particularly around launches and things like that, and really trying to make sure that you get your listings done properly. It's just really going back to basics and just doing the fundamentals right. I think people are getting, there's a lot of people that are sort of talking about TikTok and all that sort of stuff, and that's great. And I, I get it that people succeeding with those sort of strategies. But I think there's a lot that you can be doing on Amazon with all the different tools that I spoke about earlier with the customer engagement sort of tools and things like that. Amazon's helping brands to really expand on their platform and get a lot more reach on the platform. But yeah, honestly, I think it's just getting the basics right, keeping across all the new things that Amazon's releasing, all the tools that the new features that, for example, at Helium 10 are releasing. Just really staying across what the basics of your accounts and, and your products,
Bradley Sutton:
Honestly. Excellent. Excellent. Now guys, again, if you want to hang out with us to talk bulls and apes or talk about Amazon or talk about travel, whatever and have some fun and learn some things and network, go to h10.me/bali, h10.me/bali. But other than that if people just wanna reach out to, to either of you Regina, how can they find you on the interwebs out there?
Regina:
Look, the easiest way to find me is I live on Facebook Messenger. I'm the only Regina Peterburgsky there is. So you can find me on Facebook and, and hit me up on Messenger. That's the easiest way.
Chris:
You can join my Facebook group, the Australian Seller on Facebook, and you can message me through there, or indeed, you can just reach me via email, [email protected]
Bradley Sutton:
Awesome. All right. Chris and Regina, I look forward to seeing you guys in person and my first ever trip to Bali in a little bit.
Regina:
It's gonna be great fun.
Bradley Sutton:
All right. We'll see you guys, everybody later.
---
Enjoy this episode? Be sure to check out our previous episodes for even more content to propel you to Amazon FBA Seller success! And don't forget to "Like" our Facebook page and subscribe to the podcast on iTunes, Spotify, or wherever you listen to our podcast.
Get snippets from all episodes by following us on Instagram at @SeriousSellersPodcast
Want to absolutely start crushing it on Amazon? Here are few carefully curated resources to get you started:
Everything for your business on Amazon.
Find out more about our products by signing up or speaking with one of our
Customer Success representatives today. With us in your corner, you can enjoy
more sales and increased engagement from your Amazon business.
Chat with a Support Specialist