#388 – Amazon Product Packaging, Lifestyle Image, And Wellness Strategies
Today we welcome back one of your favorite guests, Anne Ferris, to talk about updates on her Amazon business, plus some strategies on product packaging, lifestyle images, and breathing techniques.
Updated on: October 27, 2022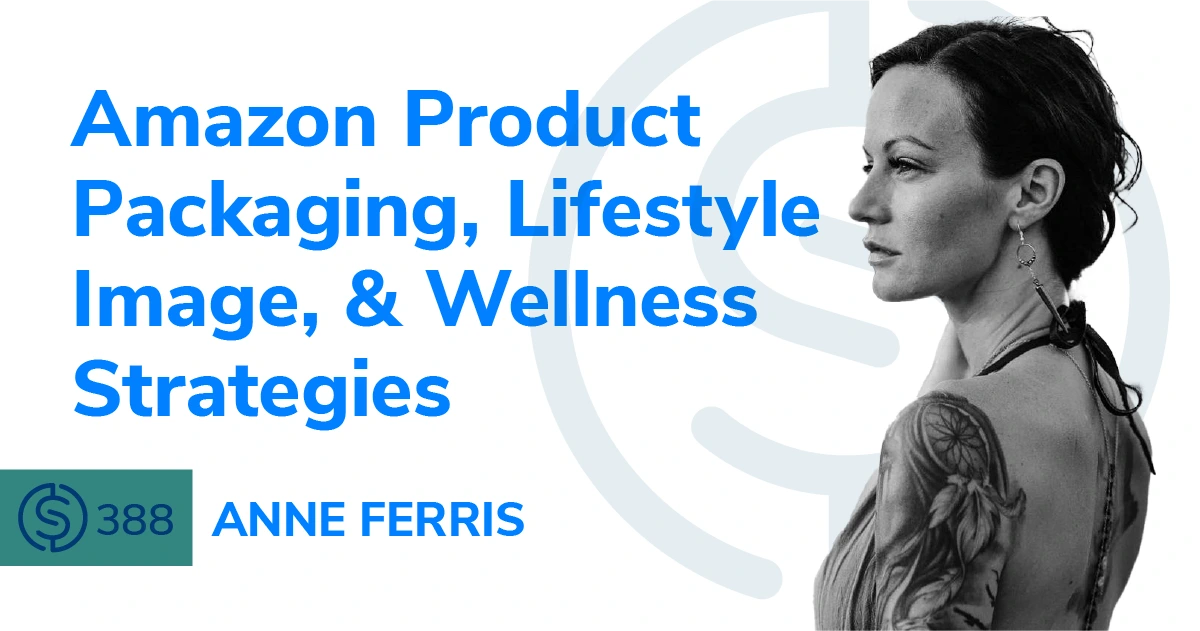 If you've been listening to SSP for a while now, you know that Anne Ferris may be one of your top 10 favorite guests of all time. Listen as she updates us on her latest ventures, her Amazon business, expanding to Shopify, and more! She also talks about the difference between running a physical business and an E-commerce business, valuable tips for entrepreneurs if they get stuck, and how to crush it on your product packaging and lifestyle images.
As a bonus, Anne gives us a mini-breathwork class and health tips to help us feel better in our daily life as E-commerce business owners.
In episode 388 of the Serious Sellers Podcast, Bradley and Anne discuss:
02:15 – Talking About The Sell And Scale Summit Last September
03:00 – Know About Anne's Backstory From Previous Episodes
04:00 – Running A Physical Business Vs. An E-commerce Business
06:50 – The Goal Is To Have Success And Fulfillment
08:40 – Turning 40 And Living The Life
10:00 – A Valuable Tip When You Get Stuck
11:15 – An Update On Her Brand New Skin Care Line
13:00 – How To Crush It On Your Product Packaging
19:15 – Cost Of Packaging And A Common Problem For Amazon Sellers
23:00 – Create Premium Products For Higher Margins
26:30 – Lifestyle Images For SkinCare Lines
31:00 – How To Get The Best Branding Ideas For Your Product
32:00 – Focusing To Grow Her Shopify Store
34:30 – New Strategies That Anne Is Executing For Her Business
38:00 – Anne's Mini-Breathwork Class And Health Tips In The Podcast
42:00 – Anne's 30-Second Tips
Transcript
Bradley Sutton:
Today's guest is probably one of our listeners top 10 all-time favorite guests whenever she comes on the show. We're gonna have a super wide range of topics today, including packaging tips, lifestyle image strategies, Shopify promotion, and even breeding techniques. How cool is that? Pretty cool I think.
Bradley Sutton:
Do you wanna be able to sync your listings that you create in Helium 10 to your Amazon account in one click, including being able to sync subject matter, which you're not able to even edit. Now, in most listings on Amazon, you're gonna want to use Helium 10 Listing Builder. Make sure to find out how to use Listing Builder by going to h10.me/listingbuilder. That's h10.me/listingbuilder. Hello everybody, and welcome to another episode of the serious seller's podcast by Helium 10. I am your host Bradley Sutton, and this is the show that's a completely BS free unscripted, and unrehearsed organic conversation about serious strategies for serious sellers of any level in the e-commerce world. We've got my sister from another mister here and back for the third time of the show. How's it going, Anne?
Anne:
Hi, Bradley. Ooh. I don't know if I'm a serious seller, though. I'm kind of a silly seller.
Bradley Sutton:
No, you're serious in some things, but you're a very playful attitude here. But hey, speaking of what you're serious about, so like, I know you're big on health and not just physical health, emotional health. We'll talk a little bit about that later, but because you were on here and just your presence makes me more mindful of these things. For the first time in like three weeks, I raised my standing desk and I'm like, Hey, I'm gonna be standing up for this podcast, which I almost never do because, you know, I gotta like be mindful of doing what I'm supposed to be doing and standing up because answer. So just by having you on the podcast, you're already affecting me in a good way here.
Anne:
Amazing, amazing.
Bradley Sutton:
Anyways, it was great to see you a few weeks ago at Sell and Scale Summit. You crushed it the one time I saw you on stage. I know you were on stage a couple of other times, but did you have fun at that event?
Anne:
I had so much fun, Bradley, It was so much fun. The keynote at the opening keynote panel was scary but fun because the stage, like many, you guys really went all out with production and set up and everything and the main stage had these two big screens like Tony Robins was next to it, and all the lights. So it felt like a very big deal. And I was pretty calm until we walked out and I sat down and my heart was like, and I'm like, "Oh my God, please don't faint."
Bradley Sutton:
You rocked it, you rocked it. I think that was cool. It's the almost full circle you and I met in person for the fir actually, I mean, I didn't even meet you virtually before, like met at all period, at a conference in Vegas, you know, like it's been like three, four years now. So that was kind of cool to see you, you see you there again and how far you've come. But guys she's been on the podcast I said before, so if you want to get–, we're not gonna rehash her entire backstory, but we have a couple of episodes that you guys can pause this and go back if you wanna see some of her backstories. They are episodes 145 and 273 of the podcast. Make sure to check it out. But long story short, she used to be a lawyer, a big-time corporate attorney and moved to Costa Rica to open a hostel, which she has sold.
Bradley Sutton:
And that was right around the time I think of the last time that you were on the podcast. So my first question is just like this is kind of another transition, obviously, a transition in your life was going from the corporate world to the entrepreneurial world, but then another transition I imagine would've been, you were juggling Amazon business and, you know, running a hostel there. How has it been to transition to basically just now, I guess I'm assuming that Amazon is kind of your only income now.
Anne:
Yeah, Amazon and Shopify. So I've started working hard to deal with my own website as well. And honestly, the transition has been amazing. So running a physical business, whether it's hospitality or I imagine a retail store, restaurant, anything, you know, you just have to deal with a lot of stuff. And it's the bureaucracy of the government that you're in with permits and things that you need, repairs, hostel, there's like 30 people living in it. There are repairs all the time. And real people and having staff, you know, that you work with face to face and cleaner security, guard, and receptionists and all of that. And Amazon is just so much easier. And I think it's a great experience and something that I always tell people who are just starting and get very frustrated, cuz I do believe that the first year in Amazon is definitely the hardest just because you get hit.
Anne:
It's like Amazon and means sellers hit you up, they throw all the junk at you in the beginning, and once you get a certain number of reviews and sales velocity and time on Amazon, all of that gets easier. But I, when people start–, when friends of mine have started they complain about this stuff and I'm like, You guys, it's really important that you treat this as a real business because it is a real business. This isn't just, I'm gonna throw some stuff on Amazon and hope for the best. And any business has difficulties starting up, but the realities of life running an Amazon business is so much better than running a physical business. I can tell you man like it's so nice, and also when I sold my hospital, I went from living in a rented apartment in like closer into town in Tamarindo to moving out to a more rural area in a park, in a big house and two-acre yard. So I'm just living my best introvert life here in paradise, which is awesome.
Bradley Sutton:
I love it. Now, you know, all the extra time you gained from not running that business, you know, obviously a big portion I'm sure you know, went to like family time and things like that, but did all of it go to family or are you also actually spending more time than you used to on your e-commerce business as well?
Anne:
I would like to say that I am Bradley. The reality is that, yeah, so I sold the hospital, I moved in the beginning of 2021 into the new house, and that was kind of a period of like nesting for me. I do, like you and I have, have talked about this a lot. I think it's so important to prioritize yourself as a human because there's success and there's fulfillment, right? And the goal is to have both. And if you're just only worried about success, oftentimes what happens is you lose your gratitude. You lose your physical health, your mental health. So for me, I started my Amazon business when I was six months pregnant, and I had a one year old. So that those few years of starting the business and having two very small children, not at home, nursing, all of that. And also the sep the separation of my relationship with their father, it was like, it was a lot, you know? And then Covid, and then the kids were like, back outta school. So I moved kind of when things were just opening up and my soul was like, Can we just relax? I like floated naked in my pool, read books. Like, I just kind of chilled. And then this year I turned 40 in January.
Bradley Sutton:
What's That called over there, Pura Vida? That's like living, right? I love
Anne:
It. Yeah. The national saying of Costa Rica's Pura Vida, which means pure life. So I was living the pure life and I turned 40 in January and I think I was like–
Bradley Sutton:
And I told you, this is a no-BS podcast. Please do not lie like that. We know you're not a day over 30. So you know, people are not gonna believe the rest of this podcast if you tell fibs like that.
Anne:
Thank you, Bradley, but I think I was just like, I'm 40, this is amazing. I'm gonna live it up. And so I have been out of the country every single month this year, right before I came to the Sell and Scale Summit, I was at a women's retreat, camping, and fasting in the jungle. And I was home three days before leaving again. So I've had a year of like, just traveling fun. What I have learned from that year is, yes, that was really fun, but I'm so excited for 2023 to like nest and grind. That's my goal. I wanna be home. I fell in love this year. So after five years single, so like, I am a little exhausted and I've realized I don't need to be flitting all over the world all the time.
Anne:
I really love to be home and having had kind of almost two years of taking more of a step back from grinding, I am like ready. I'm so ready. I have all this new stuff that I wanna do. I have new products, I have a new brand, and I'm just, I'm really looking forward to it. And I think that's a great thing for people whose business is starting to do and not starting to do, but it has been consistently doing well. Like, if you're good and you have a good staff, like take your time, enjoy it because you're not doing your best when you're burnt out. And I said that as well in, in the keynote at the summit, you know, what do you do when you're stuck? And I always say, get out of your head and into your body. Cuz our creativity lives in our bodies. It doesn't live up here. So if you wanna really grow your business you wanna really enjoy it, you want to create a really epic brand that's not gonna come from a place of burnout. Where that's gonna come from is a place of joy, love, abundance, and creativity. And how do you get there? You gotta give yourself the space to like, let it rise.
Bradley Sutton:
Yeah. Yeah. I feel like I'm here in a motivational–, you should do this for a living, man. I swear. You should be turning the place, giving these motivational species guys, just like I say this is unscripted, we don't plan any of this out, but she can just come up with this stuff right off the bat. Love it. Now let's talk about some nuts and bolts. You referenced the last time on the podcast, I believe under your old brand that you've had for a few years. You started a new skincare outline and then you also said you were investigating starting another skincare line, but another different brand with somebody else. How did that first thing do and did you end up doing that second thing as well?
Anne:
So yes, the skincare line under my current brand is doing really well. Skincare is hard on Amazon, I think it is a little bit easier off Amazon. You know, if you have a content strategy skincare-like supplements on Amazon are not just very competitive, but the margins are lower. So you have to have a really high sales volume unless you're doing very expensive products, but that's hard to break into as well. So that was a learning curve for me. That was going to products that were between $20 and $40 when my other products were between $60 and $70. And I have to say, I like expensive products so much more. There's so much more margin and so much more freedom to do things. And my thing is all about branding, packaging quality, you know, really high perceived value.
Anne:
And so I wanna like overspend on what I'm investing in my products and what they look like and how they're made. And so it's really important to always keep that what your price is in mind and what's gonna be your top price. And the second skincare brand we have I think like so many people in the last two years, we've had a bunch of delays. And again, it's just remembering that it will get done when it gets done right. And you gotta keep moving forward. But we had the supply chain crisis and manufacturing crisis. Getting raw materials is really difficult. Shipping is difficult. And so many skincare companies have prioritized 2020 and 2021 things like hand sanitizer and stuff like that. So that got slowed a little bit. But we have our packaging, which is so good, like our design, and the bottles and jars we're using are amazing. I love the packaging and the creative process, doing it with my partner on that brand is really fun.
Bradley Sutton:
What are some tips you can give us about that? Anybody of course I think a lot of people understand, oh yeah crushed on your packaging, it'll give you a competitive advantage. But what are some actionable insights you can give about, like how you tackled that project, did it involve studying your customer avatar, or was it strictly just like this vibe you wanted to give? Like some people hire agencies and like do the whole branding project like how did you tackle that project?
Anne:
Well, I did it for both of my brands kind of in two different ways. So when I did the skincare line for my first brand, that's just mine actually. I, it was, I found an amazing graphic designer on Upwork and my idea for the packaging was that it was gonna be ocean-inspired kind of. And I sent him some images from my photographer that he'd taken of like just beaches and stuff. Then it was gonna be like sand and water. And he sent me, I think what's awesome, Upwork is gonna be more expensive than fiber, but Upwork has some amazing designers and what you can do is ask them for, you know, a price. If you're doing a few things, you wanna price the whole project instead of by the hour. Cuz he would've been like $45 an hour. But he did five products for like $2,000 labels and boxes. And he sent me that design, the beach ones, and they weren't really right. And then he sent me this one, it has lavender in the first one that we were designing. And it was like this up close, actually, I have it right here. It's so funny. So like, look at this, this is the box.
Bradley Sutton:
Nice
Anne:
With this lavender on, it's so pretty. And then bottle, the same thing. And this is blue. You can't really see it on that screen, but it's blue. One of these boxes is really like crushed. But it ended up that we did kind of like a floral, cuz all the ingredients had, this is natural organic skincare for new mothers and pregnant women. So they all have different herbal and flower extracts. So like these are just the three that I happen to have sitting in my office cuz it makes me feel good to like look at them. But they all like, so orchid and like in orange. So that just kind of came from the inspiration of using that designer. And I knew I really wanted to have like very colorful boxes because on Amazon when you got the list of pictures in the search, cuz when people are searching, they don't see all your images, right? They see your hero image. And so if you have, if they see this box versus what I don't have another box, but like, you know, a boring white box like that really stands out.
Bradley Sutton:
Did you do any research into some of your competitors to see what they were doing and not doing with their packaging at all?
Anne:
Yes, I did. And I mean in general, I think the packaging on Amazon is always like, never that great. But if you're looking, skincare is an amazing place to look for packaging ideas off Amazon skincare. And especially, brands that sell on there, on their own websites and Instagram, because like women buy skincare products totally based on the packaging hundred percent. And so yeah, you can get some like really cool ideas, and then with my second brand in searching for the bottles and jars, we decided on this like wooden packaging, and that we love. And so that had to be really minimal. You're not putting a label on it. So we wanted to have the boxes be very colorful and I can't remember this one. It was like an idea that we kind of had together.
Anne:
So this, we wanted it to be very sexy, this packaging. And so there's like some oil drips coming off of it and, and I think this one, like my natural products, that packaging went super fast. I'm like, "Yep, yep, like this." And it's great too if you have a good designer, who sends you the designs in 3d so you see what the box would actually look like and the label on the jar helps so much in making the decision versus just seeing the flat box template. Yeah. You know, seeing it come to life in the 3D is so helpful. And so that was very fast with my, with my newest brand, with my partner. We did have a specific idea and it was so difficult to get the colors and the shape and as you see your idea when you see it in actual practice, you know, on the box and you're like, this doesn't look right and you changed stuff. This one, we went back and forth. We had to pay so many times for extra revisions because we had an idea in our head that we just really wanted to get it right. And because this is pure skincare, we were like, this has to be epic, but in the end it was so worth it cuz it looks so good. Bradley, it's so good. I can't wait.
Bradley Sutton:
So which was $2,000 just one or both of the development was $2,000?
Anne:
No, so for the first one I did five products at the same time Okay. For my natural Skincare Line for Moms. And that was $2,000 for five boxes and five labels.
Bradley Sutton:
Now was that three of those, is that the one that you just held up for those who are watching this on video? Yeah. Okay. So then my question would be, there's that fee. How much did it add to your product costs as opposed to if you had just a generic bottle and a generic box, with an FNSKU sticker like a lot of Amazon sellers does? How much per unit is it adding that you have this nice packaging?
Anne:
Well, the printing price is not that much more expensive than the box price. So the box price and labels are super cheap. So always do an amazing label. Cause the labels are pennies. Boxes, what's more, expensive than printing the design is the strength of the box. This is a problem I think for all Amazon sellers that, you know, especially if you're getting, you know, your boxes are coming from China. So my skincare products are made in the US so my boxes are done in the US but I know people who have different kinds of products, toys, or whatever, if it comes in a box and it comes from China often they wanna do the thinnest paper. I had this with my first product with my carriers and the boxes were arriving totally messed up, shredded, and broken.
Anne:
And that when somebody opens their Amazon box and it's in your branded box, that is like an absolute mess that's torn apart and stuff that tanks the perceived value of your product right away. So with that product, what I ended up deciding to do was reusable carrier bags cost me less than a dollar per bag. They're like cotton bags, they have my logo on it and the website on the back and these little drawstrings, so like little kids could wear them as a backpack. So number one, they don't break. Number two, people love it. Then it's eco-friendly, it's reusable. My product is for mothers, so if their kids can use it or they can use it to carry their product or they put makeup or pacifiers or baby stuff they're carrying around your brand name and your logo and your website everywhere. So it's getting in their mind–,
Bradley Sutton:
And that cost less than a dollar to add that.
Anne:
Cost me less than a dollar for a $65 product. So there was a margin. So like, look, this is a good example. This is before I changed the thickness of my box. Look it, that's like–. So it is more expensive to have better boxes, but if you can't afford to have better boxes, find a solution that's not a box.
Bradley Sutton:
Cool. Now, what about, what was your budget on, you said you actually made one, not necessarily on the graphical side, but on the sexy side. Like had it been wooden, So like what's the difference in price from just having generic cardboard like maybe other sellers might do as opposed to you doing this wooden package?
Anne:
So the box isn't one in the box is regular. It's our jars and bottles. The actual products are made from wood. And yes, that's expensive. So I think we're ending up paying for box and jar and bottle close to $3. Some of them are a little bit less. You would probably be at $1.50, maybe a little bit less than that if you were using more standard packaging. But our products, the whole line is premium. Like we're not, we want to on purpose be more expensive than other sellers. And I think this is a really great strategy. It really depends. You need to know your market and your avatar. So if you're selling a utility product something that people use every day, people are just looking for the cheapest price. But if I'm selling something that a mother's gonna use with her baby or something that a mother is, you know, that a woman is gonna put on her skin, the fact that it's more expensive oftentimes, like people will on purpose, not by the least expensive one.
Anne:
So for example this product here, which is a spray for new mothers, the com the, the number one seller, and most of them are $9.99. I am $24 99. And we started lower and raised and the sales didn't drop. So we stopped at $24. That was kind of our point of when you're testing when your sales are gonna drop and because people wanna pay more for better products, and then you have to back that up. This is all certified organic, totally natural, and totally safe, but if you're gonna charge more, it has to look better. So for my new brand, we want it to be premium. And yes, so we might pay an extra dollar to $2 more in packaging, but we're charging $10 to $20 more per product than what we would if it looked very standard.
Bradley Sutton:
Okay. Okay. So now I think that's fascinating. A lot of sellers don't think enough about it. Like I've always wanted to do something unique now that the market is flooded with coffin shelves thanks to Project X. I wanna have like a box or a package for it that's actually shaped like a coffin too, it might cost a couple of bucks, but this is not a $13 product. If you have a $13 product, you can't be spending three bucks on the packaging. But for a $30 product, you got some wiggle room and you have to differentiate yourself. Now for that wooden one, like is it noticeable just from the search results? Just seeing your main image, is it standing out like people can tell, hey, this is some next-level packaging or some next-level bottles or whatever here
Anne:
Yeah, totally. Okay. You know, we have the beautiful minimal wooden jar next to this like the colorful, provocative design on the box. And the market that we're in, for women, most of the other products are, are like in this niche, are very, very like sterile. And we are taking what is kind of has been seen as more utility based
Bradley Sutton:
Clever adjectives here, sterile versus provocative here.
Anne:
Right. Totally. We're taking what a lot of women in the past have bought more as a utility product and saying, Hey, this isn't just like a utility, like this can be something sexy and beautiful and awesome that you use and that you enjoy using.
Bradley Sutton:
Now, speaking of images, we've talked before about you being a great photographer and everything, you have an edge in how you tackle your lifestyle photography. And now it's for some of your older products that are more maybe functional. But what's been your strategy now that you've been doing now skincare products where it's not like a thing that's easy or hey, let, let's show a lifestyle image of this backpack or this blanket or something in action? But now this is something that's kind of invisible. The actual product. Like how are you doing your lifestyle images for your skincare lines?
Anne:
I had an inspiration for a content shoot based on someone I met who has become a good friend of mine. He's actually a couple's therapist and but just his Instagram we met and I was like, You're cool. He like lived in Jamaica, was a Ratified Priest, and then was like a Buddhist monk and now he's a couple's therapist and he's just really provocative human-like and his Instagram was really cool and I had this idea of–, cuz me like I'm about feminine energy and the beauty and strength in women and kind of deprogramming. We receive men and women, a lot of negative programming from the media, from everywhere. And I had this idea to do a photo shoot that was like the reverse of Adam and Eve. I used the same photographer that I've been using for Nala Kai forever. And I've always been doing shots that are like with babies and this was just me and then I and this guy like trying to be sexy and it was very awkward at first. But I'm gonna show you some of these pictures. So it was meant to be like, this brand is meant to be sexy. Right. So okay, let's see if you can see some of those.
Bradley Sutton:
Okay. Yeah. I see it.
Anne:
I mean like, this is related to like what our sense like the smell of so that's a peach.
Bradley Sutton:
So is that one of the images you're actually using in your stack?
Anne:
Well, we haven't done the Amazon, like, we haven't done the listing yet, but yeah, so that's kind of the whole Adam and Eve play on that. Which yeah, just in general I think you can get so creative with. "Oh, this one came out really cool. There's like an apple and hands."
Bradley Sutton:
And this is for the skincare line we're talking about, right?
Anne:
Yeah. Yeah.
Bradley Sutton:
Okay. Wow. So then like what's your suggestion for sellers? Cuz obviously that's not a natural thought like I'm selling skincare. Let me have a couple of really good-looking people here, you know topless with an apple, you know, like
Anne:
I was wearing a dress.
Bradley Sutton:
Not everybody has, has unique creativity like that. So how does somebody who's not as creative as you, like ideate this kind of thing?
Anne:
Well, first of all, on the topic of creativity, I think we are all creative. If you would have told me before I started Amazon, what type of person are you? I would say totally left-brain, totally practical.
Bradley Sutton:
As a lawyer, I guess you would almost have to be.
Anne:
Yeah, corporate finance, like boring. And it was my Amazon business that like exploded my creativity because what I found, I can't like come up with the idea. I'm not sketching stuff and handing it to people and saying, make this, When I work with someone and they show me things I'm capable of and enjoy saying, "Oh, this is what I like." And then moving from there. And I just found, especially with the photos, so I always work with the photographer here in Costa Rica and we shoot the products together. So I'm essentially the creative director, but not really. Cuz the photographer knows more than me about lighting and where to go and what to do. But getting those photos back was just better than Christmas for me. And I found that was the part that I really liked.
Anne:
So I think we're all creative, we just have to find ways to enjoy it. And being creative and artistic doesn't mean that you're the one doing the art yourself. I can't even use Canva, I don't do any of my own graphic design but coming up with ideas and being able to collaborate is something that you can do. So I think when you're thinking about branding and images, think it's important to have fun with it. And I always tell people, you wanna know your competitors on Amazon to see what they're doing. If you're looking for branding ideas and image ideas and stuff, do not look on Amazon. People do a really crappy job. Look off Amazon on Instagram, Shopify, and on websites. If you Google for example the 10 best like, you know, beard oils and you look at the list of that, usually those are more boutique brands and you go on their website and you can see some like really epic branding cuz you have to work a lot more on the content and the creativity if you're an Instagram or Shopify brand or whatever. And I get so much inspiration from there, Pinterest, stuff like that. And so it's kind of seeing what's working on Amazon, what's working off, and melding them together.
Bradley Sutton:
Okay. I did that. Now, how did your strategy change, if at all, once you now branched out to Shopify? First of all, what percentage of your overall sales would you say Shopify takes up now? Like a couple of years ago, been a hundred percent Amazon, but what's that? What's that breakdown now?
Anne:
We're over 10% and growing and it's a slow process because I didn't wanna throw tons and tons of money at it. So you're testing content strategies, you know, for your ads and seeing what works. The goal is to have it be as much or more as I'm doing on Amazon. But yeah–
Bradley Sutton:
How are you growing that? So you said you mentioned spending, so like are you making Google ads or Facebook ads, or that you're sending traffic to your Shopify website? Or how are you growing Shopify?
Anne:
Yeah, Google ads. Google Ads is doing great. Like, I thought Shopify would be all Facebook ads and Facebook includes Instagram, right? But no Google ads is like killing it. So yeah, Google ads, Facebook ads, email marketing.
Bradley Sutton:
Okay. Now a hundred percent of your off Amazon advertising efforts, have you now moved it all to Shopify, or are you sending any ad traffic to Google ads or social media? Are you still sending some people to Amazon?
Anne:
I am still doing it, so I'm still doing it all off Amazon. However, when we started pushing on Shopify on doing those ads, my Amazon sales went up like 20% because I do have in my shop tab on the website, it says buy on Amazon. I think when people see Google they'll often, you know, people are so obsessed, me included with prime shipping. So they'll see the Google ad and then they'll go to Amazon and see if Amazon has it. Now I also offer free shipping on my website, so people will go on my website as well. But you know, also people feel like more, they like to check the reviews, they feel you're more legit sometimes and their purchasing habit is buying on Amazon. So I think either way that you do it, you can send outside traffic directly to Amazon or send it to your website, but make it easy for people to find your product on Amazon if that's where they're more comfortable.
Bradley Sutton:
Okay. All right. Super, super cool. What other things do you know have changed for you in the last year? As far as the business side, or strategy side, things on Amazon changed. Like, you, you obviously do not have the exact same strategy of PPC or anything that you were doing in 2018 or whatever you started so what are some big things about how you've had to shift, how you do things? Would you say it's PPC, is it a launch? Or for the most part, you're kind of like using the same strategies as you did before.
Anne:
Well my strategy, things have just gotten harder and harder, right? I mean, I was able to launch in 2017 and grow the business in 2018 to a million in sales, just me, by myself. And I guesstimated PPC and I was spending like five grand a month on PPC and doing 140 grand a month in sales. The good old days. It was also like, that was back in the day when Instagram was like, just pictures all now you gotta do freaking reels and stories and all that crap. Like, God, it's just, everything's getting so much harder. So my strategy has been to hire people because again, what I have discovered is that the creative side is really what I like doing, and doing the technical stuff kills my creativity and makes me grumpy. So my strategy has been, I know a lot of people love working with VAs and growing their teams.
Anne:
And again, one of the things that I'm always telling people is that there's not one right way to do this, you know? Yeah. And you do what works best for you. You can launch a bunch of like hot products on Amazon, seasonal stuff, and whatever. That can work great. You can grow a brand that also works great it's whatever your choice. So my choice has been to really focus on branding and growing that. And the same, you can have VAs and you hire them and you train them yourself and people love that. I like working with people. I don't like having people work for me and I struggle to make SOPs and communicate my ideas. So I pay a little bit more and hire an agency for social media. I have a small agency, she's my friend but she has an agency now.
Anne:
And the same for my Amazon operations. I have an agency now, don't go out and just hire anybody. This is someone I know personally who has his own agency. And so I think it's really important if you're gonna hand over a certain amount of control, number one, stay on top of it no matter who it is. But number two, like you, need to know, ask for recommendations, and find people that your friends are using. Go to events, meet people you meet, you hang out, you meet someone who's doing a bunch of money and doing great and you're looking to hire, ask them who they're working with. I met the owner of my agency at an e-commerce event and knew him for almost two years. And so I knew what he did in his work in his business before hiring him. But that's great because then I have like my top-level people that I deal with and they do manage their staff and that just works way better. I'm not a people manager. I'm a big softie.
Bradley Sutton:
I love it. Yeah. You could not reprimand. Oh my, ACoS is now 80%. "Oh, I want to strangle. You're doing a great job. Like I really enjoy–" Yeah. I really couldn't picture you getting mad at some time
Bradley Sutton:
All right Now. Before we get into your 30-second tip I want to talk just briefly a little bit about, you did a breathwork class at Sell and Scale that I had great feedback, I wanted to go, but I had to stay up all night preparing for a last-second segment I had to do the next morning. But you know, not everybody is gonna want to go to a 30-minute or one-hour breathwork class or to take that time of day to do it. But from what I understand, there are different things that can help maybe give you a little energy boost during the day or it's just like, kind of like a good habit to do that maybe just takes a minute or two or something. So I'm wondering, especially now that we have you on YouTube for the first time on one of our podcasts, is there something you can teach me and conversely, everybody who's watching this, like a good thing that we should just like if we're feeling down or we need an energy boost or we just want to send ourselves like for a minute or something a day, is there some like maybe exercise you can teach me how to do?
Anne:
Yeah, sure. Well, I'm gonna tell you two things that I don't have to show you that are really quick. Number one, drink water, like drink a lot, a lot of water. I used to have to pull all-nighters over and over and over again in a row when I was working at the law firm. And if you're trying to live on coffee, you're going to crash and die, like have two coffees a day or whatever, or none or one. And then drink tons of water. The other is move, like put on a really good song and just hop around and like shake and move. That really will, you know, as Tony Robbin says, like, change your state. So if you've got like a song that just revs you up for me, it's Apple.
Bradley Sutton:
What's your go-to song?
Anne:
Flo Rida – Low. It's the song that's like "Apple bottom jeans boots with the fur"
Bradley Sutton:
Yeah, yeah. I love it.
Anne:
It just makes me like wanna twerk, you know what I mean? And that's the idea. It's not get up and like do this. It's like getting into it.
Bradley Sutton:
I've seen you do that on Instagram before in your stories. Yes.
Anne:
Yeah. Yeah. And then the other thing is breathing. So we typically do not, we're starved for oxygen, right? Because we sit at our desk like this and we're hunched. Yeah. And if you try to breathe, it's like these very shallow chest breasts. And oxygen is how we give energy to our brain. If we don't have enough oxygen, we can't think. So just taking like 10 big belly breaths will help so much. So belly breathing, like you gotta sit up really straight and you're just imagining breathing into your belly. So it's like, so in through the mouth. Out through the mouth and you can put your hand on your stomach and move your stomach. So
Bradley Sutton:
In and out through the mouth, not the nose.
Anne:
Nope. Mouth.
Bradley Sutton:
Interesting. Okay.
Anne:
Just like that. Do it 10 times and then just kind of like shake it off. You might feel a little lightheaded. That's just cuz your brain is like, holy crap, what do I do with all this oxygen? But it'll go away and then you'll feel great and it improves your blood fills with oxygen and your circulation improves and it just generally wakes up your whole body. But when you do that diaphragmatic breathing into your belly, you breathe 40% more oxygen. So when you're feeling tired, sit up, and take some deep breaths. Easy.
Bradley Sutton:
Take 10 deep breaths, and then shake it out with the go-to song that we can chalk it out too.
Anne:
Yeah, I love it. And if you don't have one, try Low by Flo Rida cause–
Bradley Sutton:
Okay. All right. Yeah. I'm probably gonna do it. Black Pink is my go-to up music these days. Okay. But, alright, so what about on the Amazon strategy side, our Shopify strategy or Google ads or Facebook ads or social media, I mean, you have so many cool things that I think are unique to you. What's your 30-second to the one-minute tip of the week that you can give the sellers who are listening out there?
Anne:
Well, we were just talking a lot about packaging, so I think the packaging is a really good strategy and you can change up your packaging even if you have a current brand. Find a good designer. I think Upwork is such a good place to look. And if you email people, they will send you their proposal, they'll send you other things, other brands that they've done. So look and see, and really when you're working with graphic designers, collaborate, if you give them the freedom like they're creative, they do this all day, they see stuff all day. So ask them to send you brands that they've worked on that have similar products. Take ideas from them, and let them give ideas to you. But bright and colorful packaging will stand out. A brightly colored box will stand out so much in your hero image and that will help you get the click to your listing. So it's like, you know, the number one thing your customers see.
Bradley Sutton:
Love it. Love it. All right. Well, Anne, thank you so much. You're always inspiring when we have you on. So look forward to some time in late 2023, you coming back and seeing what's new in your world. So hope to see you at an event before then though in person, just like we did a few weeks.
---
Enjoy this episode? Be sure to check out our previous episodes for even more content to propel you to Amazon FBA Seller success! And don't forget to "Like" our Facebook page and subscribe to the podcast on iTunes, Spotify, or wherever you listen to our podcast.
Get snippets from all episodes by following us on Instagram at @SeriousSellersPodcast
Want to absolutely start crushing it on Amazon? Here are few carefully curated resources to get you started:
Everything for your business on Amazon.
Find out more about our products by signing up or speaking with one of our
Customer Success representatives today. With us in your corner, you can enjoy
more sales and increased engagement from your Amazon business.
Chat with a Support Specialist