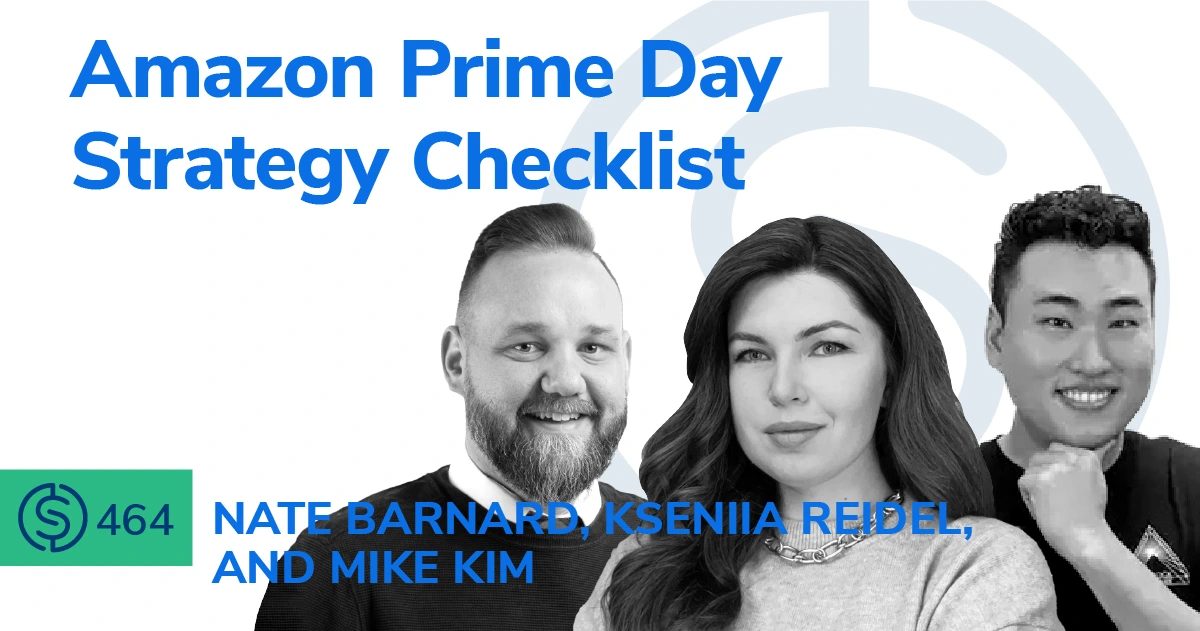 #464 – Amazon Prime Day Strategy Checklist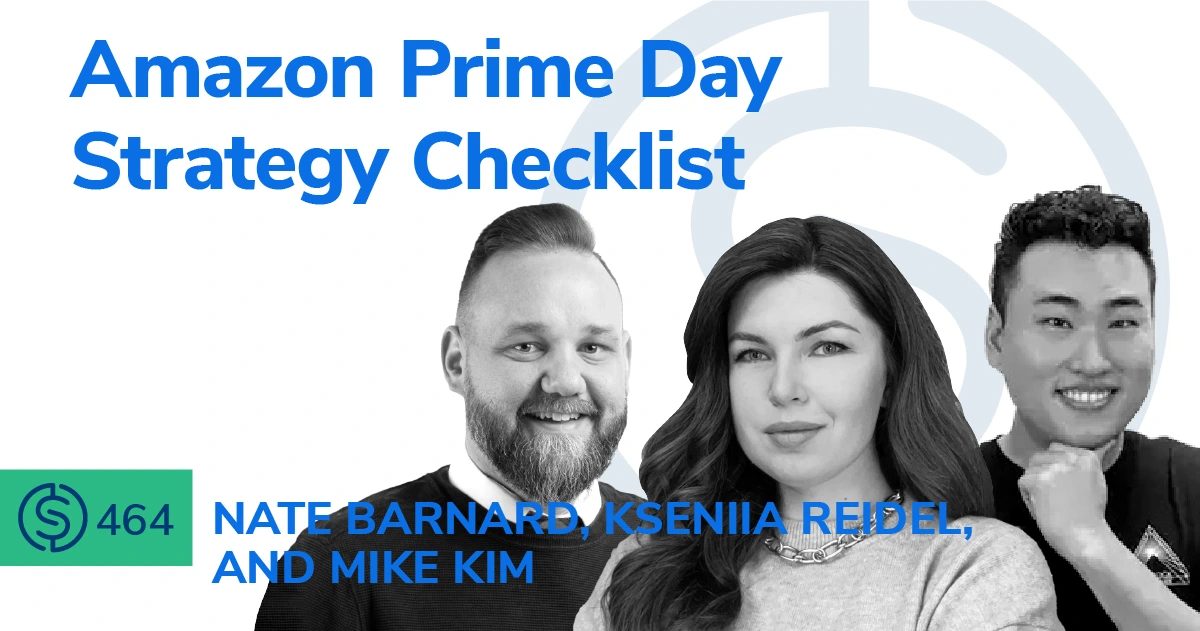 Video of the episode at the bottom
Prime Day is an excellent opportunity for Amazon sellers to boost their sales, gain exposure, and connect with new customers. In this SSP episode, Bradley unveils his never before shared strategies and techniques to help you prepare for Prime Day. We will also provide insights from three successful Amazon sellers who have achieved remarkable results, including the 9-figure brand Solo Stove!
 
Our panel of guests share their game plans and tips for Prime Day success, giving valuable advice on PPC campaigns, sales strategies, and simple ways to maximize sales during this event. Whether you're a seasoned Amazon seller or just starting out, this blog offers valuable insights to help you make the most of Prime Day and boost your sales.
In episode 464 of the Serious Sellers Podcast, Bradley, Kseniia, Mike, and Nate discuss:
02:25 – Have Brand Analytics? How To Check For Top Performing Keywords
03:46 – Check For ALL Of The Keywords A Product Was Ranking For
04:04 – How To Check Your Historic PPC Budget Utilization
05:45 – Making Bulk Changes To Your Budgets with Adtomic
06:52 – Utilize Adtomic Budget Rules
07:45 – Try To Determine Competitors Sales: Organic Or Sponsored Search
10:37 – Find The Keywords That Converted For You In PPC Last Year
11:57 – Check Your Sales Heat Maps from Last Year
13:08 – Check Your Competitor Price History
14:08 – Check CPC & Keyword Ranks BEFORE Prime Day Last Year
14:11 – Check CPC & Keyword Ranks DURING Prime Day Last Year
15:18 – Let's Welcome Today's Guests
15:41 – Nate Barnard From Solo Stove
16:35 – Mike Kim 7-Figure Amazon Seller
16:57 – Kseniia Reidel 6-Figure Amazon Seller
17:19 – Solo Stove Is Making 9-Figures In Sales Annually!
17:57 – How Many Sales Do They Make During Prime Day
18:46 – How Does A Big Brand Go 30x On Prime Day?
26:39 – Leveraging Adtomic For Their Prime Day PPC Campaigns
28:50 – Kseniia's Gameplan For This Year's Prime Day
29:42 – Nate And Solo Stove's Gameplan For Prime Day
30:13 – Mike's Gameplan For Prime Day
31:03 – Kseniia's 60-Second Tip
31:28 – Nate's 60-Second Tip
32:44 – Mike's 60-Second Tip
Transcript
Bradley Sutton:
Today, I'm gonna give you guys my top strategies on how to prepare for Prime Day. And we're gonna listen to three sellers out there who have been crushing it as Amazon sellers, and including one who was a nine figure seller, who had a 3000% sales increase on Prime Day. How cool is that? Pretty cool I think.
Bradley Sutton:
If you're like me, maybe you were intimidated about learning how to do Amazon PPC, or maybe you think you just don't have the hours and hours that it takes to download and sort through all of those sponsored ads reports that Amazon produces for you. Adtomic for me, allowed me to learn PPC for the first time, and now I'm managing over 150 PPC campaigns across all of my accounts in only two hours a week. Find out how Adtomic can help you level up your PPC game. Visit h10.me/adtomic For more information. That's h10.me/adtomic. Hello everybody, and welcome to another episode of the Series Sellers podcast by Helium 10. I'm your host, Bradley Sutton. This is the show that's a completely BS free, unscripted and unrehearsed organic conversation about serious strategies for serious sellers of any level in the e-commerce world.
Bradley Sutton:
All right, guys, we've got a special episode today because we are getting ready for Prime Day. All right, so Prime Day is coming up and for some sellers, this is one of the biggest days of, of sales for the year. So we obviously kind of like want to know what do we need to do to get ready for Prime Day, at least on like the advertising and maybe keyword analytics side. What are the things that we can do in order to make sure we put our best foot forward? So I'm gonna be giving you guys my top tips, and then later on in the show, we're gonna invite three different sellers on here who are at different stages. You know, we've got a six figure seller, a seven figure seller, and a nine figure seller. A couple of them were able to 530000% x 30,000, 3000% x Their pri, their regular sales on Prime Day one seller was actually down on Prime Day.
Bradley Sutton:
So we're gonna learn what mistake that he that he made and that he's gonna correct this year so that you guys don't make that same mistake. So, but first, before we get into that, let's go ahead and get into my top strategies. How many people have brand registry who are currently selling on Amazon? All right, so what does that mean? If you have brand registry, you have access to search query performance and brand analytics. So what you can see with search query performance, I'm gonna want you guys to go back and take a look back at the week. All right? So go back to either your brand or the ASIN level as you can see on the screen. And you are gonna go to the week of 2022, July 10th, all right, because that was the week that Prime Day was. And then you are gonna sort this list of the keywords by search funnel purchases and sort it by ASIN count.
Bradley Sutton:
What that number means is you are, you now have a list in descending order of the keywords that generated sales during that week for Prime week, all right? You're gonna be able to do that in brand analytics as well for your competitor. So in search, career performance is mainly for your own products, but then take your top competitors, throw the ASIN into brand analytics, and then again, go to the week last year from when Prime Day was, and then see where were your competitors. One of the top three clicked products during the week of Prime Day. Next strategy here, check for all of the keywords a product was ranking for. So if you're a Helium 10 member, you can see the difference here of when you're looking at brand analytics. And then when you're looking at Cerebro, Cerebro is taking a whole month of information.
Bradley Sutton:
So you wanna look at the historical trend of prime month instead of Prime Week Brand Analytics, Search Query Performance is going by week in Cerebro. We're looking back in a month. So you're gonna put July, those of you who are elite members, you can do this. You want to go to July, 2022, and this is gonna show you all of the keywords that you and your competitors were showing up for in organic and sponsored ranks on average for the entire month of July. You're gonna want to take a list of those keywords. Next strategy, check your historic budget utilization. So what you wanna do hopefully you were downloading your reports during Prime Day last year for all of you who are new sellers, Hey, make sure to download your reports this year so you can have it, because you might not be able to see it in Seller Central all going all the way back one year, right?
Bradley Sutton:
Cuz you can only see usually a few months of information. So make sure to download your information. So if you did that or in Adtomic, you can go back a year or even two years to see what was going on with your advertising. You can't do that in Seller Central. So what you wanna do is, like, right here, here are the, I put Adtomic to the two days of Prime Day last year, and I could see that my budget on one of these campaigns was $30 a day. I only spent $50. What does that mean? That means I obviously didn't hit my budget on that campaign, but there's a couple other campaigns, as you can see here, that I clearly hit the budget and we even went a tiny bit over the budget. So this is gonna give you an idea about, hey, you know what, for these products or these campaigns, I better keep an eye on this.
Bradley Sutton:
I might want to think about increasing my budget during Prime Day this year. Now, once you make that decision, you can actually make bulk changes to your budgets. Or maybe you're just like, you know what, I wanna make sure I don't run a budget on any of my campaigns. All my campaigns are super profitable. I just want to bulk change for Prime Day this year. So what you're gonna do is right before Prime Day, the day before Prime Day, you can go into Helium 10 Adtomic and then select all the campaigns you want to increase your budget and select bulk actions and so just with one, a couple of clicks, you are going to be able to change all of your budgets. You can do something very similar in Seller Central. That's the in the advertising campaign manager right there on the right hand side, there's an option where you can select multiple campaigns, and then you can do a bulk edit adjust budget.
Bradley Sutton:
Now, let's say you don't want to do it. You don't wanna have to remember to turn off your budget. So all of those is gonna change your budget. Like maybe you're doubling your budget, right? But after Prime Day, maybe you want to go back to what it was. If you don't wanna have to do another bulk edit, well, maybe the tool that you can use, it's actually something in Amazon Advertising and Seller Central, it's a Budget Rules. This is fairly new. A lot of, you might not have seen this before, but if you go into your Budget Rules and then select settings, you can actually schedule certain budgets. You can pick a custom date, or you can choose the date of Prime Day. You can also do this during special holidays, like you can see there. You could have done this on Memorial Day as well.
Bradley Sutton:
So that's if you want to not have to worry about going back and changing your budget, but the only drawback on this is you can't do it in bulk. You have to do this kind of campaign by campaign. So there's pros and cons of each way. Let's keep going here with some more strategies. I showed you guys about the top performing keywords I showed you guys about checking for the historical keyword ranks of a product. Now, take a look at this one. You wanna determine if your competitors were getting sales from organic or sponsored search, all right? So for example this is what you want to do, get your top competitors. So hopefully you did the other steps first, right? So get one of your top competitors. Now go into Helium 10 Keyword Tracker and put their ASIN in your Keyword Tracker.
Bradley Sutton:
A lot of people think Keyword Tracker is only for your own products. No, no. You can track any product on Amazon, yours or not, in keyword Tracker. And then you can actually see the historical ranks. So remember in the previous steps either through through Amazon or through through Helium 10, you're checking what keywords were driving sales for you and your competitors. You know, maybe you found that in Search Querey Performance for you. Maybe you found it in Brand Analytics for your competitor. Maybe you found it for you or your competitor in Cerebro historical data. Add those keywords and their products into keyword tracker. And guess what? Even though you, you weren't tracking those keywords back then, guess what we probably were. If this is a keyword that was at least like viewed and had a search volume of like 1000 or 3000, we were probably tracking it even way before you.
Bradley Sutton:
So what you're gonna see is you are gonna be able to go back in history in keyword tracker, you click on the graph, and then you click like all time or one year and then zoom in at the very day level of Prime Day last year. Guys, this is like, I hope your mi your minds are being boggled right now, guys, because this is mind boggling stuff of what you guys can do. I mean, people can't do this. Who, who do Facebook ads and stuff like that. It's not as easy as just like a couple clicks. Like, like we've made it here. So you, you can see where was their sales coming from? We already determined through our other steps, competitors were getting sales from his keywords. Was it from organic sponsored or both?
Bradley Sutton:
Take a look at the top one. I know it's hard to see if you have a small screen, but that was a keyword coffin shelf. And this is one of the competitors, right? You can see that they were getting sales from both placements. Look at that. They were organically positioned, one and two, and they were sponsored rank fluctuating between like two, pretty much they were one sponsored rank there as well. But take a look at the bottom keyword there. I did the same thing to this competitor's listing, and one of them, the coffin decor, they were at the top of page one, so they're probably getting their sales from the organic rank, but look at their sponsored rank there. They were on page two, so they were probably not getting any sales from sponsored rank. So this is gonna give you some crazy amounts of visibility to understand exactly how your competitors were making sales from search.
Bradley Sutton:
Was it from PPC? Was it organic? Was it both? So super cool stuff here. Let's keep going. Find the keywords that converted for you in PPC last year. Take a look at the screen here. I have Adtomic going. You, you're not gonna be able to do this in Seller Central, unless, like I said, hopefully you downloaded your reports last year, but if you were selling last year and you were using Adtomic, go in there, set the date range of Prime Day and find all of your profitable keywords. Like here, I put, hey, I wanna look at the keywords that had less ACoS of less than 40% and had at least one PPC order it. I'm just pretending that that was my, my my kind of like breakeven point and then now instantly I'm gonna see all of the keywords that drove sales in PPC for my product.
Bradley Sutton:
And then what I'm gonna want to do is I need to put these keywords into Keyword Tracker to make sure that I am ranking highly for these keywords still. Now, it's important that you get an early start. Like whenever Prime Day is gonna be, if your organic rank is low, you're not gonna increase your organic rank in a couple days if you wait until then. Start now with, with perhaps trying to increase your organic rank by having some aggressive PPC to hopefully get your organic rank up so that by Prime Day you are already there at the top of the page. Only a couple more strategies here, and then we're gonna have some cool interviews. But another Helium 10 tool is Inventory Heat Maps and Sales Heat Maps. So go into Helium 10, go into the profits tool, and then under inventory heat maps or under Heat Maps go to Sales Heat Maps.
Bradley Sutton:
Go to the Prime Days in July of last year and take a look at where your sales were. Look at that top screenshot there. That was one of the coffin shelves and you can kind of see those bigger circles are showing where the sales were at the time. Where my heavy duty sales were. Now what you're going to want to do is you're gonna want to look at your inventory heat maps now and make sure you have enough inventory distribution. I'm looking here and not, I had a lot of sales last year in the Washington area. You guys see that there in the northwest. But look, now I barely have any inventory in Washington, so I'm probably gonna want to send more inventory to Amazon and hope that they're gonna distribute it a little bit more.
Bradley Sutton:
So this is another thing that you can be doing in the weeks leading up to Prime Day to make sure you have enough inventory distributed around. Another one you can do is check your competitor price history. Like did they lower their regular price or did they have a sale price going during Prime Day? You can actually do that. Go to any of your competitor listings. And then with that Helium 10 chart right there that has a history of their prices, what I want you to do is you're gonna click on one year or all time and then take a look at Prime Day last year, go to July of last year, and then you could see. Look at this customer. Look at this coffin shelf. They lowered their price down, it looks like $3. They lowered their price $3 down during Prime Day.
Bradley Sutton:
So now I'm like, you know what? Maybe they're gonna do that this year. I kind of have a heads up on what their strategy might be, and I can like at least have a few days to think about, Hmm, what about me? Do I want to have a similar strategy? Should I lower my price $3? You have this visibility on even your competitor's price history. Next one here is check your cost per click and keyword ranks on your main keywords before Prime Day last year. Lemme say that again before Prime Day. So now the next step after I do that, and I write down those numbers, take a look now, do the cost-per-click and keyword ranks on those main keywords during Prime Day. So look at that date above, I changed it to July 12th and July 13th of last year. And take a look.
Bradley Sutton:
Those bids are 66 cents and 68 cents. So now I know that, you know what, during Prime Day, my cost per click actually went up a little bit more than 10%. So now I'm wondering, well, wait a minute. Did I lose keyword rank or did I maintain keyword rank right there at the bottom? I maintained sponsored rank on number one. So with this information, if I was selling last year on Prime Day, now I know, all right, for this year, I'm going to need to potentially make sure that I have enough room in my cost per click and my target price to allow for a 10% increase in cost per click so that I don't lose my organic rank. So there's another tip. So now guys we've got a special treat. We've got some real life sellers these are not professionals. These are not Helium 10 employees here. You know, these are, are not service providers trying to get your money. We've got some real life sellers here. So let's go ahead and invite them to the stage now. Nate, Kseniia, and Mike. Nate, how long has your company been selling online and and what's your company?
Nate:
I'm with Solo Stove. We've been online for about 13 years. Myself, I've been in the Amazon space for a little over five years.
Bradley Sutton:
Awesome, awesome. Now before I hadn't really heard of of Solo Stove. I probably have, but I guess didn't register. But it's funny, after I started finding out about Solo Stove I was telling this story the other day. I was looking at my American Express credit card portal, and it gives like special deals on like Reebok and Nike and Disney and stuff like that. Like, Hey activate this deal and you can get extra points for your Hilton credit card, blah, blah, blah. Well, the other day it was Solo Stove on there, so I'm like, man, Solo Stove is legit. Solo Stove is definitely a legit brand if they're coming up in my American Express offers. All right next up that new face to us here is Mike. Mike go ahead and introduce yourself and how long has your company been selling online?
Mike:
Hey, I'm Mike. I'm with Hemlock Park, and we've been selling for just about three years now on Amazon. And we had make organic candles in-house and do everything in-house. The team of five people.
Bradley Sutton:
I love it. I love it. Super unique making stuff in-house here in the USA. And then just in case nobody has seen her podcast before. Kseniia, same question for you. How long have you been selling online?
Kseniia:
I've been in Commerce for four years, I think, and the two years with the current brand.
Bradley Sutton:
Okay. Awesome. Awesome. Now going back to Nate like, I kind of gave a little bit of a tease that you guys are not exactly newer sellers. You're a heavy duty company. What's your approximate gross revenue? Yearly and and which marketplaces are you selling?
Nate:
So we are worldwide nine figure business. And so domestically outside of our website marketplaces are Walmart and Amazon domestically. Then we have a handful of other marketplaces in Europe.
Bradley Sutton:
Excellent, excellent. Nine figures, guys, I'm in the Czech Republic right now in this hotel that has bad internet and things are glitching a little bit. That wasn't a glitch right there. You heard that, right? Nine figures that is amazing. Let's go to Mike. Same question for you. What's your approximate gross revenue yearly and in which marketplace are you selling in?
Mike:
We're doing seven figures. We've had two X growth year over year for the past three years, so hopefully that keeps on going. And we're on Amazon and then also Fair Wholesale, which is a wholesale distribution marketplace and then those are the two.
Bradley Sutton:
Awesome. Awesome. Now Kseniia, what about you? Leticia probably knows, but for those who didn't hear your podcast, what's your approximate or gross revenue and are you only selling in Amazon USA?
Kseniia:
Only Amazon, US and Canada, and I was very close to seven figures last year.
Bradley Sutton:
Awesome, awesome. Definitely you're gonna have faith that you're gonna hit it this year. Now Nate, the I think from the company name, we can kind of figure out what kind of products you sell. But, but what, what are some, some of your top sellers?
Nate:
So our flagship products are smokeless fire pits which we offer in three different sizes. And then most recently we have a tabletop fire pit that's good for like s'mores marshmallow roasting for the kids.
Bradley Sutton:
I'd imagine that leading up to like Memorial Day, 4th of July, like those kind of holidays, you get some spike in sales?
Nate:
Yeah. we get a pretty good spike Memorial Day for sure. We'll get a little bit in July though, because a lot of our product is kind of springtime related. Most of our sales actually happen quarter two, quarter four and then quarter three is relatively dead. So Prime Day is a big deal for us because it keeps us alive in July.
Bradley Sutton:
Yeah, I bet if we looked at their Sales Heat Maps, I was showing you guys like maybe during December might be a little bit rough in those states where there's rough winters. Now Mike, you are in Nevada, I think they don't know nothing about rough winters out there, but then again you know, I'm not sure if parts of Nevada I guess get gets cold, but you said you were, you make candles in house, so like how in the world did you start that? Like, was this a hobby before? Like I'm thinking of what was, what was the girlfriend on the office, how she tried to do her own candle making business?
Mike:
Yeah, it totally was a hobby at first. And I just wanted to make all natural products. I used to make 'em for myself and as gifts. And then a friend said like, do the farmer's market with me. And I was like, all right. And then when the pandemic hit and I got laid off, I was like, maybe I can turn this into an actual business. So that was only two and a half years ago, and now we're doing seven figures. So that's been amazing. It's been an amazing experience.
Bradley Sutton:
That is absolutely awesome. Very inspiring. Like, you don't have to worry about things getting stuck in customs and new import taxes. Cause because you're making the stuff in-house, huh? I love it. I love it. Now Kseniia, like, last year, thinking back to 2022 Prime Day how, how did you, how did your brand do in Prime Day? Like maybe, like if you were to take your daily average before Prime Day, and then what Prime Day actually was, what was the comparison?
Kseniia:
It was about 5x the normal daily revenue, I would say.
Bradley Sutton:
Wow, that's pretty impressive. Would you say that was successful or you think you could have even done better, or what?
Kseniia:
Well, it was the first Prime Day with that brand, so I think, yes.
Bradley Sutton:
Yeah, I'd say that that's pretty impressive, you know 5x. So, so those of, again, going back to all the 50% of the people on this call who said this might be their first Prime Day we're not trying to say, Hey, anything less than 5x is gonna be a failure, but just to show you the potential of what could happen on, on a, on a Prime Day for you. What about let's just go reverse circle here. Back to Mike, what about you? What was your Prime Day how was it leading up, and then what did Prime Day end up being for you?
Mike:
I would say last Prime Day, I would've been happy with even two x, but we were actually down 20% based off of an average day, and we realized that we did everything right except for not making the right deal. We were only 10% off, and that was our offer. We had all our PPCs and campaigns and everything wasn't place, but our deal was only 10% off, and our competitors were 40% off, and it was our first one. So the learning experience, and we're like, your deal is only as good as your actual deal. So that's what we learned. So this year we'll be 40% off to compete with everyone else, and I think it's gonna be good.
Bradley Sutton:
There you go, guys. Like, like I said you guys know how we do it on the podcast too. We keep it real. It's not just all rainbows and unicorns here. So we got, somebody said that she was 5X up, and then we have Mike who was actually down. So again, that could happen. And so what's important though is, is Mike didn't just give up and say, all right, I'm done with Amazon. I had a disastrous Prime Day. He clearly was able to do the research and see why, and determine why he was down. And now he, he's pretty much ready to go for this year. What about you guys? Nate, how was your Prime Day compared to the days leading up?
Nate:
Yeah, it was pretty good. Our lead up time, the lead out time versus Prime Day, we saw about a 3000% or 30x on Prime Day itself.
Bradley Sutton:
Guys, you see, we just got nonstop things where you must be thinking Nate's glitch in here, but that was not a glitch. He literally said 30. But anyways he said 3-0 guys 30 times that I just can't even wrap my head around that. So like, what was the one thing that, like, why, like was it your deals or does your competitors not know how to do Prime Day? Or how in the world can a brand who's already big go 30x on Prime Day?
Nate:
Yeah, so I mean, there's a number of different factors that, that play into it, right? Obviously. we have a relatively high organic search ranking. So because of the product, because of the fan base that we already have it's a product that people are looking for. On top of that, we give the second best deal of the year on Prime Day versus Black Friday. And so major discounts and then just a really good PR campaign off Amazon just to make sure that the word gets out and it's an opportunity to buy some of our most popular products. On top of that, I have a really robust advertising strategy.
Bradley Sutton:
Awesome. Awesome. Now what about you, Mike? You talked a little bit about what didn't work. Did was there anything, was it only the deals or did you kind of, like in retrospect say you want to do something different on the advertising side at all, or inventory side, was there anything else, or pretty much just that deal is, is gonna make the difference for you this year?
Mike:
Yeah, I think it was really the deal. Like if its only like, really, we were next to all these ads that were like 40%, 50%, 60% off, and ours was 10. Like, honestly, like no one was gonna buy ours if they're looking for a deal. So I feel like that really killed it from the start. It was like a non-starter, basically. Yeah. so this year that's what we've learned from. And there's been other times that like Mother's Day and Q4 is our best times, and we're like, what can we take away from those really hot times for us and apply it to Prime Day? So that's kind of what we're using. And kind of like what you mentioned in your presentation about identifying those keywords historically that were good and using for Prime Day.
Bradley Sutton:
Okay. What about you Kseniia? Like, like what, what do you think was some of the biggest factors in, in the, you being able to get up to 5x?
Kseniia:
So I'm in a very small niche, so what worked for me is I had about 20% off coupon. And I would say probably two weeks before the Prime Day I was trying to rank on the maximum amount of keywords. So on the Prime Day I can utilize the organic ranking and not overspend on PPC because everybody knows that the bids are much more expensive on the Prime Day itself. So that worked for me.
Bradley Sutton:
Awesome. Awesome. Now going back to Nate, you guys use, that's why I'm worried. My, my Adtomic, this is actually not Adtomic. This looks like the Adtomic, this is actually a minor league baseball team from Albuquerque, but it looks like I really close to our Adtomic logo. So I decide to wear this hat, but how are you guys, Nate, there at Solo Stove leveraging Adtomic for advertising just in general, and then what are you gonna be doing in it for Prime Day prep?
Nate:
Yeah, so in general, we leverage Adtomic quite a bit for search term analysis monitoring our ranking for our core keywords and then identifying top performing campaign strategies in the market there. In addition to how we're gonna be preparing for it for Prime Day the big piece this year is gonna be making sure that we have budget rules in place so that we have healthy budgets, we're not running out of anything just because we want to make sure that we're taking advantage of every piece of traffic possible during the day.
Bradley Sutton:
Okay, cool. And Mike, you also use Adtomic. What have you been using it for lately and what's your plans for Prime Day?
Mike:
I think my two most useful uses are automating keywords, like identifying keywords. And also the big one for us is adjusting campaign budgets. We have over a thousand live campaigns and I'm the only one that manages it. So with Adtomic, I'm able to semi-automate that to keep our a cost around 20%. Without that, I was spending like 15-20 hours a week doing it manually, which is insane.
Bradley Sutton:
You yourself were, you were the one in charge at for ppc? Oh, my. That when it becomes more real for sure.
Mike:
So that was the game changer for me after I discovered I had to use that, I was like wow. So that was huge for me, so.
Bradley Sutton:
Awesome. Alright, so that's cool. We got a seven figure seller, we got a nine figure seller using Adtomic and, and, and we've got smaller and bigger and in the middle sellers too, using Adtomic myself. You use Adtomic. I'm only a six figure seller these days because I've been letting some of my accounts slip. People aren't as interested in coffin shelves, I guess, as, as before, but I digress. What about what what about you Kseniia, what is your plan for advertising and promotion this year? Now that you had a successful Prime Day last year, you kind of know what worked and didn't work. What's your game plan for this year for either PPC or, or sales or coupons, stuff like that?
Kseniia:
Well, I think I'm gonna do the same thing as I did last year because it worked. And, but in addition to that, I'm also updating the images and A+ Content, so I'm making sure that listing actually converts the most that I can get.
Bradley Sutton:
Excellent, excellent. Do you have premium A+ content yet, or do you just have the regular A plus content? Yes,
Kseniia:
That's another thing I'm working on right now.
Bradley Sutton:
Okay. Well, what's yours, like, are you gonna do video at all or just like have–
Kseniia:
Already have videos? Yes, I have videos for each of my ASINs. I have videos, but yes, I just got access to the Premium A+, but that's what I'm working on right now.
Bradley Sutton:
Awesome, awesome. Nate, what's your, what's your game plan this year? I mean, a huge brand like you, like we could just do a whole show probably on it, but, but gimme some, some highlights of, of what you think is really gonna pay dividends for you this year for Prime Day.
Nate:
So again, around ads, we're looking at the historics of last year and just making sure that we're identifying the keywords that worked well. We're also gonna be adding more prime specific campaigns related to deals, clearance sale basically things that historically people have searched for on Prime Day. This like, just like you showed earlier
Bradley Sutton:
Excellent. Excellent. Mike, same question for you. Game plan.
Mike:
So like I said, I'm gonna be competitive with my actual discounts and lightning deals and deal of the day. And I think in addition to that, like identifying the keywords that performed last, last year and yeah, just putting those all into action and increasing our ads spend about 10% over an average day.
Bradley Sutton:
Okay. Excellent. Excellent. All right, so this is some, some, some strong game plans here now. So my last question Ksenia knows all about at the very end of, of, of podcasts, I ask for a 30-second or 60-second tip. So do you have any general tip or 30-second tip, or take all the time you need Ksenia what's your strategy that you can leave with or the audience with for could be about Prime Day. Could be about advertising general, anything you want.
Kseniia:
Well, everybody kept talking today about the competitive price and the PPC, but I would also add to just pay attention to optimizing the listing in terms of a plus video and images. So making sure you will take the maximum advantage of the Prime Day traffic, so you're listing converts I would like to add that.
Bradley Sutton:
Okay, cool. Cool. Excellent. All right, Nate, what's your what's your tip of the day?
Nate:
Yeah I've worked with dozens of very large brands and, and smaller brands over the years with, with Prime Day and, and Amazon in general. And Prime Day is a very special day. You're not gonna get traffic like Prime Day, pretty much any other day of the year outside of maybe Black Friday, Cyber Monday. And so my tip is always obviously do what's best for your business, but do as good of a deal as you can to separate yourself from your competition. And then take advantage of the three pieces that Amazon uses that Brett announced earlier. Like posts, Amazon Live feeds, things like that. Do everything that you can to utilize every tool to your power to capitalize on the traffic in that day.
Bradley Sutton:
Okay. Now no pressure, but I save the best for last here to, to Mike because I, I pretty much am gonna come, go on record and guarantee that of these three, the one who's going to do the best on Prime Day compared to Prime Day last year is gonna be Mike. Okay. Because Kseniaa was already at 5x I don't know how you can improve 30x, but negative 20% were, you're gonna be the winner this time, Mike, because you're gonna turn that around today.
Mike:
I don't know until we gotta that last part.
Bradley Sutton:
All right, Mike. So what's your strategy for the winner of the best, most improved player on Prime Day? What's his strategy?
Mike:
My strategy is well, I guess, and advice is to apply for those lightning deals, deal of the day as soon as you can. Like I did it like three months ago. I think it's too late to do it now. And once it's accepted, if you have an account manager at Amazon to get it pitched, to be promoted on like a feature deal on Amazon, I think that would be huge. And if you're gonna do Prime Day to make the most of it and go in, go all in and do every possible program an offer they have.
Bradley Sutton:
Yeah. when you say rep, are, do you have like a SaaS core rep or which kind of account manager do you have?
Mike:
Yes. I have three SaaS, launchpad and Handmade. So pretty much anything we qualify for, we're doing it
Bradley Sutton:
I love it. I love it. All right, cool. All right guys. So you know, we can maybe look for Mike's products and, and Nate's products. Check out their Prime Day deals. We already know that they're gonna be doing some discounts on there. Look out for a 30 or 40% discount, I guess, on mics if you want, if you want some nice smelling candles that are you made in the USA. And then if you need some, some, some stoves for grilling this summer or some grills. I can't, I was about to say some grills for Sting. No, that, that's my dyslexia there. But anyways buy some Solo Stove too, and you get some American Express points to add it. But Kseniaa and Nate and Mike, thank you so much for coming on here and, and sharing your knowledge. I love bringing just re regular Amazon sales. You guys are not here to sell anything. You have no agenda. You're very generous for coming on here and spending your time and sharing your secrets, your wins and losses and so we are very appreciative of that. And thank you guys, and wish you the best success for Prime Day.
---
Enjoy this episode? Be sure to check out our previous episodes for even more content to propel you to Amazon FBA Seller success! And don't forget to "Like" our Facebook page and subscribe to the podcast on iTunes, Spotify, or wherever you listen to our podcast.
Get snippets from all episodes by following us on Instagram at @SeriousSellersPodcast
Want to absolutely start crushing it on Amazon? Here are few carefully curated resources to get you started:
Achieve More Results in Less Time
Accelerate the Growth of Your Business, Brand or Agency
Maximize your results and drive success faster with Helium 10's full suite of Amazon and Walmart solutions.