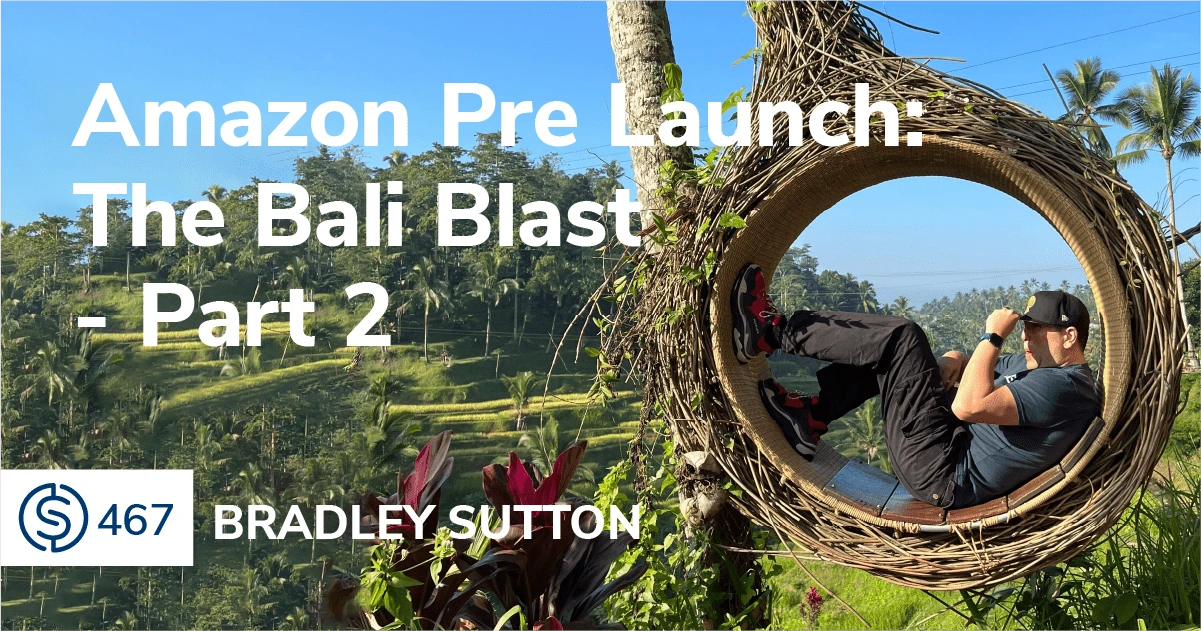 #467 – Amazon Pre Launch Episode: The Bali Blast – Part 2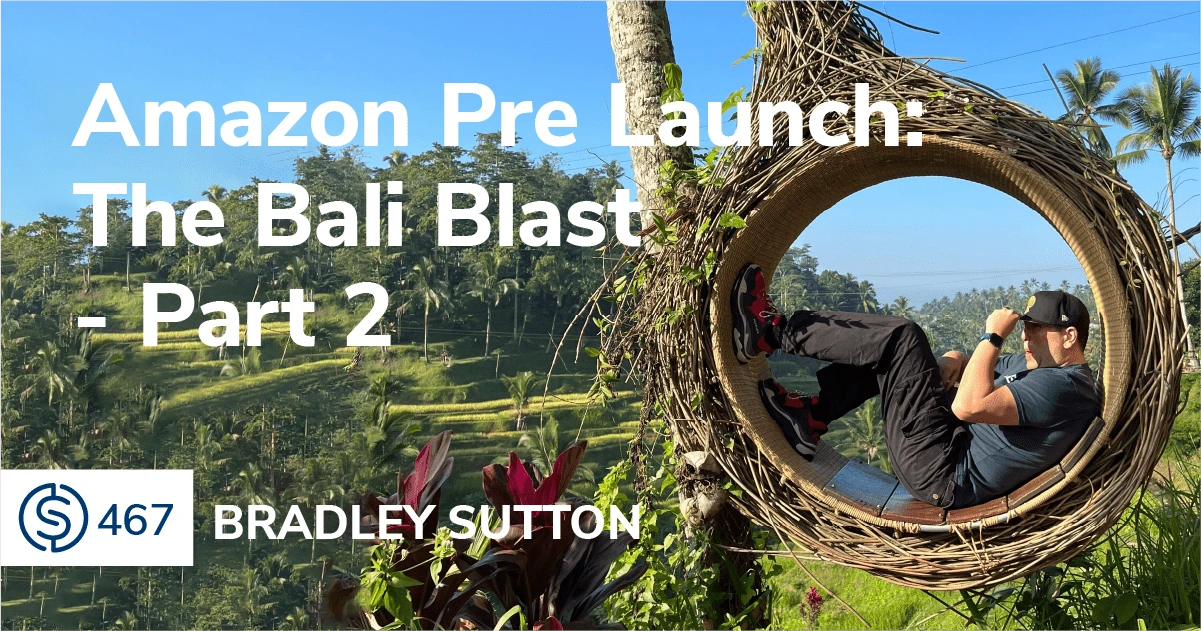 Video of the episode at the bottom
Welcome back for part 2 of this 2-part strategy series with Bradley! In this episode, we dive into a range of strategies and tips to supercharge Amazon brand pre-launch activities. We kick off with a quick recap of Part 1 before getting into advanced topics like reverse engineering your competitors' PPC strategies, expanding your keyword search, and uncovering long-tail keywords. We also explore tactics for identifying products frequently purchased alongside yours and share a seller's success story after using the Maldives Honeymoon Method. Additionally, we discuss leveraging search query performance, optimizing listings using the Amazon algorithm, and understanding indexing versus ranking. Tune in for valuable insights on all the steps you need to do before launching your brand on Amazon.
In episode 467 of the Serious Sellers Podcast, Bradley discusses:
02:18 – Make Sure You've Heard Part 1 Already
02:45 – Reverse Engineering Your PPC Strategy From The Competitors
05:05 – How Widen Out Your Search For More Keywords
06:19 – Get Long Tail Keywords Of Top 10 Phrase Roots
09:20 – Which Products Are Frequently Bough Together With Your Product
10:32 – How The Maldives Honeymoon Method Helped This Seller
13:07 – Bonus Hack: Using Search Query Performance With No Product Yet
14:48 – 10 Relevant Spanish Keywords? Check The Translation
17:56 – How To Use Frankenstein For This Strategy
18:57 – How Does The Amazon Algorithm Work For Listing Optimization
19:21 – Subject Matter Is No Longer Existing In Front Or Back Ends
19:51 – Amazon Indexing Versus Ranking
22:05 – Using Your "Keyword Bank" Inside Listing Builder
22:32 – Use Chat GPT To Build Your Lising Inside Helium 10's Listing Builder
23:37 – Try To Nest Your Keywords Together
24:20 – Important Things To Note When Making Your Listings
25:24 – Don't Use A+ Content To Index For Keywords
25:39 – More On The Difference Of Indexing And Ranking
27:17 – Check Indexing For Main And Secondary Keywords
29:32 – Add Top 10-30 Keywords Inside Keyword Tracker And Turn On Boost
30:11 – Setup Helium 10's Market Tracker Tool
31:38 – Make Sure To Activate The SKU In Inventory Management
32:53 – Activate Your Helium 10 Alerts
33:27 – Use Follow Up For Automatic Request A Review
34:50 – More Bonus Tips: Strikethrough Pricing
36:11 – That's It For The Bali Blast Pre Launch Strategies
37:06 – Stay Tuned For SSP Episode 500!
Transcript
Bradley Sutton:
Today is part two of my two-part episode where I'm talking all about my pre-launch strategies for Amazon. You don't want to miss today's strategies because it's gonna get you on the right track for the Maldives Honeymoon Launch method. How cool is that? Pretty cool, I think.
Bradley Sutton:
Wanna check estimated sales for products you see on Amazon? Or maybe you want to instantly see how many listings on page one of a search term result, have the actual search keyword in the title. You can find all of these things out and more with the Helium 10 Chrome extension tool X-ray. More than 1 million people have used this tool. Find out what it can do for you by downloading it for free at h10.me/xray. Hello everybody, and welcome to another episode of the Serious Sellers Podcast by Helium 10. I'm your host, Bradley Sutton. And this is the show that's completely BS free, unscripted and unrehearsed organic conversation about serious strategies for serious sellers of any level in the e-commerce world. And I am still here in Bali. I just finished my last dinner with the team.
Bradley Sutton:
They gave me this like parting gift, vegemite. I'm not even sure how to pronounce this hat I'm wearing here. So again, thanks to Regina and Chris for organizing this event. It was awesome and now as for my last night. I got my flight in a couple of hours here. I wanted to record part two of my Bali Blast method, which is my pre-launch method. Again, you guys call it whatever you want. This is just me being silly with, you know, making up names for strategies and things. But if you miss the last episode, part one, make sure to go back and watch that episode. Otherwise, you know, a lot of this is not gonna make sense. But basically what this two-part episode series is, is like, hey, I'm like, Hey, you wanna get that Maldives honeymoon when you launch your product.
Bradley Sutton:
We know about the steps that's taken there. What about before? You know, what comes before the wedding? Well, bachelor's party or bachelorette party, and where's a cool place to go for that Bali, which is just happens to be where I am. So I was like, let me call this the Bali Blast method just to make it trending in my own mind at least. So anyways, the last episode, we went through 16 different steps on, you know, everything from keyword research to a little bit of listing optimization. And we're gonna do a little bit more keyword research today and also some more listing optimization. And we're gonna bring you right up until almost getting your, your PPC campaigns ready. And I'll give you guys some bonus, bonus strategies as well. All right, let's go ahead and hop right into it.
Bradley Sutton:
The first step of today is actually step number 17 in this whole strategy, and that's reverse engineering your PPC strategy from the competitors. All right? So basically what I want to do is put my competitor's ASINs into Cerebro, just like I was doing, you know, to get the initial keywords, but this time I'm looking at sponsored rank average. So if I put a whole bunch of competitors into Cerebro, I'm gonna put a sponsored rank average from about one to 30 and maybe I wanna put in a minimum search volume. It's not necessary, but I am then going to look at how many competitors are advertising for the keyword, like a high number of competitors and what their sponsored rank average is, which means if I were to take their position of where they showed up in search results, approximately what position would it be?
Bradley Sutton:
Like, for example, if they were ranking, you know, one four and eight, well, the sponsored rank average would be four, right? And the reason I'm looking at this number is because these will be some, some keywords that potentially, you know, are good or that at least the competitors have decided that they're gonna pay more money. You know, you don't get on the top of the page of sponsored results if you don't have a, a pretty high bid and you don't bid high unless you have some, you know, facts and figures that back up that that bid. All right? So it's kind of, again, a way of reverse engineering what your competitor has had to learn through trial and error. And so this is gonna get you some more keywords that you definitely want to get indexed for.
Bradley Sutton:
Another step is, again, if you don't have Helium 10, another way you can do some preliminary keyword research and get some more keywords is look at the Amazon Product Opportunity Explorer. Alright? Product Opportunity Explorer. Even if you don't have brand register, you have access to that. It's in your seller central dashboard. You enter in a, your competitor's products and then find the niches that that product appears in. And these are niches of keywords, right? So for example, one of the coffin products, they are in the Halloween decorations niche. And then if you were to click in there, you are gonna see, you know, anywhere from 10 to 30 keywords that make up part of that niche. That's another way to get some relevant keywords, I think not a lot of people are using. Even if you have Helium 10, it's kind of like a cool way to get some more keywords for your listings.
Bradley Sutton:
Next is still in Cerebro. All right? I'm still in Cerebro and I still am looking at the same 5, 6, 7, 8, 9, 10, whatever competitor ASINs. Remember that first step, which I went over in the Wednesday or the last episode, this part one of this was clicking the top keywords and the opportunity keywords. And then just now I talked about looking at the sponsored rank average. Well, in this situation, under the same exact search. I'm going to start widening out my search. Remember, I wanna start finding keywords where I wanna get indexed for it, but I don't necessarily need to be the number one, you know, click item. I don't need it in phrase, form my listing. So what I'm gonna do is I'm gonna have minimum search volume, maybe 200 or 300 or 400. I'm gonna put advanced rank filter number one, minimum one, okay, minimum one.
Bradley Sutton:
And then advanced rank filter two, which means where the range, I'm looking for 1 to 100. So basically it's like, Hey, show me keywords where any of these products that I put as my competitors, at least one of them, at least one, is ranked in the first two pages. All right? So this is, you know, gets me a good list of keywords that I might want to be indexed four cuz they could potentially get me sales in the future. Alright, next keyword research step to get ready in this Blas method is number 21, get long tail keywords of top 10 phrase roots. Alright? Get long tail keywords of top 10 phrase roots. What in the heck does that mean? You know, when, when you're looking at your, your top keywords, I already finished up until when I'm on step 21, I'm already finished with my steps that get me my keyword phrases.
Bradley Sutton:
So if I look at my keyword phrases, I might put them into a Magnet first. And let me just show you, what I can do is I can take those keywords and either stick it in magnet or just look at the keywords and see are there certain root words that are appearing? You know, Magnet will tell me if there's keywords individual keywords that are appearing most often. It's the ones that are most frequently there. Like for example, if I have a bunch of keywords like coffin letter board, coffin letter board, decor coffin letter, this coffin letter that, well, coffin letter and coffin for that sense are root words or phrase or mini phrases that are appearing in a lot of the keywords that I targeted as my main phrase. I know this sounds like kind of crazy, especially if you're brand new.
Bradley Sutton:
Let me try and break that down one more time. Make sure you understand it's really important, guys. All right, so if I have a list of 20 to 30 main keywords, I want to find the top keywords that are most commonly occurring. Because those 30 phrases, isn't it completely 30 phrases that are completely unique keywords, right? Coffin, for example, if I'm doing coffin shelf coffin's probably gonna be in half those keywords, right? So I wanna find those keywords, and what I'm going to do is I'm going to go into magnet and I'm gonna put that root, all right? So for example, coffin letter, I'm gonna put that root word here and I dunno, 3000 keywords might show up, but this time I'm going to use the filter in magnet that is entitled Smart complete. All right?
Bradley Sutton:
Because that's gonna show me long tail versions and different versions like plural form or singular form of that root phrase, coffin letter. So for example, in this case, six different keywords come up, longer tail keywords. And then again, these are ones I'm gonna put into my secondary keyword list because these are ones I want to get indexed for. You know, maybe nobody's getting sales for it right now, that's why it didn't come up in Cerebro, but it could be potentially, you could be the first one to, to rank for it all, right? Because if it's a longer tailed version of a keyword that you're relevant for, there's a chance that it could be relevant to your product. So make sure to check those keywords as well. Next step right here is step number 22. Now, this is something that we went over in step three.
Bradley Sutton:
In step three in the last episode, I showed you guys about how to use Black Box Product Targeting in order to find frequently bought together products, all right? And that could be potentially be used for bundling or maybe to add something to give a good chance to get a good review. But in this sense, use that same function, all right? To see which products were, you know, really frequently bought together a lot with your product. All right? And now what you're gonna do is some of those products, like maybe there's five, hopefully there's, you know, not too many, maybe there's five or six. Pick a few of those really good selling ones that you think are more on the relevant side. And now what you're gonna do, instead of trying to, you know, think of bundling options, this is gathering kind of loosely relevant keywords.
Bradley Sutton:
So for example, in this coffin letter board, frequently bought together search, there were like stickers that showed up and there were these you know, actual letters that showed up and there's probably coffin shelves that showed up, et cetera. Now, none of these are like substitutes for a coffin letter board, right? It's not like, oh, I'm gonna buy, it's not like it's not like the same product, right? So the keywords that are driving sales to these products, like let's say it's a coffin letter board, and the product that's bought with it is a skull candle holder. You know, the keywords are most likely completely different. But here's the thing, you are gonna wanna for the mo again, we're, we're trying to look ahead to the Maldives honeymoon method, the launch method, which, you know, if you're, that's the first time you're hearing this.
Bradley Sutton:
We've talked about that in like at least 10 episodes here. Oh, by the way, I just talked to, you know I told you guys, I'm here in Bali organized by Chris Thomas. Chris Thomas is one of the leaders here in the Amazon collective and Amazon collected mastermind, and he's also a coach, and he was on this podcast before, he was telling me in the car today that he helped somebody with this Maldives method, the Maldives honeymoon method, and was able to net something crazy, like hundreds of thousands of dollars, like within a one month timeframe, all unfulfilled by merchant products, but they used the Maldives honeymoon method, and he was like thanking me, thanking me for that. I was like, oh, that's why I do this kind of thing. It's so great to actually hear people using this methods again.
Bradley Sutton:
So, so what we're talking about today, Bali Blast method, it's trying to get us ready for that Maldives honeymoon. Anyways, I digress. We're talking about frequently bought together products and then finding the top keywords for those products and then putting it in your listing. So when I say top keywords, if my product is a coffin letter board, let's say one of the frequently bought together might be a coffin shelf, or no, what did I say? A gothic skull candle holder, right? I'm going to look using these same techniques we've been talking about or using brand analytics, whatever the case may be, I wanna find the top three to five keywords that are driving sales for that gothic skull candle holder. I can find that in brand analytics. I can run cerebra on it. And when I find the top keywords that are driving sales there, you know, by looking at what's high search volume where they're ranked at the top of the page, I'm gonna put those into my listing somehow.
Bradley Sutton:
And the reason why is I want to loosely relate my products to these other products that have a history of being bought together with my competitor's products. Does that make sense? I'm not trying to steal the sales of a gothic candle holder. No. What I'm trying to do is set up my listing so that from day one, once I start doing ppc, maybe I'm going to product target these frequently bought together products. It could be that Amazon from day one might not give me any impressions if I'm trying to target the gothic skull candle holder, because Amazon might be like, wait, this product seems to be a coffin shelf. Like what would that have to do with this? Right? But then what I want the Amazon algorithm to do is be able to see like, wait a minute, this, this product has a lot of similar or some similar keywords with this product.
Bradley Sutton:
You know what? It's very relevant to this product. We're gonna start showing them this from day one that was actually, you know, a method we talked about too in, in Project X. All right, so Project X, you know, we talked about, you know doing some product product targeting as well. Alright, the next step here, that was step number 22. This is actually just a bonus step, but search query performance is something that was released, you know, a few months ago and, you know, people have like raved about it. Well, you can only do search query performance if you have an existing product and the existing brand, alright? So if you are doing, if you're launching a new product that you've never had data before, you, you technically don't have any access to search career performance data. Now, why would you even want search query performance data?
Bradley Sutton:
There's some people I don't look at it too much in this regard, but I know there's some sellers who like to use it in order to get some more insights into like what kind of add to cart ratio certain keywords have, what kind of impression share you know, different products have, they wanna go deeper into the click share reports. So I, I did an experiment like a couple of months ago where I actually was going to you know, launch some socks on this, on the Manny's Mysterious Oddities the Manny's Mysterious Oddities Seller Central account, and obviously I've never sold socks on the Manny's Mysterious Project X account. All right? So what I did was I created a dummy listing, maybe made a couple FBM inventory, and I s I I made the listing active, sent some PPC, and then what happened after a couple of weeks, I had a whole bunch more data that I could look at in Search Query Performance.
Bradley Sutton:
So if you are launching something brand new that you have no search query performance history on, that's kind of like a way around it now you're gonna have to burn a UPC code and actually make a real listing and, and just put a really high price to, to make sure that nobody buys it. All right, the next step we're gonna talk about, this is important. Step number 23 is if you have more than 10 relevant Spanish keywords, check the translation. All right? So if you are doing product or keyword research in Cerebro maggot in those, those earlier steps that we talked about, you know, I, I forgot what the steps were, like steps 10 through 17 or whatever, it's very likely, if not guaranteed, that some of those keywords that you found, if you're doing this in the American marketplace, you found some Spanish keywords.
Bradley Sutton:
Now, here's the thing. If you only found like two or three relevant Spanish keywords that you want to be indexed for, just go ahead and throw those in like the backend search terms. All right? But here, here's what happens. What if you get like 12 or 15 Spanish keyword phrases? Well, you know, you don't really have room in your backend search terms to put in 15 phrases of Spanish keywords. No, you've only got like, you know, 250 characters. So what you can do is go to the listing, go, go, go to your listing once you make it, all right? Once you make your listing and this is kind of like in the future, but again, right before you launch your product, and then go to the flag at the very top of the Amazon page. Now I'm talking about this in the context of USA and Spanish, but, but this could be Amazon, Germany, and we could be talking about English keywords.
Bradley Sutton:
You find it could be Amazon, France, and you found Italian keywords, right? This is the same principle, but anyways, on the USA side, change your listing to Spanish. And then what I would do is I would click on the import listing to scribbles, which is listing Optimizer, like, right, it's, it's right there on the Chrome extension, and it's going to import the, the front end of your listing into in the Spanish version, you know, since I just changed the version to Spanish, which is what Spanish speaking people do, they change Amazon's interface into Spanish, and instantly it translates the listing. I'm gonna pull that Spanish translation into scribbles, and then I'm gonna have that list of 10, 15 keyword phrases into scribbles. And remember when you put those phrases in the scribbles, it shows you the full phrases and it breaks it down to the singular keywords.
Bradley Sutton:
And then what I'm going to do is I'm going to check, it's going to instantly show me where I am where if I have those Spanish keywords in the translation, I didn't make the translation, Amazon makes a translation, alright? But what happens sometimes is, is even though it translates your whole listing, right, it doesn't use the exact phrases, you know, the correct phrases that maybe people are searching for. So if you have more than 10 Spanish keywords, this is what you do to go in there and see if there's keywords that you already, that Amazon is already translating for you. Because if that's the case, you're probably optimizing enough, you're probably relevant and you're definitely indexed, right? Of course, obviously you can check if you're indexed or not, but you, you're probably relevant, right? But if, if those keywords aren't in phrase form or some keywords are missing altogether, that means you'd probably want to put those individual keywords into the backend of your listing when you are creating it.
Bradley Sutton:
All right? Step number 24, that was a little bit out of order right there on 23. We're, we're going back to the listing optimization stage right now. Remember I had two buckets of keywords that we've been talking about these last two episodes, the main keywords and the supplemental keywords. So now those supplemental keyword phrases, it could have been 200 phrases, it could be 300 phrases, whatever. I know I can't put all 300 phrases into my listing. So what I do is I put those into Frankenstein and then I click on remove duplicates. And what it does is it extracts all of the unique words that make up those 200 phrases that I want to get indexed for. All right? So this is important to understand that don't try and put all the phrases into your listing, you know it's not going to fit.
Bradley Sutton:
So go ahead and put it in Frankenstein and first extract all of those keywords on the individual level. Now, this is something that I'm always asked about, and I'm gonna tell you since I made this slide, it's actually changed. All right? So how does the Amazon algorithm work for listing optimization? Here is a level of importance, number one for indexing. All right? So if we're just talking about indexing, which means being searchable on Amazon doesn't mean ranking indexing how Amazon ties your listing and makes it relevant to a keyword so that you're in the Amazon index. Number one is special features. We'll talk about that in a couple of seconds here. Number two is title number three used to be subject matter, but as of about nine days ago, subject matter is no longer existing in Amazon front nor back ends. And actually, you know, I have found that bullet points are actually ranking higher now than generic keywords, which is the for artist, formerly known as backend search terms, so that it goes special features, title, and now bullet points, it's next, then generic keywords and then description.
Bradley Sutton:
So that's for indexing. I've tested this a lot lately. I just tested this like literally last night on a live training I did for Serious Sellers Club members. And definitely bullet points is ranking faster than even generic keywords these days. Now for ranking, ranking is different. Ranking means like what gives rank juice. Like if a keyword is in phrase form in a certain part of the listing, which parts of the listing give the most bang for your buck, right? Number one title. The new number two is going to be bullet points. Number three is going to be generic keywords. Number four description. And the last would be special features. Special features does not help too much when we're talking about indexing. And just to show you about how amazing special features is here's somebody in the Helium 10 members Facebook group who, who said, Hey, shout out to Bradley for the tip of putting keywords in special features.
Bradley Sutton:
She writes I had two products with great conversion, great seo, and they would not index on my most relevant high volume keyword For three months. I opened several cases with Seller central, nothing, only after I put it in special features field boom became page one, positional one. So this special features works. I just tested it out literally last night on a live call. And on the live call there was a keyword that I couldn't rank for, or that I had in the listing emo in the coffin shelf listing, and it wasn't it wasn't indexing for it all right? Even though I had it multiple places, put it in special features before that call ended, like 10 minutes later, we were indexed for that keyword emo that Amazon had previously refused to index me for. All right, next step, step number 25 is I have two lists of, of keywords.
Bradley Sutton:
Remember, I have those top or main keywords, which are I have in phrase form all or phrases, you know, that should be anywhere from 10 to 30. And then I have a whole bunch, you know, maybe 100 or 200 individual keywords that, that were taken from my supplementary keyword list. And now I put all of those right here in into listing Builder, right? It's super, super important that you do it this way and not just put all the phrases. All right, so now this is my keyword bank and listing builder is 10 to 30 phrases and maybe 50 to 300 individual keywords. Step number 26 is then go ahead. Hey, start with your title, optimize it for your main keywords, your canonical url, you know, get your listing really optimized. And then don't forget, you have got to put those emotional trigger points we learned about in the last episode that you had taken from the customer reviews.
Bradley Sutton:
Now, one thing that you can do if you have the diamond plan in listing or in Helium 10, you can actually, if you, if you have writer's block or you're not confident with confident, I was about to say you're not confident with your English level, yeah, I'm obviously not confident with my English level either. I can't even speak English here. But if you're not confident with your English level, go ahead and have the ChatGPT AI help you write your listing inside of Listing Builder. If you put your keywords and you put the kind of vibe you're looking for, ChatGPT can kind of start your listing out and write it for you, and then you can tweak it to, to how you want it. But that really helps with writer's block even for me sometimes. Alright, so again, create your title, make sure it's optimized.
Bradley Sutton:
If you have multiple keywords, guys, if you have multiple keywords that were some of your top phrases, try to see if you have different roots of each other and get those in a title. The number, even though you have 30 keywords, that was your top you have 30 keywords, that was your top phrases. Can't put 30 f keywords in your, in your title. So, so try to find the most relevant one. You definitely have to get in there. All right, so like for a coffin shelf, duh, it's gonna be coffin shelf, right? But then what you wanna do is see if there's a possibility to nest keywords together. So maybe one of the keywords was coffin shelf, maybe another keyword or a small coffin shelf. And another keyword is coffin shelf decor. Coffin shelf might be my number one keyword. And those other ones were main keywords, but maybe it's all the way in the bottom.
Bradley Sutton:
I'm still gonna put those in the title because if I put the keyword small coffin shelf decor, I get three keywords for the price of one. I have got coffin shelf, small coffin shelf, and coffin shelf decor, if those were three of my keywords. So try to find those kind of things in order to get into the title. Alright, step number 27 is make the rest of the listing with your customer mind. Use main phrases, then single keywords. So try and get all those phrases that were your main ones into your listing, and then work on those single keywords in there. You know, you can use humor when it's possible, and that's even something you can put into ChatGPT to, to make it humorous if that's appropriate for your niche. But make sure to speak to the customer's use cases and problems the product solves, their fears that it might allay, and things like that.
Bradley Sutton:
Really make an emotional connection, especially when you're writing those bullet points. Don't forget about those niche themes that we learned about earlier in the last episode, where you want to, you know, use niche themes in order to kind of analyze the images and, and your image strategy. And before you even make your listing, you can, you know, set it up in helium 10 Audience which is powered by PickFu in order to maybe get some feedback from customers on if they like your main image. I like, especially if you have like two or three main images that you're not sure which one you should go with, then that's really going to, you know, let you know what customers like. Another thing you should do before you even get, you know, the listing fully ready is create your a plus content, right? And then activate the translation A+ Content.
Bradley Sutton:
Don't be using it to try and rank for keywords or index for keywords, because I haven't had enough tests where I can show it has an effect. Like I've tried to put keywords that I'm not indexed for and I don't have in my listing, and I put it in different fields in a plus content a hundred percent of the time does not index me. But the one important thing is that you need to make sure that you have the Spanish translation active or whatever marketplace you're in, go to the back end where after you get your, your a plus content approved, there'll be a button that says Create language variation in America. The language variations would be Spanish and a Hebrew, I believe. And this is important because what happens if you don't have this? All right, well, lemme just show you what happens if you do have it, if you do have it activated, like here, I'm showing you for, for those watching on YouTube, I've got on the left the, the a plus content for our coffin shelf.
Bradley Sutton:
All right? Looks pretty good, right? And then on the right it's our Spanish a plus content. So that's, if somebody changes the flag to Spanish, just like I showed you, changes the language of Amazon, this is how it's going to show up. But take a look at this coffin makeup shelf, all right on the left, they've got a really nice looking a plus content right here with their coffin shelf. They've got a lifestyle model, et cetera, but they never activated their Spanish translation. So look what happens on the right side. If somebody changes Amazon to the Spanish version, their description and a plus content completely disappear. So, you know, is that gonna, you know, tank a hundred percent of their sales? No, but that just means that, you know, their conversion rate might go down by 20% or something for Spanish speaking people because they don't have this a plus content activated for Spanish.
Bradley Sutton:
All right, the next step, I'm gonna talk a little bit more about indexing and ranking. All right? So again, the difference between indexing is you are potentially searchable for a keyword ranking means that you are actually showing up in the search results in those, in what Amazon displays, which is usually seven pages. Now here's what could happen, and this is why you've gotta do this step number I'm not even sure what number we're on now, like 30 or something like that, but is to check indexing for all of your main and secondary keywords. So remember those main keywords that were like 10 to 30 keywords, take that full list, paste them as is, as phrases into Index checker, and then take those 100 individual keywords, paste it right there on the next line of index checkers so that everything is there and you are going to run index checker for it.
Bradley Sutton:
All right? And Helium 10 is gonna tell you, are you index? Did Amazon index you for these keywords? Now, here's the thing, you are gonna find that even though sometimes, sometimes, even though you have the keyword in your listing, you're not indexed, here's a product that I did, a test product that were coffee socks, and you can see all of these coffee related keywords and even Mother's Day related keywords I was not indexed for, despite me having it in multiple times. Now, here is why that might happen. Of course, it's gonna happen if, if it's like branded keywords or, or keywords that you don't have the rights to advertise for or something like that, right? But, or if you don't have the keyword in your listing, it's like, duh, that's why you're, you're not indexed. But in this case, think about what category these socks were in.
Bradley Sutton:
They're in the, what is it, fashion category or clothing category to Amazon. These coffee related keywords might be completely irrelevant. They're like, why would a piece of clothing need to rank or need to index for the word coffee? So what happens in this case, this is why you have to go and use that special feature sometimes to, to make sure that you're relevant or that you get indexed for this keyword. So it's very important. Don't just assume because you did the greatest keyword research in the world, thanks to Helium 10, you've got the greatest listing optimization in the world, thanks to this podcast. But just because you did all that, that every single keyword that you put in your listing, you're gonna get indexed for. Make sure to run this check with index Checker. Alright, the next step here is all of those top 30 keyword phrases, or like I said, maybe it was 10 or 15.
Bradley Sutton:
Add those all to keyword tracker. All right? This is, again, before you even start your listing that make it active, add them all the keyword and turn on Boost. Boost is that function that allows you to check 24 times a day what your ranks are, because this is super, super important. Once you start doing that Maldi honeymoon launch strategy, you know, and you're in the honeymoon period, you want to know are, are you at the very top of the sponsor ranks? Are you improving your organic rank? You're gonna know that as if you have boost on, and you are tracking these keywords from day one. The other thing to do is set up Helium 10 market tracker. This is not to be confused with Market Tracker 360, which is an advanced tool for like, you know, eight figure sellers, but the regular market tracker that you, that you have in your platinum or diamond plan, add your product there, add your main competitors, and four, three or four very, very specific, very, very specific keywords.
Bradley Sutton:
All right? I made the mistake one time when I was setting up my coffin shelf niche that I put the keywords coffin shelf, which is right, but then I put like gothic decor and like spooky accessories. What happened was then Market Tracker started spitting me all these like new keywords that could be my competitors, but it really, it wasn't because all I consider my competitors are actual coffin shelves, right? So this is important to do that. If you are using Market Tracker, you only put the most super, super hyper relative or hyper relevant keywords to your product. So that when, what market Tracker is gonna do is it's going to start recommending to you like, Hey, do you want to track this other coffin shelf? Or, Hey, did you know that there's a new coffin shelf that is entering your niche? And then you're also gonna be able to, to start tracking your market share.
Bradley Sutton:
So this is something I would say that, I don't know, 75% of Helium 10 users are not taking advantage of. This is literally what you should have going in your account from day zero. That means before you're even in the MALS honeymoon launch strategy or launch period, you need to get market tracker set up. Next step is make sure to activate the SKU. You know, once you, it's live in inventory management. All right? So your FBA sku, if that's gonna be your main s skew, go to Helium 10 Inventory management. If you have platinum, you've got this, this is for USA customers. If we have more demand, we're gonna go ahead and get it for European customers as well. But this is really important so that you make sure that you are not going to miss out on, on your, you're having the right inventory in there, right?
Bradley Sutton:
It's gonna tell you when to transfer from your warehouse. It'll tell you when you need to order more, but because this is a brand new product, the Forecasting Algorithm inside of Helium 10 that you're gonna use, this is again, Helium 10 Inventory Management. A lot of people don't even realize we have full inventory management. I've been using this for years already for all of my brands. You are gonna choose the exponential algorithm because you don't have enough history yet for the sales. Now, you know, if you want to, you can just change it to seven day velocity or 14 day velocity. But again, Helium 10 Exponential Forecasting Algorithm is going to forecast things out based on recent sales. Now, once you've been selling this product for a year, that's when you change it to what's called the additive forecasting model, because now it's gonna look at your like 12 month history in the seasonality and things like that.
Bradley Sutton:
Another step here, again, before you even launch the product or before you go live, make sure to activate it for Helium 10 Alerts. All right? Because what's gonna happen, as soon as you get product into Amazon's warehouses, sometimes they might immediately change your dimensions to something wrong. And so you wanna be able to know if Amazon does that, so you can take care of it right away. And then also see if hijackers jump on your listing at the beginning or if you start getting some bad reviews. So again, takes one click, go into helium 10 alerts, activate the activate the alerts for that new FBA SKU. Go into Helium 10 Follow-up. This is for any level of helium 10 platinum diamond or above. And s set up the automatic request or review. Alright, I, I don't do anymore the custom emails. You know, I know a lot of people like those because you can do things that maybe have better conversion rate, but no, all you have to do is you go to a request, a review and seller feedback template, make a new one, and then select the request a review template, all right?
Bradley Sutton:
And then, you know, I like to make it wait a certain number of days before I send it out or after it ships, I'm sorry, before I ship a certain number of days after I ship a product for when they're gonna receive the notice. If you're selling supplements, you don't want them to get a note for a review, like right away, you know, they're not gonna have enough time to, to know if they want to give you a review and if, and probably it's gonna be a bad review if they give it to you right away. So what you want to do is you wanna set that date if you have a supplement to like 22 days after it ships or something like that. So that's at the end of that 30 day window that you have. But maybe you've got a product that you knew that people use immediately and are immediately gonna know if they like it or not like it within a day of receiving it.
Bradley Sutton:
Well, for those people, I might go ahead and put, Hey, you know, show me or send this, you know, seven days after shipping or six days after shipping, send them a request for review. And once you set it, you can forget it. It's always gonna go ahead and send to all of your customers. More bonus tips here, all right, this is something I haven't talked about on the podcast before, but have somebody purchase your product potentially at your list price to give you the best chance to get a strike through pricing. All right? This is what you can see I did a few months ago when I was launching those socks, is I wanted the, the price to the retail price to show as 11.97 and my product was gonna be 9.97. But I'm also doing, you know, in the Maldives honeymoon launch strategy, which, you know, we talk about in other episodes and we'll talk about again in episode 500, is I wanted to have a, a cheap price a cheap price to start 497.
Bradley Sutton:
So in order to do that, I set a FBM listing or or it could be I've been FBA listing live for like one hour or 30 minutes just in, just for it to go live on Amazon. And then they, I had somebody buy the product at 11 point 97. I only need one person to buy it. And then what happens like 48 hours later eat when I put my sale price at 4 97, I'm gonna have a strikethrough price on 1197, and it's gonna show a big red letters here of 58% off. All right, guys, there you have it. That's my new Bali blast or Bali Bachelor party, whatever you think. You guys let me know if this even needs a name or which, which name you like, but I'm gonna call it Bali Blast for now. This is the Bali Blast method on Amazon pre-launch.
Bradley Sutton:
You know, we went over about what, 36 steps on how to get your product ready to make sure how to give it the best sendoff of its single life. You know, the best send, how to give it the best bachelor or bachelorette party so that you can be ready for that wedding day, which is your launch date, and then your Maldives honeymoon period, which is that, you know, precious first, you know, month or so of time and you know, where you're, you're utilizing our launch strategies. But all of these steps are super important because if you just use the Maldives strategy for launching and you didn't do these steps, you're not gonna be successful. I'll tell you that right now. These are vital to give you the best chance for success when you do launch your product, guys. All right? So let me know in the comments below what you guys think of this.
Bradley Sutton:
Again, two episodes here. Make sure to check both of these give it to your team to review so they can make sure that your next launch is gonna be using these methods. All right? Don't forget coming up episode 500, toward the end of the year, we're gonna, I'm gonna give you guys my latest updates on the Maldives honeymoon strategies. I'm gonna try and go to Maldives and film a special, that's a special number, 500 episodes of the podcast. And then we're gonna go into my latest launch strategies. But if you wanted to see what's working for launch you can check out episode four. I think it's like 400 or 400 to one in the second half of that. And that's like what I've been using earlier this year for Maldives honeymoon launch strategy. But anyways, guys, I hope you enjoyed this two part series and I'll see you guys in the next episode.
---
Enjoy this episode? Be sure to check out our previous episodes for even more content to propel you to Amazon FBA Seller success! And don't forget to "Like" our Facebook page and subscribe to the podcast on iTunes, Spotify, or wherever you listen to our podcast.
Get snippets from all episodes by following us on Instagram at @SeriousSellersPodcast
Want to absolutely start crushing it on Amazon? Here are few carefully curated resources to get you started:
Achieve More Results in Less Time
Accelerate the Growth of Your Business, Brand or Agency
Maximize your results and drive success faster with Helium 10's full suite of Amazon and Walmart solutions.