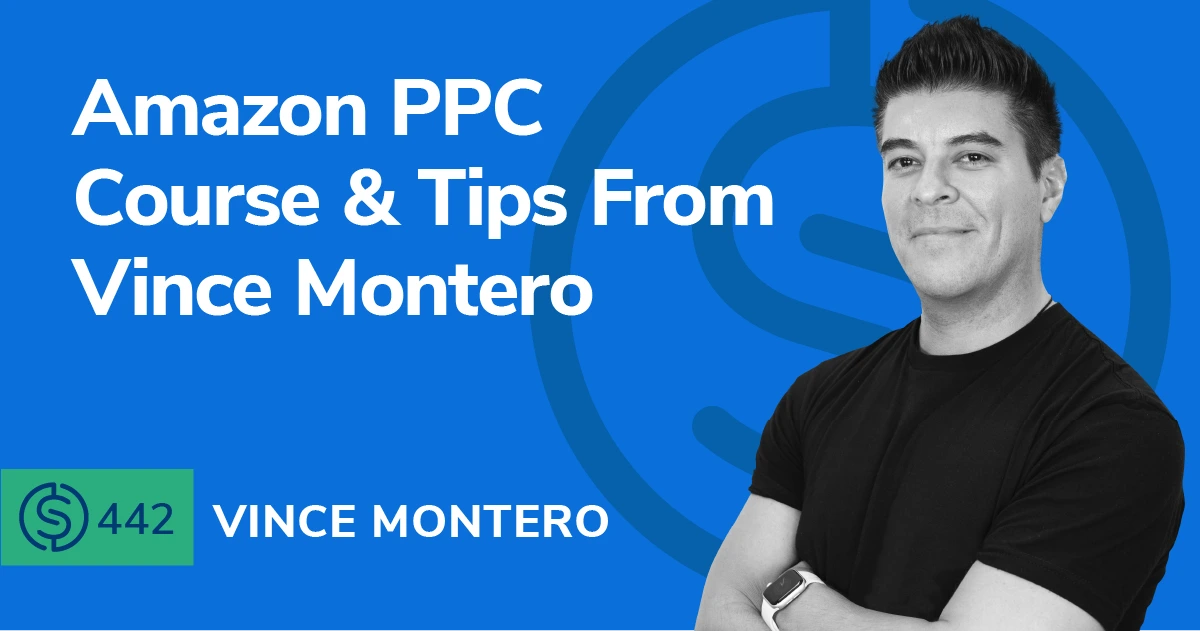 #442 – Amazon PPC Course & Tips From Vince Montero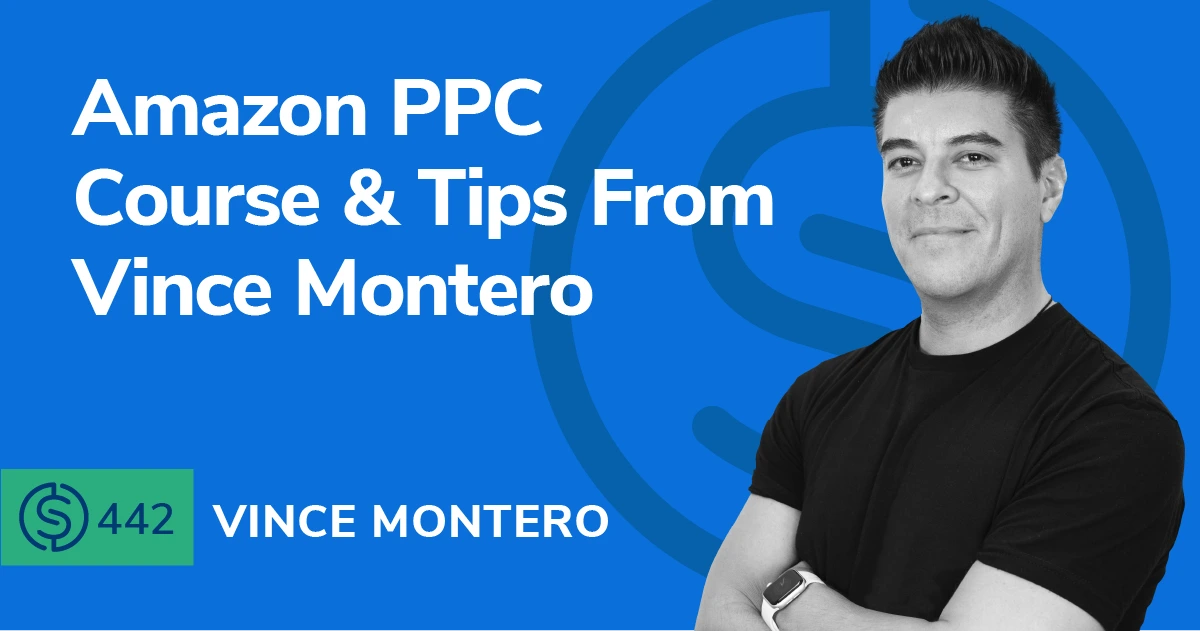 Video of the episode at the bottom
In today's episode, we caught up with Vince Montero to talk about the Amazon PPC Academy by Helium 10. Vince, who is an Amazon PPC expert and seasoned marketer, took us through all the chapters of this PPC course and shared valuable insights on how to you can improve your Amazon PPC skills.
 
We discussed campaign setup and strategy, including streamlining campaign creation and optimizing PPC in Amazon. Vince shared what you can learn inside this course and answered all your PPC-related questions like, is it possible to use Chat GPT for your Amazon PPC Campaigns and more!
 
If you're interested in learning more about Amazon PPC or want to get in touch with Vince, be sure to tune in to this episode. You won't want to miss out on the valuable insights and strategies shared by this Amazon PPC expert.
In episode 442 of the Serious Sellers Podcast, Carrie and Vince discuss:
02:08 – Catching Up With Vince Montero
05:07 – Talking About Helium 10's Amazon PPC Academy
07:25 – Breaking Down All Chapters Of This PPC Course
09:14 – Tools & Processes For PPC Research
12:42 – Campaign Setup & Strategy
20:15 – Streamlining Campaign Creation
21:55 – PPC Optimization In Amazon
23:15 – How To Use Bulk Sheets For Amazon PPC
24:35 – Learn To Use Amazon DSP
25:48 – Do You Use Chat GPT In Amazon PPC?
27:13 – PPC Strategies On Scaling & Generating More Revenue & Profit
29:16 – How To Get In Touch With Vince
30:37 – Customizing Video Creatives & A/B Testing
Transcript
Bradley Sutton:
Today we've got a familiar face back on TACoS Tuesday. Vince Monte was back to answer all of your PPC related questions and to talk about some cool things that have to do with sponsored video. How cool is that? Pretty cool I think
Bradley Sutton:
If you're like me, maybe you were intimidated about learning how to do Amazon PPC, or maybe you think you just don't have the hours and hours that it takes to download and sort through all of those sponsored ads reports that Amazon produces for you. Adtomic for me allowed me to learn PPC for the first time, and now I'm managing over 150 PPC campaigns across all of my accounts in only two hours a week. Find out how Adtomic can help you level up your PPC game. Visit h10.me/adtomic for more information. That's h10.me/adtomic. Hello everybody and welcome to another episode of the Serious Sellers Podcast by Helium 10. I'm your host, Bradley Sutton, and this is the show that is our monthly TACoS Tuesday show, where we talk about any and all things PPC could be Adtomic related or just Walmart PPC, Amazon PPC.
Bradley Sutton:
We bring in experts every month to answer all of your questions live. And so this month we have a familiar guest coming on the show, the Originator of the TACoS Tuesday program. And that's Vince Montero. And he's gonna be talking about the PPC Academy that is available to Helium 10 members. He's gonna talk a little bit about video advertising and basically answering some questions that you guys had out there as well. So this time Carrie was able to have him live on the show. So Carrie, take it away.
Carrie:
Hello everyone. Welcome to TACoS Tuesday. We have another great guest for you. And I think you all know this guest. He's one of our favorites and he used to host TACoS Tuesday. So I'm gonna go ahead and just bring him on. Vince. Hello, Vince.
Vince:
Hello. Hello. How are you Carrie?
Carrie:
Good. I'm doing great. Yeah, so I'm just really excited that you're here and I think maybe people are curious what you're doing now, where you're at
Vince:
Yeah. Well thanks for having me on. It was great seeing you at Prosper and we had an amazing dinner together with Yes. With Bradley. So I appreciate that so much. It was great to see all the Helium 10 Evangelist crew. But yeah, I think it was there we were talking about Hey, why don't we have you come back to the show that you originated as an upcoming guest. And so it's interesting cuz I'm now with Trivium Group, which is a PPC agency run by Mina Elias. And I'm one of the people that actually, I think when you first thought of the idea, I was like, yeah, you, you should do it. Totally do a PPC agency like two years ago. So, yeah, it's interesting full circle now that I'm working with him and basically I'm kind of doing the same thing for him that I was doing with Helium 10 at least from the marketing and the training aspect. Not all the behind the scenes stuff as much. So yeah, so now I'm just continuing to do content marketing. You know, I started doing reels for the first time.
Carrie:
So fun.
Vince:
I know. I'm still avoiding TikTok, so they can put 'em there if they want. But yeah, I'm just doing YouTube videos for him at LinkedIn posts. And I actually did continue on TACoS Tuesday with Sir TACoS Tuesday with Vince Montero. So that Sir TACoS was a name that I originated, but from doing the show TACoS Tuesday that I started, what, a year and a half ago? Almost two years ago, I think.
Carrie:
Yeah. Wow. Yeah.
Vince:
I kept hearing people, I'd go to conferences and stuff and people would say Mr. TACoS, right? Cause they would know me from TACoS Tuesday. And then I had to be like, no, that's Sir TACoS to you, Right? So it kind of stuck. And yeah. So I was thinking about what could I do to keep that going Right? Kind of like my brand I guess. So yeah, so it's been great. I've been able to kind of resurrect that as well and do it for Mina and you know, just looking to build that up and continue to put out educational content and hopefully that a lot of the sellers continue to value.
Carrie:
Yeah. That's so awesome. Yeah. I know a lot of people will still follow you and we still follow you and are still in touch, so it's really good. I'm so excited tore hear today too. So again for being here. All right. So we'll go ahead and get into it cuz I wanted, we wanted to talk a little bit about the course that you put together that I think a lot of people don't know about, which is a bummer because it's so depth and really just great emotion. A lot of people you know, ask questions about PPC in particular and so you put together some things. So do you wanna tell a little bit about what you put together?
Vince:
Yeah, so when we were thinking about what I would talk about on this show, it kind of made sense to talk about Amazon PPC Academy, which is a full course that I created with Mina Elias, again, who I'm now working together with on content. You know, we created this full course, almost 40 videos, I think and launched it last September. But there was a lot of other things happening at that time. I think we launched something else in September there's always big launches happening at Helium 10 which is awesome. Like, there's so much content, so much stuff, but sometimes you know, things, if they're not repeated enough times, they kind of get lost in the weeds. So I thought I would take the opportunity to talk about Amazon PPC Academy and show you guys where it's at, and then kind of cover it and to let you know truly what's in there and how valuable it is.
Vince:
Let's pop into the dashboard and I can kind of show you guys where it's at. And if you don't see this in your Helium 10 dashboard, then obviously then you don't have access to it. You need to upgrade. So I happen to be in Adtomic, obviously, this is a tool that I helped build at Helium 10. So I am pretty regularly in this in Adtomic, and I still manage you know, a handful of my personal clients through Adtomic, which has been great to continue to do. But anywhere you are within Helium 10, it's really it's the FBA training, Amazon sellers training. So it used to be called something differently, I think it was Freedom Ticket, but that's when Freedom Ticket was the only thing available as a course. Yeah.
Vince:
So Freedom Tickets are still here. You can still see 2.0 and 3.01 is gone. And there is some PPC content in both of these that I actually did produce and create. But in doing that, it was the basics in both of these Freedom Tickets, it was just for beginners. So we actually do suggest again, if you have access to this, if this comes up on your screen when you click that button that you do actually watch the PPC for Beginners course in Freedom Ticket 3.0, I think it's week 11 in Freedom Ticket. And that really does cover the basic basics. Whereas PPC Academy is kind of still covers the basics, but it does go into a lot more in detail. There's, let's see there's 15, well, 14 different modules.
Vince:
So I just wanted to go over this really quickly with you guys. So the very beginning after the intro obviously, is tools and processes for PPC research. So obviously Helium 10 is still, in my opinion, the best solution for both keyword research and product targeting ASIN research. So I basically go over how to do, or maybe is it Mina? We actually toggle back and forth, like I do a video, he does a video. So we go back and forth. And the point of that really the premise of this whole course I will say up upfront is Mina kind of covers how to do PPC optimization manually in Seller Central or the Ads console. So everything that he teaches is things that you know, anybody can do if you're running PPC and basically the things that he uses to manage his PPC clients in his agency which is what he says in this intro video.
Vince:
So, and then I cover kind of more of the Helium 10 focus tools but then also Adtomic. So we cover both things that you can do yourselves manually, which I highly recommend if you guys had not run your PPC campaigns manually. It's really good to have a really strong understanding of PPC so that when you do start to use a tool like Adtomic, or you maybe go to an agency like Trivium, that you really kind of understand the metrics and what is being done to your PPC campaigns. If you don't have that understanding, if you haven't spent time in seller Central looking at your campaigns, managing your campaigns, then you really don't have anything to compare it against and you kind of really don't know what, what are your benchmarks for actually improving your campaigns, especially if they're new.
Vince:
So after these modules, keyword research, product targeting, ASIN research, I basically just go into Cerebro and I go into Magnet and tell you the best practices on what parameters, what filters that we use to find the best keywords using Cerebro to cross-reference ASINs from your top competitors, and then really drill down into what are these top sellers for my most relevant keywords, what keywords are they using to make the most sales. And so having that knowledge and the ability to do that within Cerebro is just amazing. And you can do that and you should be doing that even before you launch PPC. Like, this is something you should be doing when you're building out your listing. But then those same keywords can be used for PPC.
Vince:
And you know, that listing optimization is key. You know, Carrie, as a seller, you know that if you don't have a good listing or if your listing isn't fully optimized, PPC really isn't gonna help you. So as a caveat to all this, what I really, really would've loved is at a beginning module, it was something I had in mind actually before the end of last year, was to create kind of a really quick listing optimization module. Because at the end of the day, if you're a product detail page isn't, this is what I say, if it isn't as good as that means, looks as good, feels as good, or has a better price point to your closest competitor, especially if it's a brand new product at launch, then you're not ready for PPC, right? Make sure that even before all these steps that I'm going through, your product detail page looks better, or at least as good, and your price is competitive to your, to your closest competitor that you kind of want to maybe beat right in the marketplace. And then you dive into ppc, right? So
Carrie:
Can I say that that's same processes for Walmart too, like I just use absolutely Cerebro for optimize my listing, but also my PPC campaigns at Walmart. And I had I started out with a 12 RoAS and now it's about a five or six, but it's real. It do, I just do exact campaigns with the, with the words I find on Cerebro and Magnet, and it's just right to mean you should definitely do your spend that time to it takes me like a long time to do the keyword research, but a lot of people, and a lot of people don't wanna do it, but it's the most important, you can find so many golden keywords in Cerbro and Magnet and you can just make so much money off of them.
Vince:
Yeah. Well, it sounds like, Carrie, you just need to watch 2A in this video. Cause we teach you how to do it pretty quickly.
Carrie:
Yeah, well, I do a lot.
Vince:
But for people who aren't familiar with Magnet or Cerebro, like let's say they're brand new, this is a great resource. You just come here and be like, okay, what's the best practices to use these tools to get the best keywords out of it? And that's what we cover in both these. And it's important to do ASIN research. So not only when you launch PPC campaigns, yes, you're targeting certain keywords to be seen on the search results page, but you also wanna be targeting particular detail pages, actual listings. So that means ASINs, you need to know the ASINs of your closest competitors. You might have an idea of some of them, but you know, we really teach you how to use Helium 10 tools to actually find the best ASINs. So you can create product targeting campaigns as well, so that your ads at launch are seen not only on the search results page, but also on the detail page of your competitors, which is a very powerful placement.
Vince:
So then we go into creating the auto campaigns. This is the foundation of kind of what we suggest as the basics for building out PPC you need to have an auto campaign. So we go into that. We go into all the different targeting levers and what they mean, the close match substitute matching loose matching and then how to rank all those different things. So taking the research you did in module two, actually building out the keyword campaigns, actually building out a product targeting campaign, and then actually building up branded and ranking campaigns too. So at a bare minimum, what this course suggests is an auto campaign, a keyword based campaign, an ASIN based campaign. You should have a branded keyword campaign that simply means a campaign that has your branded keywords in it.
Vince:
So you can start well, so that Amazon will know, hey, this is a brand, this is the keywords for this brand, and start linking them for you. And then your ranking campaigns are basically campaigns that you did your keyword research and you did find some keywords that you were like I really wanna rank for these. I'm gonna go ahead and create some campaigns. So it's slightly a little bit more advanced. It's not necessarily like a minimum suggested type of campaign, but we do go into it because this is the campaign setup section and we wanted to include that since that is a strategy that is used by a lot of a lot of sellers. And then chapter four is really me just going into Adtomic and saying showing how our campaign builder works. So by comparison to manually creating the campaigns in Seller Central, you, I go into like what the differences are for the different bidding algorithms that we have in Adtomic and those product lifecycle, product lifecycle stages.
Vince:
I always say product lifestyle stages. Product lifecycle stages are launch, scale or liquidate. So depending on where you are in your Amazon selling journey, if you're launching, we, there's an algorithm in Adtomic for that. If you're just maintaining, if you just wanna scale your campaigns, there's a bidding algorithm for that. Let's say your product isn't selling, or maybe you have a new version of your product that's coming out, you just wanna get, get rid of all your current products, then you use liquidate, right? And liquidate means just sell the product as much as possible. I don't care about ACoS any other factor. Adtomic will focus on keywords that sell regardless of ACoS. So really could be powerful if you are launching a bunch of different products to leverage those capabilities within Adtomic. And then I go over the rules and suggestions.
Vince:
So again, another element of Adtomic, basically how to create rules for the campaigns that you've built, and then how to use our suggestions to, once you start seeing the results of Adtomic, looking at all your search terms and all your bids and deciding upon do I wanna manually do these? Do I wanna look through them? Which you should do on a kind of a weekly basis, looking through everything and making sure that you understand what everything on the page means. So that's what that covers. PPC optimization in Amazon bid in budget adjustments. So super important when you're in Amazon and you're trying to learn PPC you know, what should my bids and budgets be? You know, how do I optimize these different types of campaigns? And the cool thing I wanna make mention too is that every single one of these modules have different downloads, right?
Vince:
So every single module above that I was talking about, every single module has a summary page. So you really kind of get to see, you can watch the video and everything you see in the video is kind of summarized at the end. And if there's any graphics within the video, we actually make those available for download too. So for bid and budget adjustments, I believe, yeah. So I have this up on my screen already. Really, so every single video that you look at has this download so you can actually see, okay, I learned there was a lot of stuff that Vince and Mina said. Maybe I was taking notes, right? But we give you a summary slide for every single video. So all the nuggets that are in the videos that we use to create the videos, are actually available for you in the summary slide.
Vince:
So in this particular one, which I thought is super powerful bid in budget adjustments when optimizing choose a seven day period, exclude the two most recent days, right? Because that's really volatile. Maybe you don't know that. So having this information just written out in bullet points is super helpful. After the bid adjustment's made, waits five to seven days to measure to see if its impact and if another adjustment is necessary. If you're using Adtomic, Adtomic, does that right? And it will show you the results after five to seven days automatically. So I won't go into detail every single one of these bullets, but again, I just wanted to let you guys know that not only do you have the videos as reference, but you can actually download these, these different summary pages.
Vince:
Alright, so placement bidding adjustments that is essentially in Amazon, like the placement bidding, so top of search placements, product page placements, it's something that you can really only do. Actually no, I think you can do it in Adtomic now too. But within Amazon, in the campaign setting section, it's just an area where you can actually toggle and play with different percentages to say Amazon, Hey, I want to be seen more on top of search, or maybe I want to be seen more on product detailed pages. So Mina goes into detail about when to use it, when's the best time to make those kinds of adjustments, which is super helpful. How to find keywords. Keyword harvesting means looking at search terms that have converted and pull them out and put them into existing campaigns or maybe new campaigns so you can target them directly.
Vince:
Negative targeting, kind of the opposite of that. Looking at your search terms and finding things that are wasting spend maybe spending with no sales or maybe have a super high ACoS or low RoAS. So he goes into detail of the exact parameters that he uses for his clients to make those kinds of optimizations. And then reoccurring optimization processes. So what kind of cadence does he do to manage all these different functions that we're talking about above. And then again, available in the download is things like this. So you get to really see, and there's a lot on this page, so I'm not gonna go over everything but you really gotta get to see you know, what Mina explains in the video, kinda spread out on a spreadsheet that actually you can track.
Vince:
So you can say, okay, this is what I need to do every seven days. This is what I need to do every three days, this is what I need to do seven days after that. So you kind of, again, get the framework for everything that he was teaching in the video. And again, this is a slide that is shown in the actual video, but every single slide that is shown in the videos are available for download. So I think that's super powerful. I know I'm going through this pretty quickly. Are there any questions, Carrie, that I can answer?
Carrie:
Not that I can see in terms of about this?
Vince:
Okay. Yeah. So any questions you guys have about PPC in general for me, we'll answer kind of when I'm done through with this quick overview. Alright, so let's see, where were we at 5-A? Yeah, so again, PPC optimization in Amazon. So that's Mina covering all the things, things you can do in Amazon. And then streamlining PPC optimizations is me talking about Adtomic bulk sheets is, again, Mina. Cause this is manual processes. And this is an area in that I have no experience. I never used bulk sheets. So this is a great way, if you've got a lot of campaigns and you're running them manually, book sheets is definitely the way to go. And then I go into brand registry and PPC. And the reason that we added this here everything kind of above seven and above is kind of, you can do all these things.
Vince:
If you're a brand, a brand new seller, you're not yet brand registered and you're just running sponsored product ads. Now, once you're brand registered though, you have the ability to do sponsored brands and sponsored display. Very, very power powerful campaigns. There's tons of videos. I just did actually a bunch of videos specifically on sponsored brands and sponsored display that'll be coming out on the Trivium YouTube channel. And then nine and 10 are simply me going into detail what they look like in Amazon, actually go in it and say, this is a sponsored brand campaign. This is a sponsored display campaign. So if there's any question about the product or sorry, the campaign types that's fully covered in, in these different modules. And then using an analytics dashboard. So this is Mina again, manually showcasing what dashboard that he uses to manage his accounts and the campaigns.
Vince:
And then as well as calculating the cost of conversion. And again, what's great about these particular modules, and I think maybe a couple of modules above this too, is that Mina uses specific spreadsheets that he's been using over a certain amount of times, certain macros that are built into it. And those are actually available for download as well in these modules. So if I was to click on any of these, you'd see probably multiple, yeah, three different downloads that are available here. So on this side, yes, I already have 'em here. So this is the dashboard example, right? So again, lots of detail, but he goes over in the video this is how we manually track things and for download, cause I just clicked on the download. And so you guys can see this, this is what it looks like and you kind of just fill it in.
Vince:
And so you can easily track, manually track your, how your campaigns are doing. You know, he's got everything in here, PPC spend, sales, total sales units that were sold sessions, everything that's in here that he uses. And then another one that's available here is a conversion calculator. So again, I just clicked on this, on that previous screen that I showed you guys and you have this available for download exactly what Mina uses to manually track wwhat's the conversion metrics that are gonna actually then be built in and you should use in order to track is this campaign performing well or is it not? You know, obviously knowing what the conversion is, the conversion rate, and actually being able to track that. What are the trends? Super important to understanding the power of the effect of your PPC campaigns.
Vince:
And then, let's see, I went all the way to chapter 11, PPC to Influence organic rank. Yeah. So basically this is two different modules that are focused again on Helium 10 tools. One is keyword tracker. And then one is talking about how keyword tracker is now integrated into Adtomic. So you can still use them separately or you can use, just look at the view within Adtomic. But it's super important to understand the correlation between your PPC and how it's affecting your organic rank. And then okay, deeper dive into PPC. So within Adtomic there's really kind of deep dives that you can do into your search terms and your keywords. So that's kind of what I go over that it's really only available still within Adtomic. It'll give you data on like your search terms, and how they're performing across your entire account.
Vince:
You know, cuz sometimes search terms are from auto campaigns or from broad match keywords. And so you really don't know without seeing a clear picture, how is this particular search term doing linked to this keyword in this campaign. So there's a detail page for that with an Adtomic that kind of shows you, and this is a manual thing that you have to kind of look at. So really a powerful ways to do deep dives into your PPC and Adtomic using Amazon DSP that's last but not least, Mina that again, not an area that I'm a specialist in and DSP, if you guys don't know what that is, it's just Amazon's demand side platform. And all that means is that they have a lot of ways to leverage your ads and lots of different areas.
Vince:
And so Mina just goes into all the different elements that go into running campaigns and DSP from optimizing what the different final stages mean and what they are. And then obviously tracking it how do you know if it's profitable or not. So it's very, very nuanced when, when, when we were filming this within the offices, I learned a lot. I forgot most of it, but it's, it's really a great way to kind of get a download on what DSP is. And that's it for the awesome content portion of our session today, guys.
Carrie:
Cool. I mean that's such a really, that's an amazing tool for people to learn how to utilize PPC and use that Adtomic cause I get that question so much. So for anyone watching who's had those questions about how to do PPC definitely go through this course. Also you could go through the freedom ticket stuff first, a little more basic in Freedom Ticket, start off with and then come to PPC Academy. I think this is worth so much and you get it along with your Helium 10 subscription, which is an incredible value. Here's an interesting question. Do you use like ChatGPT and PPC?
Vince:
Not yet. Only cuz I'm still learning it. What I find that it's been really useful for so far is kind of breaking down. I think Helium 10 has a tool where you can break down all their reviews, right? What I'm hearing people do is filtering using ChatGPT to filter that out and maybe create you know, new marketing material around that. Like maybe it addresses the negative stuff in there. Or maybe looking at the positive stuff in there and making sure that you can use ChatGPT to write new maybe a new product description. I haven't chat it myself yet, but actually my next guest on Sir TACoS Tuesday, at the end of this month, I will be talking to a specialist in PPC who is using ChatGPT.
Carrie:
Sounds good. Vince. I'm handling multiple brands as brand manager and I'm stuck at scaling and generating more profits from better performing campaigns. Please suggest your strategies on scaling and generating more revenue and profit, and he said please also share PPC course details. So he definitely shared those details. Those are in the FBA training link when you log into Helium 10 and you can find the PPC course. But Vince, I'll let you take the other part. I think you, you kind of went over that you can find those answers in the course.
Vince:
Yeah, exactly. So Azim, I wish there, I wish there were simple answers to questions like this. But there really isn't like you know, every I get asked questions about what's the ideal ACoS, what's an ideal budget, and at the end of the day it's really up to the product, right? And it's really up to the margins. So if you've got really good margins on your product, then you can do a lot more with PPC you can collect a lot more data and then you can scale more quickly. Whereas if you have low margins, you have to kind of do it at an even pace. I mean, it might take a little bit longer but you know, if you're kind of just stuck, I would say if you're not leveraging Adtomic yet, do that <laugh>.
Vince:
Yeah. it does come with the Diamond plan as far as I still know. And it's just the, one of the simplest ways, I mean I still use it guys. I no longer work at Helium 10. I still use it because it's one of the simplest ways that I can really just dive into what's happening in the account. You know, what search terms might you find that if you don't really dive deep might actually work better than other keywords that you're targeting, finding waste, you know that when talking about PPC optimization, that's all you're really doing. Finding the stuff that works and trying to push it up and trying to find more of that, finding stuff that's wasting spend in no sales or high a costes and, and dropping that down. So that's really the secret. There's no secret beyond that. And using a third party tool is if you're managing all this yourself manually, I think my answer would simply be think about using a tool like Adtomic to actually help you manage all this and you'll find the data and the information much quicker and easier to then make kind of strategic decisions on what you should do for some of these brands.
Carrie:
Very good. Okay. I mean, this leads on to a good question cause I think a lot of people wanna know exactly how people can get in touch with you and make sure that because I think a lot of people wanna stay in touch and maybe are interested in Trivum groups. So definitely put info down there.
Vince:
Yeah, the best way to follow me obviously is on LinkedIn. You can connect with me there. It's just LinkedIn or whatever.com/vmontero or just search my name. It's actually under Vincent Montero. There is a little it says Sir TACoS too. So it's Vincent Sir TACoS Montero. I built that into my LinkedIn. That's funny. Yeah, I get a lot of questions, you know people connecting and then asking questions there, which is great. And that always kind of feeds into content cause I'm still creating content. So it's great to hear from people and get questions. You can find me on Instagram as well. You can search my name Vince Montero, Vincent Montero or at events one.
Carrie:
Thank you for sharing. Jake says, I wonder if you could have a color variation specific video campaign and take all over three spots.
Vince:
Okay, so thank you Jake. Cuz that kinda leads me into another bullet point. So my last TACoS Tuesday that I just recorded what last Tuesday? Yeah. So my Sir TACoS Tuesdays are the last Tuesday of the month. And these TACoS Tuesdays are the first Tuesday of the month. Yes. so last week I kind of went over the top things I learned from Prosper. One of the things I cover is actually kind of, I know Jake's joking, but a new thing that–
Carrie:
He says he does it on display ads on competing.
Vince:
Perfect. So I don't wanna say slightly more advanced strategy of what we're talking about here, but we're talking about customizing different types of creative and testing those out, which you should be AB testing. So yes, Jake is correct, but what I heard, which I thought was interesting, and I included in my video last week, is look at your PPC data and find some long tail keywords that are making decent sales, right? Long tail keywords typically don't make a lot of sales, but if you can find some long tail keywords that are making decent sales, typically at a lower ACoS than your higher search volume keywords it can be really powerful because longtail keywords are the shoppers typing in more than one word, typically, I think it's three or four words to be considered kind of longtail.
Vince:
So let's say they're typing in black carry on foldable luggage, right? So let's say that you have luggage and one of the features is it does fold, but in your creative you don't have any imagery of that. So let's say you look at your PPC data and you find all these long-tail keywords with different features and one of them is foldable, right? The foldable features. So foldable luggage. So you see enough sales from that and then you're like, oh crap, none of my creative or my video shows the thing actually folding. Yeah, right. It may be a, it may be a bullet point, right? So it's probably in your product description, which is great, but we're talking about is making sure it's in your creative, making sure it's in the intro video or intro to your video.
Vince:
So really customizing your videos and creating campaigns specifically for those long tail keywords. So pulling them out of your PPC, creating their own independent campaigns and just running, you know creative specific campaigns targeted to what those shoppers are typing in exactly. a specific feature. And it could be I'm harping back to the foldable, but there's lots of different specific features of a product that maybe might not be at the first thing that you think of, but if you do see that enough sales from that, then you're launching a campaign that already has proven that it will be successful and should be doubly so because you're using that imagery or that video showcasing that particular feature right at the beginning. And that's the point. It has to be the first image of a creative or very obvious in a creative or the first thing that you see in a video.
Vince:
Like we were saying before, minimum three benefits and features in the video. Carrie said she just put in five in hers, so it would be the first one. And then let's say you find another feature, you make that feature the first one. So you can kind of like video, you can kind of, I envision it as just cutting and kind of cutting and pasting, like creating little specific clips and then just making sure that's the front and then creating a PPC campaign. So you're really just targeting those shoppers. And it could be scary cuz it's like additional budget and additional videos, but it will work cuz you've already got the PPC data that shows oh no, people are looking for this particular function or feature and it's selling at a really good ACoS. So you're capturing all that.
Carrie:
Yeah. Sounds, yeah that's good information because I really think that it's such a good opportunity. People are not, not capitalizing on. So those are a lot of good strategies for video ads and just, and creative, general and creative. And so thank you so much for joining us today. I think we have pretty much, we pretty much have run out of time, so I think somebody said it's great to see you both, Vince, it's always good to hear you speak.
Vince:
Ah, there I need. Message me on Facebook. We need to follow up after I saw him at Prosper.
Carrie:
Oh, okay. Very nice. Well, thanks again for joining us. I hope you'll join us again in the future for other TACoS Tuesdays. I think you did great. Good job recapping all the great coursework that we created.
Vince:
Hopefully we'll see an uptick in people in PPC Academy cause it's an incredible resource. Again, Helium 10 does a great job of creating good training content and so I'm just here today to make sure that you guys know that it's available to you. And hope that it helps
Carrie:
Yes, I think it will. And so thank you again for everything and we'll see you again soon.
Vince:
Sounds good. Thanks, Carrie.
Carrie:
Bye.
Bradley Sutton:
All right guys. Thank you so much Carrie and Vince for that. I hope you guys are, were able to find some beneficial things, especially those of you who are already inside of Helium 10. Make sure to go ahead and get PPC Academy active and go through that course. Really great information that he and Mina brought out there and hopefully some of the other tips that he talked about you guys are able to implement. Don't forget we do this show once a month. This was the podcast version of it, but we actually, this was recording of what we did live. So if you guys ever want to come on our live broadcast, just look out for the announcement of when it's gonna go down and we stream it live to YouTube and to our Facebook group. So make sure to come on live and bring your top questions for whatever special guests that we're gonna have each month. I'll see you next month.
---
Enjoy this episode? Be sure to check out our previous episodes for even more content to propel you to Amazon FBA Seller success! And don't forget to "Like" our Facebook page and subscribe to the podcast on iTunes, Spotify, or wherever you listen to our podcast.
Get snippets from all episodes by following us on Instagram at @SeriousSellersPodcast
Want to absolutely start crushing it on Amazon? Here are few carefully curated resources to get you started:
Achieve More Results in Less Time
Accelerate the Growth of Your Business, Brand or Agency
Maximize your results and drive success faster with Helium 10's full suite of Amazon and Walmart solutions.