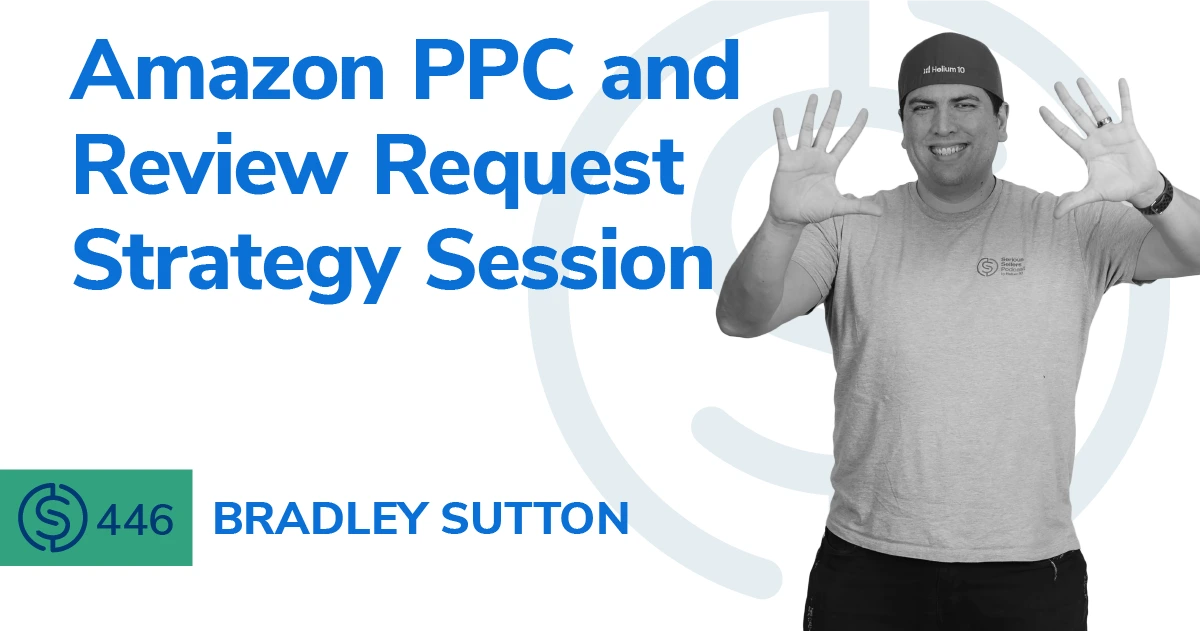 #446 – Amazon PPC and Review Request Strategy Session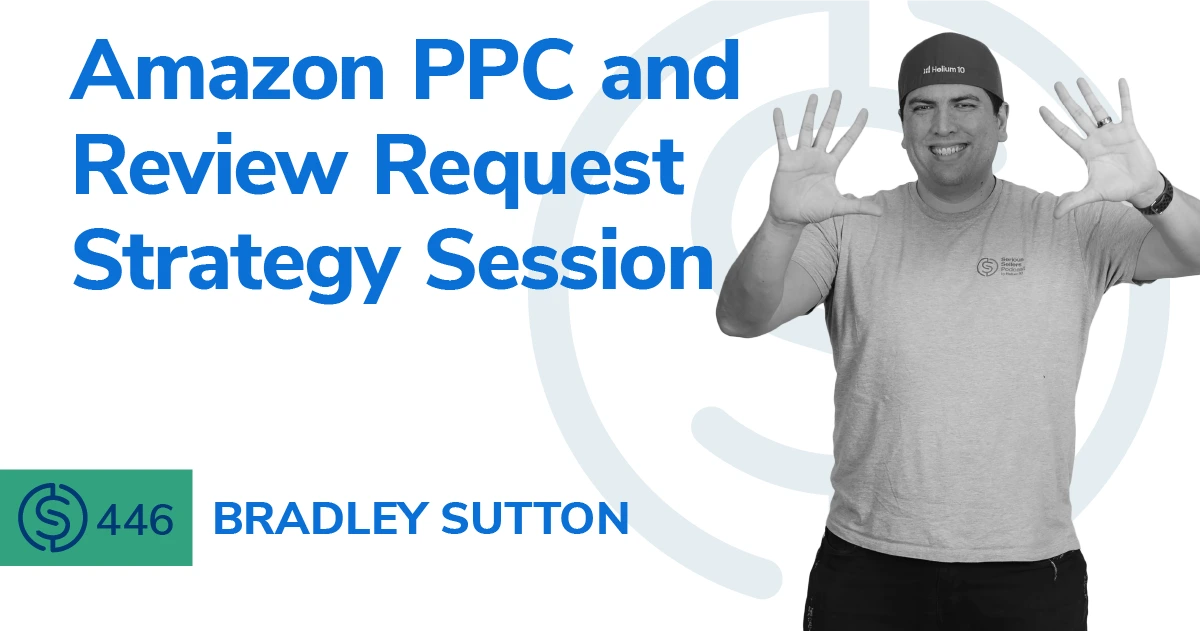 Video of the episode at the bottom
Join us in this special Seller Strategy Masterclass with Bradley Sutton. Today, we dive deep into the world of Amazon advertising and how to automate your review requests.
Bradley, who once hated Amazon PPC, but has since learned the ropes and with the help of Adtomic, how he found success managing hundreds of PPC campaigns. Bradley stresses the importance of learning Amazon PPC for yourself in order to gauge the success of your brands PPC campaigns. He also offers his unique features inside Adtomic like, viewing metrics such as TACOS over certain periods of time, as well as seeing your PPC performance by day of week and hour of day.
Bradley also shares tips on setting up PPC dayparting, viewing old PPC data up to years in the past, and instantly seeing if you have search terms you should negative match. He also shares ways to view your PPC performance by product and feed newly found keywords from broad and auto campaigns to exact manual campaigns. Optimizing your PPC campaigns bids is essential, and Bradley shares how to do this in seconds.
Additionally, he offers insights into automating the Amazon request a review process, complete with special time delays and other filters using Helium 10 Follow Up. For those without automation, he also shares how to bulk request a review to orders that you didn't have automation set up on. Finally, Bradley offers tips on checking your review velocity for your products over time. Don't miss out on the valuable insights this SSP seller strategy masterclass has to offer!
In episode 446 of the Serious Sellers Podcast, Bradley discussed:
01:50 – Bradley Hated Amazon PPC In The Beginning
02:18 – You Need To Learn Amazon PPC Yourself!
04:08 – How to View Unique Metrics Such as TACOS Over Certain Periods of Time
05:36 – How to See Your PPC Performance by Day of Week and Hour of Day
08:30 – How to Set Up PPC Day Parting
09:53 – How to See Your Old PPC Data Up To Years in the Past
11:54 – How to Instantly See if You Have Search Terms You Should Negative Match
14:18 – How to See in Seconds if You Have Search Terms with Unfavorable ACoS
15:57 – How to View Your PPC Performance by Product
17:51 – How to Feed Newly Found Keywords From Broad And Auto Campaigns To Exact Manual Campaigns
24:55 – How to Optimize Your PPC Campaigns Bids in Seconds
28:50 – How to Automate The Amazon Request a Review, With Special Time Delays And Other Filters
31:41 – How to Bulk Request a Review To Orders That You Didn't Have Automation Set Up On
33:03 – How to Check Your Review Velocity For Your Products Over Time
Transcript
Bradley Sutton:
Today's another one of our Seller Strategy masterclass, where we're gonna go deep this time into advertising. I'm gonna teach you how to do day partying and how to manage all of your bid suggestions just in seconds instead of hours. How cool is that? Pretty cool I think.
Bradley Sutton:
How can you get more buyers to leave you Amazon product reviews by following up with them in a way that's compliant with Amazon terms of service? You can use Helium 10 Follow-up in order to automatically send out Amazon's request or review emails to any customers you want. Not just that, but you can specify when they get the message and even filter out people that you don't want to get that message, such as people who have asked for refunds or maybe ones that you gave discounts to. For more information, visit h10.me/followup. You can sign up for a free account, or you can sign it up for a platinum plan and get 10% off for life by using the discount code SSP10. Hello everybody and welcome to another episode of the Serious Sellers Podcast by Helium 10. I am your host, Bradley Sutton, and this is the show that's a completely BS free, unscripted, and unrehearsed organic conversation about serious strategies for serious sellers of any level in the e-commerce world.
Bradley Sutton:
And today is another one of our seller strategy masterclass that we do once a month where we go deep into tool use. All right, so this is going to be using Adtomic by Helium 10. Now, whether you use Adtomic or not, these are principles and strategies that you should be using, whether you do your own PPC, whether you're using another software, whether you're using an agency, you know, you need to be checking up that they're doing on this stuff. But this is, this is gonna be important for, for listeners no matter what stage of the game you guys are at. Now, for me, you know, you, some of you guys know my story. I hated PPC in the beginning. You know, when I was launching hundreds of products for my clients before I worked at Helium 10, I was like, hands off on PPC.
Bradley Sutton:
I'm like, I don't wanna learn this stuff. This stuff is like way above me. You know, like, I'm just gonna focus on launch, listing optimization, keyword research, product research, stuff like that. Somebody else please handle a PPC. And then when I started selling myself, you know, after I started working at Helium 10, I'm like, okay, I need to finally figure out how to do PPC. In the beginning, it was rough. You know, I was, you know, happy to download all these spreadsheets and I didn't know how to do pivot tables and, and all vlookups and all this stuff. And then finding the campaigns in Seller Central and the ad groups, it was just like a mess. And then that was right around the time that Ads, Helium 10 Ads came out, which is the predecessor Adtomic. And then I was like, okay, finally, now you know, something that helps me learn PPC, make sense?
Bradley Sutton:
And now, you know, I'm running over 200 campaigns, probably closer to 300 now all using this software. So I'm just gonna be going over some of these strategies using Adtomic. I'm gonna be showing sharing my screen, those of you watching on YouTube. But again, don't tune out even if you don't use Adtomic, because these are strategies that hopefully you guys are using. And it's important, I think, in order to run efficient PPC. And, and I'll, I'll tell you guys right now, those of you who are newer sellers, if you are one of those people who's like, oh, yeah, I need, I need a consultant, I need an agency, and you're new, no, guys, please stop with that nonsense. Very important to understand how PPC works yourself before you ever even dream about outsourcing it. Now, hey, if you get to be too big and, you know, you can't do everything yourself, of course, you need to hire people, maybe outsource some things here or there, but that's after knowing how to do it yourself.
Bradley Sutton:
Because think about it, how could you hire somebody and be able to judge what they're doing and, and their output and make sure that your ROI, you know, what you're investing to pay this company is working out if you don't even know what is good PPC strategy and what is bad. So, so anyways, just keep that in mind. Why don't I have pet peeves I see in the Facebook groups, you guys can do it yourself if, if you're new, for sure, as long as you have the right strategies. And that's what we're talking about today. So like with all seller strategy masterclass, how I do this is I just give you guys like problems to solve and then I'm gonna show you how to solve it. Problem number one, or strategy number one, how to use or view unique metrics such as TACoS over a certain period of time.
Bradley Sutton:
Now, TACoS is something interesting that is not a metric that's in Seller Central, and that means like you're total ACoS. So how does your advertising spend relate to your total sales? Right? So, you know, one, the way to do that in Adtomic is on just the dashboard. That's actually one of the key metrics here is TACoS. And I like comparing different time periods. So for example, right now I'm looking at April one to April 16 here, and it's 12.76%. And if I just take the previous 16 days, it actually dropped over 10%. You guys trust me, you, you're gonna see stuff today that are like, what are these numbers, Bradley? You're you're PPC skills suck. But no, I don't suck that bad. It's just because everybody at Helium 10 uses this account to kind of like do their tests and things like that.
Bradley Sutton:
And so that's why my ACoS and my TACoS are, are really bad. But anyways, this is just a simple way, guys. Compare what your metrics are, your total sales, your cost per click, your PPC sales over different time periods. It's important to know how you're doing, especially if you had a bad month like I did last month. You wanna know if the changes that you've implemented are working. So make sure to do that time over time. Next step is how to see your PPC performance by day of week or hour of day. Now, this is interesting. Some people call this like day partying and before people were always saying this like, Hey, I wanna be able to pause my PPC campaigns at the times of day that doesn't work out for me. And they would like look at their PPC throughout the day and then make decisions based on that.
Bradley Sutton:
That's completely wrong. Cause that's not how PPC works. Somebody could have clicked something four days ago at 5:00 PM right? But maybe today at 8:00 AM is when they actually make the sale. Now, you might be looking at your PPC data and say, oh man, 8:00 AM is a great time for me because look at this low ACoS or whatever, right? But no, the actual click happened a few days ago at 5:00 PM So I hope that makes sense. Oh, before, or if you're just looking at your Amazon data in Seller Central, you cannot base performance by time of day if you're just looking at it live because of the attribution window. So what we have done in Adtomic is take a look at over time of day or which day of week campaigns are performing well. So I'm just gonna pick a campaign here the large coffin shelf product targeting ad cuz I know that's like a big spender for us.
Bradley Sutton:
And then take a look, I'm looking here at the last like two, three months, and I can see that, look at this, at 12:00 AM to 1:00 AM 1:00 AM to 2:00 AM I'm spending some decent chunk, like actually for some reason, the highest chunk of sales for the day, or the highest chunk of spend for the day almost. And I've gotten zero sales at these times of day in two months. Zero sales. Compare that to, let's just say here we go at 3:00 PM I'm getting 10% ACoS. Here's another one at from two to 3:00 AM well, two, 2:00 PM and 2:00 AM sounds like or it seems like it's a good deal. I'm spending $9 on average and 7% ACoS. So you can see here that different times of day performed differently. So what the fact that I haven't gotten one sale in all this time from this time period of period of time that would show me that I need to maybe stop something.
Bradley Sutton:
I'm not gonna do ads from 12 to one. So this is important to think about because, you know, you could be wasting money by just keeping your PPC on all day. Now, I'm not saying you definitely are, but, and I'm not saying every campaign has these gaps where like performance is bad, but start taking a look at your high spending campaigns if you have history of campaigns not doing well at certain times a day. So in this one, let's just say this is true. Like, what, what would I do? All right, so whatever software you're using, you know, if I have like a time of day where I never get sales, but crazy spin, well, what I'm going to do is I want to make sure to pause perhaps that campaign during that time of day.
Bradley Sutton:
So that's what I'm gonna do here. You know, guys, click on Schedules in Adtomic and then select the campaign. I selected that large coffin shelf, product targeting campaign, and then I'm picking this timeframe between 12:00 AM and 2:00 AM and I added it right here. And then I'm saying I want the status to be paused. So in other words, hey, pause this campaign from 12:00 AM to 2:00 AM, let's just say starting on the 18th of April and never expire, and then hit next. And then it's just going to confirm, hey, Monday, Tuesday, Wednesday, Thursday, Friday, Saturday, do you want to pause this campaign during this time of day? Absolutely, I do. I just hit launch and then it is pretty much done. So again, other software has definitely do this. This has been something that only Amazon sellers could do, probably in the last like six months or less, I think is when Amazon opened this up, or maybe a little bit more.
Bradley Sutton:
But this is definitely something you guys should be thinking about to potentially save you some money if you've got some bad performance at certain times. Now strategy number four, that was number three. Strategy number four is how to see your old PPC data up to years in the past. So if you're just going into Seller Central, I think you can only go like six months back. Now, you might have had some great months that you were doing well in performance. You know, like if you're using Cerebro and you've got the Helium 10 Elite account, you can actually look back in history and see where you were ranking on sponsored ads, right? And then be like, wow, look at this month I was just crushing it on sponsored ads, right? So this is important to know that you don't have access to that data in Seller Central, but if you're using Adtomic, this is where I want you to go.
Bradley Sutton:
Go to the analytics page and you can select any campaign you want, Or just go back in time to see everything, right? So like, hey, I wanna see what was going on. I had a great month overall in a certain timeframe. Let's just say, you know, April of 2021, this is like even up to two years ago, April 2021, all the way up to May 2021 and Helium 10 is going to put up that data for you. So guys, this is a great way to look at old performance. Like oh my goodness, these campaigns were actually terrible back in, in these days. But here's one. My Project X broad campaign was at 20% ACoS. So now I can see what was working for me at that time of day. This is also good, especially for if you've got a seasonal product, all right?
Bradley Sutton:
You probably do seasonal campaigns and you want to do a look back at a year, you know, like you're not, you might not be able to do that unless you have downloaded that in Seller Central. So, you know, like for example, if you have some products that really pop off during Christmas maybe you have some special campaigns at Christmas. Well, I would wanna look back at last year's Christmas and the previous year's Christmas to see what my campaign performance was, and then I would use that to gauge this year's. So that's a strategy. Make sure to look back at your old campaigns if your software has access to that. Strategy number five here is how to instantly see if you have search terms that you should negative match. So I think you guys know how to do this.
Bradley Sutton:
Just if you're just downloading Excel files, right? If you're do downloading Excel files, you've just gotta run, you know, some formulas and, and sort it out to have like minimum number of clicks or minimum spend or something like that. And then just try and find it. So if you're using Adtomic, here's the strategy of what you should use, and it's probably something similar in the software that you're using. I like going to the analytics page, and then I hit search terms. And then what I enter is PPC orders zero to zero, meaning that, hey, this is a search term that has gotten me zero orders, but in the spend field I put minimum $15. Now, this is not just like a one size fits all number, you know, maybe some of you have a different threshold you want to use or whatever.
Bradley Sutton:
I like just doing 15. And then sure enough, I can see all of these keywords here or ASINs where it's been showing up as search terms zero spend here, there's a few hundred dollars worth of spend. And so what I would do is I would just negative match these. Now theoretically speaking, I should have caught these earlier if I was doing my PPC correctly. But if you just want to quick, like if this is like day one and you've gotta Adtomic or day one and you're downloading reports, that's the number one easiest way to save potentially hundreds of dollars is immediately stopping spend where you're just spending hundreds of dollars potentially, and you are getting no, and because you're getting lots of clicks, but you are getting no conversion. So now on the flip side, something you guys should probably do is if it's a very important keyword for your niche and you're getting lots of clicks, right?
Bradley Sutton:
But no sales, there's obviously some buyer intent. So people are seeing something in the search results, right? That makes 'em think that they might want your product. So if you got a hundred clicks, there's buyer intent there, right? Why are they not buying it? So that might be something that you could, you know, try and figure out, but in the meantime, I'm still gonna pause that target negative, match it for now, or just pause if it's an exact target match just stop the bleed and then maybe on the back end try and figure out, okay, why, why are people not buying this after they click on it? And try to figure that out. And then maybe if I change something, maybe I can go ahead and restart that target. Now how to see in seconds if you have search terms that have unfavorable ACoS.
Bradley Sutton:
Alright, unfavorable. So maybe there are a couple of sales, but the ACoS is just bad. So same page, I go to my analytics page, I go to search terms. And again, you put what works for you, like what you don't want to see as far as ACoS. I'm putting a minimum 80% ACoS here, And then I could see there's not that many here. I'm kind of doing the right thing, I guess you could say. All right, so here are some search terms that have come up where, here's one, I've spent $80, here's one I've spent $50 and one of them was 80% ACoS, 140% ACoS. Now, I could do a couple of things here, right? I, I could just go ahead and negative match this. I'm like, Hey, you know, at this ACoS, you know, I'm not gonna make any sales.
Bradley Sutton:
Or I'm not gonna be able to bring this down to, to 20% ACoS, but maybe you were just looking at this and you did one for 50% and your target is 30%. Well, hey, it's doable. So maybe I just write there, go in and start you know, adjusting those bids down to try and get to my target ACoS. But if you just want a quick snapshot across your whole account of all of the bad ACoS, then this is the, the way to do it. And of course, you can do that if you're downloading reports, it just takes a little bit more time, just, you know, sort it by the, you know, in your search term report sort it by the, the high ACoS and try and filter those out. Like use a Excel filter in order to see what ones are over a certain spend and over a certain ACoS.
Bradley Sutton:
So that is number six. Strategy number seven is how to view your PPC performance by product. This is something I think you now can do inside of Seller Central as of a couple of months ago. Those of you use Adtomic, just go on the analytics page to the product tab, The product tab and scroll down, it has a list of all of your products. You know, you might have 5, 6, 7 campaigns, sponsored brands, sponsored display, sponsored product, broad match auto for every product. And you just sometimes might wanna see what is going on as far as you're advertising. Like here, I don't even know who set this up, but we have this stackable egg rack and the bottom rack, like, you would never buy that by itself, because it's, it's just meant to add layers to this stackable egg tray, egg rack that we have.
Bradley Sutton:
For some reason, I was running ads, I gotta shut this off, but I didn't even know I was running to this one. And of course, look at this, ACoS is 150% for this target. So I'm gonna probably pause this as a as a target. And I might wanna see what are my good performing once here, maybe I wanna see, you know, what, what about buy campaign, you know, so I would just hit this campaign button, and now I can see all of the campaigns that a certain product is being advertised for. And this is important to understand, hey, where is all of this spend? Is $4,000 of spend for this one product. What are the good performing campaigns? And sure enough, the ones that you see that are really bad are the dang test that my product team was doing to ruin my ACoS here.
Bradley Sutton:
But most of the ones that I set up are, are doing pretty good, like auto campaign with 20% ACoS. That's pretty darn good. All right, so now I can go in campaign by campaign and then see what are the good performing ones and what are the ones that I might need to kind of optimize a little bit more. The next problem to solve here is how to feed newly found keywords from broaden auto campaigns to exact manual campaigns. Let's talk about this strategy as a whole, because this might be the one of the most important ones I've talked about today. And it's something that applies to everybody. Doesn't matter what software you're using, but super important guys that you have a strategy to migrate or at least copy keywords from one campaign to another. Let's talk about why you'd want to do that.
Bradley Sutton:
So if you are running I always suggest running multiple campaigns multiple different match types of campaigns. So a match type is how Amazon decides what keywords to show you for. If you're doing an exact manual, what we call performance campaign in Adtomic, that means you, you give Amazon a keyword coffin shelf, and Amazon is only technically gonna show you for coffin shelf, might show you for a plural like coffin shelves or something like that, right? That's important. Cause like, hey, these are the keywords I know I want to show up for constantly in PPC I want you to just, you know, show me for this keyword right now. Then you've got broad and phrase match where, hey, let me enter the word coffin shelf, and then, you know, maybe coffin shelf decor large coffin shelf, red coffin shelf, Amazon will start showing you for all these others, if you have a broader phrase match going on, the broad is very loose these days.
Bradley Sutton:
So you gotta watch out for that. And then you have an auto campaign where you're just like, Hey, Amazon, take the wheel and you just show me for whatever you think. Now, the reason why broad and auto are good is that Amazon can show you for keywords you are not even indexed for. And if you start getting sales for, you're gonna get indexed potentially for these keywords that you don't even have in your listing. So for example, you know, like in an auto campaign, Amazon might show me for gothic bedroom, let's just say, because whatever the algorithm is thinks that you you know, my coffin shelf is relevant to it. Well, I can't target that in PPC myself if I don't, if I'm not index sport and, and I wouldn't show up in organic search results. So this is the potential for me to show up for other keywords that I don't even have index.
Bradley Sutton:
Now here's the thing, when you have the auto campaign going, it can show you for ASINs like on product targeting campaigns. It can show you for keywords. And then what's important is that it's just kind of like throw, you know, like, think of a big bucket of water and then they just like throw it all, all over the place. It just sprays all over the place. And then we're just trying to see what, where, where it ends up this, this water. Well, if the water ends up in this one place that works out really well, you kind of wanna do that purposely going forward, right? So for example, like, hey, they're showing me for this gothic bedroom. I get like three or four sales, that's great. I'm like, wow, you found a keyword. Well, I don't want to wait and cross my fingers and hope that Amazon shows me for this keyword going forward, which is what happens to the auto.
Bradley Sutton:
Cause a in an auto campaign, Amazon could, should be showing you for hundreds if not thousands of different keywords. And it's not doing it consistently cuz it's just, just trying to see what's going on, right? So in this situation, if you have good performing keywords that Amazon has discovered in a broad or auto campaign, you don't want to wait for Amazon to keep showing you for that. You want to tell Amazon, show me for this ASIN, show me for this search term 24 hours a day if possible, right? And that's why we have exact manual campaigns or performance campaigns, right? So if you're, if you don't have software, you've gotta download all of these like maybe every week or every couple weeks and see what you have, like maybe two or more sales on, and then find your manual campaign that it corresponds to and then get it in there.
Bradley Sutton:
Now that sounds like a mouthful, that is because it's a very tedious and long process. And so let me show you how to do that in Adtomic here. All right, so what we're gonna do is you are going to go here and set rules up. And this is like the core part of Adtomic, guys is setting rules. So here I'm looking at our egg tray rule set, and I have, as you can see here about five, six campaigns that I'm having all talk to each other. So I've got my performance campaign, that's my exact manual campaign. I've got a sponsored display campaign that's for targeting other products or other ASINs. I've got an auto campaign, I've got a product targeting campaign. I've got a research campaign, which I actually have broad going. And so basically what I do is I put these all into this one rule group and then I say, Hey, under my sponsor display campaign, I put match type ASIN.
Bradley Sutton:
What that means is, is I'm telling Amazon, or I'm telling Helium 10 or Adtomic, Hey, if you find an ASIN a good performing ASIN in your, in the auto campaign, I want you to create the new target or suggest to me to create this new target right here in my sponsor display and in my product targeting campaign, right? Those are two different types of product targeting campaigns. And if I have an ASIN that I know is converting for me, I obviously want Amazon to be showing me for there. Same thing, my performance campaign, my research campaign. If I find something in the auto campaign, hey, let's test it out in my broad campaign, let's test it out in my performance campaign. So this is like game changing as far as the time that it takes you to manage your PPC because now all of a sudden, you know, if I start getting good performing keywords, what's going to happen is that now Adtomic is gonna give me these suggestions and say, Hey, we found this keyword that hit your criteria.
Bradley Sutton:
And by the way, I didn't show it to you guys, but you also gotta put what your criteria is. My personal one is, I like doing, if it has two conversions, I don't like doing, if it has one conversion. Cuz every now and then you might get a complete fluke where, where somebody hits something and then they just happen to buy your product like six days later and it has nothing to do with the original ad, right? So I like getting at least two conversions on an ace in or a keyword and under like 40% ACoS because I know I could adjust in the future. And then if, so, what Adtomics is gonna do, as soon as that criteria happens, it's gonna pop up something to me and say, Hey, you got two conversions, 35% ACoS on this one keyword from this auto campaign.
Bradley Sutton:
Do you want to put this in the manual campaign? You just hit yes or no, and then it automatically does it. That's it. One click and you're done. You know, the amount of time that thing saves like that, that literally takes me three seconds to do. It would take at least, you know, maybe three minutes if not 10 minutes just to be able to make reports and fi find that and then go back to seller central, et cetera. If I really like how Adtomic is, is taking care of it, I can actually even put automation on and it takes zero seconds. I just say, Hey, Amazon, add this to, you know, these campaigns, you know, I personally don't do automation on anything in Adtomic because I like to control and know exactly what's going on in my PPC and be able to just say yes or no.
Bradley Sutton:
It only takes me a few seconds more. But if you're just like, Hey, I'm super pressed for time, I just want automation to do it, you can absolutely do that. All right, so really, really important. Now the last strategy for Adtomic, I'm gonna talk about today, and there's probably like, you know, 50 more that we can do, and these are just some of the cooler ones that I wanted to bring out is how to optimize your PPC campaign bids in just seconds. So another thing that I put as far as my rules and Adtomic goes is I put it like a target ACoS for my campaigns, right? It really goes down to my target level. So I say usually let me just show you guys for a lot of my campaigns, I put the target like 20%, sometimes I put 24%, sometimes I'll have 30%.
Bradley Sutton:
And then basically what's going to happen is on these targets that I have, if it's overperforming or underperforming, and that's something that's important. Adtomic is gonna gimme suggestions. So let's say my target is 20% and I'm getting 3% ACoS, that is not time to just like jump up for joy. You might be like, oh, this is great, I must have done the right thing. If your ACoS is only 3% and you're maxing out your bid, you're probably, you are leaving money on the table, Because unless you're at the very top of the page, you know already which by the way, Adtomic links with your keyword tracker, so you can see where you're showing up on the page. You know, it's not, it's, this is not good because maybe you could be doubling or tripling your sales if you increase your bid and you'd still be under your target bid.
Bradley Sutton:
But so don't think that if you have this tiny number of ACoS that you are just crushing the game, you're probably leaving money on the table. So if you have super low ACoS, you might want to increase the bid to test if you can get some wider reach, more impressions, higher placement, right? The flip side is what you more normally think about, Hey, my target ACoS is 20%, I'm paying 40%. Well, I, I need to get that bid down to try and get to my target. And so that's basically what Adtomic is doing is calculating based on what your ACoS is, what you might need to do. Like for example, here's a broad match target wood egg holder. My target is 20% and it's at 44%. So it's like, hey, drop your bid 13 cents in order to get a little bit closer to your target.
Bradley Sutton:
And so if I wanted to go ahead and do that, I just hit this approved suggestion and boom, it's done. I don't have to go into Seller Central or anything. Here's the one that's the opposite, good grief. Here's one where my ACoS is 0.77%. Man, that's pretty crazy. 0.77%. So in this case, obviously it's telling me to increase my bid. Who knows, maybe I can get some more play there. Here's an ASIN one that was only 4%. So again, it's telling me to increase my bid, and potentially I might be able to get some more play. So this is super, super important guys, that you guys get these strategies done, whether you have Adtomic or not. If some of this stuff I intrigues you and you want to check Adtomic out, go to h10.me/adtomic to get more information, you can add it on to any account.
Bradley Sutton:
Now, even if you have a Platinum account, you can add Adtomic for, I believe it's $199 a month, but I mean a hundred, what do you value your time at? You value your time at $50 an hour. Adtomic will save you more than four hours you know, a month, guys. I mean, it saves me like probably like 50 hours a month of time. What I can do in Adtomic compared to what I would have to do if I was just downloading reports. Now let, let's quickly switch over to Helium 10 Follow-up. Follow-up is something that is very, very important, you guys need to be using this goes to all levels of Helium 10, and this is for increasing your reviews, And I guarantee you, 80% of you probably don't even realize some of these things that you have complete access to without having to pay 1 cent even more, right?
Bradley Sutton:
So number one, how to automate the Amazon request review with special time delays and other filters. Now, this is important because the request review is what Amazon has on their order pages where you just hit the button request review, and then Amazon sends a predetermined message out. This is the easiest and safest way to ask customers for a review because it's a hundred percent terms of service compliant because all you're doing is triggering an Amazon message that they have provided as a means to get a review. So it's like, this is from Amazon. So before we used to have a Chrome extension that would trigger those for you. And when that went away or that, you know, became like not used, people thought, oh, Helium 10 Follow-up doesn't have that Helium 10 Follow-up is only about doing emails, right? No, that's not it.
Bradley Sutton:
We are triggering this, and this is what I actually suggest doing. So the way to do it is just go to Follow-up in your account and even like the base plans of Helium 10 have this guys, all right, then you go to email automation. So I'm going to hit here an email automation, new automation, and then this is the one that you guys want to pick. Send a message to request or review. This is not, oh, make a new email so that we can request review when, whenever you read request review inside of helium 10, that's what it is talking about. It is talking about the Amazon request review. And you add filters here. I like putting this discount of less than 30%. I don't want a request review going out to customers who have gotten discounts or sales or coupons or things like that.
Bradley Sutton:
I like also doing it by ASIN. You can do it by product name, you can do it by the price, you can do it by the SKU, and then you can put here how long to wait after the order is placed for the review to go out. And then that's it, it's done. Like you set this once and then forget it. Literally, set and forget it. And now every single order that is from that ASIN or from that product that doesn't have a discount and now you have to wait a certain number of times after chips, and then the person is gonna get a request, a review. So this can definitely increase your review velocity. And it's really good to put this timer on it, you know, because like if you have a supplement, I suggest waiting for like 20 or 25 days after shipment in order to send a request review because somebody needs some time to be able to know if they like the product or not, right?
Bradley Sutton:
So but if you have another product like party supplies, maybe they have a party right away. Usually, people who do party supplies get their stuff like kind of late in the game, right? So you want that review to go out as soon as possible. So that's why it's cool to kind of put that delay on there. But guys, that is like the easiest possible thing you can do. You need to set that up, ASAP. Now, let's just say you're setting it up now and you're good going forward because you're gonna have all of these, you know, request reviews sent out automatically, but you're like, wait a minute, in the last month I've got like a thousand reviews or a thousand orders. I've sold a 500 orders, whatever.
Bradley Sutton:
What do I do for all of these? Because the automatic request review is not gonna start until new orders, right? Well, watch this. All you have to do is you're going to hit orders on your Follow-up page. And you can do this manually too, at any time. Maybe you don't have request reviews set up for all your products. I go to orders, find the ones that don't say that they have one, like a message queued or sent, right? Because you know, that's gonna be for most of you guys. If you've never used Follow-up, it won't say queued or sent for anything, and then you just copy or select all of them you want and just hit this button. One button guys request a review, Like watch, I'm gonna do it for one of them right here.
Bradley Sutton:
You guys can see how easy it is. Let's go ahead and do this one here, and I'm just gonna hit request review. Do you want a request review for this order and just confirm it? Now, this one I can't actually do because it's beyond 30 days old, but you guys can see how, how kind of easy it is. So that's just a way to bulk request review orders that you don't even have an automation set up for yet. The last is to how do you check your review velocity for your products over time? How do you check your review velocity for your products over time? This is something that's important because if you're requesting reviews, you kind of want to be able to know, Hey, is this working? So first of all at the account level on your Follow-up dashboard, you'll be able to see all of your tracked product ratings.
Bradley Sutton:
Like, look at this order rating, conversion rate is 16% on all these products, Because I requested 103 ratings and I actually got 11 of them of the 66 orders that were, that were delivered. So 11 out of 66, That's 16%. And then based on the number that I requested, it's about 10%. I could see how many reviews were requested, how many message were sent, et cetera. If I want to keep drilling down, I would go here into the product ratings tab. I hit product ratings, and then I could see my products here. Let's just look at this egg tray one, or this egg rack. All right, I'm going to hit this graph right here. And this graph is going to take me to the details of what's going on in this products reviews.
Bradley Sutton:
So I could see my average rating. I can see how many five stars I could see in the last seven days, how many ratings I've received, how many reviews I've requested. Look at this here. I've gotten over the last 30 days, six ratings received out of 79 reviews requested. That's, that's pretty dang good, right? That's almost 10% of what I asked for. I was able to get a review, right? So, and I can see, I can graph it over time. I can see my, my review velocity over time. A lot of data here I get, I bet you 90% of you guys didn't even realize you have access to, but this is something that we all know how important reviews are, and most of you guys are already paying for Helium 10. You don't need a Diamond account for this, you don't need an Elite account.
Bradley Sutton:
This is on the base plan, guys. You have access to all of this information. And so it's just a no-brainer to activate this and then Follow-up, no pun intended, with how your Follow-up is doing so that you can see you know, how your review requests are going. Cuz maybe you wanna, like, maybe it's not great, your review velocity compared to how many of you reviews you're requesting. So maybe you wanna move that date, you know about when you actually send the email. Maybe you wanna make it slower, maybe you wanna make it faster, but start experimenting with these guys, guys or have your team do it. All right guys. That's it for this seller strategy masterclass. We went over Adtomic today. We went over Follow-up. I hope you guys were able to get some benefit. Remember, most of you are using Helium 10.
Bradley Sutton:
The few of you who aren't, I guarantee you're probably using another software that probably has similar capabilities, not as great as Helium 10. Obviously, nobody is as great as Helium 10. But whether you're not, whether even if you're not using Helium 10, make sure that your software is using these kind of strategies in your business. And if not, yeah, might be time to make the switch over to Helium 10. You know, I rarely give out this code, but anybody who wants to switch over to Helium 10, just use SSP10 and you'll save 10% off for life. All right guys. Hope you enjoyed this episode. We'll see you in the next one. Bye-Bye.
---
Enjoy this episode? Be sure to check out our previous episodes for even more content to propel you to Amazon FBA Seller success! And don't forget to "Like" our Facebook page and subscribe to the podcast on iTunes, Spotify, or wherever you listen to our podcast.
Get snippets from all episodes by following us on Instagram at @SeriousSellersPodcast
Want to absolutely start crushing it on Amazon? Here are few carefully curated resources to get you started:
Achieve More Results in Less Time
Accelerate the Growth of Your Business, Brand or Agency
Maximize your results and drive success faster with Helium 10's full suite of Amazon and Walmart solutions.