#377 – Amazon Posts, Virtual Bundle Strategy, And More!
In this episode, we speak with a 7-figure seller from Brazil, Antonio Bindi, to talk about his Amazon journey and his unique strategies on product launches, Amazon Posts, and virtual bundles.
Originally published on: September 10, 2022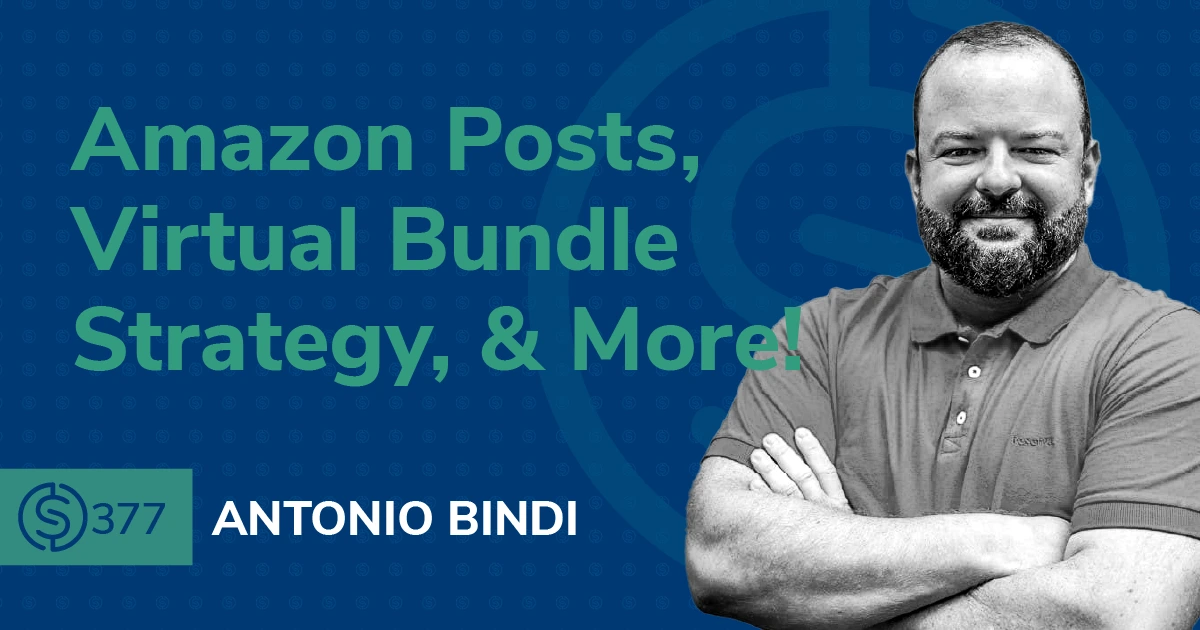 Years ago, Antonio was a dentist in Rio de Janeiro, Brazil. His passion for parties and events eventually led him to discover and sell a successful product online. Now, he is a 7-figure Amazon seller, expanding to multiple international marketplaces. In this episode, we get to know his secret sauce for Amazon product launches, his unique strategies on how he and his team can post 10 Amazon Posts a day, and how he utilizes Amazon virtual product bundles to increase his sales. 
In episode 377 of the Serious Sellers Podcast, Bradley and Antonio discuss:
01:30 – Today, Our Guest Is A Serious Seller From Brazil!
02:30 – Working As A Dentist Before Getting Started In E-commerce
04:21 – Selling Glowsticks In The Internet
09:00 – Discovering An Opportunity To Sell On Amazon USA
10:30 – Gross Sales In His First 12 Months
12:00 – $6.5 Million In Projected 2022 Sales
12:30 – Antonio's Launch Phase Tactics
16:00 – Utilizing Social Media And Influencer's Content For Amazon Posts
16:40 – A Unique Amazon Posts Strategy
24:00 – Producing Content For Amazon Posts
26:30 – Virtual Product Bundles Strategy
30:16 – How To Track Your Sales From This Strategy
34:04 – Antonio's Thirty-Second Tip
36:00 – Catch Antonio At The Sell And Scale Summit
37:14 – How To Reach Out To Antonio Bindi  
Transcript
Bradley Sutton:
Today, we talk to a seller from Brazil who went from being a dentist to selling glow sticks locally, to now scaling, to sell over $6 million a year on Amazon USA. Thanks to cool strategies such as using Amazon posts and virtual bundles. How cool is that? Pretty cool I think. Hello everybody, and welcome to another episode of the serious seller's podcast by Helium 10. I am your host Bradley Sutton, and this is the show that's a completely BS free unscripted, and unrehearsed organic conversation about serious strategies for serious sellers of any level in the e-commerce world. We've got a serious seller coming to us from Brazil I believe, Antonio, bem-vindo podcast. Did I say it right?
Antonio:
You did. You did. That's very Portuguese of you.
Bradley Sutton:
Very Portuguese of me. Okay. So anyway, right off the bat, were you born and raised there in Brazil?
Antonio:
Born and raised in Brazil? Yeah. I'm from Rio.
Bradley Sutton:
Rio. Nice
Antonio:
Yeah. been living here my whole life except for the one year that I lived in the states. And that's where–
Bradley Sutton:
Where did you live over here?
Antonio:
In Miami actually.
Bradley Sutton:
Oh, nice. So did you attend university in Brazil? In the US? Not at all or?
Antonio:
I did attend university here. I'm a dentist. I don't know if I have mentioned that to you before.
Bradley Sutton:
No, I didn't. I mean, if you did, I mean, I forget everything the next day, so you could have mentioned it to me, but I don't remember that at all.
Antonio:
I did. I'm a dentist. That's my–
Bradley Sutton:
So that's what you went to university for. And immediately after you graduated, you went ahead and started working in that field?
Antonio:
Yes, I did. I worked as a dentist for about 13 years. Okay. But right after maybe four years into that, I started a side business completely out of nowhere. I think we'll get to that, but that's where I started with eCommerce back in–
Bradley Sutton:
Whoa, whoa. You didn't like being a dentist or what made you start looking for other things to do?
Antonio:
I did like being a dentist, but that was just was a side thing. Just something that happened to me, something that came up and we, I just found another way of making a little more money where I didn't really need it, but it was also fun because it wasn't in the event and party industry so it was something that I also had fun doing.
Bradley Sutton:
So, this was when you say side job, this means that you still were being a dentist, but then on the side, you went ahead and started this other–
Antonio:
Yeah. I, I was probably 24 years old. I graduated, I was 21and at 23–
Bradley Sutton:
I was about to say I was doing some math right there. I was like, wait a minute. Did you say you're a dentist for 12 years? Like, what did you start college when you were 12, but you're talking about, you started this side business while you were still being a dentist? Okay. Okay.
Antonio:
Before going to dental school, I worked with concerts. I did lighting for concerts for night gloves, stuff like that. Oh. So I knew a lot of people in the night scene here in Rio you know, that glow sticks that people give out at Disney world at night. Yeah. So I had a couple of those in my bag that I had bought for a friends party or something, and I was actually getting to my office and like these children were like given a tantrum to their mom, mom's trying to get the children to comply and try and mom's desperate. So I just lit up a couple of those and said, look, shiny things and tried to distract the kids.
Bradley Sutton:
Thought you by saying, I just lit up at the dentist. I'm like, whoa. Okay. What kind of, what do you guys do in dentist offices in Brazil? Good grief. Okay. Lit up one of those glow sticks. I get it. Okay.
Antonio:
So I snap one of those given to the children and they were like immediately distracted. And the mom, oh, that's amazing. This mind you, this is 2003, 2002. So kind of a novelty thing here back then. Mom's immediately interested. She said, where can I buy this? I think I had a friend with me. So he immediately said you could make some money out of that. So I think I had someone bring some more of those from the states cause that mom wanted to buy some of them for her child, for his birthday. I sold it to her for like five times what I bought it for and immediately saw an opportunity there started buying more and more. I set up a website that I made with Microsoft Word with images that I stole from the internet and that thing just blew up.
Antonio:
I don't know what happened that my website was found by a lot of people. They were posting everywhere. Google was, I don't think Google was even there, but I was like number one in Yahoo and ASTA, Alta Vista, all of those old search engines, and everyone was finding my website and, and wanted to buy that from me. So I just started selling those from my bedroom and my girlfriend and I was like packing boxes before I went to every morning before going to like my dental office. I just drive by the post office and ship out some boxes. And that's how I found out when it could be made online.
Bradley Sutton:
Hmm. Interesting. Now, so, so then how did your e-commerce journey progress until it got to the point where you started selling on Amazon?
Antonio:
I would sell those as party sticks and glow sticks for parties and events and as novelties for events and they were used as bracelets. So the way people search for them, they would ask me if I had event bracelets. Those were used for VIP for backstage those wristbands you use for events, people were asking, do you sell those? I'm like, no, I'm only selling the glow sticks. And like three people asked me for those 10 people asked me for those. I'm like, well, there's another opportunity over there. So I started the wristband business in Brazil also 18 years ago, 19 years ago, maybe and that blew up, that became like a big business. We have several employees we've been number one in the country for that, for the last, probably 20 years.
Bradley Sutton:
So eventually between this business and then, you know, the other, you know, glow sticks and different random things you're doing, I'm assuming sometime in getting close to 2010 or something is when you started making enough money where you're like, I don't need to be a dentist anymore. Or tell me about that.
Antonio:
At some point, being a dentist became something that was in the way of my entrepreneurial life. So going to the office was not a pleasure anymore. I was starting to see it as an obligation and not as work and not as a job and not a pleasure. So at some point, I decided to not pursue that anymore.
Bradley Sutton:
Now, I know in these days there was no such thing as Amazon Brazil. So at one point or another, you discovered Amazon USA. How did that happen? Because until now you've only been kind of like, sounds like you've been making websites and selling locally and doing wholesale and things like that inside of Brazil. So how did it come up where you're like, Hey, let me sell in another country online?
Antonio:
Yeah, that's, that's, that's very recent. About five years ago I went to Miami, my wife was going to do an English course over there. I was also taking a business opportunity over to the states. We moved a few months into that our investor jumped out. So we were there, we had an okay full year to stay there, but I was basically doing nothing. I was bored. I was watching YouTube and someone–, I can't remember who it was, but some retail arbitrage guru popped up showing how he was making money out of Target and stores like that and flipping stuff on Amazon. And I thought, well, maybe that's something we could try. And just caught my attention, you know started reading and then watching hours and hours of videos on retail arbitrage and got interested in that and soon realized that wasn't the business model that was going to make a lot of money that actually Private Label was the way to go.
Antonio:
I took a course Tom Wang's course from Vancouver was just someone I found online someone who I was referred to.
Bradley Sutton:
We're still talking like about five years ago here?
Antonio:
That's four years ago. That's when I met Kevin King in Vancouver and a lot of brilliant people that were there. And I started to understand a little more about how things worked and that's what I was in early 2019. So I started selling 2018, in August 2018. So it's, it's been exactly four years.
Bradley Sutton:
Now. Are you still selling that first product now?
Antonio:
Yes. I'm still selling the exact first product.
Bradley Sutton:
You had success then on your first try until your first year in 2018, approximately how much are you doing in gross, gross revenue?
Antonio:
I started in August. So if I'm to give you an honest guess, I'd say that in my first year I sold about 400,000.
Bradley Sutton:
So first, like 12 months or those first three months of–
Antonio:
No. The first 12 months and the first three months were probably much less than that because my second and third months that was outta stock.
Bradley Sutton:
In those days, how did the profit margin compare to all of your Brazilian businesses then?
Antonio:
Brazilian businesses is different. I have several employees. We have like an office warehouse. We're more leveraged. So as opposed to Amazon where it's basically me, my wife, and a much smaller team. So that, that, that made it a lot easier. In terms of percentage profitability, I'd say it's pretty much the same, but nowadays my Amazon business is much bigger than my Brazilian business of sure.
Bradley Sutton:
So then this year 2022, obviously we're in September only, what's your projected? What do you think you're gonna end the year with?
Antonio:
We're headed to about 6.5 million.
Bradley Sutton:
Have you launched any products like this year?
Antonio:
Yeah. this year, the idea and actually we're growing so fast this year. So just so you know, from last year to this year, we've grown 150% year over year, like every month.
Bradley Sutton:
So now with your launches though, how is it different in 2022, as opposed to the glory days of two-step URLs and search, find, buy, from 2019, 2020, et cetera, what are you doing differently nowadays to launch?
Antonio:
I was never really big on search find, buy. I did that for, for my first, maybe 10 variations, not even 10 products, but for my, my first three products, I tried, I did some search, find, buy I may have used for my first product. I did use the rebate key or something like that. But for me, rebate key became, you know, just a source of product ideas. So I did, I didn't want anyone to see what I was doing nowadays. My, my my launches are basically PPC.
Bradley Sutton:
So what do you do special for a launch or what do you do special with your PPC when you're in the launch phase?
Antonio:
We're, we're very aggressive with the main keywords that we know that we want to rank for. We have a very strict process for identifying which keywords must go with which variation. And we have a lot of data from our other products that are in the same niche, the same we have a lot of history from the other products that are very similar, so it's easy to match what worked with other products to our own to the new ones. We do a lot of single keyword campaigns when we want to push hard for our top three keywords than our–
Bradley Sutton:
Do you use the like top search or do you just like use high bids from the get-go?
Antonio:
We have a complex campaign structure. I'll have a campaign that goes just to the top of the search. I have campaigns, we do placement campaigns just for we very low bid, but with a very high top of search modifier. So instead of bidding a dollar I'll bid 10 cents, but put a 900% modifier at top of the search, then I'll do another campaign with the same thing for product pages and another campaign with a lower bid for everything else. So that's three campaigns for one keyword for one product. Then we have campaigns that are dedicated to our competitor's campaigns that are dedicated to ourselves to our other products. We do a lot of cross-promoting between our products. Every time we launch something new our main products receive this like our second image becomes buy this, get this for 50% off.
Antonio:
So as soon as immediately when we have a new product are products that they already have, traction are also bringing some, some traction to everything that's new. So it's an easy way to drive traffic, to a new product. Social media doesn't work very much for us. We use a lot of social media for user-generated content. We mostly contact influencers for how beautiful their homes are, and how organized our homes are. And we send them free products in exchange for great pictures of their stuff. So I really don't care how many followers they have or how many likes they'll bring to their posts. What I want is their–
Bradley Sutton:
And then what do you do with those?
Antonio:
Amazon post.
Bradley Sutton:
Amazon post Uhhuh. So you're building your, like the brand following on Amazon then?
Antonio:
Amazon posts are the one thing that we do daily at a higher rate than proven brings sales.
Bradley Sutton:
So when you say, Hey, it's decent where Amazon post is like, what's, you said you're doing one post a day. So how many sales a day like it?
Antonio:
No. We're doing, we're doing 10 posts.
Bradley Sutton:
So 10 posts. Wait a minute. So that means in one year, you're doing more than 3000 Amazon posts.
Antonio:
Yeah.
Bradley Sutton:
And it's always different images,
Antonio:
Always different images. If an image does not perform well, we'll delete it and try again, like weeks later. And sometimes, we realized that it's not a matter of image quality or the theme. It's sometimes just how Amazon decided to serve that image and how the algorithm picked it up. Cuz the same image can flip one day and like be brilliant like the next week. So if an image doesn't go well a day we'll delete it and try again, we'll flip it, we'll crop. We'll like to do different uses of it and recycle it.
Bradley Sutton:
And are you doing like captions for each of these almost like insert, like coming up with quirky sayings or just really simple? Or what are you doing?
Antonio:
Jasper.
Bradley Sutton:
How do you leverage that? I know what Jasper is, but I've never used it before. So give your secret salsa here.
Antonio:
What we do is we go to Jasper. My SOP for that is to go to Jasper and describe the image as best you can in your words. So that's like a short description on remembering we're all Brazilians my team are, is all Brazilian, so we don't have native speakers working for us. And sometimes when they try to write their own captions, it's in broken English. So I'll say, just write at the best you can describe it the best you can. So describe the image and hit generate and Jasper will generate like 10 captions for the same image and they'll not just select one or two of those and post that.
Bradley Sutton:
Interesting.
Antonio:
And maybe for the same image. And that's like a little process. The same image goes to Pinterest and Amazon posts the same day. So it's the SOP to go through the two mediums.
Bradley Sutton:
Okay. And on those posts, like you're not getting like any other charges, you know, like obviously if an order comes through PPC, you know, I'm getting the cost per click and paying Amazon advertising. But these are just regular as if they purchase it from the search results, right? No extra fees that you're paying Amazon
Antonio:
Until now Amazon's not charging for Amazon posts.
Bradley Sutton:
No, but, but I mean, the attributed like, like when you actually convert a sale, you're not paying for clicks or you're not paying any extra fees. It's just as if somebody had found it in the search results, it's the same kind of transaction in other words.
Antonio:
Yeah. Yeah. They're finding it in either your product page or related products. So they're navigating other products and they'll see your post related to this product under the define yours. And these are, they have always styled images, you know, like case uses in a nice room. So there are catching images that we use, so very descriptive of how to use or very very nice. It's not a lifestyle product. It's, it's not someone surfing or camping. It's just this is how you use a product. And it's usually, you know, a mother looking for something to arrange or decor to decorate their children's room. So it's very, Pinteresty in the way that you're researching some kind of decoration for a room.
Bradley Sutton:
Okay. Interesting. Interesting. now, are you leveraging all at all the, you know, I think with a, once you start doing Amazon posts, you have that ability where people can start following your brand. I forgot what it's called, like customer engagement or something like that. So like, are you communicating with these customers who start following your brand because of Amazon posts or not?
Antonio:
I'm not. I know we have, but now we now have this ability to email our followers. This is something I've spoken to our team about that we should use for our launches. We haven't yet. Okay. We haven't done it that yet. We, we might, we will have a, a new launch probably in a couple of weeks and we might use that. Thanks for reminding me. Okay. There we go. I'll let you know how that works out.
Bradley Sutton:
I swear, I'm doing–, I'm gonna have to ask Shivali, Shivali here at our company's one who is doing a little mini project with Amazon post, but I swear it's supposed to come up on the product page, but I don't see it, but you normally, Amazon post will show up, like on the bottom of a product page or where else do they show up?
Antonio:
Amazon was experimenting with that on desktop, but it was mostly on mobile.
Bradley Sutton:
Okay. Cause I see where I can click on the brand name and then it takes me to like home and then post, I see it there, I'm just wondering where most people see it.
Antonio:
On mobile. You'll see it easier on, on, on the very bottom of product detail pages. I remember Liran pointed out a couple of months ago that Amazon was showing posts on desktop as well. I'm not sure if that's still going,
Bradley Sutton:
I actually just found out, let's see if I can show you here, but I found our Amazon post page here, and then look, oh, I didn't even know they were doing all of this stuff, but it's, it's pretty cool. It looks like Instagram almost. And then it shows different links to products that we have. These keywords that I see here at the bottom, like, is this Shivali entering this? Or is Amazon's algorithm, like putting in some keywords here?
Antonio:
I'm not sure. I think I know that you can input some products. I'm not doing that myself, have someone at the office doing that. I'm not sure if you can input the keyword yourself, you do input the text and the related products.
Bradley Sutton:
Okay. Wow. There's a lot. I don't even know how we had all these pretty cool pictures here that I'm, that I'm looking at on our post page. Very interesting. Okay. So any other unique strategies that you're doing? I mean, this is kind of like our, we do something with a 30-second tip. That's the TST where, you know, we go through some different strategies. So this is definitely a unique one where you're doing so many posts a day now, but before we get into your other tips, I just wanted to ask one more question on this. Like you said, you're getting a lot of these images from Instagram, people or influencers, or in something, but 10 a day. That's a lot of pictures, like, is that where you're getting all the pictures from? Or how are you getting some of these pictures? Cause that's coming up with 3000 different pictures a year is a lot.
Antonio:
No, we hire every time we launch a product. Remember every time we launch a product, I have, if I have 10 variations, I'll photograph 10 variations in, I don't know, every different setting. So if you go to each variation of mine, you'll see the exact color in the room. So it's not like some people will have the for all variations just general pictures of their products whatever call color it is. We know we all do it variation by variation. So if I have 10 products and I want to do 10 scene photo shoots, that will become a hundred pictures for me.
Bradley Sutton:
So you found a studio or is this somebody on staff? Like you have your own photographer who does this or?
Antonio:
This is another tip from influencers. I, I found one of the influencers that was a great photographer. And she did it professionally and she had a beautiful home and she became our to-go photographer.
Bradley Sutton:
Interesting.
Antonio:
And she's in the states, which is much easier than we don't ship anything to Brazil. I have products that I had never seen. I was even selling them in the states and on Amazon without ever, ever even touching the products myself. So what we'll do is our supply instead of shipping samples to me, my samples will go to the photographer. She'll take care of the photographer at her house, and send us the pictures. And we have like this almost this huge photo bank that we will use forever. Plus every launch will contact at least 10 to 20 influencers just for pictures. And we also have these influencers that we always go back to.
Bradley Sutton:
Interesting. Wow. That's super, super cool.
Antonio:
Yeah, because, because it's a storage organization, you have these storage organization freaks that these products are never too many. They'll take as many as they send them. So they'll generate a lot of content for us.
Bradley Sutton:
I love it. I love it. What other unique things are you doing that has helped you scale this much in the last few years?
Antonio:
Because we have a lot of variations. One thing that we're also big with is creating a lot of variations and a lot of products that are related to each other. We are big with creating virtual bundles for every one of our products to every other one of our products. So we have this almost limitless combination of products that can go with each other. It creates a new section on your product detail page that basically you're showcasing more products of your brand. So it's like it's basically apart from having your competitors showing up as sponsored within your listing, you also have your own products, you're not paying for those, but they're all your products in a whole section that says buy this in a bundle. Yeah. So the bundles don't really sell that well.
Bradley Sutton:
You have bundles of like five items, but it's just to get that real estate on the product page, in other words.
Antonio:
And not only you got the real estate, but we're also very careful with the images that we use in the bundles. So there are lifestyle images as well. So that our bundle's main image, there is a lifestyle image of those two products together. So now we get another six images in our product detail page, in a carousel form.
Bradley Sutton:
It's pretty kind of like the placement on it on the desktop is even above the frequently bought together part.
Antonio:
It's a great placement. The images are pretty big.
Bradley Sutton:
I love this.
Antonio:
If you have like your image with a very little carousel people, don't, don't go through those images, but they scroll down, then they'll see another six images and it's six, the number of images that show right next one to each other are six. And you can use that to cross-promote products, or to just fill up your product detail page with more of your stuff.
Bradley Sutton:
Now, does the carousel come up though? Like, I'm looking on a page right now. Let me share my screen here. This is just a random product I saw that has this bundle. And I think this is super cool, like right here, obviously, I've got the Helium 10 Chrome Extension gonna come up here, but this is a very prime, but it just shows double one. It just shows the two.
Antonio:
But he only has one bundle.
Bradley Sutton:
Oh, so what are you saying?
Antonio:
If you have six, you'll occupy the whole width of the page with six different images.
Bradley Sutton:
Ah, okay. But it's still so it's like building your own bundle kind of thing that Amazon is telling?
Antonio:
So you build as many as you want, you can't build the same bundles back and forth. So you can't have like the black item with the white item and the second bundle of the white one with the black. So they have to be unique, but if you have like 200 products, times 200, that's 4,000 possible bundles.
Bradley Sutton:
All right. So I found another listing here, collagen peptides, of course. So this guy has a little bit more, so let's see, it says, I'll try and describe this for people listening in their cars and stuff. It says, make it a bundle. We found three bundles with this item. And so each of these is going to a potential bundle, but here's this collagen peptides with vitamin C, collagen peptides with whatever the heck this is, and then one with turmeric. And so you're saying you would wanna fill this up all the way to the right though.
Antonio:
That's great. You can have as many as you want with the college peptide as the main product, and then as many secondary products.
Bradley Sutton:
You probably wanna change his title too, right? So like this guy is using collagen peptides to the beginning of the title, but you would probably wanna focus more on the secondary product, I would think, right?
Antonio:
Exactly. And what I'll do is my second product will be the main image and a lifestyle image and not like the main image of the product. What I'm doing is I'm using that as an image carousel to showcase the product and use.
Bradley Sutton:
And then, and then somebody clicks or let me keep sharing my screen here, somebody clicks on it. And then it goes to the page, the bundle page of the two things. But then right here, they can just click on this product by itself. And you say I mean, there, you don't know that the sales are coming from this, but when you started doing this, you notice the increase in sales is why I'm assuming you think, you say this is successful. Right.
Antonio:
What we do see Bradley is that we can tell by our PPC reports that we increased our sales of multiple products and sales of the product. So there's a report called the purchase product report. Okay. And some of our products, they have very high click rates probably cuz they have, they're more eye-catching but like 80% of the sales that they're generated by those clicks go to other products of ours and not necessarily in the same product family, not necessarily variations of that product. So I have products that will bring most of the sales to other products in my product line
Bradley Sutton:
So wait a minute. I don't even know about this report. This is in PPC reporting?
Antonio:
PPC reports.
Bradley Sutton:
So I go to Amazon advertising first and then let me see here. I wanna find that cuz I was just talking about that with somebody else the other day because I was looking at just regular PPC reports and like just raw data and seller central and the same thing in like Adtomic. And this one campaign, which is our main coffin shelf over a certain week, I sold four products, but then I look at the total value amount and I was like, this coffin shelf is only $27. How in the world, is it more than four times 27? And then I did some calculations. I was like, wait a minute. Obviously, they must have bought the big coffin shelf for $63, but then I just figured that out on my own. But you're saying that there's a report that I can actually show me that?
Antonio:
It will show you which product was purchased from that campaign. And not necessarily it's the product that was clicked on and usually is, I mean, in my case, it usually isn't. So if you have like a very unique product or if you sell like very few products, you can have a very direct, click to purchase. But in my case, there's a lot of browsing and if you're selling motor packs, for example, people can click on the cheapest one and PPC because it's a more eye-catching lot, lots of people do that. You'll see with the shoes, for example, people will put like the very small, the very big sizes for a lower price, just because that will bring more clicks but then the regular sizes that you and I would typically wear, they are priced at the regular level.
Bradley Sutton:
I just found that report by the way, here in Sponsored Products, Purchase Product report. So that's pretty good. I'm gonna dive into there. Yeah. I mean, there's so much stuff in Amazon that even me, who's been selling a while. Like I don't even know of all the reports and there's like so much cool stuff that we can find. I love it.
Antonio:
Yeah. So you'll find that some of your products, I discovered one of my products that I was about to abandon that it's not a great seller. It was great at bringing sales to other products. So in our A B C curve, we decided that not only the products that sell really well are A players also products that rank well, but bring sales to other products are products that can't run out of stock that we can't miss on ranking and efforts.
Bradley Sutton:
All right. Cool. All right. One last tip, maybe for us something unique. I mean, you've given us a great one on Amazon post and another one here. So these virtual bundles for advertising, what else you got?
Antonio:
One thing that got a lot of attention at prosper. One of the workshops that I went to it's started with ranking, but it's money saving tip that was very successful when I talked about that. Pay attention to your packaging if you have any unnecessary slack material in your packaging, for example maybe sometimes a retail package has like a big flap that is used to hang the package from the shelf, but that's just a flap and there's not really packaging the product. It doesn't do anything except for being a flap. And Amazon will count that as a total dimension in your product. So for example, if you're selling socks and your socks are like four inches thick and you have this very thin flap, that's another four inches long, you're paying for the whole volume of the full size of the flap of the package with the flap times, the height of your package. So maybe your retail package is not the best for Amazon because you'll have too much slack material. So you can solve that sometimes just by taping back the flap. You can solve that by redesigning your package, but that's something that could potentially save you 30% in your storage fees at Amazon.
Bradley Sutton:
Wow. Okay. That's another good one right there. So yeah, Antonio, we got a lot of great tips and I know we can go even, even deeper, you know, the next time, you know, come on, talk about some uses of Helium 10 that you do and, and other things, but I'll be seeing you in person real soon, because you'll be flying from Brazil, right. To come to Sell and Scale.
Antonio:
I am. I'm coming to Sell and Scale scale in Vegas. So we'll be seeing each other again.
Bradley Sutton:
Awesome. Awesome. Bring that carnival spirit and maybe some outfits too. We'll have you break out dancing in my Zumba class.
Antonio:
Yeah. I was talking to Dr. Pineapple to Travis to have his next company reunion in Brazil.
Bradley Sutton:
We got I know a lot, you know, I know some Brazilian dances, like I can do a little bit of Samba, some Ashe funky like I do a little here and there, so we'll have to see your move. So, yeah, I'm
Antonio:
Looking forward to your Zumba class though.
Bradley Sutton:
There we go. Yeah. You're gonna be at the Zumba class, at 7:30 in the morning on Tuesday. So make sure to come
Antonio:
Yeah. Count on me.
Bradley Sutton:
All right. All right. Well, I like just having regular sellers come, I saw you at the Billion Dollar Seller Summit, and I've been seeing you on Facebook groups for years and things, but feel free to say no, but, but if people wanna reach out to you, I know you're not trying to, I don't think you have an agency or anything like that, but if people wanna find you on the internet, can they reach out to you at all?
Antonio:
Yeah, absolutely. I'm on Facebook. Several of these groups that we are a part of I'm on LinkedIn Antonio Bindy, if you want to reach out, I'm always happy to help. I don't sell any services. I don't sell any products. I mean, not to, not to sellers. Just everything I learned from my business was through videos that were freely put, put out there and from conversations I had on Facebook. So I'm glad to give that back. And I learned a lot from these conversations as well
Bradley Sutton:
And you've also lost a lot of years of your life reading some ridiculous threads in Facebook groups that you and I have seen. Oh
Antonio:
Yeah, absolutely.
Bradley Sutton:
Yeah. But anyway, that's a whole other story. Anyways. Thank you so much, obrigada for coming on here and I'll be seeing you soon in Vegas.
---
Enjoy this episode? Be sure to check out our previous episodes for even more content to propel you to Amazon FBA Seller success! And don't forget to "Like" our Facebook page and subscribe to the podcast on iTunes, Spotify, or wherever you listen to our podcast.
Get snippets from all episodes by following us on Instagram at @SeriousSellersPodcast
Want to absolutely start crushing it on Amazon? Here are few carefully curated resources to get you started:
Everything for your business on Amazon.
Find out more about our products by signing up or speaking with one of our
Customer Success representatives today. With us in your corner, you can enjoy
more sales and increased engagement from your Amazon business.
Chat with a Support Specialist