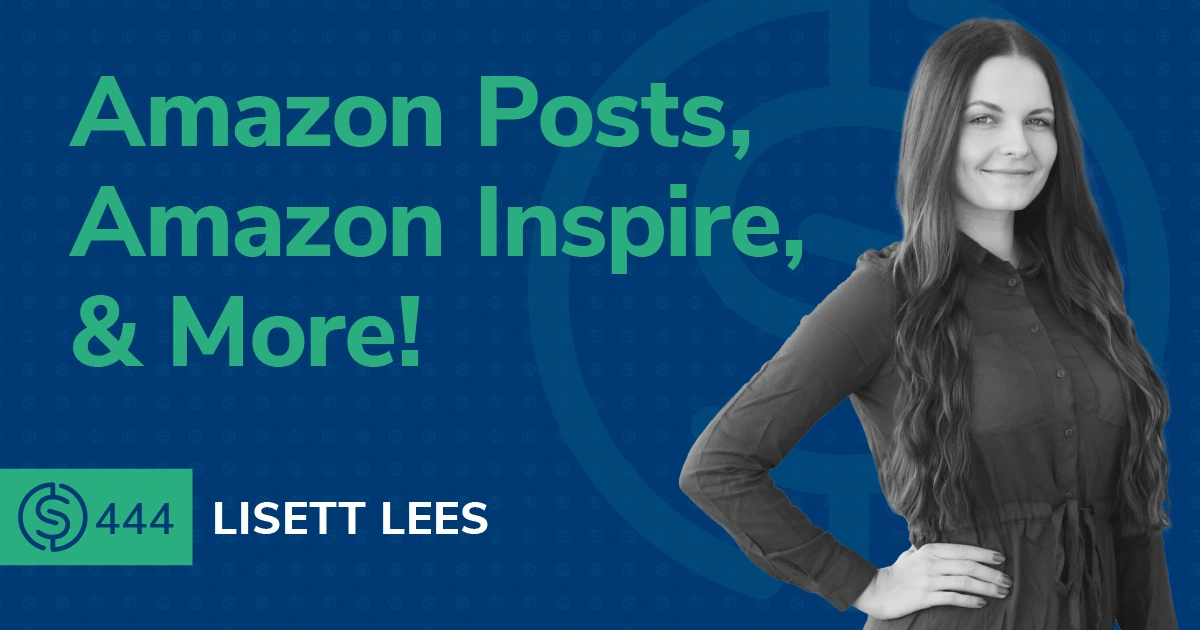 #444 – Amazon Posts, Amazon Inspire, & More!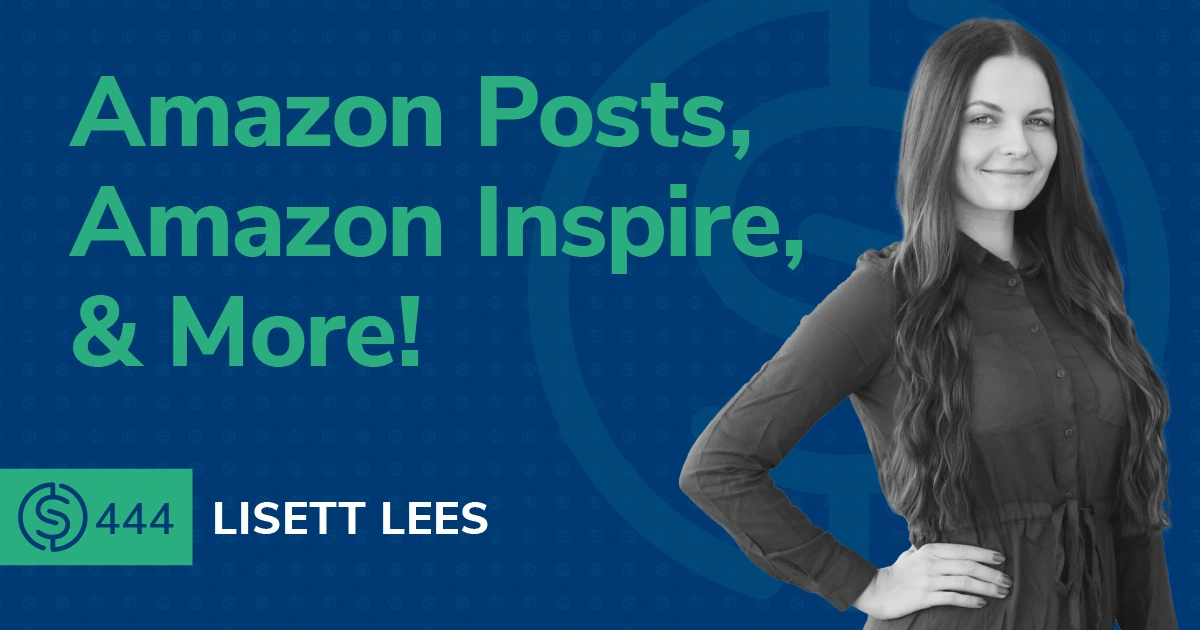 Video of the episode at the bottom
Welcome to episode #444 of the Serious Sellers Podcast, where Bradley and Lisett Lees of Orange Klik catch up on a lot of topics. Lisett shares insights into the best current strategies with Amazon Posts like the posting frequency, how Amazon Posts works with the Project X products, and other strategies you must be doing today. They also take a quick look into the new Amazon Inspire and how it would affect Amazon FBA brands in the future. Plus, if you're in Europe this June, make sure to catch Bradley Sutton and Lisett Lees at the European Seller Conference in June! Also, don't forget to check out the Lisett's Amazon Posts modules in Freedom Ticket. Tune in until the end of this episode, where she shares more strategies and tips for Amazon sellers.
In episode 444 of the Serious Sellers Podcast, Bradley and Lisett discuss:
01:10 – Catching Up With Lisett Lees
01:40 – S3 Event Experience & Meeting The Founders Of Helium 10
04:00 – What Are Amazon Posts?
07:20 – The Best Posting Frequency
09:30 – Amazon Post Results For Project X
13:45 – What Strategies Are Currently Working
16:21 – Check The Amazon Posts Modules In Freedom Ticket 3.0
17:00 – Lisett's 60-Second Tip For Amazon Posts
18:40 – Talking About The New Amazon Inspire
22:30 – Lisett's Hobbies & Heathy Habits Outside The Amazon Grind
27:20– Catch Bradley In Prague This June!
30:00 – More Strategies From Lisett
32:50 – How To Get In Touch With Lisett Lees And OrangeKlik
33:40 – How To Grab Pizza With Bradley In Europe
Transcript
Bradley Sutton:
Today's guest is gonna be giving us a deep dive into what's working in Amazon Post, and we're also gonna talk about a wide variety of subjects, including an invitation to have pizza with me in Europe this summer. How cool is that? Pretty cool I think. Hello everybody and welcome to another episode of the Serious Sellers Podcast by Helium 10. I am your host, Bradley Sutton, and this is the show that's a completely BS free, unscripted, and unrehearsed organic conversation about serious strategies for serious sellers of any level in the e-commerce world We've got somebody from the opposite side of the world here. Lizette, welcome back to the show. How's it going?
Lisett:
Thank you, Bradley. Great to be back here with you to record another episode for the podcast.
Bradley Sutton:
So if you guys wanna check out a lot of information from Lizette, especially about in regard to Amazon posts, which we're definitely gonna follow up today. Check out episode 288. All right, so episode 288. You can find all about Lisett there, but let's go ahead and just hop right into it. What have you been up to in the last year?
Lisett:
So, in the last year, actually, I have traveled quite a lot, attended quite a few events which are meant for Amazon sellers or e-commerce sellers. So I would say besides yeah, the regular work I do, it has been pretty interesting year. Definitely busy and definitely looking forward also to the rest of this year's because some exciting things are coming up for me as well.
Bradley Sutton:
Okay, cool. Cool. Now it was good to see you at Sell and Scale event. Now. It was funny, you just shared a picture with me that I didn't know you took, but did you recognize the founder of Helium 10 there? Or like you knew who he was before because a lot of people knew to this space they, they think what the Helium 10 they see now, that's what they know, but like people like us who've been around for a while, it was kind of a big deal to see him there at the event.
Lisett:
Yeah, exactly. It was a great moment for me. So, yeah, I indeed went to your conference, which organized last Autumn Sell and Scale, and I had a chance to meet Manny Coats and Guillermo, who are both the founders of Helium 10. Of course, I recognized them, especially Manny because when I started out working with Amazon seller seven years ago I think that one of the first podcasts or ways I learned about Amazon at all was by listening to Manny's podcasts. So for me, for a girl from Estonia who had never heard about like Amazon, or I didn't order from Amazon anything, I'm listening to a podcast where a guy is trying to educate and teach me something. And now, many, many years later, I have a chance to meet him in person.
Lisett:
But yeah, I just ran into him in the conference and actually, what I did, I never do something like this. I basically froze in front of him and I said, Manny, you know what? I'm having a total fan-girl moment right now, but I really have to tell you my story real quick. So I kind of like explained all of the stories I just shared with you, and I was like, can we just have a picture? And they were so open to it, and yeah, we had the chats and it was awesome.
Bradley Sutton:
So cool. So cool. Yeah. It was kind of surreal for them too because like when you create something in the beginning and then to see what you know now, it turned into this you know, pretty much the most crazy Amazon event with Gary Vee speaking and just craziness. You know, so many were a thousand people, and it was kind of surreal for them too to kind of see. So that's really cool that you had that moment. Now you are a big educator in our Freedom Ticket program about Amazon Post, and that was why I originally had you on it, was when the next version of Freedom Ticket had first come out and you did like one or two modules about Amazon Post. But we're not gonna go completely deep into what is Amazon Post. Like, we took probably 30 minutes to do that on the last episode, but just a quick maybe one or two minute recap just to let people know what are Amazon Post?
Lisett:
Yeah, sure. So basically Amazon introduced this Amazon Post tool to brand-registered sellers, I think in 2020. If you have never used it, then think about it as it's like an Instagram for Amazon sellers when it first launched, it basically as I said, it's a way how you can make posts about your products to get in front of customers, and the tool is completely free. So basically it's kind of a mix between like marketing and advertising. It kind of like, you can access it under the advertising console in Amazon. So we can think that Amazon considers it more like an advertising tool, but as I said, until now, it's free, and it's still embedded. So they haven't done like a lot of changes to it lately, but let's say when they first launched, there were a few changes in the policies and everything that's went on a lot. So basically posting images and captions about your products to catch more attention of your customers and yeah, be in front of their eyes. Of course, make more sales.
Bradley Sutton:
Yeah. Let's talk about some things that have changed in the last year and a half or so that you've been on the podcast. But I think Amazon is kind of building that ecosystem more for the brand followers, but isn't Amazon Post one of the conduits where you can grow your following, right?
Lisett:
Exactly. So yeah, one of the things you can do with Post is that whenever you're posting customers can actually start following you as a brand. They can also start following you through storefront. I think the follow button there wasn't originally displayed, but nowadays, and how basically Amazon. How it works now is that through posts you are able to get followers. So now when you have followers, you are able to use the next tools that Amazon have, for example customer engagement tool, which is also relatively new. It's basically a tool that allows you to send marketing emails to Amazon sellers. Initially, there were like a couple of different templates you could send out. Last Autumn, they introduced like, new ways you can reach out like to the most recent buyers, your repeat buyers, et cetera.
Lisett:
I must say I haven't had success with those emails yet. The open rate is great, but I haven't seen many sales coming out of those emails. But as with many new tools, I would say it doesn't take much time to experiment with it, just try it out, because the faster you kind of understand how the tool works, what are the options, the faster you are in the end able to have some success with it, as we see with Amazon Post, because when you started posting, let's say, in 2020, basically nobody was posting, you were basically the only one in most categories, and your post would show up everywhere. But now, two years, three years later, we see more brands are posting, you kind of have to compete with content a little bit more. So things are getting a little bit like more difficult.
Bradley Sutton:
Okay. Okay. Now with that in mind is now I think the first time you were on there was maybe 2021 or something now in 2023, is Amazon Post worth the effort to keep up? And if so, what would be your like, suggested cadence frequency that somebody a brand that's building on Amazon should follow?
Lisett:
Yeah, that's a good question. And actually it really like, yeah, a lot of experts like to say about a lot of things. It depends. First thing you have to be efficient. In the Freedom Ticket module, also explain how to set up very easy system, how you can kind of repeat the process all over again or delegate it to your va. So that's the first step. You have to have some kind of steps to make it efficient. Now, the second thing is you just have to experiment. So you need to start posting and posting quite a lot to get some kind of insights. What kind of post work for your product and which not. Now, how much does it cost? And this word, the effort, it depends like who is basically managing the tool for you. So for example, if you use a virtual assistant with relatively low hourly rates, and let's say you invest, like even if you start out by investing $50 in budgets for the management part every month. Let's even not think about like how many posts it could be, because sometimes so posts, you know before, well sometimes some posts don't perform at all.
Lisett:
So $50 per month. But now, if we would get 200 clicks, for example, which is like real cases, like 200 clicks, two product page per month. So it's $50, 200 clicks. So basically like one click is I guess like less than half a dollar or something. So you kind of need to calculate those main things, like based on the results you get. But the thing is that the post kind of like has its life, not only when you post it, but it could perform or start performing later. So let's say we posted something a few months back or six months back or something like this, and maybe the initial results weren't that good, but now months later it's somehow.
Bradley Sutton:
Hold on, hold on. You didn't even know about this because you didn't share this with me, but Shivali shared with me you were helping the Project X just to do an example like. And this was in looking here June of last year. So this was like almost a year ago. Take a look here, let me sh let me share my screen. But this was one that we had done like in June of last year. And this metrics is only from the last 90 days. So that means it's only in the last three months. So that means it has to be six months later from when we posted this. And all of a sudden, like one of them just, it seems like it went viral or something. It had like 3000 impression. I mean, who unfortunately I didn't take screenshots of when we were doing it so it could have been more, but it's almost exactly what you just said, where six months later, looks like we were highlighting our purple coffin shelf here. Just started going create 140 engagement, 101 clicks to the store, 17 clicks 5,000 reach just completely out of the blue. So almost exactly with what you were saying, you were saying right there.
Lisett:
Exactly. And one of the reasons is actually what, what is also important to like notes, so the post, they can show up in different placements, right. But the main thing is that you as a seller, you can't really influence where it is. We don't have a lot of information like how Amazon decides where to and when displays the post you make. So it could be that now after a while, somehow Amazon kind of picked it up, or maybe it was showed somewhere, got some clicks, Amazon thought, okay, it must be relevant with some other things in Amazon. So it pushed it a little bit more to other placements. So that's the thing, how kind of yeah, Amazon post work, because for example, one thing like we, I think we discussed last time as well, was like, doesn't matter if you include a keyword to the caption, like, we don't know. Amazon doesn't say it it helps somehow, but it's a good thing, I would recommend to do it. I mean, it doesn't like yeah, take your time to add some keywords because yeah, as I said, Amazon hasn't like, confirmed anything, but I think it could be somehow related also how posts show up in the end.
Bradley Sutton:
So then this thing that we're looking at here is, is kind of like how a preview of how it looks on like a mobile browser similar to like almost Instagram feed or something. But that caption you're talking about here, I think Alina said that she was doing some testing with, with Keyword Impact. She's actually one of the ones talking in Prague, I'm not mistaken. We'll talk about that a little bit later, but this is the I believe this, we're looking here at the console of how you create your posts and, and this is that caption you're talking about.
Lisett:
Exactly. Exactly. So when we first those made those initial posts with Shali as well, I told her to definitely include like a keyword and also make a note like what keyword you used to kind of later you're able to kind of see whether it could have some impact. But I think I listened a bit of Alina's podcast. So I think they have done some yeah bigger testing with it, so definitely worked to do that.
Bradley Sutton:
Okay. Yeah. I think actually because of the Amazon Post you had mentioned in the last podcast you're like, Hey you can't just paste this, your images from your listing just over and over again, but you gotta have some unique ones. So we actually did a photo shoot with AMZ One Step, and so we got some good coffin shelf pictures, and they, they had it scheduled. And now at the time they had. Shivali told me that you had given them like this spreadsheet of like how to like schedule out your post. So, so is that still similar with like the kind of frequency you think that people should be doing now or are there things that should happen that would change your cadence? You know, you talked a little bit about scheduling, but like, let's say you have something, they're not going really well, like as far as impressions go early, you just keep going. And on the flip side, let's say that one that I showed where all of a sudden one went viral or more go viral, does that make you want to increase your frequency to take advantage of it? Or still you should just pick your schedule and just stick to it?
Lisett:
So what I have done most of the time is just keep going. I know some people, for example, go back and edit the post when they see it's like not performing well within a week or two weeks or a month, they go back and edit. We haven't done it. We rather try to post similar thing again. So one thing to note is that you can't use the same image twice. It wasn't an issue when the tool was first launched, but now, for example, if you want to post the same image twice, Amazon would just reject the post and say it's a duplicate image. So we'll work around it is just to slightly adjust the image by cropping it a little bit or editing or just trying a couple of small tricks to use and then just repost the same image with slightly updated caption as well.
Lisett:
So when it comes down to the frequency, I mean post as much as you once basically, there's no limits. But the only thing is, what I see now over the years as well, is what Amazon sellers are really struggling with is just having enough images, having enough photos. And I have talked with a few sellers who have been following the Freedom Ticket modules. They say, basically, I think I gave the overview of the spreadsheet in the modules as well. It's super easy to start off. It's not a rocket science to just follow the steps I gave follow the spreadsheets and start doing it. I think coming up with captions as well, it's not so difficult. You have to be strategic about it. So a good thing is always to look at the reviews and comment you get from your customers, or maybe something important from about your product.
Lisett:
For example, I remember about your product, the one thing we highlighted with Shivali was the size issue, because I think you get reviews often about people not understanding what's the size of the coffin shelf. So when I saw that you did the photo shoot and you included a photo with the model, so the product is visible next to a woman, I mean, you understand how big the product is versus looking at some of the other. Let's say nice, nice photos, which you have, but I mean, you don't have any reference like to the size. So it's a good idea to use this tool also to cover that part.
Bradley Sutton:
Okay. All right. Good to know. Now another just quick recap. We weren't doing Amazon Post before you started helping us out with that at all. So we had zero followers for our brand of the Manny's Mysterious Oddities. And we went, we went to about almost 800 just in just by doing I think it was like two, three months of posts. So if you guys are interested to learn more about Post when we ask Lisett for a quick tip, but for those of you who have access to Freedom Ticket, go into Learning Hub on your Helium 10 dashboard and then click on Freedom Ticket, get 3.0, and then click on week nine, and then you'll see here her modules 9.07, 9.08.
Bradley Sutton:
So make sure to check those out. Some little UI things have changed here, there since we filmed that, but for the most part, it's the same. What you learn there is exactly steal what you should do. And so that's good information. Now, before we move on to other topics here, we usually save this for the end, but you know, 60-second tip maybe on, on Amazon posts that you can share with people on if, maybe if they're just getting started or if they've been doing posts for a while, either way, what do you think?
Lisett:
Yeah, yeah, I can give a tip right away. So as I said the content part is the issue for sellers and usually your team, your VAs, they do what you tell them to do because they are not maybe into photography or creatives themselves. So a good tip for Amazon Post is when somebody's taking photos of your product when with iPhone, ask them to use the Burst modes, which will make like 10 images in like within a second or two, and just save all of those bursts photos and you basically get from one second, 10 different images. They kind of look the same, but if you spread them out, like for several months, nobody as a customer will notice that it's kind of the same photo. But for Amazon, it matters. It's a different photo for them. And if you're using like a photo camera there's this high speed continuous mode which you can again use very easy thing, but you just have to ask the photographer to do it.
Lisett:
It's kind of, you just like hold the button and it's just like shoots, let's say 10-20 photos, like within seconds as well. And you get like massive amount of images to work with. So these both tips work most when you have more than one product, because then you're kind of when you're posting, you post about Product A, product B, you kind of switch out, because when you look at your whole brand with feed, you want to look it also like nice you don't want to be repetitive, you don't want to show the same images, let's say next to each other. You kind of have to spread it out a little bit.
Bradley Sutton:
Okay. Excellent. Excellent. Now, switching gears a little bit, but something that is newer, and I'll be honest when this was announced, I was like, I am not sure that this is really going to be something that is gonna be valuable, but it's, when Amazon Inspire came out, it's kind of like it almost is, I don't know how you like Instagram reels, TikTok on Amazon, right?
Lisett:
Yeah, it's like a video version of Amazon posts. So what I initially thought is that they will actually include the opportunity to upload videos to Amazon posts. So it's kind of would they would adjust some things and the videos would be like the next step from like, let's say past years we have been uploading photos. So now the next step is uploading short videos. So that was, where I thought will go. And when I also heard about Amazon Inspire first I was like, interesting. Now they're doing like something else. So we have now posts for kind of like images and Amazon Inspire for videos, especially now I personally don't have an access to it yet as a customer. But one thing is when you check out like how it's even possible as a brand to add videos there or add content, then one of the things they highlight right now on the website is that you as a brand owner can appear there with your products when you use Amazon posts.
Lisett:
So it's like when you're now using Amazon posts, those images will pop up in Amazon Inspire. But Amazon Inspire main idea is actually to have videos. And I have heard some Amazon influencers get great content to the Amazon Inspire, and when I heard a couple of videos talk them talking about this new opportunity to great content for Amazon products, they said like even now when they open Amazon Inspire, all they see is images because everything is kind of transferred from Amazon posts to Amazon inspired. There's no video content yet. So it's kind of interesting where we are right now, you know?
Bradley Sutton:
Okay. And now you can only see it on the mobile app for now?
Lisett:
I think so and only for US customers. And you, you also might not have it. I think they started rolling it out like in the end of December, and they said most US customers should have an access to it, like early this year. So I don't know if you have yet check your own mobile app if you have access.
Bradley Sutton:
I'm looking at my phone right now. I don't, I don't really see it, so maybe I don't have access. Yeah,
Lisett:
It's very new and as far as it goes, like how you, again, as a brand owner can add content to it, like video content. Basically it's just videos about your products where customers again can click and they will be sent to your product detail page. They're basically three ways. So one, as I say, through Amazon posts, but that's for now is only images, not videos. Two is when Amazon influencer is making a video and tagging your products. So that's the second option. And the third option is when customer leave video reviews for our products. So kind of like, I assume I haven't seen yet, but I assume whenever your products are video reviews by customers, they will also kind of transferred there and automatically displayed, because I think as a customer, you just choose what kind of videos you want to see, let's say sports, camping, whatever you kind of choose like this, and then you get this sheet of different videos.
Bradley Sutton:
Okay. Now that to me could, could be interesting and that actually could be abused by some I'm already thinking about how some sellers will just start getting people to leave these professional reviews like since they know that'll come up and inspire. So I'm sure there'll be like, some terms of service that, some strict terms of service that'll come out. Yeah. About that. Alright, we'll go back to talking about about strategy here. But I'm not sure how much you've been keeping up with the podcast, but something different that I asked guests nowadays more is, is like some health related things. I had health related issues last year, and I think physical health, mental health is something that as entrepreneurs in e-commerce, we don't pay enough attention to. And especially during the pandemic and most of us were just cooped up in our house. So you actually were telling me you had a kind of like burnout situation that even led to physical, physical things. So, so talk about that a little
Lisett:
Bit. Yeah, sure. Yeah. So let's say the first year since like 2016 when I first started working with different Amazon sellers and brands, I was all into it. There was so much to learn, it was exciting. I loved what I did. I loved working with those brands. I was just living it I didn't take care of myself. Every morning I woke up before coffee. I was already opening Seller Central was at the Christmas, New Year's Eve, whatever. I was like in Seller Central, basically and that kind of, yeah, few first years went by and then I started to get like yeah, first like health issues, like massive headaches all the time, pain in the eyes. I went to doctors I was already worried I might have some kind of like bigger issue with my eyes going on my neck, my shoulders, like everything basically.
Lisett:
And in the end I understood that I have just been overworked. So all of the issues I had, they didn't have like a deeper meaning or anything. I just had to have some time off from computer. But how I understood that was that, yeah, I had like a physical injury. I had an injury, I had to have surgery, so it wasn't directly connected to me or working, but I kind of believe it was like the universe's way to tell me like, slow down and start prioritizing your mental and physical health. Because also mentally, it's difficult you are kind of also, they are working with different companies. You have to stand for yourself. Especially, I don't like to highlight that I'm a woman, but still, like, sometimes most people I work with are men.
Lisett:
So it's important to kind of have your own back. So yeah, I had an knee surgery, so basically I had to stay in bed for a couple of months. I had to learn again how to basically walk, lift my leg, do whatever. And that was when I started to changed my life totally. I started prioritizing my sleep, my eating schedule. I started to work out properly. So actually the pandemic time for me was okay because I already had the great habits of taking care of myself. So since that year I'm really well, it's still like a work in a program, like work in progress. I think it always is when you like what you do. But definitely much easier for me to set boundaries not work during the weekends not answer all the emails within five minutes, you know things like this.
Bradley Sutton:
What about hobbies? I ask that too, like obviously mine is traveling and like playing basketball when I can, but what do you do to kind of like take yourself away from, from the day-to-day business when you need a break?
Lisett:
Yeah. So one thing traveling, but as we slightly discussed before starting recording this podcast is that when you travel, it's still kind of like, it's like your work with you and you're still kind of like thinking, especially when you're an entrepreneur. But one thing that's yeah, I picked up a couple of years ago is fishing. So when I go fishing here in Estonia, it's a photo of me from last summer. It's something I do and I don't think about anything else than just being in the nature and getting the fish. So my favorite, I don't remember this fish name in English. But I like to go on the lakes to fish on perch. So yeah, perfect time for me to stay offline and just chill,
Bradley Sutton:
Awesome, awesome, awesome. Yeah. So again, guys, there's a reason why I mentioned this nowadays and in every podcast, it's my theme for 2023. And it's something that's important. The motto here is serious strategies for serious sellers. It's not just about Amazon or e-commerce strategies, but it's about strategies to, to keep yourself healthy because you're not gonna be successful on Amazon if you're burnt out or have physical issues.
Lisett:
And actually, yeah, what I wanted to ask is that over the years, even like when I first started and had my own issues with health and setting boundaries, I have been always the one who is like talking to sellers to sell them also take the weekend off, don't work on Friday nights. Like, don't worry about it. Like there are things which we can't control, and there are things which are we can't control. So it's like I try to kind of like make sure that they also take care of themselves.
Bradley Sutton:
Okay, good. Good to know. Good to know. Now you know, I alluded to it earlier when I said Alina's talking to this event, I'll be talking at this event in Prague on June 8th and ninth. And, and so guys, if you're interested in signing up for the event, h10.me/euevent, h10.me/euevent, but tell me about this event, because this is, I think it is funny, I was actually supposed to speak at my first conference in Europe last year, and that was when I had my heart attack like a couple of days before, so I couldn't go. But, so yeah, I think this is my first potential conference in Europe. So tell me about what to expect.
Lisett:
Cool. Yeah, well, we're really happy to have you. So yeah, besides working with Amazon Sellers, I'm part of the Orange Click team. So we're basically like a neutral platform to help experts share their knowledge with Amazon sellers. We have a YouTube channel, but we also organize physical events in Europe for Amazon sellers. And in June we have our biggest conference. It's a due day conference. We invite experts like you from US and also from Europe to fly to Prague where you are able to share your knowledge in front of, around like 200 European Amazon sellers. I think more or less from like 30 or 40 different countries. And I think the main thing to know about the conference is that throughout the two days, all of the presentations, they're solely focused on sharing value, giving actionable tips, and just educating the sellers among the audience. So what is kind of like the structure of the presentation is kind of highlight the problem and then kind of show the sellers like how to do it, like how to improve. So the idea is basically when they go back home, there are tons of things they can apply to their business, like straightaway. Like they already have all of the tips. They already have all of the steps. They just go home, share with the team and start implementing everything.
Bradley Sutton:
Okay. All right, cool. So again, h10.me/euevent. I actually starts on the 7th there. There'll be some activities there that you guys can see more about on the website. I'll be there in the evening of the seventh and the 8th and 9th. And I believe you know, maybe somebody else from my team might be there. I'm not sure yet, but we'd love to, we'd love to meet you in person now but like you said you at Orange Klik, you deal with a lot of service providers. You deal with a lot of Amazon sellers, and so I figured the the last few minutes here of our podcast, you can just talk about some general strategies, like things you've learned in the last couple years. We talked deeply of course, about Amazon posts, but that's, that's not the extent of your experience or knowledge, but what are some tips and strategies that you can share that, that have been working with those in your community lately?
Lisett:
Yeah, so there was actually a lot of like technical things. I'm not able to kind of cover from like yeah, like everything. But there are, we have recorded a lot of videos about how to use the Amazon data that Amazon gives out now how to incorporate that you know, with other data that is available from Helum 10 and other tools. There are some great hacks I remember about like sponsored about advertising, like how you can use like text in your custom image when you advertise. It's normally like not allowed by Amazon rules and you get rejected, but there's a way how to kind of add it as a text art. So it kind of like blends in with your image. It doesn't seem like just like regular text overlay and Amazon kind of approves it. So it's a great way how you can add like your keyword with which you're like advertising also to the image that you're using.
Bradley Sutton:
Are you talking about kind of like maybe if you're selling a printer and then the paper comes out of the printer on the paper, you put it, or this is something different than that?
Lisett:
Basically, it's kind of like similar. It's, it's a bit different, but basically, it's similar. Yeah, it's kind of like, and actually not, it doesn't, like, usually I have heard this about like main images, so you kind of, like, you, you do your main image, you usually can't add like, additional things. But yeah, I think one company made like a case study where they had like the printer main, main image and then like the paper was coming out and they added like how many papers you get or how, how much you can print. So it was kind of like on the paper, so it felt like part of the product. And as Amazon accepts that, so basically the same thing with this custom image when you advertise your products. So I think it's a product collection ads, when you have this on top of like search, you usually have like a custom image.
Lisett:
You're not allowed to add any text, but when you integrate it basically similar way Amazon really accepts it. And the same thing about Amazon posts, because when I first started doing like Amazon Post, like in 2020 I think, one thing, what we actually experimented with was like adding like text overlays, like, hey, like recipes for this thing, or whatever we wanted to highlight. And a couple of months in Amazon started to say it's not allowed anymore. So at first it worked very well to help like the clicks, but now it's not possible anymore. Again, using the same strategy, you are actually able to integrate like some text into your images. Like, for example, have like this monkey here, like imagine I make like a photo for Amazon Post, but let's say on a t-shirt there is some kind of like text chill out or whatever this monkey is about you kind of like, okay you use creative ways how to kind of get this customer attention in not like a traditional way. So it's, it's about being creative.
Bradley Sutton:
Okay. I like it. I like it. All right. So how can people, if they want to reach out to you or your company to find you on the interwebs? How can they do that?
Lisett:
Yeah, so the best way to reach out to me is via LinkedIn or going to my website, which is my first name and last name written together lisettlees.com.com. Or if you want to know more about Orange Klik, then orangeklik.com is the website and you can find us also from YouTube under same name.
Bradley Sutton:
Awesome. Awesome. Well, it was great seeing you in person at Sell and Scale and it'll be great seeing you in a couple months at the event in Prague, and I hope to see some listeners there as well. So please, if you see Lisett or me at the event, come up to us and, let us know that you enjoyed the podcast or that you heard about it from the podcast episode. And I'll take you guys out potentially to one of my top five favorite pizza restaurants in the world. It just so happens to be in Prague. Like, it's the weirdest thing. Like, I remember, okay, I was only there for a couple days, a couple of years ago, and I was like, why in TripAdvisor does this pizza place in the middle of Prague have such reviews, like a little hole-in-the-wall place?
Bradley Sutton:
And I was like, there's no way that Pizza and Prague is good. Like, like that's not what Prague is about. And it was named Johnny's Pizza. I'll never forget cause I was my son was with me, his name is Johnny. And so, and it was, it was actually really good. I think the guy like lived in new New York for a while or something. But anyways I'm gonna try and organize a meetup at that pizza place in Prague. So we'll see you guys there and I'll see you there too Lisett.
---
Enjoy this episode? Be sure to check out our previous episodes for even more content to propel you to Amazon FBA Seller success! And don't forget to "Like" our Facebook page and subscribe to the podcast on iTunes, Spotify, or wherever you listen to our podcast.
Get snippets from all episodes by following us on Instagram at @SeriousSellersPodcast
Want to absolutely start crushing it on Amazon? Here are few carefully curated resources to get you started:
https://psychobearstudios.wistia.com/medias/mz3807vej6?embedType=async&seo=false&videoFoam=true&videoWidth=640
Achieve More Results in Less Time
Accelerate the Growth of Your Business, Brand or Agency
Maximize your results and drive success faster with Helium 10's full suite of Amazon and Walmart solutions.