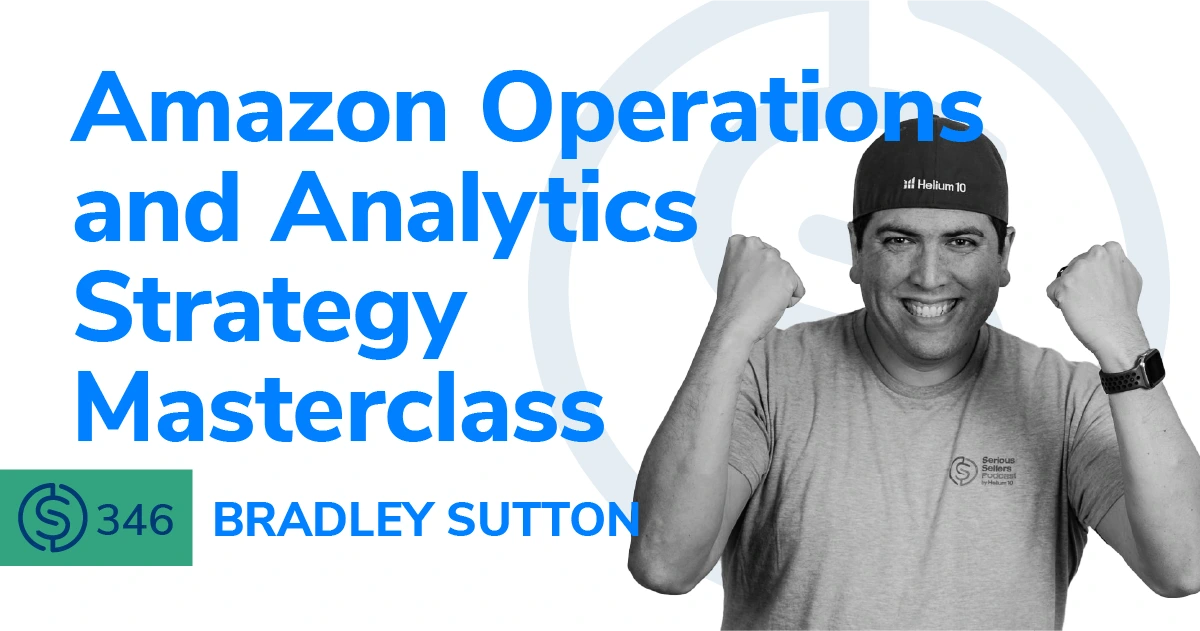 #346 – Amazon Operations and Analytics Strategy Masterclass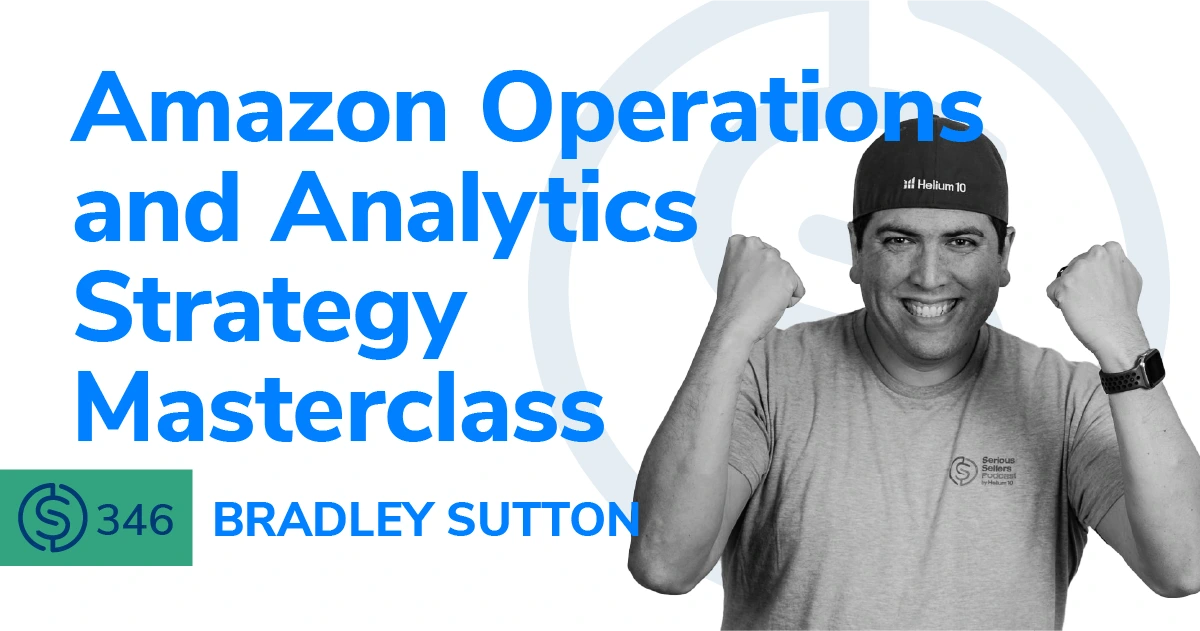 In this episode, Bradley Sutton is back at it. He shares all the best tips and strategies from the More Data, More Dollars webinar, including all of the best operations and analytics tools inside Amazon seller central and Helium 10. It may not be the "sexy" topic out there for some, but guess what? If you don't have your operations and analytics game down, you may fall behind your competition.
As selling online gets more competitive, you need to make sure that you are equipped with the knowledge and tools you can use to your advantage. Make sure to listen to the very end. This episode would be a good one!
In episode 346 of the Serious Sellers Podcast, Bradley discusses:
01:30 – The Scariest Moment In Bradley's Life
03:00 – Take Care Of Your Physical Health As Entrepreneurs
04:00 – We're Gonna Talk About Operations And Analytics
05:00 – The Amazon Product Opportunity Explorer
09:30 – The New Search Query Performance From Amazon
11:30 – Compare It To Cart Adds
14:00 – Having Your Helium 10 Alerts On Is Important
16:00 – Check Your Negative Seller Feedback
18:30 – Easy Way To Check Your Dimensions Without Alerts On
20:10 – Keyword Tracker Is Super Important
22:30 – The Relative Rank And Why Bradley Considers It Important
25:50 – How To Get More Reviews With or Without Helium 10
29:00 – "Overdeliver" On Your Products To Get Positive Reviews
30:20 – Use Helium 10 Portals To Build Your Customer Lists
32:00 – Using Barcode Labels Inside The Portals Tool
33:00 – How To Use Profits Tool Efficiently
36:00 – The Power Of The Inventory Heat Maps Tool
37:00 – How To Detect Amazon Search Glitches
39:15 – Taking Advantage Of Helium 10's Market Tracker
42:00 – Make Sure To Run Refund Genie
45:00 – Make Sure To Use The Inventory Management Tool
Transcript
Bradley Sutton:
Today is gonna be a masterclass in all of the Operations and Analytics tools you need to be using that are inside Seller Central and Helium 10, that's gonna help you crush it in your Amazon or Walmart business. How cool is that? Pretty cool I think.
Bradley Sutton:
Hello everybody, and welcome to another episode of the Serious Sellers Podcast by Helium 10. I am your host Bradley Sutton, and this is the show that's a completely BS-free unscripted, and unrehearsed, organic conversation about serious strategies for serious sellers of any level in the Amazon or Walmart world. For those of you watching this on YouTube, you'll see I'm wearing a Japanese baseball shirt. This is the Hokkaido Nippon-Ham Fighters. All right. This is a team where one of my favorite baseball players Shohei Ohtani came from, and this is actually one of the many gifts that I've gotten. This is one actually is from Brandon Young podcast veteran at the Serious Sellers Podcast, but the many gifts I've gotten over the last week. So what happened to me? This is the first podcast I'm recording since my death, as it were.
Bradley Sutton:
It's actually interesting this podcast I'm basing of a workshop that I did on the 26th of April. Now here's the thing, I have zero recollection of doing that workshop or webinar. It's on YouTube. I thought I didn't do it. Why? Well, what happened was a couple of hours after there I had a heart attack, cardiac arrest. My heart stopped, stopped breathing, 5-10 minutes. I don't remember how long my family was doing compressions on me. Ambulance revived me, liver failure, kidney failure. My heart stopped, like I said, stopped breathing. It was scary to say the least, but I'm back thanks to my family, knowing CPR, thanks to the ambulance who came. And so, yeah, that was pretty much the scariest moment of my life. And I don't remember anything that day or the day before. Just came back to work yesterday.
Bradley Sutton:
We've been kind of taking it easy on the podcast. If you notice here in May, I had actually recorded some ahead of time. That's why we, we got a little ahead. But we've only been doing one a week. And until the end of the month, you'll have just one podcast a week and we'll go back to two a week starting back in June. But anyways guys before I get into this, you know, again, thank you for all the comments you guys left comments. I got so many flowers and gifts like this shirt here. If you're watching this on YouTube and tons of stuff, I really appreciate it. Sorry, I've been out of it. You know, haven't been around, but this is my passion. Now I've had before guests on this podcast, I talk about, you know, mental health, physical health, diet exercise, things like that.
Bradley Sutton:
Guys don't tune out on episodes like that. Now I did not realize this was gonna happen to me, but Hey, it can happen anyway. Now it just so happens that, you know, heart disease runs in my family. My uncle had a heart attack in his thirties. You know, my dad's had bypass surgery, so I should have probably taken a little bit more care of myself, but, but you guys out there take care of your physical health as entrepreneurs. You know, sometimes we work ourselves into the ground and you know, it's not good for our health. And so I'm the new poster child for guys. Don't just think you can work, you know, 13 hours a day and be totally fine, all right. And eat whatever you want. So anyway enough of the sad talk, we're gonna talk about Operations and Analytics.
Bradley Sutton:
All right. This is for some not the exactly the most sexy part of Amazon. You know, most people like to focus on the product research and keyword research and launch and PPC and kind of like fun stuff like that. But guess what guys, if you don't have your operations and analytics game down, you're gonna fall behind the competition. You know, maybe you could have gotten away with it, you know, six years ago, maybe you don't pay too much attention, you know, outside of your cash flow and stuff like that. And you'd be fine, cuz you're just making so much profit, but you know, selling online is getting more and more competitive. So what are the tools in Seller Central you should be using? What are the tools in Helium 10 that you should be using that don't have to do with product research that don't have to do with keyword research, but can help you on the Analytics side of things.
Bradley Sutton:
All right. Let's talk, let's first start with Seller Central, right? Product Opportunity Explorer. All right. Almost everybody has access to this. If you don't, you can ask Amazon and they can give it to you. And it's pretty cool because it kind of clusters groups of products and keywords into what they call niches. Now, not everything is there not all keywords are there. So do a search for some of your main keywords and see if they're there. Like I did coffin shelf, coffin shelf is there. The first cool thing is it tells you all of the products in that coffin shelf niche that make up 80% of the either the clicks or the purchases doesn't matter which one it is. It's still a very important metric, 80% of the niche. All right. So for example, coffin shelf has 18.
Bradley Sutton:
What does that mean? That means those 18 products are the result of all the keywords in the niche and those make up 80% of the purchases in that niche. Right? So if you have a niche that there's only five products in there, what does that mean? That means it's being dominated by like these five products. They just have a stranglehold, right? What if there's a product or a niche that has like 200 products, there are some of those in Product Opportunity Explorer. What does that mean? It's kinda like the wild wild west, right? It means it takes up 200 products just to get to 80% of those clicks or purchases. Now one thing I like about the Product Opportunity Explorer, it's got some things that even Helium 10 dosen't have. One of them is the click share, right? That's kind of good to see. Now the click share is important because it tells you like, Hey, how many clicks does this product have compared to the other products in the niche really important.
Bradley Sutton:
Another thing that I like looking at is the search terms in the niche. All right, because what it does is on the right hand side, it'll show you the top three clicked products for those keywords. And you can see little thumbnails of them. And even in the coffin shelf niche, you will see some keywords there where all of those top three clicked, they have nothing to do with coffin shelf. So they're just random shelves. So this can help you if you're like, ah, man, I got this top keywords. I'm not sure what is the most important, cuz the numbers look the same, the search volume looks the same, you know? Right. But if the top three clicked are completely irrelevant to your product, that keyword is probably not gonna bring you many sales. Does that make sense guys? Like if you've got a, a supplement, like a gummy supplement for collagen, let's just say, all right.
Bradley Sutton:
And you see where some random keyword like a hair skin and nails supplement is the keyword. Let's just say the top three products are fish oil or something. Something I don't know, fish oil probably has nothing to do with hair, skin and nails. But the point is if the top three products are all fish oils and you have a collagen gummy, guess what, whatever keyword that is, it's probably not very relevant. I wouldn't put too much focus on it because it's obvious that people are clicking a completely different kind of product. So they must be thinking about something else when they are searching for this keyword. So again, use this Product Opportunity Explorer and these top three click in order to kind of like see which keywords are at least visually are more relevant. Another thing that I like to look at is the Search Conversion Rate, right?
Bradley Sutton:
It's a very cool metric. You know, it'll say like, Hey, coffin shelf and the last 360 days, 3.8% or something like that is the Search Conversion Rate. That means that out of all the searches 3.8% of them resulted in sales. After somebody searched that keyword of one of the products in the niche. Now, this is important for both product research and your own research. For example I've told this story before. That's how we discovered a, a new, larger coffin shelf. Like the coffin shelf, keyword is 3.8% conversion rate. But if you were looking at the Product Opportunity Explorer, and you looked at the keyword coffin bookshelf, or large coffin shelf, it had like a 0.8 conversion rate. What does that mean? That means that you know, hundreds, maybe thousands of people are searching for this keyword, but nobody's buying anything from that search because they're obviously not seeing anything that matches the description.
Bradley Sutton:
And if you actually would've looked at this time to coffin, bookshelf or large coffin shelf, you wouldn't have seen any they're all small. So what did that tell us? I was like, Hey, if there's an opportunity right there, people are searching for this keyword. It's got search volume, according to Product Opportunity Explorer, according to Helium 10, but the, the market is not being served. Sure enough. We started the product that was a coffin bookshelf. The first on Amazon sold out within weeks. Right? So it's a great way Product Opportunity Explorer, to even look at that kind of niche as well. Now, another thing that's kind of new to the game is the Search Query Performance. All right, this is something for brand registered sellers. Only. Now the Product Opportunity Explorer is, is mainly available to almost everybody, but this is only brand registered sellers.
Bradley Sutton:
And it gives you the top 1000 keywords related to your brand. Now, if you've got 20 products in that brand, it's, it's kind of taken all of them into consideration. If you only have one product in your brand, it's pretty cool because it's take, it's showing you all the top according to Amazon, at least, you know, the top 1000 keywords for that exact product. Now a couple of things that I like to see there, that other parts of Amazon and helium can don't have is it shows how many clicks after a keyword was searched. How many clicks are there now? Now, why is this important? Like for example, you wanna look for differences guys in the number of clicks and the number of searches. For example, let's say something was searched 1000 times, but there were 4,000 clicks. All right.
Bradley Sutton:
What does that mean? That means that for every person who was searching that keyword, they click on average four different items, whether they bought something or not, we're Nott even talking about that yet, but if it's like a four to one ratio or three to one, it means that they're obviously not really finding the product they want on that first try or everything kind of looks equal to them. So they're just checking the details and the images, the different products. Now take something where it's like a two to one or one to one ratio. Well, that means that whatever they're clicking on, they're like finding, Hey, this is what I want. So that could mean one of two things. Like there's just one guy who's just dominating or it could be, there's not much competition. So they saw in the search results, there was only one relevant product to them or two.
Bradley Sutton:
So they're not gonna go clicking random products. Right? So, there's some insights that you can get from, from this that's pretty unique. Amazon has never made this available to Seller Central people before now, compare it also to cart adds. This is another thing that it has. That's kind of unique. It's great for this analytics that we're talking about here. For example, there are some keywords that have like eight cart ads for every purchase. Now, to me, that just boggled my mind that that's not how the way I shop, I don't know about you guys, but if I add something to my cart on Amazon, I check out I buy it. Right. But I guess what other people do they've told me what they'll do is they'll add like six, seven products to their cart. And then at the end, they're like, you know what?
Bradley Sutton:
I'm gonna pick, which one I want to actually check out and buy it. I'm gonna delete the rest. Right? So you'll notice very numbers right here. There will be some where it's like almost like a one to one or two to one ratio, right? Again, that could indicate less competition. But if you see a keyword that has like 8 to 10 add to carts for every purchase, again, this is telling you, Hey, the competition might be a little stiff or it could go both ways. It could be like very strong competition. Everybody's like on equal playing ground. There's 10 guys who are all relevant to the average buyer. And people just don't know which one to pick, or it could be the opposite. It could be like, they're all kind of weak. And so you're adding them all. And the buyer's trying to find the lesser of 10 evils as it were.
Bradley Sutton:
Right. So it could go both ways. But again, this, this is new metrics that Amazon has never made available to people for analytics, you know, super, super cool stuff. You had no idea about, you know, which one was, you know, clicked more or less, et cetera, et cetera. So this is another good metric to see what you could do. Like, let's say you have something with high clicks of searches and you're in that niche, right? You're on page one. And people are just adding a whole bunch of the cart. Well, what I would do is I would use Helium 10 Audience to do a poll, where I would poll Amazon buyers and say, Hey, look at these search results. You know, which one would you pick and why, or which ones would you pick? And, and then maybe you'll get some answers where it's like, oh, these all look the same so that's why I can't really tell.
Bradley Sutton:
Or what you want is people to say, oh, this one stands out. And that's why I'm picking this one. But I guarantee that's not gonna happen if you see a large click to purchase ratio, right. Again, the only way you can find that is the Search Query Performance. Let's talk about, you know, those are someones in Seller Central. Let's talk about Operations a little bit. If you guys have Helium 10, right now, you, you guys have to have Alerts on for all of your products, no matter what plan you have, you know, Platinum, Diamond, Elite, you guys all have access to Helium 10 Alerts, and this is going to send you a text message or a mobile app notification, or an email, whatever you specify as to a lot of things that could change your main image, changes, your bullet points, change the one of the most important ones, your dimensions change guys, do you know how important that is and how often Amazon changes dimensions on products?
Bradley Sutton:
Cuz they remeasure it, you know, in some warehouse and they might change it by like, you know, two, three inches. You might think that's not a big deal. That's happened to us before. And I didn't notice it cuz I wasn't checking my Helium 10 Alerts. And months later I found out we were charged thousands of dollars more because sometimes these two or three inches could be the difference of going from one size tier to another size tier. Especially if you have a larger item, like a coffin shelf and it's, it'll go by dimensional weight. So every product that you're selling could be $1 more for shipping your paying because Amazon measured it wrong. And if you're selling 10, 20 units a day, you can figure out that adds up over the days, weeks, months, if you do not catch this.
Bradley Sutton:
So guys make sure you have alerts on, it's going to tell you if Amazon changes your dimensions or not. Other things that it can check is if it's an adult product again, happen to product of Project X, I got Alert about it. I didn't even pay attention unfortunately and lost out on hundreds of dollars while this product was pretty much suppressed from search. Why was it suppressed from search is because for whatever reason, Amazon marked our Project X egg tray as an adult product. Ridiculous. Right. But when that happens, you're not showing up in PPC anymore. You're not showing up in Amazon search anymore. All right. So that screwed us for sales for weeks until I finally figured out what was happening. But all I had to do was just pay attention to my Alerts and I would've known what had happened.
Bradley Sutton:
Another thing that it's telling you Alerts is if you get bad reviews and also if you get negative seller feedback, now the bad reviews, that's kind of just like for your knowledge, you know, you just want to heads up on what people are saying about your product. You can't really do anything. You can't really remove bad reviews, negative seller feedback, all right, that doesn't affect your product, but it sometimes affects your account metrics. You don't wanna go below a certain threshold because, and plus Amazon buyers on your storefront page, they can see what your overall feedback is. Right? So you don't want to have negative feedback there. It's easy to get some negative feedback removed. Now, if you're doing fulfilled by merchant and somebody leaves a message, negative seller feedback saying, Hey, this, this seller, you know, was slow delivery.
Bradley Sutton:
You're not gonna be able to get that removed all that. You're stuck with that negative seller feedback. But if it was about an FBA item and they're upset with the late delivery or the box was damaged or something, guess what you can ask for Amazon to remove that. They'll remove it instantly. All right. Just so go to your Seller Central guys, you should do this check, go to performance and feedback like right after this podcast. And then just check regardless if you had Helium 10 alerts on or not, regardless if you even have a Helium 10 or not go to performance, hit feedback, find out in the last 90 days, if you have negative seller feedback. And if it's about an FBA order hit the request removal and 10 times out of a 10, those FBA feedback issues will be removed and it won't count against your negative feedback.
Bradley Sutton:
Another one that's semi easy to get removed is if people put product reviews and give a bad rating right there. So let's just say, somebody, says, ah, this coffin shelf sucks. It had bunch of marks in the paint. And I hate this product. One star seller feedback. Well that is against Amazon terms of service for the buyers. They're not supposed to put product reviews there. So if they had to have an kind of product review, you request a were to remove Amazon, remove it literally instantly. All right. So make sure to get your negative seller feedback, and remove guys. Alright, let's talk about some other things I mentioned a, a few minutes ago about Alerts, about how, if Amazon changes your dimensions you know, Alerts will let you know, but let's say you're only turning on Helium 10 Alerts today, right?
Bradley Sutton:
One easy way. Let's say you've only got five or six products. If you're not sure what your dimensions are, here's the easy way that you could know if Amazon has changed your dimensions, let's say you've got like our coffin shelf, right? Our coffin shelf is in a box. That's almost the same exact size as the coffin shelf. It just has some size for cushioning, right? So I know that the package dimensions of my box is not gonna be much bigger than the actual product dimensions. Okay. So if that's the case with your product, you know, it's not something that completely folds up or something like that, right? Here's the easy way go with the Helium 10 Chrome Extension installed. And this is free. If anybody needs Helium 10 Chrome Extension, you guys don't have it yet. Just go to helium10.com/extension can install it for free and then scroll down to where there's a bunch of graphs from Helium 10.
Bradley Sutton:
And it'll actually show your item dimensions as what Amazon has it. And your package dimensions. Now your item dimensions should never change. Amazon does not change that. You're the one who specified that never changes unless you change it. So what I do, for example, how I knew the coffin shelf was changed. Even if I didn't have Alerts is if it says 14 by seven by three, and then the box, the package dimensions says 17 by whatever I said like eight by four. Well, I know that 17 is wrong because the height should only be 14 though. So that means that the package should have at most be 15 inches. So there's just a quick way that you can see if your packaging is within the realm of possibility. If you didn't have Helium 10 Alerts on just go to the actual product page, look at the helium 10 little Chrome extension, little widget that it has and compare your item dimensions with your package dimensions.
Bradley Sutton:
All right, let's switch gears to back to analytics. Now that was some operations stuff. Let's go back to analytics guys. If you have a Helium 10 Keyword Tracker, Keyword Tracker, Keyword Tracker, super important guys, please, please, please be tracking your keywords. Back in the day 2015, there were no keyword trackers out there. How do you know where you were showing up for your main keywords, you would actually have to pay a VA to go out there and count where you're showing up. Right? Keyword Tracker does that for you. All right. It's gonna track where you are showing up organically and where you are showing up in sponsored results. And this is very important, especially if you're running PPC, you know, you don't know how much to bid sometimes, right? You know, Amazon will give you a suggested bid that that doesn't guarantee.
Bradley Sutton:
That doesn't mean that it's at the top of the page. No. So if you want to make sure that you're coming off on page one, you don't wanna have to go manually and go search for the keyword and see where you're showing up organically and sponsor results. No Keyword Tracker is doing that once every 24 hours and the beauty about keyword tracker, we were the only one that has it. We have a boost where we will check 24 hours a day with rotating geolocations and browsing scenarios, where we will be able to show you exactly where you are ranking from certain different browsing scenarios. And then you'll know, Hey, I'm not on page one anymore. I'm Hey, my sponsored ad is on page two. I better up my bid. Things like that. Another cool thing about Keyword Tracker is you can track your competitors on the same graph.
Bradley Sutton:
So what I always do is I add my ASIN, obviously, I add my top 20 keywords here. Here's the thing. There's some people out there who track 200 keywords. Don't do that for one ASIN guys. You're not getting sales from 200 keywords. I'll tell you that right now. All right, you're not gonna get sales consistently from 200 different keywords, even Product Opportunity Explore shows that, you know, niches are really made up of like less than 30 keywords. But max I would do is like 50 keywords, but usually I track my top 20 to 30 because that's where the money is made. The money's actually made from the top five keywords, but I'll at most, you know, maybe track like 20 or 30. And then I add my top five competitors, the people who are most similar to my product, I'll add that.
Bradley Sutton:
And then on the same graph, I can see where I rank and sponsored at and organic compared to them. And what I'm looking for is my relative rank in each of those. And that's what keyword tracker shows is, sure, maybe I'm on page one, position 10, but the more important of rank to me even than organic rank is my relative rank. If these are my top five competitors, what do we want that relative rank to be? We want it to be one. In other words, we want to be the first one of our top competitors that a customer's eyeballs looks at, right? Regardless if it's at the top of page one, the middle or bottom of page one, cause there's some keywords where it's filled with irrelevant products, but if we're the first relevant product, you know, to a buyer that's showing up, that's the important metric, not necessarily organic rank, but our relative rank.
Bradley Sutton:
Right? So guys do not forget. Don't just add your own ASIN a keyword tracker, add your top five competitors and be checking your relative rank. Another interesting thing is with Analytics is that you can compare it to Brand Analytics in Seller Central. What I like to look at in brand analytics in Seller Central is the top three click. For example, recently, I noticed that in brand analytics, the helium 10 coffin shelf was the number one clicked item for the keyword coffin shelf during a certain week. However, when I looked at Keyword Tracker, I was ranked like position 11. So maybe you're like, wait a minute. How did the helium 10 coffin shelf become the number one rank? Like you would think that, oh, we are organic rank 10. So we probably didn't get any sales. No, but Keyword Trackers showed me I was the number one sponsored rank.
Bradley Sutton:
So we were the very first coffin shelf showing up on the page because as you guys know, the first line of the, the results are the sponsor results. And so thanks to that. I was the first one click. So if I was just looking at my organic rank, I might have thought, oh, I must be performing terribly, but no, I'm looking at Brand Analytics. I'm looking at my sponsored rank and I can kind of figure out where my sales are coming from. All right. Real, real quick just on that. Some people are gonna argue with me, nah, Bradley, you should track more than 20 keywords if you want to. Hey, you can. I mean, you can track up to like 5,000 keywords I believe in Keyword Tracker, but how do you get that first 20 keywords?
Bradley Sutton:
What I do is I run Cerebro on my main–, before I even start my product, I run Cerebro on my main competitors and I see, which are the most relevant keywords. What has the most competitor performance score? It's kind of like, you know, I hate using the word relevancy because it's very subjective, but that's what some people call relevancy, right? Like, Hey, these are the most relevant keywords to my niche because the competitor performance score is high. Meaning that almost everybody of my main competitors are all ranking for the same keywords and they're all ranking highly. Right? So look at the competitor performance score inside of Cerebro. And it'll tell you what keywords are driving sales to your competitors. Those are the ones that I would be tracking from day one, but even if you've been selling for a while, you never, haven't been using Keyword Tracker guys get into Helium 10, add your ASIN and your competitors, your keyword to Keyword Tracker ASAP.
Bradley Sutton:
All right. If you don't have helium 10, let's go back to operations. Let's talk about reviews. We know reviews are the lifeblood whole product, right? We want to increase our reviews in a way that does not violate Amazon terms service don't have Helium 10. No problem. What you do is use, go to your orders and for anything that has delivered within seven and 30 days ago, you can actually hit the request review button inside of Amazon Seller Central one by one. That's not very efficient, right? So for the 99% of you guys out there who have Helium 10, guess what, regardless of your level, you've got access to Follow-Up. So I would set up the automation for Helium 10, and Follow-Up to do the Amazon request review or your own custom email. Some people are scared of doing custom emails, cuz Amazon is so picky about what you say in these emails, they don't wanna get suspended, right?
Bradley Sutton:
So if that's the case, what I would suggest doing is just doing the, the Amazon request review template, right? That's it's not a custom email. It's literally using that same thing that Amazon would do. If it hit request review if you hit request review inside Seller Central. But the cool thing about this is it's kind of like a set it and forget it. You can actually set buy item when you want that message to go out and to whom like maybe you want it to go out only to customers who ordered from Mexico. Maybe you want it only for this SKU. If you let's say you got a supplement, do you want to ask for review seven days after delivers? Heck no, because they haven't had time enough to use it. I would put it to the max.
Bradley Sutton:
I'd put it like 26 days after delivers. That's when I wanna put in my request review right up there to the limit because it'll take them that time in order to know if they like the product. Now, what if it was like a Christmas tree ornament and it got delivered on December 20th. Well, am I gonna wanna wait until January 20th to send a request review? No, because I know they use that Christmas tree ornament sometime between December 20th and December 25th. And that's it. So I'm gonna set that timer to get that request review sent out as fast as possible. You can't really do that in Seller Central. You can do that in Helium 10 by using our filters to set exactly when you want that email to go out. Another thing that we have built to our filters is like excluding people who got more than a certain amount of discount on the order.
Bradley Sutton:
Like if you had a coupon or something or a promotion, right? This is important because it's just better safe than sorry, guys. You don't want Amazon to think that you're doing some kind of review manipulation, right? And this thing if you gave out a 50% off promotion on your product, and then you ask for review, how do you think that would look to Amazon? Looks like you're incentivizing it, right? So I do not. I mean, now you can't control if those people give you your review or not. Right. But you can control if you're asking for review or not. So with Helium 10, again, you don't have to one by one check if somebody paid full price, we know. So just say exclude orders that had more than a 10% discount or more than a 1% discount for that matter.
Bradley Sutton:
And then those people will not get a request, a review, right? So that is important as well. Here's something that has nothing to do with Helium 10, nothing has to do with Seller Central about getting organic reviews. You know some people, what they do is they over deliver on their products. They'll put in gifts that they don't even advertise. Lem in this workshop that we did give an example of this coffin shelf, I think was might have been a makeup coffin shelf. I'm not sure, but they showed that they got stickers as extra. They actually showed that in the advertising and you could look in the reviews and people were like, oh, it's kind of cool that I have these stickers. But then what he noticed in the reviews of this makeup coffin shelf is a bunch of people were saying, oh, I love this coffin bottle opener.
Bradley Sutton:
He's like, what coffin bottle opener, nowhere in the listing, is it advertised that you get a coffin bottle opener? It's not in the pictures. It's not in the text, not nowhere, but what this seller was doing was they were putting in a coffin shaped bottle opener probably cost some like less than 10 cents per unit. And they had it in there and everybody was like, kind of like, oh wow, this is so cool. I wasn't expecting this. And what were they prompted to do to then, they left a positive review because of that. They liked it. So there's another way to kind of increase your reviews over deliver. If you can on your product and of course use Helium 10 Follow-Up or another tool. You guys all have access to Helium 10 Portals. These are set up landing pages or Portals that you can gather customer information, you know, free warranty who doesn't want a free warranty out there.
Bradley Sutton:
So I would make an insert card, use one of our templates that we have in Helium 10 Portals. And you don't have to know graphics or anything. We have the whole template for, you can add a logo or do whatever you want. Add some text, add a QR code that even has your low and have that QR code go to an actual portal or a landing page. Once they scan it, after they open up the package and they see they've got an insert card in there and it says, Hey, scan this so you can get a free warranty. And then you can just have them register their email address. And now all of a sudden you can start building out your email list and you're also giving them some value, cuz you know, who doesn't want a free warranty, not everybody's gonna click that, but if you can get one out of 10 people to click that, now all of a sudden you are building up your customer list that you can do some off Amazon marketing too.
Bradley Sutton:
So, guys, portals has tons and tons of great things that you can do in there. You can create your own domain so that it goes to your own domain for the link. You can create insert card templates. Like I said, we've got full templates. We've got blueprints in there. You can create QR codes. You can even have your own logo embedded inside of the QR codes you create. If you haven't set up your first portal, yet guys start doing that ASAP. Another cool thing in the Portals tool is we have barcode labels. We all know that if we ship FBA, we have to put an FNSKU sticker on our box. Now, most of you guys maybe just print out that generic one from Amazon and send that to your supplier and say, Hey, print this off on a white sticker and stick it on the box.
Bradley Sutton:
It's an ugly sticker. It cuts off the title, not very attractive with Helium 10 Barcode Labels. You can create custom labels that have graphics on it and that have your code embedded and you can put the actual title of your product that you want. And then send that as a PDF file to your supplier. And then they can print off a full graphical label that looks so much better than the Amazon one. So that's something that you guys should be using as well. Now, you know, one of the things that a lot of people hate talking about is profits. All right? The Profits tool in Helium 10 is not a sexy tool at all because it's just about your cost of good sold and, and what this expense and that expense and this profit and this ROI. But guess what guys, you need to know your numbers.
Bradley Sutton:
All right. So if you've got Helium 10, go in there, please, please, please hit the Inventory Levels tab and item by item, enter in your cost of good sold. You know, Profit is not gonna work unless you accurately enter what you are paying your supplier for your product as the first number. And the second number is what you are paying to get it from your factory to the Amazon warehouse. If you put those in, we'll do all the rest of the work because we have all the information from Amazon. So we'll tell you what your profit margin is after your PPC, after your FBA fees, after your pick and pack fees, your shipping fees, cetera, et cetera, et cetera will let you know because you gotta know if you're profitable or not, right? Sometimes we get so married to a product and we're losing money and we keep it going.
Bradley Sutton:
No guys, if you're losing money, you gotta either figure out how to turn that ship around or you gotta just, you know, stop that product. But you're not gonna know just by looking at the number of sales you have on if you're making money or not use a tool like Helium 10 Profits to be checking that. A couple of things that people don't even realize that that Profits has hit the Expenses tab. This is what I want you guys to do. Those of you who have already done this in Profits. You probably haven't clicked the Expenses tab, hit that tab, and it's gonna show you their your month to month storage charges. How much are you paying Amazon FBA for storing your products? Some of you might be shocked. You're paying hundreds or even more than a thousand dollars a month on storage.
Bradley Sutton:
And so you might wanna be like, you know what? I need to pull some of this inventory out, cuz it's so such slow moving and move it to a third party warehouse so I can save some money on storage. All right. So make sure to hit the Expenses tab. And it'll tell you SKU by SKU or it'll tell you the total and SKU by SKU on how much you're paying for storage charges. Another thing you guys probably don't know you have in Profits hit the refunds button. All right, once you hit that, you can click a different timeframe and it will tell you all of the products that are most being returned. And then if people left a note as to why they are returning it like, oh, I didn't like this brown mark that it puts on my eggs. We actually got that for the egg tray, probably multiple people.
Bradley Sutton:
Helium 10 Profits is gonna tell you the top reasons that people are using on why or actually not the top they're they're gonna, it's gonna show you every single reason that anybody has ever given for why they're returning their product. And there might be issues that you don't even realize are issues, until you look at this this is from Seller Central, but most of you guys don't know how to find it in Seller Central. So there's another good thing to look at. Another thing, Inventory Heat Maps, right? It's in Profits, hit Inventory Heat Maps. You'll find out where all your FBA inventory is stored at all the different states, right? Maybe you were looking at your orders tab. I in profits and you're like, man, I'm not getting any orders at all in the Pacific Northeast, the Pacific Northeast.
Bradley Sutton:
What am I even talking about? There's no such thing as the Pacific Northeast, the Pacific Northwest. In other words, Washington, Oregon around there, right? And then you look at your Inventory Heat Maps and you notice, oh my goodness, why is my products not being stored at any FBA warehouse in Oregon or Washington? Maybe I need to send more inventory to Amazon so they can spread it out a little bit more because if you do not have inventory in a big geographical area, guess what people are not gonna see next day delivery. Sometimes they won't even see two day delivery. And so if your competitors have a lot of inventory and thus they've got inventory in those warehouses, they might buy your competitor's product over yours because they can get that one or two day shipping where yours is maybe like two or three or even four days shipping.
Bradley Sutton:
So inventory heat maps is another tool that you guys need to be looking at. Another one is the search Anomaly Tracker. There are anomalies that happen. Sometimes there hasn't been one knock on wood, a really bad one in about a year on Amazon. But there was a while where in early 2021 thousands and thousands of products were losing their indexing on keyword. So not losing their rank, but they weren't even indexed. Right? So sometimes that happens on individual basis. Like, remember I said, that happened to the Helium 10 Project X egg tray now that wasn't a search anomaly. That was because our product got marked as adult, but sometimes it happens to a lot of people. Helium 10 is tracking those anomalies. So go to helium10.com/asa, right. And sign up there for notifications on. If we detect some major glitches that are happening out there.
Bradley Sutton:
All right, what else do we have here? Inside of Amazon and soon to be inside of Helium 10 look at the business reports. All right. Business reports is inside of Seller Central, but it gives you more unique things that no other no other spot and Amazon has it will show you your page views on your mobile app. It'll show you your page views on the browser. It'll show your conversion rate. These are all important metrics you need to be analyzing. Like if you're getting way, way more views on the mobile app, have you optimized your listing for mobile app? You know, most people optimize their listing, just thinking about a desktop because that's where they create their listing. And that's where they view it. Right. But have you looked at how your product looks like in the search results on mobile app, how your image looks like, you know, where your bullet points show up, where, where your title is being truncated.
Bradley Sutton:
If you're getting tons of views on mobile, you need to make sure your listing is optimized for mobile. So make sure, check out this metric Business reports inside of Seller Central and also your conversion rate. If your conversion rate is crap, you gotta ask yourself what's going on. You're getting tons of views on your page, but only 2% of people are actually buying it. A hundred people viewed your listing and 98 decided not to buy. You've gotta figure out why. Right? So again business reports inside of Seller Central is what is going to show you these things. Another favorite tool of mine is Market Tracker, everybody needs to be using Market Tracker. Guys. This is a super important tool. What you do is you create your market. You first define it by top five keywords. So for example, for my coffin shelf market, I used coffin shelf.
Bradley Sutton:
I used coffin decor, large coffin shelf. I think I might have used Gothic decor, whatever my top five keywords were. And I put my product in there and the competitors I knew were important. And now what this is gonna show you is it's gonna show you the Market Volume. First of all, out of all the products that you define as your market, what is the Market Volume? How much monthly sales are they generating? This is important for all of you guys out there who keep asking, Hey, are my sale–, Is anybody else's sale down today? Like anybody sales down out there today, you know, you see it that a million times in the Facebook group, right? If I guarantee these people are not running market tracker, cuz if they were, they wouldn't need to ask that question, they would just go to market tracker and see, oh, this market volume went down.
Bradley Sutton:
So my market share stayed the same. You know, my piece of the pie stayed the same. So even though my sales are down, it doesn't matter. Cause my competitors are all down at the same time. That's what Market Tracker is showing you is showing you, first of all, the, the size of the pie, which is the market volume, it's showing you what your piece of the pie is, which is what your market share is, you know, is it 13%? Is it 20%? How much percent of the overall sales of your competitors do you, are you getting, and then it shows another chart of overtime, how your market share has changed, right? That's what tells you right there market volume and your market share are your sales up or down compared to your competitors? Here's the beauty though. Once you've got that set up, you don't have to keep adding competitors.
Bradley Sutton:
Helium 10 is gonna go find out if there's a new mover and shaker that we think is relevant to your niche, we'll give you a notification and let you know, Hey, you, you might wanna track this product. And so you can sometimes get like notification that there's a brand new seller before you even knew he was around there, that you can start tracking, even if it's not relevant. The cool thing about Market Tracker. Sometimes it'll give you products that could be line extensions, like in the coffin shelf market. The other day I got this notification says, Hey, do you wanna track this? I'm like, nah, this is not a coffin shelf. But what it was, was a coffin shape, like tray like a serving tray. Now I don't wanna track that because I don't consider it my competitor for my market.
Bradley Sutton:
But guess what? That would be a great product to target in my PPC product targeting or sponsor display ads. Because if somebody wants a coffin shaped serving tray, maybe they want a coffin shaped shelf, right. Or maybe I'm like, you know what? That's a good product idea for Manny's Mysterious Oddities brand. Maybe I want to go ahead and you know, sell this product as well. So Market Tracker is a great analytics tool, but it also could be used as a PPC tool and as a product research tool as well. Another thing guys should be doing from day one when you have Helium 10 is run Refund Genie. You know, Amazon is pretty good these days at if they lose or damage, one of your products they'll reimburse you, but they still miss some sometimes Refund Genie will go in there and find out all of the instances where we think they might still owe you money and tell you which ones you need to report.
Bradley Sutton:
For me personally, I usually get 50% of whatever Refund Genie says, right? Like last year on my one account I got about, I wanna say like $600 back total for the year on it that from money that Refund Genie had found that guys that's a lot of money. Helium 10 only cost $99 a month. That's like six months of Helium 10 that I paid for just by running Refund Genie. Right? So guys make sure to run refund Genny again, you guys all have access to this. You have a Platinum or above membership. It's there. It doesn't cost you any extra, whatever money we find that is owed to you and you get Helium 10 is not taking 1 cent from that. You get to keep all that money guys. So make use of these, these, these tools that, that you're already paying for.
Bradley Sutton:
But so many of our sellers are not, are not taking advantage of it. Another thing outside of Refund Genie. Refund Genie, doesn't find this, but it's something you can find. Lem talk about this in the workshop, your FBA shipments go into your FBA shipments and the ones that are were all received and check for discrepancy where, you know, you shipped 500 units or whatever units. But if you show they only checked in 490 or whatever, you need to hit the button reconcile inside of your Seller Central managed shipments, hit reconcile and submit a report. And it will ask them to do like investigation. If you're positive that you know, they lost it. And then they're gonna ask you for information like your invoices sometimes and your cost of goods and things like that. But a lot of times they will come to the conclusion that you know what, yeah, it looks like we lost this product, you know?
Bradley Sutton:
And so they'll give you the benefit of the doubt and they'll sometimes give you even retail price of your products, but at the very least, they'll give you your cost of goods sold for those products. So there's a way, even without Helium 10, you can get some money back from Amazon. Last operations tool I wanna talk about today is Inventory Management, right? This is super important. There there's people out there who pay like 50, a hundred dollars, $200 for inventory management software. Why you've got that in Helium 10, we've got all the algorithms there. You can base your, your velocity on, you know, your seven day velocity, your 30 day selling velocity. It can go on seasonality. It can go on our advanced algorithms that check seasonality and different things. Guys, Inventory Management is a lifesaver for people like me, I used to have to use spreadsheets and try and figure out what inventory I need to have to make sure I don't have too much or too little.
Bradley Sutton:
And the cool thing about it. I can actually create my transfer shipments right there in inventory management. What does that mean? That means if I have my inventory at a 3PL or at my house, and you know how you want to create an FBA shipment so that you can take it from your warehouse and send it to Amazon, you can actually create that right within Helium 10, that's how I do it at my warehouse, at my house here or not how I do it, my family does it. But they create it right within Helium 10. You can create that transfer shipment. You can create your POS to your supplier, cuz we'll tell you, Hey, you need to order some product right now, cuz you're gonna run out in 71 days. And you told us that it takes 80 days to get product in.
Bradley Sutton:
So you better order right now. You're already late. Well guess what? I could just click a couple of buttons. It'll create that PO right for my supplier. And I can just send that PDF right there to my supplier and it'll show up now as something that I have on order. So guys make sure you have activated for all of your SKUs Inventory Management that you put your accurate numbers. We all know how crazy shipping time is. I had to go into my inventory management skew by skew and I changed everything to 90 days. Lead time. I used to have only 50 days lead time. That's how much it would take to get my products. I have to put 90 days lead time now because shipping is taking so long so that I can have a head start to make sure I don't run out of products.
Bradley Sutton:
So make sure guys that you're using Inventory management. There's tons of other tools guys I'd even talk about in Seller Central in helium 10. But the important message of today's masterclass other than Hey guys, take care of your health. You know, so you don't have a heart attack in your early forties. Like me is the important message though. Guys is these tools, these activities are not that sexy. It's not that fun to check Brand Analytics and, and see who's the top click. It's not that great to go run a Refund Genie report and then create a case to Amazon, try and get some money back. It's not that amazingly fun to your Alerts and do this and that and this and that guys. It's not, well admit it right. But if you wanna be a successful Amazon seller, you've got to do all of these little things on the analytic side, on the operation side to give you that competitive edge over your competitors, because these are all important data points that is gonna help you get ahead.
Bradley Sutton:
It's gonna help you know what keywords to concentrate on. It's gonna help you to know where your competitors are outperforming you. It's gonna help you do defensive strategies to where your number one, how you can stay number one, if your competitors are outsell, you, you're gonna be able to know why, you know, where are they showing up for earlier than you on Pegas you'll know with keyword tracker, if your sales go way down, you'll know with alerts because maybe something happened to your listen that you didn't realize happened, but alerts will tell you you wanna find out who's click, you know, how many people are clicking on a certain keyword? Do you go into a Seller Central and you use things like Product Opportunity Explorer and the Search Query Performance guys there's so, so, so, so much data available to you sellers now. If you are new to selling on Amazon the last year or two, you do not know how "easy" or how much info you have available compared to the Amazon seller of like 2015 and 2016, who is basically blind. You didn't have any of these metrics back in the day. So guys it's 2022. You guys need to have your operations and your analytics SOPs on point. I hope this was able to help you. What I want you to do now is rewind this. If you need to, but go into your Helium 10 account, go into your Seller Central account. Start using these tools that I mentioned today right now to help you crush it on Amazon and Walmart in 2022. We'll see you guys in the next episode.
---
Enjoy this episode? Be sure to check out our previous episodes for even more content to propel you to Amazon FBA Seller success! And don't forget to "Like" our Facebook page and subscribe to the podcast on iTunes, Spotify, or wherever you listen to our podcast.
Get snippets from all episodes by following us on Instagram at @SeriousSellersPodcast
Want to absolutely start crushing it on Amazon? Here are few carefully curated resources to get you started:
Achieve More Results in Less Time
Accelerate the Growth of Your Business, Brand or Agency
Maximize your results and drive success faster with Helium 10's full suite of Amazon and Walmart solutions.