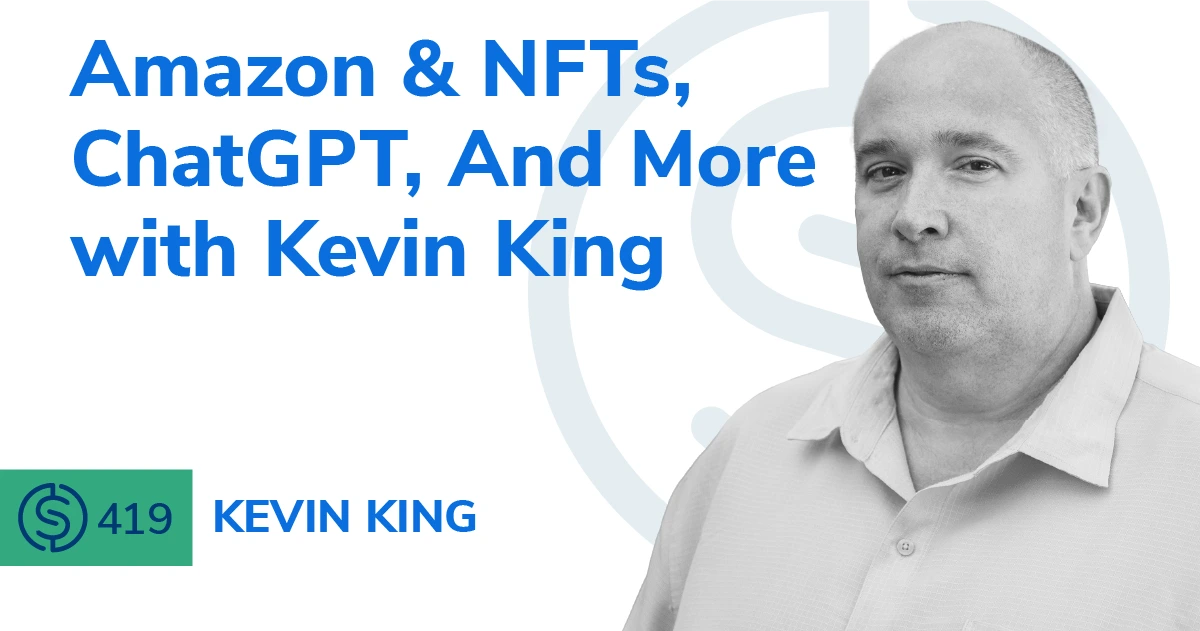 #419 – Amazon & NFTs, ChatGPT, And More with Kevin King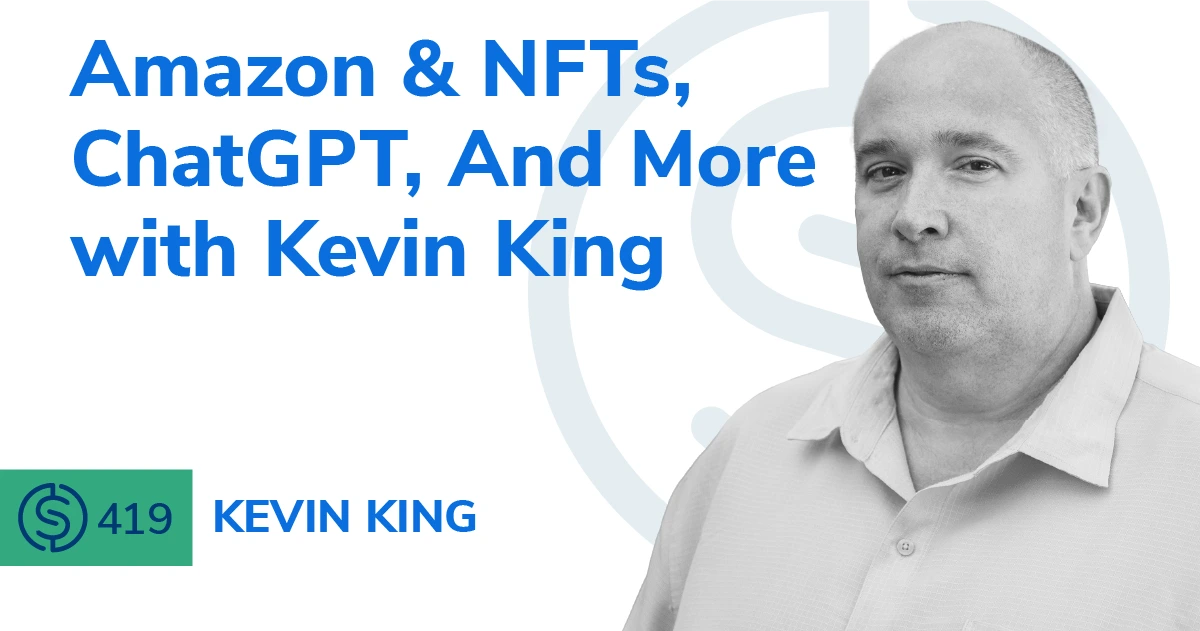 Video of the episode at the bottom
Kevin King is back on the show and takes us on a quick peek at how he maintains his health, his recent travels like watching the World Cup finals live, to uncovering his secret to achieving an incredible 50 lbs weight loss through what he calls intuitive eating.
But that's not all. We also dive into Kevin's insights on NFTs, talking about the Helium 10 founder's NFT company called The Bulls And Apes Project. Kevin also shares that when we use these fundamental concepts like community, collector mentality, and blockchain technology and tie them into our E-commerce or Amazon businesses, we can gain a major competitive advantage.
Hear exclusive tips from recent guests on the AM/PM Podcast and learn about the Helium 10 Elite group, its perks, and its benefits for members. Plus, find out how AI software like ChatGPT can transform the Amazon-selling industry and catch a glimpse of this year's Billion Dollar Seller Summit events. Don't miss out on this exciting SSP episode!
In episode 419 of the Serious Sellers Podcast, Bradley and Kevin discuss:
02:30 – Watching The World Cup Finals Live
04:00 – Kevin King's Hobbies And Health Regimen
06:40 – Kevin's 50 Lbs Weight Loss From "Intuitive Eating"
08:20 – Talking About The Bulls & Apes Project And Other NFTs
12:20 – Tying Up NFT Technology To Your Amazon Business
15:35 – Application Ideas For Amazon Product Creation With NFT Concepts
29:20 – Think Of Communities And The Collector Mentality
20:50 – How Kevin Will Use These Concepts For His Amazon Business
22:20 – The Blockchain Technology Is The Key
24:50 – How To Get A Major Competitive Advantage
27:50 – Kevin Talks About Hosting The AM/PM Podcast
30:50 – Great Tips From AM/PM Podcast's Recent Guests
31:05 – Talking About The Elite Training Program, Perks, & Benefits
35:05 – How To Join The Helium 10 Elite
36:15 – Kevin King Tip: Utilize ChatGPT & Other AI Software
38:00 – AI Can Revolutionize The Amazon-Selling Industry
40:30 – This Year's Billion Dollar Seller Summit Events
Transcript
Bradley Sutton:
Kevin King is back on the podcast to share with us updates on a wide variety of things from his new health regimen that's helped him lose 50 pounds to how to use ChatGPT to help your Amazon listings, travel tips and update on his Amazon NFT project and much more. How cool is that? Pretty cool I think.
Bradley Sutton:
Hey guys, heads up. Kevin King is the new host of the AM/PM Podcast. So if you love Amazon strategy, make sure to subscribe to it. Whatever you're listening to this podcast on, take a listen to am slash pm podcast just by searching for it on that platform. Hello everybody and welcome to another episode of the Serious Sellers Podcast by Helium 10. I am your host, Bradley Sutton. And this is the show that's a completely BS free, unscripted and unrehearsed organic conversation about sir strategies for serious sellers of any level in the e-commerce world. And we've got somebody on the show that maybe you've never heard of. He's brand new to the Amazon world, a newbie. We like interviewing newbies here. How's it going, newbie? Kevin's back. How's it going, man?
Kevin King:
Can you still sell on Amazon? Is it still a good time to sell on Amazon?
Bradley Sutton:
I don't know, but I would suggest taking this course called Freedom Ticket. There's this guy with a nice looking shirt, kind of like what you have there who has a lot of great information on how to sell on Amazon.
Kevin King:
Oh, okay. I will do that. But how, how fast can I make some money? I have like 200 bucks. Is that enough?
Bradley Sutton:
That's more than enough. You just get a whole bunch of friends and family to leave you positive reviews and, and then just make sure to give them their money back and you be set for life.
Kevin King:
But I don't know. I mean, how can I protect myself? What if I send my $200 to the supplier and he never ships me the stuff? What should I do?
Bradley Sutton:
This is great. People are like listening to this, like, what is going on? But yeah, the guys, if you're brand new to this show, which not many of you are, like you guys have been diehard listeners since the beginning you know Kevin King here, this is probably like the sixth or seventh time he's been on the podcast, which is a record for anybody. But we don't play we don't give Kevin the same rules as everybody else about coming on the podcast only once a year, cuz he is always got some great information to share with us. So Kevin, first of all, I wanted to come out with you choosing the best World Cup final to go to, but like people say, this is the best World Cup final in the history of World Cup. And that was your first and only one you've ever been to, right?
Kevin King:
Yeah. I can't take credit for that. My wife actually chose it. She told me early last year. She's like on my bucket, she's not a big, she's not a sports fan, but she's like, on my bucket list, I wanna go to a college national championship game. I wanna go to a Super Bowl. I want to go to a World Cup. And she has this list. I'm like, okay. And so I started looking into it in March of last year, right when the tickets had just come out and it was almost impossible to get them. I mean, there was like no hotel rooms in Qatar and the flights were limited, so you had to buy these like, expensive package deals. And I told her, all right, we'll go I don't know if Columbia, we didn't know who's gonna make it, Columbia, the United States they're still doing the qualifying back then. Yeah. I was like, so we'll go in November sometime when it starts cuz it's cheaper. And she's like, no, no, I wanna go to the final. If we're gonna do this, we're gonna do this, right? I'm like, okay. So we just booked it back in, in March and ended up getting lucky and being there at the right time. It was an amazing game. Yeah, it was
Bradley Sutton:
Really, I mean, it was amazing watching it on tv. I can just imagine what the atmosphere was like, was like over there and actually that, that that's why I'm gonna start this podcast. we're gonna be talking about a lot of things from NFTs to Amazon and NFT to Amazon's strategy and whole bunch of stuff. But something I've been doing on the podcast lately I know Kevin, you listen to podcasts, you probably noticed where I I'm asking guests about like, what are their health, their mental health, physical health or hobbies, like, like what kind of things are they doing outside of the entrepreneur world to keep them sane? And I know you, like traveling is, is one of your hobbies as well and going to like you always find Michelin restaurants in different places. But, but what are some other hobbies that you are doing to kind of like, just take your mind out of of Amazon 24 7?
Kevin King:
Yeah, I mean, travel is a, is a big one for me cuz I actually shut down. I mean, I'll check emails just to make sure something didn't blow up an Amazon accountant didn't get suspended or some major crisis. But other than that, most things just, they get ignored and left till I come back and then I'm really busy when I come back. But that's, I get quality time. And like you said, I like to travel. I like to to go and eat good food. And I post that sometimes online and that's important to me to get those breaks and mental breaks sitting on a beach somewhere your minds can just clear and it can think of like, you, you come up some of your best ideas that way.
Kevin King:
But then just locally when I'm in Austin I work out three times a week with a trainer. We have a trainer that comes to our house and works me out for 45 minutes, then works my wife out for 45 minutes. And then I have a nutritionist that I have a call with every week every about every 10 days she's in Miami. And it's not a dietician. She's not like, okay, here, eat rabbit food and quinoa, you know it's not, it's not one of those kinds of things. It's more about the psychology of eating. And that's been very, been working with her for about two years. My wife had found her, she's originally from Venezuela, but it's all, it's called intuitive eating, and it's about the psychology of eating rather than going on diet.
Kevin King:
She's like, never think of yourself as being on diet. You'll, you'll fail every time. It might work. You might lose some weight, but you're gonna fail. You gotta change your ways, change your psychology. And as a result of this, over the last two years I don't know if you haven't seen me lately, but I was just at a couple weeks ago at an event in New York and people were like, looks like you've lost a lot of weight and I've lost about 50 pounds and it's not from eating it, going on some sort of keto diet or some sort of special diet or whatever the current fat is. It's just changing the psychology of, of the way I eat. And so that, that's helped me. Then I get regular massage pretty much every week. Sometimes we have a person come to the house.
Kevin King:
Other times, I have a therapist or sometimes I go to the, it's mostly these you can walk in. It's mostly Chinese like massage foot massage and reflexology and that kind of stuff. I do that. I also have a personal therapist that I see every two weeks just to talk. I mean, I don't have a problem. I'm not like, don't have some mental issue or don't have some PTSD or whatever. But it's just rather than if there's something that's bothering you, rather than talking to a friend who's not really qualified they may be a good ear, but the, I go to them. So that's for the mental health side of things. And then, then I try to make some time every day to actually just chill. Just watch a program or TV or, or whatever, go take my dog for a walk or, or something like that. So I, I try to balance it. It's rare that I sit down and work like you 10, 12, 14 hours straight. I mean, I do more in chunks.
Bradley Sutton:
All right. You're making me feel so bad here with all this stuff that you're doing that I'm not, I'm actually putting up my I'm doing my standup desk and I'm gonna get on my under desk treadmill. Let's see if I can keep my wind up throughout this episode here. But that's great. You're doing a lot. And it's paying off, that's 50 pounds loss is pretty impressive now.
Kevin King:
Take me a couple more years to get to where I wanna be, but it's a slow process. And then I also work with a concierge doctor, so I'm on top of all my I'm not one of these guys are really bad about not going to the doctor. But I'm, I'm really good and really on top of all that stuff.
Bradley Sutton:
That's great. So guys, this has probably been the best answer we've, we've got yet about somebody who's really taking care of their mental, my mental health is not good. I can't even talk mental and physical physical health. Now, let's let's take it back. This the shirt I'm wearing, Bulls and Apes shirt. This is a NFT project that actually got started by the founder of Helium 10. our, our good friend Manny Coats and Guillermo Puyol. And like, I never thought I would get into NFTs, but then I was like, let me give this a try. Like anything this guy created the number one Amazon software company in this space. Like I think I can trust him when he gets into something. So I was like, let me give this a try. But can you just give people a quick rundown on like, this Bulls and Apes project? I think we're gonna tie in like NFTs to how it can tie into Amazon selling, because you had some very interesting things you were talking about at Sell and Scale recently, and I know you're starting a project where almost no Amazon sellers are thinking about tying NFTs to Amazon. So, go ahead.
Kevin King:
Yeah, a year ago January of 2022 that Steve Simonson happened to be in town, and Steve, myself, Manny Coats and Mark Dawn all went to to dinner. At the table mark and Manny are talking about that they're investing in crypto and these different things. And Steve and I at the time were like, ah, that's just not for us. we don't understand it. This doesn't make sense. Not for us. And then Manny had mentioned something like this, BAP project, or Bulls and Apes since the first time I'd ever heard of it. And he said, we've been working on this for a little while. We're gonna revolutionize another space. we already revolutionized the Amazon software space. We're gonna do it somewhere else, because they sold out in 2019, they basically retired, they got bored, and they're like, we gotta do something we can't just sit around the house.
Kevin King:
So they, they built this company and they noticed in the NFT space that there's just most people associate NFTs with JPEGs of pixelated JPEGs of monkeys or something like that and NFTs can be a lot more than that. A lot, lot more. That's, that's what, where they're starting right now. But the NFT space is ripe with fraud and get rich quick schemes. And a lot of people who have no business experience, they promised the world and they can't execute. And Manny and Gui said, let's revolutionize this business. Let's come in and like, let's do a project and let's put a money back guarantee on it. If you don't like it, we're gonna give you your money back within six months. there's certain parameters and rules, but it was and let's build this with a really good roadmap and a really good utility extra bonuses for people that hold this stuff.
Kevin King:
And let's really gamify this because most people don't. Knowm Manny and Gee's background is in gaming. Before they did Helium 10, they were actually working together, developing gaming stuff. So it was almost a perfect fit. So in a market that was on its way down and crashing, they launched this project in may end of May of last year. And it took 'em about 67 hours or so to sell out about 10,000 of these NFTs raised about $4 million, but most projects would take that $4 million and go buy new Lamborghini or disappear or use that to fund their business. But Manny and Gui kept that in the account in case everybody wanted their money back of that, so they self-financed it. And so that money stayed there, and then it did well. And they, they create an entire lore around this.
Kevin King:
Like, there's like a comic book type of video that kind of explains what they're doing. They've done a lot of utility where you can invest, if you hold one of these bulls, you can invest in a lot of different things like that you wouldn't have access to if you're a qualified investor, like SpaceX and Open Sea and different things like that. They've created this great community around it. And it's done very, very well. I mean, I got, got in at the beginning and I, I wasn't gonna do it in January I was having this meal and I was like, this doesn't make sense. And then around March, some of my partners and one of my other Amazon businesses said, Hey, we're going to this NFT conference. It happens to be in Austin in June, you should go cuz I think there's an opportunity here tying e-commerce to NFTs.
Kevin King:
And I was like, all right, I'll take a look at it. I started looking into it and I started talking to Manny a little bit more. I was like, you know what? There actually may be something here. So I got involved in their project, one because I trusted them and I know their history. And two is just to reverse engineer what they're doing and just learn. And I ended up going to spinning June of 2022, going to a bunch of conferences, learning as much as I can about this space. And like you said, we're doing something in, in the Amazon space with it we can talk about in a minute tying it together. But back on the Bulls and Apes. So they, they, they've launched us, it's done well. They're about to in just a couple weeks February 7th, they're releasing the second part of this, the apes, which are synergistic with the bulls, and there's a lot of gamification to it.
Kevin King:
But the way they're doing it is brilliant. And the way they're reaching out to other projects to tokenize these other projects and bring people in, it's brilliant. And so I think this thing could go to the moon. But overall, the project in a market that right now where everything is crashing and it's just nothing but negative news out there, they're, my investment in them is up five x and I believe when these apes come out, that's gonna go up dramatically There's a lot of people late to the game, so they're having to, to pay a premium price to get in if they want to get in. But if you're out there listening you may take a look at what they're about to do. You're, you're a little bit late, but you can still get involved. And it's a really good project.
Bradley Sutton:
Yeah. So, like for me, it, the reasons to do something like this, and it is not for everybody, but for me, the reasons why I do it is like, twofold. One thing is kinda like what we were talking about earlier about the having hobbies and mental health, like, there's a lot of gamification going on in strategy. like, like trying to collect those special traits then trying to increase your money. Like, I bought one, people thought I was crazy a few months ago. I paid like about $2,500 for one that I was like kind of speculating on. And sure enough, I just sold it for about like seven, $8,000 a couple of weeks ago. And so, like it's–. No, it wasn't Alpha, it was the gold cowboy hat. There was only two of it in the whole collection.
Bradley Sutton:
And so I was like, Hey, somebody put it up for sale. I'm gonna grab this and I know it's gonna go up in price. And sure enough it did. So like, since there's only two outta 10,000, super rare, if you wanted the gold cowboy hat, you had to get it from me. I did that. And then just like, just general general invest in like I used to invest a lot in baseball cards. I know you've done that in the past. I was like, it's a great investment in my opinion, like if you're doing, if you know what you're doing. And so that was the reasons why I got into it. But now so guys, if you want more information on that, just go to bullsandapesproject.com. I don't have no affiliate link or anything. I'm not trying to make any money here. I don't get anything if you do it or not, but I just think it's a really fun program to help about NFTs and, and they actually have a course, kinda like a Freedom ticket for NFTs
Kevin King:
Yeah. A Freedom Ticket course. Like NFTs 101, if you're, if you don't understand what what they are, it's, it's really good. All
Bradley Sutton:
Right. And I apologize to those listening on the podcast. I'm a little bit out of breath cuz I'm on this treadmill now, but hey, I was getting kind of shamed by Kevin's fitness routine there, so I'm all inspired. But anyways, speaking of NFTs, now let's talk about, or lemme just give you one of my ideas. I know you're, you're gonna talk about what, what your project is with Amazon, but even something a little bit less I love what you're, you're gonna talk about, I think that's like a home run, but like something that has maybe a less easier barrier of entry. Like what about me as an Amazon seller or somebody who can manufacture things. What if I went to like an NFT project or community? Because like you said at Manny and Gui, like, you know how many million dollars because of what they sold and then there's like a creator fee, I believe they get whenever, you know something changes hands.
Bradley Sutton:
So like, what if you went to one of these projects and said, Hey, let's make a, a product where the community decides on like a five different products. Like likes like you did your product research using Helium 10 Black Box, or however you have five different opportunity product opportunities. And then you go to them and say, Hey, put this to your audience and say which one they want to go forward with. And then the creator funds it, but then you run it on your Amazon account or whatever. But like the deal is now you share all of the profits with that community and they somehow like trickle it down to their community. Some of the some of the profits or perhaps they get free, free products or something like that. But to me, without having to create my own project, which is what you're gonna talk about, do you think there might be NFT project owners who'd be, who would be down to do something like that?
Kevin King:
Yeah. There could be. That's the problem is in the execution. And a lot of these, that's the problem. if you went to Bulls and Apes and were able to work a deal with them, they could execute on it. Yeah. Because Manny and Gui, they got 40 employees behind this project. They, they could, they could execute on this, but a lot of these people can't it's 16, 18, 20 year old kids with no business experience. And there's some out there that, that are solid, but it's not a lot. And I know that like Isabella Hamilton was trying to do is, or trying to do something similar to that, to pick people launch. I think it could be a little bit difficult. That is, like you said, there is a barrier to entry to this. You've gotta know a lot about Amazon and e-commerce.
Kevin King:
You gotta know a lot about NFTs to tie these things together. So it's not something for a novice to necessarily get into. But I think the opportunity is, is a mix with it. And that's, that's what we're doing with one of our companies. We, we've had a company that's done sustainable products. we, we take a plastic outta the ocean and we recycle that and make it into dog life jackets or into dog poop bags or into different products. And it's done okay. it hasn't gone bonkers. But about a year ago, we, we said this is, we're barking up the wrong tree here. when search, find, buy went away, and like it's getting more and more competitive, but there's a lot of really great products that you could make outta sustainable materials. But to try to rank them on Amazon, it's next to impossible against someone that's got 10,000 reviews or has been selling for years, even though your product may be superior and may have a good cause.
Kevin King:
And so how can we do this? You know? And the old way was go build an email list or start a Facebook group around something. And, but that doesn't mean that they're gonna buy anything. That just means they might be interested. And sometimes that can work, but a lot of times that just fails and it's becoming more difficult. So we said, what if we, like you said, the mentality of people that are in NFTs, and it's a subset of people is the collector mentality. They, they're, they're passionate about something and, and they collect things. And so what if we could and I have a background in selling collectible stuff, so what if we married these two together? And so what if we use the NFTs to build a community of people who are in into sustainability and we're not building an N F T that you hope that you buy it for a few hundred bucks and sell it for $10,000 a year from now?
Kevin King:
Like we were talking about with Bulls and Apes, that's not the purpose of it. The purpose of the NF t is to have something, and we're doing dynamic, just like bulls and apes is doing with the apes, where you can actually customize your PFP by changing the hat or changing the accessories and stuff. We're doing something similar to that. But what we're doing is you buy the nft and the NFT is almost like a membership card. And that membership card then says, one, you have a badge of honor that, Hey, I'm, I care about sustainability that you can display on all your social media. And it's like an official badge. And then two is that you, we will create sustainable products and we will exactly what you just said, we will come to this audience and hopefully, we have five to 10,000 people that have bought these NFTs in the beginning.
Kevin King:
And we say, look, we're thinking about doing a baby stroller. We're thinking about doing dog poop bags, we're thinking about doing whatever. We'll do the data to make sure it's valid and it's something that could actually work on Amazon and Walmart using Helium 10. And then we'll go to them and say, which one of these do you wanna do? And we'll let them have some say in the design and input of it so they feel like they're a part of it. And almost be like a PickFu type of a, a deal with that little vote on it. And then we will create the product and then we'll launch it on Amazon. And when we launch it on Amazon, we will tell our community, they're basically our initial buyers to get it ranked. We'll say, look, you go buy the product and as a result of you buying the product maybe they'll get us small discounts something like that.
Kevin King:
But they're gonna earn like, reward points almost for buying it. And there's gonna be an NFC, not FT, but NFC, Near-field communication code on every package. And they can scan that with their phone and that will airdrop them another NFT that has a value, kinda like bulls and apes is doing with the technomics and the teens and stuff like that, that has some sort of value that they get totally for free, just for buying the product. And then we hope, because they were involved in the design of it and choosing it, several thousand. These people will go buy it, it'll launch it straight to the top of Amazon, and then other people will see it on Amazon, they have no idea about the, the NFT side of it. And there'll be an insert in there and we'll capture a new audience.
Kevin King:
Some people will join the community as a result of this. And then for every, there's some specific rules. We have to be careful here to, to not make this a security around the SEC. But, but they, they will, they will share, and every item that's sold will be go back to a community, almost like a Dow and they'll actually be able to, so a percentage of every item sold on Amazon or Walmart or wherever of the products that they help design and, and, and launch will go into this funds. And that fund can be voted on by the community, what they wanna use that money for. They can go and do a beach cleanup in Long Beach, for example. Or they can put some, some wells in a village in Africa or do some of those charitable events.
Kevin King:
And everything is tracked on the blockchain. So all of our products we're using NFTs besides just the JPEGs, the NFT, the Tokenomics, the blockchain technology behind it is what's amazing. So everything is fully transparent. a lot of these companies will come out and they'll say, we donate was it Bombas or something? Said, we give us pair of socks away for every sock pair we sell. But how do you know they actually do that? Yeah, you're trusting them that they do that, but how do you know when it's on the blockchain when it's tied to an nft? you, anybody can look it up. You can see everything. You can see we're gonna tie NFTs to the goods. How do you know that we're actually using recycled ocean plastic? Well, when there's a company in Spain that will tie an NFT to the original, when it comes outta the ocean, and they tie an NFT to the invoice all along the supply chain.
Kevin King:
So you can see this came out of the ocean out of a New York or Spain. It went to this factory. It went to this factory, it got melted down here, you can follow the whole chain. So it's full transparency. So we're gonna be doing some of that as well. And then we're gonna go to other companies that had, there's a lot of companies that have sustainable products. One of the other co-founders of the companies on a board on a VC board that sees a lot of sustainable stuff. And he's gonna come and he's gonna provide a lot of deals that he sees are the companies that are almost like, they wanna do a Kickstarter. So they don't know anything about Amazon or e-commerce or Walmart, but they have a great idea for a product that's sustainable, will be their launchpad, basically.
Kevin King:
We'll say they can come to us, we'll partner with them so we don't have to develop ourselves and finance ourselves every single product. So that way we can expand our reach and our product variety much faster, and we'll become like the Sharper Image or something of sustainable products. And so that's what we're doing. And we're in the process of, of building that out. One of the other partners is has connections with Anna Moto, which is a huge company in the space. And they're coming out with something called a Green Token, just like the ERC 20 token that Bulls and Apes has with the technomics. They're coming out with something called a Green token, which is all around sustainability. So we were gonna build this ourselves, but it's gonna cost into the millions of dollars to actually do this.
Kevin King:
And, but they're doing it. So we're kind of waiting for them to launch that this summer, and then we'll launch our stuff because that way we can tie into their deal and we can do exactly what Manny and Guillermo and are dealing with Tokenomics and bringing all these other communities into the fold. And so it's it's a project that I think is gonna do very, very well, but there's a lot of moving parts, and it's not necessarily for the newest people out there because there's so much involved. But I think it's gonna give us a major competitive advantage and really set us apart. And we'll be able to launch almost anything on any platform.
Bradley Sutton:
It's not something that's just like a one-time thing, all right, this is a one-time project and now we're done. You can just keep in perpetuity almost keep launching products and utilize the community to help with that. I like it.
Kevin King:
We have a lot of gamification in it as well. There's a whole gamification side to it. And so there's, yeah, I mean, someone may sell this NFT and they may make a profit on it, but that's not our ultimate goal. Like most NFT projects, it's more of the NFT is almost like a membership card, and that's what Budweiser and Starbucks and some of these others are doing. It's almost like it's a reward. But it's all on the blockchain. It's all fully transparent. It's easy to reward people instantly on this. Just like like I said if you buy the product, you scan the NFC, it ties to your wallet and it automatically airdrops you something else that you, that's of value to an NFT person and to, into their wallet.
Kevin King:
And they collect enough of these, they can redeem 'em for products. There's just a whole lot of cool stuff. If you go dive into NFTs. NFT, the technology behind it is gonna be the future. And a lot of industries, it's gonna be more omnipresent. Right now it's, people think of it as JPEGs, and that's the beginning. But technology behind, it's gonna revolutionize real estate gonna revolutionize a lot of industries. And it's a little bit complicated right now. It's kind of like credit cards if, I don't know if you remember 20 years ago, if you're gonna accept credit cards you couldn't just do it on a website. You had to actually call an 800 number, give the credit card over the phone or you had to mail it in and people had to write out like a, one of those charge slips. You remember there's those machines where you take the credit card.
Kevin King:
Then you would take that slip and you would deposit, just like you would a check to the bank, and then like three to five days later you would get credit in your bank account as a merchant. Now none of that exists it's just instant now you just tap your phone on a freaking thing and it's done. That's where the NFT the technology right now is like a little credit card, old school credit card machine called the 800 number to get an approval. It will get to where it's like, you don't even think about it. And you won't, might not even be called NFTs the, the, or people that are dealing with it, it'll be called something else. But that NFT technology is what will be powering it, and the average consumer will never know that. Yeah. But that's, that's where it's going. And so we want to be, we want to utilize that in commerce with e-commerce. And we think we're raising some additional ca money for it right now. We've already got some stuff going really well. But we're, we're probably be launching in the, in the fourth quarter of this year with, with that whole project, that's our target.
Bradley Sutton:
Awesome. Awesome. Now, switching gears the last time you were on this podcast, if I'm not mistaken, it was kind of like to announce, or the last time we had you on here for a full episode was to announce that you were taking over the AM/PM Podcast. Just kind of full circle like you were first to guess on that podcast way back before anybody even knew who you were. How this is the first podcast you've ever hosted. How's that been? It's almost coming up on it's gonna be a year soon. Like how's it been hosting a podcast?
Kevin King:
Yeah, I took that over in June and but it's, it's been great. Yeah, that podcast Manny coach started the ampm podcast back before there was a Helium 10. He was documenting his journey, knowing Manny, he probably started on purpose knowing he'd have a Helium 10, but he started it just to document his journey as a seller. And late 2015, and I stumbled on that podcast back then and listened to it and thought it was great. And he had a Facebook group that I ended up posting in a few times. And he liked what I said, I think the same thing kinda happened with you and invited me on the podcast. And I said, no, I don't want to go on. I'm just a seller. I'm trying to launch five brands here.
Kevin King:
And he is like, no, just come on. So I went on and, and me, if people that know me, I just kind of say it like it is unfiltered sometimes gets me in trouble every once in a while, but I say it unfiltered and that, that just resonated. And from there other podcasts and events asked me to come un speak and just kind of that's what starred this whole process of me speaking and doing things. Outside of selling, I mean, I still sell, but outside of the selling, and it was kind of surreal to actually take that over. It came full circle. And then I interviewed Manny as the first guest. we talked about that a little bit back in June. And, but it's been great. I love doing it. I try to take a different approach to it and the reaction so far, it seems to be good. I know the numbers are, are up and are looking, looking good. And I think the audience likes it.
Bradley Sutton:
Cool. Any tips that they've recent guests have given out that, like, some of your favorite tips, like stuff that maybe like you hadn't even heard of before. Can you anything stick out in your mind in the last couple months?
Kevin King:
Yeah. One of the big things that now that's, you're gonna hear a lot of people talking about if you haven't already, is AI and e-commerce. And Anthony Lee was just on a recent episode,
Bradley Sutton:
324. I see that right here.
Kevin King:
So, yes, 324, a few weeks ago. And that episode has, has done very well. And, and I've been playing with ChatGPT and, and some stuff. And he told me some things on there that I had no idea about that you could do with it. And how this is gonna really impact e-commerce. So yeah, there's, I do it because I get to talk to people and I get to learn as well. It's not just me grilling somebody. And like your episode, you, you were on a few back of the first of the year. And that episode even the guy that edits edits all these for us, Mhel, he was like, man, that was a really good episode. I learned a lot about Bradley, I had no idea about that was really, really cool. And he's like, I, I don't even wanna really cut this episode down. It went like we're supposed to have these like 40-45 minutes. It went like an hour. And he's like, there's, I don't know what to cut cuz it's all so interesting. So it's always, it's always great. Always learn something on, on every episode.
Bradley Sutton:
Cool. And another, another kind of format that for years you've been kind of having guests on where you invite guests on is our Elites monthly trainings where, where this is for our Helium 10 Elite members. We used to call this the Illuminati program, where you bring some experts who will come on and actually like, talk about stuff that you probably don't hear on podcasts and such in the last six months or so. Any tips from there that, that somebody has mentioned that that, that really stuck out to you?
Kevin King:
I mean, there's, there's so many. I mean, pro I mean, to be honest, the monthly trainings we bring two to three guests on, they, they do a, like a 45 minute presentation, and then I do a seven Ninja Hacks at the end of that. And so it's about a three hour or so training, and it's everything from sourcing to PPC to compliance to I try to cover a wide gamut of topics. this month on the Helium 10 Elite to we're doing, we have someone presenting on AI actually that it's in just a couple days on the 24th is is the session they're gonna be showing and demonstrating how you can use AI with Amazon listings to really kick it in the gear. And then the ones probably my favorite aspect of it, and probably where the best tips actually come out is in the monthly live sessions that we do.
Kevin King:
So every Friday, so a team member from Helium 10 jumps on a Zoom call and, and a bunch of the Helium 10 Elite members get on there and like have a little mastermind and talk. And then once a month I do one where I come on and, and lead it, and we go for two or three hours and we just talk about whatever's on people's minds. And some of the best stuff actually comes out of those, in my opinion. Then there's people sharing different ideas and different, demonstrating different things. And so I think that's the best value right there. And then, then the next one would be the trainings that we do, and then the after that you get special tools and special advanced access to Helium 10 tools before they're released to the public, and even some special tools that only Helium 10 Elite members get.
Kevin King:
Yep. And you get to go to the in-person events, there's one coming up right before Prosper. Or you get to go to those at no extra charge if you're a Helium 10 Elite member live, in person events. So there, there's a lot of good benefits to it, and it's a good program. It's like you said, it started in 2017. February of 2017, Manny and Guillermo came to me and said, Hey, we wanna do this little mastermind. There were some other people doing something similar at the time, and we're gonna charge the 400 bucks a month for it. You wanna be part of it. And I was like sure. I'll give it a shot. you're paying me a little bit of money, right? They said, yeah, we'll take care of you.
Kevin King:
So we started that and then it, it became Helium 10 Elite, and now it's the high level of membership for Helium 10. And it, it's, it's great. It's a good program and we get a bunch of people that come on live, and there's a lot of people like that. I don't have three hours, I'm busy. and they'll, they'll watch it on the replay and some of 'em cherry pick what they watch, and I don't need to know anything about PPC, but this guy talking about sourcing I really need to know what he's talking about. So it's a great program, so I recommend it not for new sellers of a new seller, it's, a lot of money to spend if you're brand new and have a limited budget. But if you're doing more than $25,000 a month, you should be in it. Absolutely. and the bigger, the bigger you are, the more value you're gonna get from it.
Bradley Sutton:
Yeah. So, speaking of, you mentioned Elite exclusive tools. one of the recent ones we did a few months ago was the ability to use kind of like Cerebro in historical context. Have you used that feature yet in your own helium 10 account?
Kevin King:
I have not personally played with that yet, but I've been doing that with Brand Analytics. We've been downloading the Brand Analytics stuff, and for the last, we have like three, go back about three years mm-hmm. <Affirmative> on it. And I do that, but I need to go in and play with that. I've heard good things about i
Bradley Sutton:
Gives you a little bit it still has brand analytics in there now, but now, now you have an expanded look at where people are doing sponsored ads and things like that. So guys, if you're interested in you know getting kind of personalized mo once a month training with Kevin that's in these round tables that he does, and getting all the, the training that everybody gets in the Elite program, you can join the wait list at h10.me/elite, h10.me/elite. How about just some general Kevin King hacks for us that maybe we, we did that webinar last year where you had 50 or 51 of your top ones, but do you have anything new that you've come up with since then that you can share with our audience?
Kevin King:
Yeah, I've got a few things, but you gotta, that's, that's for the Helium 10 Elite members. You gotta good the good ones. You gotta come into Helium 10 Elite. And every month I've got seven good ones in like, this month I've got seven more really good ones. occasionally we'll share those on a webinar or if I present I somewhere I might share a few. But you gotta be careful on that. Because if everybody knows all these cool things, then, then everybody's gonna know everything. You want to work for a select group,
Bradley Sutton:
We got, well, that's why some of the stuff you'll only hear, or most of the stuff you'll only hear in Elite, but do you have anything that's not an elite exclusive thing that you can help people out with that you think that in, in talking with sellers and stuff, you notice that a lot of them are not utilizing a certain strategy?
Kevin King:
Well, I think the one that that's hot right now is, is ChatGPT. So one of the cool things that you can do with like ChatGPT is you can actually go to helium 10, pull up your competition pull up the Xray tool, download the four and five star reviews, get all the top phrases in there. it'll show you the this phrase is, was said this many times. Take that over to ChatGPT and ask it to write a listing using all those phrases. You can also have it, you can also download like all the negative reviews, and you could upload all those reviews. Just copy and paste them in the ChatGPT, and you could tell ChatGPT in plain English, please analyze these reviews.
Kevin King:
Tell me what the top five reasons are that people don't like this product. And then write a description that, that turns these negatives into positives. Do it with a little bit of humor and it needs to be 300 characters or less. And it will do it. And it's amazing what it will spit out. So I think that is one thing that every Amazon seller needs to start playing with, especially if you're not a native speaker. And even if you are a native English speaker it can give you a lot of inspiration and a lot of ideas. You can get product ideas from it. You can go in and you can type in a bunch of key take a bunch of keywords like for your, your top five pro skews, let's say, paste it in there and say, give me some ideas or other products that you would recommend that people who like these things would like, and it'll brainstorm for you.
Kevin King:
And it's almost like Anthony said in the podcast, if you haven't listened to the AM/PM Podcast from a couple weeks ago, it's like having the smartest human that you could talk to. It's like being in a room with the smartest person you could talk to that will spit back stuff too. It's an amazing technology and I think it's gonna revolutionize a lot of Amazon sellers businesses if once they know how to use it, that would be the tip that you need to go play with this. If, if you haven't, and,
Bradley Sutton:
And it costs no money too, right? Like obviously if you're already using Helium 10, then the other side of it doesn't cost money either, right?
Kevin King:
No, it's, it costs the company that's hosting it, yeah, it's costing them a few cents per query, but they're, it's in beta and they're doing it to fine tune it. Now it's basically knows everything through 2021. So it doesn't know if you ask it something about the Ukraine, Russia war 2022, it's not gonna know much about it. It's the database right now is through 2021. And that's on purpose because it's, they're, they're testing the, the testing, everything. Yeah. But this is gonna change the way you search. one of the examples I gave in the podcast that when, when Anthony and I I were talking is, I think search on Amazon is gonna change. I think right now, for example, if you're going to the beach and you, you're like taking your family to the beach, you have to go into Amazon and to buy the things you need, like, okay, type in beach towel, look at the results, type in beach umbrella, look at the results type in cooler, picnic cooler whatever the different things you might, you think you might need.
Kevin King:
And you gotta do individual searches on each one of those and choose 'em. I think Amazon's probably gonna use some of this AI where you can just say you can literally just type these words beach trip family of three, kids six, 10 and 12 Cancun and it will come back and we'll spit out everything that's applicable to those age groups to getting on an airplane because you're going to Cancun. It's nothing that's gonna be too complicated. And spit out search results that shows you towels and coolers and everything that you need. That's coming. And it's gonna change the way you build listings. It's gonna change this is not tomorrow. It's not gonna happen tomorrow, but it's coming. And you need to get, you need to get on the front of it. So I think there's some really cool stuff gonna be coming with, with this AI.
Bradley Sutton:
We're getting closer and closer to that Cyberdyne world of Terminator movies before it's kind of crazy where technology has come. All right. Well, Kevin, thanks for sharing this, but there's one last thing I definitely wanna call out. One of my favorite events of the year is the Billion Dollar Seller summit. And you have two a year, one virtual one in-person. So what's the schedule like for 2023 for Billion Dollar Seller Summit?
Kevin King:
Yeah, I appreciate that. Yeah. The Billion Dollar Seller Summit's an event that I do, like you said, twice a year, once virtual, which is coming up February 21st to 23rd. So you can do it from anywhere in the world. It's cheaper than coming to the in-person one. The in-person one is in June in, in Puerto Rico. The in-person one costs a little bit more, but it's a heck of a lot of fun. It's not just the way we do it is not just come listen to us, your presentations and go to a cocktail party welcome cocktail party. Like a lot of events, we have a lot of networking built in. We have a lot of gamemanship and competitions built in. the last one, I got pictures of you riding a little scooter around Austin looking for clues on this like scavenger hunt thing where everybody was in groups of four and they were competing for prizes and had to go all over and do this cool stuff.
Kevin King:
And I, I think a lot of people at the beginning were like, ah, I don't know about this. But at the end of it, they're like, that was freaking amazing. I got to network with three other people that I never would've networked, got close to them. So we do a lot of stuff like that. We got some cool stuff that we're doing in Puerto Rico where it's almost like survivor games the TV show survivor and stuff that we're, we're doing. And so, yeah, if you go to billiondollarsellersummit.com you can actually the virtual one is coming up. It's $1,497. So it's not cheap, but this is content. I hand select the speakers and they, they come on and they speak about things that you're not gonna hear, hear on podcasts that you're not gonna hear anywhere else. They, they bring their a game because I put a cash prize on speakers, and so the audience votes who they think is the best speaker, and that speaker gets five grand. And so no, and I published the list and nobody wants to be embarrassed and be on the bottom of the list. So they're all bringing their A game. So hopefully you join us for that. Or come to the in June to Puerto Rico for the in-person one, which is gonna be a blast.
Bradley Sutton:
Awesome. All right. So guys, billiondollarsellersummit.com if you want to do that. And like I said, get on the wait list for Elite h10.me/elite. Kevin, thank you so much for joining us and I'll be seeing you in person I'm sure soon.
---
Enjoy this episode? Be sure to check out our previous episodes for even more content to propel you to Amazon FBA Seller success! And don't forget to "Like" our Facebook page and subscribe to the podcast on iTunes, Spotify, or wherever you listen to our podcast.
Get snippets from all episodes by following us on Instagram at @SeriousSellersPodcast
Want to absolutely start crushing it on Amazon? Here are few carefully curated resources to get you started:
Achieve More Results in Less Time
Accelerate the Growth of Your Business, Brand or Agency
Maximize your results and drive success faster with Helium 10's full suite of Amazon and Walmart solutions.