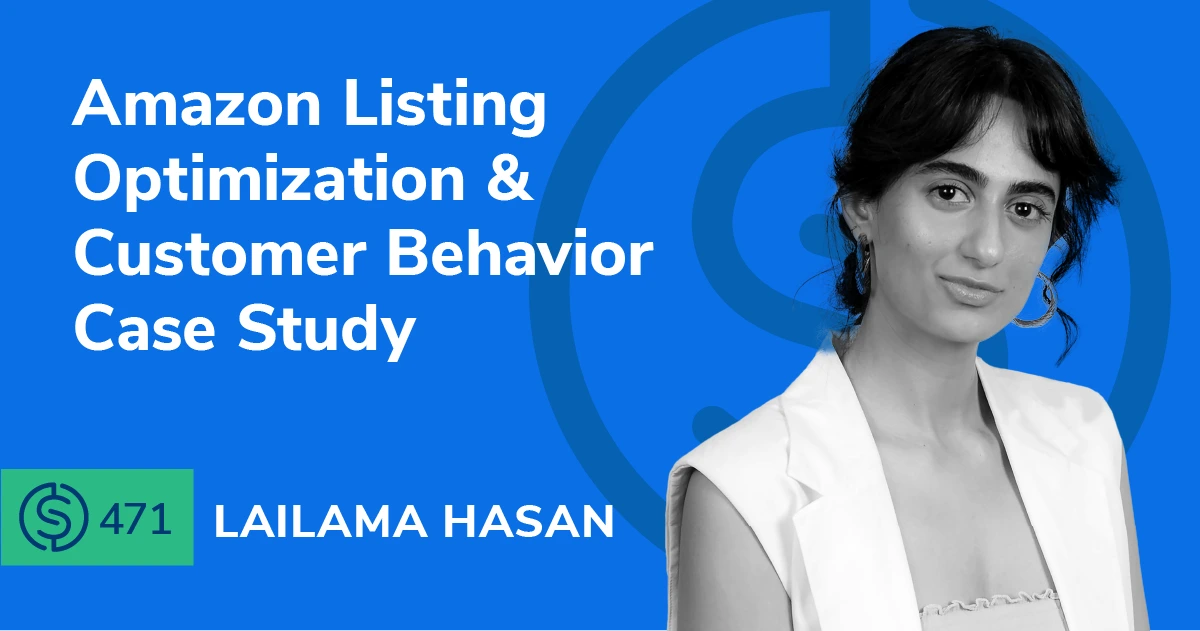 #471 – Amazon Listing Optimization Tips, Buyer Journey Case Study, & More!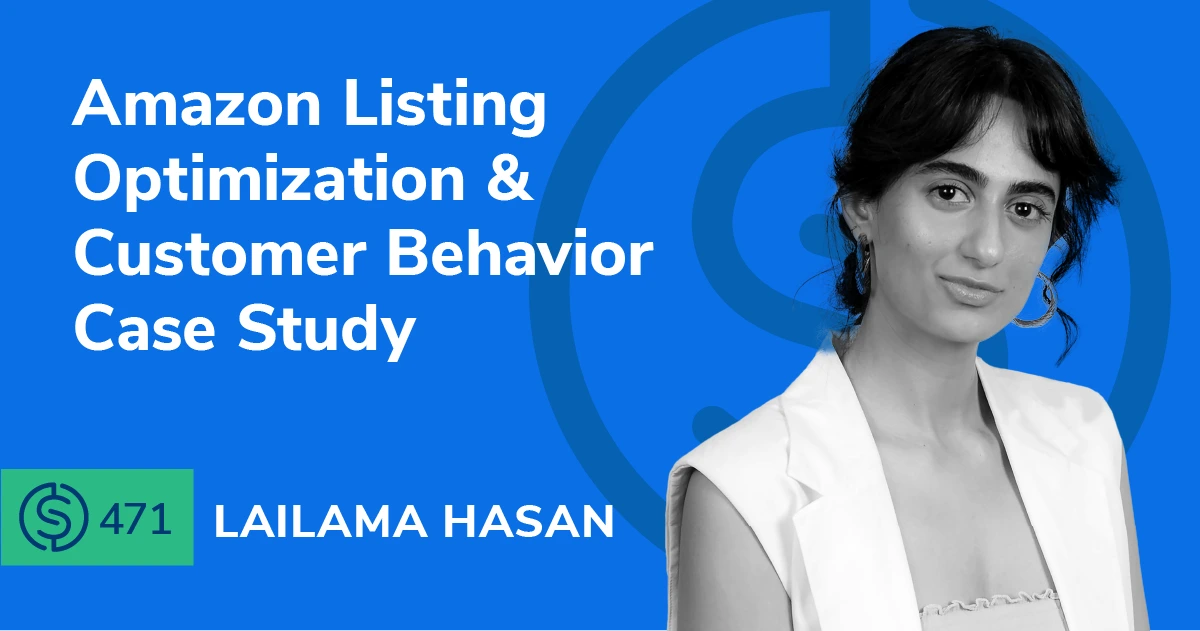 Video of the episode at the bottom
In this episode, we had the pleasure of welcoming back Lailama Hasan, to share the results of her recent case studies. Tune in and discover how her findings can help you enhance your Amazon listing optimization game! We started by diving into her customer behavior case study, exploring what consumers are truly looking for in your product listings. From there, we had dived into the significance of titles, premium features, discounts, coupons, and reviews in the eyes of Amazon buyers. She also talked about how changing titles led to an astounding 93% increase in sales. Surprisingly, she revealed that removing the brand name from your Amazon listing titles can be a game-changer. So, make sure to tune in until the end to learn how to level up your Amazon listing optimization game in 2023!
In episode 471 of the Serious Sellers Podcast, Bradley and Lailama discuss:
01:09 – Catching Up With Lailama Hasan
02:30 – What Is Lailama Up To These Days?
04:15 – Diving Into Her Customer Behavior Case Study
06:33 – What Are Consumers Looking For In Your Listing?
08:18 – Titles, Premium Features, Discounts, Coupons, & Reviews
10:29 – Is Amazon's Choice Badge Important?
13:55 – Changing Titles Lead To 93% Increase In Sales
14:22 – Removing The Brand Name In Your Amazon Listing Titles
17:47 – People Are Going For Shorter Titles
19:20 – Getting Creative With Amazon Product Photography
20:40 – Can AI Replace Creative Agencies?
23:05 – DIY Product Photography Techniques & Using AI Software
24:01 – Creating Compelling Amazon Listing Images
24:34 – Make Sure To Subscribe To Lailama's YouTube Channel
27:36 – How Frequent Should You Refresh Your Listings
29:27 – How To Find Lailama Hasan In The Interwebs
29:54 – Find AMZ One Step At Helium 10's Seller Solutions Hub
30:37 – Lailama's 60-Second Tip
Transcript
Bradley Sutton:
Today we've got Lailama back, and she's gonna tell us the results of a couple of cool listing optimization case studies that she's done that will help you optimize your listings for 2023. How cool is that? Pretty cool I think.
Bradley Sutton:
Do you wanna be able to sync your listings that you create in Helium 10 to your Amazon account in one click, including being able to sync subject matter, which you're not able to even edit now in most listings on Amazon, you're gonna want to use Helium 10 Listing Builder. Make sure to find out how to use Listing Builder by going to h10.me/listingbuilder. That's h10.me/listingbuilder. Hello everybody, and welcome to another episode of the Series Sellers podcast by Helium 10. I'm your host, Bradley Sutton and this is the show that's a completely BS free, unscripted and unrehearsed organic conversation about serious strategies for serious sellers of any level in the e-commerce world. And we've got my sister from another Mr. back today on the show. My former co-worker here, Lailama. How's it going?
Lailama:
I'm doing great. How about you?
Bradley Sutton:
I'm doing just delightful. Now, you're back working at AMZ One Step And so I wanted to reach out to you and to kind of just like see what you've been, what you've been up to. I mean, even before you worked at Helium 10, you would come on this podcast and give us some cool listening optimization strategies and, and things like that were of great benefits to the audience. But before I get into that, are you moving with your brother and and sister-in-law to Toronto or just them?
Lailama:
Yeah, yeah. Entire time I am with them.
Bradley Sutton:
For some reason I thought that they were only moving, but you're, you're moving to that city. That's a big move to go from Edmonton to Toronto.
Lailama:
It's like a four hour flight, so it's gonna be a big change too, like this city.
Bradley Sutton:
A cultural change though. Like it's completely, it's very different, right?
Lailama:
Like New York 2.0.
Bradley Sutton:
Yeah. Yeah. Interesting. Okay. Do you guys have a place out there already?
Lailama:
Yeah, we're all set. We're packing up, busy moving these days, so, yeah.
Bradley Sutton:
And like having to leave friends behind and, and stuff like that or how's that?
Lailama:
Sad. But, you know, we're pretty flexible that way. We came to Canada seven years ago, so, you know I'm sure I'll be fine.
Bradley Sutton:
Now, how does that work for like, AMZ One Step though? Cause obviously you and you know, Tayyaba your sister-in-law, like who was just in the podcast a few weeks ago. You guys do a lot of work at the studio, I believe you told me you were working at the studio there doing shoots until like 10:00 PM Like are you guys opening a new studio in Toronto, or all your work is gonna be remote now, or what's going on there?
Lailama:
Not as yet. I don't know if we're gonna start like a studio there, but we're gonna have a studio at home. Cuz I'm making YouTube videos now too, so that's gonna be where I do most of my work in the studio.
Bradley Sutton:
Okay.
Lailama:
Work from home, but there's gonna be a studio allocated to it.
Bradley Sutton:
Okay, cool. Yeah, I'm sure you know, Saddam will keep you busy. He'll make sure that you're, you're working. That's one thing he does well, right? So that should be no problem. Now let's, let's talk a a little bit about, you know, what you've been, what you've been up to. Like when you go, went back to , like are you pretty much doing a lot of the similar stuff that you used to do back before? Like, you know, make content for them and then also like manage like photo shoots and things like that? Or what kind of stuff have you been working on?
Lailama:
Yeah, so content, YouTube, educational videos, and then also creating commercials for clients. So, you know, just, again, very listing optimization focused. But on the site I also have been running case studies to get some extra insights. Like, you know, all the sellers already know what works, what doesn't work, you know. But I really wanted to dig deep into you know, how the little nuances, like for instance, this case study that I recently did was focused on consumer purchasing behavior. And I think, you know, a lot of us know how to optimize for the Amazon algorithm, but I really wanted to see the other side, like what makes people add your product to the cart.
Bradley Sutton:
So how did you set this case study up? Like were you like capturing the screen of how people navigate on the buying pages or what did this case study involve?
Lailama:
So this video is actually coming out, shameless plug, but what we did was we took a bunch of participants and we gave them like a price range. We didn't wanna give an exact dollar value because you don't wanna like tilt them in a particular direction either. Sure. And we were recording their screens and at the same time I'm behind the camera looking at their screens and trying to ask them at every point why they did what they did or what made them go for that. And they were also like voicing their opinions on everything. So it was great. Like, what are people thinking in real time as they're shopping? And you know, there were some really interesting insights. So a lot of the information did confirm things that we already know. For instance, like I'll actually give you a very interesting thing that I learned from it.
Lailama:
It was like, we all know that Amazon badges are great. It'll give you the, you know, higher clickthrough rates because people, it builds that trust. It'll increase organic traffic, so on and so forth. But once you've peaked the curiosity of your buyer and they click on your listing, you know, what happens after? Do they guarantee that sale? Not really. Like, yeah, you can reach out to the relevant buyers with these badges, cuz look, we're here as sellers and we're thinking, okay, we're gonna do so and so these are our strategies in order to get that Amazon badge. But for the consumer, like they don't even know how we got there, how we earned that badge. So they're looking at it and they're like, oh, it's flagged Amazon's choice. Let's see why it is Amazon's choice. Now they're on your listing and they're looking for information that will convince them to buy your product.
Lailama:
And so a lot of the times what I noticed with these listings was they've optimized for the algorithm, but not the consumer. Now what I mean by that is these weren't being added into the cart. So I dug deeper and I'm like, okay, why aren't you left convinced? Like, you know, they kept saying things a lot of the times it was either things like missing information in the images. So secondary images, people were trying to look at their competition and almost replicate the same kind of information that they had on their secondary images, which doesn't necessarily mean that consumers wanna know that information. So that strategy where we just like copy paste from our competition is not gonna cut it. You have to look at the information in your reviews, your Q & A section, what people really wanna know about your listing. So missing pieces of information, you know was a big problem either in the images or in the product description. Sometimes it was too advanced, sometimes it was too beginner friendly and, you know, people who actually were enthusiastic about a certain category or were experts on the subject matter didn't look for the information that they wanted. So, you know, I would say like, people aren't optimizing for the consumer. We almost lose that sense of the consumer side of us when we become Amazon experts.
Bradley Sutton:
Yeah, I've always said that, you know, people focus too much on the algorithm. You should focus on the algorithm, you know, you gotta be discoverable and stuff, but at the end of the day, it's not the algorithm who's buying the product, it's a human being. And so if you lose that part then, you know, then you're in trouble. So what would you say, I dunno, top five, top three. What are some interesting things that you discovered from this, you know, analyzing the consumer behavior? Like what things that you found out that you think that sellers should now take action on, or at least should be thinking about it, you know, as they optimize their listening?
Lailama:
Again, going into the nuances of everything, right? Yeah, people will have nice titles, but what consumers were really looking for was a feature being listed in the title in the beginning or in the first few words, like let's say bag with compartment. That was a big one. Like this person was looking for a bag with compartment. So that's a feature. And then a lot of sellers were also listing the use cases of these features. So like bag with compartment for shoes, for laptop, for so and so. That sometimes would really confuse our buyers, you know? Sure. They were like, oh, if it says it's used for a laptop, can I not use it for shoes? So I would say like, sometimes people almost go overboard with stuffing their title with keywords and that's not necessarily a good idea.
Lailama:
A lot of the times, like whatever's viewable in the mobile experiences, all that a customer wants to see, they don't want like a huge list of it. Cuz sometimes it can confuse them as to what they can use the product for. So that was one thing. Another thing that was really interesting was pricing strategy was a big thing here. People were judging based on your prices. So if you were priced way below the market average people would be like, okay, is it not good enough quality? If you were way higher than the market average, then they were looking for that extra like premium feature that would make them think that it's worthy of that price range. But then there were products that were competitively priced and the ones that were like even a bit higher, but discounted people went for that as opposed to the lower non-discounted prices. So discounts were playing a huge role in how they were making their decisions. Like they were really drawn onto the listing based on the discounts. And 80% of the people were not even adding coupons onto their carts. So they were drawn into the listing based on like 80%.
Bradley Sutton:
Good grief. That's a lot.
Lailama:
Yeah. But they didn't end up adding it to their cart. So it's a win-win case for the buy a seller. Like if you're not making use of coupons, then you should a hundred percent. But there's one other thing to notice with the coupon rates is if it's too big of a coupon, like a five, $10, whatever, it's gonna be noticeable in the end price. So people will be like, oh wait, why isn't it priced the same way? So they'll go back onto the listing and add the coupon, whereas if it's like one to $3, people usually don't even notice it in the final price and, you know, will not even bother going back or notice it actually. So these were the two key things. And then the third one was reviews. A lot of people look at reviews because they're shopping online. So yeah, we don't entirely have control over our reviews, but working towards getting a higher review count. So one thing that was really common among people was they were looking for like a thousand reviews or higher, and that's when they fully trusted the brand. Anything lower than that, they're like, I don't know. And then they would really focus on the review rating. If it was lower than 4.5, they'd be like, okay, this isn't trustworthy.
Bradley Sutton:
I don't take any products less than 4.5. I guess I'm a stingy person when it comes to that. Yeah. And a lot of people, I'm not the only one, I guess.
Lailama:
Yeah, no, a lot of people are like that. But you know, like you don't really have a lot of control over your reviews, but what you can do is offer customer support. You can improve on the quality of your product. In fact, this happened during the case study I ordered for them and one of the product came damaged. So that product had no insert. They haven't had an insert, but there was no like contact information or customer support mentioned on the insert. So they came up to me and the participants were like, can you get a replacement for this because it came damaged and I couldn't find it anywhere. Even though on the description section they said reach out to us if you have any problems with the product. But they had nothing that they could, you know, help us out with cuz it was out of the return window for Amazon. So, you know, there's like these little things that you can do to avoid negative reviews.
Bradley Sutton:
How much did it impact people's choosing things in the search results or even their buying some of those badges? Like, you know, I've always been skeptical a little bit sometimes of how important like a bestseller badge or an Amazon's choice badge. And it's interesting now in the last like few days, there's newer kinds of Amazon's choice badges that are coming out. I forgot what it says. It's like Amazon's pick or it was something weird like that. But anyways, like, like did that have an impactful, did you see people trust those products more or not because they, they didn't know where it comes from or what do you think?
Lailama:
So if it came in the first like five to 10 results, they were more likely to click on that first. So that was their first pick, which I would say is like a big influence, right? Because they were like, oh, if I Amazon you know, chooses this, or if bestseller, they would say, oh, I guess people are buying this, so it must be good. So I would say it had a major influence on the click-through rates at least. The rest is up to the seller then.
Bradley Sutton:
Okay. Interesting. Now you also did a case study on, on titles. What about titles? Amazon titles, I'm assuming.
Lailama:
Yeah. so this was a case study where, you know, we were done on a client's listing and we saw a 93% increase in their sales just by changing their title. And they weren't doing bad.
Bradley Sutton:
93% just by changing the title?
Lailama:
Yes. Which was–
Bradley Sutton:
What did you do? Like make the title ooze gold or something? Like how in the world is that?
Lailama:
So here's the weird thing. We did not change any keywords. Okay. Keywords were not touched. We literally restructured it. Shortened it so that it was exactly what fits into the mobile viewing experience and we removed the brand name. And that's something that's been really working because unless you're a Nike or something, people really aren't looking at your brand name. So you're using the first couple of characters, really important characters towards the brand name, which people don't even know you yet, right? And we put this unique selling point in the beginning, so like, it was cutlery, we said it was like this number of items in a pack or something like that. And this is the kind of information people are looking for. So you, I would say like, you wanna figure out what the unique selling proposition or what the key pieces of information in your product category is, and then put that in the front. Now a lot of people did ask us like, we have been suggesting that this to some of our clients. And a lot of people are like, oh, but like, it's not compliant if we don't put the brand name in there. So on so forth. People get nervous about it.
Bradley Sutton:
It's actually really interesting right now. It's so stupid because what you just said is right, that Amazon, in their terms of service wants you to put the, the brand name at the beginning. But it's, it's been now three, maybe four months on some of our listings where on certain keyword results, Amazon takes out the brand name, like you put it at the beginning and Amazon literally takes it out unless you go on the product page itself. So like, you know, sometimes that's good because like, you know, like if you don't have a lot of brand recognition, just like you said, you know, like people don't care but the brand, they wanna know what the product is. But then if you are trying to build a brand, or if you're like Nike or something like that, I mean, literally the whole thing about the product is the brand. And if your brand is strong, and now Amazon is just saying, alright, you know, shoes, you know, instead of Nike shoes, you know, it makes all the difference in the world. So that's kind of interesting. But yeah, because of that, it kind of like, to me, at least in my mind, it makes it less likely where Amazon is gonna suspend your listing if you don't put the brand at the beginning. I mean, how could they do that when even they themselves take it out, you know?
Lailama:
Exactly. And another thing is like, we upload it through, we always split test titles. So if you upload it through manager experiments it technically has passed that bot test, so you're good. If they've approved it, then you're good.
Bradley Sutton:
Have you ever had one where it wasn't approved? In the manager experiments?
Lailama:
Not so far.
Bradley Sutton:
Okay. Well that probably means you guys are doing the right thing. But that's actually interesting point, like test like some extreme thing in manage your experiments to see like what it would approve because yeah, I actually just started one the other day and I was frustrated. I thought I would be able to start right away, but now it's like, oh no, we, we gotta like, we have to like check this out and it's gonna take like, you know, a few days. So obviously somebody must be you know, reviewing it or something before it approves it. That's a good point.
Lailama:
Exactly. Yeah.
Bradley Sutton:
Alright. What, what else can you talk about titles?
Lailama:
I think, you know, like it's, what I'm seeing so far is like, again, it, what we use here could not, might not work for another niche, but from what I'm seeing is like people are preferring going for shorter and shorter titles. Like a lot of buyers even confirmed by this case study where just not attracted to these long titles. They were just like lost in the details. So this was kind of the main point or takeaway from this case study as well, like two different case studies now that people don't want a really long title. While it may be good for like ranking purposes and so on and so forth, but if people are getting confused, ultimately you don't wanna put that in there. And highlighting the feature is really important. Like, I know people do it, but like, putting it in the forefront of the title and also highlighting something that's really unique about your product would set you apart.
Bradley Sutton:
Okay. Makes sense. Makes sense. All right. So, you know, these case studies that you've been working on what, talk to me about just like your, your bread and butter, which is, you know, I don't think you were doing 10:00 PM last night, a case study. You're probably doing a, a photo shoot. So, so don't tell me about the, you know, I mean if, if that product's private, you don't have to tell me the exact thing, but, but can you just, I'm just curious about like how photo studios work. Like what was it an Amazon product you did last night? Like how did you decide to, to set it up? And you guys have some, like I saw in your Instagram story you were like putting some like Roman statue props or, or something like that in this photo shoot. So, so talk to me about what you did last night and just in general. So some recent photo shoots that you've done.
Lailama:
Yeah, we've really been trying to get creative with the photo shoots. Like the Roman thing was statues and everything. We wanted to do that for like a brand for pants. Now if you look at most of the, you
Bradley Sutton:
Know, a brand, well, how does a brand for pants have to do with Roman statues?
Lailama:
So it was kind of like a fashion shoot, right? Okay. Because we wanted to make it unique. Like you look at all these Amazon's basics and their pretty much the same thing. So I feel like with competitive niches, it's just so hard to stand out. And so your creatives really need to be at another level because a lot of people will go for Amazon's basic pants. But how do you set yourself apart? So you need to have like a strong brand presence. And that's what I've been really working on and like videos and photo shoots as well as you know, you don't wanna use the same techniques over and over again. Like sure, it's a candle, so put it on a podium and, you know, just do the basic stuff is like, how can you as a creative agency give them that unique outlook?
Lailama:
And you know, a lot of people talk about like AI taking over and while, you know, I think it's really convenient with all these different softwares where you can create images and everything, it's much easier if you wanna do it yourself, but you know, like at some point you are really losing your uniqueness as a brand. And yeah, you know, that's when you're looking at the images, like this was one of our findings in the case study as well, is they were one of the participants looking for gym gloves. All the images just looked the exact same way done on against a black backdrop, like copy pasted almost, but a little bit of a difference in the design. And then it came down to like the very basic factors, like, okay, review count, review, rating and pricing. So the buyer wasn't able to look past anything any of those three factors because everything looked the same and the quality looked the same, so they were ultimately gonna go to those things. So if you don't have the kind of review count that your competitors have, or you are not able to compete on the pricing, then you really need to stand out in other ways.
Bradley Sutton:
Okay. Now what are some techniques that you think people should use if they can't, you know, hire AMZ One Step to stay until 10:00 PM at night to do photo shoots and, you know, it's not cheap, obviously, you're, you're not doing this for $5 an hour. How can people get that effect, you know, from, from like home? You know, like, I, I still suggest, Hey guys, if you've got the budget, you've gotta use professional agents as matter of fact I don't even know, I don't know if Saddam told you this, but I just hit him up yesterday because I'm doing like this mini kind of project X with, I'm helping out somebody's supplement brand. And I was like, Hey, I'm gonna get them to hire AMZ One Stepto kind of like refresh their, their images, potentially do 3D and stuff like that.
Bradley Sutton:
Because, you know, they, they did their images on their own and it wasn't that great. But maybe I'm just starting out, you know I don't have a huge budget. I remember before you had done a few, you know, project x products you know, photo shoots just on your own, even though you had the, you know, full studio. I was like, Hey, try and do this on your own to try and imitate what people would have to do if they, if they can't afford a, you know, a studio. But, but what are some best practices? You know, like I can't just go and get a Roman statue to Yeah. To, to use as a a, as a prop. So, so what are some techniques you can, you can talk to us about?
Lailama:
Yeah. For anything, any small items, like you can just take a picture in good lighting. And then there's so many AI technologies, like even with Canva, let's say they remove your background for you and then you take that and, you know, use softwares like flair ai, there's a bunch of others like Mid Journey. And what you can do is use that background, that product that now doesn't have a background and put it onto like another background, whatever goes with your branding. It could be like a candle that's staged on a podium against a silky backdrop or something like that. So for infographics like that, I feel like there's quite a few options. You know, you just get the background removed, put it on something else, and you don't have to buy the props, right? So it saves you on the cost. It may not look as realistic, but yeah, it just definitely gets the job done.
Lailama:
And yeah, but anything that may require a model, like I've been trying to experiment with that. While these apps do give you like a lot of options, but it doesn't quite have that realistic look. It looks more like you know, like a fake hand or fake person. So yeah. But infographic style images, I would say. Yeah. Yeah. Like, if you don't have the budget a hundred percent, just use one of these AI softwares. You don't need to be an expert. It'll remove the background for you, put it on to another background.
Bradley Sutton:
Okay. Now, I was looking at your YouTube channel here, and I saw this, this video here, I always like screenshot on on funny, funny, funny poses of you. So here this, it was about creating compelling Amazon listing images. So I unfortunately did not watch this video. First of all, I always joke like how I think I'm an honorary Hassan because as soon as I saw this, I remember seeing this thumbnail. I was like, wait a minute, didn't you borrow this blouse from your, your sister-in-law?
Lailama:
Your attention?
Bradley Sutton:
You too. Like, how do I know? How do I know your wardrobes? Even I know even, but anyways, so, so I was too distracted when I saw that. I was like, I couldn't take this video seriously. Cause I was like, wait, this is not, this is not te I'm looking at here. But anyways, what was this video about? Yeah, this listing images. Can you talk about it?
Lailama:
I basically broke down the different image types, and that's not necessarily the infographic lifestyle, but image categories that I created my own. Like there's a lot of people who wanna do comparison to their competitors. There's dimensions, you know, like the basic kind of images that everybody wants to cover. So one of them was about, one of the categories that I talk about is dimensions. And again, this is another thing that we saw in the case study is to this day, a lot of sellers will put like three centimeters long, four centimeters wide. Like that doesn't work anymore. Like, and I mean, not, not that it worked before either. Like people, it's hard for them to visualize, you know, being on the other end. So you need to I've basically shown people how they could show the scale and dimensions of their products in other ways.
Lailama:
So one was an example of a suitcase. What we did was put it under, we placed it under a bed frame. So now people know, okay, this is the usual length of the bed frame and this is how it fits under a bed. So they have like a visual reference of, you know, how to show their dimensions. Yeah, you can add the numbers as well, but this just gives them an extra kind of reference. There was another example of like Mike, you put it next to like a can of pop, and that was like, everybody drinks Coke and Sprite or whatever. And so now they know how big this mic is gonna be when it arrives. So just different kinds of product image categories that people can make use of and not have to stick to the regular, like with comparison, people, you know, make use of your regular charts. It has this feature, competitor does not cross. So, you know, you just don't wanna use these old techniques. They've been overused. So just ways to stand out from the crowd.
Bradley Sutton:
How often do you suggest that people refresh their images? I mean, this is not something that people should be, oh, yeah, every, every week change your images, you know, that, that might mess up your, your listing. It doesn't give people a consistent, a consistent feel, but like once a year you know, should, should we change a couple, once every two years, once every six months? Do you have any suggestions there?
Lailama:
Images and your product title? I think like once or twice even like this seller that we changed their title, they were doing perfectly fine. But, you know, my thing is manager experiments is like an amazing tool. You can just use that and keep experimenting, like keep split testing. You might uncover another opportunity, which could give you such a huge boost in sales, right? So I would say like once or twice a year when you can just change up your title, or doesn't necessarily mean changing up your keywords, but just like structure it differently. And the great thing about manager experiments is like you are running both titles at the same time. So half the people are shown the original and half the people the other. So you're getting real time data and if you lose out, you're losing out on only 50%. So the risk isn't that big, you know what I mean? It same goes with images. You know, it has the capability to split test main images, secondary images a plus. So the, the second you think, okay, sometimes there are times when your product has a feature that you realize, oh, I haven't highlighted that, and that is something people are looking for. Or you got a good or a bad review based on a certain feature. Maybe that is a good time to add that feature into one of one of your images.
Bradley Sutton:
All right, before we get into your 60-second strategy for the week, you know, I referenced your YouTube channel right there, that pe you know, you're definitely giving content. So how can people find you on the interwebs? Especially the, the content that you're, you're putting out for people? People?
Lailama:
Yeah. It's posted on the AMZ One Step YouTube channel, and I also shared it on my LinkedIn, which is Lailama Hasan. My name if people can spell it.
Bradley Sutton:
Cool. All right. Now one interesting thing is like, AMZ One Step is part of the Sellers Solution Hub. But anyways guys, if you want to just reach out in general to AMZ One Step sometimes they have discounts for like, you know, elite members on the page, but if you are logged into your Helium 10 account, and then you wanna see what kind of, you know, bonuses they have, or at least just reach out through the hub, go to hub dot helium ten.com and then just search for AMZ One Step And you'll be able to reach out to them that way. Now, what is yours? 30 or 62nd strategy of the, of the week for everybody?
Lailama:
Yeah. So a lot of sellers can get nervous about like, main image strategies, and we give a bunch of those strategies out right at the end. You wanna increase, increase your click through rates. So one way, one hack that I have for testing that out if you're nervous about it, is upload the strategy that, you know, your agency or whoever's come up with versus like a fully compliant image. And you know, what you wanna do is upload it on, manage your experiments, and if it gets through the Amazon bots, then you're good to go and you can upload that image, actually, it will verify it for you, so it'll automatically upload it for you. Because one thing I wanted to point out is a lot of people will be like, oh, this is not compliant, but you theoretically, 80 to 90% of the main images on Amazon are non-compliant with including props, you know, let's say a fruit and fruit bowls or including a model in there, or, you know, adding an extra sticker onto your label. All of these are non-compliant. So this is just a hack that I have if you're worried about it, and plus you get extra insights on which version works better.
Bradley Sutton:
All right, cool. Well well that was great to see you at the Prosper Show. Hopefully I can see you guys a again soon. I was trying to get you guys to go out to Bali, but with the move and everything that, that didn't work out, I know you guys have a villa out there and another studio. But maybe we'll get to work together on this one project that I was talking about for Project X. But regardless, I look forward to seeing you and your, your brother and your sister and your sister-in-law. Again, we can all, we can all hang up. Cause I swear I'm a, I'm a just a, just the American member of your of your family here. But thank you for coming on and sharing your knowledge and look forward to having you on the podcast maybe next year again.
Lailama:
Thank you for having me.
---
Enjoy this episode? Be sure to check out our previous episodes for even more content to propel you to Amazon FBA Seller success! And don't forget to "Like" our Facebook page and subscribe to the podcast on iTunes, Spotify, or wherever you listen to our podcast.
Get snippets from all episodes by following us on Instagram at @SeriousSellersPodcast
Want to absolutely start crushing it on Amazon? Here are few carefully curated resources to get you started:
Achieve More Results in Less Time
Accelerate the Growth of Your Business, Brand or Agency
Maximize your results and drive success faster with Helium 10's full suite of Amazon and Walmart solutions.