#399 – Amazon Launch And Reimbursement Strategies For 2023
Today we have two guests, one has sold tens of millions of dollars on Amazon, and the other has helped sellers get tens of millions of dollars reimbursed by Amazon.
Originally published on: November 26, 2022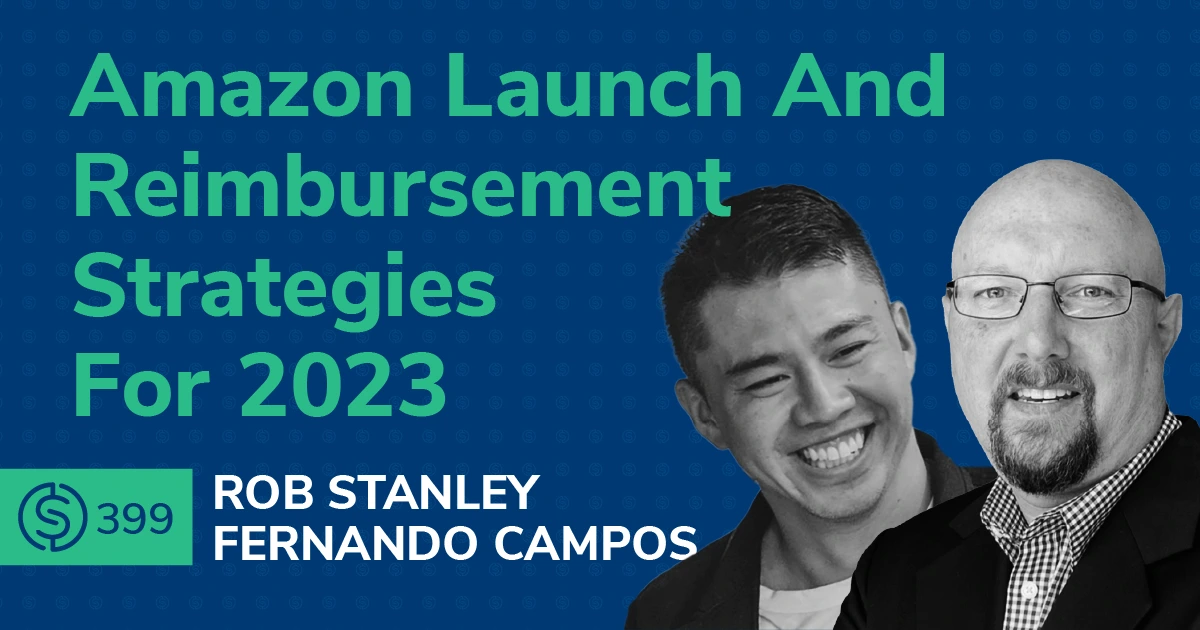 In this episode, we'll get two for the price of one. Let's hear the stories, tips, and strategies of Fernando Campos of MarketplaceOps and Rob Stanley of GETIDA. Make sure to listen to the end as they share all their tips and experience in successful product launches, product research, the top 3 things sellers are owed the most money, how much Amazon can reimburse you, and more! They also share recent case studies and experiences about product launches from start to finish and Amazon reimbursement cases that you can learn from.
In episode 399 of the Serious Sellers Podcast, Bradley, Fernando, and Rob discuss:
02:15 – Fernando's Backstory And How He Got Started On Amazon
02:30 – What Is His Favorite Aspect On His Ventures?
04:45 – Fernando's Brand Are Performing Well This 2022
05:30 – Launching And Managing Your Brands: Before And Now
07:50 – Rob Stanley And How The Money-Man Suit Got Started
10:00 – How Did GETIDA Start?
14:30 – The Biggest Reimbursement GETIDA Found For A Client
16:45 – Big Mistakes Fernando Encounters With Clients And His Brands
20:00 – Recalling A Recent Launch Fernando's Client Did
23:00 – Top 3 Things That Sellers Are Owed The Most Money For
26:30 – How Much Can Amazon Reimburse You?
28:00 – Fernando's Launch Strategy
30:50 – Tips When You Don't Have Refund Genie Or GETIDA
35:00 – How Much Does GETIDA's Services Cost?
38:20 – Fernando's 30-Second Tip
40:00 – How To Get In Touch With Fernando Campos
40:31 – Rob's 30-Second Tip
41:15 – How To Get In Touch With Rob Stanley
Transcript
Bradley Sutton:
Today we've got two great guests, one of which has sold tens of millions of dollars on Amazon, and the other has helped sellers get tens of millions of dollars reimbursed by Amazon. How cool is that? Pretty cool I think.
Bradley Sutton:
Are you a YouTube blogger, blog writer, course creator, or other kinds of influencers or educators? Maybe you just have a network of people interested in e-commerce. Did you know that you can earn commissions of 25% for life for everyone that you refer to Helium 10, we've got many partners earning hundreds, even thousands of dollars monthly in commission from Helium 10's partnership program. If you'd like to join our affiliate partner program, please go to h10.me/crushit and tell them you heard about it from the podcast. Hello everybody, and welcome to another episode of the serious seller's podcast by Helium 10. I am your host Bradley Sutton, and this is the show that's a completely BS-free unscripted, and unrehearsed organic conversation about serious strategies for serious sellers of any level in the e-commerce world. And like we've done before, we have two for the price of one. We're gonna have a couple of guests on this episode. And the first one here is Fernando. Fernando, how's it going?
Fernando:
I'm good, Bradley. Thanks for having me. I'm excited.
Bradley Sutton:
Now, where are you located? Are you still in like the LA area or where are you at?
Fernando:
Yeah, so right now I actually am in LA for a few days, but I've been kind of bouncing around all this year between Columbia, Argentina
Bradley Sutton:
Like digital nomad lifestyle, or do you actually live somewhere else now, or what's going on?
Fernando:
Yeah, good question. So yeah, my wife and I, I guess, I guess digital nomads, I dunno, we don't use that term. But yeah, we're kinda–
Bradley Sutton:
I don't use that term either, but that's the standard phrase for it.
Fernando:
Yeah, no, you're right. I dunno, I feel like that's the young thing to do when you're in your twenties. Sadly, I'm not in my twenties anymore. But yeah, we'll hop around, we'll get like an Airbnb usually for like five to six weeks and then we'll change like Airbnb. So it's not like we're kind of going from host to host every two days. It's something a lot slower than that, I guess you would
Bradley Sutton:
Say. Part of the reason you're able to do this now is you've been, you've been selling on Amazon for quite a while. When did you first get into the industry?
Fernando:
We got in back in 2014 actually. And so we started, jumped right into private label and I've been selling there since.
Bradley Sutton:
You've done a lot of different things in the industry, both selling on your own and, if I'm not mistaken, you've run like large communities for sellers and having courses and now I believe you work for an agency that helps sellers. What's your favorite aspect of it?
Fernando:
I would say it's like kind of a tie. I think the agency is amazing for really getting to help other sellers. I mean, mean we've done, we've been very fortunate, we've done really well selling our own brands, but then I think helping other brand owners like the kind of achieve either the monetary success or kind of like the revenue goals that they're hitting, like shooting for, I think is really rewarding cuz I think you get to work with cool founders and then that is, is really inspiring. And then, but yeah, I mean also I love like creating brands and like launching products and all, I mean, the things that we're really good at. And so I would say it's like a tie between those. Like one is a little bit more selfish, truthfully. And then I guess one is like kind of helping others, which is always really cool. And you have those success stories that are really meaningful naturally.
Bradley Sutton:
Yeah, I completely agree. like, like it's one thing, it was fun growing, like the Project X coffin shelf and egg cray count. Just because it was like, oh yeah, hey I made that. But then when somebody comes up to you and says, Hey, thanks to Project X I started my own Amazon business and I made a million dollars and changed my life. That's just way more rewarding. I dunno, if I'd feel differently if I actually was able to get money from like I've never gotten ascent, that's all Helium 10 money maybe I wouldn't be as unselfish there. But anyways the reward is amazing when it's like that now speaking back to your selfish side, not selfish, but like when you were doing stuff on your own and with partners and running your own brands, which year would you say was your peak year of sales? Like when was it?
Fernando:
I would say honestly, maybe not in terms of revenue, but in terms of the bottom line, it's this year actually.
Bradley Sutton:
Oh really? Wow.
Fernando:
Yeah. So it's surprising. Yeah, I think cuz we, we still own like five supplement brands. we're, we're, we're pretty heavy into supplements and so I think where a lot of people are seeing some down years, I mean, we were good about continuously launching products. Naturally, we launched a lot towards the end of the year last year. And then, so we've had a huge, huge 2022. Thankfully we're up now.
Bradley Sutton:
You've exited some brands,
Fernando:
Correct. Yeah, we sold some brands in 2020 as well.
Bradley Sutton:
Oh, 2020 before it was fashionable even.
Fernando:
Yeah. Before it was like the cool thing to do. I guess we were on the earlier side of the craziness. Were
Bradley Sutton:
Those supplements as well?
Fernando:
No, those were mostly home and kitchen.
Bradley Sutton:
Okay. Now, what's different you said you've been selling since 2014 compared to now, and you found success before. I remember I think you were like you're part of like eight figure seller way back in like 2018 even. And then you said, hey, now is it like even your most profitable year? So you obviously found success in the early days of Amazon, you found success when it's supposedly harder when there's more competition and higher PPC costs and different things have to navigate. So what would you say is some of the things that you really have to shift how you manage your brands or your clients' brands for that matter here at now coming up to 2023 as opposed to the good old days, as some people call it.
Fernando:
Yeah, I love that. It is a great question. So I think back in the day, like the good old days, you could be strong in certain areas and then weaken in other areas, but overall, as long as you were launching a product, you would probably do well, especially if it was like 2014, 2015 days. I think now the way that I see it is that like imagine you have like, I don't know, these knobs of like, and they're scored 1 to 10, for instance, and you have, let's say your listing content, your product development, your advertising, your supply chain, and before where you could have some of them be kinda like fives and sixes, but like some, like, and then a lot of them at eight or nines tens, you would be fine. You would have an Amazon business and you would do well.
Fernando:
At this stage, I think you basically have to have everything like an 8, 9, and 10, because if you don't, if you're not dialed into the supply chain, for instance, your forecasting's off, your inventory gets restricted. You're getting killed in storage fees, your rates are too high. If you're not good at advertising, like your inefficient ad your spending and like your margin are already lower because Amazon's increasing their fees. And so I think it's, it's about really figuring out which of those knobs can you really own, can your business partner own? Do you need to like delegate to an employee or whatever? But I would say like that like, the fundamental difference is you can't be like having a five or six in one of those really crucial categories anymore. It's like you have to really figure out how you're going to divide and conquer.
Bradley Sutton:
All right. Our next guess here that we have, let's go ahead and introduce him to the show is Rob from GETIDA aka the Money man. Rob, how's it going?
Rob:
Yeah, it's going good, Bradley, how are you doing, man?
Bradley Sutton:
Pretty good, pretty good. Now for those watching this on YouTube, he is not wearing the suit that he's famous for, but if you don't know Rob by name, but you've ever been to an Amazon conference, I guarantee you've seen him. He's the guy who wears a head to-toe hat to suit, jacket, pants, and everything made out of the dollar, dollar bills. That's why they call him the Money man. But Rob, when did you first get that suit?
Rob:
Yeah, so I actually got that suit let's see, it was a couple of prospers ago, so we'll say just about a year and a half ago. And actually, I bought it without anybody at GETIDA and the CEO, the co-founders not even knowing what I was gonna do. It was my first actual live event with GETIDA in person. And I was just like, Hey, we gotta do something special, we gotta show up, we gotta get attention. Went up to their hotel room in the suit, but had all these extra accessories we still hadn't figured out, we didn't even know what was called the Money man at that point and I ordered it. Actually just to the, everybody ask me where I get the suit. I actually ordered it off Amazon, so I was actually ordered it off to Amazon, showed up to the hotel room in this suit, put together some accessories and some hat and everything to go with it. And I turned to eight on our CEO and he kind of looks at me and he goes, wow, this is either gonna be a train wreck or amazing thing. So we get down the elevator as we're walking over to the prosper Show. I think I got stopped at least twice and asked to take pictures with me and a time kind of goes, yeah, this is gonna be awesome. So yeah, it was just a, just about a year and a half ago that we started with the money suit.
Bradley Sutton:
Well, we have that's something you and I share in common where we kind of go against the grain as far as uniform like I'm the only one wearing like Helium 10 jerseys and baseball hats and everything. When I'm out there, not the typical evangelist strategy, but hey, people remember people don't, might not remember my name, but they're, oh, that's the hat guy, or that's the Jersey guy, and they were, they might not remember Rob, but they remember the money suit. So anyways guys, I think a lot of people have known about GETIDA for years and they see it in our seller solutions hub. But you weren't around at the founding of GETIDA, but I'm sure you know the backstory. Like how did they come about deciding that this was kind of a need in the industry? Because I think since you guys have come around now all of a sudden there's everybody in their brother and sister trying to like piggyback off of your success, but you guys were kind of like the first in the game to really put your foot forward with this. But how did that even come about?
Rob:
Yeah, and I'm gonna just kind of paraphrase the story. So yeah, GETIDA's been around for a little over eight years. Yi and Max are actually the co-founders, and they were basically sellers. So they were just selling in the garment sort of category. And they just kept having all these returns and all these issues and they kept kind of going, okay, well according to Amazon's terms of service, we can do this. We can get a refund for this, a refund for that. So they just kind of kept seeing that need to hire people to go get these refunds. And Max basically has this dev-type background and really understands the developer-type side of the house. And he's like, man, I think I could write some software.
Rob:
Now, there is rules around this, just to clarify this before I go too much further Amazon does have rules on you can have software go look for some of these issues. And that's what obviously max wrote for writing was to go look at some of these issues, right? To find these issues, pull it into, let's just call it a bucket, right? It's not really a bucket, but a database. And then that way the different people could pull out of there and go talk to Amazon, fill out the paperwork, and try to get refunds for them. It was all originally done for just in-house issues. So they originally had an in-house client or basically people looking for the issues that they were having. Had the pleasure of this year actually being out to at our corporate headquarters this. And I was having dinner with Yoni and his family. And he goes right across the street from this little pizza shop. He's all, that's where GETIDA started. He's all, there's a little room in the back of this building. And he goes, and that's where it was.
Bradley Sutton:
Where was this?
Rob:
This was in Teaneck, New Jersey. And I don't know the exact street, but he took me out to.
Bradley Sutton:
In New Jersey. That's what I was looking for.
Rob:
Yeah, yeah. And literally, he's pointing at this almost like a FedEx office, and he goes in behind, there is a little tiny shop basically, and that, that's where they kind of put some of the people to kind of get started. And that's where Yoni kind of started, was in this little tiny shop. And again, it was just a piece of software that was basically going out looking for issues. But because of Amazon's terms of service, you have to manually submit those. Yeah. Meaning somebody has to look at 'em, make sure the issue hasn't been submitted already, and then submit it to get it. Now people start finding out that Yoni and Max were doing this. And basically were saying, Hey, would you help me do it? Would you help me get refund?
Rob:
And so they started saying, okay, we'll do it for a small fee. We'll do it for a fee and start basically bringing on these people that they knew and kind of that were close to them. And that just started building up over time and it started getting to a point where it became its own thing. So GETIDA's been around a very long time which actually benefits our customers. the fact is we've seen a lot of different issues that most refund companies don't see because we've been around. We know where we can get your refunds and how deep we can go, what will work, what won't work. When I came on board, there were around maybe 40-50 employees about a year and a half ago, and now we're over 140 employees. So, and, and just to give you kind of a little extra on that, Bradley of those, let's say 140, around 80 of 'em only handle filing reimbursements for customers. So there, it takes a pretty substantial team to handle that amount of refunds that we're doing every single day for the number of customers we have. So it's, yeah, it's been–
Bradley Sutton:
And then kind of fast forward this story to the end, and then we'll go in and fill in the blanks, but just to wow people off the top of your head, some of your customers, like what is the most, you have gotten them like in one month where you just had a monster customer and they hadn't even been doing this on their own. So like I'm sure it's always usually the first month that it happens, but like, what's the biggest month payday that you have found that Amazon owed a specific seller?
Rob:
Yeah, I'm not gonna go to the exact amount, but I'm gonna give you enough that you could probably figure it out. How about that? So we do have a few sellers in that $500 million category.
Bradley Sutton:
As far as their gross sales.
Rob:
Yes, their gross sales and on average, and this is actually true for all clients of gat on average, we recover one to 3% of your annual FBA sales every single year.
Bradley Sutton:
Every single year.
Rob:
So every single year. So even if we're looking at 500 million sellers at 1%, I mean that you're talking a pretty substantial amount of money every single year and then start breaking that down by month. It starts getting big. Now the other thing, and Bradley, you probably, I don't know if you know this a hundred percent or not, but when customers sign up, Amazon allows us to go back 18 months and look for past issues. So you're right that first, let's call it three months, usually you see a substantial amount of money come in because we were able to go back that 18 months and actually get you more money back from past, from past issues. And then, of course, going forward, like I said it's one to 3% annually every single year that we would get back in FBA reimbursements.
Bradley Sutton:
All right. Now back to Fernando. Let's just talk about specific strategies. Now for 2023 as we know like for example, somebody might say, oh, I'm still gonna do the search, find, buy method, or something like, nope, that went out of TOS a year or two ago like, oh, I'm gonna do, have my friends and family leave reviews. Nope. Can't do that anymore. But sometimes no matter how big a seller, you're limited with how many strategies or unique things you're doing because it's still for your own brands. But when you're an agency or a consultant, sometimes I feel like you come up with way more you get confronted with way more obstacles and way more use cases. So I really love talking to people who work with various sellers. Cuz I think you guys are exposed to more things. So like what are some of the things roadblocks, let's just talk about that, the big failures. Like what are some terrible things that have happened to your brands or your client's brands that you've had to kind of like get them out of the gutter on?
Fernando:
Yeah, it's a good question. I would say the first one that comes to my mind is just doing an undifferentiated product. And so sometimes we'll see a product coming in from a client, it's like the exact same thing as everybody else. And it fits in line with the brand and it's like, it's the right type of product. But when we look at it, we're like, Hey, like this is just not gonna do well. You're going against people with tens of thousands of reviews. This isn't really differentiated. And so like we can market it and we can do our best, but truthfully, like it's just not gonna be successful cuz there's no reason for the customer to choose this one over the other five that have been there longer. Right? And so I think that's like the first mistake that we see. I think the second that we see is like, let's say we're doing an audit for a brand and we're looking at their main image and it's just so busy and there's like, you can't really tell like what the product is used for or they're just not displaying it in the right way that it really optimizes for click-through rate.
Fernando:
And so I think we're constantly thinking about that. We're leveraging a lot of like the polling software out there like Intelavi or Sellermetrics, PickFu any of those. And leveraging that to make kind of more data-driven decisions with our design team, I think that's huge that a lot of people don't really spend enough time on. And especially if you're the entrepreneur, like moving that earlier into your product development process. So instead of like, by the time you spend all this time, I think what we used to do is that we'd come up with a product basically get it ready, like to be shipped, and then start designing the main image. But instead now, like what we're doing even with our own products is that we're shifting that process of like the polling campaigns or testing it against the main images of your competitors way earlier.
Fernando:
Because it could be that you realize like, hey, I'm not getting like 50% of the votes or 60% of the votes and that's my bare minimum. And so you might cut a product because it's not getting that vote before you go through the pricing and like the back and forth of samples and all of that kinda stuff. So you can save a lot of time by using those types of like, kind of online focus groups is kinda how we think about it. Yeah, I think other big mistakes is just going too wide, not really having a customer anymore. Like I think in the past, yeah, you could just launch in any category, it's just gonna work, but naturally, like to your point, like with all the TOS changes and it just being a lot more difficult to introduce products, then you need to really be a little bit more focused now starting to like learn the off Amazon marketing once you probably hit like, I would say like three to 5 million in anywhere is just my opinion. But I think those are some of the things that I would start thinking that I see the most often
Bradley Sutton:
Think back in the last six months a very successful launch that, that you either did for your own brand, one of your brands, partners, brand, client brand, or whatever. And when I say successful that that's subjective, I don't know, let's just say it's doing now like 30 to 50 units a day or something of sales. Have you had any launches like that in the last six months?
Fernando:
Yeah, a bunch. Yeah, we're good at launch. We know what we're doing. Yeah.
Bradley Sutton:
Perfect. I didn't know that, but right, so now think, about that now. Do you have one in mind? Yeah. In your, in your head? Okay. Now was this a brand new brand and this is just a new thing or was this like a product line extension? It's an existing brand and now you're launching a new product?
Fernando:
This one specifically was a new brand.
Bradley Sutton:
Okay. alright, so new brand, this is great 2022, 2023. First of all, how did the brand owner decide on the product? Like what did they see something trending on TikTok? Did they just use Black Box and Helium 10 to where they just looking at best sellers? Like how did they land on this product, if you can recall?
Fernando:
Yeah, it's a good question. So I know, I know generally that they had sold their, their business I think last year. And then, I'd been working on this new idea for quite a while. Truthfully, I'm not sure if they probably used a combination of like Xray, I would assume. And then just like naturally once you've sold like a brand you can kind of start over and you just more like hindsight's 2020, right? And so for instance, we were in Home and Kitchen, we were doing a lot of non-con consumable products. So when we were looking at new product lines after we sold, we're like, okay, we're doing consumables. And so I think this founder kind of came in with the same idea, like, I'm doing a consumable, I'm kind of switching categories cuz typically you have a non-compete anyways.
Bradley Sutton:
So when you first looked at this, if you can recall, what looked good in this market to you? Did the competition suck or was it fairly new or their idea was, was kind of fresh like why did you get excited if you did about this launch?
Fernando:
I think it's a lot of those things that you already touched on. I think it was a differentiated offer. It was like a relatively new space. So the incumbents weren't that sophisticated and didn't have that much of a head start. It's not like, I dunno, silicon grow gloves where you're gonna just get like owned because there's no way of really differentiating those very well. And it's super saturated. They had great branding, I think because they had already exited, they were able to invest funds into it. And it's kind of more environmentally friendly. So it's, it's going where things are moving towards, you know what I mean? Like it's good for the world. And so I think it has that kind of social component, which I think makes me feel good naturally, like as, as like an agency owner, but then also it's just generally where things are moving towards which, which is great as well.
Bradley Sutton:
All right. Now back to Rob. One question I had was I think it's everybody knows that hey, like if I'm a Helium 10 user, I should be using Refund Genie cuz it's free and it searches two of the most common ones, but which are lost and damaged. But of everything that you guys search for which is more than that which is why there is even is a space for gait in the industry. What are the top three things that people are owed the most money for? I would assume that lost and or damaged might be one if not two of the top three, but obviously Healing 10 doesn't find that third one because we only do two. But what do you see out there?
Rob:
It kind of and you're a hundred percent right we always recommend everybody use Refund Genie especially if it's part of your package that you're paying for already. GETIDA is an add-on to that refund Genie capability and just goes deeper. So you are a hundred percent right Bradley lost, damaged, and broken merchandise. Those are all actually separate. So, and then after that it kind of, it kind of gets a little scattered. There is things like weight and measurement issues and that is something that you have to actually do kind of do yourself. We provide it in our dashboard, your current weights, and measurements, but it's up to the actual seller to go in and give us the correct weight measurement issues that we can go file a refund for or reimbursement for.
Rob:
And that is so miscategorizations another one. So really, I guess what I'm trying to say, Bradley, just to answer your question directly really kind of get scattered after those first two, and that's probably why Helium 10 kind of picks those because those are the ones that are kind of the easiest to find, is the ones that happen the most often. But realistically the scenarios start going way deeper and many, a lot wider and many of them kind of after those first two. So there isn't really a specific pinpoint one. But I always recommend looking at those weight and measurement issues.
Bradley Sutton:
For example, let's say a customer asks for a refund and then returns the product because Amazon was late on delivery. Like, let's say it was like, Hey, you're gonna get this in two days, it got there in four. So the customer's like, all right, send this back. And then now I don't know what happens at inventory, but like, is there anything there that Amazon owes the seller or that's just the cost of doing business?
Rob:
Cost of doing business? Yeah, so I'll give you a similar scenario where you are owed a refund. So if Amazon FBA ships out an item to a customer and let's say, a customer gets on the Amazon chat and is able to somehow say, Hey, I'm not happy with this, whatever the scenario is, and the reason why, and let's say Amazon turns around and issues them a refund, and tells them, Hey, you need to ship it back or gives them the label. And let's say that customer just doesn't do it, they just don't ship it back. After a fixed amount of time. If they haven't shipped that back, you're actually doing a refund back. So even though–
Bradley Sutton:
Because you get debited for the incident that they ask. Okay. Okay, that makes sense.
Rob:
Yeah. Yeah. So if that item never came back, you'll also do a refund. So there's a scenario kind of similar to what you just said, but if for any reason they got a refund and they didn't ship your item back, you are due a refund for that not coming back. So
Bradley Sutton:
Interesting. Okay.
Rob:
Yeah, that's a pretty good one.
Bradley Sutton:
All right. Now another question I had was, I swear I saw like on LinkedIn or Facebook or something, there was some kind of memo that some sellers got about how much they can get reimbursed for something, and then according to their interpretation of it might seem like, Hey, we're only gonna get fair market value now. Like, have you seen anything? Do you know what I'm talking about? Like, I swear I saw this all over LinkedIn a couple of weeks ago.
Rob:
Yep. Yeah. So what you're referring to is that we talk about this when we're at shows or we're talking to potential customers. So what happens is you actually get your money back based on the sale price. Now, let's go over this a little bit more. The average sale price over the last, and I can't remember if it's 30 days. I think it's 90 days actually the average of 90 days, which also means that if you put it on sale, let's say in the last 90 days, but then you also had it at full retail, at some point they're gonna average those out. So whatever that average is, what you're gonna get your money back on, minus any fees like you sold the item. Okay? So if for any reason it got damaged, they're gonna take an average for the last 90 days, what you've been selling it at, and then they're gonna take out their fees as if you sold it. That's how they calculate what you're gonna get back. So it's not interesting necessarily a guessing game. It is actual, I don't wanna say science, but it is written how they calculated it. And that's basically how they come up with a number on what you're gonna get.
Bradley Sutton:
All right. Now back to Fernando. Now, what was your launch strategy like? Like I'm sure you use Helium 10 to know which keywords you needed to get sales on, but what was your strategy as far as trying to get to page one for those keywords in a world where we don't have two-step URLs and things like that?
Fernando:
Yeah, that, it's a great question. So we have a huge list that we're always able to leverage as well. That just kinda takes offers. That helps a ton. I think we also, I think a lot of people will go after this kind of spray and prey strategy and they're just going after all of the keywords which I just don't think works as well anymore. And so we go kind of think of it as more like a sniper approach or very like, focused approach. And so we'll identify the top three to five keywords that we're gonna really focus on and make sure that we're gonna convert for. And the way that we think about it is like, okay, first what is the most relevant, right? And so let's use, like, an example is like you could go after like immunity supplement, but that doesn't really tell you anything, right?
Fernando:
Cause an immunity supplement could be vitamin C, could be zinc could be elderberry. There's all these different options. And then you still don't even know is it a liquid? Are you looking for tablets, are they looking for capsules? And so it is a really broad like, yeah, non-relevant term, but I'm sure it's a ton of volume. And so instead we're gonna go after like vitamin Z tablets with this many milligrams. And so it's hyper, hyper-relevant to the product. And so one, we're really focused on relevancy, and then the other like, I guess barometer is like the volume. And so we're kind of like identifying again, like the top three or five keywords in terms of the highest relevancy and the highest volume and kind of weighing those two. And then we're gonna really focus on those three to five keywords and then basically make sure that we start ranking there. Obviously, we're leveraging a ton of ppc because like that's gonna help like kind of feed the algorithm. But then again, it kind of comes back to the polling campaigns that we talked about earlier, is that when we're launching a product, we know that we're gonna get like 50-60% of the votes because we've spent so much time like optimizing that main image, which I don't think enough people focus on today. And so those are a lot of things that we're thinking about when we're introducing new products to the marketplace.
Bradley Sutton:
Guys, he mentioned PickFu earlier we've got Pick Fu right inside of Helium 10, it's called Helium 10Audience. So go to PickFu or, or just go into a Helium 10 dashboard and do Audience. And this is, it's like anybody can do split testing after the fact and you should, sometimes you should Amazon even has an AB testing feature. But, but it's so much better to have all this research done before. So you start from day one on the right foot. All right, let's go back to Rob now. Now, regardless of whether somebody's using GETIDA or Helium 10 Refund Genie or whatever, what are some some best practices you can tell sellers when it comes to the, this, this kind of thing? Like, maybe I'm not ready yet to use GETIDA, or I'm not ready to I don't have Helium 10, I can't use Refund Genie, but what, what's an easy win that you could say, like where people, cause I would say most sellers might not even realize that Amazon owes them money, but is there anything that could, you could say that's like preventative care or just something I could even do on my own just to get started on this?
Rob:
Yeah, so this entire process of doing refunds can be done on your own. Obviously, with helium 10, they have Refund Genie that will kinda alert you to different possible issues that you can get refunds for, and you're gonna have to submit the paperwork. So there is entire, actually, I think three-hour, maybe even four-hour webinar that myself, Yoni, and Lisa did that really almost steps you through the process of doing a refund for yourself. And in there, it's very long, very tedious. So there really isn't an easy way, Bradley. There's not really an easy way to do it. But it can be done, and don't get me wrong, it can definitely be done. What I usually suggest is kind of a separate suggestion to keep track of your weight to measurements.
Rob:
You know, when you're dealing with the factory, even if it's not coming to you directly and it's coming in, it's going directly into the FBA warehouse have your factory wait for you, have the factory get you the weights in the dimensions of the package that's gonna ship out. So that way when you do download that database of awaits and measurements, you'll know almost immediately if some of those are incorrect. And the reason I bring this up is weight and measurement issues. We can only go back 90 days to get your refund. So every item that's sold incorrectly for the last 90 days or shipped out at the wrong amount because they overweighted or something like that we can get you a refund back on that. Issues like those you're referring to that Refund Genie helps you with are capable of going back 18 months.
Rob:
So Refund Genie will yeah, so it'll go back. Anything that has to do with broken merchandise or lost merchandise in the warehouse, it can go back 18 months to get that. And but definitely, that weight measurement issues and miscategorization, if they put you in the wrong category and you're like getting charged, let's say 7%, it should be really like 5% that discrepancy of that 2% for each product sold, which could be pretty hefty in Q4 as we know that is something that you have to obviously bring to our attention to be able to go back and get that refund. But those are things that are due to you. Again, everything I'm describing you can do, including what Refund Genie does, it can all be done manually by yourself. It just is a long process, like I said, a four-hour webinar just on how to do these things manually. Not sure it's necessarily worth your time. I'm sure you could make a lot more money watching Bradley looking at ways to find new products getting scores and results and keep searching for better ways, right? So that's where I think you should focus your time.
Bradley Sutton:
So I think, guys there's actually a tool that we haven't mentioned today outside of Refund Genie that helps with one thing that Rob was talking about Helium 10 Alerts. if you're sure that once you're sure that your dimensions are good, like when you first launch a product, immediately turn on alerts. Because if Amazon goes and remeasures it randomly, which trust me guys, it happens like the coffin shelf, they did it and I got an alert, but I never paid attention to it because I'm dumb. And then it was like five months later, I found out that I had been charged about $5,000 more because they only changed a couple of inches, but it was like the difference between standard size and large standard size or whatever. And I was told in those days, hundreds and hundreds of coffin shelves, we, they literally had taken $5,000 that they shouldn't have.
Bradley Sutton:
Now, just as Rob said that I could not get all $5,000 back because it was beyond the, the time limit. I could only get like $3,000 back, but if I had just followed the alert when it happened, I could have saved that whole amount. So I'm sure some people might wonder like, right, well refund g I know how that works, but GETIDA like how much am I is it a monthly fee or, or how do I pay you guys? Or how do you guys even connect to Seller Central to request this money and, and things like that?
Rob:
Yeah, so we are not a monthly fee. We're basically a performance-based company, meaning that we only charge a small percentage when were recover money for you. If we spend four to eight hours on an issue and Amazon says, we're still not gonna give you a refund back, you get charged nothing strictly performance-based, only when we get you money back, we take a small percentage. The best way to go sign up and get a bonus kind of getting started, free money is to go to Helium 10's partner page, click on the GETIDA link.
Bradley Sutton:
hub.helium10.com by the way, guys. So hub.helium10.com, type in GETIDA, and then what are they gonna see when they see that?
Rob:
Yeah, you're gonna see us on the partner page with a link there to sign up, and it's gonna have a special offer there for you. So as soon as you click on that link, it'll take you over to our landing page. You're gonna have a special offer right there that you can click on. That's free money to get started. No long term commitment, no contract. We're not locking, we're not a cell phone company. We're here to help sellers, Amazon FBA sellers so you're gonna get this money upfront for free to give us a try. If you're not happy after you try that month, after you go through that first amount of money, you're welcome to leave. Like I said, we're not locking you into a contract. So we'd like to see you stick around. Again, once you get past that first initial offer, a bonus that we give you then we're gonna charge a small fee to kind of keep going forward from there, which I'll just tell everybody it's 25%, we're gonna charge you 25% again, only if we recover money. If a month goes by and we didn't get you any money, we charge you zero, absolutely.
Bradley Sutton:
So then if you find a thousand dollars worth of stuff that Amazon owes me, they pay me a thousand, you're taking 250 and I pocket the 750 then?
Rob:
That's correct. And like I said if we spend eight hours on that issue and they don't give you a dime, we're not gonna charge you anything, Bradley.
Bradley Sutton:
All right. Now back to Fernando, what else was part of your launch strategy? And then real quick, fast forward to the end, like, like what's their daily unit sales after launch?
Fernando:
Yeah, it's crazy. I mean, last I checked, they were about three months in. They're hitting about a hundred units a day. And so yeah, it's great, great margins. And yeah, I mean, I'm pretty sure we'll probably get it to like 200-250 in the coming months, especially during q4. And then, yeah, I mean, other things, we're always testing new strategies with influencers right now, so we're messing a lot with both Instagram and TikTok influencers. Right now we're kind of doing seating campaigns. We also do kind of like outreach campaigns to people that follow your competitor brands. And so, I don't know, let's say you have a coffee brand and then there's another like, really similar but like bigger coffee brand, then we'll kind of we'll test kind of engaging with the followers of that like incumbent brand and try to engage them, getting them to try the product. But yeah, there's a lot of like cool stuff that you can do outside of Amazon that's helping you build like that initial traction for the brand that we're, we're starting to, to test out right now. And that's been pretty effective.
Bradley Sutton:
Okay. Now it could be about this launch or it could be about anything at all, but we do something on this podcast that we call the TST 30-second tip. So you've been giving us good strategies, but what's something you can say like 30 seconds to a minute or less that's like, like quick hitting and, and actionable and somewhat unique like not some run of the mill strategy, but, but something unique that you think you guys are doing that can help sellers out there.
Fernando:
All right, so yeah, one other cool advertising thing that we've been messing around with is Amazon's new like Search Query Performance report within Brand Analytics. And so you can use that, use that to like kind of understand your conversion rates a lot better, but then also compare that to the search term impression, share advertising reports which I don't think a lot of people currently use. And so basically, by comparing those two reports, you can sort identifying which terms you're underinvested in and then overinvested in. And so I think like basically as of right now, there's a big shift right? From everyone thinking about ACoS and then kind of moving to TACoS probably over the last like three or four years. But I think now that Amazon's constantly introducing more reporting, then I think it's gonna get, it's gonna become more and more necessary for you to be really sophisticated, I think, in terms of understanding the different conversion rates how your competitors are converting. The average conversion for your category, and then just trying to figure out where you're strong and, and kind of adjusting your bidding strategy based on that.
Bradley Sutton:
Okay. Excellent. Excellent. All right. Now I always ask how we can find you on the interwebs, but actually, you guys are in our seller solutions hub, right?
Fernando:
I am. Yeah. I'm excited to be there. Thanks to Ryan. Shoutout Ryan.
Bradley Sutton:
So hub.helium10.com, and then what should they type into the search engine there? And then also how can they, how can they find you elsewhere as well?
Fernando:
Yeah so yeah, our agency is called MarketplaceOps, so yeah, they can find us by searching there, but then you can always reach out at [email protected] or just on our website as well and find more info.
Bradley Sutton:
All right, now Rob your turn now for our 30-second tip, TST.
Rob:
Yeah, so one of the tips I want to give Bradley with a quick 30 seconds is take a look at YouTube. I think YouTube is not being utilized as much for people that are selling on Amazon FBA. As we all know, everybody goes to Amazon to search for a product, and once they got that product, let's say, if it comes to either a feature or maybe how to do something like replacing a battery on a remote, they're gonna do a Google search. So I suggest building out your brand or your product go over to YouTube, start a YouTube channel, put some videos in there on how to replace a battery or more about your product or brand. And I think that's a really quick way to kind of extend out promoting your product and brand that's not necessarily on Amazon.
Bradley Sutton:
Pretty cool. Pretty cool. I like it. Now, you mentioned how to get in contact with GETIDA, but if people wanna find you out there on the interwebs, what's the best way to to find you out there?
Rob:
Yeah, absolutely. I'm on all social media platforms under either Rob Stanley or Robby Stanley. Just look it up. It's pretty easy or you're, feel free to email me directly if you have any questions. [email protected]
---
Enjoy this episode? Be sure to check out our previous episodes for even more content to propel you to Amazon FBA Seller success! And don't forget to "Like" our Facebook page and subscribe to the podcast on iTunes, Spotify, or wherever you listen to our podcast.
Get snippets from all episodes by following us on Instagram at @SeriousSellersPodcast
Want to absolutely start crushing it on Amazon? Here are few carefully curated resources to get you started:
Everything for your business on Amazon.
Find out more about our products by signing up or speaking with one of our
Customer Success representatives today. With us in your corner, you can enjoy
more sales and increased engagement from your Amazon business.
Chat with a Support Specialist