#308 – Amazon Europe Strategies And Special Release Of Two New Podcasts
Bradley welcomes two colleagues from Helium 10 to talk about selling strategies for Amazon Germany and two new shows for serious sellers.
Updated on: January 24, 2022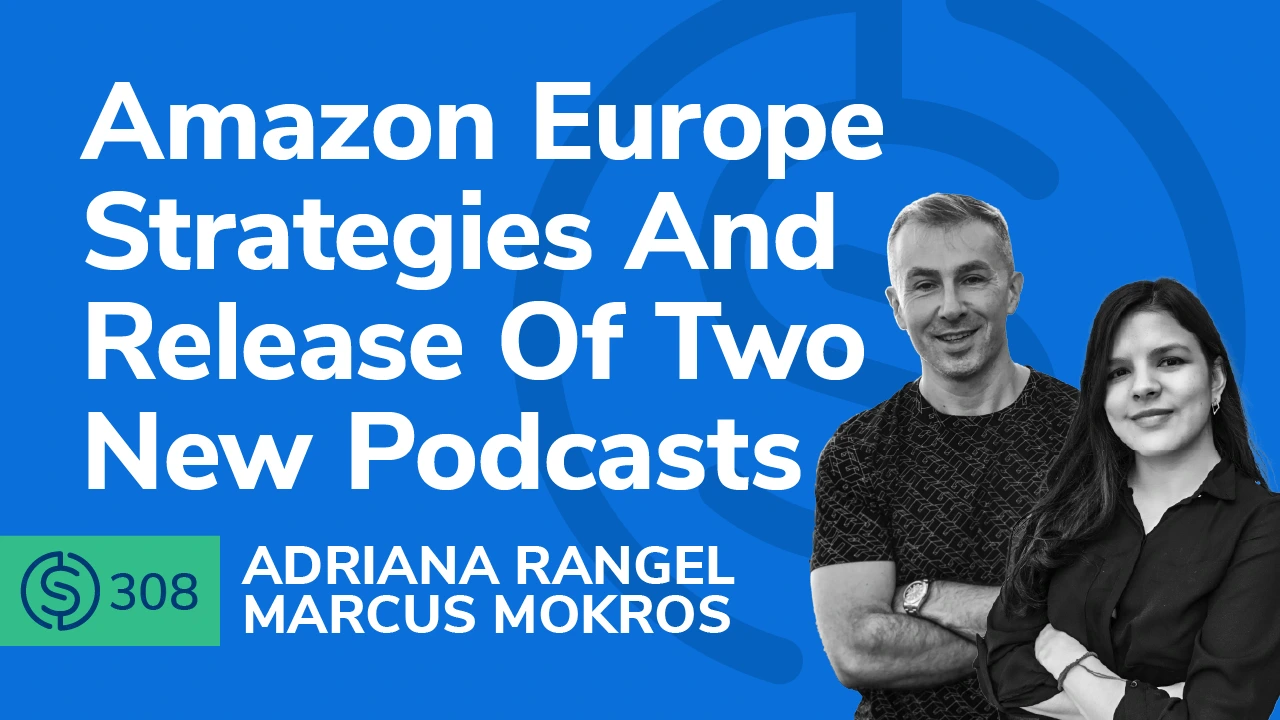 In today's show, Bradley introduces Adriana Rangel and Marcus Mokros. They are the newest international brand evangelists for our Spanish and German speaking audiences. Both being experienced Amazon sellers, they will share their journey and their top strategies in selling.

This episode also features 2022 plans for our Spanish and German speaking community and two new podcasts that will help serious sellers of any level, so make sure to listen to the very end.
In episode 308 of the Serious Sellers Podcast, Bradley, Adriana, and Marcus discuss:
03:30 – Marcus' Backstory And How He Got Started In E-commerce
06:00 – Adriana's Background And Updates On Her Amazon Journey
08:45 – Building A Community Of German Speaking Sellers
11:30 – Applying To Amazon Germany, The Best Way To Do It
14:00 – Finding Product Opportunity Using Black Box In Amazon Germany
15:15 – How Helium 10's Training Help Adriana's Amazon Business
19:30 – 2022 Plans For Our German and Spanish Speaking Community
22:00 – A Big Announcement From Bradley And Our Guests
26:00 – What Content Can We Expect On These New Shows
28:00 – More Selling Tips From Marcus And Adriana
Enjoy this episode? Be sure to check out our previous episodes for even more content to propel you to Amazon FBA Seller success! And don't forget to "Like" our Facebook page and subscribe to the podcast on iTunes, Spotify, or wherever you listen to our podcast.
Get snippets from all episodes by following Bradley on Instagram at @H10bradley
Want to absolutely start crushing it on Amazon? Here are few carefully curated resources to get you started:
Transcript:
Bradley Sutton:
Today, we've got our first two international brand evangelists on the show here at Helium 10, who are gonna talk about some exciting things that we have in store for the German and Spanish market, as well as giving us great tips on selling on Amazon, Germany and scaling in Amazon business. How cool is that? Pretty cool I think.
Bradley Sutton:
Are you looking to learn how to sell on Amazon? The Freedom Ticket course made by Kevin King is one of the most popular courses ever created for Amazon sellers. It's got over 90 and 40 hours of detailed step by step training to help get you started on your entrepreneurial journey. Now, this course costs $997, but Helium 10 actually covers that cost of the course for any Helium 10 member. Find out why tens of thousands of students love this program by going to h10.me/freedomticket. Don't forget that if you do sign up for a Helium 10 account, don't pay full price. Use our podcast discount code SSP 10 to save 10% off for life.
Bradley Sutton:
Hello everybody, and welcome to another episode of the Serious Sellers Podcast by Helium 10. I am your host Bradley Sutton, and this is the show that's a completely BS-free unscripted, and unrehearsed organic conversation about serious strategies for serious sellers of any level in the Amazon, Walmart, or e-commerce world. We've got a couple serious sellers here on the show. They're actually both Helium 10 employees from different parts of the world. One has been on the podcast before, one they're make can their podcast debut here, and we've got some exciting announcements today, guys, but first we're gonna get into their actual Amazon experience and history. Let me welcome our guest. First of all, Marcus, originally from Germany, and now you're calling into us from Malta. I'm not mistaken, right?
Marcus:
Yeah, absolutely. Right. Thank you for letting me on your podcast.
Bradley Sutton:
Exciting. Excellent. Excellent. Thank you for coming on here, Marcus (Speaking in German). Welcome. Correct? All right. There we go.
Marcus:
(Speaking in German) 100%.
Bradley Sutton:
All right. I'm learning my Deutsche now another one who might be a more familiar face to you. She's been on a couple of our webinars lately, but she actually made her podcast debut years ago. I had picked her randomly along with two other sellers where like I found three different sellers who were brand new on Amazon, like in their first month of selling. And I'm just like, Hey, I would love to interview you, and let's like follow you on your journey. That was two years ago. And now you know, she's been selling on Amazon for two years and now she's actually a full-time Helium 10 employee as our evangelist for the Latin American market Danna. How's it going?
Adriana:
I'm great Bradley! I'm excited to–, excited about everything really.
Bradley Sutton:
Awesome. All right. So Marcus, since this is your first time on the show as I always love to do, I like getting people's backstory. So where in Germany are you from? Did you go to university and what was your major focus of study there?
Marcus:
Yeah, I'm actually from the center of Germany near to Cologne. It's like the capital of carnival in Germany. They like to celebrate rate there a lot. That's awesome. And yes, I went to university for half a year. I had like education on the job before and I figured out, no, that's not what I wanted to do all my life long. And got like into self employment, like part time at this time, and then went to university and found out it's like more even away from reality there. And at this time I was already like making online sales, like through AOL marketplace, like really old school
Bradley Sutton:
AOL marketplace. That's really engaging yourself. "You' that mail" like, oh my goodness the other generation doesn't even know what we're talking about right now.
Marcus:
Absolutely. Yeah. And I enjoyed it being self-employed and looking always out for the next big thing like started on a platform that later was bought by eBay. And I got like Amazon customer in 1999 and soon found out you can even sell your stuff on Amazon. So like I got into retail arbitrage because like, it was like way before YouTube and all that good stuff today. And yeah–
Bradley Sutton:
So, this is for Amazon Amazon, Germany. You were doing a retail arbitrage?
Marcus:
Yeah. Yeah. Right. Like even like selling buying stuff on eBay and reselling it on Amazon, like always on the hunt, like on my apartment full of stuff of boxes and yeah, later I got into Amazon FBA.
Bradley Sutton:
Did you ever sell an Amazon USA or did you strictly sell an Amazon on Europe?
Marcus:
I strictly sell in Europe, especially in Germany because you know, like everybody who speaks English like US is their first choice and Germany is such a big market and yeah, we've got like the advantage of language there. So that's where I'm home.
Bradley Sutton:
Okay. Cool. Now Adriana, you know, you started two years ago, you scaled up how many products overall have you launched since you started selling on Amazon?
Adriana:
Yeah, so far I've launched around 5, sorry, 9 to 10 products. I'm thinking of variations here. And so I started over three years ago, a little bit over three years ago. And of course, the first products were little bit harder because I wasn't doing, you know, the proper research. I wasn't using any tools. I just like went ahead and just launched products. I don't even know why. And so the other products, the ones that I launched recently actually are the ones that are making– that are doing better much, much, much better. And so I'm very excited to launch more hopefully very soon.
Bradley Sutton:
Okay, cool. Now, when I first interviewed you with the other new sellers, you know, when you were just starting out, I remember you had a full-time job. What was your full-time job? In those days?
Adriana:
Yeah, I was doing Project Management.
Bradley Sutton:
Okay. For like, for like a company in Mexico, right?
Adriana:
Yes. Correct. Okay.
Bradley Sutton:
So Then how long after you started selling Amazon, did you eventually, you know, make enough to kind of like, you know, I'm gonna quit my day job and just focus on Amazon was that like, you know, a few months, a year, two years, it
Adriana:
Took me about a year, I would say a little bit over a year, but that's mostly because I wanted to keep I was trying to keep that extra income I guess my job as an income over there, and eventually just made more sense because I was just doing more money on Amazon than on my job. So eventually I just left, but it took me a while, mostly because I just and decide whether to quit or not.
Bradley Sutton:
Okay. Now, random question, putting you on the spot, you know, you were making some decent money on Amazon. What made you answer our call, where I'm like, "Hey, you know, we're looking for international evangelist to join Helium 10 full time." I mean, if you were doing great on Amazon, what, what inspire hire you to like, say, "Hey, you know, I'm gonna go back into the corporate world."
Adriana:
Yeah, well, I figured I already use Helium 10 every day. I use you know, tools such as Keyword Tracker and Market Tracker and all that basically for my operations right, for my business. So I was already, I already know how to, to use that tool very well. I also wanted to have a sense of community because as an entrepreneur, it can get very lonely. Like I see my friends, you know, they go to their offices to their day jobs, et cetera. And for me, it's been lonely for the past few years. So I already kind of knew some people here. I knew you, and so I thought it would be fun. It would be fun to have more people basically grow a community and keep doing what I do. I mean, I use Helium 10 every day anyways, for my business. And I thought, you know, I can learn more strategies and just meet more people really.
Bradley Sutton:
Okay. All right. Let, let's go back to Marcus now, you know, Marcus, I know you still do sell a little bit here and there on Amazon, but also one of your other things is you're like I don't know, I guess like a coach as it were, and, and you have students who you help on Amazon are all of your students selling kind of exclusively in Amazon Europe. And are they all from Europe or do you actually talk to people who maybe are living in United States and wanna sell on Amazon Germany or is everybody kind of like their based in Europe?
Marcus:
Like all my content is German. So, I've got like a big German speaking community, but they are actually from all over the world. They're like there are guys from Dubai in it. There are guys from Africa in it. There are guys from all over Europe in it. Mostly, of course, Germany, Switzerland, and Austria, but like German speaking guys.
Bradley Sutton:
Okay. Let's talk about that for a second. That there's a reason why I ask you that. So, let's say I'm an expatriate from Germany. I'm assuming these people who speak German, they're originally from Germany, or maybe from, you know, somewhere else in Europe that that's a German speaking country. Now their permanent residents is in Dubai. Their permanent residents is in Los Angeles. You know, when they're starting their Amazon account for Amazon Europe or Amazon Germany, how are they applying? Like, are they able to apply with their Dubai address and their Mexico address or their Los Angeles address? Or are they having to use like their old address or a relatives address in Germany? Or are they having to use a corporation in Europe in order to get started in Amazon Europe?
Marcus:
Yeah, that's the beauty of Amazon. You can sell from every country on every marketplace. So you can be with your, like Dubai or with your US company on Amazon in Europe for the German marketplace, for example, the only small difference is like the German customs. They want someone in Europe responsible for every goods you bring into Europe, but they're like company specialized in this.
Bradley Sutton:
So then if I'm setting up I'm I don't know what's a typical German name. like, if it was Spanish, I'd be like, Hey, my name is, you know, Pablo Martinez or something like that. What's a German. Like, I am Klaus. All right. And now I move years ago, I moved 10 years ago to New York City. I can apply with my New York city address or is it better if I make some kind of like company in Germany when I apply for Amazon Germany?
Marcus:
Yeah. I think for Amazon it's it's not important. You can be like all like everywhere. Yeah, just for the part where you, where you have to deal with local authorities, like for tax or customs, then you have like someone who's responsible that but that could be like just a guy who is making your taxes in the end of the year. They just want to have a address where they can go to if something isn't right. You know?
Bradley Sutton:
Okay. All right. Makes sense. Now in the past, like maybe three, four years ago, and like me personally, I've never sold on Amazon Europe, but I remember like three, four years ago, the natural progression was, you know, start maybe in the UK because, you know, that's where you had to send all your inventory anyways, and then, you know, branch out to maybe Germany and then branch out to the other marketplaces. But now after Brexit, I think that's different. And if I'm not mistaken, Germany actually is the biggest European marketplace. It's actually the second biggest in all of the world for Amazon next to USA. So regardless if I'm German or not, you know, I live wherever I'm living, and I wanna go into Europe, what's the best route to do, you know, for 2022, should I just start in Germany? Should I just start in UK? Should I just go all to all like six marketplaces, you know, Spain, France, Italy at once, what's your, you, what are you telling your students? What's the best way to go nowadays?
Marcus:
Yeah, I mean, for my German students, like the first things they should do is like, definitely like Germany because they have the advantage of the language like for a seller who's maybe in a US and just want to explore a second market. There's not always one wrong, one right? Like UK is definitely the advantage for all English speaking guys, to just copy your listing and be in a second market. Yeah. Germany is just the biggest market and you understand like all the process to get like your goods into Europe. So this would also make sense to start in Germany and go to all other European market, Spain, Italy, and anything else.
Bradley Sutton:
Now, you know, here, here in the USA, you know, obviously, you know, we teach people use Helium 10 Black Box in order to find opportunity. And we put in, you know, what is good search volume is different. You know, like we usually the main key word, you know, you'd want it to have at least 10,000 searches. But you can find opportunity, like, you know, 2, 3, 4, 5,000 searches is kind of like still on the lower end. And you've got some crazy high search volume, like collagen powder or something with a hundred thousand searches a month, you know, revenue, you know, maybe, you know, $5,000 a month is pretty typical what you might wanna look at, but in Germany, the market is a little bit small. What are some of the filters that you guys are using to find opportunity using Black Box for Amazon Germany? Like how much euros are you putting as the revenue? How much search volume as minimum, things like that?
Marcus:
Yeah. Like it also depends what your goals are, but like for revenue, I would like at least go to like 3,000, 4,000. I mean, I have a student who told me, like last week that he goes like for a product that maybe make like him 1,000 a month, but he has like started 10 products in six months. So he goes like the easy low hanging fruits and picking them up. So it's like your strategy.
Bradley Sutton:
Okay. I like it. I like it. Now let's go back to Adrianna. You know, you mentioned how the products you, you launched recently were better because now you're using tools and you just kind of like, you know, winged it on the first ones. What's the difference of then and now, so like you said, now your products are more successful than the ones that you launched before. Why do you think that is? Like, what did you do differently?
Adriana:
Well, first of all, what I did was study because I was, I was looking for information all over YouTube. Right. And the thing is that you can find sure you can find good information in there, but you can also find very misleading information. People, you know, just hop in there and just share whatever. And so I started watching the Helium 10 YouTube channel actually and listening to the podcast. And then just going through, I remember I took the freedom ticket too. That was a game changer for me and I just started doing the proper Keyword Research. I just didn't know how, yeah. I just didn't know what to do with keywords.
Adriana:
Do you remember how you found, like one of your products, like what, like, was it Black Box or you just like searching randomly, went on a rabbit trail ordo you remember some of the filters that you used or how you came across it?
Adriana:
I don't know if I remember the filters that I used, but I remember actually the product that is doing the best for me right now. I found it on Black Box and I remember finding it and not really knowing what it was, because I don't really, you know, I hadn't really used it before or it's it's fora specific hobby. And I was like, huh, I don't know. But then I just like, started looking at that competition and I remember using Xray to kind of see how other people were doing. And I noticed it was wide open, wide open. AndI was like, okay maybe I don't–
Bradley Sutton:
What did you say it was wide open? Like what did you see that told you, "Hey, there's opportunity here."
Adriana:
Yes. well, I saw most listings had, you know, maybe 50 reviews tops, and then the listings for the competitors. One of them had kind of a good listing, but I remember seeing the other listings and they had, you know, the images were not really great. And then I saw the titles because I remember learning this way back that the title is very important. You have to have that main keywords in there. And I noticed that the keywords there were like all, you know, jumbled up. Like they weren't in phrase form, et cetera. So I was like, okay, maybe I really just like, started spying on my competitors and being, you know, trying to see what they were selling. And I know this day were selling all different types of products. So I figured that it wasn't, there wasn't a brand per se, right. A strong brand in there. So that's that I was like, okay. Maybe. So I just checked with suppliers checked basically the cost of what it yeah, basically of the product. And I went with it.
Bradley Sutton:
Okay. We're gonna get back Adriana and Marcus to some of your Amazon strategies, you know, towards the end. But right now, let's talk about what you guys are doing here at Helium 10 because this is gonna involve a lot of the community out there. So your official titles are Brand Evangelist, however, your international ones. So, Marcus, you're gonna be, you know, mainly focused on the German speaking mark place or German speaking community of Helium 10, not just, you know, like you said, you know, there's people in Dubai and people in all over, and then Adriana, of course, the Latin American market, the Spanish speaking, Latin American market, but Marcus, what can we be looking forward to in 2022, as far as some of the things that, that you're gonna be doing now in this, in this new role?
Marcus:
Yeah. I'm really exciting about what's to come like next year. You can expect everything that you know, from Helium 10 today you can expect YouTube, you can expect trainings, videos, but we will also meet up in person like Bradley and I, we met the first time in Frankfurt at the convention, so yeah, that's scheduled. I will go to convention in the German speaking market and like make meetups and meet you guys in person.
Bradley Sutton:
Yep. That's awesome. Now, Adrianna, same thing for you, will you be doing all those things that, that Marcus mentioned for, for the Spanish speaking market as well?
Adriana:
Yes. I'm excited to do demos to do webinars to do I guess talking with other people also that are selling either on, on the us or in Mexico basically with Spanish speaking affiliates as well. I'm excited basically to translate everything that's on the Helium 10 website and YouTube and all that, all of that content blogs even in Spanish. So people can learn this content better if Spanish is their preferred language. So I'm excited about that.
Bradley Sutton:
That's awesome. All right, now guys, we have a even bigger announcement today of something new that's going for the Spanish and German markets. And that is, we are now launching our Serious Sellers Podcast in both German and Spanish. And actually the very first episode should be live right now. So if you are a German speaking person Marcus, what should they search for in the Apple podcast in Spotify? What, what's the new Serious Sellers Podcast German called? What should they search for?
Marcus:
They can search the podcast name. They already know Serious Seller Podcast and add auf Deutsche in German.
Bradley Sutton:
Auf Deutsche. All right. So guys do that right now. Even if you're not a German speaker, you know, go ahead and subscribe to it just to help our initial launch. This is the Maldives Honeymoon launch for a podcast. I need you guys to do search, find, buy, you know, it is okay on Apple podcast but seriously, like everybody who's listening to this, go ahead and help us out, you know subscribe to it. But especially of course, if you're speaking, if you're a German speaker you'll wanna subscribe it and pay attention to that podcast. Adriana, what is it called for the, the Spanish market for yours?
Adriana:
Yes. So for Spanish, Serious Sellers Podcast en Español
Bradley Sutton:
That's podcast. Yep. Perfect. So everybody find that one subscribe follow it, you know, put it on automatic downloads. And the first episode is up. Marcus is his first episode, what kind of things are you talking about in your first episode thatpeople can, can go to now? If they find it.
Marcus:
Yeah, I will start off like with an introduction and I've got some news on Amazon plan, like telling up what's important in 2022. And I have interesting guest I'm really really excited for. It's no other than Bradley Sutton.
Bradley Sutton:
Oh. Okay. Okay. How about you Adriana? I heard you have an interesting guest for the first one, too.
Adriana:
Yes. I have a very interesting guest joining me on the first episode. It's Bradley Sutton, of course. And we chat there. Well, we get to know a little bit about Bradley's journey, my journey as well, and why we decided to launch this podcast in Spanish.
Bradley Sutton:
Yep. Did you guys ever hear the first ever Serious Sellers Podcast Episode?
Marcus:
Yes.
Bradley Sutton:
You did. Okay. So do you remember who I was with
Adriana:
Yeah Manny Coats
Marcus:
It was Manny.
Bradley Sutton:
Yes. It was Manny. So Manny, you know, obviously started the AM/PM Podcast, you know, actually that was before Helium 10, you know, how Helium 10 started was Manny Coats started the podcast talking about his Amazon journey on the FBA high rollers, which still is a podcast, a very popular podcast now hosted by Tim Jordan. But that's how Helium 10 started as a podcast. And then as we grew, we're like, you know what, let's switch gears and let's do a different kind of podcast. And the Serious Seller Podcast is born. But very first episode, I came on, you know, with Manny and it was kind of like a passing of the torch or like an introduction. So I was able to do that, you know, for the Spanish one, with my broken Spanish there, hopefully, you guys can understand me, but you guys are gonna be handling these pretty much, you know, completely on your own, but it's gonna be a similar vibe we're gonna have, you're not gonna be only interviewing gurus and things like that. Right. Marcus?
Marcus:
Yeah, definitely. Like we want like all kinds of guys, we want like guys here like you can even identifying with like, as a beginner, like people who just started out and share their journey who are like intermediates and like, are doing well. And of course, like, we want to have a couple of guys whose big numbers on it. Like it will be interesting.
Bradley Sutton:
Yep. And same thing for you Adriana you even have a few guests lined up already. Right. Who one of your– who's your first guest after me?
Adriana:
Yes. I'm excited. I will be talking with Vanessa next week. I'm excited to learn more about her journey and we will be talking into other guests that are just starting actually even people that are considering starting a business. Right. So people that are hesitant perhaps, or don't know if this is the right fit for them business wise. So we'll have everyone in here so everyone can relate and hear their stories.
Bradley Sutton:
Awesome. Awesome. All right. So let's go back to just, you know, let's close this out. I'm not sure if you guys, I hope you guys are gonna be doing something similar to our TST 30-second tips, obviously, that might not translate completely to German or to Spanish, but hopefully, you guys do some version of that because that's what our listeners like, but let's, let's go with your 30-second tip of the day could be about Amazon, Germany. Marcus could be about product photography since you have a lot of experience on that, but what is your 30-second strategy or tip for the day for our listeners?
Marcus:
This is a question I was recently asked on a YouTube video. Like if it makes sense to add video to your product. And my response is yes, absolutely. This is like opportunity to show how your product is used and show advantages that you may cannot show in just text or photos, or this is like a level up for your listing when you make money with it. Definitely add video.
Bradley Sutton:
All right. Video, love it. In Germany, in Amazon Germany, is it similar to how it works in Amazon USA? Like you can add it if you're brand registered or has one of your images, and then do they also have the related videos also at the bottom of Amazon listings in Germany, or they don't have that there?
Marcus:
Yes, they don't have that yet. It's the same process you have to your brand first and show that it's officially registered and then you can change, you can swap your last picture slot in your product listing with a short video.
Bradley Sutton:
Okay, cool. Adriana, what's your, what's your 30-second tip of the day.
Adriana:
I would focus on making sure that I find a niche that has basically that the competitors don't have the main keyword on their title. So the way to find this is by using Black Box, the filter that's called that basically for the Title Density. And I would just make sure that I am one of the few that has some of that main keyword or like the bigger keyword that the sales driver keyword on my title. And that's an easy way to make sure Amazon gives us some rank juice, basically.
Bradley Sutton:
What do you put when you do that? What do you put as the max number in that filter?
Adriana:
I mean, I guess it depends, but I would like to see, I would like to find a niche where no more than five other main competitors have the keyword on the title.
Bradley Sutton:
Okay, cool.
Adriana:
I think that would be enough.
Bradley Sutton:
All right. Now, just a couple sentences in your native language to the listeners in German and Spanish you know, inviting them to follow you on the podcast or, something like that. So let's start with Marcus.
Marcus:
Yeah. (Speaking in German).
Bradley Sutton:
I dunno, he sounds like a James Bond villain or something like that. I love that. I love it. That was awesome. (Speaking in Spanish).
Adriana:
(Speaking in Spanish)
Bradley Sutton:
I love it. I love it. And guys, if you're out there and you're a German speaker, you're a Spanish speaker and there's something we didn't mention that we haven't planned. Like, you know, we mentioned we're gonna be at conferences. You mentioned, you know, doing some training videos in German and Spanish and the podcast. If there's something we didn't mention, you know, that you would like us to do in, in those languages reach out to [email protected] and say, Hey, this is a suggestion for you know Adriana or Marcus, you know, what we would like to see. So Marcus and Adriana, welcome to the Helium 10 family. It's great to have you on board. And we look forward to the kind of value that you're gonna be giving to our international markets in the future.
Adriana:
Thank you.
Marcus:
Thank you so much.