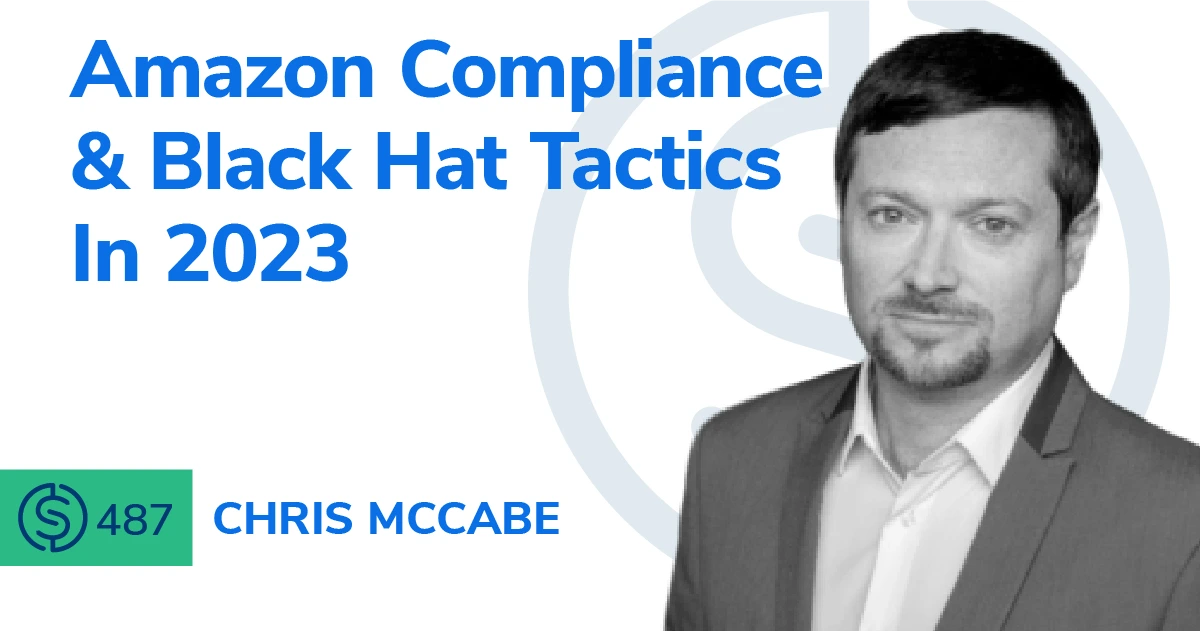 #487 – Amazon Compliance & Black Hat Tactics In 2023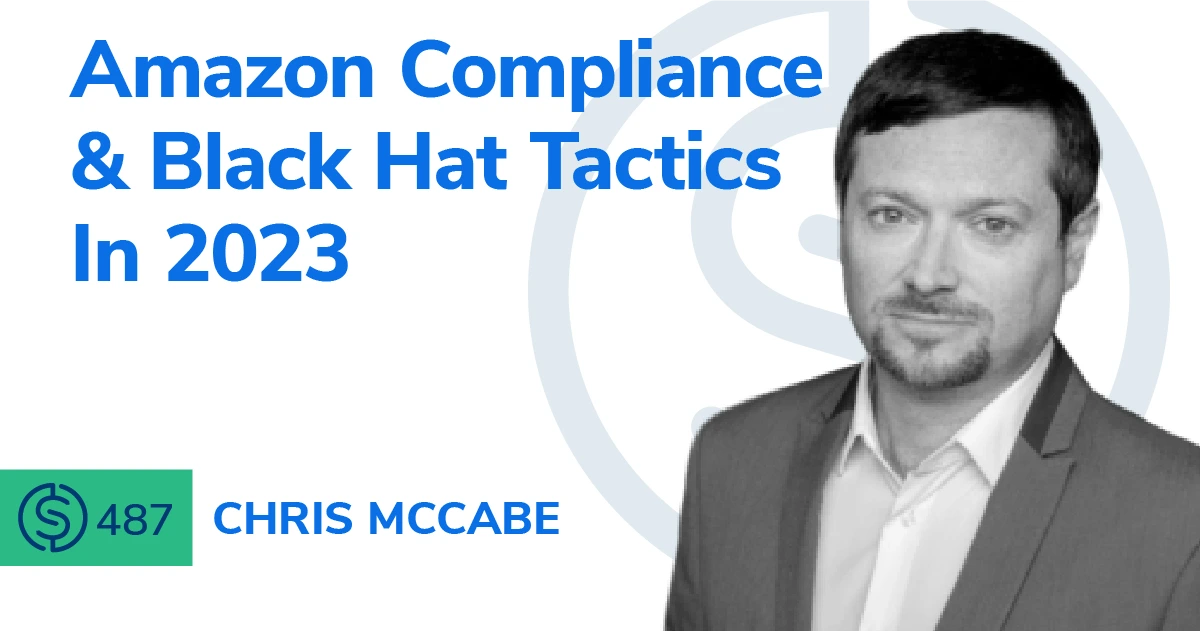 Video of the episode at the bottom
Chris McCabe calls 2023 a "wacky and wild year" in the Amazon space. Tune in as he dives into key events and trends that have shaped the Amazon-selling landscape. From the headline-grabbing antitrust lawsuit, FTC vs. Amazon, to how the new Inform Act has been affecting sellers in the US, we dissect the topics that matter.
In this episode, discover what common mistakes Amazon sellers are making and the consequences they face. Our expert emphasizes the critical role of interpreting Amazon's policies accurately to maintain a thriving seller account. We also tackle the challenges of managing multiple Amazon brand accounts, shedding light on potential issues that arise. In an insightful twist, we explore Amazon's rollback of account enforcements in 2023, Brand Registry revocations, and offer a cautionary note on the rise of new blackhat tactics that sellers should be wary of.
Lastly, we talk about the rollout of a new module for Freedom Ticket with Chris McCabe, and don't miss out on the Seller Velocity Event, a must-attend gathering for anyone seeking to excel in the Amazon marketplace!
In episode 487 of the Serious Sellers Podcast, Bradley and Chris discuss:
02:34 – 2023: A Wacky And Wild Year In The Amazon Space
04:17 – Antitrust Lawsuit: FTC vs. Amazon
10:52 – A New Module For Freedom Ticket With Chris McCabe
14:15 – What Are Amazon Sellers Getting In Trouble For?
15:18 – Interpretation Of Amazon's Policies Is Vital
16:07 – Talking About The Inform Act
17:55 – Join Us For The Seller Velocity Event
20:58 – Issues With Having Multiple Amazon Brand Accounts
24:53 – Amazon Rolled Back Account Enforcements In 2023
25:45 – Watch Out For These Blackhat Tactics In 2023
27:07 – Amazon Brand Registry Revoked Issues
29:56 – Top Amazon Policy Compliance Tips From Chris
31:39 – Buyer Messaging Issues You Could Get In Trouble For
33:55 – How To Contact Chris McCabe
Transcript
Bradley Sutton:
Today we bring back one of the world's foremost experts on Amazon suspensions and compliance issues, and he's gonna give us an update on things that's gonna get you in and out of trouble. How cool is that? Pretty cool I think.
Bradley Sutton:
Black Box by Helium 10 House is the largest database of Amazon products and keywords in the world outside of Amazon itself. We have over 2 billion products and many millions more keywords from different Amazon marketplaces, from USA to Australia to Germany and more. Use our powerful filters to search through this database for pockets of opportunity that you might wanna get into with your first or next product to sell on Amazon. For more information, go to h10.me/blackbox. Don't forget, you can save 10% off for life on Helium 10 by using our special code SSP10. Hello everybody, and welcome to another episode of the Serious Sellers Podcast by Helium 10. I'm your host, Bradley Sutton. And this is the show that's a completely BS free unscripted and unrehearsed organic conversation about serious strategies for serious sellers of any level in the e-commerce world.
Bradley Sutton:
And we've got a serious person here. Chris is one of the very few who have been on the podcast now four times. As you guys know, we have like one per year kind of like rule kind of thing. And, and we don't always invite everybody back. Like we try and invite back the ones who everybody kind of request because they're either very interesting or they have interesting topics or both, like in Chris's case here. So if you guys wanna get the, we're not gonna go full on into his backstory. If you want to check out some previous episodes, guys, you got a pen. He was first on episode 24, way back in 2019, episode 24 of the podcast. Then he was in 151 and he was also in 278. So we covered lots of things, but these are, you know, I would say just go to 24 to see his backstory.
Bradley Sutton:
But when we talk about the topic we're talking about today, which is, you know, like compliance and, and legal things and stuff, I would almost say that those older episodes don't, don't even listen to it because these kind of things change like every year. And so this is the episode that you guys want to listen to because we're gonna talk about what is happening here in August, September of 2023. And a lot has happened in 2023. But first of all let's just see how you doing, Chris, you know, I've seen you a couple times in the past few months in different parts of the world including Japan. How's your travels been?
Chris:
Japan was amazing. I spoke at an event in Istanbul, which was also interesting. This is the first year, by the way. Thanks. And kudos to you for doing unscripted. I like this. One reason I like coming back over and over is because of the authenticity of this podcast, and thank you so much. The approach you use, which makes it not only enjoyable, but informative and also fresh and different and interesting which given, appreciate that giving a lot of content out there. Not even, not even podcast glut, but like Amazon related content. That's one reason why this is, you know, one of the better podcasts out there.
Bradley Sutton:
Thank you so much.
Chris:
It's always a pleasure and privilege to be back on. I like what you said also about 2023 has just been a wacky and wild year for, I don't even know how many reasons we can touch on in the next, you know, 45 minutes. But it's been so zany to the extent of even a seasoned veteran like myself has been kind of impressed. And it does, it doesn't or it does take a lot to impress me in this space because sometimes I've had trouble predicting what Amazon's going to do next. And sometimes I've also had trouble predicting what business owners and sellers and even service providers might do in reaction to things Amazon's doing. And to top it all off as of today recording, you know, we're recording in August of 2023 on the cusp of the filing of the antitrust lawsuit by the FTC and the government against Amazon. So it's just a crazy way to start Q4.
Bradley Sutton:
Let's talk about that real briefly, because I don't know, you know, maybe you have your own opinion. I'll give you my opinion and whether it's right or wrong, still, just my opinion, it doesn't really count for much. But when I, when I first talked about that, that story in the weekly news, I was like, you know, I was reading these stories about how the head of the FTC is like kind of banking on this being her big bang. And I'm like, this is not the right move if you're looking to make a splash. I'm not sure if she understands the Amazon seller's viewpoint, but for me, there is a lot of problems that Amazon sellers have with Amazon. You know, like, like it's not perfect. Everybody understands it, but we still love Amazon. But if we were to pick something that we wanna, like, go against Amazon for the preference to FBA listings or prime listings would be like maybe 75th on, on the list.
Bradley Sutton:
Because like we, we love FBA, like, it makes to me, we, I say we, but I love FBA, it makes sense to me that the algorithm would favor FBA listings because I'm not gonna deliver in one day to customers, you know, like, I can't, I mean, sure I could, but I'd be paying FedEx $40 in order for that. You know, like I have zero problem with Amazon prioritizing FBA, not to mention now they're bringing back seller fulfilled prime, which almost negates this whole thing of oh, only FBA things. But is this kind of like your take as well, or do you have a little bit different on this?
Chris:
It's such a big topic. The first thing is what's the history of lawsuits that tried to break up companies? Most people think back to the 1980s and Atlantic Bell and Pacific Bell and Southern Bell had to be split up from Bell, right? Bell was a conglomerate. They, they wanted to split it up into regional pieces. But I mean, aside from the Bell case, and then I think it was 1984, how many other companies have been broken up with antitrust lawsuits? Yeah. Not that many.
Bradley Sutton:
Yeah.
Chris:
So you start from a position of you are not expecting Amazon to be broken up. Disclaimer, I'm not an antitrust legal expert by any means. I'm an interested observer like you are, like a lot of people are. I probably know a little bit more about it than the average person or the average Amazon business owner, because I was one of the subject matter experts for the House subcommittee's investigation back in 2020. So of course I was on calls with people who were investigating it. I'm cited in the report, this is in a secret, this is public knowledge, but I'm not, that doesn't makes me by no means an antitrust lawyer. Yeah. I am still looking at it in terms of my interest in how the marketplace shakes out.
Chris:
Not AWS I don't spend a lot of time thinking about AWS and some of the other parts of the Amazon universe like you, I'm thinking about brands and Amazon sellers, and especially anything that would impact our clients or future clients. And so it'll be interesting to see how this topic shakes out from the seller perspective, because I'm not sure people really know or understand how it will, it's definitely gonna come up at the Seller Velocity Conference that, you know, we're co-organizing with Helium in the fall, October 11th and 12th in New York. But when the lawsuit is filed, which will be pretty soon, maybe after Labor Day, I think that's when people will start showing their cards a little bit, and then I'll kind of come back with maybe more of an assessment on, Hey, this is like really far wide ranging investigation that's led to a far reaching lawsuit, or will they narrowly define what they're interested in here? I think it's just gonna be a fascinating chapter in Amazon's history. And Amazon to a certain extent right now atleast controls the chart and path of e-commerce history, and we're all e-commerce enthusiasts. And we're all interested in entrepreneurship and brands and brand expansion. I mean, it's one of the, the main focuses of the Seller Velocity conference every year. So how rough and tumble it gets. I don't know.
Bradley Sutton:
I just think that in general, you know, like sometimes there's people out there, there's influencers who try and always be antiaz Amazon and this and that, right? But when it comes down to it, guys, not one of us should ever be rooting for something like this to happen whether we think Amazon is right or wrong. Because if something like this ever goes through, well guess who's the ones who's gonna suffer. It's gonna be us as sellers, you know, our fees are gonna go up and, and it's gonna be more difficult to do things. So like but anyways, yeah. Let's not harp too much on this because it's still a lot of speculation still too early. Let's talk about what's affecting sellers, you know, nowadays. And actually just interestingly coming up on Freedom Ticket, you have recorded or are recording, I believe, by the time this episode airs a brand new module for, for Freedom Ticket even, right?
Chris:
Let's start with that because I've been working on that a lot this week. Nice. Still putting on the final touches, and I wanna make sure Helium 10's happy with it before you post it and publish it. But I've enjoyed doing it. I think it's important material. It's all geared around avoiding account or ASIN suspensions and I think it's really important, especially it's great that you're launching it ready for Q4 because of the compliance issues, because of the nature of compliance investigations on specific listings. Because I can't tell you how many times we hear from brand owners who have their hero product, their ASINs, that are giving them the most revenue per day, per week, per month, suddenly flagged for review, suddenly suspended. In some cases, Amazon just hints that they're going to suspend it, but they don't tell you whether or not they've decided yet, which is a bit tricky.
Chris:
But it's better than having them suspend those listings outright and just saying, yeah, well now you're in the reinstatement strategy protocols, and that can go either way. That can cut good, that can cut bad. Because that puts sellers back on their heels in terms of, well, are you ready for this? You might have only had a day or two to prepare to have to appeal for your bestselling ASIN to go down. And as you know, we work with brands that if they lose a top selling ASIN some of our clients, they're losing 40 or $50,000 every day that that listing's down.
Bradley Sutton:
Yeah. So guys, if you want to get the full module, those of you who are Helium 10 members, just go hit the Learning Hub, and then go to Freedom Ticket 3.0, and then go to week two, and it'll be right here in 2.14 is where Chris's module will be. Now we don't wanna just give away the whole thing right in here, but just in general, 2023, what are the main things that people are getting in trouble for legitimate, you know, like, obviously there's always new Black Hat strategies that are out there. Course, and we can talk about that, but, but what about legitimate sellers, maybe unknowingly are getting in trouble for in 2023? And
Chris:
I'm glad you mentioned there's always black hat. So Amazon is overcompensating for some of the Black Hat by punishing sellers that haven't done something wrong and accusing them of harming another seller or harming a competitor. There's a huge spike in complaints to Amazon from brands complaining about other competitors attacking them. So we are getting some clients who are falsely accused of it, who have to dispute it. So there are people that will start getting some messages. We've detected some behavior where you've harmed another seller, not so much that you've damaged buyer experience. It's not so much about buyers that you've attacked another seller in the marketplace. We can set that aside for now. I definitely address that in the module because it's important. And as we've seen, sometimes Amazon over enforces just to make sure they get all the bad characters right?
Chris:
It doesn't mean it can't be fixed. It doesn't mean it can't be appealed. You can definitely fix it and appeal it. But beyond that there's a lot of listing violations that are being flagged for a variety of reasons. Some sellers have created listings erroneously for a while, and they were never flagged. They were never reported, and now they're getting reported and they're confused. We've been doing this for two years, for two months. We've been putting certain terms, let's say certain claims like health claims in the title. We've been using certain health claims in back, let's just say supplements, right? For example, we've been putting certain health claims in backend. Keywords are in the title, and we were never flagged before. Why are we getting flagged now? It could just be because they've never been reported for doing it before.
Chris:
So a competitor did report them, the report was from the competitor, but it was a valid complaint. It wasn't an unsubstantiated attack. So I think some sellers are suddenly put back on their heels by these investigations again, they might just get a note saying, you're being reviewed, you're not necessarily suspended yet. Or, it's an auto suspension because of the keywords they're using that the terms they're using that should have been deleted. Some of it's the sellers themselves doing it and not realizing they're making mistakes. On some occasions, we've seen them hiring outside agencies or consultants that don't know compliance. They're marketing people, the revenue generation people, their salespeople, but they don't know the policies. And sometimes they don't know the laws, the relevant laws, or the FBA, you know, or the EPA, let's say agencies and how they've interpreted the laws.
Chris:
So it's kind of like the same as getting into trouble with Amazon because you interpreted policy one way, and Amazon interprets it another way. You always have to kind of change how you interpret it and make sure you match Amazon's interpretation. Yeah. unless they're wrong, there's always the caveat. If Amazon's interpreting their own policy incorrectly, and I can tell you this, and Leah who works with us can tell you this all the time. Amazon interprets their own policies wrong. Some, occasionally it's going to happen to everyone at some point, but for the rest of the time, you have to make sure that your interpretation of their policies matches their interpretation without really thinking that you can just battle them backwards and force them to take your way. Because we've seen some sellers and some brand owners grab a lawyer, they think they can get a lawyer to write a letter for them and send it to Amazon and back Amazon off. If there's no legitimate standing to that argument, that's not going to be any more effective than a seller support case.
Bradley Sutton:
Okay. Now I think that something that everybody was scared about, you know, two, three months ago obviously, was when the inform act came, and then people were getting like, Hey, your account's gonna get suspended. But, you know, the dust has kind of settled. Amazon like admittedly, they didn't have a good rollout. The system was broken and, and people were getting messages, even though they had done stuff, and it was kind of crazy. They would say, you need to submit your postcard. And then, and then before we even got the postcard and the message disappeared, so you're like, Hey, is everything good? And like, I have not heard of any, like, mass suspensions or, or things like that, but do you have anything you say about this? Like just moving forward, like, just to put a lid on this, like, Hey guys, just if you're a new seller, get all this in a row. If you haven't done something, do this. Or can we say about the whole inform act stuff? Yeah.
Chris:
And I can do that pretty quickly and concisely. The Inform Act is did not result in a giant batch of suspensions. That's one of the feel good stories of 2023. We did hear from some sellers suspended, we did work with people to iron that out. It was a fixable problem in most cases. Some sellers, I think, were slow to react to the Inform Act and didn't get their paperwork straight, didn't get their documentation consistent. And some people panicked, appealed the wrong way. That's typical of suspensions. Most of them were able to get it resolved before they got suspended. Some people had to do it after they got suspended. But account verification suspensions are kind of what the Inform Act stuff morphed back into. And verification and identity verification is with us forever. Amazon's trying to improve their KYC, their know your customer procedures.
Chris:
Even they were even doing that before the Inform Act was passed, and there's a good reason why they're doing it. And there's a good reason why banks have been doing more to bolster their KYC procedures. That's just the age we're living in. Know, your customer is something that every platform, every business, everyone needs to pay close attention to. Because if you're not paying attention to who sellers are in the marketplace, example, then you, Amazon could be exposing their buyers to actors, bad actors, or misleading misrepresented business owners. And it reflects badly on them and their reputation for managing the marketplace. So yeah, as long as you understand that verification procedures are serious and you're not really loose with your documentation, you understand that everything in Seller Central has to match up with the documentation you present, whether it's your name, your address bank statements and so forth. You should be. Okay.
Bradley Sutton:
Tell us a little bit more about the seller Velocity conference coming up. Like the last year, Carrie went, I wasn't able to go, so this is gonna be my first time. So I'm just interested what, what I can look forward to. I know what I'm gonna be talking about, and I'm gonna be presenting, but I don't know. You know, like how many people are, are you expecting. What kind of activities you have, et cetera.
Chris:
Yeah. We're expecting right around a hundred people, which is what we do. This is our, this is our fifth incarnation. We're going back to New York City this year. That's where the first one was in 2018. I'm sure you'll have lots of info in the notes about it. It's a two day event. We have a networking heavy event on the second day of the event. The first day is the conference, so-called Conference day, which will be in Midtown Manhattan. We got great speakers like you. I mentioned Joe Kovac earlier. We've got Janelle Page, who a lot of people in the community know she's gonna be our MC this year. So you won't have to listen to me J Drone on and on. You can listen to Janelle, who's a lot more exciting to listen to than I am.
Chris:
But the theme this year is going to be optimizing performance as a means of driving your brand's growth on Amazon or beyond Amazon. And we focused on this this year because we're really seeing that competition, competition, at least on Amazon, is unprecedented. You have to have such a tight game now. You can't afford to learn as you go. You can't afford more than a certain number of mistakes per year, whether it's in your ads, whether it's in your account, health management whether it's in ASIN creation, listing content and detail page content. You really have to have a well-rounded, highly tuned game all the time. You know, we even have started telling people in terms of their communication strategy with Amazon to start writing drafts of potential appeals they might have to have in place just in case lightning strikes.
Chris:
So you won't be left scrambling trying to figure out how to escalate, how to appeal for reinstatement. Again, not being caught unaware and rolling back on your heels when account health calls you or compliance teams come knocking on your door. Have the game plan in place before things happen, because I can guarantee you some of your competitors are thinking that way and they're worried about things maybe before you worry about them, or they're planning for a rainy day before there's a problem. It doesn't have to be a problem with Amazon directly. It could be a problem with a competitor who's really savvy, who knows how to game the system, who knows how to make you look bad, let's say. Or they simply know how to make themselves look better than they're supposed to look because they are getting away with padding their reviews or something like that. Those things matter. Those things directly impact sales rank. So those are the types of topics and many more that we'll be covering this year.
Bradley Sutton:
Cool. Cool. All right. So guys, if you want to register go to h10.me/velocity, h10.me/velocity. What about, you know, another thing that I kind of wanna put a lid on, because I always hear just conflicting things is, you know, from Amazon even and that's the matter of multiple accounts. I think everybody understands that, whether they get approved from Amazon or not you gotta have different bank accounts and different entities, and there's gotta be a reason, you know, and stuff like that. But then the differing thing where people talk about is, oh no, you don't need to ask Amazon permission anymore. Just go ahead and do it, and it's all good, and you're not gonna have to worry about it. Now, I mentioned this just 'cause literally last night, somebody at our company at Helium 10 she's been wanting to start her own Amazon business, and then somehow her name was, I don't even know, like she was never an admin on this other account, but we had a company account, like a company, it wasn't even the Project X account.
Bradley Sutton:
I don't even know what account this was, but she got her new account shut down saying, oh yeah, we think you're the same as this person. So on one hand I'm like, well, if this is not even an issue anymore, and it's not even the same, it wasn't like, you know, with her social security number or something, she had started another account, or I mean, it, it was just that she worked for a company, Helium 10 that had this other account. To me, it's still an issue then of, of this whole multiple account thing. It's not something that just, you know, you can just be, yeah, lemme just start seven accounts, and I don't even have to ask Amazon. Like, is this just a outlier experience or do you still need to be careful when starting new accounts?
Chris:
It's true that you don't need to ask for permission in the old days. Back in my Seller Performance days, you had to ask for permission until Seller Performance. Granted it not Seller Support, Seller Performance, the team I used to work on had to give you written permission. Those are the old days. Basically, they didn't want a deluge of emails asking them if they could have, you know, spend time looking at whether or not it was justified. So they basically said, here's the policy. You need to read it, understand it, and make sure you don't violate it. If you do violate it, we'll come knocking on your door. But here's the policy. We think it's clear. Of course sellers might disagree how clear it is. What they're mostly interested in is not seeing a competitive advantage. Like if you have two accounts selling the same type of products, maybe not the same exact brand.
Chris:
If you have the same ASINs on two accounts, the same brand on two accounts, then it looks like you're just trying to create multiple storefronts so you can game the system and have a competitive advantage over somebody that has one seller account. That was the intention of the policy going back to my years of the company. And that's still the core piece that they're most interested in in terms of seller compliance. What a lot of sellers were doing wrong was they thought, well, as long as I have an account with a different LLC and a different email address and a different, bank account, well then the rest of it doesn't matter. They weren't thinking about is this a competitive advantage over another seller or not. And of course, the Amazon's interested in having a fair marketplace. It's not a fair marketplace if one seller has a competitive advantage over another, number one. Number two, all the copycats will come out and do the same thing. If it works, if Amazon lets anything go, anything goes, it's you. They'll slide by anybody. Then everyone's going to do it. And then you start getting into, I mean, we already know that a lot of accounts based in China are run by people who have dozens or hundreds of accounts, right? The message that your coworker or staffer got, I assume it wasn't about being related to a suspended or blocked account. It only mentioned multiple accounts.
Bradley Sutton:
Yes, I believe so. I didn't see the message, but that's what it sounds like.
Chris:
Probably a mistake. They're not really sending those messages that much anymore. Again, that's kind of what–
Bradley Sutton:
I thought too.
Chris:
Yeah. That's sort of another feel good story of 2023. People probably think we're always talking about dark clouds and bad news around here. No, that's the second good story is that they have rolled back multiple account enforcement, and I did some digging into it again, 10, 12 days ago when I was in Seattle. And I realized that a lot of investigators at Amazon, I think were sending that message in error. They were kind of grabbing the wrong dropdown, and in a lot of cases they meant to send a message about related accounts, but that was for related to a suspended seller, which is totally different than multiple accounts. And some investigators at Amazon were mixing and matching and confusing the two, which is alarming because those are two totally different concepts.
Bradley Sutton:
Yeah.
Chris:
For whatever reason, those mistakes are being made, I think most people in your audience, and, and most people in the Amazon seller community will tell you that they're seeing that message less and that's a good thing, and it's the right thing.
Bradley Sutton:
Okay. Alright, cool. Now let's switch back to the other thing we kind of alluded to about like black hat, you know, things, like every year, the main thing is, is is different. There's been, you know, black hat for themselves, they use brushing, and then as far as attacking other sellers, there's, hey, you know, they, they find listings where you know, in the past where maybe in other marketplaces they didn't, or in their market, their home marketplace, they didn't fill all their flat file out, right? So they'll hop in on some foreign marketplace and throw some adult keywords or health claims or something to get them all suspended. What's in 2023? What are sellers having to deal with where they end up having to, you know, maybe even get your help or it gets them in big trouble with Amazon before they get it fixed. Yeah,
Chris:
And I'm glad you brought up the international marketplaces, because it's not only just using illicit backend keywords in other marketplaces that you don't sell in, but also rights, ownership issues. People who research and figure out that you don't have a trademark registered in Canada or in the uk creating listings for your branded products in those other marketplaces, because they know that if you submit an IP claim without the trademark registration in that region, Amazon won't accept it and will reject it. They might even punish the brand owner for submitting an unsubstantiated IP claim. This is one of the big deals in 2023, is we've heard from a lot of brands who had their brand registry revoked for submitting false or unsubstantiated IP claims. And there's, that's a huge topic we could talk about, you know, 40.
Bradley Sutton:
I like that. I mean, that might sound like, oh, this is bad news, but oh my goodness, how many messages have I seen in Facebook groups where it's like, yeah, you know, like, I just got this message, and then I'm not really infringing, but Amazon just is telling me, oh, no, you gotta get the person who did this claim to revoke it. But it's like that person is maliciously even doing it in the first place, so of course they're not gonna revoke, you know, so it's like this vicious circle. So it's kind of good news what you just said.
Chris:
Yeah. I mean, it's kind of a good news, bad news. Obviously. The bad news is if you are not legally aware or trained and you start submitting IP claims all over the place, which has been a problem for a while, right? A lot of brands had brand registry revoked because they were submitting false counterfeit claims against resellers that they couldn't recognize or identify without doing test orders. And, or they would just send a note to Amazon, these people aren't authorized to sell our products, so we want you to take 'em down. So here's a counterfeit complaint, or here's a trademark infringement complaint. They didn't understand what they were doing. Or even worse, they were hiring a law firm that was helping them submit illicit IP claims simply because they wanted to collect more legal fees for something trendy, which is really scary.
Chris:
But of course, Amazon doesn't punish the law firm you hired, they punish you as a seller, and the buck stops with you. You have to understand where these rules and policies are. So the good news is we finally succeeded. I think people like you and me and others getting the word out, don't shoot first and ask questions later. Amazon tends to punish you for that. Make sure you do things the right way, right? If you want to deal with unauthorized sellers, control your distribution channels you know, you talk to people like Joe Kovac, who's one of our speakers at Seller Velocity this year in New York. But also you just make sure you go one step at a time very carefully before you make any claims that could get, you, get your whole account suspended for submitting illicit IP claims or get your brand registry revoked. So we've seen fewer people coming to us with that problem, which means the word is successfully getting out this year.
Bradley Sutton:
Okay. So based on what you're seeing around there, what are some just maybe tips that you can give to sellers out there on stuff they need to be a little, a little bit more careful about than before, or perhaps do something completely differently than before? It could be about any aspect of Amazon or even a Walmart, but what are some of the signs that you're seeing and how should sellers pivot a little bit?
Chris:
Yeah, and I think one of the issues is understand that either your agency or your consultant, or you have to have compliance people somewhere in your ecosystem that know the policies and know local laws, because you're not going to be able to make excuses later if you, you, and it's also, it's not just listing content, it's also the info on your packaging. We're still seeing people put offending language or violation language on their packaging itself, and sometimes they have to pull all of their items out of FBA when they make those mistakes. It's only happening for people that haven't thought about it before they created the packaging or before they created the listing, or before they hired people to do that sort of stuff for them. Understand that from Amazon's perspective, that's a you problem, not a them problem.
Chris:
They don't think it's up to them to tell you all the laws, all the policies. I mean, they post on the policy pages, but they think it's up to you to understand what compliance is, right up to whether or not you have to hire an attorney to explain it to you. And I think people understand now that they're going to lose out on a lot of sales to a lot of competitors if their competitors have their compliance act together and they don't because their listing's going to go down and go down for longer, and they might have to incur the cost of withdrawing inventory from FBA. And if their competitors had that all sorted out before they even went live with the product, then they're, they're losing sales rank too. The longer you're down for an account I'm sorry, an ace in suspension, the other guys are beating you on on sales rink as well. So you might have all this inventory, you can't sell, right?
Bradley Sutton:
Any, anything going on with reviews of late, you know, like the buyer seller messaging getting blocked, you know, I remember, that's kind of old news already. But you know, like some people didn't realize, Hey, I can't send an email and click the request to review. Or I couldn't infer that they give me a positive review, right? And now I can't, you know, do messages or, or Amazon gave me a nasty note because they didn't like my insert card, right? Anything new in 2023, we kind of like, similar to the last few years, similar
Chris:
I still see people who have five stars across their, the top of their insert that's considered asking for a five star review, even if it's unspoken or unwritten. Don't have five stars at the top. And just, the only thing I've seen lately on inserts, just if we're talking about inserts, is stay away from the, are you happy or, you know, do you have a problem with the order? Contact us. Here's how you reach us. No problems with your order. Do you mind leaving us a review? Stay away from that language that's still considered out of bounds. I've heard from a lot of people who buy from competitors and show me their inserts or show me whatever free gifts and discounts they're doing and, you know, report that stuff because that shouldn't be going on anymore. I know it's discouraging when you open a seller support case or you send emails to the abuse prevention teams and they don't answer, or they, unfortunately, sometimes Amazon responds and says, we took a look at what you sent us and there's no violation here, so have a nice day.
Chris:
I mean, it is discouraging when they do that. That's not the end of the story. They've done that with our clients too, and we still manage to get that done and get that reported because those sellers shouldn't be doing those things. So just be careful. Just because your competitors are getting away with stuff doesn't, you know, two wrongs don't make it right. It doesn't mean that you should be trying it too, and it doesn't mean it's allowable any more than looking at a detail page live on the site that shows somebody doing something and believing that it's permissible because you see somebody doing it at any given moment. I can look at any detail page on the site and find a violation. All it means is it hasn't been reported yet and it hasn't been Yeah. Actioned yet.
Bradley Sutton:
Okay. If you'd like to reach out to Chris to get some more help, you know, just go to hub.helium10.com. You can type in any search right there, ecommerceChris, and then just type in ecommerceChris, anywhere on the interwebs, and you can definitely be able to reach out to him. I keep telling, you know Leah, we need to make a ecommerceleah.com as well maybe, even if it's just a forwarding link to e-commercechris.com. We're gonna have to work on that. And
Chris:
A big thank you to you, Bradley, by the way, and Helium 10 support for this year's conference has been wonderful and enormous and very positive and encouraging from many of many Helium 10's teams and members. And it's refreshing that you guys are still creative and that you're open-minded and that you're interested in creating new and different kinds of content, not just on this podcast, but also for in-person events. Because without you guys, this year's Seller Velocity conference you know, would not be possible. So we thank you again for co-organizing with us and co-hosting.
Bradley Sutton:
Awesome. Thank you so much for having us, and I'll be seeing you there in a few weeks. Thanks. And definitely we'll have you back on for the fifth time next year.
Chris:
Great.
---
Enjoy this episode? Be sure to check out our previous episodes for even more content to propel you to Amazon FBA Seller success! And don't forget to "Like" our Facebook page and subscribe to the podcast on iTunes, Spotify, or wherever you listen to our podcast.
Get snippets from all episodes by following us on Instagram at @SeriousSellersPodcast
Want to absolutely start crushing it on Amazon? Here are few carefully curated resources to get you started:
Achieve More Results in Less Time
Accelerate the Growth of Your Business, Brand or Agency
Maximize your results and drive success faster with Helium 10's full suite of Amazon and Walmart solutions.