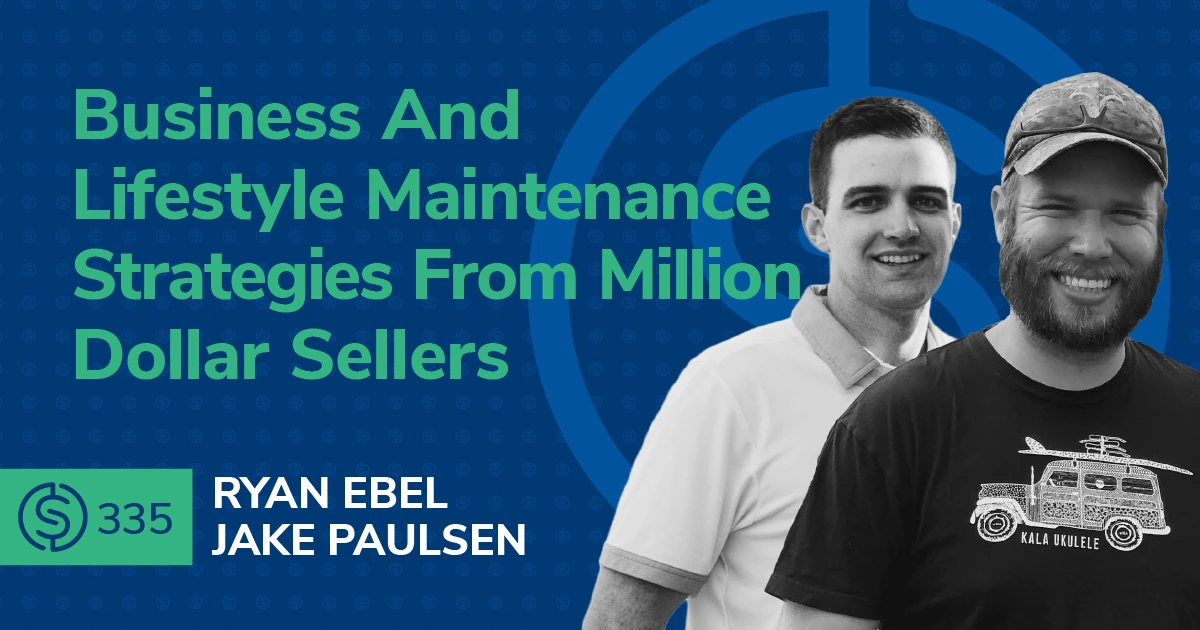 #335 – Business And Lifestyle Maintenance Strategies From Million Dollar Sellers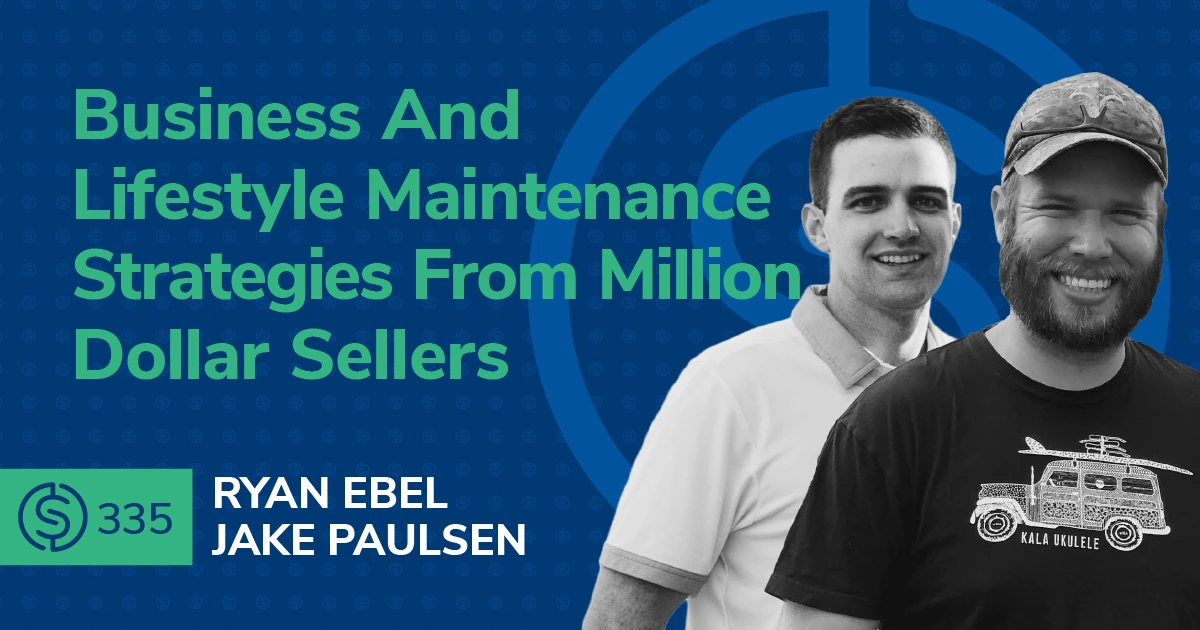 In this episode, Helium 10 Elite members Jake and Ryan are back to share the latest updates on their businesses. As an Amazon seller, what is the path you have to take to apply for home loans? What about medical and dental insurance for the family? They share their insights and tips, especially for those sellers who are just starting their Amazon career.

Make sure to listen to the very end as Jake and Ryan share their strategies for building teams, business growth, finding products to sell, launch tactics, supply chain management, and more!
In episode 335 of the Serious Sellers Podcast, Bradley, Jake, and Ryan discuss:
02:30 – Business Updates From Last Year
05:30 – A Quick Peek At An 8-Figure Amazon Seller's Lifestyle
08:30 – Getting Loans, Purchasing Homes, And Tips For Sellers That Are Starting Out
11:00 – Medical And Dental Insurance For Amazon Business Owners
12:30 – Jake's Setup On Managing Amazon Brands
18:20 – Building A Team And Growing The Business
20:00 – How Do These Elite Sellers Use Helium 10?
22:15 – How To Find Local Brands That Give Decent Margins?
26:30 – Jake's Criteria For Finding A Good Product To Sell
27:20 – How Did The Recent Supply Chain Changes Affect Their Business?
30:00 – Jake's Launch Tactics And The Benefits Of Brand Recognition
34:00 – Vietnam Shipments Helped Lessen Tariffs
35:00 – Getting Loans To Fund Their Businesses
37:15 – Ryan And Jake's Thirty-Second Tips
Transcript
Bradley Sutton:
What do you have to do differently for applying for home loans, gaining insurance, and more as an Amazon seller? What's the path of transitioning from helping a friend on his Amazon business to becoming a real company with a salary? We're gonna talk about that and a lot more with two sellers who combine make over 10 million a year on Amazon. How cool is that? Pretty cool I think.
Bradley Sutton:
What happens when you've grown your Amazon business, as much as you can and don't have the time or resources to take it to the next level. That's where Thrasio comes in. Thrasio acquires category, leading FBA brands from small business owners, just like you, and specializes in taking your brand to new Heights while you profit from the growth. When you sell your business at Thrasio, your deal could include a long-term, earn-out meaning you profit when your brand grows under their management. So if you're thinking about selling your FBA business, visit thrasio.com/helium10 to connect with Thrasio's deals team that's thrasio.com/helium10. For more information on if your brand is a good fit for Thrasio.
Bradley Sutton:
Hello everybody, and welcome to another episode of the Serious Sellers Podcast by Helium 10. I am your host Bradley Sutton, and this is the show that's a completely BS-free unscripted, and unrehearsed, organic conversation about serious strategies for serious sellers of any level in the Amazon or Walmart world. It's not Thursday when I'm recording this, but it's throwback Thursday. For those of you watching this on YouTube, you'll see I'm wearing the old school Helium 10 logo circa 2017. This is now a collector's item. It's gonna make big money on eBay eventually with my collection of the old logo. But anyways shout out to all you old timers out there who recognize this logo. A couple of those are probably on here on the call right now. We got Ryan and Jake. How's it going, guys?
Jake:
All right. I got my new logo on.
Bradley Sutton:
Yeah, Jake's up in the new Helium 10 logo on here. All right. Now, this is not the first time they've been on the podcast, actually, Ryan, this is like now his third time he's been on the podcast it's Jake's second. They were together in an episode last year, early in 2021. So make sure to check out that to find out a little bit about Jake's backstory and then go back to older ones to see about Ryan's back. We're gonna focus on a little bit different things than we normally do today, but before we get to that, I just want to just get an update on where you guys are at. You know, this is the first time we're talking in, in 20, 22, as far as, you know, looking at your, your last year of sales. So, Ryan, how was 2021, first of all, for you on the different platforms, Amazon Walmart, and the different ways that you're selling?
Ryan:
You know, we saw a decline in the private label about a 30% decline. And a lot of that was due to just being outta stock the first half of 2021. And that's partly due to increased sales in 2020 that we did not forecast happening. And then we also switched to Vietnam and we had some issues with that factory and the capacity. But the other stuff, the resell products that we do are still strong and yeah, have some plans for some new products to do, as well a brand to do.
Bradley Sutton:
Okay. Cool. Excellent. So, I remember the last time we talked you were kind of like, was it like mid seven figures there? Did you ever come close to hitting that 10 million mark overall? Or where were we at?
Ryan:
Yeah, so we were over 10 million in 2020 and we're still 10 million, in 2021. When you roll everything together. It was 10 million.
Bradley Sutton:
How about just on Walmart though? Like, was that also the similar trajectory or did that actually go up while Amazon went down for you?
Ryan:
I think Walmart's been pretty steady between 50 and 60,000 a month.
Bradley Sutton:
Okay. Excellent. Excellent. All right. Now, same question for you. Jake, what did you guys end up within 2021? Like, how'd you end the year? I know you had like different things that were on the rise. Like you were ramping up Shopify and some actual wholesale, you know, getting to some distributors. So how did it end up for you for the year?
Jake:
Yeah, I mean, overall Amazon sales, we actually ended up about the same as 2020, but we had actually cut a ton of SKUs. So it kind of seed out, which was awesome. We didn't quite hit our seven figure goal for our Shopify site, but it was almost three quarters the way there. And I think it's gonna be well on its way already this year. And actually, I think last month we did on the Shopify site, 50% of what that brand did on Amazon, which is a pretty big deal, cuz that brand accounts for like half our Amazon sales. So it's definitely moved in the right direction.
Bradley Sutton:
Okay, cool. Excellent. Now going back to you know, Ryan, this is we're not gonna talk too much about strategies and you know if you're doing something brand new and something new and exciting, we definitely wanna hear about it, but I imagine a lot of the stuff you were doing in 2020, 2021, 2022, just minor updates here and there. I'm sure we'll talk about that. But I wanted to focus on kind of like your life cycle as an Amazon seller. You know, you've been selling on Amazon for a number of years now, and you've found a groove, like who doesn't want to, you know, be reaching about 10 million in sales, you know, between your accounts and ones that you have with partners and things like that. But I'm just more interested in like lifestyle, you know, like I know you're kind of a humble guy.
Bradley Sutton:
You're not the kind who's gonna go out and Lamborghini and stuff like that. But like from people I'm sure you keep in contact with people that you went to high school or college with, like, what are some things that you've been able to do thanks to having Amazon as your business that maybe some of your fellow alumni's are not able to do or I'm sure some of them might be more successful to you, but I would imagine that you're one of the most successful ones from your graduating class.
Ryan:
Sure. So one of the things I did in 2020 was get a VA and that's been fantastic, cuz I was able to offload quite a bit of work onto her. And I've been working very part-time hours from home. So I was working from home for a while before, you know, COVID hit and now everyone works from home. But I used to have to make excuses why you could hear kids in that background, but nowadays it's like the perk is it's the normal everyone hears that. But yeah, I mean the thing that makes me a little different than people I graduated with is just the flexibility location time when you kind of systemize and have a VA, it really helps out so that we got Disneyland season passes, so we go frequent. And we'll go for a couple of days at a time and just enjoying my girls while they're young, they're three and one. So just trying to soak up all that time before they both end up in school and then we get a little more tied down.
Bradley Sutton:
It's like, you work completely outta the house, right? Like you don't have a warehouse that you have to go to every day or anything like that.
Ryan:
Right. It's 100% at my house.
Bradley Sutton:
And how about your wife? Does she work out of the house or is she stay at home as well? Like you,
Ryan:
Yeah, she is staying at home as well. She works at part-time pharmacist job that she can do remotely. So it's really flexible. It allows both of us to be around the kids, which is great.
Bradley Sutton:
What about payments? Like, do you own your house outright? Are you making payments? Do you pay cash for your cars?
Ryan:
So, yeah. I sold a small, it was a six figure it two years ago and with that money, we paid off student loans. I paid off the mortgage of our house and then I did replace my 20 year old car with the brand new 2020 version of that same SUV with cash. But two months ago we did just buy a bigger house cuz we needed more space and it's got it's on a half-acre. So we got a much bigger backyard. So we do have almost 50% of the value of in a mortgage. So we kind of went a little bit backward, but we did get a much bigger house. That's gonna allow us to be comfortable for the next, whatever, 10, 15, 20 years.
Bradley Sutton:
Okay, cool. I haven't bought a house in years, so I don't even remember what the process is like and credit checks and things like that. But for an entrepreneur like yourself, I'm assuming you're not, I don't know. Are you getting a salary? Like how do you get a loan at this point? Like, you know, since you don't have necessarily pay stubs, or do you have pay stubs?
Ryan:
Yeah. So it is very challenging to get a loan well if you're like 1099 or your own, if you own your own business, they really scrutinize that and makes it really difficult. So that's where the partnership, the brands that we have with partners really help me out. Cause I've got a couple of income sources, three of them. Two of them are W-2 and with my partners, I'm a minority owner. So I was able to kind of coast by there. One of the partners on the pet brand, he has his own company that I'm a W-2 employee on and I don't have any equity in that company. So I guess maybe that was the kind of loophole that allowed me to get through. But yeah, you're right. They did not wanna accept any of my 1099 income provided that you have to have like two years of steady history with that specific 1099 source, and even then it's still like, they're scrutinizing it.
Bradley Sutton:
All right. So like in retrospect for let's say somebody's in your shoes from you five years ago or four years ago, what are some things maybe you would've done differently? Like would you have set up a different kind of corporation? Would you have started, you know, 1099 earlier? Would you have done your accounting in a certain way that, because now you have to do it a certain way cuz you've been doing it for so long. Just things like that. What in re would you have changed that maybe, you know, somebody out there is listening and they were the Ryan from 2018 that you would've done differently.
Ryan:
Yeah. So I mean, consistency is key. If you do need to go get a loan, then you really do need like more than two years of history with whatever you're doing. So that's one thing the other thing is, I mean, yeah, we were structured as a C Corp, but we still are, and I don't think that's the best way to do it, but I do pull a salary a W-2 from that business. I think you can also do a W-2 through your S Corp. I know that there's benefits to not having W-2 as much you can save on those payroll taxes and try to do the dividends or distributions for the other part. But in terms of getting a loan and stuff, I think they'd much rather you have the W-2. And honestly, I think just me being a minority owner and not that 100% owner also helped out as well, kind of put the burden a little bit more on my partners in the way that these financing companies are looking at it. Also, my spouse's income if someone listening has a spouse that has a traditional W-2 job that a business that they do not have ownership in, that's obviously gonna probably take priority with these lending companies.
Bradley Sutton:
Okay. Now, now question for you on the subject at least is insurance, you know, like medical insurance and dental insurance, you know, like those who work in the corporate world, usually, that's part of your benefits package. Right. But, how, how are you making sure you and your family are covered? Like, did you have to get your own premium, get your own premium or something like, or is it through your wife's business? How's that done?
Ryan:
Yeah. So we do have to buy that independently. I'm a big fan of like Dave Ramsey or used to be and he's got these endorsed local providers, he calls them. So I just did a Google search for Dave Ramsey, endorsed local provider. He calls him ELP and then that came up with some people this one insurance agent, I think he's just in Arizona or whatever. And I guess the point is these guys go through a test to for ethics and all that stuff. So he offers me a really great plan that is very reasonable. I think it's like 500 bucks per month for the family of four. So I think we got okay insurance based on that.
Bradley Sutton:
That's not bad at all. Yeah. All right. Let's flip over to Jake now, Jake, you're in a little bit different boat, but kind of like clarify for me, like, are you a part owner at all of the company over the Amazon accounts that you work for? Are you just considered an employee, like, you know, the head guy, or do you have ownership in it? How, how does your setup work?
Jake:
I'm a guy on payroll just to pay yourself and people.
Bradley Sutton:
There's probably more people out there like you than there are, you know, possibly like Ryan here. So walk me back again. You know, I forgot how got set up. I remember, you know, how your origin story in e-commerce, but how did you get this exact job?
Jake:
Started working for a friend? I was kinda actually thinking about it yesterday. I've worked for Mark since like, '08 when he was a newspaper editor at a local newspaper. I started stringing freelance for them. And he had a business on the side that photographed running events all over the country, kind of started doing more there. And when iPhones and stuff came out, a lot of that revenue started changing because people were happy enough having a crappy little cell phone picture. And he read a book on flipping used books on Amazon. So that kind of started that journey. And we'd be driving all over the country and cussing at him for stopping at all these thrift stores. Take making the trip 10 times as long cause we're driving in a minivan and he started doing arbitrage stuff. And at a certain point, he couldn't handle it all. So kind of started helping, I made my own Amazon account and was doing it. And we were shopping at all the same places. So it's like, this is kind of stupid. I'll just help you. And I started at like a flat rate per month on the side. And now I think, I started full time with him in like 2014. So, I mean the businesses was started around.
Bradley Sutton:
Hold on. Let's talk about that. Cuz that's interesting to me because I, I like this transition too. It's similar to what I was talking about with Ryan. There's plenty of people out there. You got a buddy who sells on Amazon, or you are the Amazon seller and now you have a buddy that you want to come and work for you. So like back in before 2014 was kind of like under the table kind of thing where he gives you some money.
Jake:
I was kinda a contract employee. I had my day job, which was driving a box truck across Kansas delivering magazines to warehouses and that was salaried. And I was able to whittle down my route to like two and a half days.
Bradley Sutton:
Okay.
Jake:
So I had free time and I was still getting my 40 hour salary on that. Yeah. So I started going and prep product for mark and at a certain point, you know, we were getting enough inventory that he could pay me full time.
Bradley Sutton:
Okay. And then at that point around 2014, 2015, whatever you left the box truck business. And now you were like a full-time regular, like a salaried employee?
Jake:
Yep.
Bradley Sutton:
Okay. and how has that developed? How has that changed over time? If at all, or pretty much what you're doing now and the structure of how that works is the same as it was in 2016.
Jake:
I mean, it's similar in some ways but different in a lot. It started just me and him and, you know, a lot of it was done on just go and do there. That some things didn't probably have the structure they needed, kind of where we're at now, in the last few months we hired a salesperson for our largest brand. Cuz we're selling to Brick-and-Mortar stores that do tabletop gaming type stuff. And there's another, we hired a business consultant, John, and it kind of goes back to not being the smartest person in the room. Like he's really forced us to kind of drill-down and account for every penny. And, frankly, there's a lot of stuff that we didn't, you know, consider or put enough consideration in over the years. So, you know, I, we, we came back from our kind of holiday Christmas break and I got a new job title
Bradley Sutton:
What's that?
Jake:
I don't even remember. Basically, I'm in charge of all our Economy
Bradley Sutton:
The Chief doer of stuff.
Jake:
Right, right. That's kind of what my title was previously. It was something I made up and it did not involve chief was ridiculous. I'm an E-commerce Platform Manager and Logistics Coordinator.
Bradley Sutton:
So were you kinda like the first full-time employee that he had then?
Jake:
Yeah. After that he had–,
Bradley Sutton:
How many is on the team now?
Jake:
Like six.
Bradley Sutton:
And then were these just like, did all of a sudden it become not just like a friends and family we hiring, like you, you put out advertisements for hiring people off the street.
Jake:
Yeah. That's kinda where we're at now. Okay. Yeah. I guess the third technical employee was a, another photographer that we just had him doing used books. That's all he did. He'd go shop around the city all day. And, you know, when we cut books off because it was starting to get too risky that was around eight to 10% of our revenues still. But at the end of the day, it was a used item with not a great paper trail and Amazon doesn't care. So it became a liability which kind of sucked. But yeah, it's kind of crazy where it started, you know, to an arbitrage at Kohl's and whatever. And now we only sell our brands. We have a couple wholesale accounts that we just manage their presence on Amazon, but the rest of it's all our stuff.
Bradley Sutton:
Okay. Now you know, Ryan talked about, you know, hiring some virtual assistance. What about you guys? Are all of your employees are people who work in your accounts, all local, you know, right there where you all are at, or do you have virtual assistance from other parts of this country or other parts of the world?
Jake:
Yeah. Mo most of it's just all in our office. Some of the creative stuff, you know, we've always like some of the like box graphics and whatnot. We have guys we work with we've started kind of farming out some of the graphic work for like A+ Content and whatnot, and it's, it's been hit and miss cuz you know, a lot of those companies kind of farm it out elsewhere. So you're playing the game of telephone and the people actually doing the work may not quite understand the product the way they need to, you know, to generate relevant content. So, but yeah, it's it, it's, it's been a lot of fun seeing how it's grown. Like since they hired the gal to do sales for that, for our big brand, you know, her and, and John, it it's tabletop gaming brand and they're both kind of like in, into that. So like hearing them down the hall gal excited and talking loud and kind of talking about all their marketing plans for the next few. It's, exciting. Like it's fun to be a part of.
Bradley Sutton:
Cool, cool. I like it, you know, it's, it's cool to see like how things are built up from the ground up. You know, we got different stages here. We got somebody like Ryan who kind of did it all on his own in the beginning, and now we can see he's in a groove and see what's he's learned from the experience and we've got somebody on the other side. Jake is helping out a friend and over the last almost 10 years now we can see how that's evolved into now, now like a legit company out there. So let's take it back down to like maybe the micro level, let's go back to Ryan A. Little bit, you know, obviously, Helium 10 has played a big role in your journey. What are, you know, a person or a seller of your level? What are you, how are you and your team handling like Helium 10? Like what does helium 10 do as far as part of your SOPs, you know, that you guys are doing daily, weekly, or periodically, what are some, some tactics and things that you're using the tools in?
Ryan:
Yeah. We're primarily using Helium 10 to just research of product opportunities. Take a look at, I think Cerebro is what we use most of the time, Cerebro, Magnet, just the very basic stuff. We're not super sophisticated, Helium 10 users, but I think we set up the Market Tracker and I was just thinking about that earlier today. I need to really dial that in and get it get it going. But yeah, there are some Elite only options. Like they beta test the Elite group and I was just starting to plug into that today. So, I do need to get more involved in that part.
Bradley Sutton:
Okay, cool. Have you used any of the Walmart tools at all or since it's not, or are you doing private label Walmart, Walmart, or is it still mainly like, like wholesale and things like that?
Ryan:
Yeah, we're mainly just doing the resale products from our distributor on Walmart because we noticed that our pet products, we really just weren't getting any traction. There's some issues with the listings that I still need to get resolved and we're using like celebrate to integrate. And I think there's some disconnect between deliver, celebrate, and Walmart, and we gotta get that resolved. And I haven't really gotten that figured out yet. And I don't know, it just didn't seem like very much sales opportunity for those specific products, but, a lot of people are buying food on Walmart. So that's, that's been fantastic for us. And these are like existing listings that we don't really have much content for these listings. So we haven't been optimizing or doing anything like that. We just throw up the content that we got from the manufacturer, which is very, very basic or the listing's already created in Walmart and we just put our offer up there.
Bradley Sutton:
How can somebody else like find something like that? Maybe it doesn't have to be in the food industry, but like, that's a pretty decent gig that you got going on Walmart where you're not having to do too much effort. Like you're not having to worry about listing optimization, but how does one go about find a supplier that, that could get them product at price that they could still make some decent margin on Walmart?
Ryan:
Yeah, I'd say it's a lot more difficult nowadays than it was say five, six years ago or more back then it was so easy to contact these suppliers that most of them didn't have any presence on Amazon. So someone like us can go in and sell our services and get their contract. And that's what we did with our food manufacturer. And then they shut the doors like probably four years ago. They're not accepting any new clients. There's like a handful, maybe two or three of us that sell on the Amazon, Walmart, eBay, Google shopping, whatever. But they're not accepting any new ones. So it makes it a little difficult. But you know, there is some hope that by going to trade shows, you might be able to connect and network with people face to face and see some opportunity. These people are creating new, maybe they're representing new brands and that brand has no presence online. And just, just I'd say networking would be the way to do it nowadays.
Bradley Sutton:
Okay. And now what about on the private label side? You know you say you use Helium 10 to try and find new product opportunities. I'm assuming like you've got your core brands and you're just trying to see what in those niches, maybe there's still opportunity in, what are some, like, how are you using Black Box or the tools? Like, what are you looking for? Like what are your indications that there could be opportunity looking at reviews, you looking at sales, you looking at some title density advanced metrics, what means the opportunity to Ryan and his team.
Ryan:
Yeah. So I follow this other influencer in the space he's really well known and he's got a method using Cerebro specifically, basically utilizing the CSV. You can use the CSV export function if you're gonna do it at home and then kinda opening up that file and doing some manipulations to it. Just taking a look at overall, how many of your competitors like the 20 results for a keyword? How many of those people are showing up in the first 30 search results for each keyword and looking at prioritizing the list of keywords based on how many of those 20 show up on that first 30 spots. So if it's like 10 of the 20 are showing up in first age for this search term, then that must be a really good search term. So just kind of looking at opportunities in that place. Maybe you can see that there's a list of keywords here that oh, wow. There's only half of the people are showing up, so, and there's still lots of potential out there. There's a lot of volume in this particular niche. So there's some opportunity for me to come in and be the 11th person to show up for this list of keywords.
Bradley Sutton:
Okay. are you using Brand Analytics at all as part of your part of your research process?
Ryan:
You know, I have not, I need to, that's a treasure chest of data that I really go into. And then also the new Product Opportunity Explorer looks pretty cool too. I've taken peaks, but I kind of forgot about it.
Bradley Sutton:
All right. Let's switch back over to Jake now. So, Jake, what about you like for you and your coworkers there? What part of your daily schedule or weekly schedule is a Helium 10 tool being used? What are the main ones that you guys are using and how are you using them?
Jake:
I kind of use the originals a lot, the keyword research tools, you know, all that stuff. Cause I'm a lot of what I'm working with is, you know, detail, page copy, and optimizing that. We, haven't done a ton of recent new pro research just cuz we have so many irons in the fire at the moment. We're kind of trying to get our legs back on really deciding on what, what to cut, what to keep. There there's a fair amount. We're cutting cuz it's like they're okay. But the reality is they're taking enough effort that.
Bradley Sutton:
Yeah. Hold on a minute. Before we get back to Helium 10 tools, let's talk about that. What're the Jake criteria on if something gets the ax like on one of your SKUs or something that makes the cut and it's gonna you're gonna focus on it?
Jake:
The threshold, I mean we have–, we're kind of SKU heavy for how much we sell. So I think the way they're looking at it is, you know, if it's not doing at least 500 a month contributing without a lot of effort, then they're probably taking a pretty hard look at it. And there's always context around that because a lot of our products have color variations. So like if the MOQ really isn't that high on yellow or pink or whatever, and it can exist and not take a lot of effort, those are still drops in the bucket, but if it's taken away, you know, attention and effort that should be used elsewhere. I think those are kind of the things that they're looking at pulling it would. And there's some colors that do tear on Amazon that do great on our Shopify site. So, that's always kind of the other side of that too.
Bradley Sutton:
I'm gonna ask this question Ryan a little bit, but what about the last year since we've been on the podcast last probably one of the biggest changes was the shipping and pricing and like prices going up manufacturing and shipping times, especially from China and India are just like outta control. How has that affected you over the last year? You know, like have you been out of stock on things and what have you guys done to try and mitigate that? Like, are you raising prices or you having to order more talk about that?
Jake:
We raise prices across the board we had to. And in this sense, I think that's kind of okay, because a lot of our products we're trying to sell a better quality item, something or an item that solves that problem better whatever's applicable. Like we, we stopped trying to play the low price game. There's kind of a butt for every seat, right? So the ones with tight wallets we're trying to avoid in some sense. But yeah, I mean, we had to pass it on. The tariffs when those happened, we kind of ate that. We dealt with it, it was okay. Not okay, but you know, it was doable. But then once all that freight went from four grain, a container to 25 to 30, that wasn't digestible, you know, we, we had to react to that. So, but yeah, I mean we raise prices across the board. I mean–,
Bradley Sutton:
How about your competitors? Were they raising prices too?
Jake:
Hit and miss, it seems like, I mean, there's a fair amount of competitors on Amazon that appear to be kind of Chinese factories or trading companies that are kind of direct to consumer. So that to start, with's kind of hard to compete with cuz a lot of those sellers they're okay with, you know, pretty skinny margins, they're just kicking it out the door, making it happen and we're really concentrating on a, a, a better buyer experience. You know, we might essentially sell the same product, but ours is gonna look a hell of a lot better for you in the end.
Bradley Sutton:
Now when you were launching products back in before, like November of last year, were you using any like search, find, buy techniques or rebates or things like that? Like last year or the year before?
Jake:
Not really. We always kind of looked at that stuff a little bit sideways just because you read the policy and we always heard people kind of make the argument like, is that rank manipulation. That's always been vague language from Amazon and every other kind of technique in the past we would, we felt like we'd see Amazon kind of close that loophole, so to speak. So we were always a little wary of that a lot.
Bradley Sutton:
So what was your launch technique and what is your launch technique nowadays? You know, I'm assuming you at times you launch new products, so like how do you get I, those initial eyeballs and get to page one of those? Is it strictly PPC? You got some off Amazon advertising, you do.
Jake:
Nobody sees obviously a part of it. I mean, at the end of the day some listings just go. We still have some products that we never really did anything on. There's some SKUs that's been around for a few years that we didn't advertise on until late last year, just because they're starting to get more competitive or more competitors. So it, you know, we'll, we'll look at some brief sales, you know, to launch or whatever, but there's no, I don't feel like we really kind of have a secret sauce for that. We try to get a decently optimized listing and kind of go from there see how it goes.
Bradley Sutton:
So you, you don't like, you know, to your existing audience, like send a message, Hey, we got this new product on Amazon or anything like that. You just put it up, but then your brand based like I'm assuming since you are more established, you got some, you probably got some, have you ever looked at search volume for your brand on Helium 10? Like, are people searching just for your brand at all? It
Jake:
It's been a minute, but yeah, they do. I mean we get, okay. The brand name comes up in advertising search terms all the time, which is, I mean, that's just cool to see, right? Like we started that with, with, with two colors of one product and now it's like 300 SKUs. It's insane.
Bradley Sutton:
So, guys, when I hope you're listening, when you, when you're just launching a brand new brand, you do have to have some kind of, you know, specific strategies, but you, once you get up there and, have some brand recognition, this is why it's so important. Sometimes to not enough, people are thinking about building a brand and your brand recognition, but it makes everything else easier. Makes launches easier. Like listen to Jake. I mean, I hope you don't think, oh, Jake doesn't know what he's doing. He doesn't even know what he's doing to launch. No, you don't have to do some fancy strategy all the time. Once you've got that brand recognition, there's people who are just gonna like I search for quest, you know, I was eating quest chips all the time, but now I just search quest. Sometimes I'm like, oh, what, what other low carb things do do these guys, you know, have nowadays, you know, so that's, that's interesting. Now let's switch back to Ryan a little bit. What about you, like, obviously you had an advantage I'm assuming your Walmart stuff didn't get affected by shipping and prices. Cuz you've got a local supplier and you know, no long ocean shipping times and things, but what about the stuff that you were making in Vietnam and China how have you guys dealt with the shipping price increases and the shipping time or shipping length increases?
Ryan:
So yeah, it's been challenging on the private label stuff, but I think we got a little lucky in the sense that as I mentioned, our sales in 2020 really increased a lot. So that left us outta stock in the beginning of 2021. But leading up to that, we saw that increase so we placed a bunch of orders with the factory. So we were staggering a container like every four to six weeks to just build up our inventory, cuz we've always, every year I've always had issues with running outta stock two to three months out of the year. So we wanted no more of that. So basically by doing that, we were shipping a lot of containers out in the beginning of the year. And I think that's right before the shipping increase really started happening. So I think the most we paid for the container, the 40-45 foot container was 18 to 20,000.
Ryan:
I think maybe it was the most. We also might have gotten lucky because I think my friends or other sellers that shipped from more popular ports from like the Northern parts of China I think they were the ones paying 20, 25, 30, 35 plus. But we're more of the south of China. And also the Vietnam helped out too because we avoided the 25% tariff for those shipments and that can help out with the increase in shipping cost. But we did have to raise prices a little bit, but honestly, we only did that on half of our products and I'm kind of stuck on that because we had like a $29.95 price and then we moved to $31.95 and you know, I thought I was freaking out thinking it's gonna be the end of the world. Really nothing happened. But then we had to go from $31.95 to $34.95 and sales just plummeted. So we're still trying to figure out what to do.
Bradley Sutton:
Were your competitors not raising or what happened there?
Ryan:
Yeah, the competitors are not raising, they're all Chinese manufacturers. And they're actually selling like quite a bit below our price, so we're already the top of the market. So it just makes it a little challenging. So temporarily we lowered our prices just to what we had probably 2020 levels just to see if we can stimulate sales again and get some rankings. But that is an issue that we are gonna have to work out.
Bradley Sutton:
Okay. Interesting. Interesting. Now, what about you as far as launch goes, have you launched anything in the last five months or so?
Ryan:
I have not. I've got plans for some new products, but once we built up our inventory, like I mentioned, we ran into some pretty big cash flow issues. We were overstock cuz sales did decrease towards the end of 2021, they were not the 2020 levels were not sustainable. So that left us with a mountain of inventory and we did have to get some loans to, you know, versus some of those incoming freight containers.
Bradley Sutton:
So, how'd you where'd you go for loan shark or?
Ryan:
Yeah, no. So we looked at Amazon lending I think we got a small loan with them. I think they changed something about it or actually, we didn't wanna do the personal guarantee. So that, that's what that was. We used to use Cabbage, but then got bought by American express and they completely changed their algorithm on financing. So it's like, Hey, we're gonna offer you $5,000 when they used to offer us a hundred thousand. So we also went to–,
Bradley Sutton:
You never look at Alta? The Helium 10 Alta.
Ryan:
We did actually look at Alta.
Bradley Sutton:
All right, cool. Now, if anybody else out there wants to get a quote, you know, almost all these different places for, for loans and things. You can get free quotes or to see what you qualify for if once you connect all of your tokens to them. So, so just go to growwithalta.com and you can get it from there. You know, the Amazon one just shows up on your dashboard, usually what, what they, they pre-qualify you for. Now let's talk about just some quick-hitting "TST" or some TST, some 30-second tips here. It could be about how you use Helium 10. It could be about ordering from Vietnam. It could be about launches, getting wholesale accounts. Anything that you guys feel that you think is somewhat unique and a cool strategy. Let's go ahead and consider it. So let's start off with Jake
Jake:
Being involved just in general, in whatever community that surrounds, whatever you're trying to do is super valuable. Like just, you know, the weekly Elite Zoom calls, there's always some little nugget out of that conversation that happens for an hour. That's like, oh yeah, that'll be handy here at some point. And there's other times it totally solves whatever issue I've been working on. Yeah just be involved, talk to people, kind of networking. I hate saying networking, cause it drives me nuts. Cause it's just such a broad blanket thing, but it's, it's true.
Bradley Sutton:
Cliche. Your network is your network.
Jake:
Yeah. I hate it, but it's accurate.
Bradley Sutton:
But it's true, but it's true. Right. And you're gonna be doing that at the Prosper Show and these other events.
Jake:
I wish I couldn't get my spend approved for Prosper. We have the three employees go into the gamma show that same week. So I had to cancel my workshop.
Bradley Sutton:
Oh, Mark, I'm disappointed.
Jake:
I'll pass that along. He'll send you some more janky.
Bradley Sutton:
The Kansas City Chiefs are gonna do terrible this year, karma telling you. And it's all because you didn't let Jake go to go to Prosper Show. What about you, Ryan? Give us a tip.
Ryan:
So nowadays everyone is seeing the rise of aggregators. Now there's like whatever, a hundred plus aggregators out there. So everyone's all excited about selling their business and multiples have generally doubled essentially from where they were a couple years ago. So I think in that regards everyone should be doing their due diligence to make sure their business is ready for a sale. Even if you don't wanna sell it, just having your bookkeeping in order and everything lined up. Cuz you never know how quickly things will change and you just wanna take the cash out from your business. So I'd really recommend you know, Joe Valley wrote a book, The EXITPreneur's Playbook, it's very small, simple to read, but wow, it's got a lot of really good advice on how the selling a business works. The process goes and what the buyer's looking for.
Ryan:
Tips for the sellers, how to get your books in order. One of the biggest things is like add-backs. You really need to study what an add-back is and what are eligible to be added back because a lot of people selling their business, they're leaving so much money on the table. And I mean, yeah, you can go out and sell your business yourself. The aggregators make it super easy for you to go contact them. But on the flip side, these aggregators are waiting for you to make a mistake. And just making a simple mistake about not understanding add-backs can literally cost you hundreds of thousands or millions of dollars just because you were unaware of how the process works. So definitely read the book. It's super, I mean $10 investment or whatever will make you a lot of money. And then whether you want to go within a broker, that's up to you, but at least get the fundamentals and understand that that's the biggest advice I could give.
Bradley Sutton:
I love it. I love it. You know, a lot of people, that's all the rage nowadays, but people think it's just some magic that happens where, you know, you just get this offer and there's nothing you gotta do. And there's a lot of pre-work you gotta do. And there's a lot of stuff you gotta take in mind. Keep in mind for that. So thank you guys. We talk today about some things that I don't think are talked about enough, you know, about the life cycle of an Amazon seller, whether you're the owner of the company, whether you're helping out a friend or whether you've got friends that help you, these are real life things that people are going through. So I hope or I don't hope I know those people out there who are probably in, in one of your buckets here or what the same boat as you now, and hopefully we were able to help them. So thank you. And next year let's see where you guys are at and, and maybe Ryan, who knows maybe you would've sold one of your businesses. Maybe Jake is gonna do a hostile takeover on his friend's business and take over control. You never know, but we'll definitely keep in contact. And in 2023, let's see where you guys are at.
---
Enjoy this episode? Be sure to check out our previous episodes for even more content to propel you to Amazon FBA Seller success! And don't forget to "Like" our Facebook page and subscribe to the podcast on iTunes, Spotify, or wherever you listen to our podcast.
Get snippets from all episodes by following Bradley on Instagram at @H10bradley
Want to absolutely start crushing it on Amazon? Here are few carefully curated resources to get you started:
Achieve More Results in Less Time
Accelerate the Growth of Your Business, Brand or Agency
Maximize your results and drive success faster with Helium 10's full suite of Amazon and Walmart solutions.