#453 – Amazon Brand Story, A+ Content & Photography Strategies
In this episode, one of the top Amazon Agencies in the space talk about a wide variety of topics including Amazon A+ Content, Brand Story, and More!
Originally published on: May 16, 2023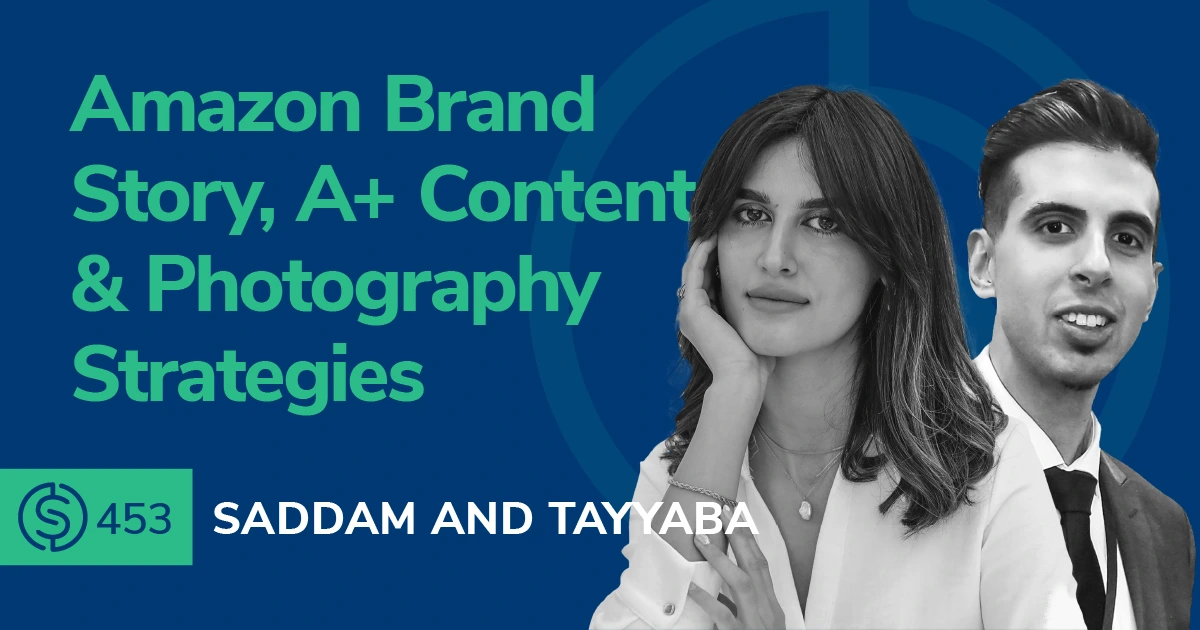 In episode 453 of the Serious Sellers Podcast, Bradley invites a dynamic duo married couple from AMZ One Step, Saddam and Tayyaba. They run an A-Z Amazon agency that has almost 200 employees, with specialties in Amazon Photography and Listing Optimization.
In the episode they discuss best practices for A+ Content, how to utilize the Amazon Brand Story, how using a photography studio in China can be beneficial, how to use different Artificial Intelligence tools, and more!
In episode 453 of the Serious Sellers Podcast, Bradley Saddam, and Tayyaba discuss:
02:25 – Tayyaba's Backstory
06:20 – Saddam's Opinions On The Biggest Amazon Changes.
08:13 – What is the Amazon Brand Story?
08:40 – The Importance of Adds-To-Cart and Off-Amazon Traffic
11:58 – Should Every Listing Have Brand Story?
12:40 – Tayyaba's A+ Content Project for Project 5K
17:13 – Chinese Photo Studio With All Nationalities' Models
18:35 – How Do You Plan An A+ Content Refresh?
20:45 – Does Brand Story Always Need Something About the Owners?
23:00 – Using AI and ChatGPT To Help Amazon Sellers
25:30 – Image AI App Limitations
28:00 – What Should Sellers Be Doing in 2023 For Branding
31:25 – Thirty Second Tip on ChatGPT and A+ Content
33:15 – How to Contact Saddam and Tayyaba
Transcript
Bradley Sutton:
Today we've got a couple back on the show who run an agency with over 150 employees, and they're gonna be talking about a lot of topics, including brand story, A+ Content, ChatGPT and more. How cool is that? Pretty cool, I think.
Bradley Sutton:
Do you wanna see how your listing or maybe competitor's listing rates as to best practices for listing optimization? Or maybe you wanna compare a group of ASINs or Amazon products to see how they compare to each other. Maybe you wanna see within seconds the top keywords for a single listing or a group of listings. You can do that and more with the Helium 10 Tool Listing Analyzer. For more information, go to h10.me/listinganalyzer. Hello everybody and welcome to another episode of the Serious Sellers Podcast by Helium 10. I am your host, Bradley Sutton, and this is the show that's a completely BS free, unscripted, and unrehearsed organic conversation about serious strategies for serious sellers of any level in the e-commerce world. And back for the third time with somebody different. This time we've got Saddam here from AMZ One Step on the show. Now this is, like I said, his third time. Now, the very first time he was on the episode he came along with his sister, Lailama, and then the second time he came on with his business partner, Kamal. And now I was like, you know what? Let's try something different. Let's go ahead and bring you on with your wife/employee Tayyaba here. So welcome Saddam and Tayyaba.
Tayyaba:
Hi.
Saddam:
Thank you for being here. Thanks again for having me for the third time. I keep switching partners. So this one–
Bradley Sutton:
He's talking about partner, Tayyaba's, like look at like what I keep switching partner.
Saddam:
Partner from a different aspect. Yes, my partner, my family, of course, with my business partner.
Bradley Sutton:
Podcast partner, yes.
Saddam:
Yeah. Thank the company partner. Yep. Partner for life.
Bradley Sutton:
Oh, he saved himself on that one. Look at that romantic gesture right there. All right. Now Saddam, you know, we've been through your backstory, you know, before, but maybe just a little bit. Since Tayyaba, this is your first time on the show. Were you born and raised in Canada or Pakistan?
Tayyaba:
I would say so I was born in Pakistan. And I came to Canada when I was about eight. I'd say I was raised in Canada, in Toronto.
Bradley Sutton:
Now, did you go to university there in Toronto?
Tayyaba:
I did. I went to University of Guelph. I got a degree that had nothing to do with engineering.
Bradley Sutton:
Did you say Guelph?
Tayyaba:
Guelph.
Bradley Sutton:
Guelph. Okay. I was about to say like, wow, that's an amazing university name that I went to the University of Wealth, because that's just what, okay. Guelph. Okay. And what were you studying there? Yeah,
Tayyaba:
I was studying biomedical engineering is what I did. Yeah.
Bradley Sutton:
Good grief. Okay. Crazy.
Tayyaba:
And then it sounds so far off, right? Yeah. Like how did you go from biomedical engineering to marketing and creative leading? But I think anybody who knows me as a person would understand. I've always been a very creative person. So that transition just made sense.
Bradley Sutton:
Outta curiosity, like after you got married, like, or even before you got married, was it like determine, hey, maybe you should, you know, come help with the family business? I guess you can almost call it, or cuz you're there. Now, obviously, I know you're, you're playing a role and we're, we're gonna, we're gonna talk about that today. But, but wh where did that come up in the discussions? Because I think, I think that's always a thing when, when I invite married couples on the show is like, who are in business together, it's always a thing like, oh, is this gonna work out? Or, so when did you g how did you guys come to the conclusion, Hey why don't you help out with the business?
Tayyaba:
I think some recruiting attempts were made before. Could you admit to that a little bit? Before we got married, it's a creative agency, right? So I think maybe he saw something at that point I wasn't really considering switching fields entirely and committing to it. After we got married though there was this convenient position open for a creative lead. It wasn't even called that at the time. They just basically were really, I think busy and backlogged and at the time it seemed like a perfect fit. So it basically, the job description was product research and analysis of, you know, like the market and coming up with a visual plan of what those seven images would look like for a client. So they needed somebody to basically create like that creative foundation for the photographer, videographer and the designers.
Tayyaba:
And that was something, product research is something that I had experience in. Just any time really that I think I got through my engineering degree was we had semester long design work projects. And so that required a lot of research in the initial phases, iterations. You obviously had to market the product to a certain degree. So I enjoyed all of those aspects and it made sense to me. But really I was drawn to, I had knew nothing about the Amazon space and really I was just drawn to this idea of creative direction and selling a product in seven images. What's the best way to do that? How is everybody doing that? And how can we do it better and differently?
Bradley Sutton:
Cool. Cool. And everything been cool so far? Having your husband has also your boss too?
Tayyaba:
A little bit. We work I think if somebody asks how it works, we work pretty. Like you're not really involved in my team I would say.
Saddam:
Yeah. Now she manages that team. Yeah. And yeah, there's layers. So we have the head of ops who's kind of like her manager, so I tend to take the step back and
Tayyaba:
Yeah. But it was amazing cuz I had an Amazon expert basically at my fingertips. I could get into the Amazon space, so it was a huge benefit to have.
Bradley Sutton:
Okay, cool. Now Saddam, you know, speaking of the company you guys acquired another agency last year, like how many, you know, worldwide, how many employees are, are you up to now?
Saddam:
So I've been saying one 50 and then my HR person reached out to me saying correct yourself. It's 175 ish. So that's where we are. I think we are like, there's still so much growth happening since Q4, like we've just been playing catch up with, with the new acquisition and just the uptick from Q4. So I believe by end of the summer we should be around 200.
Bradley Sutton:
The last time you're on the podcast, I would say is probably early 2022 or something. But in the last year, like what are some big changes that you've seen? They don't have to be negative, you know, like maybe it's positive, like maybe it's the addition of, for example, Search Query Performance, you know, wasn't even a thing, you know, the last time you're on the, the podcast and, and there's a lot of things in Amazon advertising that has been added. On the flip side, there's been some inventory issues, you know, like, like bidding for inventory placement and, and trying to maximize your space that, that Amazon made a a, a big change on. But like, what are some of these changes that, that you've seen that you know are affecting a lot of your customers in a positive or or negative way?
Saddam:
Yeah, so what we've been noticing is Amazon I think has finally realized that their interaction with the customers on the platform was very transactional. You know, customers would come on the platform, search for the product check out, and that's it. Right now what they're trying to do is give a voice a platform to the brand so that they can speak about some of their uniqueness, some of their values and really harness a community. And what I mean by that is you look at brand registry, you know, you talked about brand analytics just a few features added to that brand story was a really good one that got added. A+ Premium Content. Amazon Post is now slowly getting that momentum, sustainability badges, you know, there's small business badges. So all these things, what they speak about is the landscape now is promoting a lot more diversity in terms of brands. So now you don't just have those high reputation brands. And then the other brands are pretty much like products. Now they're giving them a place to voice what they represent. And I think it's heading in a really good direction where there's gonna be a lot more engagement within the platform with customers engaging with the brands.
Bradley Sutton:
Okay. Let's talk about one of those things. You know, that you mentioned brand story cuz that's the one that I'm probably least experienced with. I'm not sure, but I think I'm, I don't even know if I have brand story set up, but what's the difference between brand story and A+ Content? Cuz you mentioned both of those things. So e either of you can, can answer that.
Saddam:
Yeah. Okay. I can take that one. So brand story is, it comes under the, from the brand section. So you do need to be brand registered for it. And think of it like a mini storefront within your product page. So there's two purposes it has. First one is people now know that factory in China, that it's a cookie cutter method, right? People are just sourcing from China and putting it on Amazon. They want to hear more from who the founders are, what the company represents. So within the brand story when you see the start, you see a carousel display and people usually talk about either the brand itself, the mission or core values, or they have like a face to the brand. So who's behind that? Who's the founder, what do they represent, who do they speak to, who's their community? So that way there's a lot more engagement from customers and then just educating them about some of the other products within that category. So as I mentioned, it's like a mini storefront where you have, you know, carousel display with hyperlinks and people can click on different products and they can shop around from your brand. They're not just restricted to just the product listing. So if you can get traffic to your listing, there's a really good opportunity there to do some cross setting upsetting.
Bradley Sutton:
So then the brand story, isn't there a part of the listing itself that has a brand story? Like isn't it above the A+ Content? Or I'm thinking of something different, maybe
Saddam:
It is, yeah. Yeah. So from the brand would typically appear above the product description. And I mentioned on desktop, it's more, I guess for mobile it's optimized more for mobile, where you have the carousel display, and we know carousels work really well just by looking at Instagram and LinkedIn, right? So basically it would appear from the brand, it's like a, a sideway display, it's like a slider. And from the examples that we've seen and that we've done with the clients, we mostly either focus on the face behind the, the organization or the company values, and then it goes straight into a few products, like the top products within each category.
Bradley Sutton:
Okay. Now I'm just like at a loss here of where to find this. You said it's under brand like hold on, let me share my screen here. But like, where do I go even to find this? I'm under the brand page here.
Saddam:
Oh, right, okay. So and you don't have that on your listing yet, right? Sorry.
Bradley Sutton:
I don't think so. Like, like, unless, you know, a lot of people are in these accounts. But it could be that I'm not, so like, is it like I know where the A+ Plus content manager is? Yeah, you can, and then here's brands.
Saddam:
Okay. So go to A+ Content manager.
Bradley Sutton:
Okay. I was probably in the wrong place then. All right.
Saddam:
Okay. And so if you do,
Bradley Sutton:
Is it here? Start creating. Okay, so I hit start creating a plus. Oh, there it is right there. Okay,
Saddam:
So you see brand story now there it is, there's gonna be an additional option that would show up for some people that have access to Premium A+ Content. We can talk about the eligibility in in a second, but this is where you start creating that brand story.
Bradley Sutton:
Ah, okay. All right. Cool. All right, good. Well, you see, like I, there's so much stuff I should be doing on my own accounts, but you know, since I only have like an hour to spend a week, I haven't done it as much now. Yeah. I'm definitely going to look into that more So is that kind of like, do you o when you guys offer that service, do you offer it separate or it's always like part of the package of creating your A+ Content and this, like, do you suggest always doing both? Or is there a case where you would just say, Hey, you know, somebody should just go with the brand story or somebody should just go with the a plus content?
Saddam:
Yeah, really good question. Usually we do it separate because you just need one brand story, either per the, the entire storefront or per category, you know.
Bradley Sutton:
Ah, so it populates to your other products in that brand then.
Saddam:
Exactly. And that one brand story can just go on all your listings, essentially.
Bradley Sutton:
Okay. All right. Good to know. All right. Now Tayyaba, but before you fall asleep over there let, let's switch to you. You know, speaking of a plus content, you know, we actually gave AMZ One Step a project, and we're gonna make a blog on it later on. But you, we had a product under Project 5K that people know about on the podcast. It was like a, kind of like a Charcuterie Board, I don't even know how to pronounce it, Charcuterie Board. And, and we wanted to kind of like highlight how we would use your studio in China, because that's, that's a lot of thing that peoples, I can't even see, I can't even speak English. These things that people out there, you know, have always worried about, like, oh, okay, hey, I'm making my product in China, but you know, I live in Canada, I live in the United States, and then man, you know, to have to produce one right away and then like air ship it all the way to AMZ One Step in Canada or my X, Y, Z you know photo studio in the us and then, you know, pay somebody $50 an hour to, you know, to do it.
Bradley Sutton:
Like, it's gonna be expensive and, you know, too expensive and things like that. And then it's gonna take forever. Might get lost in customs, but it's like, hey, if you're producing your, your product in China, you want to, you know, get some fast turnarounds so you can work in your listing. Why not use a photo studio word that they just send it in one day, probably costs like $10 to, to send. And so we're like, Hey, let's try the AMZ one step studio, and then let's use this opportunity since this was already a product we didn't need necessarily new images, but you know what, let's refresh the images and let's make some A+ Content. So what was I, I believe that was given to your, your team to do so, like how do you, what was your mindset like in tackling it when you looked at the listing and then you're like, all right, this is the kind of direction we should go, because whether somebody uses you guys or not, I think whatever your mindset was is probably, you know, best practice. So, go ahead.
Tayyaba:
It initially starts with just project research. So we wanted to basically look at what features are being highlighted. There was about a few images, there wasn't seven, from what I remember, this was quite a while ago. But one of the biggest things was this was not just a regular Charcuterie Board. This was an extra large something like 30 inches across. So already that's niche, right? Warns people use in a social setting. And if something was extra large it would be used to let's say in birthday parties or any hosting event where you're serving more than a few people. So the biggest thing was for lifestyle, we already knew that we wanted to showcase that somehow a hosting social setting. And when we looked at the competitors and did the competitor analysis what we found was there was so many complaints about sizing, whether it basically, it seemed to me that there was miscommunication.
Tayyaba:
They either were expecting it to be one size and it just wasn't. So we knew that we had to communicate the size of this effectively which immediately meant you guys had a model in the project. And so what we did was we got pictures of the model to hold up the board, and you had a visual reference of how tall an average woman would be versus the dimensions listed, because that alone just let's say a white background shoot that you would've done wouldn't have been enough because people can't visualize 30 inches across, right? So that was one approach that we had. Another complaint that we found when we did the competitor analysis was quality was something that was a huge complaint. People were complaining about warping as well as it just not being up to par. And so, because this was something that was a hundred percent natural bamboo, we really wanted to emphasize that. And so we dedicated an entire slide just showcasing the quality, where it was made from, and emphasizing that this really was a high quality product.
Saddam:
I think for the most part what I looked at in the project was the focus was more so the way we approach these projects now Bradley, is we centered around less text and more visual you know, aspect of it. So whether it was calling out sustainability or the dimensions or any of the other ones, I know it was a while back we. Just focus it more on how to communicate that message visually as opposed to just putting so much text. And you mentioned a plus content, the previous A+ Content, not the premium one was so bad because when you're going on mobile, there's so much text just cluttered and it just creates a really bad shopping experience for people.
Bradley Sutton:
Lemme show some pictures. I can actually show some that you guys did. You just to give people an idea of the A+ Content. And now the first thing that people notice is like, wait a minute, I thought you just said this was in your Chinese photo studio. This person does not look Chinese. So like, you have like western looking models, I guess if people require that.
Saddam:
We do. And we always make a mention of that whenever we jump on calls, I know people get uneasy asking me that question because I'm not Western, or I'm not Caucasian, but by the way, before you have any doubts, I know this is a question elephant in the room. The models that we have in China or Bali, they're all Caucasian, or at least we can get models from different demographics depending on your product.
Bradley Sutton:
Maybe I want an African American looking individual, maybe I want, you know, somebody that looks European or, you know, you might not have every single nationality represented, but enough that usually somebody people would get what the vibe that they're looking for, right?
Saddam:
Yeah. And like beauty and skincare category, sometimes we get multiple models. I know we often get like, weird requests, you know, we want a model without teeth cuz it's a dental product. So then we have to like, reach out to agencies, but we can always find a model that's never been an issue.
Bradley Sutton:
Okay. Cool. Cool. Oh, well what else about you just in general let's say somebody is already has a plus content and they just wanna update it or, or refresh it. Like are you looking at their, the reviews? Are you looking at their conversion rate or, or how do you decide how to tackle? Because it's kind of a big project, you know, like to do a full photo shoot, like just looking at these images, I was like, this is not something that, oh, let's just, you know, snap some pictures here in an hour. I mean, it takes planning, it takes, you know, renting of a space, you know, potentially, so you gotta kind of get it right. So like how do you optimize or what kind of things are you, are you thinking of that you haven't mentioned already?
Saddam:
So, whenever we look at A+ Content that are already existing, everything has to be purpose driven. We don't just do it because the listing, it doesn't look pretty and we want to give it like a revamp. So we look at starting with the images and then if there's a video there are all the features covered. Have we done a good job with covering everything that needs to be communicated to the buyer? If not, what are some of those components? Maybe it's like extra details. Usually we find this with tech products, they're so much information that sometimes it's preferred not to put them in images and then use a plus content for that matter. Second thing is we look at the q and a section and that's where the burning questions come up.
Saddam:
And we're again, with a plus premium content, which maybe we'll discuss in a bit. There's now an FAQ model or Q and A module that we can leverage. But those burning questions also need to be answered. And then it all comes down to, do we have more products? Are there more in our product line that we need to talk about? If yes, this is an excellent cross setting opportunity, we can create like a comparison chart where people get educated. Maybe this is not the right headphone for you, but we have something else that has a better noise cancellation function. So it's stuff like these, and as I mentioned, you know, the whole platform is evolving to create brand communities. So any opportunity we get to talk about the brand and if, you know, the brand itself wants to talk about it and it's not highlighted in the A+ Content section, we'll make a mention of that.
Bradley Sutton:
Back to the brand story, now that we kind of got the A+ Content, what if there's a case where there's not really some cool story about the founders of the company, or maybe I just wanna stay incognito, you know, like I don't wanna put that front and center. Like how would you only use brand story to, to, to highlight, you know, some, some cool thing about the owners or about their brand purpose or something? Or is there something else that would go in that section so as not to waste it?
Saddam:
Okay, I'll tell you a really good story. Okay. So last year I was looking for a supplement company cuz I didn't want to go out and shop for it. And I came across my protein. I love the brand. I order all my supplements from there. And as I was shopping from there, their prices was were really good. Their product mix was re really good. But then I landed on their sustainability page where they talked about reducing their carbon footprint in the world. And even though I'm not crazy about sustainability, what that showed me is they care and they listen to their customers and they made an effort to solve that issue for them. Right. So if you don't have a face, if you don't have anything extraordinary in your story, what do you represent? What are some of the core values that are important to you? Because only then can you connect with your customers. Yeah. Are you a Gen Z that wants to have like a sustainable product line? If yes, talk about that in your brand story. So whatever's important to you ultimately becomes important to your customers. And you just wanna speak about that. And this is the perfect placement to talk about some of those things.
Bradley Sutton:
As far as in the work sense, how are you using either ChatGPT, Midjourney, or anything like that?
Tayyaba:
Sure. I can start with Midjourney. So that is because it's probably the least hopeful looking right now. We've tried a few AI image generation websites and none of them have really proved to be kind of effective in getting that workout. It's actually just easier to do the image plan and get the photographer to shoot it. You'll get an accurate image that you want. But when it comes to ChatGPT, it's a very powerful tool. So we use it to do a lot of our automation is what we're finding that it helps with. Will it do the product research for you? Absolutely not. You're still going to need those Helium 10 tools. You're still gonna need Xray. You're still going to be using Cerebroo to find those keywords. And you're still gonna be, it's very powerful to use the image analyzer, right?
Tayyaba:
The Listing Analyzer. And so what you can do is you can use those tools to feed it information and the output that it will give you will be entirely based on the information that you feed it. And so when it conducts product research, the product research that it can conduct is those review insights that you're giving it. And it can very quickly analyze 1000 reviews, something that would take a human being so much time to do, to look through all of those reviews, figure out the patterns, what are the pain points, what are the benefits, how are customers using this instead, you can just use a Helium 10 tool, upload that listing, ask it a bunch of questions that would be relevant to your product research and it can do that for you within a matter of seconds.
Bradley Sutton:
Saddam, how about you? You have any other use cases for AI in the company you can talk about?
Saddam:
Yeah, I think we used Stockimg, we used Pebblely or something. We used Midjourney. They was right for the most part. You know, we tried giving it prompts, but the text to visual prompts, they're still trying to figure it out. So if you say that I want like an image of maybe an office product with office supplies, it's gonna create some random weird looking pens and pencils. So it's getting there, it's really exciting to see that the, all the stuff that you can do with it, but it's not there yet. And right now we're just kind of leading a department so that we're ahead of the curve and we know what's going on in that world with the content. Yes, we've seen that where we've done a lot of automation. So where previously a lot of the time it would take maybe four or five hours of just research. Now it's shortened that to half an hour, one hour just because we can just feed it that. And I'm still, I haven't tried out the new tool from Helium 10. I think you guys just came out with one, so maybe that's like connected somehow with all the backend stuff.
Bradley Sutton:
Are there any image AI's out there where you can take like, like a picture of an actual product and then do what people, you know, do now is like Photoshop it into lifestyle images or even create lifestyle images from scratch? Or it's still too like random, like it has to be completely generic. Can you like say, Hey, here's a picture of this water bottle, you know show it of a woman age 35 inside of a kitchen preparing their kids' meal, or just some random thing, like is there anything that will then put it in her hands or anything like that? Or you don't know of anything like that?
Tayyaba:
So of the ones that we've tried, there's stock stock stock img, and that one, basically the premise of it is that you can give it an AI prompt and it will generate a stock image for you. Now, it's really not the best when it comes to lifestyle, including models, models and hands. I think AI is notorious for being awful at generating accurate hands. And God forbid you ask it to hold something, it would be 12 fingers. But even the simpler ones, right? Like, let's say infographics is what we started off with. What if we do an amazing sh shot of this water bottle in a mountain ocean scene? Right? Even that with with a website like Pebblely it's, it's still a bit struggle of a struggle to get that done effectively and get it done to the level and the extent that our graphic designers would be able to do it.
Saddam:
And we'll, we'll send you that name cuz we're struggling with it, but it's a good one to start with. Yeah. So if your product comes under the beauty category, skincare supplements, hey, you can bust out like five, six good images with that. Yeah. Yeah. Because what it'll, it'll do is take a picture of the product, it will cut it out, put it on like a, remove the background, and then you can give it prompts like let's say you know, place it on a kitchen counter with flat laid with, let's say if it's a supplement for, turmeric, you can put, you know, ar around turmeric or ginger and it will create something really nice for you. But again, with models, it kind of struggles. Mm-Hmm. <affirmative>.
Bradley Sutton:
Yeah. Okay. Well, who knows maybe the technology will go there in one day, but maybe just in general, we, we talked about some specific strategies, which I think is important, but, you know, we're in 2023 as we mentioned, things change every year. Your guys, while you are A to Z your specialty is definitely talking about creatives. And, you know, be it images, be it videos et cetera. What should you know, top two or top three things that, that sellers should be looking at when they're thinking about, all right, this is gonna be my strategy for my creatives for the next year or so.
Saddam:
If it's the top two approaches, right? So first of all, we talked about it harnessing a community. Think of your brand as a person, what kind of voice does it need to have? And then your whole creatives approach should be around that in order to speak to your desired customer. Okay? So take advantage of showcasing yourself as a brand as opposed to a product that that's an outdated strategy. You're not gonna have much chance of success. And then the other thing is don't treat your creatives as just a one-time task. Once you create it, once you have images ready, once you have title ready, that's half the job split testing and optimize, you gotta keep going back to the drawing board. Use helium ten's audience split test your main image split test your title do it on Amazon as well with manage my experiments because you need to understand your opinion and my opinion can vary drastically, right? Because creatives is very subjective, but that does not mean that the market has to agree with either of our opinions. It has to come from data. So everything that you need to do has to be consciously driven by data.
Tayyaba:
So one approach that we have when we are deciding about how to showcase a feature in an image is, like you said, like you mentioned before, nobody is reading text anymore. And so the more that you can reduce text, the better and how you want to convey the feature has to be seen immediately when you look at the image. If I were to cover all of the text, am I being sold on that feature? Does it make, still make sense to me? Is am I still getting that message? And if those answers are yes, then you're on the right track for sure.
Bradley Sutton:
All right. This has been great information. You know, it's been fun hanging out with you guys at, you know, all the way from your wedding. Now at the Sell and Scale, Prosper Shows there's a video that came out, all of us dance, dancing on the dance floor a little bit in the Helium 10 Instagram story yesterday. I don't know if you I don't know if you saw that but maybe there's a chance for us to hang out again in the future. Hopefully. I've been trying to convince Saddam and Tayyaba to go to the Bali Mastermind. So I'm going to this Mastermind, it's not by Helium 10, but I'm, I'm attending there and I'm speaking there. It's in June. I think it's June 18th to 22nd. So there's a chance that you can meet this dynamic duo in person as well. But if you guys want more information a link to go to that event is at h10.me/bali. So Saddam, and I'm putting you on the spot in there. Can we party again and can you show me those dance moves from your wedding that we were looking at in person? Again,
Saddam:
We would love to, you know, any chance we fell in love with Bali last year. Yeah. And because with Kenji's team, I think we'll be going there this year for sure. Right. We just haven't nailed down the dates, but that's in the plans. I know you mentioned it once and I'm, I'm really interested. We just have like a new villa there too now, so I'd love to kind of visit that. But yeah, for sure if we're going, we'll hang out at our villa. We'll party there. I'll show you some dance moves. How about that?
Bradley Sutton:
Let's do it. Let's do it. We'll bring the whole crew back. I think your sisters might be upset if you, if you don't take them to to Bali again, Lailama's definitely interested in going to, so I'll put in a good word for them. All right now, now it's the time of the show where we always ask our guests for like a our 30-second tip or 60-second tip, something that's actionable for our user's table. We'll start with you.
Tayyaba:
Sure. so if anybody and everybody who is not using ChatGPT should definitely be using ChatGPT. But the thing about ChatGPT is you have to treat it like it is the smartest child in the world. And so anytime you are asking a question, you need to understand what you're not asking yet. And a great follow up prompt that you can give ChatGPT is what assumptions were made here and, and, or you can ask it what questions am I not asking that I should be asking? And you will get a plethora of information that might have completely gone over your head.
Bradley Sutton:
Excellent. Saddam.
Saddam:
Yeah, if you're like Bradley because we saw his screen share and you don't have access to A+ Premium Content, the eligibility criteria we know brand registry, you have to have brand story on all ASINs and then 15 brand A+ Content applications approved. The trick is you don't need 15 a plus contents on different 15 different listings. You can just create iterations of the same A+ Content and do it for just that one listing if you have just one product and you'll be eligible for A+ Premium Content.
Bradley Sutton:
Awesome. Awesome. Excellent tips. Thank you so much. Now how can people reach out to you guys, whether, you know, it's for to help with photo studio stuff or listing optimization? Remember guys, you know, like I, I don't recommend people I don't use myself and, and for multiple accounts I've used AMZ One Step over the last couple of years. So I highly recommend them. How can they find you guys on the interwebs? Or by the way, they might ask you for wedding planning and dance choreography a advice as well. So what's the contact information.
Saddam:
Sounds good. No, and thanks for all the referrals and stuff. So our website, amzonestep.com or you can just send us an email at [email protected] or you can find us on any of the social media platforms, YouTube, Instagram, Facebook, LinkedIn, Twitter, just AMZ One Step and you'll be able to see that.
Bradley Sutton:
Awesome. Awesome. Thank you guys so much for joining us. Happy belated one year anniversary and hope to see you guys sometime this year. Thank you.
Saddam:
Thank you.
Tayyaba:
Thank you, Bradley.
Saddam:
Hope I see you in that same outfit. So I'm looking forward to that.
---
Enjoy this episode? Be sure to check out our previous episodes for even more content to propel you to Amazon FBA Seller success! And don't forget to "Like" our Facebook page and subscribe to the podcast on iTunes, Spotify, or wherever you listen to our podcast.
Get snippets from all episodes by following us on Instagram at @SeriousSellersPodcast
Want to absolutely start crushing it on Amazon? Here are few carefully curated resources to get you started:
Accelerate Efficiency with Insights Dashboard
The all-in-one customizable dashboard for sellers and brands, designed to accelerate decision making through the centralization of data, insights, and action. A bird's-eye view of your business with personalized suggestions to unlock growth.
Learn More about Insights Dashboard