#357 – All You Need To Know About GS1 Barcodes
In this episode, we speak with Michelle Covey of GS1 US to talk everything about barcodes and answer all your frequently asked questions about them.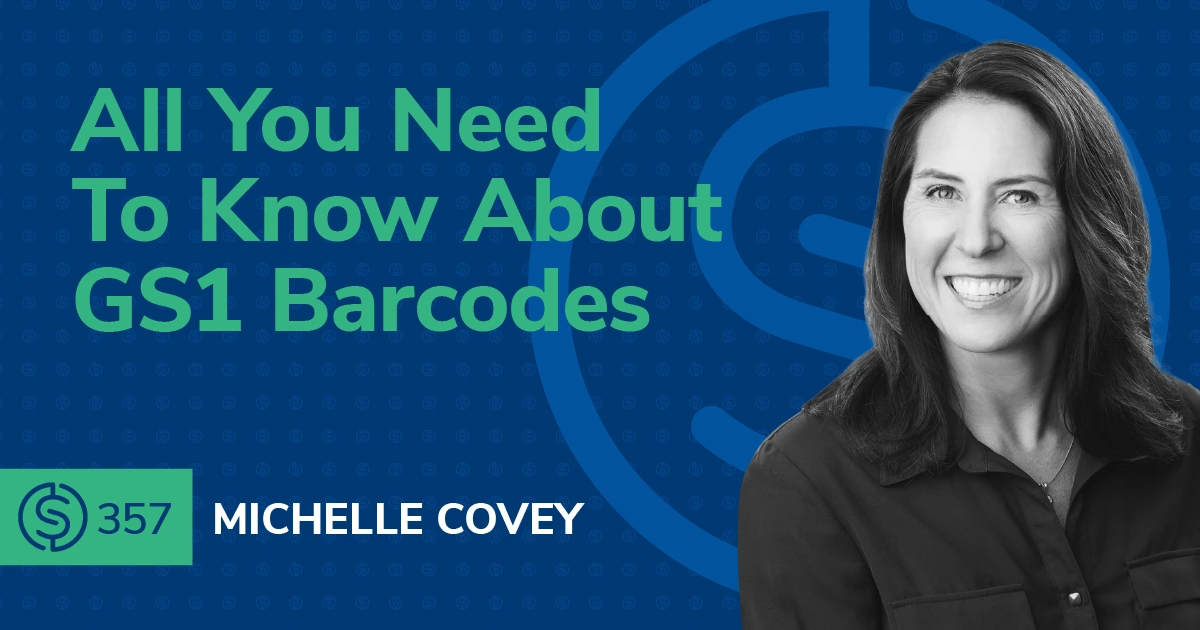 Amazon barcodes are one of those Amazon seller topics that aren't as complicated as they seem. In this episode, Bradley welcomes Michelle Covey, VP of Commercialization at GS1 US, to break it all down and answer all your favorite questions about barcodes. They will discuss the differences between GTINs, UPC, and EANs, what they stand for, and when we should use them. Will you have problems if you have different brands in your company prefix? Will single purchase GTINs be associated with my company when I scale up? What are the steps and requirements when registering in GS1? Are GS1 codes used when I will be selling in Walmart? What if I stopped paying my annual subscription? We answer all of these questions and more so make sure to listen to the very end!

If you're interested to learn more, here are additional resources provided by GS1 US:
In episode 357 of the Serious Sellers Podcast, Bradley and Michelle discuss:
02:18 – The History Of GS1 And When Did It Get Started?
03:30 – GTIN, UPC, And EAN. What Do These Mean?
06:18 – Buying Barcodes Outside GS1, Will There Be Issues?
08:30 – Different Options When Buying GS1 Codes
10:00 – Are Single GTIN Purchases Associated With My Company?
11:30 – Having Multiple Brands In Your Company Prefix
12:45 – Having Different Number Of Digits & Which One Should You Need?
14:30 – How Do UPC Barcodes Work? Breaking Down A GTIN Code
16:00 – Using GS1 Codes For The Walmart System
17:00 – Use The Barcode Labels Tool Inside Helium 10's Portals
17:40 – Can GS1 Barcodes/Company Prefix Protect You From Hijackers?
18:30 – The Steps And Requirements For Registering In GS1
21:00 – Common FAQs and Problems That GS1 Users Have
23:30 – What If I Stopped Paying My Annual Subscription?
25:00 – Michelle's 30-Second Tip
26:30 – GS1 Also Supports Other Supply Chain Processes
27:00 – How To Contact GS1 US To Get Your First Barcode
Transcript
Bradley Sutton:
Having a valid barcode on Amazon and Walmart is a requirement who better to tell us the ins and outs of this than a vice president from the GS1 company itself. How cool is that? Pretty cool I think.
Bradley Sutton:
Are you browsing a Shopify Walmart, Etsy, Alibaba, or Pinterest page, and maybe you see a cool product that you wanna get some more data on. Well, while you're on those pages, you can actually use the Helium 10 Chrome extension Demand Analyzers to get instant data about what's happening on Amazon for those keywords on these other websites, or maybe you wanna then follow up and get an actual supplier quote from a company on alibaba.com in order to see if you can get this product produced, you can do that also with the Helium 10 Demand Analyzer. Both of these are part of the Helium 10 Chrome extension, which you can download for free at h10.me/extension. Hello everybody, and welcome to another episode of the Serious Sellers Podcast by Helium 10. I am your host Bradley Sutton, and this is the show that's a completely BS-free unscripted, and unrehearsed, organic conversation about serious strategies for serious sellers of any level in the e-commerce world. And we've got somebody here from a three letter/number company that is one of the most known, I would say to e-commerce sellers, GS1, we've got Michelle here, Michelle, how's it going?
Michelle:
It's going great,
Bradley Sutton:
Great. It's going, I love it. And what's your position there at GS1?
Michelle:
So my title is VP of commercialization. I hold a couple of different roles one. I work with a lot of our industry members on bringing some new guidelines or new standards to market. So bringing new products and commercializing them to the industry. I also work a lot with some of our large marketplace platforms and helping sellers navigate how to get listed onto some of those marketplaces.
Bradley Sutton:
Awesome. Awesome. How long have you been there at GS1?
Michelle:
I've been at GS1 for nine years.
Bradley Sutton:
How long has GS1 been in existence about
Michelle:
GS1 as a standards organization started around 50 years ago. That was the birth of the barcode. Which is that UPC barcode you see on a lot of your products scanned at a retail store that go beep at the checkout stand. That barcode was created about 50 years ago. So we've been a wow helping do business for 50 years.
Bradley Sutton:
Wow. How did you get in this industry yourself?
Michelle:
I used to work for a solution partner where we helped brands create their UPCs and all the master product data associated to it and share with their retail trading partners. So I started doing that about 20 years ago and because I was so versed in a lot of the standards.
Bradley Sutton:
When you were eight years old?
Michelle:
Yes, exactly.
Bradley Sutton:
Okay.
Michelle:
And so I helped with those sellers and brands with creating their master data and sharing their retail trading partners. And I was pretty vocal on some of the GS1 working groups about product information. And here I am.
Bradley Sutton:
Okay. Now let's just, you know, I want this to be kind of like a bunch of the most common questions that people have about this. And like I said, this is a people are not strangers to GS1 or barcodes or things like that, cuz this is something that's actually required, you know, by all Amazon sellers. Now, let's just talk about some of these three letter things or, or some of these are not just three letters, but these acronyms, you know can you talk about the definitions and differences of let's go GTIN, GTIN and UPC and EAN. Those are the three that come off the top of my head that have to do with what you guys do there,
Michelle:
Right? So this is, these are good questions because we do deal with a lot of alphabet soup at GS1. And so the best way to most people also use them all interchangeably, which we even do within our own GS1 walls. But there are, there are differences between each of those acronyms I'm gonna lump in barcode too, because sometimes barcode is also used interchangeably between them. But let me start at the first at the top GTIN that stands for Global Trade Item Number. And really that is the name of the string of numbers that are associated to a product. So think of it as the license plate for the product or that license or, that product's unique identifier. That GTIN is the numbers. There are multiple types of gins or formats of GTINs.
Michelle:
So there are 12 digit GTINs, so 12 numbers. Those are usually embedded into a UPC barcode, which are traditionally used in the US market. A 13 digit, GTIN is usually embedded into an EAN barcode, which is used in the European market and other areas around the world. So sometimes that UPC and EAN are used synonymously with GTIN, but it is really a UPC barcode or an EAN barcode. And those are the actual data carriers that carry that number, that gin on the product so that they could be scanable by a machine.
Bradley Sutton:
Okay, okay. Excellent.
Michelle:
Hopefully, that clarifies that.
Bradley Sutton:
Yes, yes. Now, one thing that people have noticed sometimes with Amazon is maybe they didn't get one of these, you know, whether it's GTIN or whether it's UPC, whether it's EAN directly from GS1, but they claim it's. They bought it from a place that says, Hey, these are real GS1 things, but I got, got it from barcodes are us or speedy barcodes are, you know, one of these, you know, random ones but they run into issues on Amazon. So do why, why are there issues when, when it's a genuine direct from you you know, barcode as opposed to if it's gotten from like a third party site.
Michelle:
So GS1 member organization. So there's also GS1 us there's GS1 UK GS, one Germany, different member organizations around the world, GS1 member organizations are the only organizations that license, those G tens. There are claims that other or other companies do claim that they are licensing you a GS1 identifier. But we don't have any relationships with anything outside of a GS1 member organization. So if you do go to a third party that claims that you're there giving you a GS1 barcode, I'd just be cautious. Because we don't really have relationships outside of that. A lot of platforms like Amazon will say they check the authenticity of your GS1 barcode against the GS1 database. So what they're doing is they're actually looking getting a feed from our our database, which is another acronym I'll call it. Gaper, I've heard other people call it different names, but I call it gaper. It's G E P I R it's on our both on our global site and on the GS1 us website, but that's the database of all the company, prefix license. And we record the true licensee of that prefix. So Amazon and other large retailers or marketplaces do actually check against that database when a seller's listing their product to make sure that their G 10 is registered to their company.
Bradley Sutton:
Okay.
Michelle:
You get a barcode from a third party generally that information will not match because the third party does not have access to update our G peer license.
Bradley Sutton:
Makes sense. Makes sense. So now you know, me personally, I get all of my, you know, cause I sell on Amazon too. I get all of mine from, from GS1 UK, and I believe I do like a, I think, I think I'm doing like an annual thing. And then I get up to 2000 or something, you know, I probably only use like, you know, I'm only selling like 50 or 60 products, so I that's how much I probably use and I guess go to the next number, et cetera. What are the different options as far as buying it? You know, cuz some, you know what I'm paying since I, since I have 50, 60, 70 products that might not be many for some, but then some is like, man, I'm only ever gonna sell one or two. Like why would I need to buy an annual subscription and get 2000, you know barcodes. So what are some different options that people have when they are purchasing from GS1?
Michelle:
So each GS1 member, the organization has a different business model. So I'm gonna speak towards the GS1 us business model. At GS1, us members could come to us and we have a wide variety of options from, to service those very small sellers like that only have one or two products even to the very large brands who have hundreds of thousands. So we have our capacity based, which is our traditional offering, which is capacity based prefixes. Those start at 10 capacity, a hundred, a thousand, 10,000 or a hundred thousand. Those are prefixes where brands could come in and assign their gins in those capacity bulk. And there is a license fee and then there's an annual renewal fee for those. But we also heard that a lot of the smaller sellers who have only a handful of products and don't want to do the prefix with the annual license fees just want one or two, we rolled out a single gin offering to help service that those particular sellers. We, we rolled that out the end of 2020 and it allows sellers to come to us, just get a single GTIN it's a one time fee, $30, no annual renew fees. And they get to keep that GTIN for the rest of their life.
Bradley Sutton:
Okay. okay. A question on that, you know, like you talk about the prefix, you know, so, so like me personally, all of mine kind of like start, you know with the same numbers. And then, so it's easy to, to, to see that it's definitely my company but let's say somebody does a one off, but now, now they do another one off, but it's like, you know, a year later. And so it has a different prefix, but because both of them have their, that same company registered, it's not gonna throw up any red flags or anything like that.
Michelle:
Correct. For our single GTINs, we do still issue a certificate of membership and recorded in that computer database. So your database but we do assign 'em randomly because we don't want anybody out there figuring out our logic. So we do assign 'em randomly and so they may be assigned from different sets of prefixes through our system. But it is still associated to their company. And so if a seller comes to us and gets two different GTINs at two different times there that, you know, like you said, that first initial prefix may not be the, be the same, but they still will be associated on that single GTIN, So–
Bradley Sutton:
Okay. Don't now what about on the flip side? Like me, I have maybe multiple companies or multiple brands, but I have one GS1 account, you know, some of the companies might not match, but when they're looking at the company match, is it matching it to the account owner of the GS1 account or the individual GS1, whatever we had put as the brand there?
Michelle:
So brands are always tricky. So it does these, when we record the information in our computer database, it's your company name? So, I could be Michelle's company LLC, but I might have three different brands. Those different brands are associated like I might have a shoe line and a hat line and a water bottle line. So I might have three different brands. Those brands are something that I would manage. We don't report those brands. Within our computer database, we only report the company name, the company licensing it. I think for some companies like Amazon, they have like the brand registry that helps associate your company with your multiple brands. But we don't really record that brand or report the brands associated to a company.
Bradley Sutton:
Okay. All right. I haven't any issues with that.
Michelle:
Yeah, I think a lot of people would like us to it's a nice web to kinda navigate because of that, a lot of companies do have multiple brands under their company prefix.
Bradley Sutton:
Okay. Now, you know, when you were talking about the GTINs and, and UPCs, you know, there's, you know, mentioned how there's different digits and, and there's 14 and then there's 12, and then there's 13 for UPC and stuff like that. Like, why is there these differences and, and, and how can you navigate what you need for like Amazon?
Michelle:
So generally, so if a member, we always say member, if a member or a customer comes to GS1 us and gets, goes onto our website to license their identifier, they will automatically get the GTIN-12, the 12 digit GTIN. It is just the way that we're set up and we license those 12 digits, every other MO licenses, the 13 digit, if somebody really needs a 13 digit, they could call into our support. We do have offerings for that, but it's just the way that we were set up through our global office and the prefixes we render the UPC is traditionally used in the US market. Again, whereas EANs in other markets, they are globally unique identifiers and they're globally recognized. So it really doesn't matter. Technically, most retail systems can accept both the 13 and 12 digit identifiers. So that should not be an issue with your retail partners. The 14 digit is intended for upper case level packaging, and hierarchies.
Michelle:
So if you sell your product then that's where the 14 digit gin comes into play. So like, if you go to list on Amazon, I know one of the first questions that asks is what's your product identifier, and is it a GTIN, a UPC or an EAN? The, the expected digits at the GTIN on that screen is the 14 digit like case level, and then the EAN is usually the 13 digit. Amazon uses the terminology a little differently than the standards do on their platform, if that makes sense.
Bradley Sutton:
Okay. Now, if I'm not mistaken, an actual UPC barcode that you print and that's standard for product packaging and things, regardless of which identifier have, isn't it a set number of numbers so that I have to, like, in some situations, add a digit or a check digit or whatever it's called, or like, ohis it just the 12 for the UPC or the, is the EAN 11 or?
Michelle:
It's 13.
Bradley Sutton:
Oh, it's 13, but then, like I'm not just printing that 13 on one sticker and that's okay, and then 11 on the other, doesn't it have to be a certain number of numbers for a regular UPC barcode, or how does that work?
Michelle:
So you should not be adding any numbers technically. Okay. So your 12 digit, GTIN is what gets embedded into that UPC barcode Uhhuh, if you're adding the 12 digit. So you should see 12 numbers underneath your barcode. Okay. If you have an EAN and you are or a 13 digit, GTIN, and you're encoding that into an EAN barcode, you should see only 13 digits. That last digit is a check digit. So is part for have your 12 digit. So the GTIN is created with your prefix sequence number based on your capacity and the last digit is a check digit.
Bradley Sutton:
Okay. Now Walmart, you know, Walmart is newer to the game as far as you know, the third party marketplace goes. And, but they're really, you know, trying to bridge the gap, you know, FBA and their WFS, and, and they actually require, they don't even have, as far as I know I'm new to it myself. You know, with Amazon, you actually usually want to put the Amazon FNSKU, which become something completely different and just native to Amazon. And even if you have a UPC on your box, you have to actually cover that up with the Amazon barcode sticker. But I just started sending in shipments now to Walmart WFS and it actually just requires the UPC. Are you aware, is Walmart at all checking with your guys' database, like Amazon is, or not yet as far as you know?
Michelle:
They are working with us on that data. So it's something they're incorporated into their systems, but they do require the UPC barcode or EAN barcode. But they don't ask you to Resick or with a Walmart proprietary barcode. So they are using the GS1 standard bar.
Bradley Sutton:
Yeah, yeah. And that's what I found I had to do as well. And, and guys, you know, if you are Helium 10 users and, and you're listening to this, you know, we have the tool in Portals, which is called Barcode Labels. And regardless of which of these ones that we're talking about, we have a tool that you can actually create those with graphics and things like that, so that you don't have to use the standard Amazon one, now a lot of sellers, you know, on Amazon sometimes maybe they run outta stock or they're, they're still in stock. And then they get, you know, a Hijacker on their listing. I've got a GS1 barcode, like, does this give me any protection at all? Or what is something I can do?
Michelle:
Unfortunately, there are those bad actors in the market that do try to take advantage of listings and then they'll hijack them. You know, I hate to say like, there's not like you control them from doing that, but there are at least you have the tools to help, you know, reclaim your listing. Having that GS1 company prefix is really the key. So you can work with Amazon selling partner support and provide your GS1 company prefix and certificate and say, this is, I am the owner of this GTIN or this range of GTINs. And they generally will help relieve that GTIN hijacking scenario.
Bradley Sutton:
Okay. One other question I had is kind of not in the right timeline here, but I forgot about it. But so one question I've been asked before is the requirements of registering with GS1, you know, the cool thing about Amazon is, you know, I could be selling for my garage and, not even have a company and sell, I could be living in the Maldives or I could be a citizen of Pakistan and sell on Amazon USA. What do you guys actually require for people to register at least with, with GS1?
Michelle:
So for GS1, US, and again, I'll talk about US market because other MOs, member organizations may have different requirements. Really it's like an e-commerce type of transaction. When you go onto our website, we try to make it as easy as possible. And most people are used to e-commerce transactions. First, you identify if you wanna get a prefix or that single GTIN. So that's the first decision you have to make. And we have some tools that help you, if you don't know there's an estimator. So you have to think about how many products you have and how many product variations. So that's just a decision point, but once you decide and put it in your basket it's really just collecting your company information. And if you don't have a company it's really like, I could just say Michelle Covey and my address.
Michelle:
So it's your business address. And if you are operating out of your home, you could put your home address. We don't really do any checks against business data or anything like that. We just ask for a valid contact information billing information, you know, traditional stuff that we could, you know, contact you if we need to. And then the next screen is usually like payment information. So collect your credit card information, you have to click on our terms of agreement. And then once you hit submit, we really it's in near real time, we'll issue you your identifiers. So you'll get them pretty much on the screen, or if you get multiple of them, you'll get them in an email right away. And then you'll also get at least with GS1 US you'll also get access to our data hub tool, which is a, a free tool for users.
Michelle:
And that helps you when you're talking earlier about, I don't know, do you have to add a check digit and how do you construct GTIN the tool actually, especially for those smaller businesses that like, this is really brand new to them and like, how do I do that? We do that for you within the tool. So you don't have to know what the check digit is. We don't know how to like, do that algorithm. The data hub tool really helps you set that up, and then you could assign a few product attributes to it. So you could identify your products in there.
Bradley Sutton:
Okay. Now, now, now you guys deal with tens of thousands, if not hundreds of thousands of Amazon sellers. And I'm sure you've gotten some really off the wall, like weird things that happen, but what are some of the common maybe kind of ask questions or kind of like obstacles that, that Amazon sellers run up into and that they ask you guys for help on things that you think maybe a lot of our listeners might have these same questions.
Michelle:
Sure. So there's three common ones that we see. There's a lot of 'em, like you said, there's always in those strange use cases, but the three common ones we see are the first one is, again, going back to, I made the comment on like that very first field when you do product identifier, and then which one do you select? I think the error is value specified is invalid. So if you put in your product identifier, and maybe it's a 12 digit, but you collect select a GTIN, it's actually expecting the UPC, not the GTIN. So you have to make sure that, you know, for the number that the identifier that you add, that you select the right option that goes with it. So is it an EAN , a GTIN, or a UPC? So that's one of the first ones.
Michelle:
Another common error is details don't do not match. So as you start to enter your information sometimes this will be associated to your brand name. So if your brand name is does not match in the Amazon database, maybe specifically Brand Registry, you may get that. So you're gonna have to make sure you're brand registered, or if you're using a brand that you're not authorized to sell, you may get that error. And then the third one is product already exists. So this one might be you're listing your product. You may actually be the authentic owner of the GTIN, but this could be a GTIN hijacking case. So there might be somebody already using that GTIN on the on the platform. And so you might have to then provide your GS1 company certificate. You may have to prove that you're the rightful owner work with SPS on that, the selling partner services. But we also run into that one too, with that GTIN hijacking issue. And then we also have seen other things where as you're listing, you have to make sure you, you know, you're using the right format, you know, are you not using special characters? Don't you know, put all caps, you know, there's other little tips that you could do when starting your listing process.
Bradley Sutton:
All right. One question somebody had from one of our Facebook groups is let's say that we were on one of those annual plans. And for whatever reason, I stopped paying my annual subscription. Well, what happens now? Do I lose ownership of that prefix and that certificate?
Michelle:
So you would, if you are an annual subscriber, you do not pay your renewal fee. We record you as an inactive within the GS1 database. So that our computer database it'll show you're still associated to the prefix, but it'll be inactive. And we report that out. So some companies will use that information, some others won't, it just depends on what the, you know, how companies use that information. And I can't say, you know, how Amazon or Walmart or any other company uses that, but they do get that active versus inactive status.
Bradley Sutton:
Okay, cool. All right. So we, we do something on this show called the "TST" or the TST 30-second tip. So, you know, based on barcodes here or whatever your other expertise you might have, well, what is a tip that you can give our listeners out there?
Michelle:
So I always say, if you are starting out on Amazon, maybe have one or two products, or are testing a few products, you may look at a single GTIN, or you just kind of starting out and get a smaller capacity, but we always say think for growth, think of where you may wanna go in in three to five years, or you see if your business is growing. So you pre-plan, maybe you want a larger capacity from a prefix standpoint. The other thing to think about is if you're also expanding channels right now, we know Amazon really is only using the GS1 identifiers like GTIN, you know, the EAN and UPC, but other retail channels will actually start to ask you to provide other GS1 barcodes if you're shipping in logistical units. So carton labels so the GS1-128.
Michelle:
So as you start to grow and expand your channels you might need to start understanding some of the other GS1 standards supported, and we have a whole host of resources at GS1 that can help sellers with that you know, basics on how to identify your product, but then how you could use your prefix for that carton labeling for EDI. So trading documents electronically between trading partners. So we're not just known for the barcode. We have a lot of other standards that support supply chain processes, that many other retail channel retail partners use. And we just wanna make sure that we let people know that we're here to help support on that as well in a growth strategy for companies.
Bradley Sutton:
Awesome. All right. So if one of our listeners out there is ready to go get their first barcode and how can they find you guys on the interwebs, or maybe they just wanna reach out to get some more information on this subject. How can they do that?
Michelle:
Sure. Our website's fairly straightforward is gs1us.org,
Bradley Sutton:
gs1us.org. All right.
Michelle:
And also just gonna put in plug too. We do also have a YouTube channel, which has a lot of very short videos like a GS1 US YouTube channel has a lot of great resources short videos that explain what a GTIN is, explain some of the supply chain processes that I just mentioned. So that's another whole host and we also have a great education library, education and training resource library.
Bradley Sutton:
Awesome. Awesome. Well, well thank you for coming on here. You know, this is sometimes there are subjects that don't really have to do with every single Amazon seller, like, you know, three who's gonna use 3d imaging or something like that. Well, it's important to some, but not to others, but this is something that literally affects every single Amazon seller, because this is something that Amazon requires and you guys need to be in compliance on. So I hope everybody was paying attention. Thank you so much for joining us Michelle, and maybe if some new happenings come about in this industry, we'll be reaching out to you for some, some updates.
Michelle:
Sounds great. I'm always glad to help out.
Bradley Sutton:
Thanks a lot.
---
Enjoy this episode? Be sure to check out our previous episodes for even more content to propel you to Amazon FBA Seller success! And don't forget to "Like" our Facebook page and subscribe to the podcast on iTunes, Spotify, or wherever you listen to our podcast.
Get snippets from all episodes by following us on Instagram at @SeriousSellersPodcast
Want to absolutely start crushing it on Amazon? Here are few carefully curated resources to get you started:
Accelerate Efficiency with Insights Dashboard
The all-in-one customizable dashboard for sellers and brands, designed to accelerate decision making through the centralization of data, insights, and action. A bird's-eye view of your business with personalized suggestions to unlock growth.
Learn More about Insights Dashboard