Episode 70 – Talking Ad Strategy with Helium 10's New PPC Tool Product Manager
Episode 70 of the Serious Sellers Podcast hosts Vince Montero, the new product manager of Helium 10's new Amazon PPC tool, ADS.
Updated on: October 6, 2020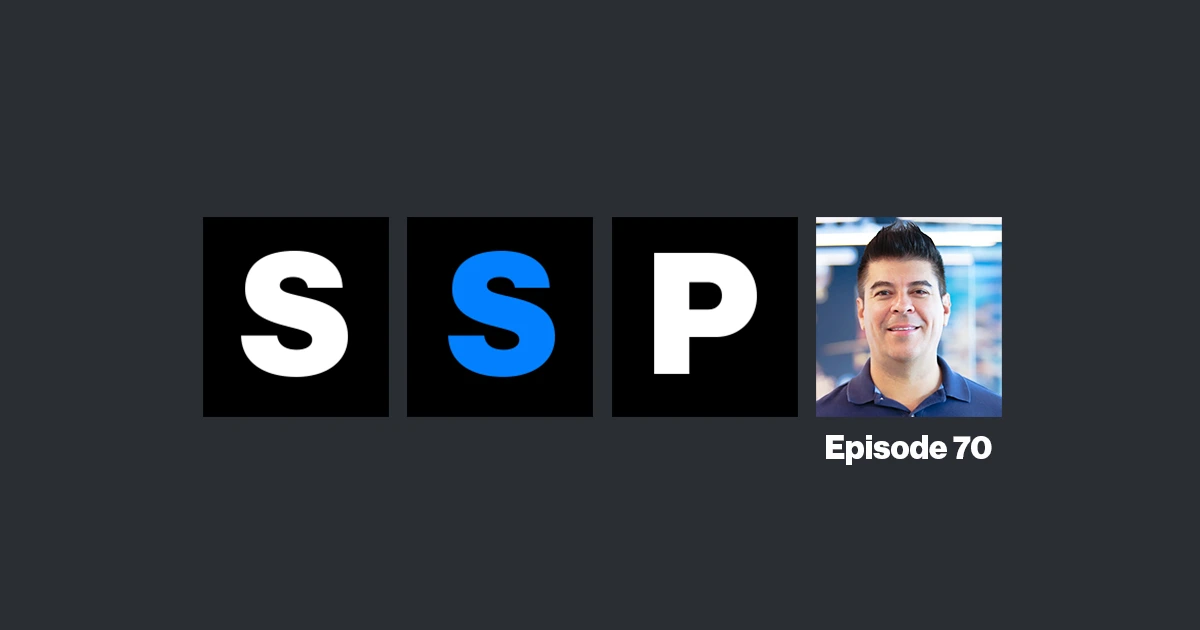 As much as we'd all like to have been selling on Amazon during its wild-west days where according to legend, millions were made on salad-spinners, silicone spatulas and phone-cases alone; now we need to be better at all facets of our eCommerce game.
Some of us are working an Amazon side-hustle.
Still others have made the transition to a full-time Amazon selling lifestyle.
I'm going to guess that none of us however, can say that we have too much time on our hands.
Whether it's family, work, play or the always expanding amount of time that it takes to thrive on a very competitive Amazon landscape, we simply finish each day wishing for just a few more hours.
For this reason alone, it is so important to have Helium 10's suite of software tools to give you back that time.
Then, it's up to you to decide how to spend it.
Rock-climbing, travel, activities with your children or, scaling up your Amazon business; the extra time will make these choices possible.
Developing strong Amazon PPC skills have increasingly become one of the more important tools that in addition to solidifying your entire Amazon product ecosystem, will greatly contribute to the amount of free time you have available.
That's why, on today's episode of the Serious Sellers Podcast, Helium 10's Director of Training and Customer Success, Bradley Sutton has with him Vince Montero, who was recently hand-picked to be the Product Manager of Helium 10's new PPC tool, ADS.
As Amazon sellers, you are almost certainly aware of the importance of PPC (Pay Per Click) advertising.
If you ask 10 Amazon sellers what contributes the most to success on Amazon, you might get 10 different answers, but in everybody's top 3 would be the product launch.
Having a good product launch will help give sellers on Amazon the all-important sales velocity that creates the momentum you need to succeed.
But, let's take a step back and learn a little more about Vince.
Vince has been ahead of the eCommerce curve ever since leaving school and almost immediately getting involved with digital advertising.
After a period of time in London running business development for the UK branch of a trending eCommerce firm, he returned to the US to work in business development for a mobile software company.
Later, it was while working as an eCommerce consultant during the last stretch of what would serve as an almost perfect training for a PPC specialist, that he was approached by a very satisfied client to establish a presence for his firm on Amazon.
It would be nice if somewhere along the way, someone would expose the "secret" to selling successfully on Amazon.
Once again, we'll hear that the secret revolves around hard work and attention to detail.
When asked what about the clever ninja hacks he's learned over the years, Vince replied simply, "It's all about taking the time to do a good job with your listing optimization, cut out waste, and scale up."
If you are like most eCommerce sellers and are chasing Amazon's A9 algorithm, trying to get to page one, this is one podcast that you are going to want to put on repeat.
Because on today's episode, you are going to learn about managing ad portfolios, launch strategies and most importantly, Helium 10's new PPC tool, ADS (Advanced Data Solution).
In episode 70 of the Serious Sellers Podcast, Bradley and Vince discuss:
01:20 – Introducing Helium 10's New PPC Tool Product Manager Vince Montero
02:32 – A Strong Background in Ad Networks Gives Vince a Head Start
03:19 – Previously a Listener, Now a Podcast Guest
04:48 – Vince Runs Through a Few Common PPC Mistakes
06:11 – OK, What Exactly are Portfolios?
08:15 – Are Next-Level Ninja PPC Tactics a Thing?
10:06 – Chasing Amazon's A9 Algorithm
12:40 – More Targeted Might be Becoming More Expensive
14:04 – Best Product Targeting Campaign Advice
15:23 – Launch Strategies to Get to Page 1
17:42 – Metrics that Help Make Keyword Validity Decisions
19:17 – Helium 10 ADS – Advanced Data Solution
21:40 – Vince's Dream PPC Tool Attributes
23:56 – ADS – Portfolio Management
25:35 – Vince Calls Bid Suggestions, "The Coolest Use of Data"
27:48 – Originally a Stand-Alone, ADS Will Soon Talk to Other Helium 10 Tools
29:20 – Helium 10 ADS Updates to Come – and TACOS for Bradley
Enjoy this episode? Be sure to check out our previous episodes for even more content to propel you to Amazon FBA Seller success! And don't forget to "Like" our Facebook page and subscribe to the podcast on iTunes, Google Play or wherever you listen to our podcast.
Want to absolutely start crushing it on Amazon? Here are few carefully curated resources to get you started:
Transcript
Bradley Sutton: Today, we've got a former PPC consultant who is going to give us some top-level strategies for running PPC on Amazon accounts, and he's actually now our product manager for the new Helium 10 PPC tool. He's going to give us a little sneak peek on that.
Bradley Sutton: Hello everybody! Welcome to the Serious Sellers Podcast by Helium 10. I'm your host Bradley Sutton, and this is the show that's a completely BS free, unscripted and unrehearsed organic conversation about serious strategies for serious sellers of any level in the eCommerce world. And I am sitting now across the table from Vince Montero, check out that accent guys, Vince Montero here, he is one of our newer employees. He's our product manager for our PPC tool and he's just going to give us some great information about PPC today. But before we get started, Vince, how's it going?
Vince Montero: I'm good, Bradley. How are you?
Bradley Sutton: I'm doing just delightful. Did you have lunch yet today?
Vince Montero: I did. And, yeah, I'm trying to not feel the effects of the after-lunch lull.
Bradley Sutton: Okay, well we're going to make sure that you're going to fully stay awake throughout this thing because you're going to be doing most of the talking here. All right. First of all, I always start with your origin story. Let me ask you a question: Did you grew up in California?
Vince Montero: I did, yeah. Born and raised in LA actually.
Bradley Sutton: Okay, graduated high school, and then what did you do after that?
Vince Montero: I went off to college, and then started working. I actually was working when I was in college. I've been in a couple of different fields since then: property management, banking. I got into digital marketing in about 2005 working in ad networks. After a couple of years, I ended up in London in 2007 running the business development for a company that started out as coolsavings.com. I don't know if you remember that, but it was that little piggy bank with the sunglasses on them. I ran one of their divisions out in the UK, and they were doing coregistration which was a big deal at that time, back in 2007. And then, back here in the states, my last full-time marketing role was actually at Phunware, which was a software company, and now, I'm back in a software company. But they were specific to mobile—app developers turned mobile SaaS company. After that, I wanted to work for myself, and for the last two and a half years before coming here, I was a consultant on digital marketing, everything from display advertising, website design, social media marketing and email. I got a chance to work on an Amazon account for one of my clients, and because I had a strong background in ad networks and working with PPC, CPC, CPM, all the different acronyms that you could think of for digital advertising, I picked it up pretty quickly, and the past two years, before coming here, my business actually became solely Amazon PPC focused, which is great.
Bradley Sutton: Okay. Now, I believe that the first time we met, if I'm not mistaken, was at one of the Helium 10 socials in Vegas, and I remember, you came up to me and the first thing you said was talking about the Serious Sellers Podcast and how you listen to it.
Vince Montero: Yeah. This podcast. Yep.
Bradley Sutton: And then, there was one of the guests from the podcast from that week, Mayana was there, and then now, here we are, just a few months later and here you are, actually on the podcast that you used to listen to.
Vince Montero: Yeah, yeah. It's a mind bender. We were just talking about this podcast a couple months ago. I introduced myself to Mayana because of it. And now, here I am sitting here recording one with you. It's awesome.
Bradley Sutton: Awesome. You're one of the first people now, filming on our brand-new equipment here. Anyways, now you've come kind of full circle. All right, so we're going to talk a little bit about some general PPC strategy, because that's what you used to do. I would almost consider you like a specialist. I mean, this is what you were literally paid to do before you came here. Quick question: have you ever sold on Amazon yourself or are you like me where all this stuff you were doing was kind of for other people?
Vince Montero: Yeah, like you, but just on a consultancy basis. Once I got into the groove with my first client, I picked up more clients. I found out I had the ability to really look at the information, the data, and kind of break things out for a lot of the clients. I saw the pieces that they were missing, and what I loved most about it was just being able to help these sellers that were out there as their side hustle. Maybe this is something they're doing full time, but they just don't have time to manage their PPC. It was great to kind of specialize in that and also help these people along the way.
Vince Montero: Okay, cool. Now, going back to your experience as a consultant in PPC. What I hear all the time from different consultants, not to mention any names, but they're like, "OMG! I just got this one client. I cannot believe how stupid they were. They were doing this idiotic thing. They were ridiculous." I'm not saying that you would ever say those things about your clients, but again, so in your experiences, what are some of the most maybe common mistakes that you saw from your clients, of course before they hired you, that right off the bat, maybe some of our listeners might be doing some of these same things and immediately they need to either stop doing it or they need to change it? What are some of these things that you can share with us?
Vince Montero: Probably there's two things. What I quickly realized in doing PPC was that it was dramatically affected by the product listing page and the backend keyword page. When I took on clients, I would actually do an audit first, and you'd be surprised at how many times I'd find backend pages that were empty or completely incorrect information or words that aren't even relevant to their product. One thing I definitely would say is listing optimization, including the backend keyword page. People think of just optimizing their product listing, but that backend keyword page is very important as well in getting your search terms right, your subject matter right. I really saw that improved PPC results, so that actually became one of my methods that I would use when I first took on a new client. The other thing I'd say is just general disorganization. Lots of different campaigns or products and what campaign makes it harder to track, manage, optimize, or just not taking advantage of portfolios that are fairly new as of this year.
Bradley Sutton: Well, what exactly are portfolios for those who don't know?
Vince Montero: Sure. Portfolio is within Seller Central and is just another layer of organization really. It's a way to put campaigns that are similar and product or maybe even in goal—whatever category. However, you want to categorize your products. You can put them in these folders called portfolios, so that when you click on them, you just see whatever's in that folder, whether it be gifts for women, gifts for men. You could have different types of gifts in there that you're selling or maybe you just want to see your line of password books, and that's all you want to see. But you also sell pens, and you just want to see all the different campaigns for that. They should really be broken down into different portfolios, and that way, you can quickly look at the whole category by itself. It's just a really simple thing to use and quickly see where you're at, so you can then make optimization decisions.
Bradley Sutton: Okay. You mentioned disorganization is one of the biggest things, so having portfolios will definitely help with that. But what are some other kinds of things that are disorganized, I guess, that are easily fixable? I mean, are you just talking about how they set up their campaigns or about how many keywords are in their campaign? What do you mean by organization versus disorganization?
Vince Montero: Oh yeah, sure. Well, the organization part is simply about how to organize your different types of campaigns to make them more manageable. When you're running a lot of campaigns especially, utilizing those portfolios is going to become very, very important. Now, different products in one campaign that aren't related to each other or loosely related, that's another area I would consider disorganization. I've also seen hundreds of keywords in a campaign and a broad campaign, for example, instead of really doing your homework and whittling it down to a solid group of maybe no more than 20 keywords or so, because when you put a hundred keywords in a campaign, Amazon's really only going to test maybe a quarter of that based on your daily budgets, based on their algorithm. You're not even really going to get a full test on that keyword side if there's just too many to begin with.
Bradley Sutton: Okay. Now, you are not a consultant anymore. You're not going to lose any money off of what I'm about to ask you. But when you were a consultant, what was something that you felt that was like next-level ninja? You're like thinking to yourself, "Man, I'm giving my clients some crazy value here, because I'm doing this strategy that I don't think many consultants or people who are running their own PPC are doing." Was there something now that was your own trade secret maybe that you would never have given up, but now that you're working for Helium 10 doesn't matter if you give this up anymore?
Vince Montero: I wish there was some kind of ninja secret that I was using, but no, actually, the goal with optimizing campaigns really is just to cut out waste and scale up the things that are working. Right? Finding that formula. It's not really "ninja," but the thing I consistently saw people not doing, because it's time consuming, is going through their search term reports and looking at the auto campaigns, their broad-based campaigns, maybe even their phrase campaigns to see what search terms are being linked to your keywords that are wasting money. The only way you can really do that is by looking at the report itself and going through it and adjusting it to look at spend and ACoS and see what's not converting. That's one of the first things that I would do, because most people don't know to do this or it's honestly just too time consuming to go ahead and do all that work and find the data that's being wasted. And then, also looking at the same report, finding those search terms that you could use as keywords to then put into your broad-type campaigns or maybe even an exact proven type campaign. Based on the data, if you get the right keywords out of that search term report, they should convert. Again, it's, it's something that is time consuming going through that search term report. I understand why a lot of people don't do it, but for you guys out there that maybe aren't going through your search term report at least on a monthly basis, you definitely should start doing that.
Bradley Sutton: All right. Now what I want to talk about is something that is a lot of controversy on because there's people on both sides of the fence that I have read on social media and different Facebook groups, et cetera. And it's about keyword isolation negative matching. Let's say you've got a broad campaign, you've got a phrase campaign, you've got an auto campaign, something seems to be converting well. In the past, kind of like the standard was, "Okay, I'm going to negative match this in my broad or negative match in my auto, and I'm going to make a new manual campaign or whatever the case is, so I can just really target the crap out of this one keyword that seems to be converting well," but then, what's been happening over the last couple of years for no rhyme or reason, because who can decode how the heck Amazon PPC algorithm works sometimes, maybe on that auto campaign or on that phrase campaign, they were getting a hundred impressions, 10 clicks or something per day. Right? But now they've got it in the manual campaign expecting even better, bidding even higher, and then now they can't even get an impression for the life of day, let alone clicks. What was your strategy then as far as, "Do you isolate words that are converting well in the autos? How did you do that?"
Vince Montero: I did employ that strategy at times with certain clients and some without. What I will say about that, in general, is that with new Amazon campaigns, even if you're putting them into an exact campaign and your keyword bids are high, you're running up the budget, it's just really taking a lot more time for campaigns to start to get impressions and to scale in general. I don't know if that's just because of the increasing number of campaigns that are out there, but one of Amazon's major parts of their algorithm is that looking at the conversion rate. Right? If you've got a brand-new campaign that's out there, obviously there's no conversion rate. Those new campaigns, even though the keyword may have converted in the auto campaign, you're putting in in that exact targeted campaign, hiking up the price, it might not convert for a while, if at all.
Vince Montero: In general, because of that, and I've seen different results from this, one of my last clients, for example, did a search term pull of their brand keywords. People were searching for his particular product based on his brand name; I found a bunch of new keywords that I hadn't seen before, so I used those into his actual branded keyword campaign. And what we saw was that even though they were his brand keywords, it actually increased the ACoS of that brand campaign. And these are keywords that should have been fairly cheap because he's really the only one that converts for it, right? We did see the increase in the ACoS, and it was only attributed to the fact that once you pull those keywords out of the auto or broad campaign and make them an exact keyword, they become more expensive as an exact keyword.
Vince Montero: It's a much smaller bucket now that you're isolating that just for that keyword. I think you have to weigh out the possibility that you might be making it more expensive as you're maybe making it more targeted. If it's something that you want to test, you have the capability, always AB test these campaigns. You can always do one with a matching that you're pulling out the search terms into a broad campaign and then do another one. Do the same thing but don't negative match them. Right? You can have them running in the auto campaign as well as that broad campaign. You might see that Amazon just prefers to still link it to that auto campaign or that broad campaign versus that new exact campaign. We're seeing that as well. Testing is basically going to be the answer to that question.
Bradley Sutton: Okay. Now, 60 seconds or less. Now, I'm not saying you talk too much, even though I kind of am, but anyways, it's nothing on the level of Kevin King. I don't know if you've heard that podcast that just happened.
Vince Montero: I'm still listening to it regularly.
Bradley Sutton: Did you listen to it. Yeah, you're still listening to him because he talks so much, but he didn't let me talk one time for eight minutes straight. All right. Anyways, I'm just trying to avoid that. But again, I do want to talk about our Helium 10 tool that's coming out, and we're not going to have enough time if I don't put a time limit here. 60 seconds or less: What is your best advice for product targeting campaigns? Go.
Vince Montero: Okay. Sure. Actually, again, taking the time to go through your search term reports, there's a lot of gold in there, and most people do know this, that there's ASINs in the auto campaigns. Those are the keywords that start with B, O, and/or maybe B00. I definitely saw a boost when I pulled out those ASINs and targeted them in product targeting campaigns, because they're relevant ASINs. On top of that, use Cerebro, do a reverse search, find those ASINs that were relevant to your product and target those. Then on top of that, what's really important from the start, make sure those products that you're targeting are really relevant to your product: relevant price, relevant rating or below. You don't really want to target another product that's less than your price or higher in ranking when you're doing product targeting.
Vince Montero: There's plenty of products out there that you can target that are either at your price point or higher or at your ranking and below that you should be targeting because that's really going to get the best results.
Bradley Sutton: Alright, time's up. That was actually perfect, right on time. You stuck that at 60 seconds. Good job. Good job. Maybe you can teach Kevin a thing or two. Alright, now next thing, 60 seconds or less. Launch strategies. Say, people who instead of using rebates or giveaways or Search Find Buy, but they're like, "Hey, I just want to get to page one for X keyword using PPC."
Vince Montero: That strategy is pretty simple. If you've got your keywords that you want to rank for and you're launching a new campaign, just make those bids double what the suggested bids are on Amazon to really get up there. Launch strategy should always be with the mindset of spending money because you're going to spend money, especially in today's environment. You're going to be spending money to launch anything. If you want to rank, make sure you get those keywords in there, make sure they're in your content as well, and make sure they're in your product listing, your product description, your backend keywords. That's going to help you both organically as well as being found for those keywords as well as the results with the PPC.
Bradley Sutton: And manual campaign for them.
Vince Montero: Oh yeah, definitely. Yeah, definitely start a manual campaign, auto campaign as well.
Bradley Sutton: All right, 60 seconds or less. I just created a brand-new listing. How should my first PPC campaign look? I mean, are we talking, I'm just strictly doing auto campaign or as long as I have some really strong knowledge about the keywords, I can already start with manual from day one? What's your strategy?
Vince Montero: Yeah. Yeah, absolutely. If you've done your research, if you've used tools that Helium 10 has that you're confident that the keywords that you've found are relevant and should be the ones that you should be trying to rank for, then you should absolutely start a manual campaign right away. The auto campaign is great because it's going to do some research for you. You never know what people are searching for. And Amazon does a great job of linking customer search terms to your product. Sometimes they don't, so again, you've got to watch the search term reports. For the keywords that they do find well, then it's great because then you can then utilize those at a later stage. But yeah, in general, launch should always include PPC because Amazon's making it super important for people to do PPC. There's a lot more spaces now on the first page; there's a whole product targeting list that's doubled now on page one as well. Amazon is making it kind of imperative that you need to do PPC or else you're probably not going to be seen.
Bradley Sutton: All right. What are your metrics as far as when you decide a keyword is a dud, so you've got to kill it and negative match it? Is it length of time? Is it number of impressions? Is it your clickthrough rate? Is it a click compared to spend? What did you do as a consultant? Wat were your rules, where you're like, "Okay, yup, this keyword is garbage. We're going to stop it."
Vince Montero: Sure. Yeah. For those people that are being cost-conscious of their keywords as in they're not branding, and they're doing a branding campaign, which they don't really care at that point how much a keyword is spending. General rule is: if it's got 20 clicks and no sales, it's probably not going to convert. You know, people have clicked on it; they're not really showing interest. That's something that you could probably consider, pausing at that point or making negative. Or spend. Spend is a big part of this. If you've got a keyword, no sales and it's spent the cost of your product, then if you get one sale that's 100% ACoS. You might want to make that your marker or double it if the spend is twice what your product costs. That point really, that's probably not a keyword that's going to be converting for you. You should go ahead and pause that as well.
Bradley Sutton: All right. Now let's get into the content we all signed up for. Let's talk about the PPC tool coming from Helium 10. First of all, has it been determined? The name of it? Is it called Vinsanity? What are we calling it?
Vince Montero: Vince optimizes? No? It's called ADS actually, but it's an acronym. So, we are calling it advanced data solution.
Bradley Sutton: Ooh, you fancy, huh? ADS by Helium 10. I like it. I know until now so far, a very small handful of some elite members and people in our beta testing have had access to it for a few weeks. I know over the next few weeks, it's going to be rolled out to others. But let's talk a little bit about just how it's set up. Some of the most common questions I get, number one, is it going to have automation?
Vince Montero: Absolutely. As a consultant, as I was explaining, a lot of things I did were manual. It's great that I'm able to be here and then take some of those processes and automate them. Yeah, definitely automation is going to be very important for people to take off their plate and have it run either through our suggestions or through our rules. We're going to have automation based on some of the keyword movement that I talked about: Scouring the search term reports, finding those keywords that are doing well for you based on parameters set by the user. We're going to move those into a research campaign if you've got one, and then do the same thing and move those over to an exact campaign once they've proven themselves there, so that you can really scale your exact campaigns and put a lot of focus and attention on those.
Vince Montero: That's one thing: we're automating. And the other thing is the reverse of that, taking out the wasters, setting up parameters around keywords that are not performing well or search terms that are not performing well and removing those from your campaigns by negative phrasing them. That alone is going to be very, very timesaving as well as money saving for a lot of our users. It's definitely something that I wish I would have had a when I was consulting, because I ended up having to do most of that kind of tracking by spreadsheet. Taking that knowledge and putting that in the tool is definitely something that we're excited to roll out.
Bradley Sutton: Okay. And I remember, you a couple of weeks ago had showed me something. My memory is that of an 80-year-old, so I forgot already, but there was something that you were specifically showing me like, "Hey, look at this. This is pretty cool." And of course, I was paying so much attention because I remember it completely right now. But you had said that "Man, when I was a consultant, I was having to do this manually", and there were some tools out there at the time that you were a consultant that you had tested and none of them had this functionality. What is that? Is it one of the automations? When you came here, you're like, "Hey, I definitely want to make sure that this tool is going to have this," because of what you went through.
Vince Montero: Yeah, yeah. It literally is what I was describing. I did look at different tools out there, but I did not find any that really did a good job of pulling out those search terms that were spending without any kind of limits. Most of the tools out there basically have a lot of rules set around either clicks or ACoS. Now, obviously if it's a search term that hasn't made a sale, there's no ACoS. They then divert to clicks, which is fine. But you know, if you set it up for let's say a 20-click average and your keyword's pretty expensive, you could still spend a significant amount of money before that 20 is hit. And then, it's running for a day before it actually gets turned off. What I'm excited about building, is actual cost threshold, giving the user the ability to say, "Hey, this search term, if it spent X amount of money, let's say, at the price of your product, if it spent that $20 for this towel and it hasn't made a sale, then I want to go ahead and make that a negative." We're going to have some default modes for that, and then, next iteration or so we're going to have those rules more visible so the users can actually have full control over those rules and really be able to fine tune what their strategy is. If you're tweaking the ACoS goal, if you're tweaking the cost threshold goal per keyword, you really have the ability to say, "Hey, this is a branding campaign, so I don't really care and make the ACoS 200%. Make the cost threshold $200 per keyword. I just want to get my product out there." Whereas if you're being conservative with your costs, you can really drill it down and make it a lot more manageable.
Bradley Sutton: Okay. Another thing I believe you had said it's going to have was about that portfolio management. Are we going to be able to do that outside of Seller Central? You can do that within Helium 10? Manage a portfolio?
Vince Montero: Yeah. And again, that's just a great way to look at your products in a campaign overview. Again, a lot of the tools out there, I did not see portfolio level view. I saw campaign level views, ad groups, keywords, search terms, which we will have as well. But we're going to have that additional layer of portfolio so that within our tool, you can actually look at your campaigns at that level as well and then drill down into it at the campaign, ad group, search term, keyword-type level.
Bradley Sutton: Okay. I guess it's safe to say that at the very least, you're going to have the full functionality of whatever you would be able to do in Seller Central. But obviously, there's advantages because you can't automate things in Seller Central. But other than the automation part, what are some other advantages that you think people are going to have by using ADS by Helium 10 as opposed to just trying to manage everything in Seller Central?
Vince Montero: Well, the biggest thing in Seller Central is to look at those search terms, you have to download a report, right? You have to set your dates and then you have to download it. Everything's there. They don't really give you the opportunity to break it down by campaign or campaign type. It's just everything all in one report. Our tool is going to be looking at that report and downloading it regularly. You're going to have all that information from your search terms right at your fingertips. Right next to the keywords, you're going to be able to see the search terms that are associated with that keyword. That alone is a big-time savings as well. The coolest thing that we're able to do from that data and that we have it on hand is a part of our rules is we're going to make bid suggestions. Aside from being able to move keywords, either from search term report to research campaign or negative exacting them or negative phrasing them, we're going to have bid suggestions.
Bradley Sutton: What are those about? How in the world are we suggesting something? What are we basing that on?
Vince Montero: We're basing that on the data. We're basing that on the search terms. We're basing that on the success of the keywords that are running. We're looking at them within basically a seven days block of time. And then we're making suggestions on our suggestions page about what we think you can do to either lower ACoS or if you got a low ACoS, "Hey, let's increase the bid." We're looking at a couple of different variables, everything from the ACoS to the CTR to the impressions. We're not just basing it on clicks or ACoS, which again, a lot of other tools out there that I saw, are just basing their rule sets on those things. There are actually 11 variables that I'm using for the bid suggestions just to decide whether or not it should be increased or decreased or paused.
Vince Montero: We're also giving those suggestions as well similar to the negative phrasing in the search terms. We're also going to be looking at keywords the same way and saying, "Hey, this keyword has hit your cost threshold, and we're going to suggest pausing it." Or "The ACoS has been over 90% for 30 days. You might want to pause it." We're looking at a lot more variables then what I saw when I was looking at and working with some of the other tools. They are really going to help people make solid decisions on some of the optimization of their keywords.
Bradley Sutton: All right, now, we've got a lot of tools in Helium 10 that kind of talk to each other, a button from one like, I can go from Cerebro to Frankenstein and into Scribbles, and they all talk to each other. I can pin a product from X-ray and Amazon, and it'll show up in my Black Box. And then we've got some tools that are kind of standalone, like, for example, Index Checker is a kind of standalone, Alerts is kind of by itself; Profits, Follow-Up, our Email Automation. Now our PPC tool, which bucket does this fall into?
Vince Montero: It's going to be a standalone product, similar to Follow-Up. However, one of the key things that is also a differentiator for us in looking at this as tool is that we're going to be able to integrate some of the other tools that Helium 10 has. A lot of people are using Magnet for their keyword research and Cerebro maybe for their ASIN research or ASIN Grabber if they're just looking at the first page of ASINs. Not in this first iteration, but the goal in at least the second or third is to really integrate some of those other tools that we already have and that a lot of people are using, like I did, and make it more streamlined so that your inside ADS by Helium 10, and you're creating a campaign, the goal is to have the ability to do your keyword research right there, and have it go right into that campaign or when you're in Magnet, you can also have access to ADS to link it right there.
Vince Montero: it's very similar to what you were talking about. Some of the tools talking to each other. That's going to be a big advantage for our users: the ability for us to integrate some of our tools that people are already using to do their keyword research and ASIN research for the purposes of PPC.
Bradley Sutton: All right. Excellent. Now there is a lot of stuff I know you have. You already talked about feature iterations and because you're in the Elite group and you actually have some Elite members using it, you've been getting some direct feedback. What are some cool things that might not be here in the first one, but like you can't take credit for? I mean almost everything I think we've been talking about are all Vince-isms, which is why you were hired by Bojan, our CTO. You have this experience and so you're like, "Hey, we need to do portfolios. We need to do this automation." We've done it. But what are some things that you can't take credit for? In other words, it was one of our Elite members who gave you the idea, and you're like, "Whoa, that is a pretty cool idea." And now we're actually going to integrate that maybe in the future?
Vince Montero: I will say that directly, an elite member's request was looking at total sales. A lot of people have heard the term TACoS out there.
Bradley Sutton: Stop talking about tacos. I'm on a diet right now. I don't need that visual.
Vince Montero: So am I, birthday's coming up. TACoS is your Total ACoS, or effective ACoS as some people are calling it. For the people that have Profits, we're going to be able to look at your total sales and then actually compare that against your advertising costs. And really at the end of the day, that's how it holistically is how it should be looked at: your advertising costs should really be kind of a marketing expense. And so, you should be looking at how it affects your total sales. As we know, based on indexing and Amazon's algorithm, when you do PPC, it affects your organic sales. We're definitely going to be adding in a TACoS line.
Bradley Sutton: That's the last thing I need: a line of tacos.
Vince Montero: Well, yeah, it's a term that people will remember.
Bradley Sutton: Cool. Quick note guys, don't forget that regardless, or you are listening to this podcast, whether in your iPhone, Stitcher, Spotify, Google, that you hit the subscribe button so that you can be notified every time we drop a new episode.
Bradley Sutton: Obviously, Vince here did that very thing and that's why he was kind of in the Helium 10 loop. Vince, welcome to the team, and thank you very much for pushing this launch along with the ADS by Helium 10. And thanks a lot, Vince, and we will be talking to you again, I'm sure, soon.