#342 – A Unique Amazon Seller Story Like No Other!
Today's episode welcomes Joseph Wang to talk everything about Amazon strategy, teddy bears, cryptocurrency, dating advice, lifehacks, networking, and more!
Originally published on: April 26, 2022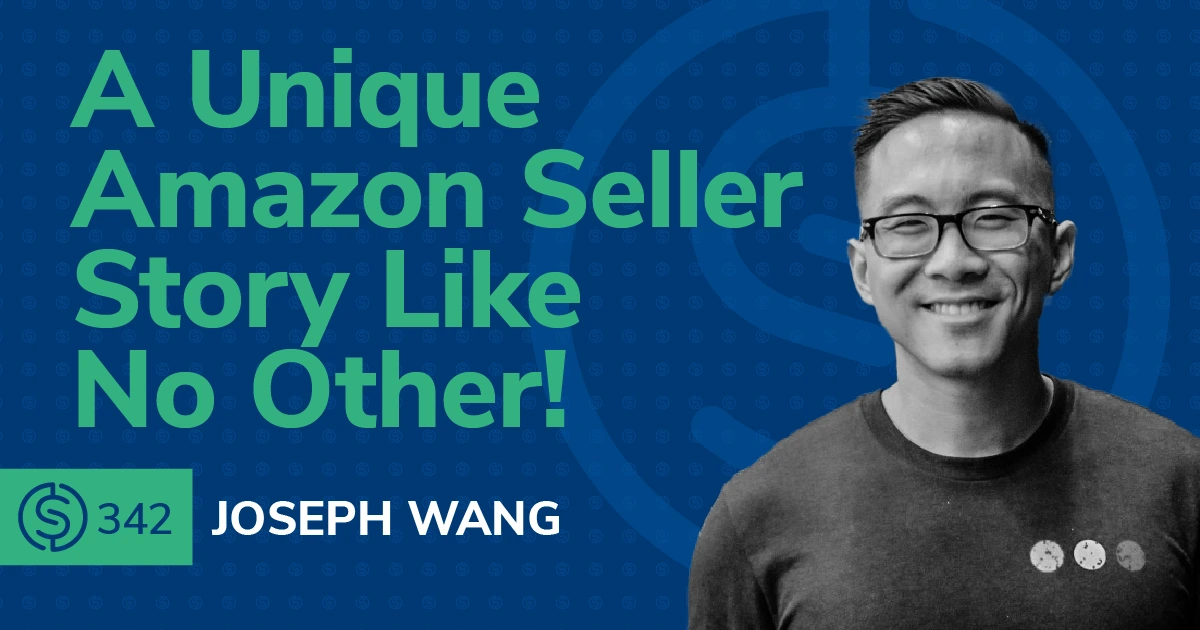 We've got one of the most wide-ranging subject matter episodes in SSP. We welcome Joseph Wang to share his Amazon journey, the ups, and downs, traveling the world after exiting his Amazon brand to planning his Amazon-selling come back only to find challenges ahead. He also shares the lessons he learned from this and his best product research methods. For Joseph, it's all about being able to help people by teaching them.
As a bonus, he also shares out-of-the-ordinary tips and strategies regarding cryptocurrency investing, dating advice, lifehacks, networking, and much more, so make sure to listen to the very end!
In episode 342 of the Serious Sellers Podcast, Bradley and Joseph discuss:
02:00 – Show SSP Some Love And Leave Us A Rating And Review
03:30 – How Bradley And Joseph Met
05:00 – Joseph's Backstory And How He Got Started On Amazon
08:00 – Spending Thousands Of Dollars On Masterminds
10:00 – Finding Opportunity With A Teddy Bear And Bean Bag Brand
15:00 – Exiting His Amazon Business And Traveling The World
16:00 – Making An Amazon Comeback
18:00 – Issues For An Ordinary Amazon Seller
20:00 – Joseph's Product Research Methods
22:41 – Working On A Passion Product
24:50 – Transitioning From Amazon To Cryptocurrency
27:00 – Learning How To Trade And To Co-Found A Crypto Game Company
31:00 – What Does The Future Look Like For Joseph?
34:00 – Being Able To Help People By Teaching People
35:30 – Dating Advice From Joseph
38:00 – Investing In Cryptocurrency
43:30 – Joseph's 30-Second Tips
49:00 – How To Get In Touch With Joseph
Transcript
Bradley Sutton:
Today, we've got one of the most wide ranging subject matter episodes ever from Amazon strategies to teddy bears, to crypto, to dating advice, life hacks, networking, and more. How cool is that? Pretty cool I think.
Bradley Sutton:
Hello everybody, and welcome to another episode of the Serious Sellers Podcast by Helium 10. I am your host Bradley Sutton, and this is the show that's a completely BS-free unscripted, and unrehearsed, organic conversation about serious strategies for serious sellers of any level in the Amazon, Walmart, e-commerce world. And we've got somebody from the other side of the world today who I just actually met a couple weeks ago in person, but he's about 13 hours of plane flight away. But before I get started real quick I need you to do a ask. You know, they say, Hey, if you have a podcast you're supposed to do this every episode I do it like once every like 30 episodes, but guys, I want you to do me a solid now and hook us up with a review.
Bradley Sutton:
We have barely got reviews lately since I don't ask for this. So first of all, if you guys have Apple Podcast, the way you leave a review, if you're listening to this on Apple Podcast, just, you know, like hit your library, hit the Serious Sellers Podcast on the regular podcast page, scroll to the very bottom, just scroll to the bottom guys after the list of all the podcasts, and they'll say ratings and reviews, and it says tap to rate, and you can even write a message here. So, you know, shout out to happy28 who left a review, says "I love this podcast been listening for a year. Bradley's the coolest dude". All right. You know, your checks in the mail happy28 "someday I want to thank him for the different he made in my business" goodness gracious, actually seriously, that that's pretty cool.
Bradley Sutton:
This is why I do this guys to see stuff like this. I love it. But if you're listening on Spotify, the way that you leave review, I don't even know you could leave reviews until recently. You would just be on the actual Serious Sellers Podcast page, and then there's this like three little dots right here underneath the picture of me hit the three little dots and then hit rate show you, you can't write a nice letter, like happy28, just did, but just hit rate show. And then you could leave us a star rating. It's kinda like the Amazon one click reviews. The other thing I just wanted to quickly mention my upcoming schedule. I talk about how Joseph, we're gonna talk about how I met Joseph just a few weeks ago in the Philippines are gonna be going back there.
Bradley Sutton:
I'll be there on the 28th of this month or the 29th for a couple days doing a meeting with some of my team. And you know, who knows maybe if there's enough people around the Manila area who wanna hang out, we can do something. I'll also be going to the Berlin e-commerce expo a few days later, that is on May 5th, Cinco de Mayo in Berlin. It's a free event. So just look up, Google e-commerce Berlin. We're gonna do like a little helium 10 social after that, you know, at a restaurant. So it'll be great to meet you guys in person. And then a few weeks after that, I'll be in Mexico, themexicotrip.com hosted by Tim Jordan, so make sure to check that out as well. Anyways, the, the really quick, the, the funny story about how I met Joseph in person, I just said how I was in the Philippines.
Bradley Sutton:
We've been in this kind of like private Facebook, private message, group chat, you know, about like Amazon investors. And it started out mainly as people who were into like baseball cards and sports cards and things like that. And then, and then team was just bringing in different people in different areas of investments. And then, you know, he was always there. And then in the group chat, I forgot what I said. I was like, Hey, I'm in the field Philippines or something. He's like where? And I said, oh, I'm just right here in Pasay. That was actually where my mom was born. But anyway, he's like, dude, I'm like 30 minutes away. And within two hours of that message just completely randomly there, we were hanging out in a restaurant in a mall right there in the middle of the Philippines. So it's really cool how you meet people in this, in, in this industry and how you're connected. But anyway, I'm glad I got to meet you. I found out a few things about you and I'm like, oh, Nope. I gotta find out the rest of this stuff in the podcast because this guy has lived a pretty interesting life.
Joseph:
Thanks, man. No, it has been super interesting.
Bradley Sutton:
So, where, where did that life start? Where were you born? Raised?
Joseph:
So I was born and raised in Dallas, Texas pretty much been there all my life. And yeah, I think I'll just jump into my story and I think like everybody else, you know, you start outta college and you're not really sure what you want to do. Funny enough, I was very shy, right outta college, like super shy. I would look at the ground and just feel afraid. Like if someone would come and talk to me and whatnot, and then I like, you know, working on self development, it actually started when I was working on Ally Financial, there was this executive who quit and he gave out a book called Life's Greatest Lessons. And I read that book and it was like a self-development book and that kind of spiraled, that whole start effect of just the whole journey of like trying to improve myself and be a different person. And then I stumbled across–
Bradley Sutton:
After college that you read this.
Joseph:
Yeah. Yeah. After college. So I was like 23.
Bradley Sutton:
What was your major in college
Joseph:
Business administration? I was very confused though, man. Okay.
Bradley Sutton:
Okay.
Joseph:
Yeah.
Bradley Sutton:
I had something very, very similar, so. All right. So, so you, you majored in business administration. Well, what college did you go to
Joseph:
University of Texas at Dallas
Bradley Sutton:
University of Texas, Dallas. I've never heard of that.
Joseph:
Man. You just like shamed my poor school.
Bradley Sutton:
I always like, like there's a million universities of Texas. I didn't know. I mean, it makes sense. There's a University of Texas Dallas, but they must not have many sports teams or like very popular sports teams.
Joseph:
No, they don't. Actually, you know, they're like the number one chess in the US. They're like, number one for chess.
Bradley Sutton:
That's the kind of school you want to go to if you're trying to get an education, not necessarily the ones that have the big basketball team anyways. All right. Business administration, you're out. You're like, ah, man, what am I gonna do? You read this book? Continue.
Joseph:
Yeah. So I read that book and then it starts the process of like reading a ton more self-development books. And then I stumbled across on a Facebook group, some dude teaching Amazon. And so I was like, all right, sign me up. It was weird. I don't know why I was so ready to go. I paid him $5,000. Like didn't even know this dude. And that first year it was like 250,000 in revenue when it came to retail and wholesale. Wholesale specifically on, on Amazon. And then after that, so this
Bradley Sutton:
Was not private label. This was like just buying other people. Oh, okay.
Joseph:
Yeah. I was working with wholesalers and then I jumped into private label cuz you know, that's a whole talk. I was going to some like Amazon events as well. And trying to figure that out and it's like so exciting. You can just imagine like when you first saw entrepreneurship, I think every entrepreneur goes through this where it's like, they love the energy. They love like the messaging of like, oh, you live your own life. You get it like know, work as much as, as hard as you want. And you make it as much as however hard you work and however smart you work. And so it was just a really exciting time in my life. I remember. And it was cool that this theme and the momentum kinda was there. And then I started private label, started with a stuffed animal brand.
Bradley Sutton:
What year were we talking about? In your time on right now?
Joseph:
I think I was about 25 at this point. And I'm 30.
Bradley Sutton:
I'm sorry, what year? In the world. Not what year in you? I said what year in your lifetime. I should said in your lifetime, what year was this at this time?
Joseph:
Let's say 2016 or 2017.
Bradley Sutton:
Okay. Alright.
Joseph:
2016, 2017. And then I just started paying for all these masterminds man, like 10,000, $20,000 masterminds. And that was really exciting too. And then I sold the first business sold that for about 160,000 via Empire Flippers. And then–
Bradley Sutton:
Let's talk about how you built up that business a little bit though. So what was it, did you say something about toys or bears or what was?
Joseph:
A stuffed animal? Stuffed animal PL brand on top of the wholesale, right. Oh. And I also got merch by Amazon as well. This was like a mix of all three. Merch by Amazon t-shirts.
Bradley Sutton:
How did you, did you design the shirts yourself or did you outsource that or no?
Joseph:
I just outsourced it.
Bradley Sutton:
You just had the ideas or?
Joseph:
But funny story on that, everybody was always like, oh, you gotta pay like top quality and you know, your pay equals the amount of quality and all this nonsense. I was only paying someone 50 cents for shirt to design them. Right.
Bradley Sutton:
What was your best selling shirt of all time?
Joseph:
This podcast wouldn't be PG if I mentioned it, so I'll mention the second one. It was an anime shirt. It was an anime shirt, something about Otaku, something about Otaku. I don't remember what that means, but you know, when you're doing church, you're researching every category and I'll just say, you know, the weird stuff is what sells the most. Right. So, yeah.
Bradley Sutton:
Okay. So and then how did you build up that Teddy bear brand, like how do you even find that in the first place? You know, I know back in 2016, 2017 things were a lot different than they are now, but you know, was, is this just some random idea you had in your head or, or you just saw, how did you find, how did you pinpoint this opportunity?
Joseph:
Yeah, so personally maybe a bit weird, but like I like stuffed animals myself and I like sleep with them. They're like better pillows for me, but it is funny if you look behind, you'll see, I see a bunch so I was like–
Bradley Sutton:
Thought that was a baby there. Just randomly, it's not a baby, it's a stuffed animal. Okay.
Joseph:
But yeah, I was like, oh, let me just do something that fits kind of like what I do and so I made that and like everybody else at first at that point, you know, you really struggle on that way of Amazon. You have to know that this is really early. So like, I think even at the time, Helium 10, wasn't very big in 2016. And so like, what I did was I just did PPC and then that didn't work and I just shut off PPC and it just kind of sold organically, like two a day, it was like $10, a profit per, and my first big success came from a stuffed animal bean bag and that bean bag, I only saw one of them on the market and the noob seller at the time I hit jackpot with that, like it sold 50 a day at like $20, a profit per with no joke, a Samsung Galaxy S3 phone. Like the photos were so bad. If you remember the Samsung galaxy th three, it's like a really, really bad phone.
Bradley Sutton:
That's how I know when I got into Amazon, the very first product that the company I was working for was selling was a Samsung galaxy S3 phone case along with the galaxy note two which happened to be the phone at that time. So yep. Our journeys kind of started around the similar time there.
Joseph:
Yeah. So, so yeah, I took a photo like of the product blurry as heck and uploaded on Amazon and it started selling and I was like, this is weird. So I ran outta stock, three months later. I think I ordered 2000 units more, got in a stock, sold 50 a day, 20, $20 per unit, and profit. And then I went outta stock again. Then there's another three months and then shipped in 2000 more and then sold out instantly. And then
Bradley Sutton:
At what point do you say, Hmm, maybe I should probably order more than 2000 if I'm consistently out of stock for
Joseph:
You gotta imagine–
Bradley Sutton:
Guys, if this is not a masterclass on inventory management as you can see here,
Joseph:
You can imagine some people start at different states in life, right? Like, okay. Okay. When I was like 20, 22, 23, I was mega shy and I had to work through that barrier. I went through during that time as well. Like I went back to college. My company was paying for it. I went to every single event possible. I was like, I gotta figure out how to be more social and like figure this stuff out. And so like, I was everywhere, man, like looking back, I'm like, wow, that was really, really dumb like, I think it could have hit a bussiness–
Bradley Sutton:
A lot of people are thinking about that too, but Hey, you had some success, but <laugh> but they're like, Hey, this dude sleeps with stuffed animals. So I don't know what we can. Now, Hey, I'm with you. I still have the same stuffed animals in my collection that I did when I was younger. Some of these probably I could probably sell for a, a lot of money. So guys don't hate on him for that.
Joseph:
Hey man, they're really comfy pillows. If anything, I'd be like, dude, you got a one shaped and I got a multi shape conforming to how I sleep pillow.
Bradley Sutton:
There you go. There you go. All right. So you're building this company up now, I'm just curious, because it sounds like this timeline when you sold this business, was it around 2018?
Joseph:
Yeah, I sold it in 2018. I don't remember the exact date.
Bradley Sutton:
Okay. So, here's my question. You know, this whole thing about buying it, you know, aggregate and selling. I know you didn't do it aggregator, but you know, selling businesses, that's kind of like the last two years where that's really become, you know, hot, how in the world did it come to your mind in 2017, you know, end of 2017 or whatever. Let me exit this business when nobody else was doing something like that.
Joseph:
So, you know, this is like a really whole huge topic, but it's like, I've realized though, I'm gonna digress a little bit. I've realized that through my entrepreneurial journey, I've met so many different entrepreneurs of different fields. And what I've realized is like, when you start entrepreneurship, you're trying to figure things out, right. It's exciting. And maybe you do things that may not even align with your ethics. It may not align with your personality and your skills and your gifts. And I really believe that Amazon was never something that like was my gift. And so at the time I had already dealt with that. I didn't know it, but I could feel inside the annoyance when I would work and do Amazon's stuff and handle certain assets of that business aspects of it. But I didn't understand this at the time. Right. So for me it was just like, oh, I hate this.
Joseph:
Like, I don't wanna work on this. And it was that feeling. And I'm like, you know what? I think it's time to like sell it and start something a new. And I also felt like, as I was growing in that two years, that I could do better. And actually, it's that thought that kind of screwed me over of the next thing. But it was like, if I started it fresh, I wouldn't go through all the massive, the un-organization of what I was doing. And so I sold that business and then I started–
Bradley Sutton:
Six figure like you said, six figure exit.
Joseph:
Yeah. On Empire Flippers.
Bradley Sutton:
And then what do you do at that? Did you have a plan for what you were gonna do with that check or did you just like kickback for a while? Or what happened there?
Joseph:
I feel like there's another learning lesson, which is the whole money management and risk management, but like, I just wanted to the world travel. So I did a country month. I visited like Columbia and you know, I think man, there's so many like things I'd love to talk about, but like so many coincidences this happened in life. It's really weird, but in Columbia I met a lot of really cool people there. And, but anyway, I went to a country a month at the time and I was just, you know, trying to start new Amazon business very stupid Lee, I got, I think too cocky where it's like, I was like, man, I'm gonna crush this next business. So I launched 30 products in a single year by myself as a solopreneur. I was working like 14 hours a day or 12 hours a day.
Joseph:
It was insane. You know, you just go to WeWork early, and then you pretty much leave when all the ACs are like off and it's, there's nobody there it's dark. It's like 12:00 AM. And that was just a huge mistake. The problem is, is it's just too much products and there's no risk management and there's no money management and it was too much for one person to handle. And I was still being told like, Hey, you need to like hire and delegate and learn that. And I don't know why I never like broke that, that issue. But, I mean–
Bradley Sutton:
Were any of these products successful? I mean, 30, you had to have had a couple that were okay. And I'm sure you had plenty that weren't, but–
Joseph:
I would say a lot were successful. Actually. It's just, the problem is, you know, I think all Amazon sellers know this, you may have a product that works really well, but when you go outta stock for a few months, you get really hurt and you get jump started. And at the time look don't judge me, but like search find buy was a thing. Right. and so that was working really well. But it costed a lot. Right. So, you know, you just imagine a really dumb, happy entrepreneur being like I've lot of money. I'm gonna allow to turn products, how million this year and you know I couldn't.
Bradley Sutton:
Did you ever hit those seven figures in one didn't calendar year?
Joseph:
I didn't, I did sell like some big months. Right. But like, you can just imagine the costs of having to do all these SFVs. Right. And yeah. Thing on top of it was not easy. But I did have some products at work and overall what I realized is I wanted to do something that actually meant a difference. And so like my current product, I don't wanna share it, but basically it actually helps people. And I still get orders from schools, which they'll buy like 200 units of sometimes it's a super low profit product, but I mean, like, I'm still gonna keep the business just because of that genre of products and I'm actually gonna launch more. But I don't really have time. So I've kind of passed that onto the wife to fully handle. I don't really touch that business anymore, but yeah.
Bradley Sutton:
So how many products are left then that are still active from of all those ones that you were starting over the last so
Joseph:
There's four. And actually, it would've been a few more, it's just like I had a weird infringement claim that was completely BS. And then I had one that asked for my QC, the ASIN and CPC stuff, which I had already provided. And somehow they just didn't accept at this time. And I even had it done, like paid for the own. For children's products, you need to pay for a special certification or something like that. Right. And have it tested. So I even had it tested, but somehow something happened there. Then another product was an actual infringement that I wasn't aware of. And I still couldn't find, but it seemed like it was very legit. And so, like, I had some of these issues too, just like every other seller. And I think even I'm like everywhere, but last year as well, right. You had that whole inventory issue and that kind of killed like two products because there just major inventory issues with that. But it would've been a lot nicer, right. If I stayed on top of quite a lot of stuff, but anyway, it's four products right now.
Bradley Sutton:
Now, this one that you've stuck with, or these few, you know, that you mentioned is kind of like a fulfilling, you know, kind of product cuz of schools and things like was this one that you just randomly, you know, found through the traditional ways of product research, where there was, you know, low demand. And it just so happened that I was like, oh wow, this is something that's good for kids or some, or was this something from like the beginning? You're like, Hey, this is my, I wanna make a difference to the world product. I mean, there, there's no wrong answer here. I'm just curious.
Joseph:
Yeah, no, I'm super well aware of actually where this question is going. Cause I think that's a question and then almost all sellers have, right? It's like you try to figure out how you do product research. I've tried so many different ways, you know, I've tried tools, I've tried all these other things. This one was one of my favorite methods of product research was just looking at products on Amazon. Right. And then like checking the stores and looking what else they sell and just massively looking. And I think if I remember correctly, I found this product through that. And I was like, wow, this product actually really makes sense to me. And so, you know, I designed it in a different way. I was researching quite heavily into the teaching methods that it was talking about. And then I did that product and it felt good too. Right. It's like, I'd rather make something that makes the difference and some of the products that actually worked, I was like, number one on the word bubble guns for some time with that last business. And that was really cool, but it was just a product that I think was trending, you know? And I kept going on a stock too, but yeah, so that was the way I did it for product research.
Bradley Sutton:
So, so when you say low profit, like what are we talking like, you know, 10% or what's low to you for profit margin.
Joseph:
So the product costs $2 and the profit is $2.
Bradley Sutton:
Okay.
Joseph:
Yeah.
Bradley Sutton:
Okay. Well, Hey, I want this to be a lesson to people out there too, you know, sometimes yeah, yes. A lot of us are, are in this you know, for money and there's nothing wrong with it. You know, we're not here as a charity, you know, I'm not here to donate to Jeff Bezos, you know, money or things like that. So you, a lot of people go, Hey, this is my living. But if you're already making a living elsewhere through other Amazon products or from other jobs, you know, Amazon doesn't always have to be just like, oh, this is just gonna be a hundred percent source of my only income, you know? Like you can work on passion products, you know? So I don't hear that enough in the industry where people say something like that, like, Hey, I'm doing this product because it's, it's making a difference or things, you know, some of you guys might not realize it, or it might sound cliche or something with what Joseph said a little bit ago, but yeah.
Bradley Sutton:
You know, sometimes the feeling you get when you get a message, like I literally read that message, you know, Joseph is here looking at me. Like I literally read that review that I had not read. And it's like, there's a moment there. I didn't tear up or anything. I'm not like that. But, but I'm like, oh shoot, that's kind of like that's kind of awesome that this person, you know said that that's how it can be with like your Amazon product. You know like sometimes we forget that at the end of the day, there's thousands of people using our products. So that's like amazing, fulfilling feeling in itself. You know, like Joseph thinking that he's kind of sleeping with thousands of people because there's his Teddy bears. No, that didn't sound right. But anyway, as I was saying, Teddy bears that he sleeps with, but you, yeah.
Bradley Sutton:
But anyways, the point is like, he's got this product maybe for some of us, if we're just trying to run like a super profitable Amazon business, we might have cut this product, you know, $2 profit, you know, per unit, you know, this isn't that great, but that guys, you know, think about it. If it's something you're passionate about or something that gives you that fulfilling feeling, sometimes that's more powerful than a $4 per unit, you know profit. And so just keep that in mind. So I'm assuming, you know, obviously, you're not supporting your family on a slow, slower moving product with $2 profit, but what, what was your other, you know, income at this time or what it all, all your Amazon product has been your income when doing this
Joseph:
Dude, there was none. So that was actually really a hard point in my life. It was actually one of the hardest when it came to financially, right. Because I had rode this wave of like having money spending. There was a mastermind, I even spent 80K on. It was the best I ever spent on. But like, you know, it went from like, oh, no, like I'm actually in a place where I could be hurting really badly financially. And that did happen actually. And so it was a super low moment for me where I had just realized that pretty much burned like $200,000 on this Amazon business. And, you know, even to this day, there's like probably $30,000 worth of goods in China that I was just like, you know what, I've already fully paid for it, but I'm not gonna ship it. And I don't think I'm ever gonna continue it because, you know, cashflow wise and it didn't make sense to spend another 20,000 to ship all this product. And so anyway, it hurt really bad financially for me, and it just weird.
Bradley Sutton:
Me buying stuff from you, let me know if he's just sitting there, you know, I always can use new sandboxes to play with, just to do experiments as of anyways
Joseph:
I don't know what it's a sandbox. That's so weird.
Bradley Sutton:
That would've been funny.
Joseph:
It actually is. Which is funny, but anyway,
Bradley Sutton:
Are you serious? It's destiny that, that becomes a new Helium 10's sandbox.
Joseph:
That's too funny. That's actually really funny that you like literally said what it is. I'm like, wait a second.
Bradley Sutton:
That's insane.
Joseph:
No, but you know, like I transitioning the story and I don't really want to, cause I wanna talk more about Amazon, but it was in that time that I was like, all right, time to yo going to crypto and then crypto tank too. And then I was like, okay,
Bradley Sutton:
Let me start out. Like, I was very, very late to crypto and I'm not really, I can't say that I'm into it. And this was before you were in that group, but I love him, so I can call him out. There was a tie where I was like, okay, fine, I'm gonna go into it. And Brandon was like, you guys gotta buy this Santa coin. Like the Santa coin's amazing. I was like, all right. So I dropped $2,000 into this thing because Brandon Young was like, you know, this is the most amazing coin in the history of coins. And it's now worth $17. So yeah, Brandon stick to the inner circle there because your crypto advice sucks. But yeah, Hey, I don't know, crypto is not for me, but if you, if you can, if you can get, you know, if you know what you're doing, then you had time for it, which like, you know, somebody like you, which I wanna find out a little bit about, then it is actually pretty good.
Bradley Sutton:
But anyway, so let's keep talking here. So you started slowly transitioning away from, from, from Amazon, you know, turning some of that stuff over to your wife. And then how did you invest in crypto if your cash flow was still kind of a questionable at this point
Joseph:
There are so many branching stories. One of the biggest mistakes I made was like, I bought land with the family. It was like a million dollars worth of land. Long story short, we ended up losing some money on it, but I did get some of the money back finally. So that was like a cash influx to and then I dump that into crypto. So it's like that I can mention the first numbers, but I can't mention the final, but like that a hundred thousand dollars went to like 20,000. And you had to note that the Amazon business is still bleeding. It was still bleeding at the time from mistakes that kind of carried over. So I got situation where I was like, oh my God, like I'm really screwed. And that feeling when you first feel it is not easy, seeing a hundred thousand go to 20,000 because of crypto specifically.
Joseph:
It's different I think when it's Amazon, cuz your brain classifies it differently and it's already learned how to numb it, but in this case, this was not numb for me. So I could not sleep for some nights at that time. I do have a faith I don't wanna go too much into that talk, but like there was a time when I was like, all right, I need to like fast and pray. And that really helped a lot. But like after that point was when I was like, I pivoted a bit and I don't know if it's like that entrepreneurship instinct and the risk tolerance instinct that I have, but I was like, I'm gonna join a trading technical analysis, like the course. And I joined one, it was $250 a month.
Bradley Sutton:
It's like a bargain. And compared to all these masterminds yeah, you were putting money into.
Joseph:
And I, I started learning and I learned training psychology and I started getting into, you know, like really learning how to trade. Right. And from that I, that 20,000 did fairly well. And so that was a really cool thing too, to see is that like, wow, you know, this is something really cool to do. And and then as things kind of went along, like someone, hit me up and I was like, Hey, you gonna join a game and company. And I'm like, as a kid, I've been an added gamer and I've always wanted to create a game. So I was like, I'm all in. And I stopped literally at everything and so became, co-founder working now like 70 hours a week and unpaid as a co-founder while everybody else is paid and that's been thankful to crypto to kind of help with that part of it. Not that I'm super liquid by any means, but yeah. So then that was been journey
Bradley Sutton:
Gaming comes. This is like an online gaming company or what kind of company are you guys doing?
Joseph:
So it's a, it's basically a game studio. We've basically been hiring from top companies like Riot Games, and Decentral Land, which is Manana. Ubisof, Amazon, EA just a bunch of companies like the person backing this, he has to remain anonymous, but he is part of a really big crypto VC. And so he's okay. And he's been funding it for us and that's just been really amazing is to allow this dream to come true and see how different this startup world is from Amazon and also realizing like, oh, you know what? I can do things that I'm actually good at, that I enjoy and where I can work 70 hours a week and still feel good. Like still feel great about what I'm doing, not feel burned out. And that was a really interesting shift because, you know, when I was doing that for Amazon, you do feel burned out and yeah, like you can train yourself to be productive and you can train self to change your state mentally where it's like, okay, I'm feeling burnout.
Joseph:
Let me just go take a walk, but you, it still is there. Right. And you, it's not like you're, I love this. You know what I mean? But that transition for me was just a really interesting thing and it was beautiful too, cuz it was like, wow, like what I do actually makes a difference and affects even a company where there's employees from really top companies. And so that was a really cool–, it's been a cool experience for me and it's been a huge learning lesson too, along the way along with its own emotional journeys.
Bradley Sutton:
So what's the future, what's your 1, 2, 5 year goals? Are you pretty much all in on this company? Like, Hey, I'm not just gonna do this for a year and then move on. This is like my new career for the next five, 10 years.
Joseph:
So really nice questions by the way. But for me, it's I wanna make this company work that maybe a year. That may be two years. That may be three years. I don't know how long I'm hoping a year. Right. I'm hoping that in a year we can really make it go really well and then sell it. And that would be amazing to do an exit and that kind of way. And I'm sure people know of that when you have a crypto business, it's a lot different, there's more money there. And the way it works is just different as well. But I've always had a calling for like knowing certain parts of what I want to do in my life. And creating a game was one of the dreams. And so it's so weird to me how it's coming true. Like it's super weird.
Joseph:
Another one is love to crave on restaurant. One of these days, I'm a huge foodie. And so like, I feel like most people just don't understand food and they don't understand how to make an experience for someone emotionally to go through from entrance of a restaurant to eating it and like even the sizes and the portions and maybe it's just me. Right. But sometimes you need it, your food it's like, that's annoying. Like can't you figure out a way where you can present it really nice and have it already mixed. Anyway, so that's another dream, but that's, that's like a short term dream. And then there's an overarching, really big dream of mine, which is I really want to create something that can help a lot of people in some former way. And I haven't figured out exactly how to do this when I was younger.
Joseph:
I was like, oh, create my own university. It's kind of a really dumb, like way to approach it. I know there's gonna be a really unique angle that I'm gonna figure out. And the hope is that this crypto gaming company does super well. The exit is very big. And then use that to just figure out how I can affect people in a way that really works. I've had my own share of like doing Amazon coaching at some point, which really bad decision. Like I don't think I was qualified for sure from all the people I charged, but I think everything is a learning lesson along the way. For sure, like even I'm gonna dig barely, but like it's been cool seeing just like the wife where she is making like $300 a month at 20 years old and you know, like for Filipinos, that's kind of a lot.
Joseph:
And then teaching her graphic design in a single year and being able to help her through her growth where she's now making a minimum of like $2000 a month doing graphic design for Amazon listing stuff. This month I think she's gonna do like $4,000, but you know, it's really interesting and cool how I get to see that. And you know, through the years I have also been getting these messages from the people I did coach where it's like, Hey, if I got this yesterday, it was like, Hey, if you didn't, you know, teach me Amazon, I wouldn't have gone into doing copywriting as an agency and that agency's doing very well. And so, you know, messages like that through the years they come through and that's just been a really beautiful thing and there's just such an enjoyment and I know everybody's different but there's such an enjoyment for me to be able to help and progress people in that way. And so I just gotta figure out how do I do that in a really big way where maybe you don't charge people at first, it's something where you show some value and then when it makes sense, and it's a win-win that you do some kind of charge, right. I'm kind of going too much, like being very nerdy, the whole course stuff, but I don't really like how the whole course stuff kind of works.
Bradley Sutton:
Did you have a course of like how to pick up on women or something like something like that? I swear I saw something like that on your Facebook.
Joseph:
No, I actually, so I think
Bradley Sutton:
That was just advice you were giving.
Joseph:
Yeah.
Bradley Sutton:
Which is actually that's unique in his, like you said, you were like somebody who was like super, super shy, you know, way back in the day. And then now all of a sudden you're giving dating advice. So–
Joseph:
Yeah,
Bradley Sutton:
You definitely you know, teaches you, you can be anything you want to be guess.
Joseph:
Huh? I actually feel like I would crush it if I was a dating coach because I just feel like the way that these coaches are trying to teach you is technique based and then doesn't make sense. It's like with entrepreneurship, like why do people just it's like, oh, Amazon's way. And it's like, no, like if your brain doesn't really operate in a way that would make you a killer at Amazon, like why would you choose to do Amazon as your entrepreneurship thing? Or it's like with pickup, it's like, oh, you shouldn't text girls a lot. It's like, dude, I spam people. Like, that's just what I do. I text spam.
Bradley Sutton:
I'm not sure about this advice, guys. Keep going, keep going.
Joseph:
Hold on. So with girls, the thing is, is like, you just have to be you. And it was just that, that realization and there's deeper parts to it. Right. But me I'm a texter. So I spammed all the time and girls that was annoying, but for some reason they like knew it was congruent to me and they were somehow like attracted to that. So it was getting like a date a day at one point and
Bradley Sutton:
Okay.
Joseph:
Yeah. It was like, it was wild and it was just like, whoa, I can just be me. I'd always show a picture of a Teddy bear. And like, you know, I'd always be the weird me and I just amplify it and then they loved it, you know? And it's like, I think as long as you just be you and it's bold and it's confident and it's still understanding in a way where it's like, you're still, you're not being rude. Right. It's not like, oh, I'm just gonna be me. I like slapping women. Like I'm gonna do, that's weird. But like, if you're weird and you're quirkier, you're nerdy and you love baseball cards, of course, don't spam the conversation of baseball cars. Right. But like because that'd also be weird if you're just like, oh, I love baseball card. And you're talking about baseball cars the whole time. She's gonna be like, maybe she'll be polarized by the fact that you're so, I don't know. But yeah. So anyway, that was something that I realized just be me. And there's a lot of deeper things to that, but yeah.
Bradley Sutton:
I mean, that sounds like, you know, indirectly that's kind of been your, your, your kind of life mantra there, you know, going through these different businesses, it's like, you know, and that's why you ended up in a place where you probably never thought, you know, you could be like, and something that was your passion, but it's like, you know, it's not like, you know, that's like some people who were like, oh yeah, I wanna be an astronaut one day. Yeah. It's nice to but it's probably not gonna happen. Like, Hey, growing up, like, oh, I wanna be, you know, an executive at a multimillion dollar gaming company. It's like, oh, it's nice to think about like, ah, it's not gonna happen, but you made it happen. So I I'm outta a career on, you know a lot of people are, you know, wondering what's going on crypto NFTs.
Bradley Sutton:
Is this something I should do? My personal advice is, Hey, you know, Hey, if something you're passionate about like Joseph, you know, go ahead and do it. But then I'm you know, what about just a typical Amazon seller? Like, Hey, maybe I don't wanna do this, you know, get into cryptos or stuff full-Time. Is there some, there's a lot of in kind of key curious people out there. Like I was, is there a way just to like maybe dabble in it where it's not gonna be too much with, I mean, obviously anything to do with crypto there's risk. Of course. I think hopefully everybody understands that, but just so I can see, like, Hey, maybe I can make some money, maybe not, but at least I can see if this is for me. Like if I'm that kind of person like me, like what would you suggest? And it's not going to get $2,000 of Santa coin, but what would it be?
Joseph:
Okay. So I've actually had I'd say at least 27 to nine figure sellers hit me up on of crypto stuff. And what I've seen is every single one of them has dropped off, no joke. Every single one that I helped. And that's just to say that like crypto has a really hard learning curve. And I think you have to understand that is that, there's so much going on. It's like learning Amazon, but five different Amazons because there's a field for everybody. There's defi where you can earn like 20% AQI on a stable coin. And to most people that just seems absurd. And then you have like NFTs and then there's different types of NFTs. There's gaming NFTs, there's PFPs profile pictures, there's NFTs that pass now for events. I just bought a Perise blockchain event, which is for permission list to VIP one.
Joseph:
And it went from one E to six E that's a ton of money. I had to hold it because I actually I'm gonna go to that event. But yeah, so like you have so many different areas. You have blockchains, you have degen coins, like those really tiny market cap coins. And so it's a whole different world and it can fit someone's personality, but from them to try that they have to go through this mirage of like so many different things. And so that's the confusing part. I think if someone wants to start, right, there's a few things that I think they have to get attune with. And the first one is the whole risk management stuff. And so maybe to play with in the best possible way would be allocating money that you truly are okay with losing and starting with actually using the blockchains.
Joseph:
So Avalanche, Terra, Ethereum, Bitcoin, right. And spending that money to actually try to use MetaMask and figure out what it is and see if this makes sense to you from an alternative currency standpoint. And then you might go a little degen when you have enough money. And it's like, let me figure out, what's this tough on NFTs. Let me mint it. And let me look how the price changes and is up. And let me understand the hype and join the discords and see what all the hype is about and get a feeling for like, what kind of people are in crypto. That's already two different, like completely different worlds for the record. Blockchains you have like very serious people. If you ever join those discord channels, right. Or like the telegram channels, you have very like, oh, all this blood, they're gonna talk in this crazy lingo where it's like L two and L ones and protocols and layers and all this stuff.
Joseph:
Right. And it's great. Or maybe you just wanna find a different way where it's like, I need to diversify my investments and I wanna go with stable coins and I wanna find a farm isn't 400% AQI something that's super stable. Maybe Gemini, Gemini and just do the 8%, USDC interest rate of 8%, which is way more than any other bank. And you just decide to start with that. Right. So there's a lot of ways to do this. It would depend, I know I'm not giving you an exact answer, right. But it would really depend on the type of person who wants to get into crypto. If you're trying to Degen in and you want the fun and the excitement and the gamble, then it's like, dude, just put some money in MetaMask and dump it into these like S coins, Pooh coins. I don't know if I'm allowed to cost on this, but you dump it into those Pooh and you watch it like tank 80% like Santa coin, or you watch it go up by like a thousand X. And, you know, it's like, it's fun, but I've seen different types of people enjoy different types of things. And so that answer really just depends real quick.
Bradley Sutton:
Let me bring it back home quick. You're living in the, in the Philippines, so probably, you know, like when somebody wants to get somebody else's attention, it's not, Hey it's "sst" I coined that to "TST", TST and we call that here on this show, the 30-second tip. So I wanna know what a couple of your "TST" are. You know, it could be a 30-second strategy that's you know, about Amazon, it's about merch it's it's about dating. Not mean it's about crypto it's about anything that you think is kind of unique, but that you can say, and I'm not gonna keep you to 30 seconds, like maybe one minute or less. Let's do a couple of your best strategies that you really think can be actionable for people listening out there.
Joseph:
Got it. So when it comes to mentorship, one of, I think the most amazing techniques that you can do, and this will work for even nine figure people, you literally meet the manager event. You say how you get whatever, like maybe you ask them for like advice, right? You follow up and you literally take action on that advice and cool. They may not respond. And most people get so dejected from that, all you have to do is literally keep updating them on your life. Like, and you're gonna get this person as an acquaintance mentor, friend, whatever. Imagine this, I've met a lot of famous people in my life. And it's like, if you go to a UFC gym and there's a famous UFC fighter there, if you show up every single day, they're gonna notice you and they're gonna be like, Hmm, I know this person, this person's always working hard.
Joseph:
He's always here. And then you're gonna be able to get to know that person, right. And the same way, like this space is so big. There's so many people who drop off. If you see a nine figure seller and you hit them up and you get to know them, it can be online. It can be on Facebook, right? You could just comment. And then you update this person on your life, on how you're progressing on Amazon, whatever the path is. Right. I guarantee you, even if they don't respond, it doesn't matter. You just keep updating them. Guess what's gonna happen. Maybe a year later, you're gonna jump on a call maybe a month later to jump on a call. So that's that for the whole mentorship. And I know that's a whole thing. When it comes to dating, I think like one of the most powerful things I've seen is when you lock eyes with another girl or guy, whatever it is, right.
Joseph:
And the stare goes longer. If the state, if you can keep your stare, like, looking at that girl in her eyes and you keep that and she's keeping it, it's an instant in like it's an instant, you know, attraction is there naturally, cuz it'd be weird for another girl and guide just to lock eyes and stare that long. Right. It's one of the most powerful indicators that there is out there that have seen. What else I think for Amazon, what I've realized is there's a few, I would just say like Brandon Young's inner circle, but like one of the things I found is–
Bradley Sutton:
By the way, I'm just pitching in my mind right now at the Sell and Scale Summit, which is the big Amazon event we're doing later this year with Gary Vee and others, which I hope you canmake it out here, but all of us sudden there's all these Amazon sellers staring at each other's eyes, just all over the place. I'm like, oh, they must have listened to Joseph's episode right now. Okay. I see what's going on. I dunno why that picture came into my head. Right? I love it.
Joseph:
It's when you accidentally lock eyes, right? It's not like you're looking at.
Bradley Sutton:
All right, guys, you hear that Accidentally. So don't do it on purpose. All right. Continue with your third at last one here.
Joseph:
Oh my, I can imagine someone misunderstanding this information. Imma look every single girl.
Bradley Sutton:
All these creepers, all of a sudden, these dang Amazon seller just keeps staring at me. Look what the heck man.
Joseph:
Oh my God. That would be so weird. I don't even remember what I was saying. What was am I saying?
Bradley Sutton:
I don't remember. You know what?
Joseph:
You know what? Last one.
Bradley Sutton:
No, go ahead.
Joseph:
Productivity hack. Right? Everybody. I think Asians, we love beating ourselves up. We like, oh my God, I'm so unproductive for the day. And then you hate on yourself and you feel like garbage and you're like <inaudible>, and then you worry, like how do I get better at productivity? I would say, this is the easiest, quickest hack ever. You go to a body building gym and you commit to doing that for your workouts. Naturally, you are around people who are high productive, like, especially in workouts. Right. And that's gonna inspire you. And you always hear like, you're top five people, blah, blah, blah. It's like influences really matter. And so if you go to a bodybuilding gym, naturally, you see people who are really working hard, and that leaves an imprint on the mind. And you can start with that.
Joseph:
You may not have the ability to be productive. And then naturally like you go there for a year, you get infected <affirmative> and that process begins to start. And you also have your subconscious mind helping you where it's like, when you think of something, it, it just naturally happens a few years later. And then lastly, a shameless plug. I don't know if this is okay, but like Worry Weak is something that Gary J. White runs. It was the mastermind that changed me so greatly when it came to like past traumas, not feeling like others loved me wanting approval. Like all these things. It really solved it for me, man. Like I get nothing for sharing this. Like it's just really left value in my life and everybody I've ever met through that we're greatly affected and it's just something to look at. I know he is very hard and he's very he's very, you gotta get past the fact that he's like very strong about who he is, but anyway, that's pretty much it.
Bradley Sutton:
Okay. All right. So now, people wanna find you to follow you on the interwebs out there. Maybe they're like, Hey, this guy's on his way to nine figures for sure. And I'm gonna talk about my life on his threads here and, and follow his own advice here. How can we find you out there?
Joseph:
My Facebook, I would just say my Facebook works. I think the ending tag is the thejosephwang. Think that's my Facebook tag, facebook.com/thejosephwang.
Bradley Sutton:
Awesome. Well, I hope you are back in the states, maybe in September, and can come to that event. It'd be great to see you in in person. Again any you else out there, Hey, make sure to come. You wanna see Gary Vee in person, h10.me/s3, Sales and Scale Summit in September. Anyways, Joseph, if this has been one of the farthest-reaching conversations I've had in a while. So I love it on here. We talked about anything and everything who thought you would do on the Series Sellers Podcast, we talk about crypto and dating and teddy bears and everything in between. I love it. Joseph, wish you the best of success with your new ventures. And we'll definitely be keeping in touch.
---
Enjoy this episode? Be sure to check out our previous episodes for even more content to propel you to Amazon FBA Seller success! And don't forget to "Like" our Facebook page and subscribe to the podcast on iTunes, Spotify, or wherever you listen to our podcast.
Get snippets from all episodes by following Bradley on Instagram at @SeriousSellersPodcast
Want to absolutely start crushing it on Amazon? Here are few carefully curated resources to get you started: