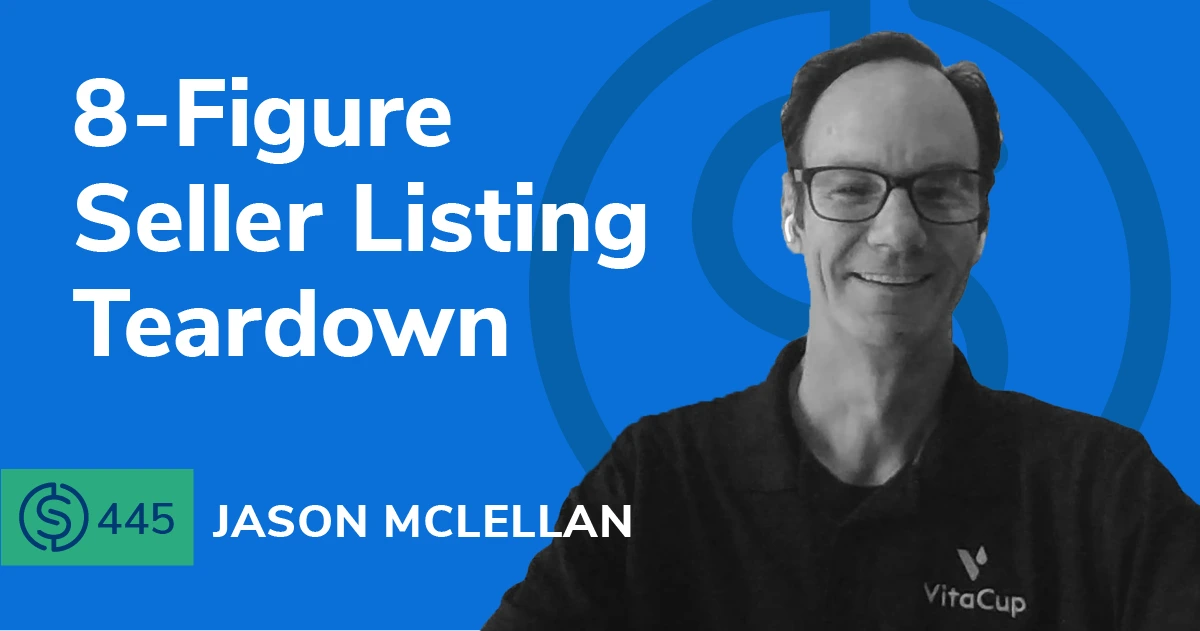 #445 – 8-Figure Seller Listing Teardown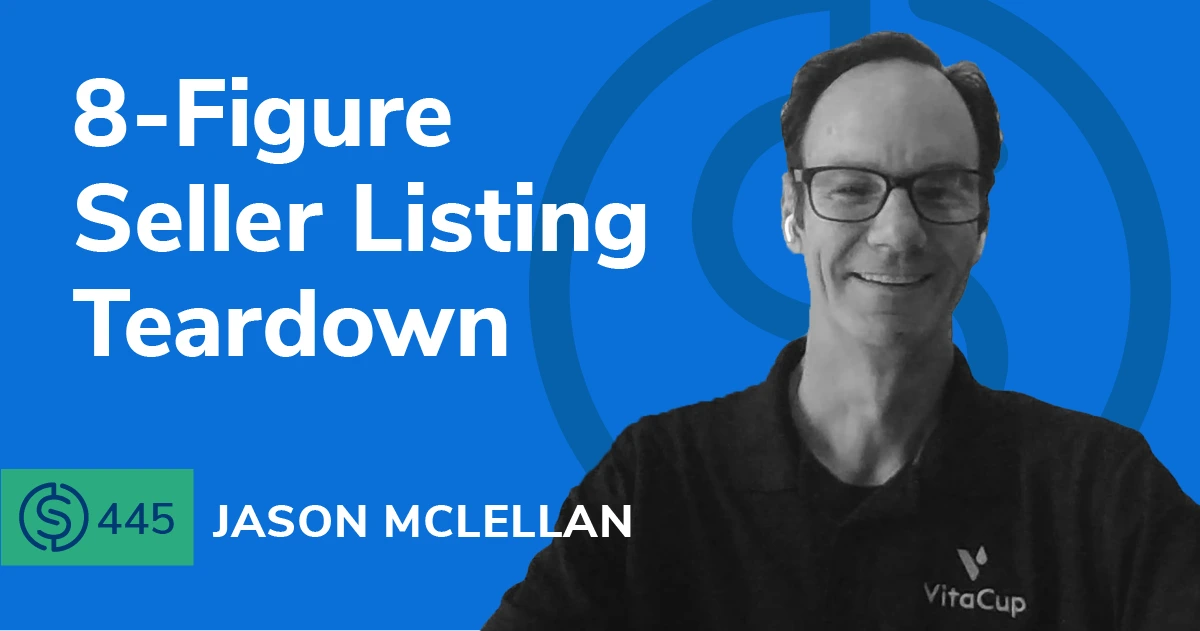 Video of the episode at the bottom
In this episode of the Serious Sellers Podcast, we had the privilege to interview Jason McLellan, an 8-figure seller on Amazon. He generously shared insights into his Amazon brand Vitacup, including his launch strategy, coupon strategy, and his use of AI advertising partners.
 
Jason also allowed us to see his listings, storefront, and Amazon activities, so we could all learn from his successes. We talked about his unique strategies like using emojis in your bullet points, checking other parts of his listings, and even shared insights on cool widgets inside his A+ Content.
 
In addition, Jason shared his Amazon Posts strategy, the widgets present on his listings, and how to he uses influencers to boost his brand's sales. He also gave us tips on how to get tons of reviews for your Walmart listing and why he has 100 different variations in one listing.
 
Towards the end of the episode, Jason shared his favorite Helium 10 tool and revealed a secret that 90% of Amazon sellers are not doing a critical activity. He also offered a 20% discount on Vitacup this coming April 25!
Tune in to this episode if you want to learn from an 8-Figure Amazon seller.
In episode 445 of the Serious Sellers Podcast, Bradley and Jason discuss:
03:19 – Jason's Backstory And How He Got Started On Amazon
04:25 – $13 Million Dollars In Gross Amazon Sales
06:29 – Talking About His Coupon Strategy
08:04 – Jason's Amazon Launch Strategy
13:32 – Using Emojis In Your Amazon Bullet Points
15:15 – Why An AI Advertising Partner Is Important
18:08 – Checking Other Parts Of His Listings
18:58 – A Cool Widget Inside You're A+ Content
19:59 – Inspiration From This Brand – Amazon Posts Widget
21:24– Influencer And Amazon Posts Strategy
23:17 – Getting A Ton Of Reviews For Your Walmart Listing
30:03 – 100 Different Variations In One Listing?
33:48 – Jason's 60-Second Tips
36:11 – His Favorite Helium 10 Tool
38:27 – 90% Of Amazon Sellers Are Not Doing This
41:40 – Get 20% Discount On Vitacup
41:58 – How To Contact Jason McLellan
Transcript
Bradley Sutton:
Today, for the first time on the podcast, we've got an eight figure seller here who is completely opening up his brand and allows us to completely tear apart his listings and storefront and all of his activities that he does on Amazon so that we can learn from it. How cool is that? Pretty cool I think.
Bradley Sutton:
Do you wanna see how your listing or maybe competitor's listing rates as to best practices for listing optimization? Or maybe you wanna compare a group of ASINs or Amazon products to see how they compare to each other. Maybe you wanna see within seconds the top keywords for a single listing or a group of listings. You can do that and more with the Helium 10 Tool Listing Analyzer. For more information, go to h10.me/listinganalyzer. Hello everybody and welcome to another episode of the Serious Sellers Podcast by Helium 10. I am your host, Bradley Sutton, and this is the show that's a completely BS free, unscripted, and unrehearsed organic conversation about serious strategies for serious sellers of any level in the e-commerce world. So, welcome to the show, this is your first time on the show. So what I always like to do is kind of like get your superhero origin story. Were you born and raised around this area, or where do you come from?
Jason:
Yeah. I was born and raised around the Kearney Mesa area, so deep into San Diego. And then over
Bradley Sutton:
What high school did you go to?
Jason:
I went to two. I went to a private school, Claremont Christian. And then I switched over to Madison.
Bradley Sutton:
So Oh, Madison. Yes, I know the, yeah, we played them in basketball sometimes. Okay, cool. Cool. And then did you go to college after that?
Jason:
Yeah, I did. I did my first two years up in the Bay Area, Marin in county at a college called Dominican University, and then I switched, came back to San Diego, went to and finished at USD.
Bradley Sutton:
So you like doing this two year and two year thing throughout your Scholastic career, huh?
Jason:
Not even that man. Like my first like, big job was on the East Coast with Liz Claiborne. So I stayed out there two years and I came back and settled back in San Diego.
Bradley Sutton:
Okay. All right. Us, you were a Terrero then, right?
Jason:
Yes, I was a Terrero.
Bradley Sutton:
Excellent. Excellent. So what was your major at or your USD
Jason:
The business emphasizes international trade.
Bradley Sutton:
Okay. And is that upon graduation, is that what you kind of got yourself into, or what did you do?
Jason:
So, the first company I worked with was a candle manufacturer. And ya I was doing some international customer service, and then I was running the logistics after that, and then totally something completely different. Got the opportunity to join Liz Clayborne and I ended up part-time in their vendor manage inventory department and part-time in their business re-engineering, and then rolled full-time into their business re-engineering department. So I was there for two years and did a variety of projects.
Bradley Sutton:
What does that mean? What do you say? Business re-engineering?
Jason:
Business re-engineering was big term back in the late nineties, mid-nineties, late nineties. You're basically looking at how to make your business efficient. Going through, doing process breakdowns, looking at how you could just collapse steps, tasks writing a lot of SOPs
Bradley Sutton:
Now, how did you get into, what was your first entry into the Amazon world?
Jason:
First entry to Amazon World funny enough is second company after I worked for coming back to San Diego, I stuck in the apparel industry. Then I ended up getting into book wholesale as a, as a buyer. And we were a this was back when Amazon was only booked and they did have some, you know, key strategic partnerships like toys or us and other ones that they ended up putting out of business. But my last probably six months, I inherited into my buying responsibilities. Amazon is a customer, we're a wholesaler.
Bradley Sutton:
But on the books, on the book side,
Jason:
On the book side, yeah. So trying to figure out missed opportunities and other things, making sure we're buying accordingly. So I was getting there. When I took over, they gave me their the missed opportunity speed. So I was just, it was amazing, just like the sheer amount of volume of books they were looking for. Huh. And so that always stuck with me.
Bradley Sutton:
Just fast forward to the end. Like what, what did you guys end like last year in sales? You know I can just see in Helium 10, just the first page of your storefront, you know, looks like there's about, you know, 2-3 million dollars worth of worth of sales there on the first page. And you've got like, you know, pages and pages more products. So around where are you guys? What kind of revenue are you guys doing a year?
Jason:
We did almost 13. We'll do somewhere between 15 and 16 this year.
Bradley Sutton:
Okay. All right. So
Jason:
A million to be,
Bradley Sutton:
Yeah. Excellent. Excellent. So like what was it when you started, when you got there?
Jason:
It was three mils and change. Okay. So it's been a great, it's been a great journey. I mean, there's, I mean, it's been this crazy journey, crazy experiences. I mean, Amazon is always evolving, always changing, never stays stagnant. So it's been,
Bradley Sutton:
I don't tell, tell me a little about the brand though. Like, I know who you know, some major brands are, but was this a brand that is, is in brick and mortar a lot? Is it purely an online brand?
Jason:
No, we're a mix. So we, we do D2C through our own website. We are in brick and mortar, target, Walmart sprouts since you're in the area. And some other regional grocery chains. And we're on Amazon, Amazon, Canada, Walmart, USA as a 3P seller in addition as a 1P.
Bradley Sutton:
I see you have a climate, what did you have to use to apply to get climate pledge friendly here?
Jason:
I didn't have to apply for anything. It was by the nature of our package design you know, Amazon how we package things smoothing on our ground how we package our ground coffee and the, the compact size, the weight and the dimensions. It just automatically gave it to us. I'm not complaining at
Bradley Sutton:
All. Yeah. Yeah.
Jason:
Badges or badges, they catch attention.
Bradley Sutton:
Yeah. I like those. I also noticed just here that you utilize 20% off coupons on a lot of your things. So like I, I'm assuming you've tested a lot of different things. Discounts and coupons And things and, and this green tw thing and the, this 20% number seems to, to perform best for you?
Jason:
It does. Kind of the, you know, hopefully none of my competitors are listening to this, but I mean, we get a 20% conversion on a 20%, and that's kind of the math on it. We've tried lower and the conversion doesn't pencil out.
Bradley Sutton:
Hmm. Okay. So, and so this is like an evergreen thing you kind of have on, on o your skews, huh?
Jason:
It's an evergreen thing. I call it the drug cuz we can't get off of it. Slowly trying to whittle, whittle down. I don't we've on some things we've slowly removed, but for the majority, yeah. You know for everyone who doesn't have Vita Cup, we're a functional coffee. We're, we're our in functional means that we've infused our, our product with vitamins and super feeds. To give you something a little bit more so we're a premium product within the coffee ecosystem. And so we need to entice the consumer for trial, and that's what the 20% does. We're consumable product, so we're, we're always trying to build a flow of, of people coming in and moving them from trial to subscribe and save. Because as a consumable product, that's where they're really the the money is And how you make yourself profitable.
Bradley Sutton:
Talk to me about your launch strategy, you know, as an established brand and you've got so many SKUs and so many customers on subscribe and save. Like do you promote to an off Amazon audience like, Hey guys, we just launched on Amazon. Are, are you just doing launch like a regular Amazon seller who's starting from scratch, you know, like, you know, doing some discounted PPC or since you're such a strong brand are you just able to launch at regular price and, and nothing's, you know, no special campaigns and, and you can get to page one for the keywords that you need to,
Jason:
You know what I'm gonna say is, is thank goodness for the honeymoon period you get on launch I mean if you start, I mean, it's kind of a loaded question even for an established brand. Sure. Within that has relevancy within the space, in which you're always launching to. If you start looking at how many paid spots versus organic spots within your organic search. You have, you have to have a PPC strategy there, you're not gonna succeed even with that honeymoon period because the honeymoon period's gonna push you up in organic ranking. You might, and you're gonna have first page, but start breaking down the, the rows. You got sponsored brand, then you got the first four rows of the supposedly search results are all paid. And then the fifth one is organic, and then below that you have more paid. And then you have highly featured, which is all paid to play. And then, so really it's like when you get that fifth and sixth rows, that's when you start getting organic search. But how many people really scroll down there? So yes, we launch with a very strategic PPC strategy knowing what keywords that we want to target on. We bake those keywords into the listings title below points A+ content.
Bradley Sutton:
Looks like you have premium A+ content.
Jason:
Yes.
Bradley Sutton:
So amazing.
Jason:
Yeah. So I don't know if the offer's still going on, but we, we saw that the if you applied the brand's story to all of your products, it unlocked A+ Content for you. And we took advantage of that. And I really love it because there's different components, video and other stuff that you can get.
Bradley Sutton:
Yeah. I didn't even realize..I mean that's how I figured this was premium because I was like, wait a minute, I don't remember videos being a regular A+ content being a thing.
Jason:
Yeah. What I have to say is you really want the premium A+ content. Cuz it really then goes back down to the how the consumer is searching for product and it's not desktop. The majority of searches are going through mobile. And if you look at that, I'm not a hundred percent happy of how the layout is, but if you take that look, that same layout on mobile device is so much, the experience is really great.
Bradley Sutton:
Interesting.
Jason:
So that's what you want. You know, we've been, we've been optimizing our search experience for mobile for probably the last three years. We had a gut before they released the data you can get, get out of business reports on what the percentage of experience was via mobile, via desktop. And it's been like, and so as Amazon's releasing this stuff to catch up to that, we've been trying to take advantage of it.
Bradley Sutton:
Okay. I'm just like trying to break, you know, it's rare that we have bigger companies on here who they, they don't care about competition because it's like people there's not gonna be somebody who's like, Hey, let me go ahead and start a $13 million here tea and coffee pod brand. So you have nothing to fear here, but yeah, I'd like to take advantage that you're opening your brand here. So I'm just, I just wanna get behind some of your strategies. So we talked a little about your coupon strategy here. You've got great images and, and videos and things. So are you doing these in-house? Are you outsourcing these assets?
Jason:
We're doing, we're doing it in-house. I mean, I'm very blessed. So you gotta go back to the founding of Vita Cup. Vita Cup was founded by our CEO, Brandon Fisherman. Brandon Fisherman, before this owned one of the largest, it was 150 employee internet marketing agency in California. He incubated this company Vita Cup out of that company, sold the other company off and focused on this a hundred percent. Coming over with him was the head creative director of that digital marketing agency. So I have my head creative Irene at Vita Cup who's just a rockstar, is a hundred percent digital marketing experience. And so I'm just very fortunate, like we get a deep discussions on like, what we should do for ads, and then on the flip side, I'll tell you like, I have her, she's so in tuned with it. Like, we have the philosophy, you can always do better. She's like, Hey, you know, what can we throw up and manage by experiments? Or can we run an AB test on creative? Like, let's try something new. You know, everything's always continually influx and changing and like, what can we do? Just eek out a couple more conversion points.
Bradley Sutton:
So like, I mean, video editing everything's in-house,
Jason:
Everything's in-house. I think there's a couple services we might use for like, video that we outsource, but layout direction is all done in-house.
Bradley Sutton:
Okay. Cool. Here we go. Like I know you're dialed into to Amazon and you have good connections in Amazon too. They, they don't get mad that you're using emojis in your bullet points. Like nobody's ever frowned on that.
Jason:
Let's not talk about that, I don't want them watching this. Like, we haven't been slapped yet. I mean, anytime we do an upload, I know it gets flagged.
Bradley Sutton:
Oh, when you upload it, there's a message that says, Hey, what's up with these emojis?
Jason:
Yeah. That's not compliant.
Bradley Sutton:
But it still lets you do it though, huh?
Jason:
It still lets me do it.
Bradley Sutton:
Okay. I mean, to me, that's kind of like the thing, like if you're in a category where you're selling white coffin shelves or something, for example, you know, it's really hard to see on a white background. So, so I've noticed that in those categories, like Amazon kind of doesn't mind overall if you don't have complete white background where it's kinda like, you know what, on, in that case, it's like the worst that could happen is just they, they give you a su suppression, you have to fix it right away, but it's not like it's gonna get your account suspended. So I wonder if this emoji thing might be, might be similar to there where Yeah, it's technically not not you know, compliant, but Amazon knows that in some categories it actually performs better, you know?
Bradley Sutton:
And so they're like, you know what? We'll, we'll just let this slide unless somebody we would agree starts putting a bunch of eggplant emojis or something, you know, on here. But, okay. So yeah, I really like the way you have your bullet points set up here. I see that you are doing some defensive product display ads potentially over here. Yeah. So how do you know, do you just like, experiment with bids to see, hey, what, what, what's gonna get you the, the position or, or what do you do there?
Jason:
So we, we have partnered and have been partnered for the last four years with an outside AI agency. But we have a very successful partnership, and their AI has, has done this great service and growth over the years. You know, I, I do recommend there's, there's only so much you can humanly test especially when you're, you're scaling at certain levels. I'd recommend to anyone to really check out an AI advertising partner as a human, like trying to test all those placements, what's working, what's not, and then getting rid of the stuff that's not working. It"s not humanly possible. Yeah. At the scale we're working at it's, it's just too much. So, it's been great. It's saved me a ton of time.
Bradley Sutton:
All right. Next thing I see, moving down the listing here, definitely using some virtual bundles. Like you haven't done them all, but like, at least you have this slot here so that it's pushing some of the ads down. I like that strategy. What made you just do one here? Like one bundle?
Jason:
So it depends. Like some have all five slots. Some have only one. I came up with a matrix on how we were creating 'em, and I looked at visibility and which ones I started aligned to. That would make sense. And then since then on some of these, we're actually starting to create physical items, bundles, which we're doing through fulfilled by merchant. And so we're peeling those off as a virtual bundle. But yeah, some of our, some of our top performing ASINs, they're gonna, you're gonna see five come across. And I, we've been doing that. I don't know what virtual rental's been around since
Bradley Sutton:
It's been a couple years at
Jason:
Least. Yeah, a couple years. Yeah. We were first introduced to it, I think either through launchpad or SAS. And we yeah, immediately, like it's free advertising for yourself. You fill up another space.
Bradley Sutton:
No cost per click or anything on there?
Jason:
No. And then some we just started to peel on how we can do through FBM, because then we can start running a little more advertising a little bit. There's, there's a little more strategic things we can do to push 'em that we know that that'll cause more growth.
Bradley Sutton:
Okay. Again, with the defensive ads, so like you do defensive product targeting ads, and you've got the entire row here of products with all your own brand. That's super cool.
Jason:
Once again, I had to give credit the AI. They have a really great methodology on that
Bradley Sutton:
To be able to check what it takes to get there. Now, you know, you know, obviously you're gonna have to, you know, bid very high. Are you actually getting conversions in virtual bundles in your defensive ads and things, and is it still worth it?
Jason:
It's still worth it overall. Our, our whole category, we're a very commoditized competitive space. And so, and I suspect that the CPC, the bit amount on it is not that much for the virtual. If pure competitor, please don't target it my ACoS, but I suspect it's, it's not that much because we have all of 'em failed. If you look at some other high performing listings, we have a good portion of them fulfilled, but not all.
Bradley Sutton:
Okay. What is this you know, just for those who don't have this or don't know, like, what, what section is this? You know, people know about description, people know about A+ content, but the from the brand. So where can I go in Seller Central if I'm looking at this for the first time, and where can I, you know, get this kind of cool widget?
Jason:
So that is what they call your brand story, and that's what unlocked all of our A+ Content during the promotional period. And if I remember correctly, when we put this together you access it through your A+ content section. Okay,
Bradley Sutton:
Cool.
Jason:
And it's, once again, it's another piece of content graphic in which you can fill up space, tell a great story, it's gonna run across all of yours. I think graphic is important for engagement with the in consumer. It allows one more touchpoint to keep them longer on your page from breaking concentration and going, trying to find something else.
Bradley Sutton:
All right. Scrolling down here. We already look at your premium or the top part of your premium plus content. You know, the cool video that you have there. Since you have over a hundred products, do you have a rhyme and reason as far as what you choose to be the one that you have under, under this like product grid here, under your featured product section here at the bottom?
Jason:
Yeah. That's a great question. We actually put a lot of thought into that. New product launches, some of it's actually gut. But over time we actually update and refine these. We, we start looking under like what's frequently bought together not just in what Amazon's showing us, but what we're, we're pulling out and hashing through the order files and looking at what people bought together. What makes sense, what do we think that in addition to that, what do you think people are gonna also has a high repeat rate that we want them to introduce them to? So some of it's partly we know there's our affinity for it. We wanna highlight something that we know that has used as an advertising spot to promote another, another product that has a high repeat rate, which if they bought purchase, there's a higher propensity that they're gonna repurchase it, which will lead 'em to sms.
Bradley Sutton:
Okay. Excellent. I noticed this is in the unique finds category. So like how did, how did you, I don't know. Is that on purpose or
Jason:
No, no idea. Amazon bots. We don't know why some things like that occur. As long as sales aren't going down, we're okay.
Bradley Sutton:
Yeah. Makes sense. Inspiration from this brand. So, wait, are these, these, these are your Amazon posts or these, these are from.
Jason:
These are our Amazon posts. Okay. So we're we're, we're a very big believer in Amazon posts we were fortunate to be a beta tester on it. And so we embraced it early on. We saw, well, you know, no idea where the posts actually get posted to. It was all random. It's still random. We still have no idea. But we really did see that it was a great way to once again, hit a touch point in which we can engage with the in consumer in a meaningful way. And we, you know, we, we enjoy looking at how much we, we continue to grow on followers, and we and so we know customers are actually ingesting the content
Bradley Sutton:
Now how many of these are your, you know, own in-house? I mean, some of these look like UGC, some, some user-generated content here. We,
Jason:
We repurpose a lot of our UGC content for it.
Bradley Sutton:
How are you getting the UGC?
Jason:
have a whole social, I have a small social media team they engage with. We have some brand ambassadors and some influencers. And so we have rights to it. And then we also have some rights through some other programs we participate that they, we participate in that we get the UGC content. And then there's just stuff that we probably requested that we have rights to. So having engagement with brand ambassadors really helps on the UGC side.
Bradley Sutton:
Okay. have you done the what is it called again, you know, now that Amazon Post came first, but then you allowed, you know, Amazon Post allowed you to get brand followers and things, and then isn't there a new thing, I forgot what it's called offhand, but now you can reach out to those brand followers.
Jason:
So customer engagement tool.
Bradley Sutton:
Yeah. That's the one.
Jason:
. Yeah. So yeah. And that was yeah, we've, we've participating in that since state one. I love it. Absolutely. Love, love it. If anyone wants to really stay engaged with a brand, they're, they're, they really love on Amazon go and click follow. Please go and follow ViCAP and go to our brand store and on Amazon and click that little follow button. We will send out a weekly email. It'll be highly graphic. It'll contain two graphic images. And we utilize it to, to not just hit our brand followers, but they rolled out when was the Helium 10 Sell and Scale?
Bradley Sutton:
Around September of last year.
Jason:
So around September of last year, they rolled out three new product groups that you can launch too. And some of them are over the last like 365, you're people who've bought high repeat, and then there's another, I forget the other segmentation. And, and two of them, maybe three can only hit every two weeks. Brand followers you can hit every week. And so we rotate through it. And, you know, it's, there a call to action anywhere there that you're allowed to do? Or is it mainly just kind of informationat with, yeah, so here's the thing. You can't have a call to action. Okay. So you have to, so you have to be creative in your wording. Everyone, if you wanna know how to be creative, go and follow me. I need more followers on and you'll, and start, start reading on our call to action. But you can get creative on it that makes it very terms of service compliant. You just have to td and you have to think about your product. But yeah, I love it. Like, there's, everyone complains has been complaining, there's no way for me to reach out to my customers. There's no way for me to engage into it. It's very restrictive in what you can and can't do. Cuz let's be honest, like over this course of a decade, two decades that Amazon's been there, I mean, people have, sellers have abused, like there's a small portion, but they have abused. So they've had to put rails on. And it's always been that way. I mean, from eBay, people, sellers were abusing to try and make a sale. Sure. And a lot of that meth methodologies have shifted over. So I get why Amazon's done a lot of stuff. I get why they have rails on it, but it would be I, I'm just hopeful they're gonna start loosening more and more up as they gain a little more confidence in how sellers are utilizing their tool.
Bradley Sutton:
Well for you then, you know, like obviously if there's a call to action. Like let's say you're doing Amazon attribution, you're doing a off Amazon campaign, you could see the kind of impact it's gonna have, you know, PPC, you can see the impact, you know, with Amazon posts and the engagements and stuff. There's not per se an ROI tool where you can see, so how, how are you gauging success and how are you gauging the attention you need to give? Because like you just said, you've got this weekly cadence now where you're sending this out, but like, how do you know that effort is worth it? Like, what kind of metrics are you even looking at?
Jason:
So we look at, like, for Asen, especially on one of the bigger engagement groups, or like, did we see a spike in sales on the product that we're featuring in there? Is here, cuz we're always trying to test out different creative. Like, is there a creative, like it popped, okay, what creative was it? Let's log that in. Next time we send that creative out, did it pop again? Is there certain creative types that the consumer's engaging more with? Amazon posts, one of the metrics we always have looked at is just followers. How is our followers group growing? And the same we're doing with live Amazon Live it's, it's, you know, have we seen an above average, normal growth in followers when we do an Amazon Live? So there's, there's not these hardcore KPIs you can, can like ingest in and how successful it is. But I think if you can grow your co who's, who's your consumer group on who's following you you can track it. I think that's a good KPI because the broader the group, the more you're gonna be able to retarget them in customer engagement and the more people you know, are gonna see stuff about your brand.
Bradley Sutton:
Okay. Are you in charge of your Walmart listings as well?
Jason:
Yes. And we're continuing to go and try and refine that.
Bradley Sutton:
You've got like 7,000 reviews on one of your Walmart. Did you use that one thing where you can migrate reviews over, or, or are these 7,000 actual Walmart reviews?
Jason:
No, we engaged with a couple different companies yeah.
Bradley Sutton:
That are out. The ones that can, can take reviews and wouldn't it be nice if Amazon offered that?
Jason:
It it would, it would be great. So yes, we're able to port all of the mortar over. Yeah, we're still really trying, we're still young in the in the Walmart three piece space. We're still how
Bradley Sutton:
How's sales on Walmart, you know, at the same, you know, 13 million on Amazon, how about Walmart in that same time period?
Jason:
No, I'll do a thousand dollars a day. You know, so we're looking at about 30k. But, so it's, it's not much. I, I really like the way they're going. I really equate, you know, you know, history tends to repeat itself. You know, I, fortunately I gotta live between the eBay to Amazon transition and I really see that going on right now with Amazon and Walmart. Amazon's still gonna retain major relevance, unlike, I mean, eBay definitely has the snitches. I still sell stuff some collectibles. I'll flip collectibles on eBay, and I think it's a great platform for that and some other stuff. But you know, Amazon came to all sellers and was like, how dare eBay give you non-US customer support? How eBay hates your sellers, they abuse you. And it was, in the early days, Amazon was incredible. You'd always get someone on the US on the phone.
Jason:
It would like, it would be easy to get through issues. And you know, now Amazon's become what they scoffed at eBay. You know, there's only it in the online marketplace. No one has really figured out how to really scale and manage that growth to, to mass. And I think that's what we're going through now. And I think it's interesting that we're seeing, seeing Walmart at this point in time, really starting to scale up. It almost feels very strategic. It almost feels like, you know, what Amazon did to eBay. And I think they have a huge opportunity to have long-term growth. And definitely we're starting to invest more time and energy into the Walmart side.
Bradley Sutton:
All right. Going back to Amazon, I just noticed one of your listings here looks like it's got like 100 different variations here. So Yeah. What's the thought process here? Because that green tea that we were breaking down only has like two or three and a couple of others, and I'm just looking like Yeah. At a million variations here. So like, what was the thought process to have so many here as opposed to splitting some of these out?
Jason:
So part of the thought process is, is we have, we found, and as our catalog's grown, this has grown, like variating it together people if they click initially, and, and I'll do like thought process and funneling 'em in. If someone clicks on our listing, they're like, they're intrigued about a functional coffee. They're intrigued about finding some type of improvement that they can get through their day, through their, their morning cup of coffee or afternoon cup of coffee, whether it be our genius blend or slim blend. Our focus blend, you know each has different super foods addressing different needs. It allows them for discovery. They might click in on Genius, but they might end up on focus blend, which is a mushroom and coffee blend. Or they might go towards our extra shot, which is a dark roast coffee with a shot of espresso in it plus some B vitamins, which I'm drinking right now.
Jason:
Like if you need to pick me up, that'll do. It's, it's my afternoon picking. Pick me up for me. And so it allows us, and then I'm gonna, I'm gonna be honest, like it gets us, you know, you look at it, we have 20,000 reviews because of it aggregated together gets us up higher on the bsr. There is some visibility being in the first page of bestseller ranking. People shop that, you know, the closer you can get to the top, the more draft you're gonna get.
Bradley Sutton:
So yep, you're number 54 and single-serve coffee capsules. This is where it comes in. Like most of us, or maybe I'm thinking from Helium 10 standpoint, but from most, a lot of other sellers too, like didn't, like when Amazon changed to give one single BSR for a whole variation because then you can't really.
Jason:
Screwed. It's screwed up. It's screwed up how you guys are scraping stuff, like you're formula scraping, but like you're calculating off. Yeah,
Bradley Sutton:
I, nobody can calculate. No, you know, nobody can calculate, you know, overall, like, so, so the, but the number refers to, you know, the, the estimated sales is for everything now put together, but, you know, without looking at reviews, you don't know which one is selling. But now all of a sudden, you know, you might not have had one SKU that could crack the top 100 in a sub bsr main BSR category right now. Now you're showing up. So now, but all these variations that you have on this one do you also have standalone listings for like this flavor or something so that.
Jason:
No.
Bradley Sutton:
So the only way I can find this Vita Cup extra shot coffee plus espresso is in this variation family here.
Jason:
Not necessarily. We're also running PPC against it, so for search and, and we do rank an organic search for each individual one under keywords. So yeah, like, yeah. And then when it comes up, you're gonna, like going back to, you're gonna see that 20% coupon, you're gonna see the total number of reviews, so, and you're gonna see a great image that clearly says what the product is. Our images are very strategic on how we design packaging for Amazon.
Bradley Sutton:
Okay. Cool. Now this is just a bunch of stuff that I can see, you know, looking at your, your storefront and things, but what haven't we talked about? Like what are some strategies that you guys are utilizing that you think, you know a lot of sellers, you know, might not, might not be, like, do you have any unique things that you're doing that we haven't
Jason:
Mentioned? No, we, I don't know a lot of the stuff's. I mean, I can kind of go through some high level stuff that we, we do and, and I think we really take a really hardcore approach is we've, we've maintained our data since 2017 when the company's was created. So we really understand our cohorts and how we grow it, and making sure that the customers that we continue to add to it are repeating through that and the percentages is going. And then we really have been focused on understanding what our product repeat rates are. And then you can get into one of our business successes is striking a balance between short, what I'd call short-term revenue versus long-term revenue. You can have a product that is going to, the bids are cheap, has a lot of people searching for it.
Jason:
You can sell that thing all day long, and you can fund a lot of funnel, a lot of advertising money into it. And you can have great short-term sales, but you're building no long-term revenue because repeat rates is much lower on it. Versus where you have a product where the repeat rate is phenomenal, like people are, the odds are people are when they, like most of the people are gonna buy it, they're gonna repeat. It might be small, it might be a slower mover, but you're then we're fine-tuning our advertising to how our products perform and on that basis, and then still balancing out, we need short-term revenue to grow. And then from that, it allows you to grow. You start putting the people in a funnel to get them into SN s and then SNS is just reoccurring revenue, easy money, that, and then,
Bradley Sutton:
So, so are you taking, you know, like, like most people in groceries and other categories like you take in a loss on your initial paper click, but then un completely fine with it because knowing that you're making it up on, on the subscribe and save or, or you're still even profitable on that first, that first touch,
Jason:
You know I would say we are not profitable on new product watches. That's where we take the loss on building that segment. But at this point, we're in its established product, even on the first collect we're about that you know, is beneficial for people?
Jason:
You know, I understand your business and, and the market and what you're operating. I live in, and we've talked about this, you and I offline. Like, live in product Opportunity Explorer and there's like, there's a lot of stuff I get to garner from there, and there's a lot of stuff I bang between product opportunity Explorer, looking at listings and pulling stuff in for the refinement through X-ray when I'm on, on those competitor listings, listings that they're identified, and then stuff taking in and, and aggregating data through Helium 10 when I'm looking at you know, the reverse ASIN lookup. And
Bradley Sutton:
It's so product opportunity Explorer, like looking for new potential flavors or, or things that people are, are looking for, or what,
Jason:
Yeah, looking, looking for innovation and also just the ecosystem can change over time on Amazon and just looking at what keywords are being searched. Is there a switch to that? I can tell you on some certain categories that we've, we've seen different keywords switch over the last year and you know, we were able to, to, to jump on that and, and launch some new advertising to specifically address that. And also to then, excuse me to then further bake those into our, the back end of our listings on, on the search, the backend search terms and some meta places on A+ content and bullet points. I mean, it's, it's, you can continually improve. Like there's nothing about setting and forgetting it. Like you're, you, you're always gonna have competition out there who's gonna try and be better than you. So you better be on your A game and try and be better than them.
Bradley Sutton:
Yeah, for sure. Favorite Healing 10 tool?
Jason:
Right now, X-Ray Chrome extension. Awesome. I probably use it every day. Like I'm in product Opportunity Explorer every day I'm looking at competitors. It's very tactical, functional, easy to use. You're right there. You just, you click on it pops up what I need to digest really quickly is something changing. It's something I'm wasn't figuring a keyword that they're, that they're probably on. And it gives me, you know, understanding that gives me, I can go out and take immediate action and do something.
Bradley Sutton:
Awesome. Awesome. Love it. All right. So last thing, like maybe is there something that you think a lot of sellers are kind of like maybe forgetting about or they're trying, you know, because it's, it's too tedious or, or it's just like, seems like a no-brainer that you think people are, might be leaving money in the table. Like, is there something that you do with like, just general reports that has given you insight and actually made you take action on something that you probably think that 90% of the sellers out there aren't doing?
Jason:
Yeah, I, you know, I would say the brand analytics report, you got, you got two, you got the search query performance and you got the, the catalog like search query performance is great just to understand what you have relevancy on. First functional coffee, we actually saw some keywords in it that we really weren't addressing in a functional way. We actually launched a product based off that a couple of years ago. And then second was Cala Performance. Like two days ago. Boss and I we're like, we had, we had some time and on a regular basis, we'll go through and look at how can we, once again, how can we improve our performance. We went to Kellogg's performance. We extracted out large number of weeks data and we to get a trend line on, on the clickthrough rate to see is there are any, if we have products that have high repeat rates, but low clickthrough rate, what can we do?
Jason:
Like let's review those products on their images, their titles is a coupon, right? Is, yeah. Is, you know, all those different things. Because if you can get someone to click in, it means a whole lot of world. You, you have them and then what you do with them on that real estate that you have on your product page, you need to convert 'em. So it's like half the battles Get 'em com is, get 'em to click in. So we're able to make some quick changes and some messaging. We reallocated how some of the wording to make sure that some of the things we're trying to communicate were in probably in the first 72-75 characters of the title. So that would pick up more on mobile. So since that's where the majority of the shopping experiences. And, you know, then we'll go back in about another two weeks and we'll take a look again, on the CTR end and see did, did that, did, did that work out? Did the CTR go up?
Bradley Sutton:
Awesome. Awesome. All right. Well, cool. It's this has been cool to kind of you know, I don't think I, I've done something this deep, like as far as like going through the anatomy of somebody's account or somebody's listings like this in the last quarter.
Jason:
Hopefully I don't get any calls from my boss, doesn't get any calls from our board of directors. You gave too much information out
Bradley Sutton:
Nah, it's good. I know you as much as he gave out guys there, there's stuff that we can't even talk about, you know, that they do. Here that he's got plenty of his leave. I'm sure they'll be, they'll be fine. So this is, this is kind of cool. Thanks for opening it up and, and you know, I know you've been offering to me, I guess actually while I was on this call, I shared it in my little group chat with my family, the link to your store, because there, you know, that green tea has intrigued me. And then you had a couple of other ones that I think we might wanna try for whatever reason, I didn't realize that you guys had pods and the packs too. So I'm definitely going to try some of these products. Everybody else out there, invite a cup on Amazon, follow them and take advantage of that 20% discount that they've gotten all their products. Support a local Helium 10 member here.
Jason:
And if you want a great deal, something we just got approval on yesterday April 25th, we're gonna have a top deal. And it's gonna be a minimum 30% off.
Bradley Sutton:
And if people want to find you on the interwebs is LinkedIn the best place?
Jason:
That's gonna be the, probably the only place. Unfortunately.
Bradley Sutton:
Awesome. All right. So look up or can you spell your last Jason, and then can you spell your last name? Sure.
Jason:
Last name's McLellan.
Bradley Sutton:
All right, Jason, thank you so much for joining. I'm gonna be inviting you. I know you're not an Elite member yet. We've been trying to get you to see the light, but I might invite you to our next workshop in end of May. And so you can come check out what you've been missing out on.
Jason:
Ah, thank you. I appreciate that.
Bradley Sutton:
All right, we'll talk to you later. Okay.
---
Enjoy this episode? Be sure to check out our previous episodes for even more content to propel you to Amazon FBA Seller success! And don't forget to "Like" our Facebook page and subscribe to the podcast on iTunes, Spotify, or wherever you listen to our podcast.
Get snippets from all episodes by following us on Instagram at @SeriousSellersPodcast
Want to absolutely start crushing it on Amazon? Here are few carefully curated resources to get you started:
Achieve More Results in Less Time
Accelerate the Growth of Your Business, Brand or Agency
Maximize your results and drive success faster with Helium 10's full suite of Amazon and Walmart solutions.