#302 – 7 Figure Brand Without PPC?
Today, we welcome back an Amazon seller who has exited two multi-million dollar brands. Listen as she shares her updates, approach, and unique strategies.
Originally published on: November 30, 2021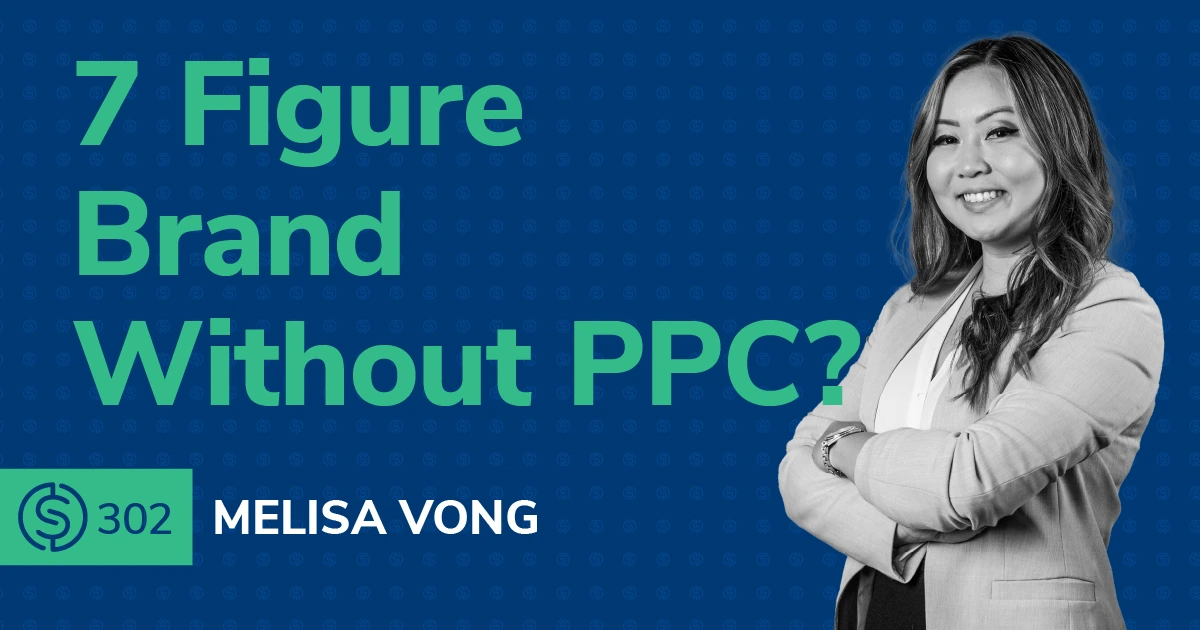 What's next after exiting two multi-million dollar e-commerce brands? Today's episode welcomes serial Amazon entrepreneur Melisa Vong as she shares updates on her Amazon selling journey. This episode also talks about her approach to Amazon selling, the unique strategies that she uses, and her new Amazon course that just went live.
In episode 302 of the Serious Sellers Podcast, Bradley and Melisa discuss:
01:30 – What's New With Melisa And Exiting Two FBA Brands
03:20 – Which Route Is Best To Sell Your FBA Business?
05:00 – Investing In Real Estate, Building Her Dream House, And Cryptocurrency Lessons
09:00 – Once You're In The Amazon World, It's Hard To Leave
11:00 – Melisa's Approach In Selling On Amazon
15:00 – Helping Celebrities And Influencers Start Brands
17:30 – Selling Consumables Through Subscribe And Save
22:00 – $400,000 In Sales Per Month Without Running Sponsored Ads
26:00 – Letting The Competitor Create Demand And More Strategies
33:30 – A New Amazon Selling Course With Foundr
39:00 – Melisa's Goals For Next Year And How To Contact Her
Transcript
Bradley Sutton:
Today, we're going to talk to a seller. Who's recently exited two brands and listen to some strategies that she has that have helped to do unique things, such as have products that were grossing over $400,000 a month on Amazon without even one PPC campaign. How cool is that? Pretty cool I think.
Bradley Sutton:
Hello everybody, and welcome to another episode of the Serious Sellers Podcast by Helium 10. I am your host Bradley Sutton, and this is the show that's a completely BS-free, unscripted, and unrehearsed organic conversation about serious strategies for serious sellers of any level in the Amazon or Walmart world. We've got a serious seller here. Who's been on the show before Melisa. How's it going?
Melisa:
Amazing. How are you? It's so great to be back.
Bradley Sutton:
Now the first time you were actually, you were one of my first interviewees, I guess, who did it in person? Do you remember that over there in our Irvine office when the world used to be normal?
Melisa:
Yeah, I happened to be in town and you hit me up on Instagram. I was like, this is perfect. I'm actually in California. I have some friends with me too, who actually sell on Amazon, but, you know, using different methods or different business models it would be super cool just to have everyone get in a room and have a conversation about Amazon.
Bradley Sutton:
Yup. That was super cool. And now, you know, it's been a couple of years and so we're like, you know what let's let, let's see what you've been up to. And then also, you know, you've got some exciting things that you've been working on that I want to get an update on, but in the meantime, how has your last couple of years, like I know you've exited some brands, was that all before, like years ago or have you exited like in the last since we've talked last on any other brands?
Melisa:
Yeah, so a lot has definitely happened since we last chatted about, I think it was two years ago and it was actually after we had spoken on the podcast together, so ended up exiting my first brand, which was Namskara shortly after that podcast actually was about two years ago. And then the second brand, which is Orphic Nutrition, which was co-founded by myself and my partner, Bryce Alderson. And that was actually we exited and got acquired by a huge aggregator back in March of this year.
Bradley Sutton:
So the first one was not through an aggregator?
Melisa:
No, it wasn't. So basically went through Empire Flippers for that one. Originally I had it listed on a couple of other, you know, third-party marketplaces, but found it was a lot of fielding, you know, people who are kicking tires and as a business owner, you don't have time to take all these calls and it's just people who signed the NDA want to get all of your information, know your brand and know the products that you're selling and then just end up not being serious. So ended up going through Empire Flippers just through some recommendations, because they actually will vet the potential buyers because you have to provide an upload a proof of funds. So at least, you know, that the people you're getting on phone calls with they're actually, you know, very serious buyers, and they've already been vetted. They have the cash to basically move forward. So ended up going that route. And after I think it was two days of being listed on Empire Flippers ended up selling the company.
Bradley Sutton:
Wow. Wow. Now you've been on two different kinds of way to sell your business. Do you have any preference, like was one better than the other, both turned out amazingly, both sucked? I mean, what would you say about going the non-aggregator route as opposed to going the aggregator route?
Melisa:
Yeah, I'm very fortunate that they went very smoothly. Both of them didn't take very long for the due diligence process. So for Empire Flippers, it was more of a, it wasn't like a super hectic transition. I think the buyers didn't have as many requirements that we had to go through. Their due diligence was a lot shorter, basically, due diligence was done within less than a week. So that was great. And both deals were structured a little bit differently. So with my first company that I sold ended up being an all-cash offer upfront. And, you know, when you sell a company, there's so many different ways that you can structure your business buyout, whether it's all-cash upfront, which is an ideal situation. If you just want to, you know, take chips off the table and just basically not have to be as involved in the company moving forward.
Melisa:
So that actually ended up buying me a lot more time in my life because I didn't have to, you know, help with consulting or anything else for the next two years. Whereas with Orphic Nutrition, you know, the way that it was structured is we do have a big portion of it is cash upfront. And then over the next two years, we have an earn-out option, an opportunity where we can get a percentage of the profit which is also beneficial if you want to be a part of the future growth of the company as well. So it really just depends on your own situation at the time. I think when I sold my first company, I was just ready to, you know, sell and basically take chips off the table and be able to put that towards other diversifying assets.
Melisa:
So for me, I really wanted to get into real estate. So ended up taking a lot of those funds and basically ended up buying up a bunch of properties over the last couple of years and, you know, obviously.
Bradley Sutton:
What's a bunch of properties?
Melisa:
Bought my first duplex and basically lived in one unit, rented out the other unit, then sold that seven months later and made about almost $200,000 on that duplex and then also purchased, or I built my own, you know, dream home in my hometown, closer to family. So I ended up building a house, which was a really, really cool process. And then also bought three more properties. So another duplex and two more condos.
Bradley Sutton:
Okay. Wow. That's you're like a real estate tycoon now. I love it. I love it. No Crypto though? Like, isn't that all the rage that everybody's just like getting into crypto when they get some cash windfalls?
Melisa:
So a crazy story. When I first started in crypto made a lot of money in crypto in the early days. But I don't know if you've heard about this exchange called Quadrigas so very, very big exchange in Canada. And this is who most people were using. If you're a Canadian citizen, you'd be, you know, purchasing crypto through Quadrigas. And then I had a lot of crypto stored on the exchange because we were day trading it and basically just, you know, we were scalping here and there and next thing you know the owner of Quadrigas mysteriously passes away. So ended up, you know, everyone who had any money on the exchange, the crypto got locked in, basically couldn't access it. The only person with like the keys to the crypto is the founder, but he's presumed dead. So there's like this huge lawsuit, it's an ongoing class-action lawsuit because there's speculation that basically he faked his death and ran away with all the crypto because a bunch of the wallets were like empty previous, like prior to him passing away.
Melisa:
And he passed away in this city in India, known for registering fake death certificates. And there's all this stuff coming out. And I swear there's going to be a Netflix documentary on it probably coming out. But absolutely insane. I ended up losing a ton of crypto at this point and ended up basically, it was a huge sting. I was like, like that really sucked. So obviously I was more skeptical when jumping back into crypto. And it wasn't until recently that I got back into crypto. But it's not something that I think I fully understand yet. And for me, I like to understand the things that I'm investing in and making sure at least have that background. And obviously, I did do my due diligence as much as I could back then, but you never know, like you could still get royally screwed over by things that you would never expect to happen.
Melisa:
And I think that crypto, there's still a lot of work to be done in order to make sure that crypto is, you know, a somewhat safer investment. And it was an expensive lesson that I learned. Obviously, if you don't hold the keys, it's not your crypto stuff. The biggest lesson I learned not to keep, you know, my crypto on the exchange. I did have a ledger at the time, but during that time we were day trading. Obviously, we left it on the exchange, obviously a big mistake. But hopefully, we can recover some of it. And then I did invest in a couple of smaller projects. Some of them did well, some of them didn't I've been looking into NFTs. I know a lot of people are doing, you know, the NFT wave right now. And that seems to be what's hot. And, you know, I'm a big fan of artists and live to support people. And I have a friend who launched this product called blue and it's really, really interesting. So you basically just created NFTs based on like companies, which is a really cool model. So that's something that I've been looking into and yeah, it's been really, really interesting diving into all these new projects that are coming out.
Bradley Sutton:
Okay, cool. What about Amazon itself? Like, you know, once you're an Amazon seller like I can never, I don't know. I just can't imagine being away from it now. So like, do you get that itch? You know, where like, okay, I need to start or help another person, you know, like start a new brand because I'm just like having withdrawals here from the whole Amazon lifestyle.
Melisa:
I mean, I feel like once you're in the Amazon world, it's so hard to leave, especially when it's something that you become really good at. Like I dedicated the last six years of my life basically selling on Amazon. So it would make no sense for me to just completely jump out, which is why I made it super clear too, you know, the buyers that a non-compete is non-negotiable and they can't stop me from selling on Amazon basically. So that was like one of the first things that I had to bring up to them when I was considering the potential sale of the companies that, you know, sure. We can have a specific non-compete in place, but it can't be all-encompassing. It can't basically state that I can no longer sell in a specific category, et cetera. So ended up being able to massage that into a way that I was comfortable with. And with that being said, like, I am still actively launching new brands and products. So currently working on launching two new brands on Amazon. So always, always, always, always learning, always launching. And I feel like the best way that I learn new things is by launching products on a regular basis.
Bradley Sutton:
So like, you know, obviously, you know, you had a beauty brand before and some other brands. And when you have a brand, when you're doing product research to expand it out, it's one thing, cause it's like you're already in a niche and then you can kind of see what your own customers are asking for, or what's trending in that niche. But when you have a blank slate, as it were, how do you do things differently? Like, did you like tell yourself, you know, what, I only want to get into something that I'm kind of passionate about or I have some knowledge or were you just like, Hey, I'm completely open? If underwater baskets I find is trending, I'm going to go ahead and get into that. Or what's your, what's your criteria now that you're, you're starting over from scratch. I guess you can say
Melisa:
My approach to selling on Amazon is a little bit different because I prefer to sell, you know, brands as a whole. And like you mentioned, you know, I have a lot of experience in the consumable space. So that's typically what I like to sell. I also like to sell products that I use on a regular basis products that I use personally, right. Things that I know how to use that. And that way you're not really relearning a new industry or a new niche. If it's products that you already used, you are the end-user and it makes it a lot easier to sell to those end users because they are basically you, or just a different of you. So to speak. So for me, I like to sell products that I do use. And then the bonus is you almost get like a lifetime supply of that product because it's your own brand.
Melisa:
So now you don't have to go and buy someone else's product, you can use your product. So I always thought that that was a really cool by-product of creating a brand that, you know, puts up products that you can use on a regular basis. And for me, skincare is a very, very important step in my morning routine. And then you have, you know, supplements with Orphic Nutrition. I still take orphic supplements, even though we exited, but I'm absolute, you know, I love the elderberry gummies and the apple cider vinegar gummies that we have. And even the nootropic, it's one of the best products that we've put out as well as our ashwagandha. And that really helps with, you know, with just, I'm a very emotional person. And when you run a business, there's a lot of things that kind of come your way and it's easy to get hit off your rocker. And so it's helpful to be able to have a level head and supplement in ways that will help you maintain that anxiety or suppress that anxiety.
Bradley Sutton:
So then for this, for the new products that you're looking into, you're kind of using it still as a criteria. Like, you know, maybe it's not going to be necessary, you know some kind of consumer, but it should be something that you can, yourself use and feel good about.
Melisa:
Yeah, absolutely. And I think that if you build a brand around something that you're interested in, it's going to be so much easier for you to build a business around it because you get excited about it. It's something that, you know, make you get up in the morning. So if you're excited about, you know, going to work and work on your business every single day, day in, day out, you're going to have a lot easier of a time than working on something that you have no idea about. And now you have to, you know, you're spending all these hours dreading having to research new ways to market this product that you really have no idea about.
Bradley Sutton:
Yeah. I mean, even if it's the other way, you know, I always tell people, I was like, Hey, maybe you get into something that you didn't even know existed, let alone, you're passionate about, you know, like coffin shelves, you know, like we did in Project X, you know, like, obviously I'm not passionate about, or I'm not going to use coffin shelf. But guess what guys I saw there was money there. I made myself passionate about it. I studied it. And now I am passionate about coffin shelves. And I know exactly the kind of person who would be interested in that. I know that you know, they also like shelf shaped like bats and, and they like words I never even knew existed before, like macabre decor and just different things. So like the most ideal is if you can get into something and there's an opportunity where it's something that you either use or are passionate about, but guess what, guys don't just limit yourself to that.
Bradley Sutton:
It's still what Melissa said applies. It's like, if you're not passionate about it, don't start selling it unless you can make yourself passionate about like, you know, the other Project X product was egg trays. Like I hate eggs with a passion. Like I literally throw up at eggs. I can't eat eggs, but I delve into like, all right, who would buy this kind of product? Oh, it's white people who have these like chicken coops and they do fresh eggs, and people who like want to display that. And then I just became an expert and I'm like, okay, I know all about it. So what Melisa said is absolutely true. Like if you can get excited, or if you are excited about something, it's going to be so much easier to build a business around it. Now, another question I had was, you know, we talked last time in the podcast about how you help celebrities and you know, athletes in different things as to start brands.
Bradley Sutton:
So, you know I know there's celebrities and athletes who listen to us, but I don't want to just like, you know, single them out, but there are people out there who have existing followings already, you know, maybe they're not, you know, some professional sports star, but they were able to build up a big Instagram or TikTok following now for that kind of persona. How does the product research differ where it's like, Hey, you're not necessarily starting from scratch, you know, from day one, you've already got this big fan base that you can market to. So how does that change the, you know, the kind of product research phase for you, if you're that kind of persona?
Melisa:
Yeah. Having a personal brand is so powerful. And I think that people need to understand, you know, sometimes they go into building a business and building it from scratch, you know, trying to sell a product to basically anyone that they can find and out of thin air, but there's no backstory to it. But when you have, you know, yourself like an influencer, you already have people that follow you that can resonate with you that relate to you. They like you, they trust you, they respect you. And it's so much easier to convert that type of audience rather than, you know, reaching out to a cold audience. So when you have a following already, these people are ready to give you money. You just have to be able to position it, a compelling offer to them, whether it's a product or some people offer, you know, some sort of like a fitness course or routine, or, you know, you might offer a service as an influencer.
Melisa:
So I've worked with a lot of fitness influencers just because, you know, I have a lot of background in selling supplements in sport nutrition products. So actually recently helped a well-known renowned. He's a very well-known nutritionist and he's a doctor in the Latin-America space and ended up launching a brand, not even on Amazon, this is something that he's going to be taking as a next step. But within his first hour, he did like $10,000 in sales just by, you know, putting one simple swipe up on a product that I helped him design. And basically, you know, worked with him on the formulation, worked with him on the packaging design and everything else, and ended up becoming a huge success just because he had a following and people who trust him and like him and respect him just as a professional in his space. So I think that it's really, really powerful if you can build even just a personal brand that can go a long way as well because no matter what you put out, there's going to be people who are willing to buy from you.
Bradley Sutton:
Okay. Yeah, absolutely. Now, do you only dabble in products where I dunno what the word is replenishable, you know, like where you can do subscribe and save and things like that. Yeah, but there's another one, like, I guess subscribe and save is really the word or the word I was looking for. Like, do you only do stuff where you can activate that on on Amazon because you know, because you, you get continuity that's the word that, that's the word in e-commerce I was looking for the continuity type of products.
Melisa:
Not always, I mean, obviously with beauty products and supplements. Yes. Those are technically consumables. I have sold, you know, one-off products. But those were more like jumping on a trend type products just to see, you know, maybe we make some, some quick cash infusion or, you know, boost our sales for a specific brand. Or I've worked with, you know, people who sell products that aren't consumables and they still sell very, very well. Like there's nothing wrong with selling things that aren't consumables. I just really love consumables because like you said, they're subscribing and save. Even for orphan nutrition, we had, you know, over 3000 people for a single product subscribed and that was generating over $30,000 a month minimum just in returning and reoccurring orders. So like that alone is powerful. If you can sell, you know reoccurring or reorderable products, then people are willing to try other products of yours or you can bundle them. They reorder like our repeat buyer rate was somewhere around 46% with Orphic Nutrition. And yeah, it's absolutely insane. But obviously, that's not to say that you can't make a killing selling, you know, at coffins or sorry. Yeah, exactly.
Bradley Sutton:
We actually came out with a coffin, egg tray, like to mix the egg tray of brand to mix the coffin shelf. We're like coffin-shaped egg trays. How do you, how do you go about calculating that though? You know, like, do you have some special formula because obviously in those spaces, PPC cost or an ACoS it's like through the roof where, you know, 80%, 90% is like the norm, but you know, where, where you'd be like, wait a minute, I'm losing my, but at the same time, you're like, no, because this person, yeah, maybe it costs 90% ACoS to acquire them, but because they're going to be ordering over and over again you know I'm willing to do a hundred percent ACoS or something. So I do have to like, kind of just like, take a look at what your like your LTV of the customer is, and then put that into the formula and how much you're willing to spend because it can get pretty much out of hand. You know, I've heard of some places, they even have like $10 and $15 clicks, like some, you know, spaces on Amazon. How do you go about calculating that?
Melisa:
So for us, PPC was more for launches and it wasn't really something that we kept running, you know, for the longevity of our brands it was to help us rank and to help us launch our products. But the goal was trying to get our sales to become more organic versus paid advertising. Now, obviously, you can get cheaper clicks through different platforms like Google Advertising now. And we've been playing around with Amped now and it's been generating some pretty, you know, great results so far. So I'm very, very impressed with that, how that's been working for some of our products, but in terms of, you know, PPC itself, like sure we run it when it comes to launch, we're willing to pay those higher clicks to acquire the customers to get even just that information. A lot of people are afraid to spend that money and look at it as an investment in getting data about your company or about the products that you're selling.
Melisa:
And not only that, but the keyword data and figuring out, oh, like I, would've never thought to put this keyword into my listing or for like our foam roller for example that wasn't a consumable product, but it was a product that we launched. So it was like a six-in-one foam roller. And basically, we found out that we were getting a lot of clicks for a foam roller for back, but we didn't realize that it wasn't converting as well, because we didn't really mention, you know, for back, we didn't have images that were reflecting like back exercises. So that's something that we have to go into and obviously refine. And obviously, it helps us improve our campaigns and the overall listing itself. So yeah, clicks can get expensive, but you're looking at it as an investment at the time at the end of the day. And if you can optimize it and get lower, you know, click cost then obviously that's, that's more ideal for sure.
Bradley Sutton:
So Orphic is one of the brands you sold?
Melisa:
Yes, that's correct.
Bradley Sutton:
I'm looking at it right now. I just ran it through Cerebro, the main seller. I mean, it looks like overall, it looks like they're almost doing like a million dollars a month here, but the main seller is doing about $400,000 or the main product, I should say. The apple cider vinegar gummies, when you were running the brand, was that pretty much the number one SKU to. Now, I just ran this through Cerebro. They're not running sponsored ads for this product. So they're doing $400,000. I was like, wait a minute, is this a bug in Helium 10? No, Helium 10 is pretty good about this. So yeah, cause when you said I was like, wait a minute, is she's serious? She's not doing PPC. So like
Melisa:
PPC accounts for less than 2% of our overall sales on Amazon.
Bradley Sutton:
How do you scale up then? You know, was there a lot of outside traffic coming in or like, cause this is, I mean, I'm sure this exists, but I just personally have not seen, you know, outside of, Nike or you know, or a big vendor, you know, where it's like, you know, big-time brand recognition. How do you get to the point where you don't even need to do PPC and you can still on one SKU do $400,000 a month.
Melisa:
If you can position your product on page one and stick that's where the magic happens. And I think that you know, obviously, it can be very, very competitive, but it's also about recognizing potential products and niches and even like niches within those niches where you can sell a product and position yourself as not the number one seller, but maybe the number 2, 3, 4 or five seller. So it wasn't about, you know, being number one on Amazon for that product. We know that our main competitor is Golly. So they were actually the innovators of the apple cider vinegar gummies, and what they did was they put so much marketing dollars behind this product that we knew we had to sell it on Amazon because, you know, they were on the Ellen show. They put all this money on Facebook advertising.
Melisa:
I was getting attacked by all of their advertisements. So basically it was just writing their advertising budgets. So we were letting another company basically do our advertising for us. So what we did was we created, you know, a similar product, but we wanted to make it a little bit more potent and also tastes better. So we tested a lot of different gummies and it was great. It was funding the product testing. I was on a sugar high all the time, but it was, it was honestly so much fun, you know, coming up with this gummy and then having them in different shapes and all that fun stuff. So that was one of the more recent products that we had actually launched. We didn't launch the apple cider vinegar gummy until like last year, I believe. So it hasn't even been, you know, one of our main products until recently, and it's been gaining a lot of traction because we were able to capitalize on this, you know, new, I guess, niche or new keyword that no one was capitalizing on cause no one was selling gummies for apple cider vinegar.
Melisa:
It was all capsules. It was always, you know, a different form of apple cider. Like you actually had to drink it or you had to take it in a capsule form so recognized, you know, okay, well, if this brand is spending this much money on advertising off of Amazon, at this point, they weren't even selling on Amazon. We were like, okay, if we can just get on and position ourselves as like the second seller, you know, and we show up under Golly search results and we can come and undercut them in price point because we had a really great working relationship with our manufacturer who gave us priority pricing. Then we're able to compete in that space without having to spend our own marketing dollars.
Bradley Sutton:
It's like, Hey, let these other guys kind of create the demand for the niche, you know, and increase that search volume. You know, because yeah, I mean, before it was a thing, you know, people are definitely searching for apple cider vinegar, but nobody was searching for apple cider vinegar gummies because they didn't even know it was a thing, you know, like, so, you know, let them create the marketing dollars. So now. There's search volume for this niche and then let's just piggyback on that success. Now how did you get to page one? I mean you're on page one for the, or, you know, I say you, but you're I still consider it to you because I'm sure whatever this, whoever bought the brand is, is just capitalizing on what you built up, but how did you get to page one for all these keywords? Was it through a lot of Google advertising or, or, you know, what were you doing camp special campaigns for every single keyword or pretty much just happened organically that Amazon starts showing you on these pages? You know, once you started performing for that main apple cider vinegar gummy keyword.
Melisa:
So our main well-oiled machine was actually built through ManyChat. So we had ManyChat flows, which basically helped us, you know, gain rank that way. So we would run small budget campaigns anywhere from $10, $15, sometimes $20 a day on Facebook as just basically advertising our product. And we were, you know, doing obviously rebate campaigns back then now we're kind of revisiting that strategy with, you know, some of the new changes that are coming up. So obviously we have to adapt, but we did have quite a large ManyChat list as well because we had all these other products even before apple cider, we already had, you know, 12, 13 skews that we were already selling under the orphan brand. So we had about over 20,000 subscribers on our ManyChat list and it was very easy to segment them and then do launches through that. So, because you already had an established list, obviously that helps. And that's why I always stress the importance of building a brand and then building around that brand and selling complementary products because then you can come back to those customers later on down the road when you launch new products.
Bradley Sutton:
Okay. All right. So you obviously built up your list, you know, just by running Facebook ads, maybe get some discounts and things like that. Did you also do like anything like insert cards or some other kind of way to get people into your community after, you know, they purchased the product?
Melisa:
Yep. So we, because we didn't have boxes for Orphic Nutrition, but Namskara, we did have boxes. So we had sometimes I was the beauty brand that I sold first and we had inserts in our boxes. So I actually structured it in a way, so it kind of had like a fold-over. So as soon as they opened the top of the box, the first thing they see is like the insert and that would capture their attention right away. Similar idea, keeping that concept in mind, apply to apply that to Orphic. And we basically just added a sticker on the top of the bottle. So on the lid is where we added our sticker and that's how we were able to get our customers to our funnel and then capture their emails.
Bradley Sutton:
Yeah. All right guys, you know, any of you who are Helium 10 Platinum members, you all have access to Portals, you can create QR codes, you can create these funnels in order to get people into your list. You know, before, remember after they're Amazon's customers Amazon doesn't want you to try to communicate with them with marketing like you can't use buyer-seller messaging guys, because they're not you, even though there are your customers, they're not your customers, they're Amazon's customers, but, you know, before people come into, you know, into the funnel, I guess, or find your product on Amazon, or even after, you know, if you can get them, you know, like, Hey, here's a warranty or here's, you know, don't do anything Blackhat, like, Hey, you know to scan this and leave a review and then I'll send you like a coupon.
Bradley Sutton:
Yeah. That's completely against terms of service. There's so many different ways within terms of service. Guys, you can get, build up your listen and here's, this is the result. You know, you, you can now have, you know, million dollars for the sales a month without even having to do a PPC, just because you're so dominant in the niche. That's pretty cool. Well, what other, you know, we have this thing on the show, we always do 30-second tips, but instead of just doing one, like why don't you just give us a two or three heavy hitters? Like, what are some unique strategies that you know, helped you, or that you're, that are helping you, it could be about using amped. I just heard about that in Elite workshop last week, people were talking about that. It could be about, you know, brand building. It could be about, you know ranking, whatever you want. What are some strategies that you think you do a little bit differently than others that aren't that mainstream?
Melisa:
Yeah, I think because we, you know, focus on building brands this definitely helps with future product launches. So even if you have a failed product, I think a lot of people don't talk about failed products a lot, because maybe they're just, you know, ashamed that it didn't work the way that they wanted it to. But for me, like I learned from my mistakes and I think that they, that other people can learn from them. So I ended up launching another product under Namskara. It was a T-tox, like a tea detox product. And it was just basically made jumping on a trend again. And I was too late to this trend obviously, cause it had been, you know, there had been a lot of multi-million dollar brand selling products like this. I thought I could do it a little bit different.
Melisa:
But I didn't differentiate it enough. And when I first launched the product, ended up getting too many reviews too quickly. So then Amazon ended up turning off my reviews on that product listing. And you know, obviously, it was under review for suspicious activity and everything else, even though they're all compliant reviews, like it was technical, it was just, they came in too quickly and this was when they started cracking down on more of like the incentivized reviews. They just thought, oh, like this, you know, this listing is getting too many reviews too quickly. And then I think they also were flagging like non-verified reviews too. So if you had more than like eight non-verified reviews come in in a single day, that's when they would like flag you for whatever reason. So naturally had to be very, very careful of that.
Melisa:
And it took like months before Amazon, you know, lifted the review ban on that listing. So ended up just calling that product dead underwater. I still had a bunch of, you know, inventory anyways. And then on top of that, my supplier was not, you know, the greatest to work with for that specific product. It wasn't a supplier that I was used to working with and they basically, we didn't, we just didn't want to continue working with them. So it was like, I'm just gonna call this a loss, but it still had a bunch of inventory left. So when I launched the next product, I ended up being able to use that inventory to launch the next product because I could do like a buy one, get one type of deal. So in Amazon, you can create, buy one, get one deals.
Melisa:
And then you can also combine that with like add to cart links where you can add two products to cart. And then you basically, when those two products are added to cart you get a discount off of, so it was the T-tox that we just discounted completely to like $0 or to $5 or whatever it was. So we would have like if we launched, you know, product A, to the T-tox or sorry, if we were launched product A at $15 and we were selling the T-tox for $20, then we would discount it to $5. So then technically you're basically getting, you know, that product for free. So we kind of marketed it in that way. And that was discounting the T-tox, not the product we were launching. So then if you were to get reviews on the new product, it's not technically, you know, an unverified review because it's heavily discounted. It wasn't discounted. It was the product that we were trying to liquidate that was getting discounted. So that was a way that we could use failed product inventory to then launch a new product.
Bradley Sutton:
Nice. I love it. I love it now. I mean, you've talked a lot about a lot of different strategies here, but you actually recently, you know, worked on some more detailed, you know, not just in a 30 minute podcast here, but more detailed strategies through a course with a Foundr. So how did you get hooked up with a Foundr? And if you, you know, I think a lot of people know about Foundr, F O U N D R out there, but for those who, who don't know about them, if you can just talk a little bit about them.
Melisa:
Yeah. Foundr magazine is someone it's a publication that I've been following for quite some time. Any entrepreneur basically follows, you know, motivational pages or pages like Foundr just for, you know, generic tips and tricks. And they have a lot of really, really great instructors on their platforms. So I think it was like last year, this is just after it sold Namskara and they ha someone had reached out to me from Foundr through email, I guess it was from Instagram because they got my email through Instagram. And during that time, you know, I was doing speaking gigs and everything else. So they probably just found me through, you know, people tagging or something. Crazy though, my Instagram is currently down for whatever reason it's been deactivated and it's been deactivated for a month, but more on that later. So they had reached out to me, I got on a phone call or a zoom call with their producer at the time.
Melisa:
And she was basically saying, you know like we found you and we really want you to be an instructor for a course that we think will be very valuable because this is one of the most top-requested courses, for requests that we've been getting. And at the time, you know, I never really considered myself a guru. I didn't want to, I told myself I would never really launch a course because one, I was way too busy, you know, running my own businesses to be able to put out something there of value and to be able to help people on a one-to-one level. So for me to put out my own course, it just would never make sense. So when they reached out, like I kind of revisited the idea is like, oh, like that might be interesting. Like, what would this look like?
Melisa:
And basically, you know, didn't think anything of it and I didn't really want to do it at the time anyway. So didn't speak to them for like, after that, it was like a year later turns out she had left the company and then they had another producer reach out to me and they're like, Hey, like I know that, you know, Jessica reached out to you last year, but we still really want you to potentially, you know, be an instructor. So basically got on another call. And at this point I had sold Orphic and, you know, I have a lot more time now that, you know, I had two successful exits, so I basically re entertained the idea and got on a call with the new, the new producer. And he's amazing. He is super, super down to earth, and is someone that I really enjoy working with.
Melisa:
So he basically convinced me like, Hey, like, you know, there's a lot of people that can really benefit from the things that, you know, that didn't think that I knew anything special until I started, you know, explaining the whole business model to him and actually like going in and working on the breakdown of, okay, these are things that we would have to cover if it was a teacher course like we need to make sure that, you know, be we bring the fire with it is if I'm going to put my face behind something, you know, you want to make sure that that it's full of full and packed with value. So they convinced me to basically jump on and is one of the instructors. And then Kian actually is a guest instructor as well. Kian Golzari is a very, very talented and amazing individual.
Bradley Sutton:
I'm actually him and I are organizing an event in Dubai in December. So if anybody's listening to this, you guys are in Dubai, Kian and I are trying to make a Helium 10 social thing on December 23rd. So if you want to meet the man himself, who's been on this podcast multiple times, you know, hit me up on Instagram and I'll let you guys know anyway.
Melisa:
But yeah, so Kian is going to be one of the guest instructors. And you know, we spent 10 days in New York filming everything literally from 9 in the morning, till 5:30, and really just, you know, bringing the fire with all of these different lessons. So really, really excited because it is just being released. Now we're doing like pre-sales for the course, and we have a Black Friday, Cyber Monday deal where it's going to be half off. Cause you know, Foundr is a very, very reputable publication and they normally sell their courses for any course that they have, like their flagship course is starting scale. They slept for $2,000. But they're doing, you know, half-off deal right now for the Amazon. They're calling it Infinite Income on Amazon Course. So super, super excited about that.
Bradley Sutton:
Yeah. So guys check it out. You know, the Foundr website I'm going to try and get a forwarding link. I don't have the link handy right here but go to h10.me/foundr that's F O U N D R there's no, e there. So h10.me/foundr. And that should bring you there, but if not, just Google Foundr and I'm sure you guys will, we'll see this course. It'll be interesting to see, you'll see a lot of heat. You know, Melisa uses a lot of Helium 10 in that course, it would be really cool to learn from her. Now what's the next you know, we're at the end here of 2021, you know, let's say we link, we link up at the end of 2022. What would you like to be able to tell me about what you've accomplished in 2022? So what, what's your, what's your goals on the Amazon side?
Melisa:
Well, currently working on some new brand launches, so hoping to get those up and scaling we'd love to have an update on those for you as well. And also let you know, you know, what the actual brands are once we launch right now we're just making sure that you know, our trademarks are underway and everything else. But as soon as it's public, you'll be the first to know.
Bradley Sutton:
Awesome. Now I know your Instagram is messed up. Like you got a crazy Instagram and that's probably why they, you know, you're like literally @melisa, like, I don't know how you got that. I think we talked about that last time. It was pretty cool, but=how can, you know, people, you know, people now know how to find that the Foundr course, but if they just want to be able to reach out to you or follow you to see what you're doing, how can they find you on the interwebs out there?
Melisa:
So once I get my Instagram back, I'm actually working with some internal people at Facebook to basically recover my Instagram account because, for whatever reason, their bots are super sensitive. And I've been reported by bots for impersonating myself for some reason. So I guess it's just because the username is very desirable and bots will tend to report accounts with, you know, OJ usernames to try and get them to stabled and get their accounts deleted so that they can take over that username. So working on getting that back, but once it's back, it's @melisa with one S, M E L I S A, you can also follow me on Facebook or just add me as a friend. I'd love some more internet friends. And, or you can email me at [email protected] Want to go old school. I'm not going to give my address for snail mail, but I can give you my PO address if you want to send me a postcard until I can get my Instagram back, but.
Bradley Sutton:
I love it. Well, Melisa, thank you so much for joining us, and congrats on all the success and we'll definitely be keeping in contact in the future to see what other crazy new things such as launching an eight-figure brand without, without having to run PPC. I definitely want to hear more of that kind of stuff from you. So have a great rest of this year and we'll definitely be talking to you next year.
Melisa:
Awesome. Thank you so much.
---
Enjoy this episode? Be sure to check out our previous episodes for even more content to propel you to Amazon FBA Seller success! And don't forget to "Like" our Facebook page and subscribe to the podcast on iTunes, Spotify, or wherever you listen to our podcast.
Get snippets from all episodes by following Bradley on Instagram at @H10bradley
Want to absolutely start crushing it on Amazon? Here are few carefully curated resources to get you started: