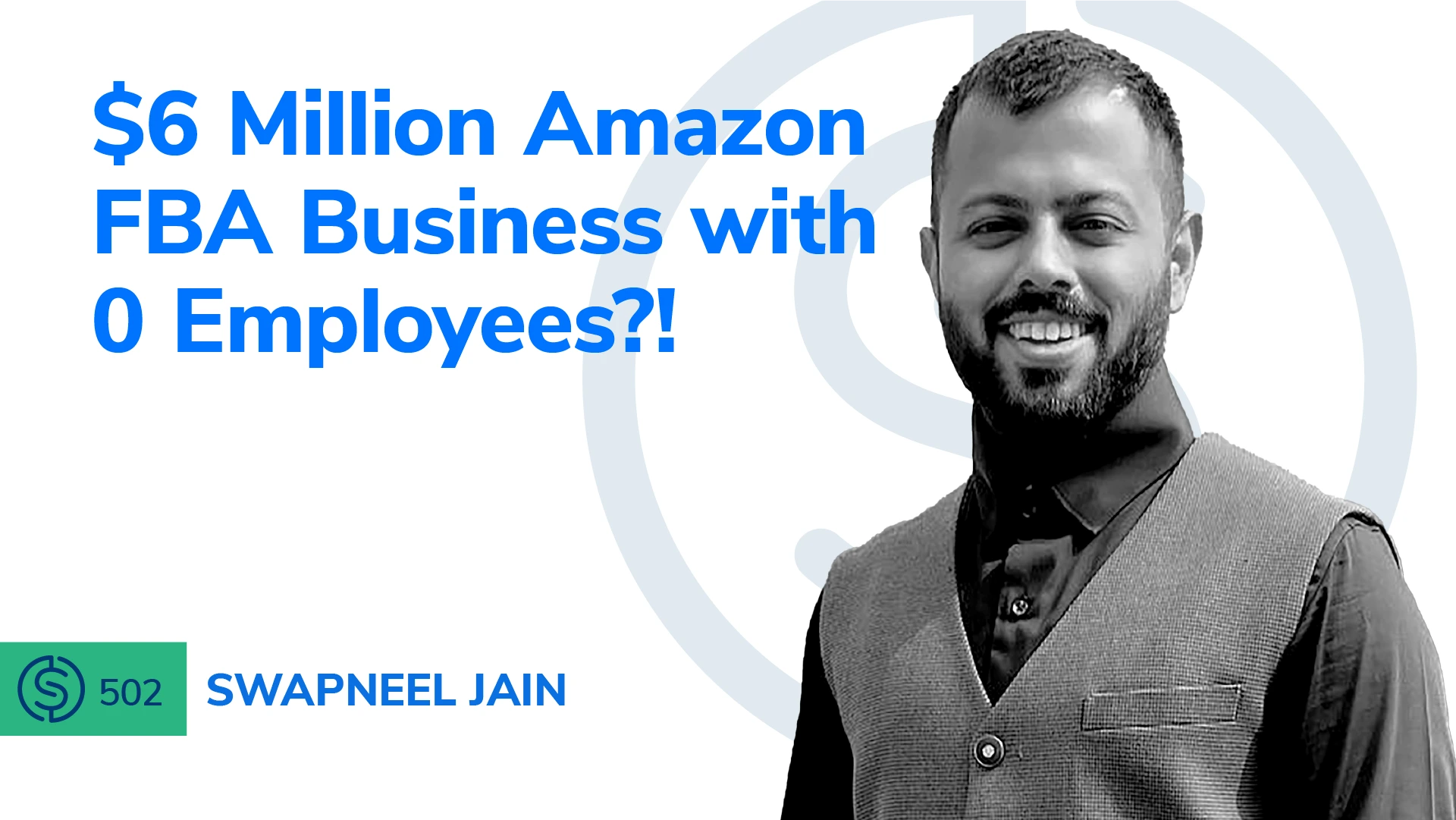 #502 – $6 Million Amazon FBA Business with 0 Employees?!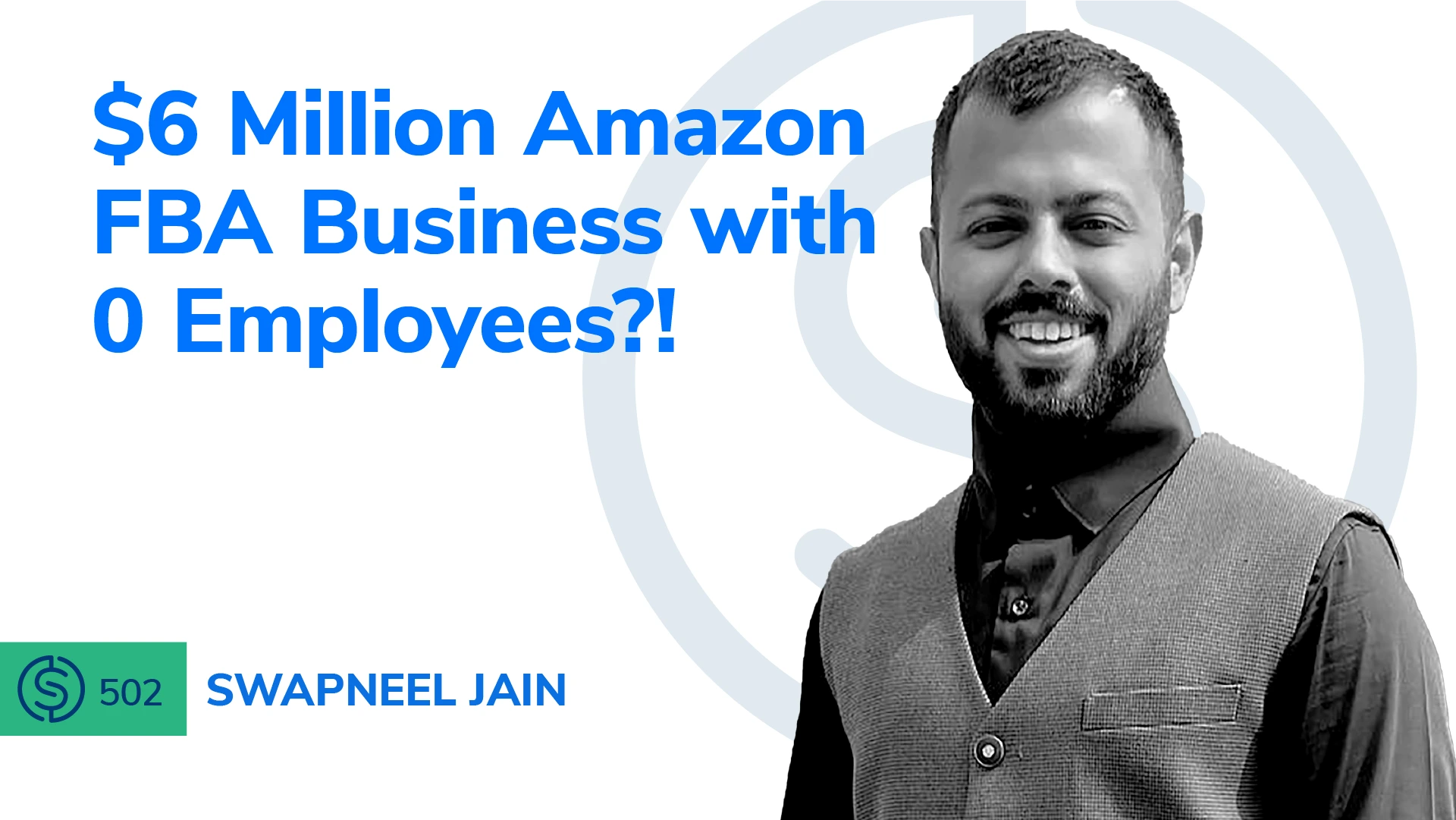 Video of the episode at the bottom
Join us for a captivating discussion with Swapneel Jain, an Amazon-selling mogul from India who has sold over $10 million worth of products on Amazon over the past couple of years. Tune in to hear Swapneel share his journey from studying law to becoming an e-commerce powerhouse, managing 60 products across 10 marketplaces, and launching a new product every month – all without any employees. He shows us his first product, a USB capture card, and how he identified this unique Amazon FBA product opportunity.

Listen in as Swapneel unveils his unique strategies for successfully launching products across various Amazon marketplaces like the US, Canada, UK, EU, UAE, Japan, Australia, and India. He gives a comprehensive account of the criteria he uses to validate products, the process of launching them, and his experiences negotiating with suppliers in China. We further explore his approach to optimizing product listings on Amazon, with a focus on keyword research, product reviews, and Amazon PPC campaigns. 
Lastly, don't miss out as Swapneel shares his vision for the next year, focusing on leveraging external traffic and expanding his team. He provides insights on the advantages of living as a digital nomad and the importance of patience when dealing with Amazon's unpredictability. The episode rounds off by focusing on mental health and the crucial role exercise played in helping him manage stress during the pandemic. Through all the highs and lows, Swapneel's story is a testament to the power of perseverance and maintaining the right attitude in the face of challenges.
In episode 502 of the Serious Sellers Podcast, Bradley and Swapneel discuss:
00:00 – Selling on Amazon And Scaling Rapidly
14:18 – Product Launch Strategies and International Market Approaches
12:47 – Scaling a Multimillion-Dollar Business Solo
17:52 – Product Research and Potential Products
20:39 – Issues With Suppliers and Product Lifespan
23:42 – Product Launch and Maintenance Strategies
34:40 – What's Next For Swapneel?
38:52 – Swapneel's 60-Second Tip
Transcript
Bradley Sutton:
Today we've got a very unique seller. He sold over $10 million over the last couple of years, has 60 products in over 10 marketplaces and launches a new product every month. Guess how many employees he has? Zero. How cool is that? Pretty cool, I think. Black Box by Helium 10 houses the largest database of Amazon products and keywords in the world. Outside of Amazon itself. We have over 2 billion products and many millions more keywords from different Amazon marketplaces, from USA to Australia to Germany and more. Use our powerful filters to search through this database for pockets of opportunity that you might want to get into with your first or next product to sell on Amazon. For more information, go to h10.me forward slash black box. Don't forget you can save 10% off for life on Helium 10 by using our special code SSP10. Hello everybody and welcome to another episode of the series sellers podcast by Helium 10. I am your host, Bradley Sutton, and this is the show. That's a completely BS free, unscripted and unrehearsed organic conversation about serious strategies for serious sellers of any level in the e-commerce world and from the other side of the world. We've got a serious seller here that is joining us for the first time in the show. Why don't you go ahead and introduce yourself, since it's your first time on the show.
Swapneel:
Hi, my name is Swapneel and I'm from India. Been selling on Amazon from the year 2014 and, as a full term, from last four years.
Bradley Sutton:
So yeah, were you born and raised in India?
Swapneel:
Yeah. What part Rajasthan, Jodhpur.
Bradley Sutton:
Okay, all right. And have you lived all your life there or have you moved around at all?
Swapneel:
Yeah, so when I was like 19 years old I went to New Delhi like for my university for five years and then right now I'm like kind of digital nominate, so I don't really live here anymore, but just maybe like two, three months a year just to visit my family, because my family still live here.
Bradley Sutton:
Okay. Well, what did you go to a university for?
Swapneel:
I did law so.
Bradley Sutton:
I wanted to be a lawyer.
Swapneel:
Yeah, so I did law for five years and I specialized in intellectual property rights.
Bradley Sutton:
How does one go from five years studying law and then all of a sudden, e-commerce? Not a natural transition there?
Swapneel:
No, I was doing part time, like other than focusing at university. I was working as well All my university years. Any commerce yes, I was selling on Amazon from 2014. And yeah, so, and I did. Well, how did that?
Bradley Sutton:
happen, though, because that's still not typical. It's not like okay, yeah, during the day I'm going to study law, during the night I'm going to sell on Amazon. I mean like especially in 2014, when hardly anybody was doing it, so how did Amazon even get on your radar?
Swapneel:
So, even before Amazon, I was doing a lot of other platforms like eBay, and there are some other local marketplaces like traders shop clothes, so, and you know, in 2013, amazon entered in India, but in 2014, they opened for everyone, and I knew that Amazon is a really big e-commerce company and I should be there and yeah. So, but, like, even before I went to university, I was making, you know, some money like some, doing some other stuff like flipping goods from online to offline.
Bradley Sutton:
So, like you've always been like kind of like I had an entrepreneurial mindset in one of those early age. You trying to make some action, okay, now it's making a little bit more, a little bit more sense, okay. And then things started getting bigger so that when you graduated from university, did you just go full time into into e-commerce then yeah.
Swapneel:
So that that time, like for me the money was pretty big motivation thing. So in my first year of the university I wasn't sure how much I would be making as a lawyer. But on the second and third year I got to know from my seniors like what is the actual situation and I realized that man like I need to put like at least 10 years in law if I really want to make some serious money in this field.
Bradley Sutton:
Now back in 2014,. I'm assuming you were selling an Amazon USA.
Swapneel:
No, I just did in India. That's where Amazon.
Bradley Sutton:
India was active in 2014. Yes, yes, I didn't even know that. Okay.
Swapneel:
Interesting, yeah, but it was very new. It was really new they didn't do reselling or private label. Yeah, so I was just doing reselling. I used to buy a lot of stuff from USA, mainly from Amazon.com, and then selling in Amazon India. Yeah, Interesting.
Bradley Sutton:
Okay, yeah, at what year did you first hit the seven figures?
Swapneel:
The 2021, yes.
Bradley Sutton:
2021 okay, and at that point were you one hundred percent private label or were you still doing like some reselling and things?
Swapneel:
I was doing both and like I feel like so, in 2020 I launched a lot of private label products. During all the, like you know, doing the first lockdown, I was just focusing on all the products launches I will be making, doing product research and my first product has really contributed a lot for my private label journey, like I started with one product and then just my.
Bradley Sutton:
You're still selling that product now.
Swapneel:
Not anymore, because the demand is okay.
Bradley Sutton:
Can you tell us?
Swapneel:
what it is, then, yeah, sure.
Bradley Sutton:
I can show. Go ahead and send me the link over in the chat and let me pull it up on my screen. Let's see here. Okay, I see what this is, so let's pull it up here so everybody else can see. There we go, all right. So this is like a, like a USB capture card I'm looking at here. And how did you find this Like? How did you even decide that this was going to be your product? You just got it randomly, or?
Swapneel:
what. So for me, like one of the criteria to search the product is checking the new launches of my competitor or and see like if I can have that same product in a very less turn around and can enjoy the party. So that's what's my like, I mainly do. And during that time I saw like a lot of people were seeing selling this product but they were doing MFF, like they were not doing full fill by Amazon and like, even though the product demand was there, but they were, I don't know why they didn't did FPA. And I knew one thing like as soon as I will do this FPA, the product doesn't have any. Like you know, any of my computer doesn't have a lot of reviews and if I will do full fill by Amazon, then I can, you know, sell a lot of goods as well. So how many?
Bradley Sutton:
how many at the peak? Like? How many units of this were you selling a month or a day?
Swapneel:
I was selling like I was selling like a month I was selling more than 1500 units in India.
Bradley Sutton:
Wow, wow In Amazon India. And yeah, okay. All right so then you're like, okay, wow, yeah, this is definitely better than reselling, or I have to get a little bit and stuff you could just Well. Did you manufi, did you get it from China, or did you get it from there in India?
Swapneel:
Yeah, yeah, yeah yeah, I got through some of the suppliers in China. Yeah, but the best thing about this product is not just selling, but the margin I had. So I was buying this product like for $5 and was selling for like this product for around $40.
Bradley Sutton:
Wow, very nice. Yeah especially in India you're still living in India that the money goes even farther.
Swapneel:
Oh, yeah, yeah, yeah, yeah, for sure.
Bradley Sutton:
How long until you bought your parents a house?
Swapneel:
So I bought the like. You know, as soon as my business started picking up in doing COVID, my family was already super excited. So they already finalized, you know, like don't worry about being a lawyer anymore.
Bradley Sutton:
No, forget that you know like, hey, this Amazon is good, huh, okay.
Swapneel:
Yeah, but that you know definitely I was in a bit of stress situation. It's a really big thing, you know so, but that stress really motivated me to push myself further and focusing every small details of my finance, my product. So, yeah, I was a stress, but at the same time I was able to, you know, do better in those situations.
Bradley Sutton:
So 2021 hit that $1 million mark. How much did you sell last year in 2022?
Swapneel:
I did $5.4 million.
Bradley Sutton:
I mean, getting to $1 million is impressive enough. How did you go from $1 million to $5 million just in one year? We're just launching tons of products, or you had some products go viral Were you launching to other marketplaces. How did you increase so fast?
Swapneel:
So, like I was doing some international markets before in and out, like you know, kind of drop shipping back in 2018 in UK and some EU market also in USA but it was not, like you know, full time or doing throughout the year. Sometimes my accounts were also suspended because of drop shipping. But back in 2021, I started again focusing on the international markets, but still was not doing like a full-fledged business. And back in like 2022, I expanded my business in a very serious manner, like in whole of EU UK, Canada, USA. I know everything how to do an average because I had a lot of experience. And also in 2020, I did my business in Austria as well. So that has really helped me a lot. You know, like provided me enough money to expand in those other markets. Yeah, so that was one of the things like really helped me. And like I was just using my suppliers, which I'm already using in India, and I know that, whatever I would be selling the same product in USA, I would be doing 10X more at least. So that has changed a lot. And also my negotiation skills really helped me because a lot of my suppliers started giving me credit and I utilized those that credit in a very efficient manner like, yeah, you get loan and if you just spend on yourself, then it's not a good idea, but if you utilize pretty well in the business, then definitely it helps. So that's what helped me in 2022. Okay, All right.
Bradley Sutton:
Now it's coming up. We're now here in Q4 in 2023. Are you going to do better than last year? Same Worse. What do you think you're going to end up with this year?
Swapneel:
So this year it would be exactly the same what I did last year, because the situation has changed a lot this year. Firstly, I'm traveling whole of this year and it's just maybe like 40-50 days. That was in India. Other than that, I was traveling full time. I was just came, like three, four days ago, from like a four month of trip. I was in North and South America. So this year I was like pretty relaxed and also a lot of things happened at Amazon as well. So Amazon is, I think, are really not smooth at Amazon, so trying to fix those things as well, all right, so now you've got this five months, you've got this five, six million dollar business.
Bradley Sutton:
You're traveling, enjoying yourself, not working like 100 hours a week, so you must have 20 employees supporting you, huh.
Swapneel:
Oh, not at all.
Bradley Sutton:
How many total employees have you had the last few years?
Swapneel:
So in India I just had one accountant and one person who manages, and then there is one guy from at Veros. That's it in India. But I never had any employee anywhere else, even though my Indian business is not even like 7%. If I compare to my last year's sales revenue, my Indian business was just 7%, but for the rest 93% revenue, I never had any employee. So for your Amazon.
Bradley Sutton:
USA business and in Europe you have zero employees, just you.
Swapneel:
Yes, yes.
Bradley Sutton:
Well. So I mean, people listening to this might ask a question well, like, maybe that makes sense. You know, like if you're working like 90 hours a week and have no life and just stay in your basement and work all day, but how in the world do you scale a business so much? And you're the one who has to answer the customer service, you're the one who has to find a line of their products, you're the one who has to do the keyword research, you're the one who has to make the listing, you're the one who has to fight with Amazon if customer support, if something happens, how in the world can you run a five, six million dollar business just by yourself and not even working really full time?
Swapneel:
So the one of the best thing with Amazon is their FPModels. So a lot of customers, don't you know, reach out to you if they have any issues with the delivery and all the stuff, and that is one of the reasons why customers, you know, contact to the seller at first place, other than the warranty and all the stuff. And also I was doing a lot of reselling as well in US market, so the brand has to take care of those stuff. So a lot of time was saved for sure, yeah, so, and I had really good partners, for example, with the Logistic thing. I have a really nice shipping agent and that really, like you know, eases my work a lot, just sending the details of the labels and everything and just telling you where to ship which market. They take care of everything. So for me, the main goal was just to, like you know what I can do to improve my revenue, and also sometimes I used to use some freelancers if I was not really good with something. So, yeah, that's it.
Bradley Sutton:
So how many marketplaces now are you in? So right now I'm in USA, Canada, UK, whole of the EU, UAE, Japan, Australia, India, but more than 10 marketplaces, probably, and are you selling the same products across the board, or, like, some products are only sold in EU, or some products only in USA?
Swapneel:
Each market is different. For example, in India I can sell mostly a lot of products, but not very high end products and which are technical. Each country the situation is really different. Sometimes there is a really low like maybe a local company who is doing really good and have a lot of reviews, and maybe you don't have any kind of competitive advantage, even though I will try or push, try to push. So for me it's more like market specific strategies, because not all markets are same and every market is completely different.
Bradley Sutton:
Okay, now what's your, what's your process? Like, how many products are you launching or actually until now active? Approximately how many skews, different skews, you know, like if you're selling the same one product in USA and Canada and Europe, just count that as one. But just roughly, like you know, 20 skews in all marketplaces, 100, 300, like roughly. What do you think?
Swapneel:
So, like beginning of this year, I was also doing a lot of reselling, but now I'm not doing business with one of the company I used to do and that has definitely contributed a lot to my last year's venue. But things have changed.
Bradley Sutton:
So private label. Then how, yeah, how many skews are you doing?
Swapneel:
So currently I'm launching like every month at least one new product in private label and so and some I also take off the old you know, which are not really performing really nice and not what my efforts or the you know margin is shrinking a lot, so I just cut off, you know, those products. So right now maybe like 60, 70 products 60 or 70 products.
Bradley Sutton:
All right, walk me through. Have in mind your last product you launched. Like, when was the last product you launched this month? Last month? So have one product in mind. You have it in mind? Mm? Hmm, you got it in mind. Ready, yeah, yeah.
Swapneel:
Okay.
Bradley Sutton:
Yeah, Now was it July that you launched it.
Swapneel:
Yeah, oh.
Bradley Sutton:
I guess that one product you have in mind. What month did you discover it, or what month are you like? All right, this is what I'm going to plan to launch. You know we talking January last year. You know what was it? Spring when was it?
Swapneel:
So in April and May I was in China and I was looking around some products and then I found some product which is doing good in the US market and I contacted some suppliers. When I was in China I visited the factory. So it was in May, in the month of May.
Bradley Sutton:
But which came first. You found the product, or, like you found the idea in China, or you had done some research when you were still in the USA and then went to China. Which one was first?
Swapneel:
Sometimes, you know, because of some advertisement or anything if I find I just keep on. Like you know, at least every day when I'm doing product research I spend at least one hour on Amazon just browsing and doing really nothing, checking what's going on and if I can add something value on that product. So then I just found one product and I was doing more and more research and then seeing like I do check, like you know, if any product is launched recently and the rank is going crazy, it means this product could be a potential. So this is one of the reasons. And then to validate, I check the data how much volume it says in a month and other than that.
Bradley Sutton:
What are you looking for? Like are you checking how many do you have, like a limit? Like oh no, there's already 30 people selling this, so it's too late. Or like what's your what are some criteria? Is that you're looking for when you're doing your validation?
Swapneel:
So I check if this product is a really advanced, then how the product you know like before generation did, for example, like which was not that innovative enough. It was a basic product, but how much that product was doing, how much is the reviews for that product. Is a really really established and do I have chances of getting success or not? So I do check all these things and I also do the search result how much is a search volume for this particular product? And to check whether this product is seasonal or not.
Bradley Sutton:
So okay, so, so then you did all that with this product, and then your next step was you actually went to China to like check some suppliers for it, or what was the next step after you're like you know what, this looks really good, it passes my test. What was the next step for you?
Swapneel:
So I was already in China during those time in April and May and I felt like visiting the factories and you know it's a really good idea rather than just chatting them. I visited factory and I did all the customization with them and, yeah, so ordered like I can also negotiate better. For example, they gave me a price for 10,000 units but I said, hey, it's a new launch and you know, then I try to get the same price for like maybe four, five thousand units and at the same time I make sure that if this product is not really doing good or it's very new in already UK or the U market, then I make sure that I launch the same product in all across the market places all at once.
Bradley Sutton:
So this one product that you launched in July, the one that you have in mind was that only for USA, or was that one that you had launched in other places?
Swapneel:
Yeah, at the same time I was launching UK and U for that product it was Enslafrom.
Bradley Sutton:
On the subject of suppliers, have you ever had issue with your suppliers where they sell your product to other people?
Swapneel:
Oh, A lot of suppliers do that a lot of if not that, then how do you handle that?
That is one of the reason, like why a lot of my products don't have a long life long life in case. Like you know, like people do a lot of drop shipping like tick tock products and Instagram, really, you may see so most of my products are also related to that as well. Not all, but at least 30% of the product. So I sell it. The trend is going on and, yes, then eventually the trend dies, or so it's not like I can sell the same product for another 10 years as well.
Bradley Sutton:
Interesting. Yeah, so you. So you don't get really emotionally attached to the product because you know that. You know, like now are all these products you're launching similar brands, or or you always starting just different, random brands.
Swapneel:
So I have some products, specific brands, and some brands are just used for any miscellaneous products.
Bradley Sutton:
Okay, all right. So then, this product. You were there in April and May. You happen to be in China. You were browsing Amazon. You found it. You found a new supplier for it, got it ready, 4,000, 5,000 units, shipped to Europe and to US. What's your, what's your launch strategy? Like, like, like, how do you, how do you what some techniques use? Like, how are you getting to page one? Are you just using, you know, ppc? You have any special techniques that you can share? I?
Swapneel:
Use very basic first of all. Obviously, your product should have really nice photos, should classify why your product is better than any other product in the market.
Bradley Sutton:
How do you get nice photos? Do you have like a studio?
Swapneel:
You do business with or what. So I first will try to work directly with the supplier so that I don't have to spend a lot of money upfront For these photos, even because I'm not sure whether how the product will gonna do. And then, if I cannot get anything, then I try to look at fiber to find some people who can do for me, and Then also do the nice a plus content, make sure the bullet points are really good, everything this is a really basic thing to start with, and then, since I launch a lot of products and a lot of market, I Utilize one of the best tool of Amazon, that is, amazon wine, because that really help you. And If you will launch a product in a lot of market, then you get a lot of reviews as well, for example, in the US.
Bradley Sutton:
My view just oh and all the reviews are stacked together, then you be Like you get 20 vine reviews in USA, 20 vine reviews in UK in the same ascent. Now you've got 40 reviews instead of I mean, I'm sure many people do that, but you know, it's just kind of just dawned on me like that's a good, that's a good strategy to have and another reason why you should launch on the the same ascent, okay. And then you find the keywords from helium 10, like you use Cerebro or what tool are using.
Swapneel:
So for me, because some of the products are really new in the market, there are no competitors as well, so it's really difficult to focus. You know which would be the keyword. So I just use Amazon automatic ads to check all the keywords which are performing and by or but. Maybe every week I try to optimize and seeing if some of the keywords are element, trying to put in the negative list, so, and trying to make sure that those keywords are on the product title bullet points. Yeah, yeah, to improve, to improve, so like just very basic, to like no things I use. And Once, like initially, you always get very good reviews because of the wine, because normally people don't put a lot of negative reviews, they leave mostly positive reviews. So you already got initial pull, you know, for your product. Yeah and Then it is totally depends upon the actual customers reviews. If the actual customers are Giving me good reviews, then I can be sure that this product is really doing good and Then I can have that as a long-term product as long as there is a sale for this product. And then I started improving more of my ASIN by putting videos, doing, you know, whatever things I can improve for this product, then putting some Warranty-related things, making sure the customer is always happy. Yeah, I feel like if you sit on Amazon, you should always align your values with what the values of Amazon are. Yeah, so I just make sure that and I take every detail of the customer to further improve the product as well, like checking voice, you know, a voice of customers.
Bradley Sutton:
Yeah, so now you know, thinking back then, from April, your product research phase to Negotiating, negotiating with suppliers, you know, getting samples and doing your customization, like you said, sending it to the marketplaces, creating the listing in the different marketplaces, managing those PPC campaigns in the first few weeks to launch that product that you launch in July, up until, let's just say, august. You know, so one month into the launch Approximately, how many hours do you think that you spent doing all those things?
Swapneel:
Oh, one of the so one of the most interesting time for me when I launch the product is the first sale. I look at the velocity of then another cell, how fast I can. I'm getting another cell. Then you know, checking the performance each day and whether it's improving or not. And, yeah, I closely check every detail during those time and for me, whenever it's my first launch, my goal is not to make profit at all and I will focus on that. Yeah, for me, the main focus is just to see how good is the product and how is the demand actually, because if your product reviews are good and you are early, more Than you can make money for years for sure for this just one product.
Bradley Sutton:
Okay so, but then how? Same question like the how long do you think you spent up until you know, after those first few weeks of spending a lot of time checking the sales? You know like, do you think it took you 50 hours from April to July or to August for that product? Was it 10 only, or or approximately? How long did, uh, did you actually put actual work into that product? I must say like maybe, yeah, for 30 hours at least okay, so about 30 hours of work for the one product, and then now, like, let's say, a product gets mature. You know, now you are making profit. Now it's kind of taking care of itself. Like how much time in a month do you spend on that product, would you say you know because I'm you know, you're probably having to do your ppc and, and you know, check reviews, customer service. Is it like one hour a month because you almost have nothing to do? Is it five hours a month for that one product? What would you say?
Swapneel:
so if the product is really doing good, then the first important thing is to make sure that I have stock for this product, sure? So I negotiate with the supplier and, you know, try to to make sure that I have stock, and then I'll look at the competitors if there is something innovating they are trying to do and if I can implement the same as well, you know, as soon as possible, maybe one of my suppliers putting some new product as a free or, you know, trying to value add, then I also make sure that I do some value addition as well, because, just because of this stuff, I don't want my product rank to go down yeah, so how long does it take?
Bradley Sutton:
you know, like, what is your maintenance phase for a product? For that, for that? We're talking about that same product, you know. Now you know it's October, that product you launch in July. Thank you, how much time are you spending on that product?
Swapneel:
so right now I felt that this product reviews are not really doing great and I'm not motivated enough right now to do further, even though even without advertisement right now I'm getting sales for those products. But if I'm trying, this is a low value product. So if I'm trying to invest a lot in the advertisement it's not really giving me a lot of fruitful results. So right now I'm like, okay, once this product is sold I will not start again, but then, but, but still.
Bradley Sutton:
How much time is it are you spending on so?
Swapneel:
every day. I always wait for the helium, then emailed about my performance, and it gives me all the units I sold in each of the market and that really give me a lot of idea. If something is going interesting, then I try to figure out why it's going like that. And, for example, yesterday I definitely checked on that product and I was saying like, okay, I'm getting sales, not doing anything. And then I checked the reviews are there any improvement in the reviews or is there a possibility of me I take that as a possibility if I can, you know, sell this product for a long time. But yeah, I see that I still have some stock left and the other variation is that really go good, I didn't have that, but I'm still wait and watch. Right now I'm not trying to buy something. You know more from us at first yeah, let's see.
Bradley Sutton:
So you think maybe less than one hour a month you spend on it now yeah, maybe two hours yeah, so so now we can, we're getting a little bit clearer picture of how you, you know scaled up and still can be by yourself. Is, you know, like, hey, maybe to find and and vet the product and and all the work to launch it only took you 30 or 40 hours, and now that it's in maintenance mode maybe you're only spending one or two hours, you know, per per product a month but, I remember you telling me you know that you're leaving money on the table, probably because you're not using, like, all of the tools, or you're not doing all of that, the analytics, since you're by yourself. But still, even with not doing everything that you could be doing, you're, you're, you're doing millions of dollars. And then what? What is your like profit margin, would you say, after your expenses for for your business? At least 15, 15, 20 percent so always want to make 15, 20 percent. If it dips lower then then you go ahead and cancel that product.
Swapneel:
If it goes less than 8%, then definitely not worth it at all.
Bradley Sutton:
Yeah. So what's the future hold for you? Are you just going to keep doing what you're doing, like this, and just do stuff by yourself, launch a product once a month and things like that and then put on maintenance mode, or are you going to like you know what? It's time that I need to start delegating some of my tasks and maybe take some employees on? What are you going to do next year, in 2024?
Swapneel:
So ever since I was at our BDSS event, that has completely transformed how I see things and how better I can do, and from that time on was obviously I was struggling, so not focusing a lot during all those months, but right now I'm just thinking like every day. Once in a while I have thought about the delegation and what all things I expect from someone, and I'm right now in phase of hiring people, because I know one thing that I can do a lot better what I'm doing right now If I have people. For example, I have a lot of products in Australia. They do really good for me, but I feel I'm so stupid that I'm not sending the inventory on time there. A lot of my products are mostly on outdoor stock and if some market is doing really good, then I don't focus a lot on the market which don't perform well. For example, my USA and UK and EU market do such so better especially Germany, UK and USA that I don't put a lot of efforts in Canada, Australia, Japan, India and also I feel it's really bad because I have all the resources, all the infrastructure. All I need to make sure is ordering the right quantity and making sure that I have stock for those products. That's it. Yeah, so I'm losing just that.
Bradley Sutton:
That's the first thing that you're probably going to want to hire for is like, hey, I need somebody just 100% managing my supply chain, making sure that I'm not running out of stock anywhere. Okay, All right. So what would you say is your I mean, I'm assuming USA is your number one marketplace what would you say is your number two, three and four marketplaces out of all those that are going on UK?
Swapneel:
UK, I feel, can do a lot better as well. I really I'm very happy with UK market, a lot better than US market, because I feel the competition is less, the margin is a lot better than US, but overall sales it's number two.
Bradley Sutton:
You're saying next to USA.
Swapneel:
Yeah, yeah, right, okay, so far. Yes, so UK would do better than US maybe for me.
Bradley Sutton:
Oh really, wow, that's pretty impressive. Okay, interesting, all right. So, yeah, you got inspired by going to Billion Dollar Seller Summit. You can see all the strategies that people are using, and these are strategies probably your competitors are using and you're not you know. So, yeah, it's like when you go to events like this, it can open your mind as far as as you know, seeing what, what is possible out there. Okay, so, other than hiring, finally, some help. What are some other goals for you for next year?
Swapneel:
Focusing on external traffic, because this is a huge thing, really really huge thing, because I see a lot of products on Amazon having 30, 40 reviews and then there's a competitor having 20,000 reviews and they are on the top five products. Why? Because they're getting external traffic. So external traffic is a really huge thing and I think I should have some strategies to work on that thing. Maybe TikTok release, Instagram release, and I'm really like focusing a lot to get some people on board related to marketing, because that's where I feel I'm really not good at all. So, trying to work on that and, yeah, I think that can be really big thing for sure.
Bradley Sutton:
Okay, all right. Well, I wish you all the best of success. You know I've seen you already at a couple events this past year and hope to see you again at some other local events. And yes, please definitely start hiring people and get some help that you need, and then you'll be able to travel even more, you'll have some more time on your hand and you can enjoy what's your favorite place that you or craziest thing that you have done living as a digital nomad the last couple of years.
Swapneel:
So I'm kind of and really in juggy right now. So I do skydiving, mostly a lot of sports, mostly a lot of sports related to air, you know. So when I was in like just a few weeks ago, I was in north of Washington and I did some being walking on a plane, like almost eight years old plane. I was walking on that plane and that was one of the craziest thing.
Bradley Sutton:
Like on the wings and stuff.
Swapneel:
Yeah, yeah, yeah. So that was really a show.
Bradley Sutton:
No, thank you, thank you.
Swapneel:
For me, like selling on Amazon is just giving me freedom to do what I love the most. I just need financial freedom. That's it, Because that's it Like it. And such a beautiful thing like selling on Amazon you can work and travel at the same time.
Bradley Sutton:
Yeah
Swapneel:
Whenever I'm traveling still not many people very rarely meet someone who is selling on Amazon, to be honest, especially of my age group and they're traveling because either they quit the job or they just got two weeks off from office.
Bradley Sutton:
That's yeah, yeah. And they have to go back to work but not you yeah.
Swapneel:
So, yeah, this is a really like, really nice life, you know as a digital moment. But only bad thing is that when I'm traveling, I cannot focus a lot on my work. So I feel like, from going forward, maybe next few months or years, I would like to live at one place a lot more so that my work doesn't hinder. And obviously, if you will, if I want to approach eight or nine figure in coming years, then I cannot do by just one or two hours a day. I need to put more efforts and really need to be very cease at work, because big money comes with big responsibilities as well, I guess.
Bradley Sutton:
Yeah, all right. So why don't you leave us with a 30 second tip or 60 second tip? It could be either like an Amazon strategy, or maybe it's a strategy for traveling, for how to live as a digital nomad, a strategy for Amazon India. It could be about anything, so go ahead and give us your strategy.
Swapneel:
So I feel like there would be always a stress when you are selling on Amazon and you always need to have a patience, because Amazon will not fix your stuff in five minutes, even if your listing is gone, your account is gone or whatever. So the most important thing you can focus is on your mental health and you should prioritize that thing, because in life you may make a lot of money you can on the other day, if your account is suspended, you are bringing your nothing. So, but one thing can always help you is your mental health, and I think exercising is one of the best things, because that has changed completely me. I still remember how I was doing the first lockdown and how the journey from last three was not at all smooth at all, but not at all, like you know, not very smooth at all, but going workout and not stressing that helped me to not to stress. So I think, yeah, everyone should do this if you are especially selling on Amazon, because you don't have a lot of social life as well when you're selling on Amazon, except traveling, Okay, all right.
Bradley Sutton:
Well, that's good for everybody to follow. I wouldn't follow the having zero employees for $6 million business, but everything else is kind of you know, something that I think a lot of people can do Well. Again, thank you so much for joining us and I hope to see you in person sometime next year.
Swapneel:
Absolutely Can't wait to see you again. Thank you so much, Bradley.
---
Enjoy this episode? Be sure to check out our previous episodes for even more content to propel you to Amazon FBA Seller success! And don't forget to "Like" our Facebook page and subscribe to the podcast on iTunes, Spotify, or wherever you listen to our podcast.
Get snippets from all episodes by following us on Instagram at @SeriousSellersPodcast
Want to absolutely start crushing it on Amazon? Here are few carefully curated resources to get you started:
Achieve More Results in Less Time
Accelerate the Growth of Your Business, Brand or Agency
Maximize your results and drive success faster with Helium 10's full suite of Amazon and Walmart solutions.