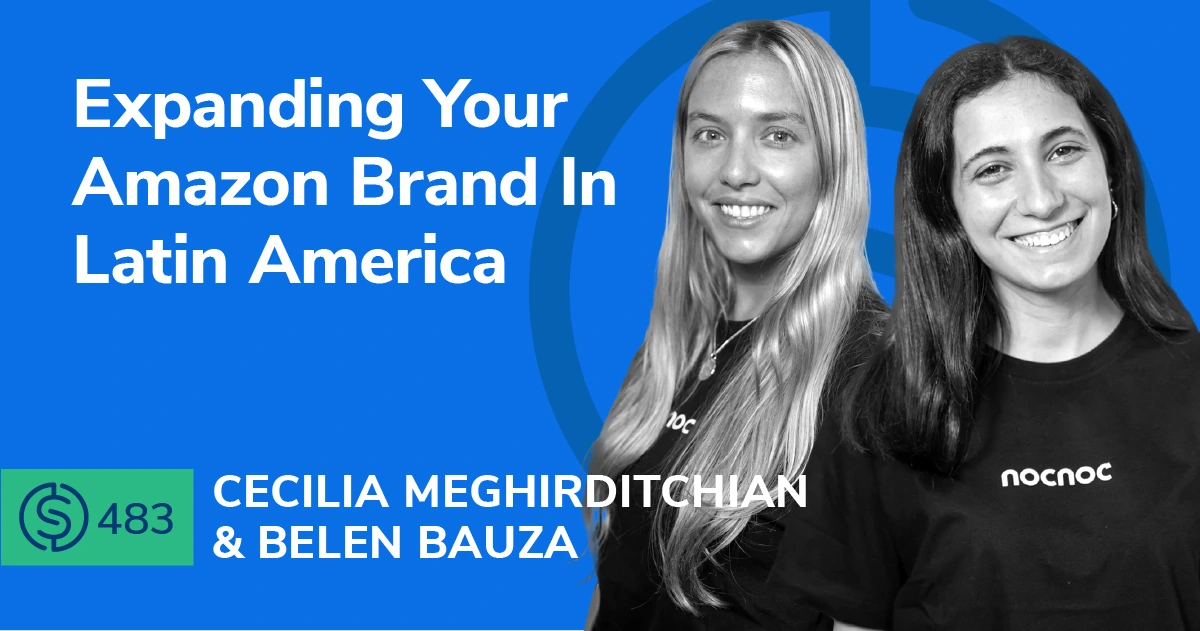 #483 – Expanding Your Amazon Brand In Latin America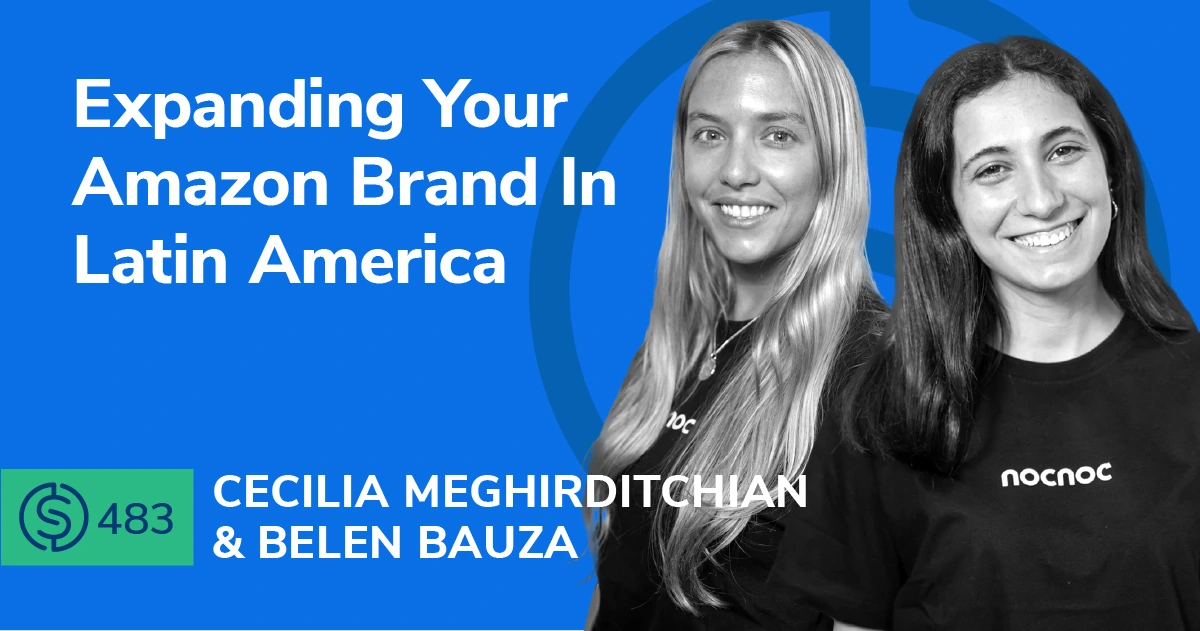 Video of the episode at the bottom
In the world of Amazon and Ecommerce business expansion, the Latin American market holds immense potential. Belen Bauza and Cecilia Meghirditchian, the dynamic duo from Nocnoc, come from diverse backgrounds that uniquely equip them for navigating this vibrant marketplace. Let's dive into their journey and unveil the strategies for expanding your brand across Latin American marketplaces. Discover the top 5 marketplaces in the region, backed by compelling numbers that underscore their significance. Nocnoc emerges as a game-changer, simplifying the path to expansion with their user-friendly platform. Learn how to seamlessly set up your Amazon or eCommerce product catalog within Nocnoc, leveraging their brand awareness program, listing translation services, and their experience launching successful products on the Latam marketplaces. Uncover the success story of Project X Egg Tray on Mercado Libre and other prominent marketplaces. Looking for a good deal with Nocnoc? We've got you covered! Seize the exclusive Bradley Amigo Discount. The doors to Latin America's thriving online marketplaces are wide open – it's time to step in with confidence!
In episode 483 of the Serious Sellers Podcast, Bradley, Belen, and Cecilia discuss:
02:33 – Belen And Cecilia's Backgrounds
04:24 – Expanding Your Brand In Latam Marketplaces
07:17 – Top 5 Marketplaces In Latin America
09:39 – The Numbers Tell It All
14:57 – Nocnoc Is Making It Easier To Expand In Latin America
19:05 – Setting Up Project X Products Inside Nocnoc
20:45 – Nocnoc's Brand Awareness Program
22:38 – Project X Egg Tray In Mercado Libre & Other Marketplaces
23:43 – Nocnoc Helps In Translating Your Listings
26:15 – How To Get 3 Months Free Trial With Nocnoc
27:00 – How Much Does Their Services Cost?
28:00 – Get The Bradley Amigo Discount
28:15 – Bradley's Experience With Mercado Libre
29:20 – Tips To Succeed Selling In Latam
31:05 – How To Reach Out To Nocnoc
32:40 – Your Favorite "Knock Knock Joke"
33:20 – Cecilia's 60-Second Tip
34:25 – Belen's 60-Second Tip
Transcript
Bradley Sutton:
How would you like to potentially increase your sales on some products by 10 to 15% with no upfront cost or inventory requirements? You can do that by opening your catalog in minutes to Latin American marketplaces reaching 500 million customers. Today's guests are gonna explain how, how cool is that? Pretty cool I think.
Bradley Sutton:
What was your gross sales yesterday? Last week. Last year. More importantly, what are your profits, after all your cost of selling on Amazon? Did you pay any storage charges to Amazon? How much did you spend on PPC? Find out these key metrics and more by using the Helium 10 tool Profits. For more information, go to h10.me/profits. Hello everybody, and welcome to another episode of the Serious Sellers podcast by Helium 10. I'm your host, Bradley Sutton. And this is the show that's a completely BS free, unscripted and unrehearsed organic conversation about serious strategies for serious sellers of any level in the e-commerce world. And we've got a couple of people who help serious sellers from all over the world get into a certain part of the world. And we're gonna be talking about what that is in a couple seconds here. But let me go ahead and introduce our two guests. Now, I had said, you know, before to myself, I wanted to try to, to get the pronunciation right of both of your last names. So for first of all, like, like for example, Belen, I've never said your last name, but like I noticed on it, you've got an accent, like on the last part of your name, so is the way you pronounce it Bauzá or just so Belen Bauzá and then now Cecilia. So let me give it a try here Meghirditchian or something.
Cecilia:
Well, almost.
Bradley Sutton:
Oh my goodness. And guys
Cecilia:
Meghirditchian. Better than some of my coworkers. So it's better.
Belen:
Yes, it's difficult for us. So sorry. No worries.
Bradley Sutton:
It is spelled a lot worse than it. Even that sounds, guys like, it sounds pretty cool. And then you try and spell it like, like if that was the winning word for like, you know, some spelling bee. I was watching the spelling bee where these 14 year old kids in America, they spell these crazy words. They would never have been able to win the spelling bee if they had that. And anyway, we're just going to we're just going to call you Belen and and Cecilia here because that's a lot easier. You are calling us now from Chile. Is it? Or what part of the world are you in?
Cecilia:
Uruguay, South America
Bradley Sutton:
Okay, excellent. Excellent. So what is that where you guys were born and raised?
Cecilia:
Sorry?
Bradley Sutton:
Is that where you were born and raised? Both of you?
Cecilia:
Yes. We are from Uruguay, but the, the team is distributed in Brazil, Mexico United States, China, also Argentina. So just the headquarters are in Uruguay and we are from here, but the team is from all part of the world.
Bradley Sutton:
Okay, excellent. Now, what did both of you end up studying in university then?
Cecilia:
I studied business management because I was really interested with marketing. I saw like, it was like a good way to learn about how a company works and also all the different areas. So I ended up studying that and I really loved it. And now I am like specializing in marketing.
Bradley Sutton:
Okay. So yeah, you're kind of working in the field that you studied. What about you Belen? What do you study? Yes,
Belen:
I also study business and I have three degrees. I study also marketing and communications. It's like corporative communications and yes, I also study digital marketing, but yes, I, I'm continue studying every year. I'm doing something new this year, for example, I study like some programs of digital graphics. I dunno if you have like that there. I'm learning to use some programs to make like additional photographs and all that things, but I don't know, I'm always, I'm 30 years old and every year I'm studying something new.
Bradley Sutton:
Now, was your company here NocNoc, was that the first entry into e-commerce for both of you or were you involved in any way, like another company or for yourself? In e-commerce?
Cecilia:
Yes. It was the first time that I was so immersed in the e-commerce area because my best companies were like solution providers or software providers, but not in e-commerce. I mean, we had like retail clients, so I knew something about the retail market, but not like in depth like it is now. It's like my first time really selling marketplaces and home marketplaces work because here in Latin America, e-commerce is not just e-commerce. E-Commerce is like marketplaces because it's the, it's a huge it has a huge volume of e-commerce sales. So yes, it's the first time like I really started learning about that. And the market.
Bradley Sutton:
Do you also do other Spanish and Portuguese markets? You know, for example, Spain and Portugal like help sellers for their or only ones in North America and South America. Okay. Now is what you're focused on is non-Amazon marketplaces. Like you're not helping people to sell on Amazon Brazil, for example. It's mainly the non-Amazon.
Cecilia:
We do. The Amazon Brazil, Amazon Mexico. But in LATAM America, Amazon is not the main marketplace. So if we only help sellers to sell in Amazon, they will only gain like five to 10% of the share potential e-commerce sales in LATAM. So what we do is to help them expand in the most marketplace possible. We have like 15 market different marketplaces that we have agreements, we have stores on them. So basically it's not just, okay, I help you expand to Brazil to replicate your business in, in Amazon, Brazil. It's like, I help you expand to all the market basis. Sure.
Belen:
If want to expand to Latin America, it's important. They have to understand that it's not the same like US that you throw your products in Amazon and you're probably going to have a good performance. Because everyone knows Amazon is like the king in US here in LATAM, you have many, many marketplaces in all countries. For example, in Brazil you have more than 30 marketplaces and you want, and if you want to have real sales, you must be in most of these ones, for example, I know, but Mercado Libre is one of the biggest ones, and it has only a 12% of the share. So imagine the important to understand what is happening here in which marketplaces you have to be selling to have a good performance and to make sales. Yes. 'cause If not, if you're in only one or two, marketplaces going to be quite difficult.
Bradley Sutton:
Okay. Now you mentioned, hey there, there's 30 marketplaces in Brazil and we know there's many n other countries. If you were to list the top five for GMV or, or for the most volume of sales, what are the top five marketplaces in all of Latin America?
Cecilia:
The first one, Mercado Libre, because it's present in all countries, but also in ra, Brazil is the strongest one. So it's the strongest.
Bradley Sutton:
So, so the specific one, so then is number one out of all the mecal libre, like for example, I view Amazon USA and Amazon Germany as number one. And number two, it's both Amazon, but, but separate. So then number one, out of all the countries marketplace would be Mercado Libre. Brazil,
Cecilia:
Yes. Mercado Libre Brazil. Then I would say I think maybe Magalu, Brazil too.
Bradley Sutton:
Also the top two are from Brazil. Interesting. Okay.
Cecilia:
I believe the top fire for Brazil, because Brazil.
Belen:
Yes. But of course that it depends a lot in the type of product and the price you have. Because for example, maybe for your product, if you're selling, I dunno, something, a small device of technology probably in Brazil is you, you'll have more sales in Mexico because you can't sell there, eh, a full price, more expensive. Or if you have cosmetics, it's going to be better in Brazil because in this markets you have like more competition and more people are used to buy this type of products. What we have in Nono is like a special team that, first of all, we analyze a little bit your products to understand in which country you are going to have a better fit. Because it's, we can say like, well, I think that Merkel live in Brazil and then Maga and then Merkel live in Mexico are like the, the biggest one and the best ones. But of course that it will depend a lot in the type of product. We have products that if they wait, I don't know, more than, I don't know, 10 kilos, maybe you can be in some countries, you have like different laws different prices and weights that we have to understand in each country. So more or less, yes, it's like Mercado Libre Brazil Magalu, Mexico,
Cecilia:
Americanas too in Brazil
Belen:
Americanas popular.
Bradley Sutton:
Yeah, I never even heard of that one. Well, what country is that in?
Belen:
Brazil
Cecilia:
Americnas in Brazil too. Brazil
Bradley Sutton:
Also Brazil. Okay. Now, you know, before we go into too much details about selling down there, let's just give, let help people understand the, the potential. So can you give some numbers from some customers, you know, where hey, you don't have to say their name or anything, but I know one seller, you know, they started, they've been on there for one year and now they are doing, you know, $5,000 per month down there, they're doing 10,000. You like what is the potential for somebody who is, you know, an Amazon USA or an Amazon Europe or like you said, maybe they're from China and they open up in Latin America. What is the ceiling, I guess you could say for, for sales?
Belen:
More or less for you to understand? It's like in LATAM you can have like the 15 or 20% of the sales you have in US. Every seller, every case is so different. And it would be depend in the disposal if there is a affluent communication. But yes, I think that maybe–
Bradley Sutton:
Yeah, so I mean like if I'm selling a million dollars in Amazon USA, there's a potential, yeah, hey, I could do a 100,000-150,000 or so in Latin America amongst all the marketplaces, but if my product is good for it, you know, like if I'm selling if I'm selling in in Mercado Libre and Magalu, I can't be selling a shirt that says I hate Luis Suarez or something like that. You know, like, maybe if that's my product, maybe it does good in America. It has to be kind of appropriate for the marketplace. Now have you ever seen a case where maybe there's something that even sells better than somebody in another marketplace, but actually sells better? Like for example, everybody says something similar about Amazon USA and Walmart USA like, hey, Amazon USA usually 10 to 1, the sales, but you know, Carrie, who, who works with us here, she's got a couple of products where on Walmart it actually sells better or the same as Amazon just because there's more demand. Is there anything like that or usually it's always less than than the other marketplaces.
Cecilia:
First of all some marketplaces have like their own special day, special sales. So it has happened to us that, for example, during a certain period of time, the seller had more sales in LATAM because of that special sale. That the hot sale, for example, in Mexico, that was in May. During hot sale in Mexico. That seller had like, I don't know, three times, four times more sales in, in Mexico in LATAM than in the US for a specific product. And also, of course, I think depending on the marketplace because there are some marketplaces where we can push with ads on advertisings or maybe the keywords works better. And I don't know that sales increase in the specific marketplaces. And we are always monitoring that analyzing the performance on each marketplace to push sales, to push advertising campaigns inside the marketplace. And of course that's what we try to do, like to push sales in the marketplaces we see most potential.
Belen:
And also what happens a lot is, for example, when we start with a seller, they always tell us like, okay, look, this is my top selling product. This is the best sky you here in US. And when we expand their products, they can't believe that, for example, a product that they don't sell too much in US is the best opportunity here in LATAM. And the product that they are used to sell a lot in US is not that competitive here in latam because of course that you have a lot of factors that, I don't know, season or sales, for example, when you finish a campaign in US, maybe then it's going to be attractive here in LATAM market. So yeah, it is like, it's everything different of what is happening in US, and these are good opportunity for sellers because maybe you have some products of summer and then here summer, so you can finish your size here. So it's like we are always looking for different opportunities for sellers to boost their sales.
Cecilia:
Yes. last year the one of the top selling products in Brazil during Christmas was an outdoor game. So, of course, in the USA, an outdoor game won't make sense because it's winter, but here the beach, outdoor playing games. So we see that all the time during the different seasons. And I also remember, this is really funny, it's like a funny fact. I think it was last year too, that Brazilian football player had a, the nickname? They told them pigion, like people told them that he was called pigion. I don't know why. So a seller had pigion pledges toys. I don't know why a Chinese seller. So during that time, the sales for that pigion plus boost in Brazil and seller said to us, what's happening that this specific project had a lot of sales. It was because of that, of that nickname of that Brazilian football player. So those things usually happens. Yes.
Bradley Sutton:
Okay. Now the way that that you guys even exist is because it's hard for, for example, Americans, Canadians to just open up and sell these marketplace. I know, like I did, maybe I want to say eight or nine years ago, I started Mercado Libre in Mexico, you know, when I was doing in a phone case business, and it was tough. Like I had to have someone local and just, you know, like thinking about the customs and making the listings, it was a headache. And I ended up stopping, like after, after a few months, I was just like, this is not, I could see the potential, but I'm like, I don't have the time to deal with this. So, so if I understand correctly, like the thing that you guys do is you take all of that hassle away. Like nobody has to have entities or bank accounts or anything down there, and I don't even have to ship to Latin America. I'm shipping my products to Florida, right? And then you guys take it from there, and then that's how you deliver from there to the customers. Is that right?
Belen:
Yeah, yeah, yeah, yeah. I think that NocNoc exists because we understand the headaches of the sellers when they try to expand. And yes, what we try to do is like solve all that problems. Like we make payments in dollars, we take care. You only have to give us like your bank account in US, and we transfer in dollars there. We make translations listing, we have customer service 24/7. We have offices in Mexico and Brazil, and if you have cancellations, we found returns, we'll take care of that. We have our warehouse in Miami, so sellers only have to ship there to Miami for a seller. Imagine that is the same like selling in US. So they only ship there. It is like the first month shipping, and then we take care of everything. It's like we ship to Mexico to Brazil, they have, if the seller has questions or problems, we'll chat with them.
Belen:
We'll answer the questions. It is like, I think that's what happening with us. Our key in our business model is like we, we take care of the sales headaches and we try to solve all that problems because we have so many marketplaces here and to understand what is happening with each countries regulations are changing every day. So we understand the problems. These can be for a seller if they want to, to start selling by themselves. And yes, I think that this is like a whole solve problems. Yes, it is. Like what it is NocNoc.
Cecilia:
Yes. And also, and most important, we have the local team in all different countries that are experts in regulations, in compliance, in customs. They know which products can be sold in each marketplace, in each country. So that's really like one of the, the biggest advantages, I think because you are talking with someone who knows the market, who already has been selling in the market for years and knows which products can or can't be sold. And we do that like catalog analysis before telling a seller, yes, you can sell this, or no, we are really honest with them about everything, about pricing, about products. I think that's the key of success, that we have a team that is really committed to customer success and to boosting sales in marketplaces. Well, yes, because
Belen:
No, yeah, that is really important. We have like a team and we have the experience and the knowledge of understand what is happening. When we have a new seller, we see that their catalog, and we know if with that price, they are going to be competitive. What is happening with that, that type of products in each country, we, we know in which marketplace is going to have more sense. It's like we, we, we have offices in each country dedicated analysis teams that are always understanding which products are going to be better. So it's like, I think that the, the knowledge is like, yes, really hard, but it's really necessary here to make work side.
Bradley Sutton:
Now what I did, and you know, you guys know, I don't like you know, talking about things I don't have experience with. So I actually went through the process of getting set up here with NocNoc, and I took one of the Project X products, the, the egg tray. We figured that one would be a little bit more wide wide reaching as opposed to the coffin shelf, and it was pretty easy to get it set up on their website, you know, set the price of, you know, how I'm going to you know, the price before I ship it to them in Florida. And then what they started doing is going to the different places for example, Mercado Libre, right here, this is what it says. This is Mexico, I think. Yes, lib.com do mx.
Belen:
Yeah.
Bradley Sutton:
And we've got this is not $805 even that's pesos guys, so don't worry. I'm not I'm not doing some crazy price. And we have the, the listing is translated and, and then you, since, since you're selling it on a bigger account, you guys get this Mercado Libre gold mark because you're a big seller, as opposed to me, if I was just getting started, I wouldn't be able to have this, this badge. Right, exactly.
Cecilia:
We also have some stores that are like exclusive. So for example, company in Mexico is we have a store there, but we are the only international store available. So it's the only way that any seller can like, have their products there in mere sellers, of course, can enroll by theirselves. It will be much more difficult and they won't have like their reputation as we have, but we also have some other stores that, okay, the only way of selling is with NocNoc. So that's a good point.
Belen:
Yes. And also when we have is like, eh, in some marketplaces we have like spaces, like banners, blog where we can push products. If we have new sales or marketing campaigns, we can like boost your sales, like you have spaces in the best marketplaces in LA town where we can publish your brand, your product. So that is really, we will be really difficult for a seller if they want to make it by their own to have like that reputation, that spaces in Mercado Libre or in Amazon or in Americanas, I don't know. And yes, this has been like a work of years of NocNoc, and we have so good reputation in this marketplaces that for us is really easy to show your products, to help you have like a brand awareness to make your brand known here, because we work with brands that are new in, and right now we have like a new brand awareness program that for us, imagine that it's really easy to make sale.
Belen:
I don't know a small device of, I dunno, a computer, a Sony computer, okay, here in LATAM, we all know what it is, or a Apple, I don't know any brand well known a perfume, a Carolina, a red perfume. I can make you say that tomorrow if you want, but what, what happens with new brands that want to start a growing latam and nobody knows the brands, their products. So what we do is like a brand awareness program that they can start, I don't know, like paying $300 per month, and we can help them with influencers, with blogs with us, social media. We, we can make like an Instagram if you want. And yes, it's like something new. We, we, we started working and it's going really good because for new brands, it's really important to, to get known the brands in the beginning. Yes.
Bradley Sutton:
Yeah. Okay. Now there's other you know, I don't I can kind of speak Spanish a little bit, but I don't speak Portuguese, but I can tell this is a Portuguese, so this must be Brazil here. Yeah. So it's called Bandha instead of or still called wait, which band? There's both. So the, wait, the word is the same, or wait, I thought it was a different word
Cecilia:
In Portuguese and Spanish.
Bradley Sutton:
It's the eggs. That's a different word. Okay. So the same in Portuguese and Spanish. Okay. OBO is Portuguese for eggs, I guess. All right, interesting. So I can see here the listing is completely in Portuguese, translated here. Yeah. I cannot read any of this down here. Interesting. what one is this? Dot cl Is this Chile?
Belen:
Yes. Yeah.
Bradley Sutton:
Okay. All right. So here's another, the same listing I guess, in Mexico here. So yeah, you put it in a lot of marketplaces there. There's another one here. The pictures aren't loading for me, but this is that Magalu. Big Brazilian website here. And so now it's in this place, and it was pretty easy. It was pretty easy to get this set up here in this, in this portal that I did. Now let me show people another screenshot here of, you know, I don't have we, we just added this just a little bit ago, so I don't have a lot of I don't have a lot of sales yet, but here is a dashboard of I guess one of your other you know, customers and you'll be able to see what's the pending orders, products out of stock and wow, look at this. $3,400 worth of sales, the top SKUs. Okay, this is pretty, pretty easy to to to navigate. Go ahead. Yeah,
Belen:
No, yeah, there you have like all your information, your balance, your what, your job. I use dashboards, pending orders, and also in the service center, you can upload your products. You don't need help of us. If you want, you can make it by your own uploading products manually, maybe then in your Seller Central, you can show that you can upload products manually or you can integrate via a p I and we can help you with our IT team or you can upload with your ASINs, your Amazon ASINs. We take all the information from there and we'll get like descriptions, titles, photographs, and we'll translate everything to marketplaces here in LA Town or your, with your SKUs information, you upload a, a template that you can download it from there. And it's like really easy and friendly for sellers. It's like you log in, you will have an account, you say, okay, I want to upload products. You upload it, and probably in two days your product will be published in these marketplaces. And once we start with communicating with the sellers, we can make marketing like actions, we have campaigns, discounts, adds a lot of things to help them have more sales. So yes, the process of uploading products and starting seeing your products in publications in marketplaces is really fast and really easy.
Bradley Sutton:
Is there a setup fee for any of this? Like, I didn't pay, but I don't know, is that just the Bradley Amigo discount or there's no, there's no there is, there is. Do other people have to pay to get started on the platform? Well,
Cecilia:
First of all, eh, we offer three months free trial for anyone to try. So if you don't want, I mean, if you want to try your success in Latin America, maybe you are not so sure about starting with your owner solution, we will give you three months free trial. Okay? So during that time, we of course we'll help you get sales and boost your sales we'll do analysis for you to determine which product are most successful, how it went, and then if you decide to continue, we of course offer like a small fee, but it's the land maybe can talk more about that, but it's really, really small. It's just for us to like operate and have your account open. Yes,
Belen:
Yes. It's like, well, three months for free and then it is only a fee that goes from 30 to $90 per month depending on how many SKUs you have. So probably you can have like a hundred SKUs with us and pay us only $40 per month. Yes is a little small commission for all the things you can make here. And for sellers, it's like they only give us their products with the FOB price that the amount of money they need get by any sale they have, and they will have that money in their balance in their, we are going to pay them in dollars. And yes, it's only a small commission that we charge sellers, but they can trade for free. And we have like also a budget, a marketing budget that we can help them extra these with discounts, with ads once they start selling. Yes, we can help them with that marketing actions also, and if you're Bradley friend, we can help you, like maybe we can make something like the first month, we can give you a 10% of discount by saying us that you are Bradley friend. So yes, tell this opportunity.
Bradley Sutton:
Okay, there we go. Alright, we're gonna have to make a NocNoc code Bradley Amigo discount will be the code that you enter or something? No, but yeah, just, just name drop me.
Cecilia:
We're gonna make something. Of course, yes, of course.
Bradley Sutton:
Alright guys, just inserting this sound bite because actually we made this Bradley Amigo discount code happen. So make sure to stay at the end and I'll give you the link on how to redeem this. Now, I mean, to me, this seems like a no-brainer, especially that there's no upfront costs. I'm not having to send inventory, you know, in and, and then maybe it sit like, like I said, when I was doing Mercado Libre in Mexico, I sent you know, like 10 cases worth of phone cases that I ended up not selling, and I just lost it all because, you know, I couldn't get it right. Nobody's having to set it up. So it's like a no-brainer, almost like, Hey, we should set up a call with you and then, and then maybe do you take a look at their, I mean you did, you did that with mine a little bit where you took a look at the products and said, Hey, you know, let, let's start with this egg tray one where somebody could just reach out and then choose one. Just, just see how it goes. Maybe it works out well, maybe doesn't, maybe you should try a different product, but I'm trying to see the downside here. There's no downside, you know, since it's free to start, at least
Cecilia:
We encourage all sellers to send us their entire catalog because sometimes they only send us, I don't know, I want to try this product, and they send us one or five ASINs or SKUs. But we, we always tell them, no, no, send us your entire catalog because we can help you determine the products. We feel. We'll have a lot of sales. Yeah. Not just the ones you want to try. So we always encourage them to sign up to our website or to schedule a free exploratory call and we can't help them get started asap. So as soon as they reach to us, we'll start the process. We'll study and analyze their catalog expand all projects in the marketplaces.
Bradley Sutton:
Now how like for example, me, I've got my own warehouse here. And so like, you know, when I was calculating it out, like how it's gonna ship to, to you in Florida, it was pretty easy. 'cause I have the egg trays right here. I know how many days it takes me to get to, to Florida, how, how long it's, or how much it costs. But what about the sellers who maybe they don't have a 3PL warehouse, they only have Amazon inventory. Are they Yes. Doing the, the, what is it called are are they just taking inventory out of Amazon and then sending ah, yes to you or doing the, oh my goodness, my mind is blank right now. What's it, what's it called? Okay. It
Belen:
Is like they have fulfillment with Amazon,
Bradley Sutton:
Multi, multi-channel fulfillment. Is that what they're doing to send to you? Then
Belen:
We have sales that work that way, and once they have an order, they advise Amazon, they take the products from there and they should be to us it's like, yes. Really simple for that. Yes.
Bradley Sutton:
Okay. All right. Now guys, if, if you're interested to, to give 'em a try, there's there's a couple different ways. Like I suggest going to the you know, our, our hub, they have been in the hub. We don't just put anybody in the Helium 10 hub. So just go to hub dot helium ten.com and then right in the search you can type in knock, knock and it'll, it'll be the, the only one that comes up and then you can hit get in touch. How else can they, they find you out there like your website and, and
Cecilia:
Sure they find you website
Belen:
They can. Yes, they can sign that directly in our website or also they have the option to have an exploratory call by free with us and we can have a meeting with you a 15 minutes meeting and to explain a little bit more to talk about your products, to see like if there is a real fit or not. So yes, please don't hesitate to to sign up or ask for an expiratory and we can help you.
Bradley Sutton:
Put another soundbite in here, guys. They did actually make this discount code happen. So if you want to save 10% cash back on your sales for the first month, go to h10.me/bradleyamigo. Alright, h10.me/bradleyamigo, no spaces, no anything. And that I'll take you to the NocNoc page and then get you that 10% cashback. Alright, now one last thing before we get into your 30 or 60-second tip or strategy is, I'm sure you get it all the time, but because of the name of your company, I need to know what is your best knock, knock joke?
Cecilia:
Oh, I don't know.
Belen:
Don't know what, sorry,
Bradley Sutton:
You don't know. Oh, but but you don't know about this. You don't know about knock, knock jokes. Yes, in America.
Cecilia:
I know that I know them, but okay, it's
Bradley Sutton:
Alright. I'll give you one. I'll give you one. You guys ready? Yes. Alright. Knock-Knock. Who's
Cecilia:
Who's there?
Bradley Sutton:
Interrupting Kat,
Cecilia:
Interrupting Cat.
Bradley Sutton:
Meow.
Cecilia:
I'm gonna, I'm gonna make that joke to my boss.
Bradley Sutton:
Okay, there we go. All right. Yeah. Sorry guys with the dad jokes, but all right, now let's get serious your 30-second tip or strategy of the day.
Cecilia:
Okay. my strategy would be if we are going multi-channel and also multi-country, if you are starting to blind like a multi-country strategy to pay attention to your keywords, of course, because they will vary from country to country. For example, the keywords we use in Colombia are not the same one we use in Mexico, even though they both speak Spanish. So that's a good way. Like searching the, the most popular and trendy keywords and to see which one applies to your products will be like a, a good strategy. And also, of course it's not a literal translation. If we have something in Portuguese and we want to translate it in Spanish, it, we don't have to make it little because for example, I don't know, waffle machine in English will translate as Makina in Portuguese, but in Spanish is, it's different. It's like, yeah. So you have to pay attention to that. I don't know, Berlin, your team,
Belen:
I think that everything visual in marketplaces is really important. Every day. We, we are dealing with that. You have a lot of competition, a lot of similar products, a lot of grants, and we are like trying to make like everything more, more important and put that to be in the top with a good photograph, a good title attractive to make it different from the competition. And look what is happening with similar products. Look to a competition, what they're doing good that you don't, or maybe, or it is like, don't, don't publish a product and forget about them. It's like a day-to-day work to understand what is happening there.
Bradley Sutton:
Okay. Excellent. Excellent. All right, well thank you so much for joining us today. Are you going to be coming to America for any upcoming conferences? I know I've seen you at a couple of conferences before like Amazon Accelerate or Unboxed or anything The rest of this year,
Belen:
Yes. Maybe next month to Amazon Accelerate, we are going to be there and yes, we we're like seeing month by month what show is going to be new to be there. But yes, we are always trying to be every month in a different show in US, so yes.
Bradley Sutton:
Okay. Alright. If anybody else is interested in Accelerate, I'll be there too. You can go to h10.me/Accelerate. And I would love to see everybody there. Maybe it's in Seattle. Maybe we could find a local Uruguayan restaurant there and you could show me some dishes. But healthy ones, yes. Not the online food that's s eats there. All right guys. Thank you so much and we'll see you soon. Thank you very much. Thank you
Belen:
Thank you very much. Bye Bye.
Cecilia:
Thank you very much. Bye Bye.
---
Enjoy this episode? Be sure to check out our previous episodes for even more content to propel you to Amazon FBA Seller success! And don't forget to "Like" our Facebook page and subscribe to the podcast on iTunes, Spotify, or wherever you listen to our podcast.
Get snippets from all episodes by following us on Instagram at @SeriousSellersPodcast
Want to absolutely start crushing it on Amazon? Here are few carefully curated resources to get you started:
Achieve More Results in Less Time
Accelerate the Growth of Your Business, Brand or Agency
Maximize your results and drive success faster with Helium 10's full suite of Amazon and Walmart solutions.