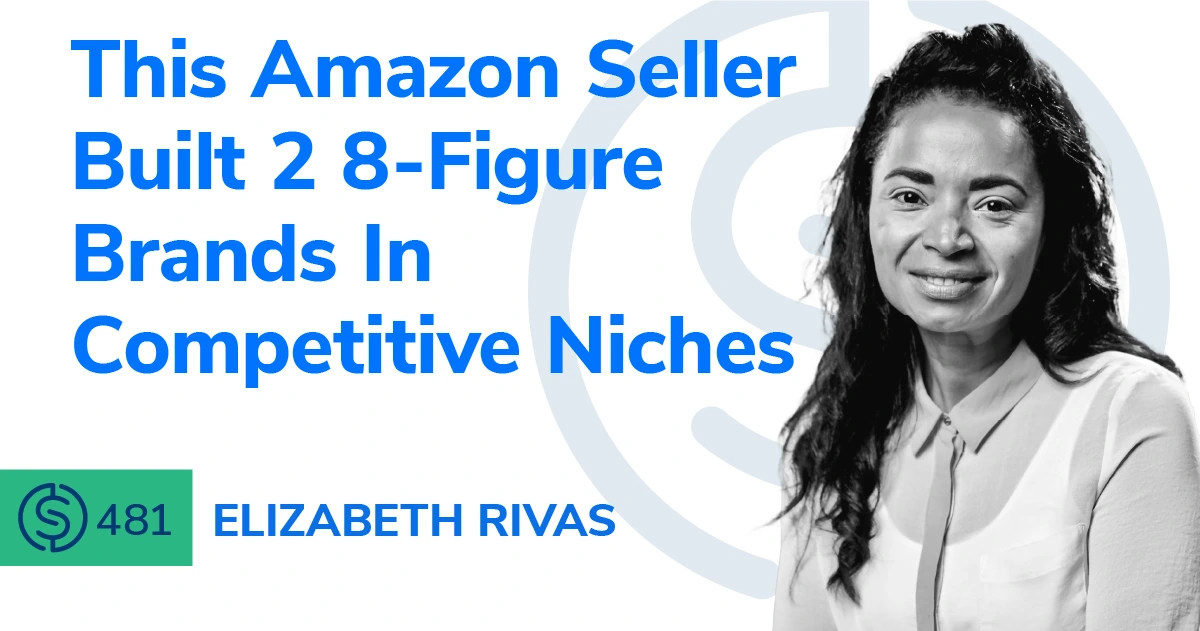 #481 – This Amazon Seller Built 2 8-Figure Brands In Competitive Niches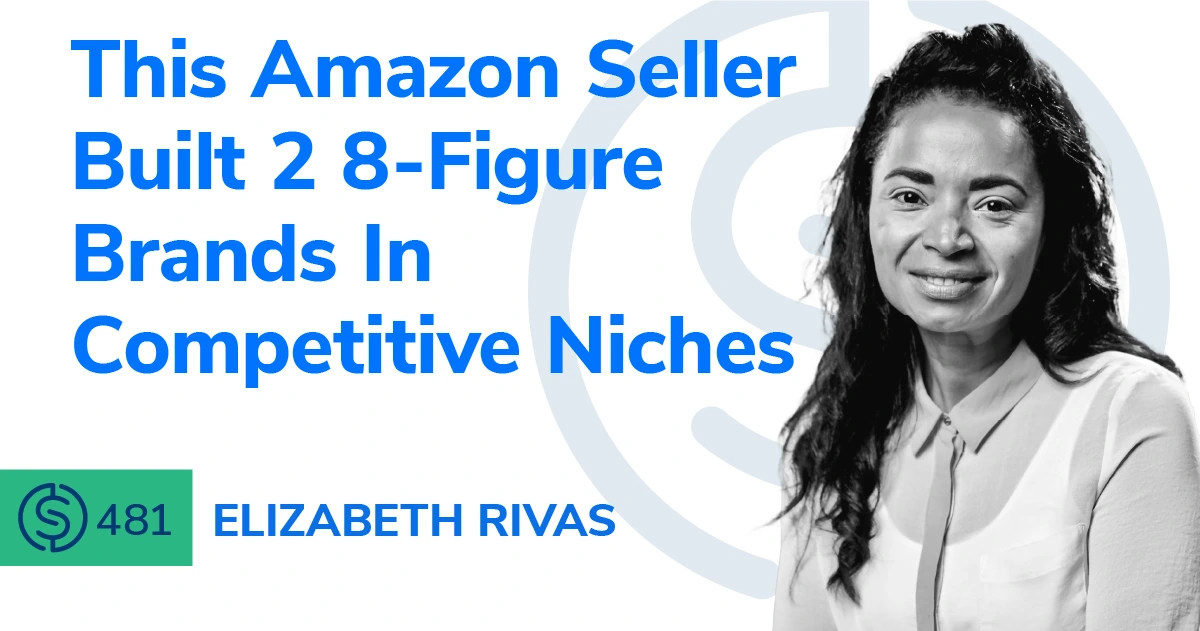 Video of the episode at the bottom
In this episode of the Serious Sellers Podcast, we feature the awe-inspiring journey of Elizabeth Rivas, the operating mastermind behind two remarkable 8-figure brands. Discover her captivating backstory and how she soared to greatness in the Amazon space from humble beginnings. Unravel the secrets of 1P and 3P seller programs, and gain valuable insights into killer PPC and listing optimization techniques.
Dive into the fiercely competitive niche of supplement brands and learn how to thrive in a crowded category niche in the Amazon marketplace. Brace yourself for game-changing marketing initiatives and innovative strategies for Amazon brands who want to crush it. Elizabeth's serial beta testing approach and her favorite Helium 10 tool will leave you inspired. Learn and take advantage of her ingenious launch tactics using Helium 10's Market Tracker 360 data and the joys of an 8-figure seller while using the all-new Insights Dashboard. Plus, learn how you can grab a free demo of MT360!
In episode 481 of the Serious Sellers Podcast, Bradley and Elizabeth discuss:
01:30 – Elizabeth's Backstory
02:57 – How She Got Started In The Amazon Space
03:43 – Started From Nothing To 8-Figures In Sales
04:46 – Amazon 1P And 3P: What's The Difference?
09:05 – 1P Seller PPC And Listing Optimization
09:49 – Which One Is Best? 1P Or 3P Seller Program?
14:00 – Talking About AlgeaCal's Amazon Brand
15:58 – Competing In A Very Competitive Niche
19:41 – Talking About Amazon PPC And Their CPC
25:59 – "You Don't Have To Be The Cheapest In Your Niche"
29:26 – Marketing Initiatives And Strategies Inside Amazon
33:31- Serial Beta Tester And Other Creative Strategies
36:43 – Elizabeth's Favorite Helium 10 Tool
37:33 – Launching Products Using MT360
39:05 – Why She Loves The New Insights Dashboard
39:26 – How To Get A Free Demo Of MT360
40:48 – Elizabeth's Healthy Habits Outside The Grind
43:46 – Elizabeth's 60-Second Tip
Transcript
Bradley Sutton:
Today we're gonna talk to a seller who's already brought one company on Amazon to eight figures of sales. And by next year. She'll bring another company to over 10 million in sales. And it's through using a lot of cool strategies she's gonna share with us by opening up her products and listings to us. How cool is that? Pretty cool I think.
Bradley Sutton:
Are you an agency enterprise-level seller or an eight or nine-figure seller and need advanced analytics market Tracker 360 might be the product for you to get a demo of Market Tracker 360, go to h10.me/mt360. That's h10.me/mt360. Hello everybody, and welcome to another episode of the Serious Sellers podcast by Helium 10. I'm your host, Bradley Sutton. And this is the show that's a completely BS free unscripted and unrehearsed organic conversation about serious strategies for serious sellers of any level in the e-commerce world. And we've got a serious seller here from not too far away from me, but coming from Canada. We've got Elizabeth. How's it going?
Elizabeth:
Hi Bradley. How are you?
Bradley Sutton:
I'm doing just delightful. Thank you. Now where in Canada exactly are you at?
Elizabeth:
Yes, so I'm located in the province of Quebec about an hour from Montreal. It's called Mirabel. So I'm near the mountains here.
Bradley Sutton:
Okay. Now is that where you were born and raised, or did you go there at a later stage in life?
Elizabeth:
So my parents are originally from El Salvador in Central America and my mom came into the States and stayed there for five years in the 1980s. And I was born there. I was actually born in Long Island in New York. I
Bradley Sutton:
I hear a little bit of New York there in the accent.
Elizabeth:
Maybe because of my cousins, but I've never lived there actually, I came here to Quebec and I was like a year and a half. Okay. So I'm mostly Canadian although I have my two passports there. But yeah.
Bradley Sutton:
That's kind of amazing, you know, like, Hey, you can be in New York when you're seven months old and then it just sticks with you? So somehow I guess I lived there for a year only or two years. I still feel like, and I was like, more than 20 years ago, I still feel like a little bit of like a New Yorker, but anyways, been in Canada most of life. So then I'm assuming English, Spanish, and French? You speak?
Elizabeth:
Correct. Yes. So my mom talked to us at the house in Spanish. French came at school and English too. But I did have the opportunity to study at the HEC Montreal, which is in European university here in Canada.
Bradley Sutton:
Okay. What was your major?
Elizabeth:
It's a marketing and international in business.
Bradley Sutton:
Okay. And then upon graduation, did you enter that field?
Elizabeth:
Yes. So part of of my career path here is a bit different because I didn't really touch e-commerce before like 2018. Prior to that, I was actually selling to big companies in pharma, like Thermo Fisher, VWR 3M. I was a marketing sales director, so I have always been in the business field, but it was more B2B, it was not digital.
Bradley Sutton:
Okay. Alright. Interesting. Now, how, then, you know, in the late 2010s, I guess Yeah, you could say, how did you discover Amazon e-commerce?
Elizabeth:
Yes. so in 2017, I started working at a company called Pelican International. They're the Canadian company, which is actually the largest manufacturer of plastic kayaks. And I had a particular mandate, which was to develop an accessory product line for them to sell online. So they usually sell out all of their products through big stores like Sporting Goods Costco, and Walmart. And they didn't have any real presence with e-commerce direct to consumers didn't exist at the time, and they wanted to start it with Amazon. So because it wasn't an existing channel, I just like actually just arm myself with my enthusiasm, and curious mind, because I didn't know anything about Amazon. Okay. and, you know, like even after now it's been like five, almost six years that I am within this ecosystem, it always continues to surprise me every day.
Elizabeth:
It changes always. But at the time, just to go back there we were set up as an Amazon 1P. So we were not doing 3P seller. And after 18 months we lounge a full accessory product line in 2020 for paddles dry bags and many different accessories for nautical outdoor activities. And it was a whole process because Amazon helped out during the process of the lineup. I've actually read through it, like at the time I didn't use Helium 10. So I've actually read a lot of all the reviews of different competitors and based off those reviews, we came out with the different models and concepts with our RND company I'm sorry, the department outsourced these models in China. And that's how we came with, you know, like when I left in 2022 the brand alone was selling eight figures across a hundred different ASINs, and it started from nothing.
Bradley Sutton:
And what in particular were you responsible for
Elizabeth:
I was responsible for everything, so from A to Z.
Bradley Sutton:
Okay. So then, you can take most of the credit then from that increase in sales?
Elizabeth:
Yes. Most of it, of course, I had like a team, you know, with me helping me out. Like just RnD and graphics and content and everything. But like the strategy, like the go-to-market strategy. Yeah. It came from,
Bradley Sutton:
Did you launch products as well, or just take their existing listings and, and, and try to just, you know, market it in a better way on Amazon? Like where did a lot of most of that growth come from?
Elizabeth:
We launched products, like all of them. For instance, we used to have five different models of paddles. When I left, we had five different categories and each of them have three to five different variations. So it was mainly like taking the small, small category of accessories that they had and just broadly coming with different subcategories and how do we sell these to the Amazon customer.
Bradley Sutton:
And a hundred percent of the products that were launched were all 1P or like through Vendor Central, where it says, shipped and sold by Amazon.
Elizabeth:
Yes. It was all through 1P.
Bradley Sutton:
Now, for those who might not be familiar, you know, we're not gonna fast forward yet in your journey to the 3P side, but what are some of the biggest differences like things you might not have control over, things that are completely different on the process when you're a 1P as opposed to 3P?
Elizabeth:
Yeah, so I feel like 1P it's good when you have a good relationship with your vendor manager if you get to talk to him. The first year we didn't have this relationship, so it was kind of hard. But basically what is different is that you don't control demand. You don't have all this access to different promotions that you do with the 3P seller side although I'm not really familiar of the changes that have been made in the last year and a half, 'cause I'm not anymore in the 1Piece. So maybe it is but just like brand analytics, like on the 3P side that it's, it changed my life, you know, here as a seller now and the vendor side, we didn't have access. I believe they do now. But at the time they didn't.
Elizabeth:
One of the things also, it's forecasting, the forecasting process the way they order for us, it was every Monday, so they actually just issue PO's and you have to go to how can I say, the process of seeing if you can accept those or not if you have enough stock or not. So it was more how can I say a little bit more difficult. And also all the negotiation part, you know, with the percentages that they take for allowances and all of that. It gets very corporate. It is a B2B relationship when you are a 1P seller.
Bradley Sutton:
Okay. How about Amazon advertising? Is that a very similar experience or are there differences there with how you run the PPC?
Elizabeth:
It was however I run it now on a very different strategy side, meaning that I do it with an agency. I do have the budget. I'm with a company now that has a budget for that. Pelican at the time didn't do it that way. It was very sporadic and we didn't really have like a strategy around it. It was more like a keyword base. So I don't know exactly what they're doing now. I believe they have somebody doing the the advertising part.
Bradley Sutton:
Okay. what about listing? You know again, some of this is different to me 'cause I don't have personal experience, you know, with 1P, how much control over your listing optimization do you have? Or is Amazon the one who is creating the listings or you have full control over the images and the copy and things like that? So
Elizabeth:
Copy and images, you do have full control. The only thing that you don't have full control is pricing. That's one of the things that we didn't like. It's like interesting. It was sporadic. Sometimes they just run like a deal or something on our, on our product listing, and we didn't even agree to that, or we didn't issue that.
Bradley Sutton:
But they still have to pay you the same, like if they decide for some crazy reason, Hey, we're gonna give a 50% off discount. It's not like there's gonna, they can tell you, Hey, you need to give us 50% off, or something like that.
Elizabeth:
Exactly. So mainly, I believe it's mainly for them to, they, it's, I'm pretty sure it's an algorithm doing that, so they have too much talk, it's not moving enough. So they just like issue like a 10%. Our problem with that is that you know, it's, we were an omni-channel company, so we had other retailers also where we cannot just run random promotions and having 1Price at Sporting Goods and another on Amazon, you know. We were a map company, but they don't, like, Amazon doesn't really go with the MAP policy, you know, so that, that was one of the things that was difficult for us. But it was more the, like the first, first 18 months, because after that, when we got our good relationship with the vendor manager, he did understand that we cannot be like, playing around with our prices.
Bradley Sutton:
Okay. Now, in retrospect, you know, my question is gonna be like, which would you choose? Like, so, you know, there might be some sellers out there, or some companies maybe they're not on Amazon yet. I've heard this question before, it's like, Hey I'm trying to get on Amazon. I actually have an offer from from Amazon. They wanna do 1P with me. They want me to go vendor central route. Or should I just start, you know, like, like most people and, and go full 3P and just, you know, set up my own seller central account and, and, and do everything on my own. Are there situations where that answer might be different or is, is your answer the same in all situations? And if so, what is which, which one would you choose?
Elizabeth:
That's a pretty good question. I think 3P seller is just like the setup that you need to have to launch, and it just offers so much more opportunities and more control. Especially if you do it FBA the only part where I see it a little bit more difficult, it would be like when you do big bulk items like kayaks. Those are not profitable on a 3P seller program, you know? Yeah. So the fact that Amazon is buying those from you, stalking them, and you actually just giving in an allowance. Yeah. Mainly allowance is big, but it doesn't cover for, what would it cost for you to send it out to an FBA center? Okay. So I would say that it depends on your product, depends on the dimensions. If it is for Control 3P all the way I do believe you do have much more capabilities within the 3P seller program. One, ultimately what we'd love to have, it's like a 3P seller program direct, you know where you have all this infrastructure that can have a customer services and Sure. Where you have the full control and you own the Amazon customers data, that would be the ultimate setup.
Bradley Sutton:
Okay. Alright. Now, you seem to be riding pretty high, bringing this big brand to eight figures, but you're not at that company anymore, so how, how did it come about that you were looking for another opportunity?
Elizabeth:
Yeah, so after five years with Pelican, I found a brand called AlgeaCal, and it really caught my attention. It's a company based in Vancouver. They make supplements for bone health. They are experts in bone health and everything that they do is around both bone supplements. So it just call out to me because I do have my family all, almost all women's in my family suffer from osteoporosis. So it's something that their mission really called upon me, and I joined them, you know, to help them grow their Amazon business because they already had something going on there. They were a seven figure, very nice, healthy company. I just thought that my experience could bring them to the next level, you know? And since it's been a year, almost a year and a half now that I'm there we've achieved a double digit growth. We launched–
Bradley Sutton:
So when you got to the company, what, what was like their annual revenue and about now?
Elizabeth:
It's still seven figures, but we are, we are getting to like next year we, we'll make the eight figures for sure. Actually this year is our most successful year in history. We also launched Amazon Canada, and we most recently launched walmart.com too.
Bradley Sutton:
Wait, isn't this a Canadian based company to start with?
Elizabeth:
Yes, it is.
Bradley Sutton:
So before you came to the company, they had decided to, to start an Amazon U s a? Yes. Not even in their own home marketplace.
Elizabeth:
Just by the way, Pelican did the same.
Bradley Sutton:
Okay. Well, I mean.
Elizabeth:
They started with the US and then they went for.
Bradley Sutton:
I know people who go both ways. You know, obviously US is way higher demand, but then some people are like, Hey, this is my own country. I've already got my packaging, you know, for this. I'm assuming the you know, I have a little bit of experience with supplements in North America and it's like completely different. Not completely, but pretty, pretty big differences in packaging for my US version and Canadian version, like the Canadian one, I think it had to be in French and English and I can only say some things. Is that similar with, with you guys too?
Elizabeth:
Yes. So supplement facts are different. The measurements there it needs to be bilingual. You need the NPN number too for your your products. And, you know, there's also the formulation, like for instance vitamin D in, in Canada we cannot be above 800 I IUs on, on the supplement facts. But however, on in the us we have it at a thousand IUs. So it, it, it, it really depends on the, on what you're selling. Part of the, part of al what it's good, it's that we actually manufacture in the US and in Canada. So that's, that gives us much more leverage there to have our own formulated products for the different territories.
Bradley Sutton:
Okay. Now I'm just looking here, I'm just going to run X-ray keywords on here just to see some of your, your main keywords that, that, you know, might be driving some traffic. 'cause I'm not fully familiar with your brand, but I would've expected mainly branded keywords, which I do see here. You know, I do see your brand algae cal, you know, you're ranked high and Algae Cal plus, but you've got like, you know, high search volume keywords that I would think is very like, competitive, like calcium supplement, 70,000 search volume keyword, tons of products. And you're coming in at this price point of like $70, $80, I saw another product, you had a hundred dollars. Yes. You know, the traditional thought might be, man, it's gonna be hard to complete compete in supplements at all, let alone with this like super high price point. So this is a product that, you know, according to Helium 10 estimations, you're selling over, you know, between these two variations here, over 2000 units a month. So you're obviously very successful. How are you able to compete in such a competitive niche at this nearly a hundred dollars price point?
Elizabeth:
Yes. so I think you got a great point here Bradley. It's that our product is high end in the calcium supplement category. Part of it is because we have a unique formulation that most of the calciums comes from rock based calcium. Ours is actually plant-based. It comes from the south shores of Brazil. And it's based from a red Algea that contains the 13 different nutrients that are proven. And that's, that's one of the things with AlgaeCal, we actually have three clinical supporting studies that says that our product will increase bone density within six months. So if a customer starts today and has osteoporosis, goes for a DEXA scan, which is a test that your doctor can subscribe for you to do, and we can see the density of your bones within six months, you will see an increase in bone density.
Elizabeth:
And if it doesn't and you have proof of that, we'll actually give you back all your money. That's one of our guarantees that we have. So it's like, yes, it's an investment, but it's an investment that works. And that is the message that we are trying to get to our customers as much as possible through Amazon. We do it very well on their D2C side. And my mission was to do the same on on Amazon. You know, we have today we have a community of over 25,000 members within Facebook. That is actually a community where we share recipes. We have lives with different doctors or bone experts. So we are not just selling a calcium supplement, we're actually taking care of our customers, giving them all the support they need. Our biggest customer is going to be within the seventies, eighties.
Elizabeth:
They are hurt, their bones hurt. Most of them maybe just broke a hip. They can't move anymore. They can't do their activities as they did before. So we have this our customer service. We actually call them bone health consultants because that's what they are. They actually provide support to these customers. And they are like our average call, it's above 30 minutes. You will not have a call of five minutes. We actually want to understand what you eat, what are your exercise activities what other supplements or medications you are taking to making to make sure that our product is well integrating within your lifestyle. So that's our difference and that's what we're trying to put out there. Within our PDP, if you look at it we have a lot of content.
Elizabeth:
I know that most of our competitors they do it more shorter bullet points and imagery for us. Yes, the imagery needs to be condensed straight to the point, but also it needs to have much mu much information around it towards why to take our product. We also have our A+ Content that has a lot of copy, I know. But the customer needs to understand at what stage of their li their life are their bones. So that's one of the things that we are trying also to communicate through the the A+ Content. We also have all these documents. You know, we have spec sheets, we have a Bone Health Companion, which is actually a magazine that we release every two months with different recipes. And every two months we go in it and we change it. We have the user guide also of our products. So a lot of different content, and I know that maybe not all of the customers will read through it, but I wanna make it available to make sure that for those ones that really want to do their research, the information is there.
Bradley Sutton:
Interesting. Interesting. Now, again, I'm just looking at the, the main keyword here, and sure enough, I mean, I didn't look at it before, but sure enough, it's just what I thought. You know, like you look at who's at the top organic position on some of these keywords, and you've got nature made $15 and Nature's Bounty, $11 and $12 you know, another, another one here, $15. And then you could, you could just, now first of all, I'm just looking here, like your organic positions even isn't even that high, but you're still getting tons of sales from this keyword because you do have multiple, looks like you're out bidding them on sponsored ads. I saw like, like I refreshed the screen and now it's not there anymore. But I saw like you had two spots here in sponsored ads. I see you've had sponsored header, the Sponsored Brand Header, the headline ad there. But, and you can compete on this, on this, on this keyword. Now, I would assume, like, I don't even wanna know, almost the cost per click on a keyword, like calcium supplement must be like outta control, like, I don't know, $10 or something crazy, right?
Elizabeth:
No, not that bad. Calcium supplement is not that bad. The worst, we do have a product, which is an Omega three fish oil supplement that is just incredible. But calcium supplement, it's around four to $5 a click. Yeah.
Bradley Sutton:
Okay. I mean, that's still, coffee shelf is like 50 cents. But for I guess at that higher price point, it allows you to bid high. You know, like sometimes, I mean, just imagine guys, that four and $5 price point is what these like nature made and these $11 products are having to compete at. They're obviously losing money there, but they're making the money back on the subscribe and save, because you get people into this product and you get them on subscribe and save, and now you don't have to pay PPC on them forever. But if you go in at a higher price point, because it's a higher end thing it's important to get them and subscribe and save and make even more money.
Bradley Sutton:
And, and it's not a race to the bottom guys. You know, we've had people on the podcast before Anne Ferris, you know, might be one that people are familiar with, and she's in like the baby niche. And, and people sometimes go into their main keywords and they actually look for the most expensive. So her strategy is, Hey, I want to be the most expensive on the page because people, parents, they want to make sure they're giving their baby the best. They don't want to go cheap on that. And this might be one of those niches too, you know, like, like calcium supplements. I mean, this is like somebody in their twilight years, you know, it's like, Hey, I want to make sure my last 20 years on this earth are as pleasant as can be.
Bradley Sutton:
I don't, might not want to go ahead and get this $11 calcium that I used to get, you know, when I was young. So it's a strategy that's I think, important to understand that don't always be thinking you have to be the cheapest in your niche in order to be successful. And here we have Elizabeth as an example. That's not the case now. I guess while we were talking, I was running Cerebro on your product here. And I noticed you've got like a lot of sponsored brand Sponsored Brand Header. I see you're running some, looks like some, some video on some keywords. And then you're, you're showing up in the, the highly rated section here. So you've got a lot of placements. What gives you the most bang for your buck? Is it your organic placement? Is it the sponsored video, your Sponsored Brand Header? Where do you think that you're, you're getting the best ROI? Yeah,
Elizabeth:
So at the moment, our ratio is still 60-40, so 60% of our sales comes from organic, 40% come from sponsor. Okay. Out of that sponsor. What is really working for us at the moment is definitely sponsor brand videos sponsor brands videos, and you do have to have, you know, the content and how can they say the different types of videos that you wanna have, depending on what it is, your strategy or what are your targeting. But it's mostly for engagement. It's, it's the best. It's the best placements that we've reached for the last, I would say, maybe two months since it has been available. And part of it is also because we tied it with our Amazon store our Amazon store. We recently did a full refresh on it, and we have different pages sub pages there.
Elizabeth:
For instance, we will have sponsor brand videos at the moment about adding to cart if we want. And once they click, they go on our subpage, which is for deals. So we make sure that the customer looks at a sponsor brand video ad, and then they go out on the right subpage where they will be more comfort. You know, we actually run a campaign for osteoporosis month in the month of May, and everything was around bone health, and we had this sub page called Bone Health that was built that is a half for conversion, but also half for content. And it did really, really good. We pair it out with subscribe and save coupon. We've managed to only that month get 550 new subscribers. So that's one of the things we're trying to leverage more and more.
Elizabeth:
It's also our subscriber space. It is now 4% of our revenue and we are increasing at about eight to 10% every month. So that too, we need to make sure that we get that customer once, then we want it to be a loyal customer. Yeah. because we do know what is our LTv down the road, and we wanna make sure you know that yes, the cost per acquisition for that, that particular customer, yes, maybe during Prime day it was almost nothing, let's say. But on the long run, it will bring you much more revenue.
Bradley Sutton:
Interesting. Interesting. Now I'm looking at just another key word. And I saw one of your Sponsored Brand Video comes up. It looks like it almost starts with like a UGC or Hey, this is like, you know, our typical avatar here and this customer submitted, it'll kind of like get the attention of some people might scrolling here. Is that kinda like the route you went with this video? That is
Elizabeth:
Correct. We actually, like I mentioned before, we have 25,000 community members and we receive hundreds of testimonials every month. It's incredible how our community loves our product and wants to talk about it. So our video team does a lot of different ads with these testimonials, and we just feel that it's much more engaging. The message really resonate with our audience when it comes from a real life testimonial.
Bradley Sutton:
I see at the very top of the page, this is one of the first I've seen of a different kind. I mean, this is that same keyword, but this, you know, traditionally is just a regular, you know, Sponsored Brand Ad or Sponsored Brand Headline ad where there's like 3 products. But then what I'm seeing here, it's another video that auto plays and it almost seems like it takes a bigger section of the top of the page. Yes. But this one is going to your storefront. What kind of ad is this here at the top?
Elizabeth:
That's the sponsor brand video. And it's actually, you have, you can choose that per category or you can choose it per subpage. And that one is actually just going to our homepage, if not mistaken.
Bradley Sutton:
Interesting. So you have two Sponsored Brand Video ad placements on the same exact page. So that's an interesting thing I haven't even seen before.
Elizabeth:
Which try to get the more real estate that we can. And I cannot take credit for all of this. It's our agency. They're pretty, pretty innovative there. We work in pair, you know I draw the strategy, they execute. One of the things that really worked with us too is that it's been maybe a couple of months now that we're doing a lot of DSP and we are actually moving much more towards DSP advertising okay. Than sponsor just because of the capabilities of doing, really targeting with audiences. And that really just gives us much more control over what are we serving to the customer, depending on where on the purchasing journey they are. So for instance, we are pairing customers, let's say upper funnels. It's more about are these customers?
Elizabeth:
I don't know. Let's say for instance, one of the things, because I used to work with Pelican, I knew that their audiences on Amazon actually were about 50 plus because these are customers that didn't really want to, you know, go to Sporting Goods, take out the kayak, put out on the car. They actually just rented out sorry, buy it, and it went out to the cottage. So what I did is we actually had an outdoor video where we see a couple just doing Kayak on the water, and we have all of this messaging around fortifying your bones to make sure that you can continue doing your activities and that video we are actually using it in the category for nauticals within the Sponsored, but we are also using on DSP so on DSP, we're able to say, you know, like if they bought a kayak within the last 60 days and they are 50 plus we can do like a lot of more targeted audiences there.
Bradley Sutton:
Interesting. What other unique programs are you doing? We've talked about some common ones. We've talked about some more unique ones, like, like DSP any more unique things that you're, you've, you know, programs that you've taken advantage of at Amazon or have we hit most of them?
Elizabeth:
I tend to be, I've been classified as a tester. I love to test everything. Every time I see a beta out there, I'm just trying to get my hands on it and see what I can do with it. And I think it's part of the success because you can really try and test to see what's resonating, you know with your customer. One of the things that we've recently have done, and I cannot tell you if it's going to work or not, 'cause it's fairly new, it's actually, you know, these tailored promotions that came out on Seller Central. We can actually now serve an exclusive deal, let's say, to a particular audience. For instance, we're doing with brand card abandonment audience, which is perfect because Prime Day was just like a couple of weeks ago, you know and we are serving them a coupon for, to get them within the brand. But we're also at the same time having this catchy add to card OTT video within DSP that is serving to that same audience the ads, so they can see that we have a coupon. So it's just like making these connections between what you're able to do in promotions, how you can pair it out with DSP or with sponsor. I guess just being very creative.
Bradley Sutton:
Interesting. And then now, now that first part that you mentioned, a lot of regular sellers have that, like the second part is definitely through DSP, but that tailored thing, I think, I think a lot of sellers now have access to that. So you're combining both of it. I like it. What about in Helium 10? What, what are some of your favorite tools and, and functions that, you know, like you said, you know, back in the day you, you didn't have Helium 10, like what kind of things are you using now for your brand that you're probably thinking, dang it, I wish I had this in 2017 when I was, when I was trying to, to figure this out. Or something like that. Yeah,
Elizabeth:
So I have have a colleague of mine that he's really the one that is using you know, Listing Builder, Keyword Tracker, Cerebro, all of these most of, for me within my job more a strategic level we actually use Market Tracker 360. So Market Tracker 360 is one of the tools that we, that I use a lot to understand actually how much of market shares are we actually getting every quarter what are our competitors doing that maybe we are not. And also for product launch. So we are launching new products in September and October and more part of the research is all based on Market Tracker 360 to see like, what is really our competitive advantage here. What is the market that we wanna target, what are we trying to aim, you know, with this product launch after six months, 12 months? So it's just part of our strategical planning. But other than that–
Bradley Sutton:
Now for those who are listening, like, and they're like looking at their dashboard like, wait a minute, I don't have this. So Market Tracker 360 is kind of like, almost like separate from Helium 10. For higher end sellers. Now this is it's not something that you have just like in your diamond plan or, or something. Even me, I haven't used it. It's for kind of big sellers like Elizabeth here. So talk to me about what, like one strategy, like you said you, you're looking it at launch, so like before you get into the niche, what are the data points that you're looking at in Market Tracker 360 to are you saying that you're looking at that to even decide if it's something you want to go in, or you're like, Hey, we are definitely going in here. Let me just kind of like benchmark what the existing landscape is doing so that I can see taking market share from them, or, or how are you using it in this sense of launch, like you said? So
Elizabeth:
At the beginning it was more to, yes, we are launching this new product, what is the benchmark, you know on Amazon? Now it's difficult for me to go into the details without revealing what we're going to launch and I can't do that. But one of the things now with time knowing that, okay, this is our market share, it's more about how do we position the product so the product have different ingredients if we want in it. And with Market 360, for me it's about, okay, what is the market for each individuals of these categories or these sets of keywords? So we have these different ingredients and or vitamins if we want within the same formulation, and we wanna see which one of them has the more potential for us. As far as sales and then serving within that category and say, Hey, by the way, we're not just selling this.
Elizabeth:
Our formulation have this, and this for this price, actually. So it's about getting more value to the customer within one category and made them switch from what they are already buy-in. But actually they are paying for something that if they go with our product, they will get much more value out of their money. So that's the type of strategy now, like, but it's more like go to market and yeah, I could maybe talk to you later on next year about how it went, but that is how I'm utilizing to Market Tracker 360. But another tool that for me as a director marketplace I love is your new dashboard, your new dashboard insights. I just go in, I have all the information I need and I saw this morning that now we have competitors there for each of our products. It's awesome. So for me, it's just going to 1 place and having all the information when I need it.
Bradley Sutton:
Awesome. Awesome. So guys, if, if anybody out there is, you know, doing four or $5 million or more and think that Market Tracker 360 might be a fit for you, just just go to h10.me/mt360, You can get a free demo on that tool. As far as what you also mentioned, the insights dashboard, that's what everybody has access or as long as you have a diamond and above and we got some cool things, Elizabeth, that's, that's crazy. You know, the competitor was just a start. But now, once you set your competitors, you know, like we're gonna tell you, Hey, did you know that your competitor's getting sales from this keyword? And you don't even have it in your listing? I mean, theoretically you should have been, I mean, I'm sure you, like you said, you have a colleague's using or that's probably the his or her job to use Cerebro and try and find those.
Bradley Sutton:
But now, instead of him having to take 10 minutes to do it, you're just gonna instantly get this notification that, that did all the work for you. It'll be interesting to see. I wonder if your competitor is gonna feel, or your competitor, your coworker there is going to feel a little bit nervous. Like, man, Helium 10's taking my job way. I gotta find some new strategies to stay to stay relevant here. Before we get to your last strategy like we always ask everybody for their 60-second tip of the day. Let's switch gears. Somebody who's in the kind of like health niche here. And might have some interesting insight, but what I ask all my guests is this year is on the health side.
Bradley Sutton:
Like, like we're, we're all entrepreneurs, we're, we're working for companies in the space. Actually, your story is similar to mine. Like before Helium 10, I used to work for a supplement a very popular supplement company. I didn't sell on Amazon myself, but anyways regardless if we're in the supplement space or we're not, health is important and, and sometimes when we get in these kind of jobs and it's, it's fun for us. I'm sure I could just see, you know, from talking to you, it's fun and sometimes we, we might overwork ourselves or, or, or just, you know, forget that we just work 12 hours. Like what do you do for hobbies to make sure that you get away from work and what are some like healthy habits that you have, that to make sure that you're, you're staying, you know, grounded emotionally, mentally, physically?
Elizabeth:
Mostly. One of the things that I do is to have like a routine. I'm a early person. I wake up at 5:00 AM I make most of my day in the morning, you know, reading I'm listening to either one of your podcasts or some something else about Amazon for sure. I go for a run. I love running. I've started out, at the beginning I couldn't even have like half a K I couldn't even do that. And now I run between 10k and 15 k every week. So I love to run. I run in trails nature. I love nature and just getting outside. So it's something that really helped me out.
Bradley Sutton:
Alright, let's close it with what's a 30 or 60-seconnd tip? You know, you've been talking a lot about your strategies and things, but is there something you mentioned today you can say in 30 or 60 seconds or less that you think can help our listeners out there?
Elizabeth:
Yeah. So we've been talking about different strategies, you know, that could help you within Amazon marketplace. But one key takeaway that is, I think it's crucial, and I did talk about it and during our conversation is content, but not just any content but the right kind of content. So we are using ChatGPT, I'm pretty sure a lot of our audience here. But we use it to dissect our product reviews, but not just to gain deeper understanding of our customers. We are really asking about their psychological, social, cultural factors within these reviews to try to understand, you know, their intrinsic and extrinsic values. So really what they are trying, what is driving the customer ths your product and what are they tangibly wanting to have, you know, what are the benefits that customers are getting out of the product.
Elizabeth:
And we actually had a lot of success with this understanding these various factors and values from our customers. We tailored our message. We actually, like, for example, on our analysis, it revealed that like a large portion of our products were actually purchased by adults for their agent parents. So we actually took this and we make it a, a caregiver campaign with Amazon DSP with tailored messaging around these adults, not targeting 55 plus, but maybe targeting 28 to 45, you know, with this message. About taking care of your parents, not just an investment for them, but also an investment for you. So these types of information you can get by utilizing ChatGPT with the reviews, but not just like, oh, what they are saying, no, no, no. Like go deeper. Ask them, yeah, ask ChatGPT, like really questions about what do you think their values are where do they find our products? Like for us, it was a lot recommended by doctors. So now we have a lot more, much more doctors or clinical types of imagery within our content. So these types of informations are very good to have.
Bradley Sutton:
Awesome. Awesome. Alright. Well Elizabeth, it was great, you know, getting to know, you know, your story really inspiring and seeing all of the success you've had. Where will I be seeing you? Like, are you going to Amazon accelerate or maybe Amazon Unbox or any of these conferences coming up?
Elizabeth:
So I'll be at Amazon Unbox this year.
Bradley Sutton:
Unbox. All right. I'll see you there in October. And when we have you back on this show sometime next year hopefully you can be able to say that, hey, maybe you hit that eight figure mark already for the second time now in six years. So that would be awesome. So thanks a lot and we'll see you soon.
Elizabeth:
Thank you Bradley.
---
Enjoy this episode? Be sure to check out our previous episodes for even more content to propel you to Amazon FBA Seller success! And don't forget to "Like" our Facebook page and subscribe to the podcast on iTunes, Spotify, or wherever you listen to our podcast.
Get snippets from all episodes by following us on Instagram at @SeriousSellersPodcast
Want to absolutely start crushing it on Amazon? Here are few carefully curated resources to get you started:
Achieve More Results in Less Time
Accelerate the Growth of Your Business, Brand or Agency
Maximize your results and drive success faster with Helium 10's full suite of Amazon and Walmart solutions.