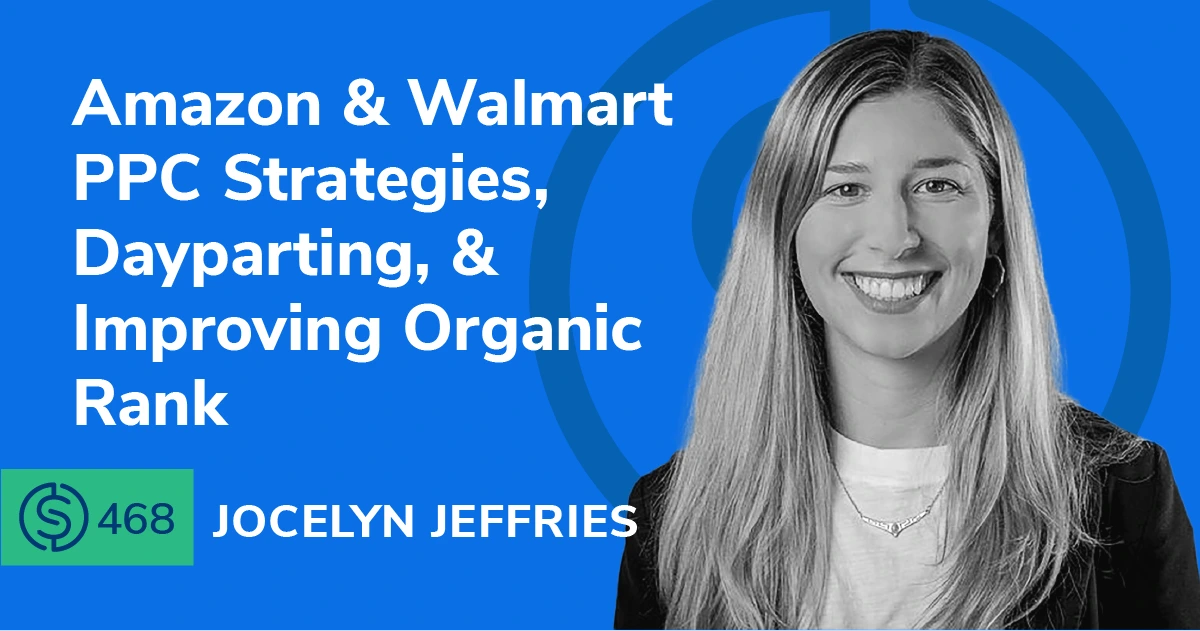 #468 – Amazon & Walmart PPC Strategies, Dayparting, & Improving Organic Rank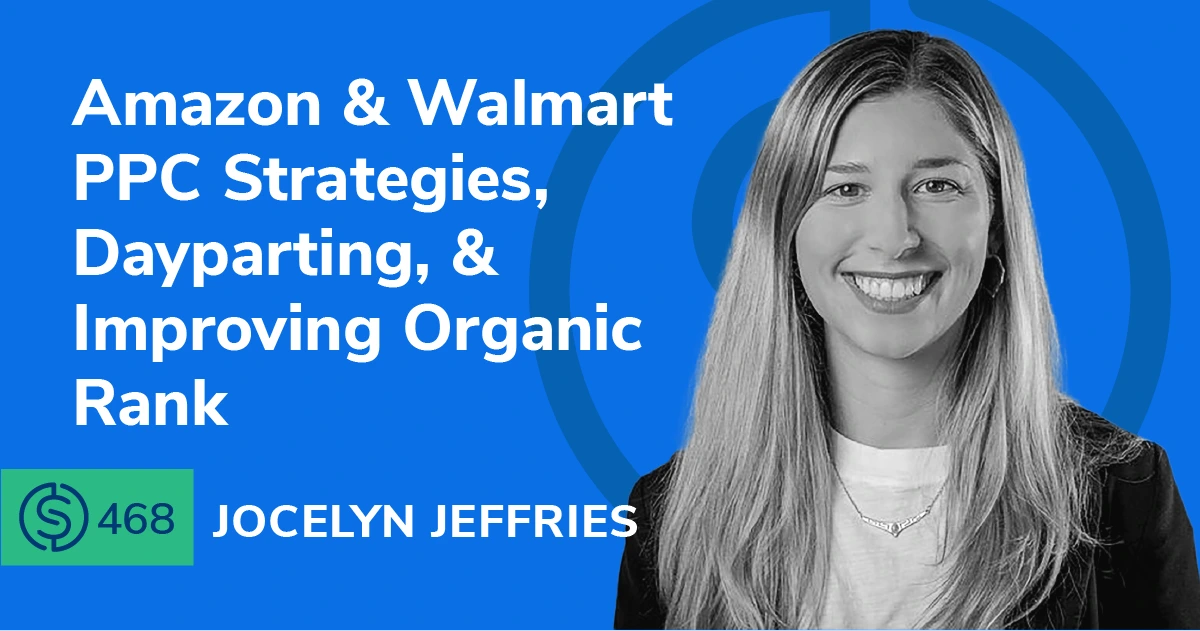 Video of the episode at the bottom
In this special TACoS Tuesday in SSP episode, let's dive into the world of Amazon and Walmart PPC together with our expert guest Jocelyn Jeffries, Senior Manager for Retail Media at Pacvue. Our guest is an experienced professional managing $50 million in ad spend annually. Let's listen to her insights, tips, and answers to our community's questions about PPC asked live.
In episode 468 of the Serious Sellers Podcast, Bradley and Jocelyn discuss:
01:33 – Let's Meet Our Guest Jocelyn
02:25 – Managing $50 Million In Ad Spend Annually
04:21 – A New AI Innovation That Pacvue Released
07:10 – Jocelyn's Favorite PPC Metrics
08:08 – How Do You Get New To Brand Data For Sponsored Product Campaigns
09:27 – What Are The Benchmarks For NTB Data?
12:53 – A Weird Situation With PPC And Attributed Sales
13:57 – How To Use PPC To Improve Your Organic Rank
16:34 – Tip When You Are Targeting Top Of Search
17:35 – Running PPC Campaigns After Missing The Honeymoon Period
19:41 – PPC Tips And Insights For Amazon Europe
20:45 – How To Use Day Parting In Your Campaigns
22:46 – PPC Sales Increased But Organic Sales Stays The Same
24:32 – PPC Strategy For Walmart.com
28:03 – Rolando Joins Us To Ask His Question Live
35:31 – How To Get In Touch With Jocelyn And Pacvue
Transcript
Bradley Sutton:
Today, we've got somebody on the show who manages over 50 million in an annual PPC spend who's gonna be answering a lot of your questions, such as, how did you Day Partying, how to advertise on Walmart, how to launch and get organic rank from PPC and more. How cool is that? Pretty cool. I think
Bradley Sutton:
We know that getting to page one on keyword search results is one of the most important goals that an Amazon seller might have. So track your progress on the way to page one and even get historical keyword ranking information and even see sponsored ad rank placement with keyword tracker by helium 10. For more information, go to h10.me/keywordtracker. Hello everybody, and welcome to another episode of the Serious Sellers Podcast by Helium 10. I'm your host, Bradley Sutton, and this is the show that is our monthly tacos Tuesday show. TACoS Tuesday, where we talk anything and everything PPC related, whether it's on Amazon or Walmart, or even off Amazon and Walmart. We can take your questions on PPC, on other platforms potentially as well. So every month we bring on a special guest. And so without further ado, I'm gonna bring her on here, Jocelyn from Pacvue. How's it going, Jocelyn? Good,
Jocelyn:
How are you?
Bradley Sutton:
I'm doing just delightful. And what do you do at here at Pacvue
Jocelyn:
I am on our kind of managed service consulting team, so I'm actually guiding strategy for some of our largest enterprise clients which is very fun. We work with really cool brands, you know, across, you know, self-service, managed, et cetera. And we have a lot of fun, but really mapping out the entire strategy for the year, and we're pretty deep partners at that kind of level where we're involved in the retail side and the you know, promotions and merchandising and all of that kind of aspect when we're that deep into the relationship with the client.
Bradley Sutton:
Have any rough, like, cool figures you can throw out, like, Hey, I manage one gazillion dollars worth of spend per month every day, or something like that. That impressive.
Jocelyn:
Yeah, I probably manage about 50 million in ad spend through the year, which is very cool. You know, when you're up to that level of budget, you get to do a lot of fun stuff, a lot of testing, a lot of learning. You know, I love a good test and learn. That's kind of my thing at this point. Whether that's, you know, testing new, creative testing, new audiences kind of addressing some larger, you know, brand initiative questions. You kind of get to do that, some of that when you start getting up to the higher budgets, which is certainly fun for someone like me.
Bradley Sutton:
Okay. What platforms are you knowledgeable on? I'm obviously Amazon, but are you currently, you know, running any campaigns on other platforms, be it Walmart, Instacart, et cetera?
Jocelyn:
Yeah, so I manage campaigns on Amazon, Walmart, Criteo, Instacart, DoorDash.
Bradley Sutton:
What's the one you said before Instacart?
Jocelyn:
Walmart, Criteo.
Bradley Sutton:
What's that?
Jocelyn:
Criteo is like Target, CVS shipped a bunch of the smaller retailers. They don't have their own networks but that's how Target does a lot of their advertising. So pretty much Jenny and everything I've done some campaigns on, which is fun. Obviously Amazon's the biggest and has the most opportunity to learn and whatnot. But I do have experience in pretty much every retail media site.
Bradley Sutton:
I love it. I love it. I don't, so at least one of us knows what they're doing here. All right. So you know, I wanted to show this quick video. We just launched something at Pacvue yesterday. Now you tell me, how do you say this? Like, I've known about this film festival and stuff for like, years. How do you actually say, is it Cannes? Cannes?
Jocelyn:
I think it's Cannes. Cannes Lions can
Bradley Sutton:
Cannes. Okay. Well, I'm, I'm just gonna go with that. But at the Cannes Film Festival,
Jocelyn:
Think it's all real name, but most people call it Cannes.
Bradley Sutton:
All right, well, people don't come to me for your Instacart advertising, nor your French word pronunciation, but everything else you can come to me for. But anyways, let me show this video really quick for everybody to see, like this really cool, kind of like AI innovation that Pacvue has launched. Maybe, maybe I can even ask you a couple of questions about it if you know. So let me just go ahead and throw up this video for everybody to see in 3, 2, 1. Here we go.
(Video):
Pacvue Excel copilot is industry's first natural language generative AI for commerce built directly into Microsoft Excel. You can query all of your PAC view data in one place with prompts, like, show me my top campaigns by ad spend. Pacvue Excel Co-pilot can also generate pre-formatted dashboards. Co-Pilot can reduce the time it takes to produce these reports from hours to just minutes. Now teams can spend their time on critical thinking, discussion and strategy. All of these charts can be automatically generated into a prebuilt PowerPoint alongside the relevant analysis. Learn more about Pacvue Excel Co-pilot and Pacvue AI today.
Bradley Sutton:
Wow, pretty cool. So basically if I'm under, I haven't seen this in action, so what it seems like it's kind of like, hey, I can threw in a prompt like enter, say hey, like, Hey, show me this metric combined with this, make an Excel chart for it, or something like that. Or am I on the right track here?
Jocelyn:
Yeah, that's exactly what it really does, and it's a pretty powerful tool. You know, I think of that's really how we think when we're looking at reporting and looking at performances. You're thinking in questions like that of what's got the most efficiency, what has the highest conversion rate, things like that, where it's gonna take some time to man either manually pull that or to, you know, shift through Excel files and whatnot to generate that. So it's a much more like, I think, natural way to approach reporting. And it makes it so much easier and really kind of mirrors the way you're thinking with the way performance is, is able to be displayed and makes reporting so much easier and so much time being saved. I think that's what probably a lot of us who are hands on the keyboard are really doing is reporting out to your stakeholders, reporting out to your boss, reporting out to your client, whoever it is. A lot of what we do is, you know, the storytelling of reporting and performance. And so this makes it a lot easier to do at a lot quicker of a pace.
Bradley Sutton:
What are some of your favorite, maybe more under the radar metrics? You know, we're talking about reporting, we're talking about analytics and things. I mean, you know, everybody I'm sure looks at ACoS, you know, most people nowadays look at TACoS, which is the name of this show. But what are some other things that, that you, that's important to you? Like what would you say is the next thing that people need to be looking at? You know your CVR or your ROI, your RoAS? Like what's your star metrics?
Jocelyn:
Yeah, I think, you know, return is what most people use when they're looking at performance, and that's obviously important. You know, you need the kind of the one-to-one efficiency of what that ad spend is generating for you. But I also enjoy looking at new to brand percentage and subscribe and save. Those kind of are the two opposite ends of, you know, the, the full funnel, you know, where you're kind of living in the middle, when you're focused entirely on return, you're look living in like the, just what is the revenue that's being generated? You're not looking at the long-term impact of how many new customers am I bringing into my brand or my store? And how many of those are becoming loyal customers through subscribe and save. So when you start looking kind of beyond the RoAS and you start looking at different sections of the funnel, that's where you're looking at more of a long term kind of growth plan versus very short term, which is where you can kind of get kind of pigeonholed into when you're looking just at return.
Bradley Sutton:
Okay. Now speaking of RoAS one of the first questions here, it's from Jack and Jack says, let me see if I can get it up here. How do you, or not RoAS new to brand how do you get new to brand data for sponsored product campaigns? Is that available? I know it wasn't like, you know, a couple years ago, but wasn't that something that was recently released?
Jocelyn:
Yeah, so you can get new to brand data through for sponsored brand just through the native console, but through AMC, Amazon Marketing Cloud, you actually get significant, you know, much more data. That's really what Amazon Marketing Cloud is, but it also allows you to get new to brand data for sponsored product campaigns along with all of your DSP metrics as well. So AMC is a very flashy, exciting topic. There's a lot to do with AMC, but it does kind of fill in the gaps for some of the, the data that's maybe missing. So that's a huge kind of piece that we've been rolling out at Pacvue in general but also with a lot of our clients in the last, so it's a year or so. It's a pretty big huge topic and a lot of people are kind of overwhelmed because it is so much data and it's hard to figure out where to even start. But you can kind of start by filling in some of the gaps that you have and, you know, just the native Amazon console.
Bradley Sutton:
And what do you do with this information regardless of how you're getting it, you're getting in Pacvue, somebody's getting it you know, themselves, there's something else. Now I know what my new to brand data is. What constitutes good numbers, what constitutes bad and, and what's, what's your action plan once you get that number?
Jocelyn:
Yeah, so new to brand is gonna vary category to category. If you're looking at toothpaste that's different than if you're looking at TVs. You know, you're not gonna be buying a TV every year or maybe you are. But you know, those metrics are really gonna differ by your category. So looking at some category standards is important. You know, we release our CPC report I don't think we include new brand in that percentage, but talking with you know, your Amazon rep and getting some of that data through context that you have is important to kind of set, like, what is the benchmark for me? Because 10% for one brand is gonna be horrible for another and wonderful for a different brand. So once you kinda have a benchmark of where you're starting and where you're trying to get to, that's really when you can start taking action.
Jocelyn:
And a lot of that action is gonna be around targeting and shifting spend. So, you know, if someone's already searching for your brand name, they're probably not gonna be a new customer. They're already aware of who you are. So maybe shifting some of that spend out of brand defense and going into more general category terms where people are searching for, I don't know, natural toothpaste versus, you know, the brand name itself. So that's when you start shifting where you're investing in order to impact certain metrics. So, you know, the reverse is true for subscribe and save. If they're already brand aware and they haven't purchased, you know, in the last 90 days, you can spend some additional budget on retargeting, for example, to try and generate more loyal customers. So once you kind of have your objective of what am I trying to achieve in the next quarter, for example, and what are my benchmarks and what are my goals for that, you can then start taking action and start shifting spend of in what direction is gonna start influencing those metrics. So those are really kind of the actions you start taking once you start looking at this broader data.
Bradley Sutton:
Yeah. So talking about, you know, PPC from a branded side, you know, your branded keywords and, and things like that, do you always keep those or do you suggest to keep those segregated like, hey, if any branded, you know, keywords or search terms come out, let me, let me keep those in its own campaigns, or do you keep them co-mingled with, with your regular random search terms?
Jocelyn:
No, I, we definitely always pull those out because you wanna know how much you're spending on those, and you wanna know how much people are searching for those, you know, if that's going to increase over time, you wanna be able to see that. And you're gonna have a lot more control over how you're defending your brand. You know, it's kind of up to you of how much you want to spend on protecting your own brand name. It's, if it's very competitive and people are, you know, targeting your brand name, you need to be there to defend it. And if not, you can shift budget out of that, but you have a lot more control over how and where you're spending when you have things separated out. So we typically have things break broken out by branded, you know, general non-brand category terms, adjacent, maybe, you know, similar products, things like that. And then competitor, if you are going after competitors that's the best way to kind of structure your campaigns. So you have, again, much more control and you're very intentional in, in how you're spending your budget.
Bradley Sutton:
We've got a Facebook user here that says, Hey, I noticed a weird situation. I got impressions, zero clicks, but a sale. So like, is that is that a data error from, from Amazon, if, you know, is it, is there a such thing as getting zero clicks, but actually getting a, a attributed sale?
Jocelyn:
It would be something from the past. So, you know, if you are advertising June 1st through the 20th, and then you pause for the 21st through the 30th, for example, you may get some sales attributed after, you know, after the time that you pause where you may have zero spend and you know, zero clicks that day. But because they clicked on the ad, you know, four days ago, the sale may be attributed then. So it's probably an attribution thing less, you know, they're not converting on an impression that sale would not be attributed to that impression. But it's possible that it was attributed at a later date. So if you run outta budget, you know, with five days left in the month, you're probably still gonna be seeing some sales trickle in because of the attribution window. So I would say that's probably what the situation is.
Bradley Sutton:
Okay. I've got opinions on this next question, but you know, maybe we, we'll, we'll talk to you too, because it was actually interesting says, what is the best way to use PPC to improve organic rank? I was at the billion dollar seller summit in Puerto Rico last week, and there was a, a customer of PAC views there. Matt Altman, he runs a, an agency I forgot what the name of the agency was, but he, he was extolling the virtues of Pacvue, talking about how it's really cool how they, you, you can kind of set rules based on your organic rank. Now, you know, now that you know, the last couple of years things like search, find, buy and two-step URLs are, are not you know strategies that we're allowed to use anymore. Pretty much, you know, PPC is is one of the only, you know, on Amazon waste to improve your organic rank. So how, so how are you for your clients utilizing PPC in order in order to try and increase your organic position?
Jocelyn:
Yeah, I mean that's kind of the beauty of Amazon is that you do have the ability to influence a flywheel through advertising. Obviously things like promos and inventory and retail readiness obviously play a factor in as well, but PPC is the, the factor that really have the most control over. So when we're looking at improving organic rank, it's important to look at why are we trying to improve organic rank? Is it a new product? Are we trying to be more competitive or are we trying to go after higher volume et cetera, things like that. But if we are purely looking at, I want to rank higher on natural toothpaste, for example, we'll, we'll run with the toothpaste example. It's gonna be very intentionally spending. Again, that's kind of what my whole job comes down to. But in like understanding how much you're spending and what it's gonna cost to, you know, compete on that.
Jocelyn:
But if you want, if you're in the natural toothpaste space, you need to be competing on those terms. You know you know, Toms of Maine, 12 pack natural toothpaste, blah, blah, blah, blah, is only gonna get you so far. That's not really gonna improve your rank. You're probably already solid there, but if you're looking to improve your overall rank for a product, you need to be going after the keywords that are gonna keyword lead to that improvement. So it's very much about understanding where you need to be spending and what terms you need to be spending and what's actually gonna lead toward you know, improvement and rank. I think that's the, the first step and then it's going and executing on that. So PPC is really the, the tool that you can use to influence specific pieces of search term and, and customer behavior and whatnot. So that's really how you start going after improving your organic rank.
Bradley Sutton:
Alright, we got another anonymous question here. It says the question says, I'm trying to get targeting top of search, I put the maximum Amazon suggested bid as well as a hundred percent on top of search, but still we are getting clicks on product pages. What should I do?
Jocelyn:
Yeah, so the bid adjustment is just gonna be adjusting for that target. You can do negative targeting. So you could do like negative a hundred percent on product pages, for example. It's not like it adds up to a hundred. You could have a hundred, you know, 60% on top of search, it's gonna increase that top of search bid 60%. Then you could also have, you know, 60% on product pages and it's gonna increase the bid for product pages 60%. So it's not totalling up to 100. So if you absolutely wanna cut off product pages, you can decrease, you can have negative bid adjustments, but just because top of search is at a hundred doesn't mean it's gonna completely eliminate product pages.
Bradley Sutton:
Wells has a question here. He says, Hey, we missed the honeymoon period. Our product doesn't rank, so barely no sales. We've got a lot of competitors, so what do you advise us to do? We started PPC campaigns two years ago before learning Atomic or anything about ppc. So Osama's got this mature product, I believe he actually sells in Amazon, Europe somewhere. If he's who I think he is here. And, and obviously honeymoon period is, you know, this is a mature product, is two years old he's not getting sales cuz he's not organically ranking like, you know, I'm assuming he's got some, you know, some reviews. So would you just suggest like trying to just go hot and heavy on some long tail keywords and, and build up some of those core keywords? Or should, you know, should he go extreme and maybe start over, you know, again, if he doesn't have too many reviews or what would you say in a situation like this?
Jocelyn:
Yeah, so there's a couple approaches you can take. I think the long tail keyword is a good way to look at it. You know, if you're spending money on again, natural toothpaste that's gonna be probably a waste of money to be honest with you. It's gonna be so expensive for you to even try and compete in that, that it's gonna be a waste of dollars. So starting to look at what are some of the longer tail keywords that I can win, you know, if it's, you know, the most br you know, specific keyword ever, but if it applies to your product, going after that and starting to just chip away at some of that organic rank is gonna be a good way to start. And then, you know, if you have a similar product within your brand or you have competitors, you can start targeting their product detail pages.
Jocelyn:
So if someone's not specifically searching for you, but they see you on you know, another product detail page, that's a good way to kind of start again, chipping your way in and kind of moving from the outside in to the, the kind of larger volume because again, it's gonna be a waste of money if you're trying to go after those high volumes and you don't have the foundation of strong rank. So starting to chip away I think is the best method and mantra of having it, and this goes to new products as well of if you're starting from zero, it's gonna take some time. So long tail and product detail pages is what I would recommend.
Bradley Sutton:
I mean along the same lines as his question but you know, if he is who I think it is, like I said, he sells in Amazon Europe. If I'm not mistaken, I've never sold an Amazon Europe. I've only I only sell in Amazon, you know, North America. I'm sure you manage across multiple, you know, marketplaces. Does your strategy differ like say Amazon, Germany, Amazon France compared to Amazon USA or pretty much you are using the same, the same principles and the same strategies?
Jocelyn:
I would say as far as like foundation, like campaign structure and segmentation, it's gonna be the same, but it's gonna be different. Like there's nuances obviously in how people search in different regions and whatnot. So the targeting's probably gonna be a little different as far as, you know, what keywords customers are using when they're searching for your product. You know, some words in, you know, America that are English are different than, you know, the UK for example. So it's I think more targeting, but the core foundations of how do I set up a good account, how do I set up a good campaign structure? Those are gonna be the same, those are gonna transfer over well. Yeah.
Bradley Sutton:
Okay. Rolando says, how do you use day partying as part of overall campaign spending? You know, I think, you know, Pacvue has had this for probably over a year now. You know, we've had it in Adtomic, I've dabbled a little bit we call it Schedules in Adtomic. I'm curious, you have way more experience than me on on day parting, so, so how are you utilizing this?
Jocelyn:
Yeah, I think there's a lot of way to utilize it from a day-to-day perspective. You absolutely should be using it. Pacvue released maybe a few months ago, maybe six months ago, a feature where you can do day parting based on specific metrics. So you're maybe for conversion focused campaigns, you are basing your day parting automation on conversion rate, or you're doing it based on impressions or cpc. So you can choose what metric you wanna even base your day parting schedule on. But it is really crucial, you know, every product, you know, some products are the general, you know, eight to eight but some, you know, have early morning shopping hours, evening hours, things like that. So it is good to be using that no matter who you are. Because it does save a lot of money where there's no reason to be spending at, you know, 3:00 AM for example.
Jocelyn:
Or it may be a really competitive time at 2:00 PM in the afternoon. Being able to make adjustments like that is gonna save time for, you know, preventing you from doing it manually, but it's also gonna save money pretty significantly. And then day parting, as far as like special events, you know, we can set up schedules for Cyber five where we're going aggressive, you know, the 6:00 PM after Thanksgiving to midnight or whatever. You know, and you can do that around Prime day that's coming up, you know, next month. So there's a lot of ways you can do it from an always on perspective, but then also scheduling around how do you wanna spend during tent poll events. So we definitely have that laid out for clients around Prime Day. Like I said, cyber five, any of the peak periods, it's really gonna save you a lot of time and money to outline that. So I always recommend a day party schedule.
Bradley Sutton:
Here's a scenario, I'm sure you've run into, so, so somebody the PPC sales ha have increased, you know, which is not you know, could be good, could be could, could be bad, obviously bad if, if it's not profitable, but regardless of what's going on, the PPC sales have increased, but organic sales are staying the same. So, so the, the PPC piece of the pie as far as sales go has increased organic is still the same. What other methods would you be using to, to help increase organic sales? This person asked?
Jocelyn:
Yeah, you know, there's a lot of things that lead to PPC sales increasing is, you know, you could have been much more efficient in how you were spending or you could be increasing your budget. You know, there's a lot of factors that lead to increased PPC sales, but there's not always a one-to-one of, I increase my ad sales 10% this month and my organic sales also increased 10%. And sometimes it's, you know, a kind of trailing you know, this line goes up and this line goes up, you know, two months later, for example. So I think, again, going back towards what terms are gonna be actually leading to an increase in organic sales you know, that increase in ad sales was coming from just branded terms. You know, those may have been people that would've already shopped and already converted if it was an organic placement as well. So understanding what is gonna lead towards incremental growth versus existing sales is something I would take a look at. So you're not just kind of eating away at sales, that would've already happened if you didn't have an ad showing up for them. Sometimes it's a matter of where you're spending and where those sales are even coming from versus would they have already occurred organically.
Bradley Sutton:
Okay. I'm actually gonna send a, I see Rolando has another message. Rolando, I'm actually gonna send you a link. Maybe you can just hop on, hop on our our broadcast here and ask a question like, well, what about speaking of off Amazon, you know, Walmart is probably the, the second most, you know, known, you know, place to advertise and sell for as far as online marketplaces. How your PPC strategy lately for Walmart? I, it seems like in the last six months or so, they've really you know, really come a long ways. They're still far away from the, the capabilities of Amazon on the advertising side, but, but you couldn't even have what is it called, like second price auctions or what you know, like, like just, you know, a few months ago. So what are some big ways that your strategy differs? As far as Walmart advertising compared to Amazon advertising?
Jocelyn:
Yeah. So for those who don't know, Walmart switched to a second price auction Q2 last year. So this is, we're coming up, we're lapping it essentially for the first year. And then they also changed the relevancy model. So that was kind of the big kind of hindrance of Walmart was, it was just not that advanced. And so it was very inefficient to advertise on Walmart. You know, first movers that got in early, I think did well, but overall it was more of an uphill battle than certainly Amazon. Obviously Amazon had quite a few years headstart, but with those changes, so many of our clients saw drastic improvements in Walmart. You know, we're talking about triple digit growth basically because your money that you were spending was so much more effective once they made those changes. So a lot of it is kind of related to campaign structure as far as, you know, the product variations are a little bit different than Amazon.
Jocelyn:
So understanding how to segment your campaigns based on products and, and variations and whatnot, which they have now since recently allowed you to advertise much of the, the variations and really the different products themselves. So the campaign structure was very different based on the amount of products that you can even advertise and how you could advertise it, but it's get definitely gotten a lot closer to what Amazon is as far as like a, an algorithm model and an auction model. They are rolling out some onsite display towards a kind of larger segment. You know, it's been in beta for a while, but it's becoming much more accessible. So I would say it was very sponsored product focused, but display is definitely becoming a bigger piece of Walmart now. So they're doing, I think everything they can to catch up, I would say.
Jocelyn:
And then sponsor brand video, which obviously Amazon has had for quite a while. Walmart has rolled that out since as well. So there's a lot more ad types now, but it was very much restrictive based on product and sponsor product was really the only ad type. So I would say our campaign structure has expanded much more in Walmart in the recent months based on what Walmart is making available. So that's, I think, the biggest difference in the last three to six months is really accessibility to additional ad types and more ways of advertising your products than before.
Bradley Sutton:
Cool. All right. Let's go ahead and bring our first live guest on here. Let's bring Rolando to the stage. Rolando, how's it going, man?
Rolando:
Hello my friend. How are you?
Bradley Sutton:
I'm doing just delightful. Thanks. Thank you. You, this is a historic moment, first ever outside guest live on tacos Tuesday, so here we go.
Rolando:
Where's my food man? Where's my tacos
Bradley Sutton:
It's right here. I got some right here for you. I got some right here. On my shirt there's the tacos, but before you forget your question, what was your question?
Rolando:
In looking at PPC spend, obviously Bradley was talking about how PPC spend is going up, right? It's unavoidable, but we can look at where we can get better value. So if we're spending a dollar a click to convert on a, like you're talking about natural toothpaste, could we find a cheaper way to do it, whether it's externally, like on Google ads, or maybe that term is 50 cents per click and shooting that over to the listing or somewhere else within the Amazon ecosystem that brings more value or essentially like a retail arbitrage on keywords. That's what I'm trying to say. How do you approach that when you're looking at spend as it just keeps ballooning every year Yeah. On Amazon?
Jocelyn:
Yeah. You know, obviously outside Amazon signals influence you know, Amazon performance as well. So that's always an example and that's always an option. I would say looking at ad types because we have some clients where sponsored brand is so much more efficient than sponsored products. Maybe sponsored products is very, you know, in the highly competitive space and it's cheaper to win, you know, a video placement than it is to win the top sponsored product placement. So kind of understanding where you're spending as far as like an ad type, because natural toothpaste for sponsored product may be different for than sponsored brand video, for example. And thinking about, you know, sponsored brand as a whole, there's a lot more options of, you know, outside just the product collection, you know, there's the brand store. So how can you get people from the brand store into your product detail pages because people that shop on the brand store typically have higher order values, for example. So looking at where you're spending, not just from a holistic bucket of money perspective, but from a an ad type perspective we have a lot of clients actually with dsp. It's pretty effective and it's actually more efficient than sponsored products based on, you know, interesting more refine targeting and an audience understanding.
Rolando:
I just heard that the business side on Amazon is getting ready to open up targeting on the sponsored display. Have you heard about that?
Jocelyn:
Yeah, so there's a lot around business owners that you can target and there's, you know, Amazon business lookalike and whatnot. So there is so much more, I think, refinement in who you're actually targeting. You know, if you're searching national toothpaste as, you know, a father of five, for example, versus me, a single woman in Denver, you know, those are very different audiences and maybe we have different conversions, for example. So I think that the real value of DSP is the audience understanding and kind of refinement. That's the huge, huge piece of DSP. And when you're looking at brands that have a very clear vision of who they think their customer is, it's a better way to kind of approach that versus sponsored products, for example.
Rolando:
Can I ask you one more question while I have you here and Bradley? Yep. The B2B side and, you know, there are a lot of consumer brands on the, on the Amazon platform, but as you know, the B2B side on Amazon itself is, is growing every year. They're making concerted effort with dedicated reps. They're going after large enterprise accounts, government accounts. What's the feedback that you're hearing from your customers that have a contingent of B2B customers buying from them on Amazon?
Jocelyn:
Yeah, we actually have a few customers our clients that are thinking of like, how do we expand in to B2 B? I think they've met it pretty closed off, and I think they are making an effort to open up more in the kind of the coming year, because it's only, I think about 10% of total Amazon revenue, if I remember that stat recently that we kind of heard from an Amazon contact. So they are, there are a lot of customer or clients who have thought about B2B and they haven't really had the ability to go after it in the past and are now taking a look again of like, okay, Amazon's kind of opening up some targeting and some placements and whatnot. How do we approach this? And it is very different I would say of what products you're even including as far as, you know, you're talking about pallets of batteries versus, you know, a 24 pack, for example.
Jocelyn:
Indeed. So so a lot of clients that are kind of have a presence but haven't specifically gone after B2B are reevaluating it, certainly. And I think the B2B team at Amazon is reevaluating how do they kind of grow this side of the business? So I think there's a lot more taring that's available now, and I think it's kind of like a mutual reconsideration that everyone's doing right now of how do we make this work and how do we grow this side of the business. Again, it's only 10%, so it's not gonna be a huge kind of factor for a lot of clients. But if you were in kind of more the
Rolando:
Industrial industrial, yeah, we're not office products. I would say we're way over overindexed on, on for the percentage. You said we're way above way, way north of that and the office space. So we're seeing more of our sales come from B2B than that 10% mark. So it's there. And then, and I, and I would imagine it's only gonna get bigger as the overall pie start getting bigger at Amazon.
Jocelyn:
I would agree. Yeah. Awesome
Rolando:
Thank you for bringing me on, Bradley.
Bradley Sutton:
He's actually been on our Serious Sellers Podcast en Espanol before good episode there. So I gotta bring him on the English one. Now. My last question is, is, is, you know, speaking of what, what this person was saying about smaller accounts, you know, Pacvue is not for smaller brands, but I'm gonna ask you what, you know, how can people find more you know, reach out to Pacvue for, for more information or reach out to you? But before I do that, who are the people who should be, you know, reaching out? Like if I'm doing only like about $600,000 a year on Amazon and don't have much PPC spend like, like I'm doing right now, may, maybe I'm not the right fit for Pacvue, but, but who would get the most benefit out of contacting you and, and maybe seeing if you, you guys can help them.
Jocelyn:
Yeah I mean, I think that Pacvue is, it is more designed for bigger clients that are gonna, you know, benefit from the tool. But I would say there's a lot of different ways to work with Pacvue. You know, the clients that I manage are, you know, the big boys in the space, and those are you know, require a lot of additional support. But we have, you know, kind of consulting abilities and we have, you know, people that just use our platform just purely for the technology. And the, the benefit that you're getting is really the efficiency in operations and the time saved and the ability to kind of step beyond like the day-to-day bid management and be able to focus more on strategic initiatives, for example. That's really kind of what, and that's what Helium 10 does as well.
Jocelyn:
You know, like any of our, you know, suite of tools is really helping you be more efficient at what you do day to day so that you can think, you know, bigger picture and look at more, you know, higher level operational initiatives versus, you know, changing a bid from 45 cents to 50, you know, for 1:00 PM to 2:00 PM for example. You know, like that is really the benefit. So I would say there's not a ton of, you know, minimum spend. You know, there's a lot of ways that we can work with clients who just want help saving time. So I would say don't limit yourself, but pfu definitely is, to your point, more for somewhat larger sellers. But there is not, you know, a specific dollar amount that I would say you have to be spending in order to benefit from.
Bradley Sutton:
And then if somebody, you know, did think that they might qualify and how can they reach out to you guys?
Jocelyn:
Yeah, I mean there's [email protected] would be a good place to start shooting us an email. And, you know, you'll filter through a lot of, you know, the people that I'm not on the sales side, so probably wouldn't end up talking to me, but feel free to reach out on LinkedIn or whatnot. And we can get you guys connected to the right place. But pacvue.com is a great resource for understanding what our tool can actually do for you and start getting you into the funnel of some emails and, and some contacts with people who are more on the sales side than I am. But pacvue.com is really where you're gonna see a lot of what we can do and, and what we can do to help you. So I would say our LinkedIn and our website are basic.
Bradley Sutton:
Awesome. Awesome. Well, Jocelyn, thank you so much for coming on today. It was nice to have your expertise on here. And look for, it's gonna be exciting to be seeing what copilot at Pacvue is gonna be doing for sellers moving forward. And would love to reach out to you maybe next year to come back on the show and, and help sellers like you just did right now.
Jocelyn:
Awesome. Thanks for having me today.
---
Enjoy this episode? Be sure to check out our previous episodes for even more content to propel you to Amazon FBA Seller success! And don't forget to "Like" our Facebook page and subscribe to the podcast on iTunes, Spotify, or wherever you listen to our podcast.
Get snippets from all episodes by following us on Instagram at @SeriousSellersPodcast
Want to absolutely start crushing it on Amazon? Here are few carefully curated resources to get you started:
Achieve More Results in Less Time
Accelerate the Growth of Your Business, Brand or Agency
Maximize your results and drive success faster with Helium 10's full suite of Amazon and Walmart solutions.